Sausage Breakfast Pancake Recipe
We've had a lovely Easter break spent with family and with me cooking up a storm in the kitchen. With a huge lull in my current foray into the world of Weight Watchers, today I am trying to physically restrain myself from polishing off a bowl of Mini Eggs and to get back on track. This has been pretty tricky having made the family a batch of these wonderful Sausage Breakfast Pancakes. I can proudly announce I've only eaten one, however, I feel really short changed and can't wait until I make the next batch and will snaffle at least one or two more. I do feel as though I have been in the kitchen the whole long weekend, so these Breakfast Sausage Pancakes are so simple and make a substantial brunch or breakfast in less than an hour, so you can relinquish your hold on the kitchen for at least half the day.
The weekend and school holidays are a great time to make more of an effort with breakfast. Since George has started rowing he's been eating porridge 5 days a week but it's nice to have a change occasionally and these Sausage Breakfast Pancakes are an incredibly welcome change. The pancakes themselves are light and fluffy and rise up beautifully. These are then studded with crumbled, crisp and golden sausage and, if you like and have little will power like myself, douse these golden pancakes in plenty of maple or golden syrup.  This recipe makes a bloody great big batch that will leave even the most hungry family sated. Lucky family they are to have you and to have these fluffy beauties for breakfast. I love Plain Chicken's website and love them for introducing me to this recipe.
I have another couple of days off work this week to be spent with the boys as Ben's home from uni. I am excited to be spending time with them but in reality I know I will be basically an unpaid chef, cleaner and counsellor while they ignore me and play PS4. That's the joy of being their Mother, and it means I get to try lots of new recipes on them whilst sampling them myself.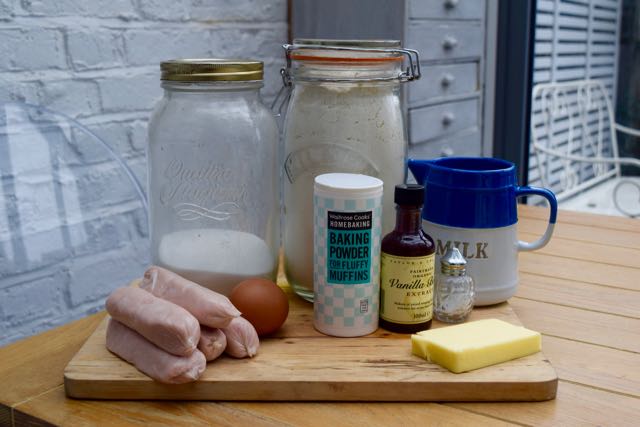 This may look odd, sugar and vanilla in a savoury pancake, but I adore a sweet and savoury combo and this all works so well and is by no means too sweet. Just the perfect mix of salty sausage meat within a soft and fluffy pancake, nothing too alarming.
Make a start with the sausage as this takes around 20 minutes to crisp to perfection. Remove the skins from the sausages and add to a frying pan you have heated over a high-ish heat with a teaspoon of oil. Break the sausage meat up using a spatula and cook until starting to brown and turn golden and crumbly.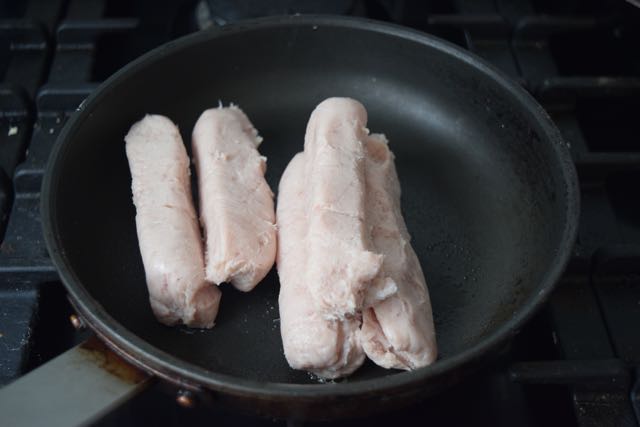 This will take around 20 minutes. Drain onto some kitchen paper then pop to one side whilst you crack on with the pancakes.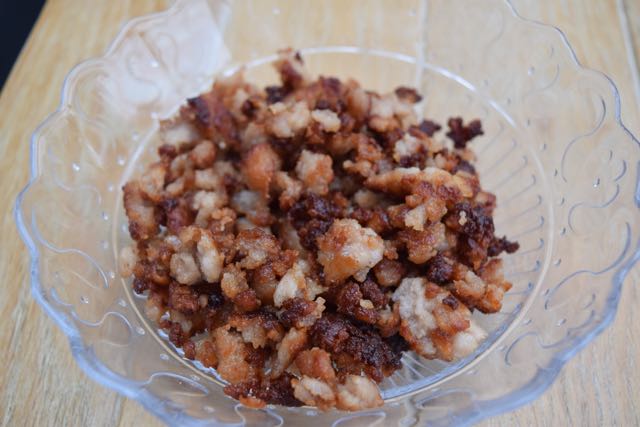 Take another bowl and measure in the plain flour, baking powder and caster sugar. Along with a teaspoon of salt.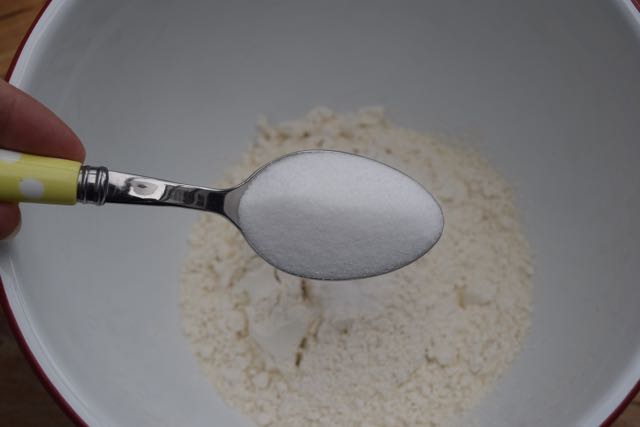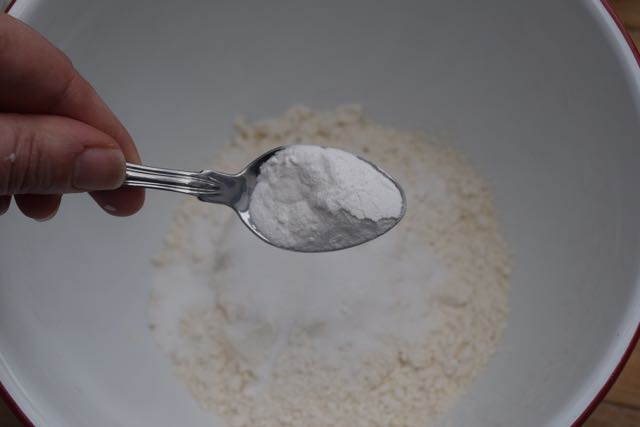 In a pan on the stove or a in a jug in the microwave melt your butter then measure in the milk and the egg. Add the teaspoon of vanilla then whisk the whole lot together until blended.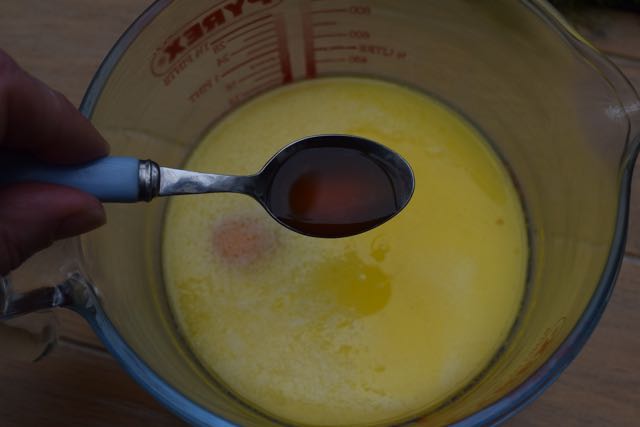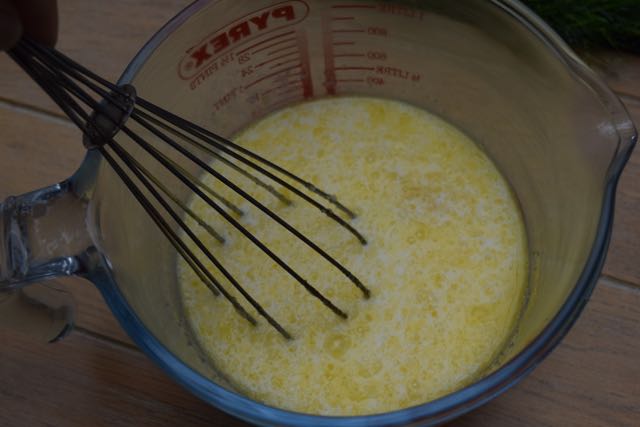 Make a slight well in the flour/baking powder mixture then pour in the butter and milk blend, then whisk until smoothish. The batter will be quite thick.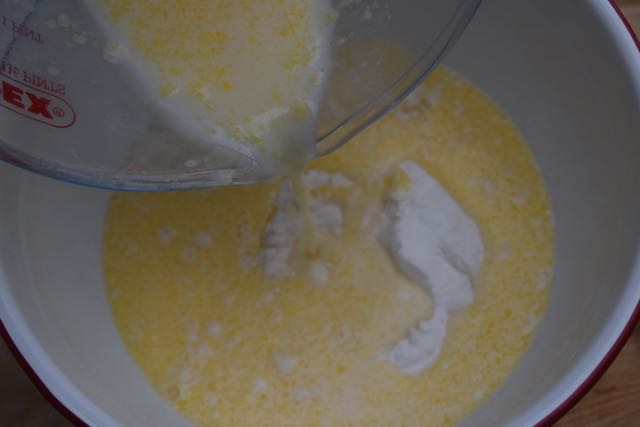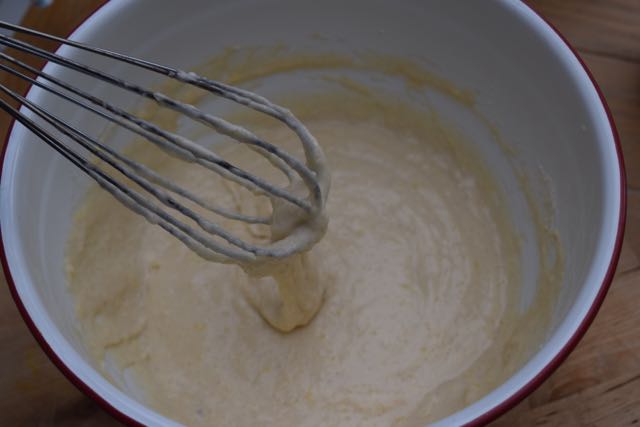 Now, it's time to heat up your pancake pan. I have an ancient one with recesses which I love as it gives you even sized pancakes. Amazon have a similar one available now and if you make a lot of pancakes it's worth the purchase. I used some low fat spray oil for convenience rather than dietary efforts. Add a quarter cup full (around 50 to 60ml) of pancake batter to your hot pan and cook until the top is bubbling.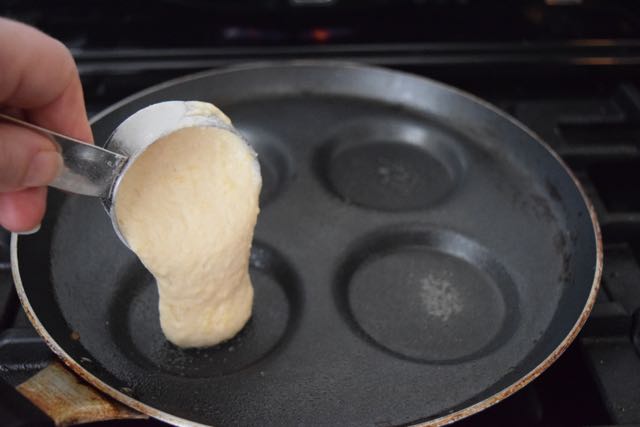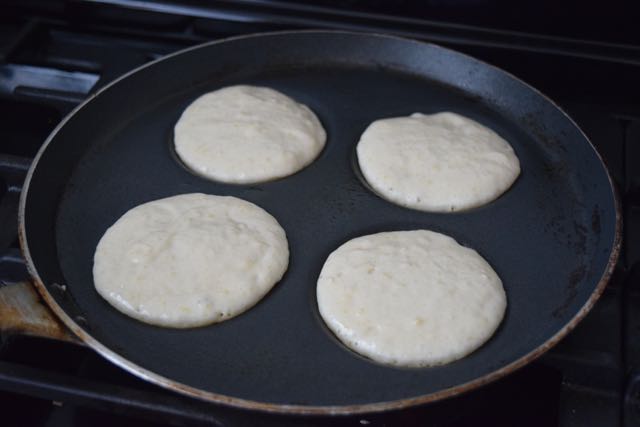 Crumble on a teaspoon of sausage meat on to the top of each pancake then press down a little. Turn over and cook for a further minute or two on the other side.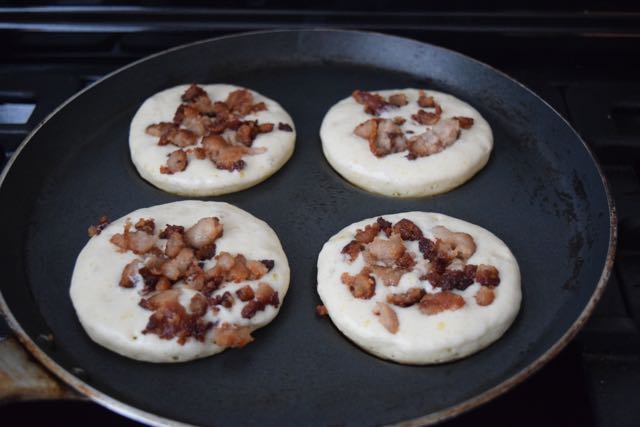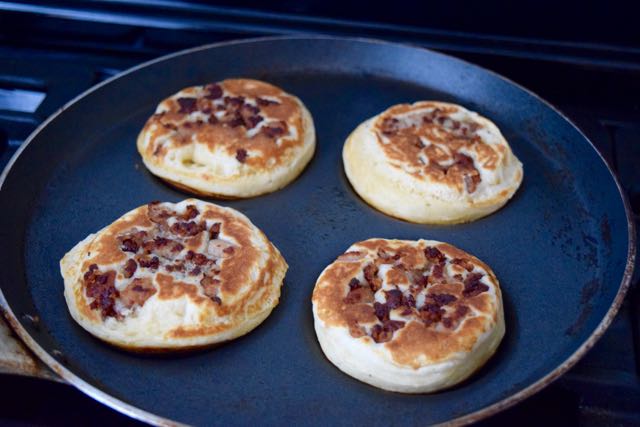 Keep each batch warm while you finish making the rest of the pancakes.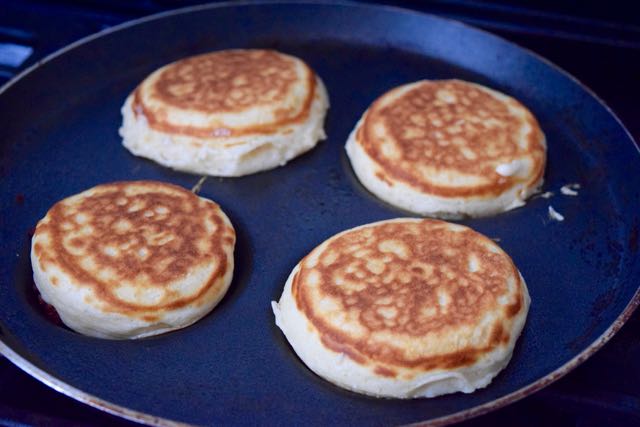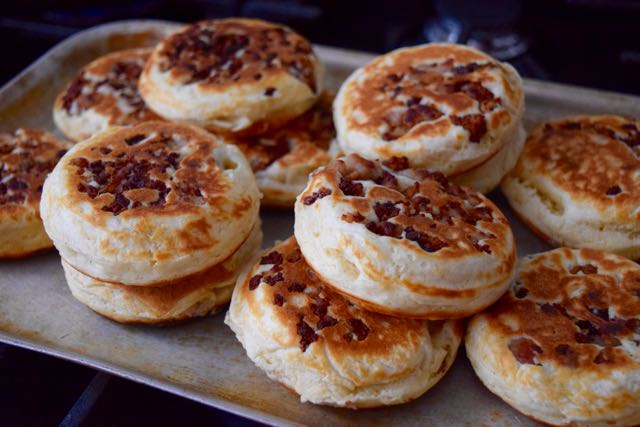 Enjoy these soft, fluffy, sweet, savoury pancakes slathered in maple syrup or if you are George, Golden Syrup.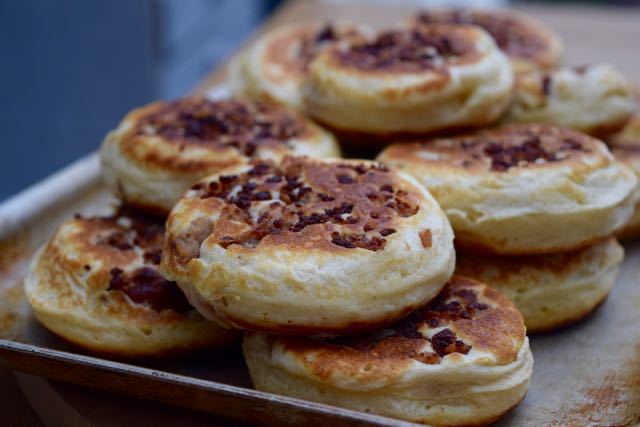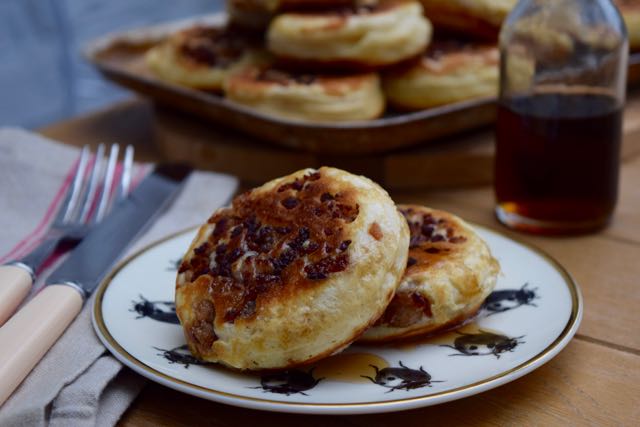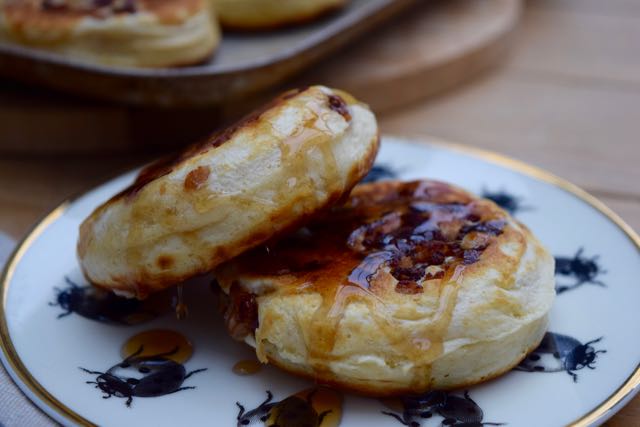 This is a great weekend breakfast or brunch idea. Or even as a weekday supper, if you add a side of broccoli this could pass as a reasonably healthy dish. If you are averse to sausage, try adding chopped bacon or as a sweet only option, add some chocolate chips. These pancakes are just the gift that keeps on giving.
Lucy x
This post contains an affiliate link to Amazon. Should you buy using this link Lucy Loves will receive a tiny commission at no additional cost to you.
Sausage Breakfast Pancake Recipe
You won't need any exciting equipment
Makes 16 pancakes to serve a generous 6 or more
250g sausages, skinned
1 teaspoon oil
50g butter, melted
300ml milk
1 egg
1 teaspoon vanilla extract
195g plain flour
3 1/2 teaspoons baking powder
1 teaspoon salt
1 tablespoon caster sugar
Oil for cooking pancakes
Maple or golden syrup, to serve
Take a small frying pan and and heat the oil over a high heat. Add the sausage meat and mash with a spatula to crumble. Cook until golden and crisp, this will take around 20 minutes. Once cooked, drain on kitchen paper and pop to one side until later.
For the pancakes take a jug or pan and measure in the butter. Melt in the microwave or on the stove then pour on the milk and whisk in the egg and vanilla extract.
In another bowl measure in the plain flour, baking powder, salt and caster sugar. Make a slight well in the middle then pour on the butter and milk mixture and whisk until smooth and quite thick.
Heat up a little oil in a good sized frying pan over a medium heat then pour in around 50mls of batter and cook until bubbling on one side and well risen. Sprinkle on a heaped teaspoon of the crumbled sausage and press down slightly with the back of the spoon. Turn the pancake over and cook until golden on the other side. Repeat with the rest of the batter and the rest of the sausage. This will make around 16 x 3 inch diameter pancakes. Keep the cooked pancakes warm while you finish the batch.
Serve warm and slathered in maple or golden syrup.  Any leftover pancakes can be kept in the fridge and reheated the next day. Or eat one every time you pass by the plate.
SaveSave
SaveSave
SaveSave
SaveSave