Polenta with Chestnut Mushrooms and Thyme Recipe
I rather feel polenta has passed me by. It was all the rage a few years ago, however, I never really got involved other than with my Polenta Chips. Until now, that is, albeit late, I am at last an honoured guest at the polenta party. When I came across this recipe via Jake and Wake, with thanks, I fell in love with it because a) it contains sautéed garlic mushrooms, one of my all time favourite things to eat on toast b) polenta with parmesan is so comforting and cheesy and c) the dish has an egg on the top. Clyde, I can guarantee, would eat a rat if it had a fried egg on the top; it is one of the easiest ways for me to lure him into eating something he wouldn't ordinarily fancy. This Polenta with Chestnut Mushrooms and Thyme, however, does not need anyone to persuade me to eat it, just look at it, it's a beautiful dish and tastes beyond delicious.
As I write, it's bloody snowing again. On Friday it felt like spring, I even undid the top buttons on my coat whilst walking the dog. But now, the beast is back and I am once again surgically attached to my bobble hat.  So this dish is perfectly timed for it's warming, comforting qualities. The polenta is so simple to make, just a few calories burnt from stirring it, sautéed mushrooms, I chose button ones so you don't even have to chop them, with a fried egg as a final flourish. Or if you are trying to be good *me, always, and failing* you could omit the parmesan and go with a poached egg to spare a few calories. Clyde and I inhaled this armed with a mid morning hangover one sunday and it was perfectly timed. This is certainly brunch or light lunch territory, or a vegetarian supper dish, maybe adding some buttered spinach for luck. I could eat this type of dish everyday and if this bloody weather continues, I will be eating it everyday.
I do feel slightly cheated having not really embraced polenta before now. It's so simple, much more so than mashed potatoes and much tastier. If you swerve the butter and cheese it's even a health food, well, almost. As it's still clearly freezing, this is so not the time to be losing any winter timber, so perhaps keep the cheese and butter in.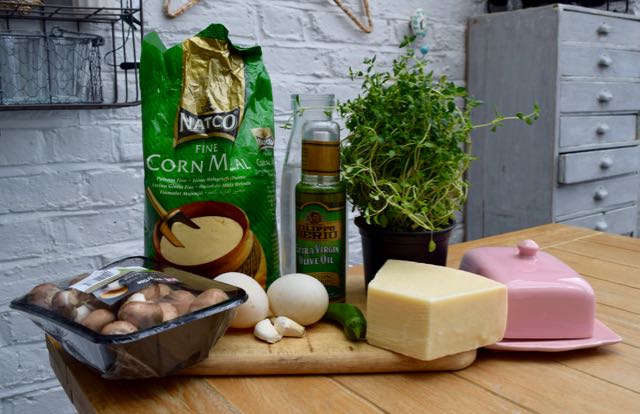 Rustic, but still quite an elegant line up for this dish. I was certain I had a box of polenta in the back of my cupboard, but evidently not, so I used cornmeal which is just polenta by any other name. I did, however, have some lovely duck eggs from our butchers, so I used these to top off the dish.
Make a start on this with the polenta. Take a medium sized pan and add the water and salt. Bring up to the boil, turn down the heat and tip in the cornmeal and whisk well until smooth and relatively lump free. Continue to cook, stirring every so often, for 20 to 25 minutes. Do keep an eye on the polenta as it will try and adhere itself to the bottom of the pan in a big way.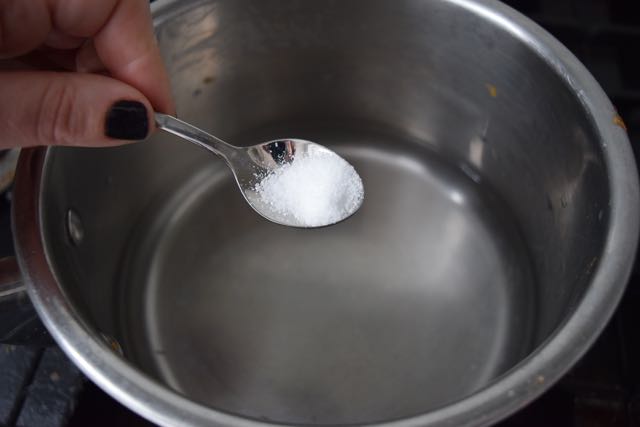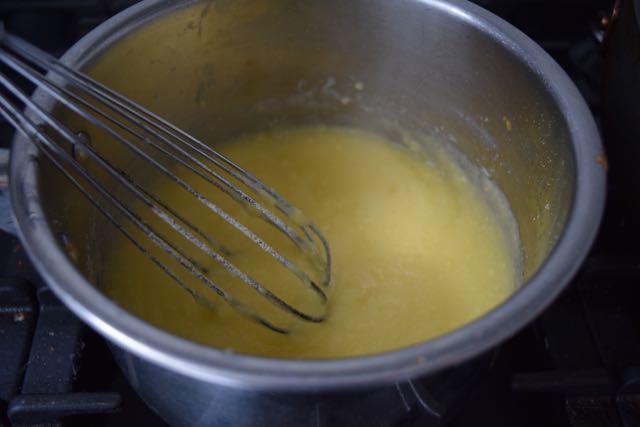 When the polenta is soft and cooked through, stir in the butter and parmesan and any additional seasoning needed, to taste.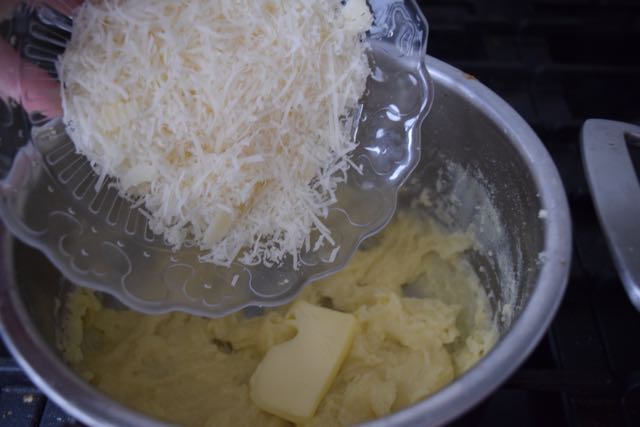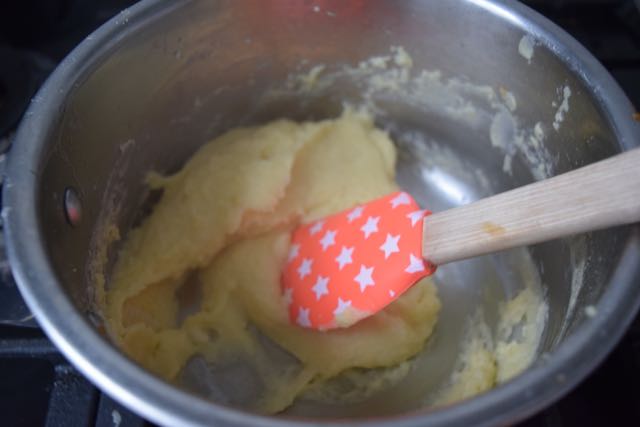 While the polenta is quietly simmering away, crack on with the mushrooms. Melt the butter along with a splash of olive oil in a frying pan. Add the mushrooms along with the garlic, sliced chilli and thyme leaves.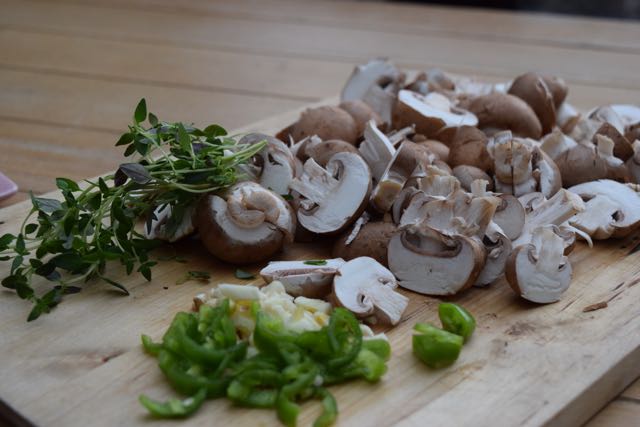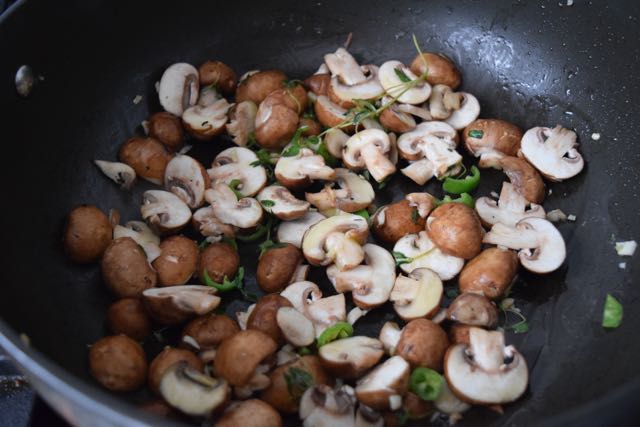 Turn the heat down and cook the mushrooms for around 8 to 10 minutes or until golden and cooked through.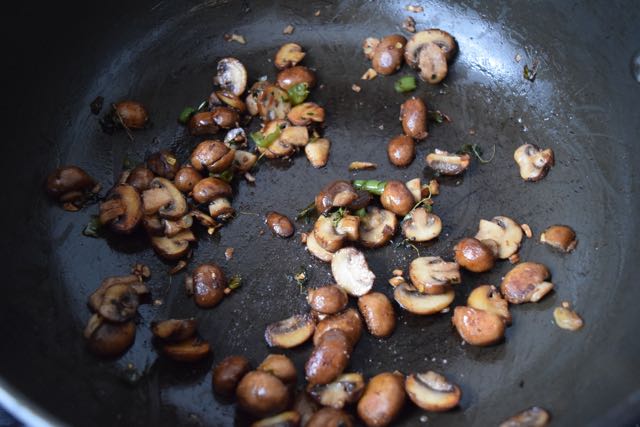 Do try not to eat them straight from the pan. Now, you are all but ready to go, apart from the eggs. I fried my duck eggs in a good slug of olive oil, but if you'd rather poach one, that would be as amazing. My poached eggs are pretty ugly, but I am sure yours are just wonderful.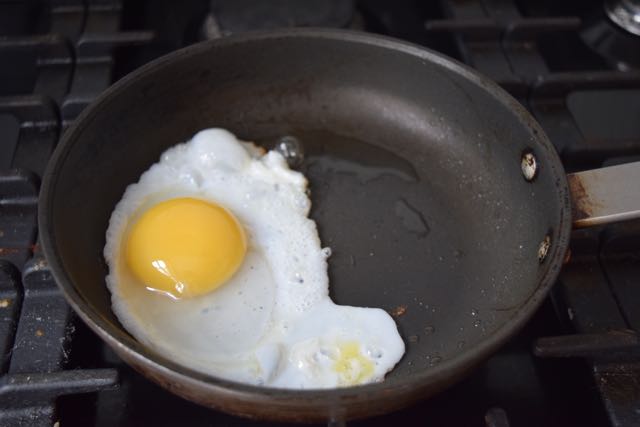 Spoon your parmesan polenta into a bowl and top with the chestnut mushrooms.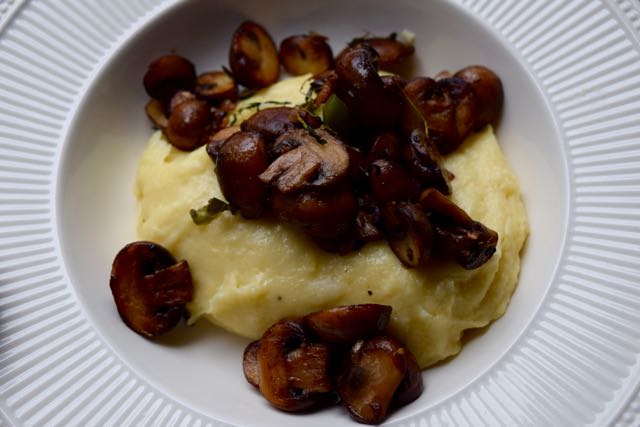 Top with your crisp egg or soft poached egg and garnish with some more fresh thyme leaves. Season the whole dish with a sprinkling more of salt and pepper then dive right in.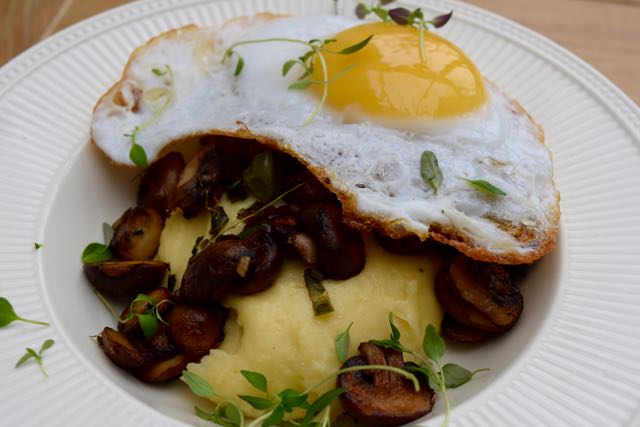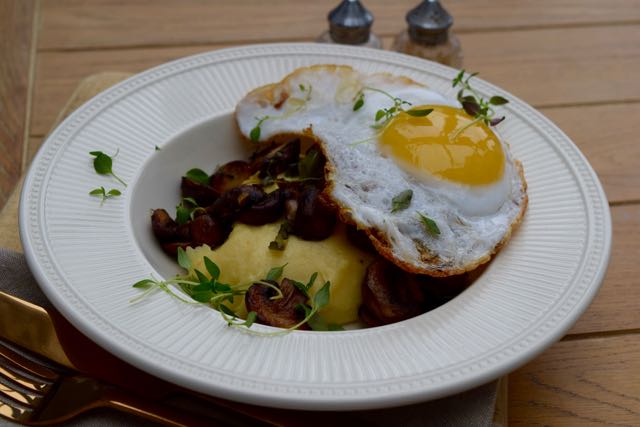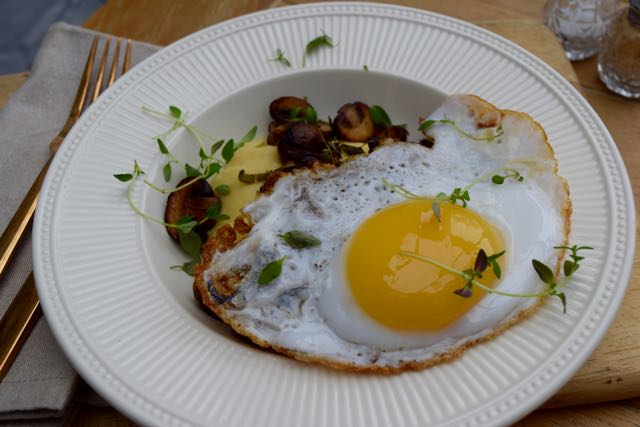 I love the crispy edges of a fried egg, it's one of my favourite things. Along with the sautéed mushrooms, which have always been a childhood favourite of mine this dish is simple but really incredibly tasty.
Now that's enough rambling, I am so hungry I may just have to go and make this right now.
Lucy x
Polenta with Chestnut Mushrooms and Thyme Recipe
Serves 2
You will not need any challenging equipment
Polenta
500ml water
1/2 teaspoon salt
75g cornmeal or polenta
50g parmesan or other strong cheese, finely grated
25g butter
Mushrooms
200g button chestnut mushrooms
25g butter
splash olive oil
2 tablespoons fresh thyme leaves
2 cloves garlic, finely chopped
1/2 to 1 green chilli, sliced, pendant on your spice tolerance, Clyde's is low
2 eggs
Oil for frying or water for poaching your eggs
Salt and pepper to taste
Fresh thyme leaves to garnish
Take a large saucepan and add the water and salt. Bring up to the boil then tip in the polenta and whisk until smooth. Cook over a low heat, whisking every so often, for 20 to 25 minutes or until the polenta is soft and smooth. Keep stirring throughout the cooking time to ensure it doesn't stick to the pan. Stir in the grated cheese and butter, season, then pop to one side, keeping warm.
For the mushrooms heat the butter with a splash of oil in a medium sized frying pan. Add the mushrooms, halved if some are bigger than others along with the thyme, garlic and chilli. Cook over a medium heat for around 8 to 10 minutes until they are golden and cooked through. Season throughly.
For the eggs, either fry or poach 2 eggs to your taste.
To assemble the dish, add half the polenta to a bowl plate, top with half the mushrooms then finish with a fried or poached egg. Garnish with some fresh thyme leaves.
SaveSave
SaveSave
SaveSave