Strawberry Buttermilk Panna Cotta Recipe
Summer's on it's way, ha bloody ha. I am sitting here with with the worlds frizziest hair having been caught in the rain twice today. It's humid, but it's damp and there's no sign of the sun on my iPhone forecast for the rest of the week. There are, however, a few plus points to summer being on it's way. I have turned the heating off, so that's some money saved to be spent on bikinis. Our holiday is only two months away, so that's something to look forward to even though I have woefully fallen off the diet wagon, which may put the brakes on the aforementioned bikinis. And finally, summer fruits are in season. I love it when English strawberries start appearing in the shops, with all their fragrant charm. They are cheap and abundant and are the perfect addition to my Strawberry Buttermilk Panna Cotta.
I know, puddings aren't really the order of the day when thinking about getting shot of a few pounds for summer holidays. However, this Strawberrry Buttermilk Panna Cotta is the lightest of my favourite panna cotta recipes. With only 60ml of double cream and 6 tablespoons of sugar this isn't the full fat version of this dessert. It has a mousse like consistency and makes the perfect end to a heavier meal. I have made this with both powdered and leaf gelatine, but on this occasion I used powdered as this was what I had to hand. The leaf does give a slightly smoother pud, mine seemed a little cellulitey with the powdered, but no less delicious. This is one of my new favourite make in advance desserts. You can get this going the day before you need it, or even 2 days, so that buys you some time if you're serving this on a school night. You can also make a little biscuit accompaniment to serve alongside these summer berry treats. Try some Vanilla Shortbread or Sour Cherry Amaretti, both go well, if I do say so myself. A big thanks to the ever amazing Epicurious for the inspiration for this pud.
If the summer ever does show it's face, you don't want to be spending all bloody day in the kitchen. This pudding is whipped up in a matter of minutes, using your blender or NutriBullet for speed. Leaving you free to sit in the garden feeling the sun on your face or snuggled up on the sofa with a blanket over your knees if this miserable weather persists. At least you'll have a tasty dessert to cheer you up and to give you at least a whiff of summer.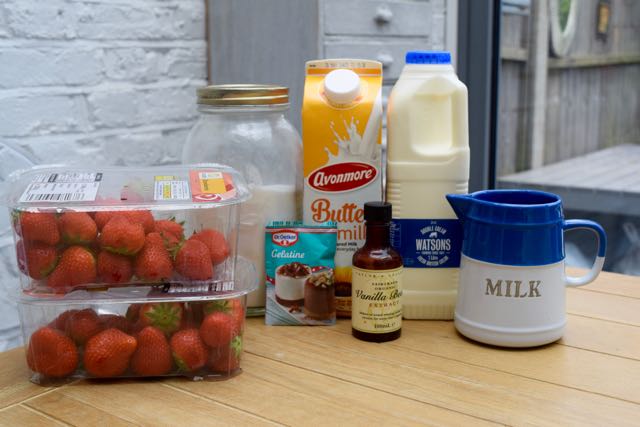 Here's the pretty line up for this Strawberry Buttermilk Panna Cotta. There's the powdered gelatine I used. This sachet was 12g but the packets sizes vary so do make sure you use the correct quantity. The wonderful summer scent from these strawbs was divine.
Start by taking your blender or NutriBullet and adding the aforementioned hulled and sliced strawberries.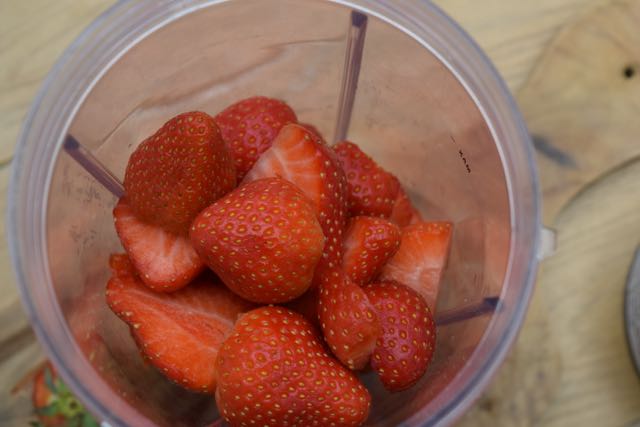 You can almost taste them from here.
Now, spoon in the sugar and pour on the buttermilk. I added 250ml of the buttermilk at this point as that was all that fitted in my Nutribullet but add all of it now if it fits in your blender.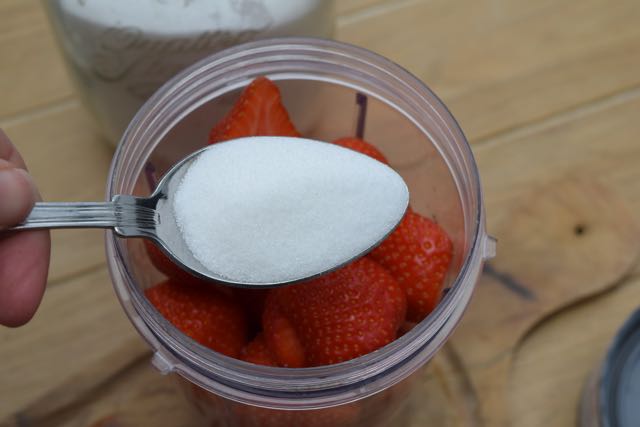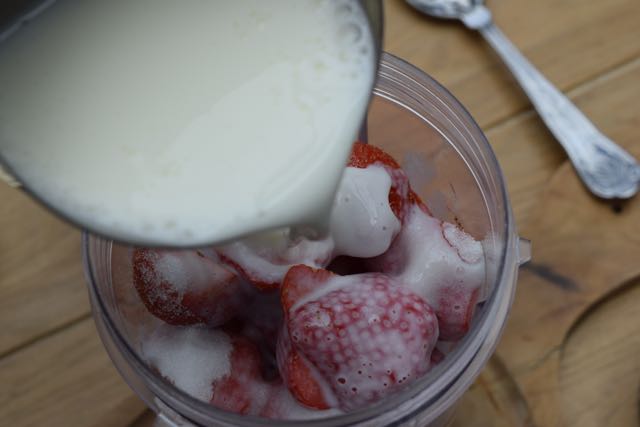 Blend until you have a beautiful pink liquid. Then, stir through the rest of your buttermilk if you couldn't originally fit it all in then pour into a large jug or bowl. The original recipe suggests straining the mixture at this point to remove seeds. I find strawberry seeds inoffensive but I find washing up the sieve offensive, so I decided to skip this stage. Feel free to sieve away if that's your thing.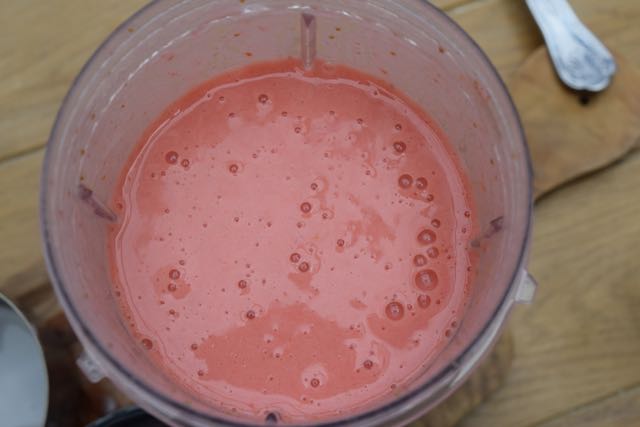 Take a small bowl or jug and pour in the 60ml of milk. Sprinkle on the gelatine to 'bloom' or go a little spongy. If you are using leaf gelatine, at this point soak it in some cold water until floppy.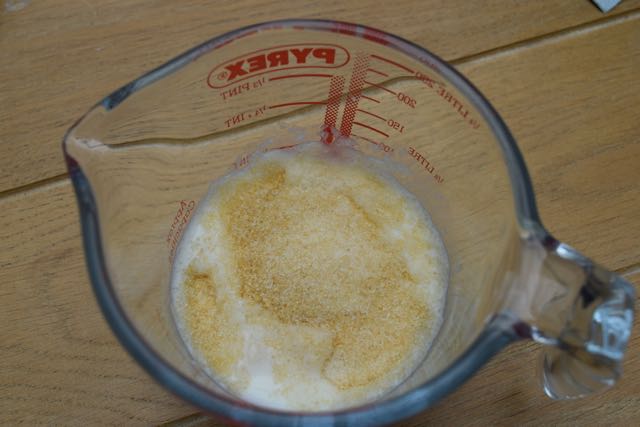 In a small saucepan or a bowl in the microwave heat up the 60ml double cream until just coming to the boil.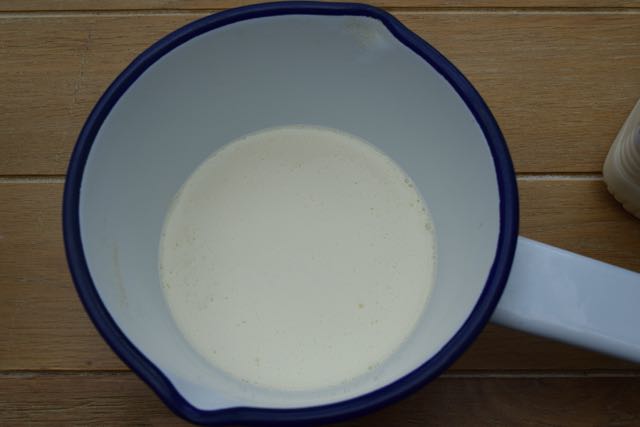 Now, whisk in the softened gelatine and milk mixture until it has thoroughly dissolved into the cream. If you used leaf gelatine, wring the water from the softened leaves and whisk carefully into the hot cream, then add the 60ml milk.
Pour this into the strawberry business, whisk again, add a teaspoon of vanilla extract then pour into your well oiled/buttered pudding basins.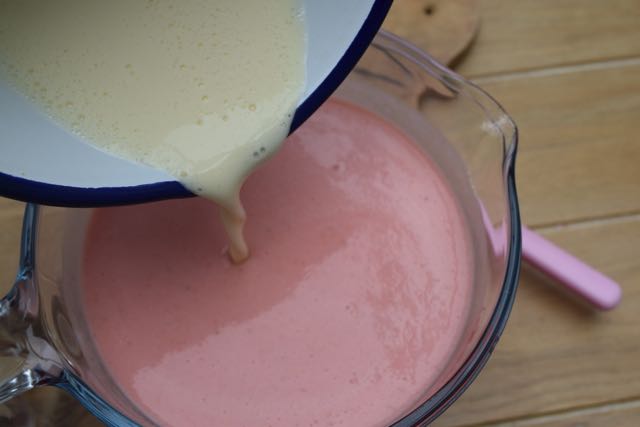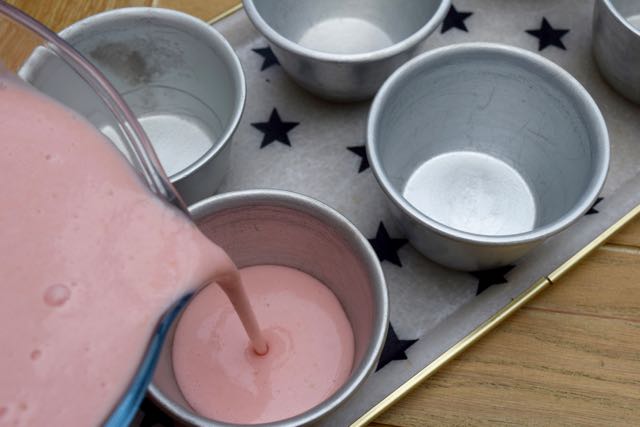 Leave these to cool on the side before chilling in the fridge for at least 6 hours or up to 2 days. If leaving longer than overnight I would cover the tops in cling film, btw.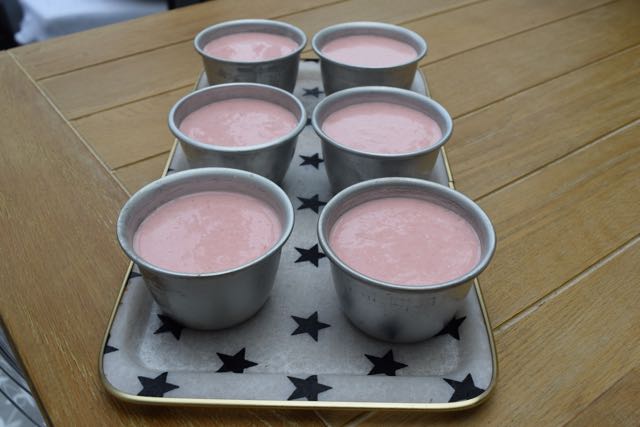 When you are ready to serve this summery beauties, run a knife around the edge of the pudding basin and turn out onto a serving plate. Garnish with some berries, a biscuit of some nature and a splash of cream if you can't help yourself.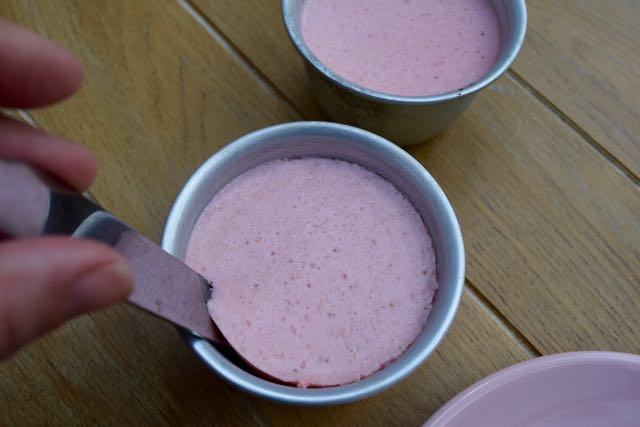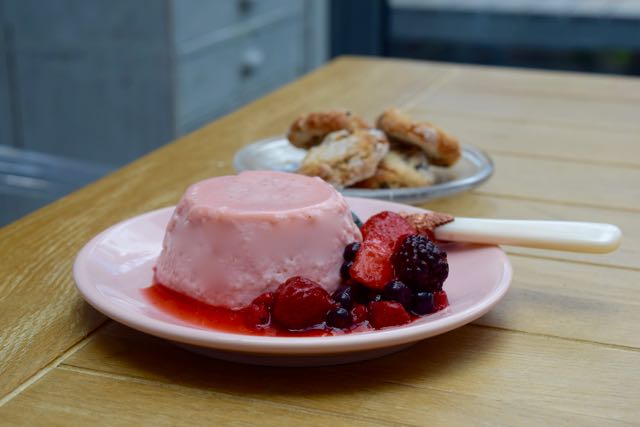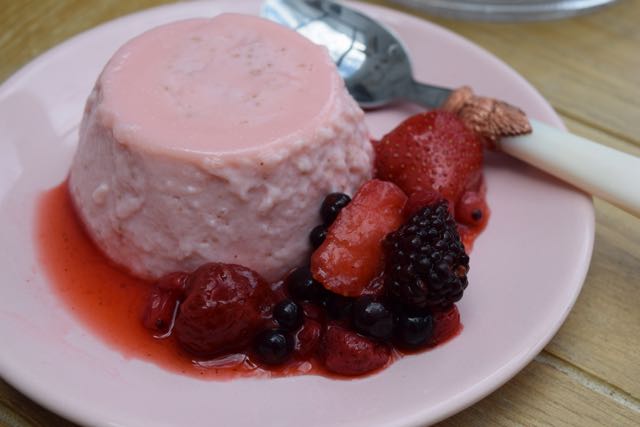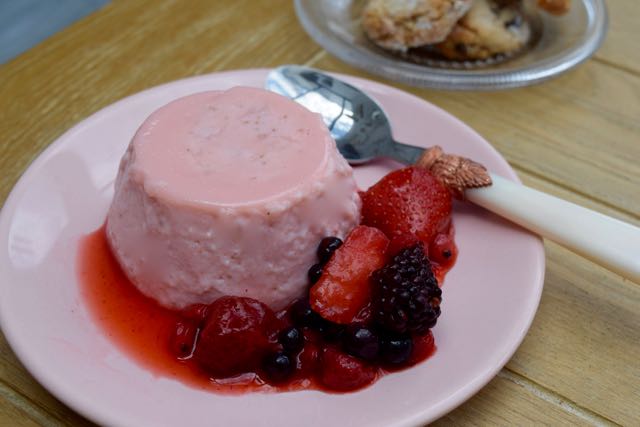 This is light, refreshing and not as naughty as you would expect. All we need now is for it to stop bloody raining so we can lay a table in the garden, pour ourselves a glass of rosé and to enjoy a bit of al fresco living. We may have to wait a while, but in the meantime, these Strawberry Buttermilk Panna Cotta's taste just as good eaten inside wearing a cardi.
Lucy x
This post includes an affiliate link to Amazon. Should you wish to buy using this link, Lucy Loves will, at no extra cost to you, receive a tiny commission. Thank you.
Strawberry Buttermilk Panna Cotta Recipe
Makes 6 good sized puddings
You will need a blender and 6 pots
500g strawberries, stalks removed and halved
420ml buttermilk
6 tablespoons caster sugar
12g powdered gelatine, I have also made this with leaf, use 6 leaves
60ml milk, whole is best, semi skimmed will do
60ml double cream
1 teaspoon vanilla extract
Berries, amaretti, shortbread to serve
Butter, oil or spray 6 small pudding moulds and set aside.
Cut the stalks off the strawberries then halve and add to your blender or NutriBullet. Spoon in the caster sugar then pour in the buttermilk. If you're using a NutriBullet you may have to just add 250ml buttermilk, then add the rest later or you will over fill you machine.
Blend the mixture until smooth then pour into a large bowl or jug. You can sieve this here if you don't like seeds, but I didn't bother as strawberry seeds are so small. Add the rest of the buttermilk now if you didn't have room in your blender, stir then put to one side.
In a small bowl or jug measure in the milk then pour on the gelatine and allow to 'bloom'. If you are using leaf gelatine, allow to soak in cold water for 5 minutes or until softened.
Heat the double cream until just coming up to the boil then whisk in the milky/gelatine mixture. If you are using leaf gelatine, squeeze out the water and whisk the leaves into the hot cream then when dissolved, whisk in the milk.
Pour the gelatine mixture into the strawberry buttermilk mixture, with a teaspoon of vanilla, whisk until well blended then pour into the moulds and refrigerate for at least 6 hours, or until set firm.
When you are ready to turn out, run a knife around the edge of the pot and tip the panna cotta onto a serving plate. Serve with berries, cream and a biscuit of your choice.
These will keep, covered, in the fridge for up to 2 to 3 days.