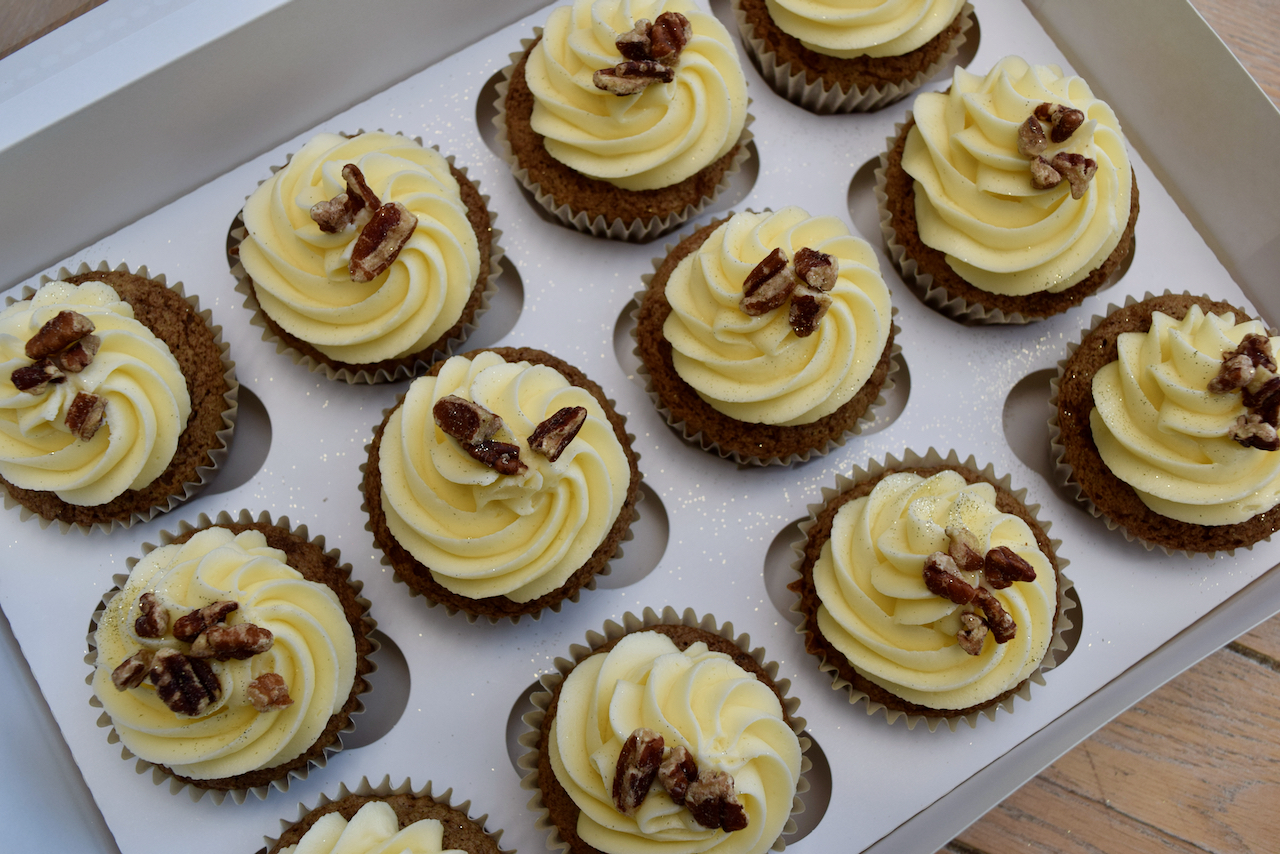 Carrot Cake Cupcakes recipe
I love making cupcakes. They're so much less of a drama than making a whole cake. And by drama I mean less of a mess; it doesn't matter how hard I try I find it very difficult to make a whole cake look good. Cupcakes on the other hand, with a simple swirl of buttercream, you're suddenly in the final of the Great British Bake Off. These Carrot Cake Cupcakes were the product of quite a bit of research *eating* and I can safely say, albeit immodestly, they're bloody marvellous.
In my, not desperately educated, mind Carrot Cake was of American origin. Apparently not, having had a little search I've discovered it's a European delight. But enough history, this is a cake you can use to tick off one of your 5 a day; sadly that's where the healthy bit ends. These delights are sweet, the chopped pecans add some bite and the slathering of cream cheese icing is for me, almost the best bit. You could, of course, double the recipe and make one big cake, but these individual portions make a beautiful gift to a well deserved friend, or to yourself. Thank you to Delish for this brilliant recipe, it's a keeper.
My love for making cupcakes is so strong, I'm going to start selling them to the lucky people of the SW14 environs; details to follow when I get my arse into gear. But in the meantime, you're just going to have to make your own.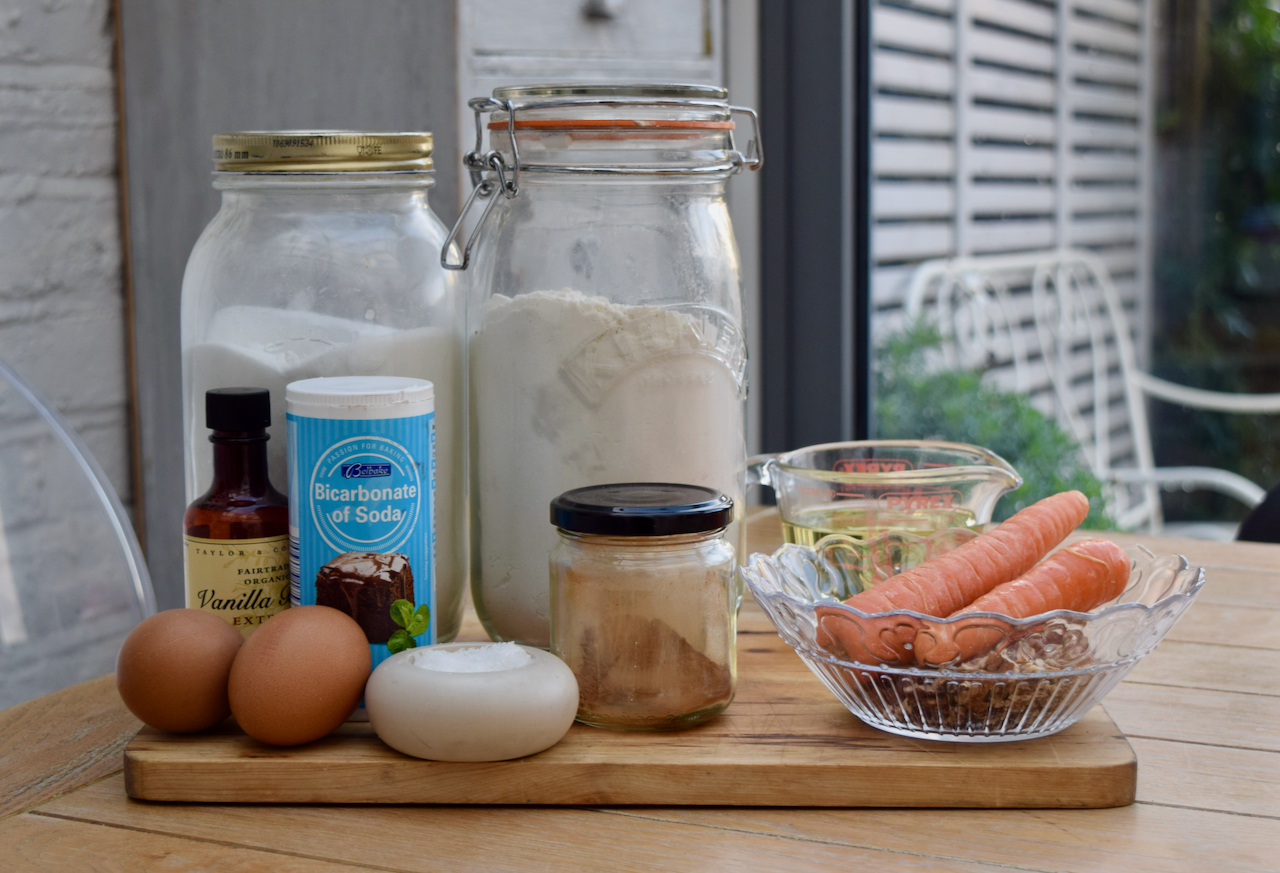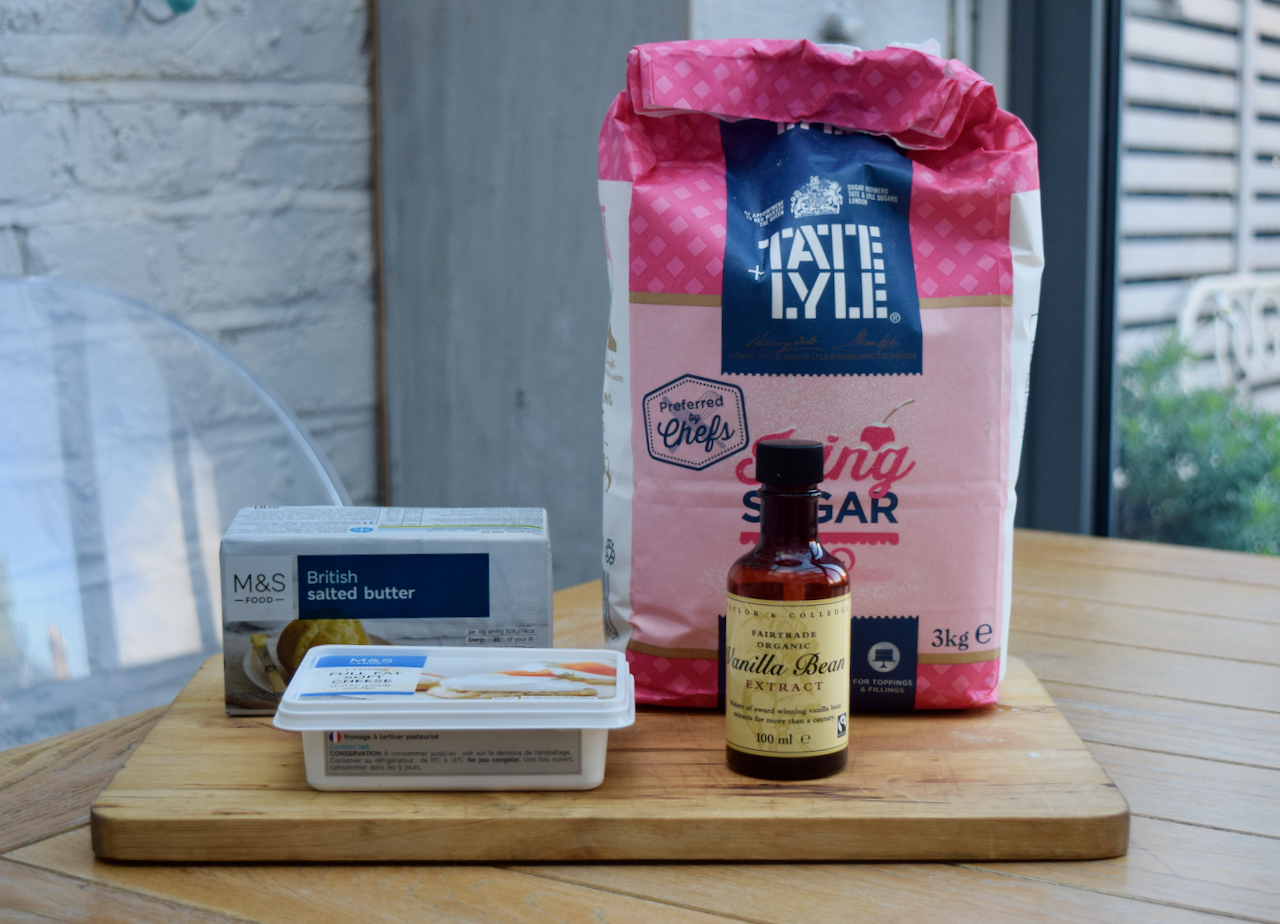 Classic carrot cake type ingredients for these cupcakes. The carrots needed for this are a scant 2, size dependent, but I am certain they count as one of your 5 a day. The icing is the real star of the show on these and I've nailed making a lump free batch, the tip for this I'll share with you if you read on.
Start the shenanigans with a pre heated oven to 160 degrees fan assisted and by lining your 12 cup muffin tin with liners. Next, measure out the flour, salt, bicarb and cinnamon and give it a little whisk to combine.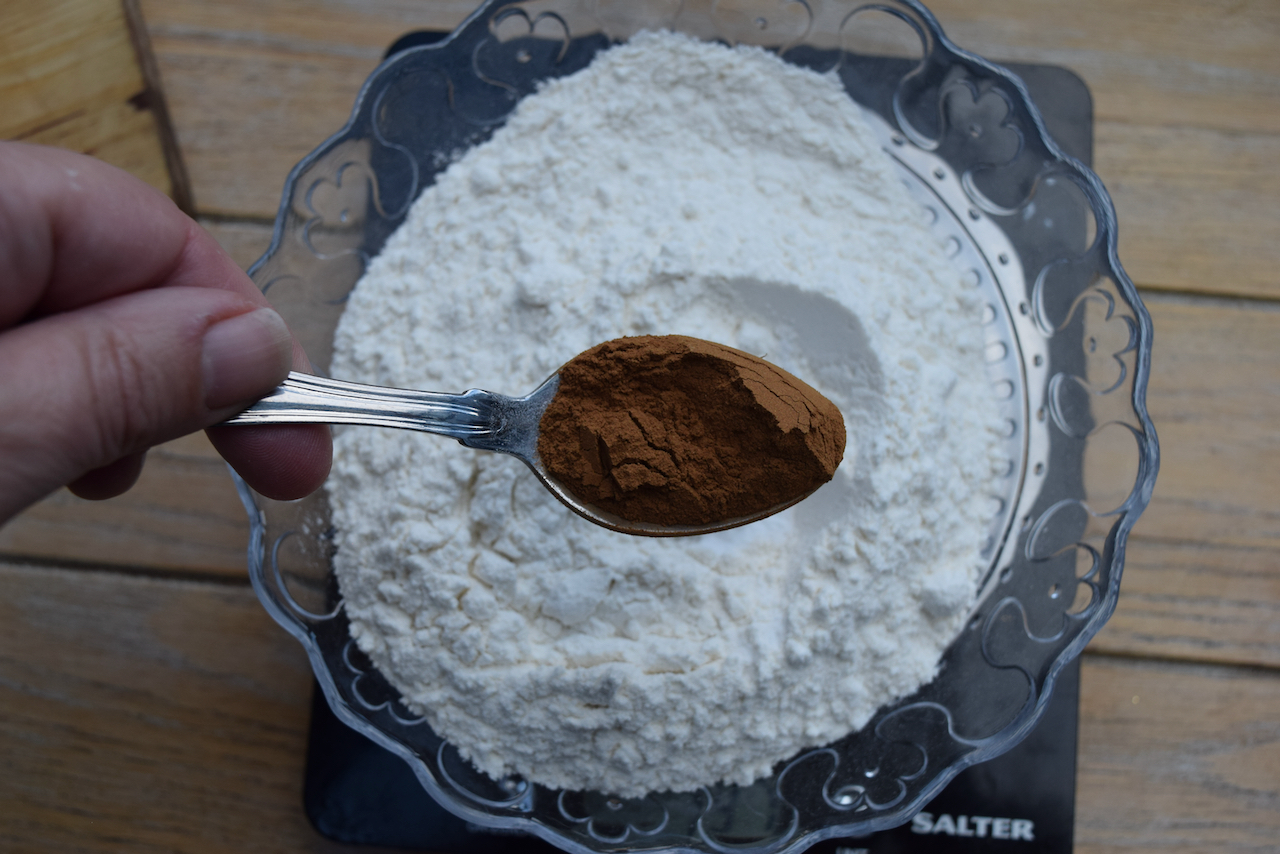 Next, either in your stand mixer or a bowl with a whisk combine the not that modest amount of caster sugar with the oil. Beat until they have amalgamated.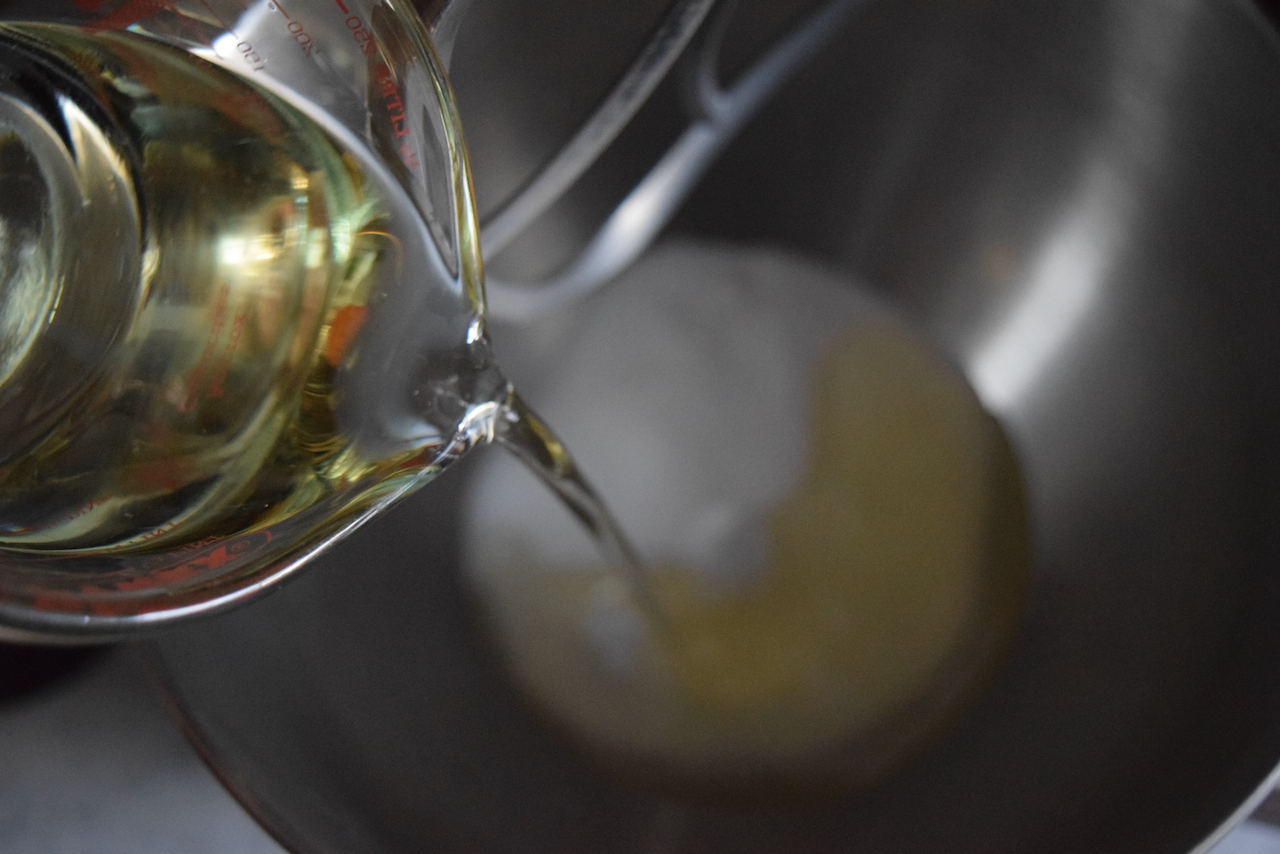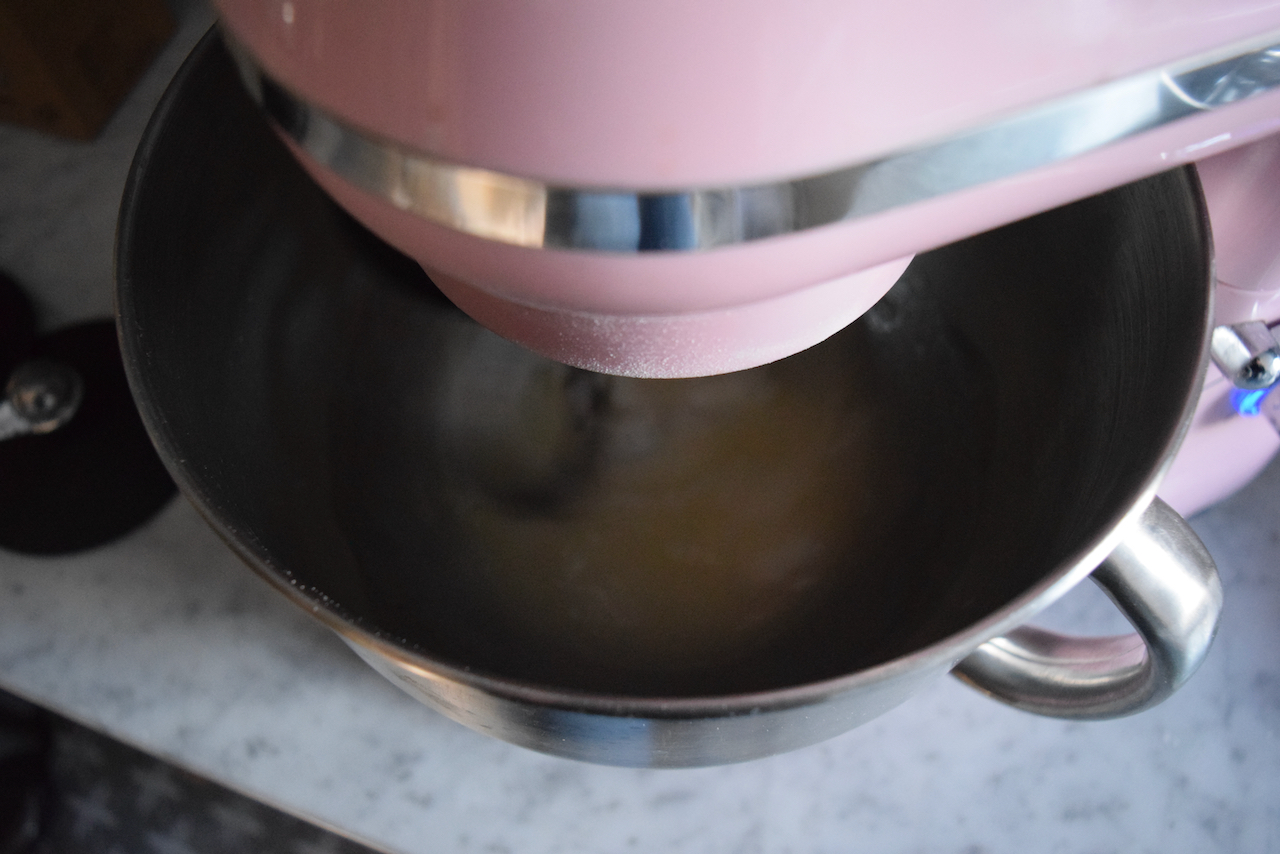 Next add the vanilla and eggs, one at a time, until well mixed.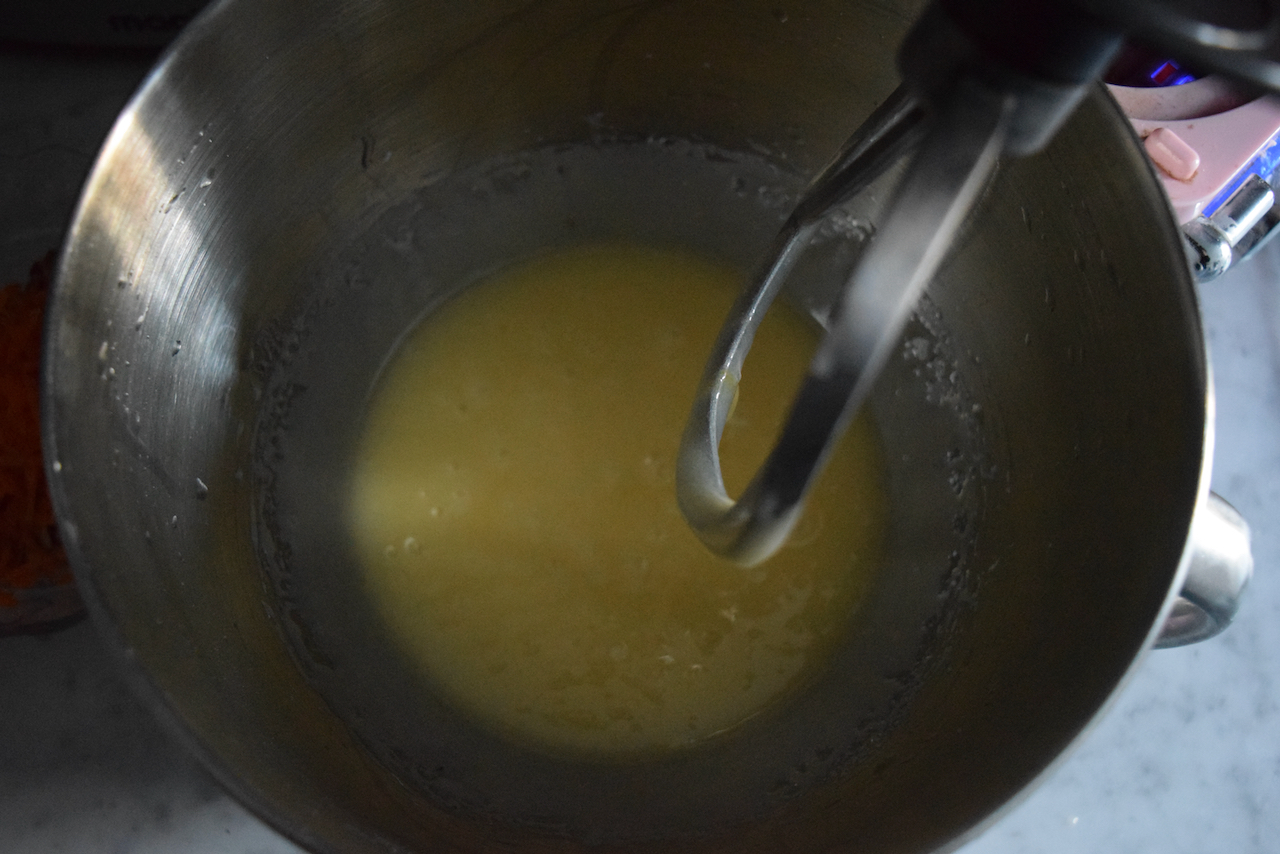 Now fold in the flour cinnamon combo then follow that with the carrot and chopped pecans if you're using. They add a lovely bit of nutty crunch, but if there is a nut issue, then feel free to omit.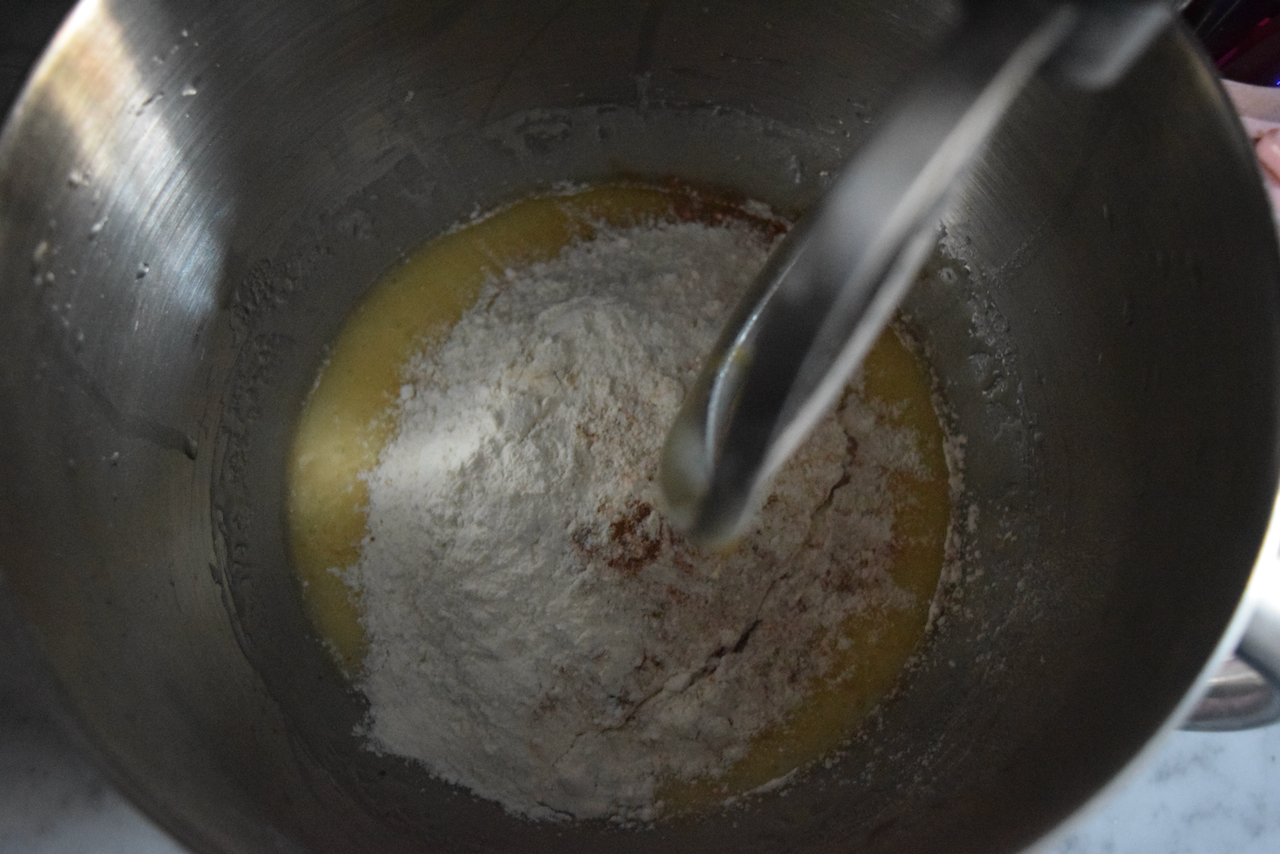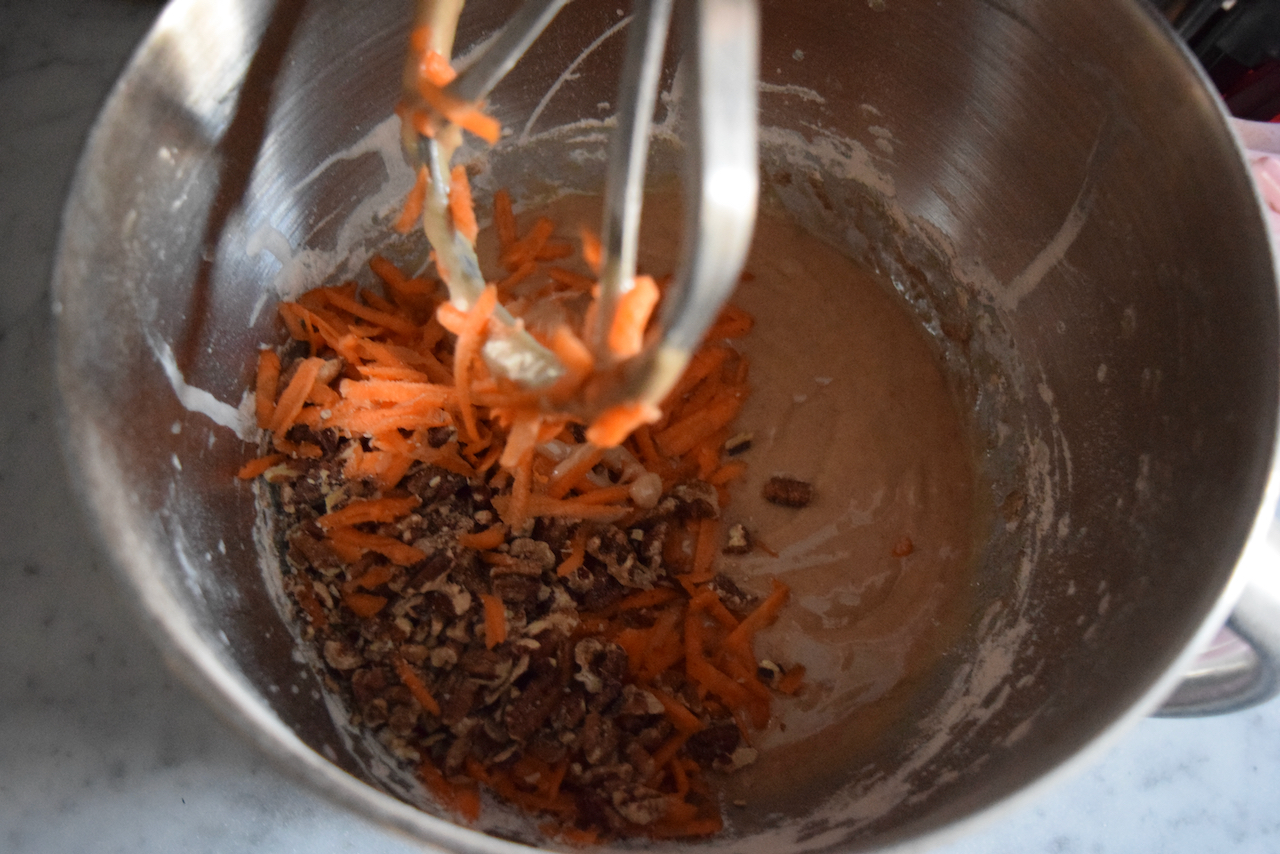 The resulting batter will be lumpy, but smooth, am I making any sense?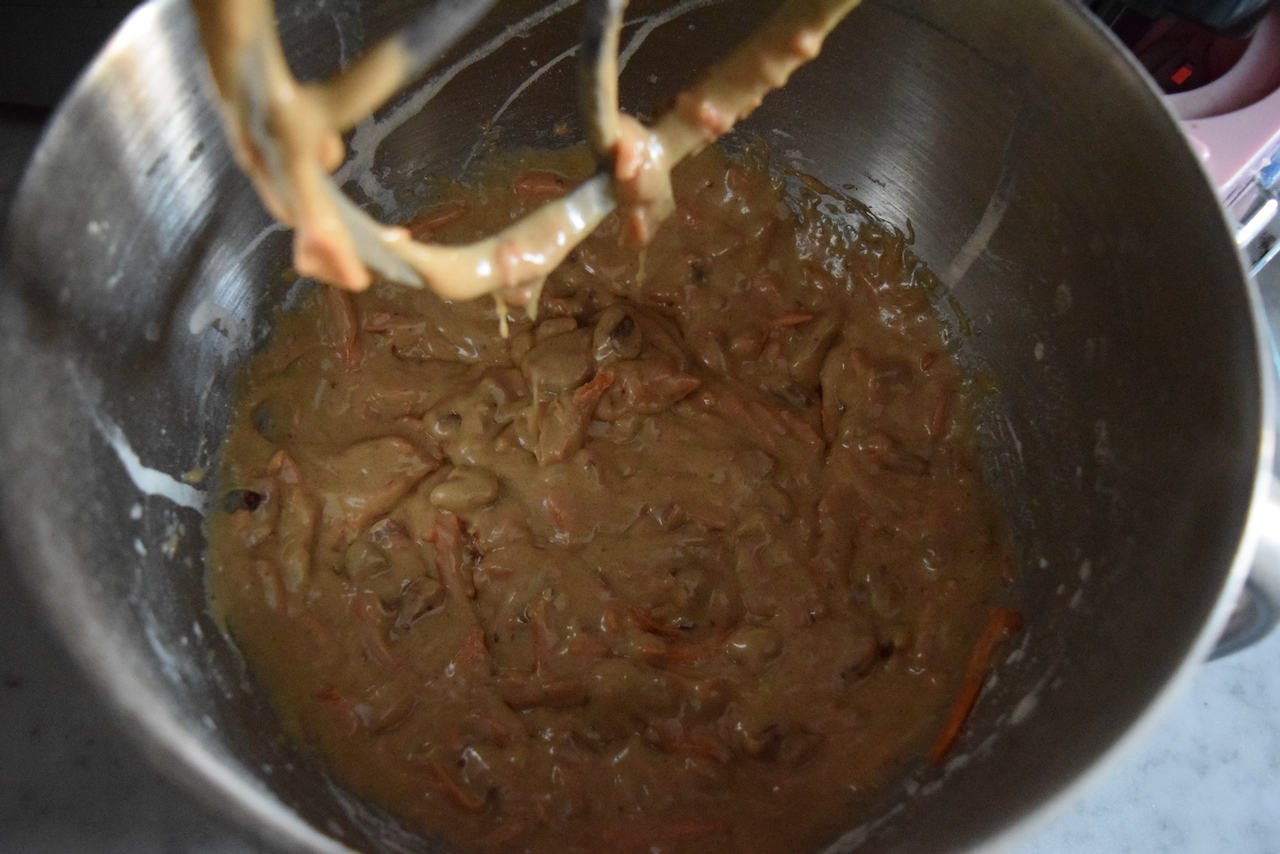 Fill your cupcake cases to around 2 thirds full. I use an ice cream scoop for this to ensure reasonably even sized cupcakes.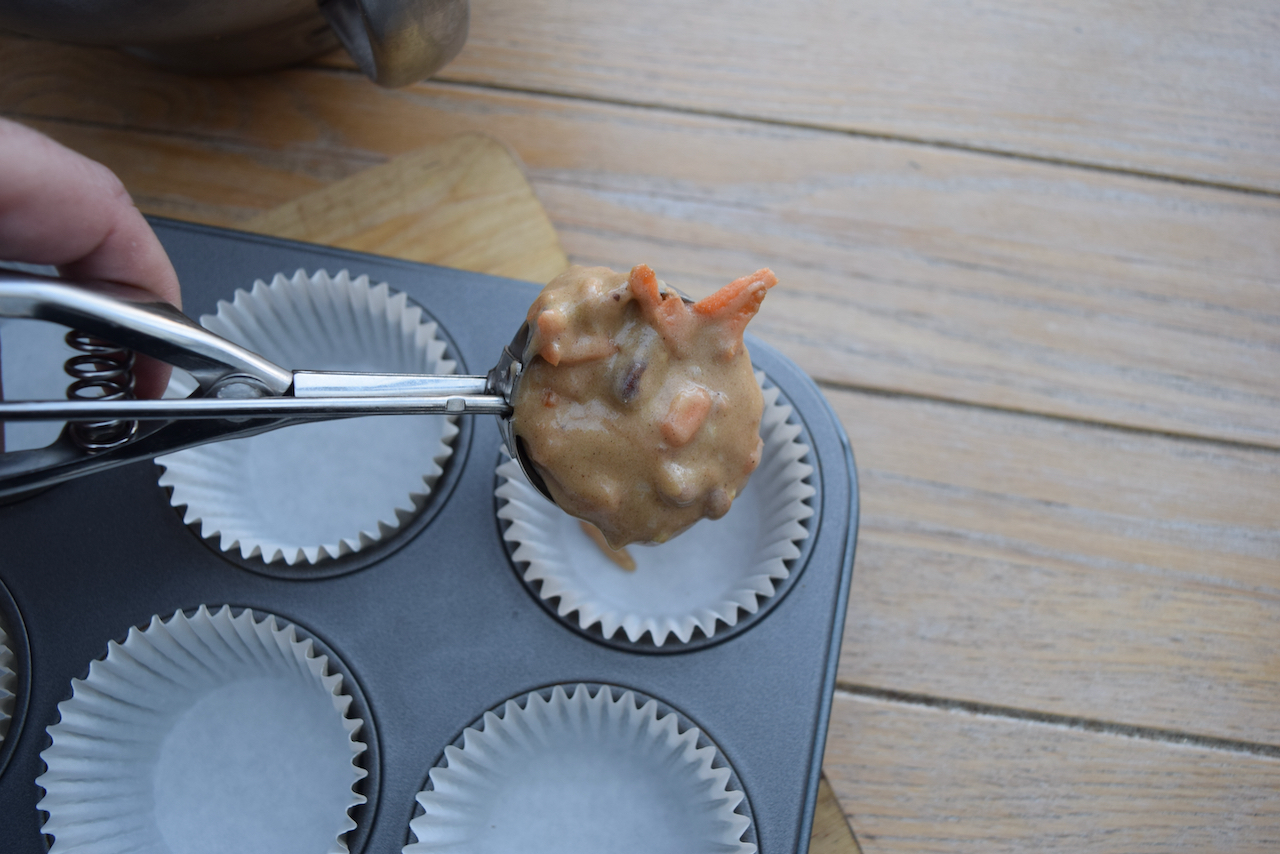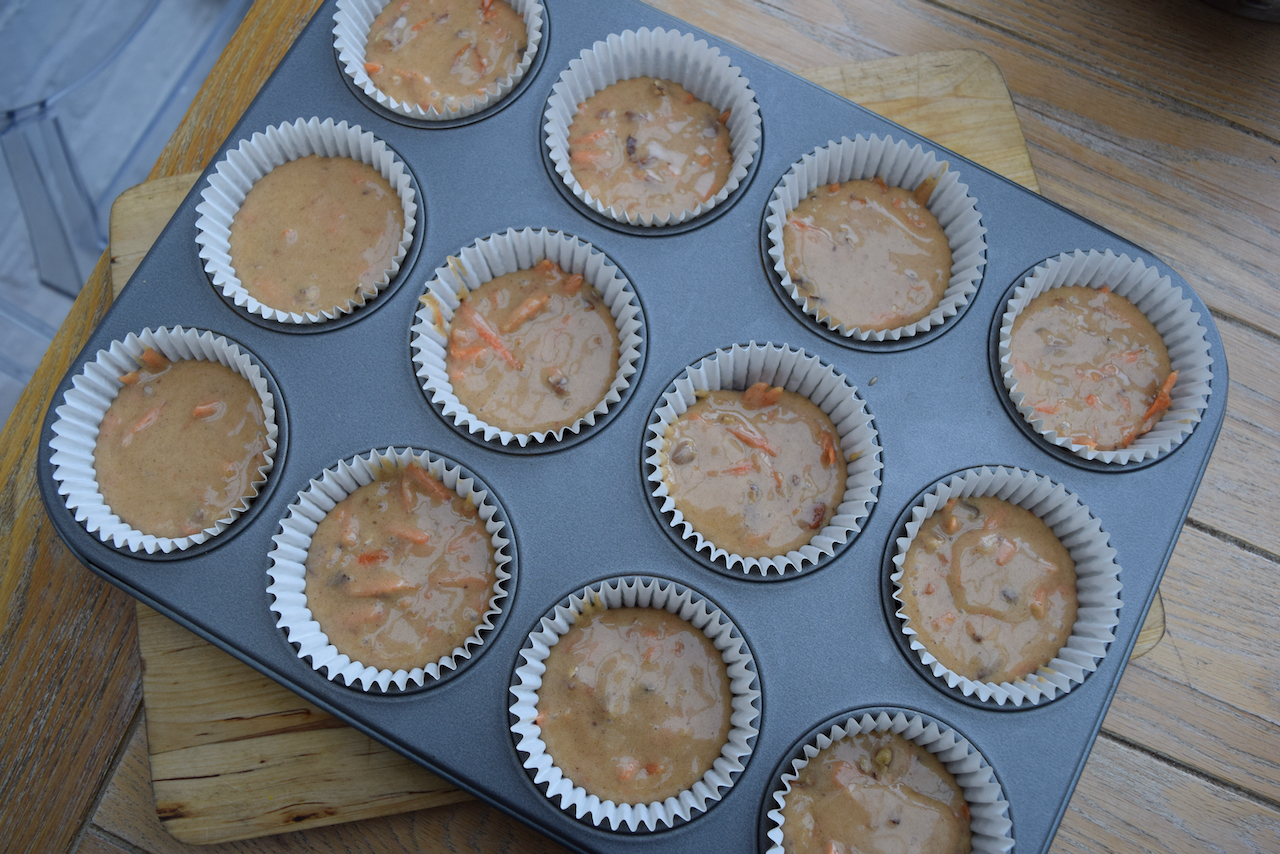 Pop these into your pre-heated oven for around 20 minutes or until the carrot cupcakes are golden, firm to the touch and smelling just amazing.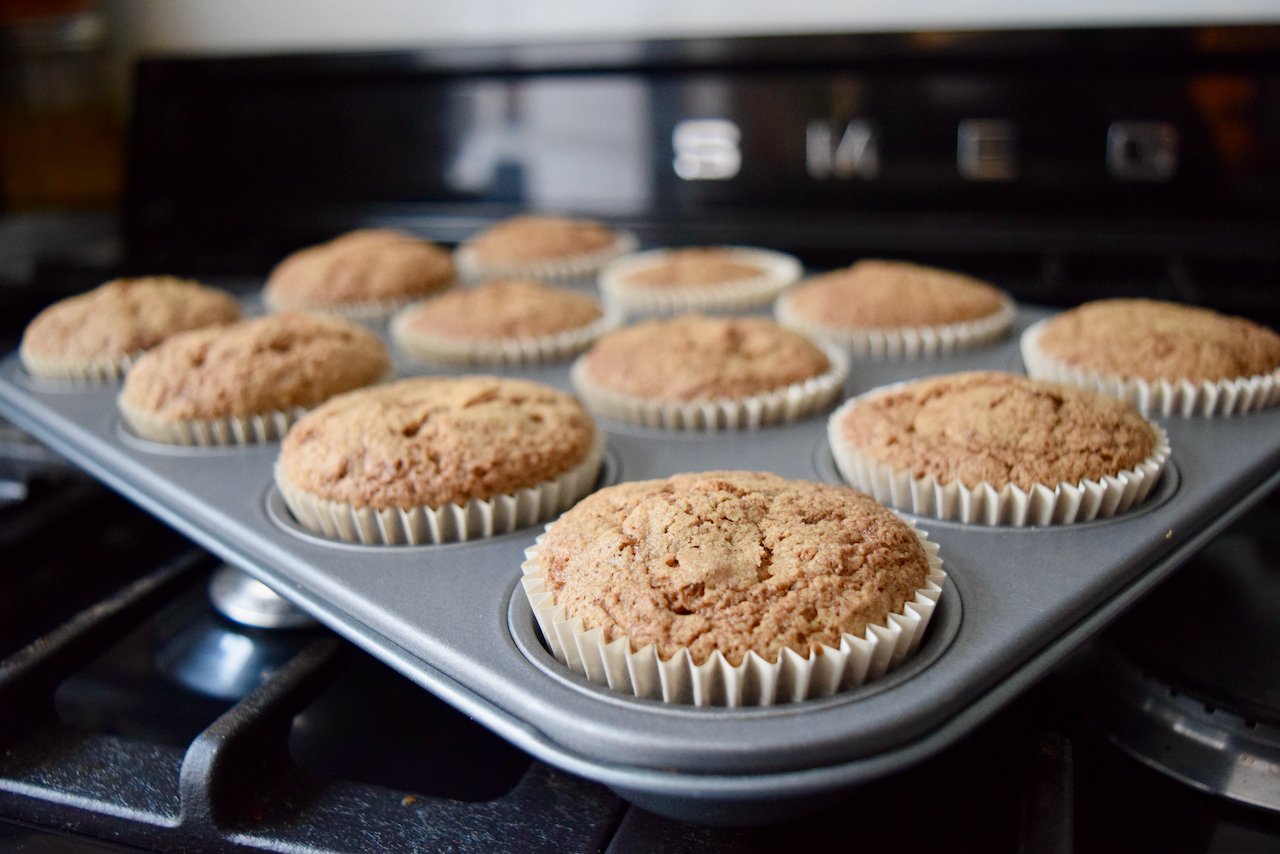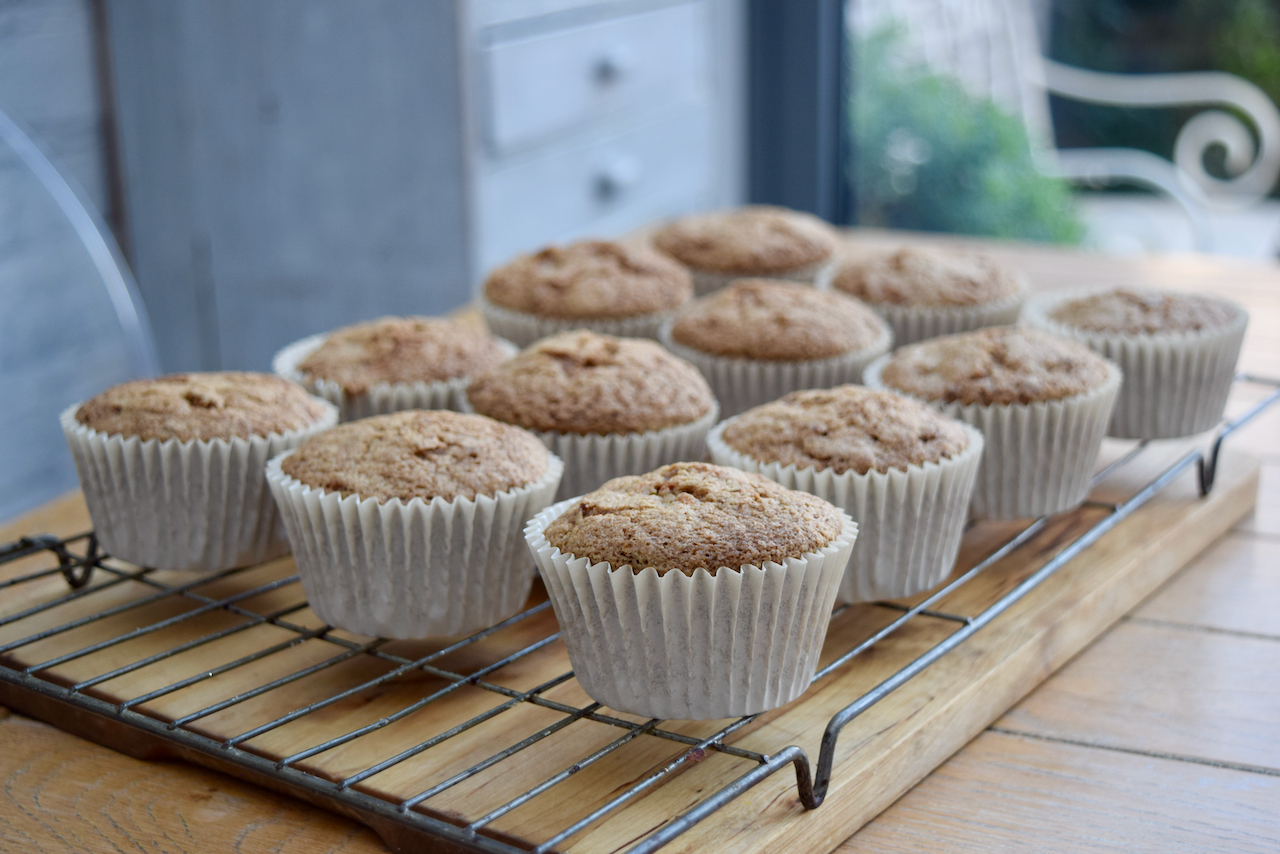 Leave to cool on a rack while you crack on with the icing. My top tip for this is to mix the butter, icing sugar and vanilla together first then beat in the cream cheese at the end in a final flourish. This avoids any lumps caused by the softened butter and the cold cream cheese meeting and not quite creating the smooth mixture I wanted.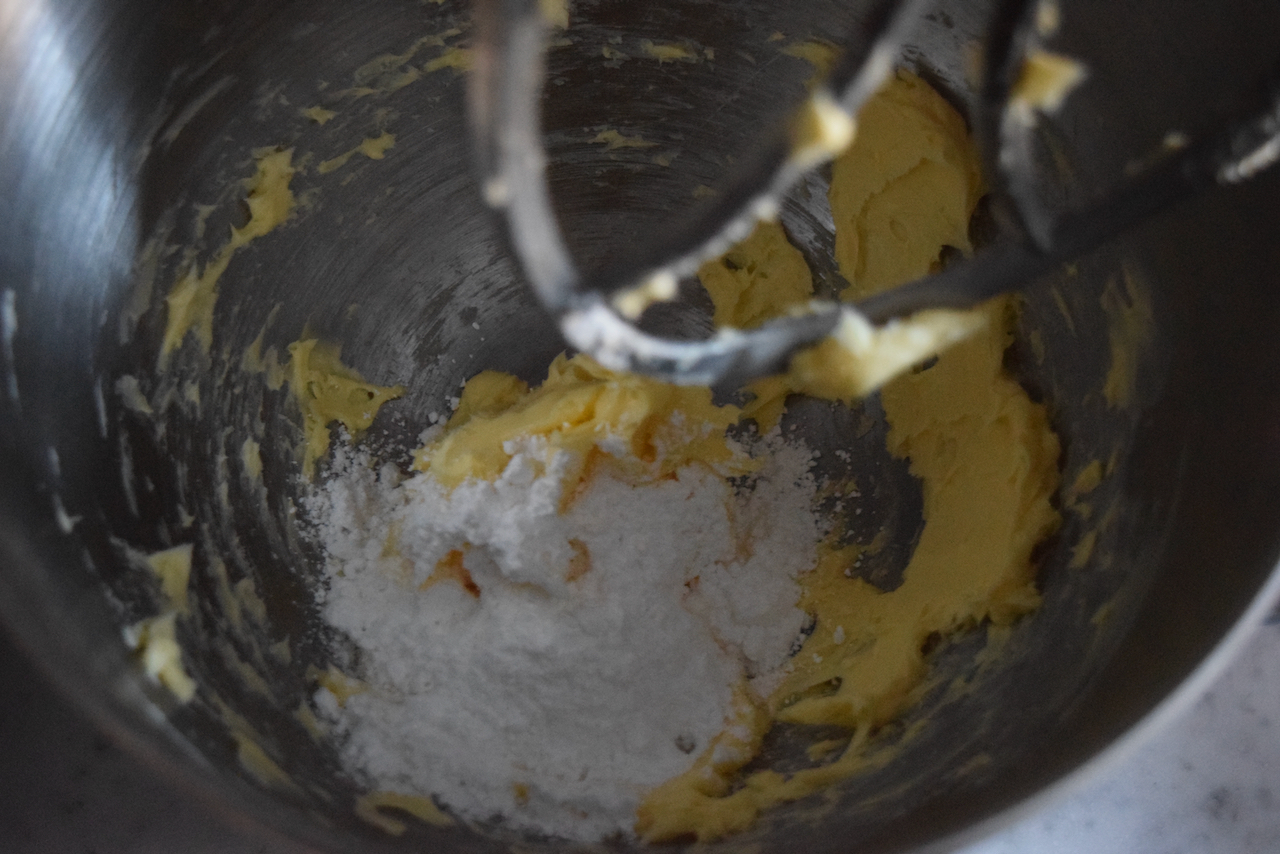 Don't forget to mix the icing sugar in batches unless you would like your whole kitchen covered in a layer of icing sugar dust.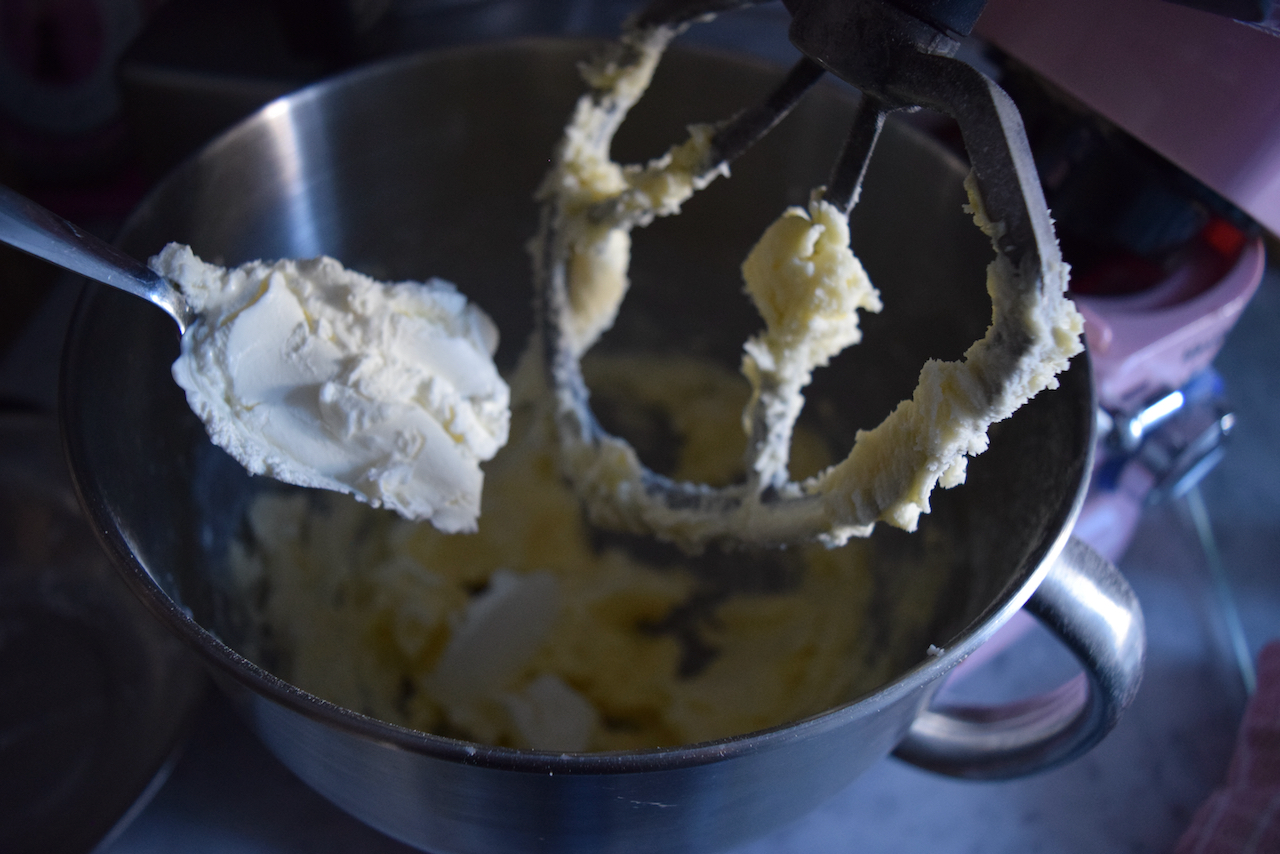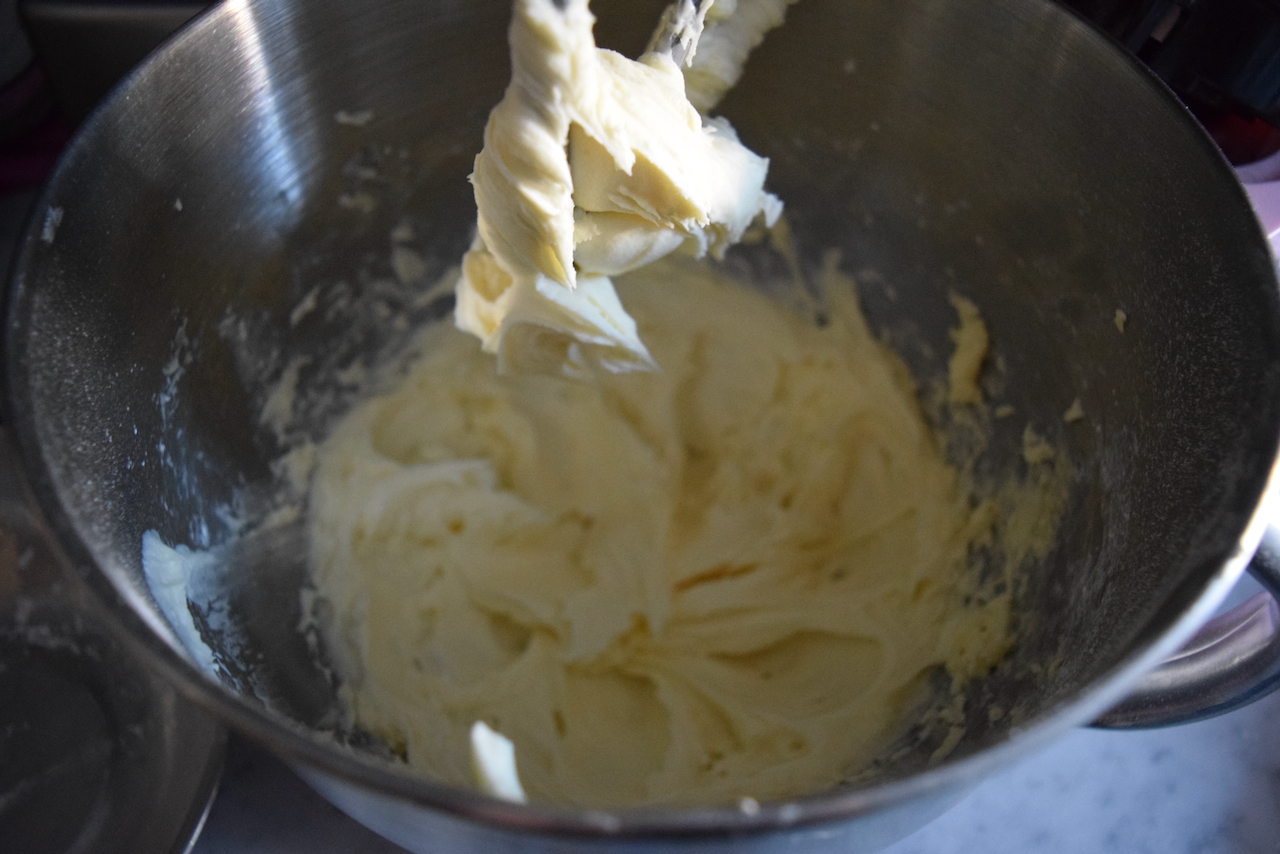 The resulting cream cheese icing is smooth, creamy and well worth eating the whole lot straight from the mixer. If you think that's a bit much to stomach, then use it to pipe onto your cupcakes. Or you can use a palette knife to slather it on instead, up to you. See how I presented mine in a lovely box as though I was going to give them to someone instead of eating them all myself.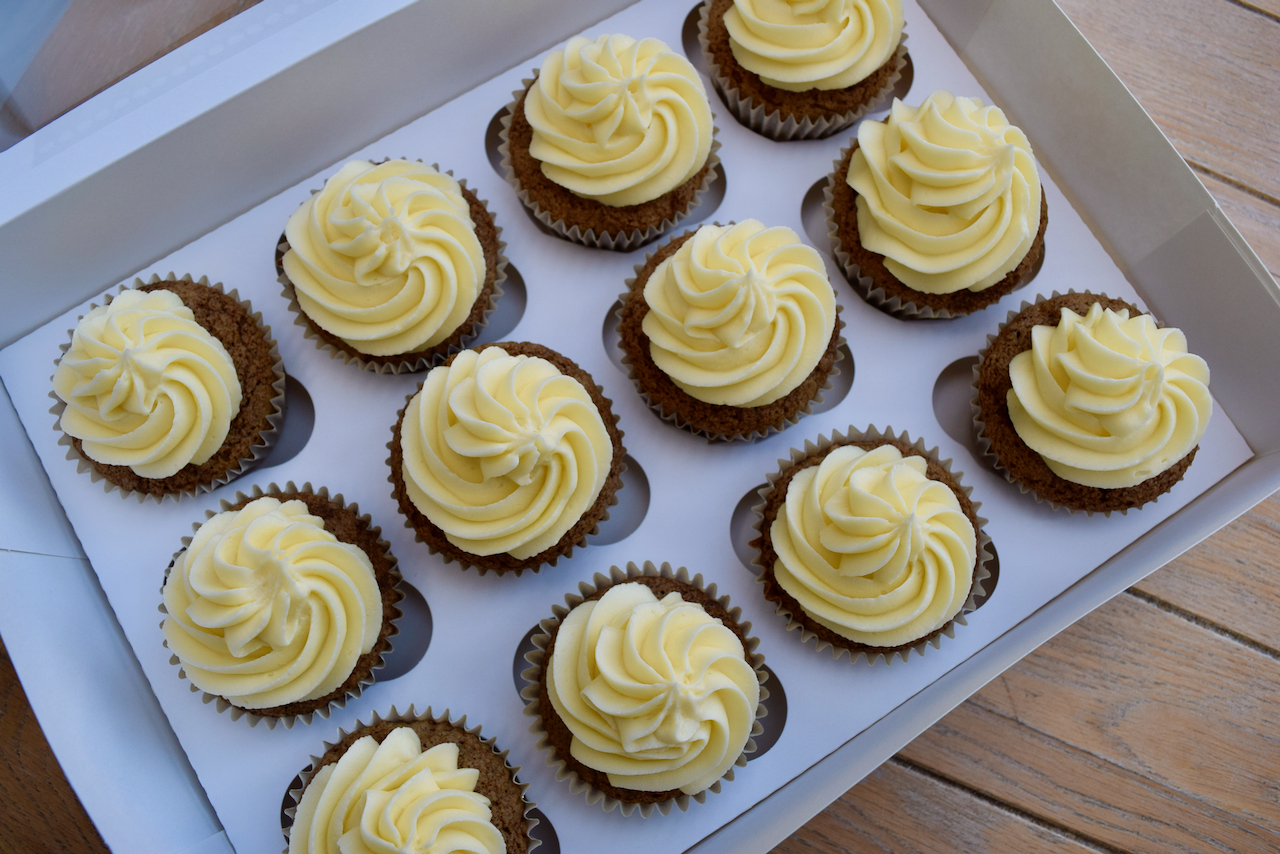 If you do need some half hearted guidance on how I pipe my cupcakes then feel free to watch this link on my hugely under utilised YouTube channel.
Sprinkle on some more chopped pecans in a final flourish, if you like. Then give them to someone you love *me please*.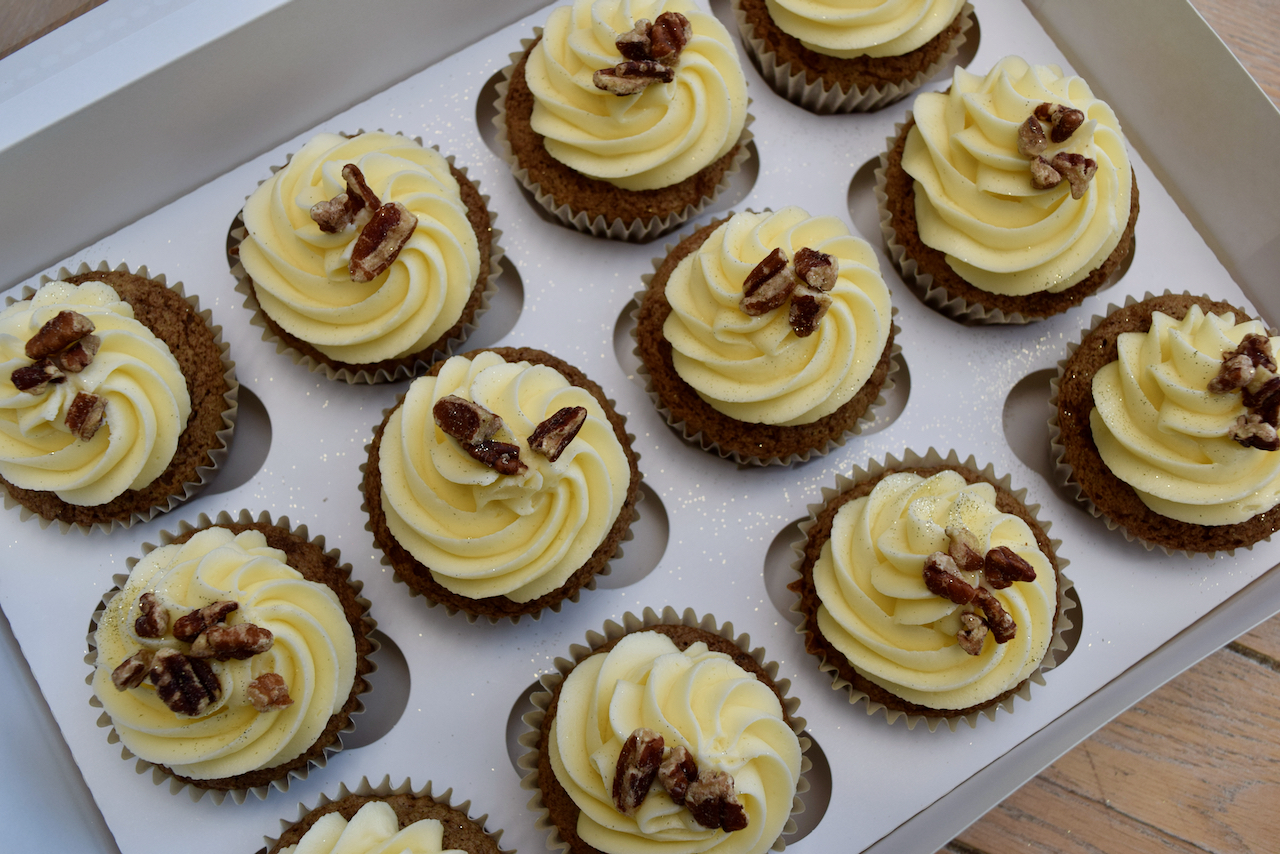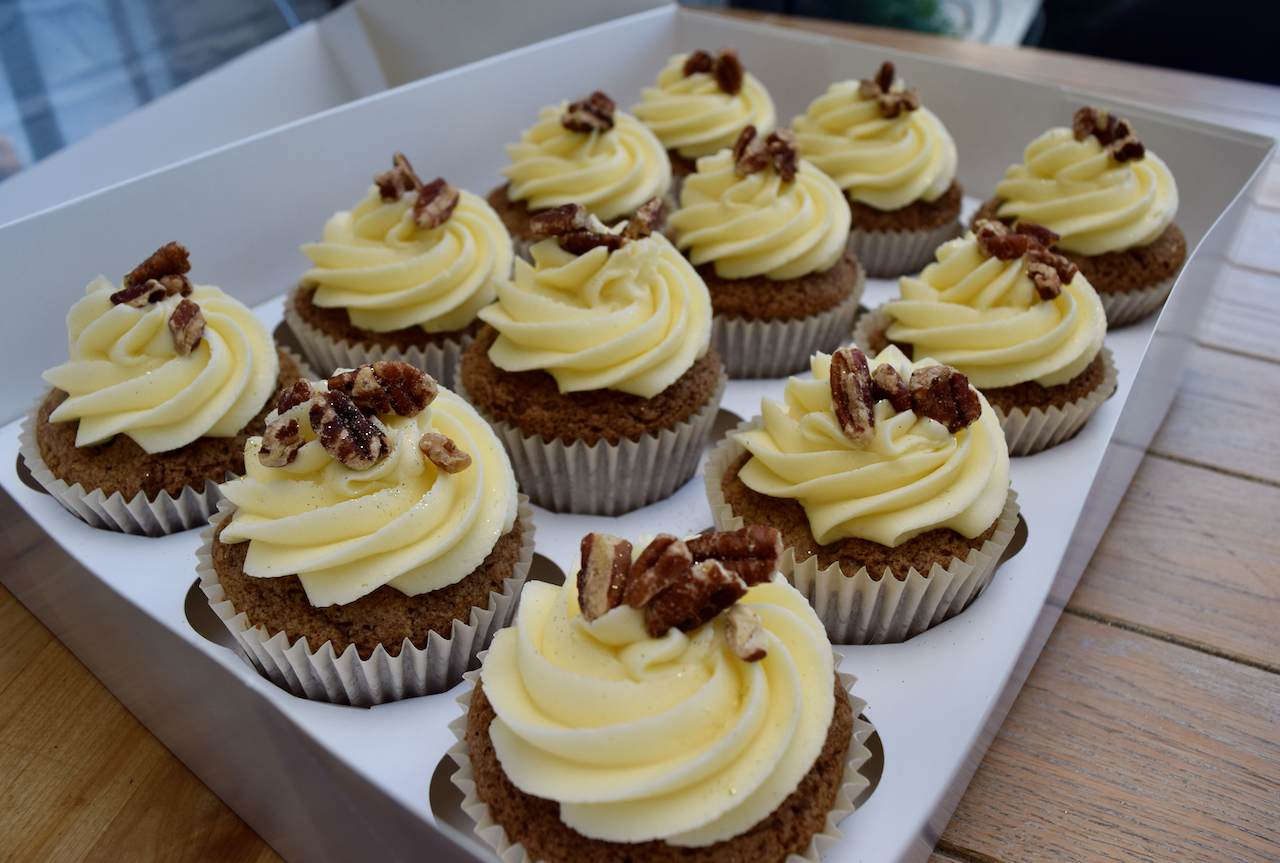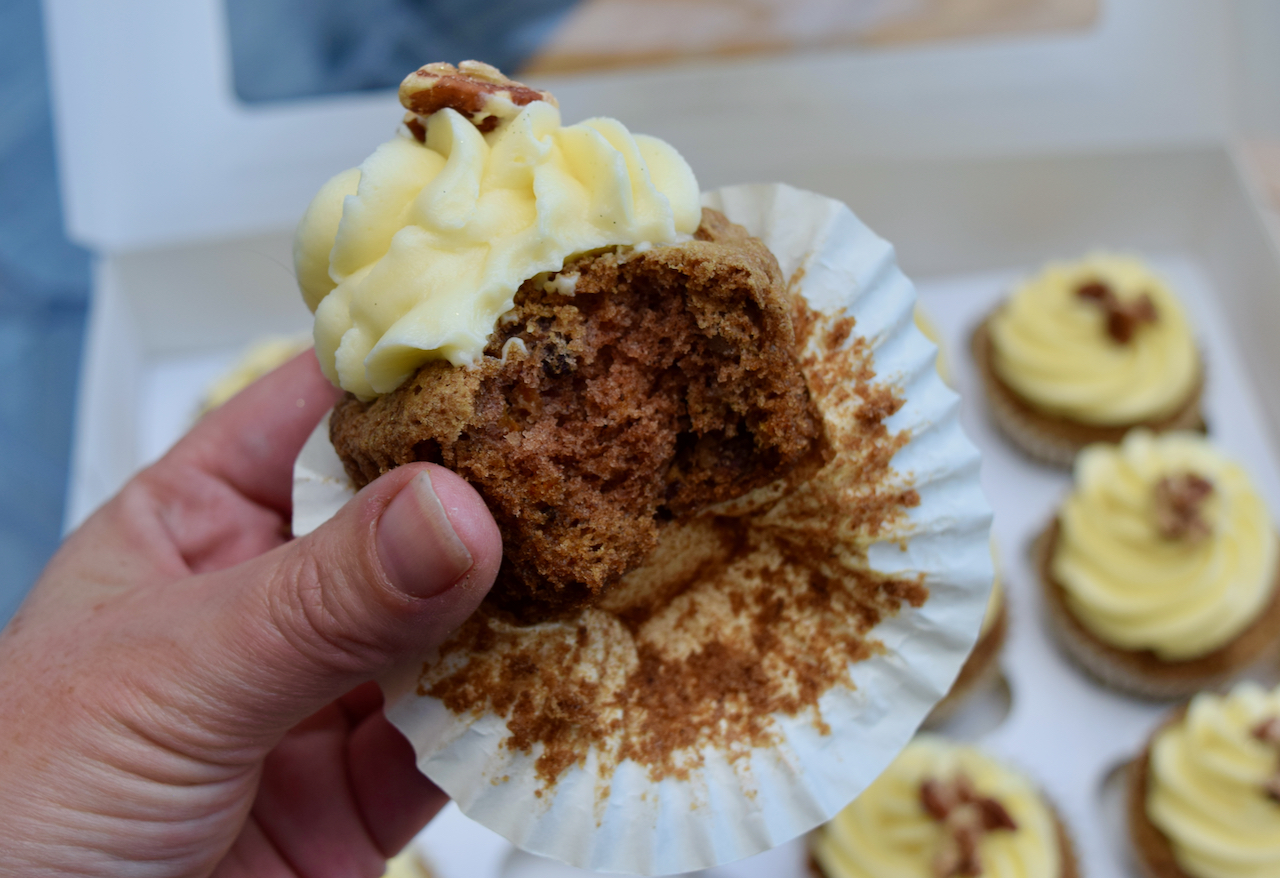 Lockdown is all about keeping safe and keeping sane. Piping cupcakes is very therapeutic and eating them is just pure heaven.
Lots of love
Lucy x
This post contains an affiliate link to Amazon. Should you choose to buy through this link, Lucy Loves will receive a tiny commission at no extra cost to you. Thank you x
Carrot Cake Cupcakes recipe
Makes 12
You will need a muffin tin lined with muffin liners and a stand mixer or bowl and spoon
Carrot Cakes
190g plain flour
1/2 teaspoon salt
1 teaspoon bicarbonate of soda
1 teaspoon cinnamon
200g caster sugar
180ml vegetable oil
2 eggs
1 teaspoon vanilla extract
75g grated carrots
60g chopped pecans, optional, omit if there's a nut issue
Cream Cheese Icing
125g soft butter
250g icing sugar
3 heaped tablespoons cream cheese
1 teaspoon vanilla extract
Extra chopped pecans to garnish
Make a start by lining your muffin tin with papers and pre heating your oven to 160 degrees fan assisted.
Measure the flour, salt, bicarb and cinnamon into a bowl and give them a little whisk. In your stand mixture or bowl with a whisk beat the oil and sugar until well mixed. Add the eggs one at a time, along with the vanilla, and whisk until smooth.
Fold in the dry ingredients until you have a smooth batter then stir in the grated carrot and chopped pecans. Scoop the mixture into your muffin cases, they'll be about 2 thirds full and bake for 20 minutes or until golden and firm to the touch and when you poke a skewer in the middle it comes out clean.
Leave to cool while you make the icing. Beat the soft butter with a third of the icing sugar until smooth, then add the rest in two batches to avoid a cloud of icing sugar. Finally beat in the cream cheese until you have a smooth, soft icing. Either spread or pipe this onto your cupcakes.
Sprinkle with some extra chopped pecans then devour. The cupcakes will keep in a cool place for 2 to 3 days, but keep in the fridge on warmer days.