Cocktail Sausage Roll Recipe
These are a Christmas classic in our house and frankly, I relish adding sausagemeat to my shopping order to herald the start of festive entertaining. As soon as December begins, these appear, with a flourish, as a pre lunch treat or they just appear, for eating, not even for a special occasion. They are not your standard tired old sausage rolls, these take pork and pastry based treats to a new level. Just by adding cheese and fresh herbs, these become a must have nibble, not just for Christmas, but for life.
For Lucy Loves Sausage Rolls, I have added strong cheddar, but you can also use blue cheese which is rich and delicious. Parsley is perfect, but do experiment with basil or oregano if you'd rather. Serve them warm or cold, alone or with a chutney or posh ketchup to dip them into. The only other suggestion I would have it to double the recipe, as this batch will be inhaled, leaving nothing but modest crumbs on your plate.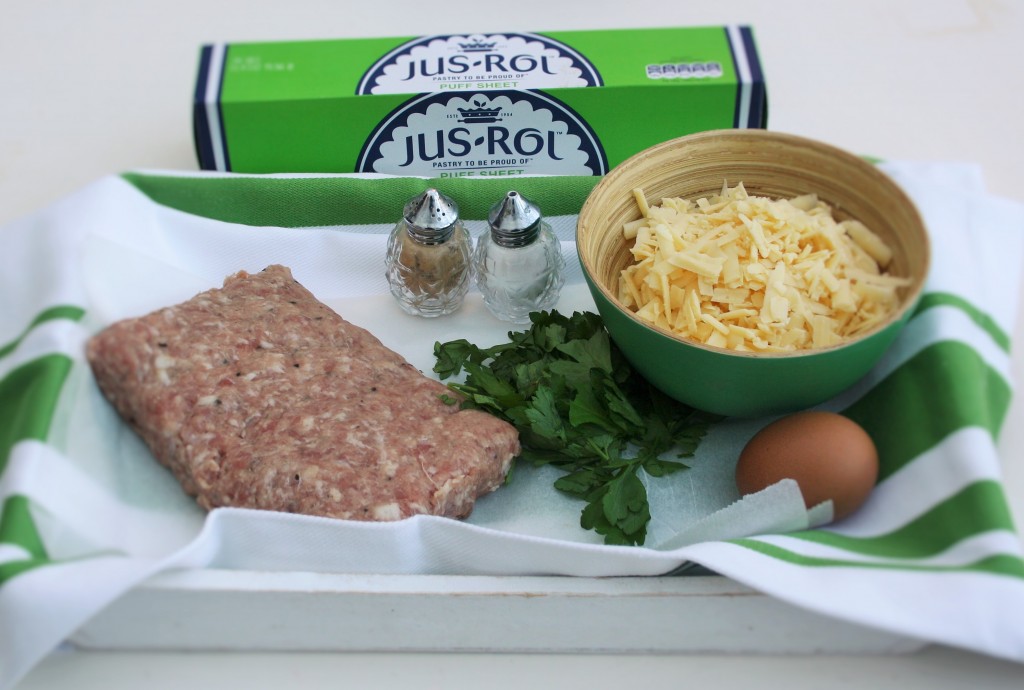 Look at this wonderfully small ingredient list – hardly anything to balls up and all available in your local supermarket. You can keep all these things in your freezer, ready to make a batch in the time it takes to defrost the pastry and sausage meat.
Firstly, take the pastry, remove from its packaging and let it come up to room temperature. Meanwhile, line two baking trays with greaseproof paper and pop the oven on. Take the sausage meat, add the parsley, salt and pepper and the grated cheese of your choice.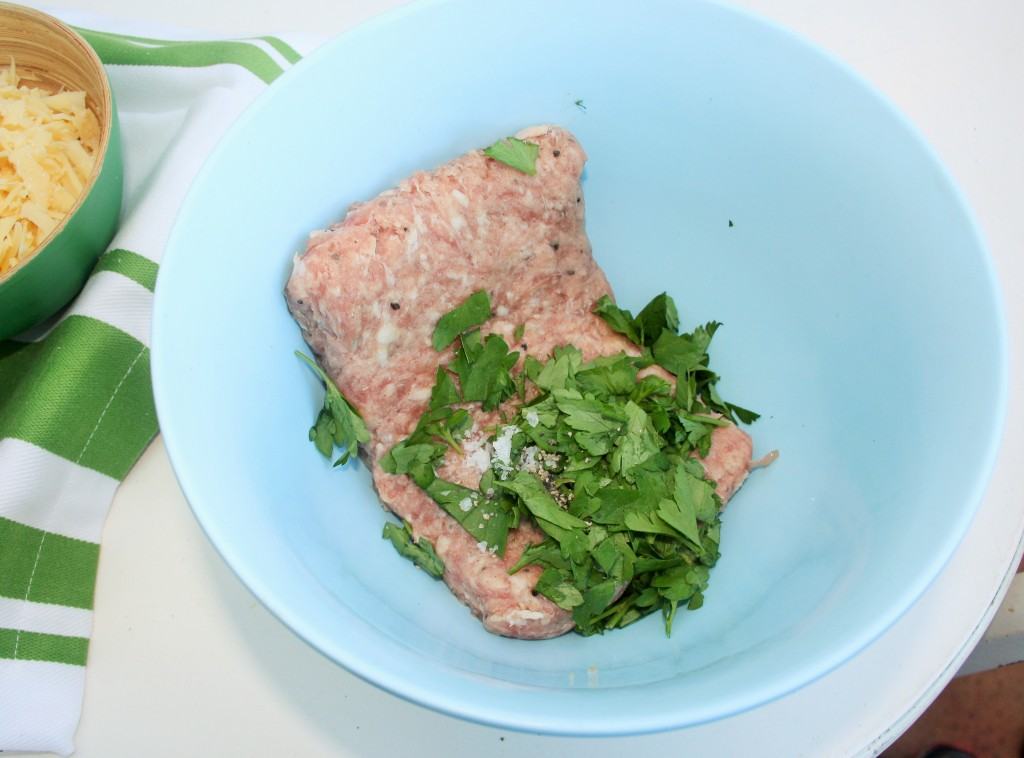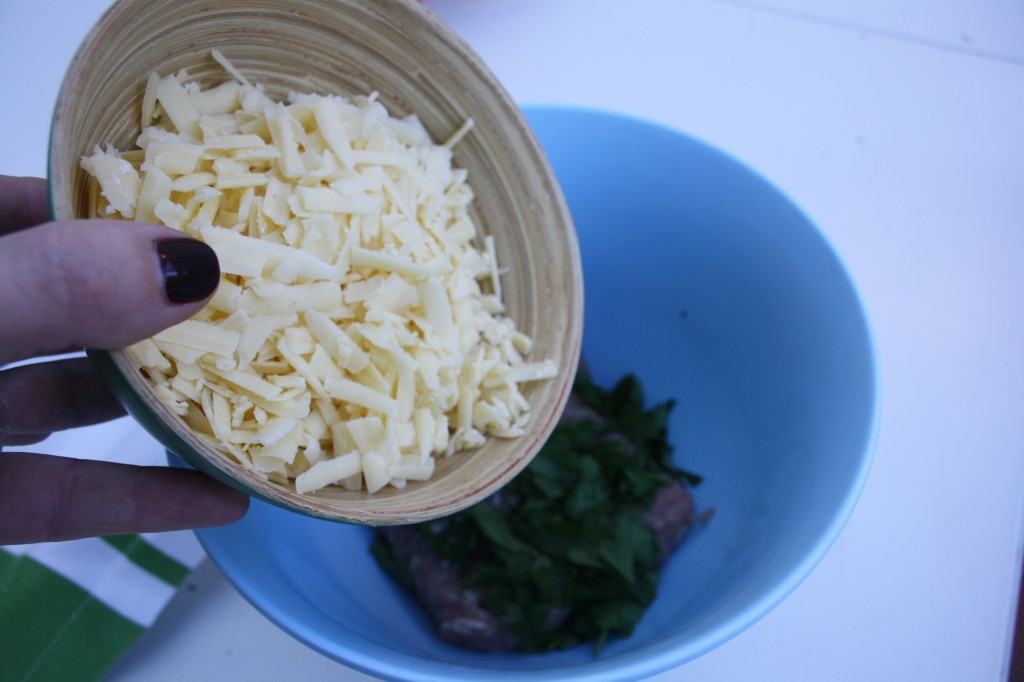 There's that manicure from last week, that was a tenner well spent.
Then, with your freshly washed hands *hi-vis jacket on*, go in and give all these tasty ingredients a bloody good mix. If you are squeamish, do use a spoon, and try and man up a bit.
Pop this to one side while you sort out the pastry.
Lay the pastry out on a board and roll it to flatten slightly more than it is. You should have large rectangle of pastry in front of you at this stage.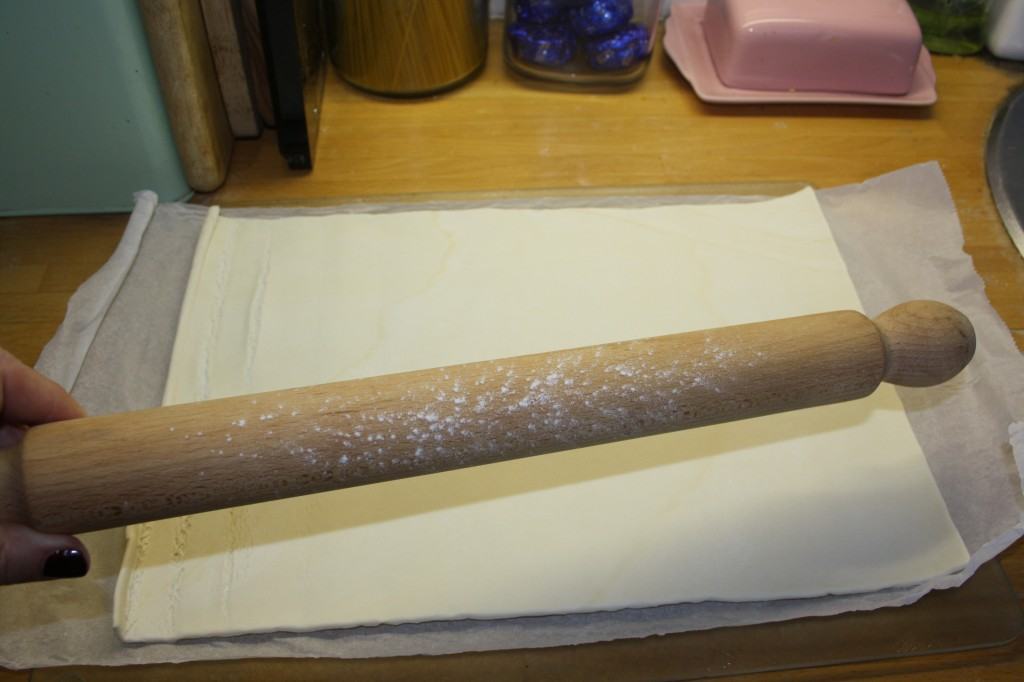 With a sharp knife, cut the pastry into three pieces across the middle. Don't bother with a ruler, just do this by eye. My eyesight is ghastly, but I still managed to make three almost equal bits.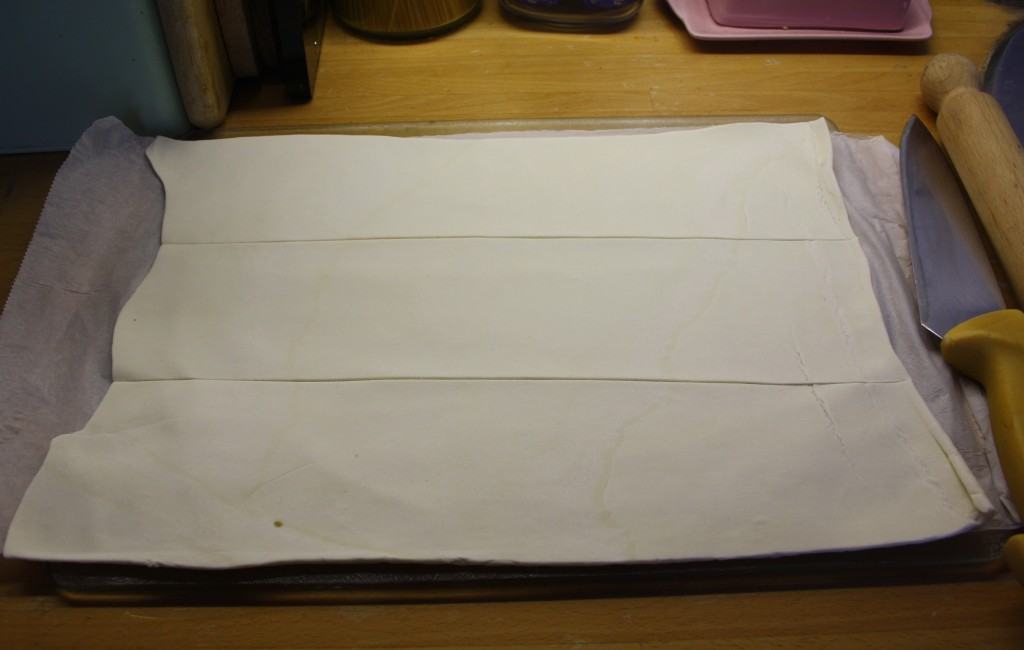 Then its back to being hands on. Take you sausage meat and divide into three pieces. Fashion each piece into a long sausage like shape and lay along the middle of each strip of pastry. Like so….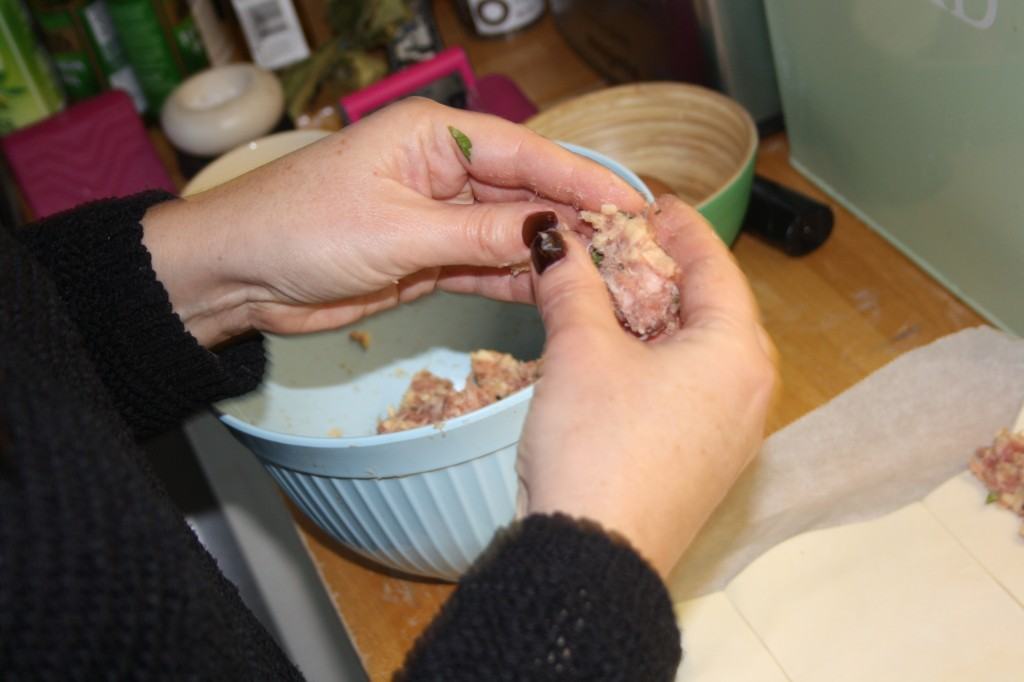 This is a terribly hand shot heavy post, isn't it? Sorry.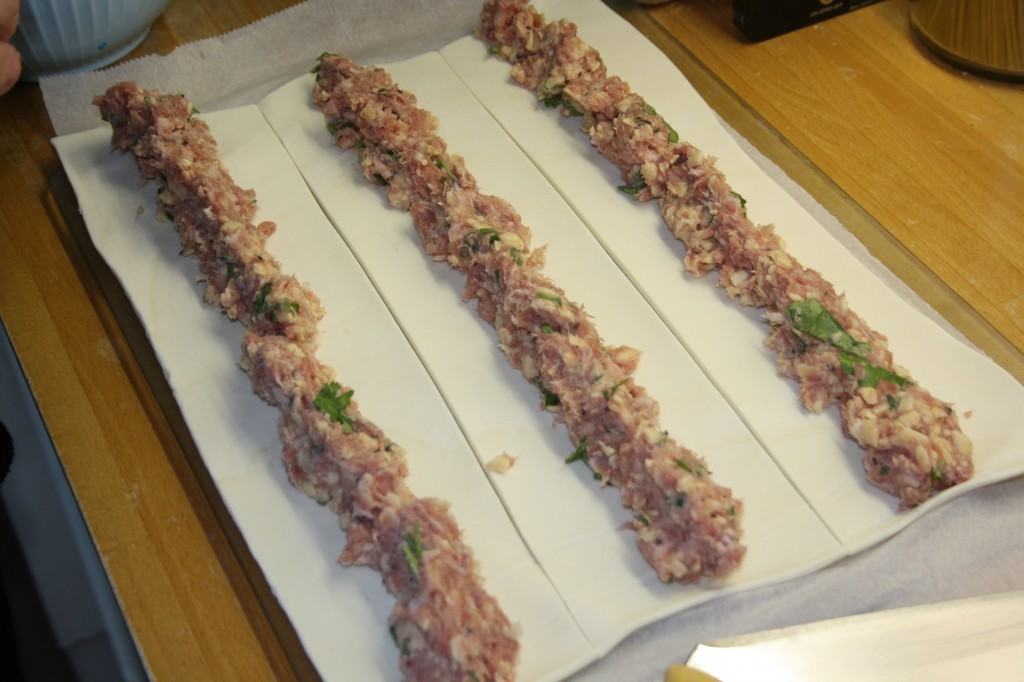 To make these into sausage rolls, fold over the top of the pastry, pushing the sausage meat into the pastry as you go. Seal the edges with your fingers then to minimise cheese and sausage fallout, using a fork, crimp the rolls.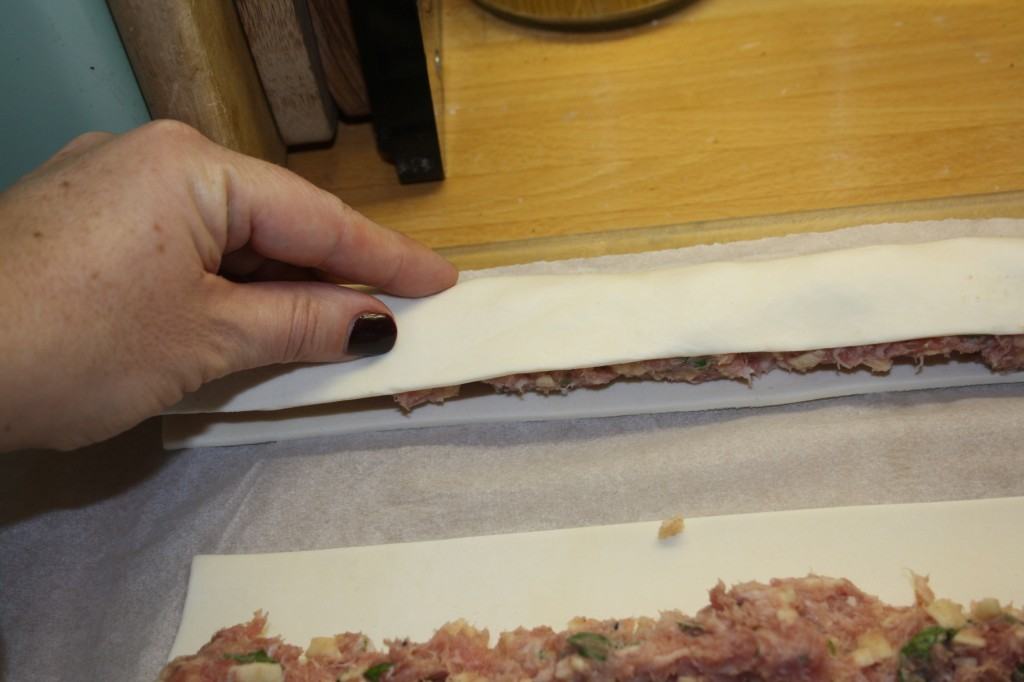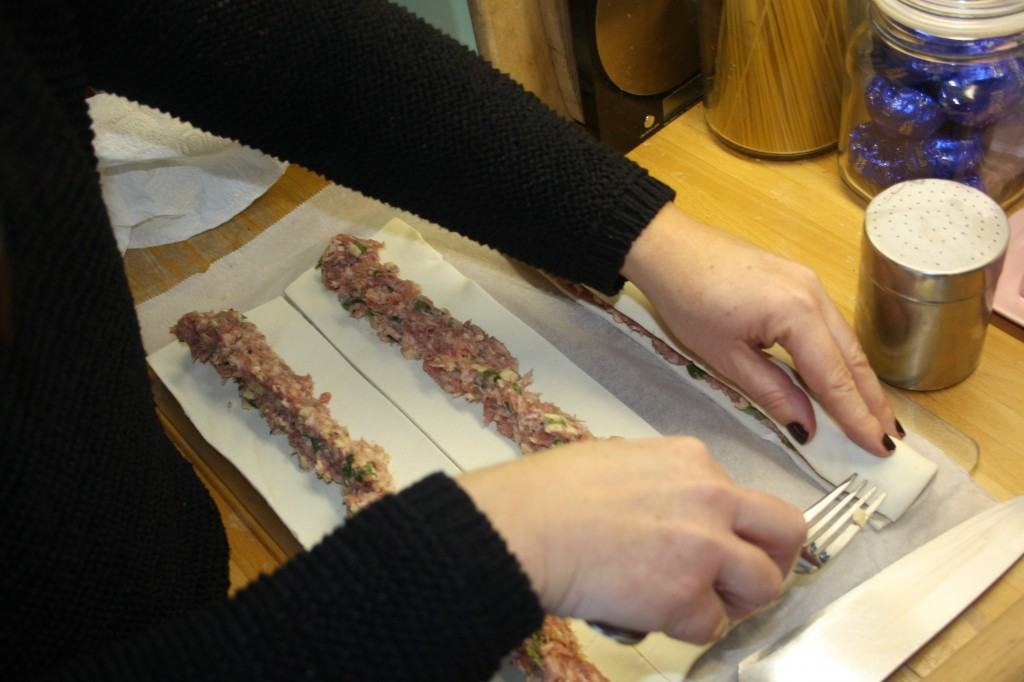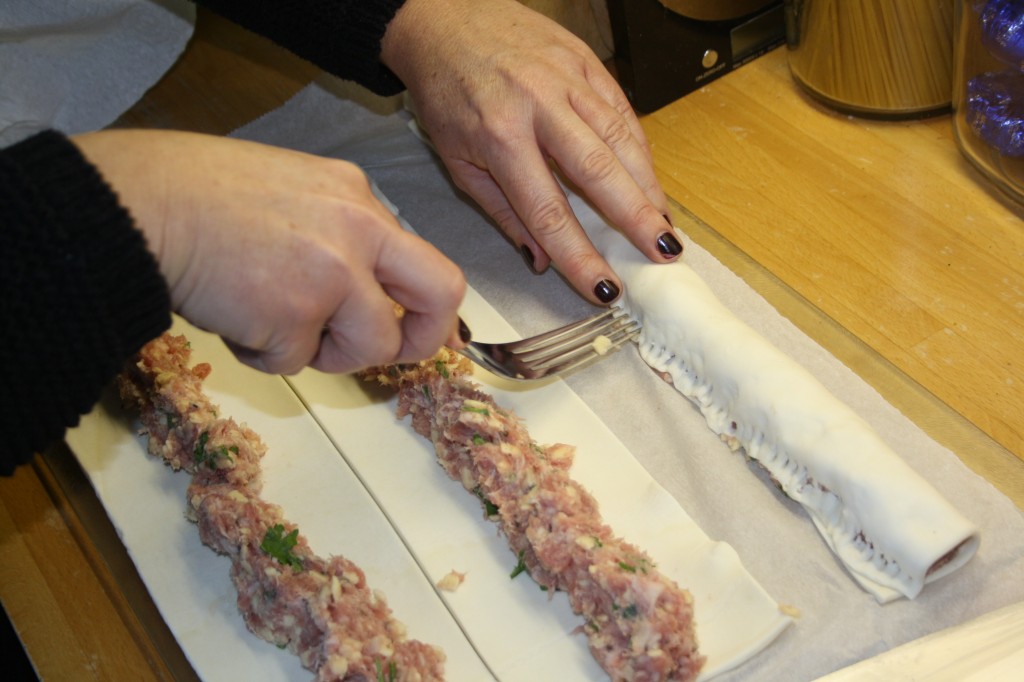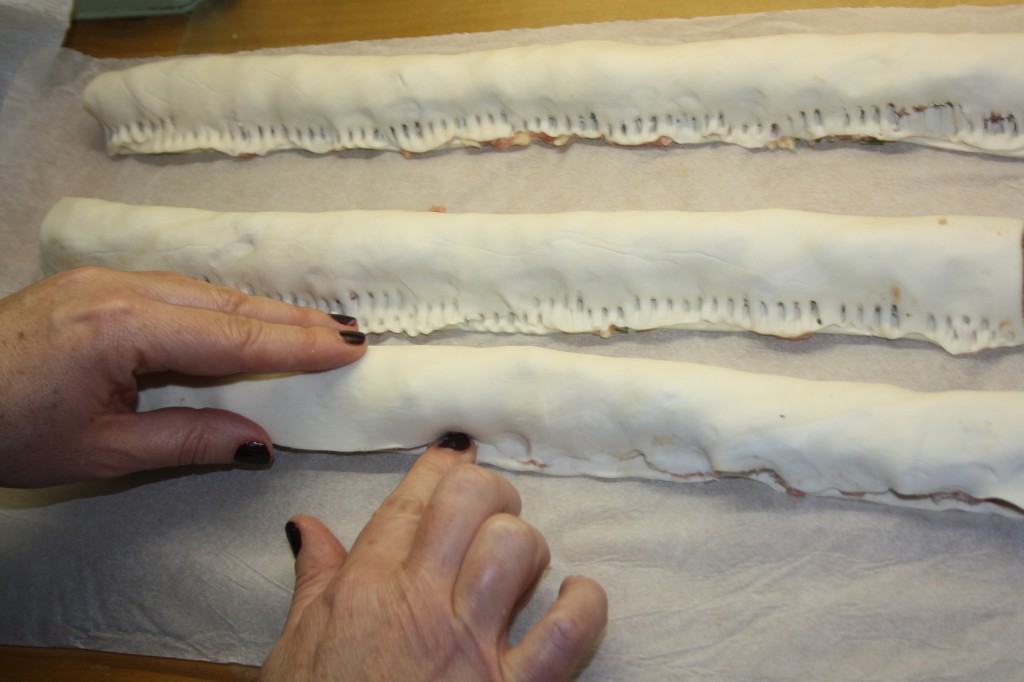 Once you have sealed all three rolls, cut them into, approximately, inch wide cocktail sausage rolls. If you'd prefer bigger rolls, then make them bigger and cook for a further 5 minutes or so. Lay the cut sausage rolls onto your lined baking trays.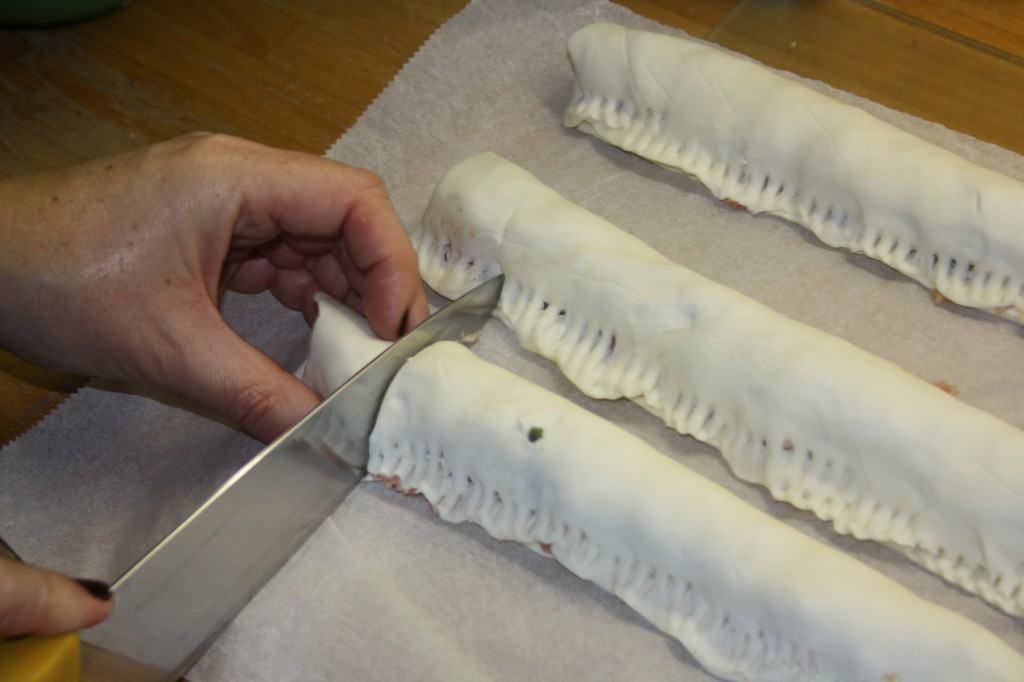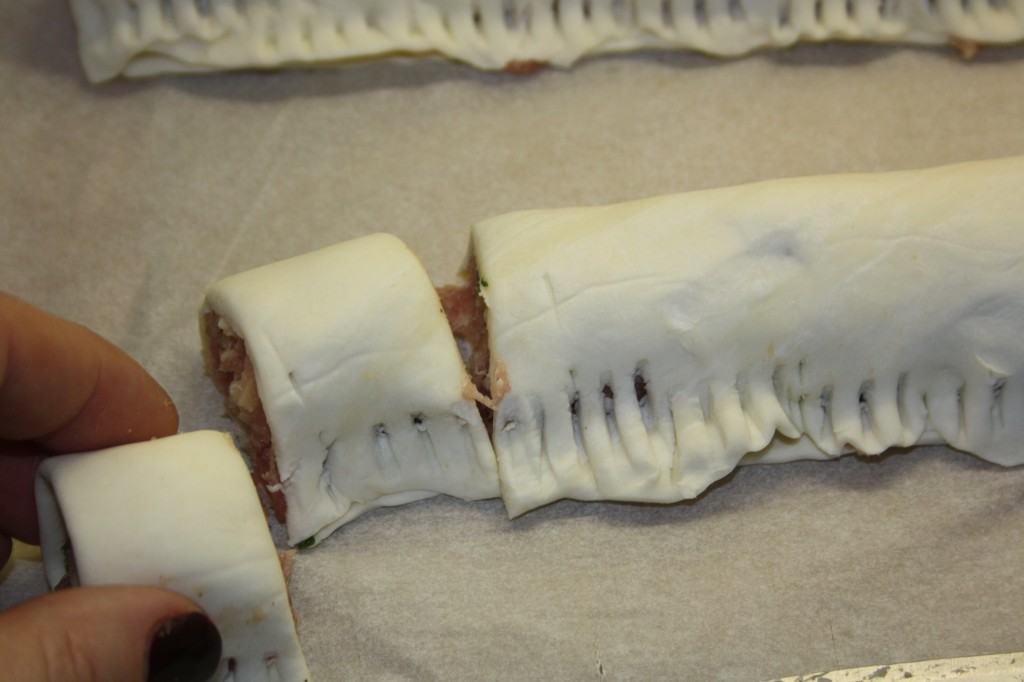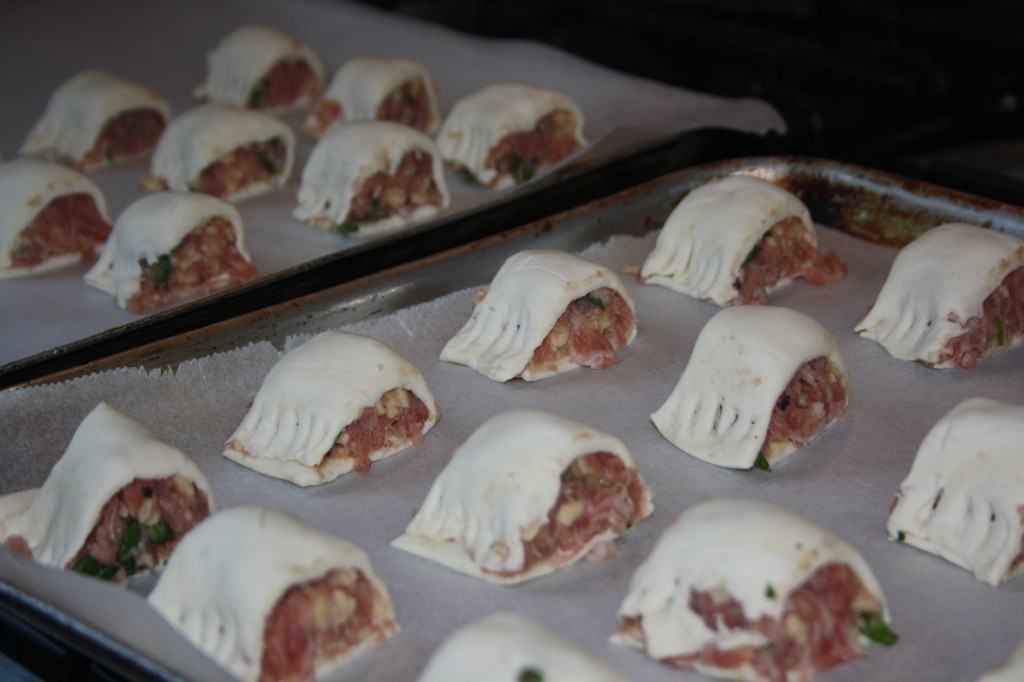 Beat an egg, and lightly egg wash these beauties before putting them into the pre heated oven for from 20 to 25 minutes or until crisp, golden and mouth wateringly cheesy.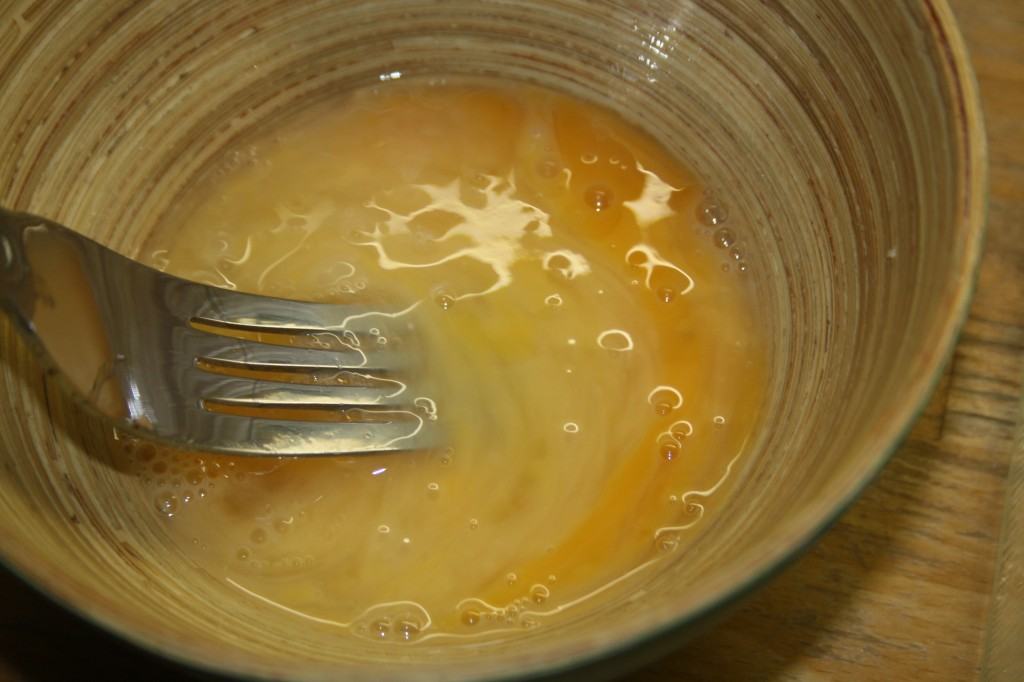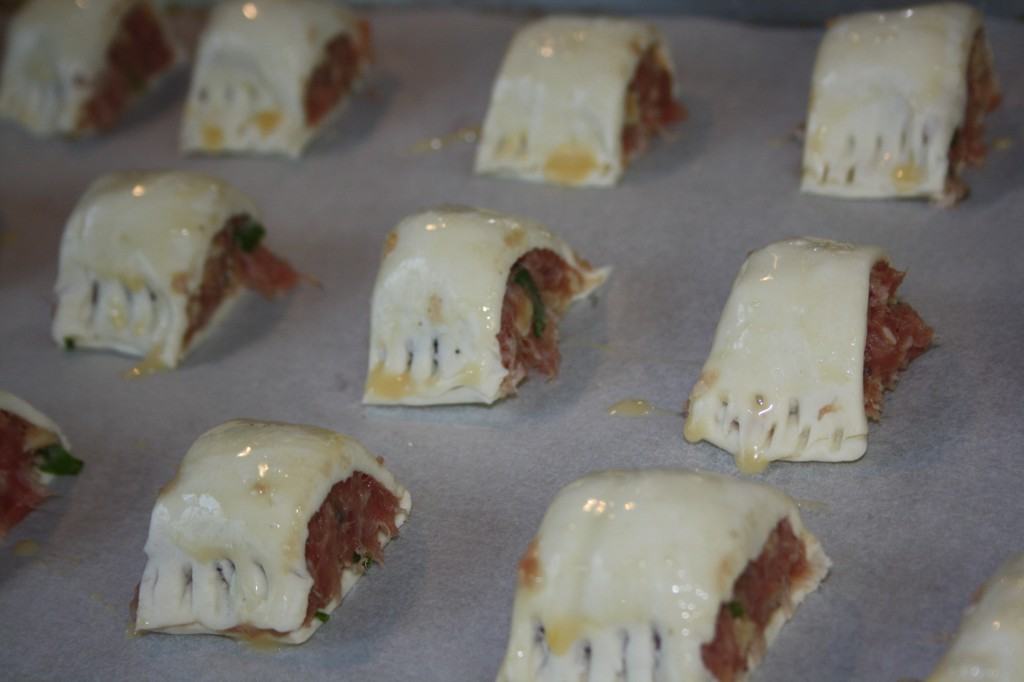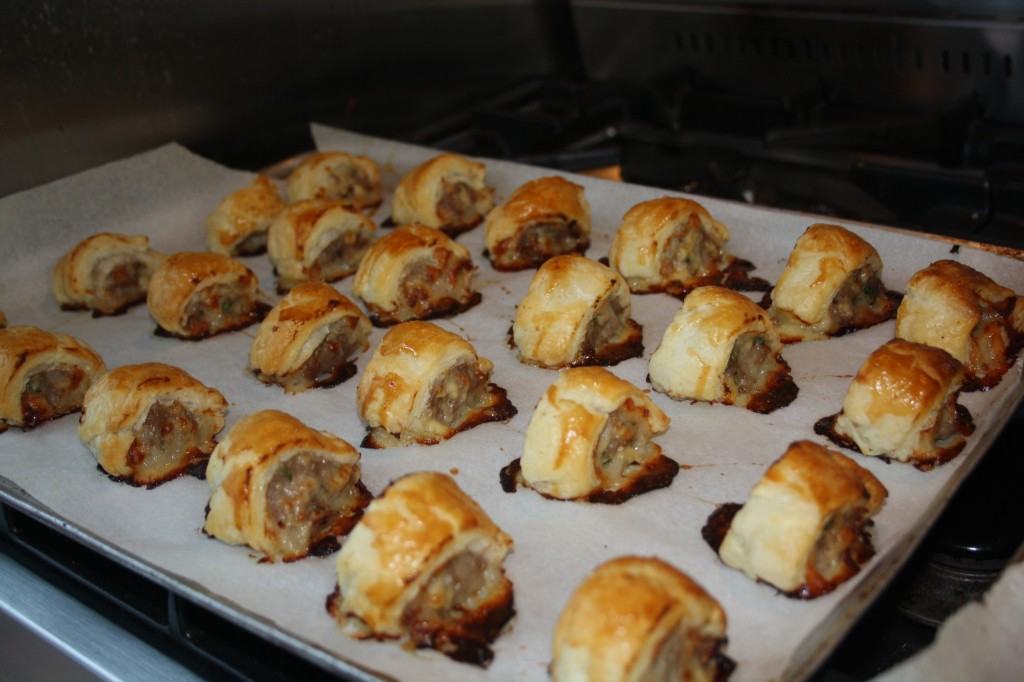 And there they are. These will keep your guests happy for hours on end. However, I would allow at least five per person, not taking into account the three burning hot ones you'll eat when they are fresh from the oven, scalding the room of your mouth.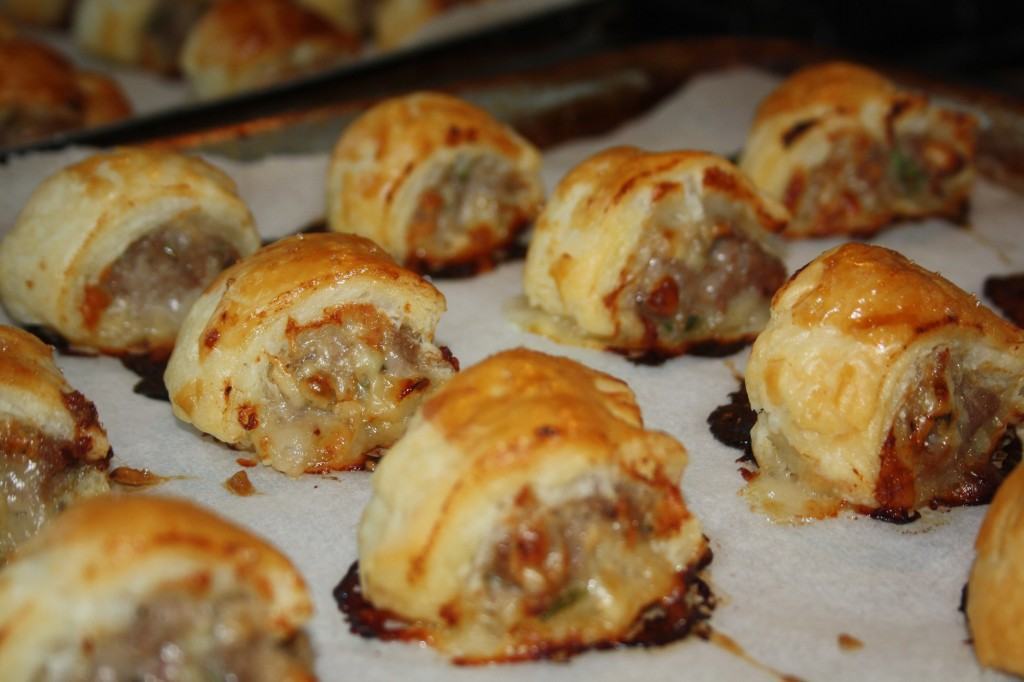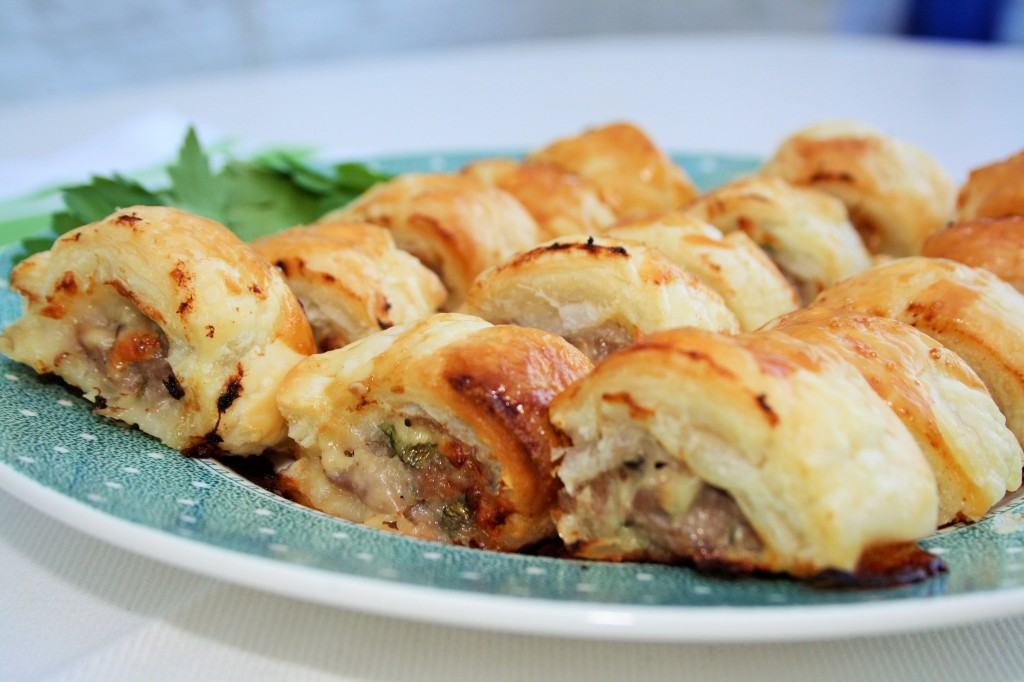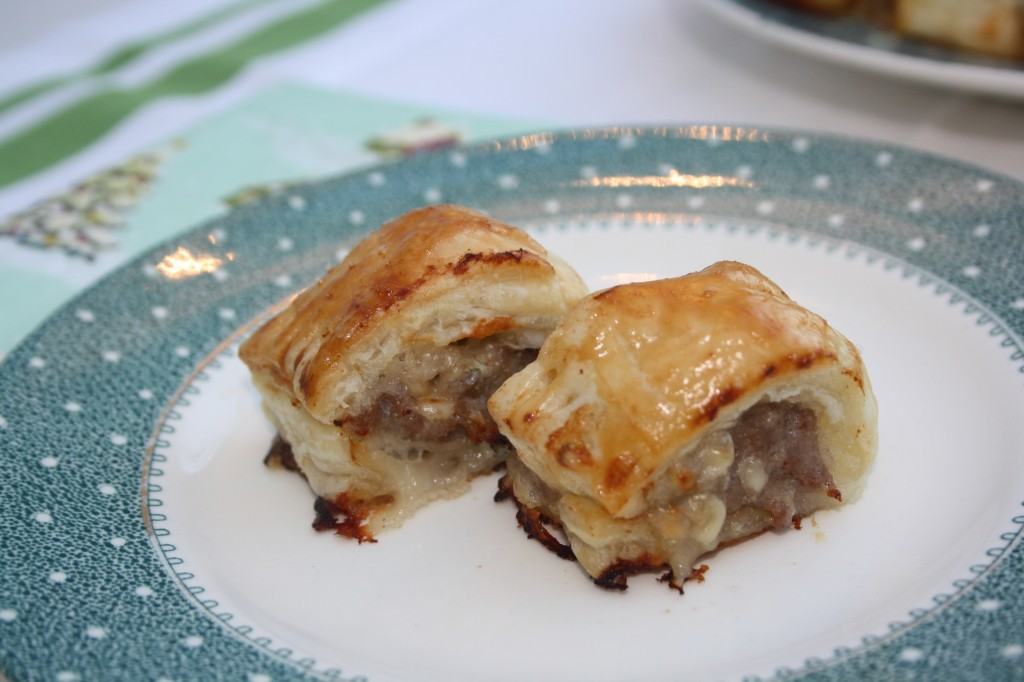 You can make these in advance and re-heat as and when you need them and they freeze brilliantly.
Not wanting to sound like the annoying whispery Marks and Spencer adverts, but these are not just sausage rolls, these are Lucy Loves Sausage Rolls.
Lucy x
Cocktail Sausage Roll Recipe
Makes 35 to 40 small, cocktail size sausage rolls
320g rolled puff pastry
400g to 450g sausage meat or sausages with their skins removed
Roughly 2 tablespoons freshly chopped parsley or a herb of your choice
100g grated cheese, I used strong cheddar, but any cheese is delicious
1 egg, beaten, to glaze
Salt and pepper to season
Pre heat the oven to 180 degrees, fan assisted and line two baking sheets with greaseproof paper
Remove the pastry from the packaging and allow it to come to room temperature. In the meantime, take the sausage meat and add to a bowl. Add the freshly chopped parsley, salt and pepper and grated cheese. Go in with your hands or a spoon and give it good mix then put to one side while you prepare the pastry.
Take the pastry and give it a good roll to flatten it out. Cut this large rectangle of pastry into three pieces along the middle. Divide the sausage meat into three sections, fashion each piece into a long sausage and lay this along each portion of pastry, as per the picture. Roll the tops of the pastry over, pushing the sausage meat inside then seal the edges, crimping with a fork as you go. Cut these long rolls into roughly one inch cocktail size pieces. Place them on grease proof paper, brush with beaten egg then put in the oven for 20 to 25 minutes, until brown, crisp and the cheese is melting and fragrant.
Allow to cool slightly then serve warm or cold. These can be stored in tupperware in the fridge and re-heated to order in a hot oven. You can also freeze them and defrost before re-heating.