Cheese and Onion Pie Recipe
Unbeknownst *what a great word* to me, it's British Pie Week. Who knew there was such a pastry based occasion, least of all that it was now. Luckily I had this amazing Cheese and Onion Pie recipe up my sleeve to whip out at a moments notice. That's a lie actually, I made it a couple of weeks ago then never got around to posting it, so hooray for the opportunity to share it with you now. Although the thought of having a pie up my sleeve does fill me with joy, even though it would be a little messy.
Pie is the food of the Gods. It's an all in one meal with nothing more needed than a smidge of mustard or maybe some greenery at a push. This Cheese and Onion Pie is the result of weeks spent on Pinterest scouring various different recipes for the ultimate one to share with you. I settled on this recipe based on one from the lovely Pink Whisk blog, with thanks. Some recipes contained potato, some didn't but I decided to go for pure cheese and onion based heaven. The pastry is made with a mix of butter and lard or vegetable fat to produce some of the most crumbly yet crisp pastry I have ever tasted. The filling is a combination of Lancashire and Cheddar cheeses for the ultimate in tangy and sharp flavours. The onions are slow cooked so there's just softness, without any stringiness. To summarise, this Cheese and Onion Pie is a complete celebration of deliciousness and surely one British Pie Week was made for.
We enjoyed this straight from the pan in large wedges, but it would be brilliant, in the months to come, wrapped in foil and tucked into your picnic basket for a trip out. But for now, get it down you whilst still warm, wearing your cardi and staring out into your rain soaked garden.
Nothing horrid comes from a line up this amazing. Cheese, lots of cheese and the wherewithal *another brilliant word* for the most crumbly most delicious pastry ever.
And that's where we start, with the pastry. I used my food processor but this can just as easily be made by hand. Make a start by measuring out the flour and salt then add the butter and white fat, in cubes.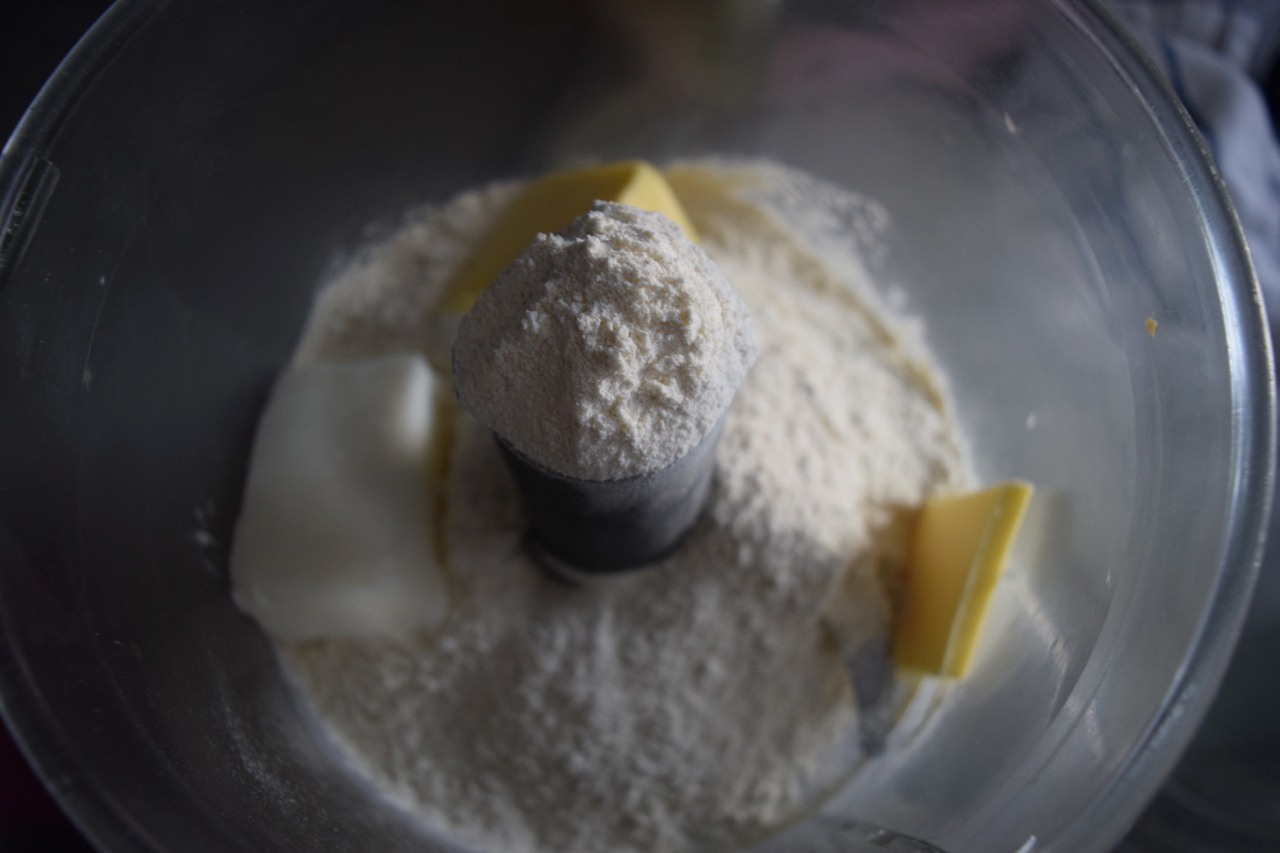 Either process or rub the butter into the flour by hand, either way, the finished article should resemble a breadcrumb like texture.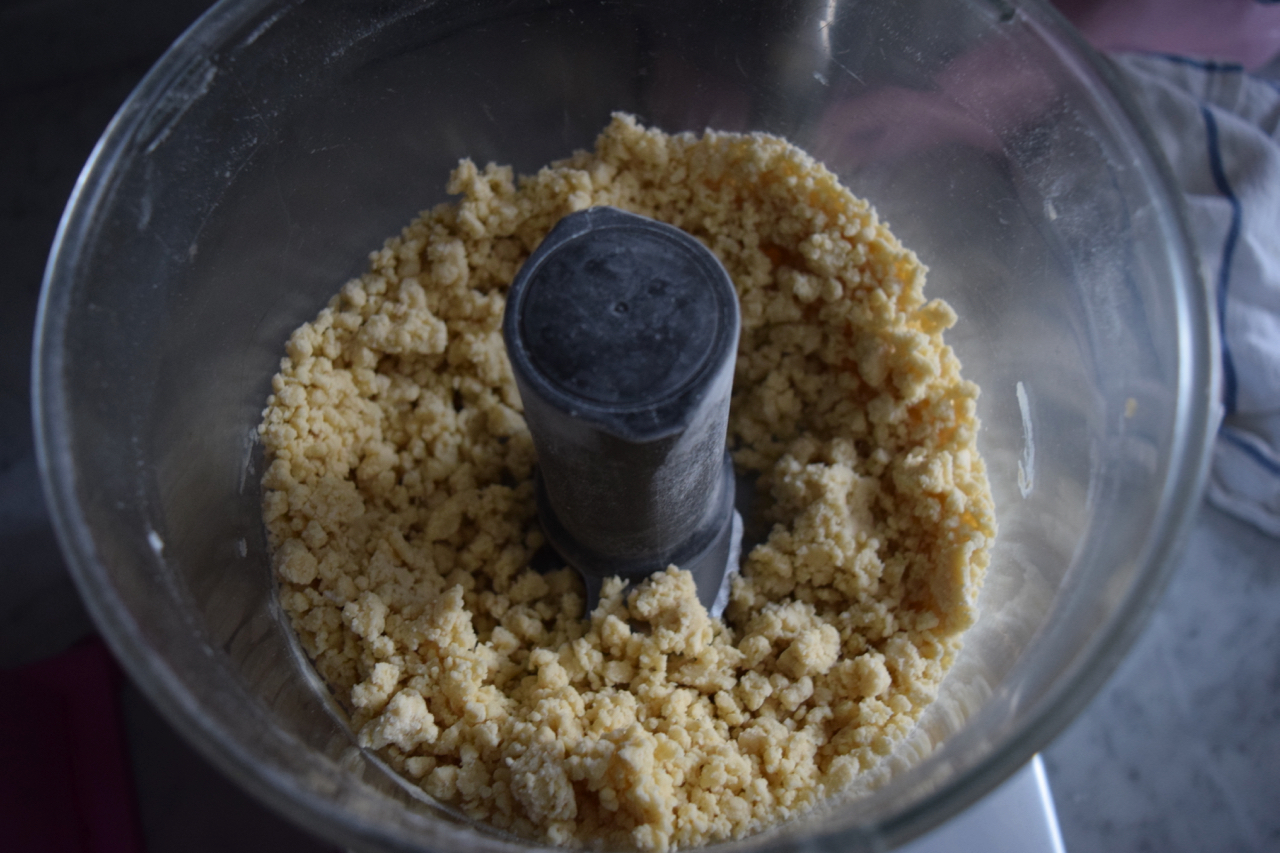 Measure in the cold water, a tablespoon at a time, until your pastry comes together in a soft, but not sticky ball. Turn it out onto a floured surface and fashion your dough into a ball.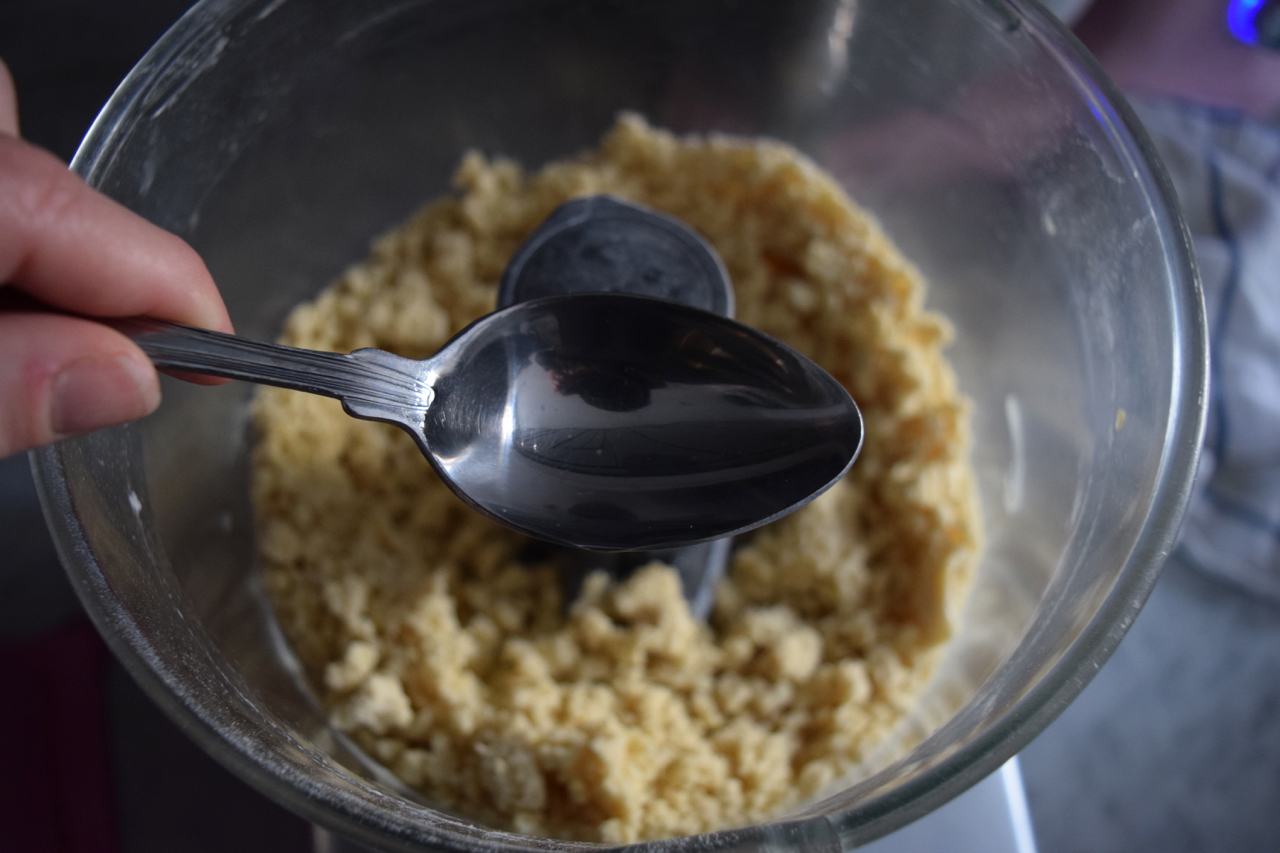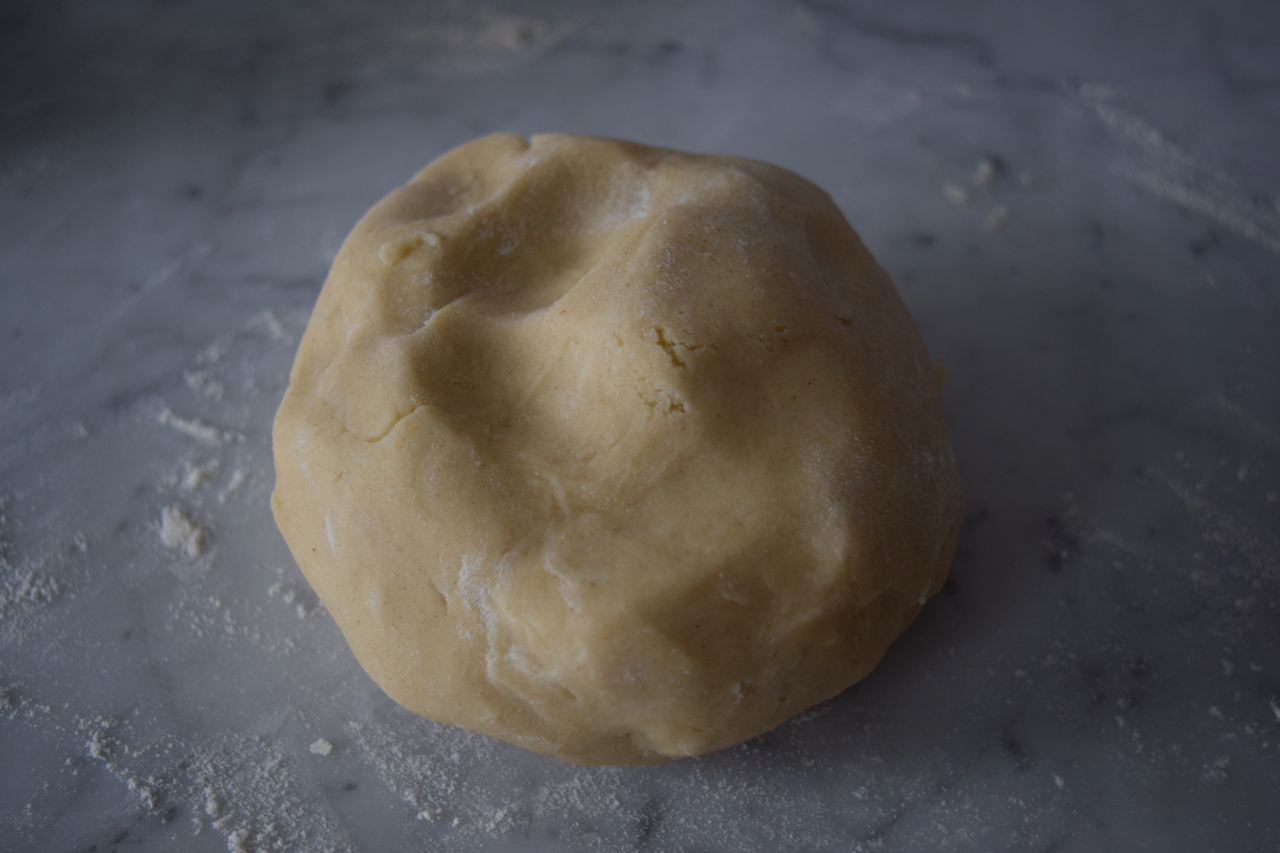 Wrap this in cling film and pop into the fridge to rest and chill for at least 30 minutes which gives you plenty of time to get going on the filling.
Take a large frying pan and, over a low heat, add the butter and a splash of oil. Add your sliced onions and cook, gently, for around 15 minutes or until they are starting to soften, without colour.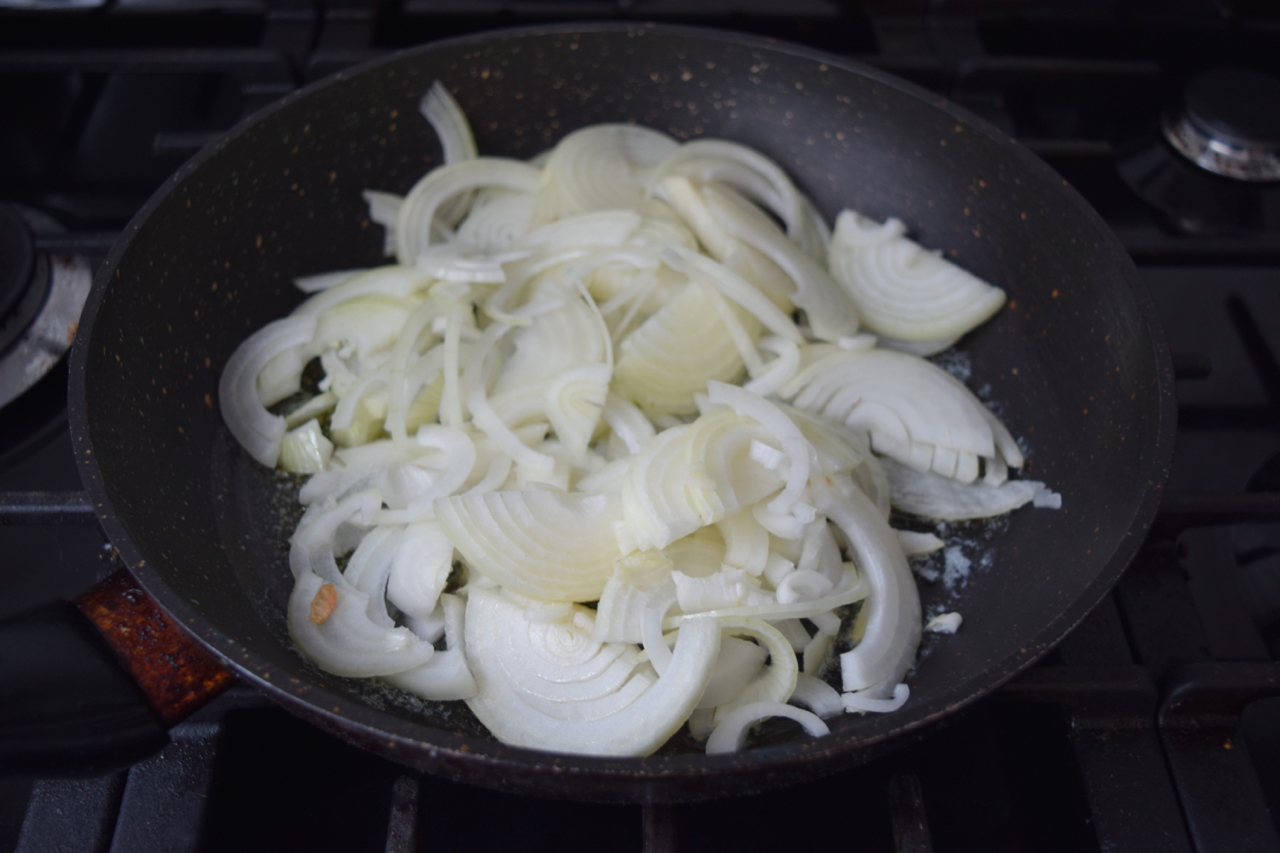 Next, stir in the water and mustard.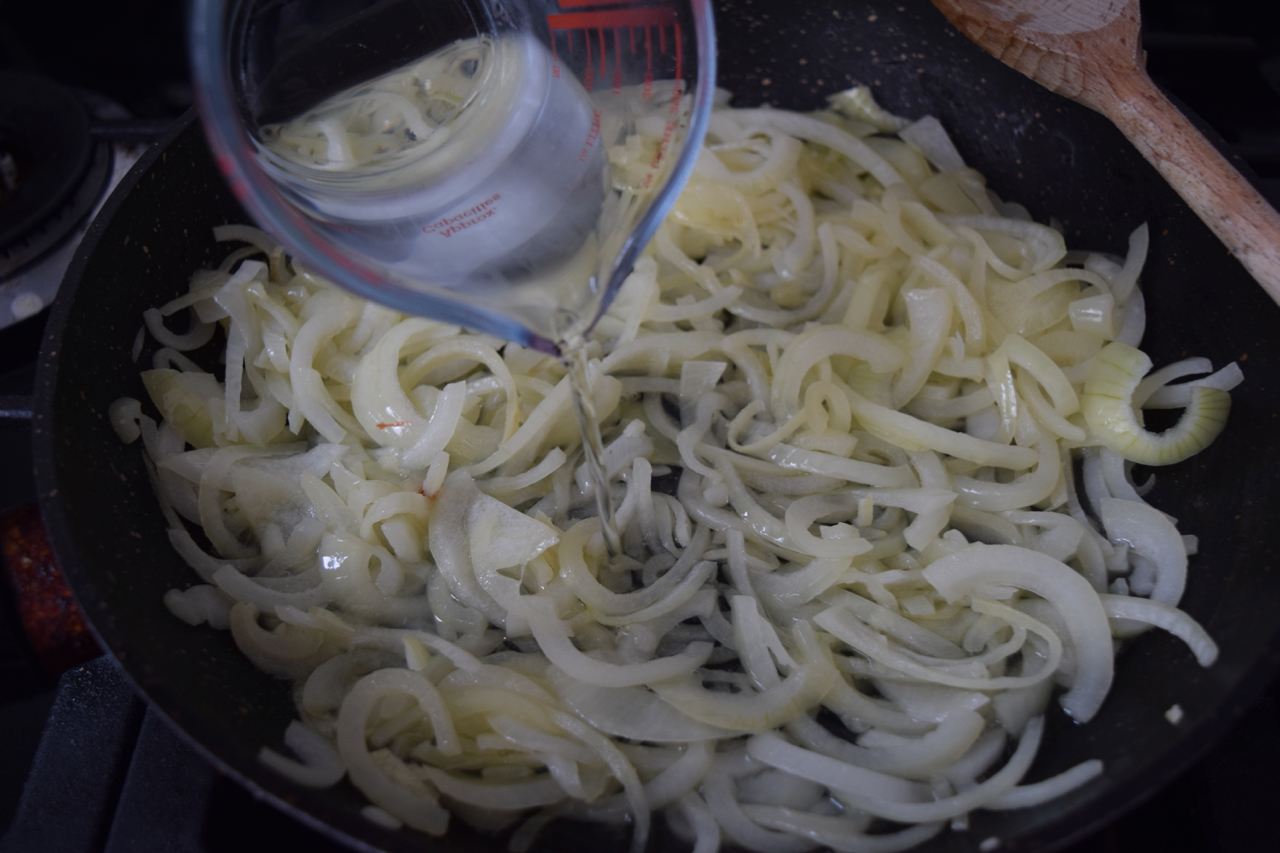 Now cook, still over a low heat from around 30 minutes until the water has reduced and the onions are meltingly soft. Season well with plenty of salt and pepper.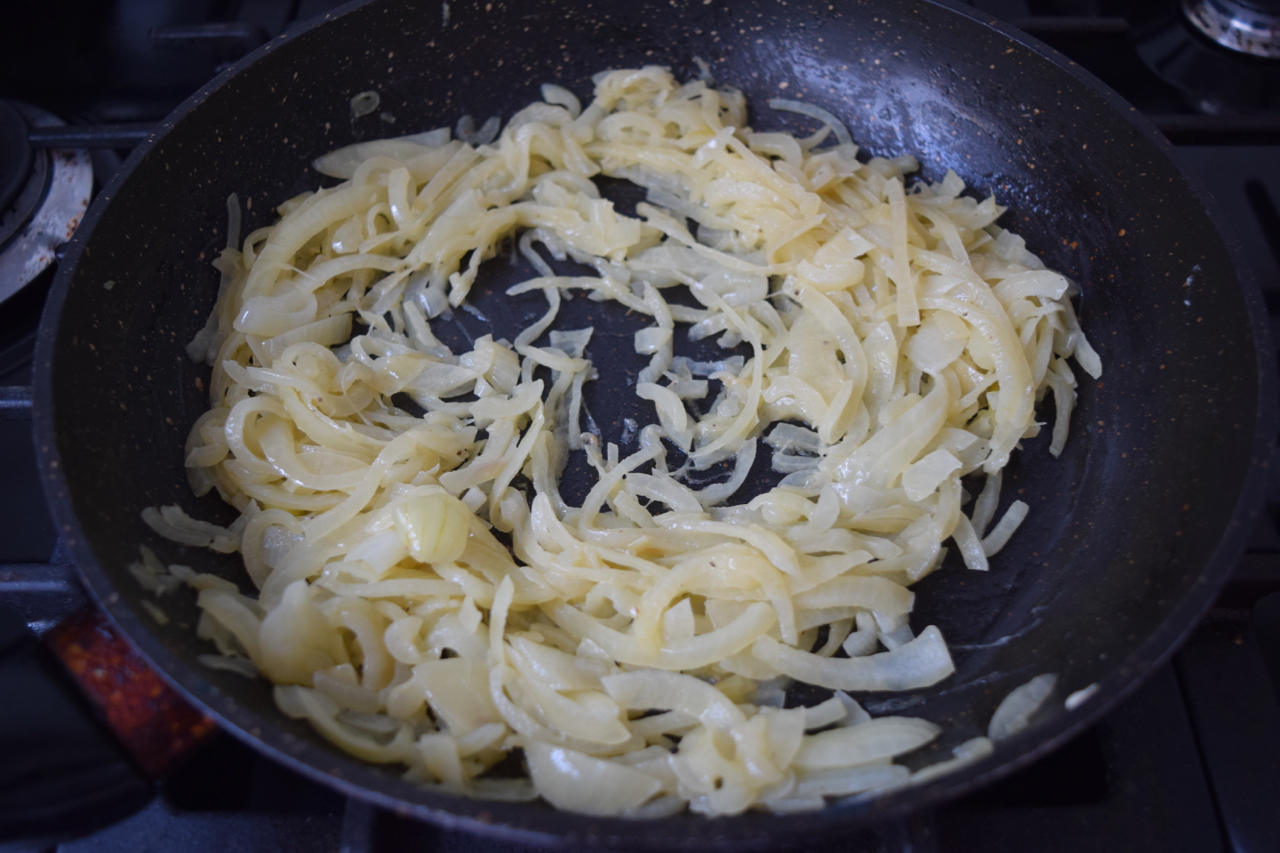 Tip these onto a plate to cool while you roll out your pie pastry.
Flour your work surface and put a third of your pastry aside for the lid. Roll out the larger portion into a rough circle large enough to line your buttered 20cm deepish pie dish. The pastry is quite soft, so this may take a couple of attempts, well it did for me. Roll the pastry back over your rolling pin for ease of transport.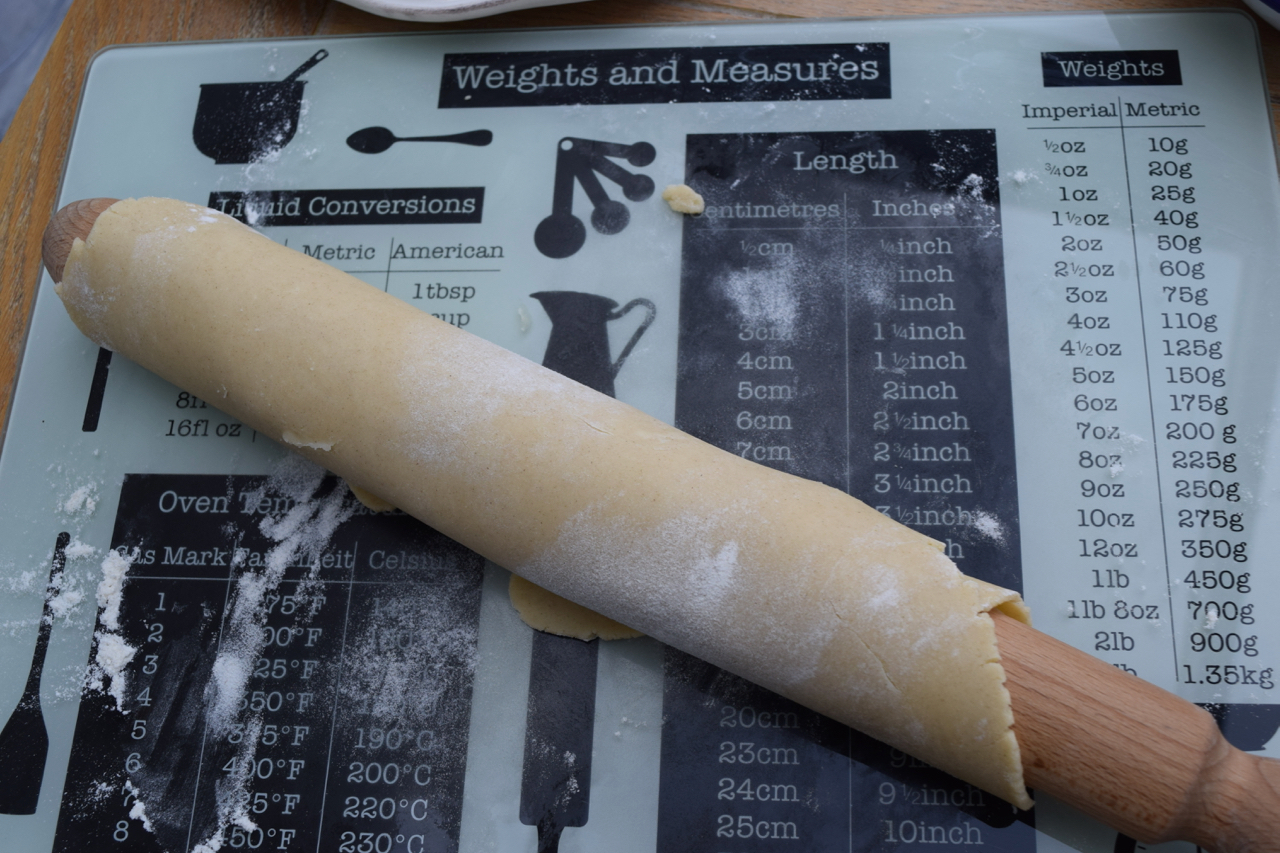 Lay the pastry over the dish and press into the base, leaving the excess to hang over the edge of the dish.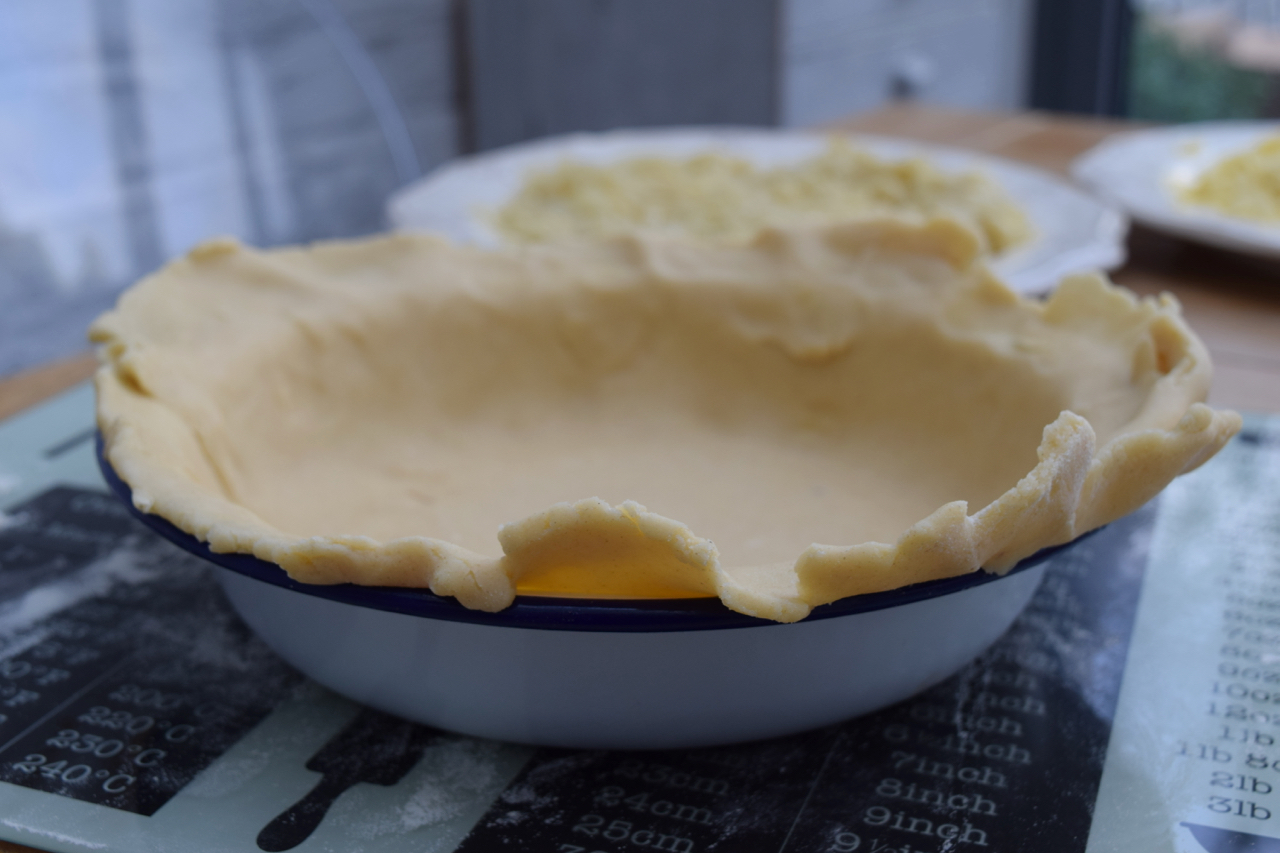 Layer the base of the pie with half the onions then follow in with half your grated Lancashire and mature cheddar cheeses.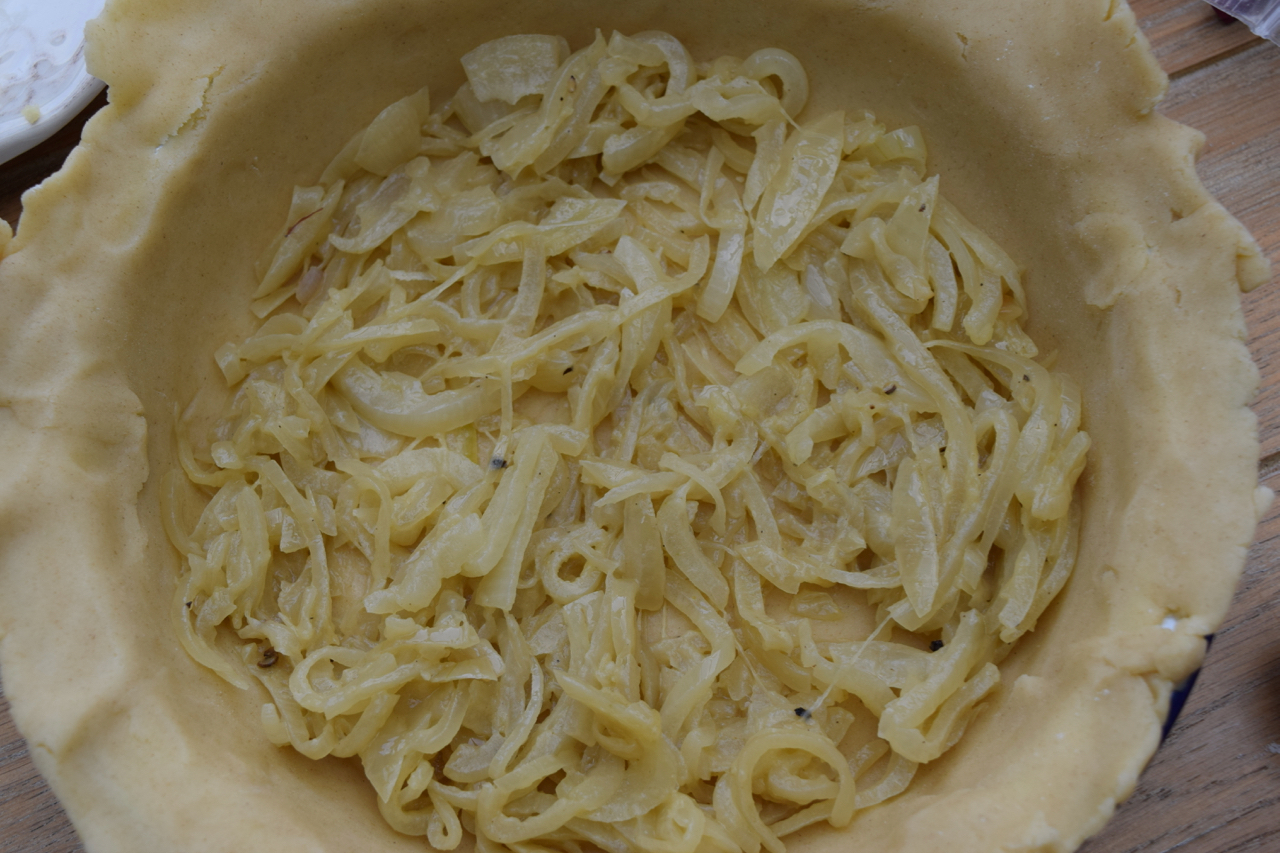 Repeat with the remaining onion and cheese then roll out the last portion of pastry into a round for the lid. Crimp the edges to seal the pie. Crimping is not really a science, just do your best, it's not really my strong suit.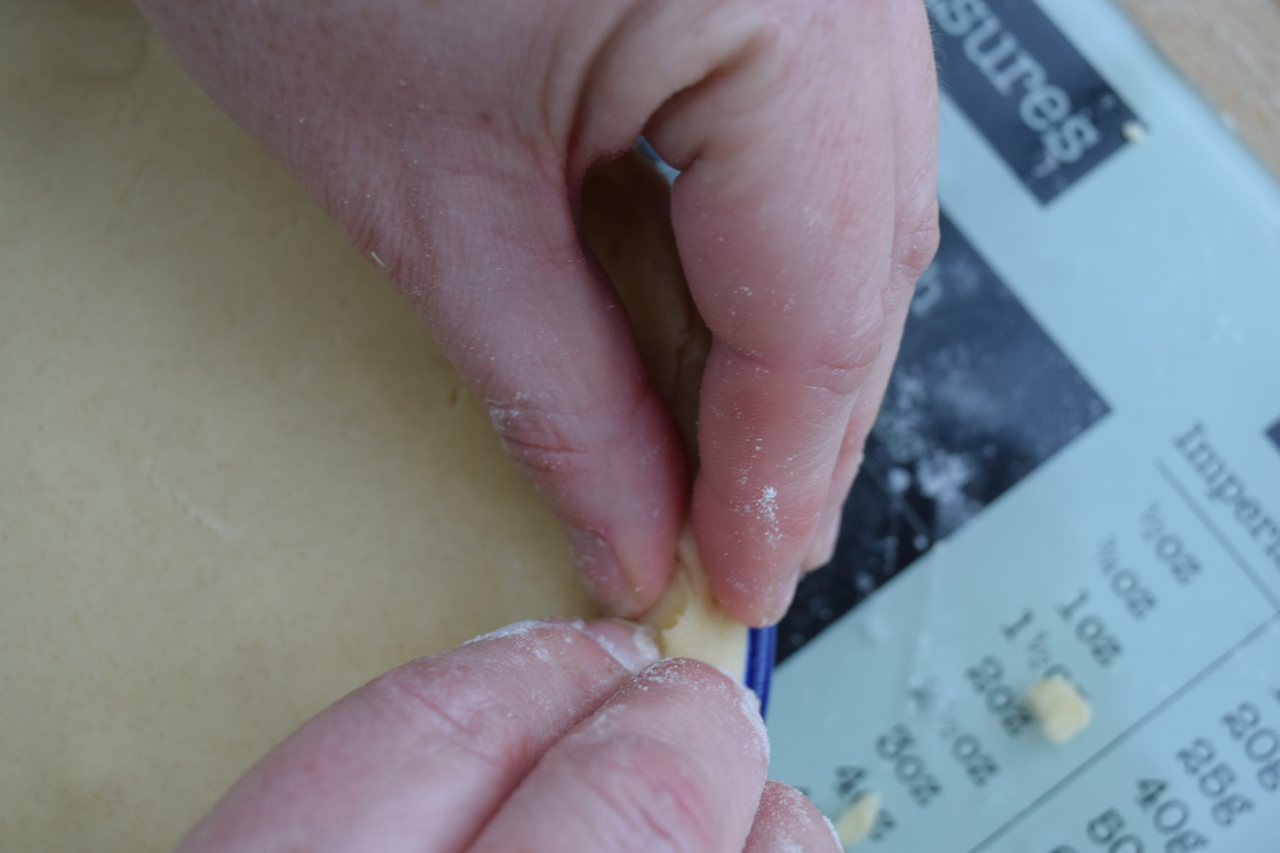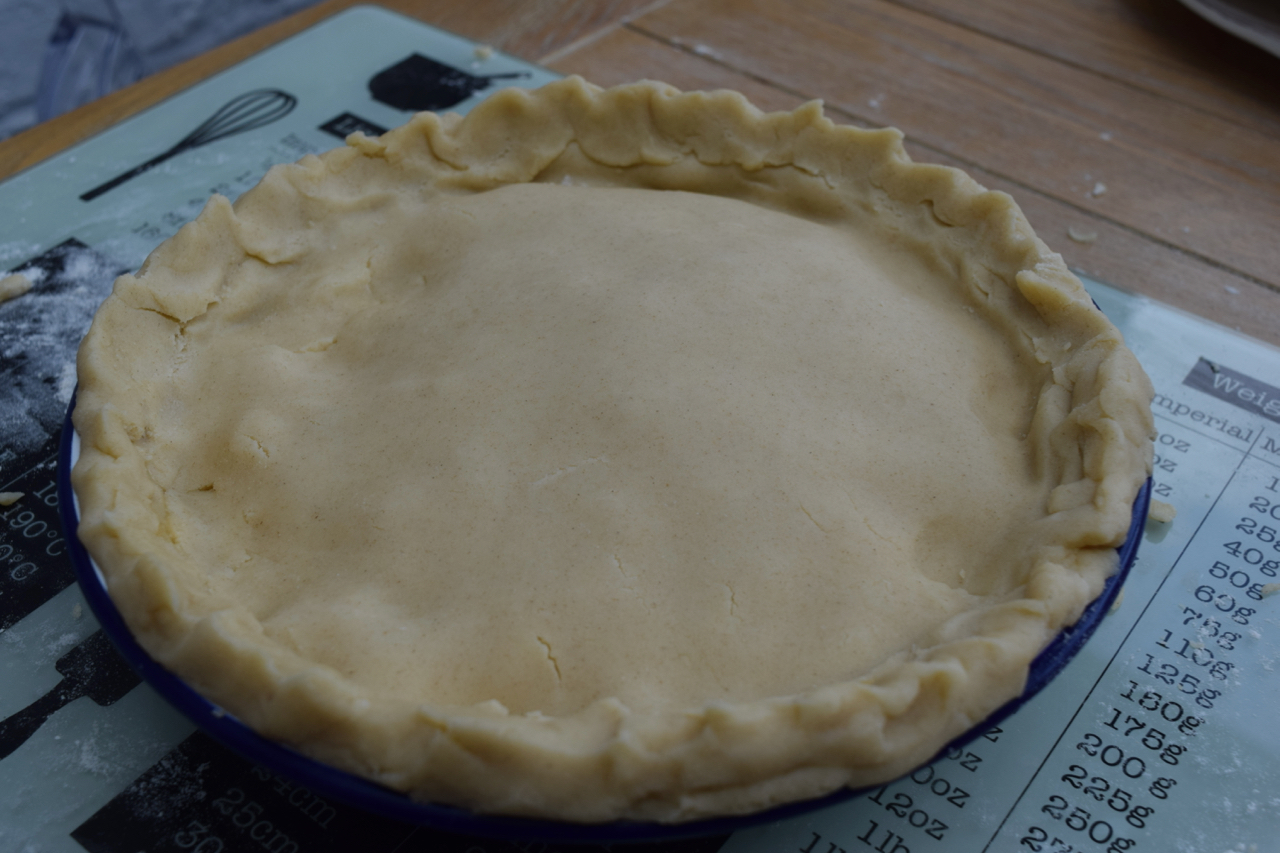 Brush the top of your pie with beaten egg, make a little slit in the top to allow steam to escape and to avoid any sogginess, then pop onto a baking tray and bake for around 45 to 50 minutes.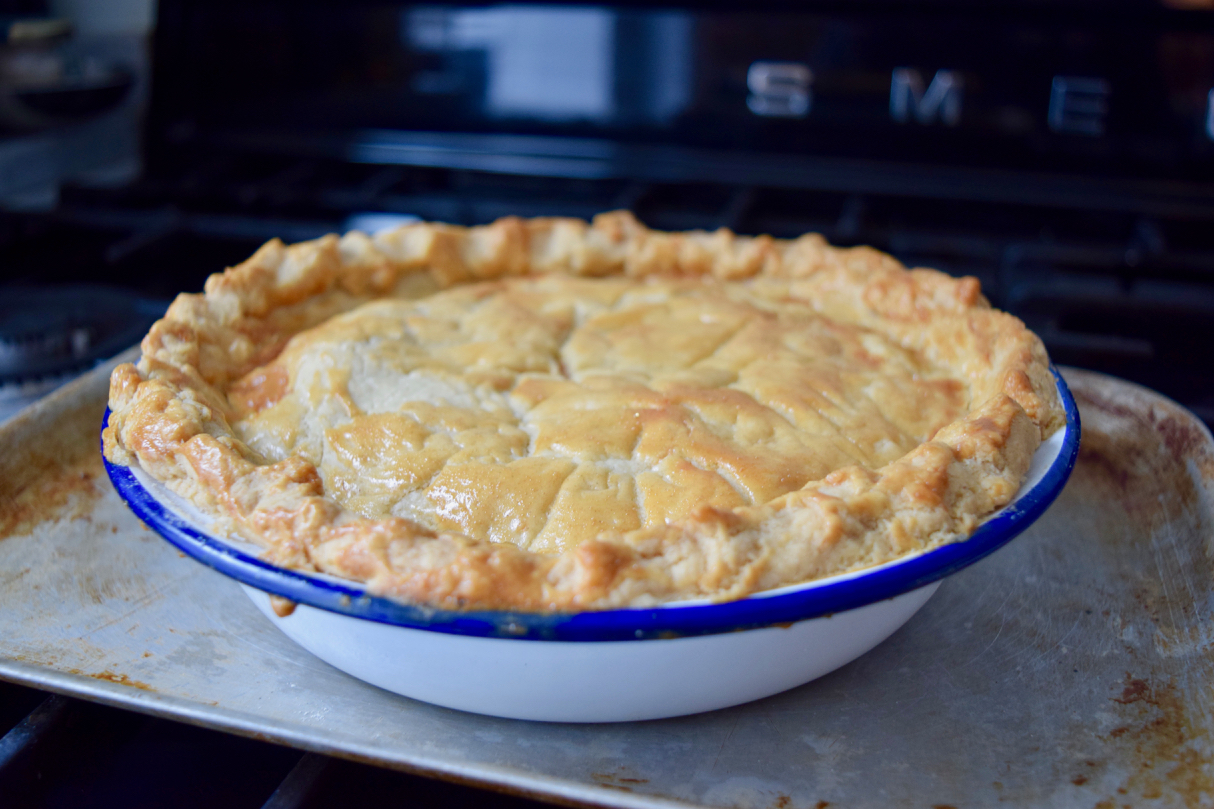 Your cooked pie will be golden, smelling beyond amazing and ready to devour. Once you have left it to cool long enough to cut that is, which will be an agonising 15 to 30 minutes. Then it's all yours. I mean literally all yours, I wouldn't share this with anyone, frankly.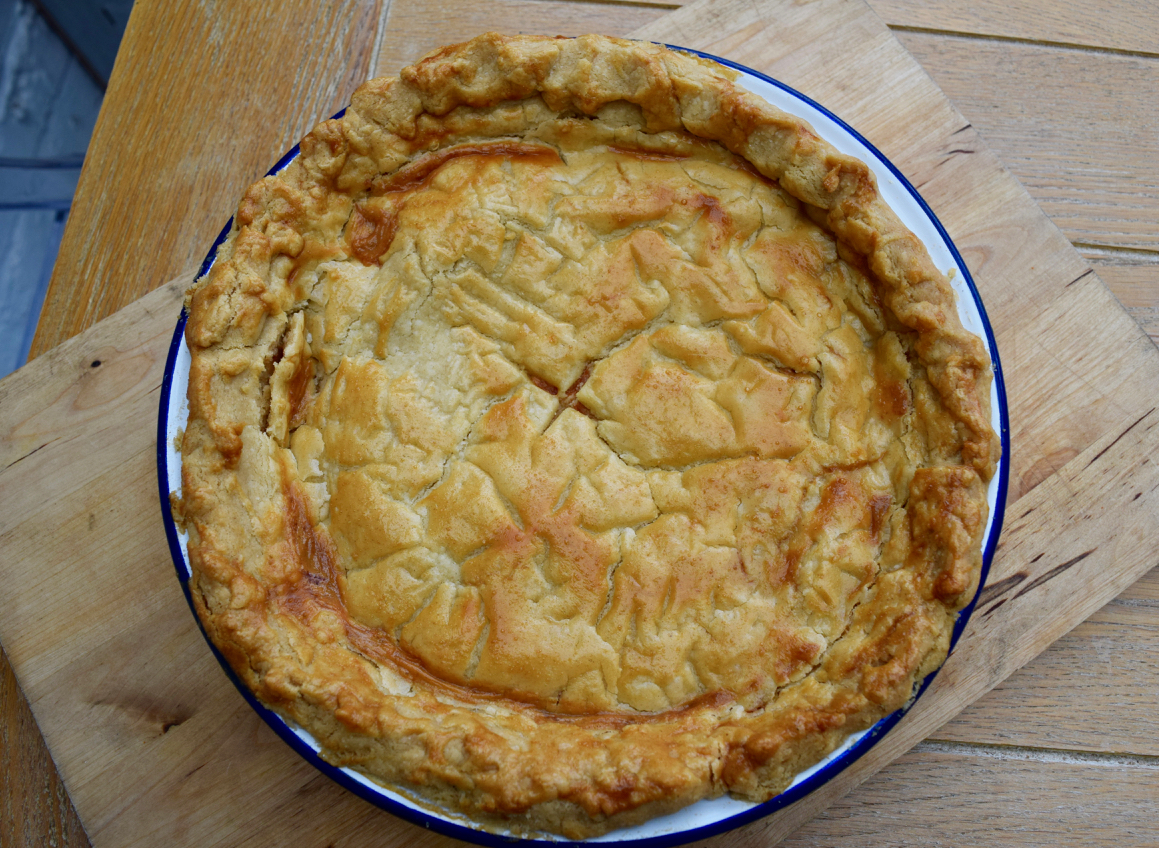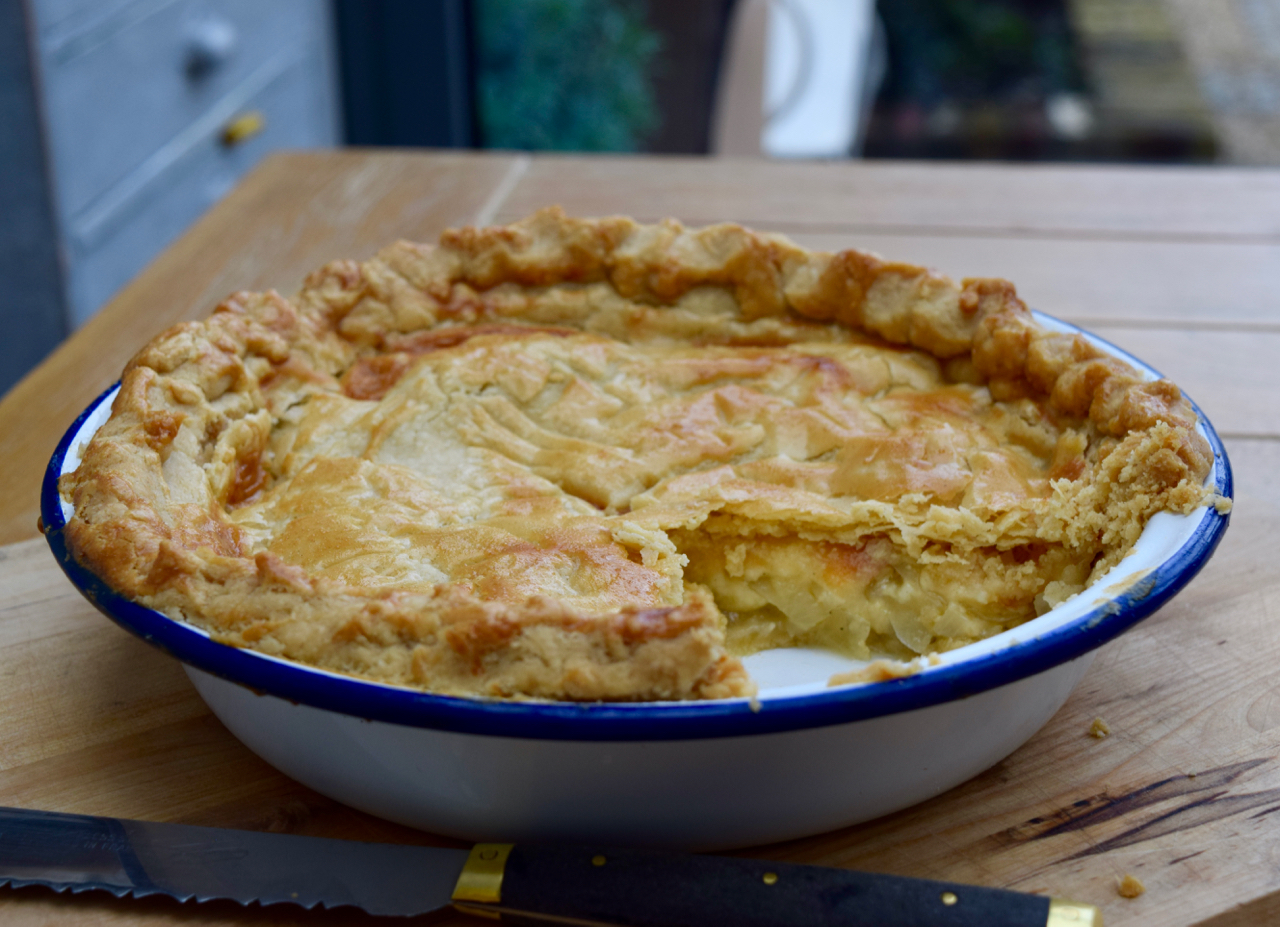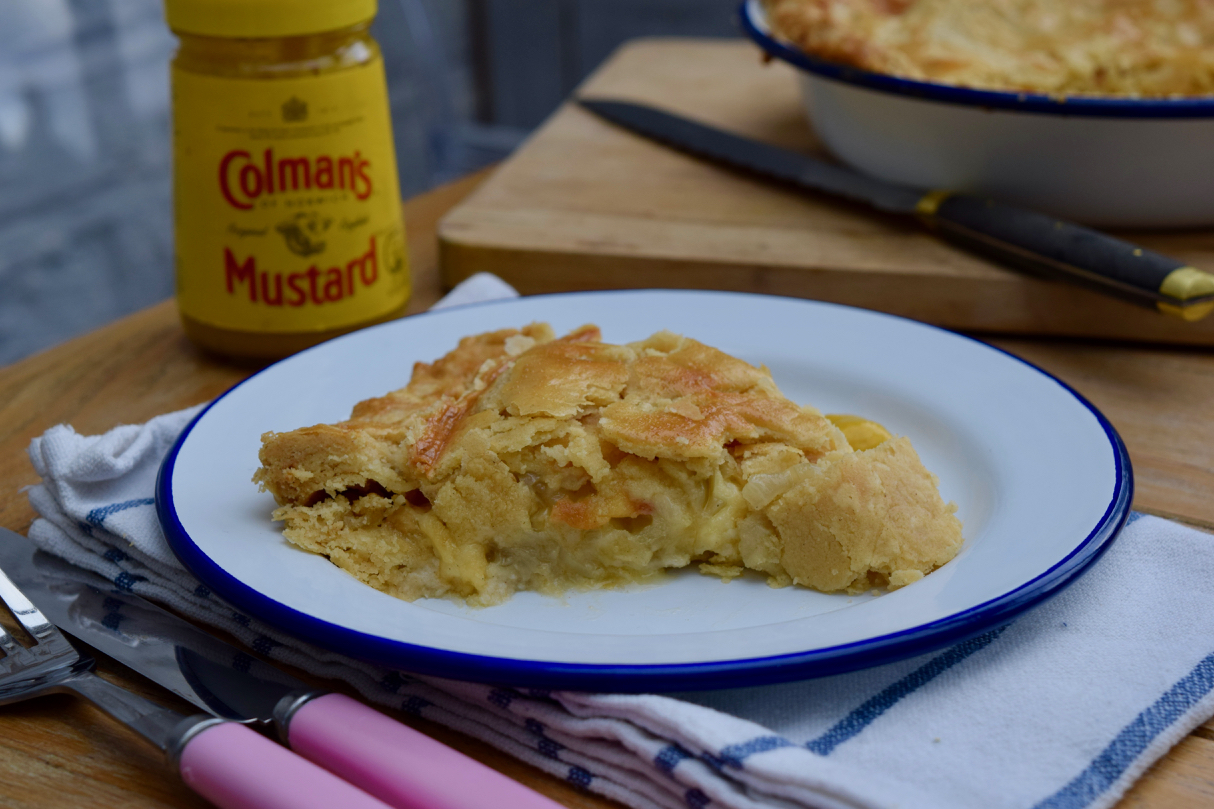 This pie is inexplicably good. The pastry is soft and crumbly, the onions are tender and the cheese is melty and gooey. I don't think I really need to say anymore than that. Other than, this should serve at least 4, but honestly, Clyde and I ate this between the two of us. In two sittings, we are not total animals *we are actually*.
Happy British Pie Week.
Lucy x
Cheese and Onion Pie Recipe
Makes a 20cm round pie, serving a hungry 4 or less hungry 6
You will need a food processor for the pastry, or not if you make by hand and a buttered 20cm deep pie dish
Pastry
225g plain flour
pinch of salt
65g white fat, vegetable or otherwise
65g butter, cold diced
2 to 3 tablespoons cold water
Filling
25g butter
a splash oil
3 onions, good sized, sliced
150ml water
salt and pepper
1/2 teaspoon English mustard
125g strong cheddar, grated
125g Lancashire cheese, grated
Beaten egg to egg wash your pie
Extra mustard to serve, or go the whole hog and serve with mash and a green of some variety
Butter your pie dish and pre heat your oven to 160 degrees fan assisted.
Make your pastry in your food processor or by hand by rubbing the butter and either lard or white vegetable fat into the flour and salt until you have a breadcrumb like texture.  Add the 2 to 3 tablespoons of cold water until the dough comes together in a soft but not sticky ball. Wrap this in clingfilm and pop into the fridge for a good half an hour whilst you make the pie filling.
In a large pan melt the butter and a splash of oil to stop it burning, over a low heat. Add the 3 sliced onions and stir well, cooking for around 15 minutes or until they are starting to soften well.  Next, stir in the water and the teaspoon of mustard and continue cooking, over a low heat, until the onions are really soft and most of the water has reduced. This will take around 25 to 30 minutes. Season well with salt and pepper. Take the soft, but uncoloured, onions and tip onto a plate to cool.
Take your cool and rested pastry and cut off a third for the lid of your pie.  Roll out the remaining two thirds of the pastry into a large circle, big enough to line the base and sides of your tin, with some overlap. The pastry is particularly soft, so don't worry if this takes a couple of goes to get right. Press the pastry into the base of your tin and ensure there are no holes, patching where you need to.
Grate both your cheeses ready for your filling. Start assembling your pie with half the onions, followed by half the cheeses then repeat with the last of the onion and cheese.
Roll out the final third of your pastry into a rough circle then place over the top of your pie. Roughly crimp the base and the top together to seal your pie crust. Brush with beaten egg, cut a small slit in the middle of the pie then place on a baking tray and pop into your pre heated oven for 45 to 50 minutes. The cooked pie will be golden and smelling simply amazing.
Leave to cooling for at least 15 minutes before serving or it will just be a pile of crumbs *see my photos*. Serve warm or cold with some extra mustard or mash and greens if you like.