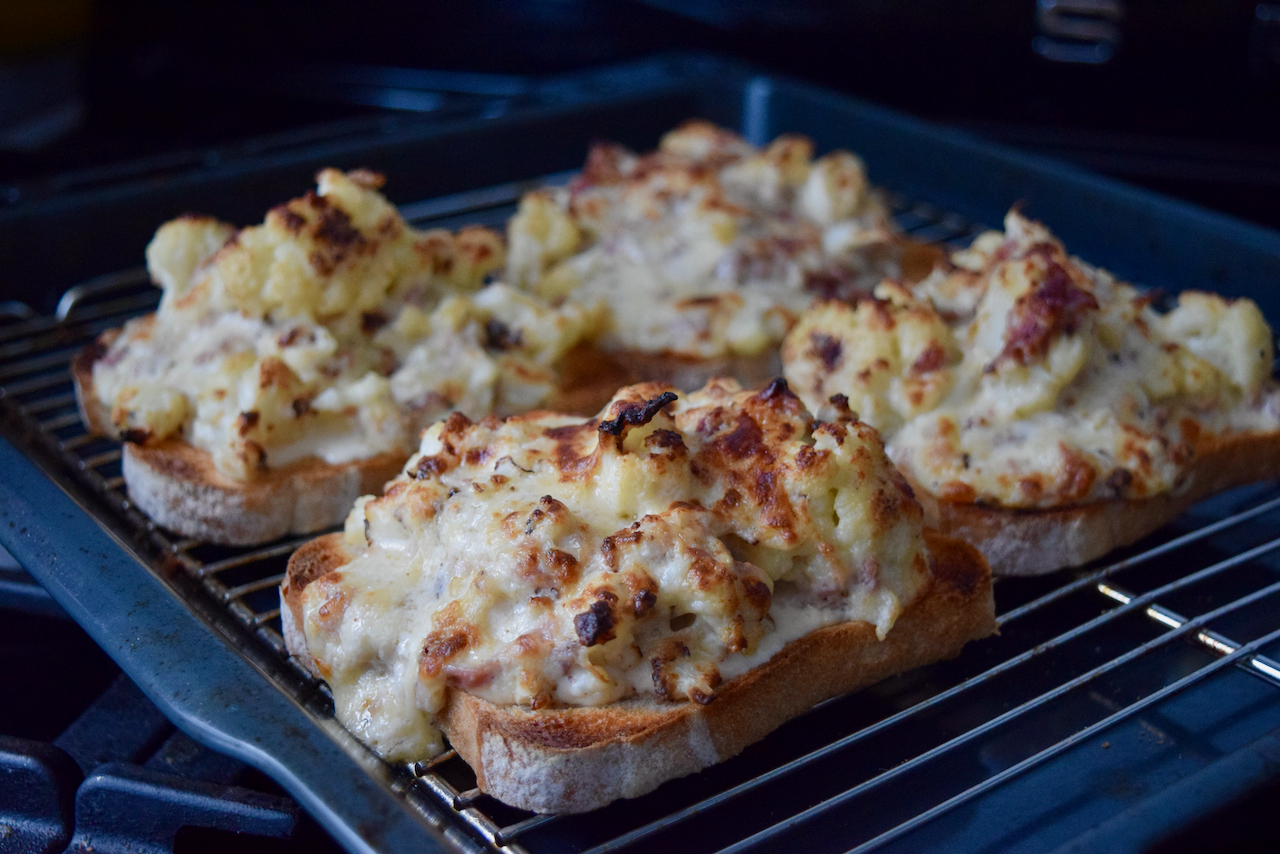 Cauliflower Cheese Toasts recipe
A Sunday staple in our house is a roast chicken, roasties and a bloody great big vat of cauliflower cheese. I love the cauliflower, but even though it's not a drama I always raise my eyebrows at having to make a roux based cheese sauce. However, these Cauliflower Cheese Toasts a) don't involve a roux b) only involve a bit of mixing and c) can be whipped up any day of the week; there's no need to wait for Sunday.
During the first spell of lockdown having just lost Dad and been furloughed, I took tons of comfort in watching back to back cooking shows. I feel the Barefoot Contessa, the lovely Ina Garton, got me through those dark days with her comforting tones and excessive use of cream and butter. I made a list of recipes I fell in love with on those long afternoons and these Cauliflower Cheese Toasts were on top of that list. Lightly roasted cauliflower is stirred into mascarpone, grated emmental with some snipped prosciutto and piled onto toast. Grill the toasts until bubbling, cheesy and irresistible and that's a divine lunch or a light dinner right there.
As we drag our heels through another lockdown, comfort food is top of my to do list. That and re-doing my Tupperware cupboard which is an absolute sodding disaster zone again.
I promise you there is bread hiding behind all that cheese. I found half a sliced sourdough loaf in the freezer so decided to use it for my cauli toasts. For cheese, the original recipe called for gruyere but I had emmental; I can imagine any lovely strong cheese being good in this wholesome little affair.
Make a start by pre heating your oven and finding a large baking sheet. Trim your cauliflower and cut or break into small florets. Pop these onto the baking sheet and toss in two tablespoons of olive oil and the chilli flakes and then season generously with salt and pepper.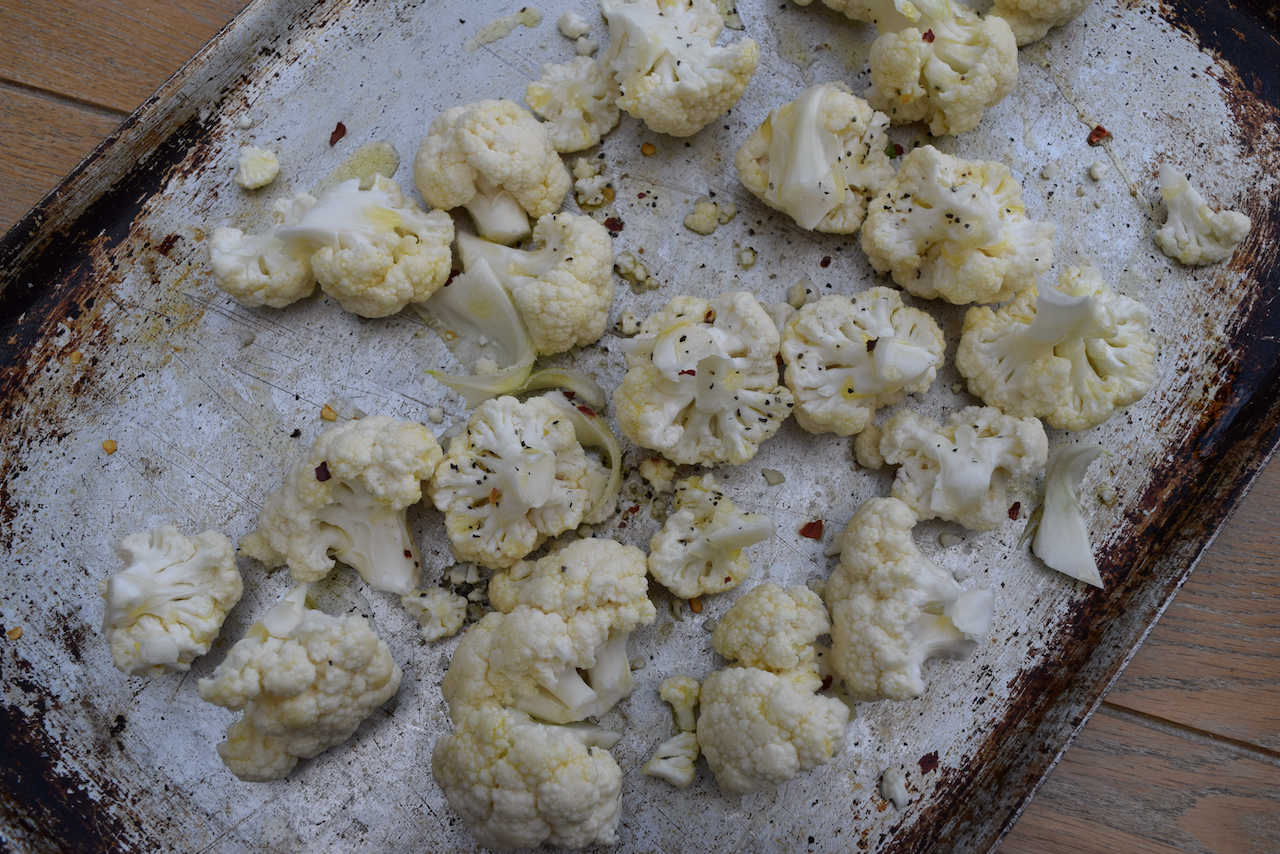 Bake for 20 to 25 minutes or until just starting to take on some colour and cooked through.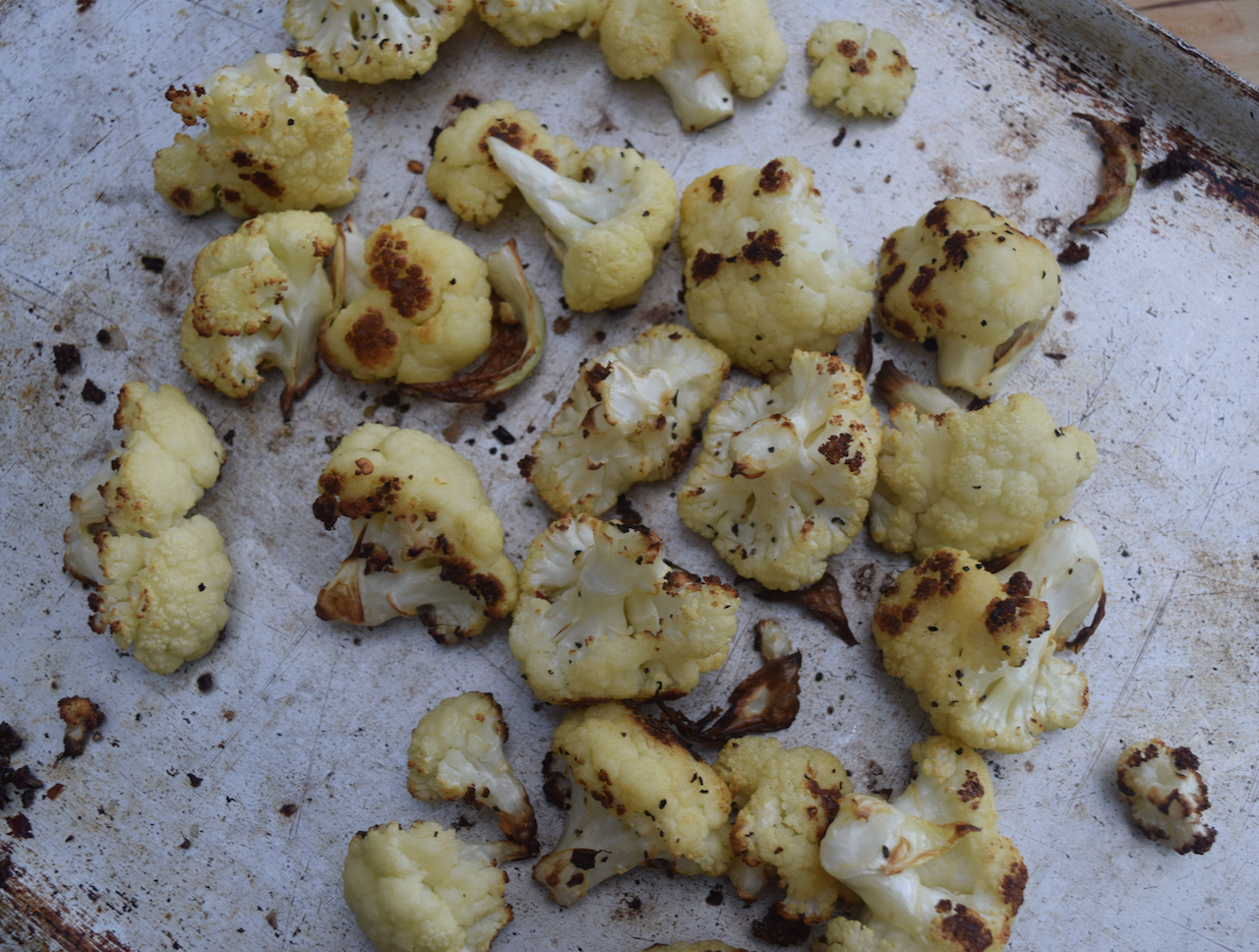 While the cauliflower's roasting, take a large bowl and mix together the mascarpone and grated cheese.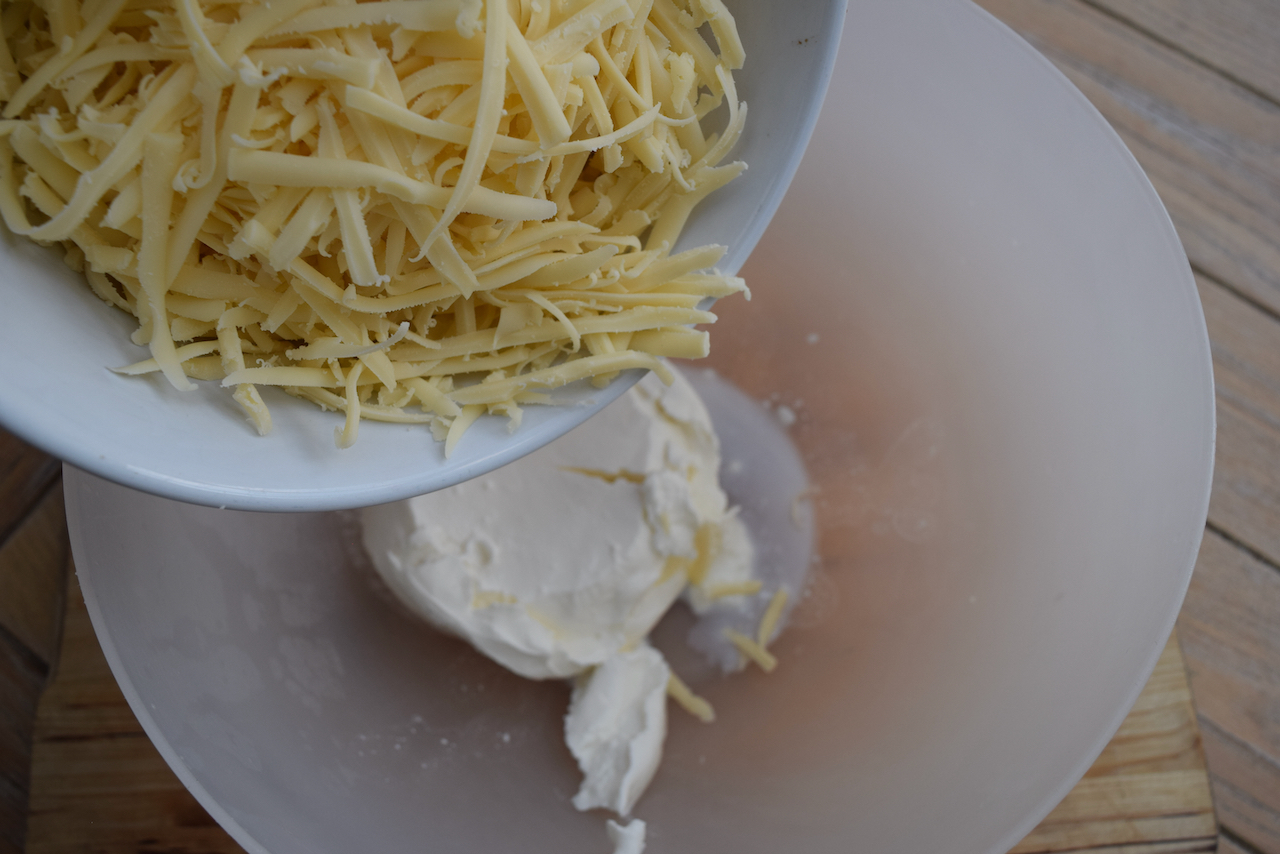 Slice the prosciutto into ribbons and toss this into the cheesy mixture.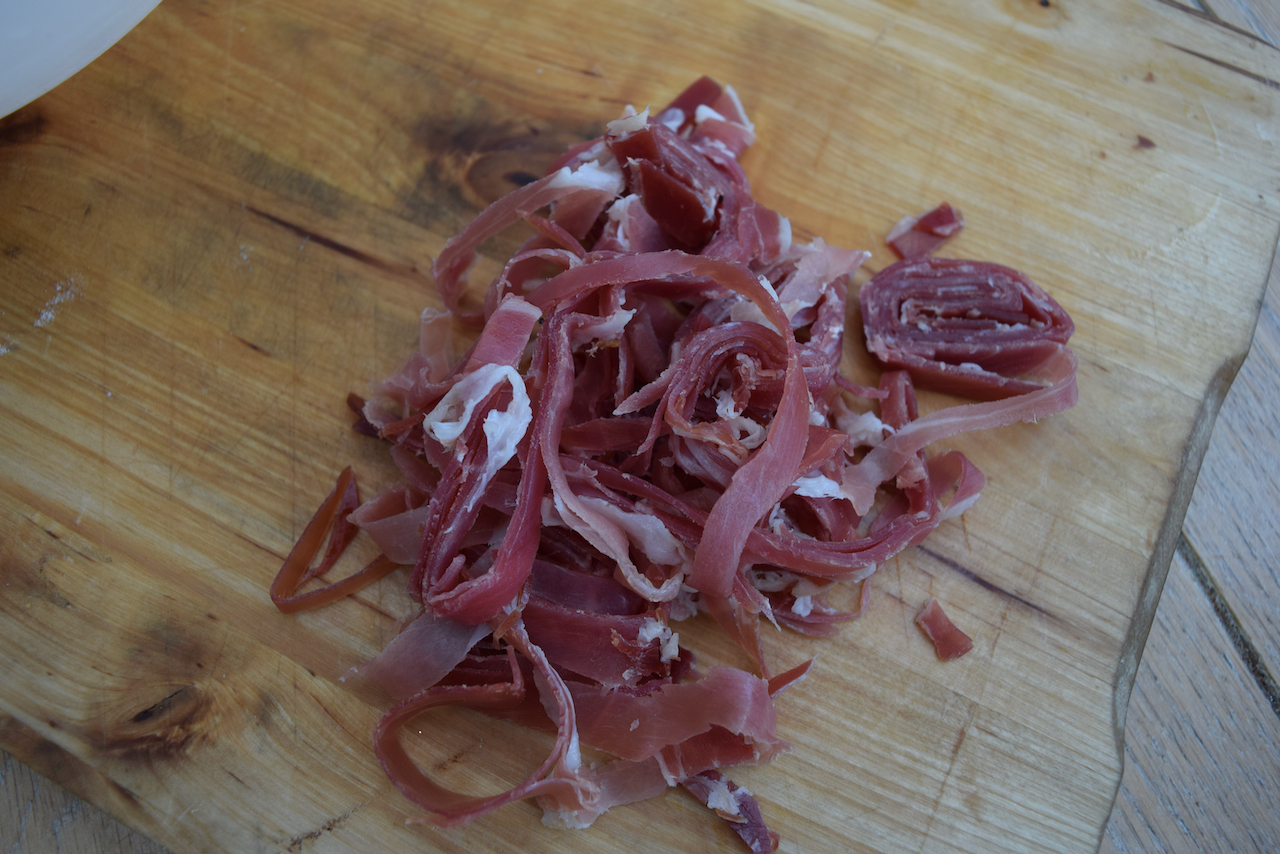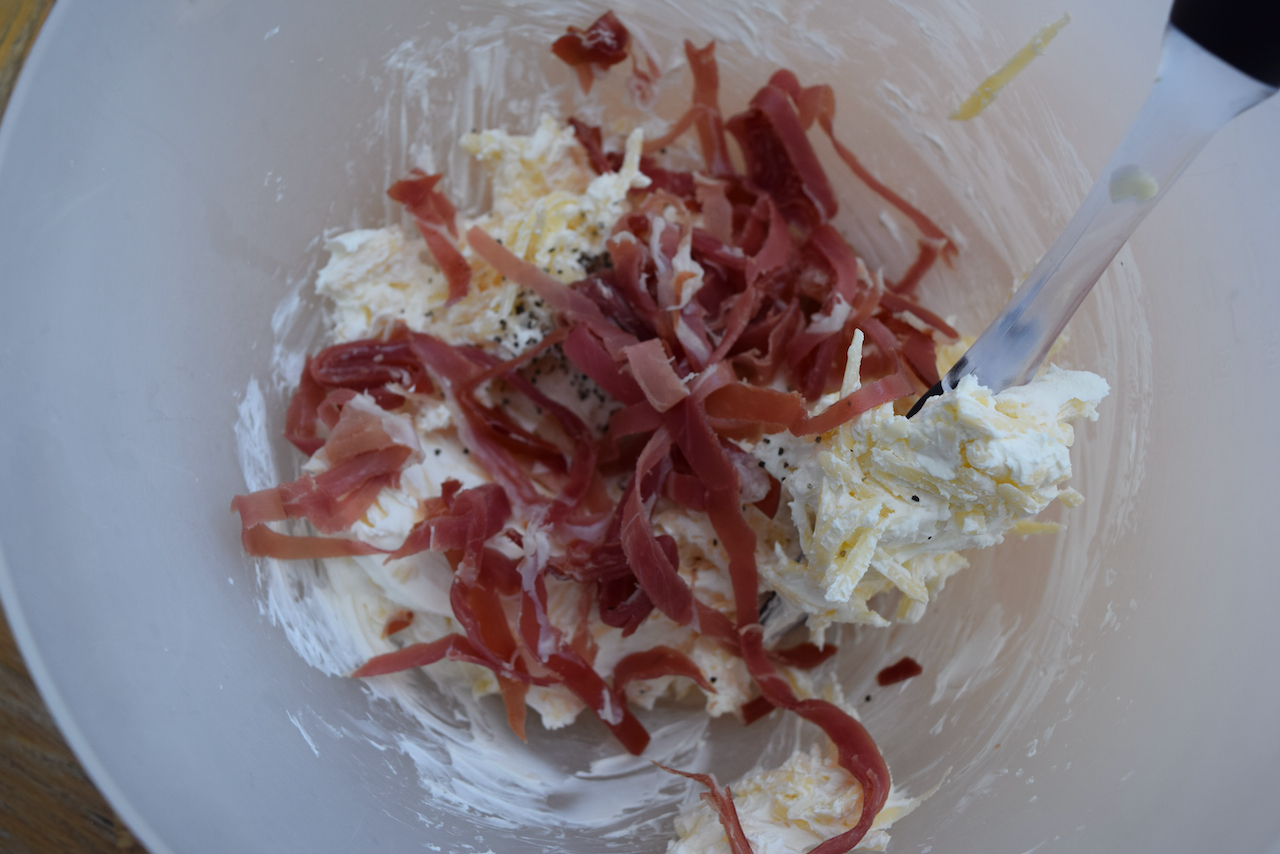 Once your cauliflower is cooked, tip it into the cheesy prosciutto mixture and stir it through. It will take a good few stirs to ensure the cauliflower is coated in the cheese mixture. Season to taste, being careful not to over salt.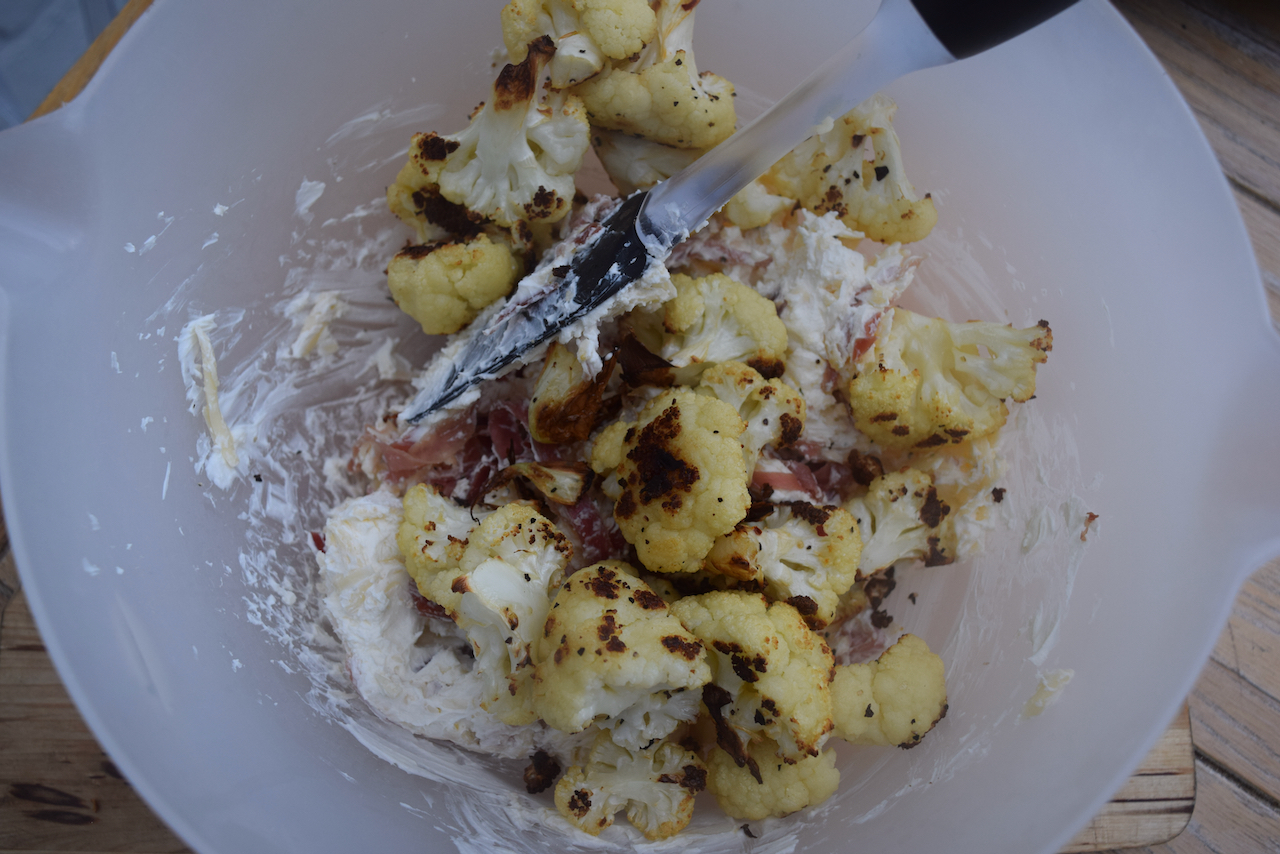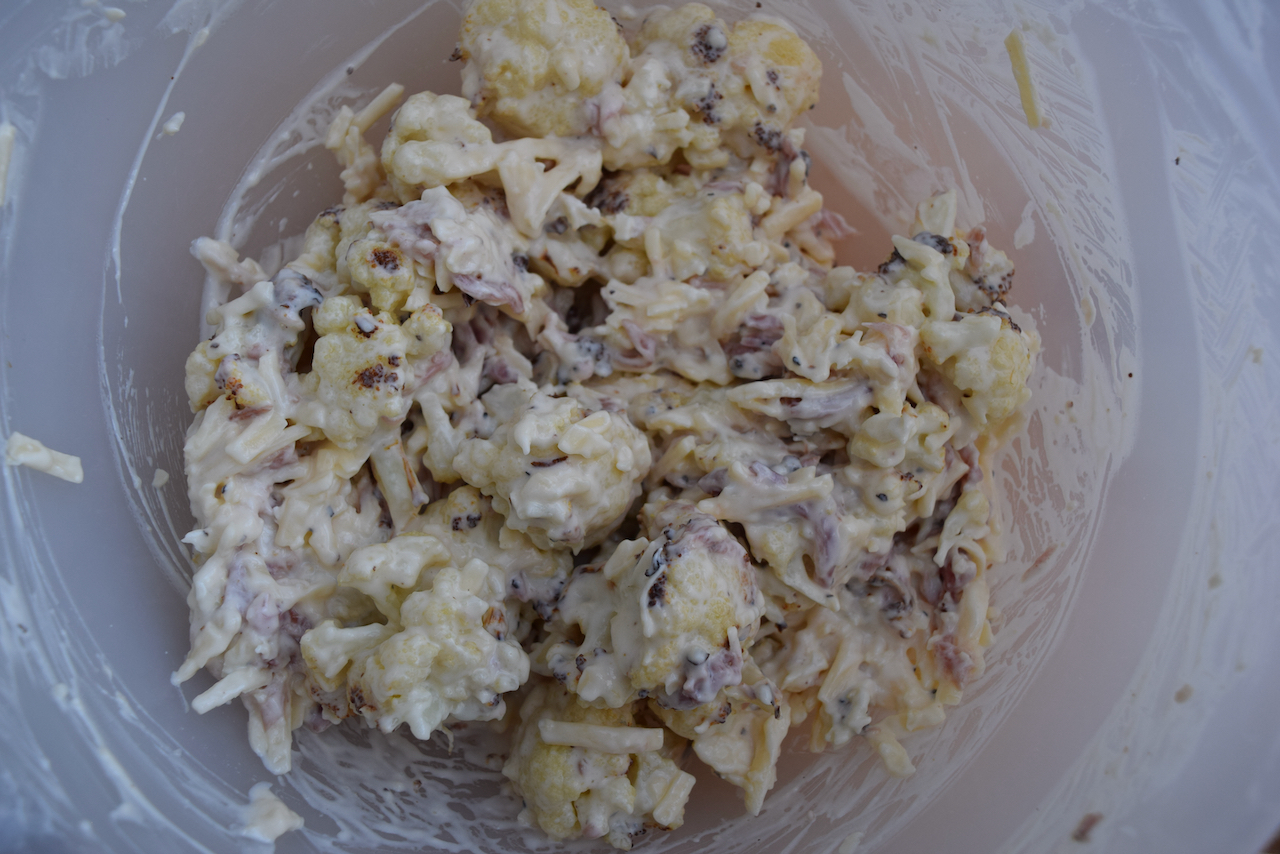 Pre heat the grill to medium high. Toast your chosen bread under the grill on both sides until just colouring.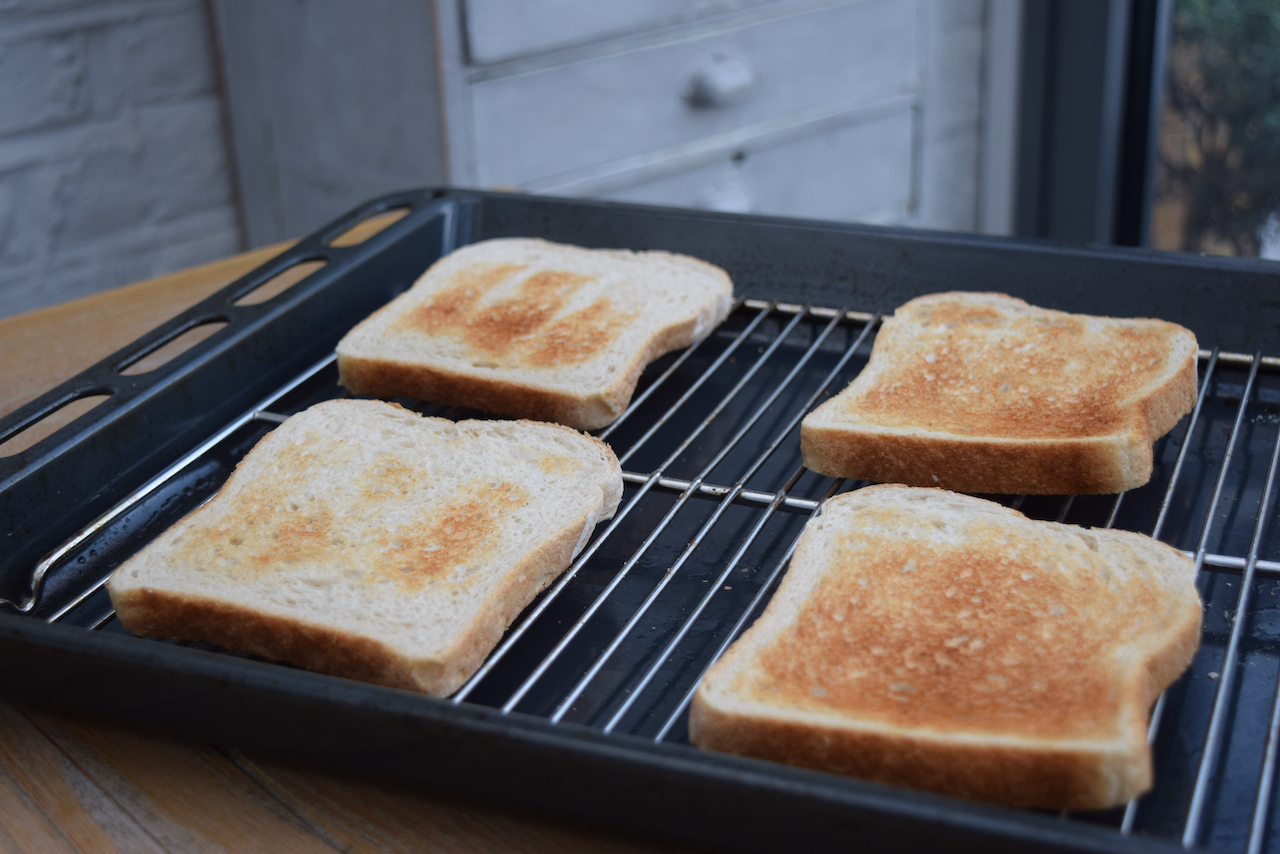 Pile the heavenly cheese business onto the toasted toasts and then pop under the grill for 6 to 8 minutes. You want the whole affair to be golden, bubbling and piping hot all the way through.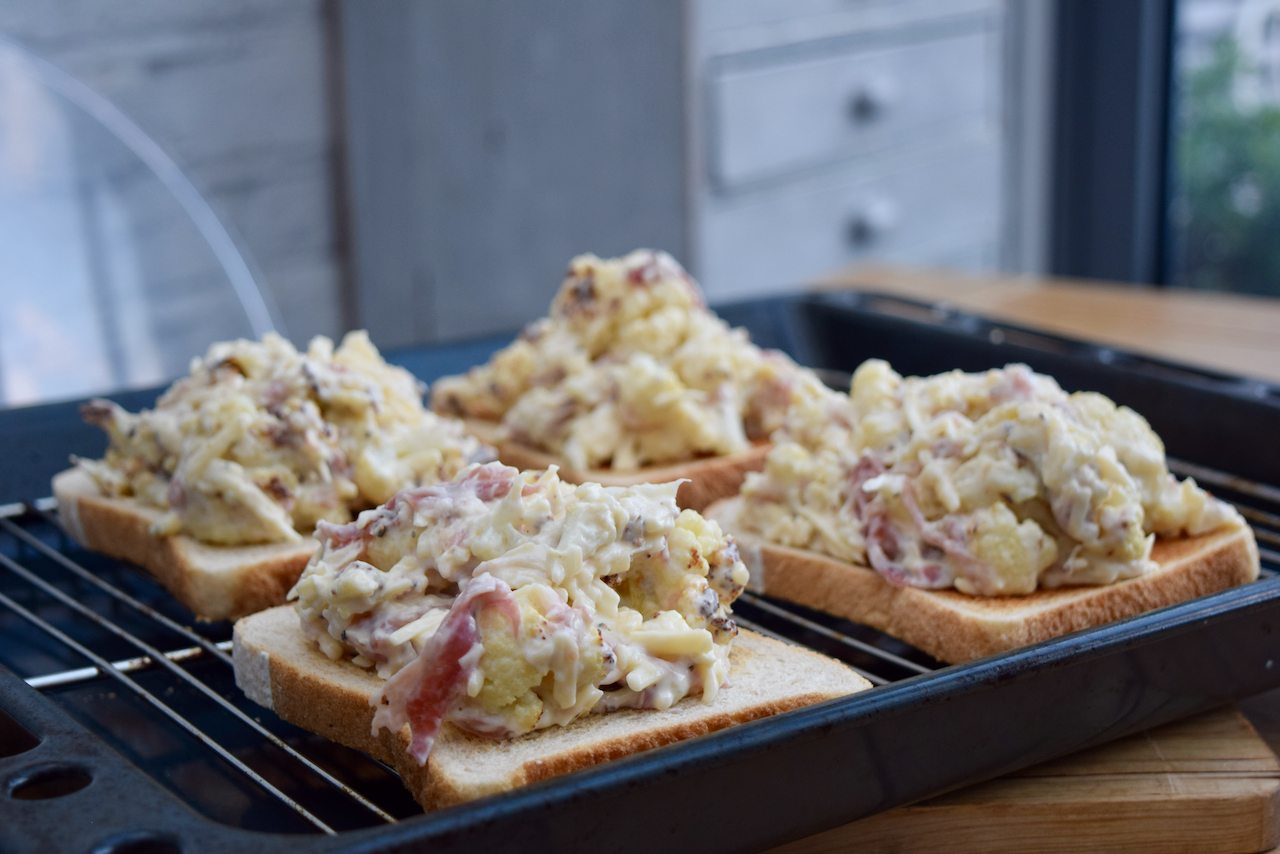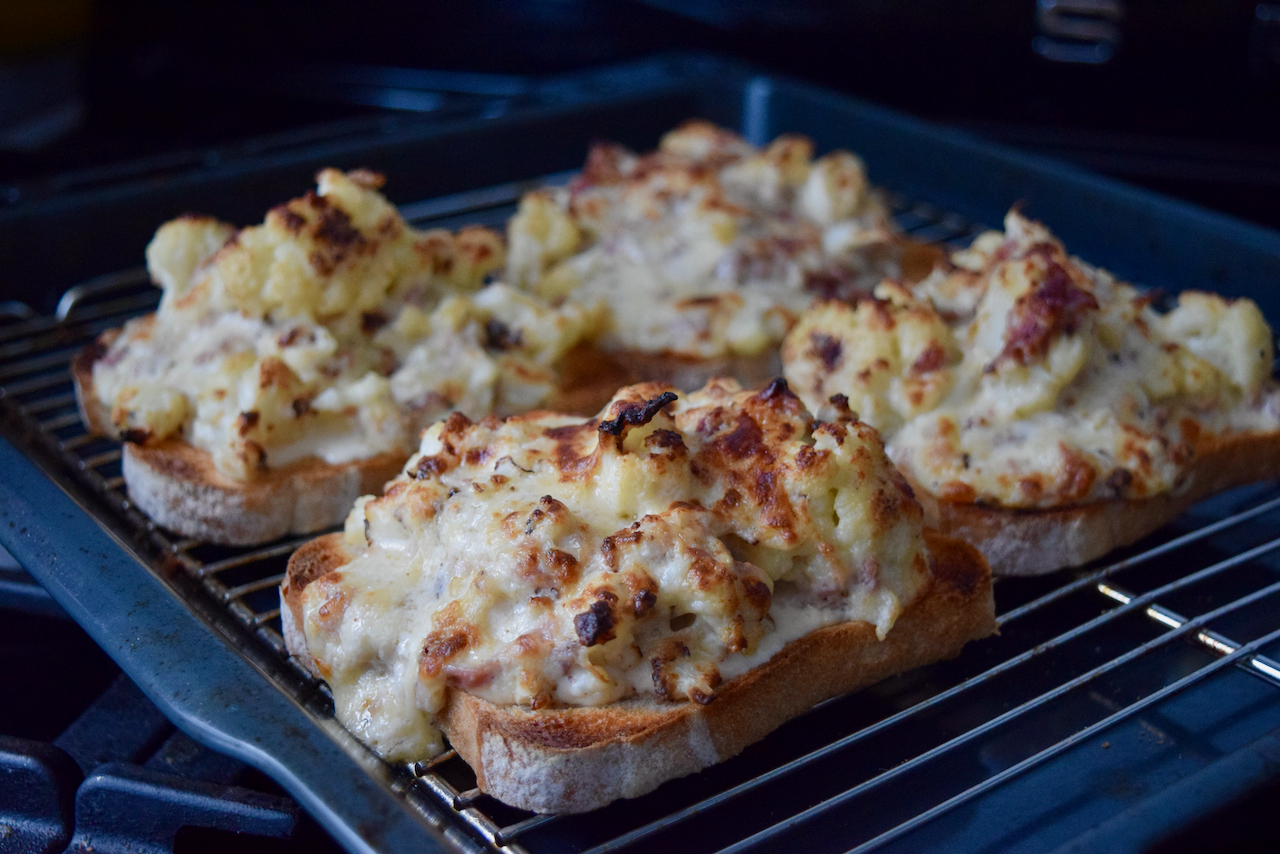 Sprinkle your Cauliflower Cheese Toasts with some extra cheese, or grated parmesan, and some snipped chives, if you like. Devour whilst piping hot trying not to burn the roof of your mouth on hot cheese *I did*.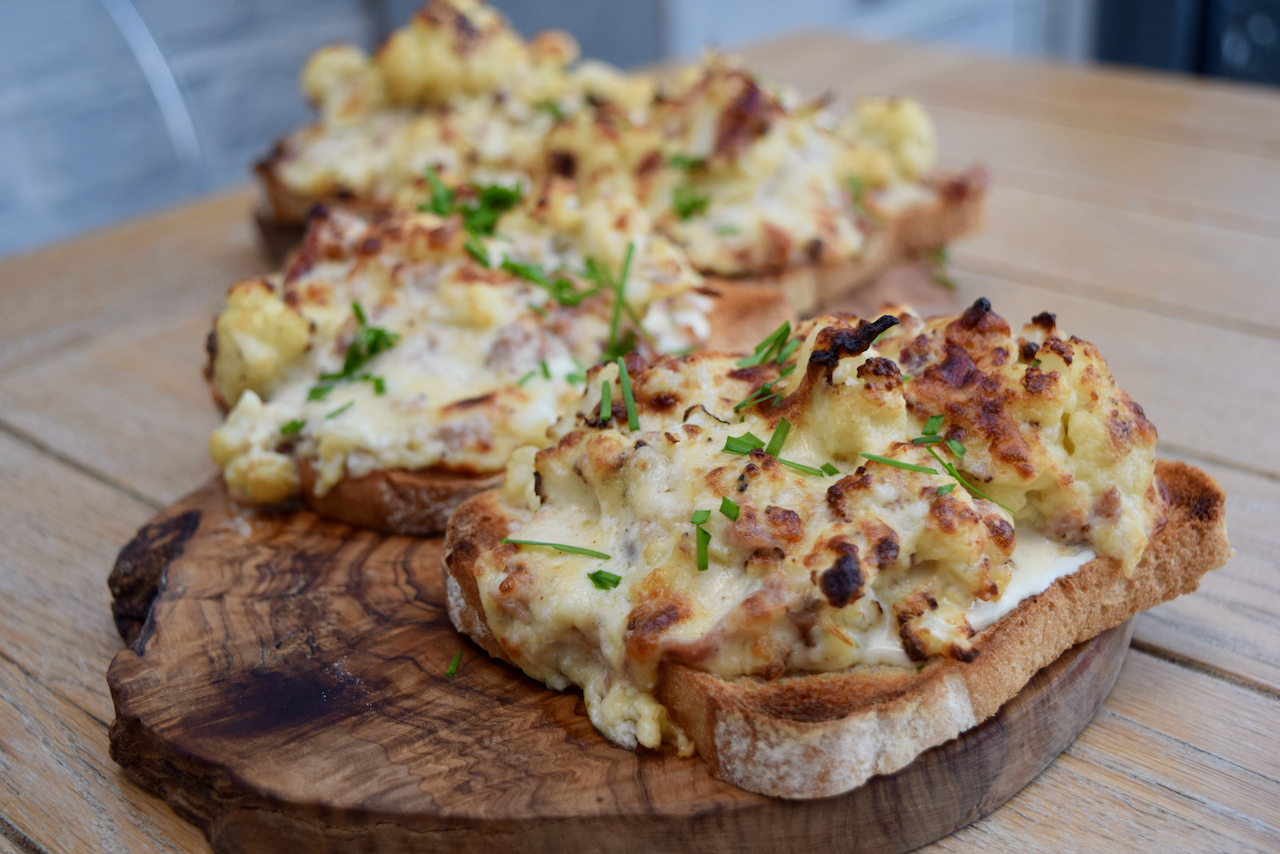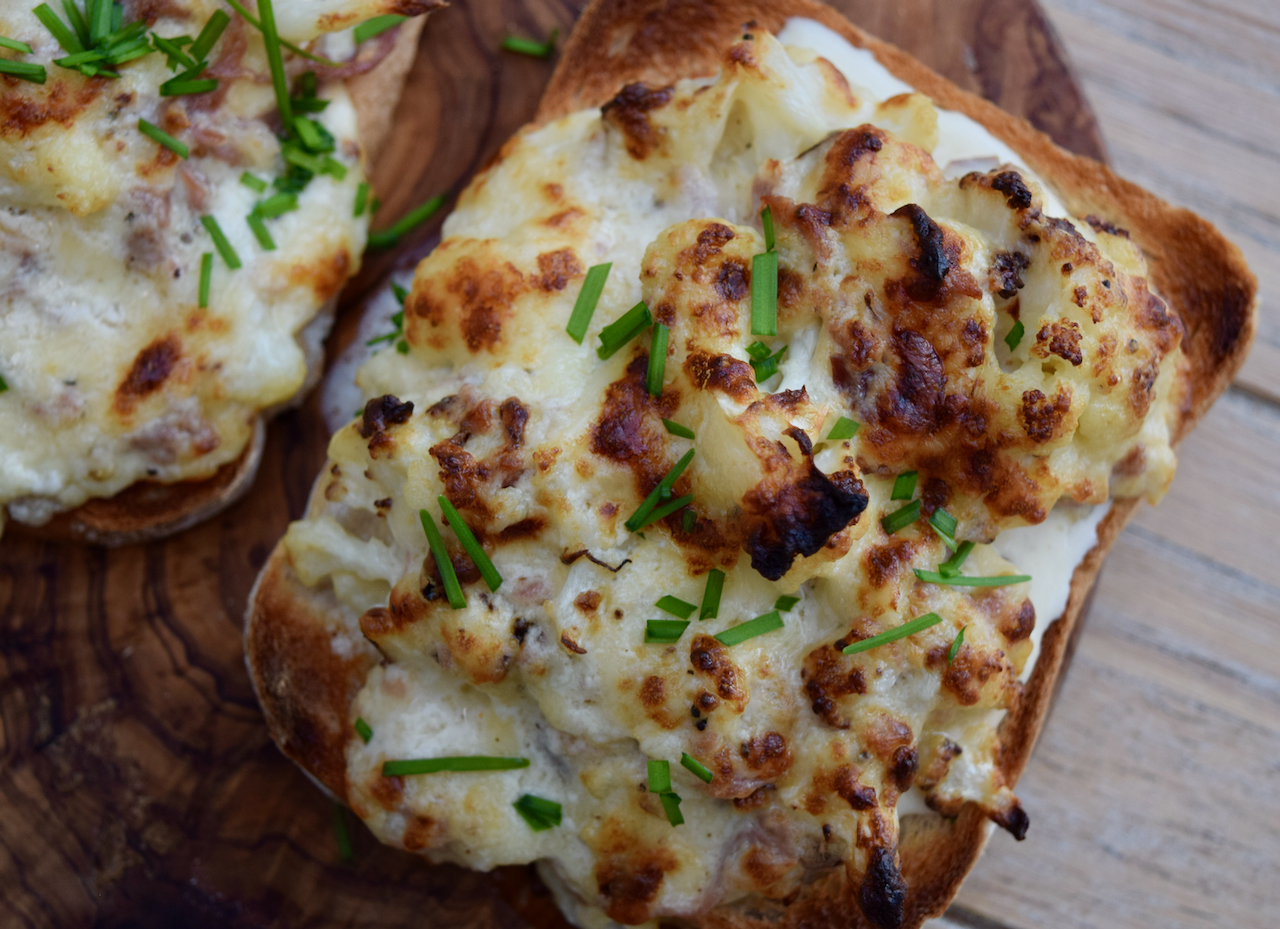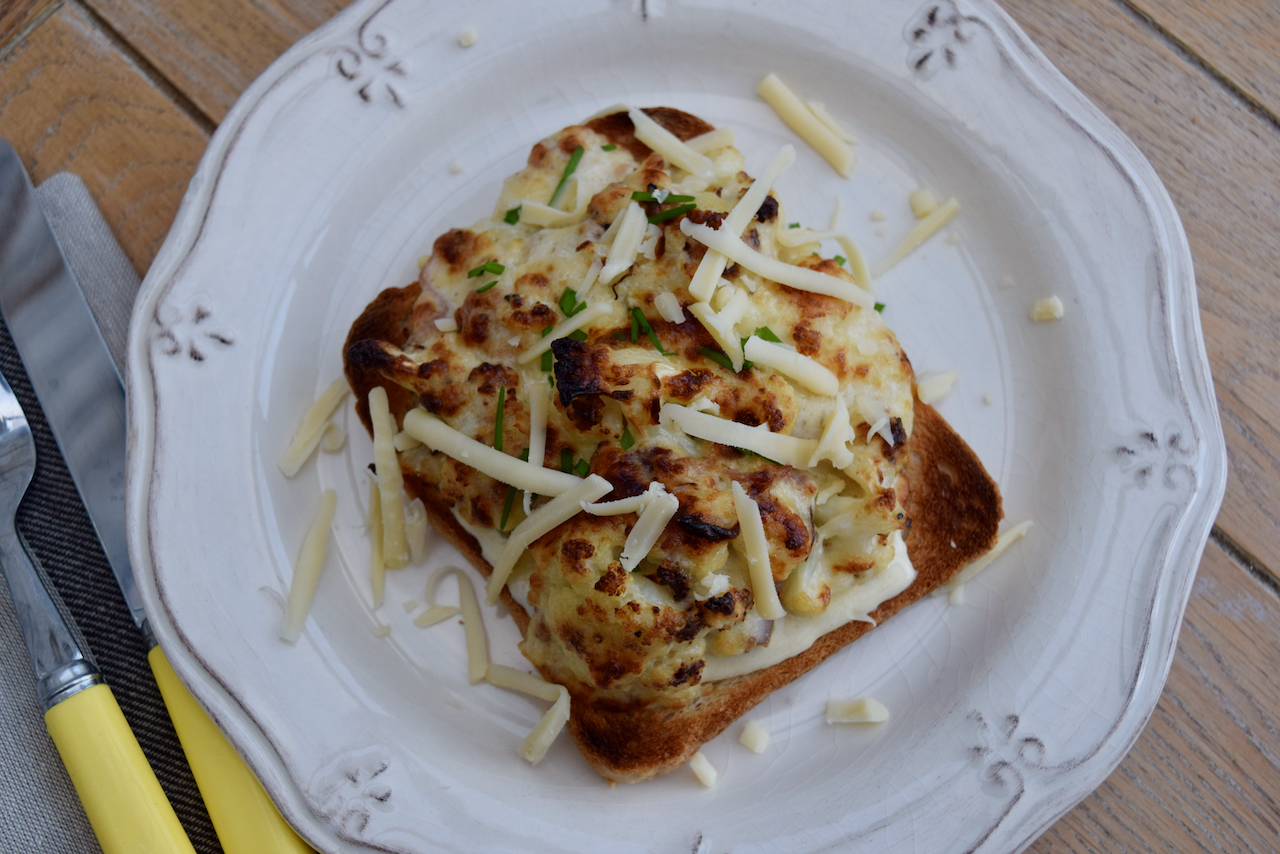 These Cauliflower Cheese Toasts aren't your normal run of the mill lunch; they're so much more than a sandwich. Ok, so they'll take about 35 minutes to get to the table, but well, there's bugger all else to do, so why not give these a go.
Lucy x
Cauliflower Cheese Toasts recipe
Serves a generous 4
You will just need bowls and your grill for this
1 good sized cauliflower, cut into florets
2 tablespoons olive oil
Salt and pepper
a good pinch dried chilli flakes
250g mascarpone
200g emmental or gruyere cheese, grated
4 slices prosciutto, cut into strips
4 slices good bread, I had some sliced sourdough in the freezer
Salt and pepper
Extra Emmental or gruyere or grated parmesan and chopped chives to garnish
Pre heat your oven to 160 degrees fan assisted and take a large baking tray. Trim the cauliflower and break into small florets. Place these onto the baking sheet and toss in the olive oil and chilli flakes and season generously with salt and pepper. Bake for around 20 to 25 minutes or until just turning golden and soft.
In a large bowl stir together the mascarpone and the grated cheese. Add the prosciutto, cut into thin strips, season with salt (you won't need a lot) and pepper, stir again. Tip in the cauliflower, stir really well, this will take longer than you think, until the whole lot is well combined.
Heat your grill to medium high and lightly toast your bread on both sides. Spoon on the cauliflower cheese mixture then pop under the grill for around 6 to 8 minutes or until the whole lot is bubbling, turning golden and piping hot.
Sprinkle the toasts with some extra cheese and chopped chives and serve straight away whilst hot.