Mug Mac and Cheese Recipe
We're only two weeks into the summer holidays and already I am bored with being asked the question 'what's for lunch?' Our kitchen feels like a local cafe with an open all hours policy. The boys roam in and out snaffling for food and the unsightly sandwich toaster has taken up permanent residence on the work surface. It doesn't seem to matter how much food I provide or what those ingredients *apart from vegetables* are, they get eaten. I know Ben has been cooking for himself for a whole year at uni, but his cooking ability seems to disappear once he walks through our front door. So with this very much in the forefront of my mind and a catering strike on the horizon, today I am tempting you with this Mug Mac and Cheese recipe.
It's a tasty recipe, quite literally, as it comes to me via the Tasty website, brilliant as it is with all it's uptempo videos. This super quick and delicious recipe requires a microwave and a large mug, which even a 19 year old first year uni student can master. George has also been making this brilliant after school, pre or post rowing pasta dish for at least a year now, such is his voracious appetite for all things carb and cheese based. The speedily cooked-in-it's-own-mug macaroni is then mixed with plenty of grated cheese and a splash of milk to create your very own cup of stringy, creamy Mac and Cheese. Season and inhale, trying not to burn your mouth as you do so.
This is a great dish to get your younger offspring, or any other kitchen dodgers, cooking for themselves. If a 15 year old boy can make it, then anyone can. Just don't expect the mug to make it's own way into the dish washer.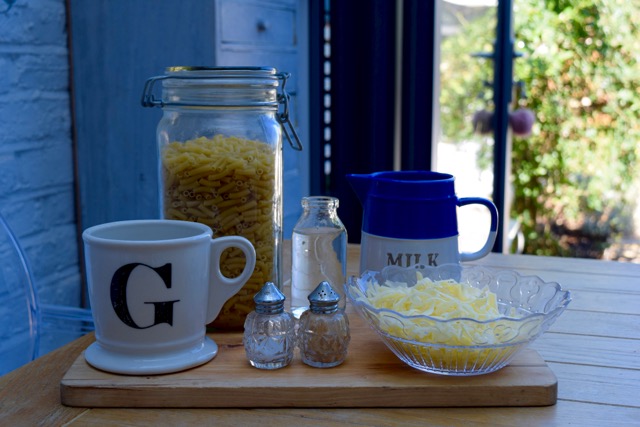 As you can see I keep a large jar of macaroni in the house at all times. I am sure you could use another pasta, but I am a traditionalist when it comes to Mac and Cheese. Fusilli and Cheese just doesn't sound the same.
Make a start on this 5 minutes before your hunger kicks in, as this is fast food at its finest. Take the biggest mug in your cupboard, the bigger the better, as the water does tend to overflow. The final portion is a good snack sized meal, so double and make in a better sized bowl if you are starving.
Measure the pasta in the aforementioned mug. Pour on the water and stir.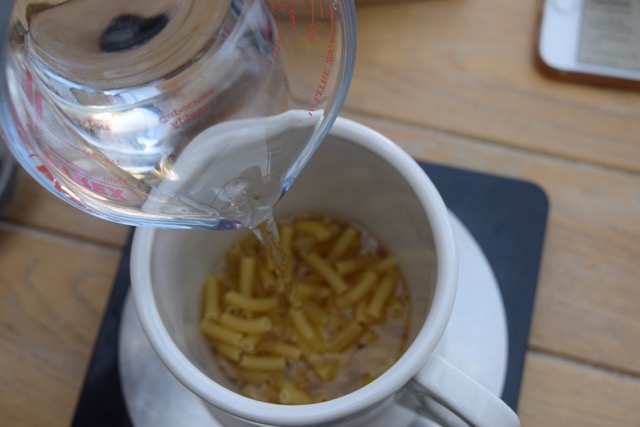 Place the mug onto a microwave safe plate to catch any water overflow and microwave for 3 to 3 and a half minutes. My microwave is 800 watts and it took the full 3 and a half minutes, but I gave it a good stir after 2 minutes. Don't panic if it looks as if there's too much water, it all gets absorbed once the macaroni is cooked.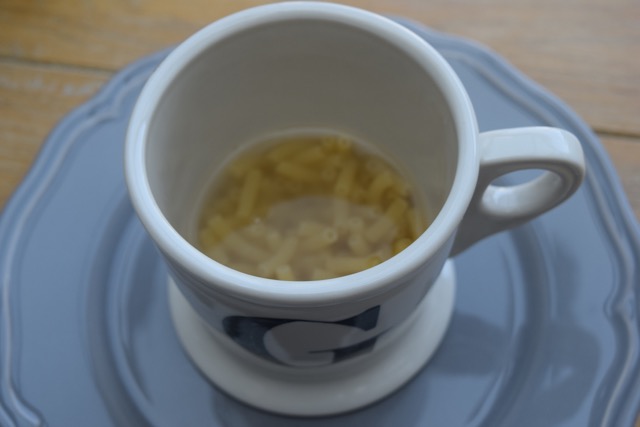 Once your mac is al dente, stir through 2 tablespoons of milk and the grated cheese, mixing well to combine the ingredients into a sauce. You may need an additional tablespoon of milk to loosen the mixture, but play it by ear. Season to taste with plenty of black pepper and salt as needed.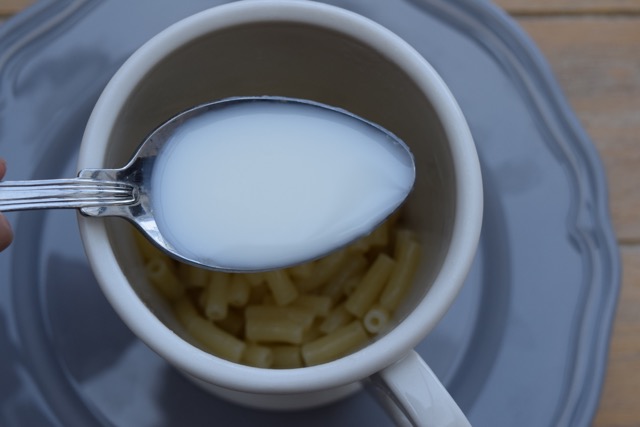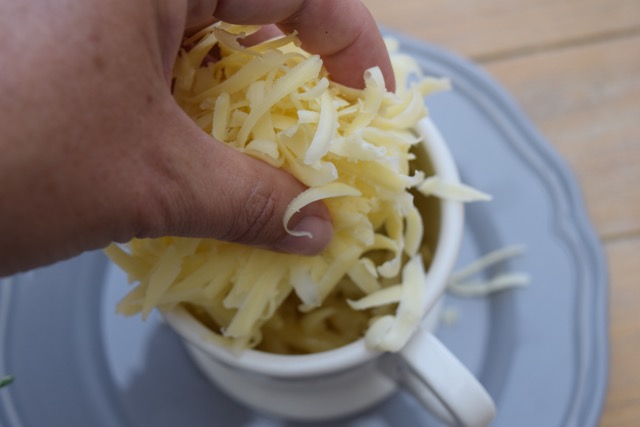 Pop the mug back into the microwave for a further 30 seconds to finish your lunch off, then stir well.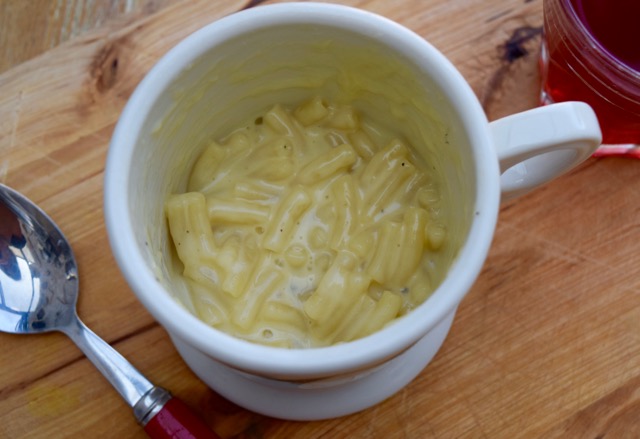 And there you have it. Lunch for one in 5.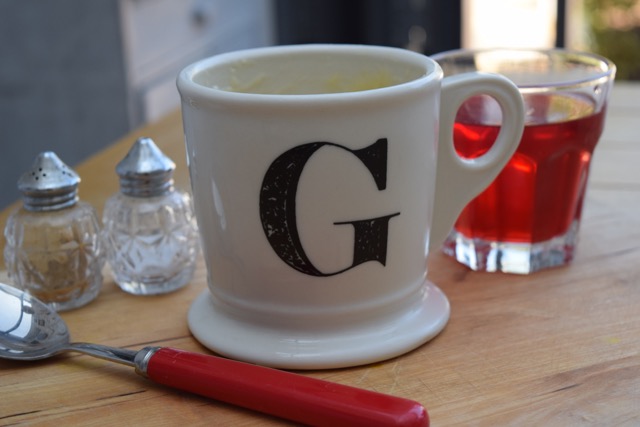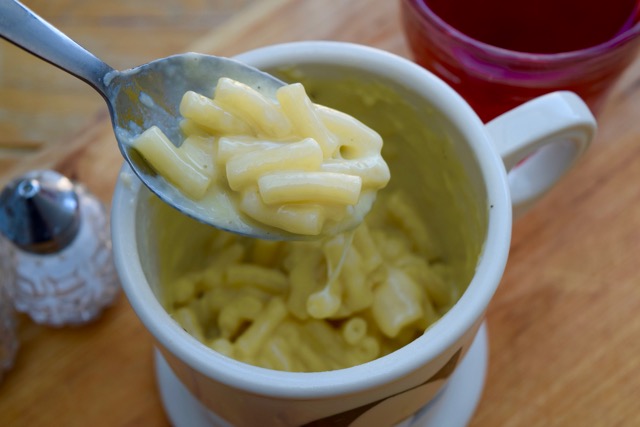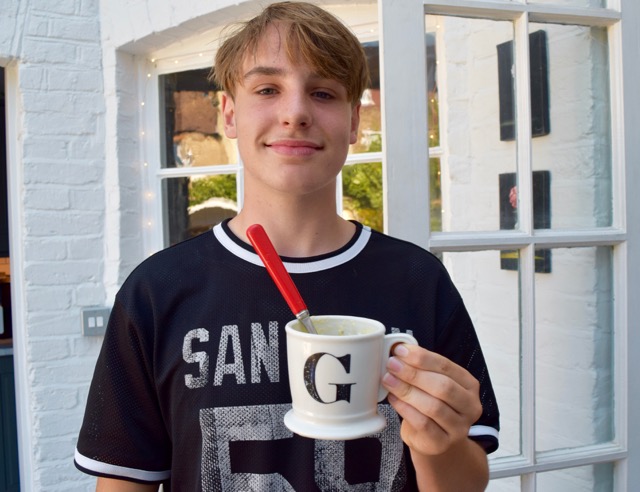 And there's George, pretending he made this. He then legged it and wolfed the whole mug of molten cheesy pasta himself. Little did he know I had had a large quality controlling mouthful when he wasn't looking. This is officially tasty.
Lucy x
Mug Mac and Cheese Recipe
Makes 1 portion
You will need a big mug and a microwave
50g macaroni
120ml water
2 to 3 tablespoons milk
60g cheese, grated
Salt and pepper to taste
Take your largest mug and place on a microwaveable plate. Measure in the dried macaroni and stir in 120ml water. Microwave for 3 to 3 and a half minutes, giving the pasta a stir after 2 minutes. The water will/may bubble over the top of the mug, hence the plate to catch the drips.
Remove the mug from the microwave and stir through 2 tablespoons of milk then add the cheese, stirring again, until the pasta is coated in a cheesy sauce. You may need an extra tablespoon of milk to loosen the mixture. Place the mug back in the microwave for a final 30 seconds, season accordingly then stir well before devouring from the mug with a spoon, or fork if you have a touch of class.