One Pot Cauliflower Mac and Cheese Recipe
Mac and Cheese in any form is a house favourite. In fact, you can tell by the amount of Mac and Cheese recipes that feature on Lucy Loves. My boys love pasta and let's face it, it's cheap and filling which ticks all the boxes for me, as well as them. I was always go to bed watching the Good Food Channel and on one recent nighttime viewing I was introduced to Donal Skehan and his Cauliflower Mac and Cheese. I couldn't decide which one looked more attractive, so I searched up both Donal and his recipe and rather fancied both of them. Putting Donal to one side, for the moment, here's my version of his rather tempting Cauliflower Mac and Cheese.
Those kind people at Vonshef recently sent me their super stylish cream casserole dish to play with, love them. This recipe seemed the perfect opportunity to give it a run out. You can see for yourself how lovely it looks, but I can happily report, it's a great size, super value, washes up beautifully and heats evenly leaving your Cauliflower Mac and Cheese perfectly cooked through. As this is a one pot dish, it's well worth getting one of these, as it's stylish enough to pop right on the table to serve, and keeps washing up down to a dull roar. The recipe is also a winner; the perfect way to combine two of my most favourite dishes. There's no need to a make a roux here either, just simmer the pasta and cauliflower in the milk then add the cheeses, butter and mustard at the end for maximum cheesiness, minimum kerfuffle. Oh and did I mention Donal Skehan being attractive? Well he is and his recipes are too.
Even with our family being hungry and male heavy this still feeds a generous 4 to 6 mouths. Which means, unlike with some recipes, I get to give myself a generous portion too, rather than just getting to eat the bits left stuck to the dish at the end.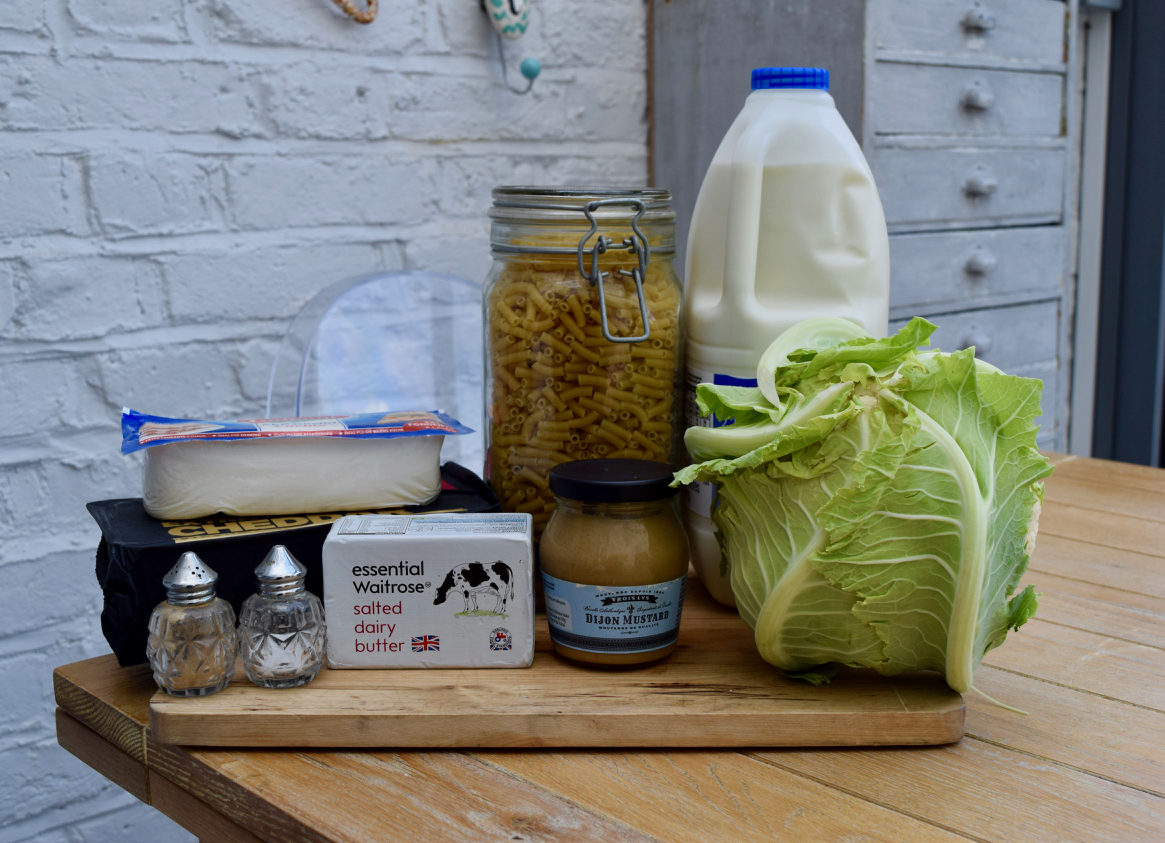 A simple and delicious line up for this recipe and a lot of cheese. This slab style mozzarella is great for the recipe as it needs to be grated, or buy pre grated, up to you. My cauliflower was quite large so I only used 3/4 of it, but it's up to you, a little extra cauliflower never hurts. And it's one of the few vegetables George actually likes so that's a win.
Make a start with your lidded dish. Here's my elegant Vonshef casserole dish for you to ogle.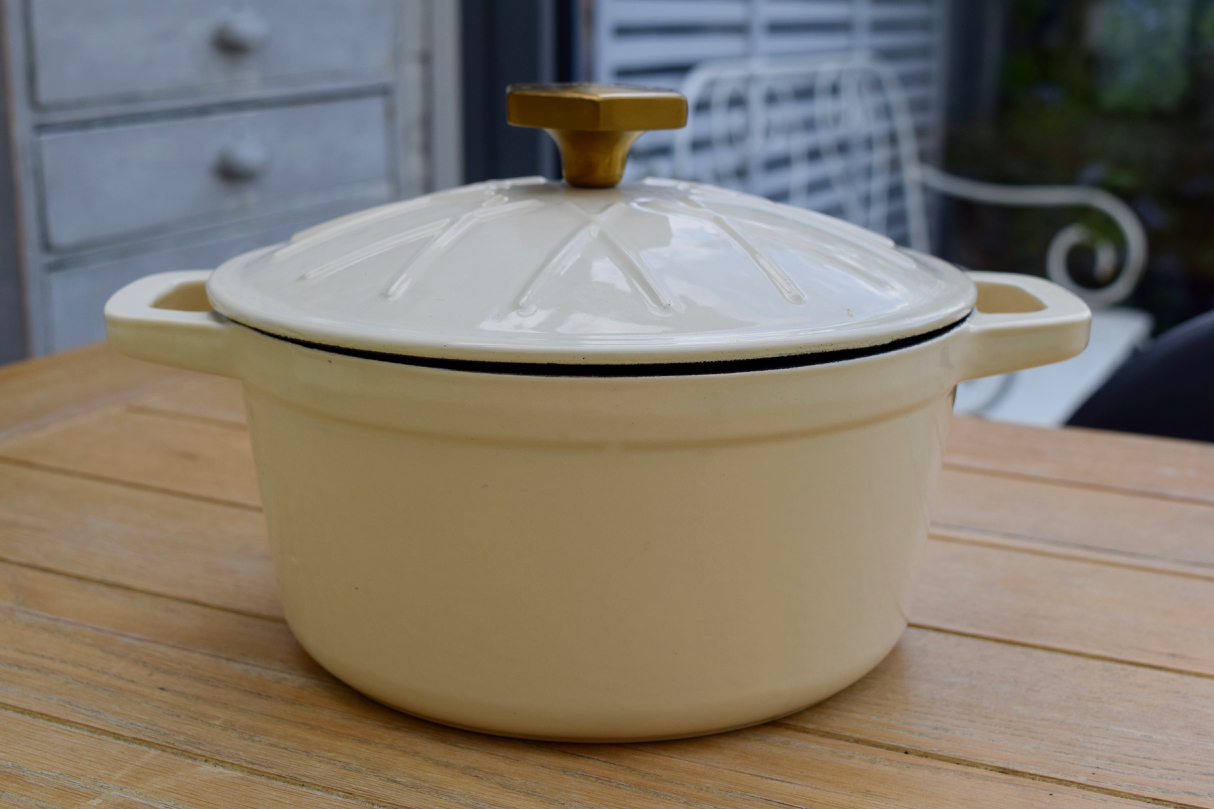 I was worried this would stain, but can assure you, it washed up like a dream, even after I made an oven baked beetroot risotto in it.
Into your dish, add the milk and macaroni then season generously with salt and pepper.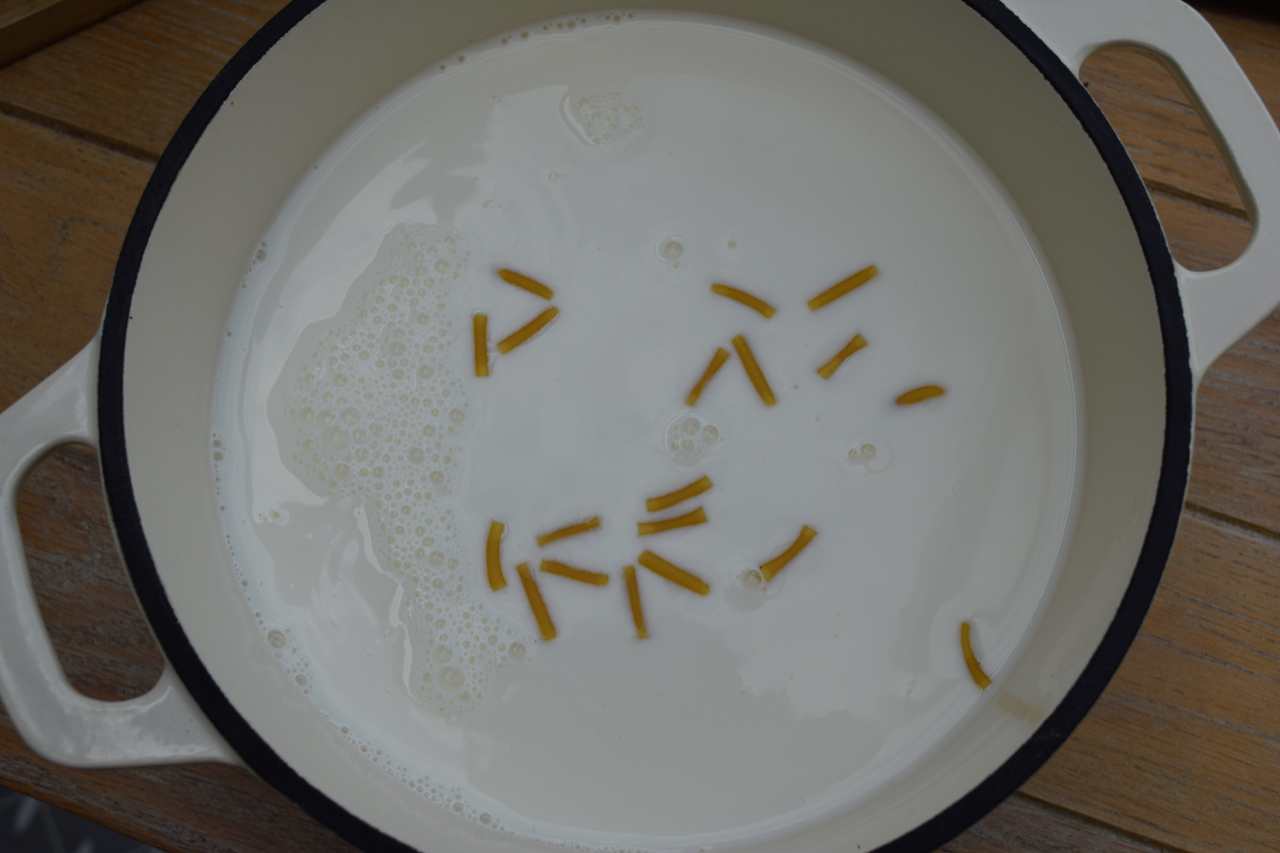 Pop this onto the hob and bring up to the boil, stirring well as you go to stop the macaroni sticking or clumping.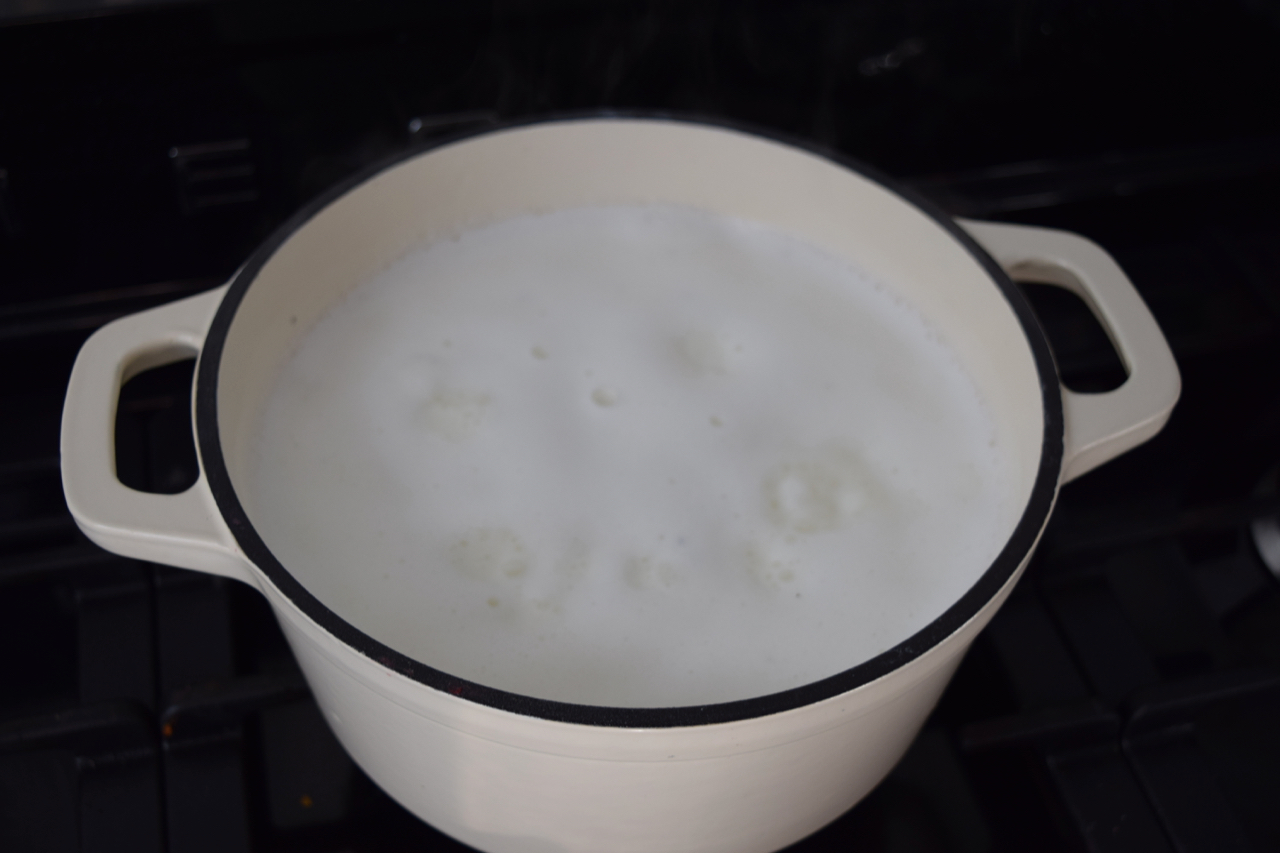 Cook this for 6 minutes then stir in the cauliflower florets. Keep the florets all on the small side so they cook quickly and evenly.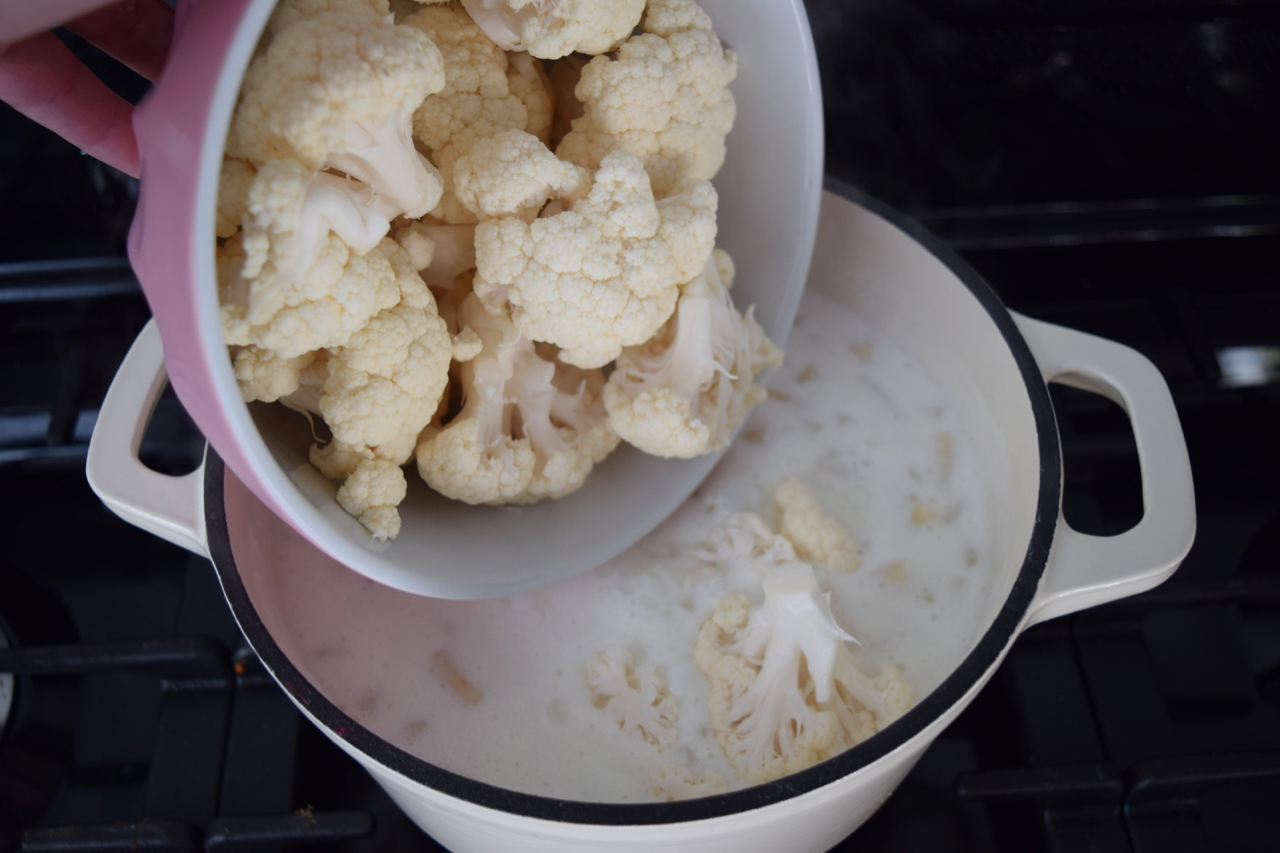 Bring back up to the simmer, making sure the cauliflower is mostly submerged under the remaining milk and pop a lid on for another 5 or 6 minutes. The pasta should be cooked through and the cauliflower will be tender.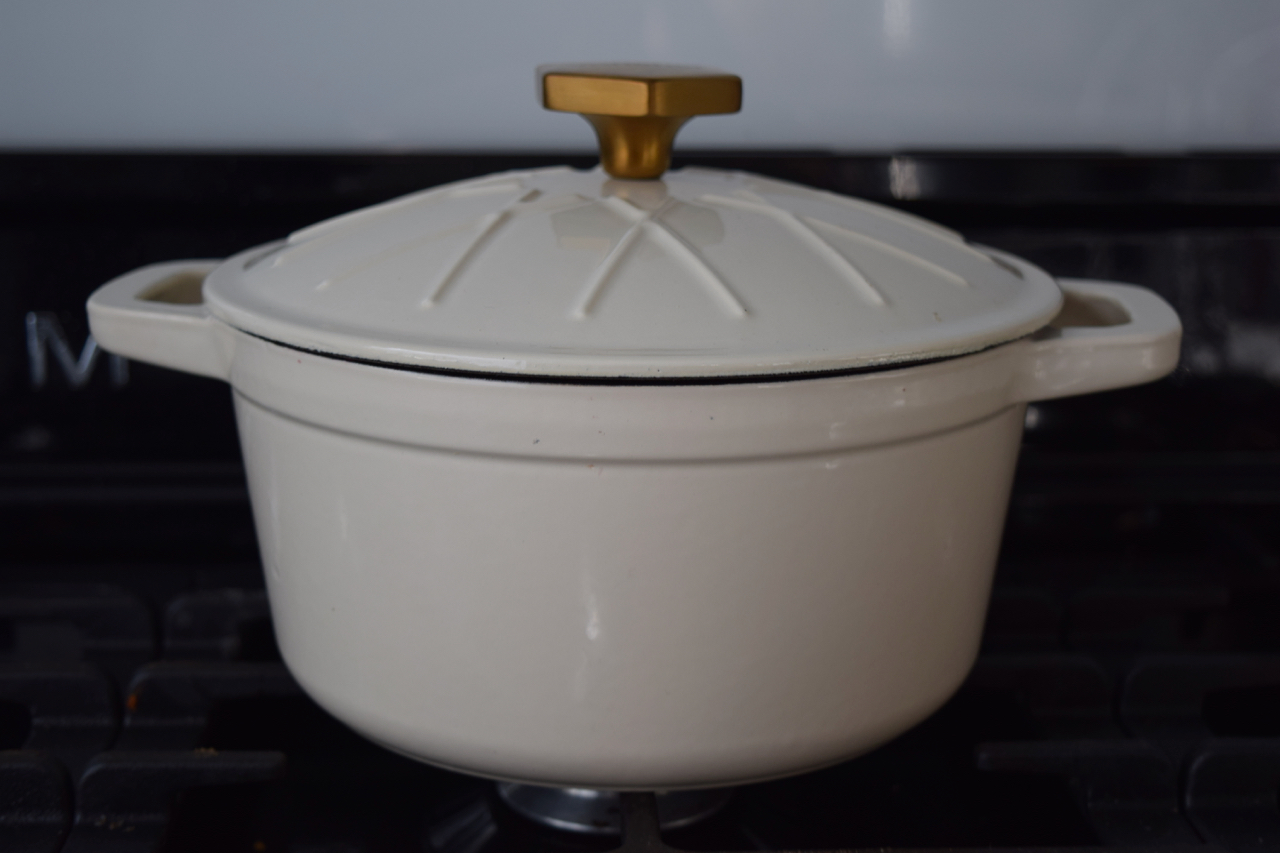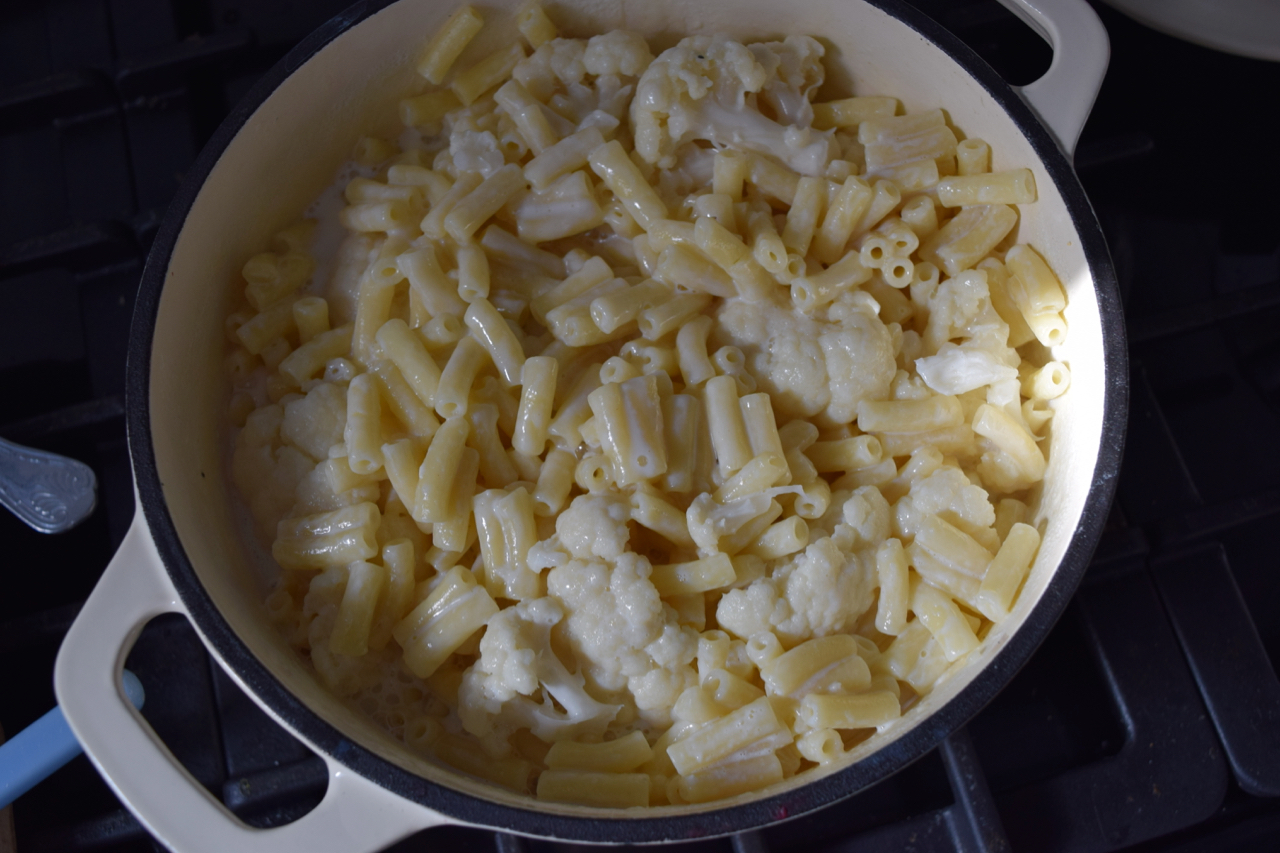 Now, grate both the cheeses.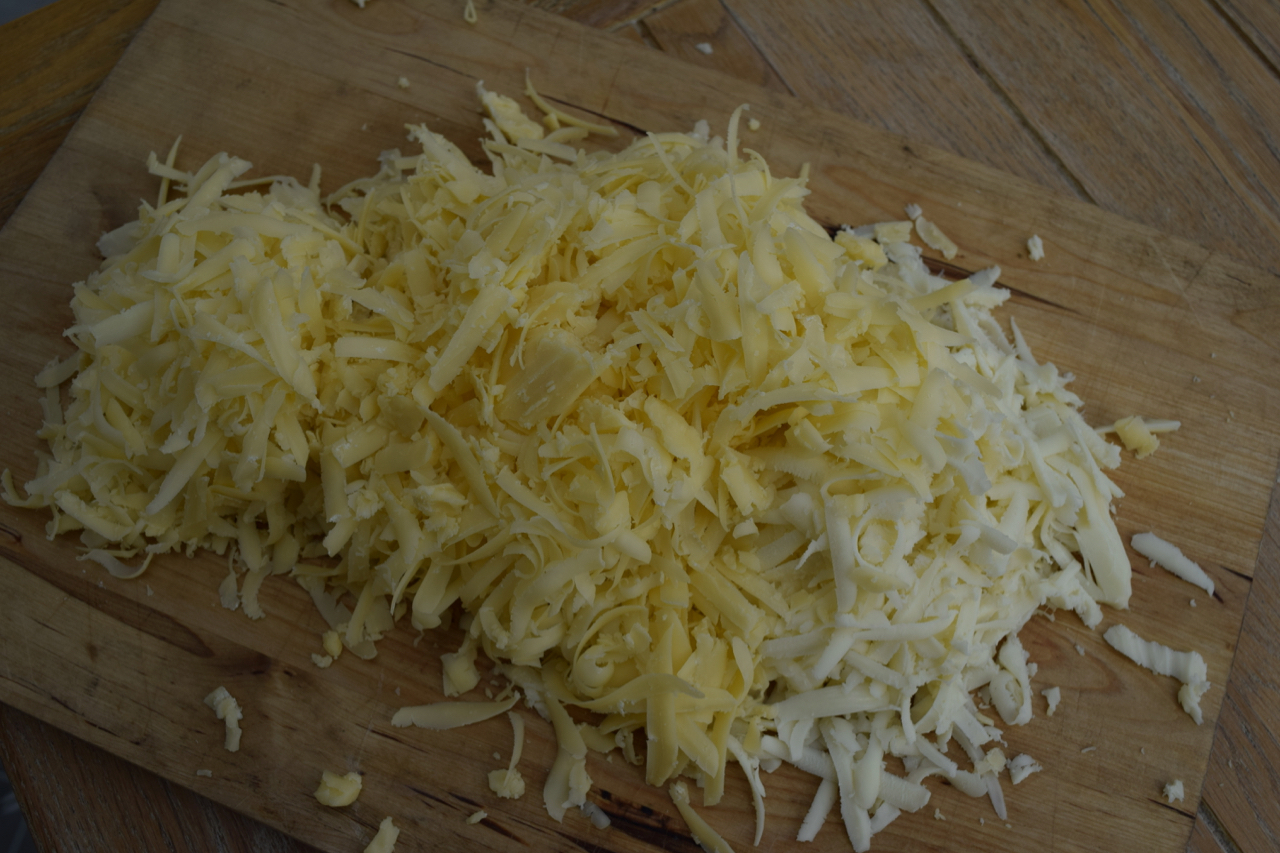 Reserving a handful for later sprinkling, add the cheese, mustard and butter to the pan, stirring well to ensure everything is well coated.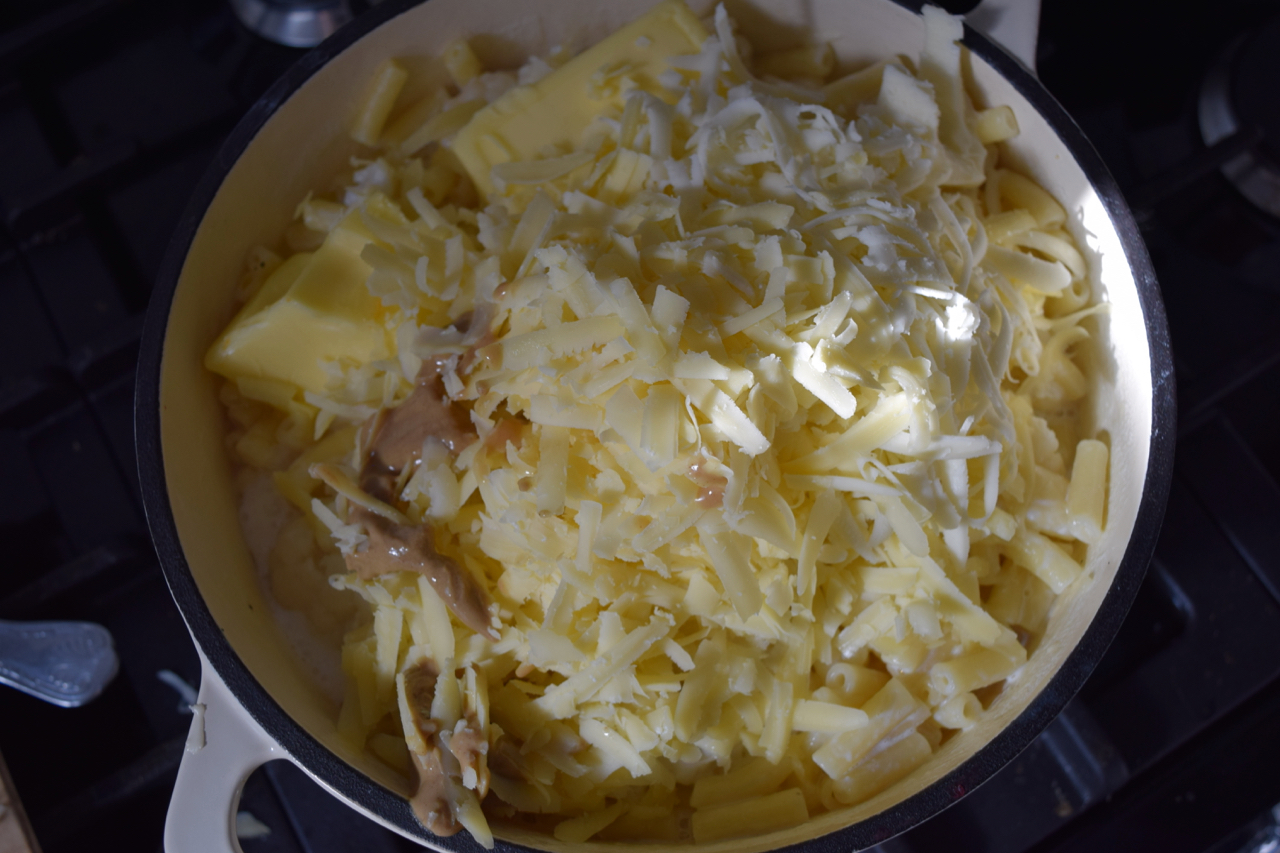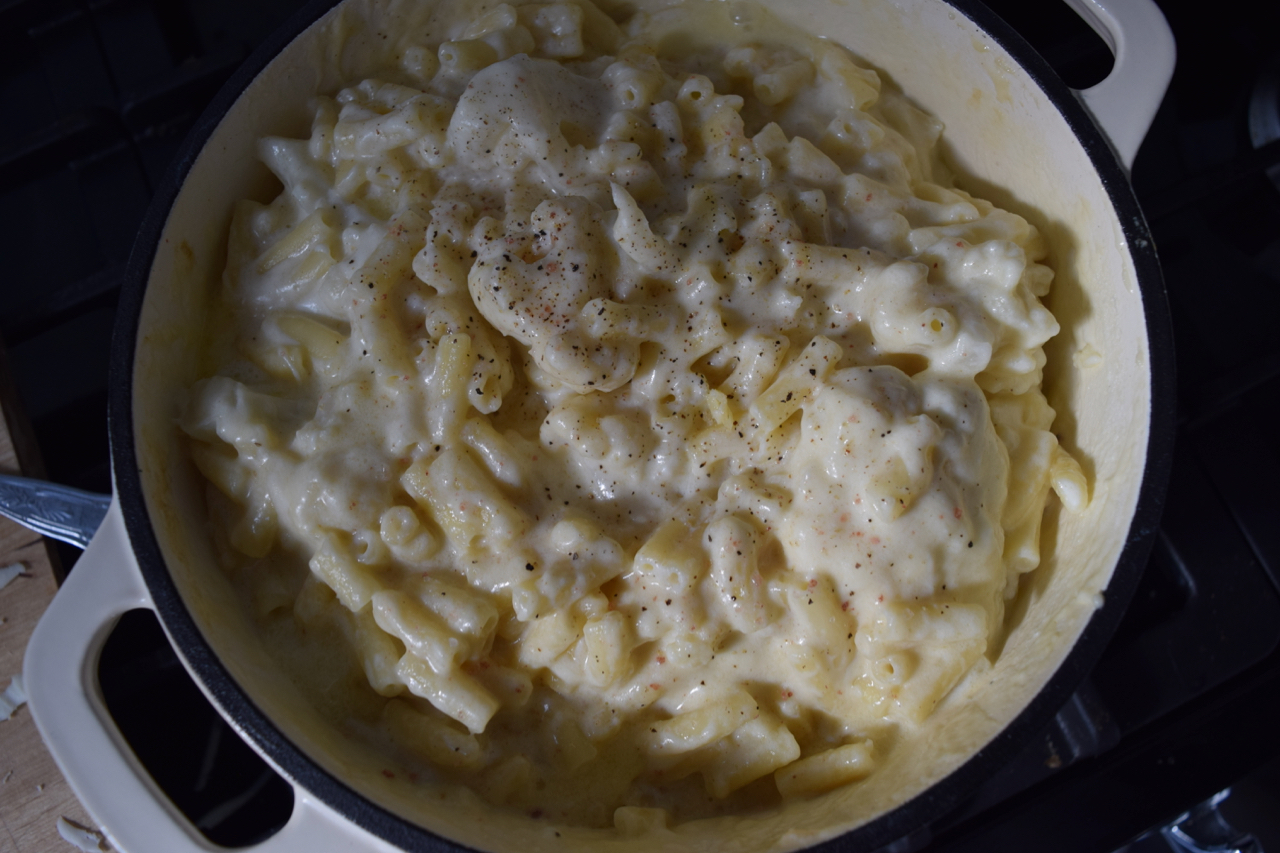 Cheese based heaven right there.
Cook for a further minute over a low heat to make sure the cheese has fully melted then pre heat your grill to medium high. Sprinkle the reserved cheese on top then place the dish under the grill until golden and bubbling.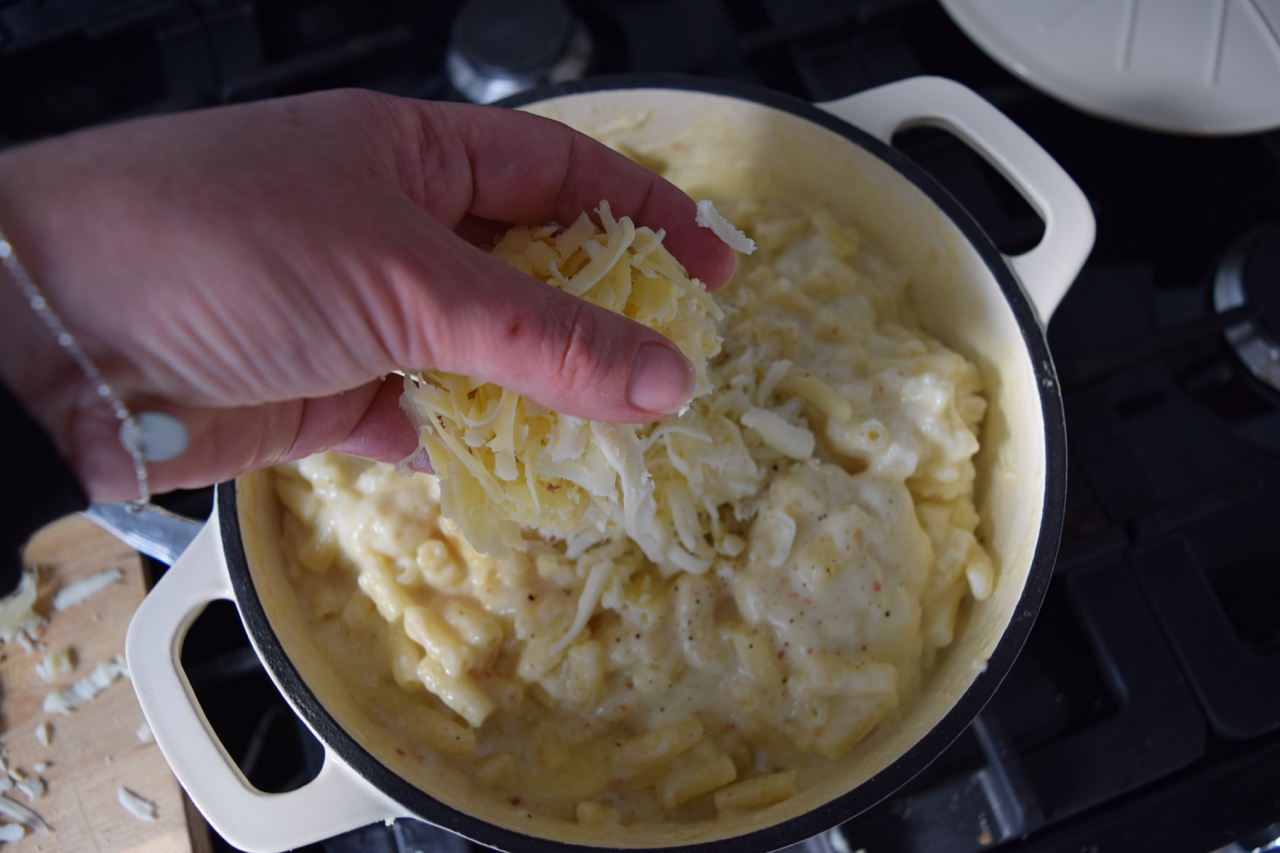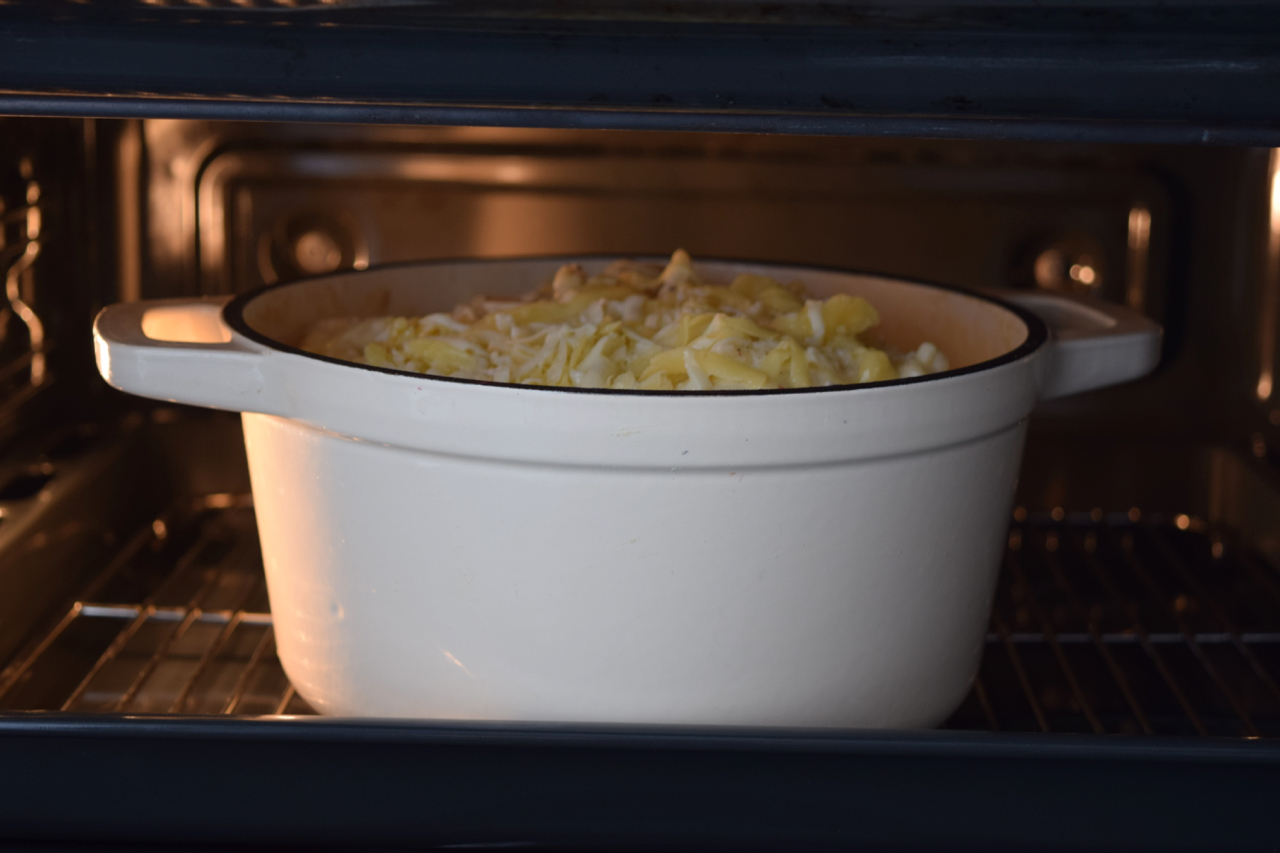 Serve this brilliant pot of cheese based delightfulness piping hot and with a green of your choice. Or don't bother, the cauliflower counts as one of your 5 a day surely.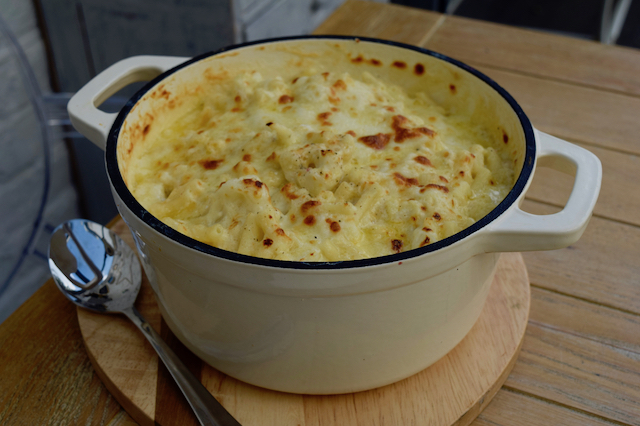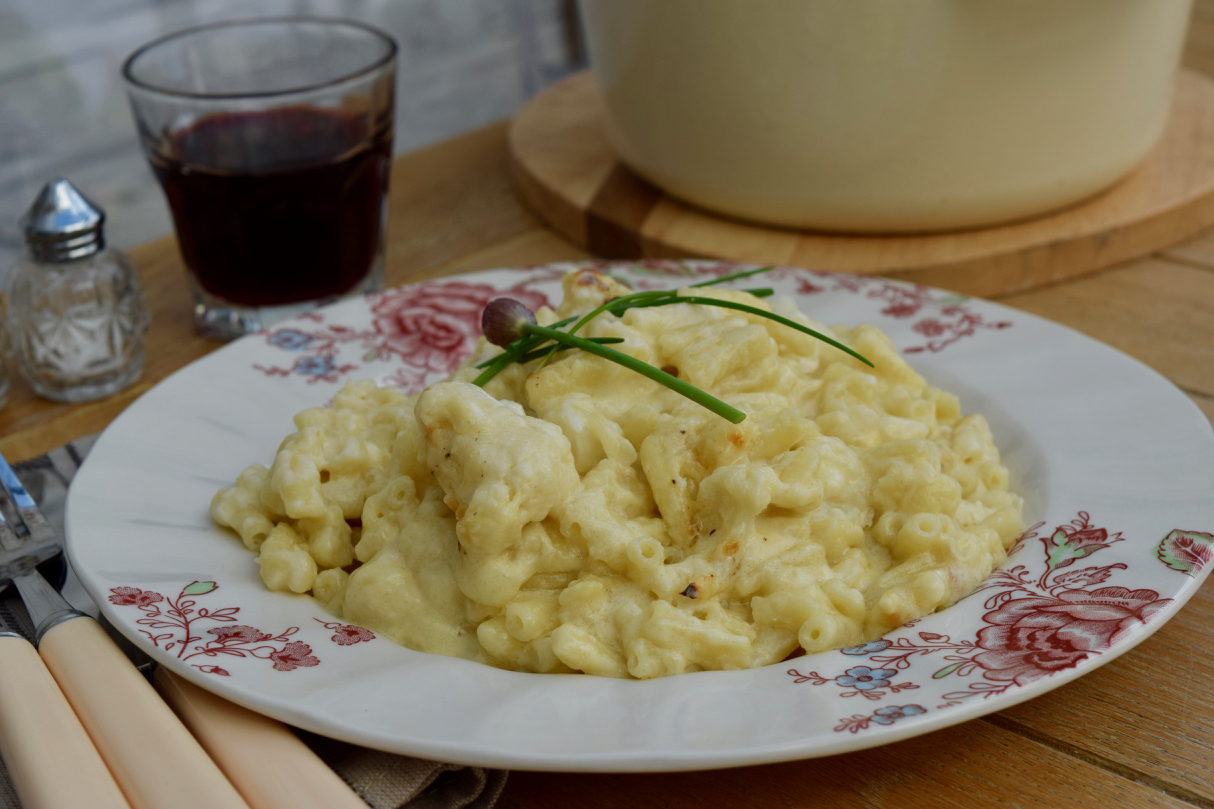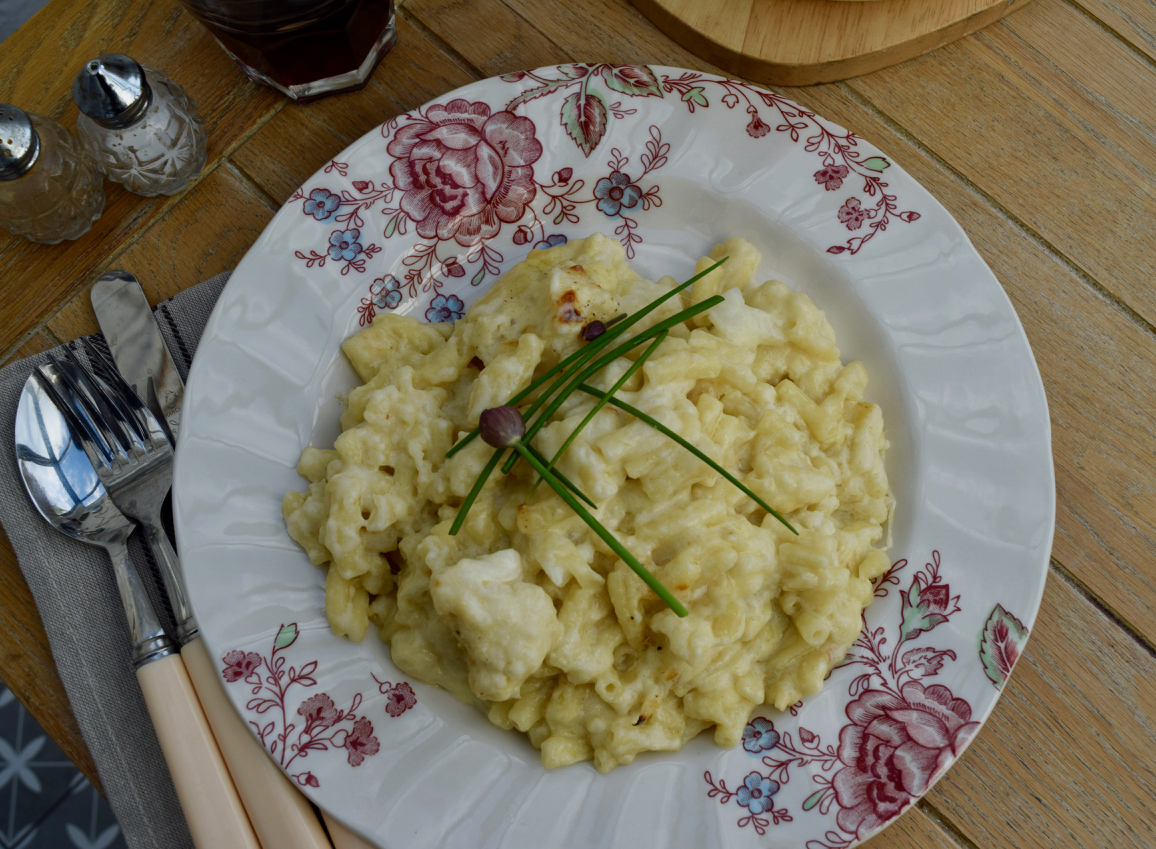 I love spending time in my kitchen. It's tranquil, most of the time, and somewhere to escape to. However, on a day to day basis, when I have work, revision supervising and writing to do, I would frankly rather not stand over a stove for hours on end. This Cauliflower Mac and Cheese is on the table in just over 30 minutes which makes it a total midweek gift from me to you.
Lucy x
Vonshef kindly gave me their wonderful casserole dish to use, however, all opinions and ramblings are, as always, my own.
One Pot Cauliflower Mac and Cheese Recipe
Serves a generous 4 to 6
You will need one pot, preferably something like my Vonshef Casserole
1.4 litres full fat milk
350g macaroni
1 small cauliflower, broken into small florets
150g mozzarella, grated
200g strong cheddar, grated
25g butter
2 teaspoons Dijon mustard
Salt and pepper
A green vegetable to serve, we love peas
Take your large casserole dish or lidded pan and add the milk and macaroni. Season generously with salt and pepper. Bring to the boil on the hob, stirring well to ensure the pasta doesn't stick to the pan. Turn down and simmer for six minutes.
Break the cauliflower into small florets and add to the pan. Pop the lid on for a further 6 minutes or until the cauliflower is cooked and the macaroni al dente. The milk will have coated the pasta and cauliflower.
Stir through the mustard, butter and most of the cheeses, reserving a little extra for sprinkling. Mix well then cook for a further minute on a low heat to melt the cheese.
Pre heat your grill to medium/high, sprinkle the top of the dish with the rest of the cheese,  then pop the pan under the hot grill until the top is golden and bubbling.
Serve immediately with some peas, or green of your choice.