Turkey Noodle Bowl Recipe
As I write this I can feel my Easter induced spare tyre hanging over the top of my jeans. It's not even as though I have eaten three Easter eggs, I didn't even get one *thanks Clyde*, it's just a result of constant eating and drinking over the four day long weekend. I did take my running shoes to the Isle of Wight but, as has happened on numerous occasions and on trips all round the world, they did not leave my bag.
So, this week, I feel it's only right that I offer a slightly healthier option than usual. I will certainly be cutting back on the more podge inducing foods for a while such as unnecessary sugar and gin, and will be more than likely forking up my Turkey Noodle Bowl. This is a great recipe and takes an embarrassingly small amount of time and effort to make. Use whichever noodles you have to hand, I had some super healthy sounding brown rice affairs in my cupboard, probably purchased the last time I felt I should be being less of a porker, but any noodles would work here. When it comes to turkey mince, however, do go thighs all the way. Turkey thigh mince, in my mind, is by far the best option as this has tons of flavour and unlike turkey breast mince, has plenty of moisture. I randomly bought the turkey thigh mince from Ocado when it was on offer and shoved it in the freezer. This recipe is the product of that purchase so for that, I am hugely grateful. I have made it several times since and even bought the turkey mince when it wasn't on offer. That said, 500g is less than 3 quid so it's hardly a luxury item.
Rambling aside, this dish is light, hot on flavour and packed with veggies. If you are looking to eat something slightly lighter, this is the supper for you. If you are just looking for something delicious and quick, this is also the dish for you. Just make it for whatever reason, and we'll leave it at that.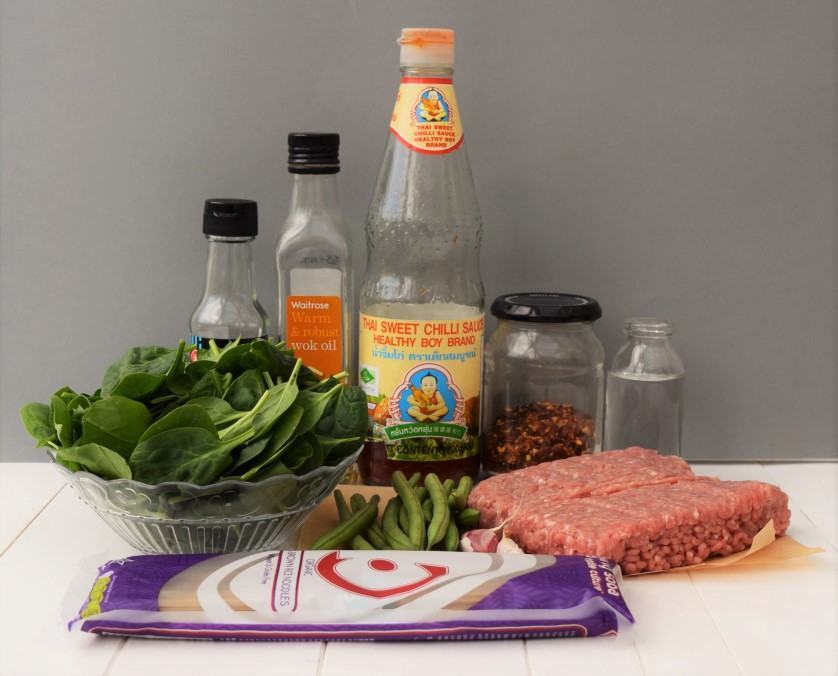 Here's the line up, how light and tasty. This recipe was also a product of the various sauces which stand beside my hob and the contents of the veg drawer of my fridge. When I want to be, I am both innovative and frugal.
Make a start on this health laden dish by heating a frying pan containing two tablespoons of oil and popping in your turkey mince. As I mentioned before do go for thigh mince, as turkey breast mince turns to dust as it hits the pan, it's too dry.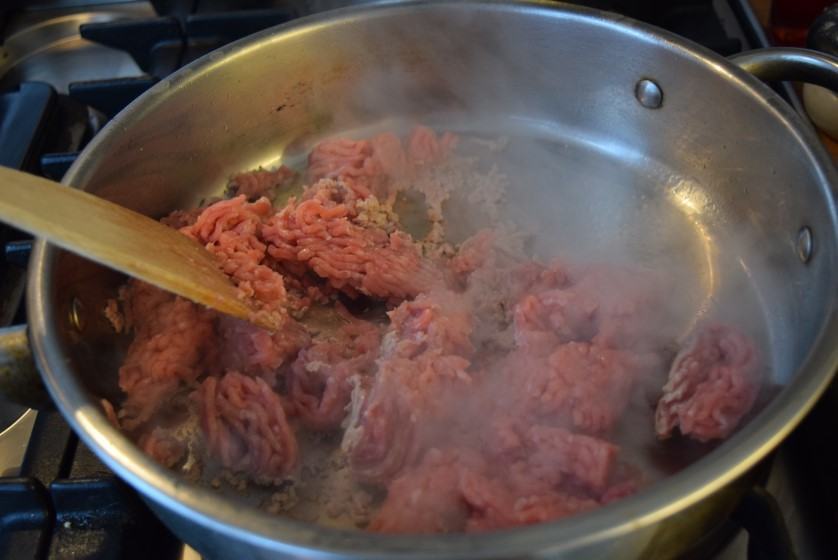 While you brown this, pop your noodles on to cook according to the instructions on the packet. Cook them, then drain and rinse with cold water to stop them from sticking.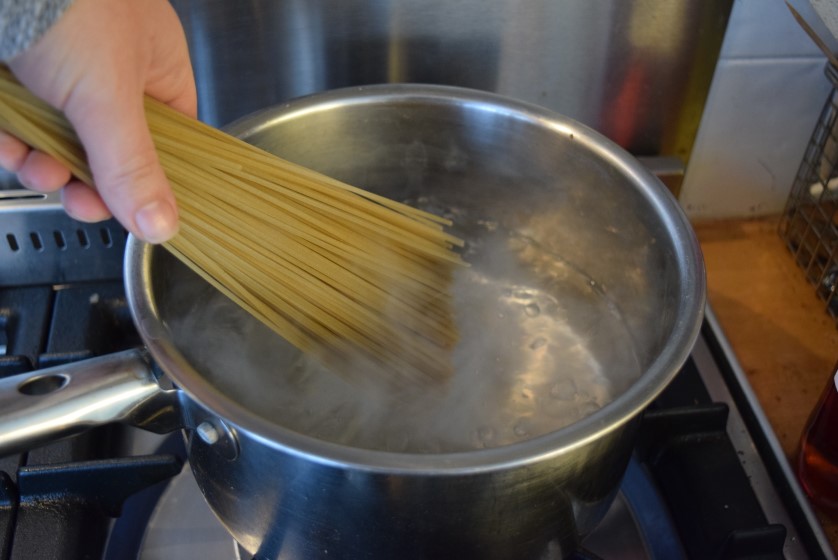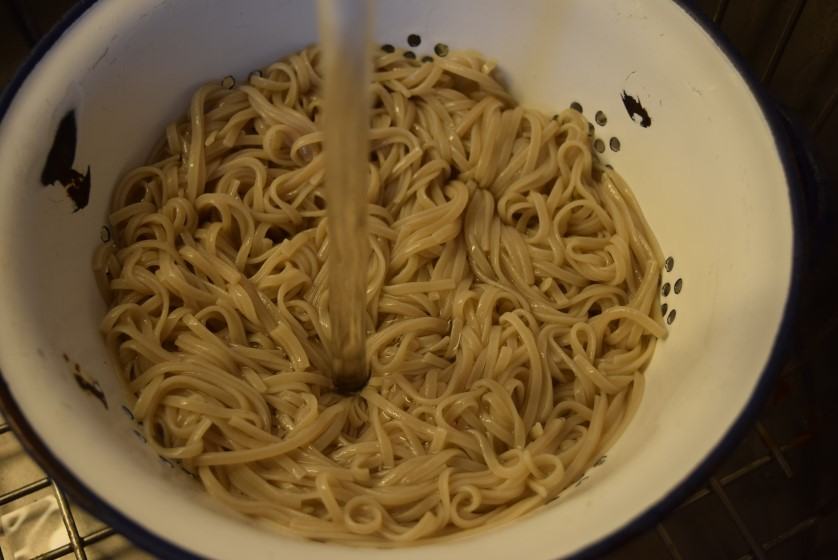 Back to the mince. Once it's just starting to brown, finely chop your garlic and halve your fine beans then add them to the pan with a generous pinch of dried chilli flakes and give the mix a good stir fry.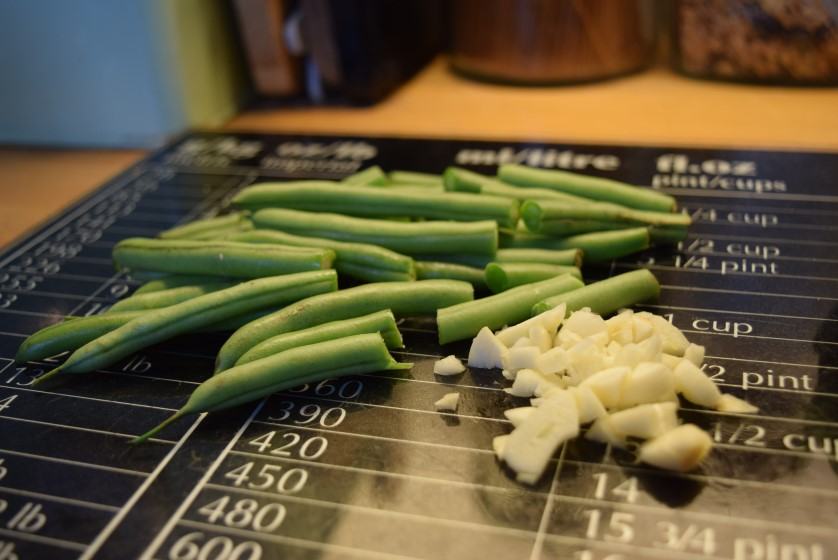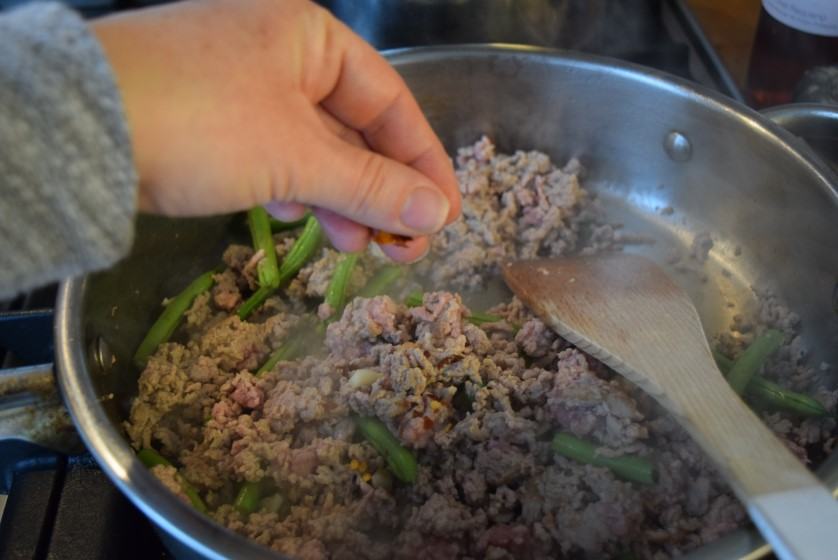 Next add the soy sauce and sweet chilli sauce, mix again then add a couple of good handfuls of fresh spinach and stir well to coat and wilt.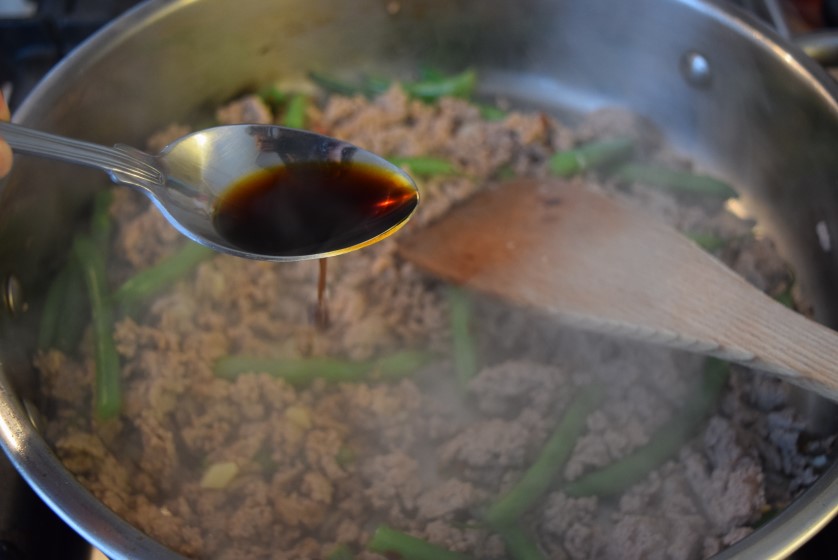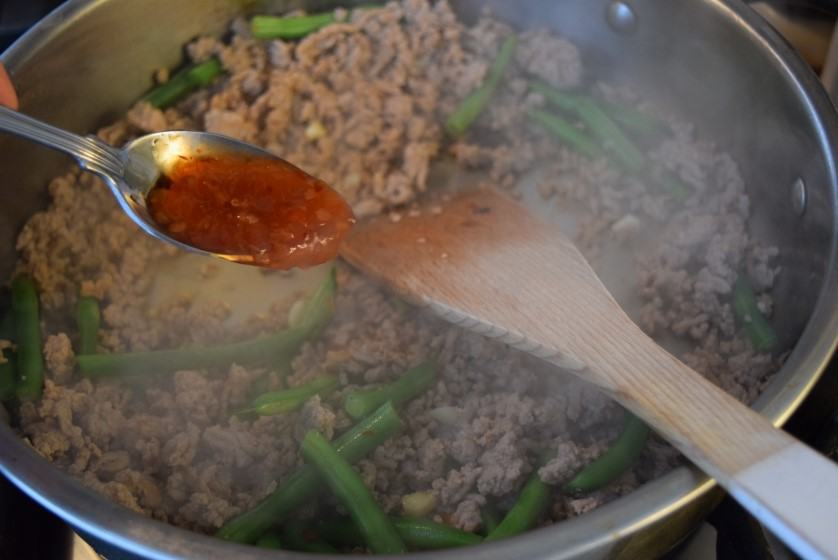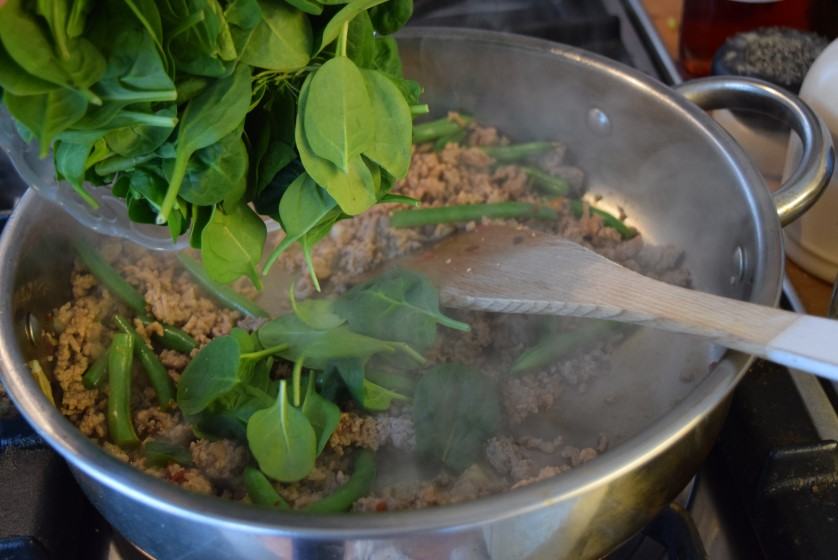 After a minute add the drained noodles and just a splash of water to loosen, then all that's needed is another predictable stir, a minute or two more to ensure the dish is piping hot then it's nearly ready to bowl up.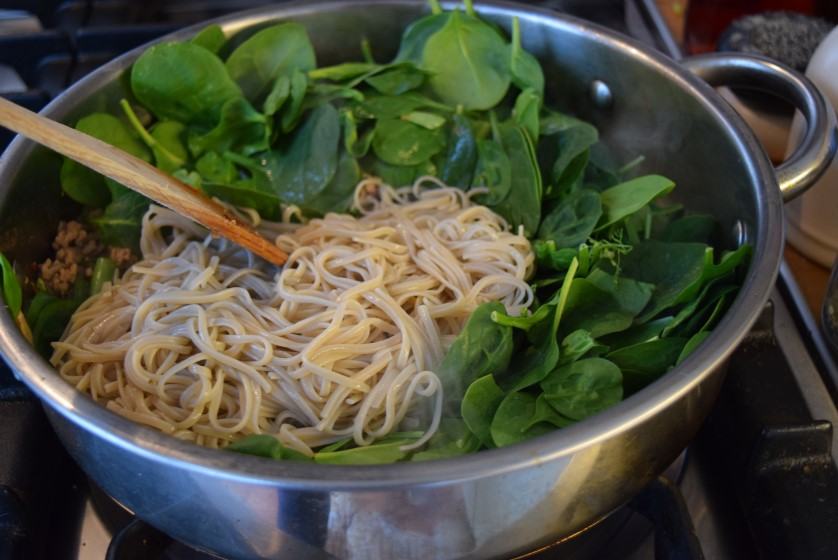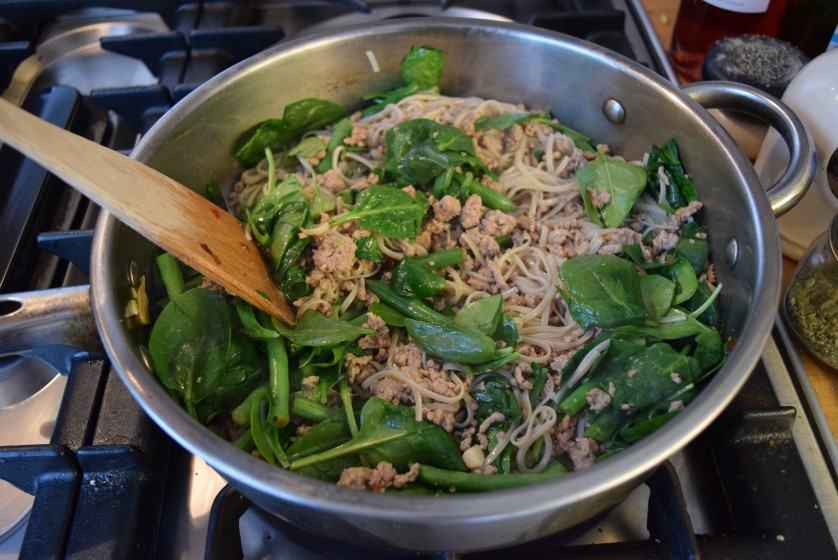 Garnish your dish with a little chopped fresh chilli if you like, then serve in large bowlfuls and devour to your heart's content.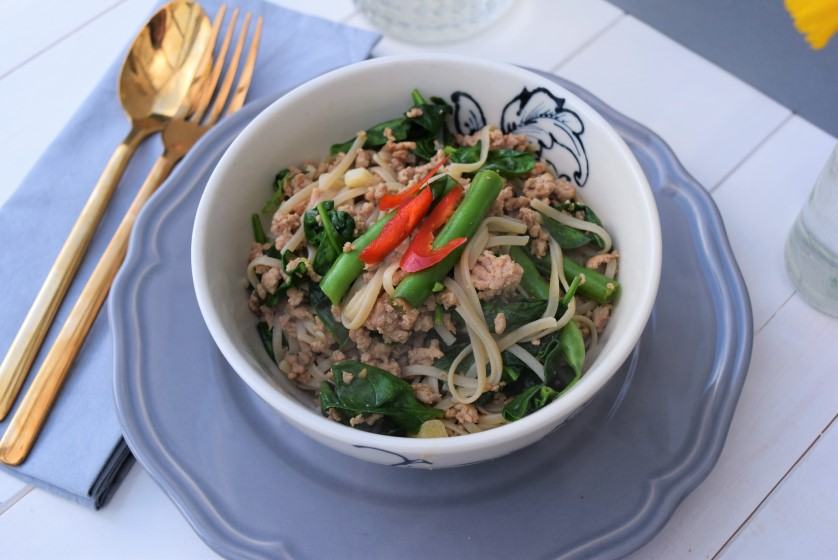 Add an extra splash of soy sauce at the table if you like.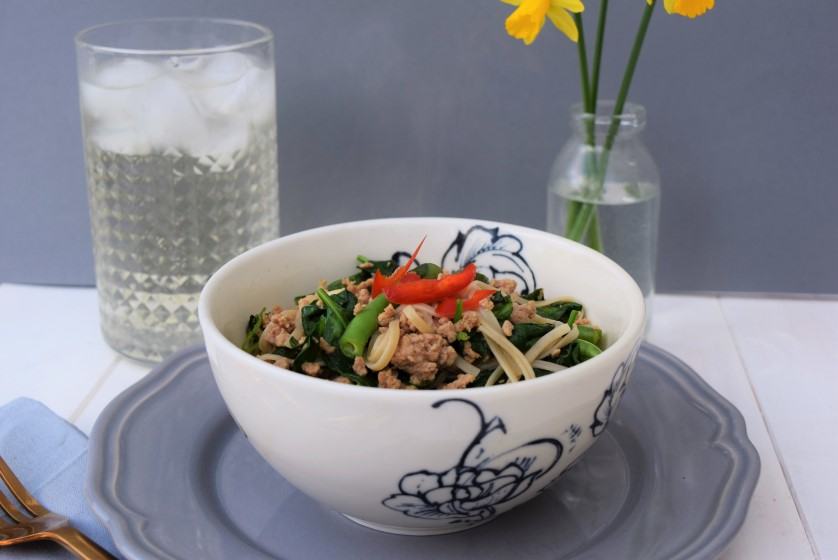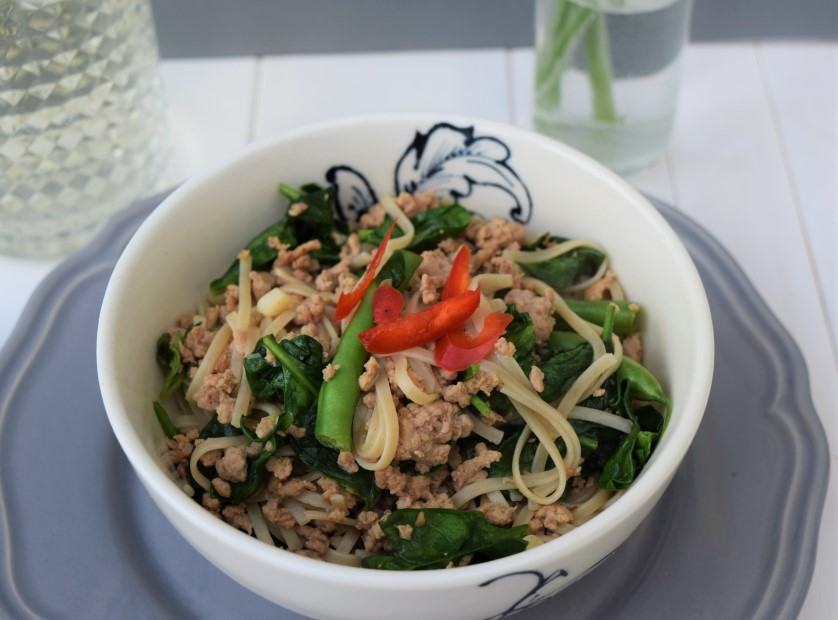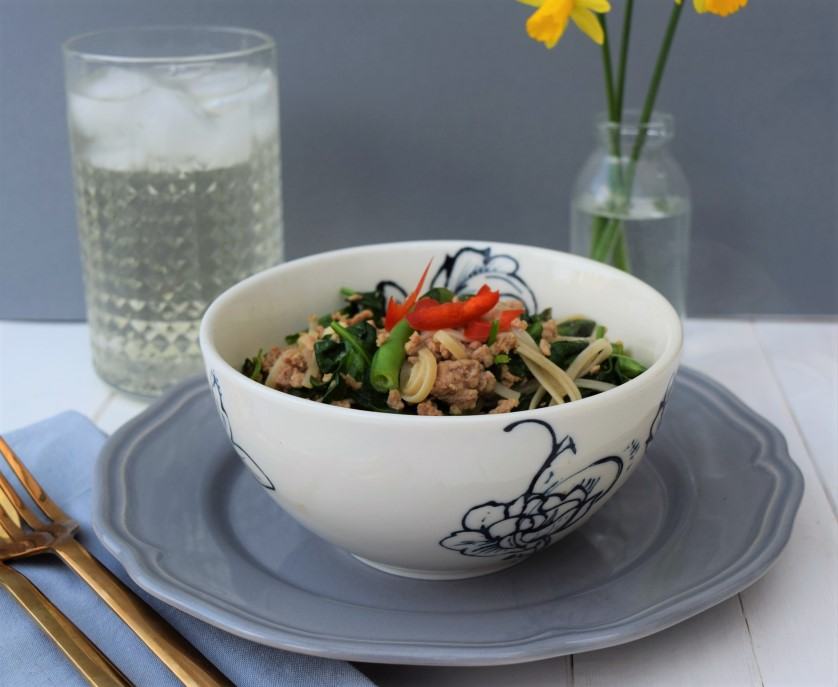 This is such a wonderful spring ready dish. Fresh, light, but also filling and full of flavour. I will be eating less this week, but it may prove tricky when making this Turkey Noodle Bowl. It serves at least three normal appetites, or 1 Lucy when she's trying to diet.
Lucy x
Turkey Noodle Bowl Recipe
Serves 3 to 4
You will need a large frying pan
150g noodles, I used brown rice noodles, but it's your call
2 tablespoons oil, I used Wok Oil
500g turkey mince, thigh is best
2 cloves garlic, chopped as fine as you can be bothered to
approx 100g fine green beans, halved
a large pinch dried chilli flakes
6 tablespoons soy sauce, mine was light soy
2 tablespoons sweet chilli sauce
a splash of water
approx 100g fresh spinach, or a couple of large handfuls
Chopped fresh chilli to garnish
Cook your noodles according to the instructions on the packet, then drain and rinse under cold water.
While your noodles are cooking, get on with your mince. Heat a large frying pan with two tablespoons of oil, flavoured Wok oil or sesame oil works well here. Add your turkey mince and cook for a couple of minutes then add the finely chopped garlic, halved green beans and the large pinch of chilli flakes then cook until just starting to brown, around 2 minutes. Stir in the soy and sweet chilli sauces. Finally add the handful of spinach, stir briefly then add your drained noodles and a splash of water to loosen the whole dish.
Stir until everything is well mixed and the spinach has wilted. Serve piping hot, garnished with some chopped fresh chilli if you have it to hand.