Shortbread Jammies Recipe
I hadn't planned to post this recipe today, but the speed at which these Shortbread Jammies were devoured by my friends and family led me to believe I should share them with you asap. I had something much more wholemeal planned for you this week, but, balls to that, what could be more irresistible than soft shortbread topped with jam, so to hell with low carb nut based treats.
I make a lot of shortbread. My Mother requests it on a monthly basis and my sister chooses it as her birthday baked treat every year, so when I stumbled upon these Shortbread Jammies via the brilliant New York Times food, I knew this was the upgrade I needed. I get bored of cooking the same things all the time, so a variation on a theme always tickles my fancy *underused expression*. This is a simple shortbread recipe, baked until barely golden then slathered with the jam of your choice. I went raspberry, which was quite the controversy, given strawberry rules the roost ordinarily, but I like to mix things up a little. This is then sprinkled with some crumbs created by trimming the bake, to add some extra interest. I modified the size of the tin used, to create a thicker treat; shortbread, in our house, is loved best when it's soft rather than crisp. I would say this bake keeps well in a tin for a couple of days, but having made this twice in two days and had the whole lot disappear, I wouldn't be speaking from experience.
I don't think I've ever baked something that genuinely vanished from the treats tin so quickly. I interrogated the family to see who has eaten it all, and discovered it was a collective effort. I can now see myself having to bake an unprecedented third batch in three days in order to actually get a bloody slice for myself.
Here's the simple line up for something so divine as jam coated shortbread. The original recipe called for rice flour the likes of which I couldn't find, so I went for cornflour which I use in my usual shortbread recipe and it turned out just fine.
Make a start by pre heating your oven to 150 degrees fan assisted and lining a 20cm by 28cm tin. Feel free to use 23cm by 33cm if you prefer a thinner, crisper shortbread. I love mine thick and soft, so used the former.
Now, in a food processor or in a bowl with a hand whisk, beat the soft butter and sugar until it's lighter in colour and texture, this will take around 2 minutes.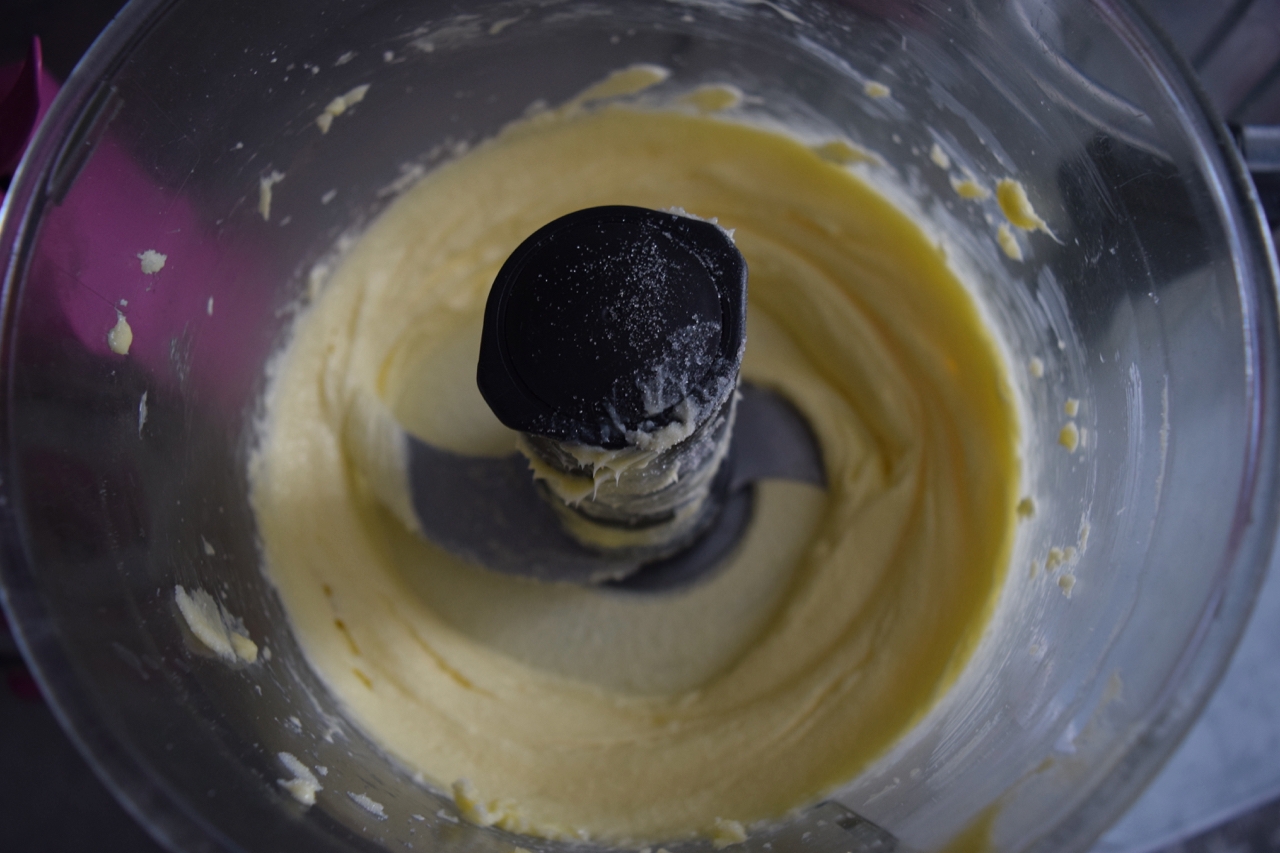 Next, beat in the salt and vanilla then follow in with the plain flour and cornflour.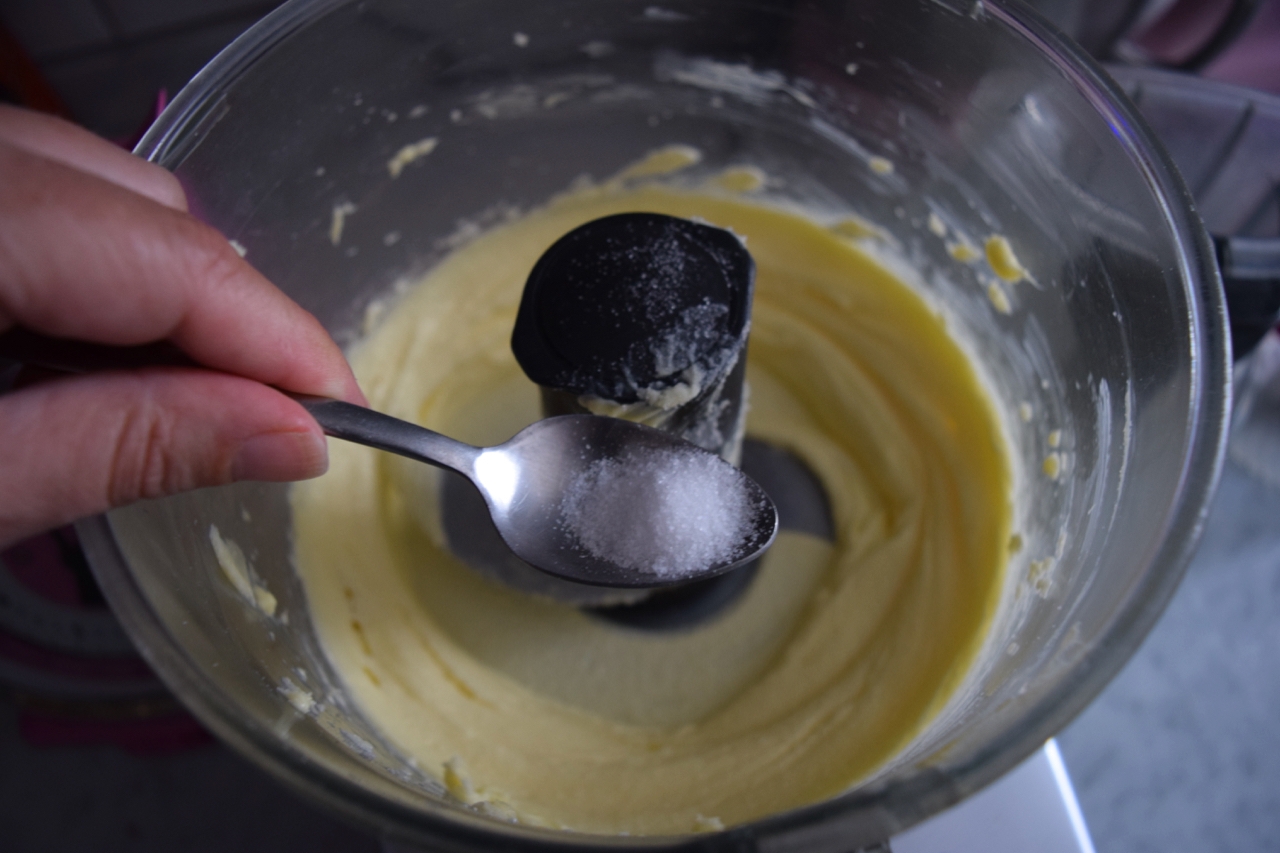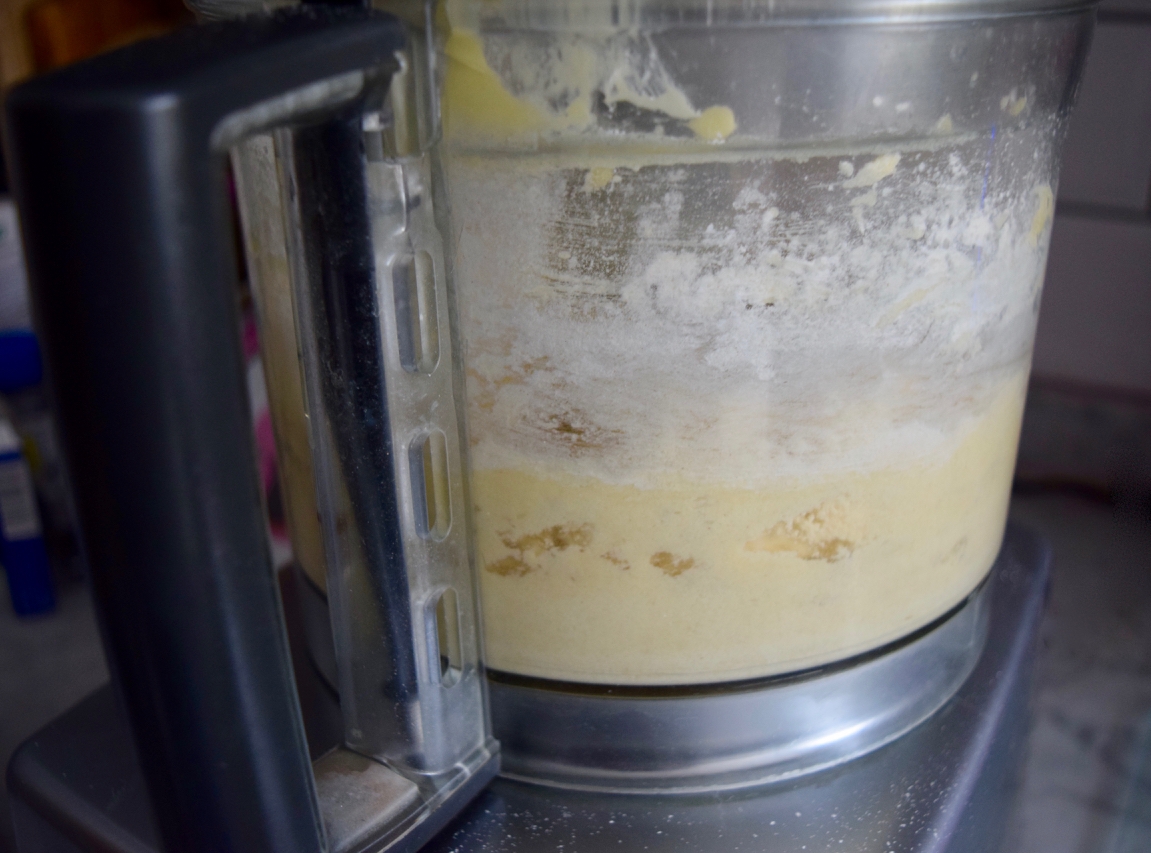 Once you have a soft dough, turn it out into your lined tin.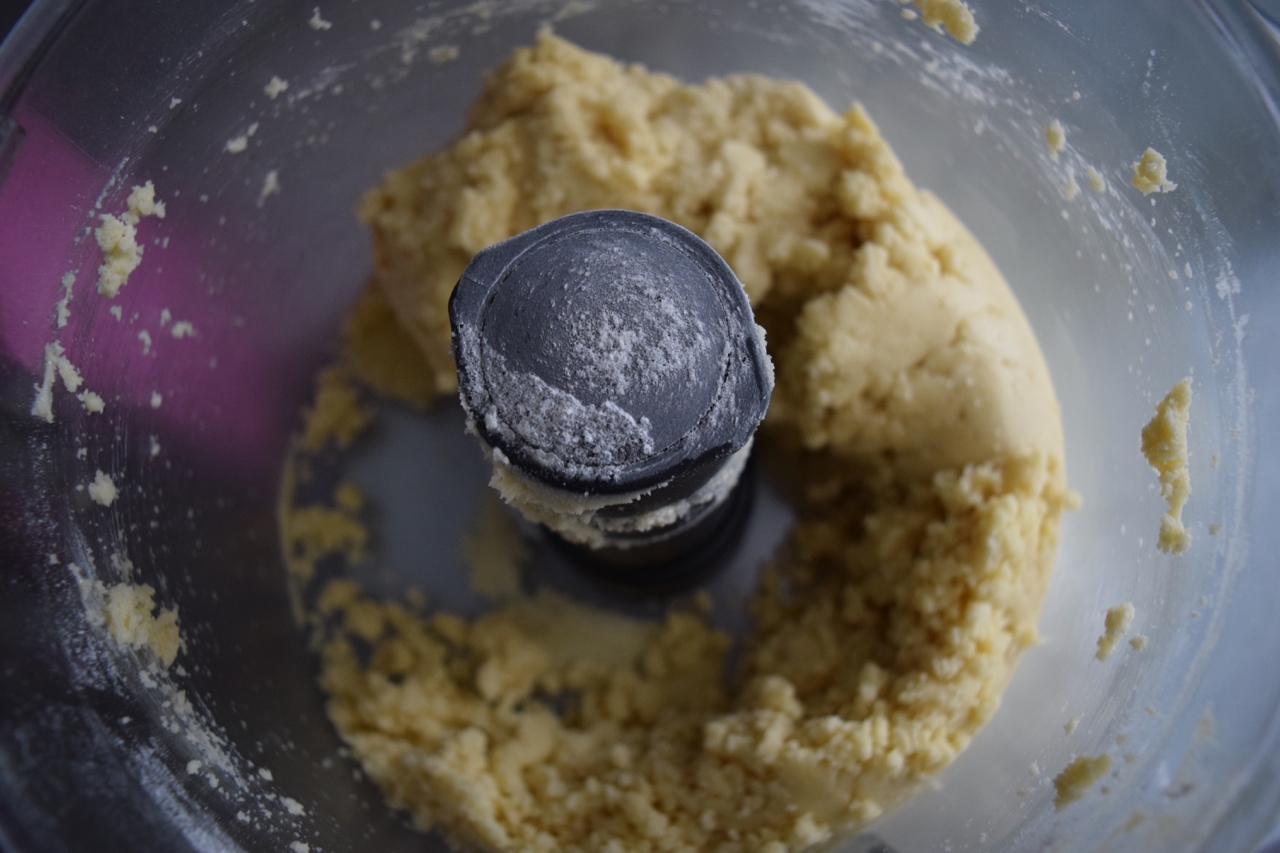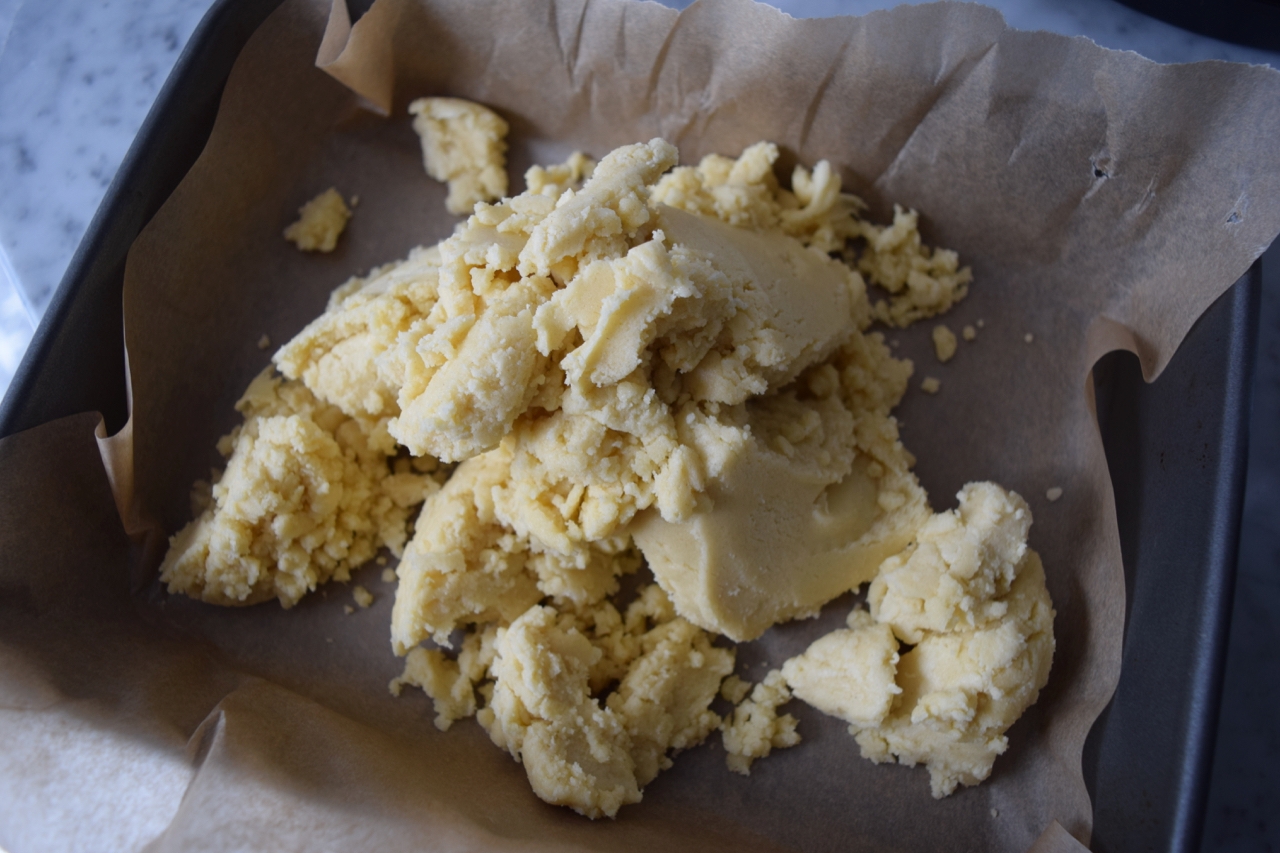 Using your hands, press the dough into the tin. Make sure you have a even-ish layer. Prick the dough with a fork then bake for 25 to 30 minutes or until firm and just turning golden.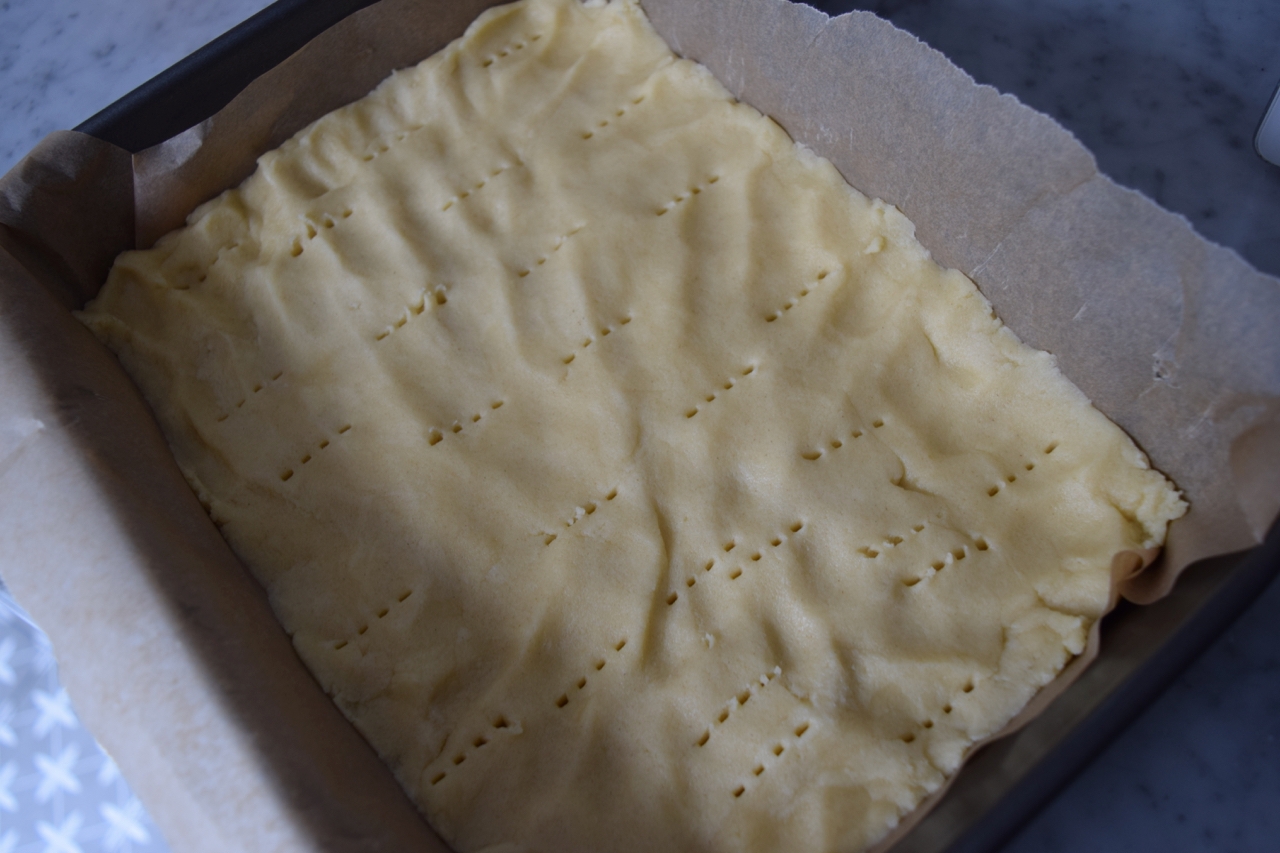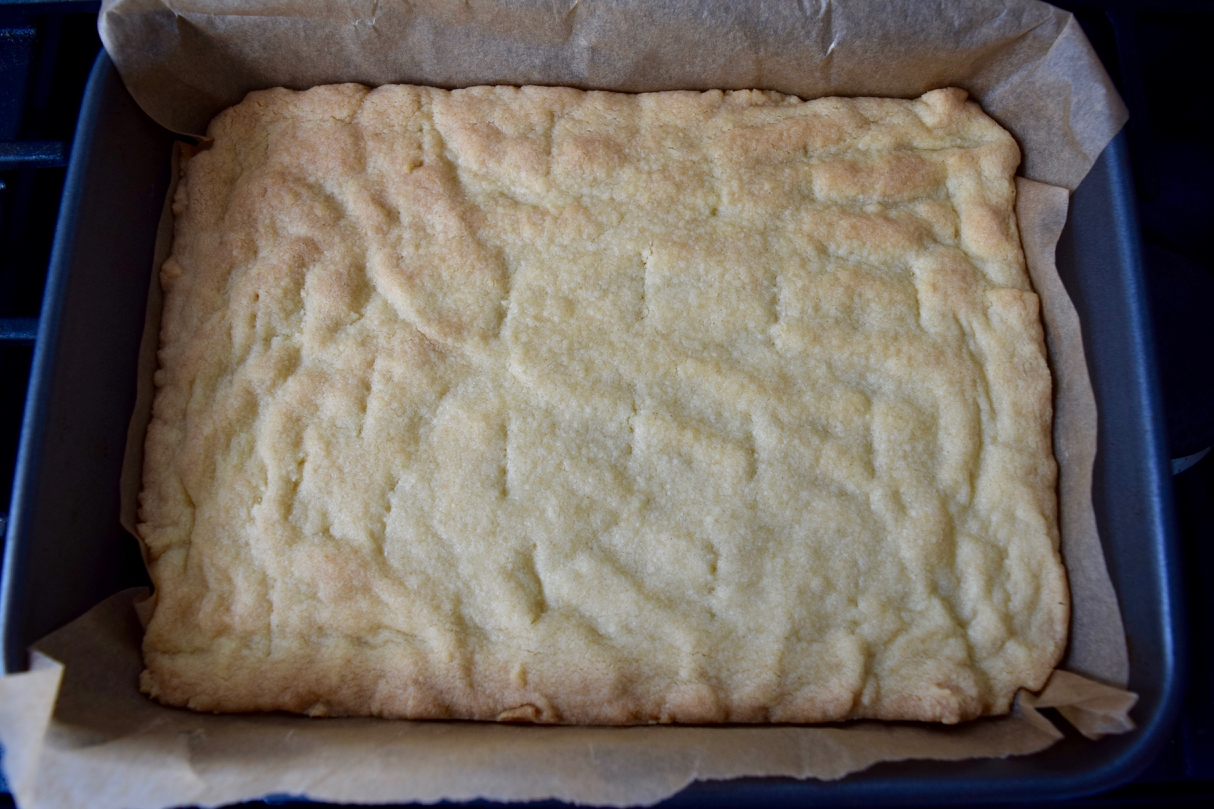 Leave to cool completely before removing from the tin. Slice off the edges and crumble them into a bowl.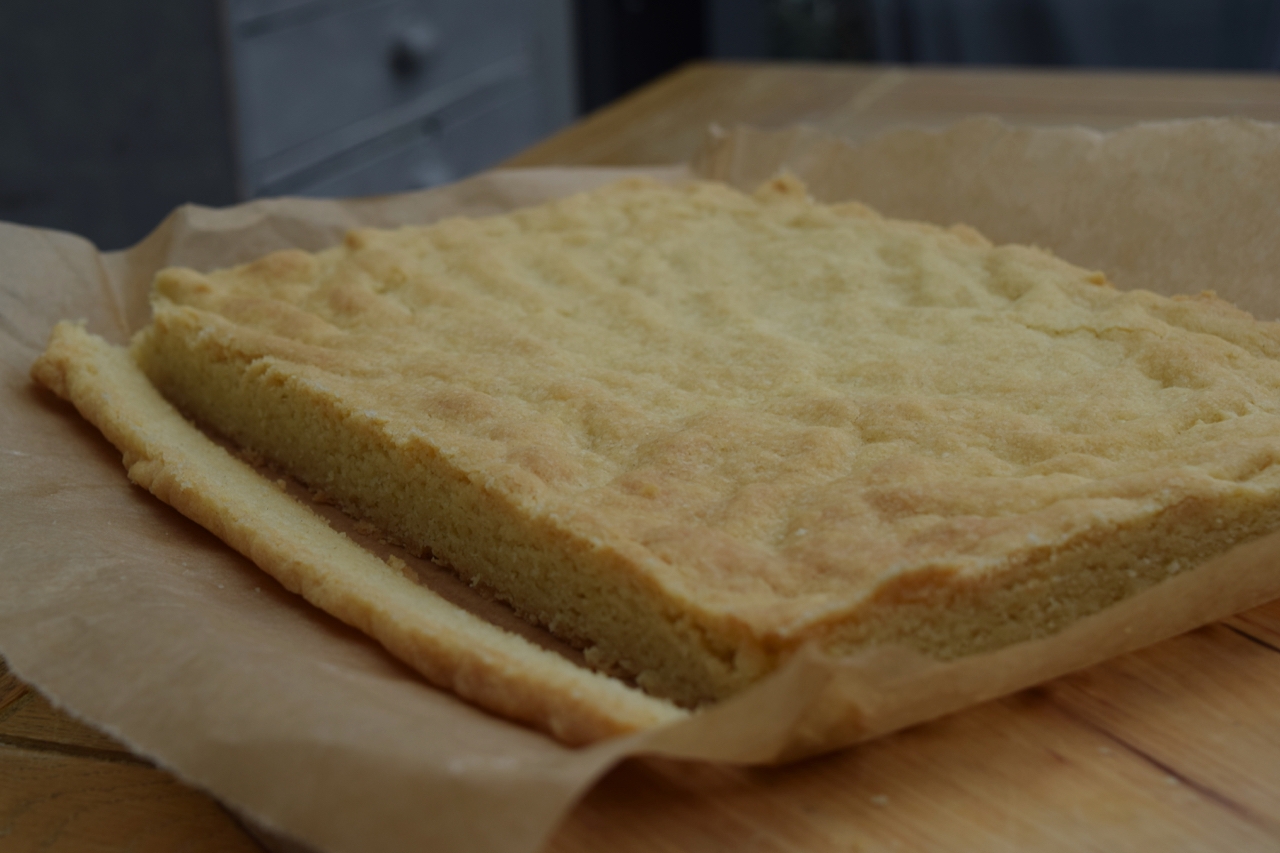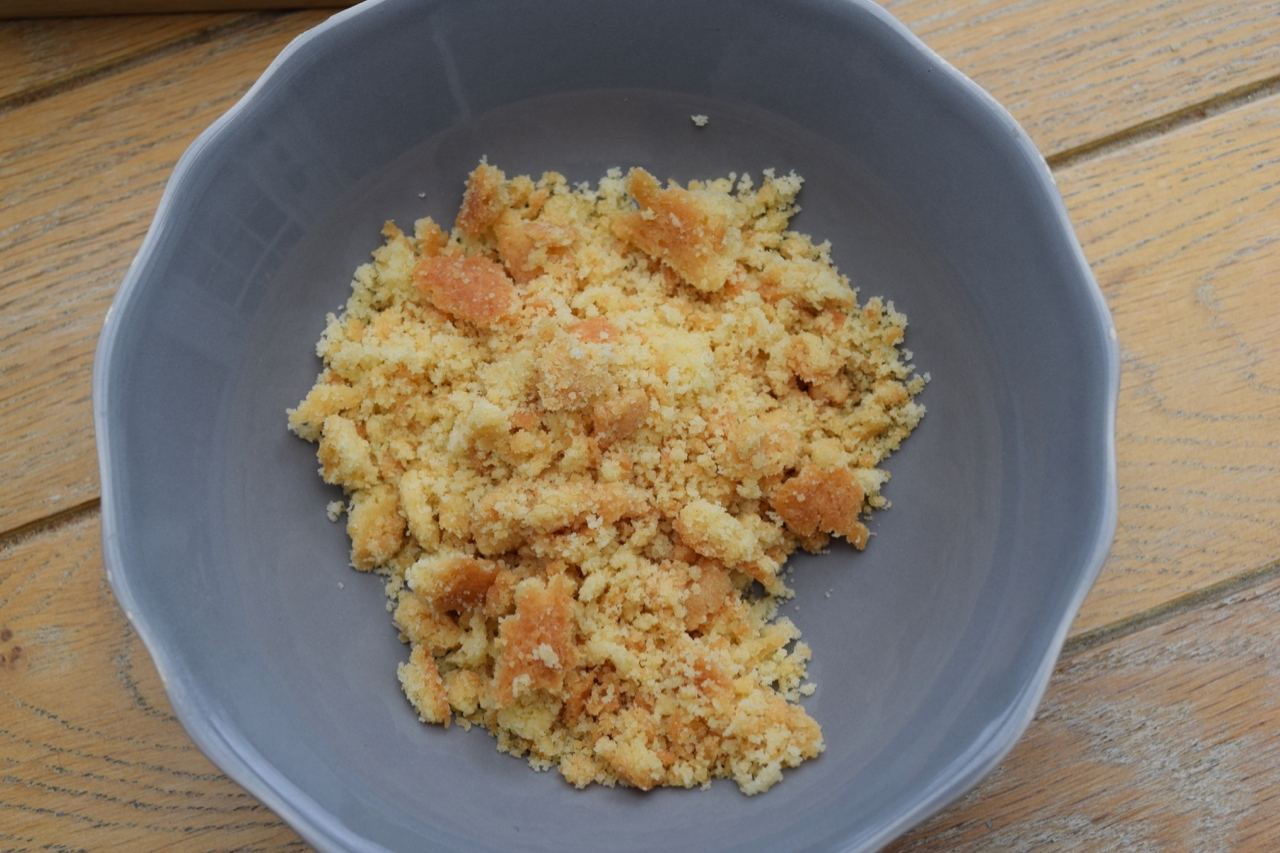 Spread the top of your slab of soft shortbread with your chosen jam. Raspberry was divine, but use one of the 100's of jars of jam you have on the top shelf of your fridge, or is that just me?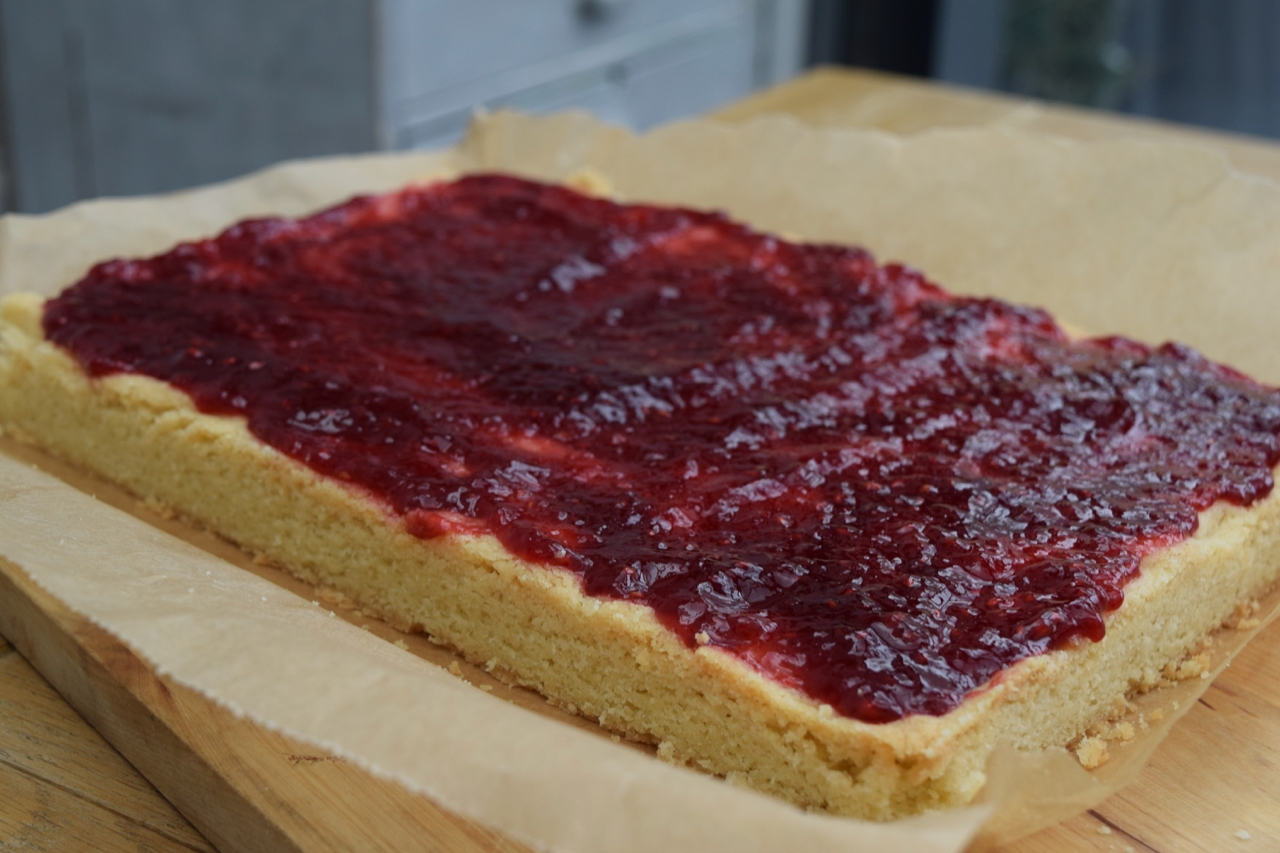 Sprinkle the top of the jam with your reserved shortbread crumbs and cut into squares. Mine weren't particularly even, so do try and do a bit of a better job than me. I got around 15 pieces, but you could cut them smaller or larger to suit.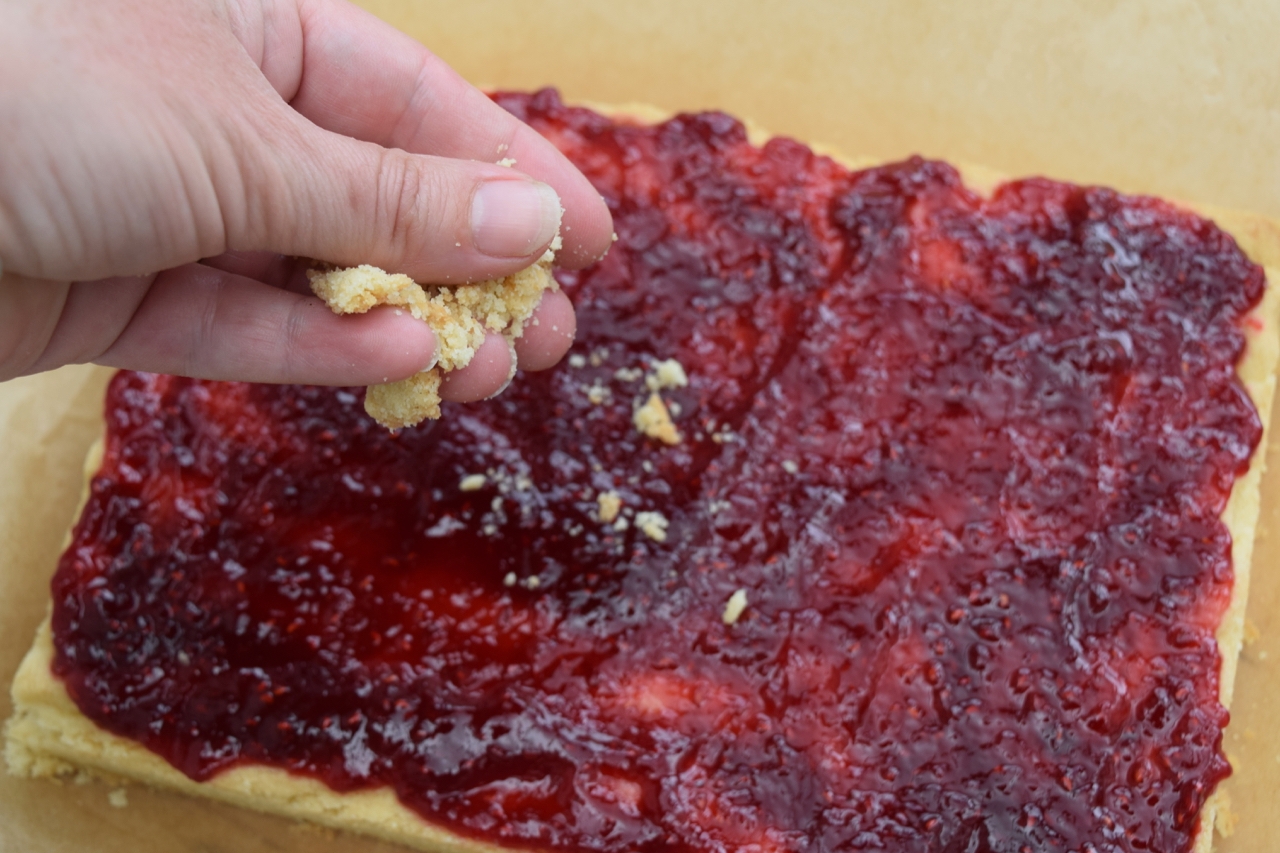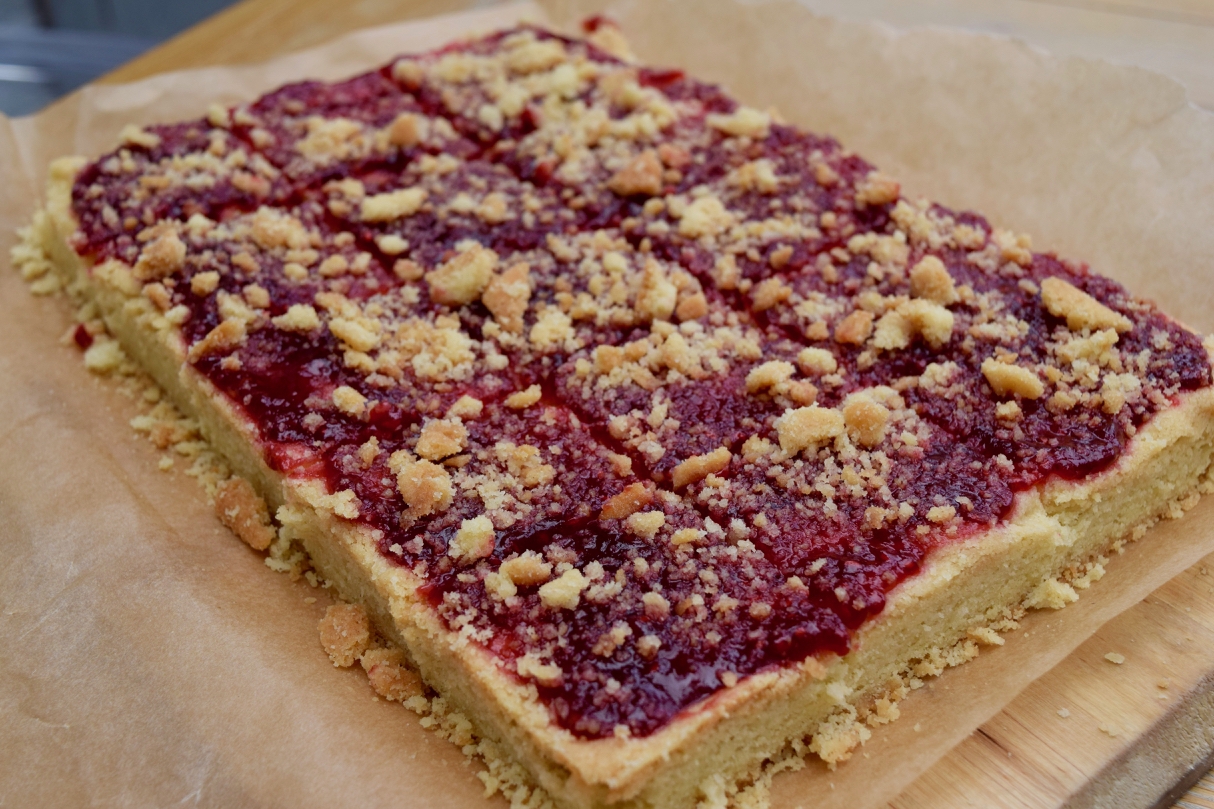 Devour with a cup of tea. These really are so simple, but so good.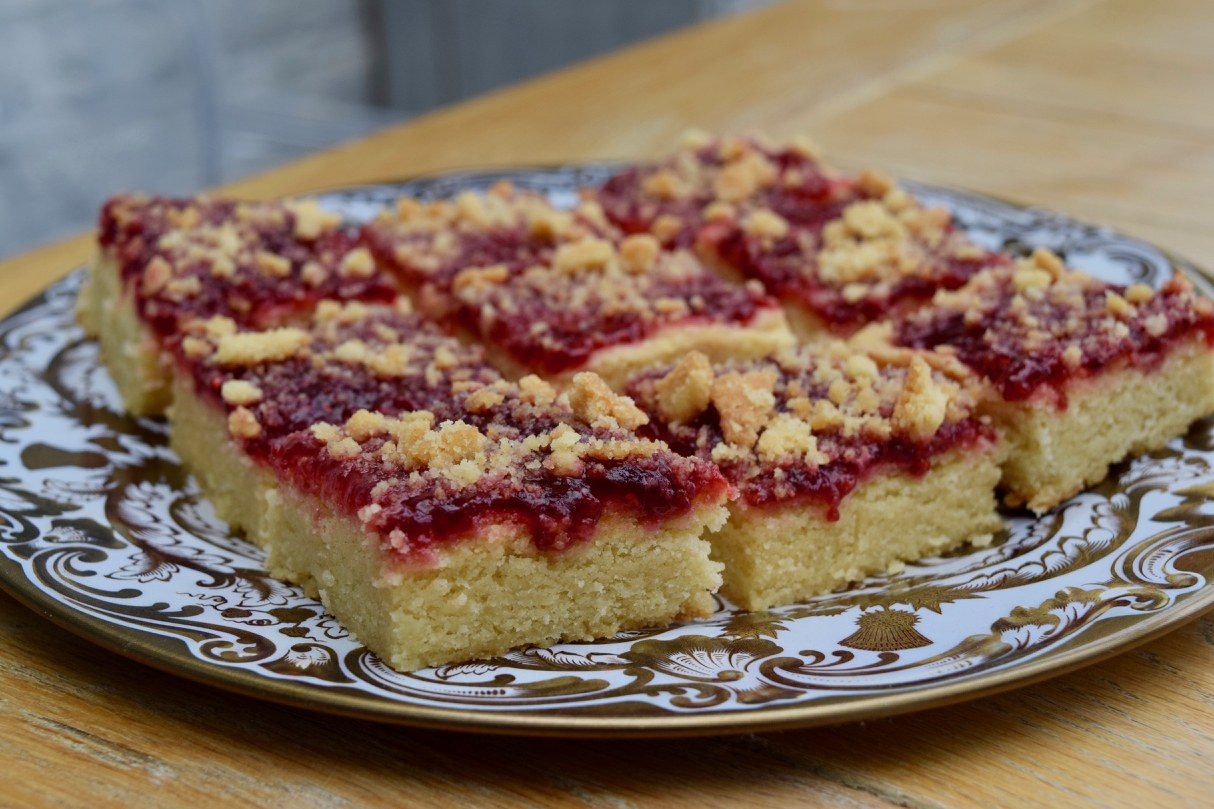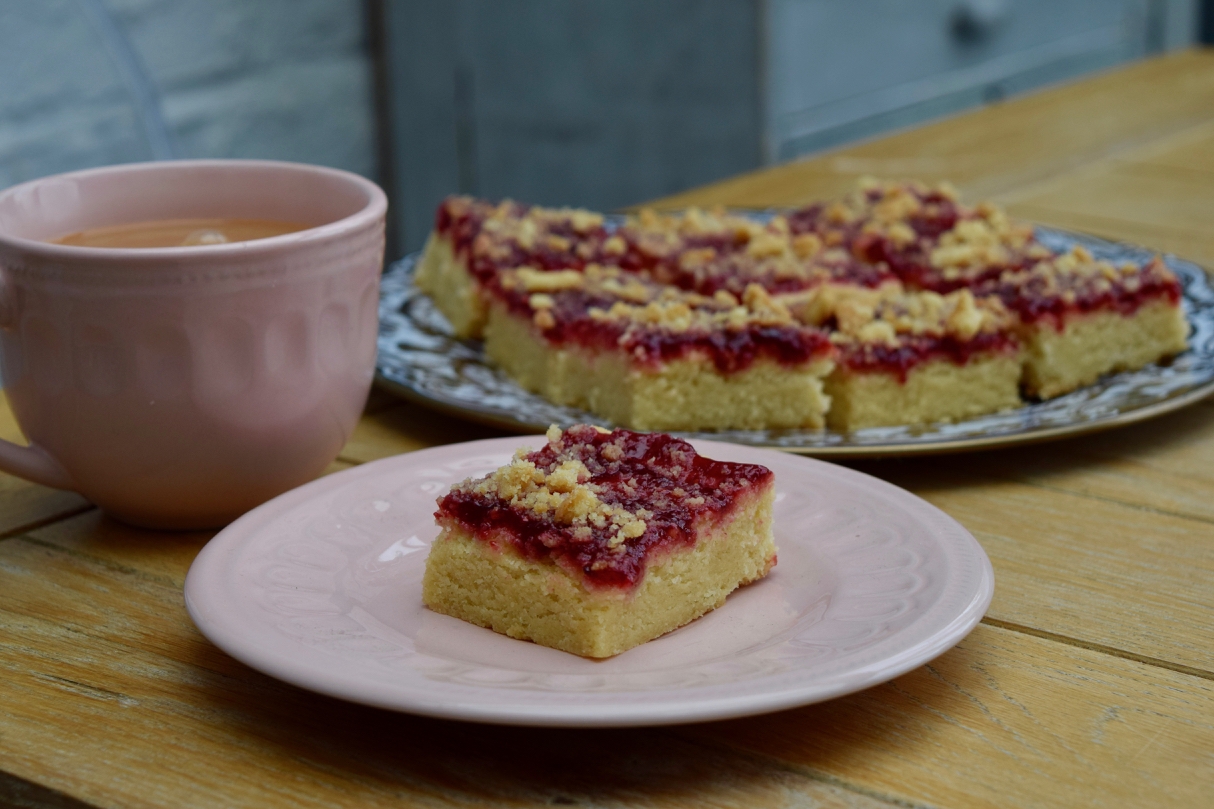 I bake a lot, and I mean, a lot. There is always cake in our house, however, I have never baked anything which disappeared as quickly as these Shortbread Jammies. And that was without me even getting a look in.
Lucy x
Shortbread Jammies Recipe
Makes at least 15 squares, dependent on how small you cut them
You will need a mixer or some brute force and a lined 20cm x 28cm tin
225g butter, softened
170g caster sugar
1/2 teaspoon salt
1 teaspoon vanilla extract
260g plain flour
40g cornflour
1/2 jar of jam, you choose the flavour, I chose raspberry
Pre heat your oven to 160 degrees fan assisted and line your 20 x 28cm tin.
In your food processor or by hand with a spoon or mixer beat the soft butter and sugar together for 2 to 3 minutes until lighter in colour and texture.
Mix in the salt and vanilla followed by the flour and the cornflour until you have a soft dough. Tip the dough into your lined tin and press into the edges with your hands. Prick all over with fork then bake for 25 to 30 minutes or until golden and firm.
Leave to cool then remove from the tin. Trim the edges, reserving the edge pieces, crumbling them into a bowl for later.
Spoon the jam onto the rectangle of shortbread then spread with a palette knife making sure it reaches to the edges. Sprinkle the top with the reserved crumbs then cut into squares.
Store in an air tight tin for 3 to 4 days.