Lemon Biscoff Icebox Cake Recipe
I have been fascinated by Icebox Cakes for a while. This is for three reasons a) Pinterest features a lot of them b) it's an odd name for a pud and c) I am a total hog and obsessed with simple desserts. During some extensive research *hours on Pinterest* I discovered they are not cakes, they have biscuits in them and a lot of cream and you can pretty much make them with anything you like. Before fridges were a household staple, boxes packed with ice were used to chill things, hence the name of this vintage pud. I decided to fashion my own Lemon Biscoff Icebox Cake because we are a family of Biscoff biscuit and lemon curd fans, and once you've tasted this, I suspect you will be too.
For anyone who doesn't know what a Biscoff biscuit is, where have you been? These are lightly spiced, sweet golden morsels that used to come with a cup of coffee in 70's cafes. They have had something of a resurgence with the dawn of a Biscoff spread which is like biscuity peanut butter minus the peanuts. Enough with the trip down memory lane, these biscuits are delicious and go super well with lemon so I chose them for my Icebox Cake. The rest of the cake is simply lightly sweetened double cream flavoured with lemon. And that's it. The whipped cream is layered with the Biscoff biscuits and lemon curd then left overnight to meld together in the fridge. The biscuit layer becomes almost cakey and soft and the whole business becomes sliceable and divine. I based mine on various Pinterest recipes, but fully made it my own. You can do the same and use ginger nuts, digestives, chocolate cookies, the choices for this Icebox Cake are endless, and all amazing.
It's so brilliant finding a new recipe, especially one from the olden days. This has been buried in the past for too long, and I, for one, will not be letting it disappear again.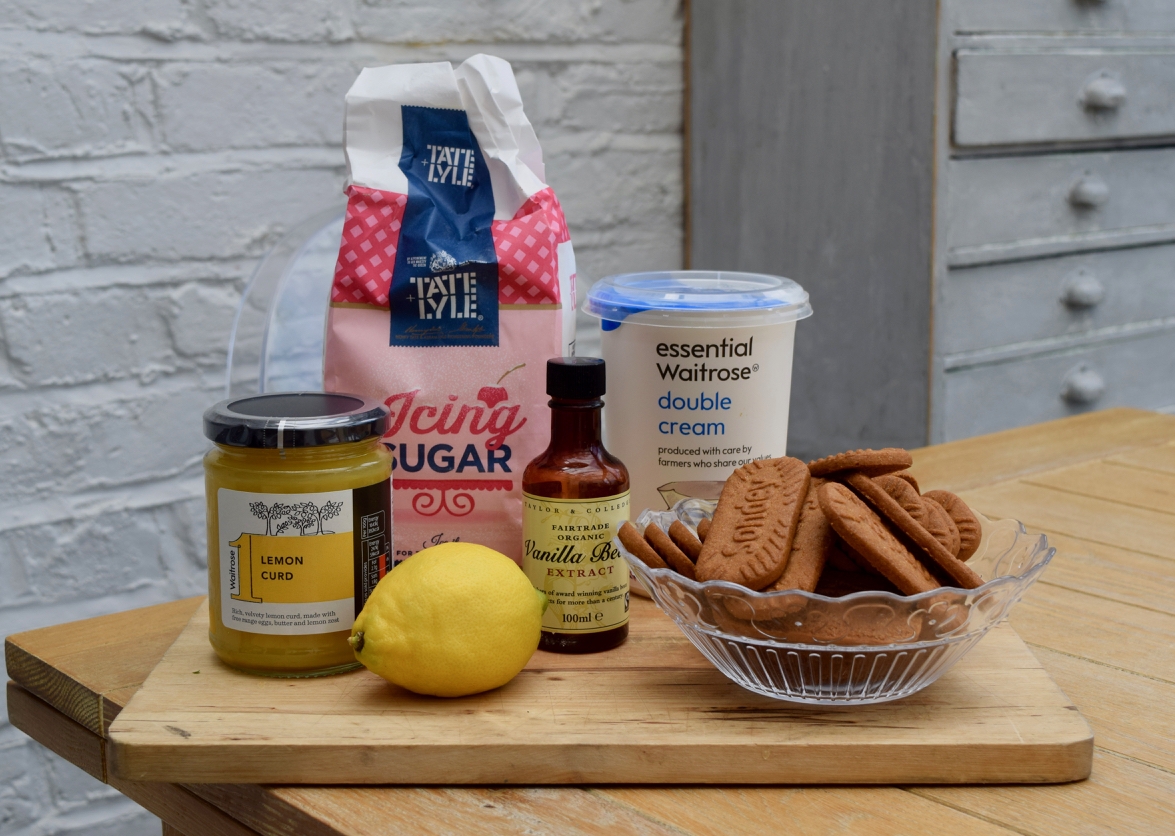 These ingredients go so brilliantly together, in my humble, but greedy opinion. Biscoff biscuits are available in most supermarkets, I randomly found these own brand variety on a trip to Lidl and they were perfect.
Make a start on the cream. Pour it into the bowl of your stand mixer or a bowl, along with the icing sugar and vanilla extract.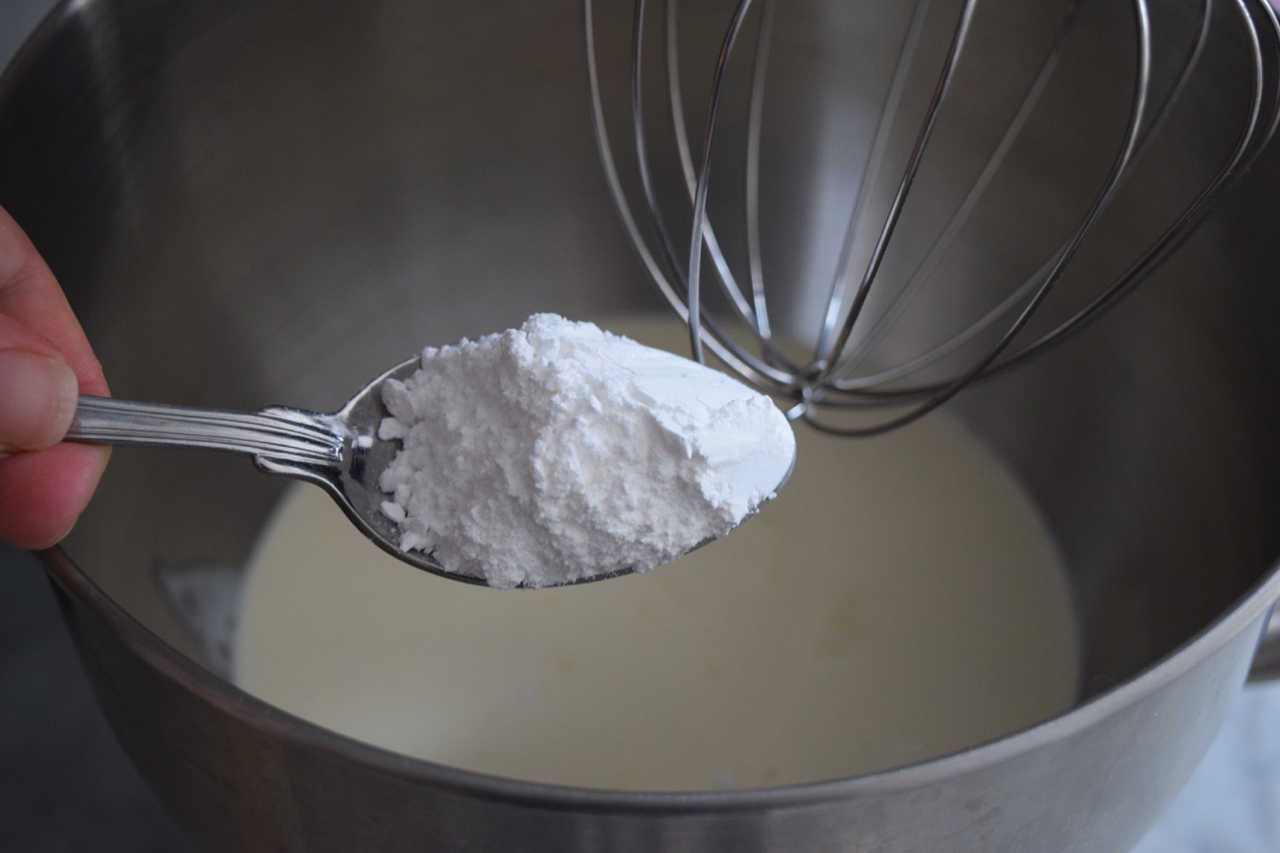 Whisk until the cream is at the soft peaks stage. Grate in the zest of a lemon then whisk again, just to mix.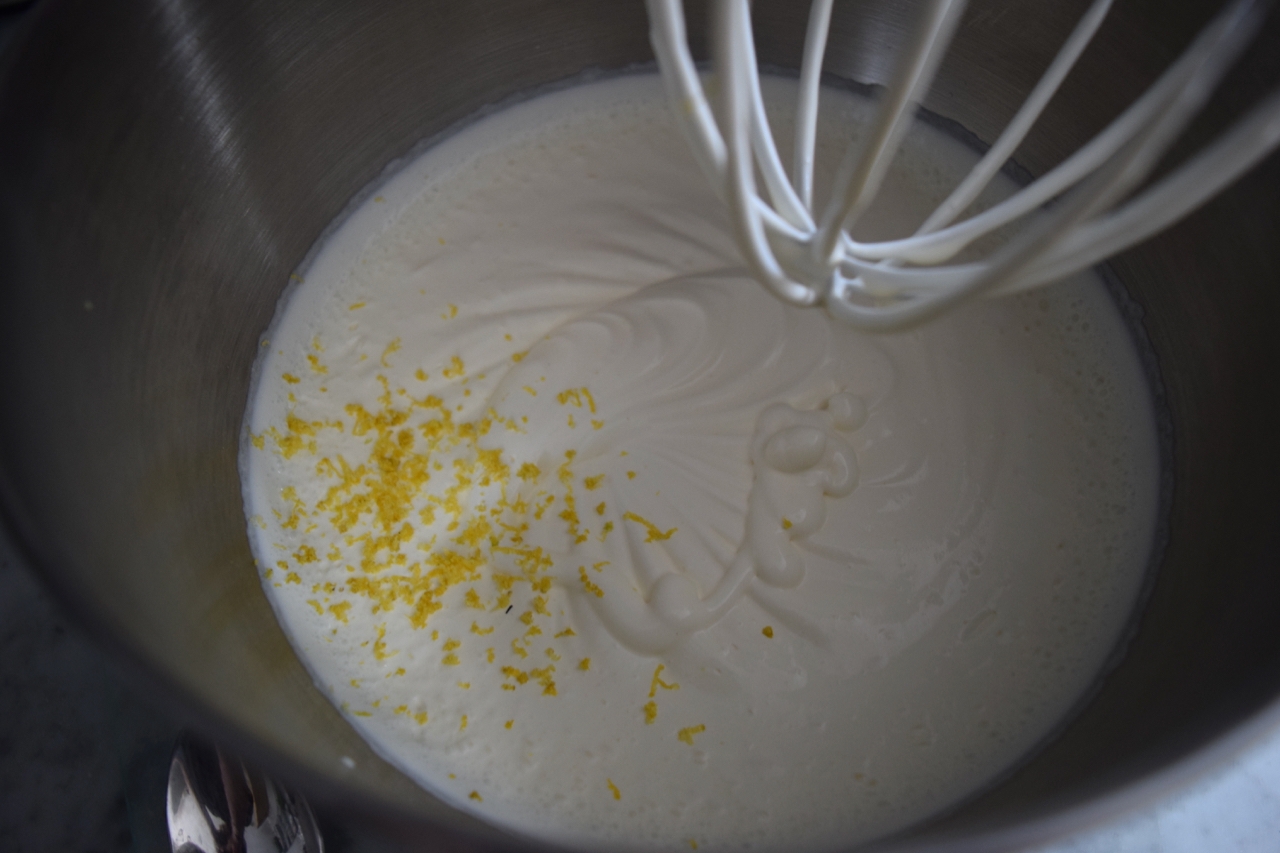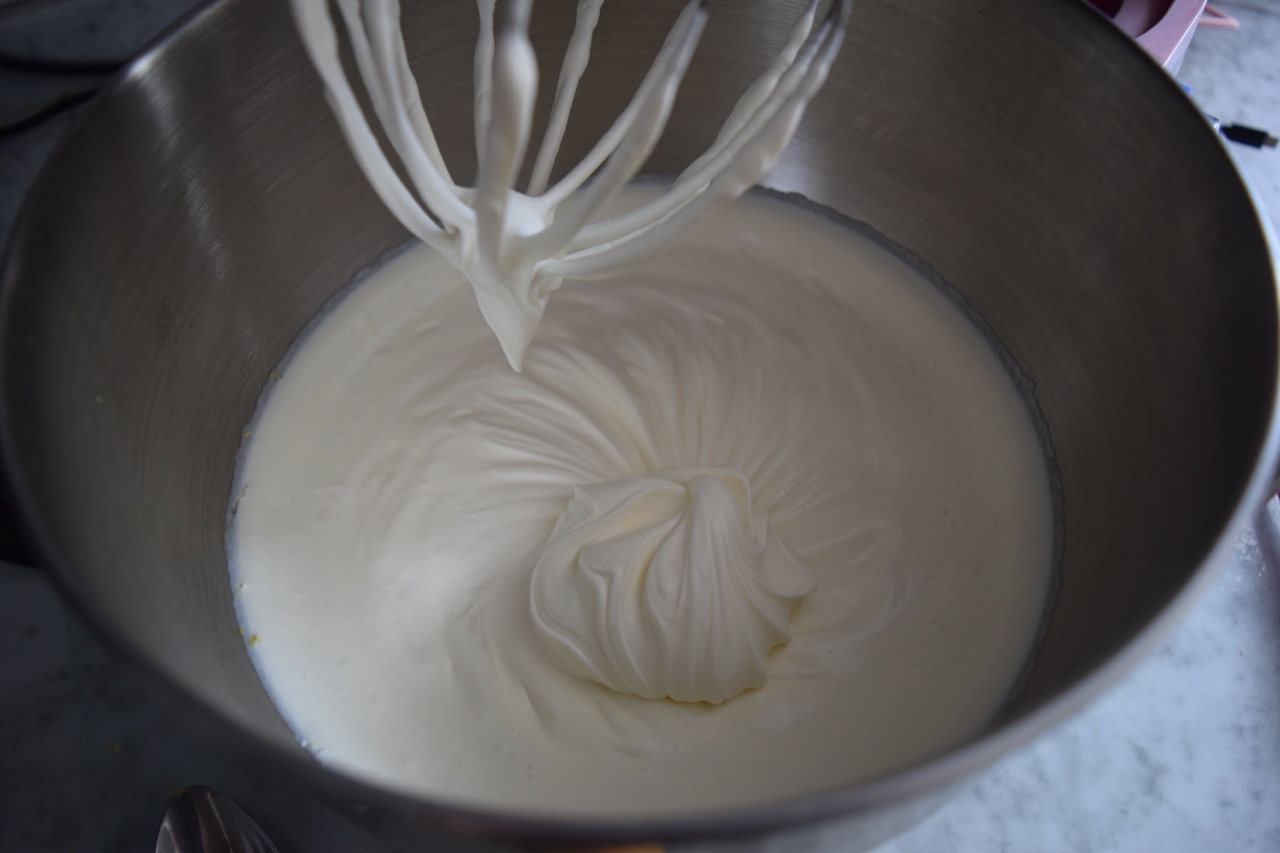 Line your loaf tin with cling film, leaving plenty of over hang.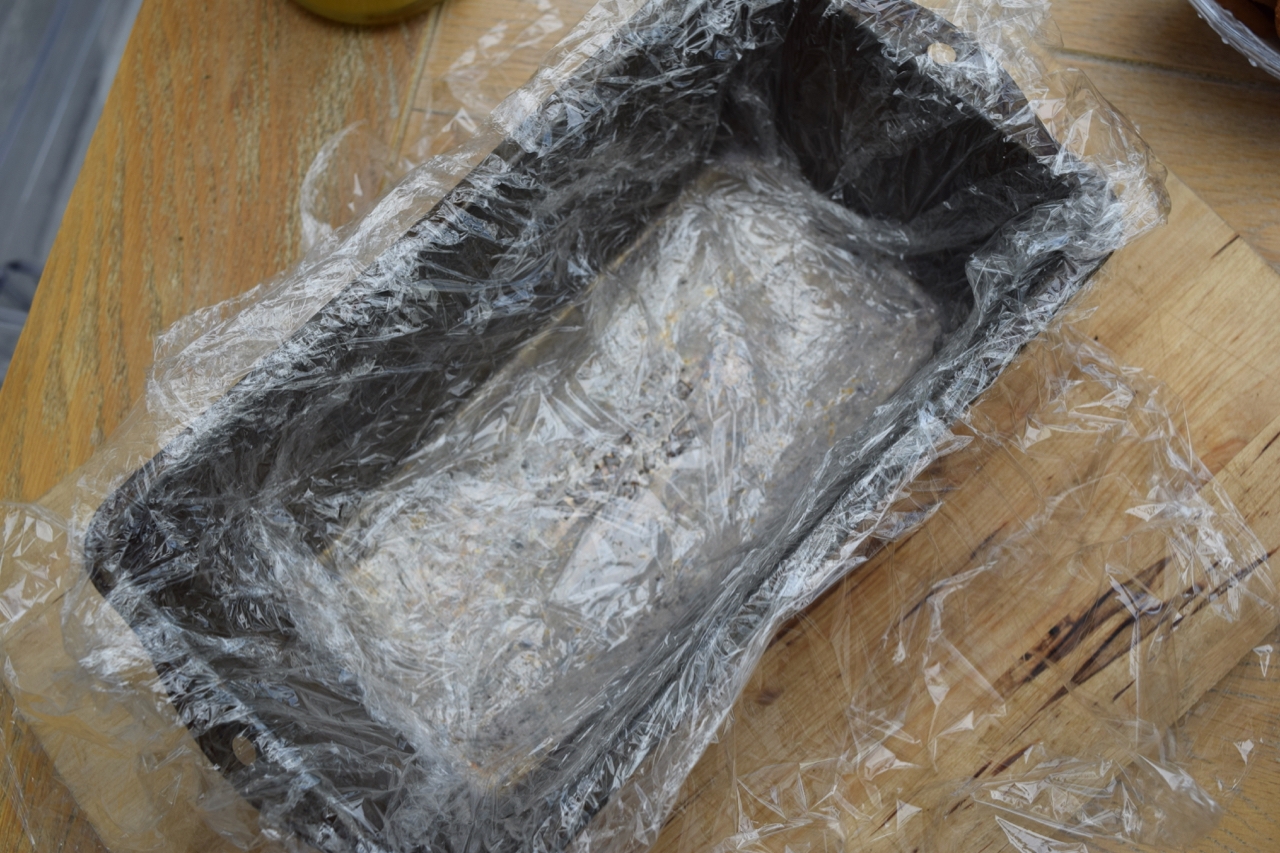 Dollop a good layer of the lemon cream into the base of the tin, about a couple of centimetres, and spread out.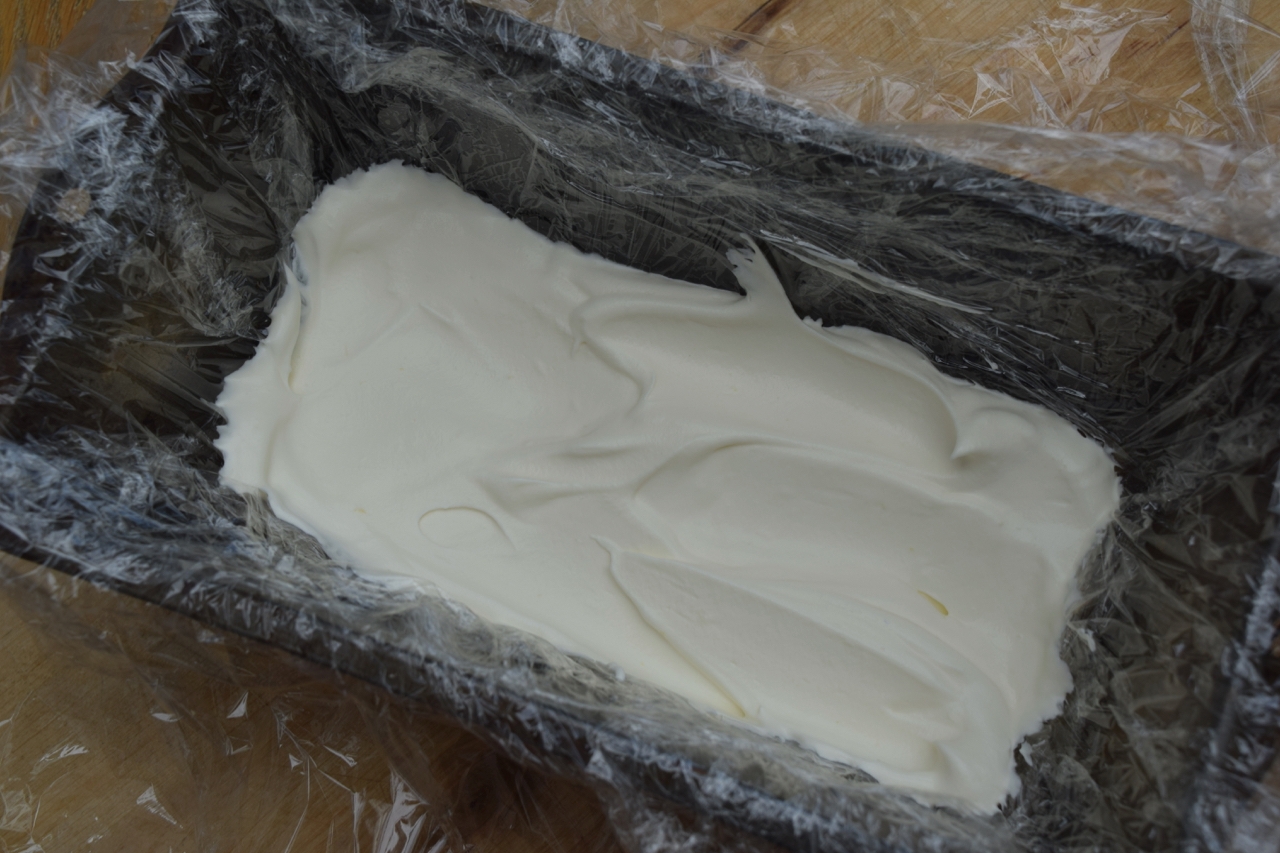 Now layer up your Biscoff, or chosen biscuit, onto the layer of cream. Break up the biscuits so they fit into the tin. Then cover them with a thin layer of lemon curd.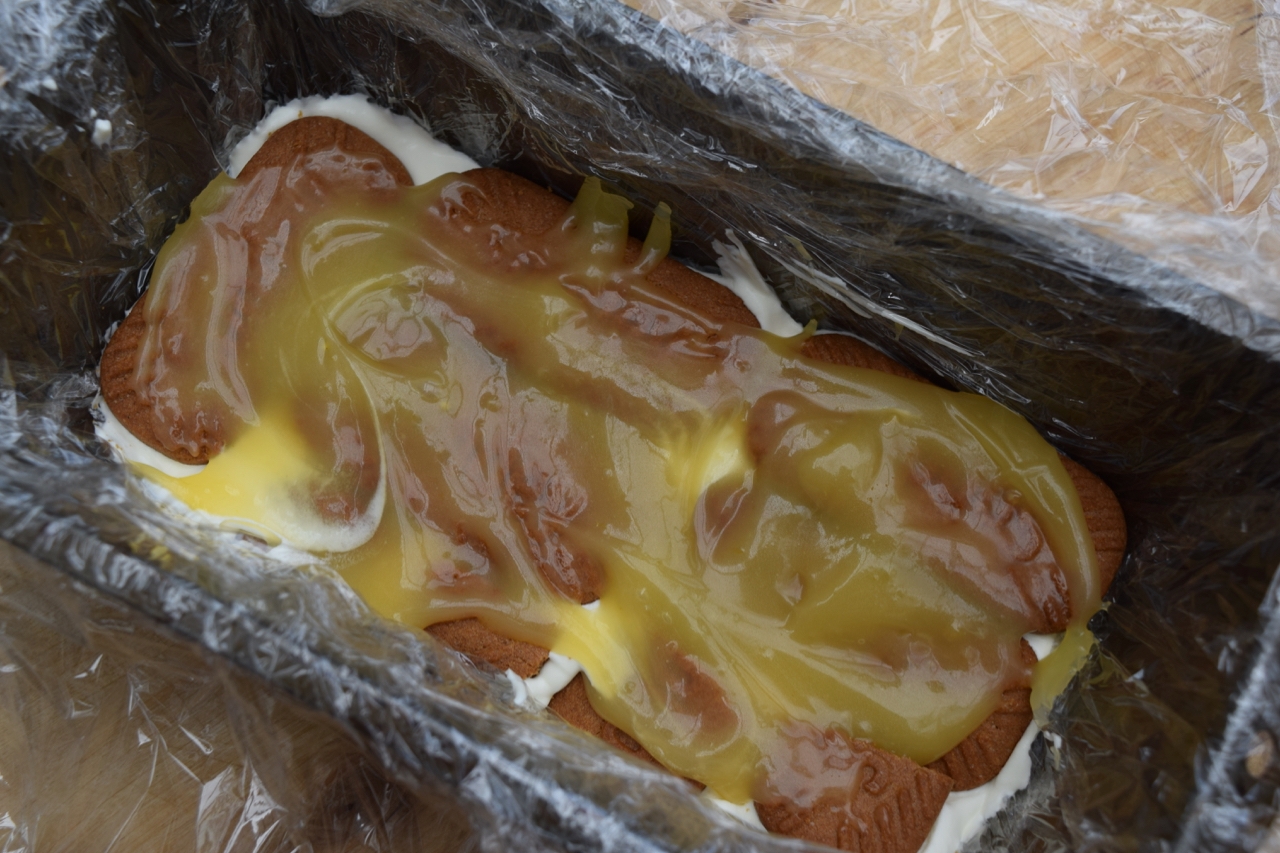 Repeat with more cream and more biscuits and more curd. I packed in 4 layers of biscuits. Finish with a layer of cream. Save one biccie for crumbling later for decoration purposes.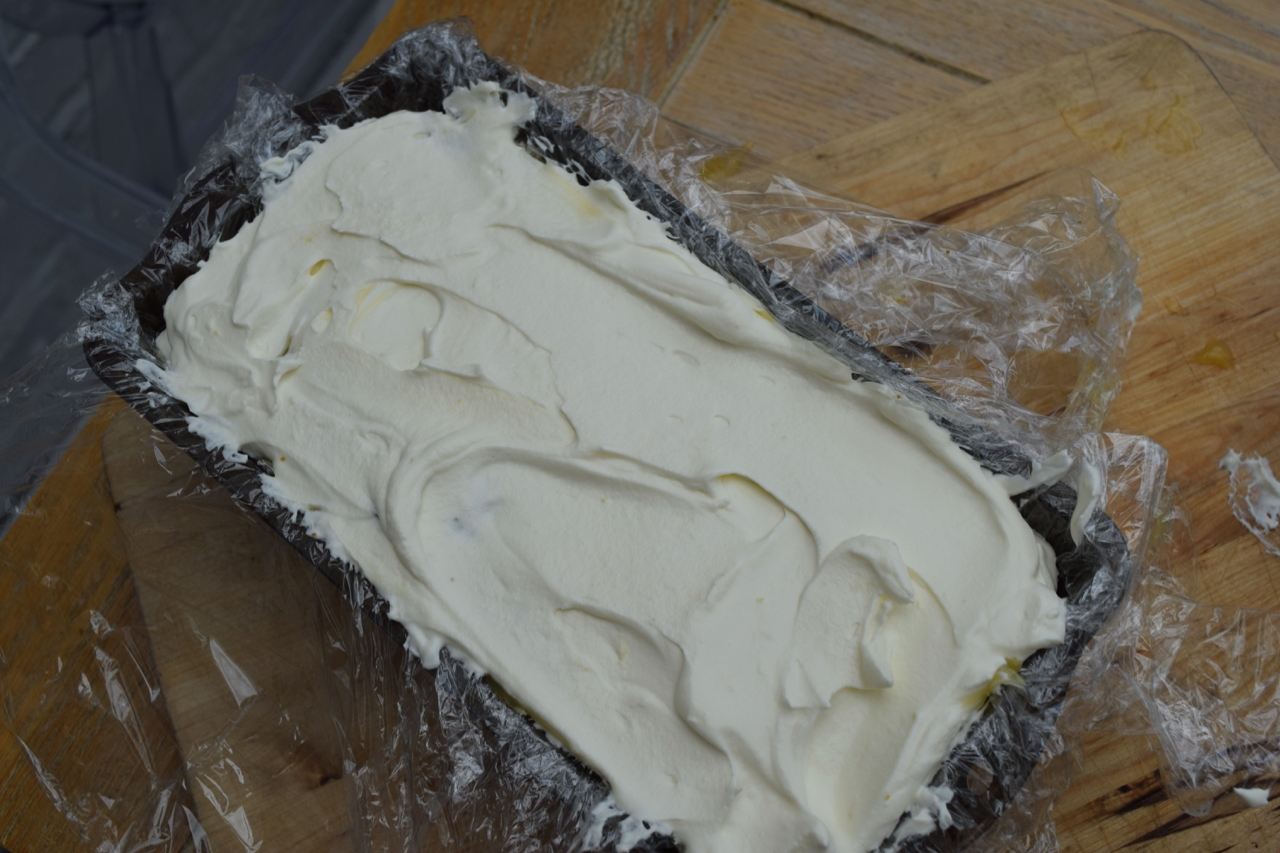 Fold over the clingfilm and cover the top of the cake. Pop into the fridge for 6 hours at least, overnight is best and it's worth the wait.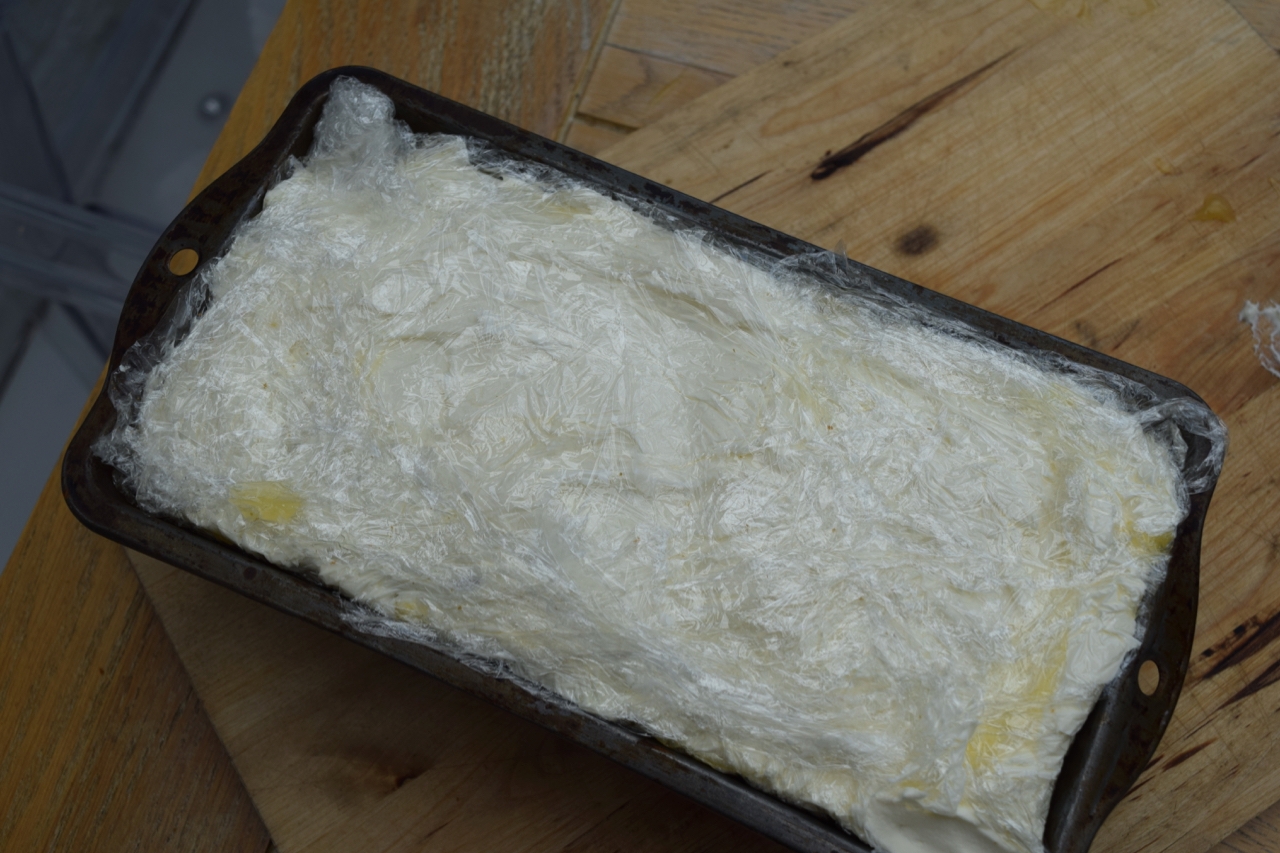 When what seems like an unbearable amount of time is over then undo the clingfilm and turn the cake out onto a serving plate.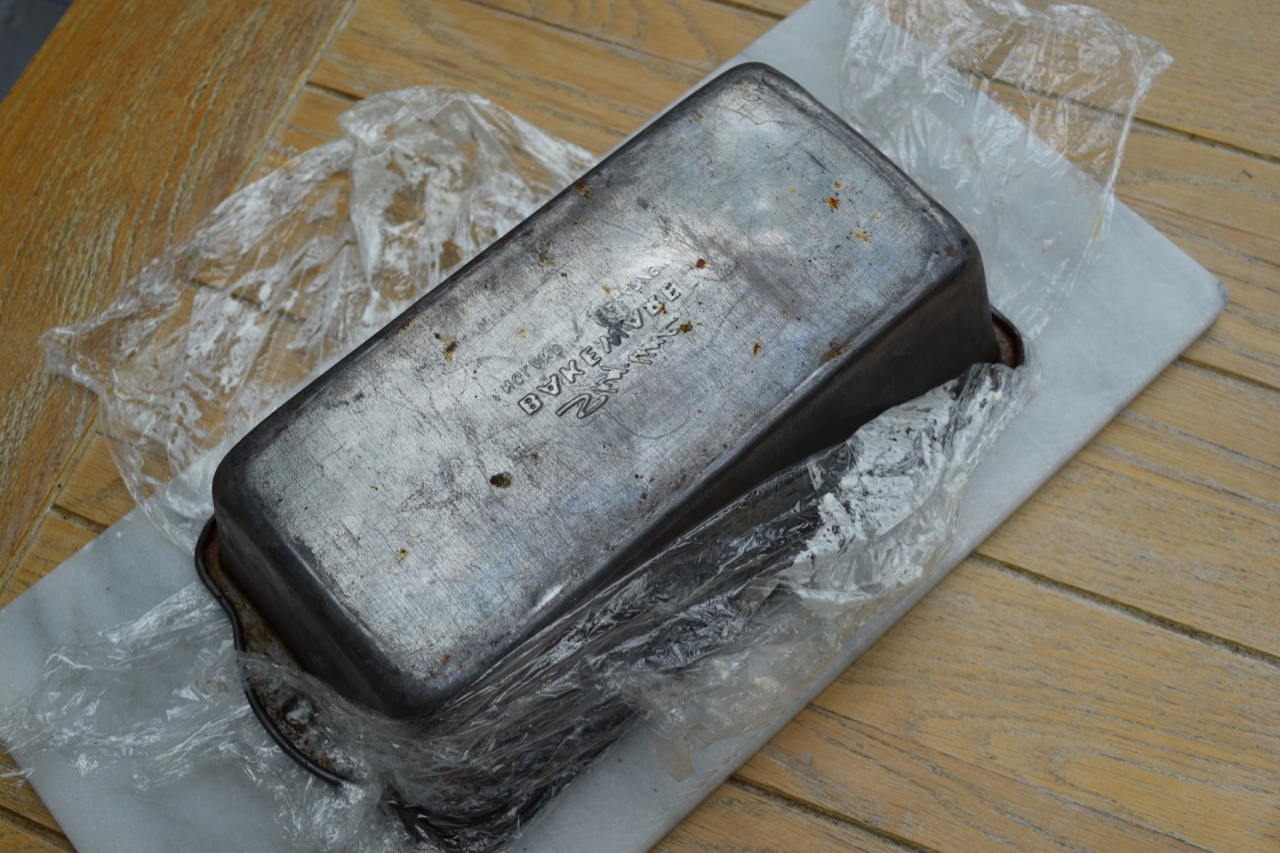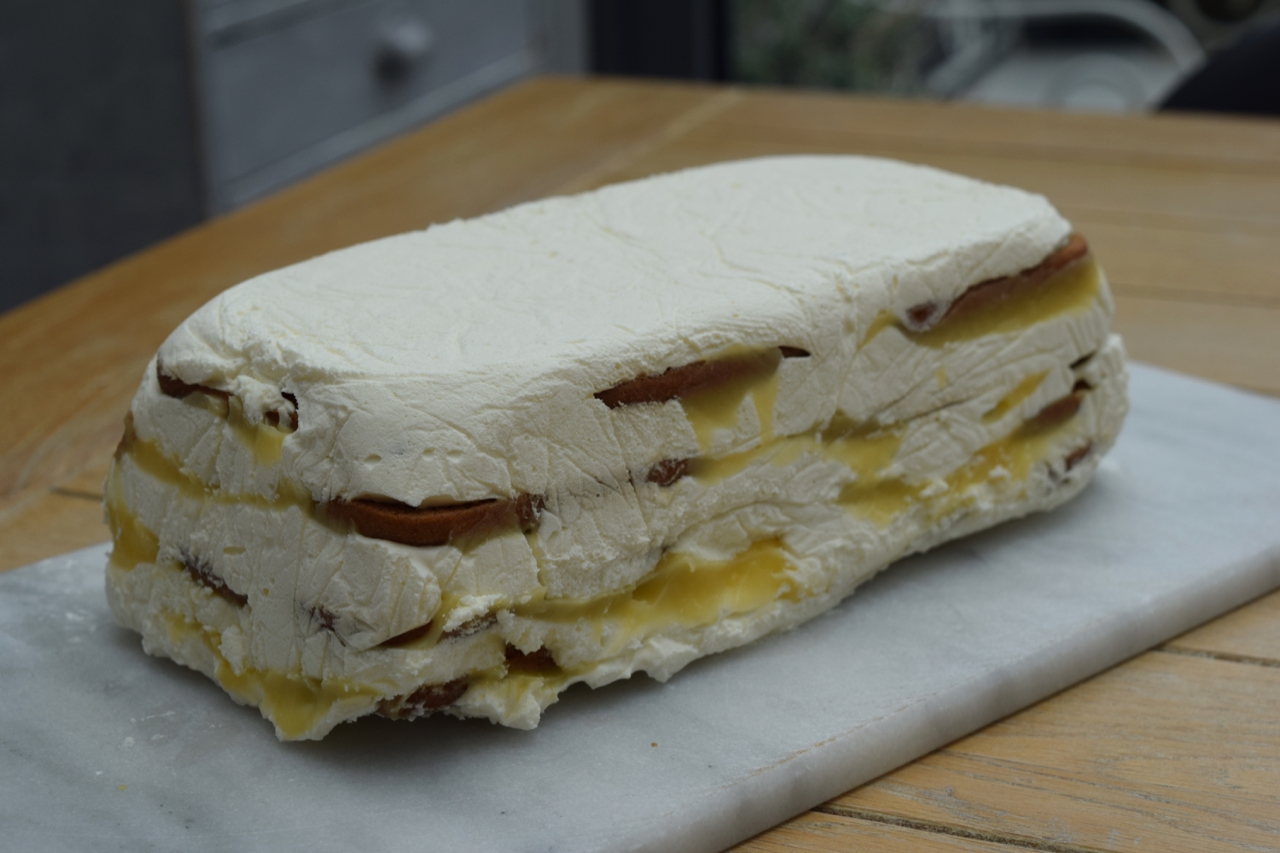 Mine looked pretty rustic but I quite liked that you could see the layers. If you don't, then use any left over cream you had to smooth the sides. Then crumble your reserved biscuit onto the top of the icebox cake.
Put the cake back into the fridge until you're serving it to make sure it's firm enough to slice. When it's showtime, use a sharp knife to slice into modest servings with some berries, if you like.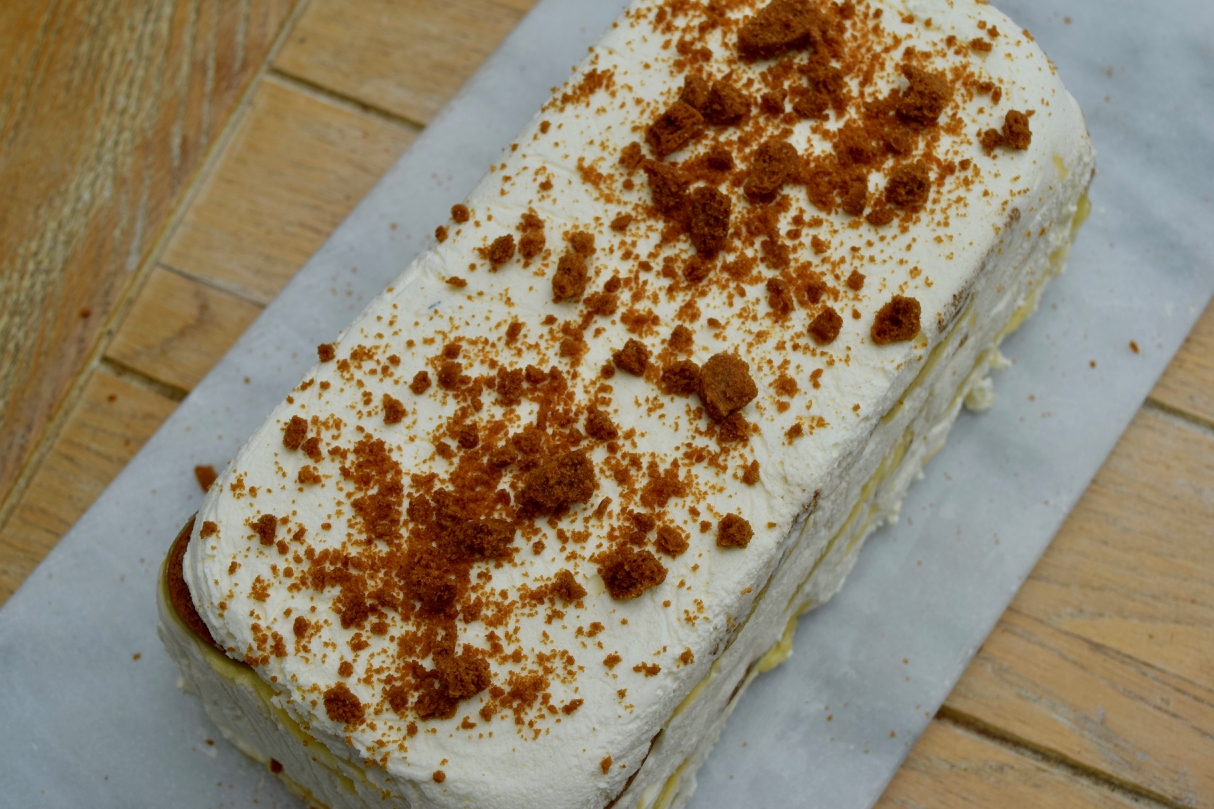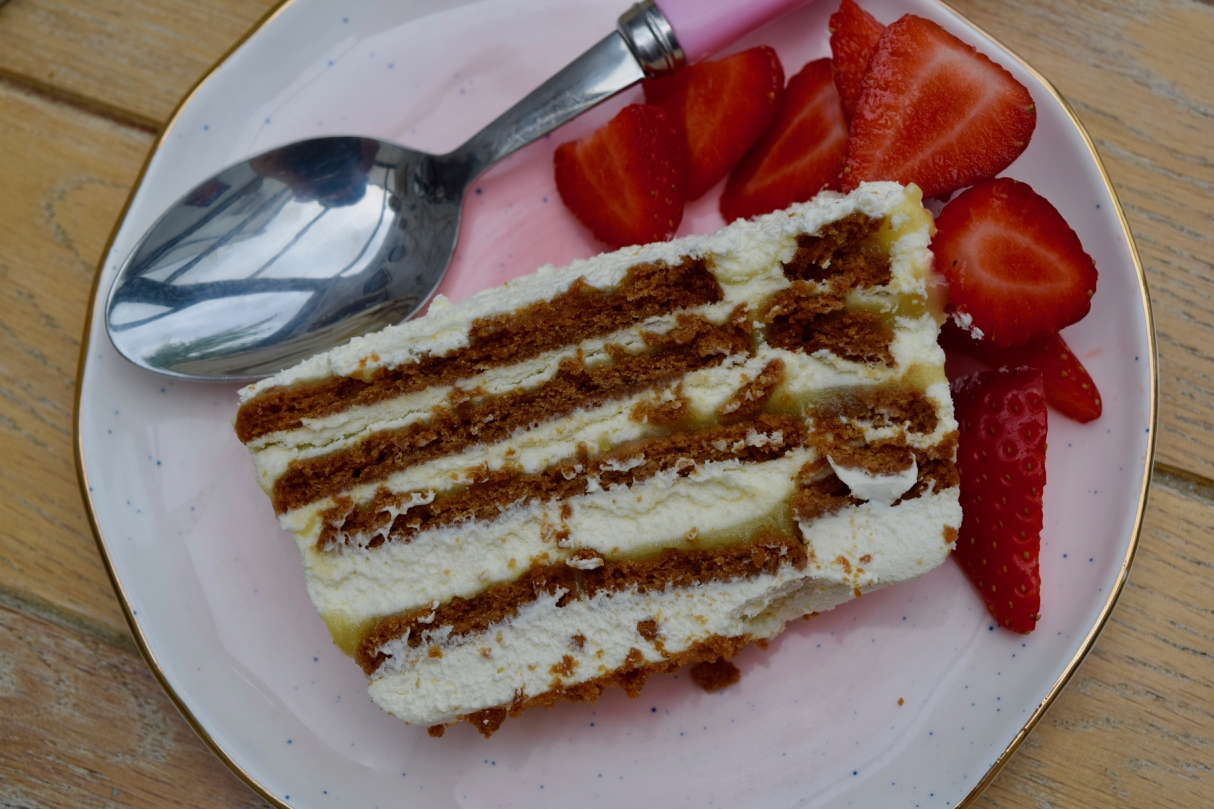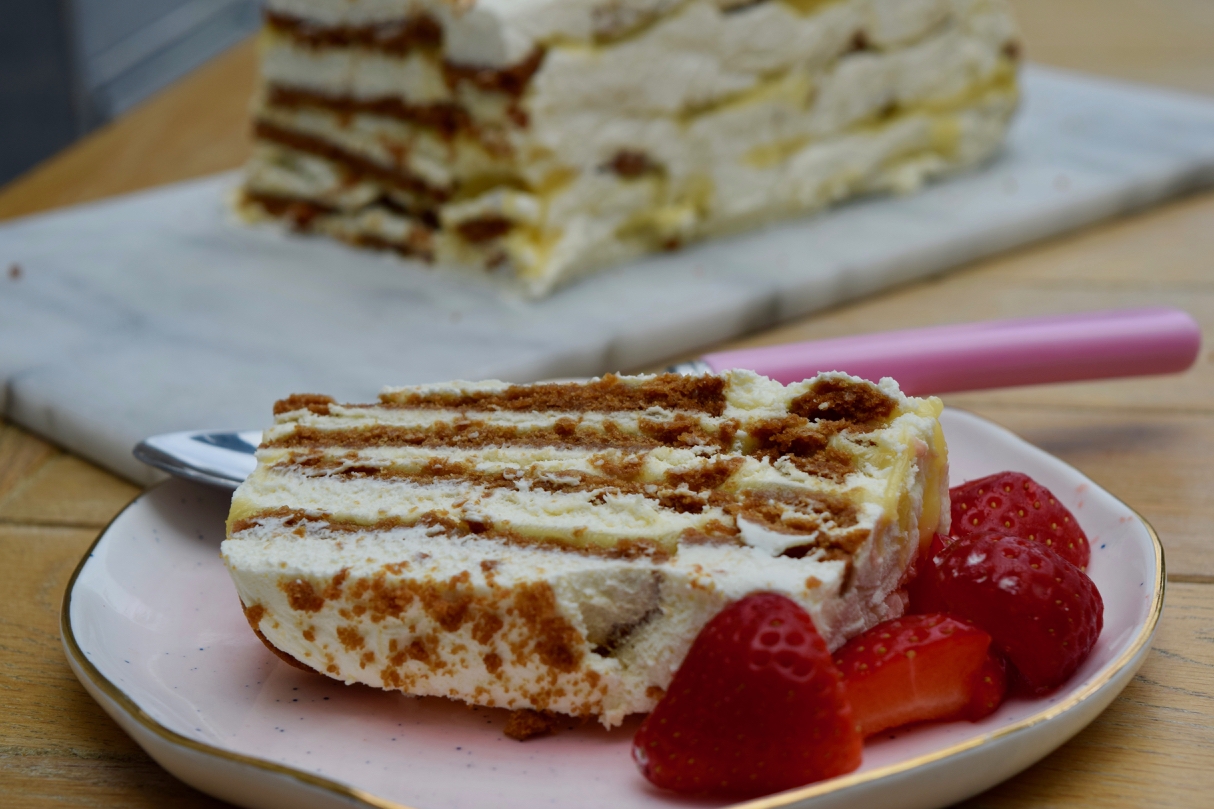 This is soft lemon cream and cake-like biscuit heaven. And almost effortless, apart from the waiting part, that's the real test. But be patient, this recipe has been around for years, what's a few hours more to wait to try this wonderful summer pudding.
Lucy x
Lemon Biscoff Icebox Cake Recipe
Serves 6 to 8, if you're lucky
You will need a whisk and a cling film lined 1kg loaf tin
500ml double cream
2 tablespoons icing sugar
1 teaspoon vanilla extract
Zest of a lemon, grated
300g biscoff or ginger biscuits, the thinner the better, reserve one for decoration
300g jar lemon curd, you may not need it all
Berries to serve
Line your loaf tin with cling film, ensuring there is plenty hanging over the edge.
In a stand mixer or in a bowl with a whisk, pour in your double cream. Add the icing sugar and vanilla and whisk until you have soft peaks.
Grate in the zest of a lemon, whisk again, just to mix.
Add a good layer of the cream into the bottom of your lined loaf tin, about a couple of centimetres deep. Add a single layer of biscuits, breaking them to fit into your tin. Spread the biscuits with a thin layer of lemon curd. Top with more lemon cream, more biscuits and more curd, until you have filled the tin. I used 4 layers of biscuits. Finish with a layer of cream. You may have spare cream, pop this back into the fridge as you can use this later. Save one of the biscuits for crumbling on top later.
Fold the cling film over the top of the tin and place into the fridge for at least 6 hours, but I have to say, over night is best.
When you're ready, turn the icebox cake out and remove the cling film. If there are any imperfections that need tidying up, use any left over cream to fill in the gaps; I didn't bother as I liked the rustic look. Crumble your reserved biscuit on top then pop back into the fridge to cool completely until needed.
Serve sliced with some berries if you like. Any leftover cake can be kept, wrapped, in the fridge for 2 to 3 days.