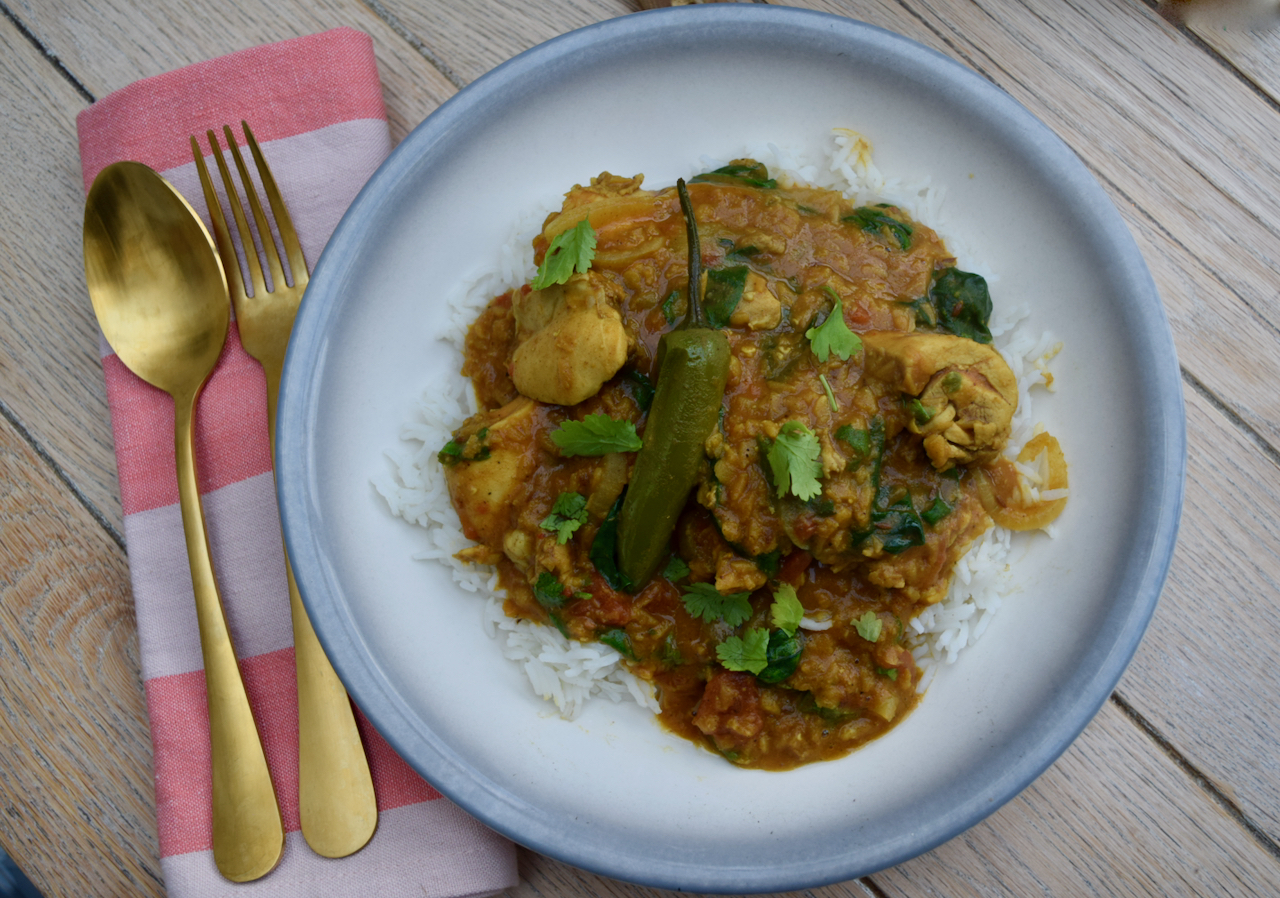 Chicken Dhansak recipe
We bloody love a curry; it's such a comforting meal, especially when it's cold and miserable outside. A Chicken Dhansak has always been a take-away favourite of mine, but never have I considered making my own. Thanks to the lovely Nisha Katona, I am now making a Dhansak once a week; takeaways begone.
Now just because this is a pretty authentic recipe, don't panic and envisage 75 different spices making an appearance. This Chicken Dhansak features only 5 aromatics and is ready in just over half an hour. Whole green chillis are used to flavour the curry, but not blow your head off; feel free it eat them with the dish, they're soft, sweet but still quite lively. Red lentils add bulk to this recipe, making it frugal, as well as quick and super easy. Spinach is stirred through at the end, wilting down making it almost impossible for George to pick out.
This is such an amazing restaurant classic, if you served it from foil trays, everyone would be asking for the number of your new curry house.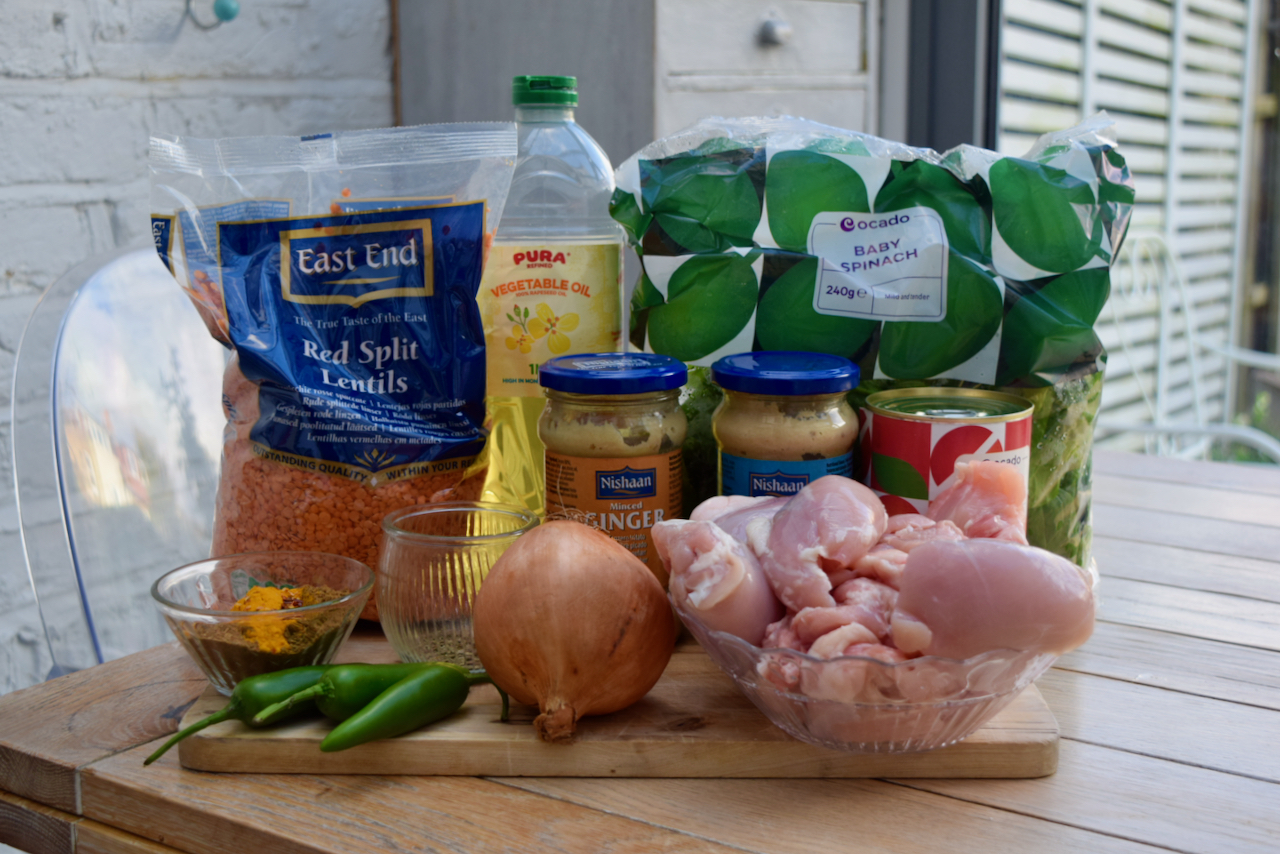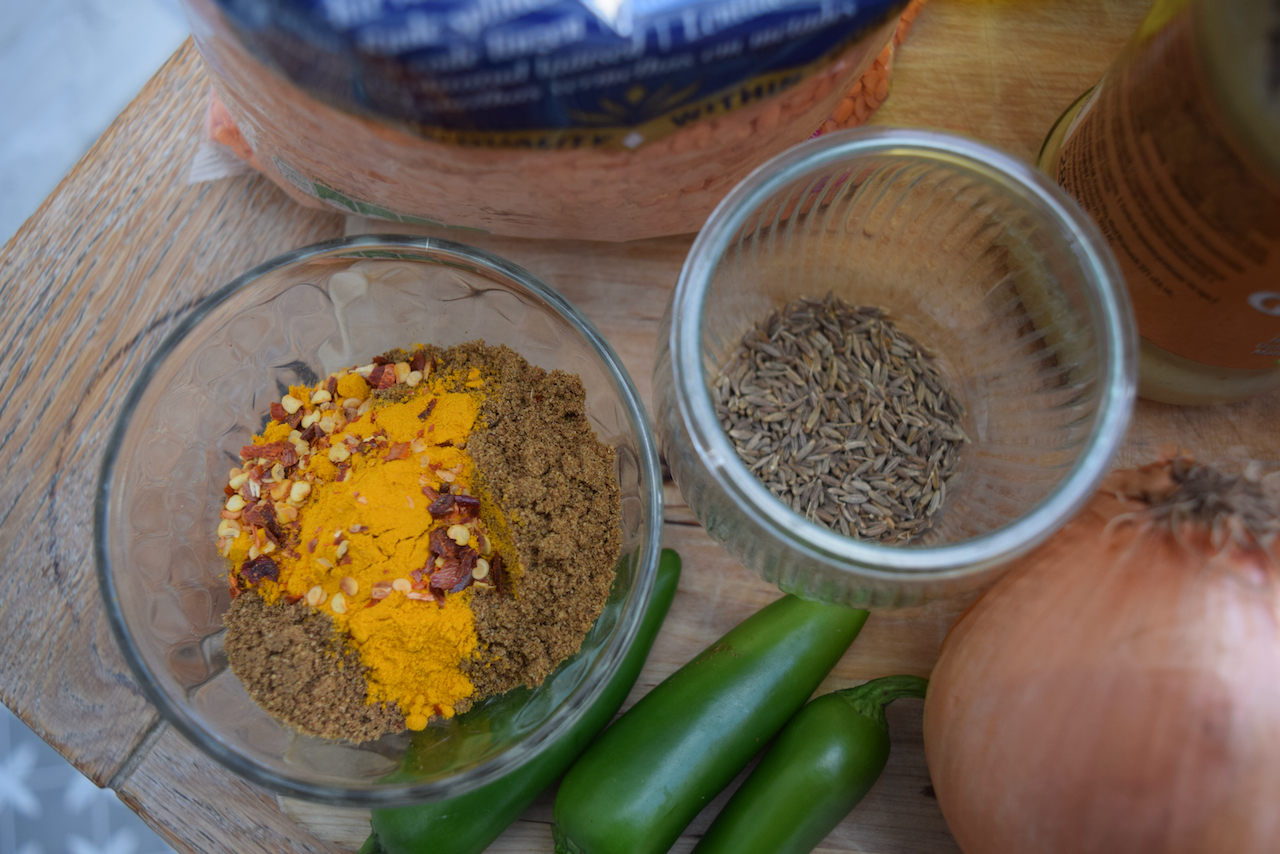 Nothing too challenging here, the spices are garam masala, cumin, turmeric and chilli flakes. The cumin seeds add fragrant little moments to the curry, without getting them stuck in your teeth. I upped the chicken quota to my Dhansak as my boys are protein obsessed, use less if yours are less so.
Start off this comforting family supper by heating the oil over a medium heat, then adding the cumin seeds. Cook for a minute or two until turning golden and fragrant.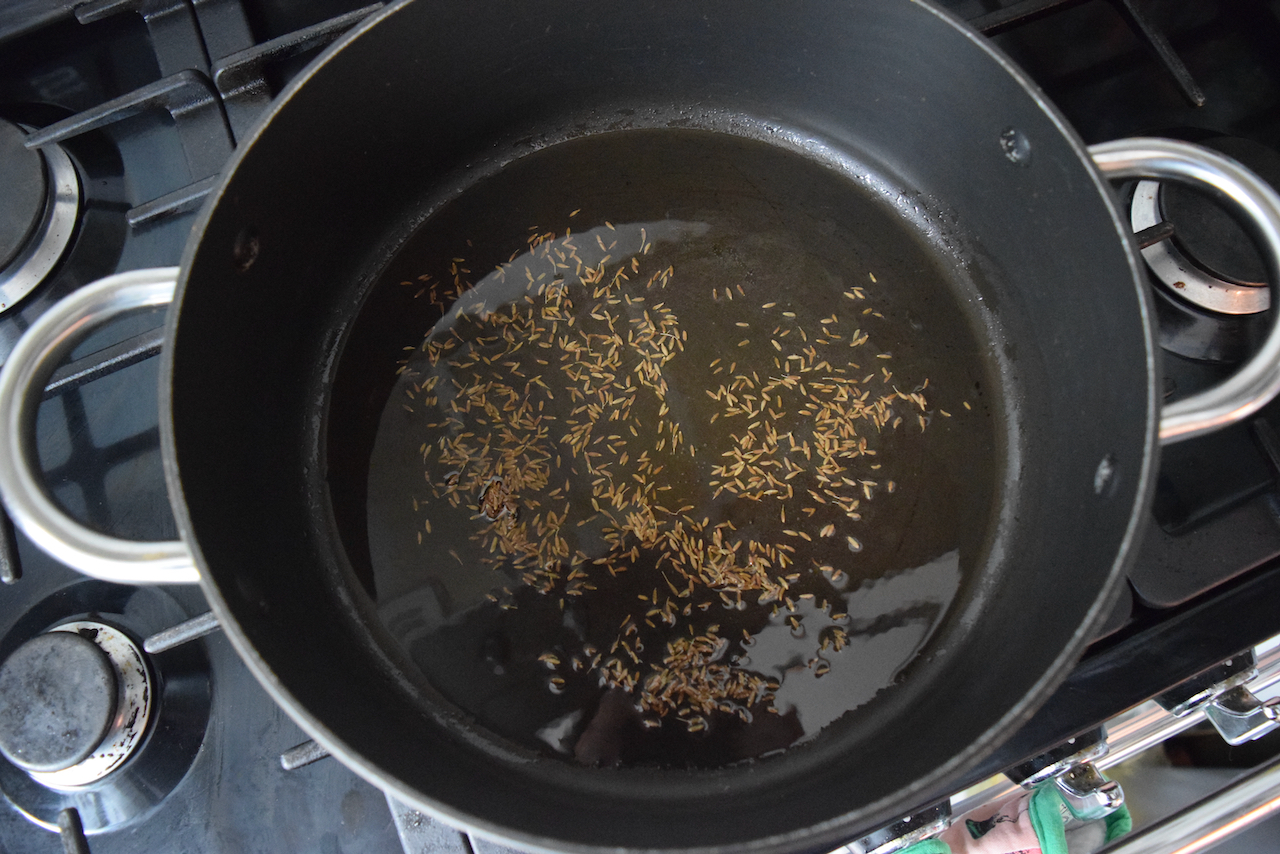 Next, add the sliced onions, fresh or lazy garlic and ginger and the three whole green chillis, and stir to coat in the oil. Cook for 5 minutes or so or until the onions are just starting to brown and have softened.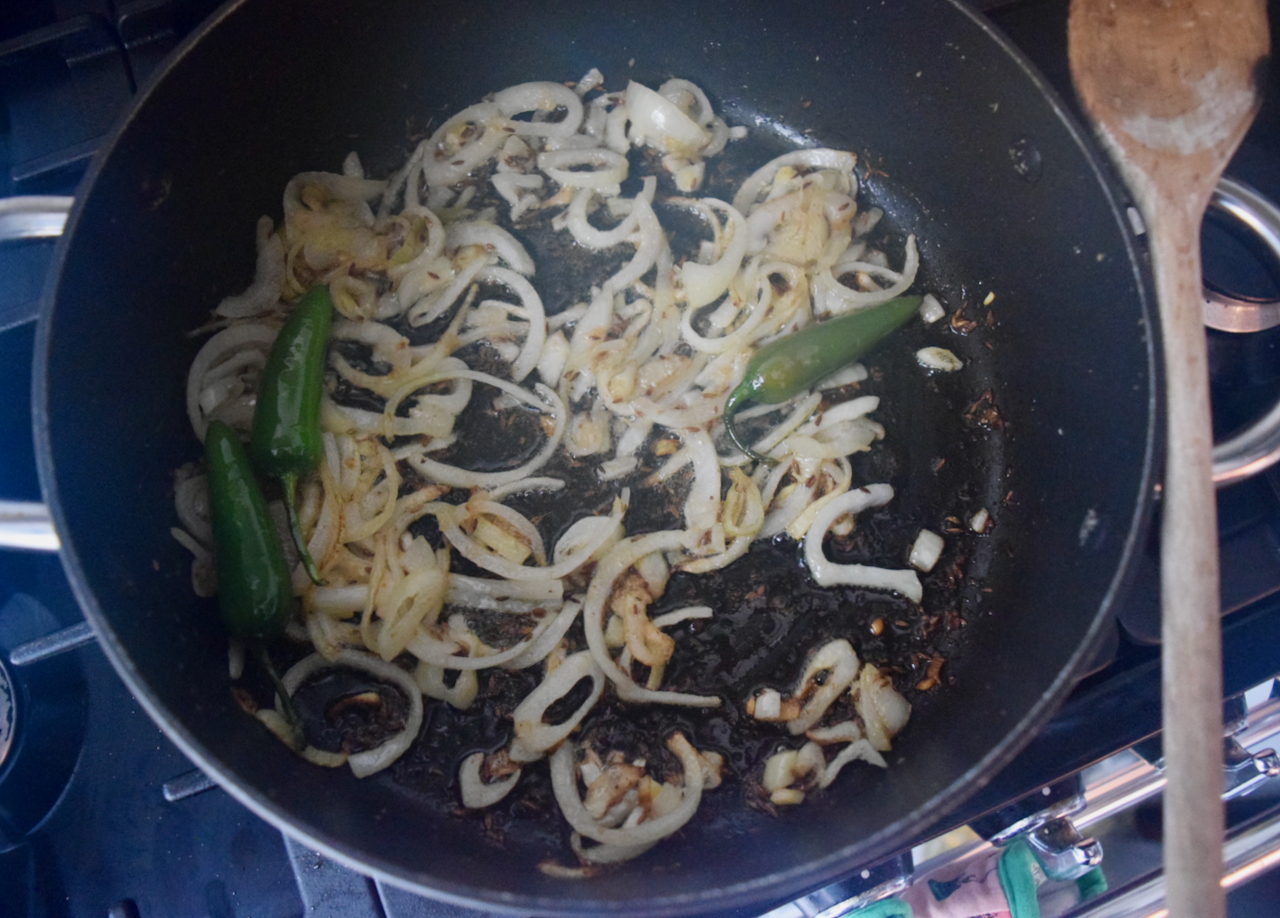 Now had the chopped chicken of your choosing. Stir, then add the garam masala, turmeric, cumin and chilli flakes and stir again to coat the chicken in all of the flavours.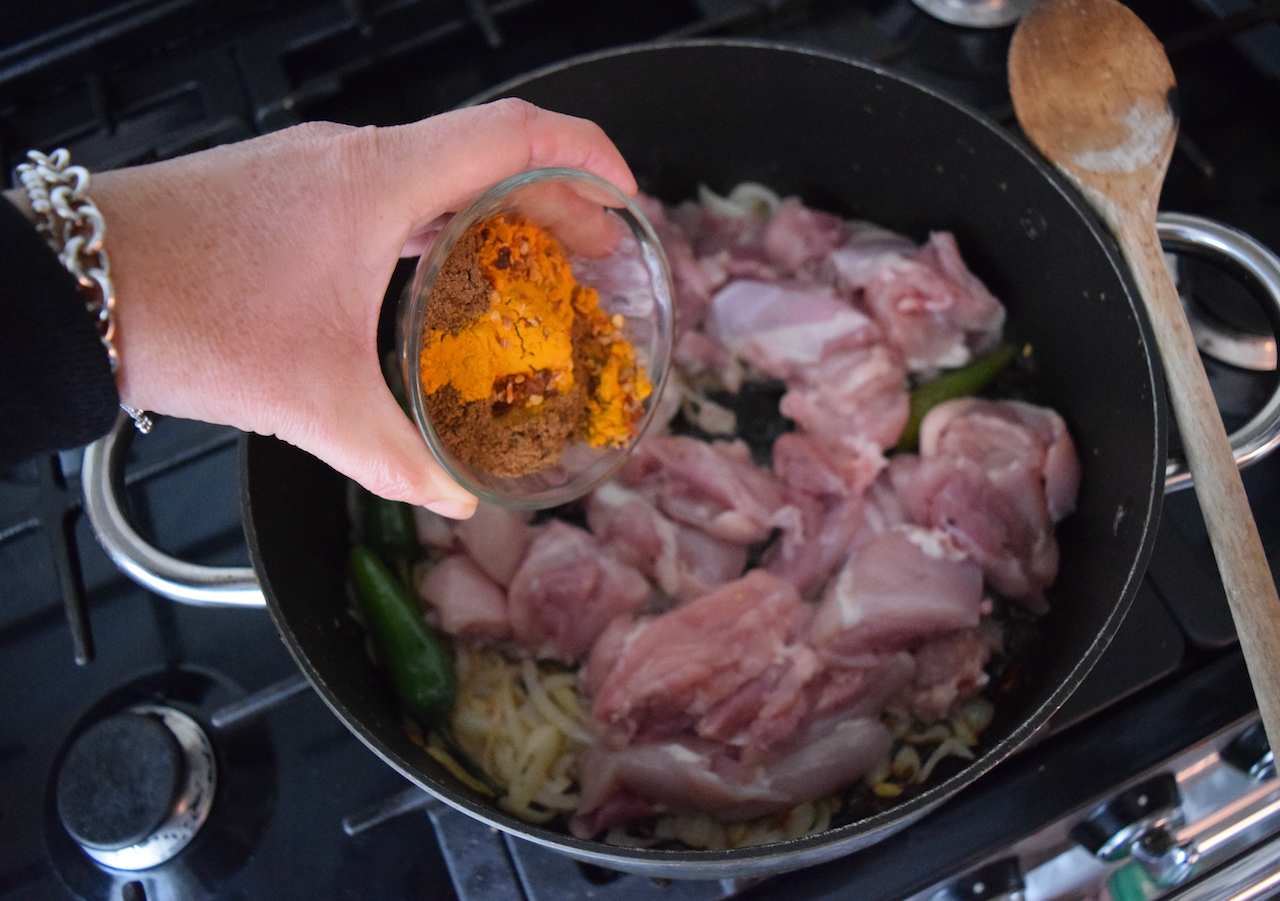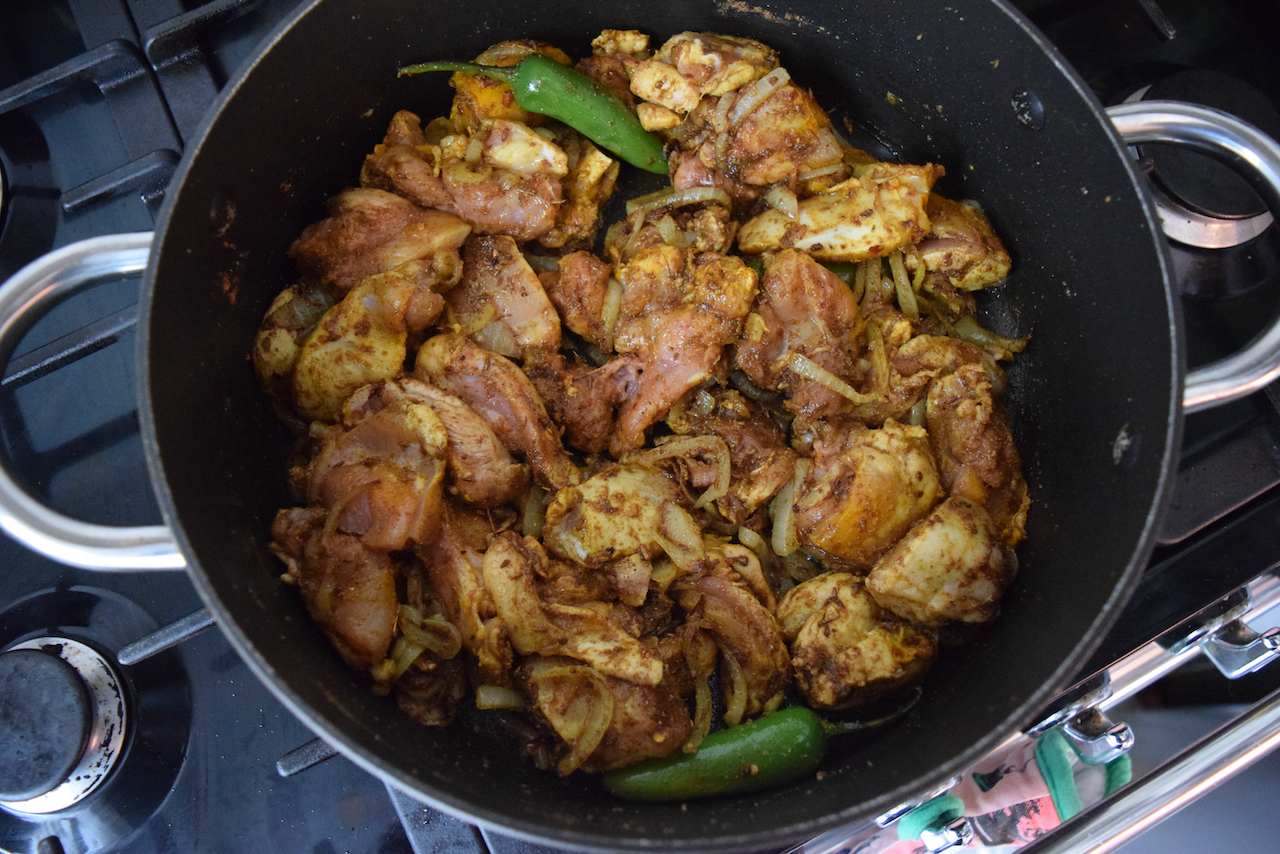 Pour in the chopped tinned tomatoes and the red lentils, mix, then pour on 800ml of boiling water from the kettle and add the sugar and salt.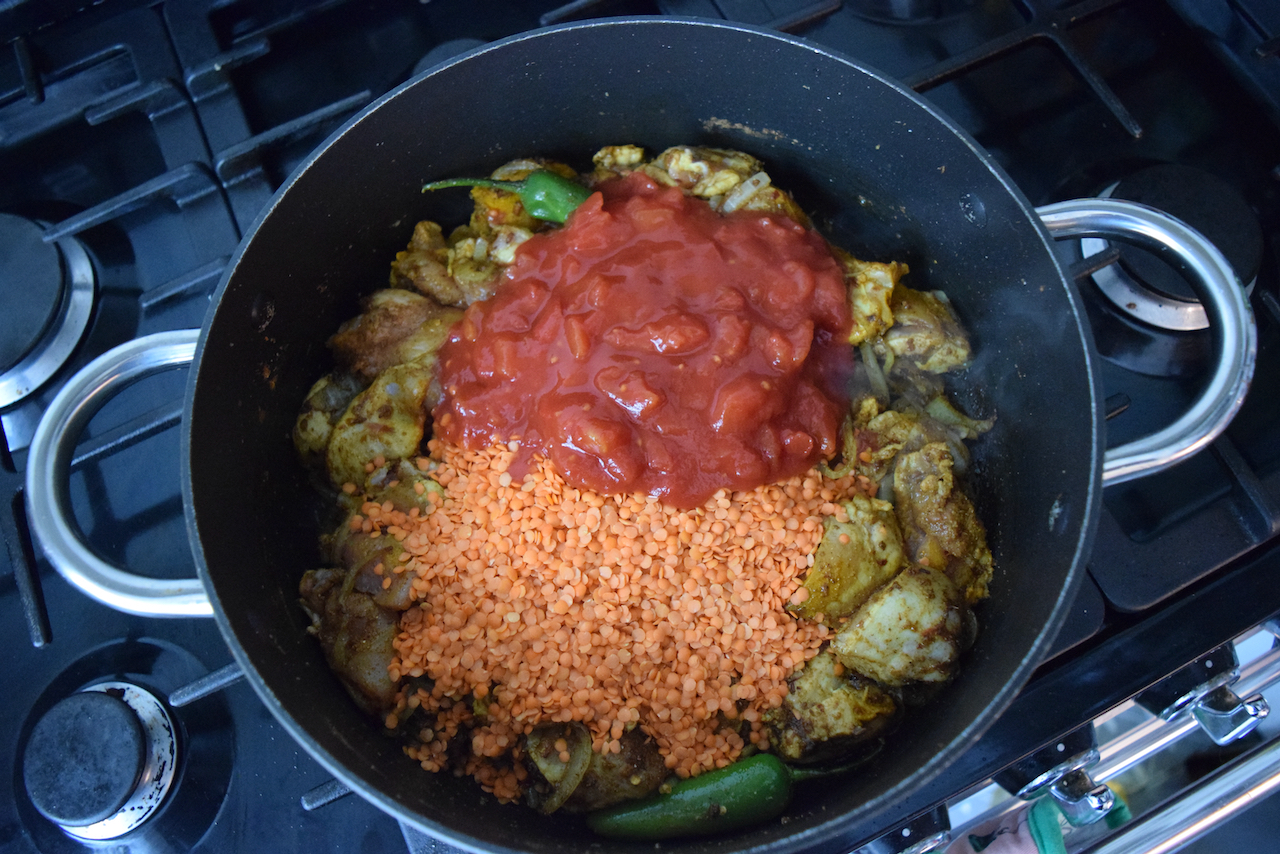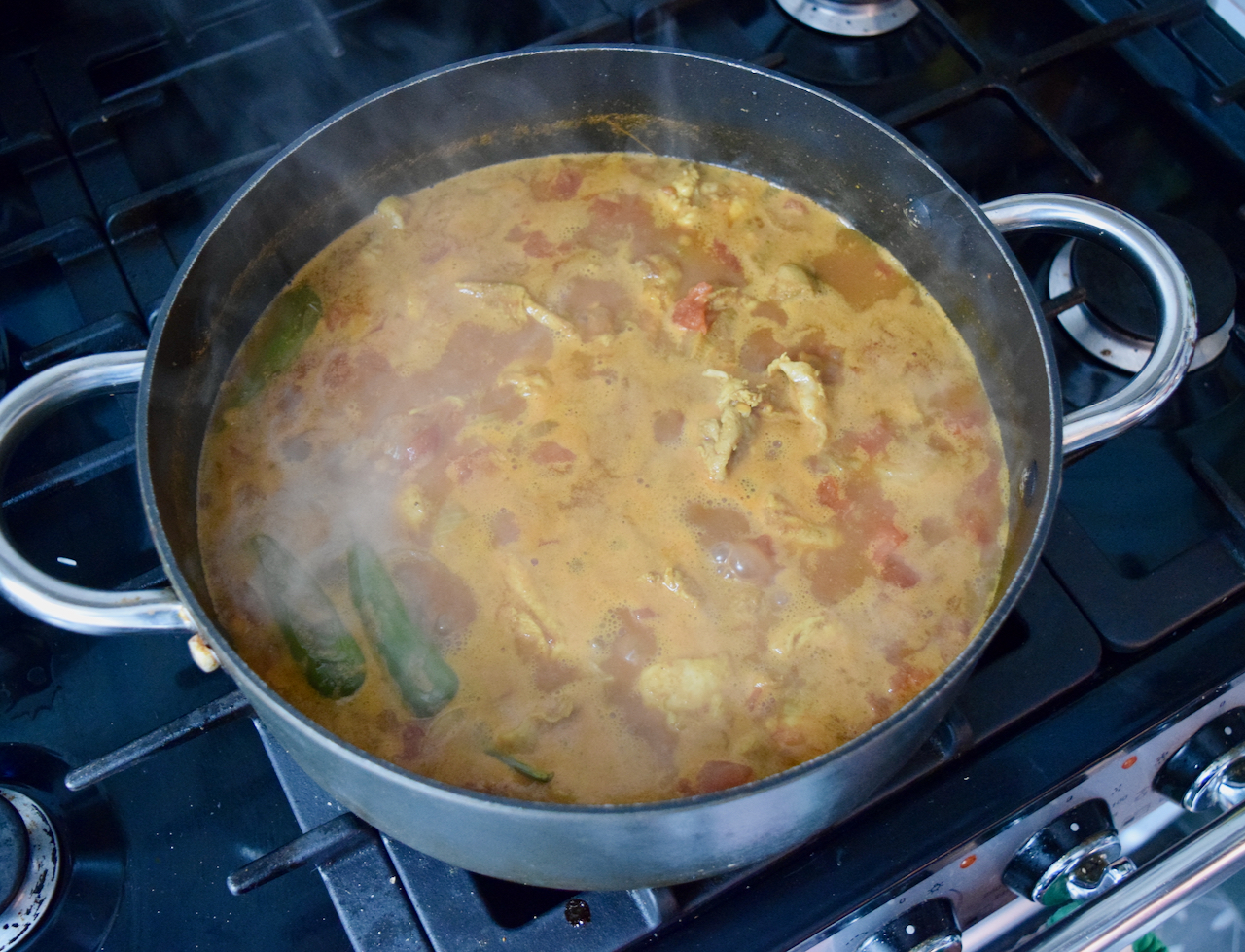 Bring the dhansak back up to the simmer, then cook with a lid off, for around 15 minutes or until the lentils are soft.
Squeeze in the juice of half a lemon and at this stage, have a lovely big mouthful to check if the curry needs more salt or sugar. Finally, stir in the spinach, allow it to wilt, then add a handful of fresh coriander.
Check your curry's piping hot then serve with plenty of rice and some naan breads, which I didn't have time or inclination to whip up. Devour.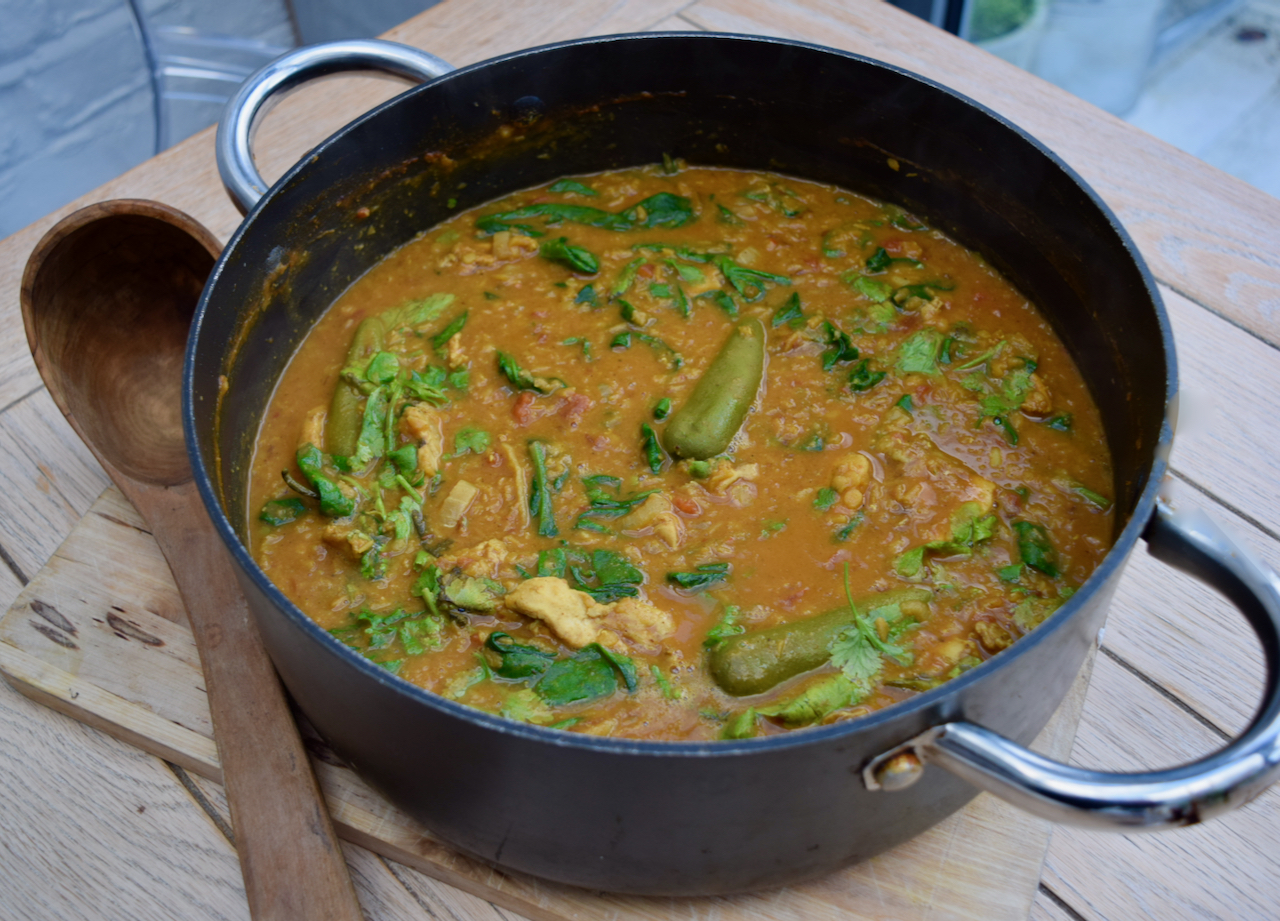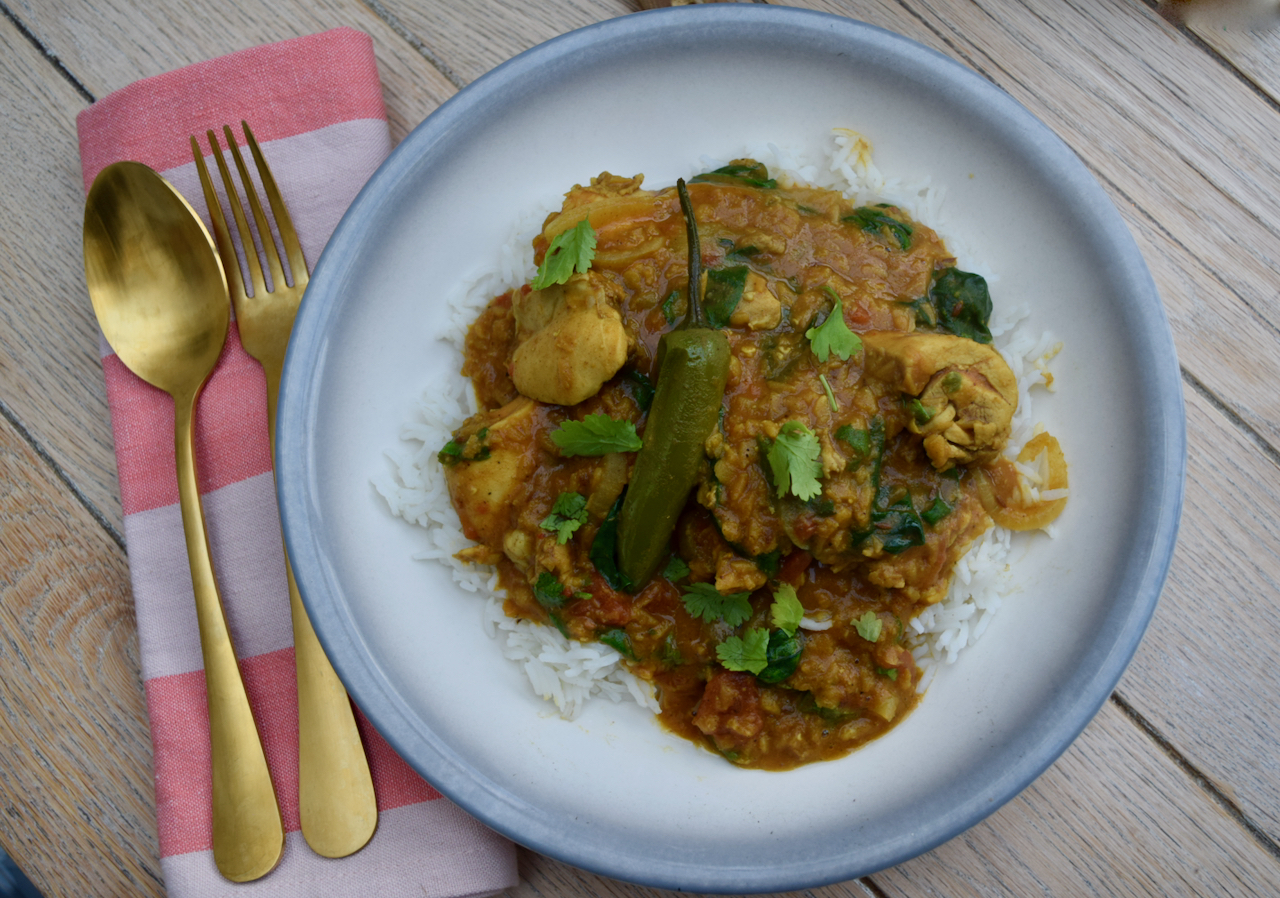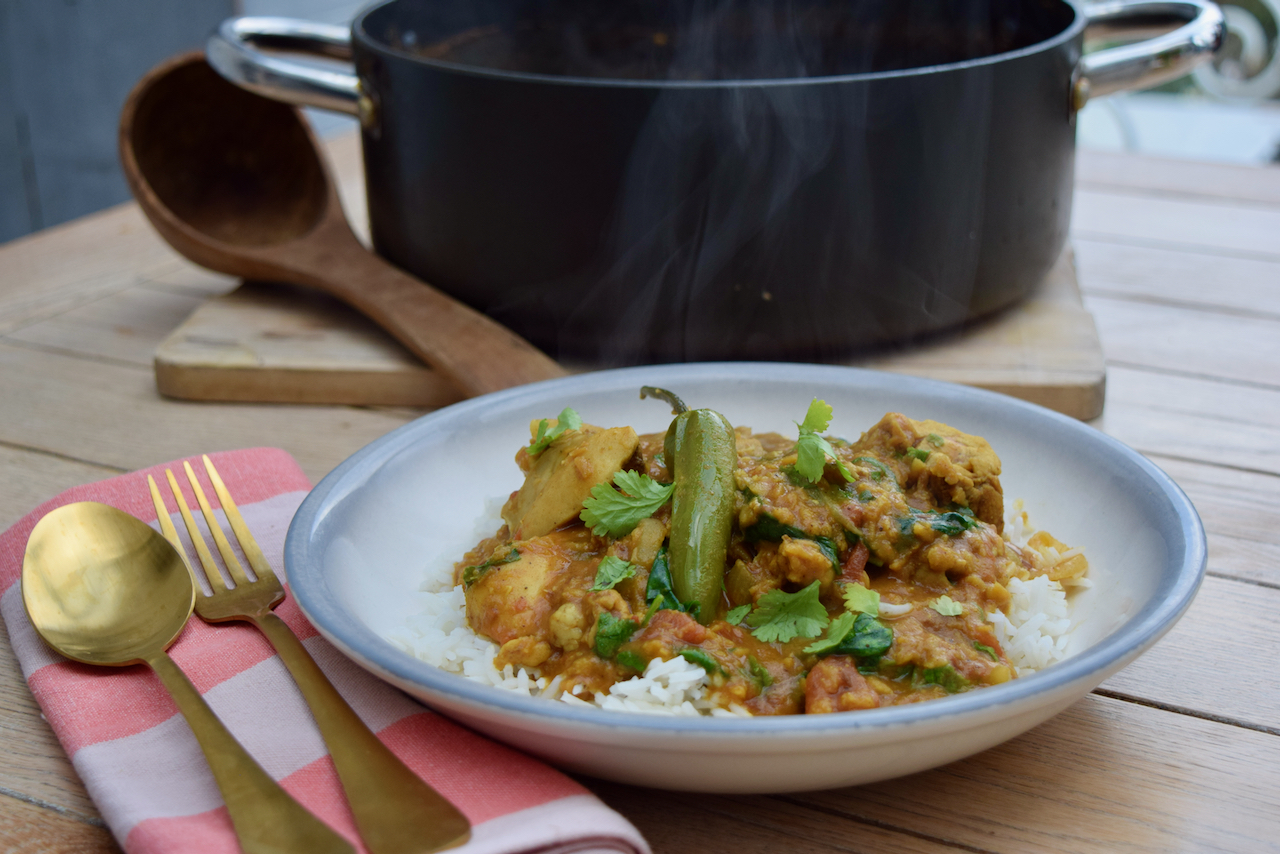 This slightly sweet and sour curry is so good, so quick and so frugal, you may have used your Uber Eats account for the last time.
Lucy x
Chicken Dhansak recipe
Serves a generous 4 to 6
You will just need one large pan for this
75ml vegetable oil
1 teaspoon cumin seeds
1 large, or 2 smaller onions, peeled and sliced
1 heaped teaspoon garlic, mine was from a jar, if not use around 3 crushed cloves
1 heaped teaspoon ginger, again, mine was from a jar, or peel and crush an inch of fresh ginger
3 whole green chillis
3 tablespoons garam masala
1 tablespoon ground cumin
Large pinch red chilli flakes
1 teaspoon ground turmeric
600g to 800g chicken, I used boneless thighs, chopped into chunks
1 x 400g tin chopped tomatoes
200g dried red lentils
1 1/2 teaspoons salt
1 teaspoon sugar
Juice of half a lemon
100g baby spinach leaves
A big handful chopped fresh coriander
More fresh coriander leaves to garnish and rice and naan breads to serve
Take a large high sided pan and add the oil and heat over a medium flame. Once the oil's hot, add the cumin seeds and cook for a minute or two until they're turning golden and smelling fragrant. Add the sliced onions, garlic and ginger and the 3 whole chillis and cook for around 5 minutes or until the onions are starting to turn golden and to soften.
Add the chopped chicken, stir, then tip in the garam masala, cumin, chilli flakes and turmeric and stir again, to coat the chicken and onions in the spices. Pour in the chopped tinned tomatoes and red lentils along with 800ml boiling water from the kettle. Season with the sugar and salt, give everything another good stir and bring up to the simmer. Turn the heat down and cook for around 15 minutes, until the lentils are soft.
Squeeze in the lemon juice, then taste to see if you need any more sugar or salt. Stir through the spinach, let it wilt for a minute then add a big handful of fresh coriander.
Serve in large, hot bowlfuls, over some rice with naan for dipping. Any leftovers are so good, reheated, over the next couple of days.