Chicken with Chilli and Lemongrass Recipe
There's nothing finer than a quick, flavour filled chicken dinner, ready in under an hour. Well, ok, that's a lie, winning a couple of million on the lottery would be finer, but I am being realistic here. I love a chicken thigh based dinner, and I'll tell you for why. Chicken thighs are super reasonably priced, I always have a packet in the freezer and they are my very favourite part of the chicken. They are *eeek* moist, tender, dark and the skin crisps up a treat. So, today, I am sharing this warming, fragrant, lightly spiced Chicken with Chilli and Lemongrass, for which I hope you will be eternally grateful.
I have been making this dish for around 100 years. I am exaggerating, but it seems as if I have been cooking Chicken with Chilli and Lemongrass for a lifetime. The recipe originates from a tiny Marks and Spencer Thai cookery book, published in around 2002, which appears to be no longer available anywhere in the world. It is a simple but wonderfully flavoured supper dish which only involves some light browning and simmering and the dish is on the table in under an hour from start to finish. It's a wonderful choice for this current spell of super cold weather we are having, the broth-like sauce is spiced with chilli and fragranced by the lemongrass, warming you down to your frozen toes.
Serve this delicious supper with some rice or noodles for a fulfilling winter dish. Even though this is effortless, I have served it for guests as it has the flavour of a dish which has taken far longer to prepare. I won't mention how easy this is to make if you don't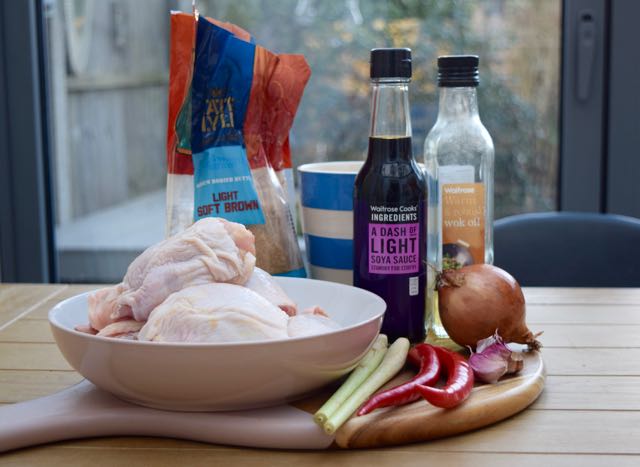 Lovely and colourful ingredients, with the addition of soy sauce as a fish sauce stand in because I could not find my fish sauce anywhere. Lovely big thighs *cue the standard joke about my strong legs* 8 of them should serve 4 standard diners, or 3 in my house.
Make a start with a large frying pan or wide saucepan with a lid. Add some oil, I went for Wok oil with it's lovely garlic and ginger flavours. Next add the sliced onions and chopped garlic.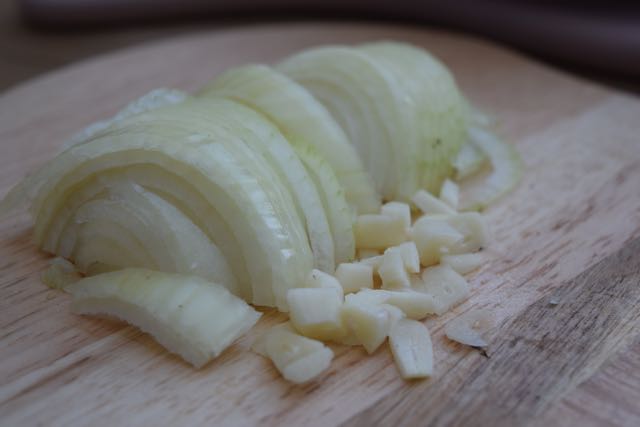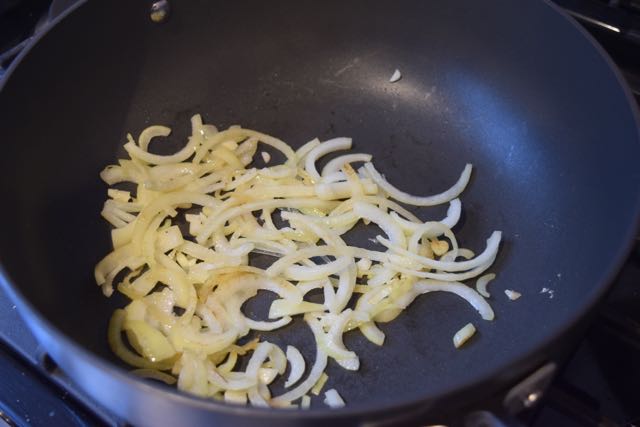 Cook this combo for around 5 minutes or until they are starting to colour and soften. Then add the finely chopped chilli and lemongrass, minus the woody bits, and cook for a couple of minutes.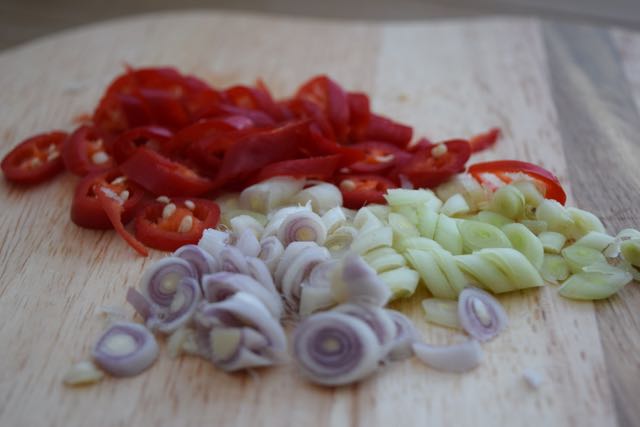 Next, take your large thighs and season well.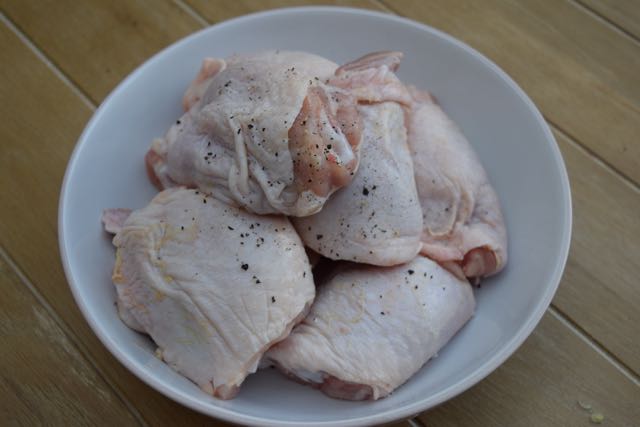 Then turning up the heat slightly, place these skin side down in the pan with the fragrant onion, garlic, chilli, lemongrass business.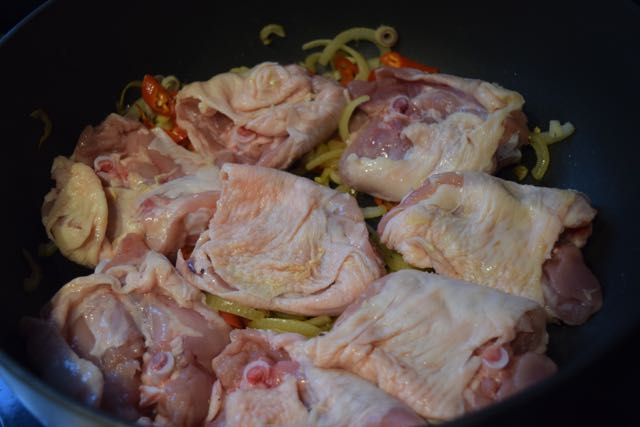 Cook these for 5 minutes or so, turning once, so the skin is starting to brown on all sides. Now, add a tablespoon of light brown sugar and the fish sauce or soy sauce. Finally, pour on the chicken or vegetable stock, check for salt and pepper requirements, stir everything together and bring up to the simmer.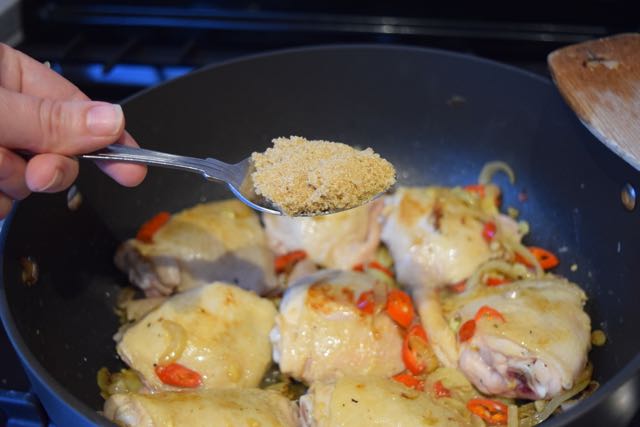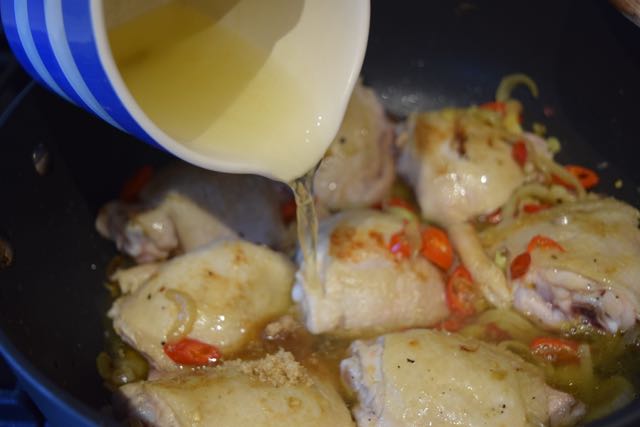 Pop the lid on and cook for around 30 minutes or until the chicken is cooked through, tender and smelling amazing.
Serve this saucy, spicy chicken with some rice, noodles and greens. Inhale it while it's piping hot, with a parsley or coriander garnish if you wish.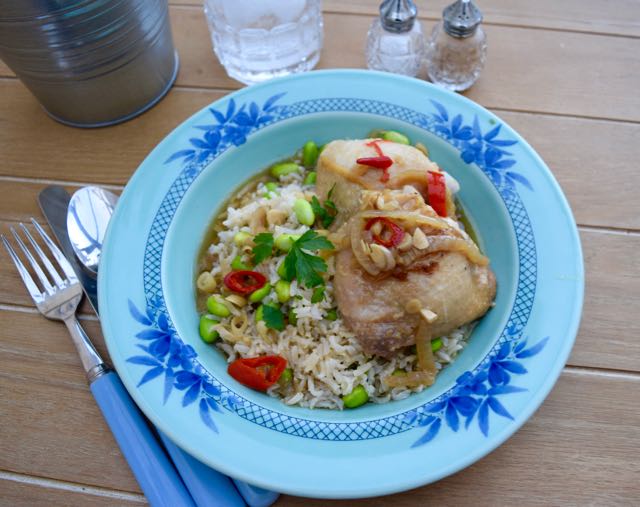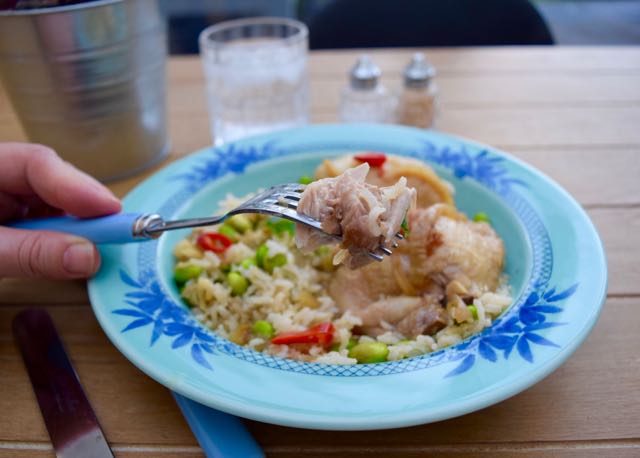 This is one of my greatest standby chicken dishes.  I used to loath lemongrass until I found this recipe, here it's savoury, fragrant and tasty. Coupled with some heat from the chilli and soft chicken, and that fact it's on the table in less than an hour, this Chicken with Chilli and Lemongrass is an award winning supper.
Lucy x
Chicken with Chilli and Lemongrass Recipe
Serves 4
You will only need a large frying pan with a lid
2 tablespoons oil, I used Wok Oil
1 large onion, thinly sliced
2 cloves garlic, finely chopped
2 stalks lemongrass, woody outer leaves removed, finely chopped
2 small red chillis, finely chopped, deseeded if you don't like things super spicy
8 chicken thighs, skin on, bone in
3 tablespoons fish sauce, I used soy as I couldn't find my fish sauce and it was fine
1 tablespoon light brown sugar
225ml chicken or vegetable stock
Salt and pepper
Rice, noodles, green vegetables to serve, parsley or coriander to garnish
Take a large saucepan or frying pan with a lid and add the two tablespoons of oil. Heat over a medium flame then add the thinly sliced onion and chopped garlic. Sauté for around 5 minutes until starting to turn golden brown and soften. Next add the chilli and lemon grass and cook for a further two minutes.
Turn the heat up slightly then add the chicken pieces, skin side down and cook for a couple of minutes or until the skin is starting to brown. Turn over then cook for another 2 to 3 minutes. Pour on the chicken stock, season and stir then bring up to the simmer and cook with a lid on for 30 minutes or until the chicken it cooked through and tender.
Serve with the fragrant juices with rice, noodles and some green vegetables.