Mars Bar Krispie Slab Recipe
It's half term and the boys are already eating me out of house and home. There never seems to be enough bread, ham, biscuits, bananas, it's like living with a plague of locusts. They have appetites like hungry elephants and seem to be permanently frying eggs and putting strange things in the waffle maker. Ben gets all his recipes from Buzz Feed, you would not believe some of the thing's he puts between two slices of bread.
Here's where my brilliant Mars Bar Krispie Slab recipe comes into play. This is a brilliant treat which can be whipped up at a moments notice, and could even be made by your delightful offspring themselves. Just a bit of light melting, stirring and chilling and it's all yours. Small hands, ably assisted if they're really small, would make light work of this. The Mars bars, cheaper supermarket versions work just as well, melt together and fashion themselves into the most delicious sticky chocolateyness to coat the rice cereal. This is then covered in a layer of chocolate and cut into generous slabs. These are guaranteed to take the edge off even the most voracious teenage appetites. And if you can get to the tin before they do, wrestle a piece out for yourself, they are absolutely bloody marvelous. I used to eat Mars Bar Krispie Slabs when I was pregnant with Ben, in fact I think these contributed to at least a stone of my pregnancy weight gain. This recipe comes via Rupert's Kitchen, with thanks, and are almost identical to those I would inhale from the Design Museum cafe.
These are just moments away from being in your fridge, so get your apron on and draft in small hands to help. Although you may have to slap those small hands away from the pieces of Mars Bar, I had to slap my own hands away a couple of times.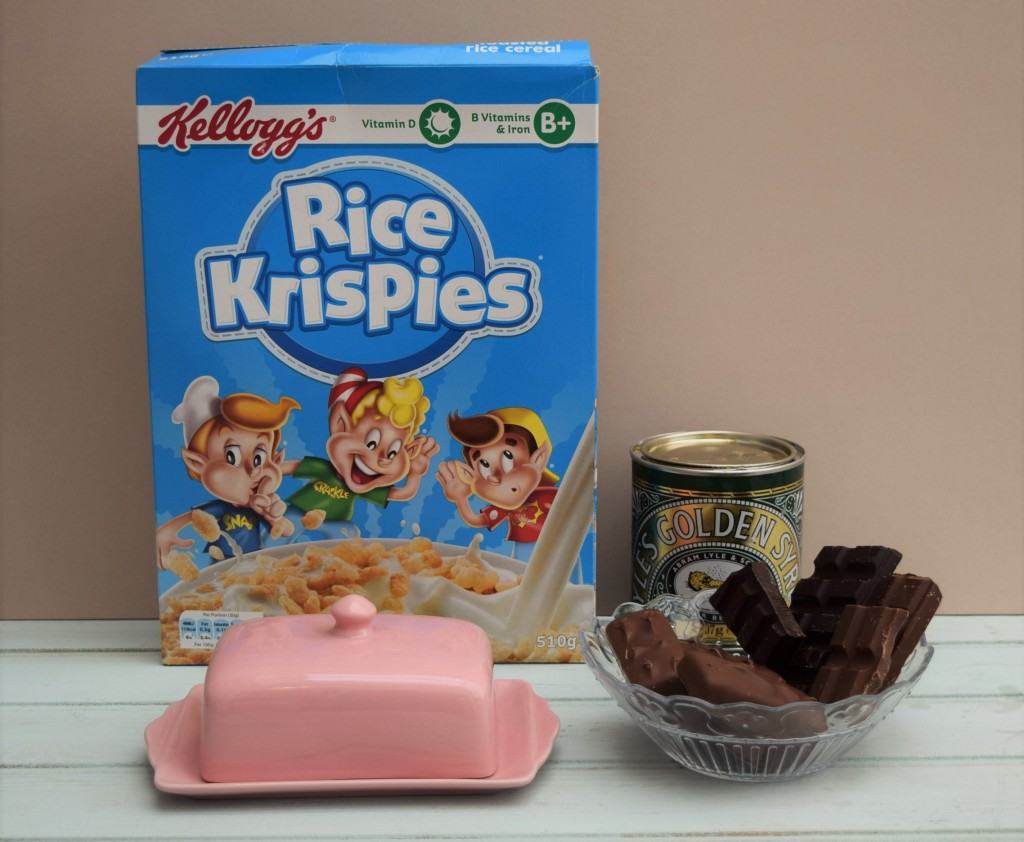 What a wonderful line up, childish, but completely delicious. I used own brand caramel chocolate bars, 5 of them, totalling around 200g. There were 6 in the packet, I said were, as I ate the spare one. It was lovely, I don't often eat a Mars Bar, but when I do, I really enjoy it.
Make a start on these super simple treats by taking a large heat proof bowl. Add the Mars Bars, broken into smaller pieces, along with the butter and sticky golden syrup.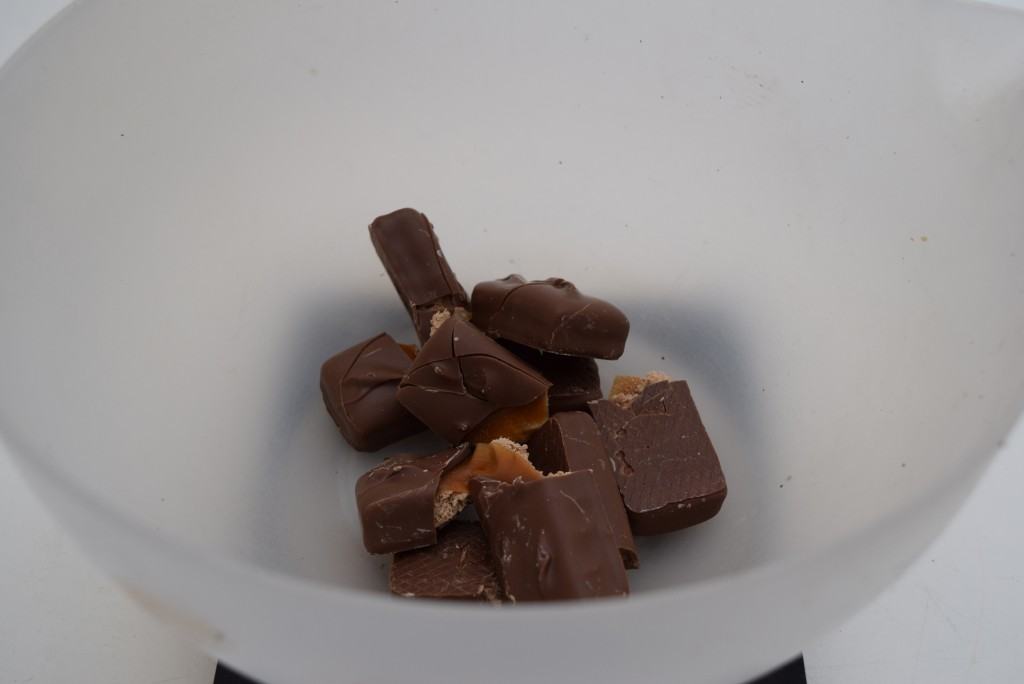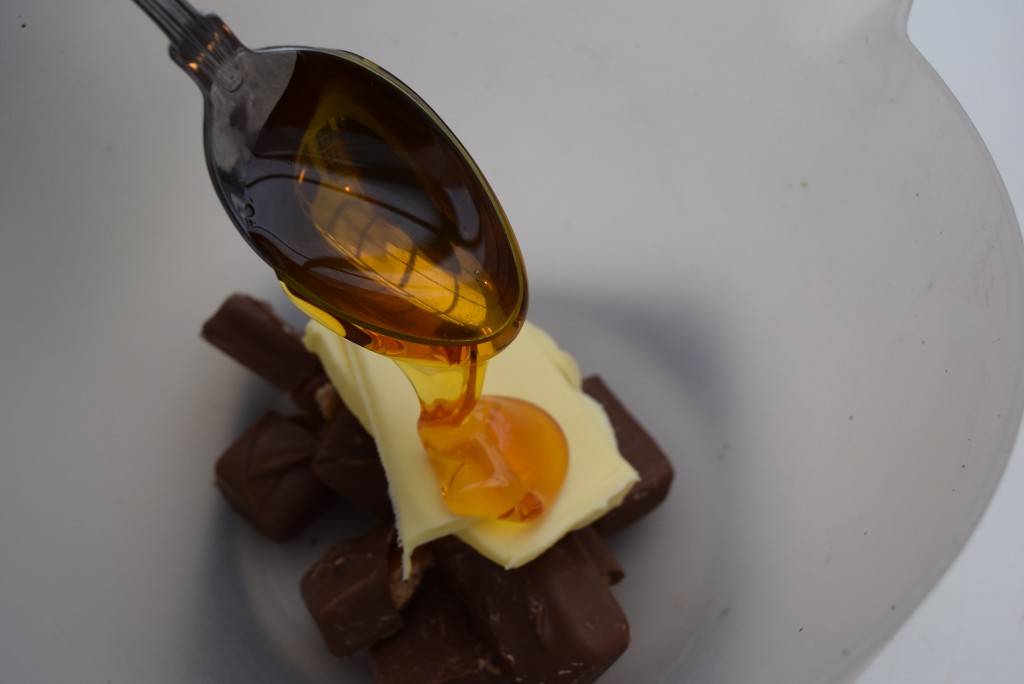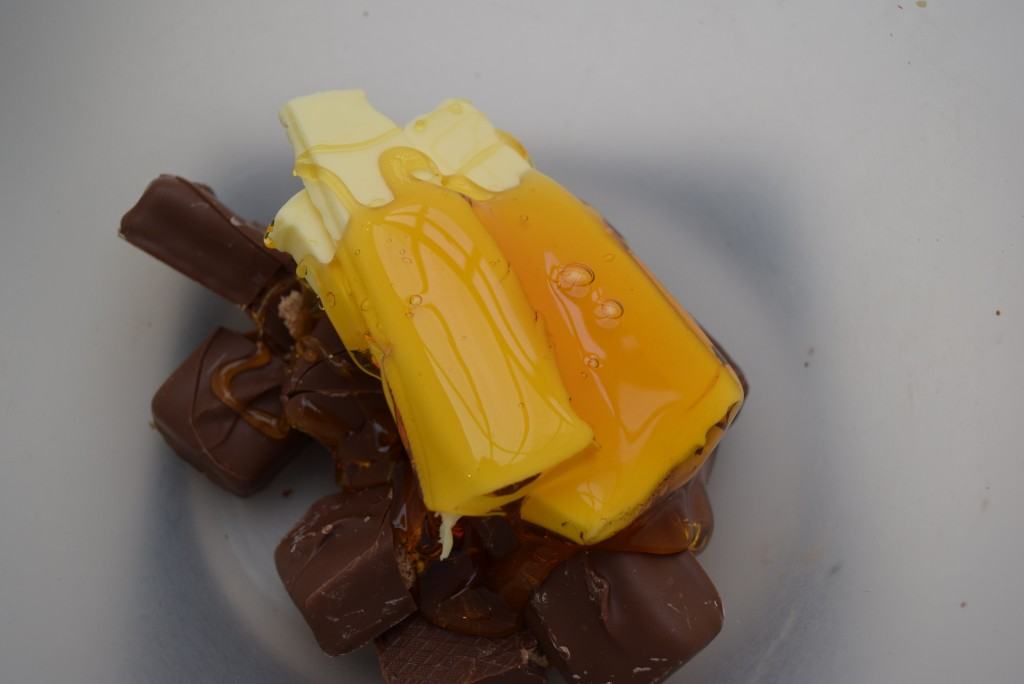 Pop this bowl of heaven into the microwave or over a pan of simmering water to melt. Mine took around 2 minutes, you want to err on less rather than more so it doesn't burn or over heat. Stir this together to mix, you will end up with a smooth-ish chocolatey gloop.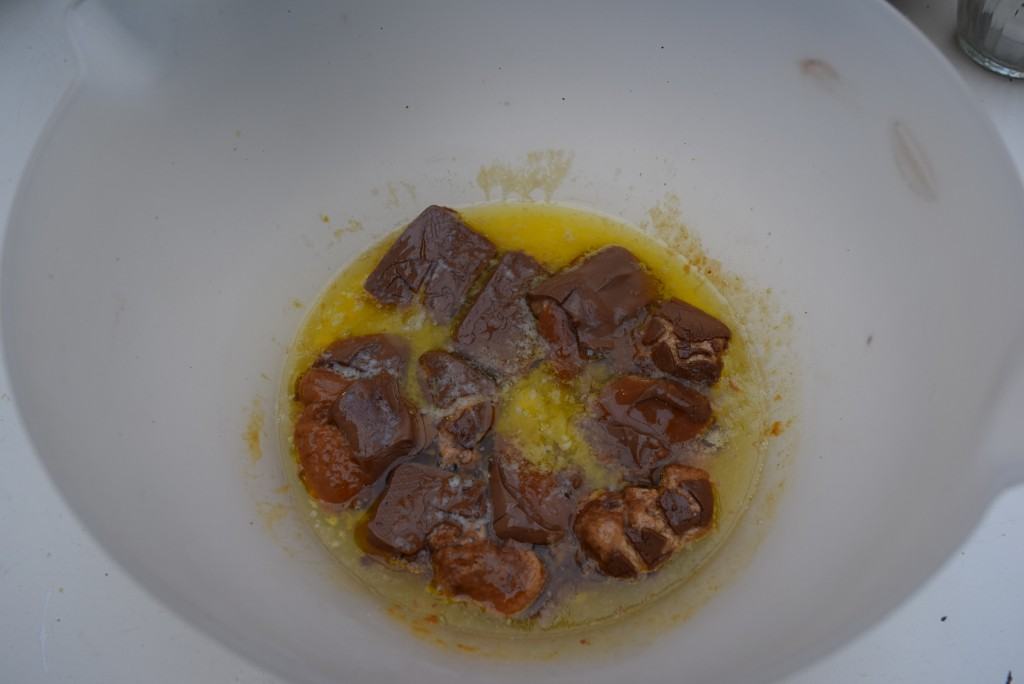 Not attractive.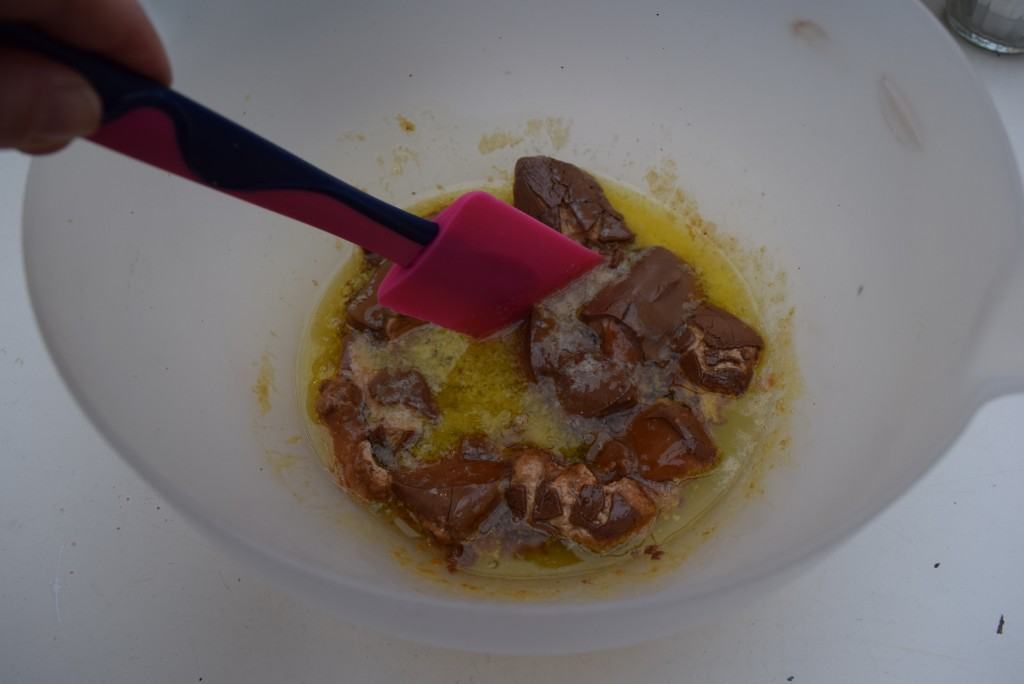 Still not attractive.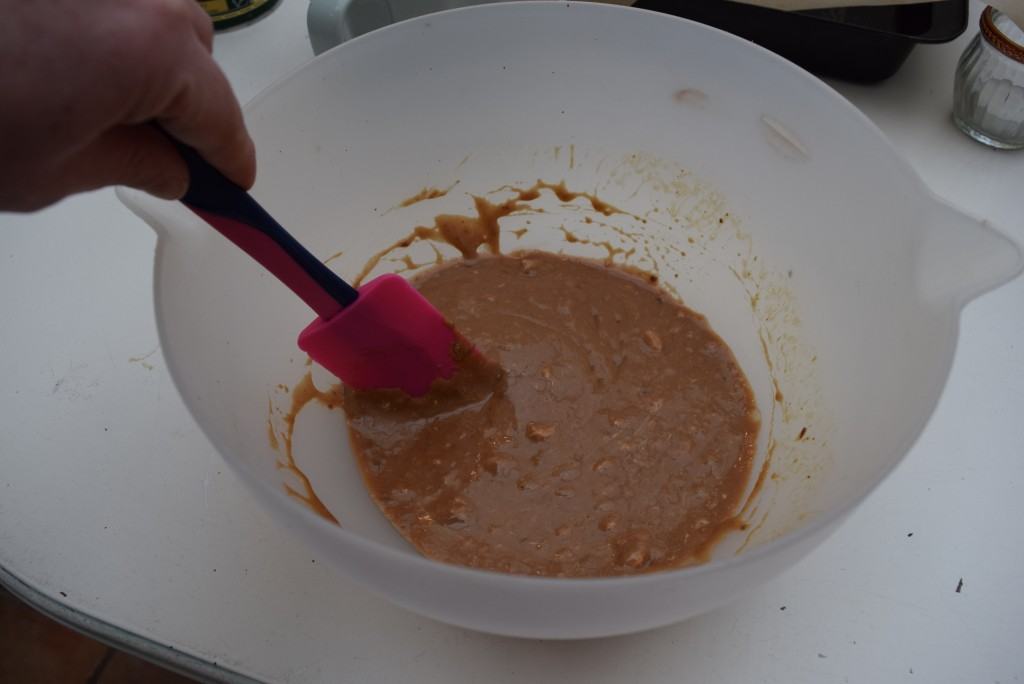 Attractive.
Weigh out your rice cereal and add this to the melted Mars Bar mix. Stir well to ensure the cereal is coated, it should be a lovely sticky mess and will taste amazing if you do feel like sampling a mouthful.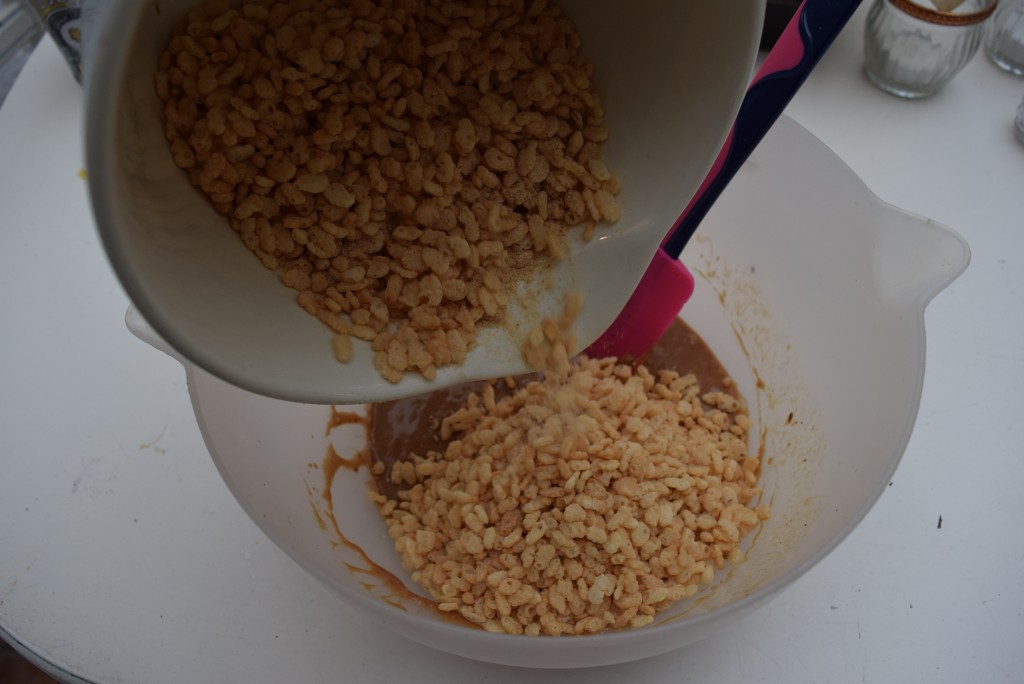 Press this into a lined 20cm x 20cm square tin, packing it down until you have a relatively level surface.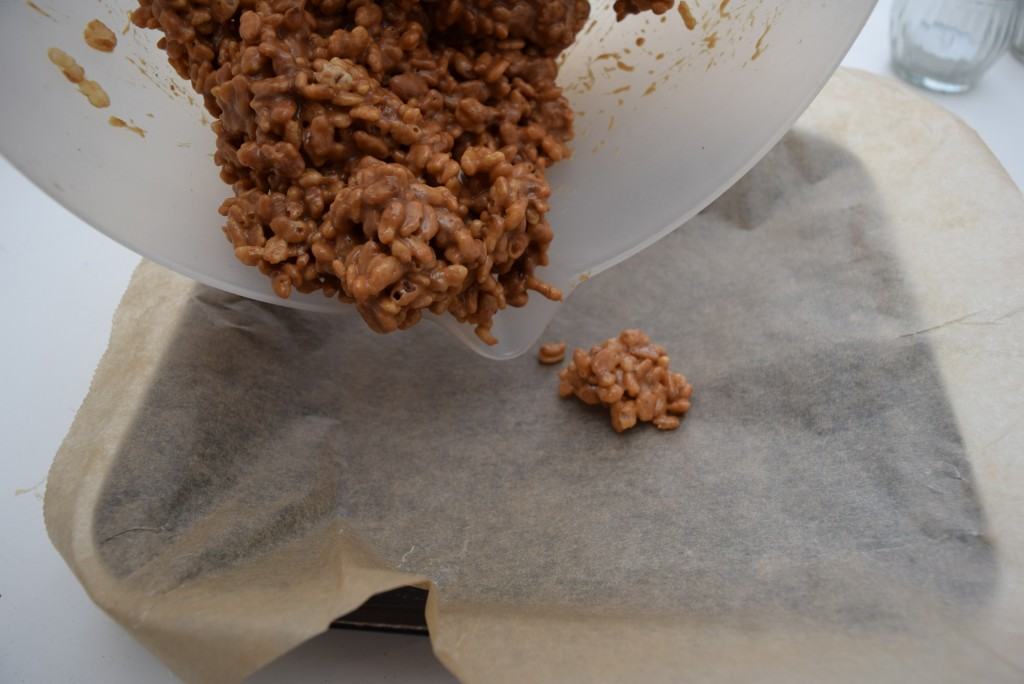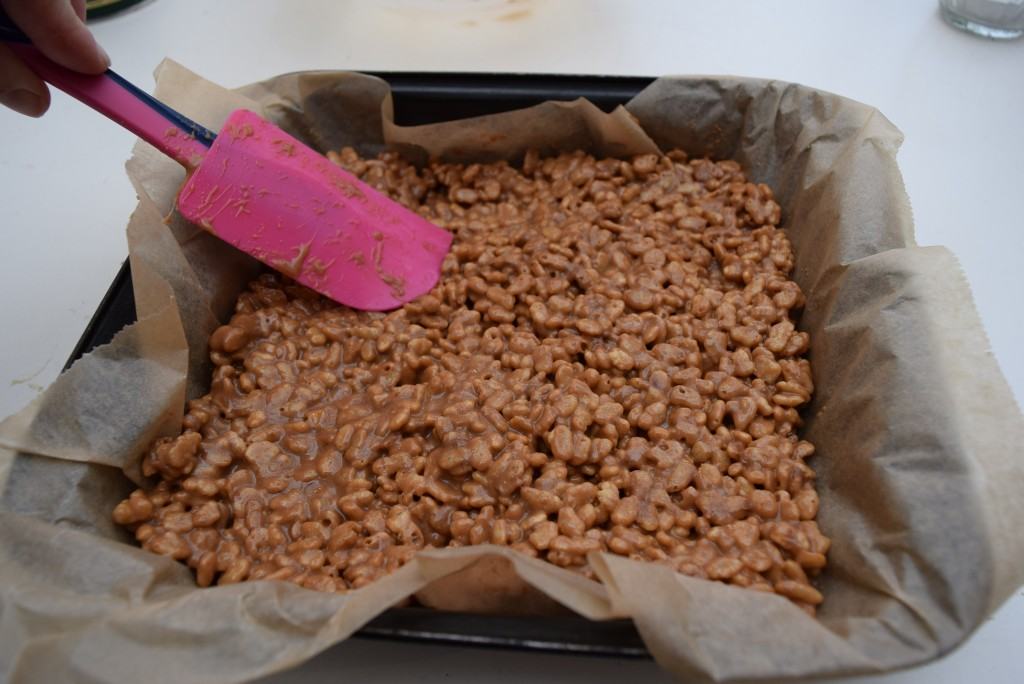 Pop this to one side to cool down while you melt the chocolate for the topping.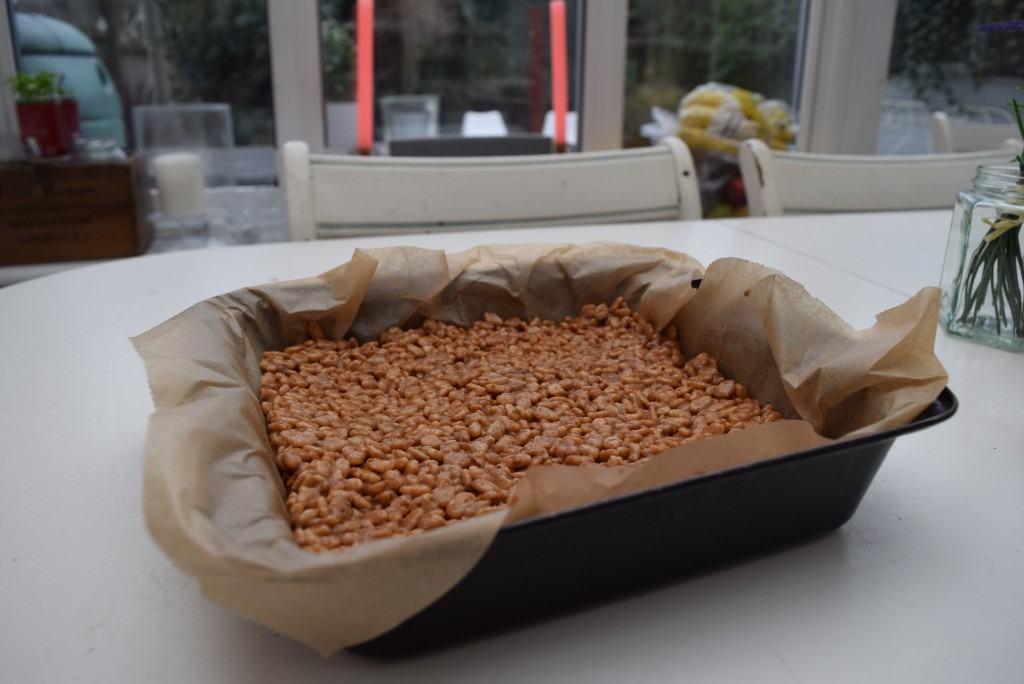 My kitchen table on a freezing cold, grey Saturday was a chilly enough place for the slab to cool.
In another heatproof bowl add the chocolate and butter and melt in the microwave or over a pan of simmering water, we've heard this all before, for about a minute and a half or until just starting to meld together. I used a mixture of both dark and milk chocolate to take the edge off the sweetness of the caramel krispie base.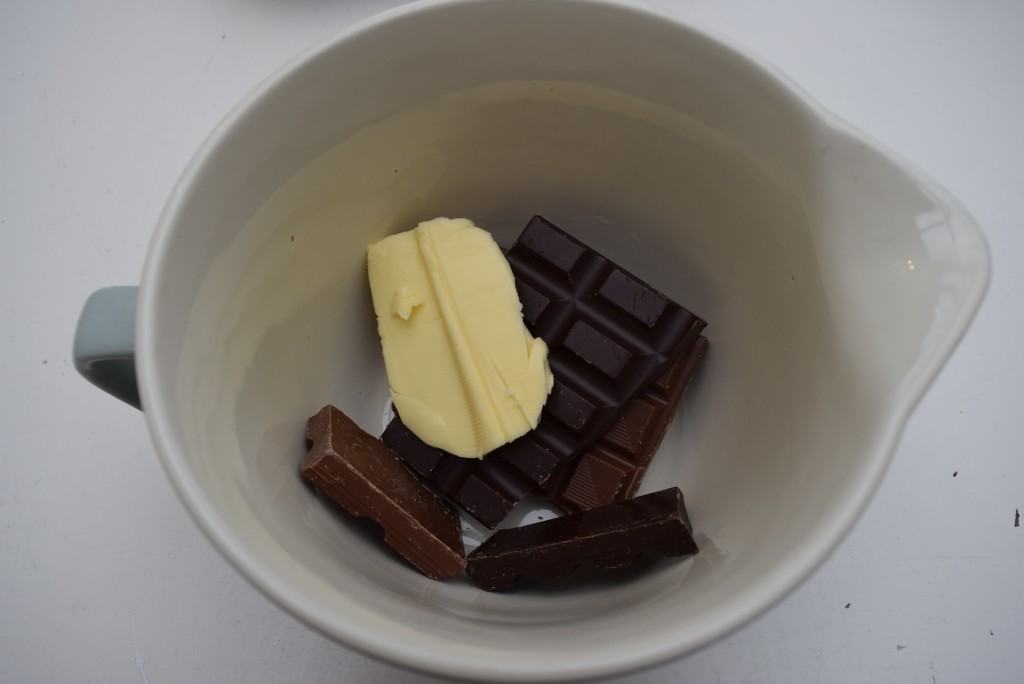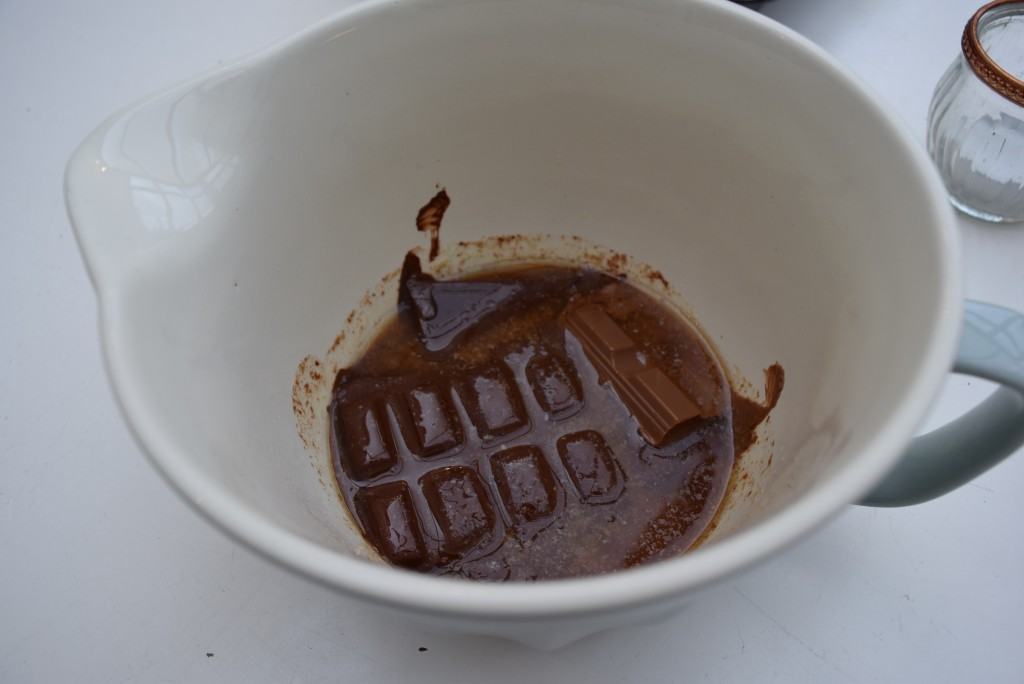 Stir this well until smooth and looking like something Augustus Gloop would like to swim in.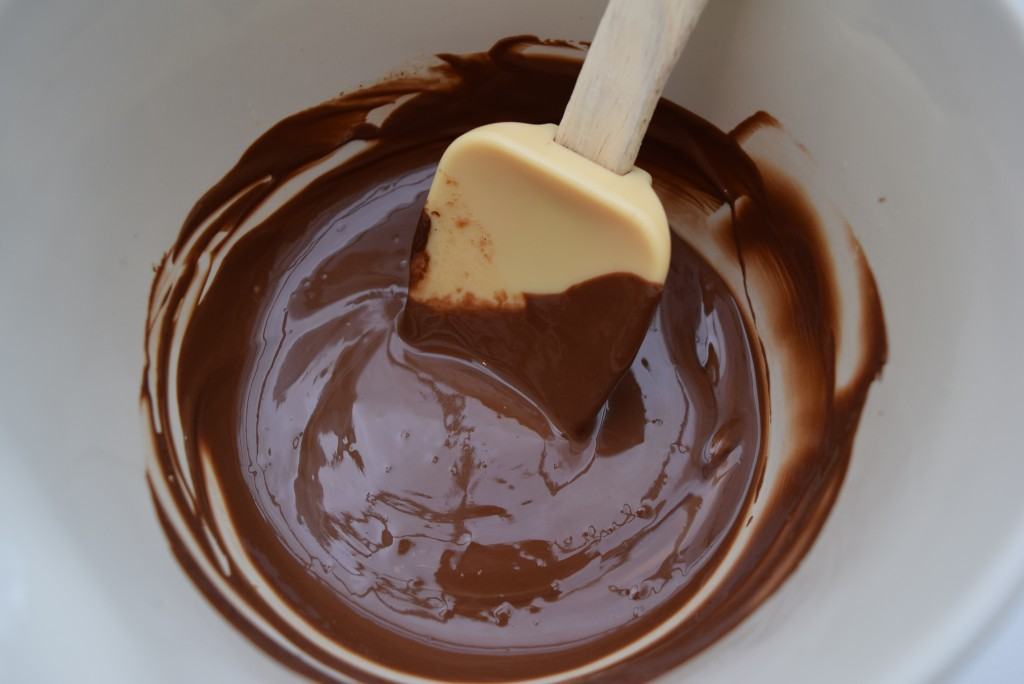 Pour this molten choc onto the cooled krispie base. Level it out by tipping the tray from side to side and smoothing the top.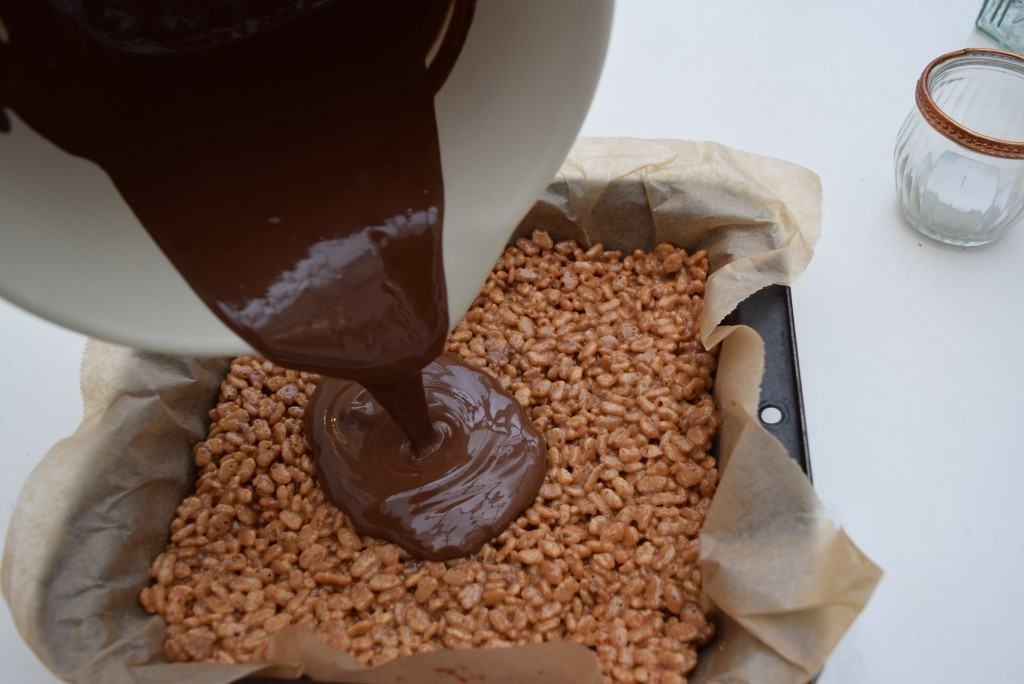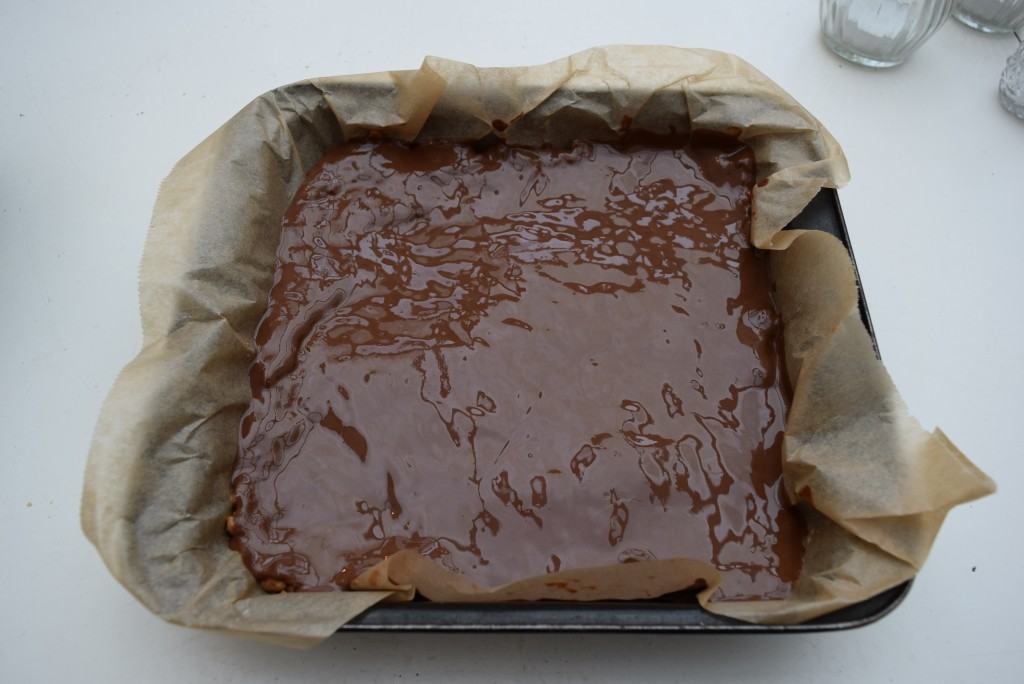 Put your tray of treats into the fridge for at least two hours to chill completely. Once this agonisingly long wait it over, cut this slab into smaller slabs.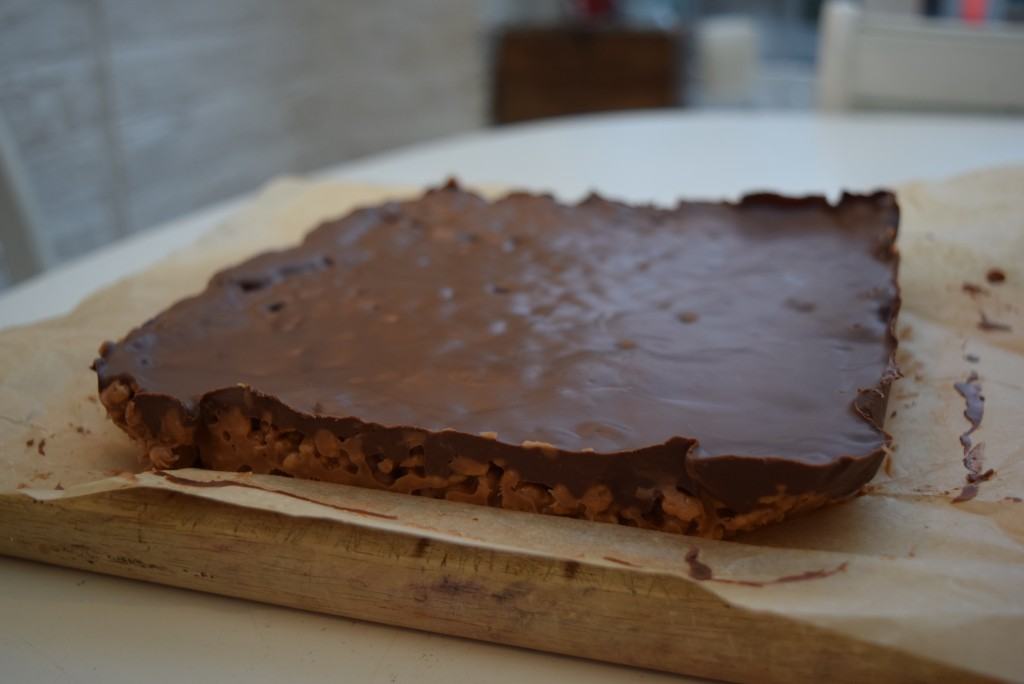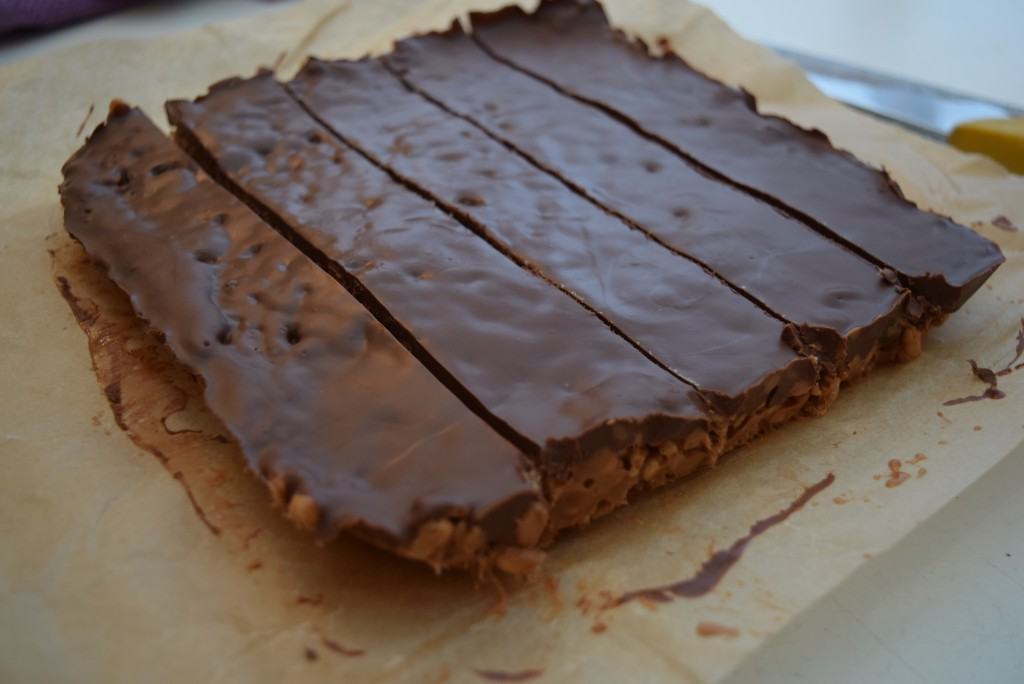 Audible tummy rumble.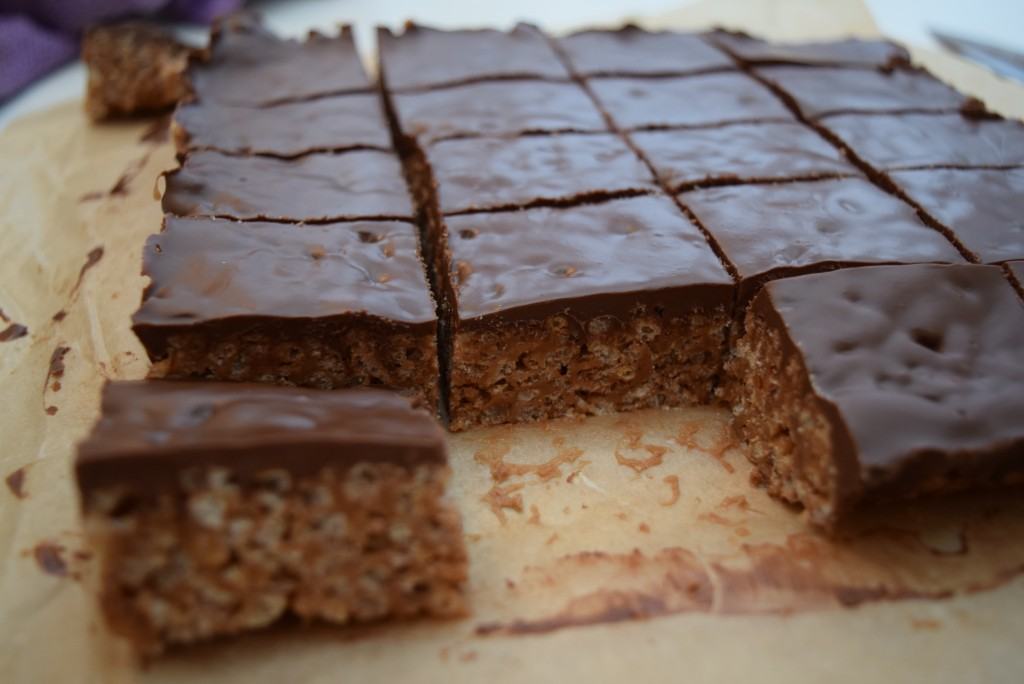 Keep this sticky, divine slab in the fridge if warm, or in our chilly house, it's fine in a tin on the side. To be fair, this batch did not get the chance to sit around. Devour before your children get their hands on it.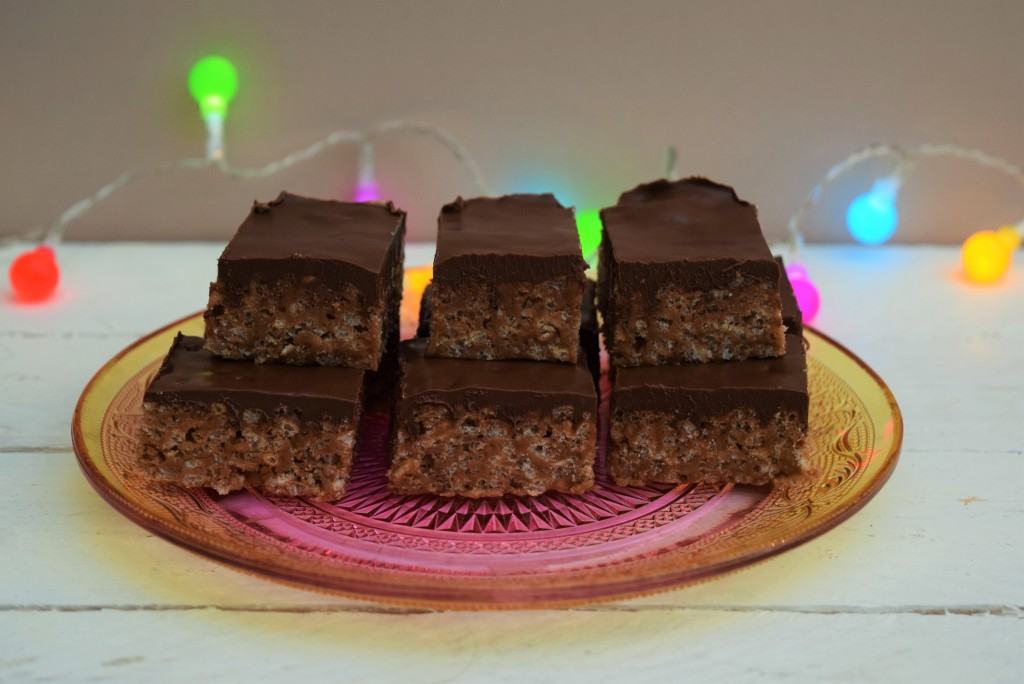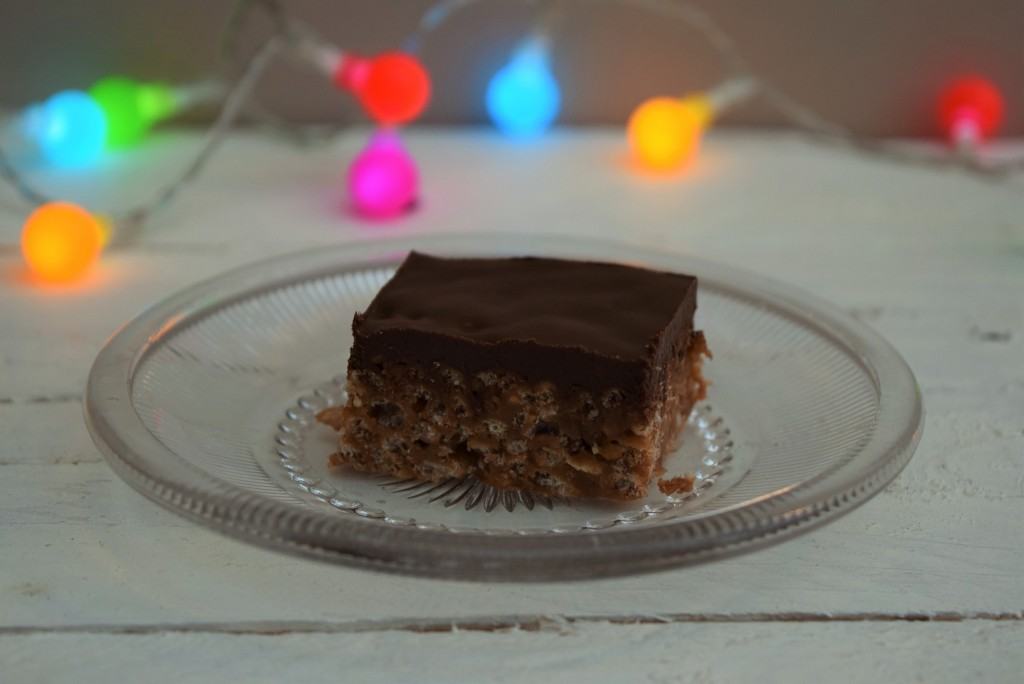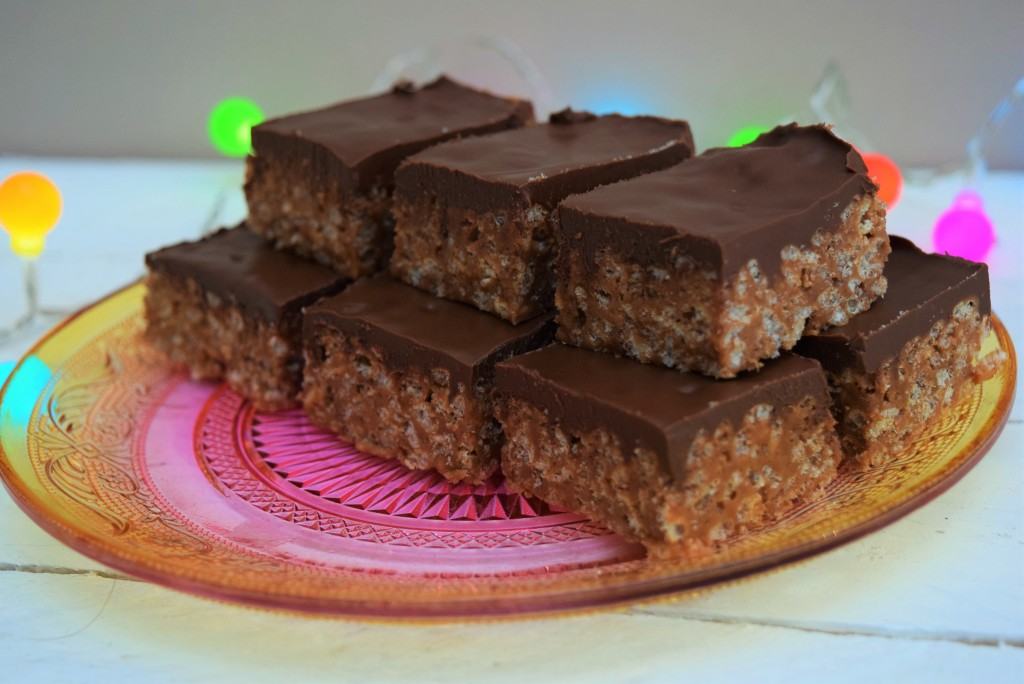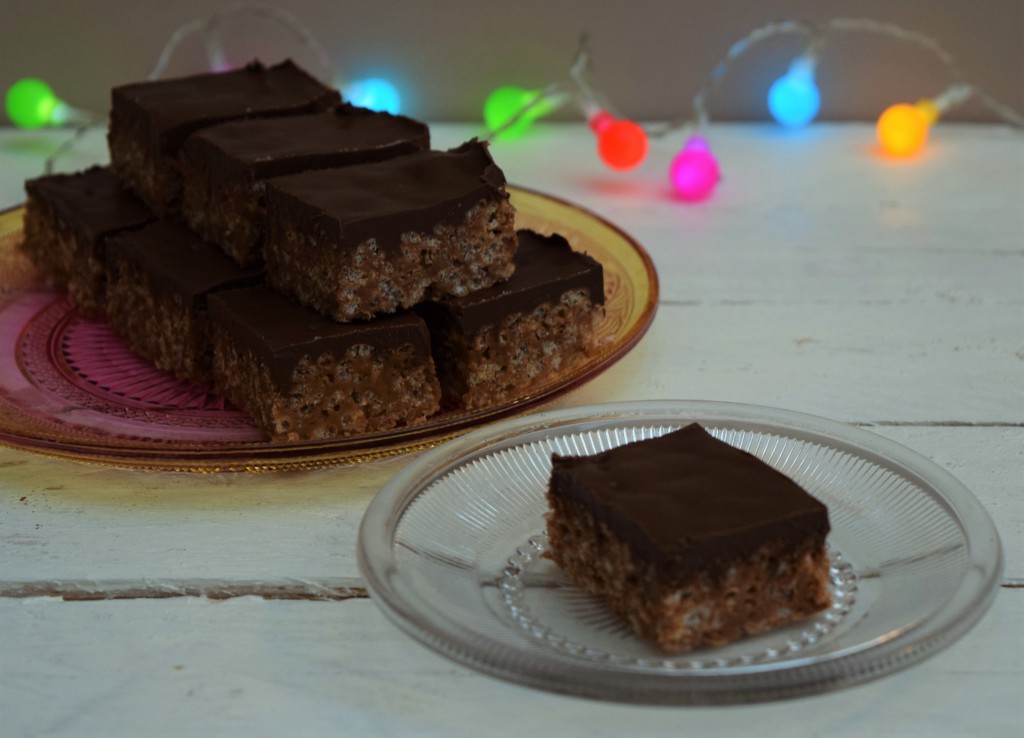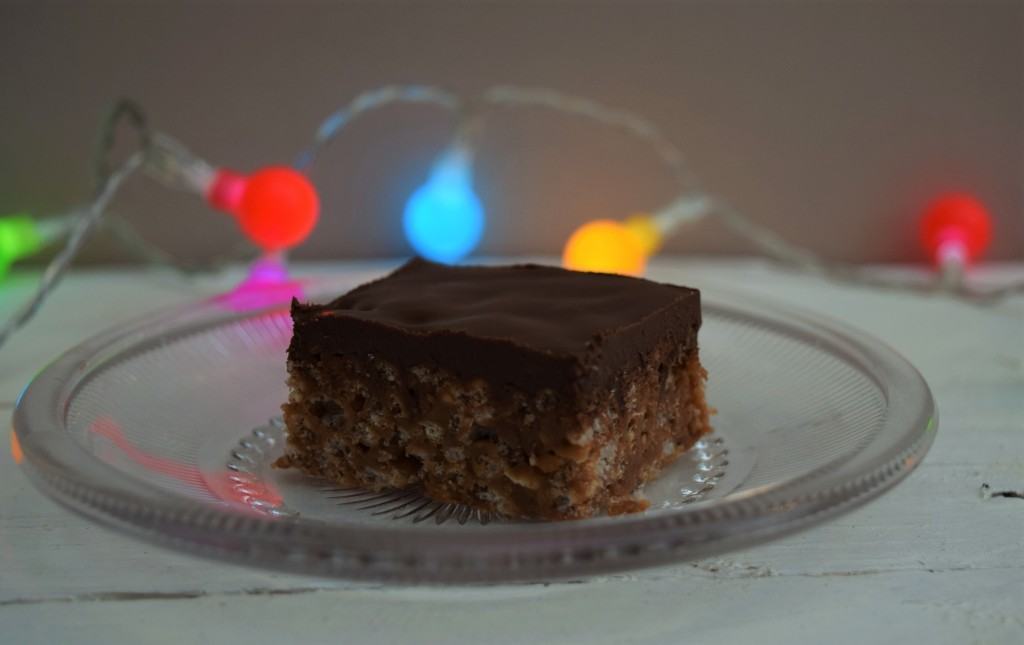 This Mars Bar Krispie Slab is entertainment as well as sustenance. It will keep you, or you and the children busy for 10 minutes or so while you make it. Then you will all be kept quiet while you sit and chomp through the entire batch *recipe can easily be doubled*.
Happy half term to you.
Lucy x
Mars Bar Krispie Slab Recipe
Makes about 16, or one big slab, not for sharing 
Approx 200g of Mars bars – I had 5 x 38g ones, randomly, they come in all different sizes
75g butter
2 tablespoons Golden syrup
100g Rice Krispies, or any puffed rice cereal you have to hand
Topping
200g chocolate, I used half milk and half dark
25g butter
You will need a lined 20cm x 20cm square baking tin.
Take a heat proof bowl and add the Mars bars broken into pieces, the butter and the golden syrup. Microwave or place over a pan of simmering water to melt. Mine took 2 minutes on medium in the microwave. Stir well to amalgamate all the ingredients, it will be smooth-ish. Pour in the rice cereal and make sure it's well coated. Press into a lined baking tin and make sure the surface is as flat as possible. Pop to one side to cool for a moment.
Melt the chocolate and butter for the topping, either in the microwave or over a pan of water, until just melding together. Stir well until smooth then pour on top of the krispie slab. Level as best as you can then put in the fridge to chill for at least 2 hours.
Cut into modest squares or bloody great big slabs. Keep covered in the fridge for up to a week, probably longer but I doubt this will ever happen.