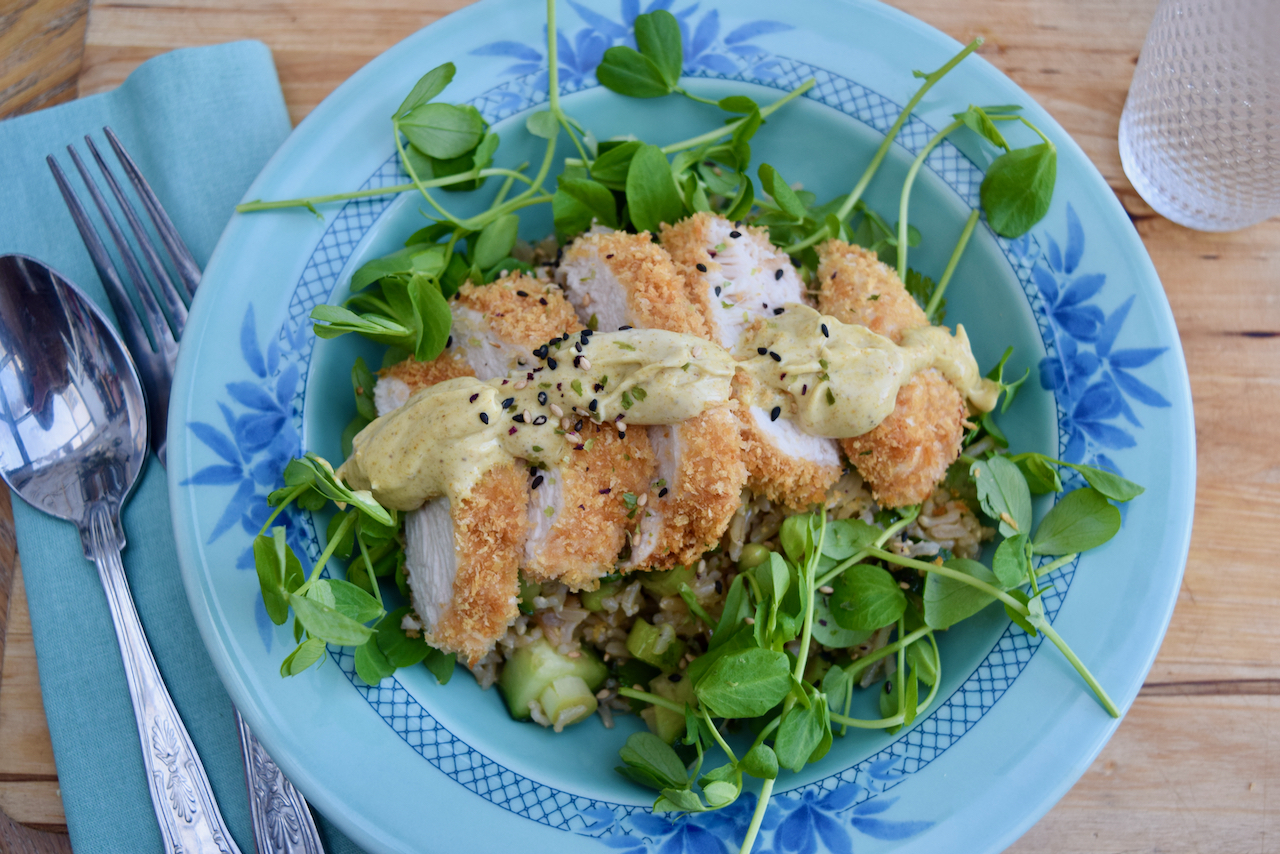 Katsu Chicken Salad Bowl recipe
Lockdown's not been kind to my figure. Meals are the highlight of my day along with misery baking and eating the same portion sizes as 3 hungry men, has left me feeling a little tubby, to put it mildly. All that plus my total lack of self control when it comes to the odd glass of midweek wine. So, this week I am going to try and be a little more mindful about what I'm putting in my mouth, starting with this delicious Katsu Chicken Salad Bowl.
I nipped to M&S recently to pick up a parcel and was wooed by their lovely pre packed salad selection. I bought the chicken katsu salad at huge expense and mentally committed its contents to memory vowing to make it myself, then promptly forgot about it. Until now. I've bastardized several recipes and come up with this delicious combination of brown rice, dressed with a soy and ginger dressing, packed with crisp green vegetables and topped with oven baked breaded chicken. A modest dollop of curry mayonnaise completes the line up. It looks like a bit of work, but this is enough to keep me in lunches for at least three days, or so I thought. Ben ate two portions without a backward glance leaving me having to make another batch today.
This recipe is really just for inspiration. Use your favourite salad bits or use tofu instead of chicken. I will just be using it to keep me away from the family sized bar of Galaxy hidden at the back of the fridge.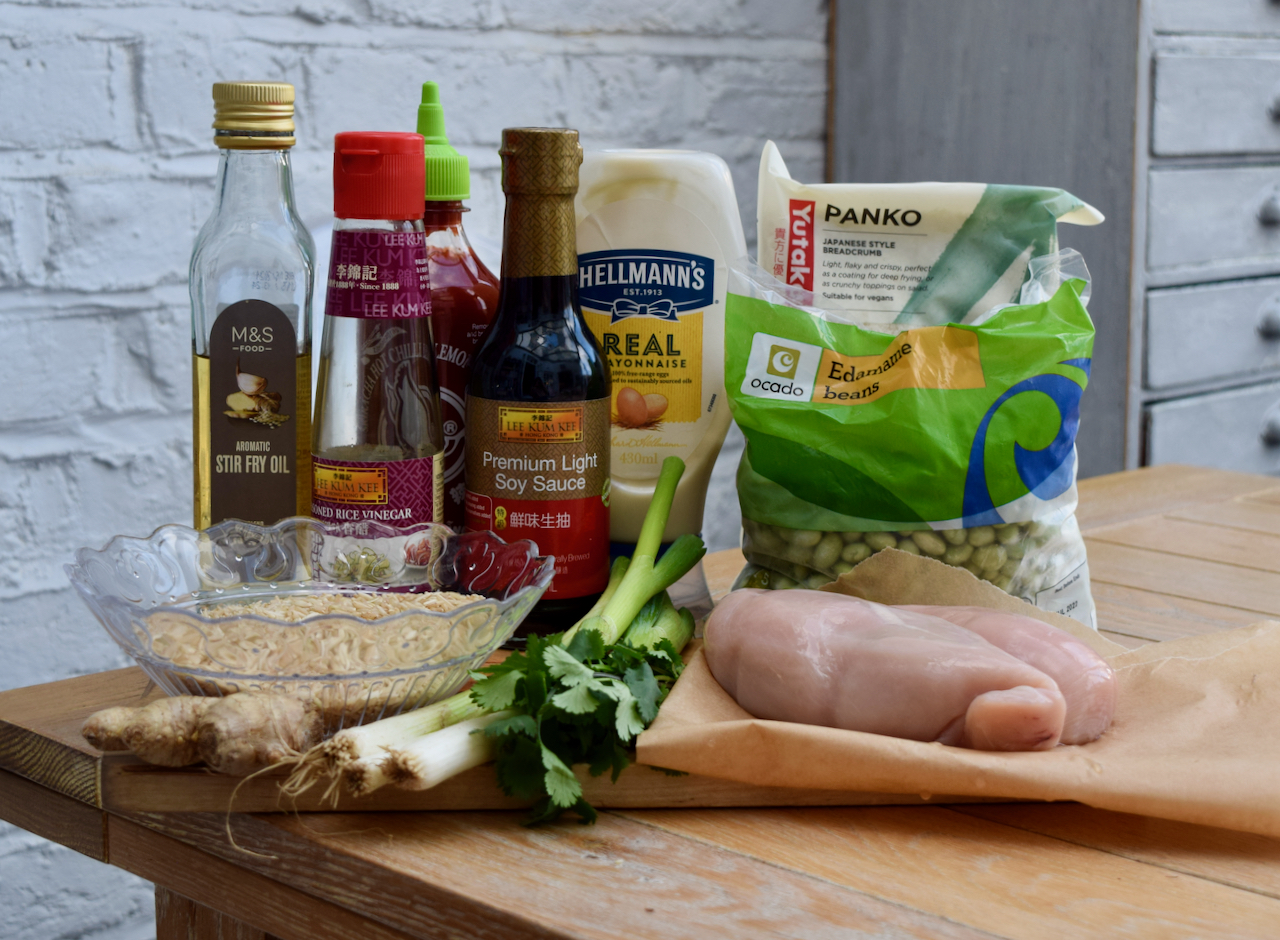 Quite a busy board for this, but there's nothing you won't find lurking at the back of the cupboard. If you would rather use a bought dressing or shop breaded chicken or leftover roast chicken, feel free. Add the vegetables you like too; I love an edamame and frozen ones are readily available and a handy, protein laden standby.
This all comes together in stages, but a good place to start is the brown rice as it takes forever to cook. 5 minutes before the end of the cooking time, add the frozen edamame then drain the whole lot and leave to cool.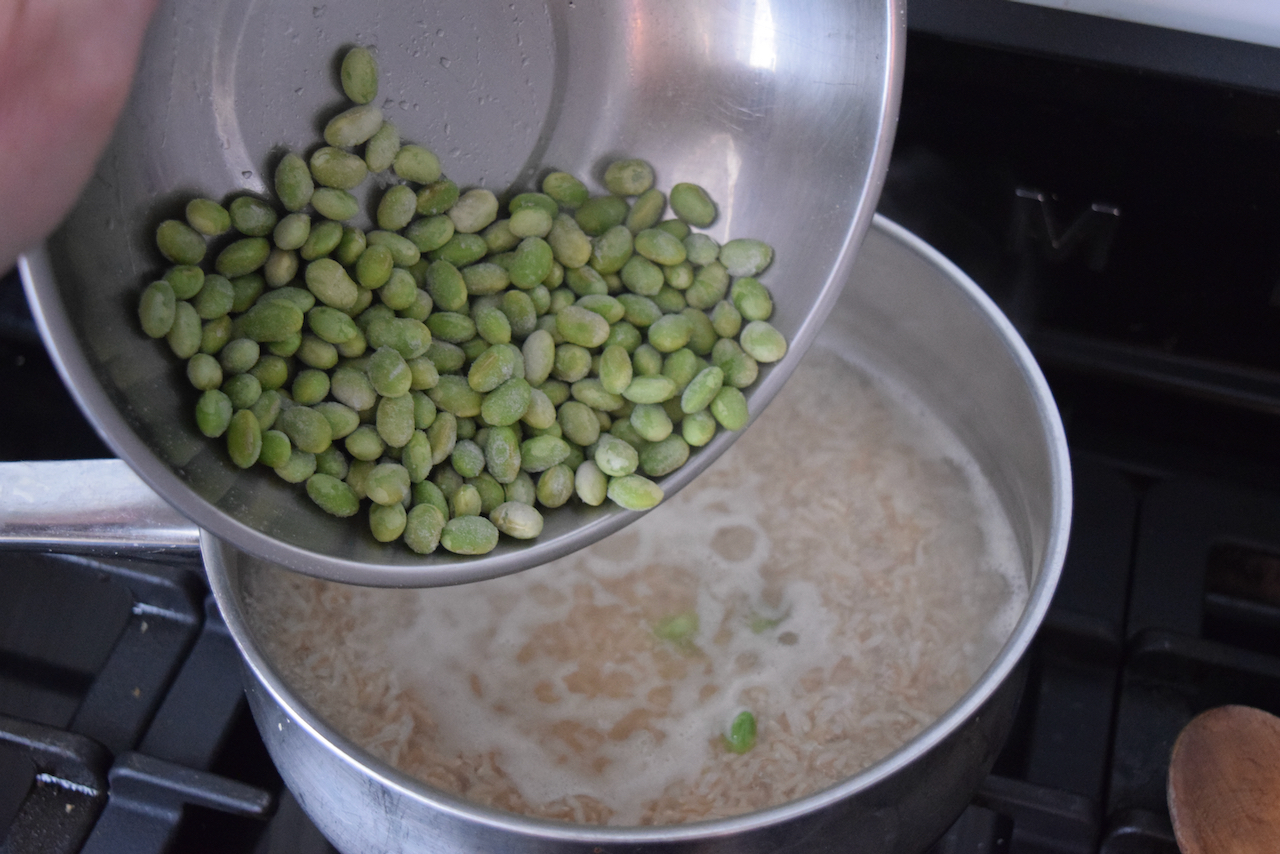 Next up, pre heat your oven to 170 degrees fan and spread the panko crumbs out in an even layer on a large baking sheet. Spritz with a little oil then bake for around 5 minutes or until just golden.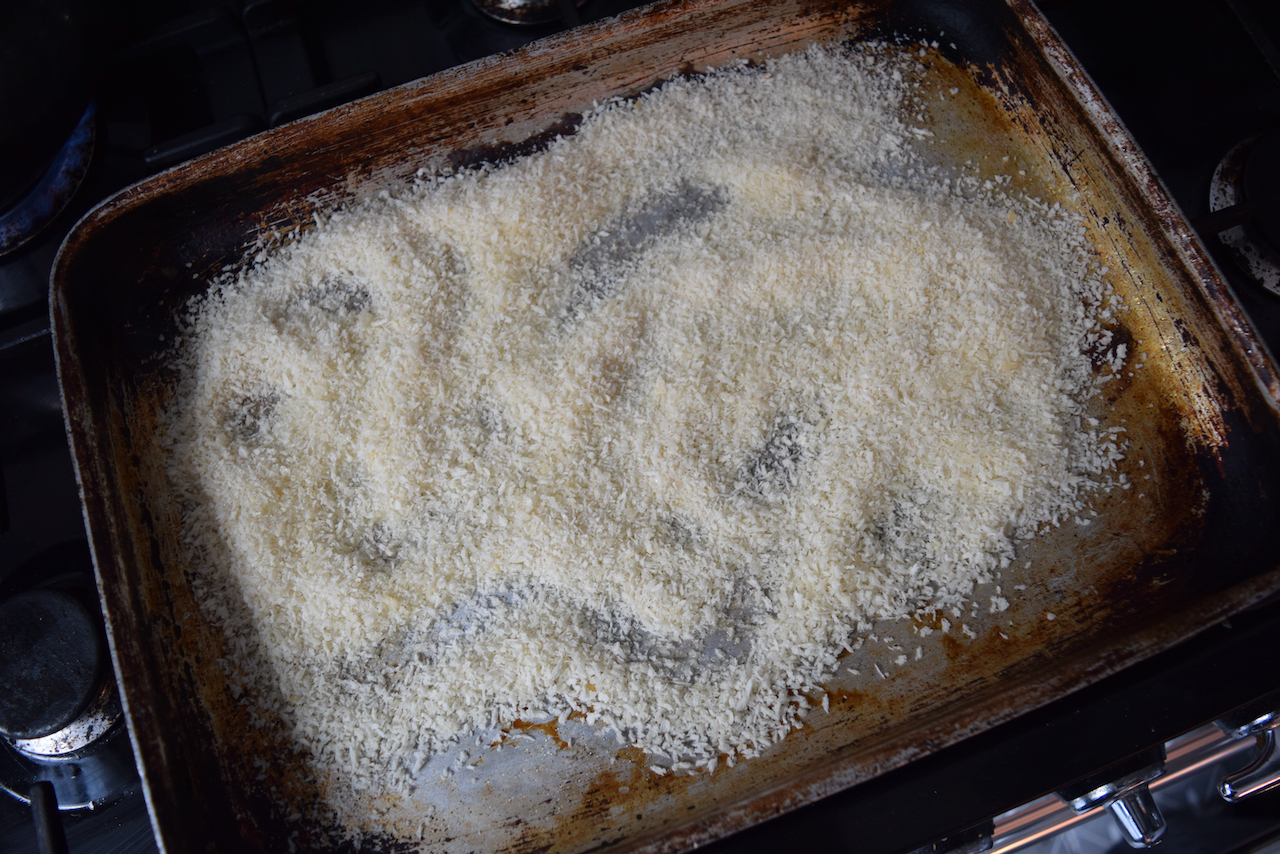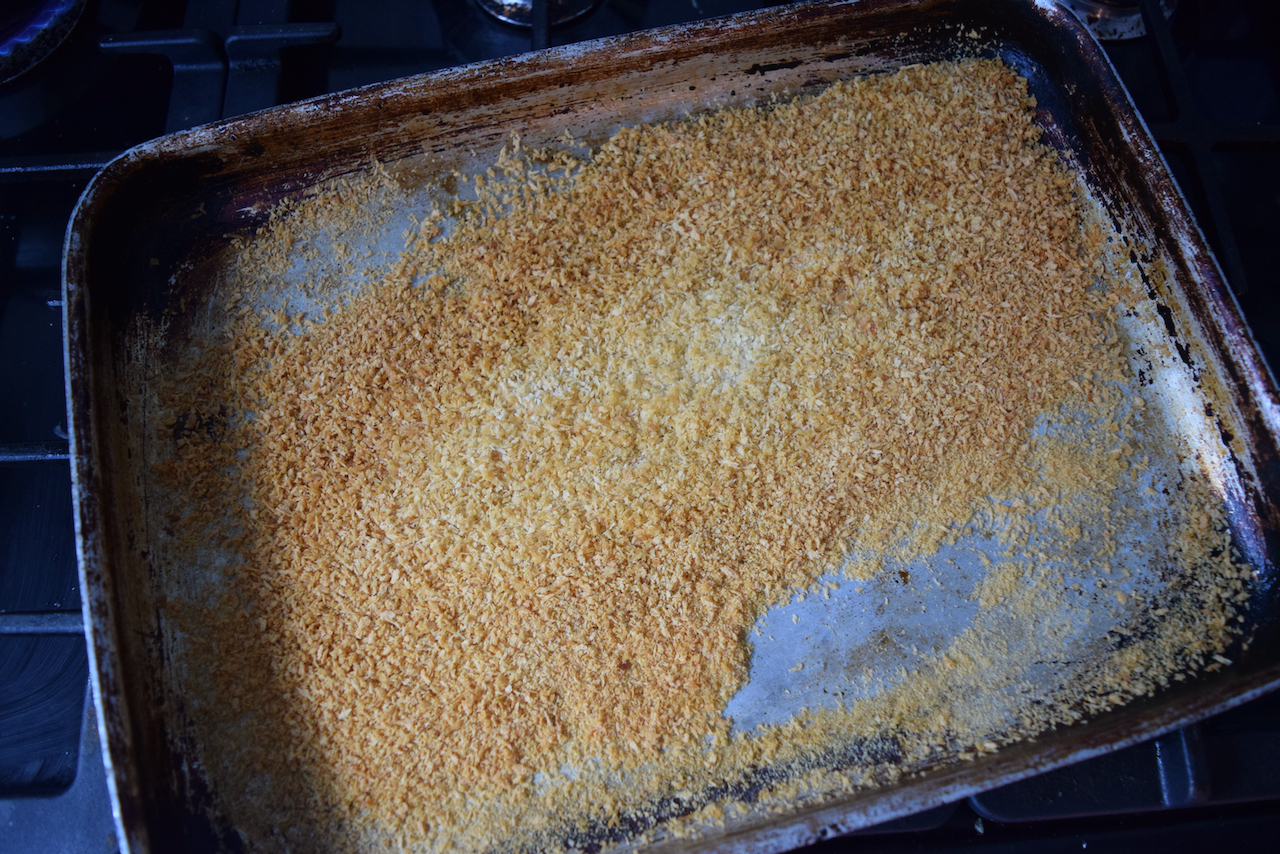 Tip these onto a plate and leave to cool. Now instead of the egg, flour, crumb drama, you're just going to coat your chicken in mayo. This will help keep it *eek* moist whilst baking. Slather about a tablespoon of mayo on each chicken breast.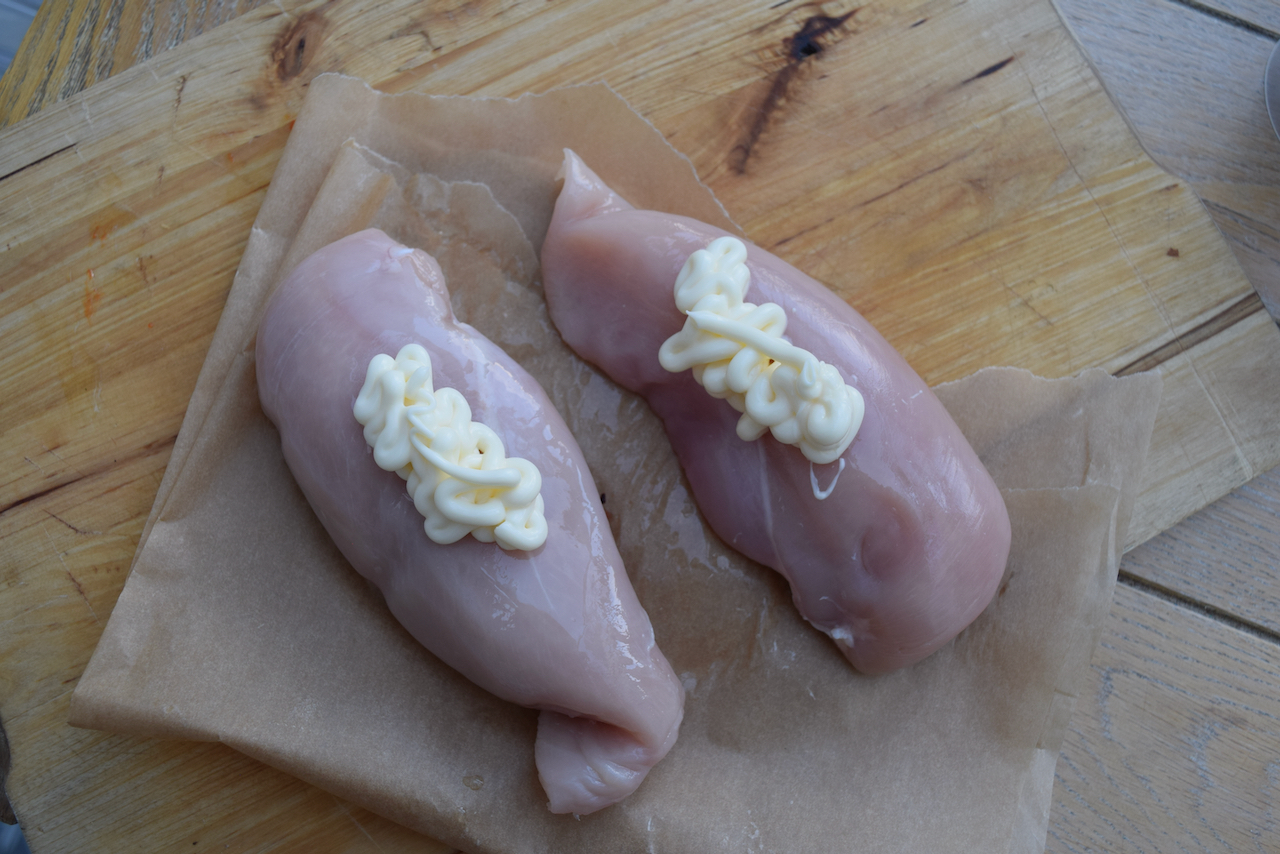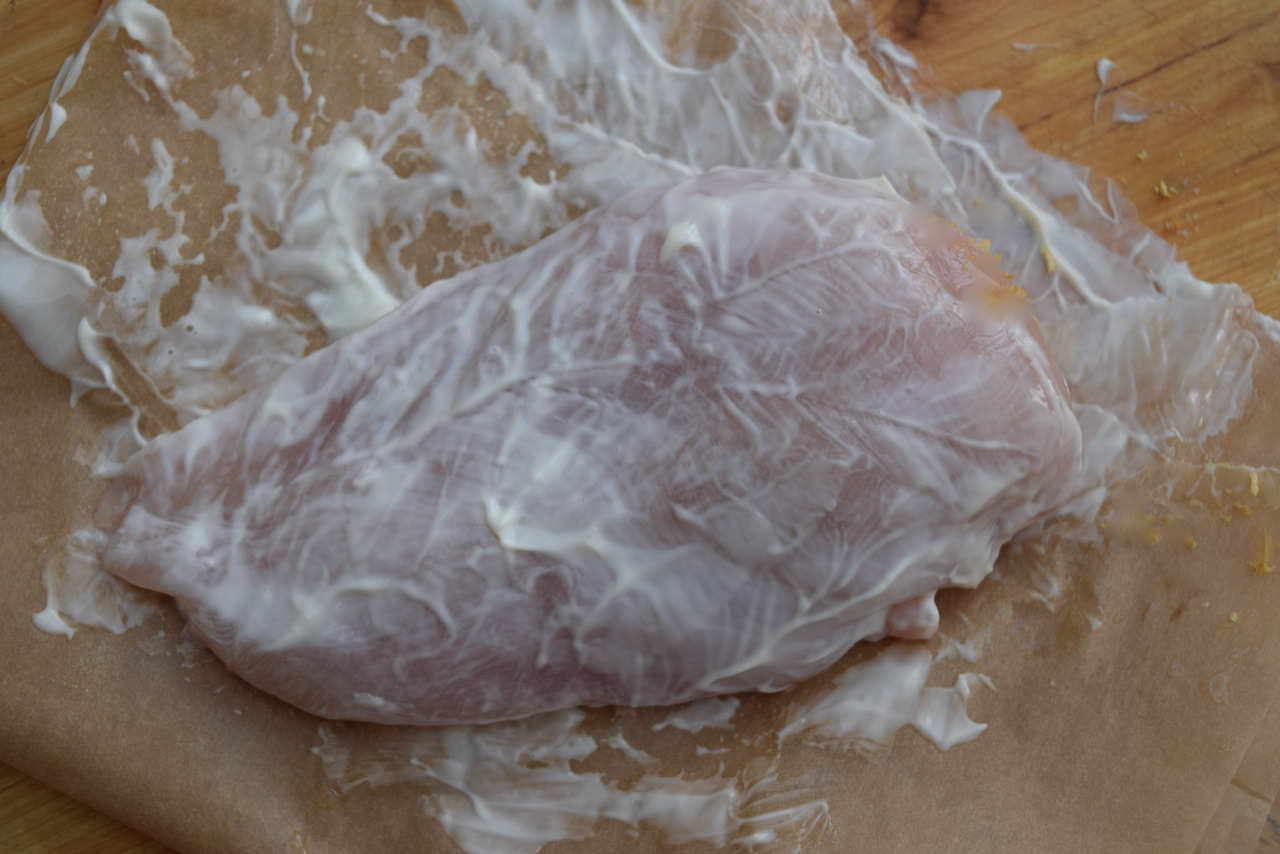 Coat the chicken liberally in the toasted panko then put onto a lined baking tray.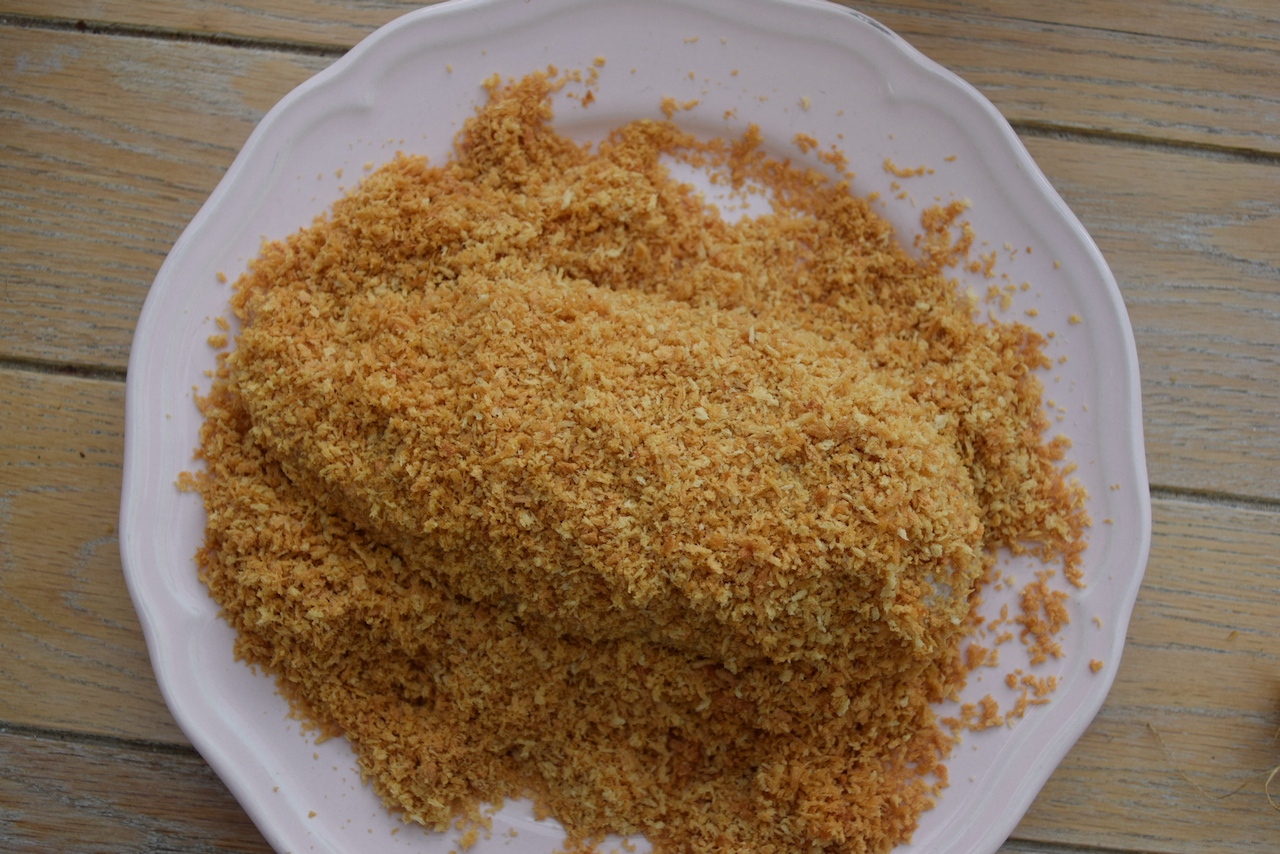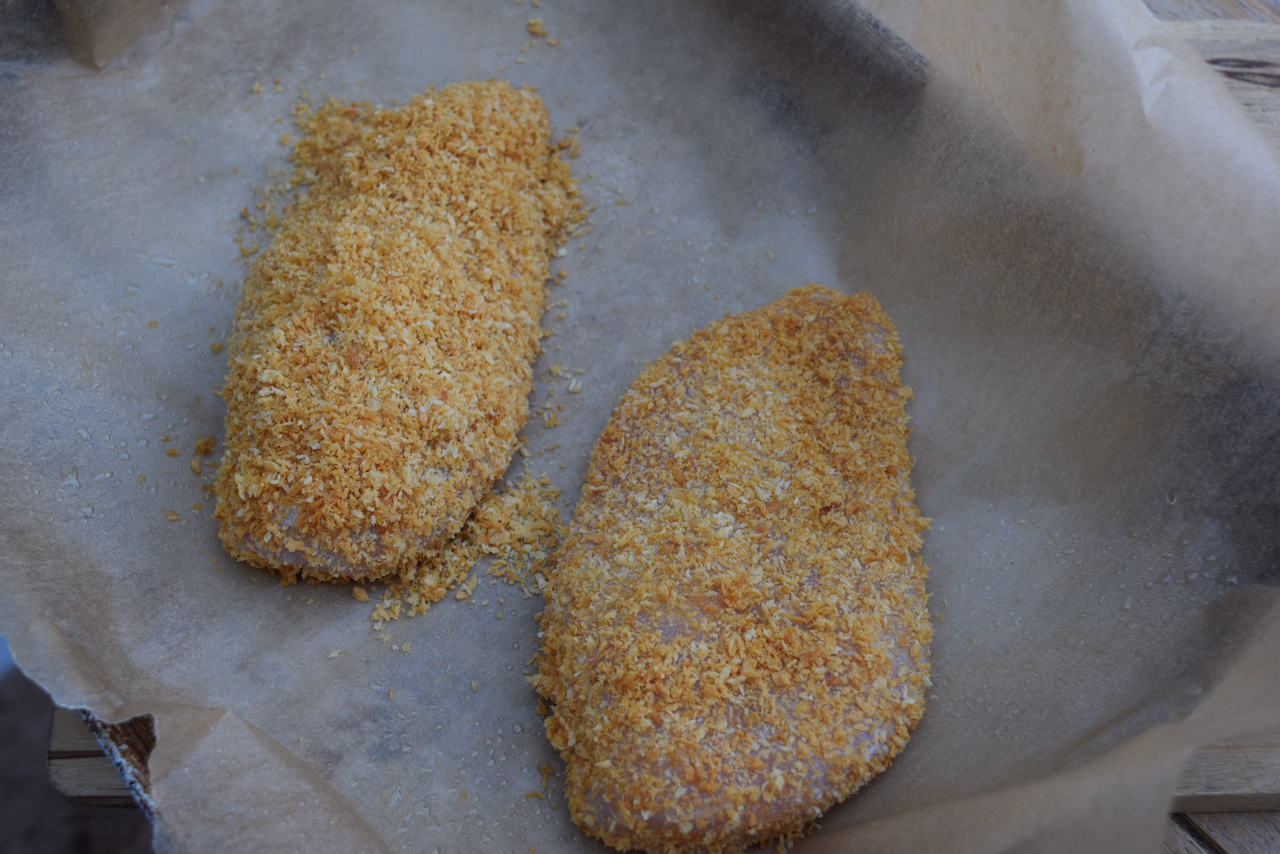 Season with salt and pepper, add a drizzle or spray of oil then bake for 20 to 25 minutes, or until your chicken is cooked through and piping hot.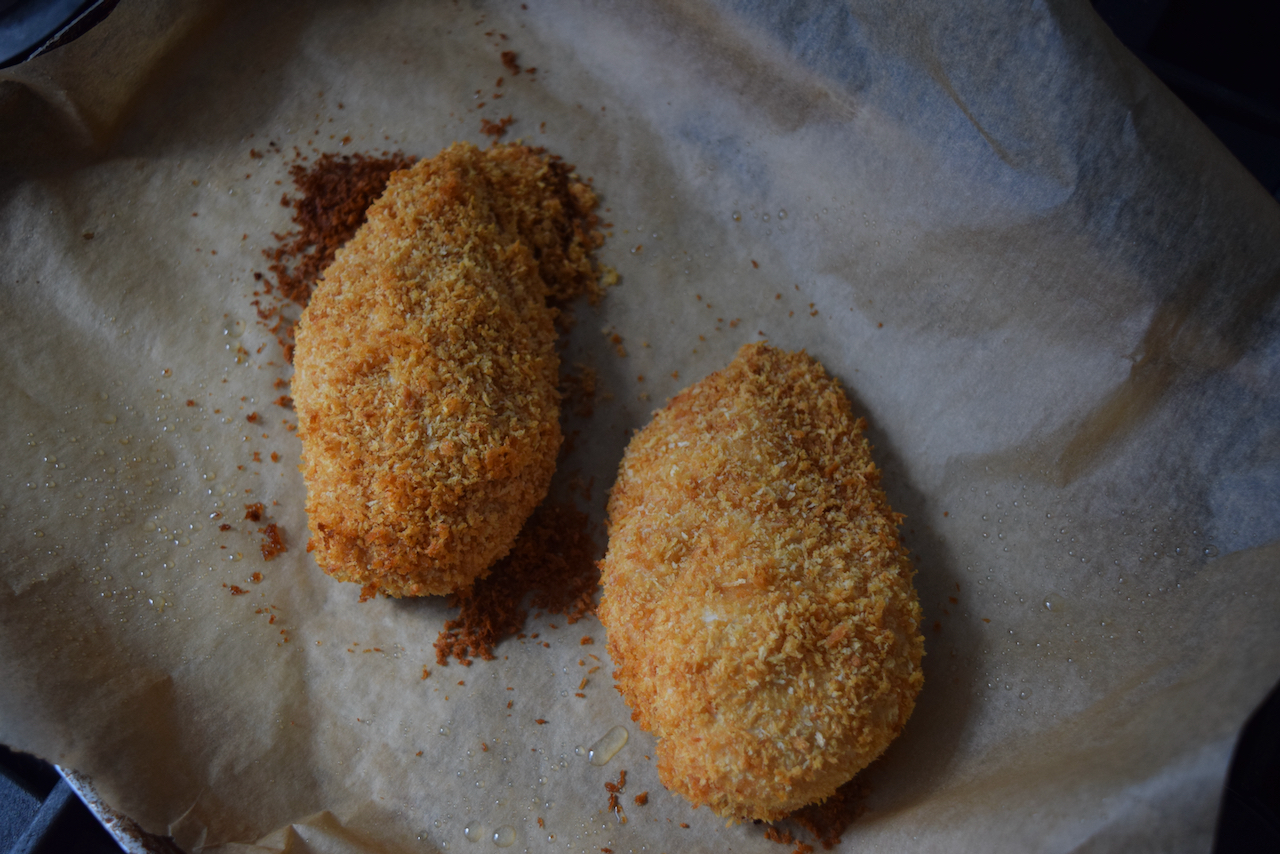 Leave to cool while you make the dressing. Simply add the oil, rice vinegar, soy, sriracha and grated/crushed ginger to a small jar. Shake to combine. Btw, I used a seasoned wok oil as it had a lovely hint of sesame to it.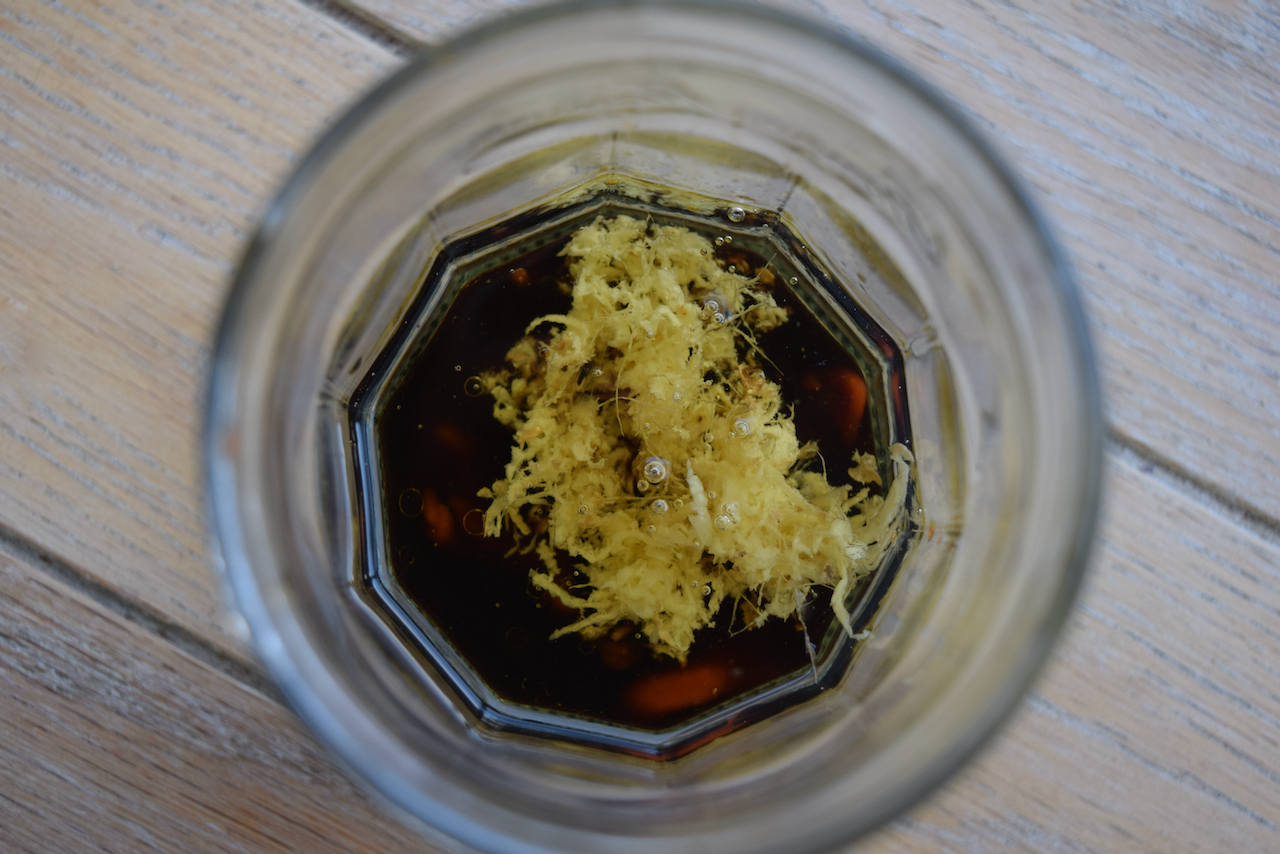 Pop this to one side while you make the curry mayonnaise. This couldn't be any simpler if it tried. Just mix mayonnaise, curry powder and lemon juice and stir until smooth.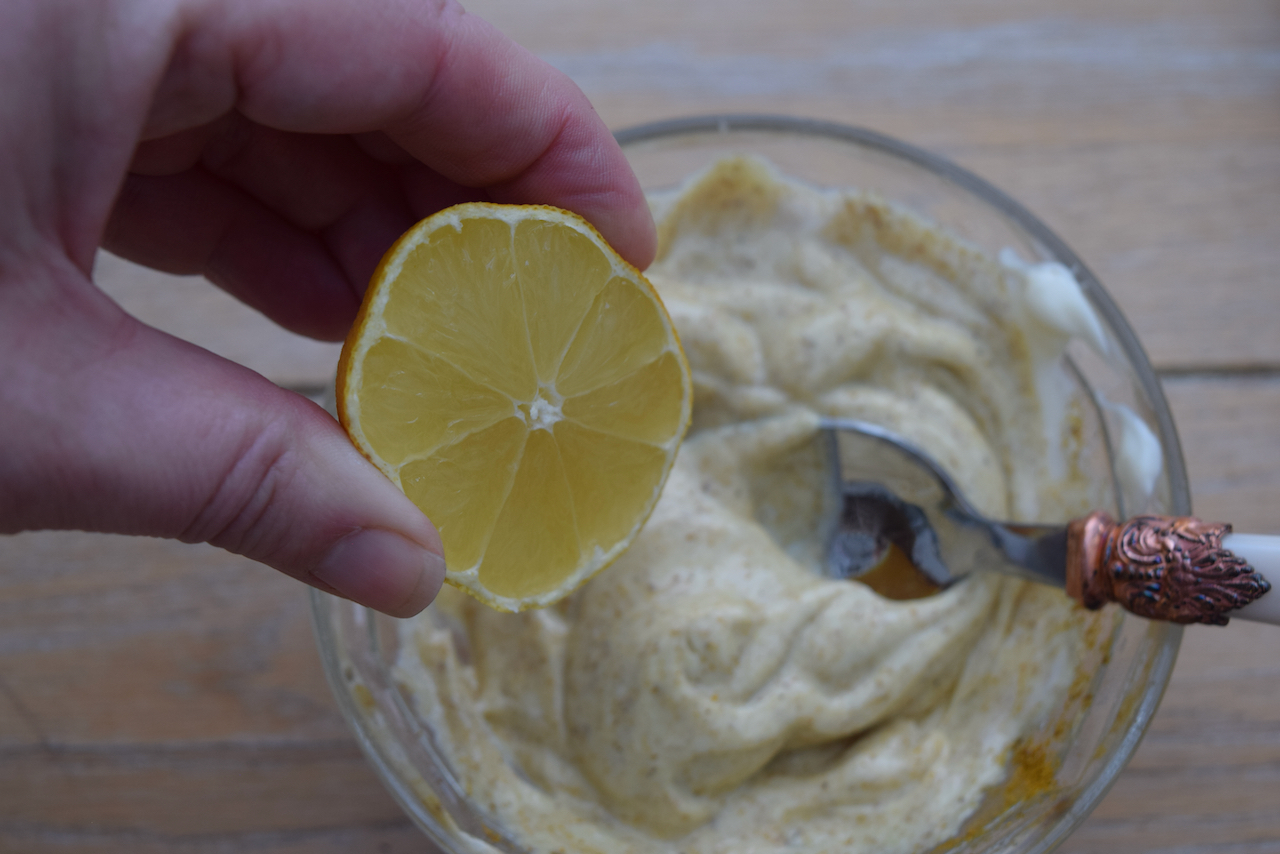 It's now time to assemble, and more importantly, eat your Katsu Chicken Salad.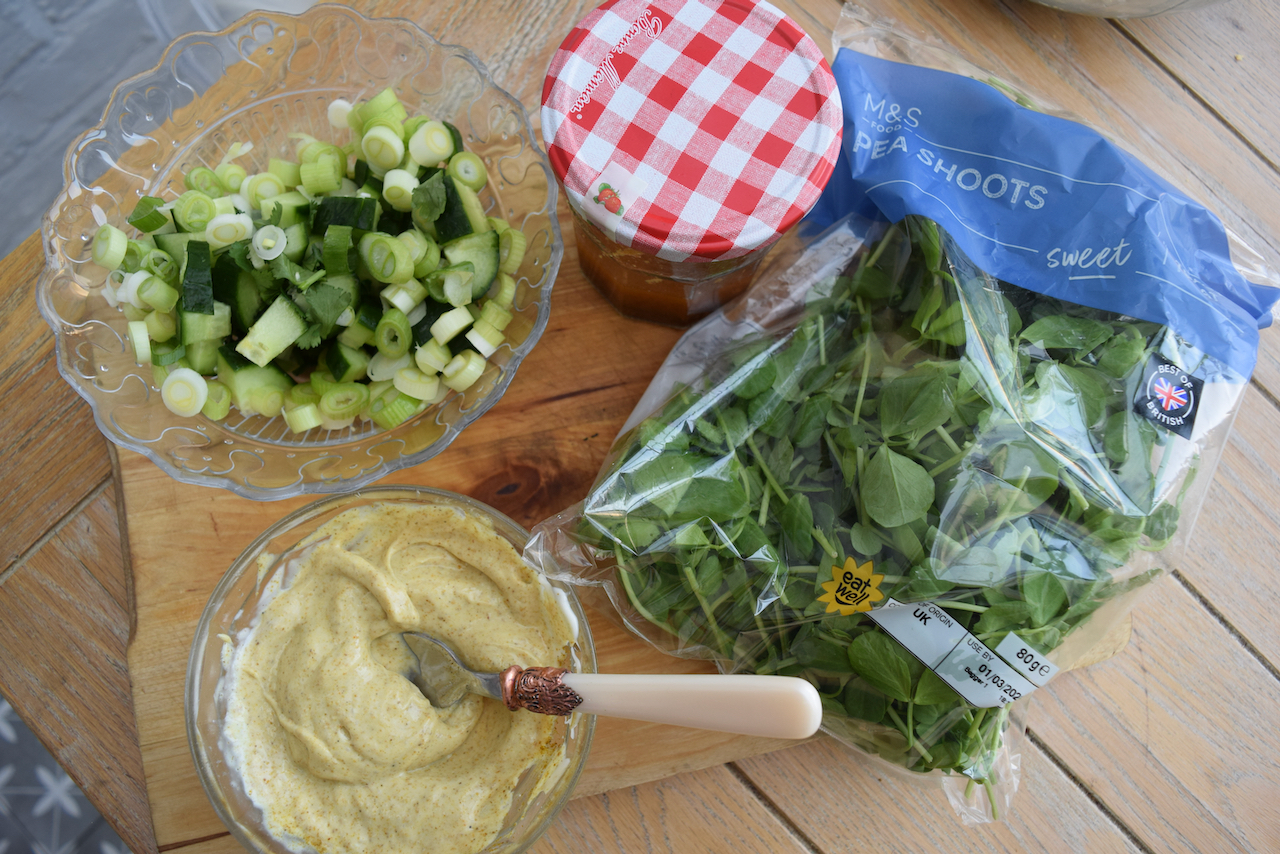 Tip your drained rice and edamame mixture into a large bowl then pour on the dressing. Stir well to coat the rice.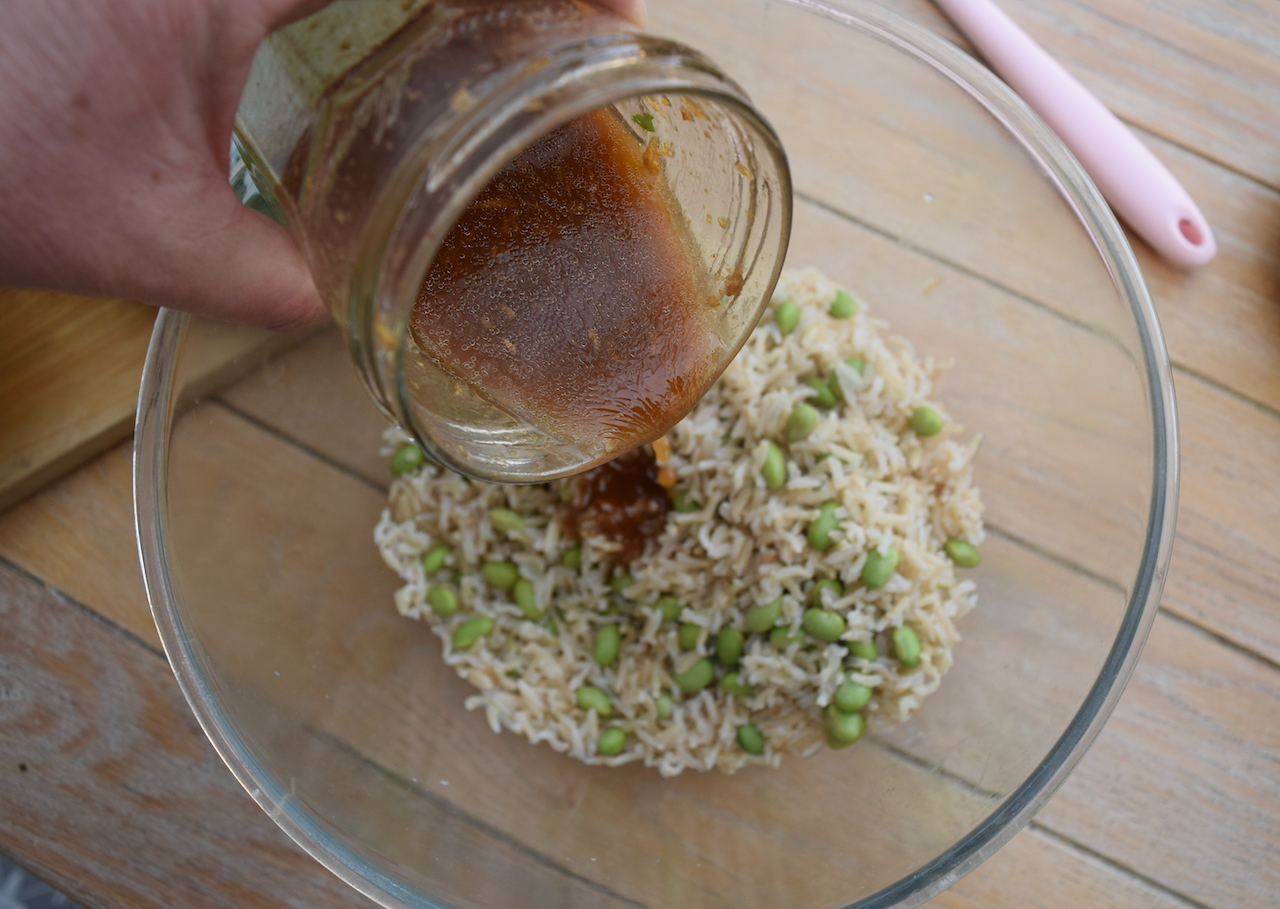 Add the spring onions, cucumber and fresh coriander; these were my choices, yours can be whatever you want them to be. Give it all a good toss.
And that's it apart from slicing your succulent oven baked breaded chicken and adding it to a generous bowlful of the rice salad. Add leaves at this point if you like; I love the spring-like flavour of pea shoots.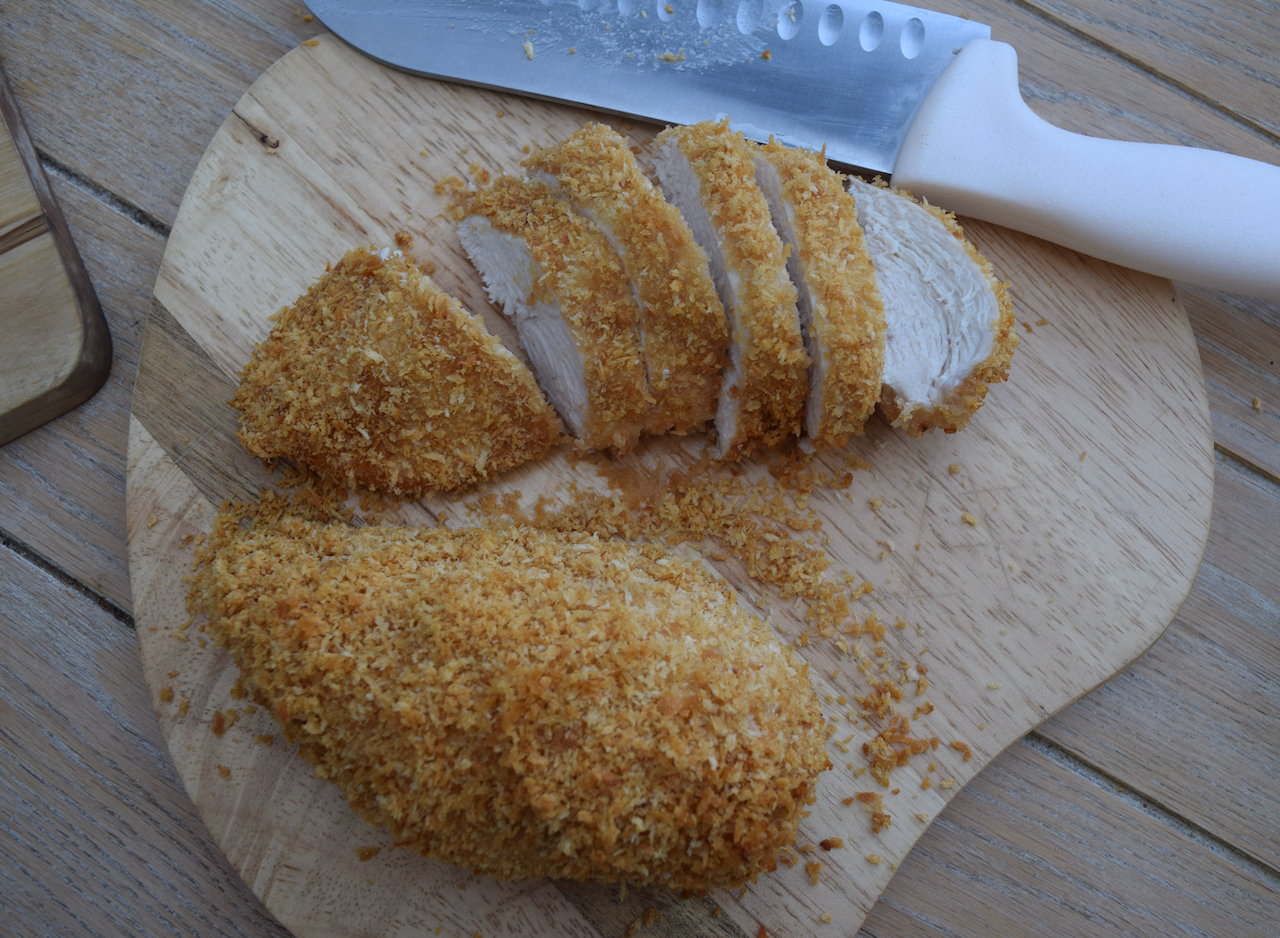 Don't forget to liberally dollop on the curry mayo; for me this is the best part of the whole dish. Tuck in, reasonably guilt free. Optional sprinkle of sesame seeds if you're showing off.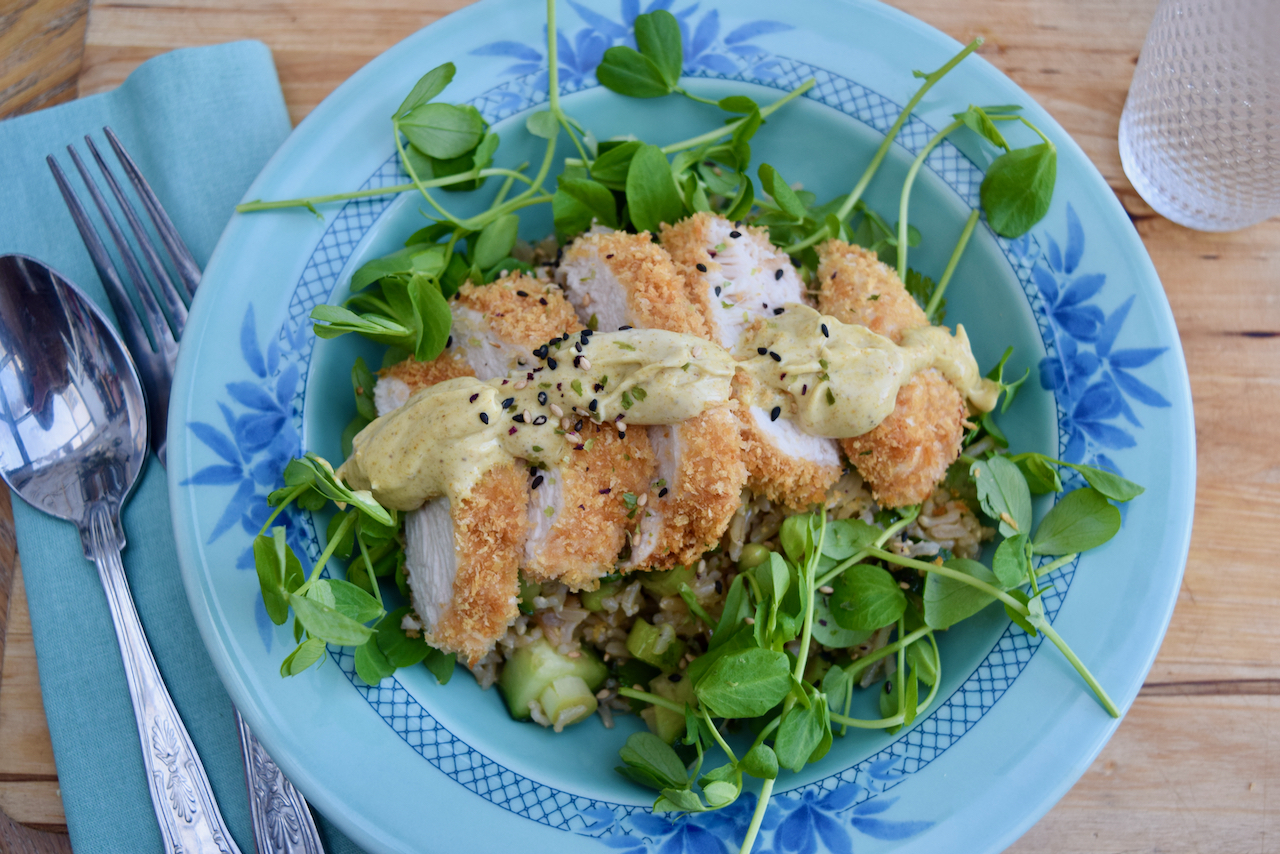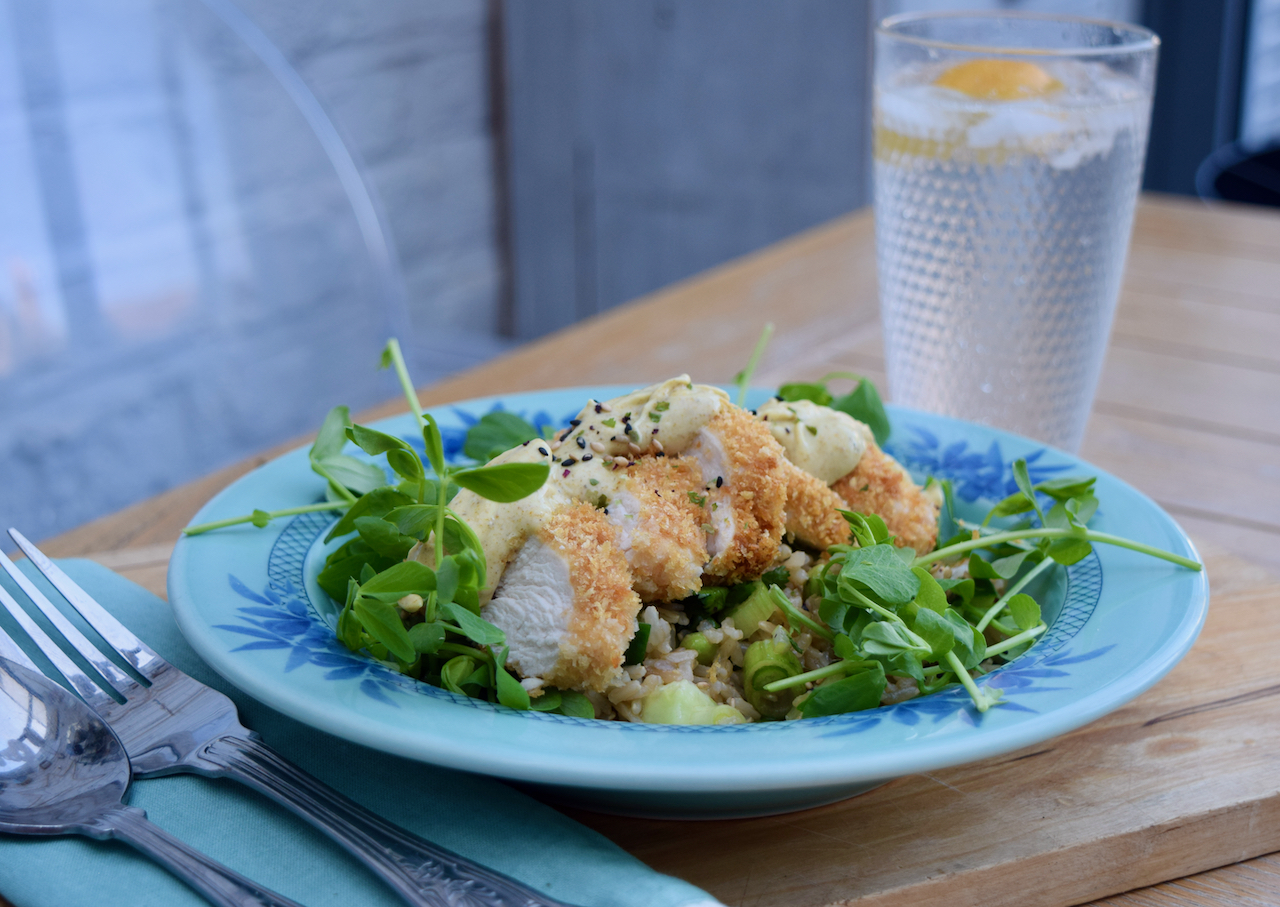 That's fizzy water with lemon sadly, not a gin and tonic.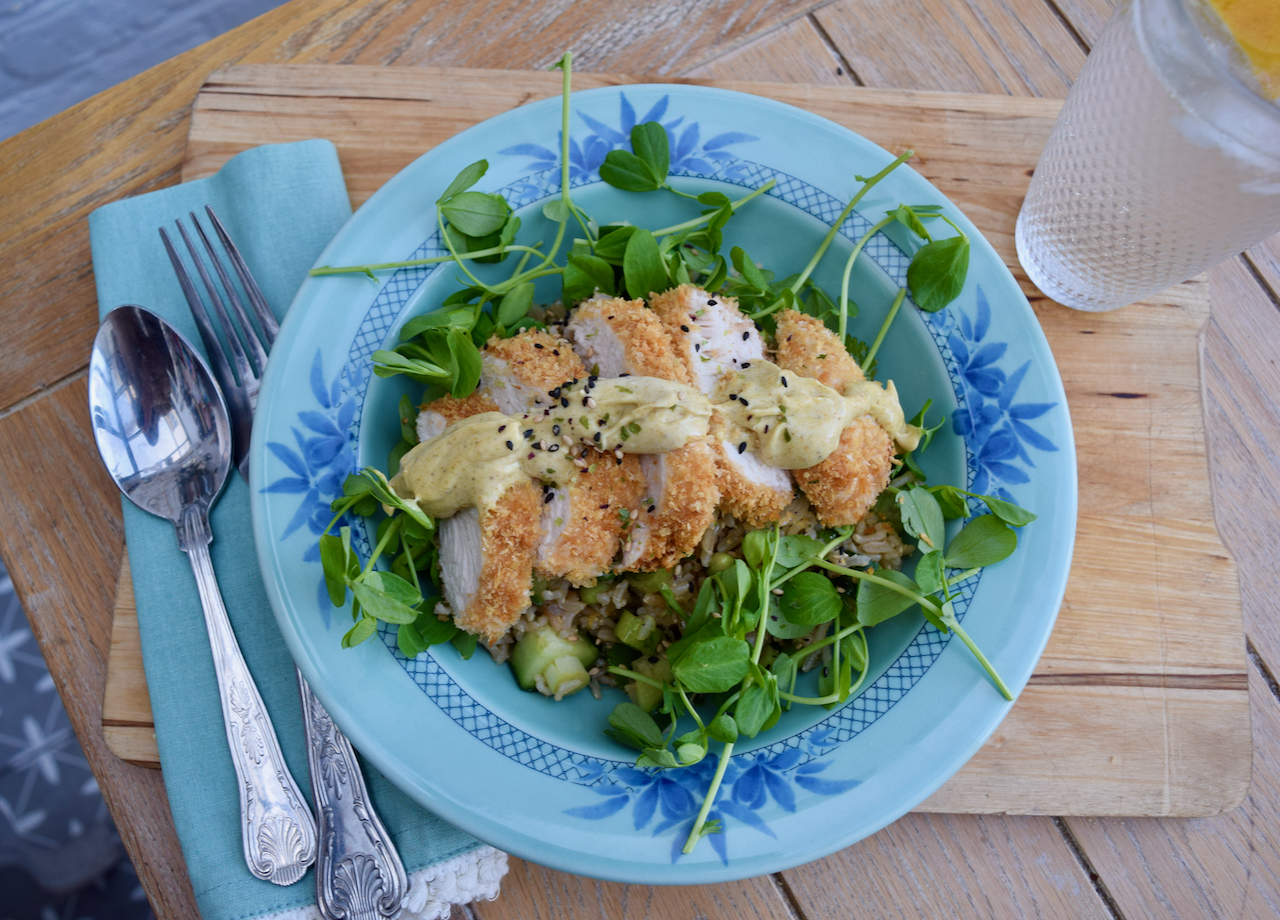 The minute I tell myself I'm going on a diet I want to eat everything in sight. At least with this Katsu Salad Bowl it's not the end of the world if you eat the whole lot; if Ben hasn't got to it first.
Lucy x
Katsu Chicken Salad Bowl recipe
Serves 2 to 3 lunch sized portions, hunger dependent
You will just need bowls, pots and pans for this
Chicken – feel free to use pre breaded chicken or even leftover roast chicken instead
2 to 3 chicken boneless breasts, size dependent
50g panko breadcrumbs
Oil for spritzing
2 to 3 tablespoons mayonnaise, for coating
Salt and Pepper
Soy Ginger Dressing
60ml oil, I used wok oil as it has a lovely flavour
2 tablespoon rice vinegar
2 tablespoons soy sauce
1 teaspoon chilli garlic sauce, such a sriracha
1 heaped teaspoon grated ginger
Rice Salad
200g brown rice
100g frozen edamame beans
Handful freshly chopped coriander
Chopped cucumber, spring onions, avocado, carrot sticks, chopped red onion, salad leaves of your choosing
Curry Mayo
150g mayonnaise
3 teaspoons curry powder, I had a Madras variety
Juice of half a lemon
Sesame seeds for sprinkling
Start with the brown rice. Cook according to the instructions on the packet, adding the frozen edamame beans to cook 5 minutes before the end. Drain the whole lot and leave to cool. Prepare your salad add ins for later; I had chopped cucumber, spring onions and fresh coriander, along with some pea shoots.
Make a start on the chicken. Pre heat your oven to 170 fan assisted and spread the panko crumbs in a single layer onto a large baking sheet. Give them a tiny spritz with oil spray or a tiny drizzle if you don't have a spray oil. Toast in the oven for around 5 to 6 minutes or until just golden. Remove from the oven and leave to cool on a plate.
Take your chicken breasts and slather in mayonnaise. Dip each one in the toasted panko, ensuring they're well covered, then place on a lined baking sheet. Give them a spritz of oil and season with salt and pepper then bake for 20 to 25 minutes, size dependent, until cooked through and crisp and golden. Leave to cool.
For the dressing add the oil, rice vinegar, soy, chilli sauce and ginger to a jam jar and shake well to combine.
Finally make the curry mayonnaise. Simply mix the mayo with the curry powder and the lemon juice. Stir well to combine.
To assemble your dish, mix the cooked rice and edamame beans with the soy and ginger dressing then add your chopped vegetables and coriander and stir well. Slice your panko coated chicken. Spoon some of the rice into a bowl, add your chosen leaves, top with sliced chicken and then dollop on a generous amount of curry mayo and a sprinkling of sesame seeds.
Leftovers will keep wonderfully in the fridge for 2 to 3 days.