Sweet Chilli Citrus Chicken Recipe
It's still bloody January and despite all attempts at healthy eating, I am failing hugely. I have fully embraced the 'it's still Christmas' drinking schedule and we are, despite trying to give most of them away, still eating the festive chocolate glut. I have been exercising quite a bit to assuage my terrible diet, but that just leads to me feeling this is even more of a reason to carry on being a hog. With February within touching distance, I feel I can finally put any appallingness to bed and turn over a fresh eating leaf. This Sweet Chilli Citrus Chicken is my attempt at getting back on track, while not sacrificing any taste or flavour and feeling spoilt by such a wonderful meal.
I made this dish last summer for some mid week supper guests and it was a huge success *immodest face* and then promptly forgot about it. I go through phases on Lucy Loves when it seems to be all about the chicken, so I have given you all time off for good behaviour and have been featuring tons more veggie, lamby, fishy options. But chicken is back on the menu, I am budgeting and dieting, so it's perfect February fodder. This Sweet Chilli Citrus Chicken is so good, and oh so easy. Just some simple ingredients mixed together and briefly marinated. Then no more than a simple pan frying to complete the zingy fresh dinner dish. There's a touch of heat and sweetness from the sweet chilli and some tang from the lemon, limes and coriander. I decided to stir some spinach through the pan juices as all that excess wonderfulness should not got to waste, but it's up to you. You could use pak choi or any other stir fry vegetables, if you would prefer. This dish is quick, but it's impressive and if you're off the carbs, you don't even have to serve this with rice or noodles, just up the greens. This wonderful dish originated from the ever helpful Great British Chefs website, with thanks.
Being a food blogger never helps my waistline, for example, on Friday I mainly ate Mocha icing and today I have eaten 3 purple sticky buns. However, when I discover fresh, almost Spring-like dishes such as this, it makes my heart sing. So much so, I celebrated by eating most of it myself.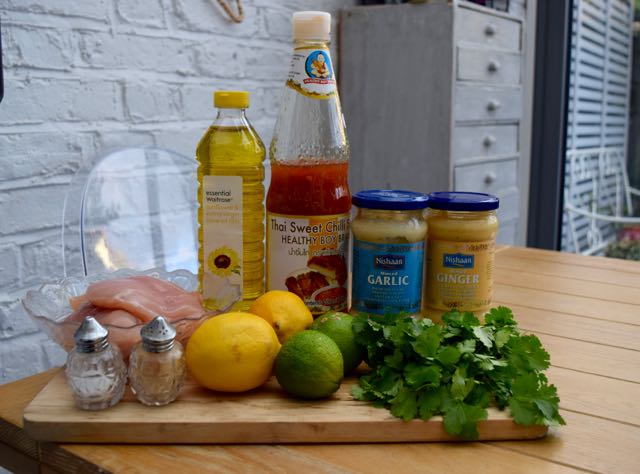 I was feeling super lazy with my ingredients this week as we had friends coming to stay so I had a lot of cooking going on, hence the jars of garlic and ginger. If you have fresh to hand and time to kill, please use those. I love to visit the oriental super market and buy these large bottles of sweet chilli sauce, they have tons more flavour than the smaller, less authentic varieties. I usually prefer chicken thighs but had a freezer full of breasts *insert joke here* so used these to avoid a trip further into my overdraft. And besides, they are as delicious, just make sure you don't cook them to death.
Enough with the rambling and onto the recipe. Make a start by taking a medium sized bowl and adding the garlic and ginger, lazy or freshly grated or crushed. Next, add the sweet chilli sauce.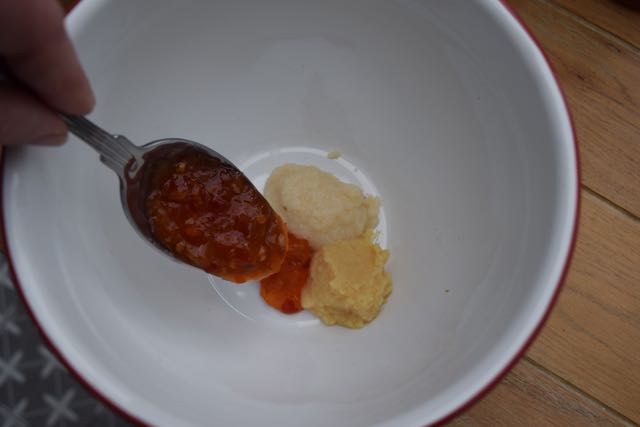 Follow in with the zests of two lemons and two limes for added zing.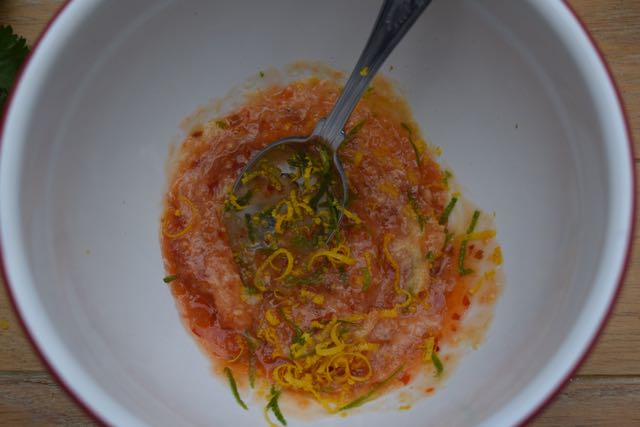 For a final flourish stir in the freshly chopped coriander then add your chosen chicken, cut into good sized strips and give it all a good stir. Leave this to marinate in the fridge for at least an hour, longer if you have time.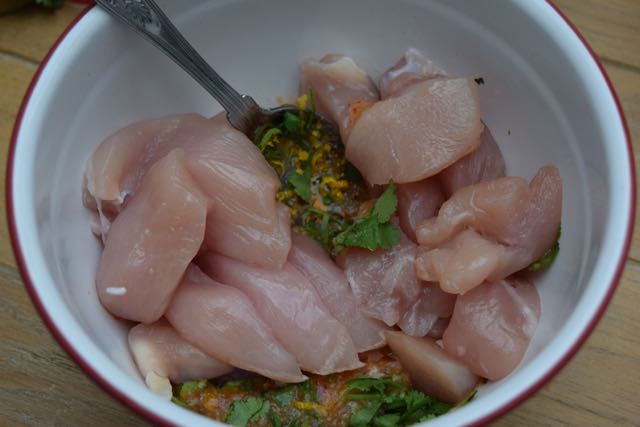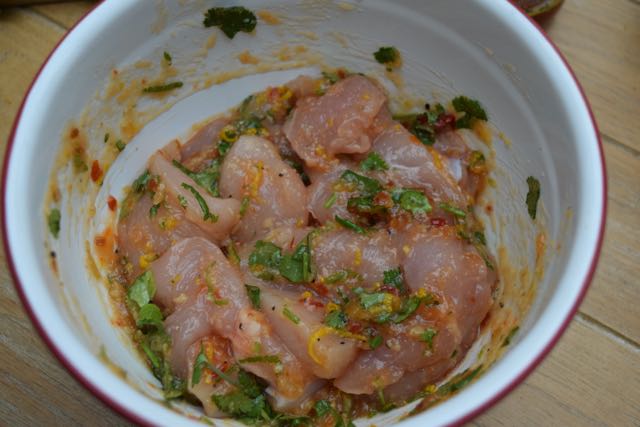 When you are ready to cook your supper dish, take a large heavy bottomed frying pan and add a couple of tablespoons of oil. Next, tip in the chicken, with the marinade, and fashion into an even layer, but don't move it around, allow the chicken to brown, untouched.
Once it's starting to caramelise and smell divine, turn the chicken over to cook on the other side. I found this easiest to do using a large spatular.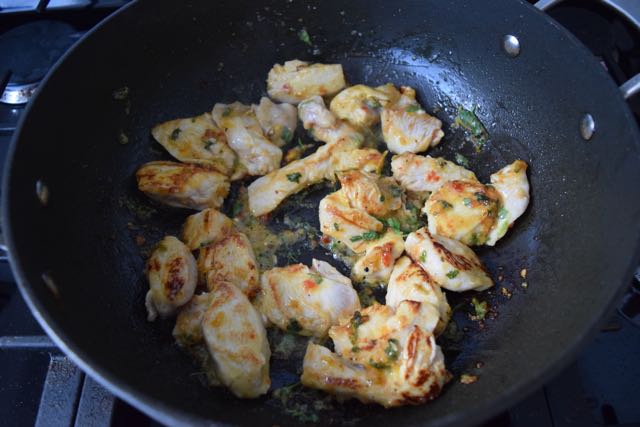 Once your chicken is cooked through and taken on some lovely colour, remove from the pan and keep it warm while you cook your optional greens. Add a good splash of water to the frying pan to loosen all the pan juices. Toss in your spinach or pak choi and stir well to wilt and cook through.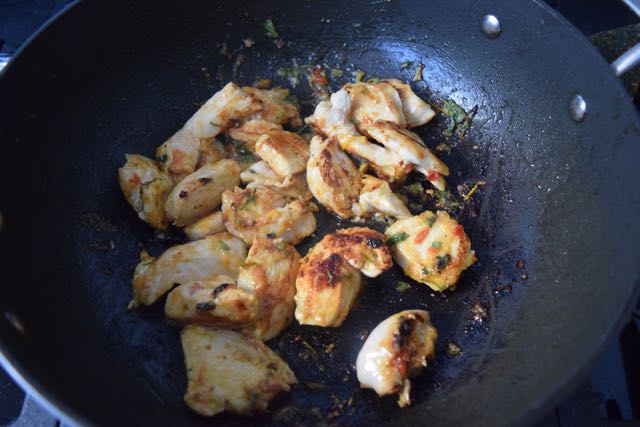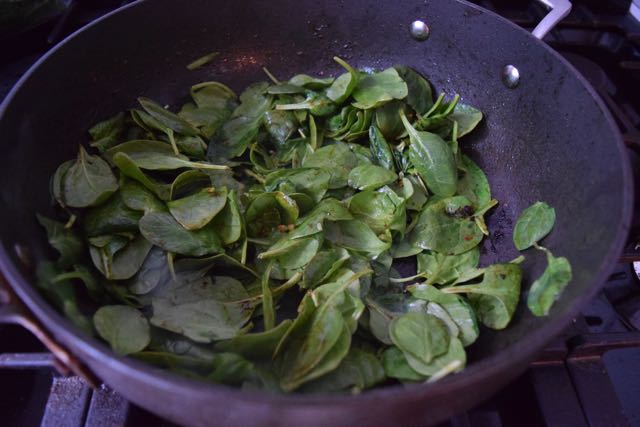 Once your green of choice is cooked through, this Sweet Chilli Citrus Chicken is now ready to feature on your dinner table. I plated mine up with some lightly cooked rice noodles, the spinach, the zesty chicken and a heavy fresh coriander presence and it was stunning.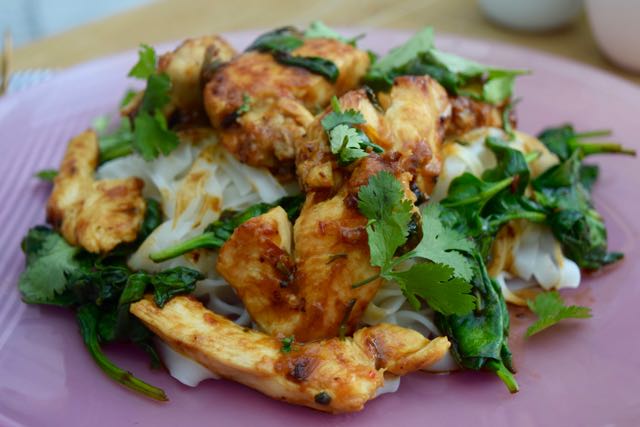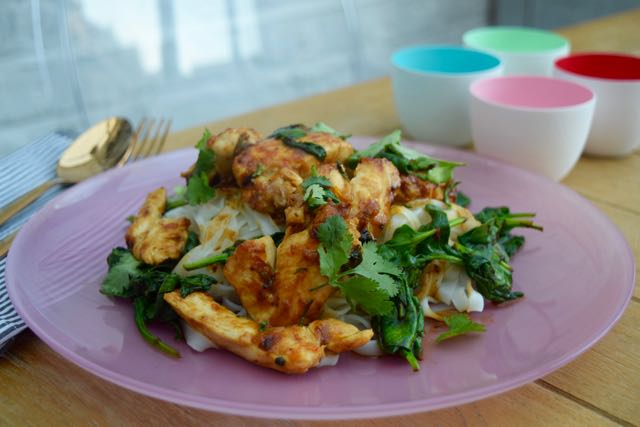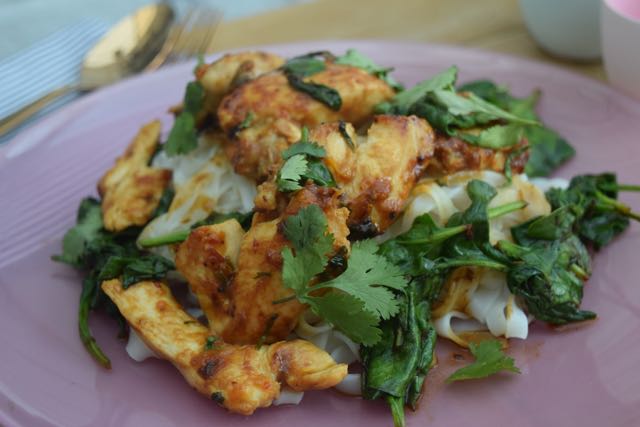 I love the following words – tangy, zesty, zingy and they describe this recipe so well. Along with bloody, simple and quick and you've got a perfect early spring dinner covered.
Lucy x
Sweet Chilli Citrus Chicken Recipe
Serves 3 to 4, dependent if you are greedy
You won't need any exciting equipment, just a large frying pan 
4 chicken breasts or around 600g to 800g boned chicken thighs
1 teaspoon grated fresh ginger or from a jar
4 garlic cloves, peeled and crushed or 1 heaped teaspoon from a jar
2 lemons, zested
2 limes, zested
4 tablespoons sweet chilli sauce
2 tablespoons chopped fresh coriander
salt and pepper
2 tablespoons oil
200g fresh spinach, optional
More freshly chopped coriander to garnish and noodles or rice to serve
Take your chosen chicken and chop into strips.
In a medium sized bowl add the ginger, garlic, zests only of the lemons and limes, sweet chilli sauce and freshly chopped coriander, stir well to mix. Add the chicken and give it all a good mix to coat. Season well, then cover and allow to marinate in the fridge for at least an hour, more if you have time.
When you are ready to serve, heat 2 tablespoons of oil in a large frying pan. Add the chicken, and it's marinade, and allow to cook on one side without moving or stirring. After a couple of minutes turn the chicken over, using a large spatula is best for this, and cook on the other side. Once the chicken is starting to turn a golden brown, give it all a good stir and ensure the chicken is cooked through. This should only take around 5 to 7 minutes dependent on how big your strips of chicken are.
Remove the chicken to a plate and keep warm for a moment. Add a large splash of water to the pan to loosen all the pan juices then add your spinach or other greens. Stir briefly to cook and wilt in the juices.
To serve, spoon your chicken on your rice or noodles and serve with the wilted spinach. Garnish with plenty of freshly chopped coriander.
SaveSave
SaveSave
SaveSave
SaveSave
SaveSave
SaveSave