Peanut and Chocolate Crispy Slice Recipe
This year, I am giving you plenty of warning to be ready for Father's Day on Sunday. I am not going to go to the shop to buy your card for you, but I am going to share a recipe which any Father figure in your life would be chuffed as you like to receive. My own Father prefers Gin to chocolate, but we'll get to that on Cocktail Friday, but the boys' Dad adores chocolate so this Peanut and Chocolate Crispy Slice is the perfect way to show him a bit of love and appreciation this Sunday.
I have made plenty of cereal based treats in my extensive, if not terribly prestigious, cooking career. There are plenty already on Lucy Loves, however, I was drawn to this wonderful recipe from The Best Recipe blog, with thanks, due to the inclusion of my most favourite ever ingredient – peanut butter. Nothing bad ever came out of a treat which includes PB, unless of course, you are allergic, in which case, avoid it like the plague. This recipe involves a bit of light simmering, which you could supervise, other than that, draft in the children to create this crispy masterpiece for their Dad, Grandad or whoever wears the Dad trousers, or skirt, in your house.
It's chewy, chocolatey and has a lovely hit of peanut butter, there is everything to love about this Peanut and Chocolate Crispy Slice. The batch is quite sizeable too, so you can gift a couple of slices and keep a few back for yourself. It's not all about the Dad's this Sunday you know.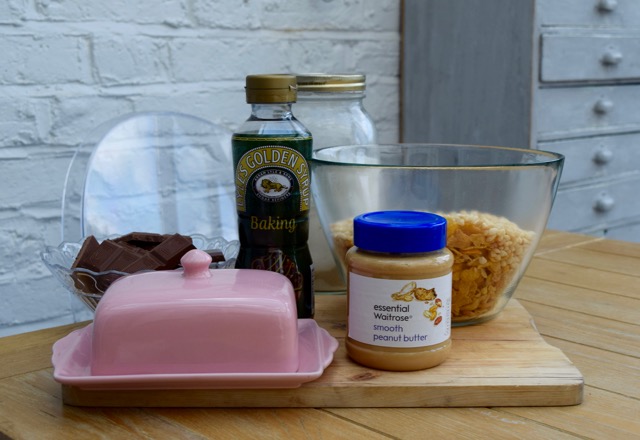 All these ingredients taste amazing on their own, so imagine what they're like all together. This is not rocket science, but tasty doesn't always mean complicated.
Make a start by lining a small rectangular baking tray with greaseproof paper. Mine was approximately 22cm x 18cm. Now, in a medium to large saucepan add the sugar, butter, peanut butter and golden syrup, good wholesome ingredients if slightly unpopular with the food police.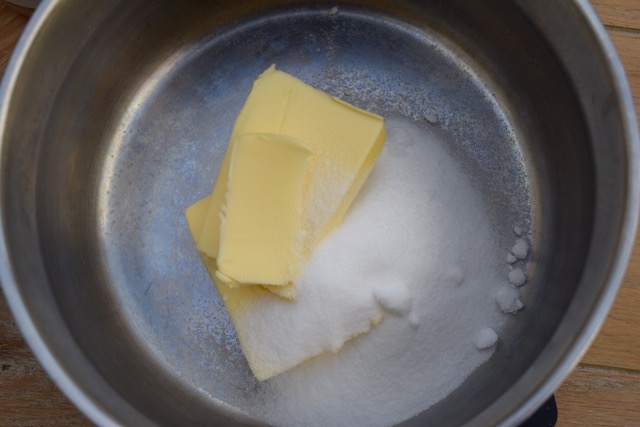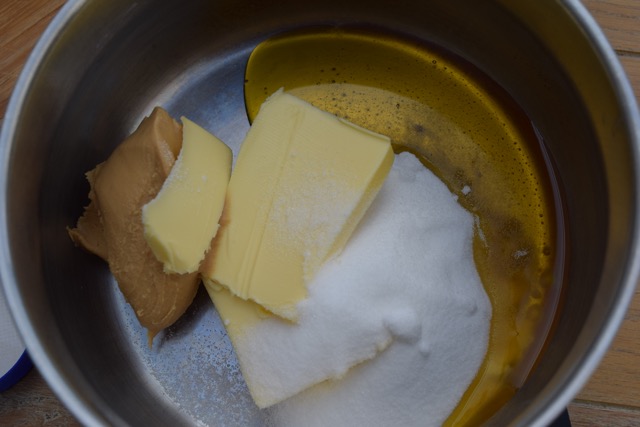 Pop them over a low heat and melt slowly so the sugar dissolves. Then, bring up to the simmer and let bubble for 3 to 5 minutes.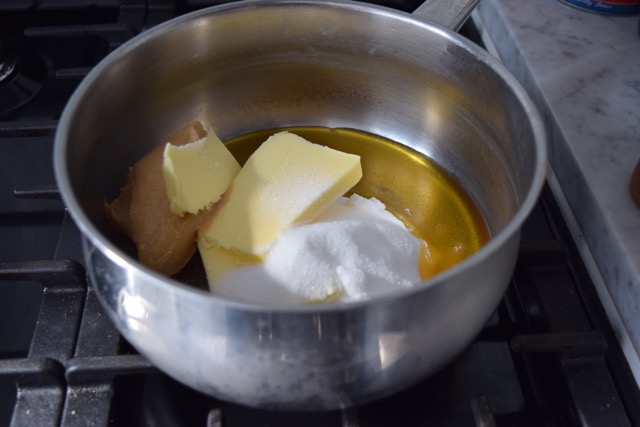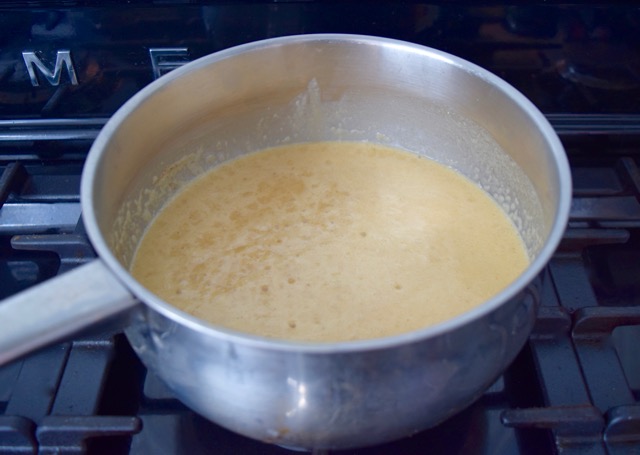 Turn off the heat while you measure out the cereal. I chose a mix of corn flakes and rice cereal, but you can use whatever you have in the cupboard.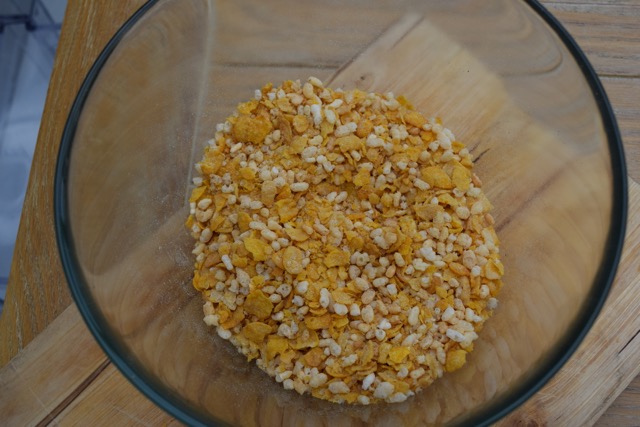 Crush the combination a little with your hands then pour into the hot peanut and sugar mix and give the whole business a bloody good stir.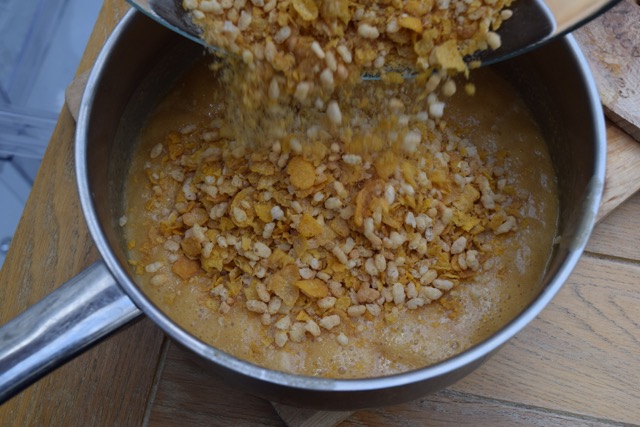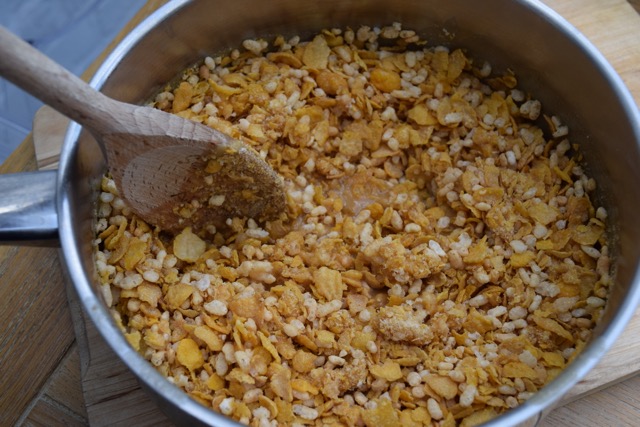 Press this into your lined tin, creating an even layer with the back of a spoon.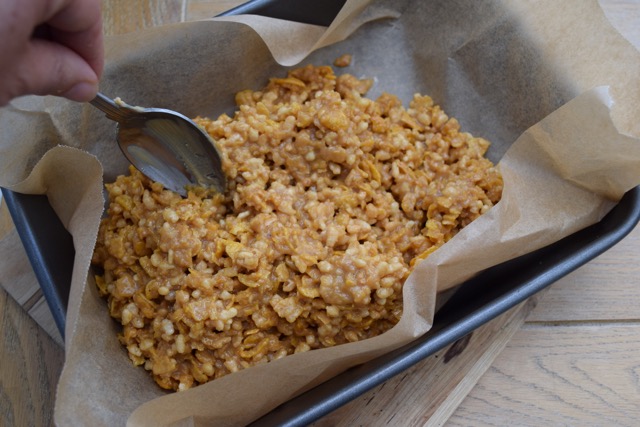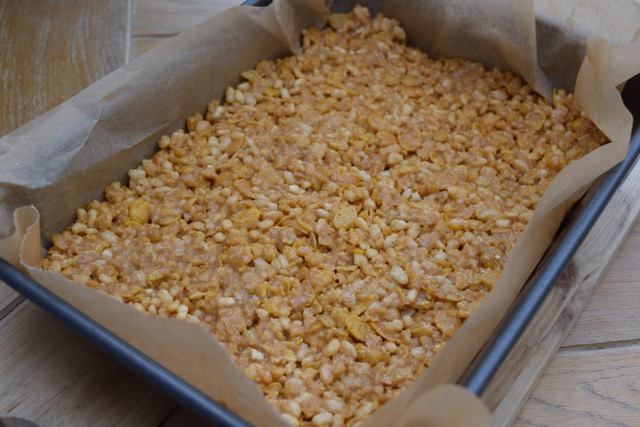 Let this cool, in the fridge if you have space, or just in a cool place for around 30 minutes or until cool to the touch.
When the mixture has cooled melt your chocolate with a knob of butter either over a pan of simmering water in carefully in the microwave. I chose a mix of milk and dark, but go with what you prefer.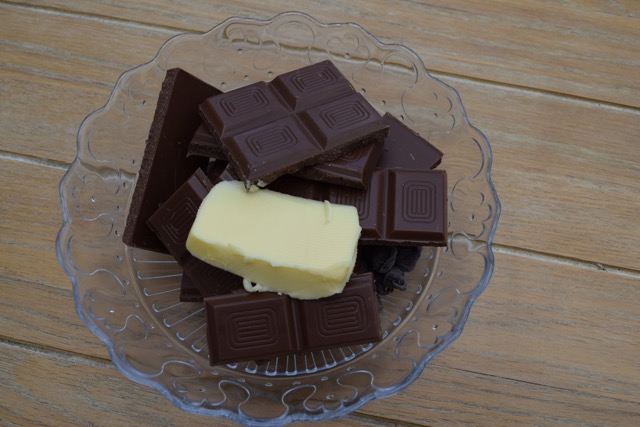 Spread the warm melted chocolate onto the cereal based base and smooth the top.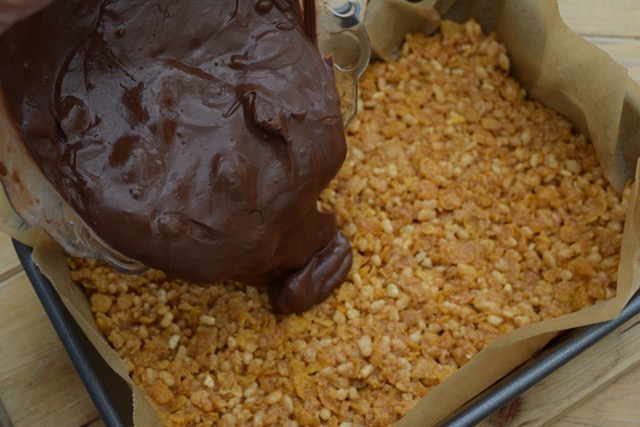 Allow the whole business to cool at room temperature. If you put in the fridge the chocolate will lose its shine so unless it's like a furnace in your kitchen, try not to refrigerate.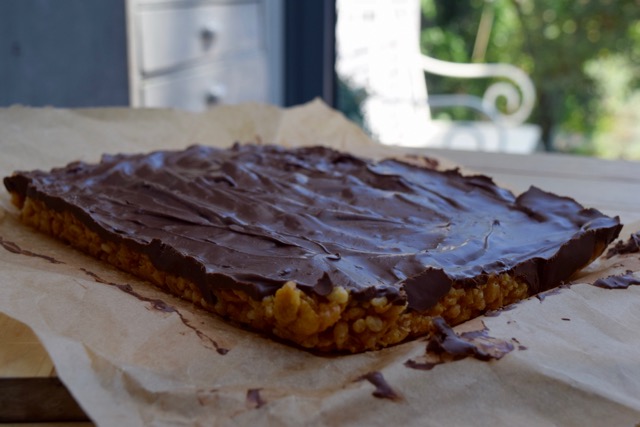 Once cooled and fully set, cut into lovely squares or huge wedges and devour. Don't forget to bag up at least a couple and give to the Father figure in your life.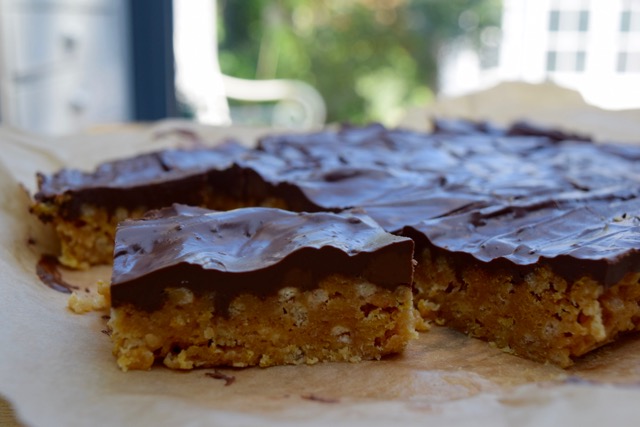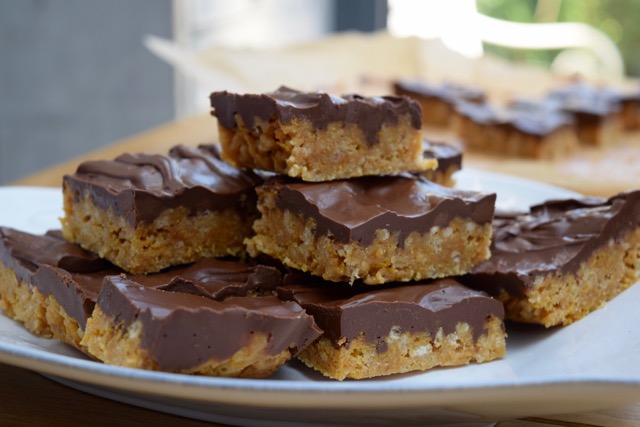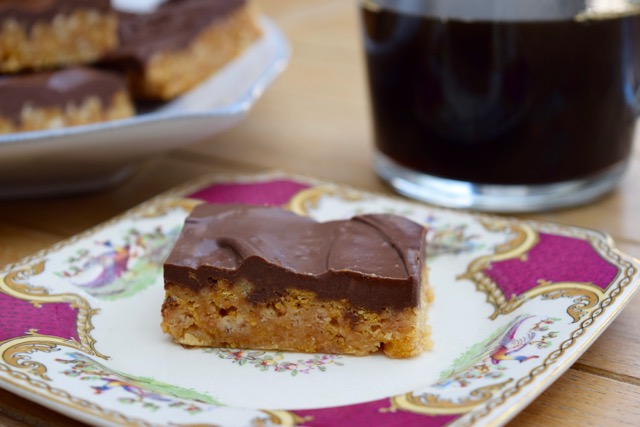 Simple, sweet and easy, no not me, the Peanut and Chocolate Crispy Slice. Treat the person who deserves this most to a couple of choice slices. If it's you that deserves it, then so be it, just wolf it down.
Lucy x
Peanut and Chocolate Crispy Slice Recipe
Makes about 20 squares, dependent on your cutting skills
125g butter
110g caster sugar
80ml golden syrup
100g peanut butter
100g cornflakes
60g rice cereal, like Rice Krispies
300g chocolate, I used 200g milk and 100g dark, but it's up to you
15g, or a sliver, butter
Like a 20cm x 30cm tin with greaseproof paper.
Take a large saucepan and add the butter, caster sugar, golden syrup and peanut butter. Melt over a low heat until the sugar has dissolved, stirring well, then let is bubble away for for 3 to 5 minutes.
In a bowl, take your two cereals and give them a crush with your hands.
Once the sugar butter mix has bubbled away remove from the heat then stir in the crushed cereal. Mix very well then press the mixture into your lined tin and level the top. Let this chill in the fridge for half an hour or I just left mine in a cool place for an hour or so.
When your mixture has cool and set, place the chocolate of your choice and the knob of butter into a bowl then either microwave or melt over a pan of simmer water until just starting to meld together. Give the chocolate a stir to get rid of any lumps then pour over the crispy base, smoothing the top with a knife.
Leave to set at room temperature, which will take around an hour or so depending on the temperature of your kitchen.
Once set, cut into generous squares and I defy you to not eat two straight away. Keep in an airtight tin in a cool place for around 3 days.
SaveSave
SaveSave