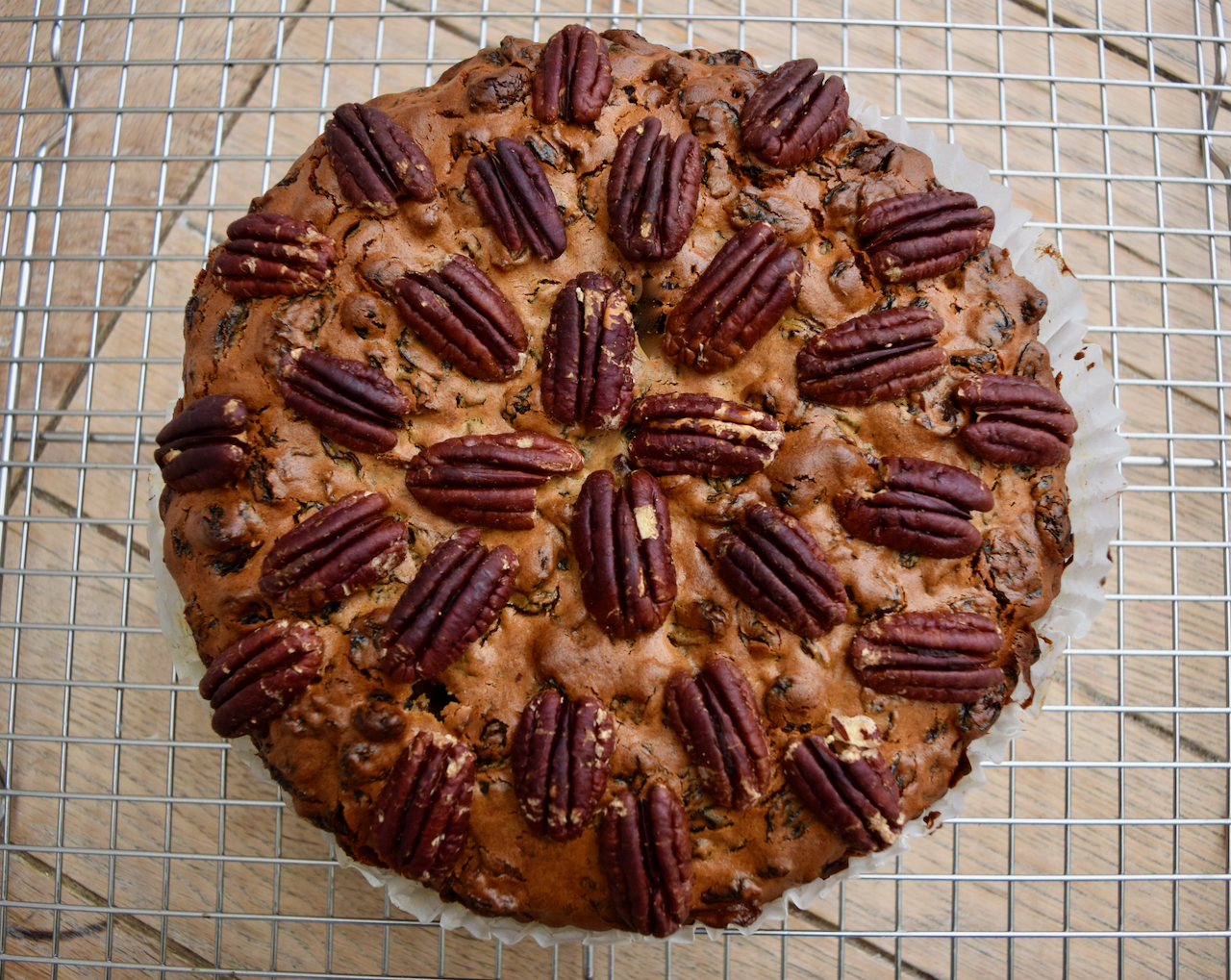 Baileys Fruit Cake for Christmas recipe
I am the family provider of Christmas cake for the big day. I am also the main devourer of the aforementioned cake. It's mostly my Mother and I who can manage to shoe horn the first slice down mid afternoon just when you don't think you can eat another crumb, such is our love of the festive bake. This year, in a break from normal service, I've baked this Baileys Fruit Cake for Christmas and having had the A list *me and Mum* critique it, it's been given 5 twinkly festive stars.
When I first saw this recipe, I genuinely doubted the ingredients list was correct. Essentially this is a four ingredient affair *water and optional mixed spice don't really count* without sugar, eggs or butter making an appearance. However, I can happily confirm it works and this cake is a miracle. The fruit, and my choices were sultanas, raisins and dried cranberries, has a lovely soak in Baileys and condensed milk overnight. Once plump and full of Irish cream, all that's left to do is to stir through self raising flour, with just a whiff of mixed spice, and this flavourful cake is ready for the oven. Two hours later your kitchen will be smelling of Christmas and your cake is ready. It's packed with plump fruit, *eek* super moist and ready for a simple apricot jam glaze and maybe a little glass of Baileys on the side.
It's never too early to get your Christmas cake on. Especially one that doesn't come with a list of ingredients as long as your Christmas shopping list.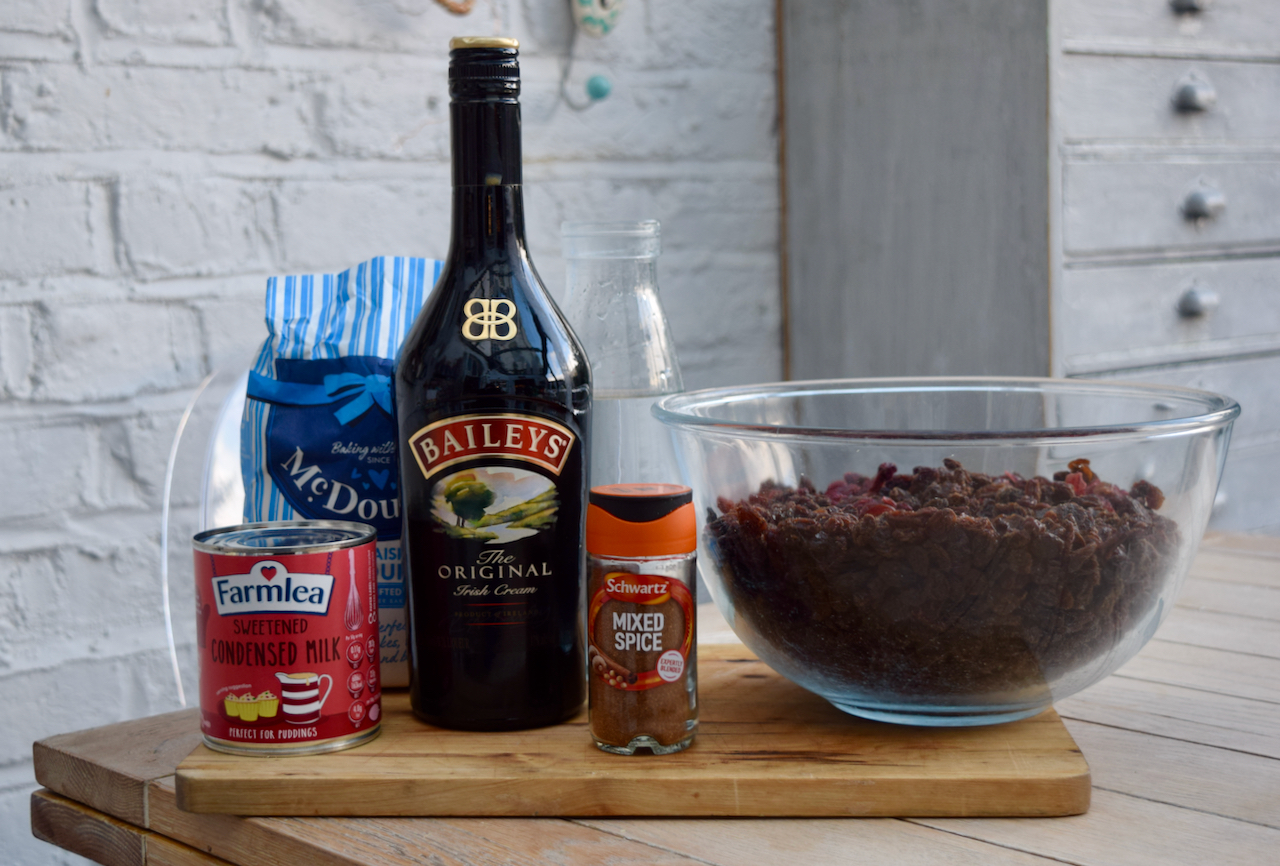 In our house, Baileys is for life, not just for Christmas. It's Clyde's favourite, so we always have a litre or two spare, so he didn't mind me purloining 200ml to soak all that lovely fruit. I added some mixed spice to my cake to add a traditional flavour, but if that's not your thing then do leave it out.
The fruit needs a good 12 hours to soak so plan ahead on your cake making itinerary. Add your choice of dried fruit to a large bowl and start by pouring on the tin of condensed milk.
Follow in with Irish cream and some water for luck then give the whole business a bloody good stir.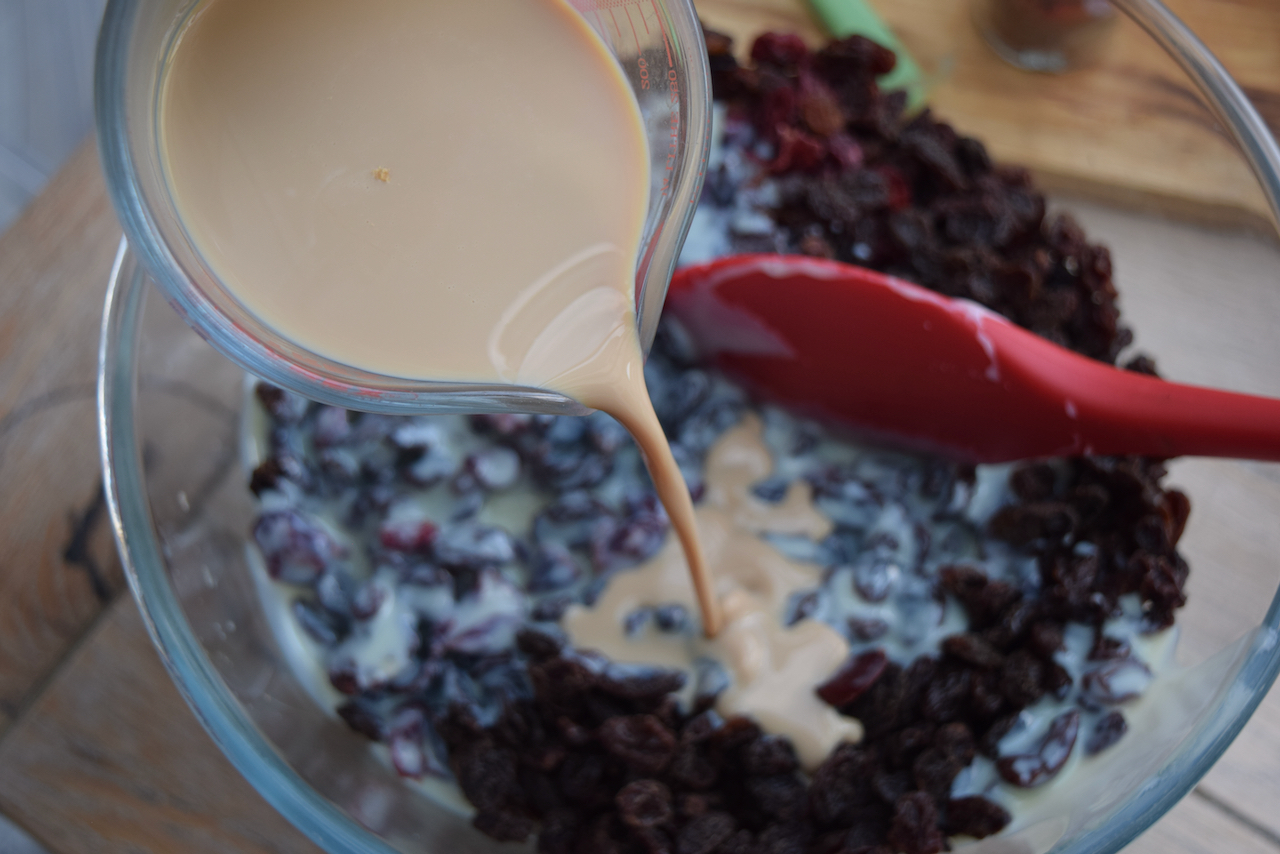 Cover and leave to soak for at least 12 hours or overnight.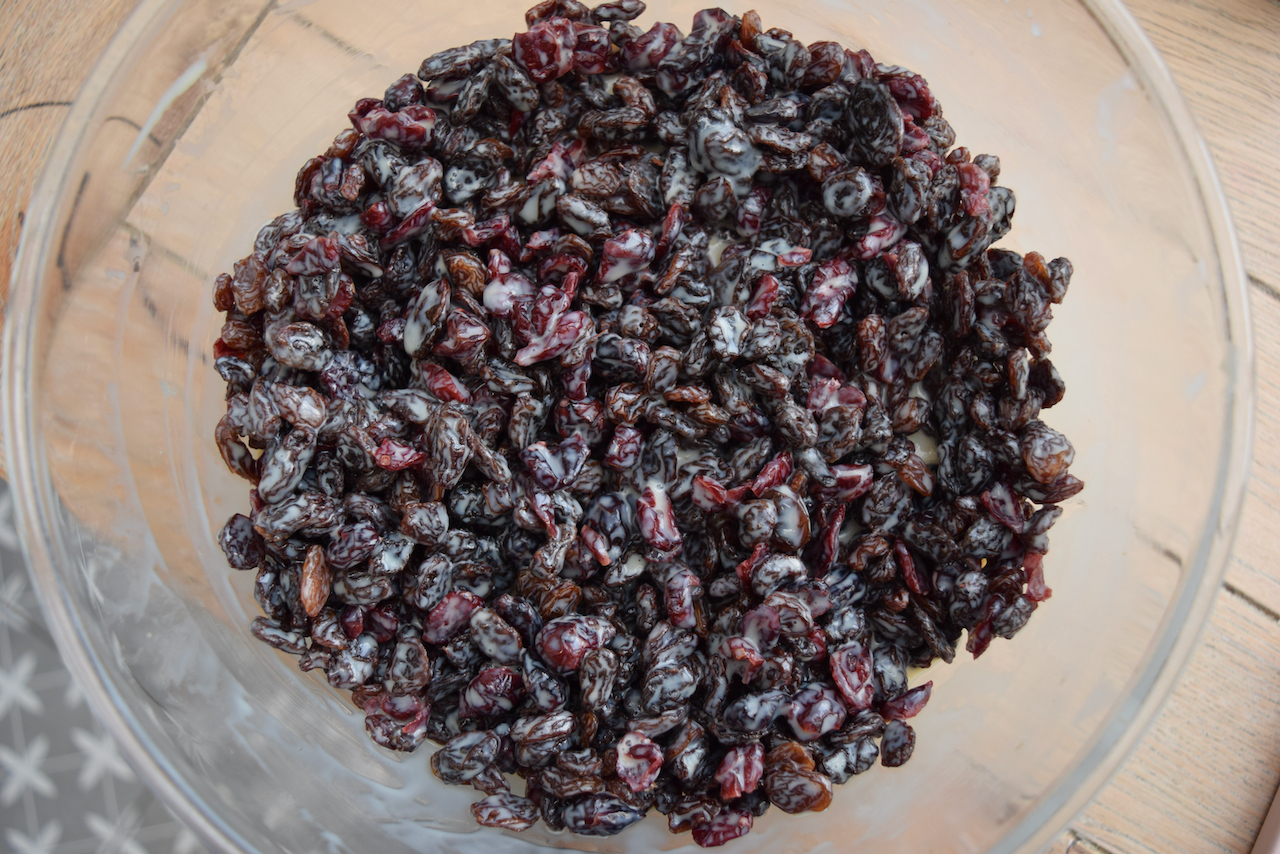 The resulting fruit will be plump and smelling amazing. Give it a really good mix and pre heat your oven to a low 140 degrees fan assisted. Now, all that's left to do is stir through the self raising flour and mixed spice until the whole lot is well combined.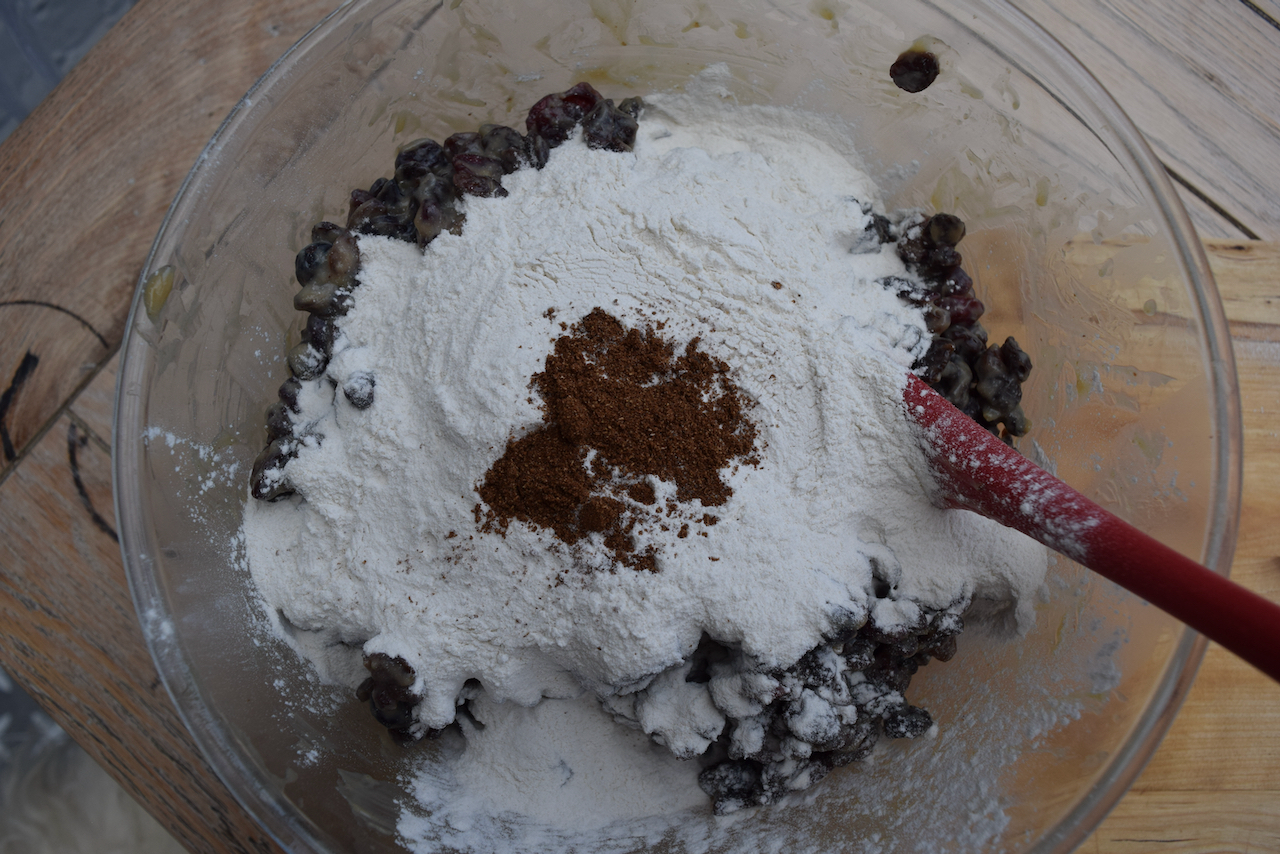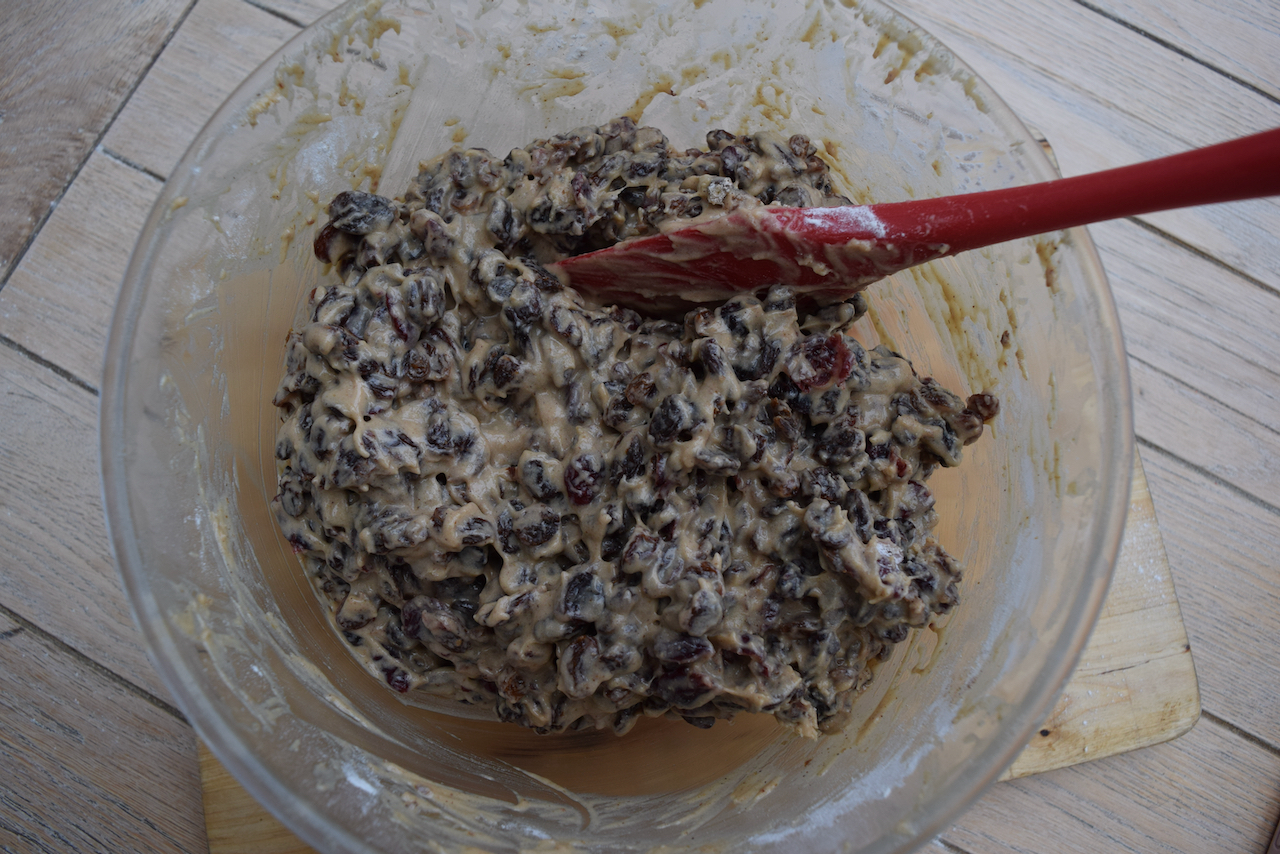 Scrape the predominantly fruit based batter into a lined 20cm round tin and level the top. I decided I wasn't going to marzipan and fondant my cake, so I decorated the top with pecans. I'll leave the artistic business to you.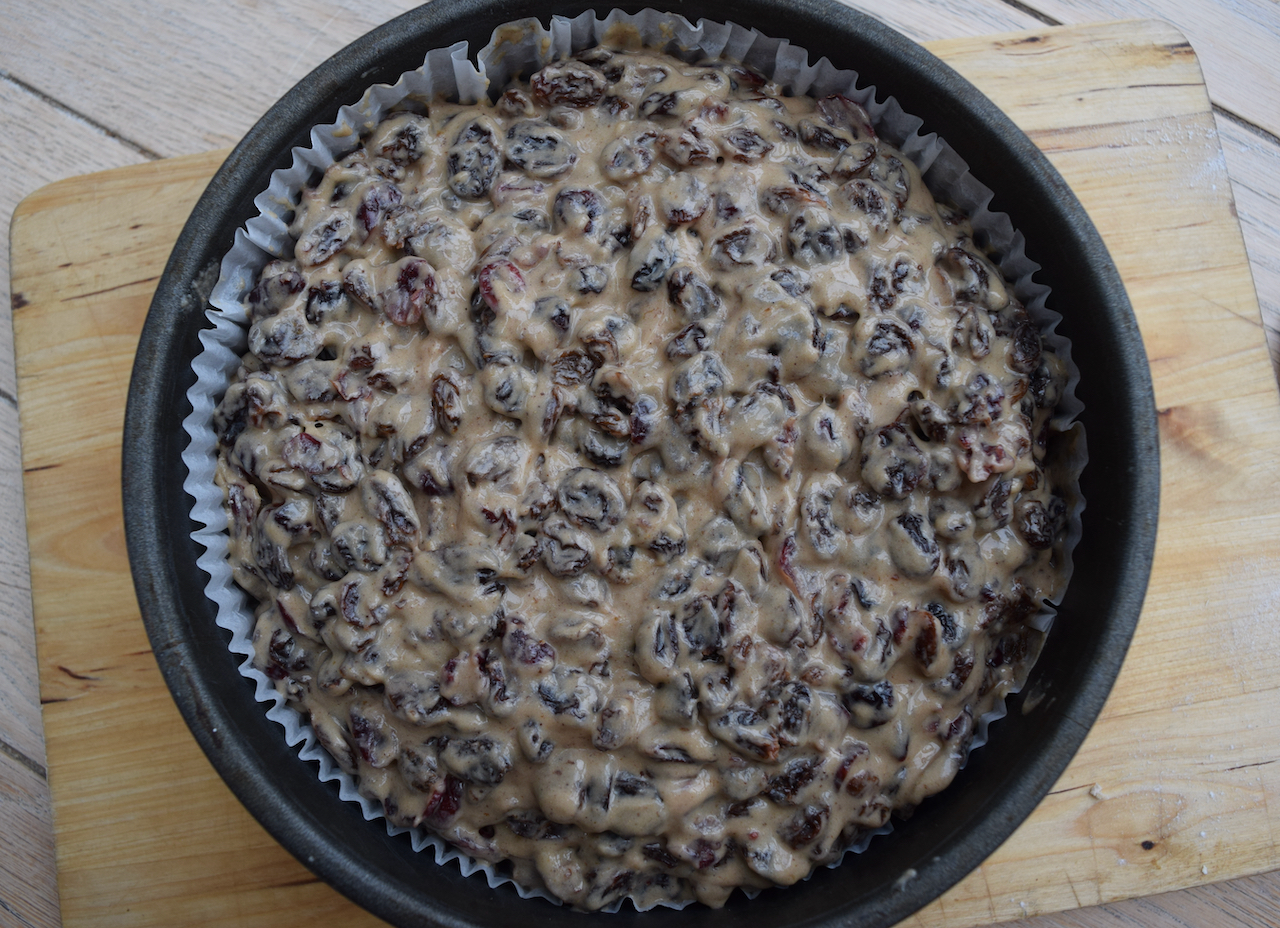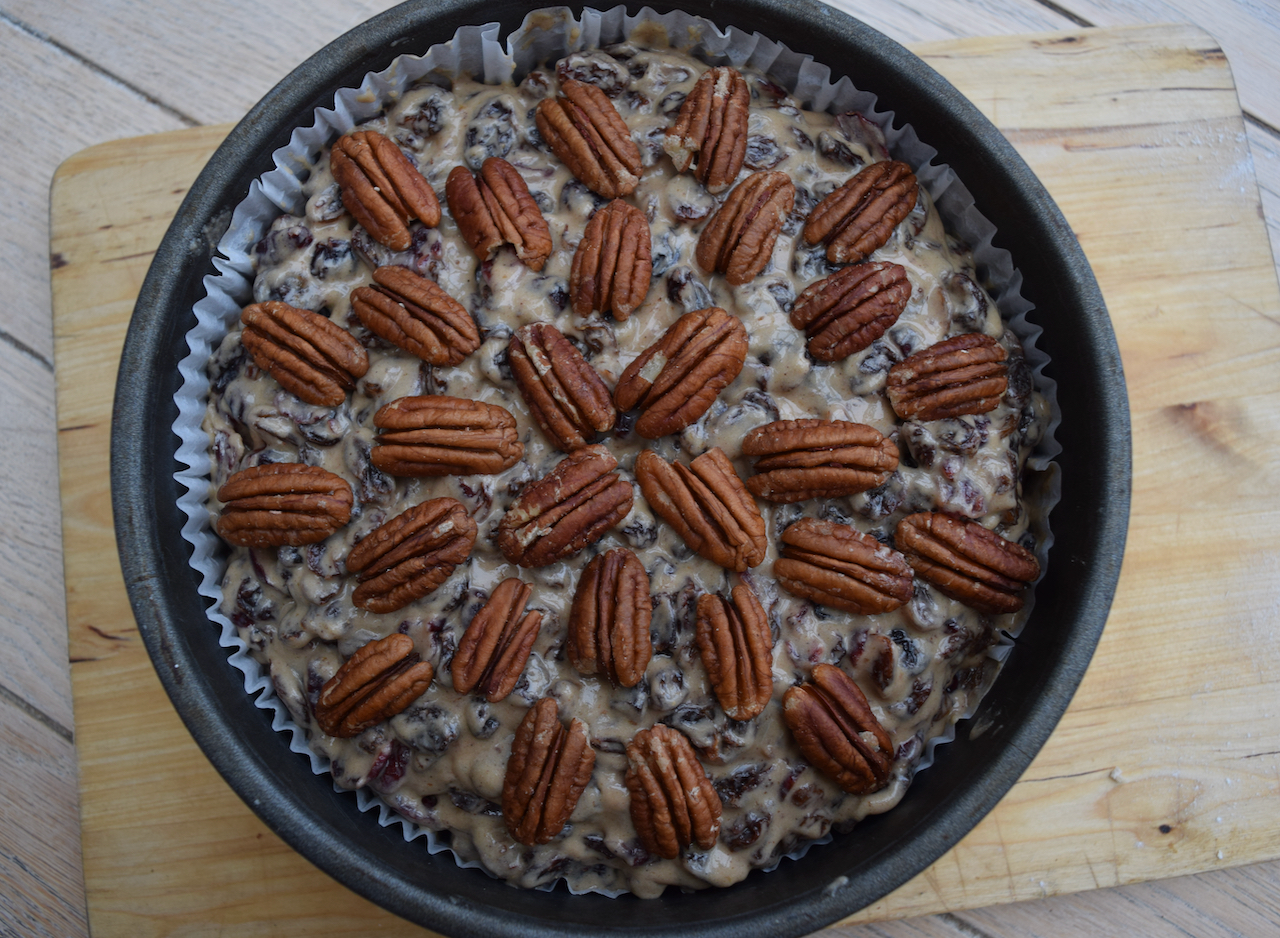 This Baileys Fruit Cake cooks for 2 hours. I popped a bit of baking paper over the top of mine at the hour mark to stop my nuts burning; I suggest you do the same as no one likes a burnt nut.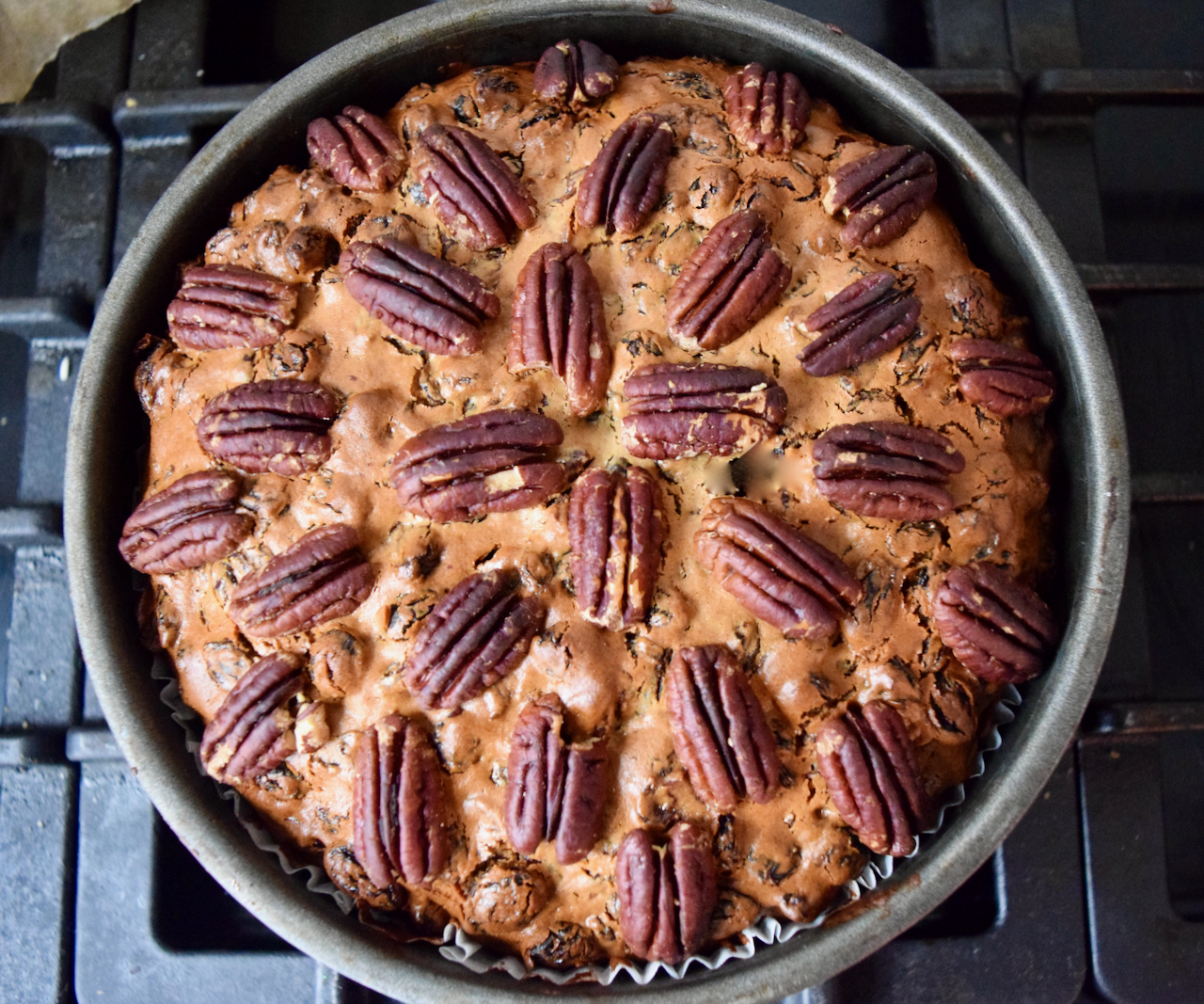 Your cake is ready when it's firm to the touch, golden and smelling amazing. A skewer should come out clean when poked in the middle, but this is hard to do with such a fruit heavy cake, so have a bit of a poke around. Leave the cake to cool completely before removing from the tin.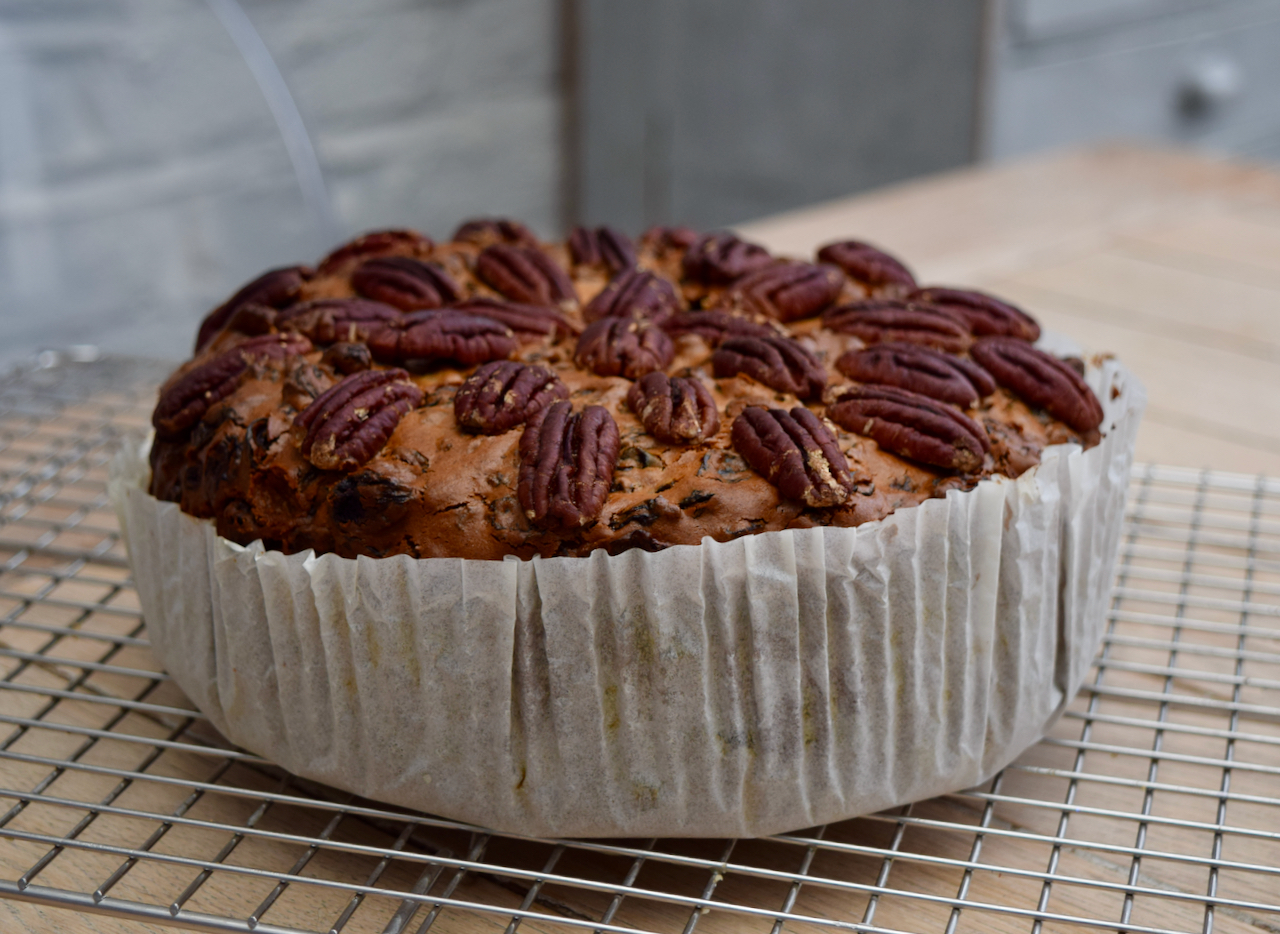 Once cooled, heat a couple of tablespoons of apricot jam with a splash of water until warm then brush the top of your cake for a lovely shiny glaze. Or, marzipan and fondant ice your cake if you'd rather.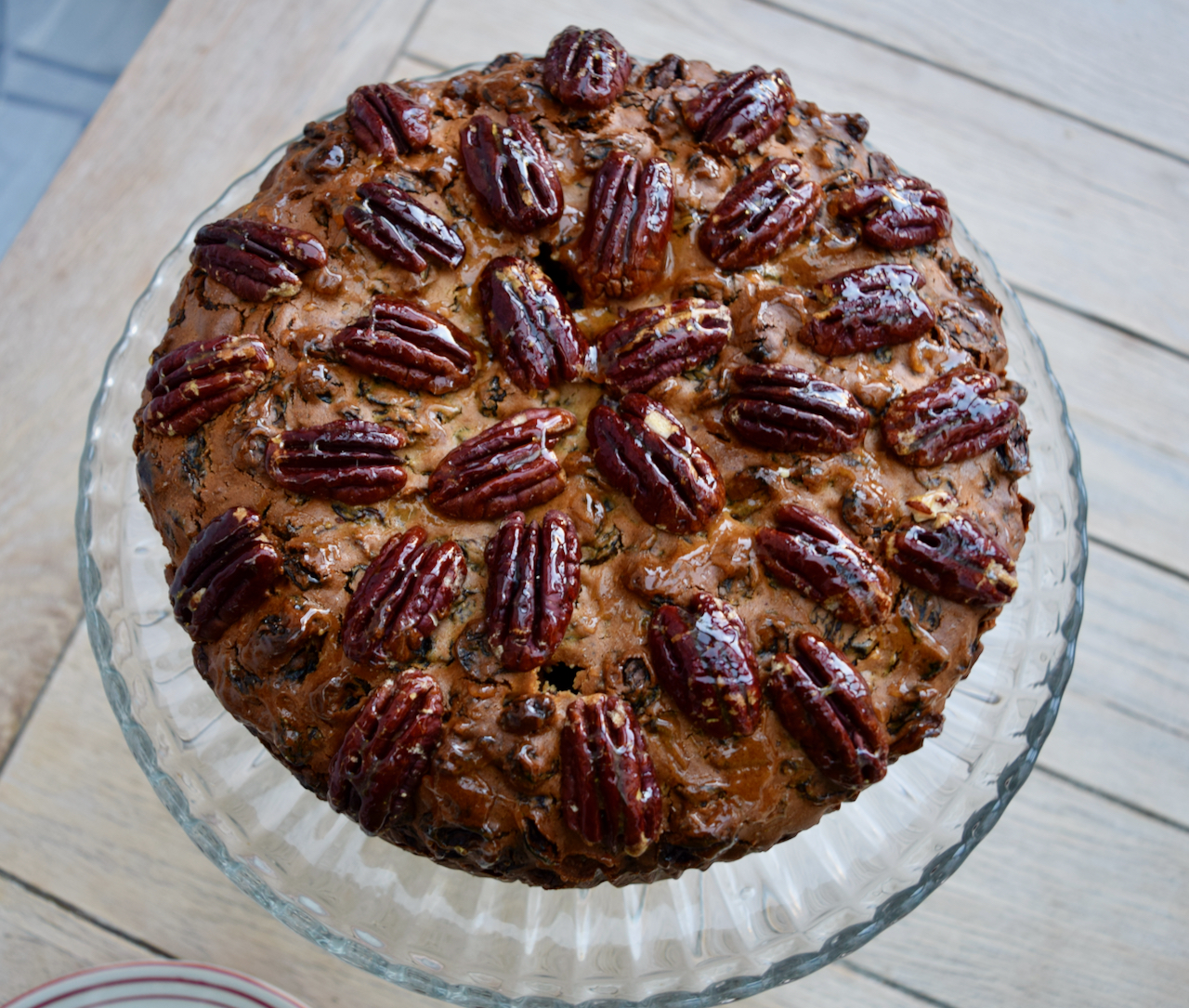 Serve in lovely great big wedges; the little tot of Baileys, optional but highly recommended.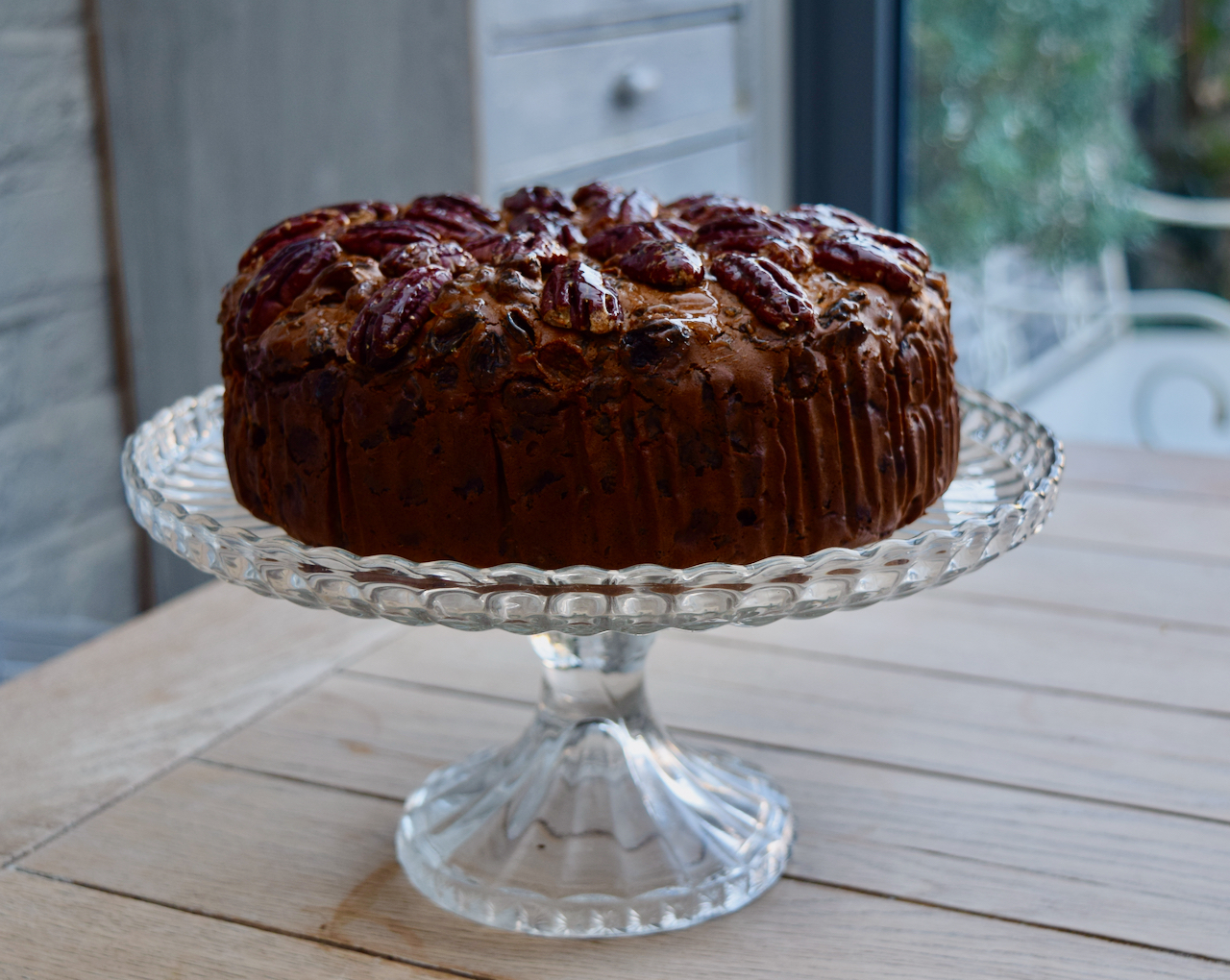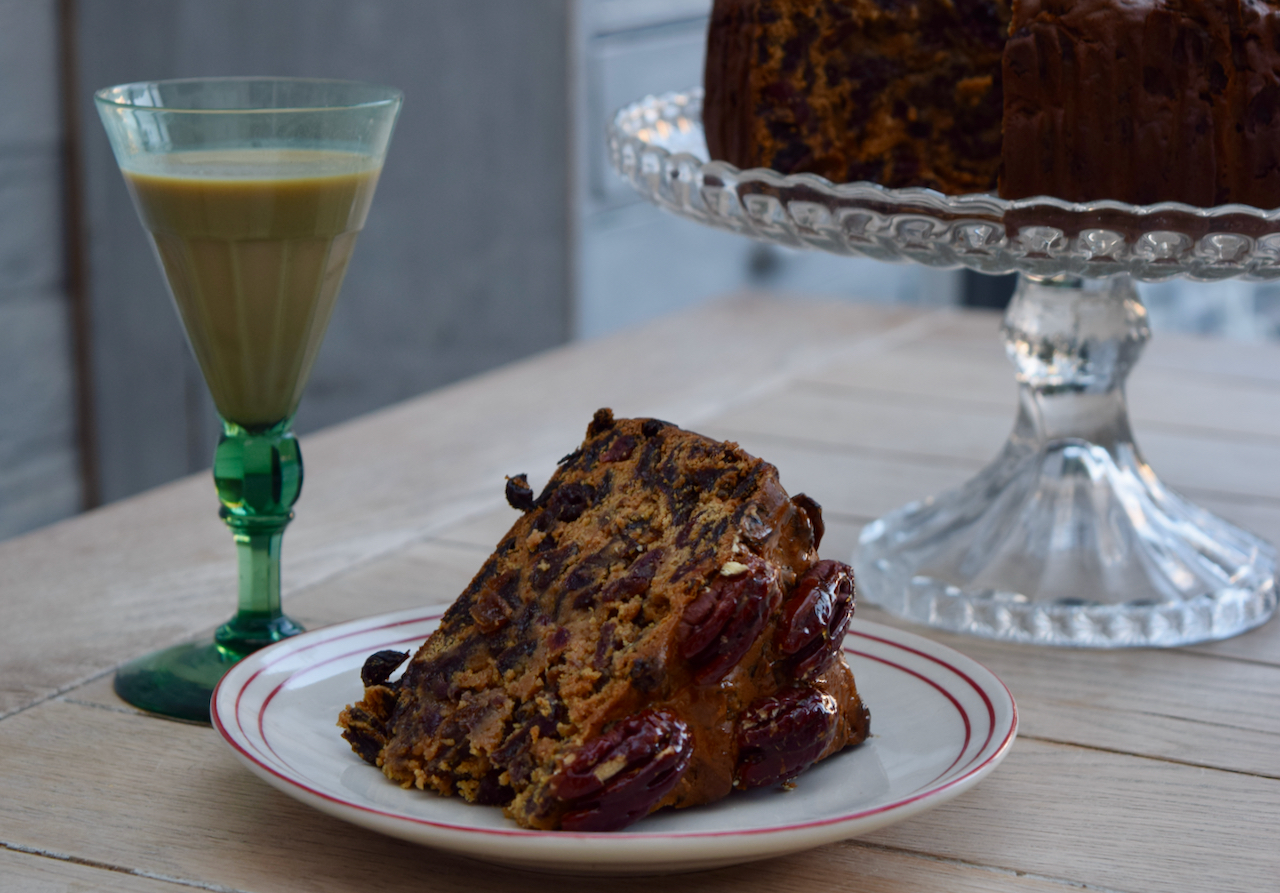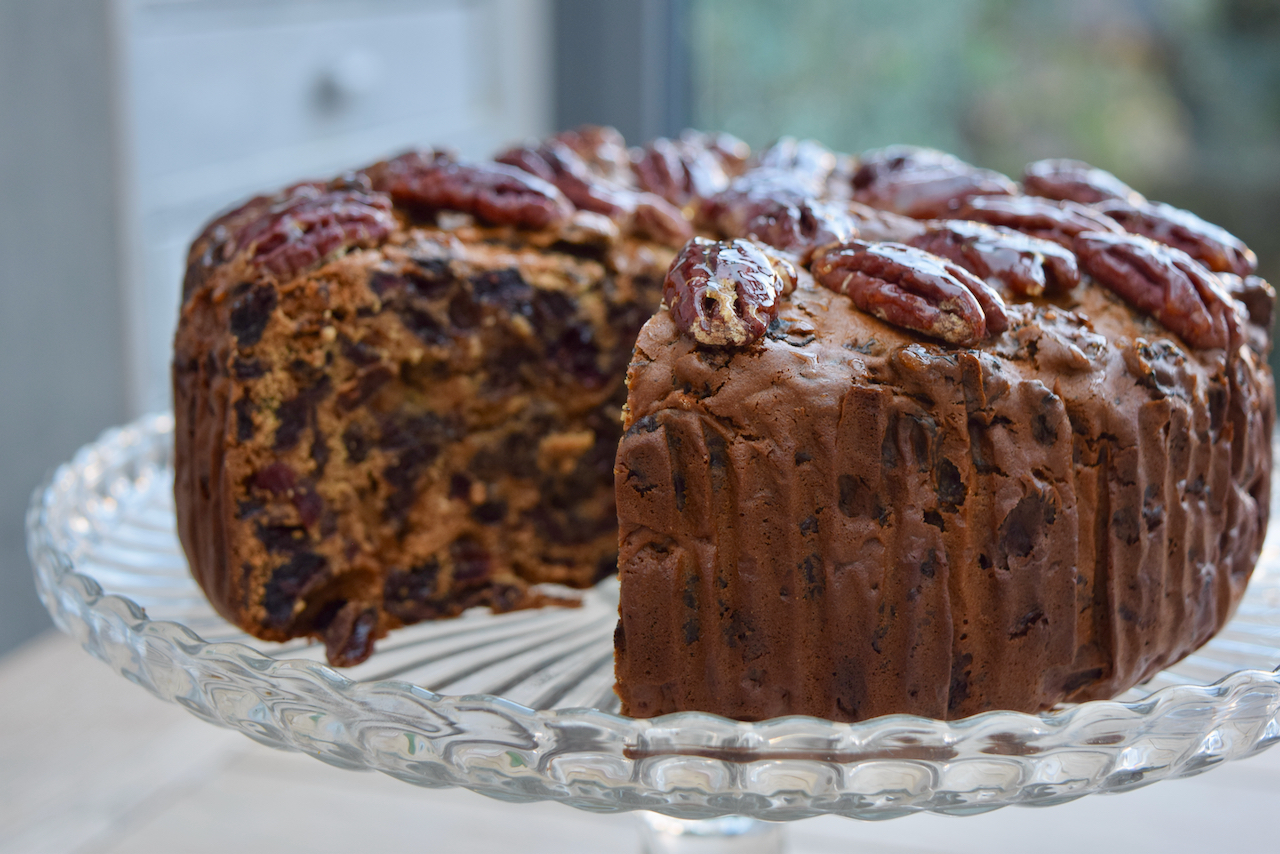 I've wrapped my Baileys Fruit Cake up now for Christmas. I may have to ask Clyde to hide it to stop me seeing the whole lot off between now and the 25th. It's that, or I'll have to just make another one.
Lucy x
Baileys Fruit Cake for Christmas recipe
You will need a lined 20cm round cake tin and a large bowl for this
1kg mixed dried fruit, I used a combination of raisins, sultanas and dried cranberries
1 x 400g tin condensed milk
200ml Baileys or other Irish cream liqueur
125ml water
280g self raising flour
1 heaped teaspoon mixed spice, optional but adds a seasonal flavour
Optional handful of pecans, to decorate
2 tablespoons apricot jam, to glaze, or decorate in the traditional marzipan and fondant icing way
Start with a large bowl, add your mixed fruit then pour on the condensed milk, Baileys and water and stir well. Cover the bowl and leave for at least 12 hours, or overnight.
Pre heat your oven to 140 degrees fan assisted. Give your fruit a good stir then fold in the flour and mixed spice and mix until well combined. Scrape into your lined tin and level the top. Decorate the cake with pecans if you like. Bake for around 2 hours, covering the cake with a round of foil or baking paper after an hour if the cake is getting too brown. The cake will be cooked when it's firm to the touch and a skewer comes out clean when poked in the middle. Leave to cool completely in the tin.
For the optional glaze, heat two tablespoons of apricot jam with a tablespoon of water until just warmed through. Generously brush onto your cake. Devour in large slices.
The original recipe says this cake will keep well wrapped for a month or so, making it a great option for Christmas.