Chocolate Christmas Pudding Recipe
We are fully immersed in the Christmas thing now, so let's just go with it. I have lists of lists and online shopping deliveries are arriving on a daily basis. My sister, Mother and I are menu planning for the big day, and discussing all the parts of the Christmas day menu which have to be included so as not to upset anyone. My Mother is always in charge of the Christmas pud, making one every year which is only realistically enjoyed by 3 of our 10 strong party. I love a slab or two of traditional Christmas pud, but my sister can't abide it and always has to have a special needs pudding of her own. This year, I am treating her like the princess she is and will be making her this really rather divine Chocolate Christmas Pudding.
This pudding is a treat to be enjoyed at Christmas, however, it is really just a steamed chocolate, sticky toffee style dessert. The date puree keeps this *eeek* super moist and the chocolate sauce makes it a spoiley rich treat. I had, much to my Mother's disappointment, never really steamed a pudding before. I had to call her for advice on how to cook this, and discovered, much to my delight, I did actually own a steamer pan to fit on my saucepan. Other than that, this pudding is simplicity itself. Some processing, some beating, all for huge reward. I cut the original recipe down by a third due to the large pudding basin I ordered not arriving in time, but it still made a pud big enough to feed a generous 6 *Clyde and George*. I kept the sauce as per the original recipe, because, let's face it, there's no such thing as too much chocolate sauce. I take my hat off to Donna Hay for the inspiration for this dish, and so will my sister when she tries it.
This is just the sort of dessert you need on your Christmas table. It's rich, decadent and if you enjoy with a big glass of dessert wine, it may just be the best Christmas present ever, for traditional Christmas pudding haters.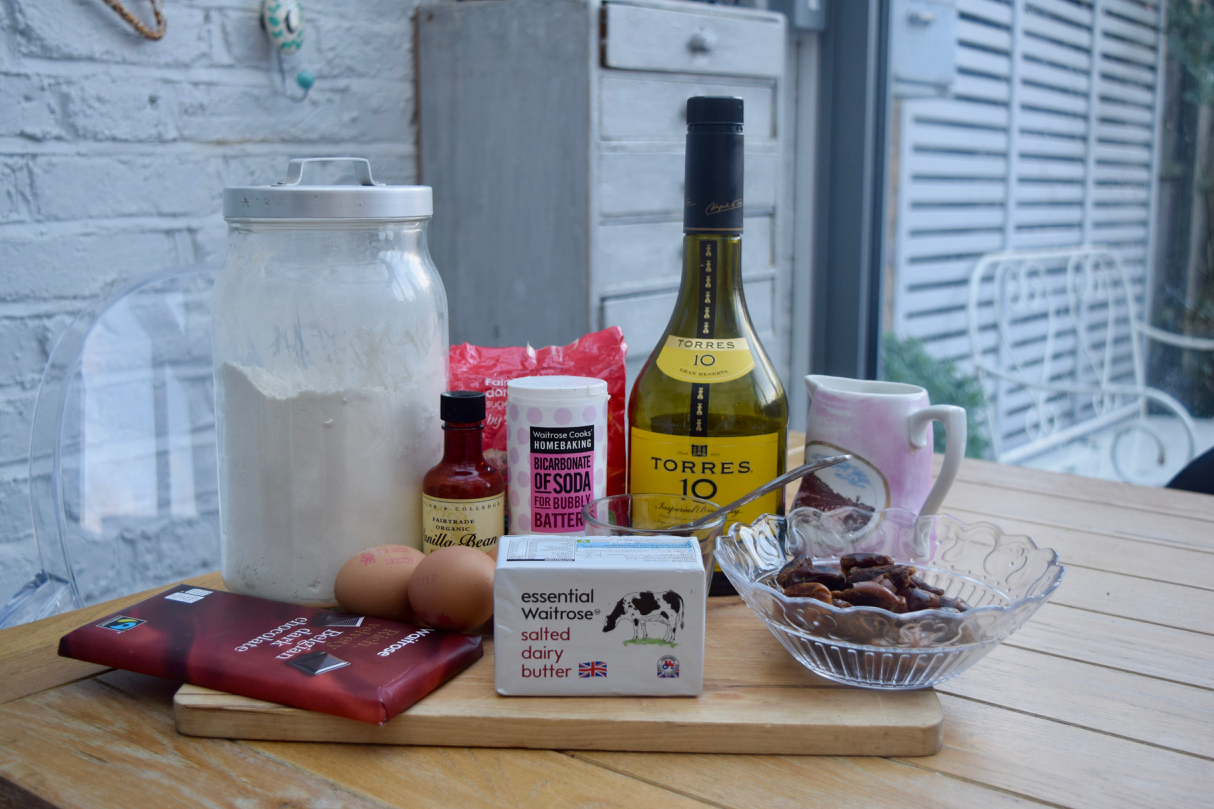 What a divine looking ingredients line up. Dates make everything sweet and sticky and a slug of brandy will improve any dessert in my mind. This is effortless to make, but does take a while to steam, so make sure you leave plenty of time to cook it.
Make a start on the dates in your food processor or powerful blender if you have one. Pop them in with 120ml boiling water and the bicarbonate of soda. Leave them to soak for 15 minutes.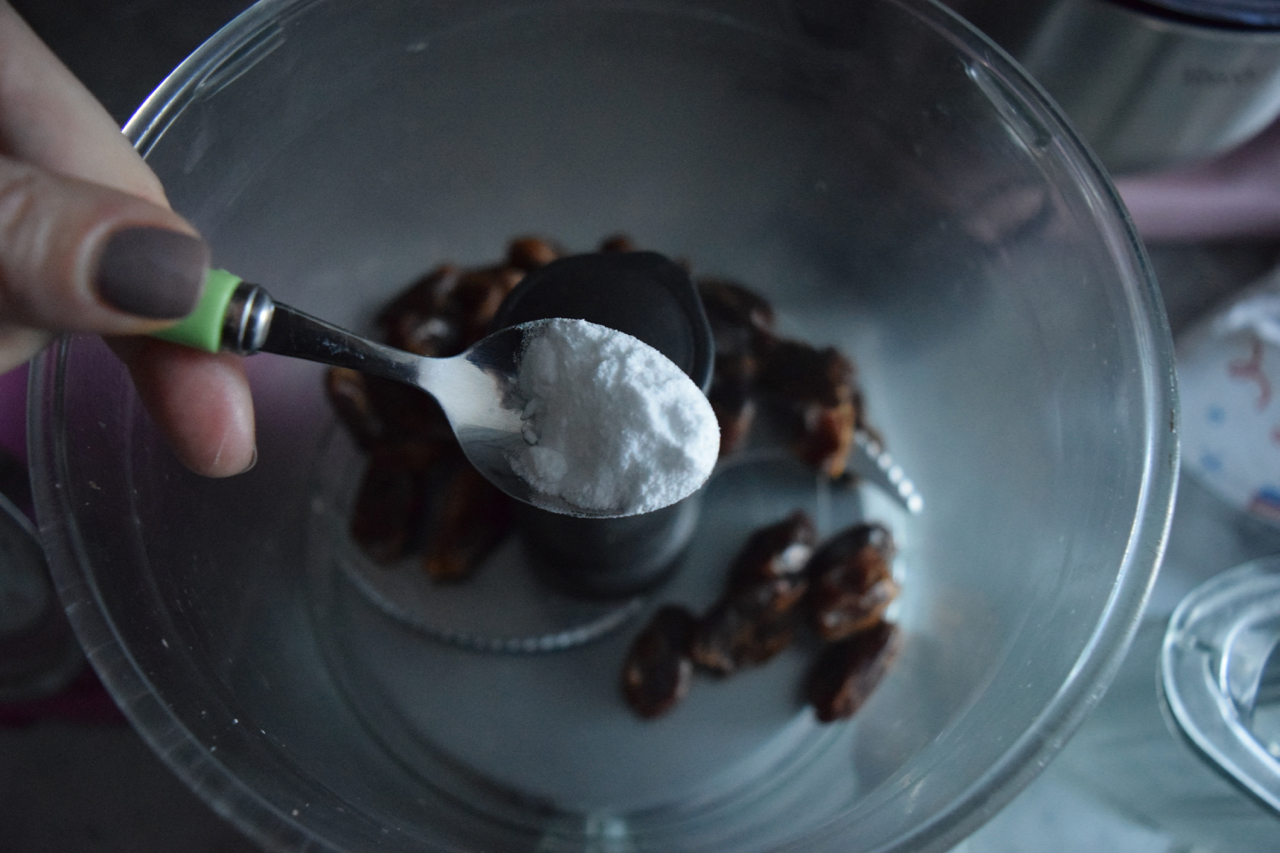 Shellac still going strong after nearly 3 weeks.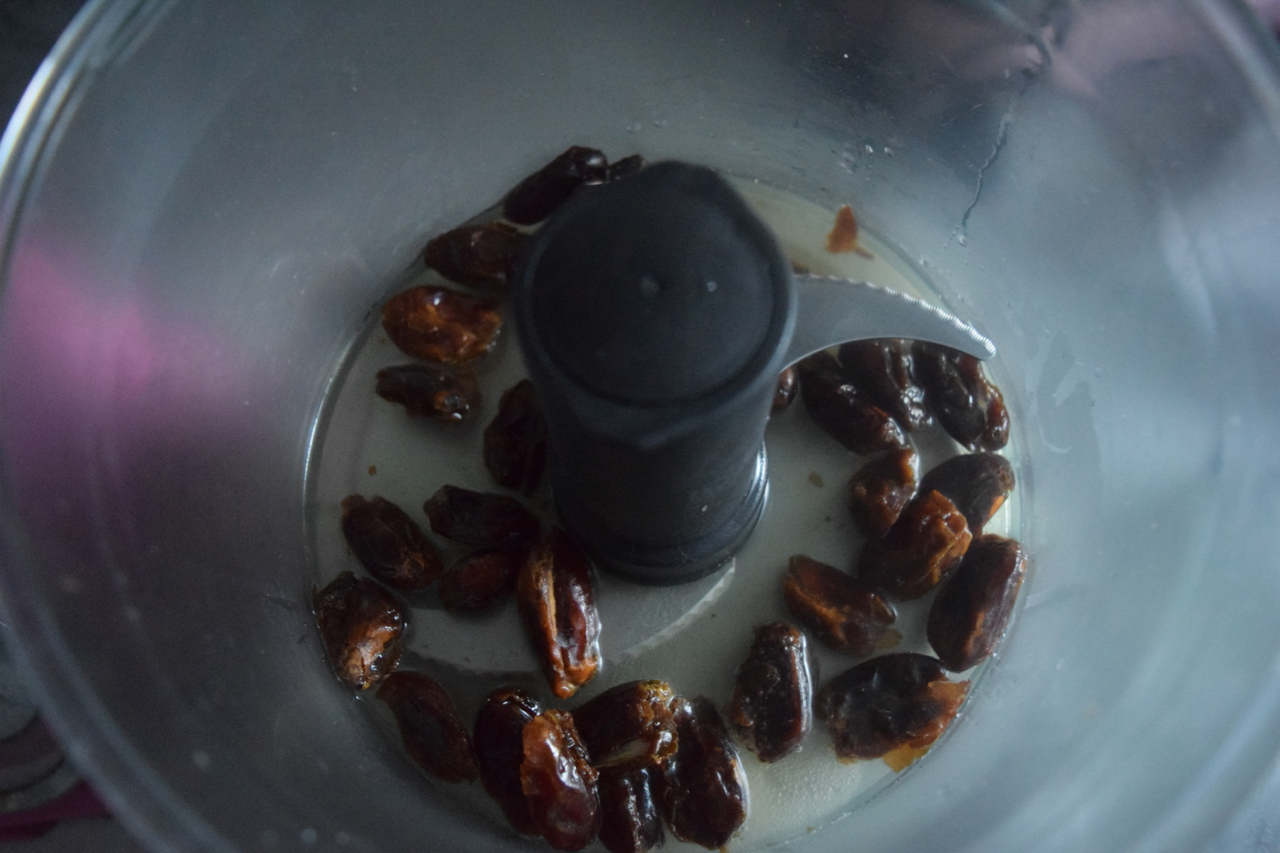 Once the 15 minutes is up, process the dates until you have a chunky puree. Brace yourself it will splatter up the sides of your Magimix and make a right old mess. Scrape down the sides.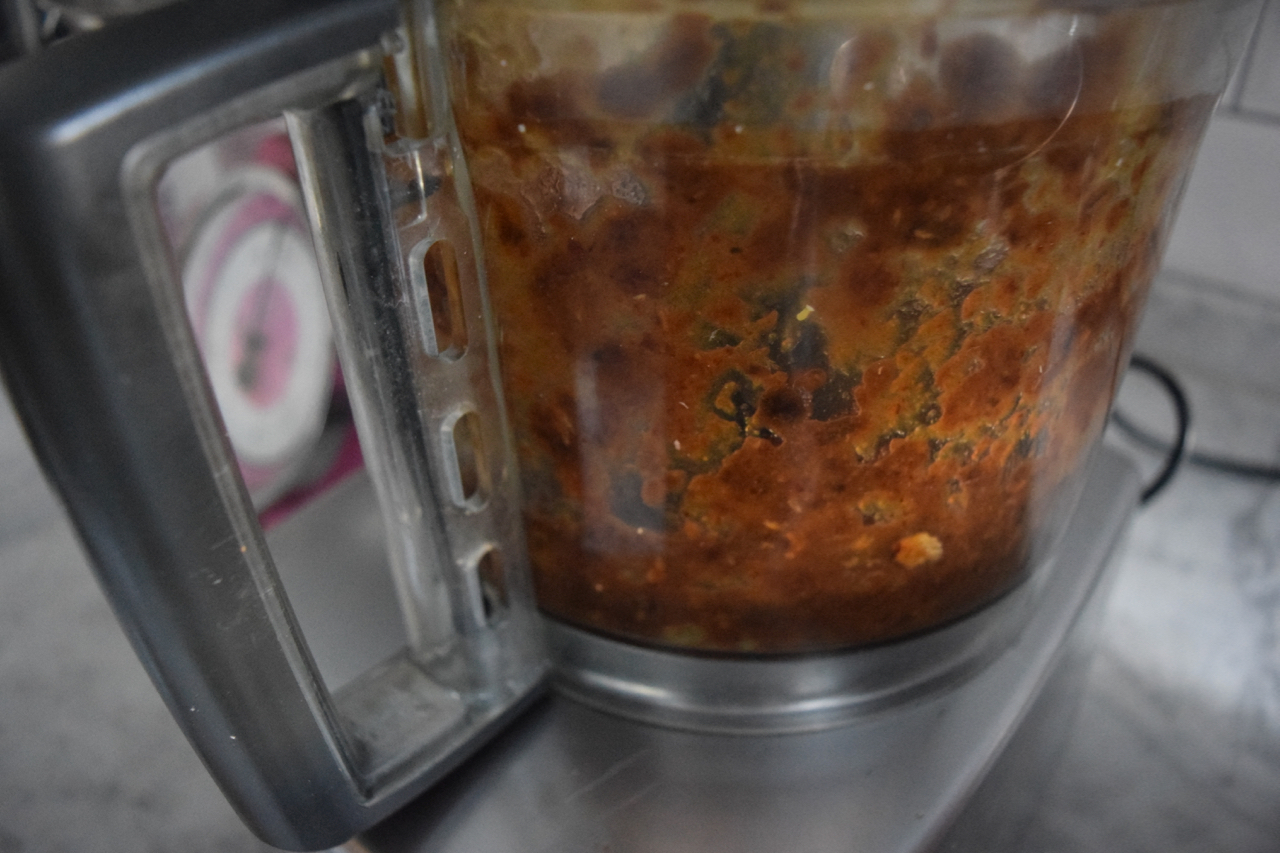 Leave this for a moment whilst you cream the soft butter and brown sugar together until much lighter in colour and texture. This takes longer than you think. Once light, add the eggs, one at a time.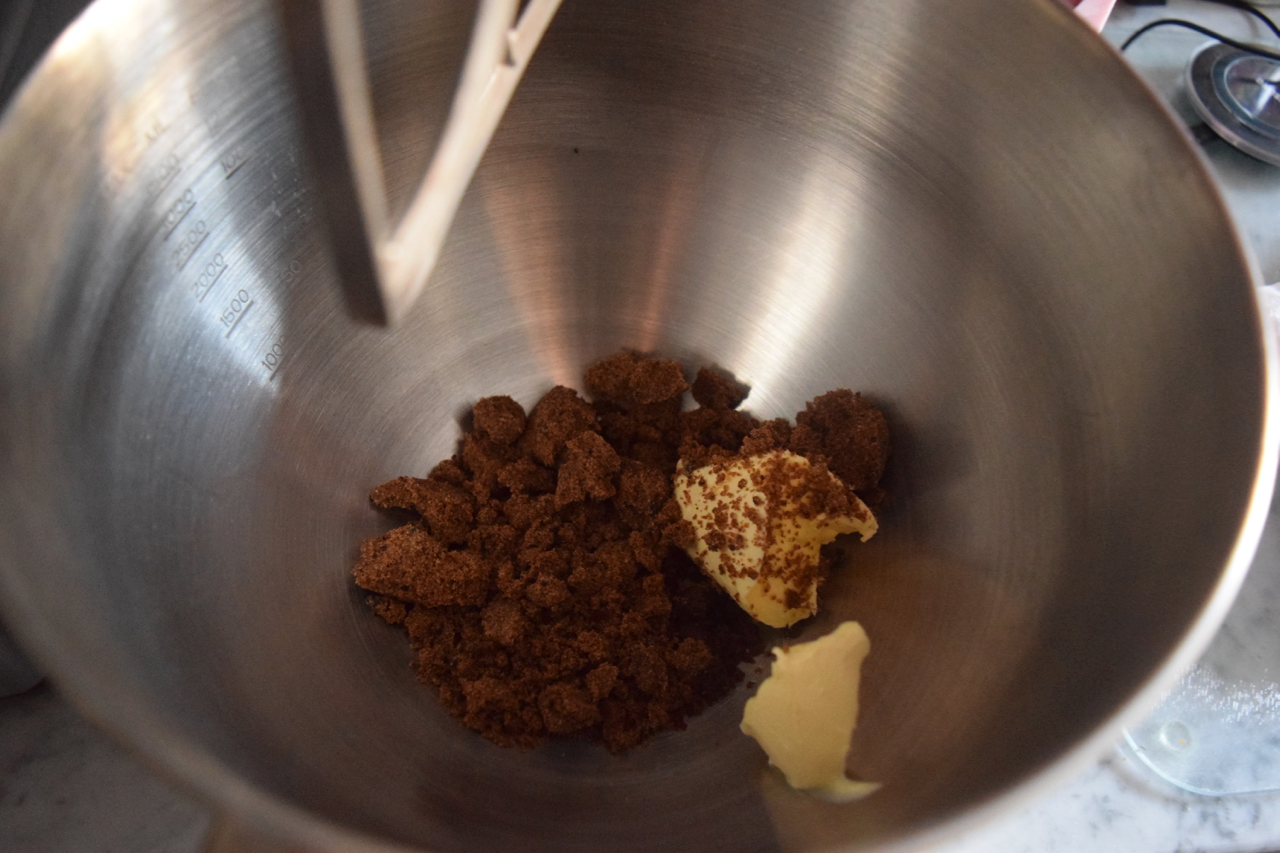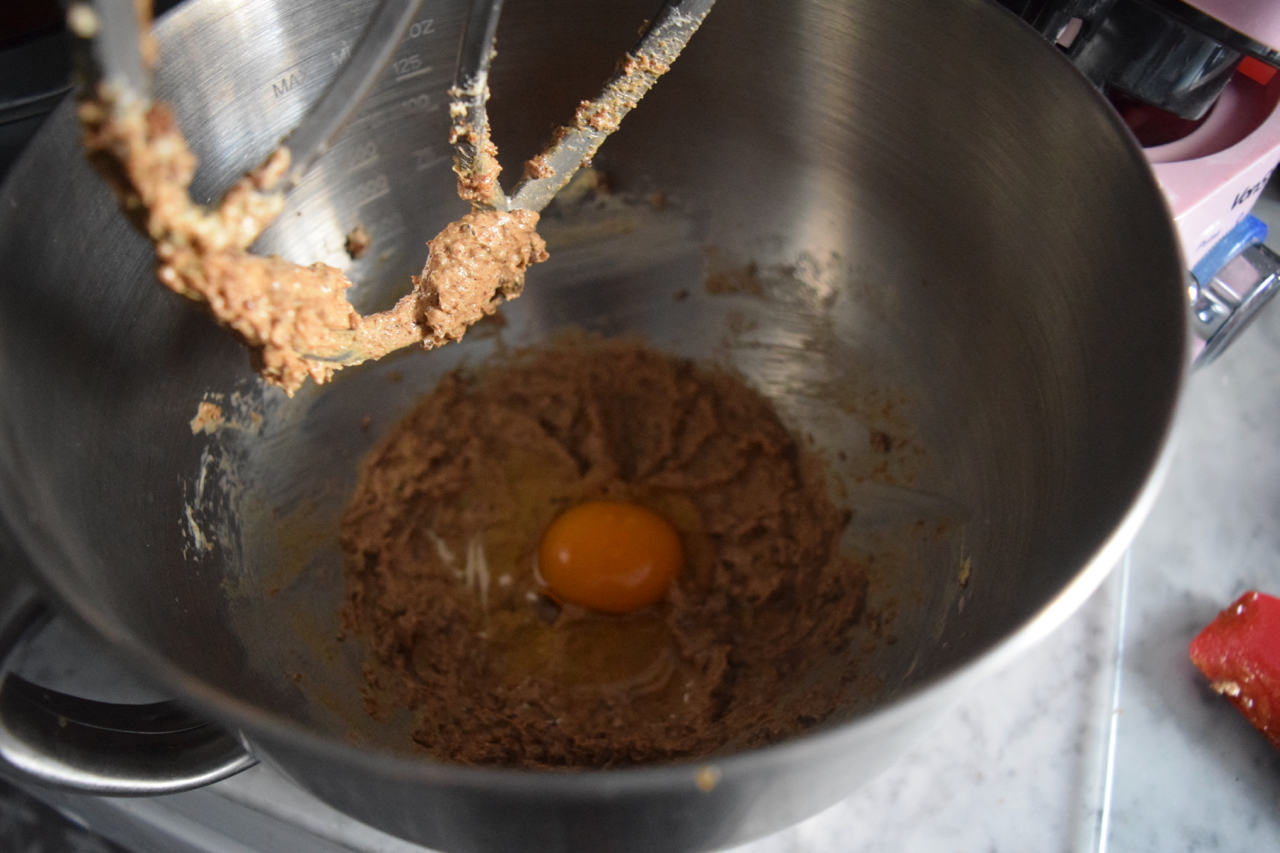 Beat in each egg and the vanilla until you have a thin batter. Then, fold in the flour and cocoa.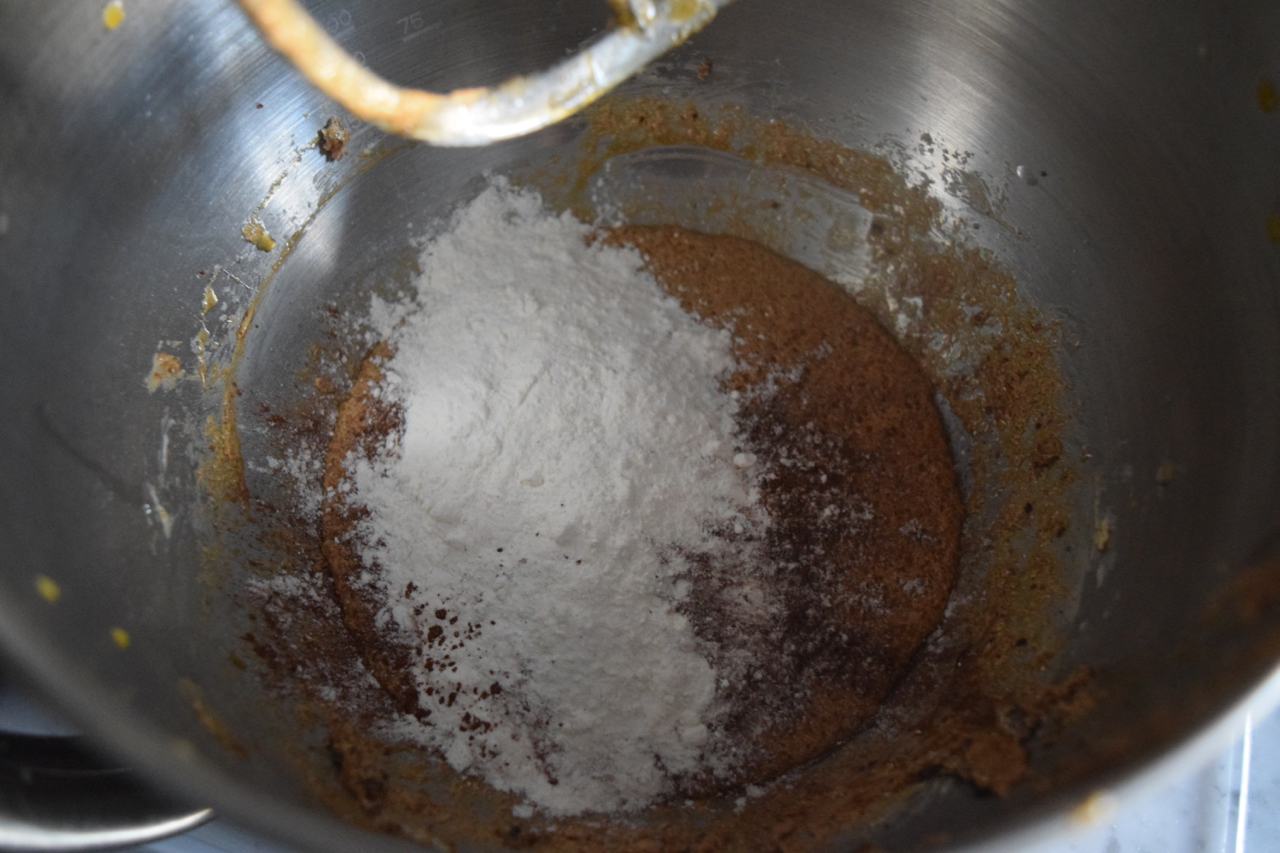 Once smooth-ish fold in the melted dark chocolate then your date puree.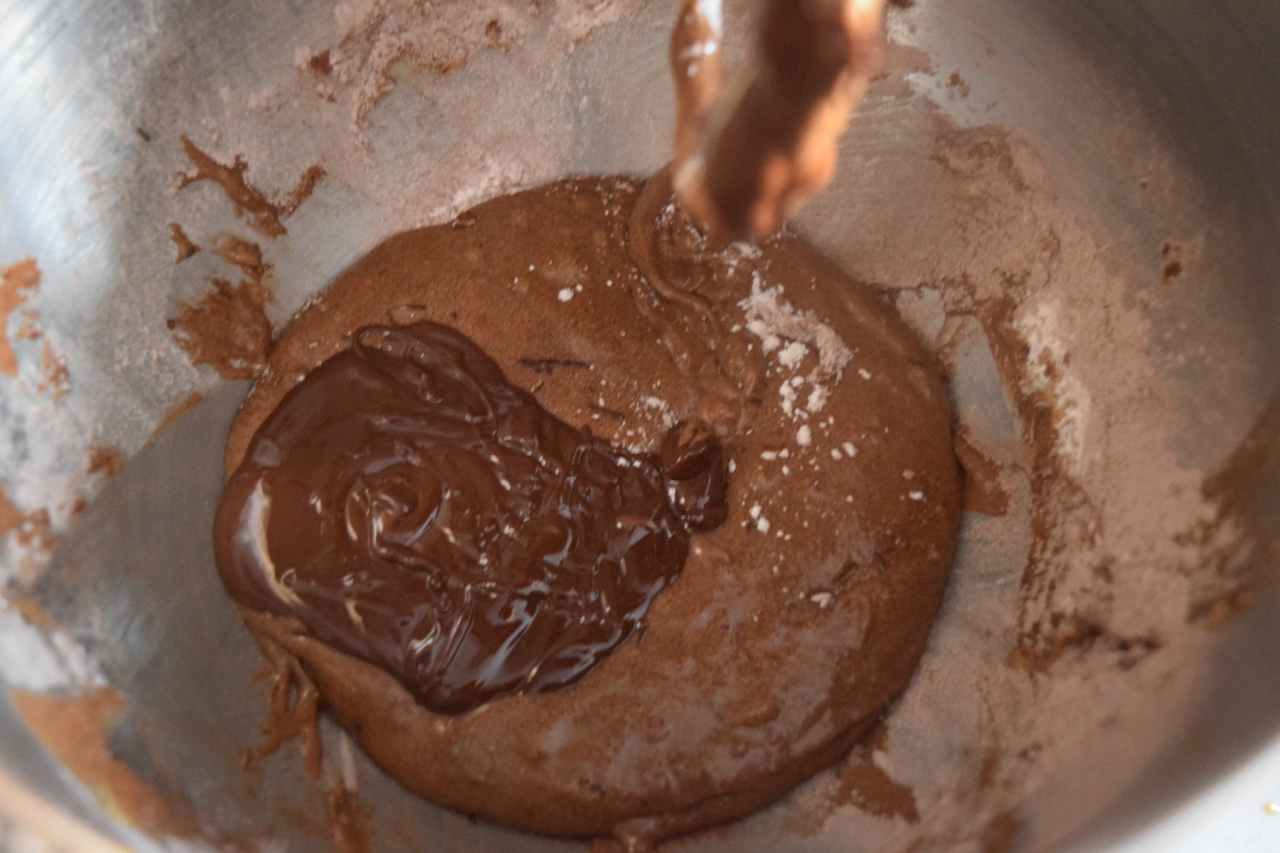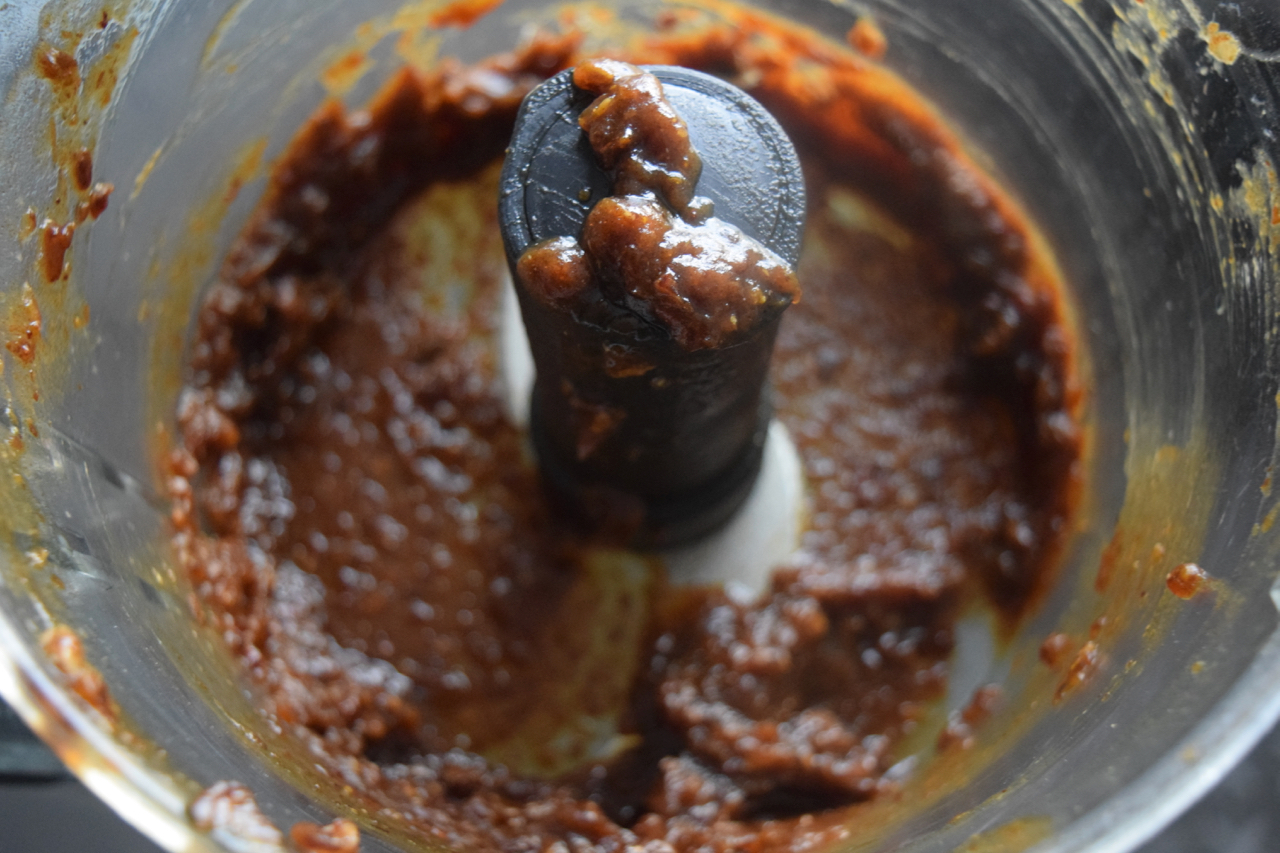 Mix until you have a slightly lumpy batter.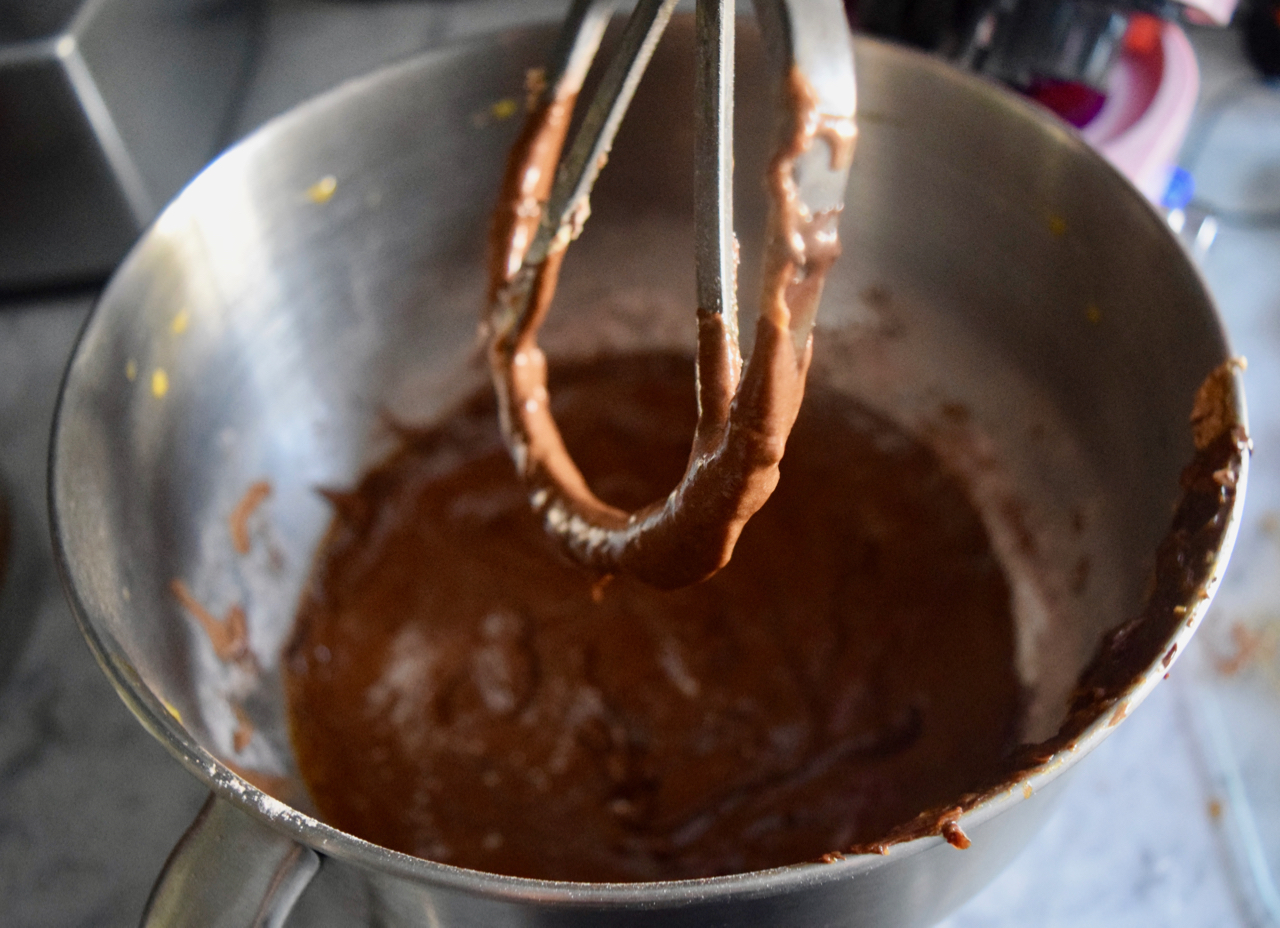 Scrape this tasty mixture into your well buttered 2 pint pudding basin.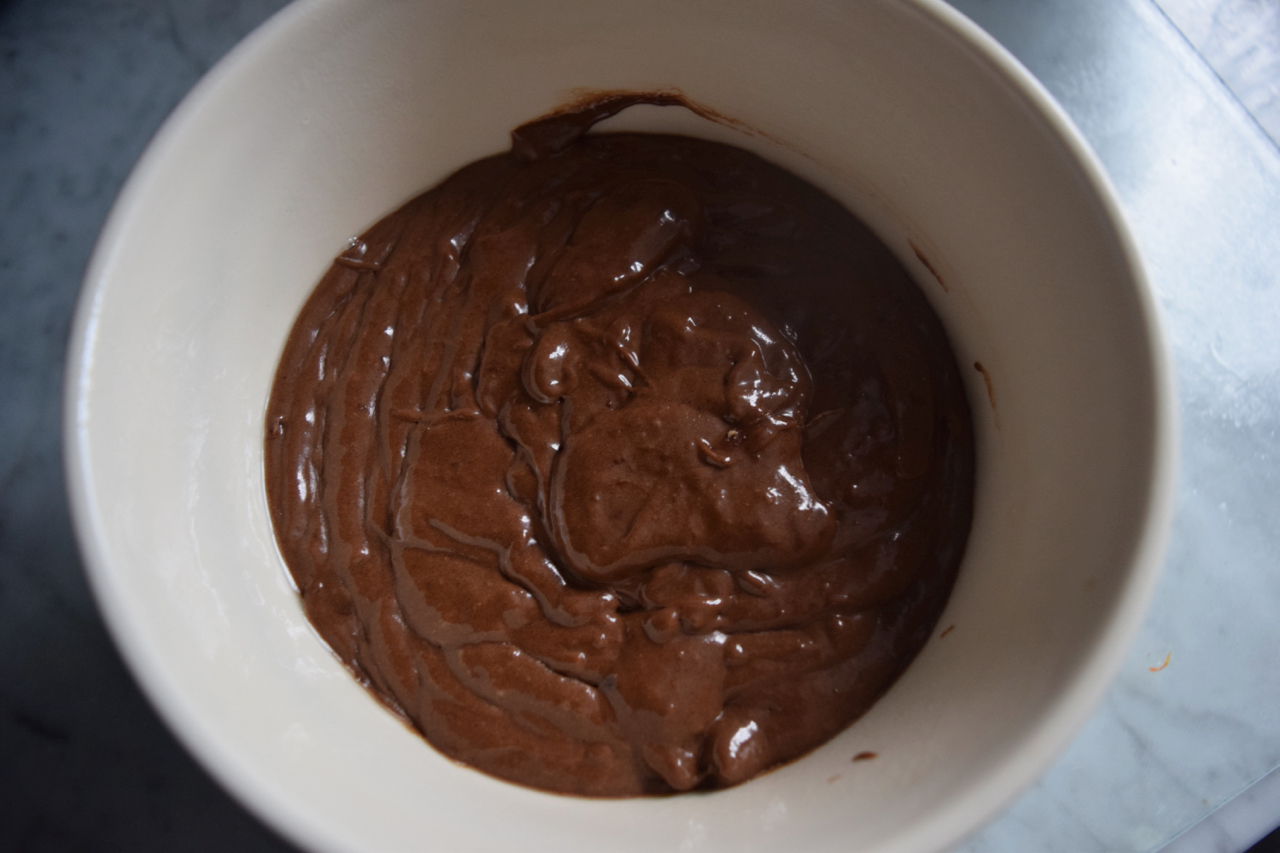 Cover the pudding bowl with foil lined with baking paper and a small pleat in the middle to allow for expansion. Or if your bowl has a lid, pop it on. I used some random silicone bowl lid I found in the cupboard. Place the pudding into your steamer then place this over a pan of simmering water and put the lid on.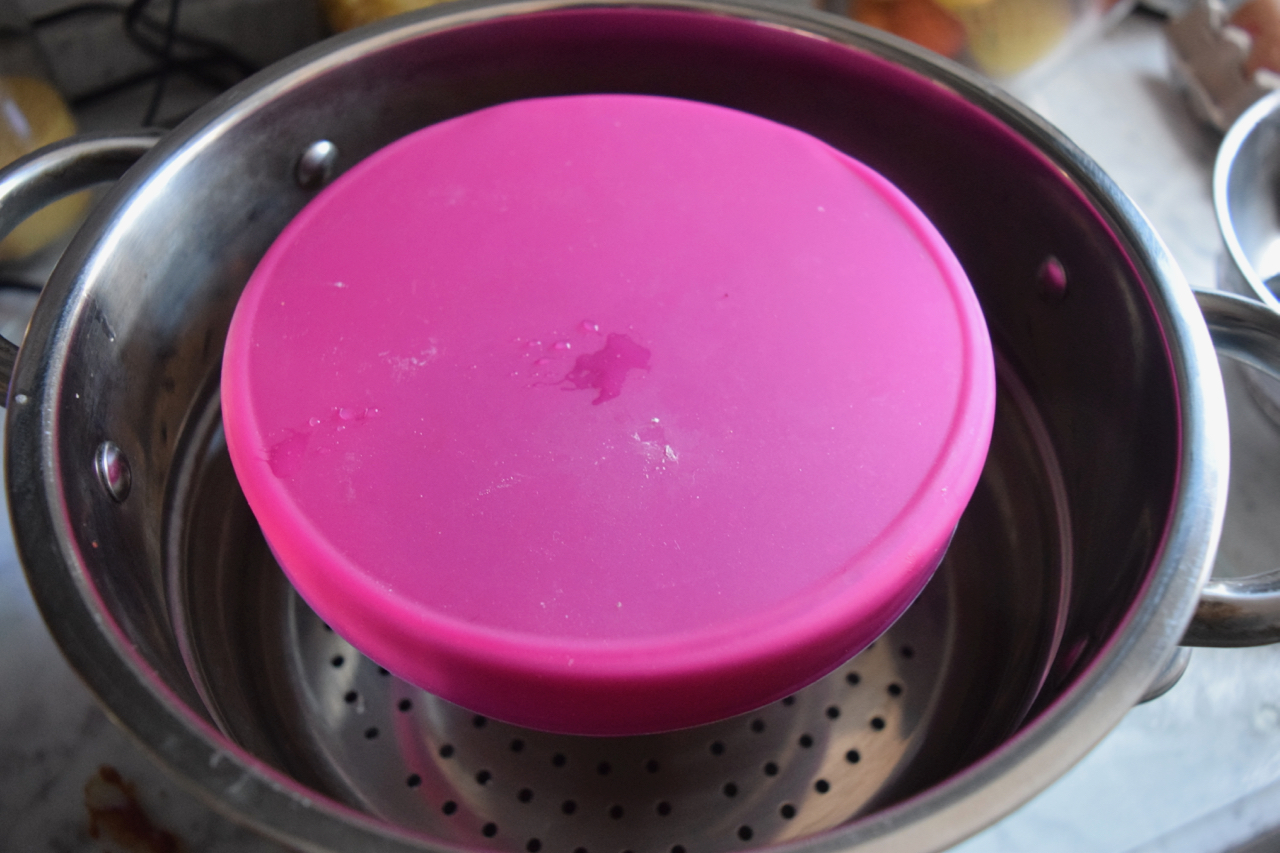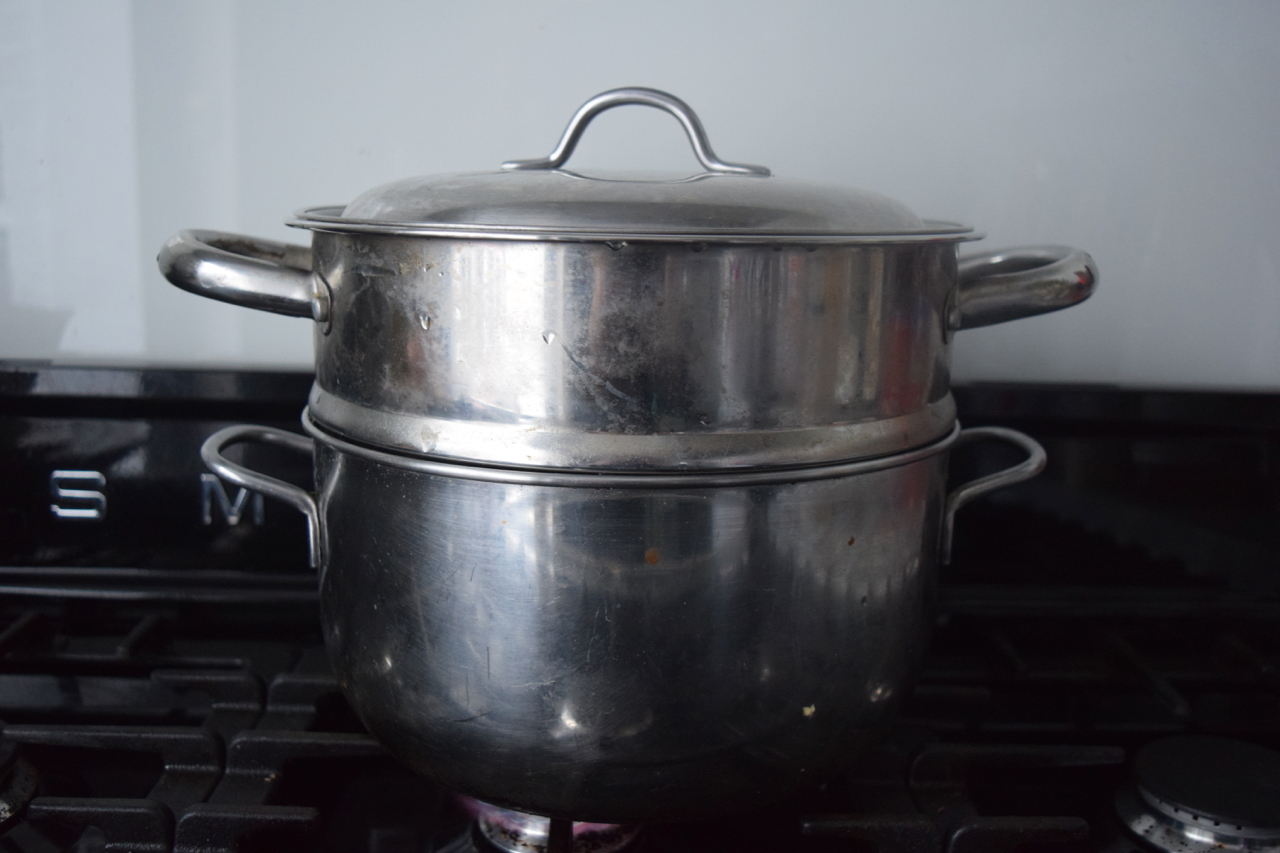 Leave your pudding simmering for around 2 hours and 45 minutes. Top up the water from the kettle if it runs low.
Your cooked pudding will be firm and smelling absolutely amazing.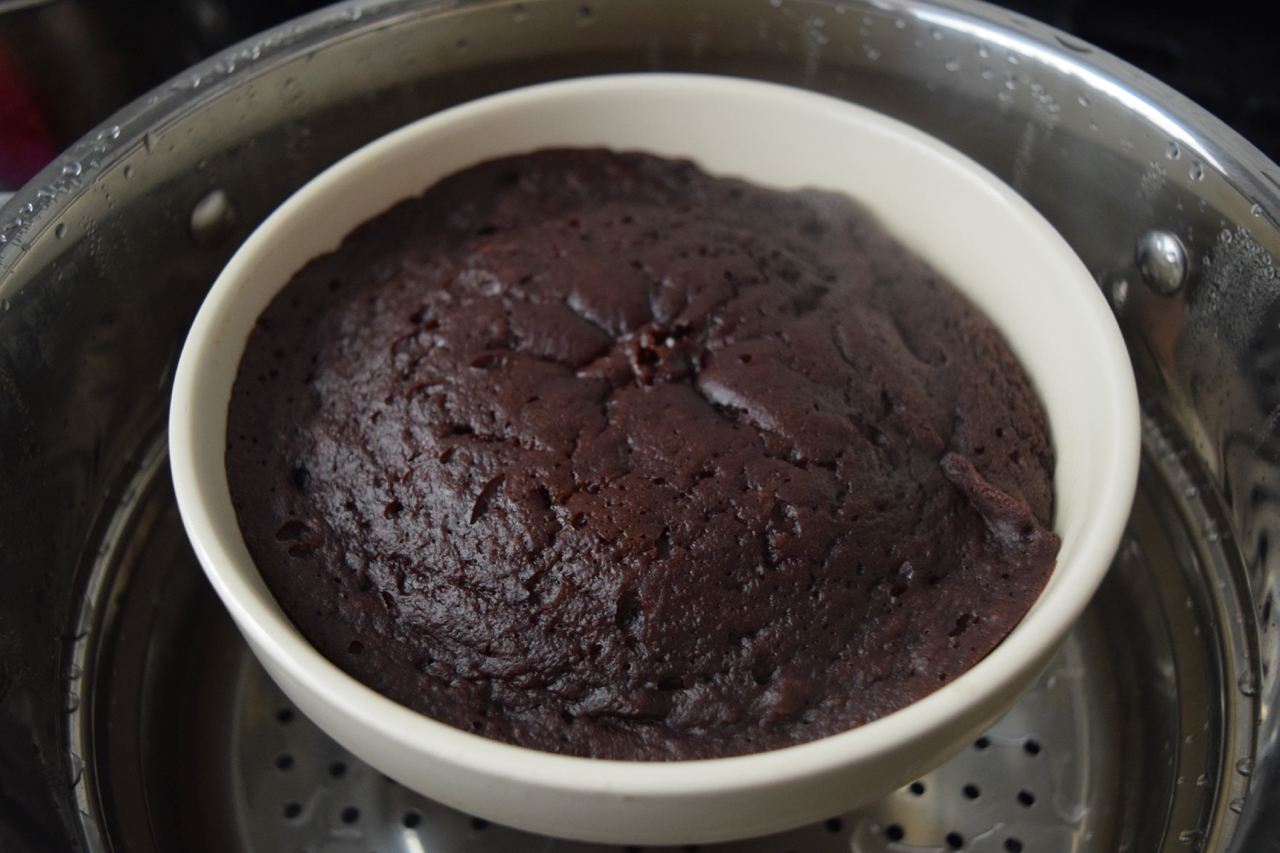 While your pudding simmers, make the simple sauce. Put the cream, dark brown sugar, chocolate and butter into a small pan and slowly bring up to the boil. Let is simmer for 4 to 5 minutes, stirring well. Finally, stir in the brandy then pour into a jug.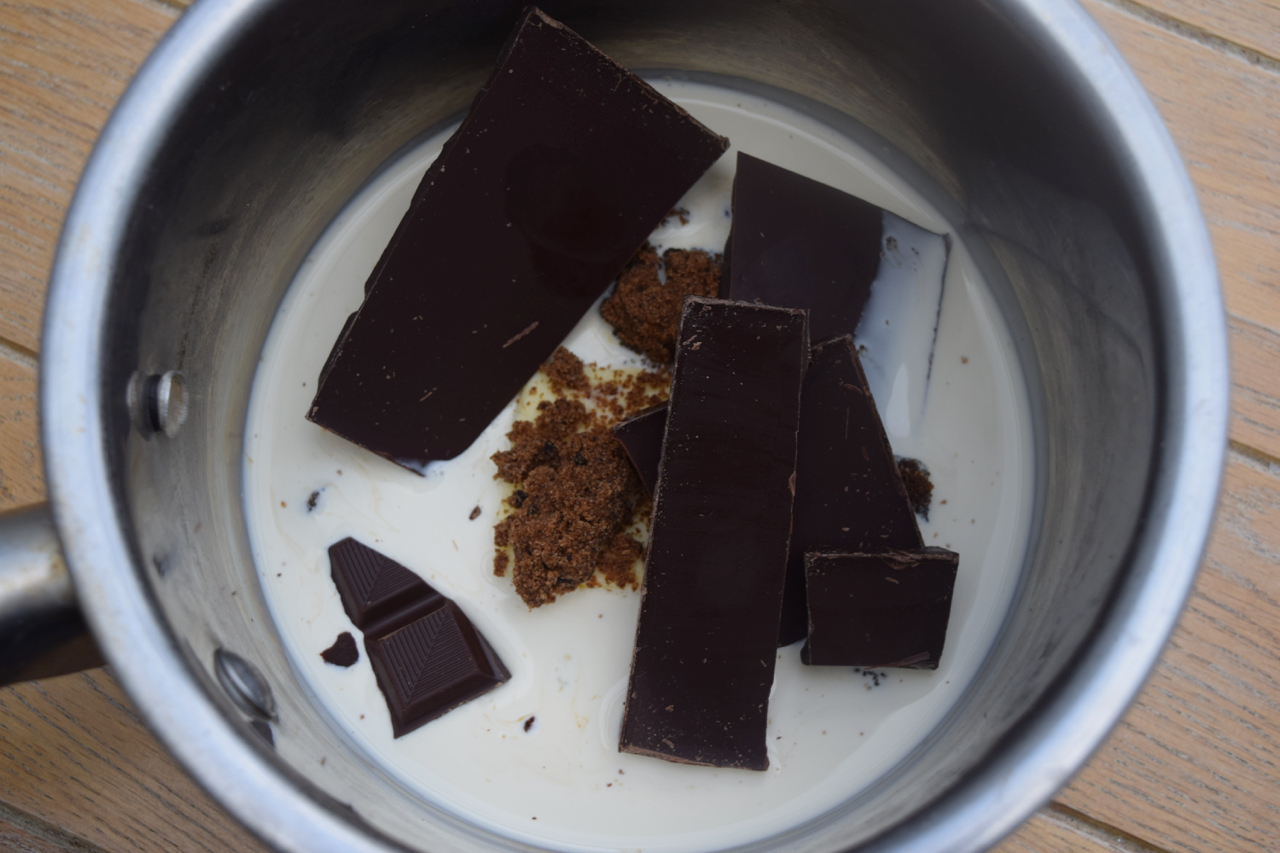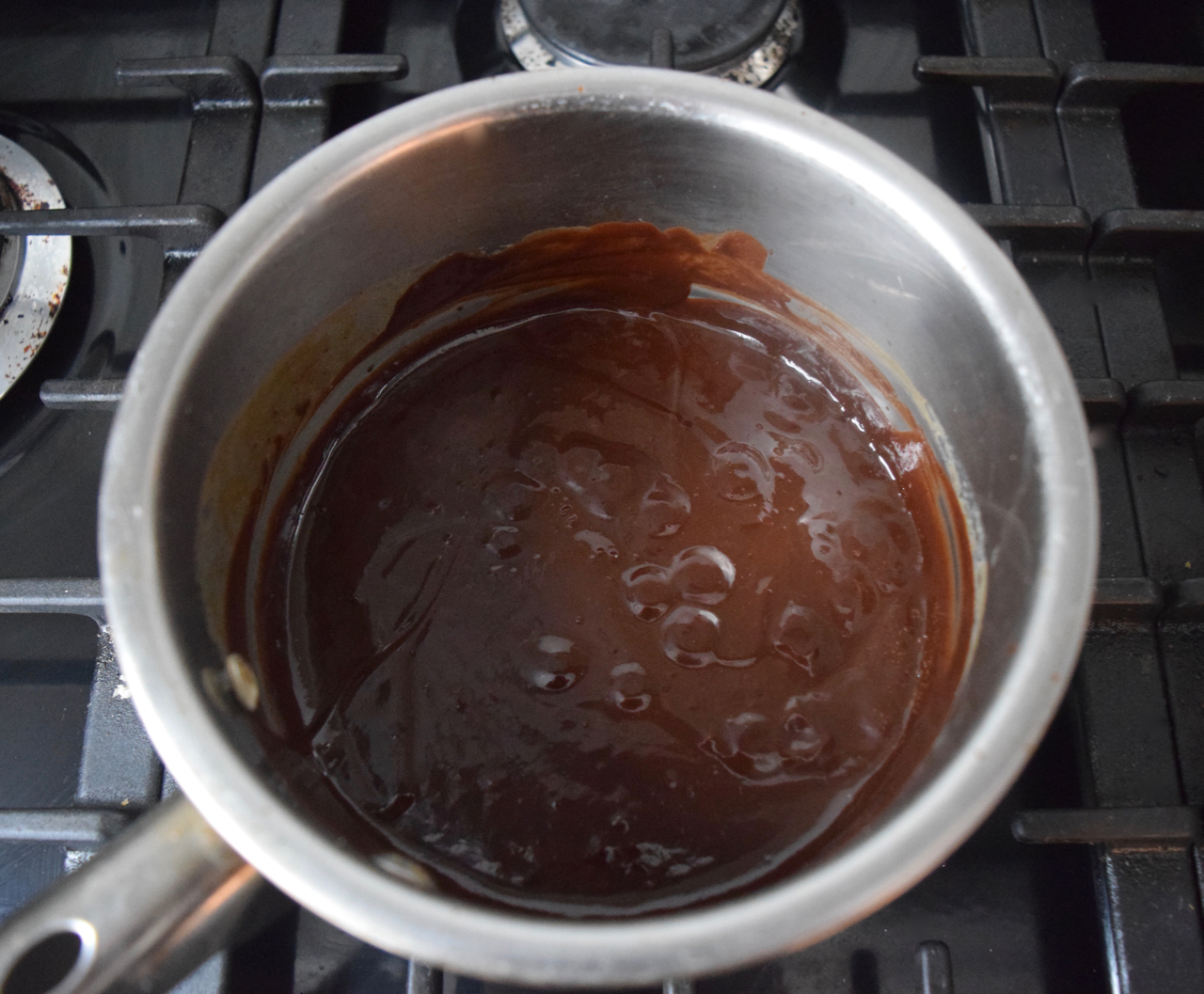 Now, it's time to serve your Christmas centrepiece. Run a knife around the edge of the basin, then turn your pudding out onto a serving plate and douse in some of the sauce.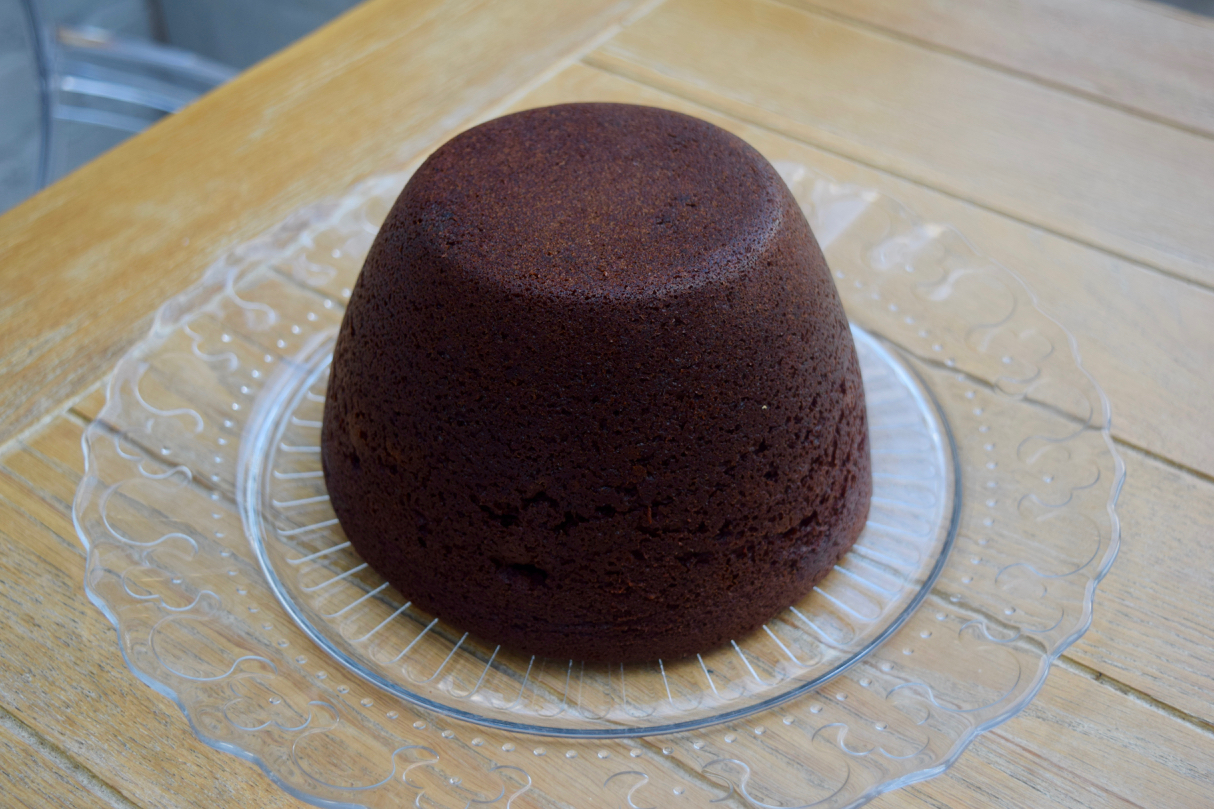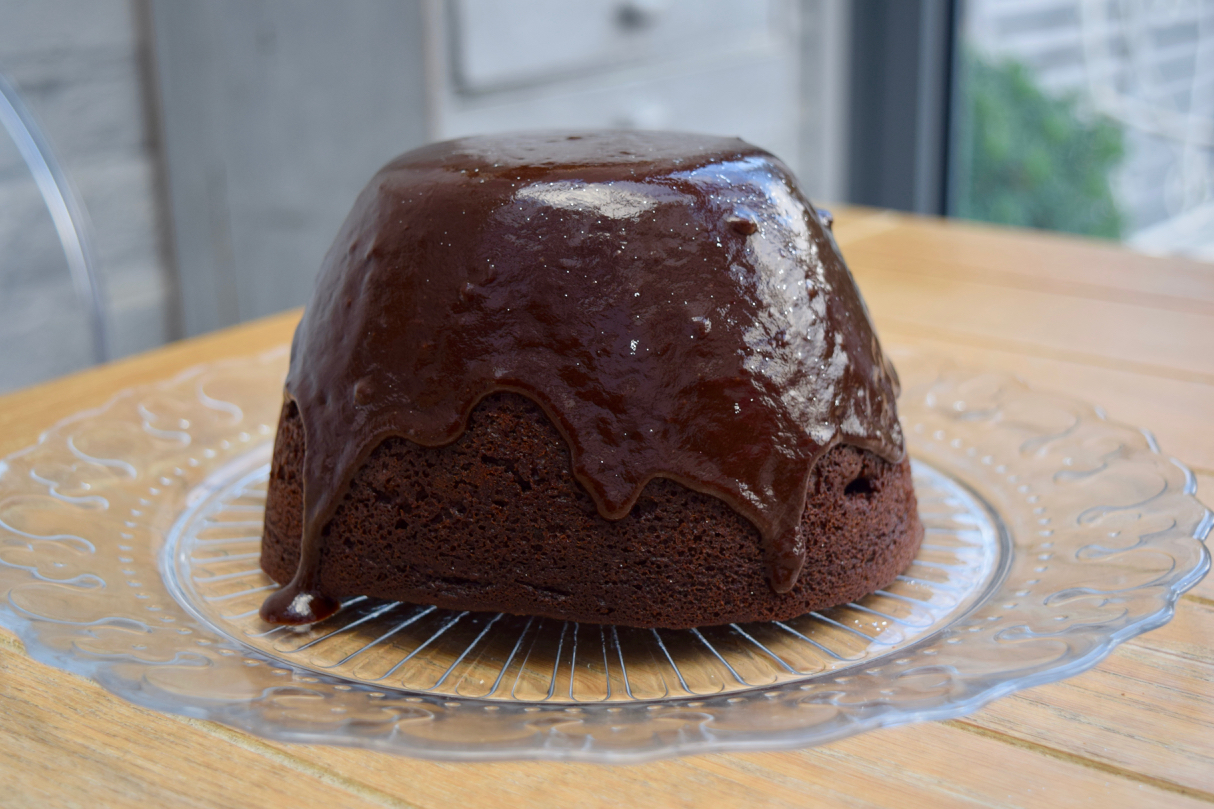 Add a touch of glitter for festive sparkle then serve in huge wedges with some more sauce, and I'm afraid I had some double cream with mine too.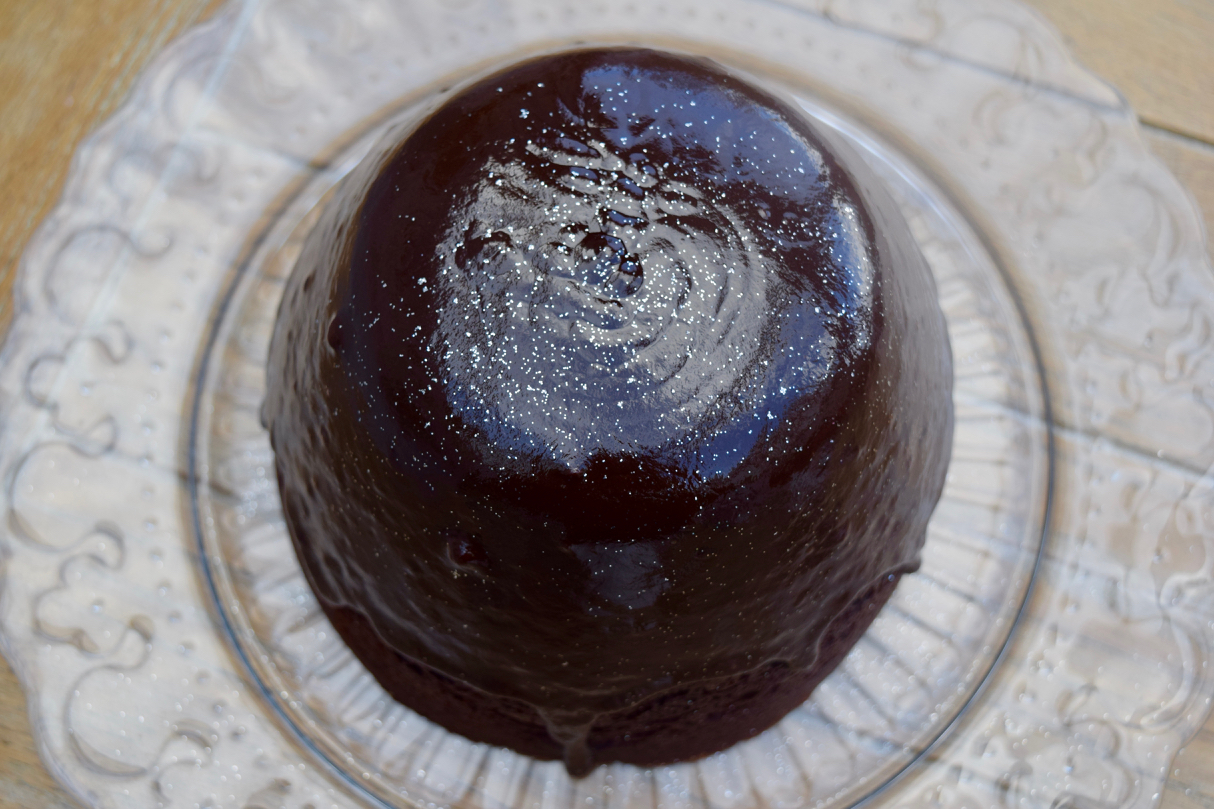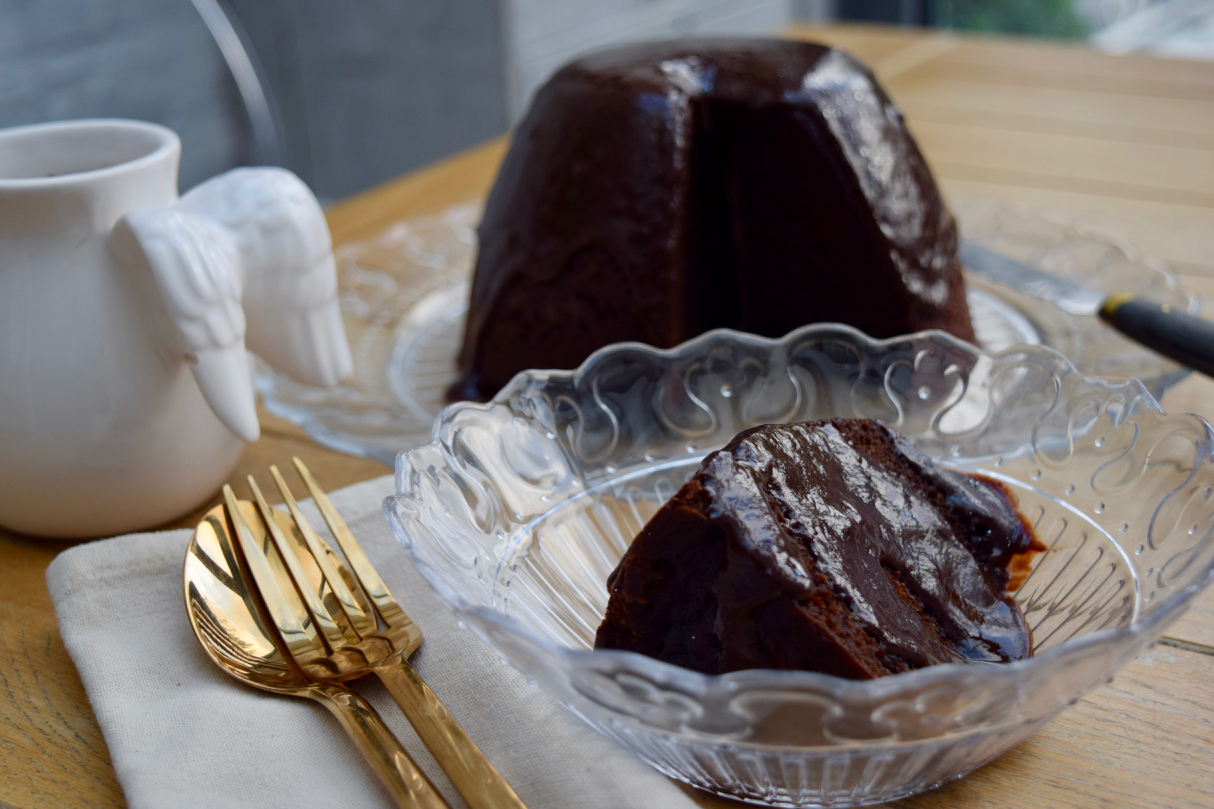 Imagine it's Christmas Day, you're fit to burst and you are presented with a wedge of Chocolate Christmas Pudding. I can guarantee you'll be able to shoehorn it down, it's too delicious not to.
Lucy x
Chocolate Christmas Pudding Recipe
Serves a generous 4 to 6
You will need a 1 litre pudding basin with a lid or covered with foil and a food processor or blender for the dates
Pudding
130g dates
3/4 teaspoon bicarbonate of soda
120ml boiling water
40g soft butter or Stork
90g dark brown sugar
1 teaspoon vanilla
3 eggs
75g self raising flour
1 heaped tablespoon cocoa
75g dark chocolate, melted
Chocolate Brandy Sauce
180ml double cream
60g dark brown sugar
200g dark chocolate
25g butter
1 tablespoon brandy
Glitter to decorate if you're feeling festive
Boil a kettle of water and butter your 1 litre pudding basin thoroughly.
In your food processor measure in the dates, bicarb and boiling water. Leave to sit for 15 minutes. Next, process this until you have a smooth puree.
In a stand mixer or a bowl with a spoon, beat the brown sugar and soft butter until much lighter in colour and texture. Add the vanilla then the eggs, one by one, until you have a thin mixture. Fold in the flour, cocoa, melted chocolate and then the date puree. Mix until smooth-ish.
Scrape this into your buttered pudding basin. Level the top then cover with the lid or with foil, lined with baking paper with a small pleat in the top to allow the pud to expand, then tie the paper lid on with string or fold the foil over tightly. Place into your steamer or into a saucepan with a saucer in the bottom. Pour boiling water into the bottom of the steamer or up to half way up the pudding bowl if you are using a saucepan. Steam for 2 hours 45 minutes, topping up the water in the bottom of the steamer or pan as and when needed.
To make the sauce add the cream, dark brown sugar, chocolate and butter into a small saucepan. Bring up to the simmer, stirring well to dissolve the sugar, then simmer for 4 to 5 minutes. Stir in the tablespoon of brandy then pour into a jug ready to serve with your pudding.
Once the steaming time is up and the pudding is firm and cooked through, remove from the pan and run a knife around the edge of the pudding bowl. Place a plate over the top and turn the pudding out to serve.
Pour some chocolate sauce on top, add glitter if you wish, then serve in generous wedges with additional chocolate sauce and double cream if you are throwing diet caution to the wind.