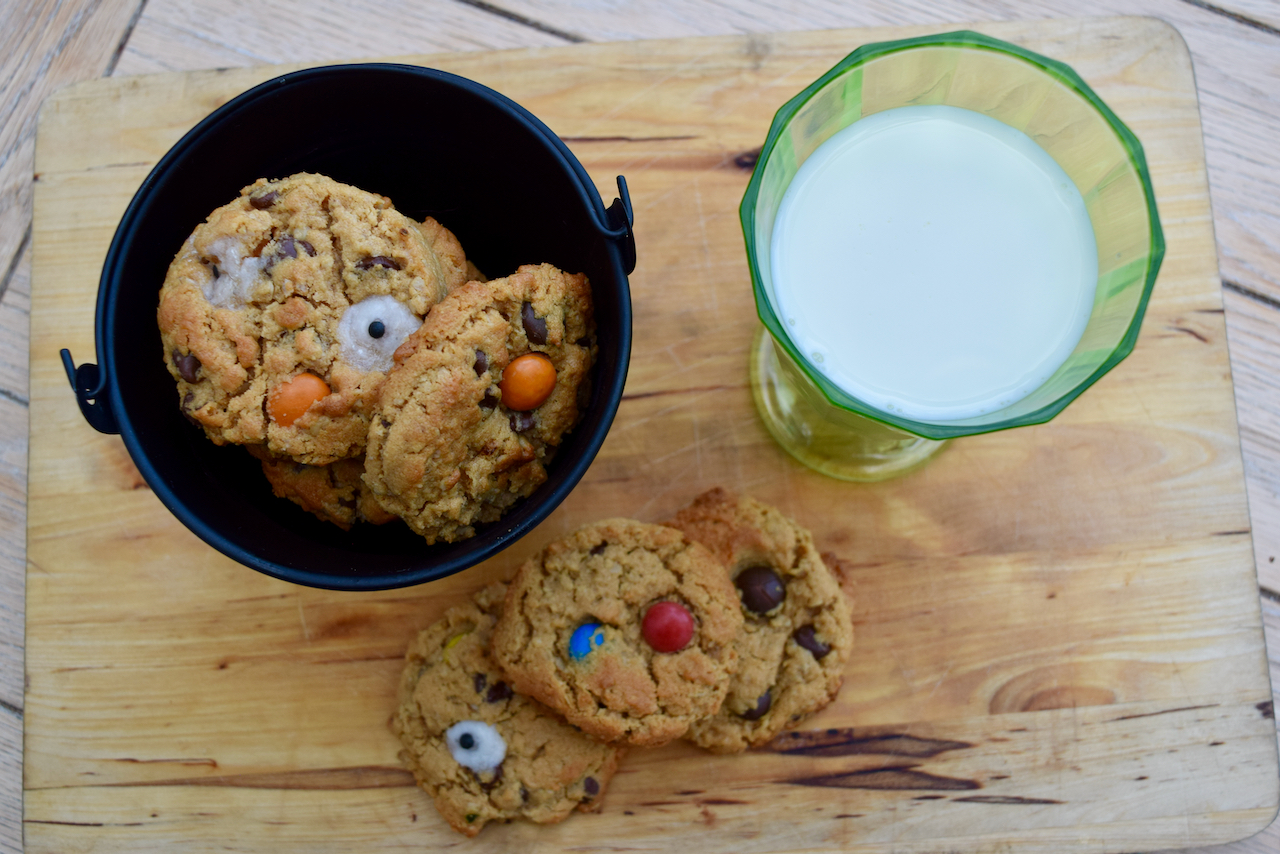 Peanut Butter Monster Cookies recipe
It's that time of year again, when you either go full ham on the Hallowe'en front; pumpkins, spider webs and 50 kilos of fun sized chocolate bars or lights off, behind the sofa and not answering the front door. With my boys both now being men I fall very much in the latter category but I am using Hallowe'en as a cheap excuse to share these Peanut Butter Monster Cookies with you.
Peanut butter is such an ingenius ingredient when it comes to baking; in some sort magical way it creates a soft, chewy cookie and in this case, without the need for flour. Oats add ballast and as long as yours are gluten free, so will your biscuits be. These are by no means healthy, but who needs health when it comes a Hallowe'en treat. Mine are packed with dark chocolate chips and M&M's but you can add whatever chocolatey bits are your faves. I popped in a couple of scary icing eyes which promptly melted, giving them an even more alarming look. Thank you to the lovely Broma Bakery for the inspiration.
This October 31st, get a batch of these on the go, and if you're anything like me, turn the lights off, draw the curtains and tuck into one or two monsters.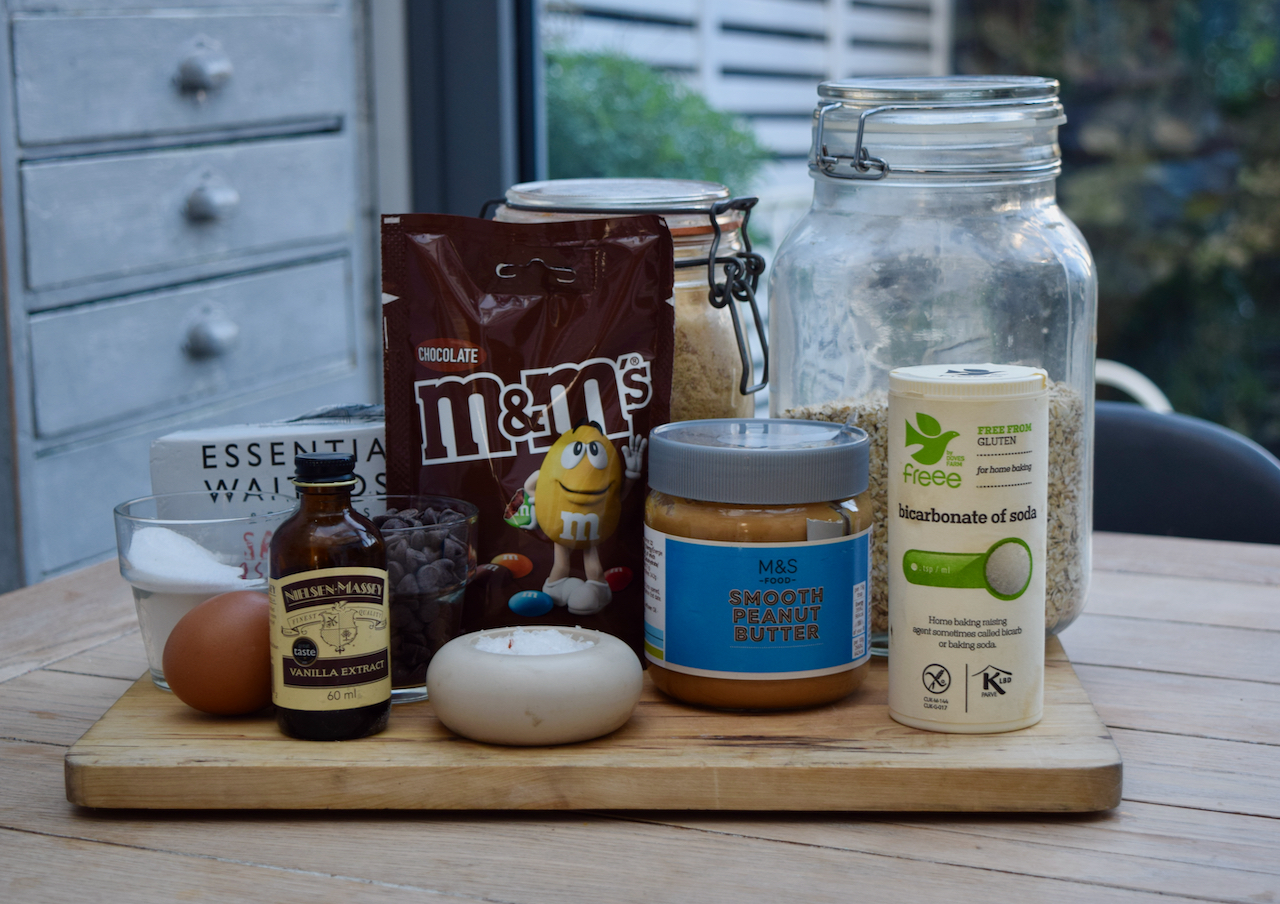 Not only are this quick and easy, they're full of lovely store cupboard ingredients. I went for dark chocolate chips and M&M's for my add ins, but use whatever chocolates you have to hand. I used smooth peanut butter but if you only have crunchy I can't imagine it would do your cookies any harm.
Start by lining two large baking trays and pre heating your oven to 160 degrees fan assisted. Next, either in a large bowl or in the bowl of your stand mixer, beat the soft butter and peanut butter until smooth.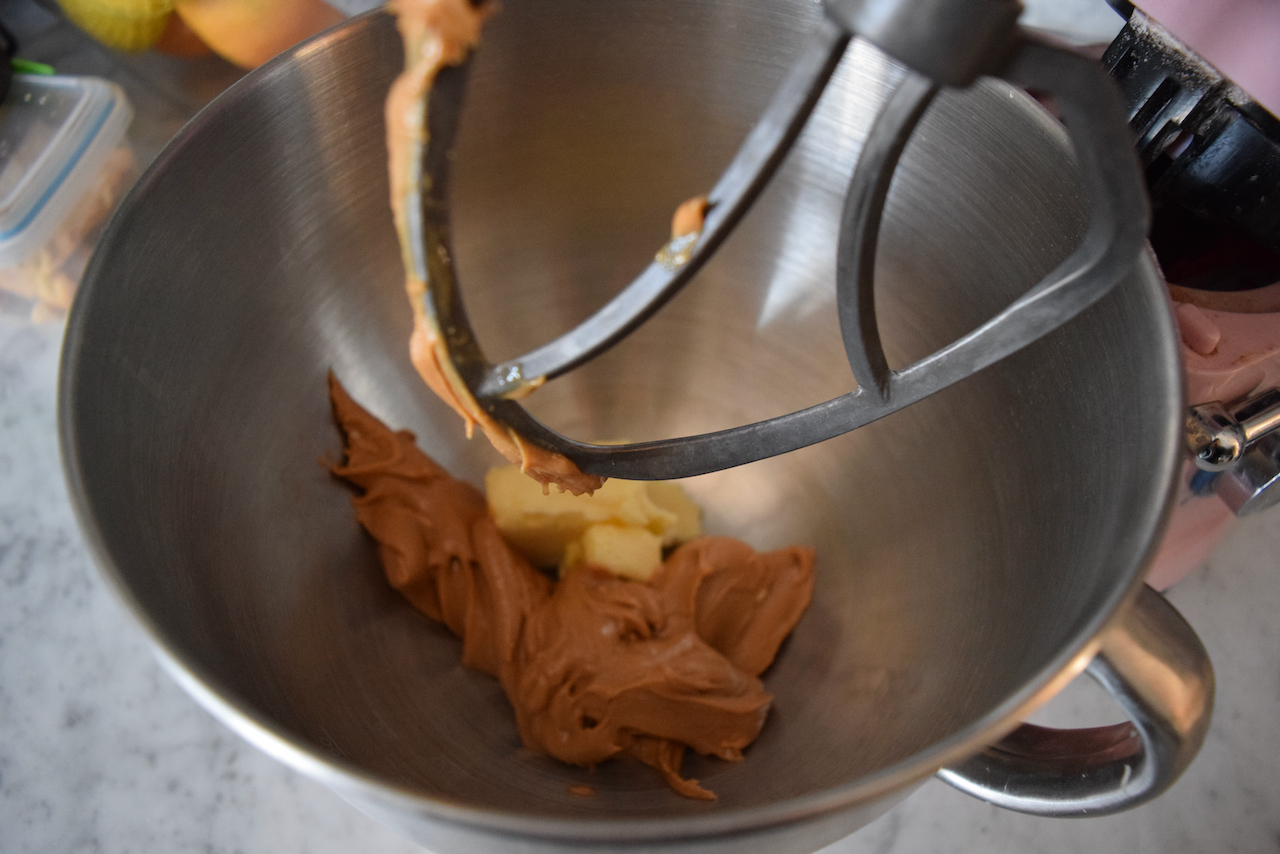 Tip in both sugars, and beat again, scraping down the sides as you go. Do the same with the egg and the vanilla extract.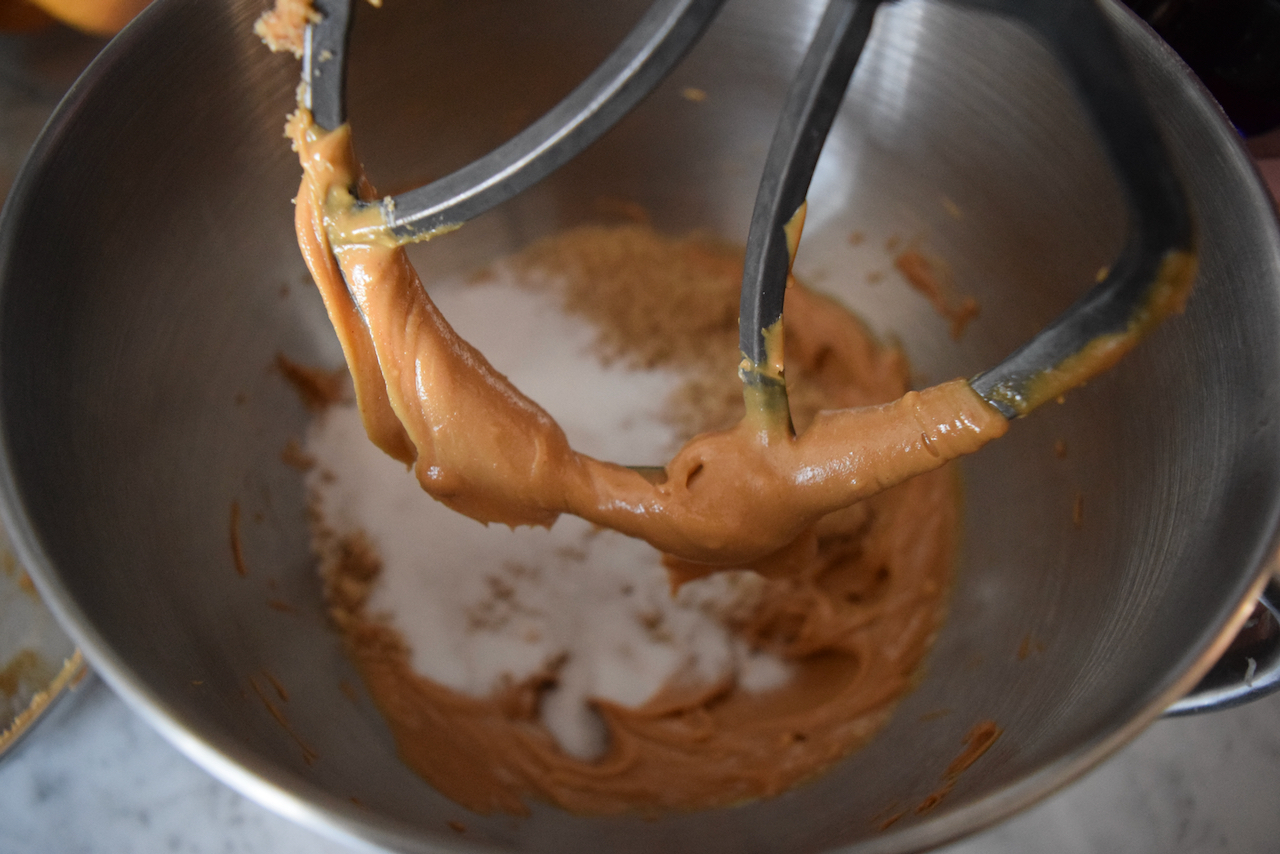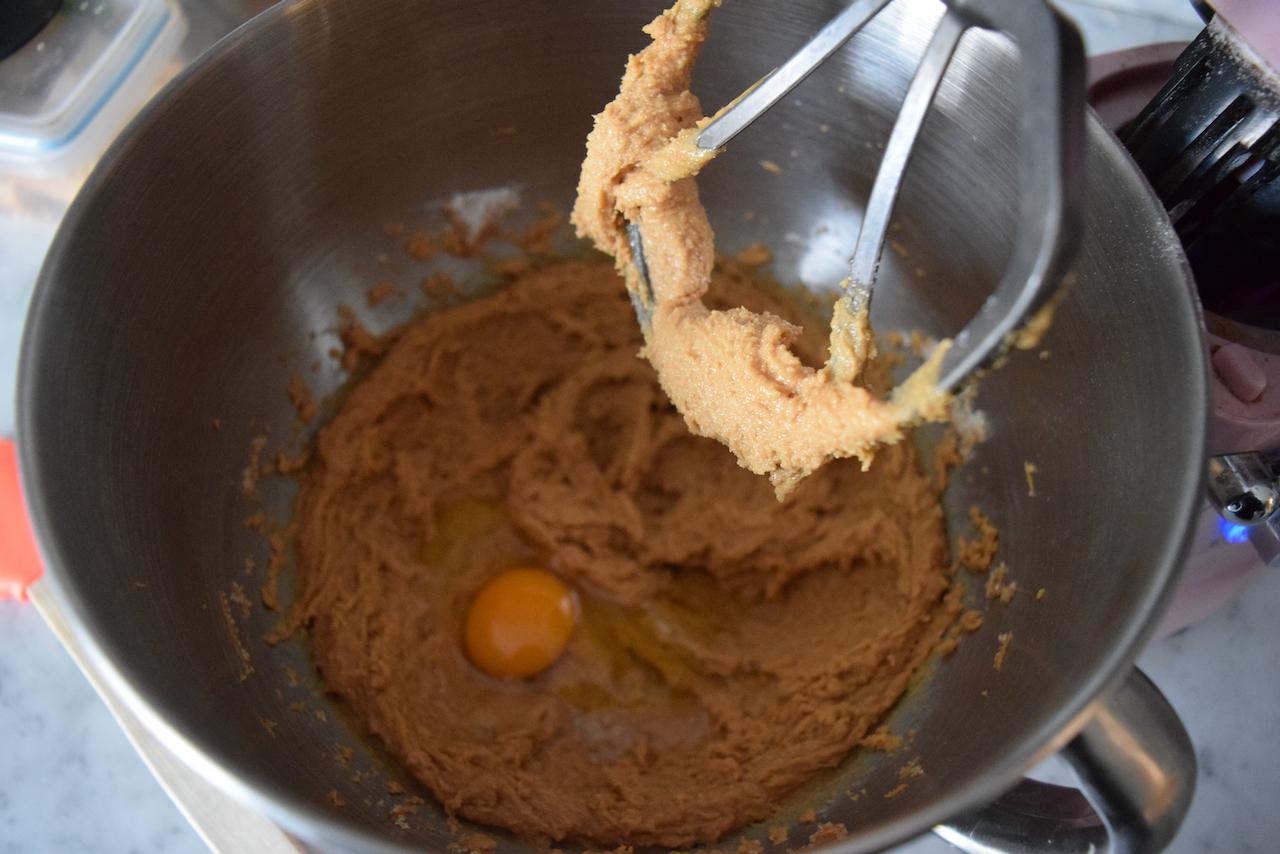 Next in are the oats, bicarb and salt, mixed until you have a soft, but firm dough. Finally fold in the chocolate bits and bobs of your choice in a colourful flourish.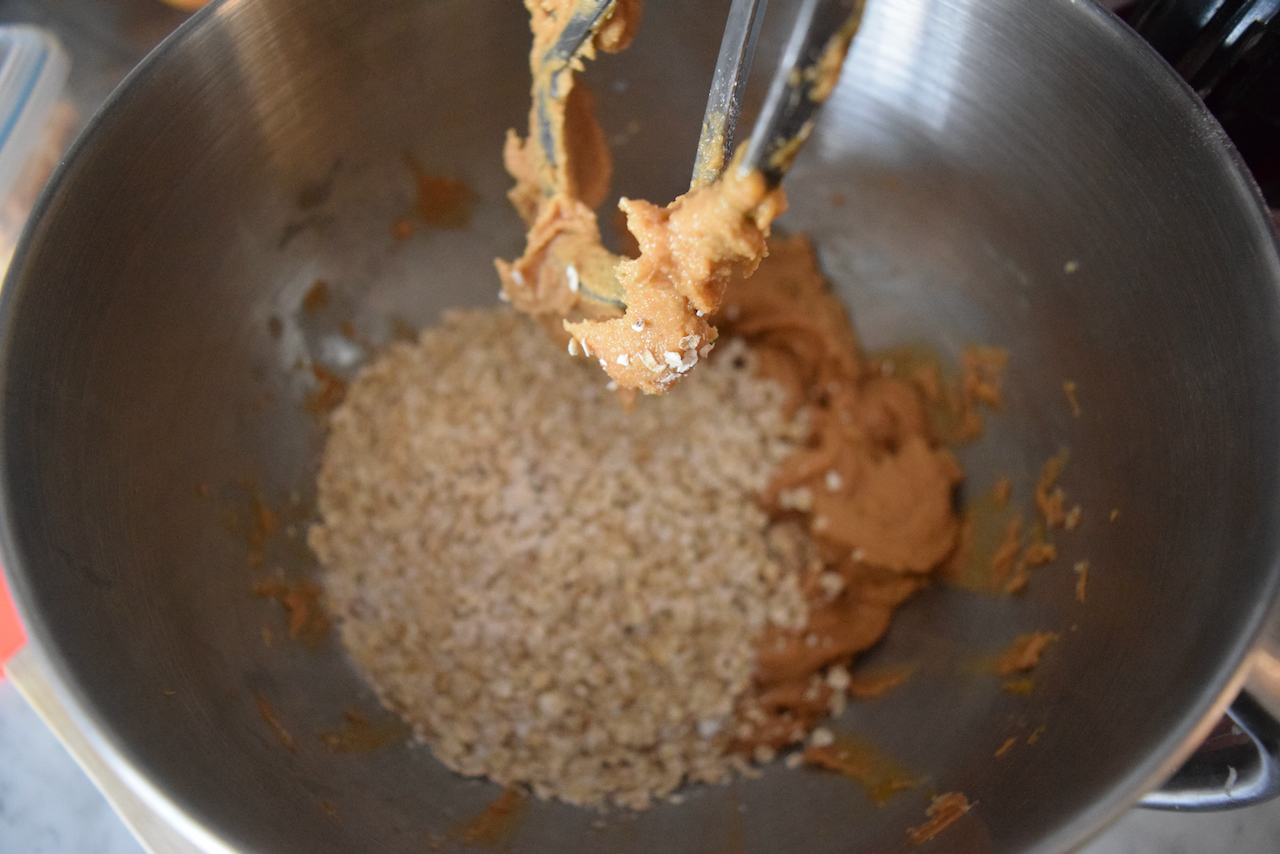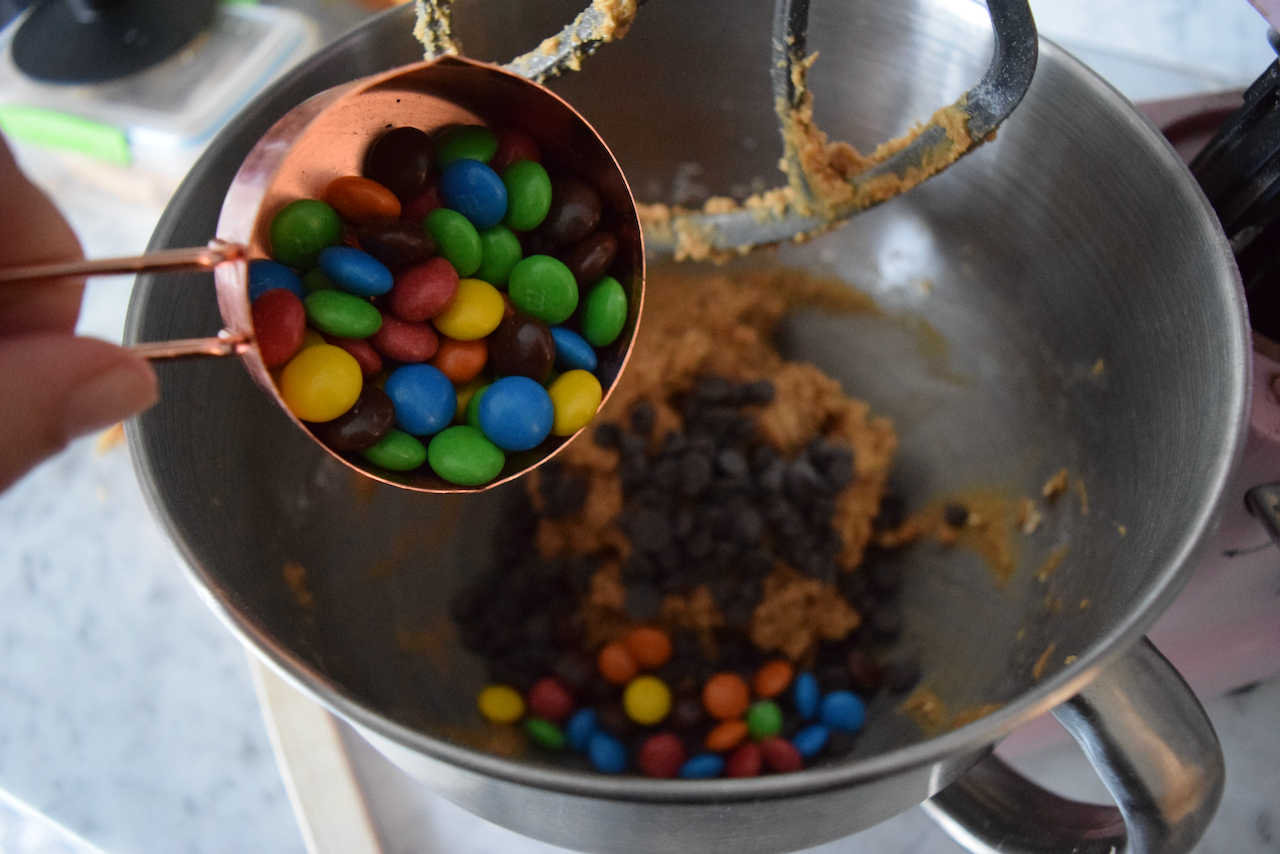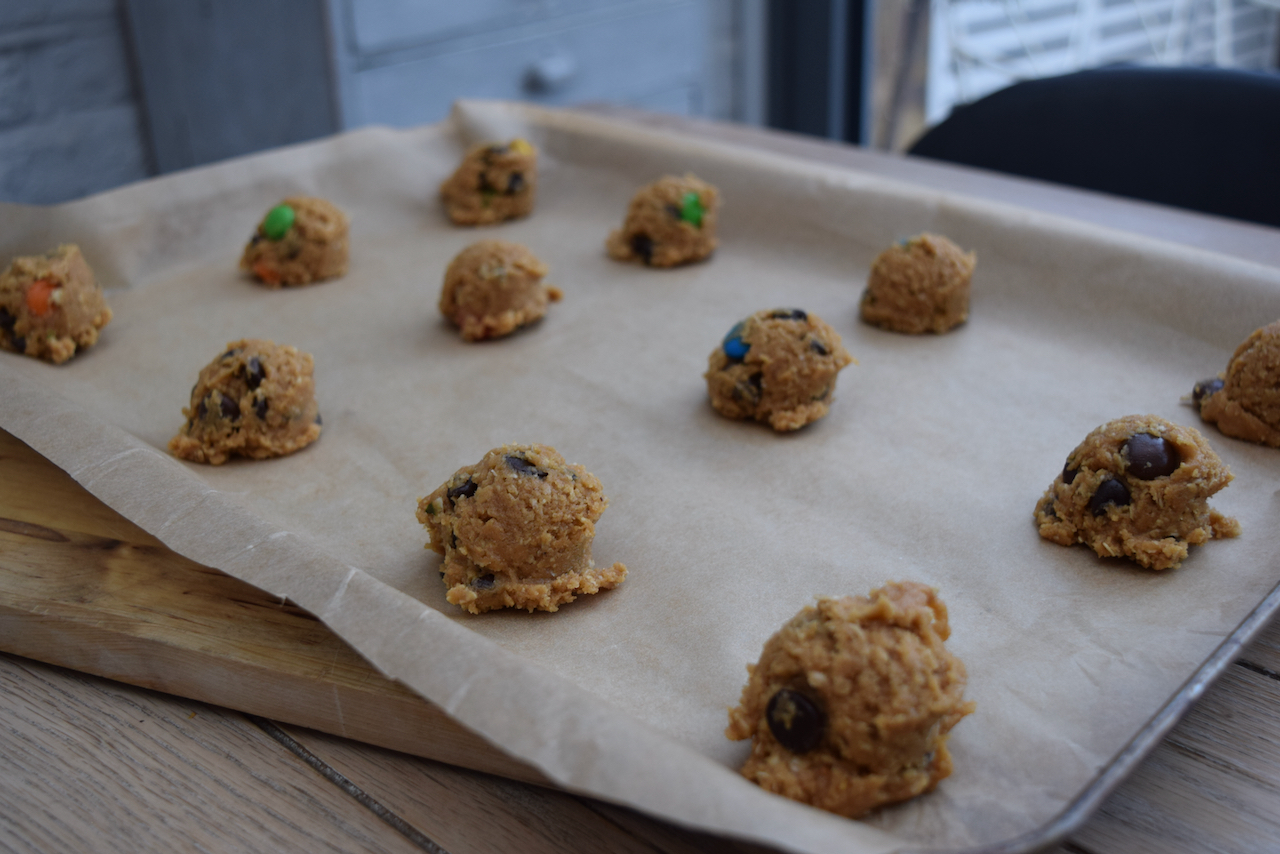 I used my smallest ice cream scoop to portion out the cookies but a heaped tablespoon for a walnut sized ball should be fine. Pop the balls onto the lined trays and then add your icing eyes or extra M&M's for the finished look.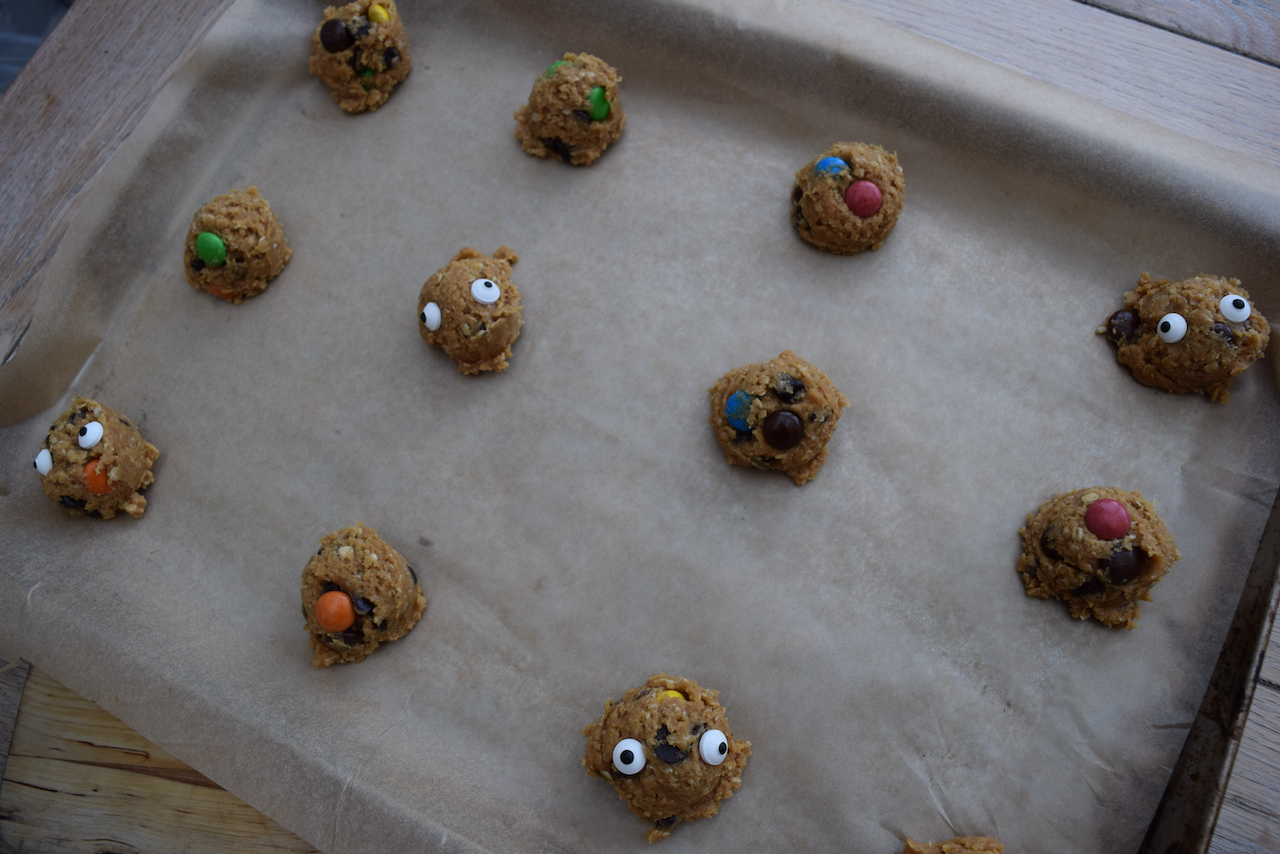 Bake for 8 to 10 minutes; you want yours to be golden and only just cooked through for that soft, chewy centre.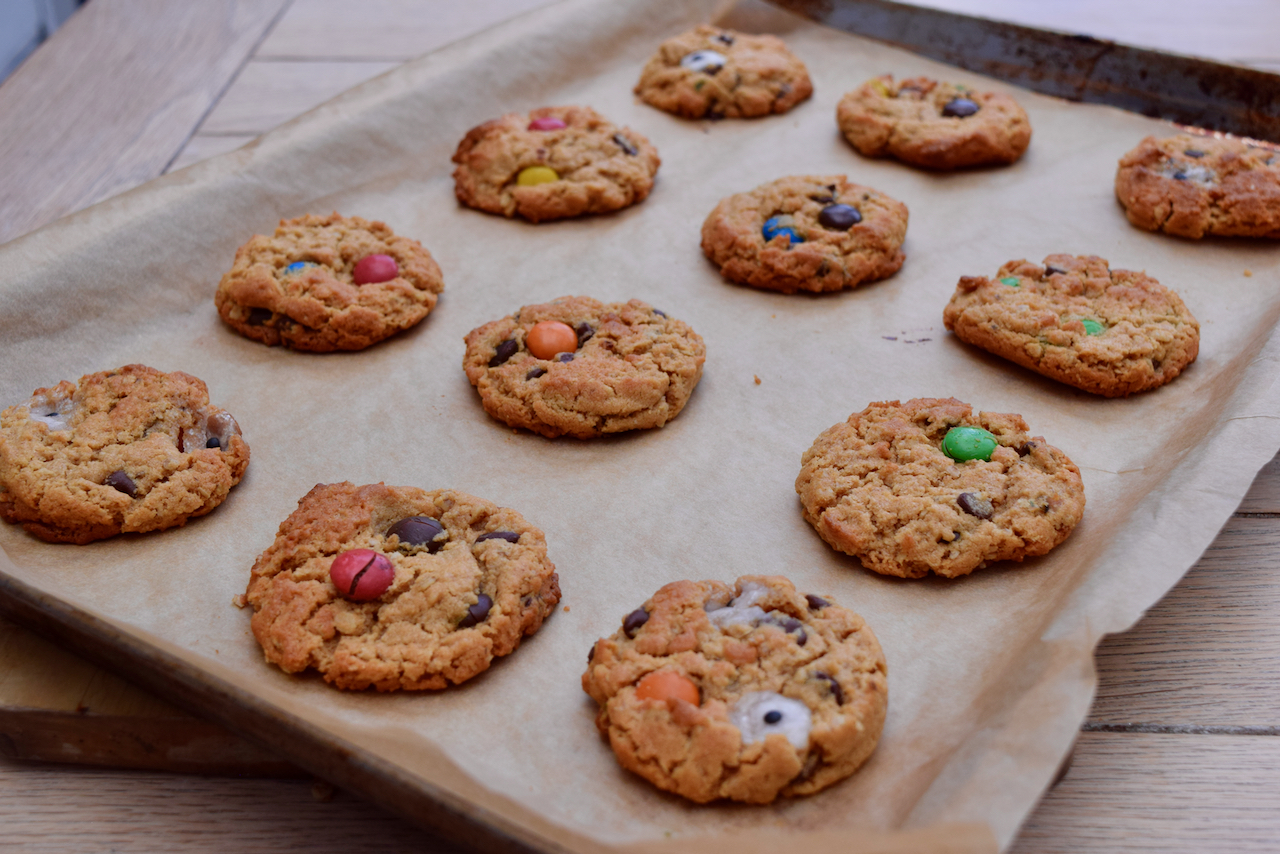 All that's missing now, is a glass of milk and some hungry hoards.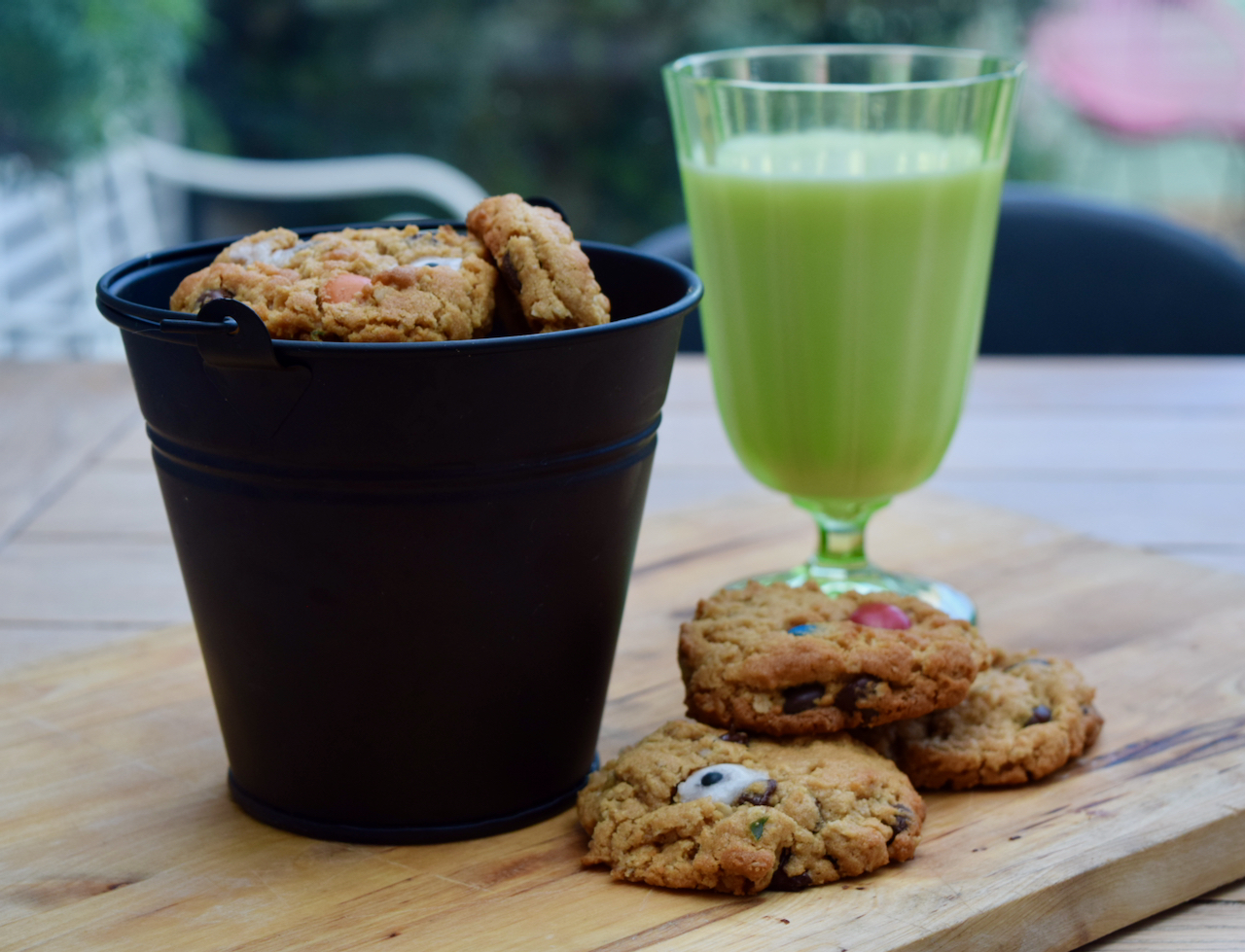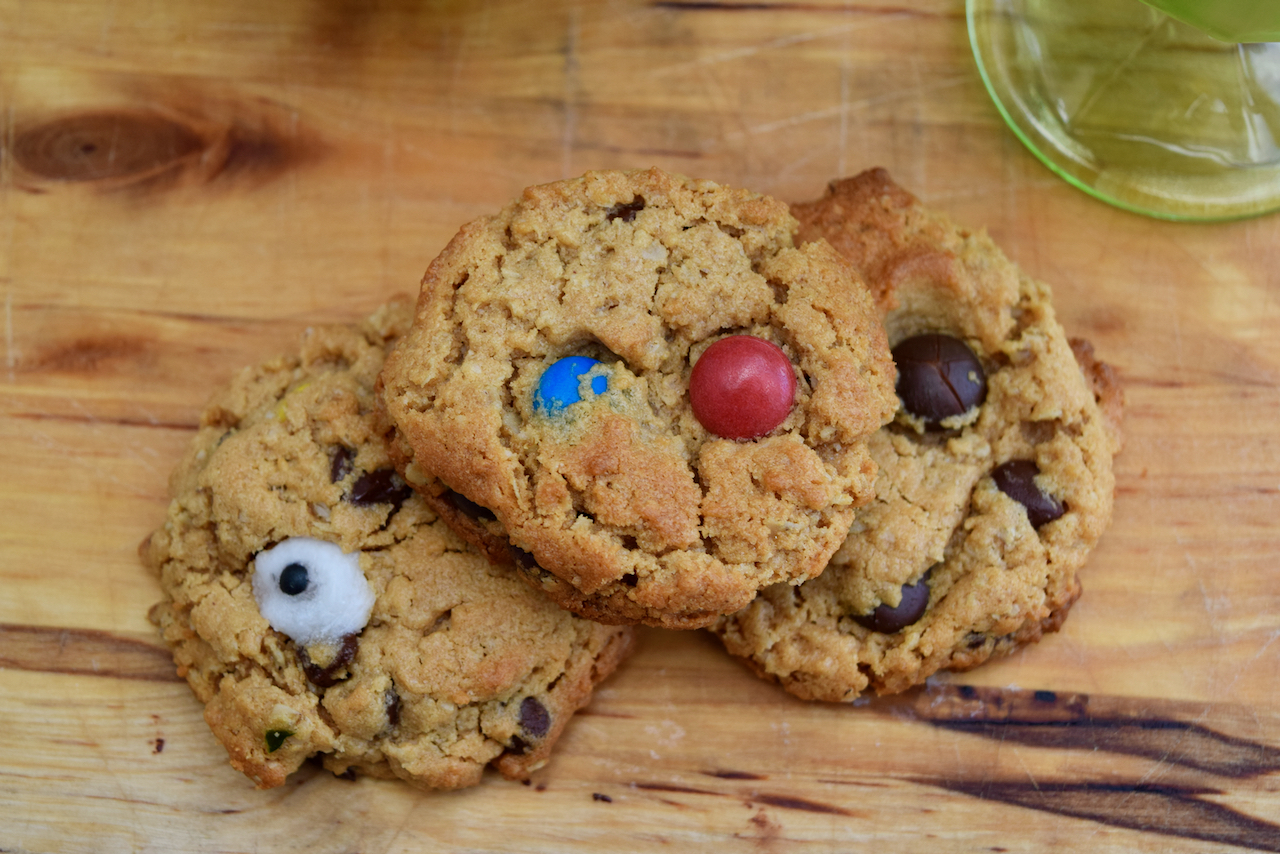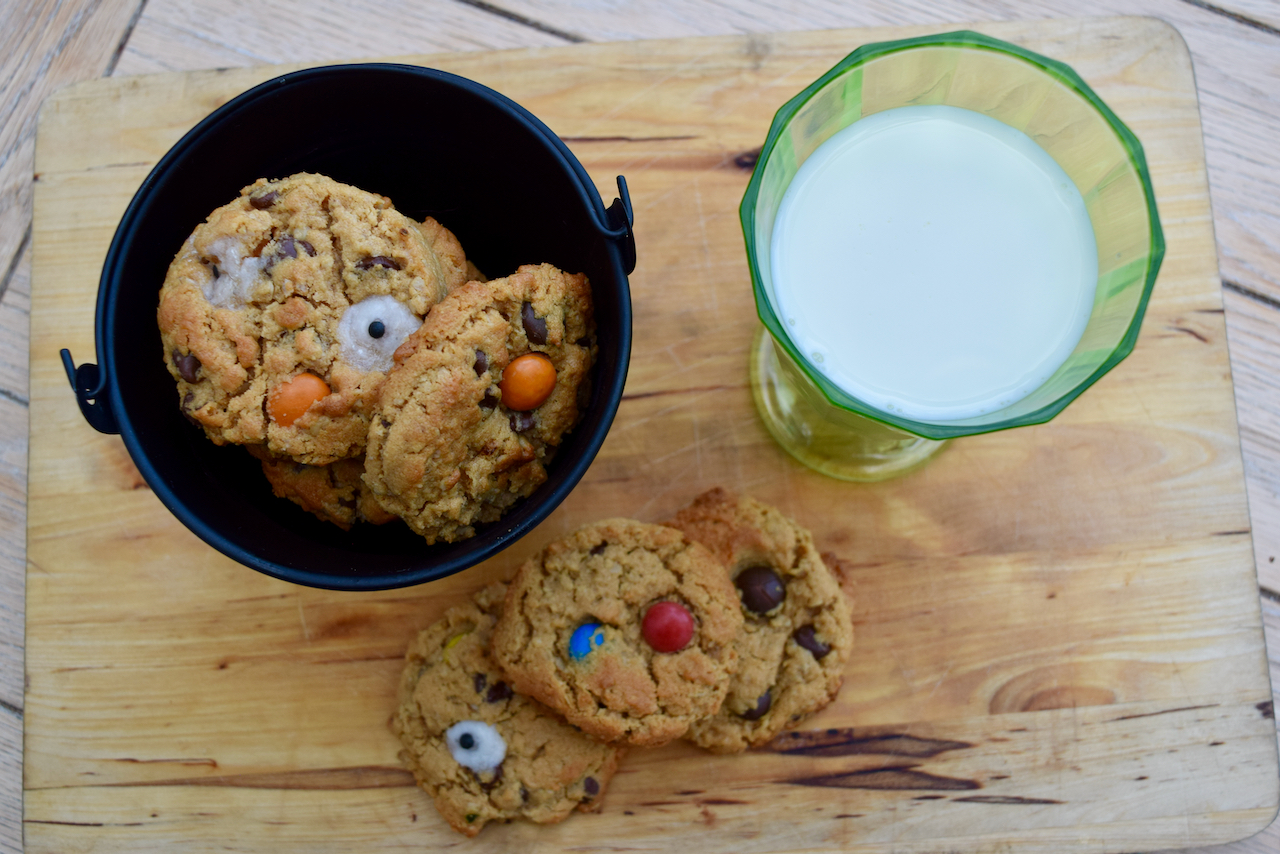 The only really frightening thing about these cookies is how quickly they seem to disappear in our house.
Happy Hallowe'en if that's your thing.
Lucy x
Peanut Butter Monster Cookies recipe
Makes around 30
You will just need a stand mixer or a bowl and a wooden spoon
It goes without saying these contain peanuts so be aware of allergies
60g soft butter
200g peanut butter, I used smooth
200g soft light brown sugar
50g caster sugar
1 egg
1 teaspoon vanilla extract
100g porridge oats
3/4 teaspoon bicarbonate of soda
1/4 teaspoon salt
100g chocolate chips, mine were dark
100g M&M's or Smarties
Icing eyes, for added spookiness
Pre heat your oven to 160 degrees fan assisted and line two large baking sheets.
In your stand mixer or a large bowl with a wooden spoon, beat the soft butter and peanut butter together until smooth. Add the brown and caster sugars and beat again until well combined. Mix in the egg and vanilla then fold in the oats, bicarb and salt. In a final flourish, stir through the chocolate chips and M&M's or Smarties.
Scoop walnut sized balls of the dough onto your lined baking tray and press in the edible eyes, or a couple of extra M&M's on top of each ball. Bake for 8 to 10 minutes or until just golden and barely cooked through.
Leave to cool on the baking tray then devour. The uncooked dough will keep, well covered, in the fridge for around a week or freeze for up to 3 months.