Chocolate Yule Log Recipe
Christmas is a time for chocolate. And Baileys, sprouts, mulled wine, nuts, smoked salmon, fizz, Gaviscon, I could go on and on for the whole post, but I won't. I do think you can have too much of the whole dried fruit spiced Christmas flavours via your mince pies, Christmas pudding and cake, so there is always time for a chocolate based alternative. My sister hates Christmas pud so every year I am challenged to make something for her and other pudding dislikers. This year, she will be enjoying my Chocolate Yule Log, lucky, lucky girl.
Yule logs I have had in the past are cakey with a sort of buttercream filling, but not this one. It's very much dessert based and much more of a roulade than a sponge. The filling is whipped cream along with a very chocolatey ganache also used coat this log like treat. The recipe may look like as drama laden as the Christmas Day episode of Coronation Street, but it so isn't. This log is simply a thin chocolate sponge, filled, rolled and slathered in chocolate. Don't go too mad on the 70 per cent cocoa solids chocolate here, you don't want it to be too dark and bitter. I used 50 per cent dark chocolate along with a little milk chocolate for a slightly sweeter finish. Serve in large chilled slices, even go with extra cream as it's Christmas. This to die for recipe comes via the evergreen Mary Berry, with thanks to her.
You can make this on Christmas eve and it will happily spend the night tucked up in your fridge with the sprouts, pigs in blankets, prawn cocktail and anything else you've shoe-horned into every last spare corner. It's rich, comforting and delicious and definitely compliments the other 6000 calories you'll imbibe on Christmas day.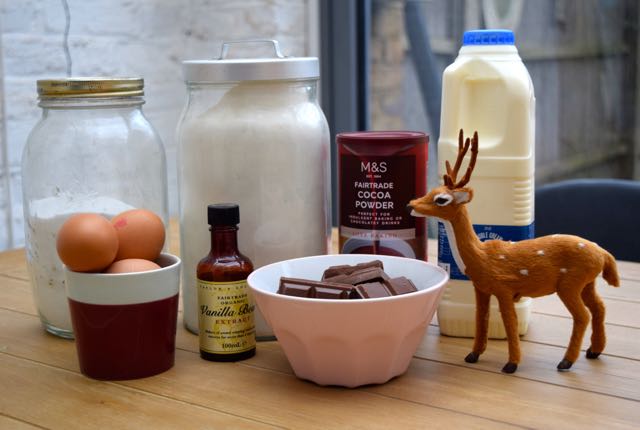 Nothing to be scared of here, apart from my slightly wistful looking reindeer. He's does his very best catalogue model 1000 yard stare beautifully throughout the post.
Make a start by lining a 33cm by 23cm rectangular baking tray and pre heating your oven to 170 degrees fan assisted. Next, in your stand mixer or in a bowl with a hand whisk, mix your eggs and caster sugar until lighter in both colour and texture, for around 4 to 5 minutes.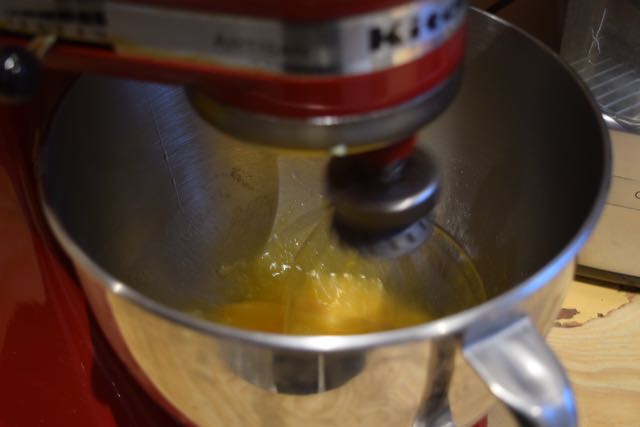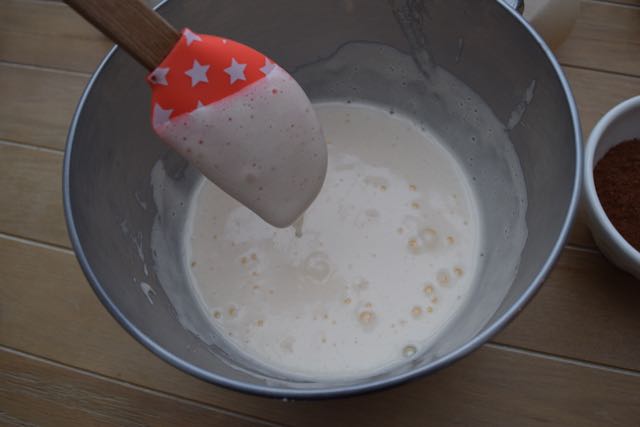 Next, fold in the sifted cocoa powder and flour. I never usually bother to sift, but this recipe needs the air it creates and you don't want rogue lumps of flour in your log.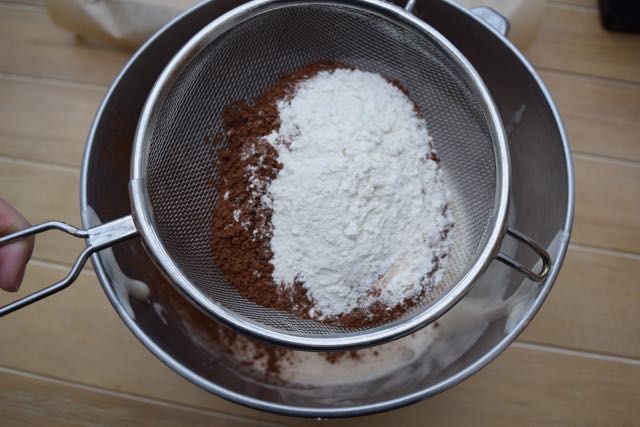 Fold this carefully, my old cookery teacher would insist you use a metal spoon and to fold using a figure of eight motion. Just don't knock all the air out of it and make sure all the flour and cocoa are well mixed.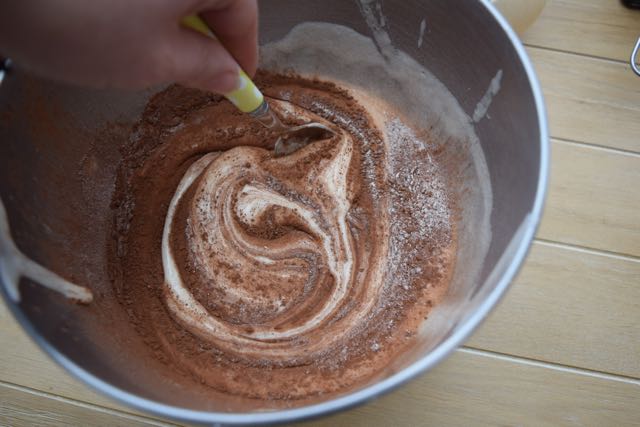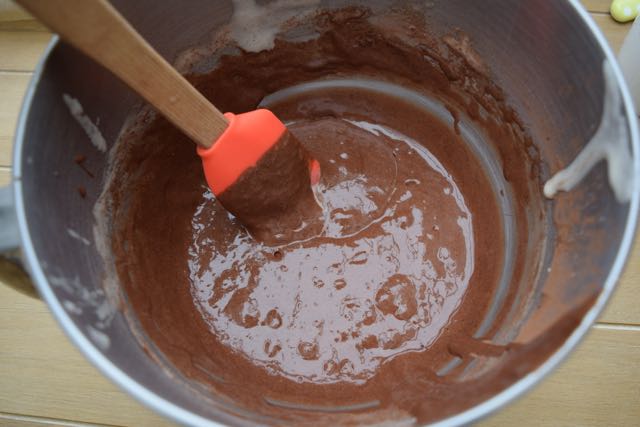 Pour this into the your lined tin, push into the corners, smooth the top then put in the oven for around 8 to 10 minutes only.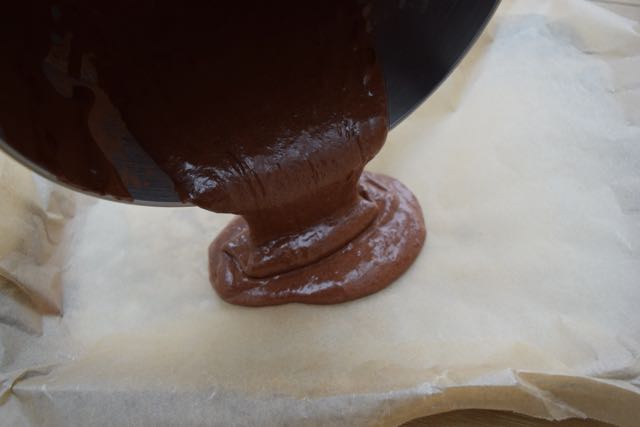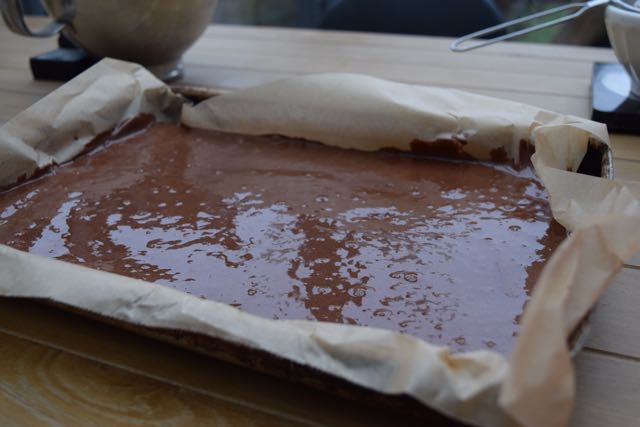 The roulade is cooked when the sponge feels firm to the touch and is starting to pull away from the sides.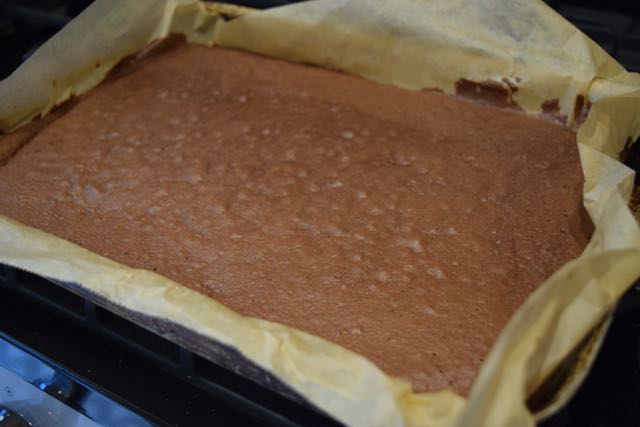 Leave this for a moment while you lay out a large sheet of baking paper dusted with icing sugar or cocoa powder. Then turn out the sponge onto the paper and remove the baking paper from the back of the sponge.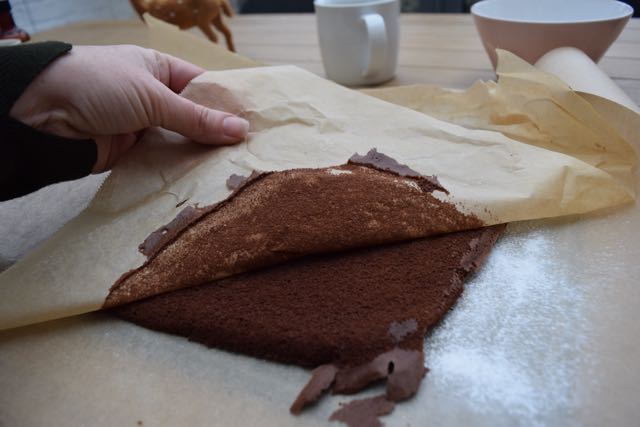 Trim the edges of the sponge to tidy it up *and eat the scraps* then score a line about an inch in along the long bottom of the sponge which will help with the rolling process.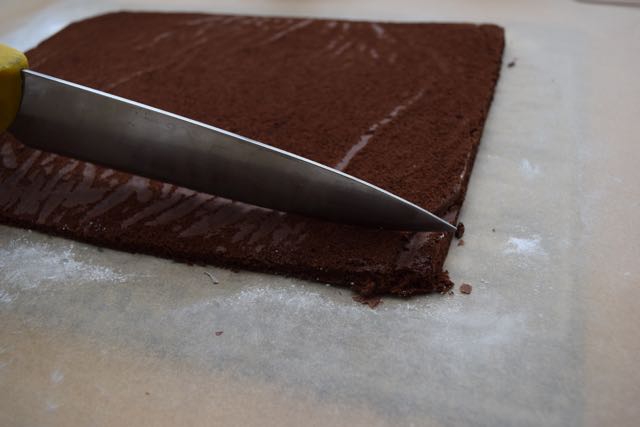 Now start to roll. Tuck the baking paper into the scored line to help to get a nice tight roll. Then roll the sponge up, keeping the paper inside the roll.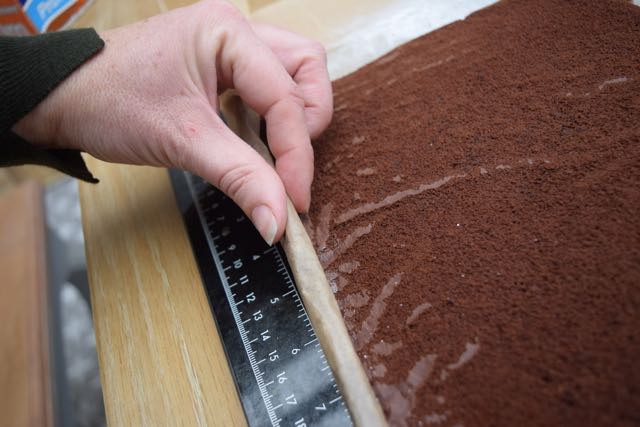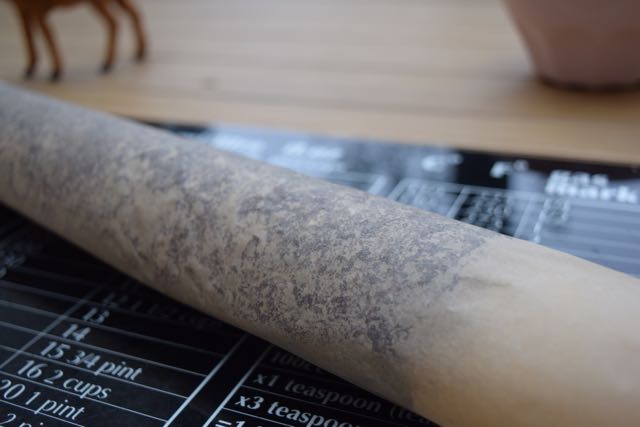 Leave your rolled up sponge to one side to cool while you make the filling.
Pour 300ml of the cream into a pan or bowl and heat on the stove or in the microwave until just starting to come up to the simmer. Tip in the chopped chocolate and stir well until you have a smooth glossy bowl of chocolate heaven.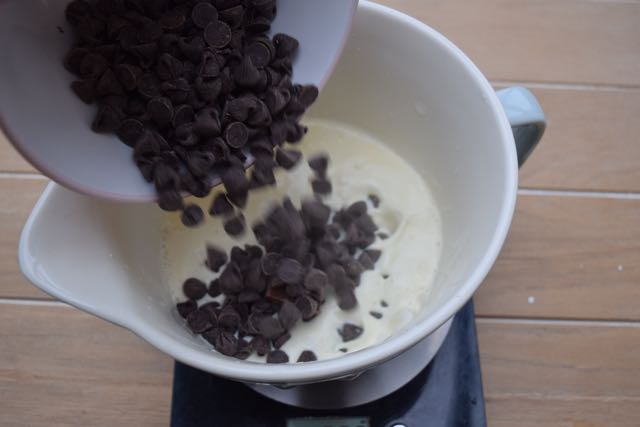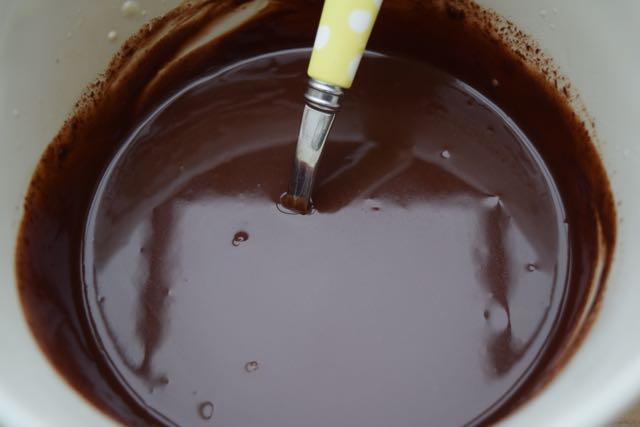 Leave this in the fridge to cool and until it's thick enough to spread. This took quite a while so I popped mine in the freezer for a while to speed it all along *too much to do too little time*.
When you are ready to decorate your log, lightly whip the final 150ml of double cream until you have soft to firm peaks.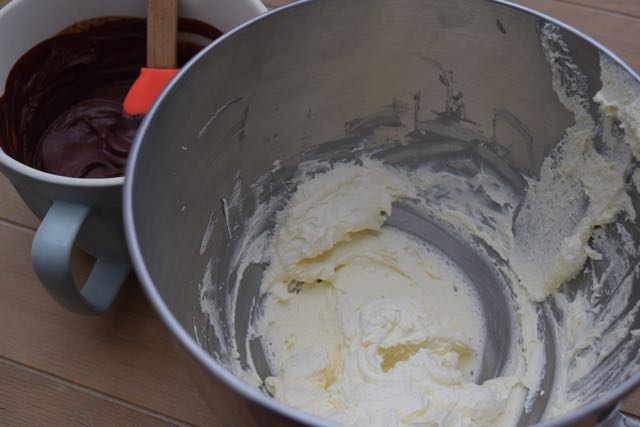 Unroll your sponge and spread a third of the chocolate ganache onto the thin sponge.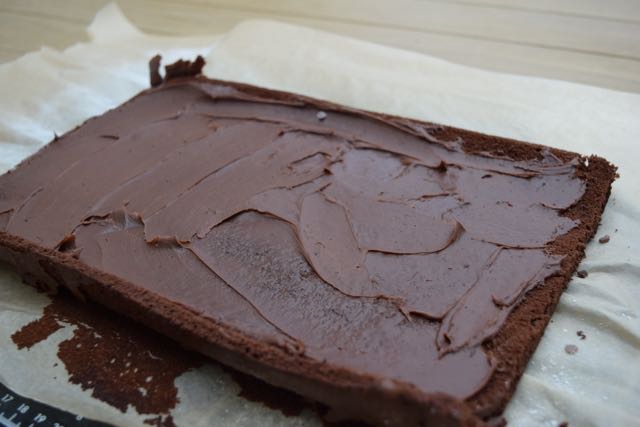 Next spread on your layer of whipped cream.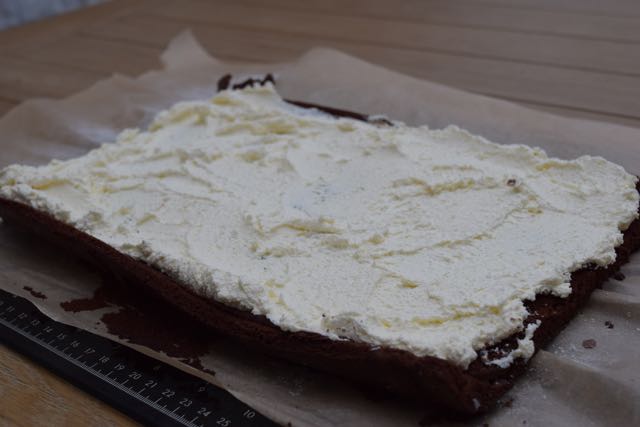 Roll this delight back up, as tight as you can then cut off a quarter at an angle, to form the stump part of the log.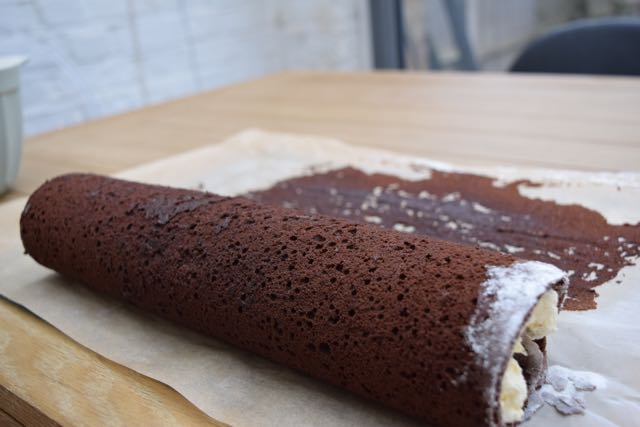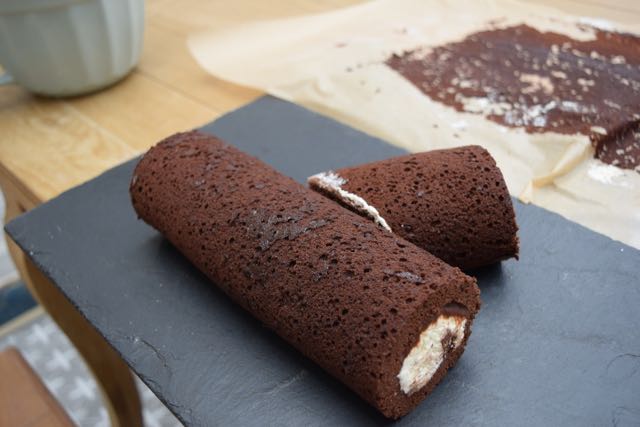 Now it's time to slather this beauty with the rest of the chocolate ganache. Use a pallet knife to fashion a sort of bark like coating. Mary Berry suggests piping the chocolate on but she clearly didn't have to finish her christmas shopping, wrap all her presents, to make sausage rolls, mince pies, paté and to pack up for 5 days away, bless her.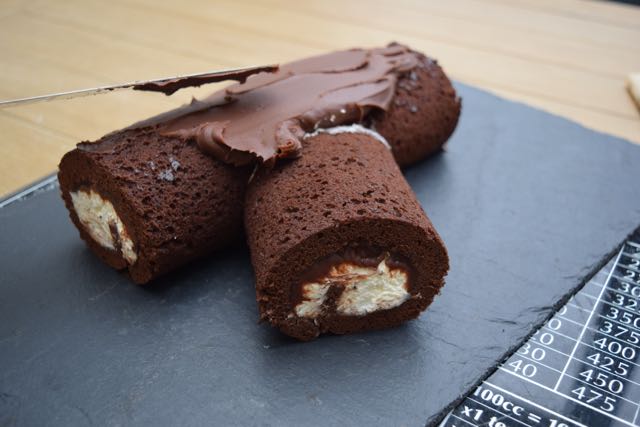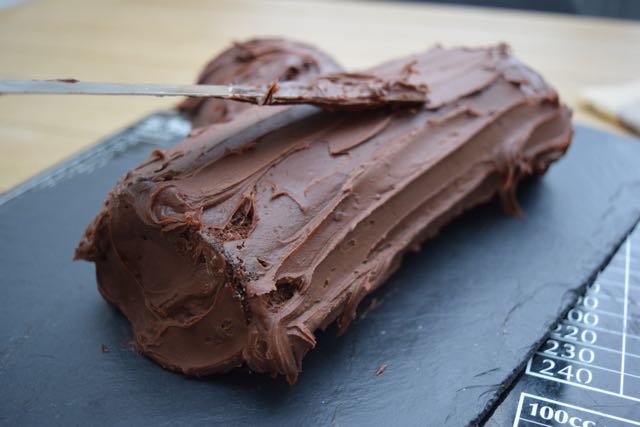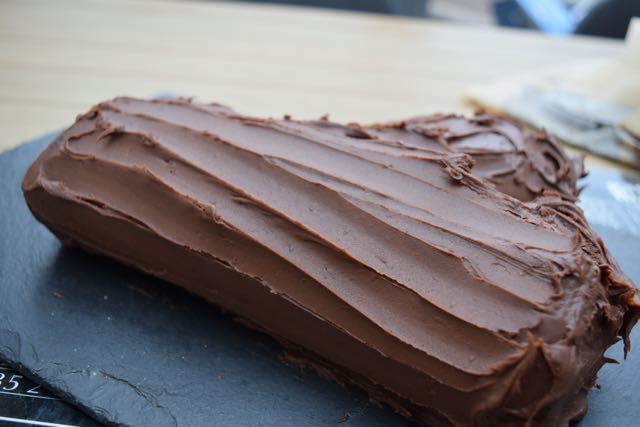 This isn't difficult. I am woeful at fancy icing and managed this so man up and enjoy yourself with this ganache based decorating session. Enhance *hide any shit bits* with a dusting of icing sugar and some berries, holly and an amusing festive creature of your choice. Serve in giant slabs with extra cream and some fruit, if you feel it's entirely necessary.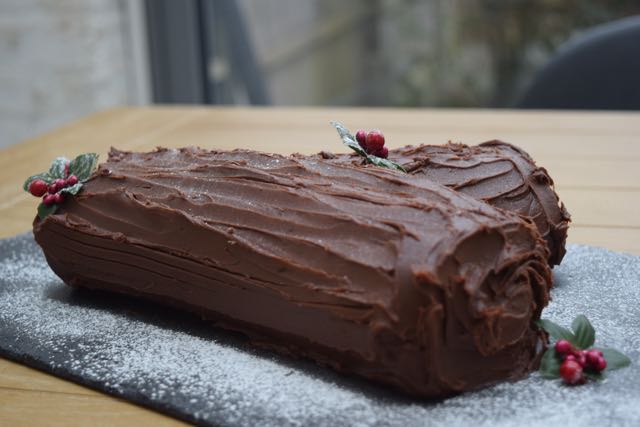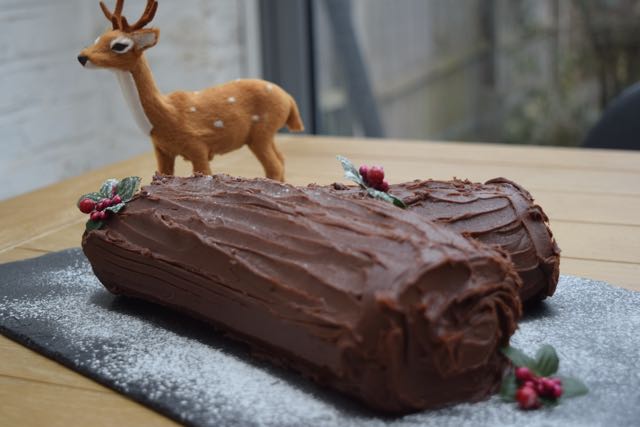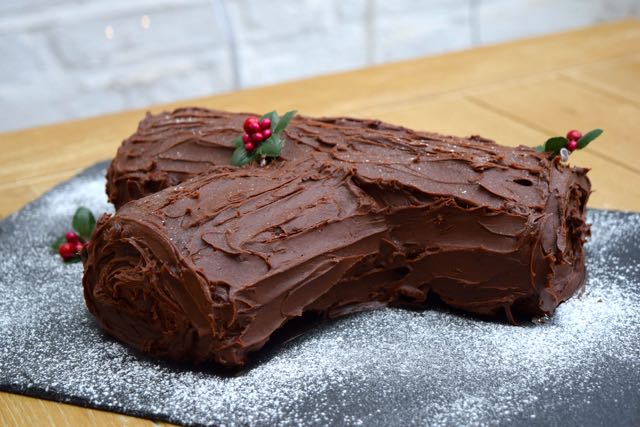 If dried fruit, spiced, brandy soaked desserts are not your thing, this Chocolate Yule Log is right up your street. And even if you do like Christmas pudding, definitely leave room for a slice of this too. It is Christmas after all.
Logs of love *oh come on* to you all.
Lucy x
Chocolate Yule Log Recipe
Serves around 6 to 8, or less if your guests are porkers
You will need a stand, or hand whisk
For the roulade
4 eggs
100g caster sugar
65g self raising flour
40g cocoa powder
For the icing and filling
450ml double cream, 300ml for the chocolate icing and the 150ml for the filling
275g dark chocolate, or I used 200g dark chocolate and 75g milk
1 teaspoon vanilla extract
Icing sugar for snow-like dusting and holly or robins or reindeers to decorate
Pre heat your oven to 170 degrees fan assisted and line a 33cm x 23cm rectangular baking tray.
In a stand mixer or in a bowl with a hand mixer, whisk the eggs and the caster sugar until light and foamy and the mixture holds a trail when you lift the whisk out. Sieve in the flour and cocoa, gently, using a metal spoon, until the mixture is smooth and light.
Pour this into your lined tin, smoothing into the corners and creating an even-ish layer. Place in your oven for 8 to 10 minutes until the sponge is turning golden and starting to come away from the edges of the paper. Take out of the oven and allow to cool for a moment.
Taking another sheet of baking paper, lay this onto the work surface and dust with icing sugar or cocoa. Turn the warm sponge out onto the paper and carefully peel the backing paper off. Trim off any uneven edges then, with the longest side towards you score a line an inch in along the long side of the sponge. Then, roll up the sponge, with the paper inside, using the scored line to tuck the paper in. Roll into a tight log and leave, rolled up, to one side to cool.
Take 300ml of cream and heat in a bowl in the microwave or in a small saucepan until just coming up to simmering point. Take off the heat and stir in the chopped chocolate until thick and glossy. Leave to cool as this needs to be spreadable for the decoration. Either keep in the fridge or I gave mine a burst in the freezer. Whip the remaining 150ml double cream until it forms soft peaks.
When the chocolate filling has set, unroll the sponge and spread with a third of the chocolate mixture. Then spread on the a layer of whipped cream. Roll up and, at an angle, cut a quarter of the roll off to form the stump of the log. Place on the side of the main roll and cover the whole business in the rest of the chocolate icing. Using a fork or palette knife make the icing look bark-like then sprinkle with icing sugar, decorate with holly then serve in giant slabs with extra cream.
This will keep in the fridge for 2 to 3 days.