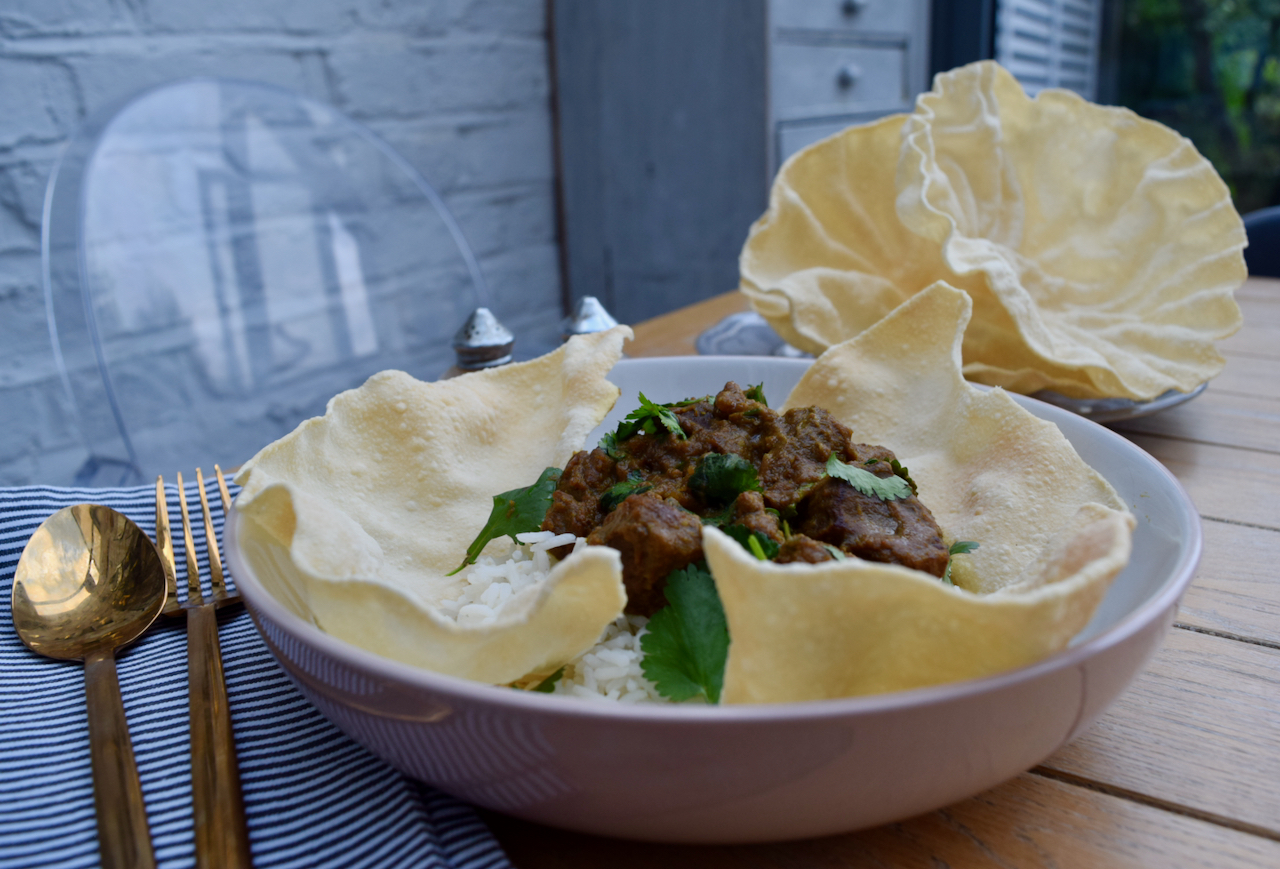 Coconut Beef Curry recipe
Randomly, I've been making this slightly wintery curry a lot over the summer. We are a house of curry lovers, and I'm always looking for new ones to try. I have been keen to share this beauty with you but felt the timing wasn't right. But it is now. The weather has turned, it's nippy, damp and we're banished to drinking in the garden with people who aren't from our family. I'm not saying a bloody great big bowl of Coconut Beef Curry is going to make everything better, but it may at least bring a *spicy* smile to your face.
We do eat a lot of curry, hence the abundance of curry recipes on LL. This Coconut Beef Curry is a real keeper and even though it has a long-ish cooking time, it's almost effortless to make. The spices are storecupboard favourites and you could always use lazy garlic and ginger from a jar. It's not too spicy, more warming, but full of flavour. Stir through some spinach if you like; I didn't because George moans and then spends the entire meal picking it out. Whip up some naan breads and you could happily serve this to family and friends. Especially as your friends, if they're London based, will be having to eat it in the garden; this dish will warm them from head to toe. A big thank you to Neils Healthy Meals for the inspiration for this.
Comforting bowls of beef curry are the way forward, washed down with vats of wine, of course. That way the start of winter will pass in a beautiful warm, lightly spiced, blur.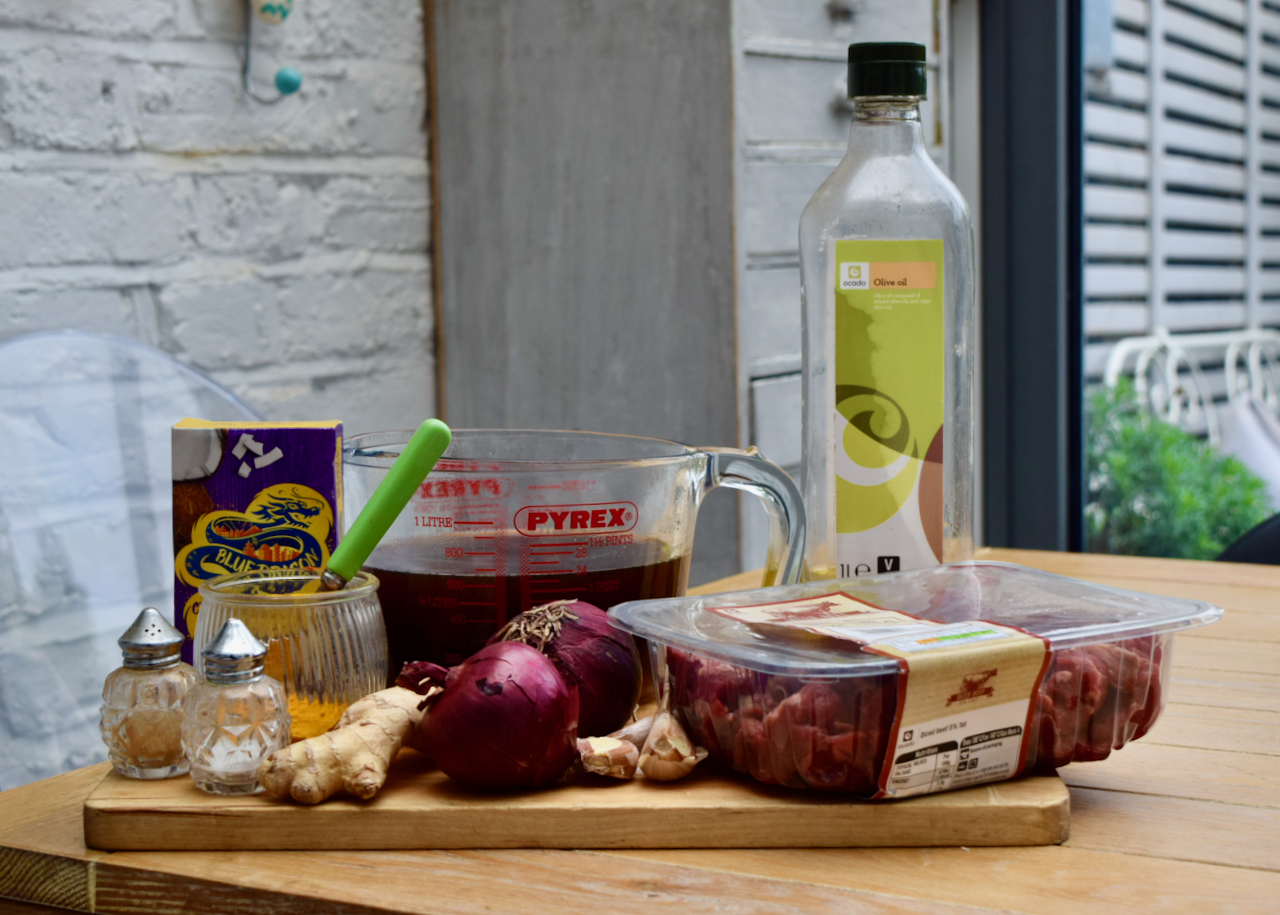 Nothing complicated to see here. I had to use fresh ginger because there seems to be a local shortage of the jarred variety. Don't forget my favourite tip; peeling the ginger with a teaspoon makes life a lot easier.
Make a start with a large pan over a high heat with a splash of oil. Add the beef, in batches if your pan's a smaller one, and cook briefly until browned. Pop on a plate and finish browning the batch.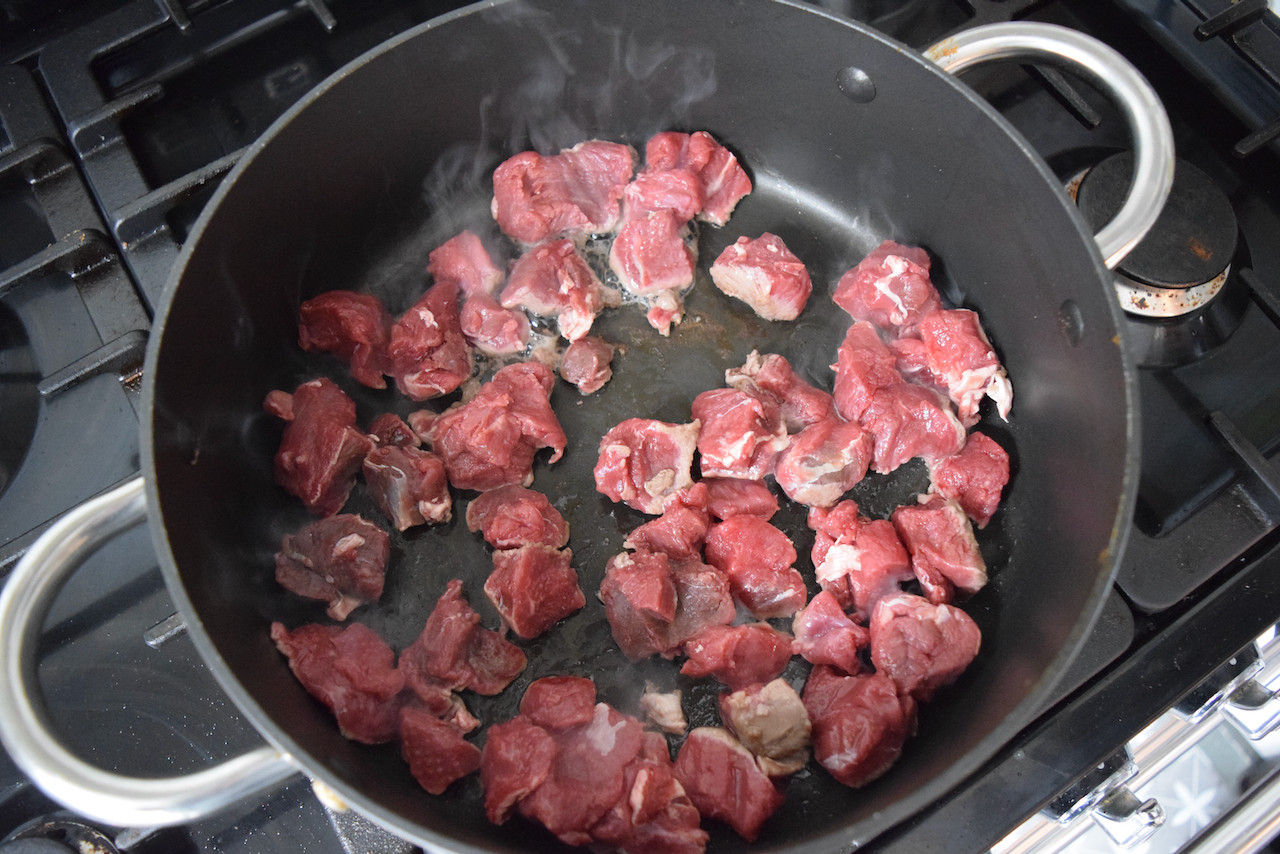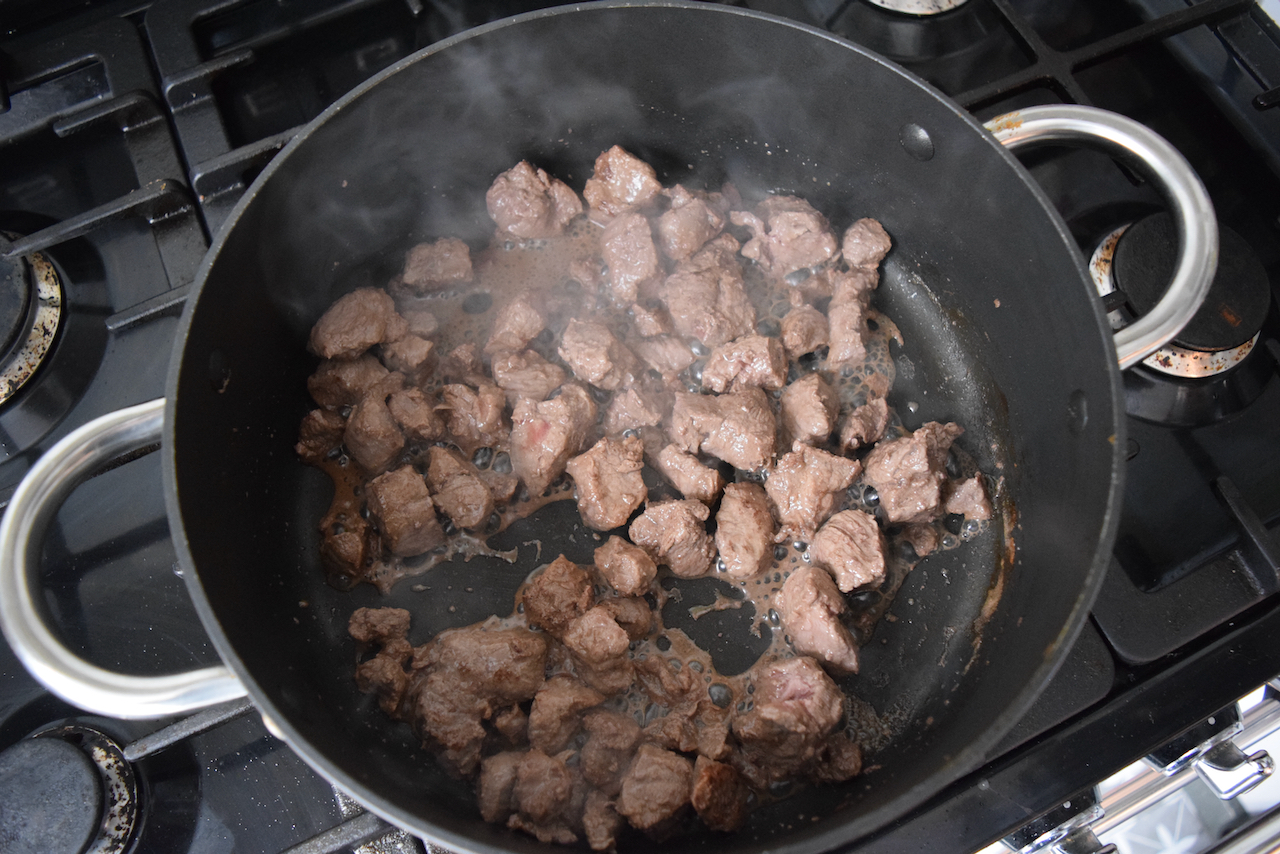 Turn the heat down to low, add a splash more oil if needed, then add the sliced onions and cook until softened and starting to brown.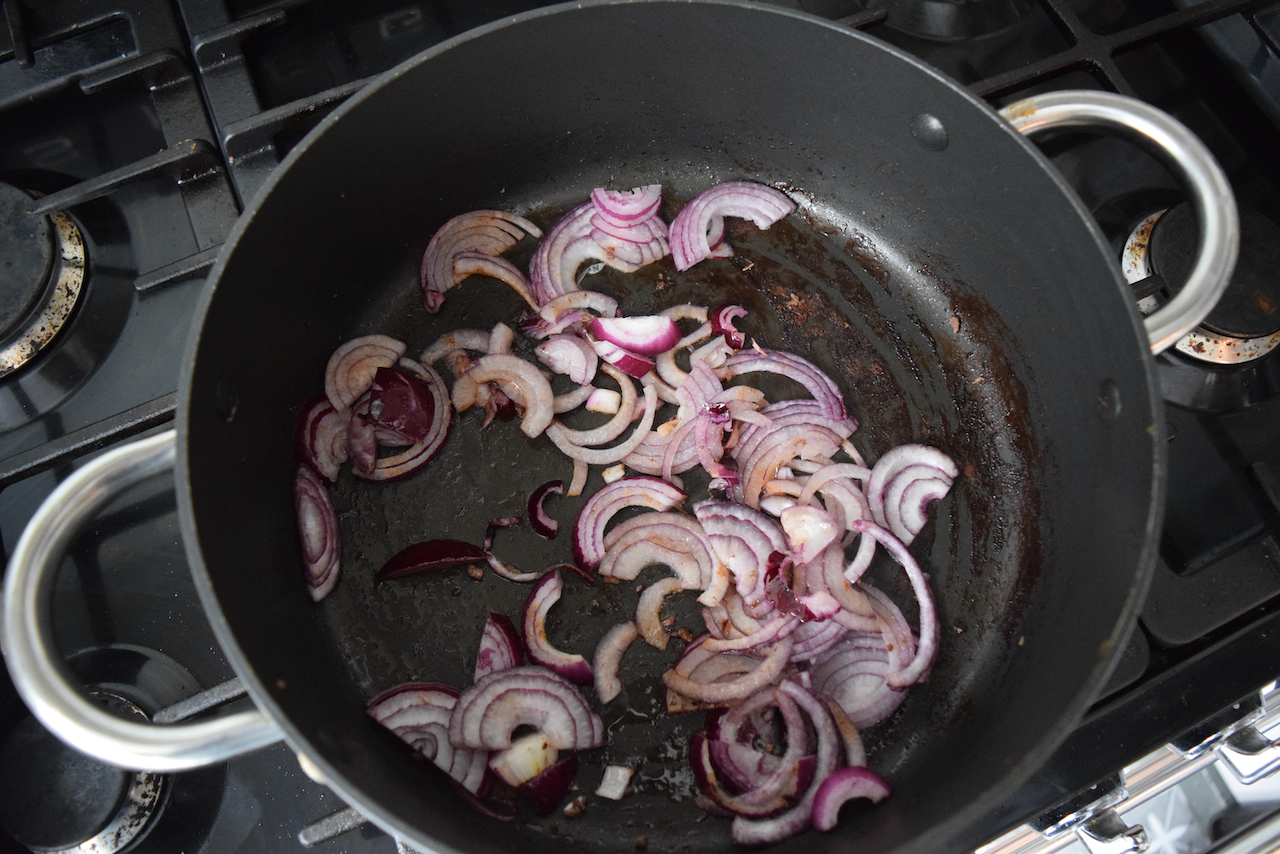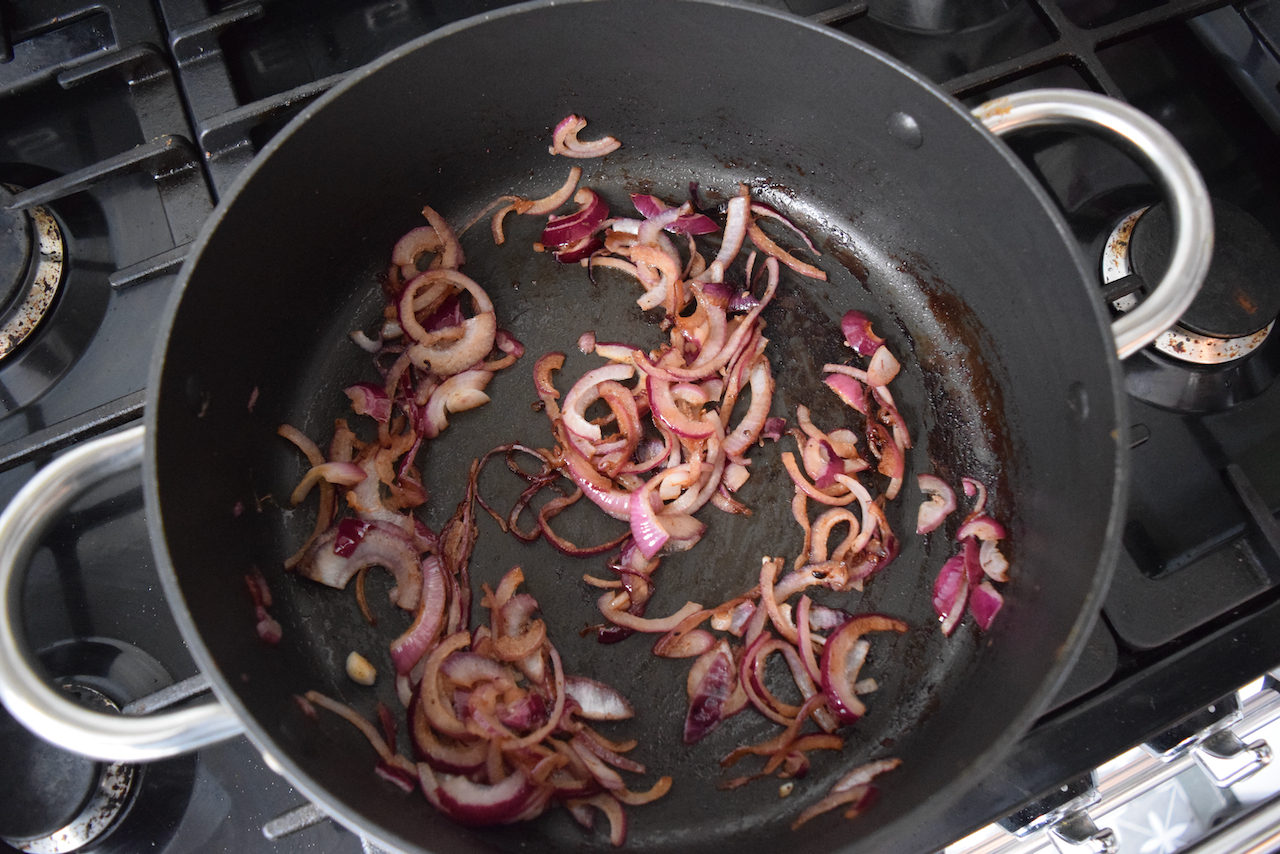 Stir in the garlic and ginger, cook for a minute or two to soften, not brown, then add the spices.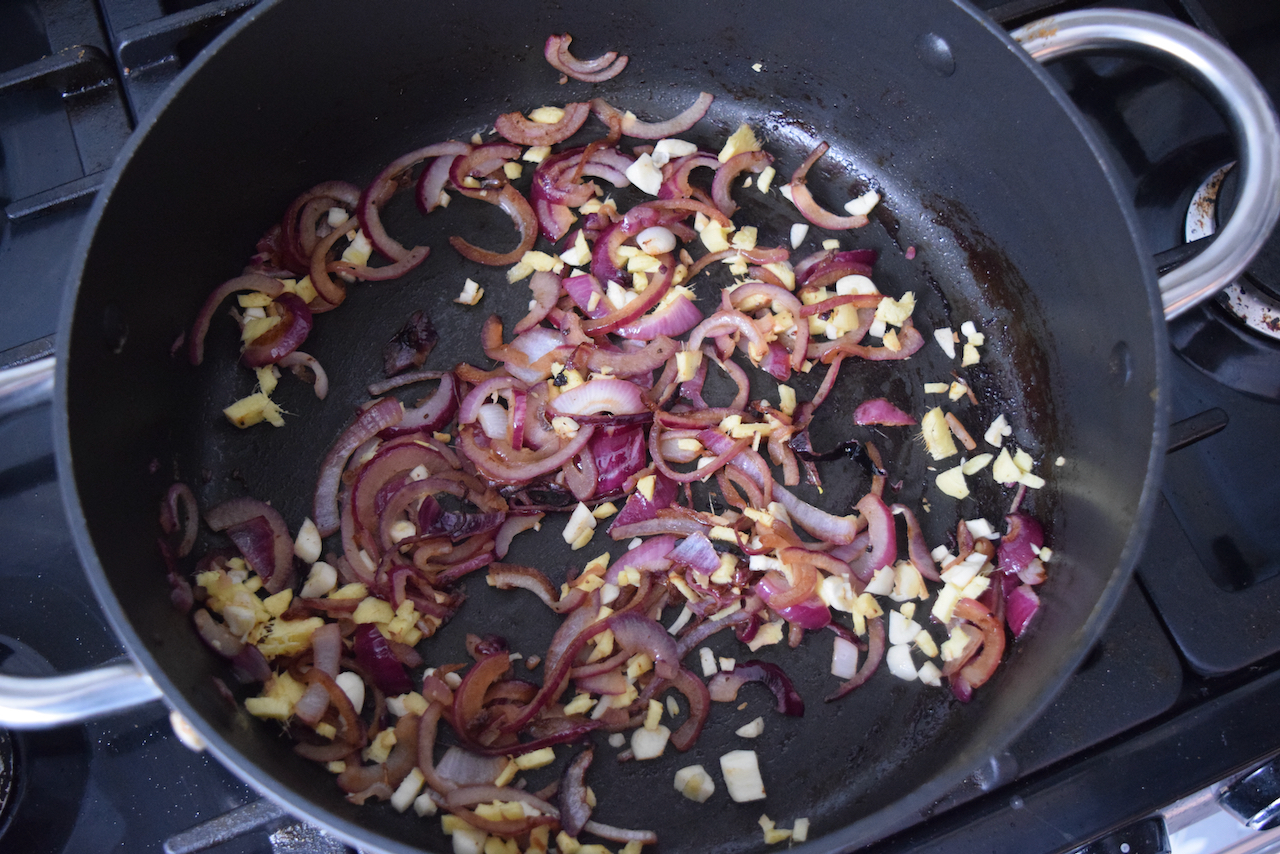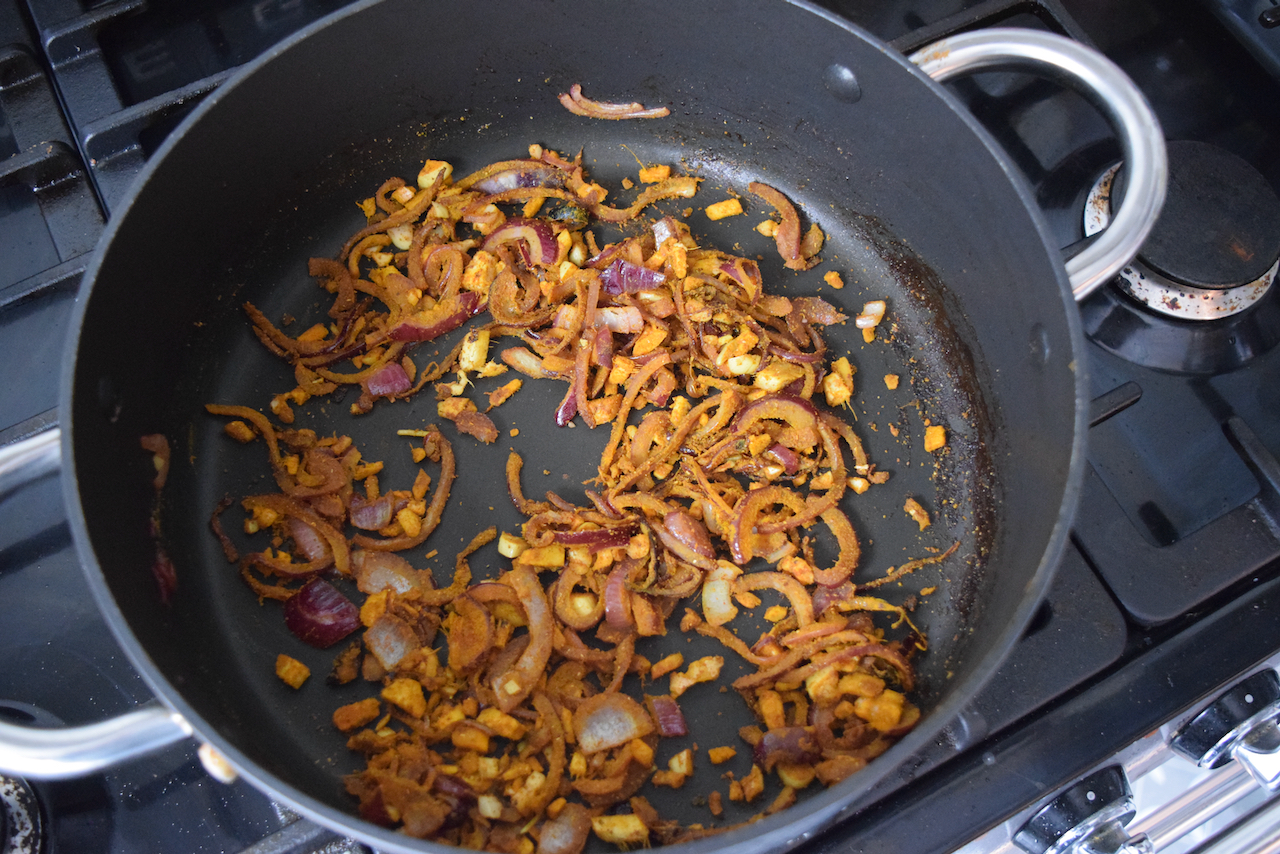 Add the browned beef back to the pan, along with the beef stock and salt, and stir well.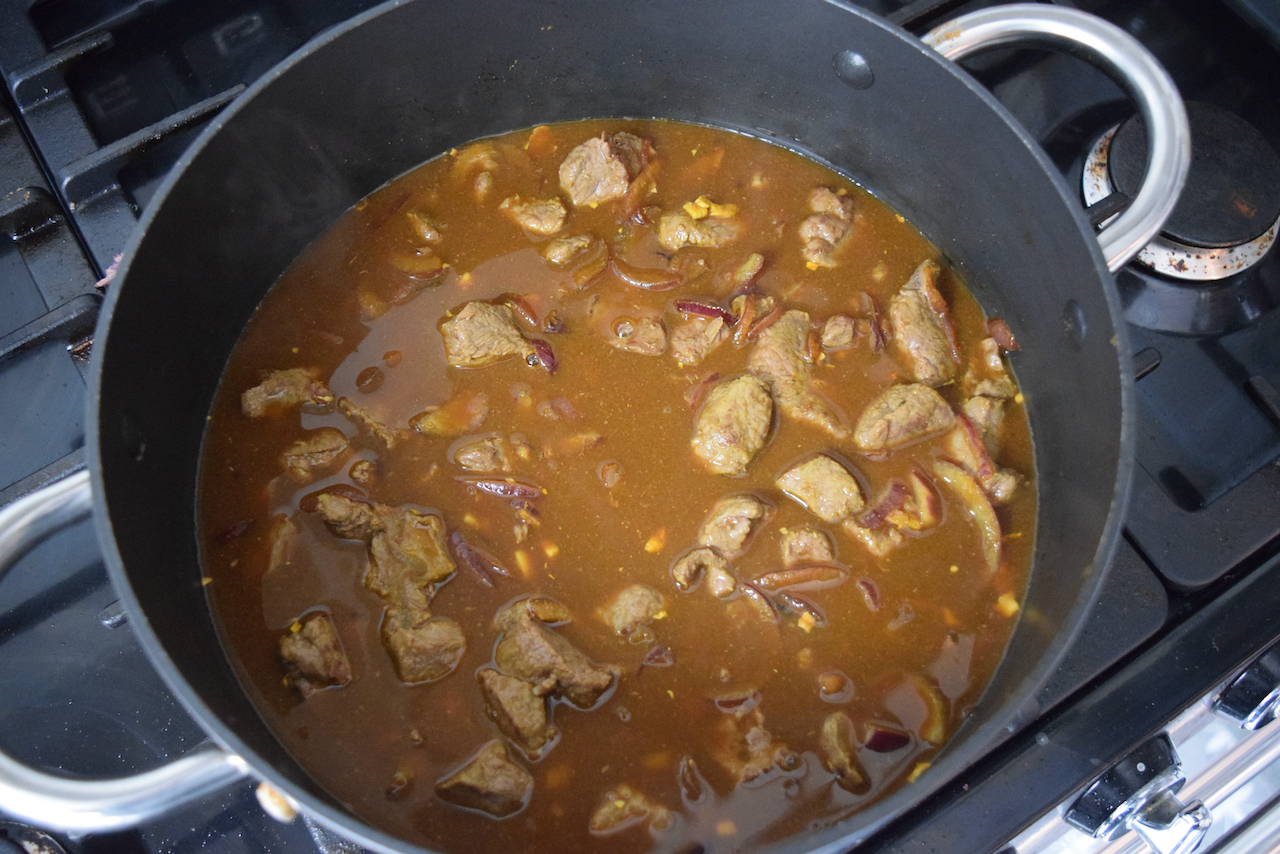 Bring up to the simmer then put the lid on and cook for an hour, until the beef is tender.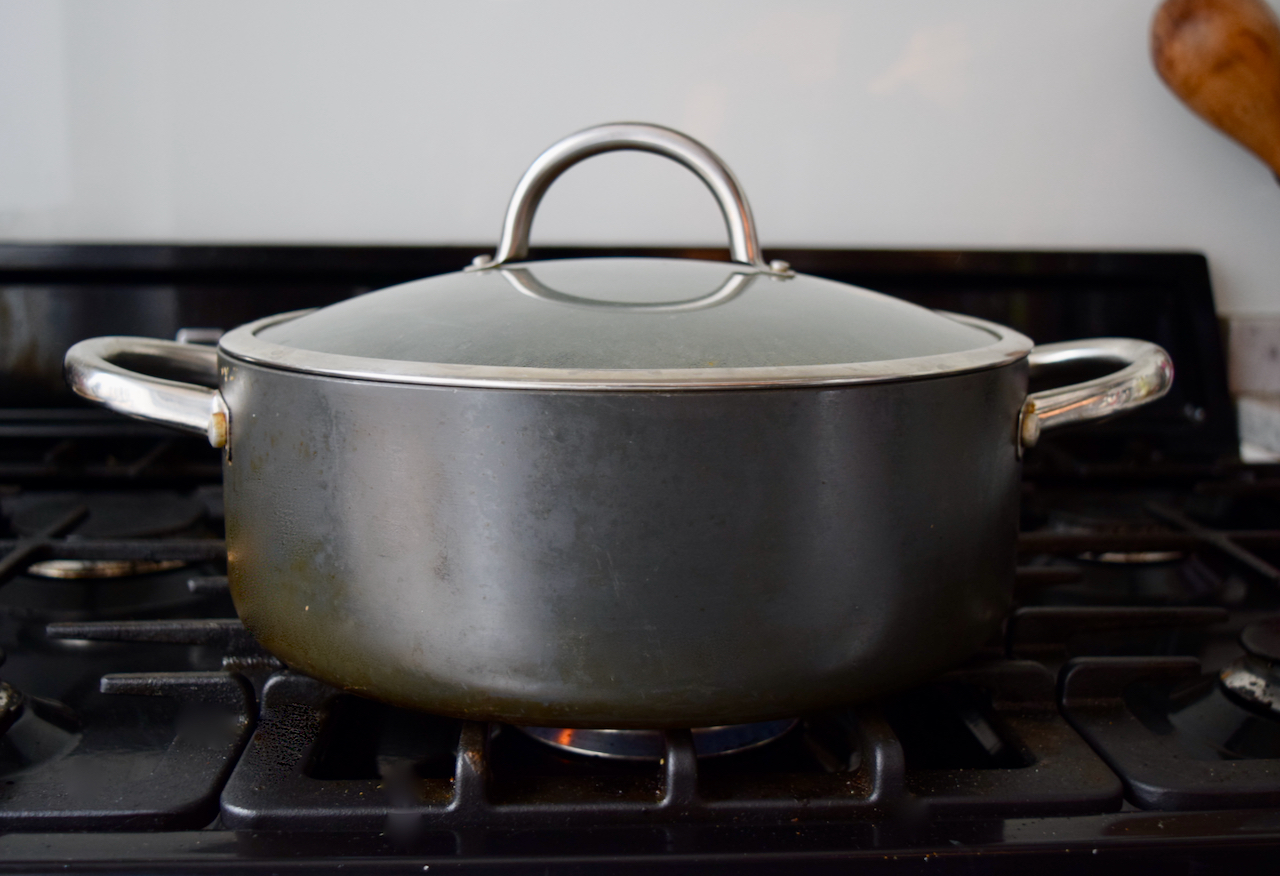 Once the hours up, stir through the creamed coconut then cook for a further 15 minutes with the lid back on.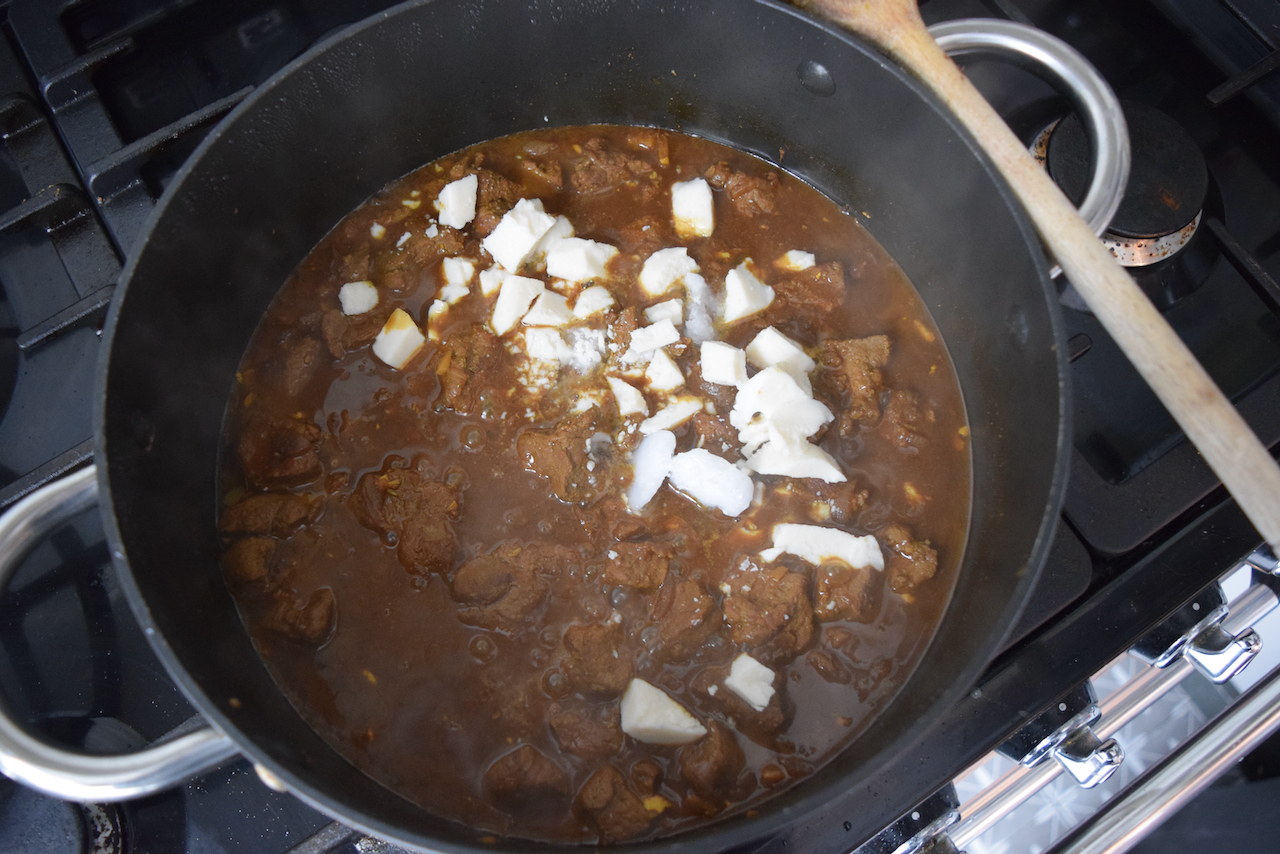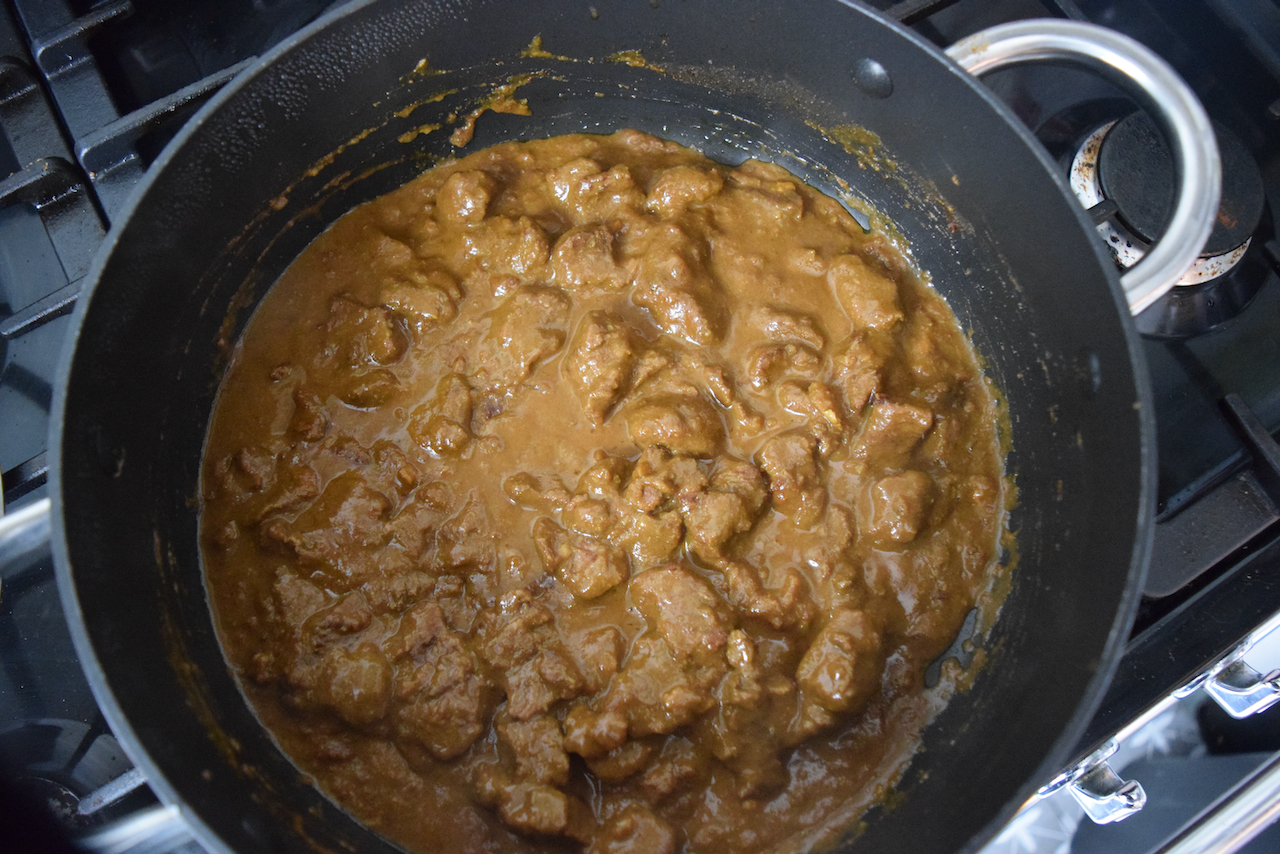 Check for any seasoning issues then stir through the chopped fresh coriander.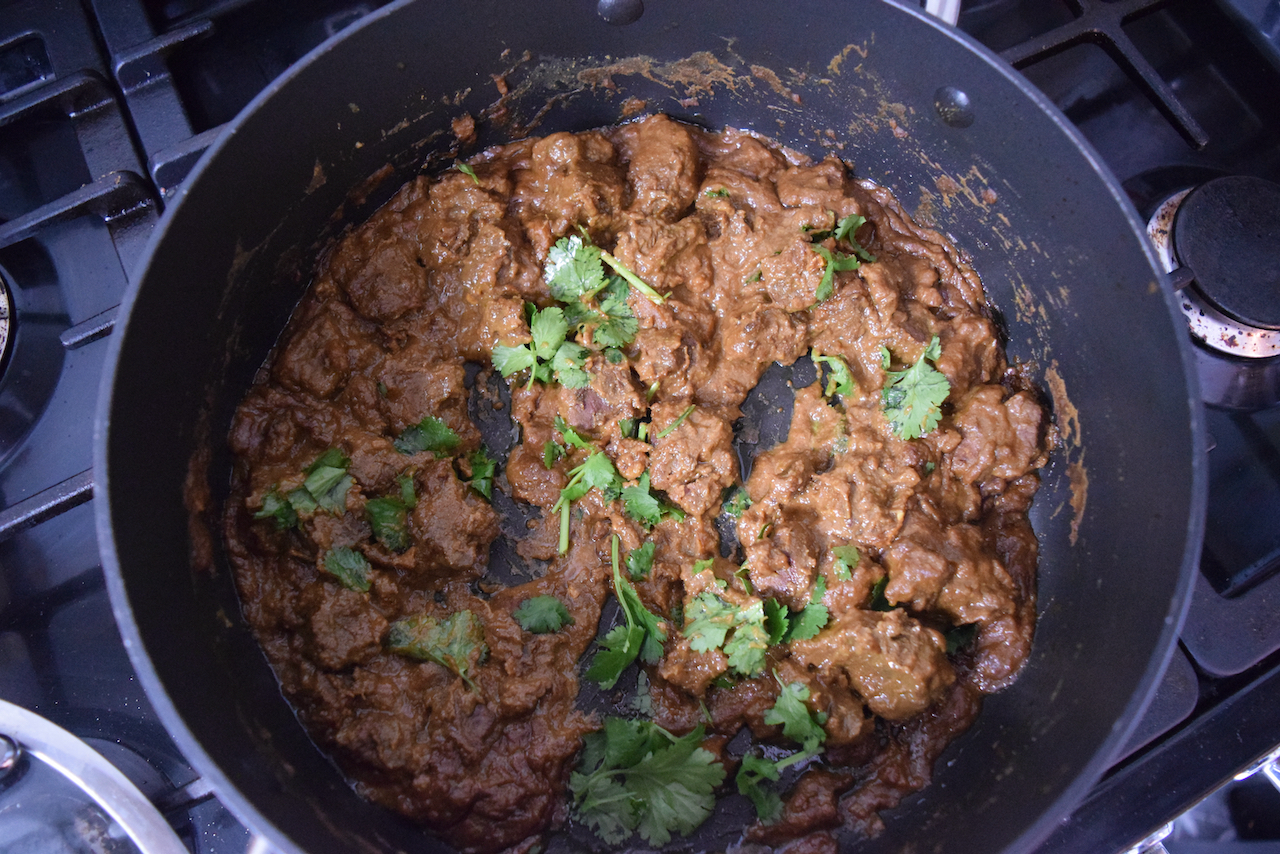 Serve, piping hot, over rice with all the traditional curry sides. And for me, the biggest dollop of mango chutney.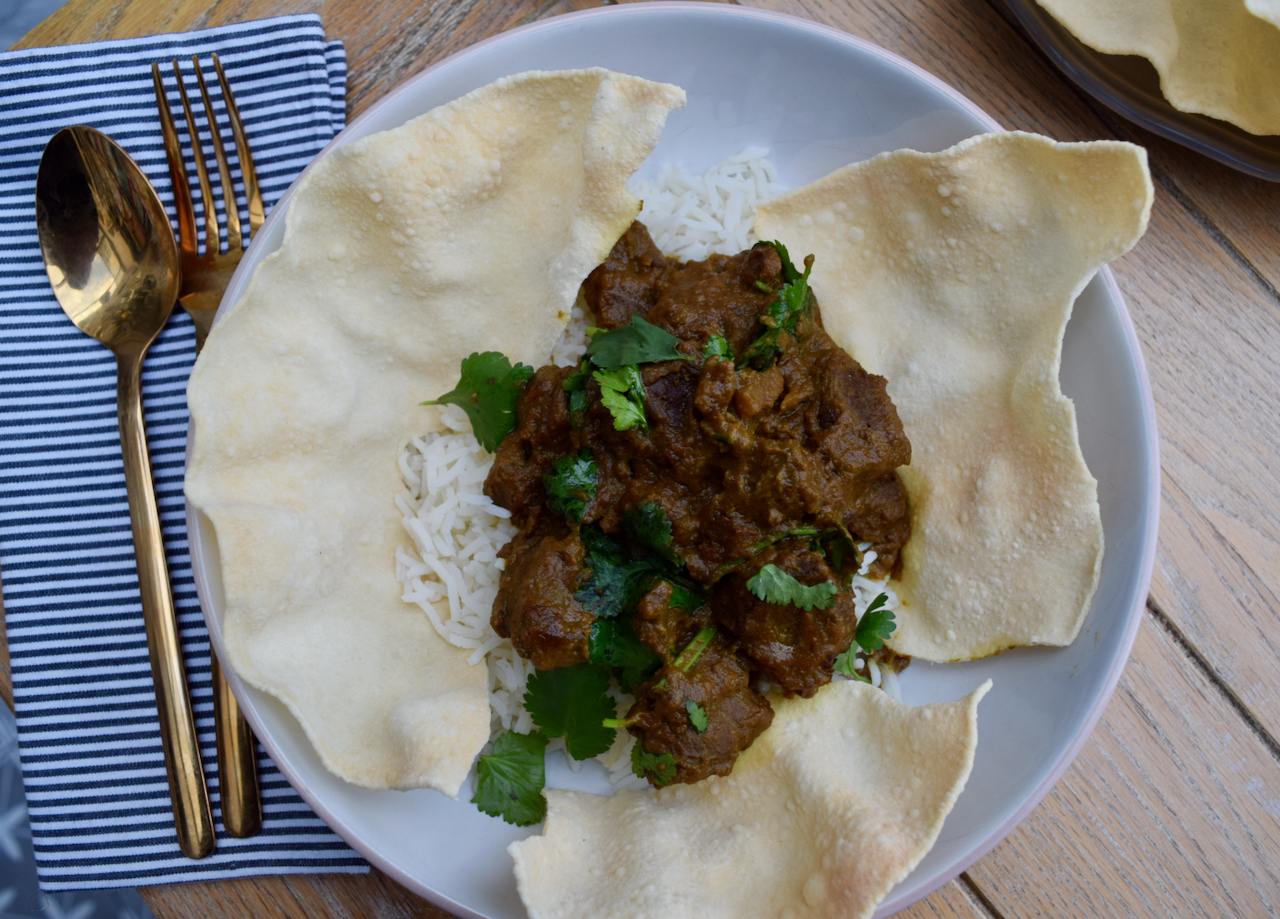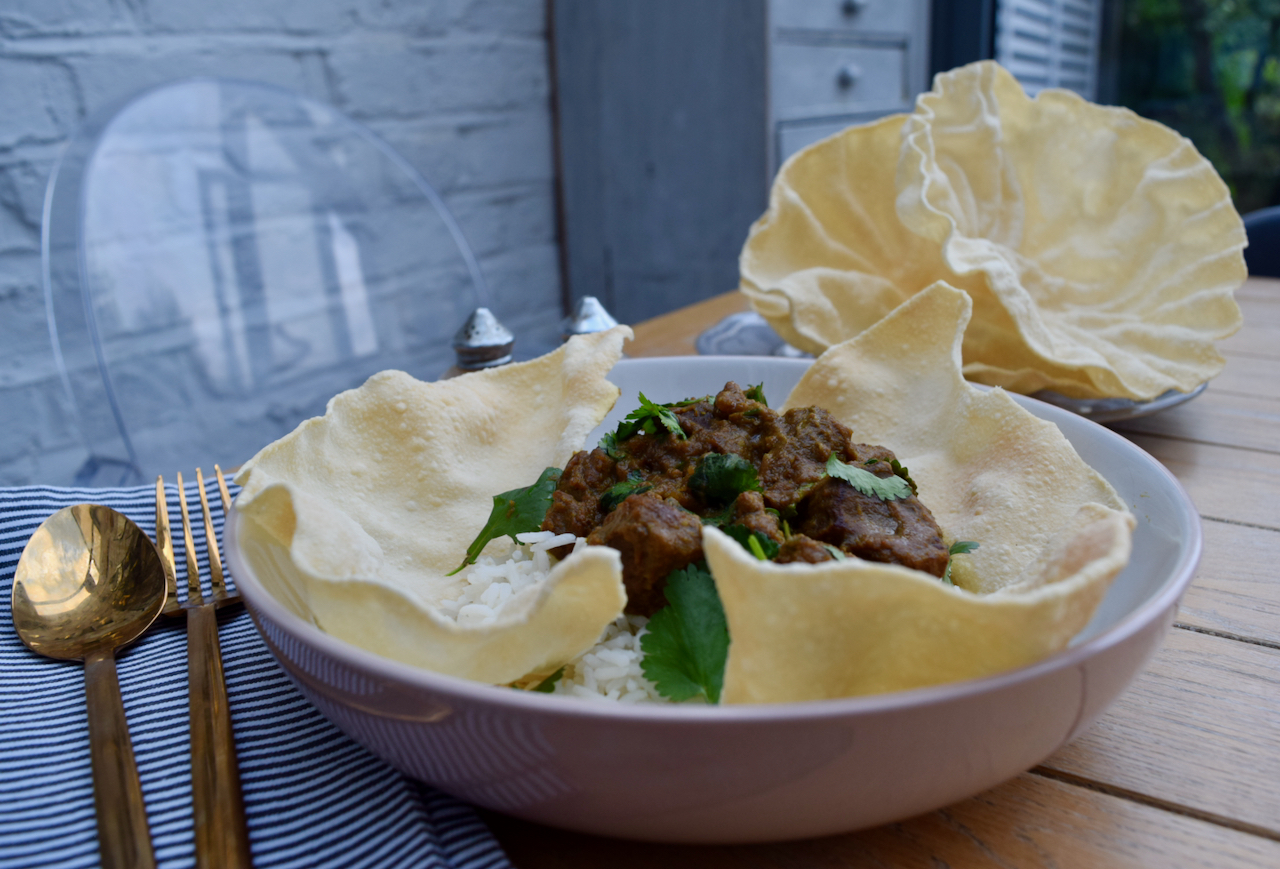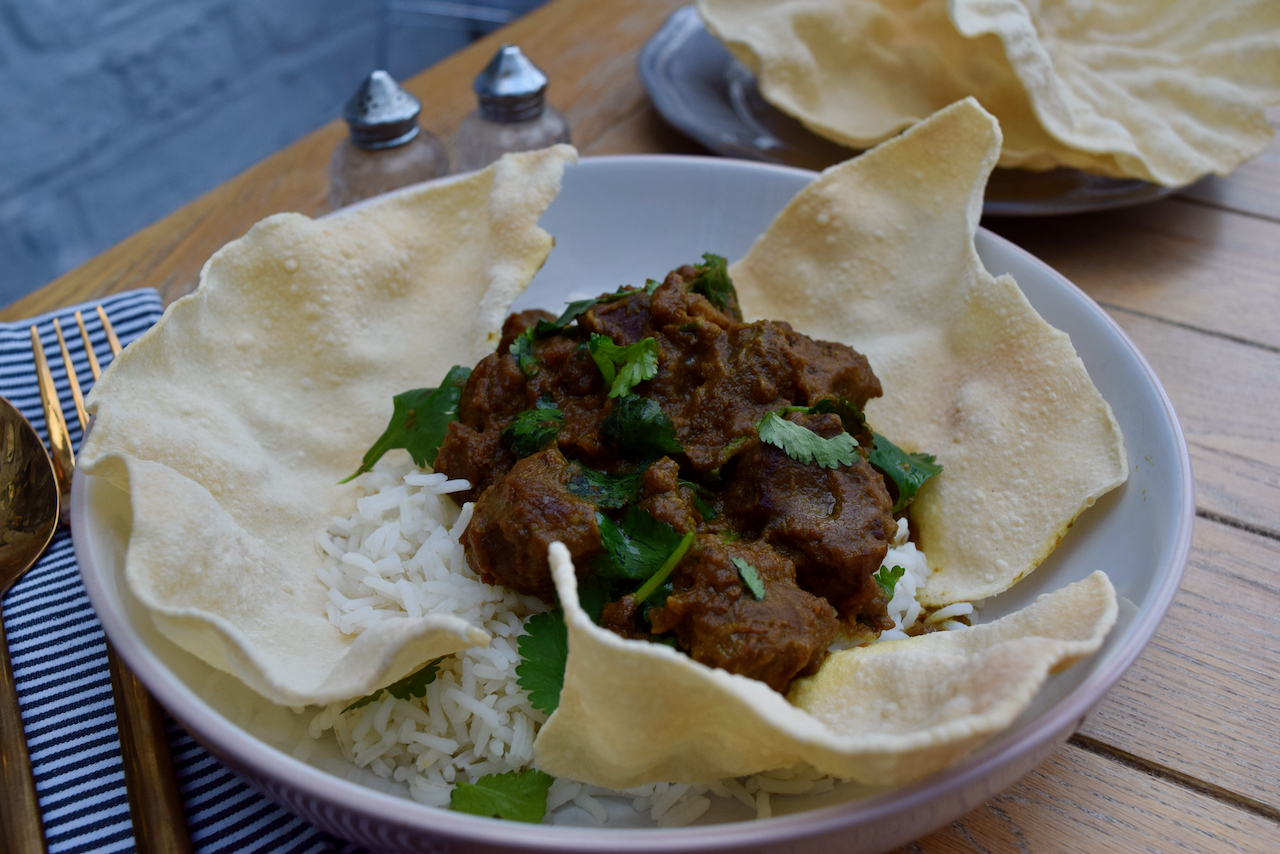 This isn't a photogenic supper, but it's a new curry based family favourite enjoyed by everyone. This makes me happy in a new world full of things which don't make me happy. That's a tiny victory right there.
Lucy x
Coconut Beef Curry recipe
Serves 3 to 4, appetite dependent
You will just need a nice big pan for this
A splash of oil, whichever you have to hand
800g braising beef, nothing too fancy, the sort you'd use for a casserole
2 onions, 3 if they're small
4 cloves garlic, finely chopped
A thumb sized piece of fresh ginger, peeled and finely chopped
1 1/2 teaspoons ground cumin
1 1/2 teaspoons ground coriander
2 teaspoons turmeric
1 teaspoon chilli powder, less if yours is the hot variety
1 teaspoon salt
1 litre beef stock
100g block creamed coconut, cut into chunks
A handful fresh coriander, plus extra leaves to serve
Poppadoms, mango chutney and naan bread to serve
Take your pan and heat a splash of oil over a high heat. Add the beef and cook until just browning then place on a plate. Brown in two batches so you don't overcrowd the pan.
Slice the onions, then with a splash more oil if needed, add to the pan, turning the heat down to low at the same time. Cook the onions until they've softened and just starting to brown. Add the chopped garlic and ginger and cook for a couple of minutes until softened, but not coloured.
Stir through the cumin, ground coriander, chilli powder and turmeric and cook for a minute. Add the beef back to the pan, stir, then pour on the beef stock. Add the teaspoon of salt then pop a lid on and cook for around an hour, stirring occasionally, until the beef is tender and cooked through.
Remove the lid, stir through the creamed coconut, then put the lid back on and cook for a final 15 minutes.
Stir through a handful of fresh coriander then serve, piping hot, with rice, naans, chutney and poppadoms, if you like.