Smoked Salmon Kedgeree Recipe
Kedgeree is one of those dishes we have always enjoyed as a family. It's such an old school classic with its roots in the British colonial times, originally served as a brunch dish by the Victorians. I am not so old that I remember those times, but it has always been a traditional favourite from my childhood and now features regularly in our family.
So when those kind people at Aldi asked me to create a spring recipe for them, I rose to the challenge and added a new twist to this wonderful dish. My Smoked Salmon Kedgeree is brilliant, even if I do say so myself, and, helpfully, it uses a host of store cupboard ingredients. I got all my tasty supplies from Aldi, where, I have to say they do sell particularly delicious smoked salmon, amongst other tasty items, which is perfect for this dish. It's a fresh and zesty twist on the classic brunch dish, but you can eat this whenever you like. This is such a speedy recipe which has an air of being a treat with the new addition of smoked salmon. Incredibly, our whole family inhale this in vast quantities, I hope you have as much success with this lunch or supper dish as I do.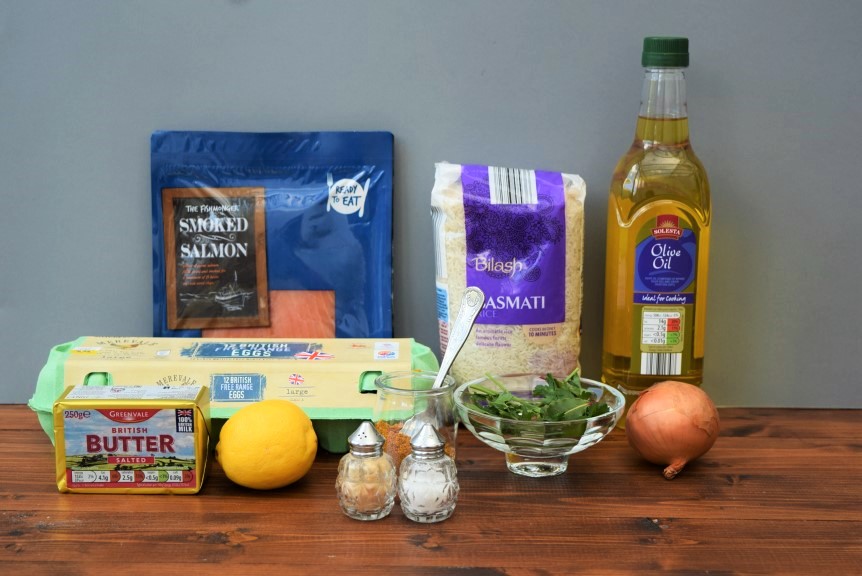 We had a brilliant trip to Aldi to buy the above ingredients for this dish. I did sneak in quite a few treats, over and above my allocated budget, *oops* including a rather delicious looking bottle of Gavi and some Limoncello. Store cupboard necessities I think you'll find.
Make a start with this fresh recipe by putting four eggs on to soft boil. Put them in cold water, bring to the boil then simmer for 6 minutes.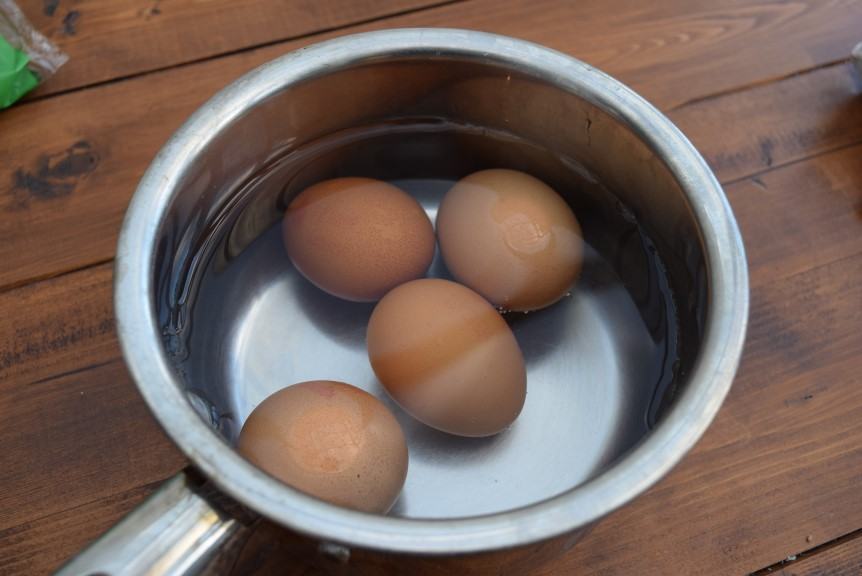 Once the timer goes off, run the eggs under cold water and leave to cool.
Next, heat a couple of tablespoons of olive oil in a large frying pan over a medium heat. Add your finely chopped onion and cook for a couple of minutes until softening and starting to brown.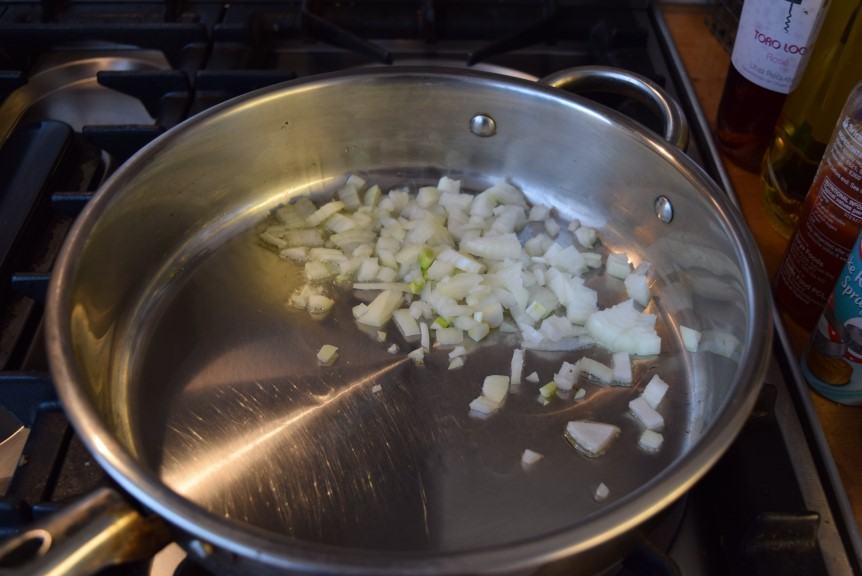 Tip in the rice then stir through your chosen amount of curry powder. My batch of kedgeree was quite feisty and I added four teaspoons, so add less at the start you can always add more afterwards. Cook this mixture for a moment just to toast the spices.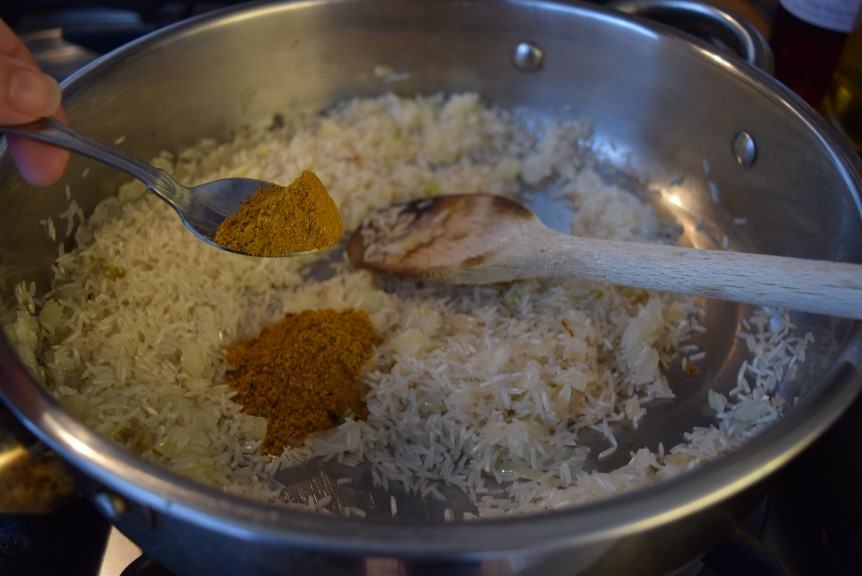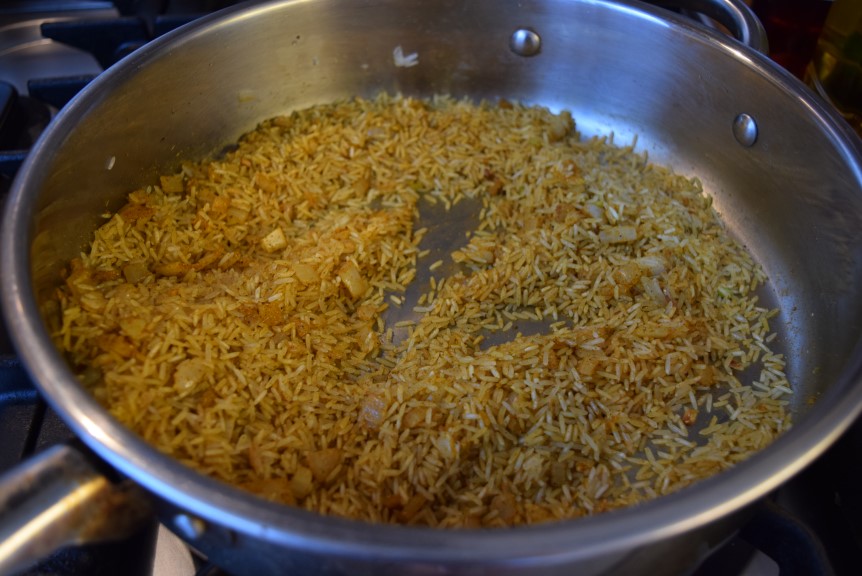 Pour in the stock then bring this up to the simmer. The smell of toasty curry is wonderful here.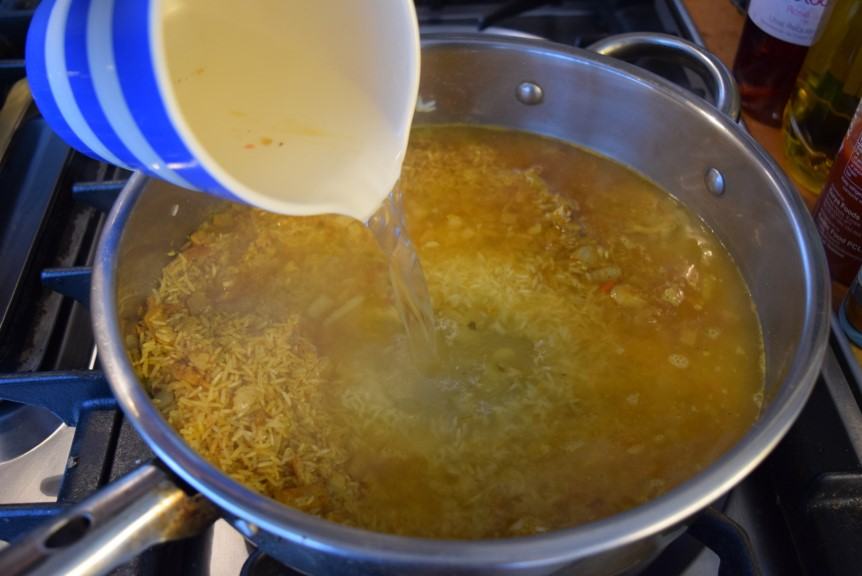 Throw in your bay leaves for extra flavour then pop a lid on and leave to simmer for 15 minutes.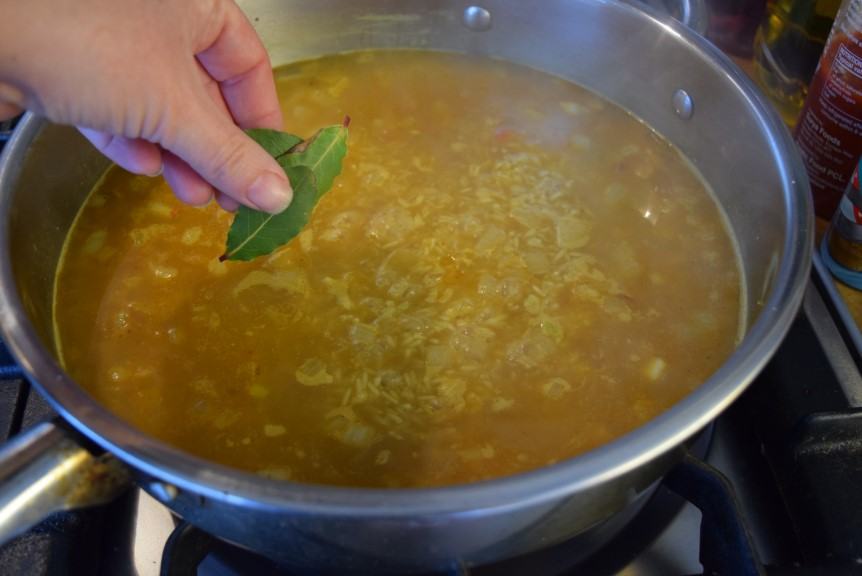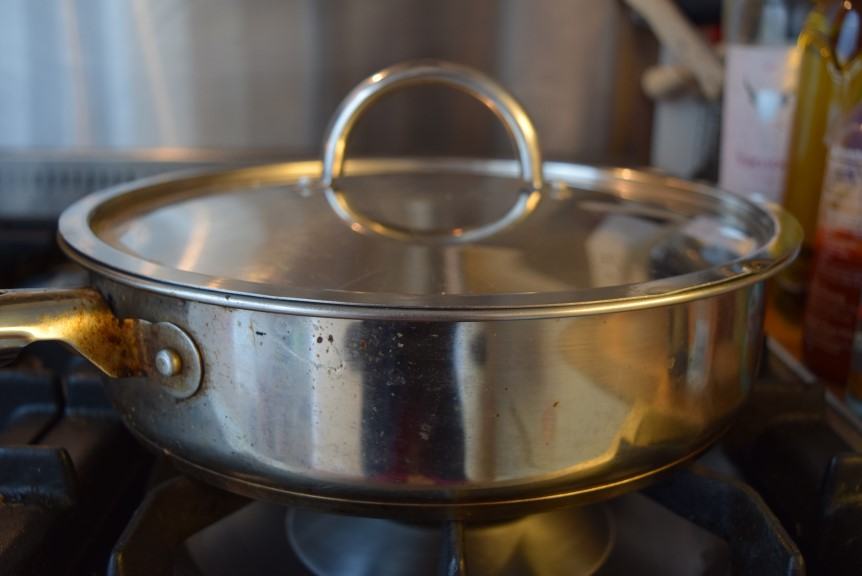 While this simmerage is going on, prepare your kedgeree extras. Chop your fresh green parsley, zest and juice your lemon and peel and chop your soft boiled eggs.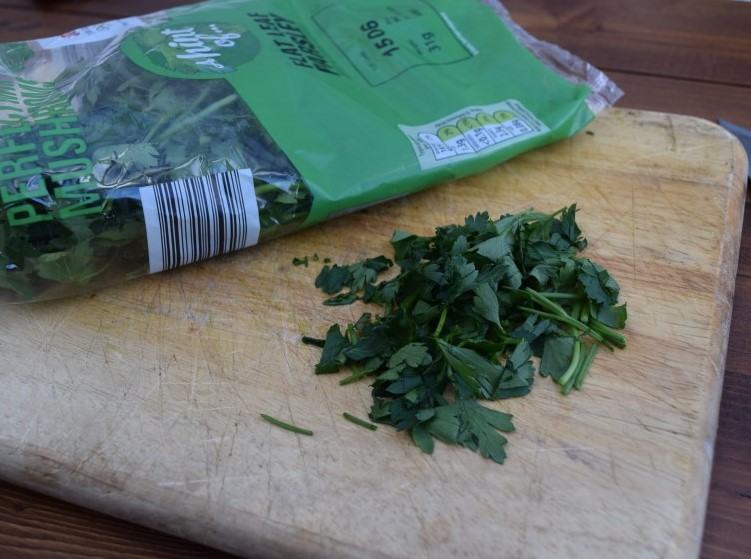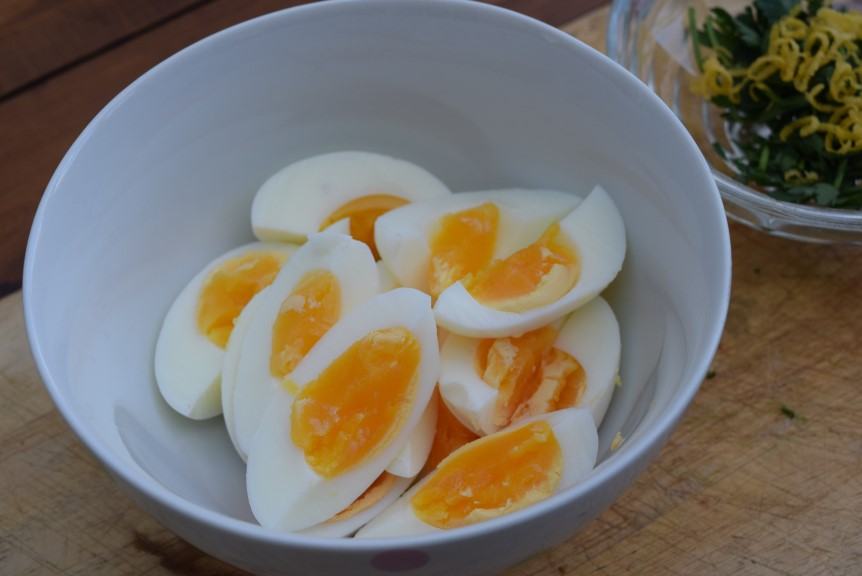 Finally, slice your wonderful, soft pink smoked salmon into strips. I used scissors for ease of cutting and because I am lazy.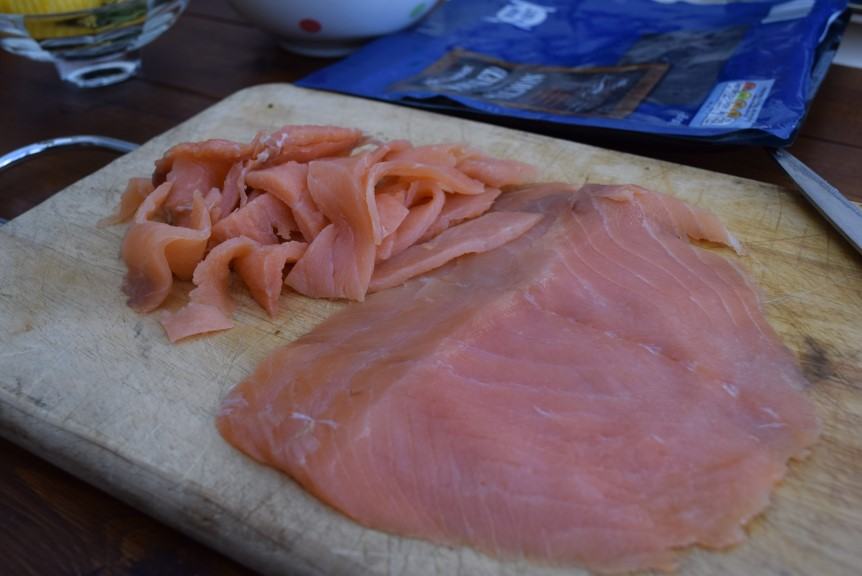 When the 15 minutes is up, give the golden rice a stir and make sure it is not too dry, adding a little extra stock if needed. Season, then stir through the parsley, lemon zest and the juice of half the lemon, the smoked salmon strips and finally the quartered eggs.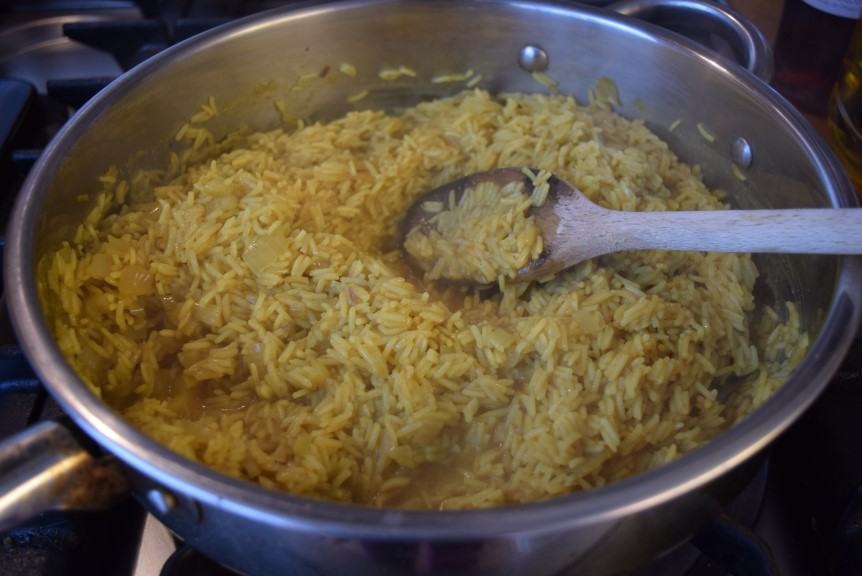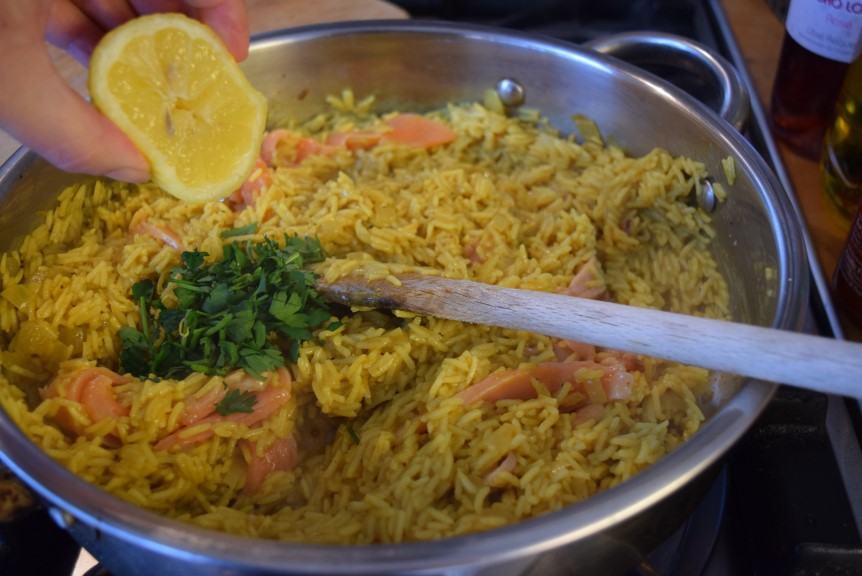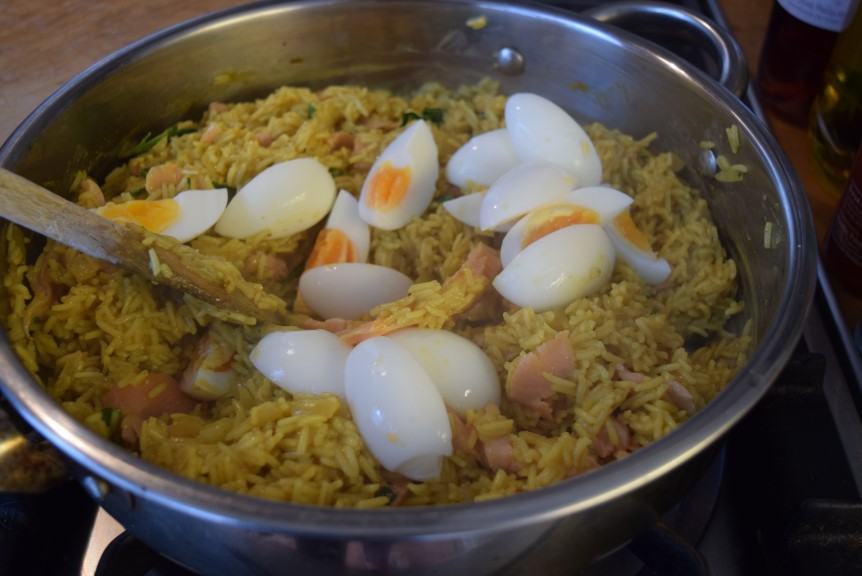 Add a couple of knobs of butter then pop the lid back on for a further 5 to 10 minutes or until the rice is cooked through and the whole, fragrant dish is piping hot and mouthwateringly delicious.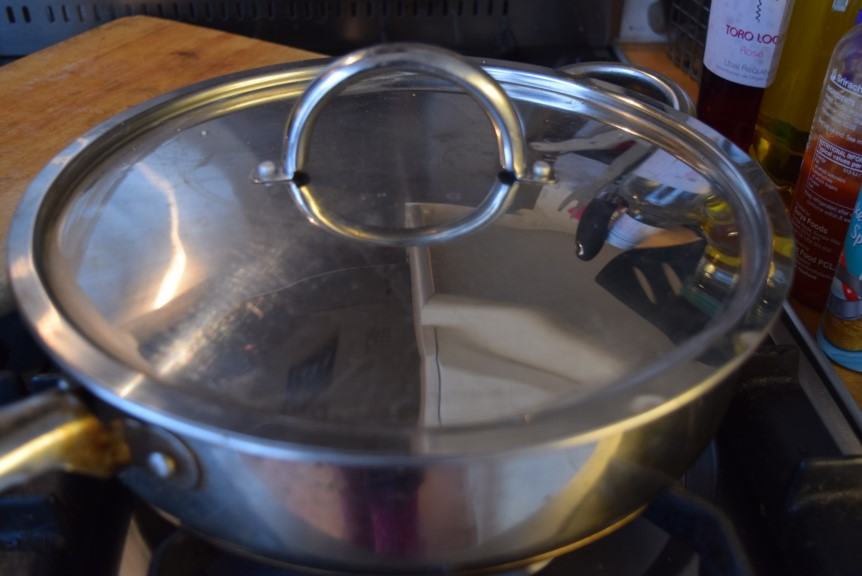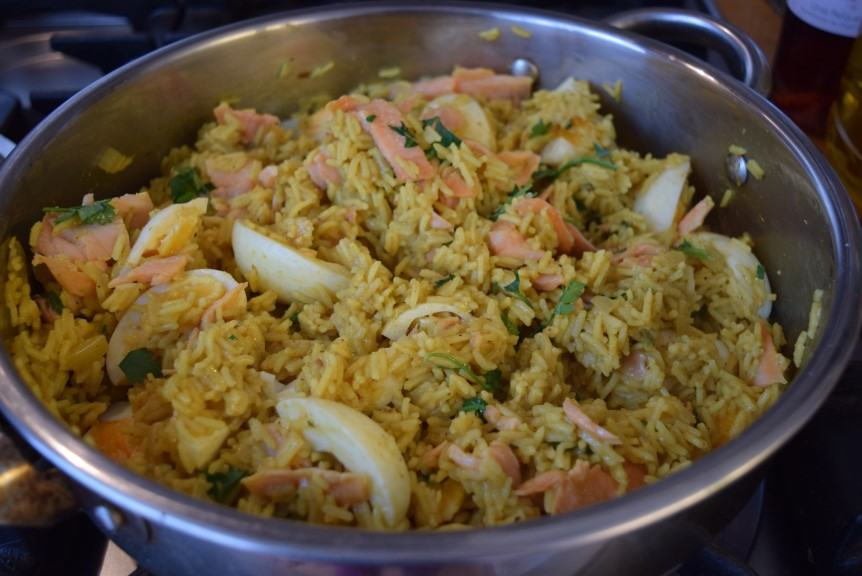 Garnish with additional freshly chopped parsley, check for seasoning and add extra butter if you are throwing calorie caution to the wind. Enjoy piping hot with something green, I love a classy serving of peas with mine.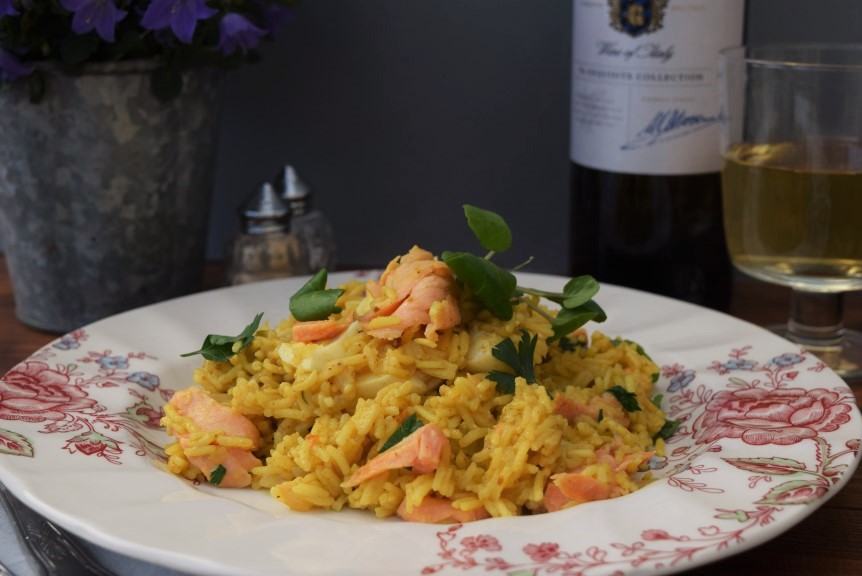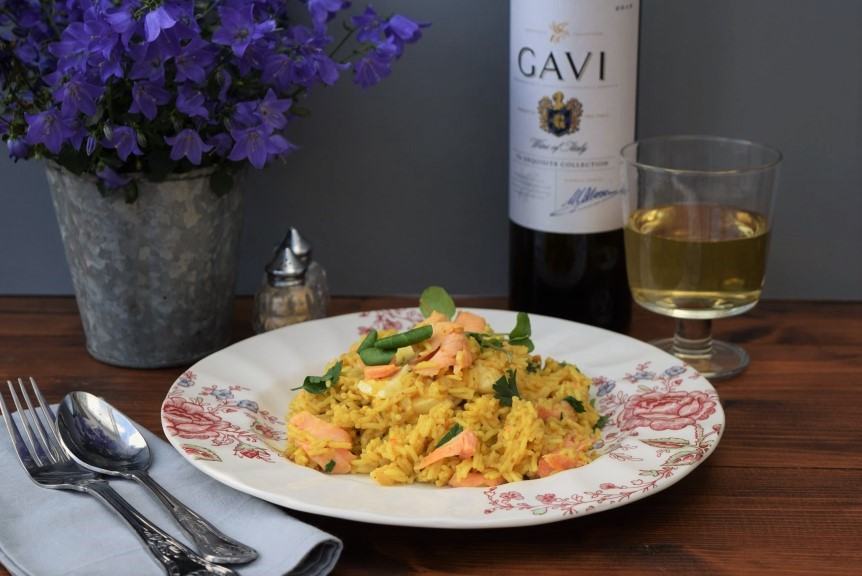 Ooh, there's that delicious Gavi gift to myself care of those kind Aldi people.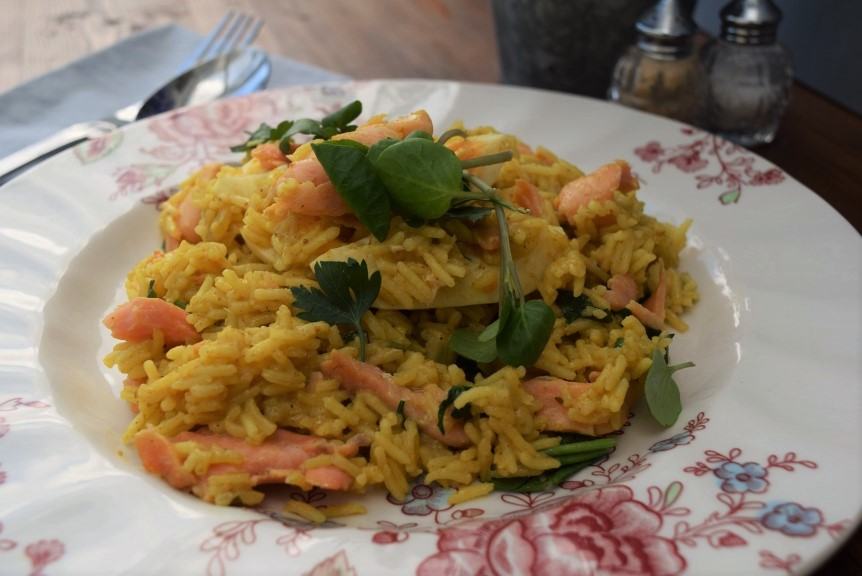 Thank you, Aldi, for these fresh, tasty ingredients. This is such a quick, but incredibly flavoursome dish, I am really happy to share it with you. This Smoked Salmon Kedgeree is classy and can be served whenever you like. Brunch, lunch, supper for friends, family, guests, this dish is the ultimate multi tasker.
I hope you and your family love this new springtime reworking of an old favourite as much as I do.
Lucy x
Aldi kindly provided me with vouchers for the ingredients for this delicious dish, however, all views and ramblings are, as always, my own.
Smoked Salmon Kedgeree Recipe
Serves 4 to 6 people
You will need a large frying pan
4 eggs, soft boiled
2 tablespoons olive oil
1 onion, finely chopped
350g basmati rice
2 to 4 teaspoons curry powder – dependent on how spicy you like it and how spicy your powder is
800ml to 1000ml chicken or fish stock, you may need more or less
3 bay leaves
1 lemon, all the zest and half the juice
3 tablespoons chopped fresh parsley
200g Smoked Salmon, cut into strips
50g butter, cut into small pieces
Salt and pepper
Extra fresh parsley to garnish
Put your eggs into a pan of cold water and bring to the boil. Simmer for 6 minutes then run under cold water to cool down. Pop to one side for the moment.
Take a large frying pan and heat two tablespoons of olive oil. Add a finely chopped onion and heat until softening and starting to brown. Pour in the rice, stir through, then add the curry powder. Mix this through the rice then pour in the 800ml of stock. Bring to the simmer, add the bay leaves then pop on a lid for 15 minutes over a low heat. Keep an eye on this here, you may need to add a splash more stock if the rice starts to stick to the pan.
While this is simmering zest the lemon and squeeze half the juice. Chop the parsley and cut the smoked salmon into strips, I used scissors. Peel and quarter the soft boiled eggs. When the time is up, stir through the smoked salmon, parsley, lemon zest and juice, salt and pepper and finally the chopped eggs.  Don't over mix everything, you don't want it to turn to mush. Add the pieces of butter then put the lid back on for 5 to 10 more minutes or until the rice is cooked through and everything is piping hot. Take the lid off, stir again, check for seasoning then serve immediately with a touch more fresh parsley and with salad or a lovely green vegetable.