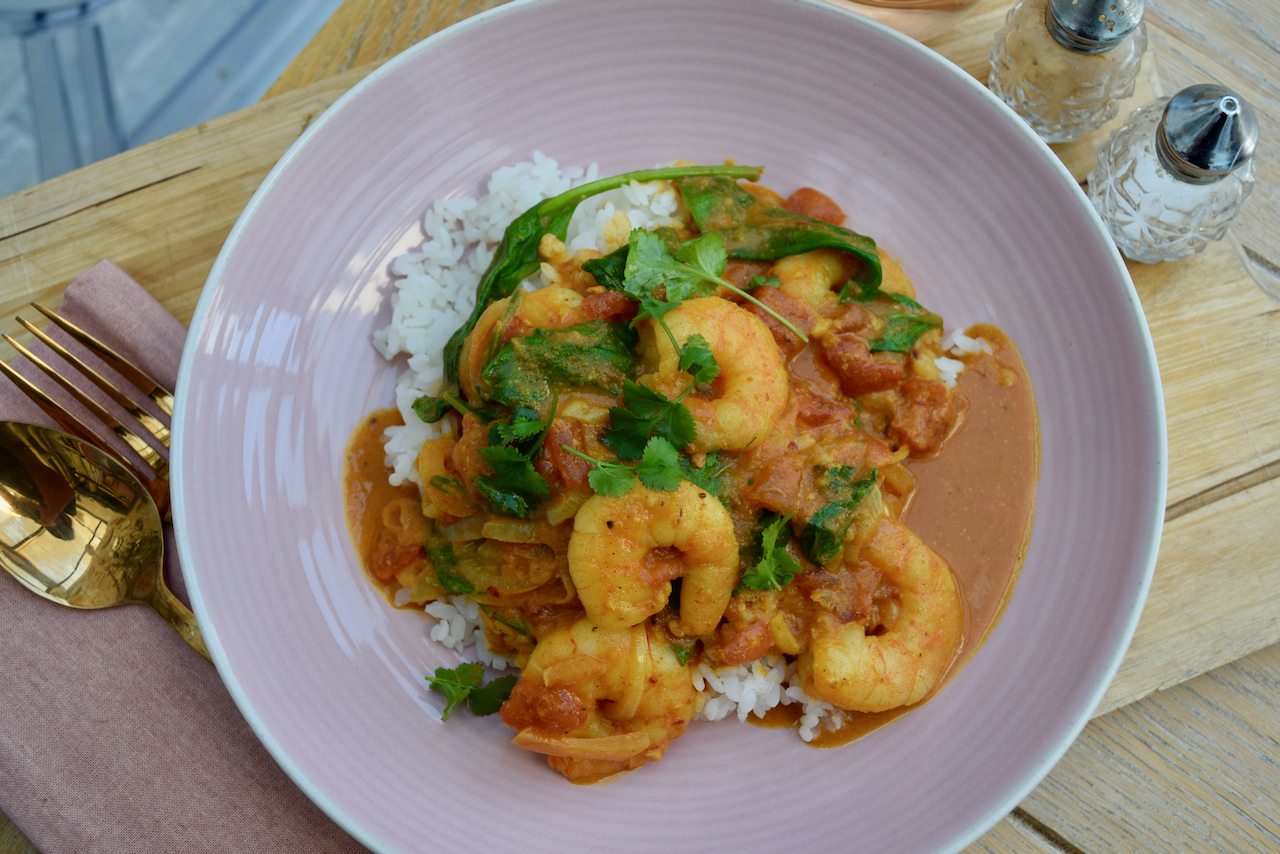 Quick Coconut Prawn Curry Recipe
Three weeks in and I'm losing the will to cook. Forking up endless meals for 3 hungry men is wearing. In our previous incarnation, pre lockdown, Clyde would eat with fussy George and Ben would be at uni, whilst I would eat whatever was left. But not now, in this new norm, I'm like an unpaid chef, on call 24 hours a day to create culinary treats for the men in my life. The plus side of this, however, is the need to create new and tasty recipes. And now I've made this Quick Coconut Prawn Curry, I will not stop.
I bloody love prawns, and in a helpful turn of events, so do the whole family. I still see them as a treat as they're pricey, but if you're looking for an enticing weekend dinner, or God forbid we're ever allowed to entertain guests again, this only works out at around £2.50 per head max, so it's not the end of the world. This fragrant curry is based on my most popular Slow Cooker Chicken Korma recipe with similar spices, but it's so much quicker. On the table is less than 25 minutes and that's mainly cooking the rice. Don't be put off by the list of spices, they're standard issue and I keep these in my cupboard for all curry based occasions. Other than that this is a heat and serve dish, and there's nothing you won't be able to get hold of during lockdown.
Curries are getting us through at the moment; they're crowd pleasers, or in my case, Kellett pleasers, and that's all that matters. Anything that means I can close the kitchen early is a total win.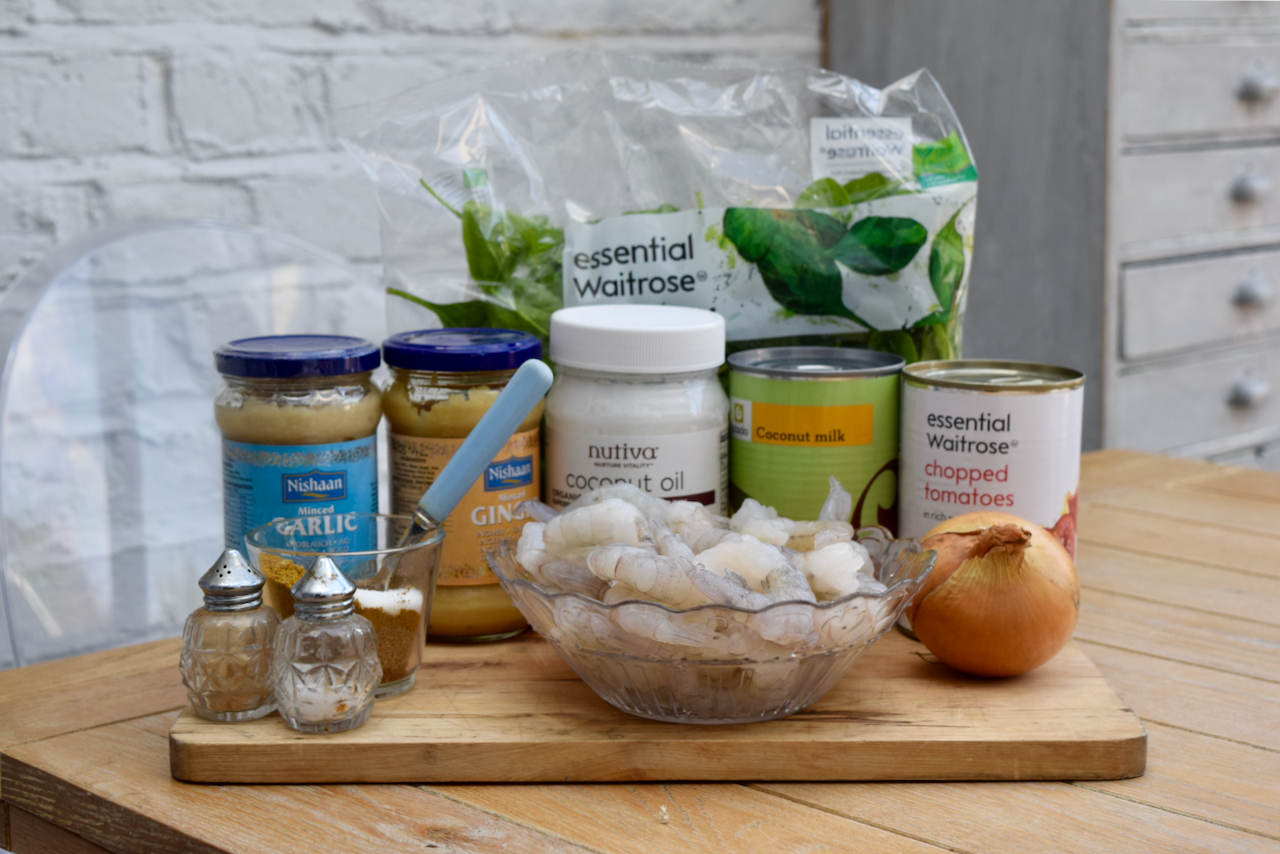 Look at those lovely prawns. And I condensed all the spices into one little pot so as not to scare you off with all the packets. Once again I've gone with jarred garlic and ginger; these are lockdown essentials in my humble opinion.
Make a start by putting your rice on to cook using your preferred method. This curry is so quick, you don't want to be sitting around waiting for the rice to cook when the curry's all good to go. Next, in a deep pan, melt the coconut oil over a medium flame then add the sliced onion.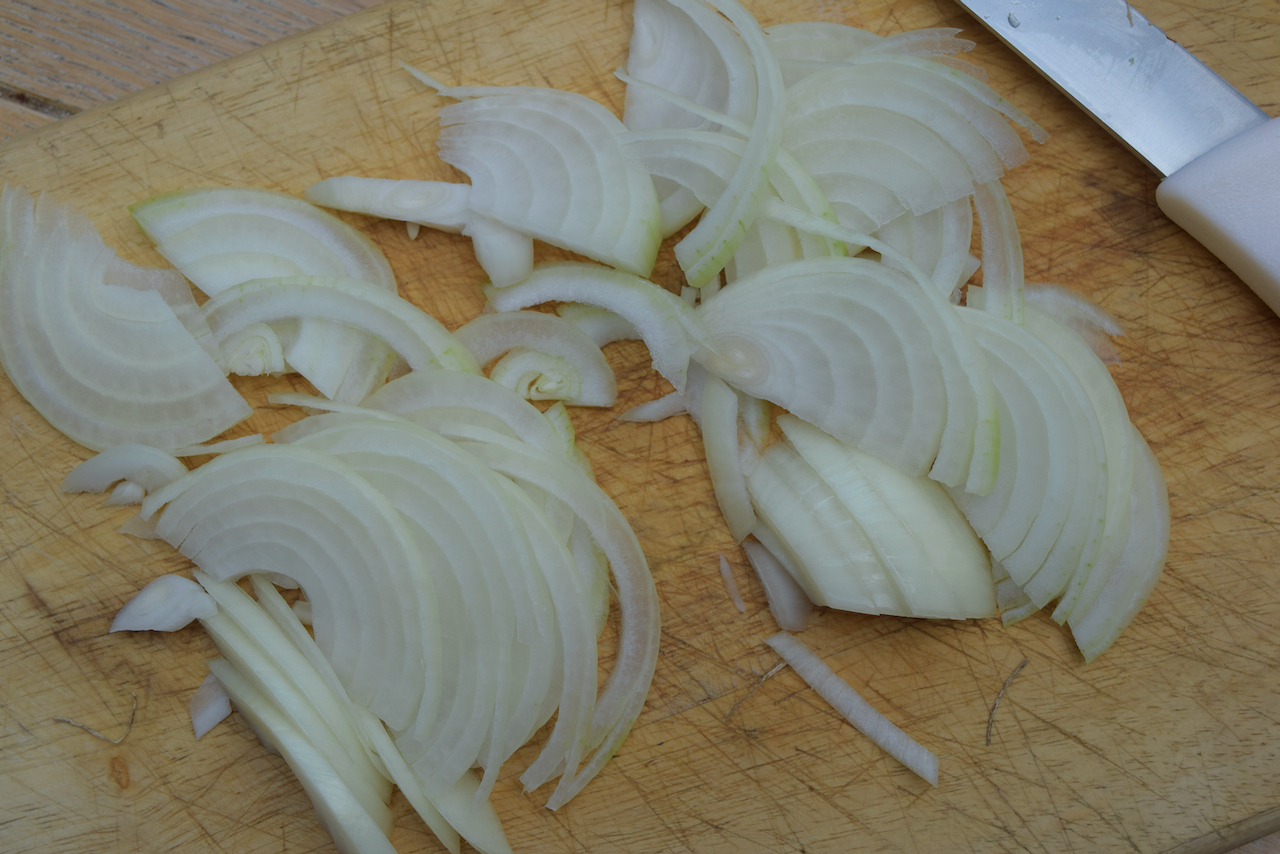 Cook this for around 5 minutes or until just softening and turning slightly golden at the edges.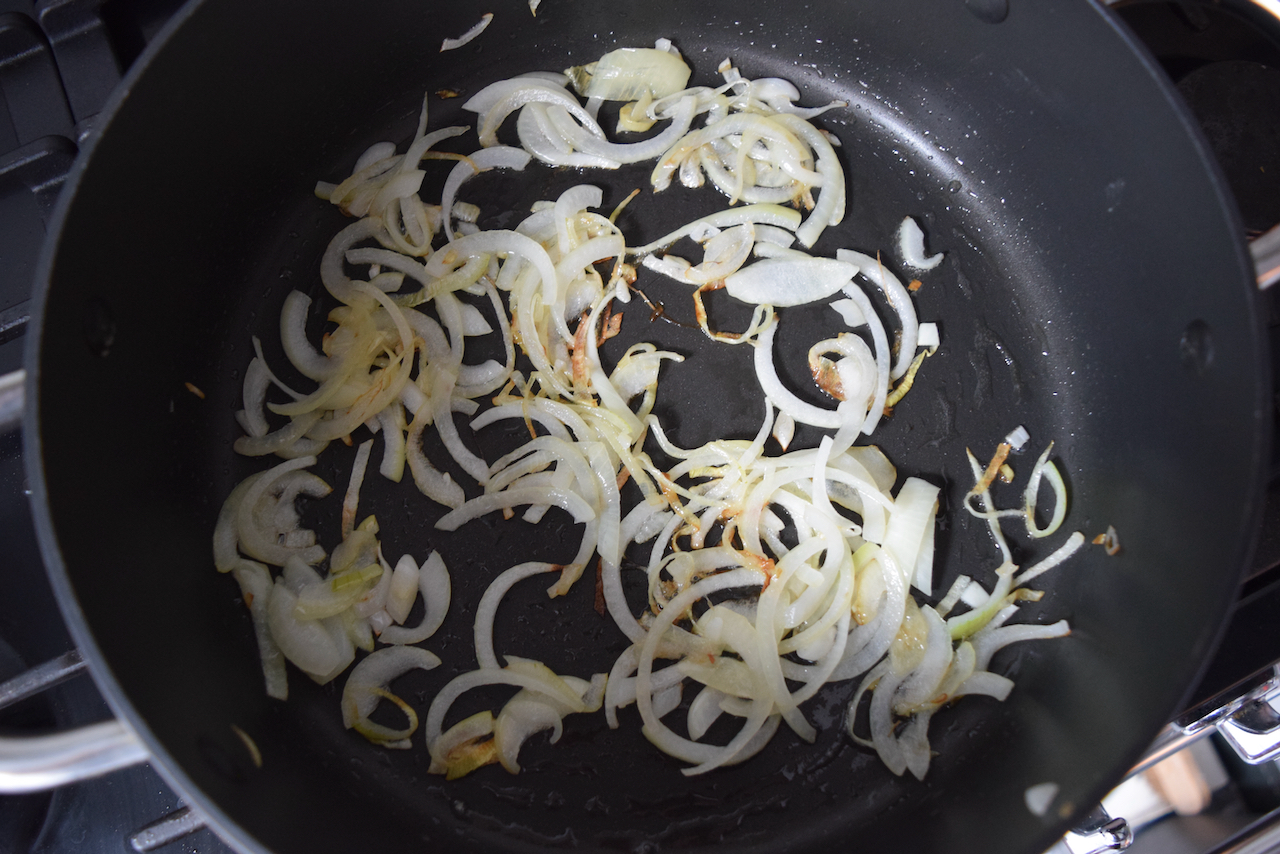 Now add the garlic and ginger and cook for a minute or so then stir in all the wonderful spices and the teaspoon of sugar.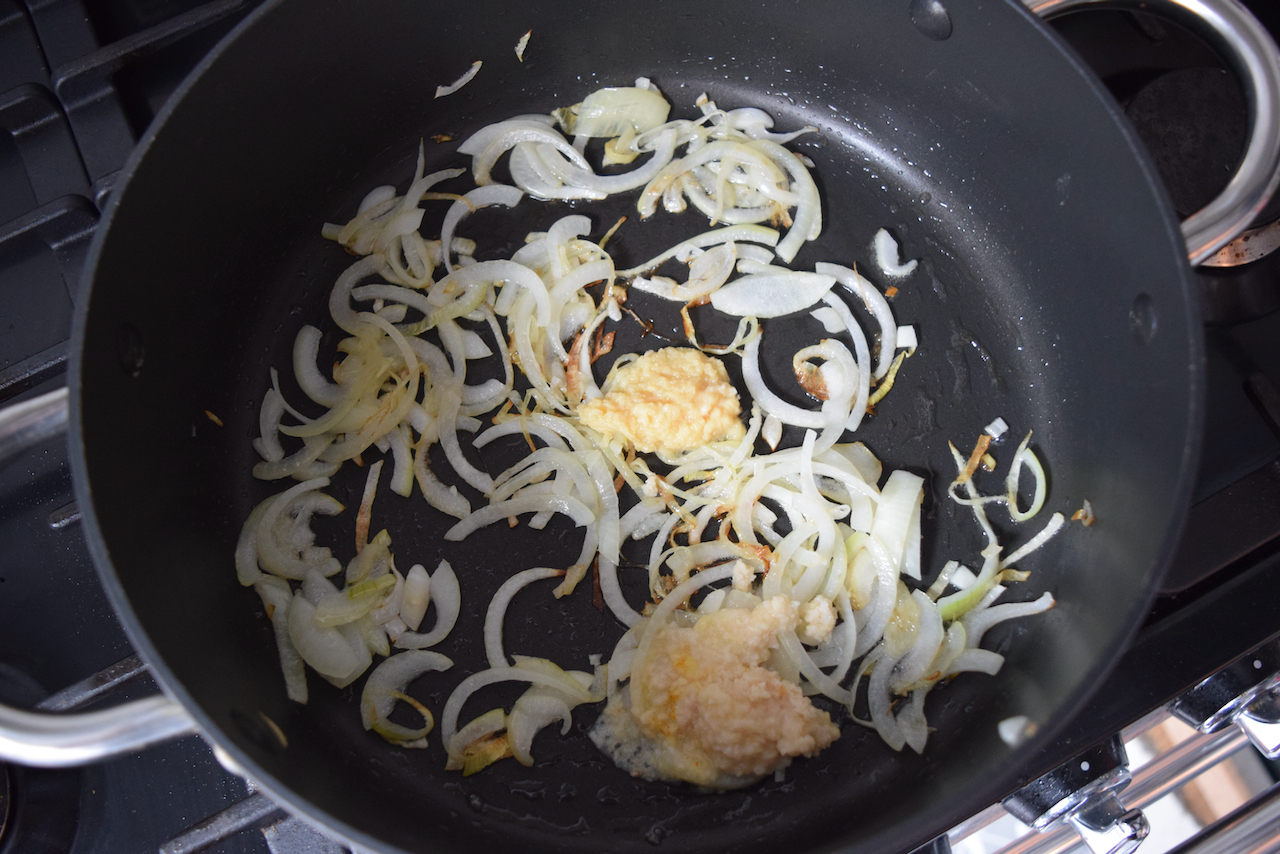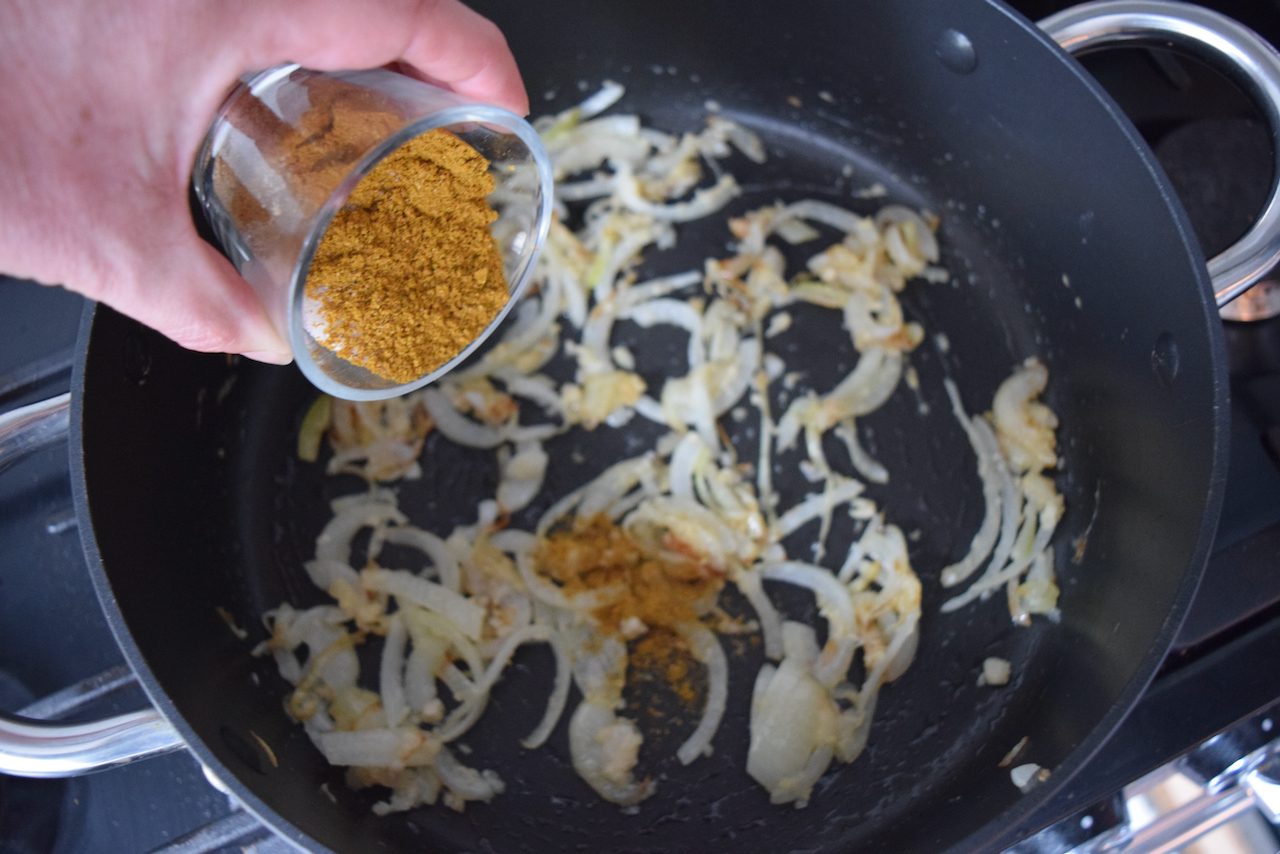 Cook this for another minute so all the spices release their wonderful flavours then tip in the chopped tin tomatoes and stir well.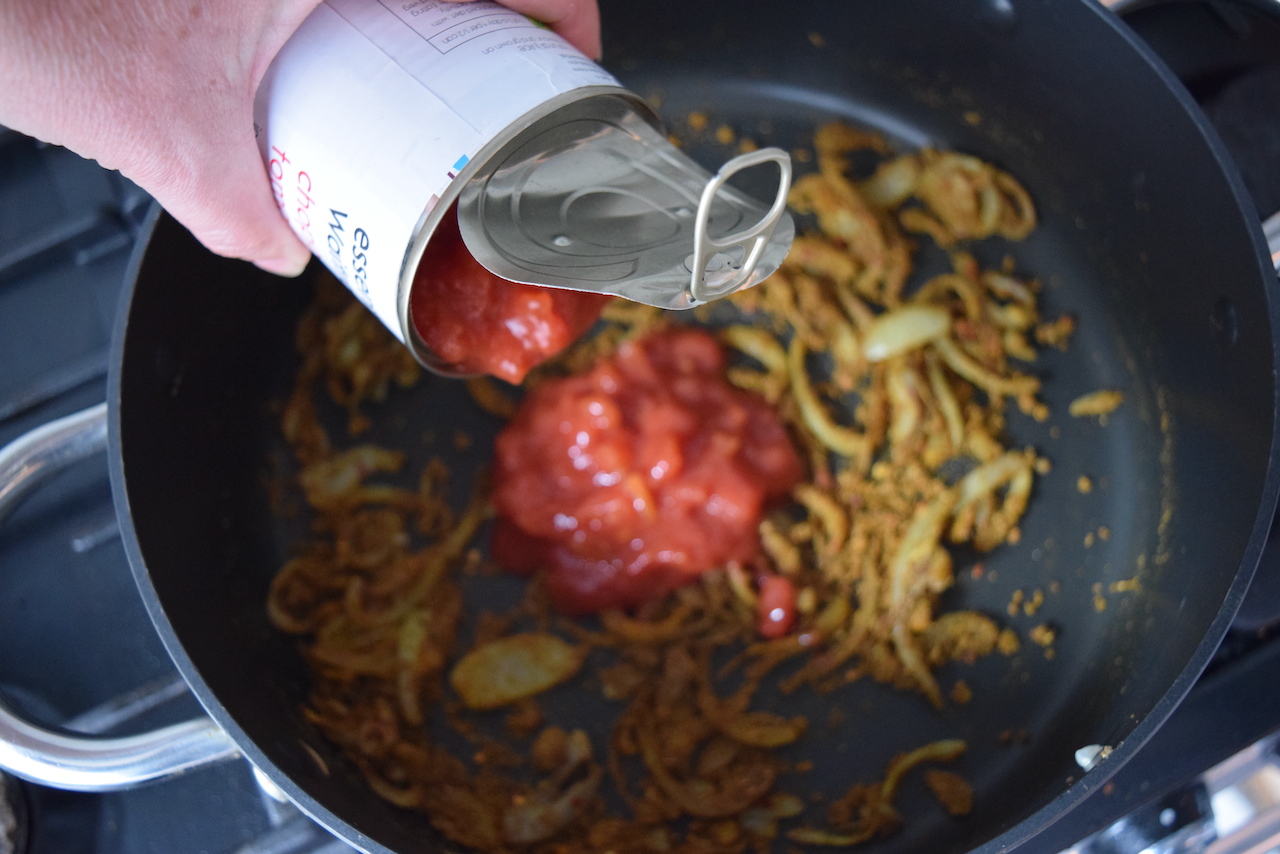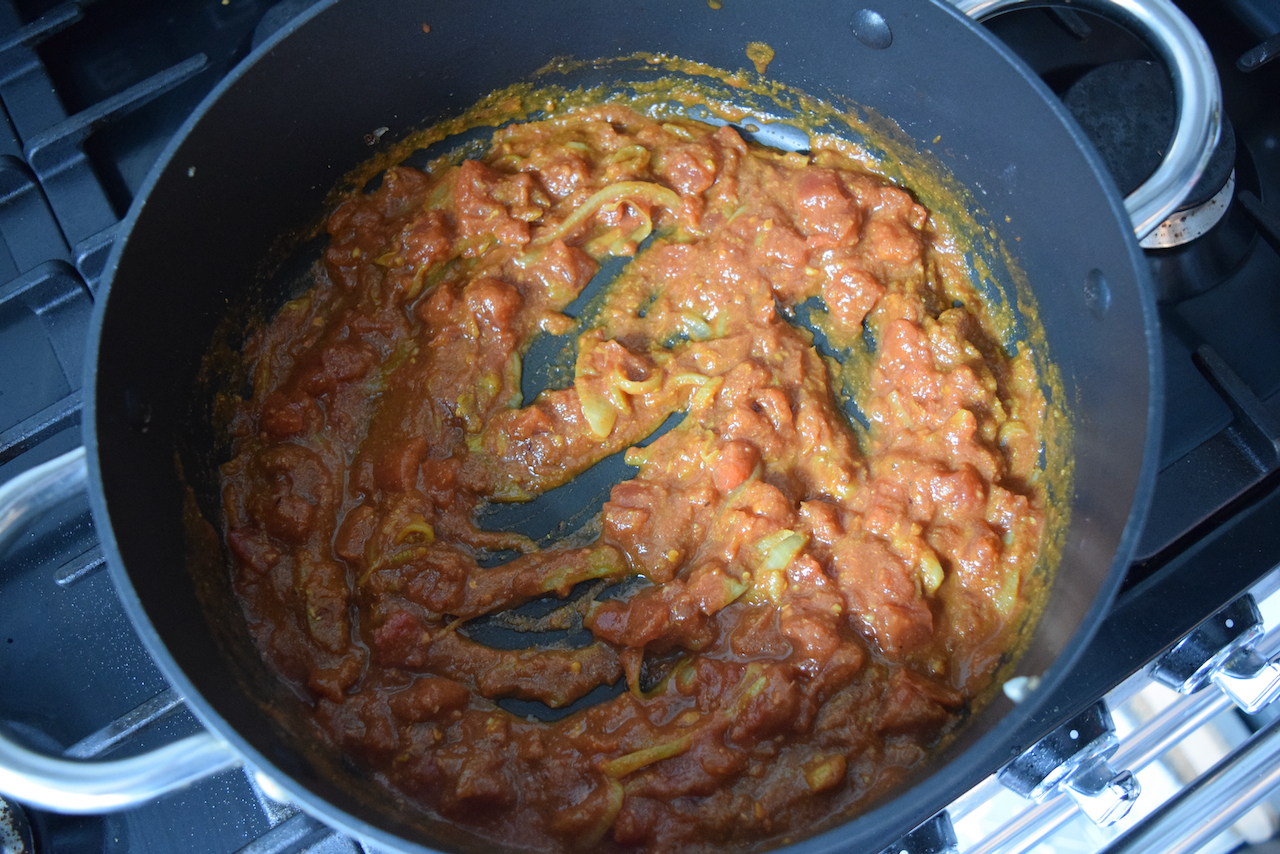 Pour in the rich coconut milk and stir then bring up to the simmer.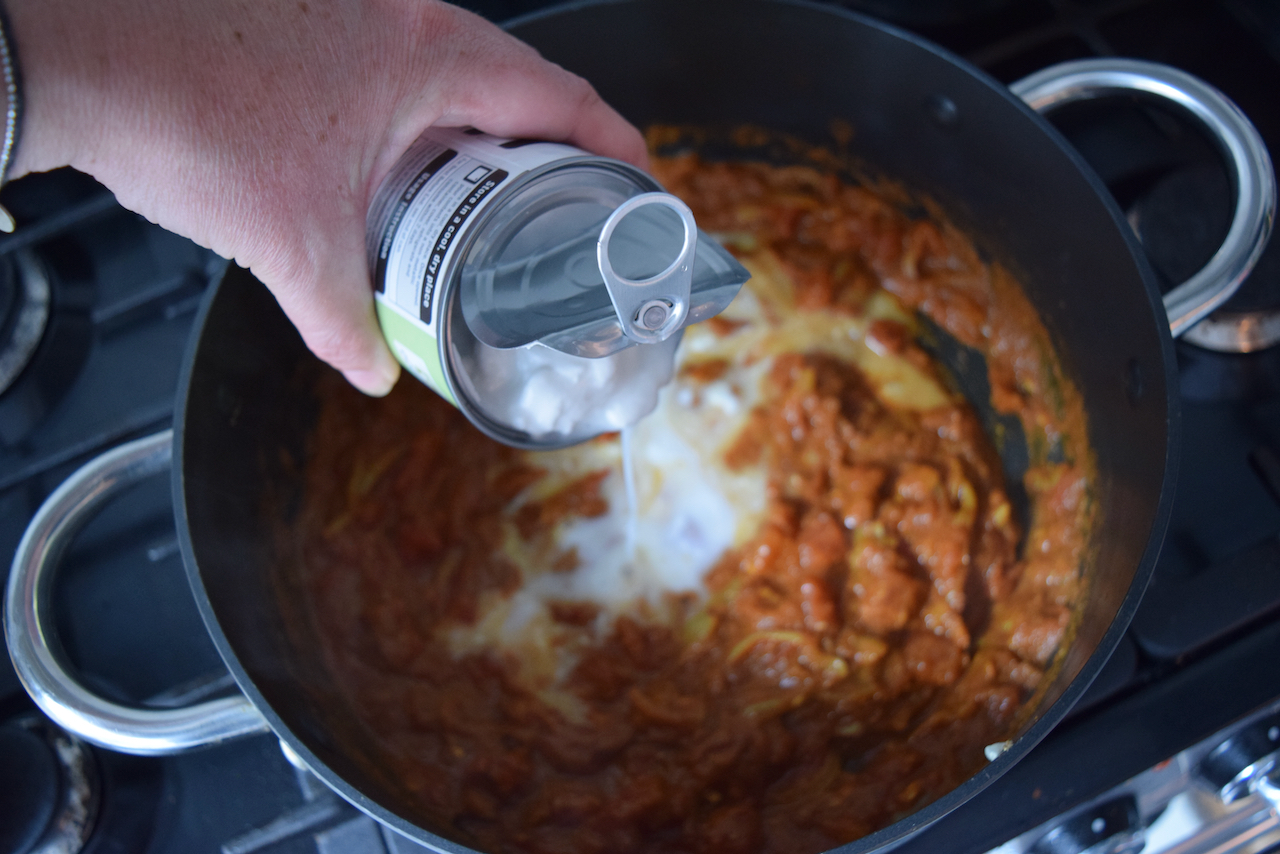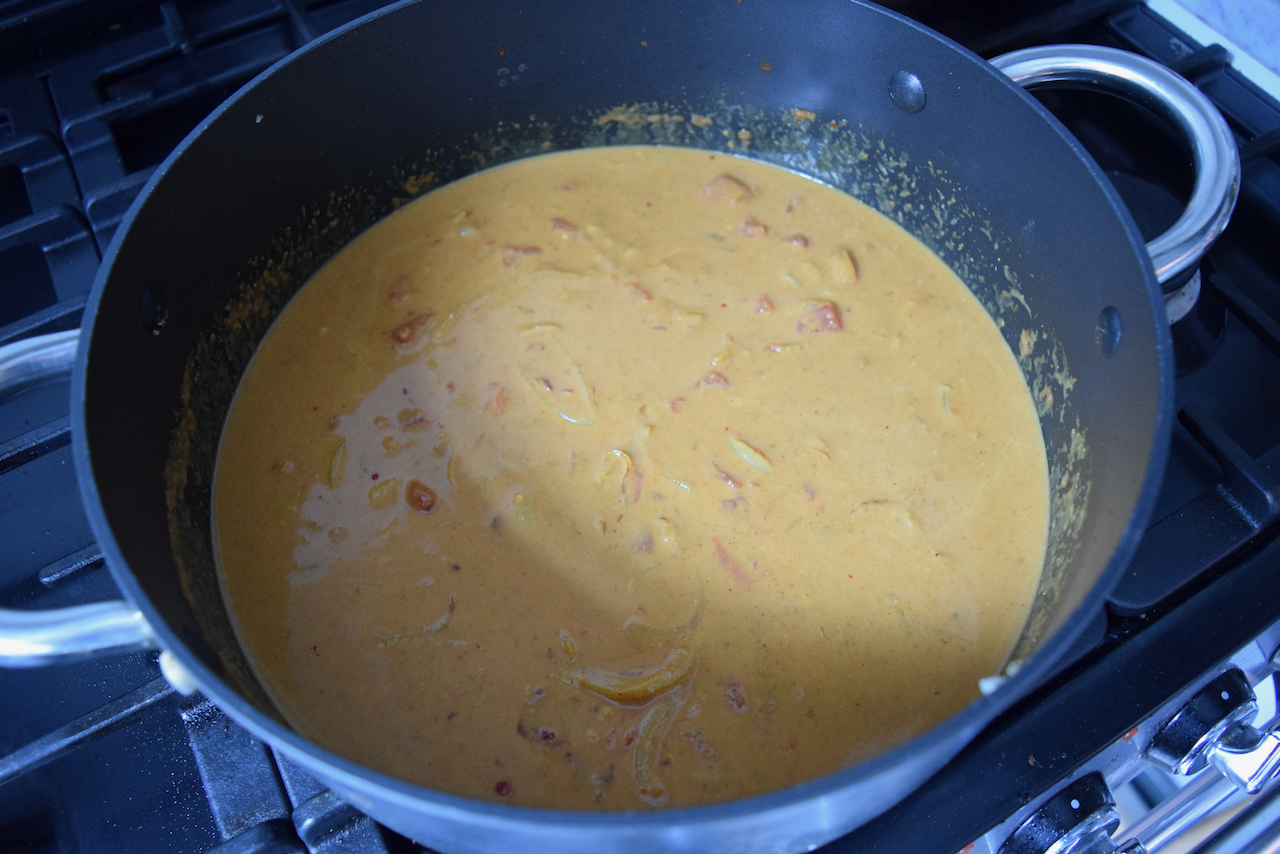 Once the curry base is simmering drop in your prawns, defrosted, rinsed and drained if they're were frozen, then cook for around 2 to 3 minutes or until they have turned pink and are just cooked through.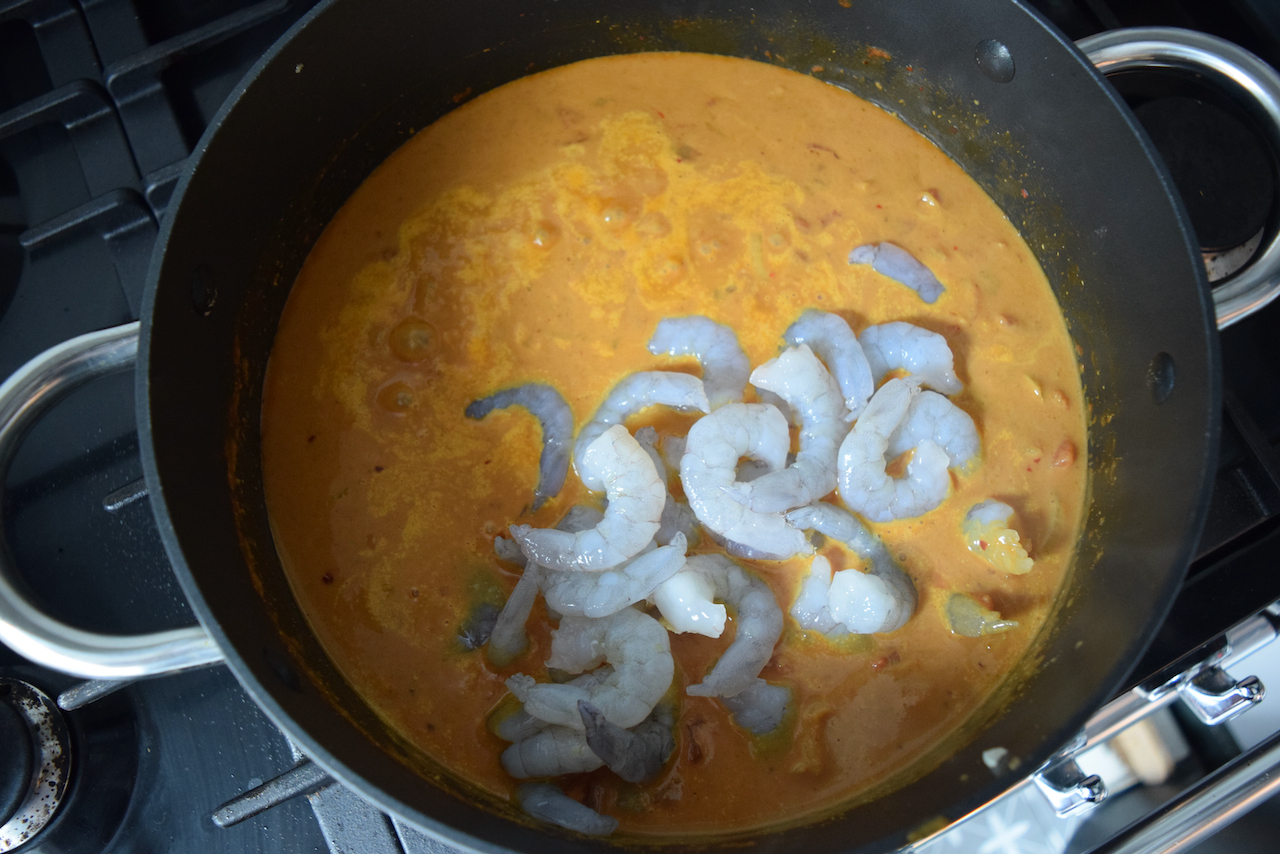 Stir in the spinach, if using, then cook for a further minute or until just wilted.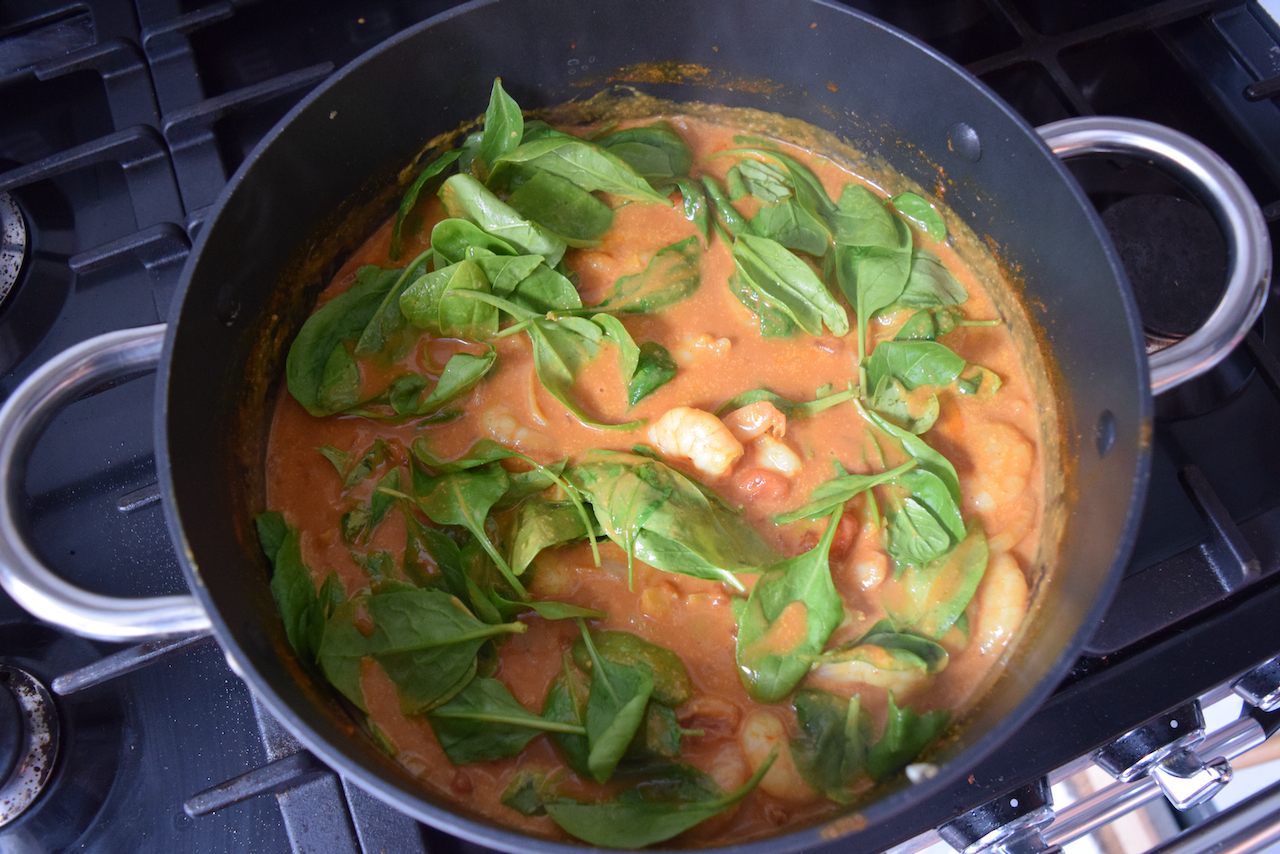 Have a quick taste to see if it needs any salt and pepper, then serve in big bowls, piping hot, garnished with some fresh coriander if you have it with the rice of your choice. We are down to our last knockings on rice, so I fear ours was the untraditional choice of Sushi rice. Waste not want not is my lockdown motto.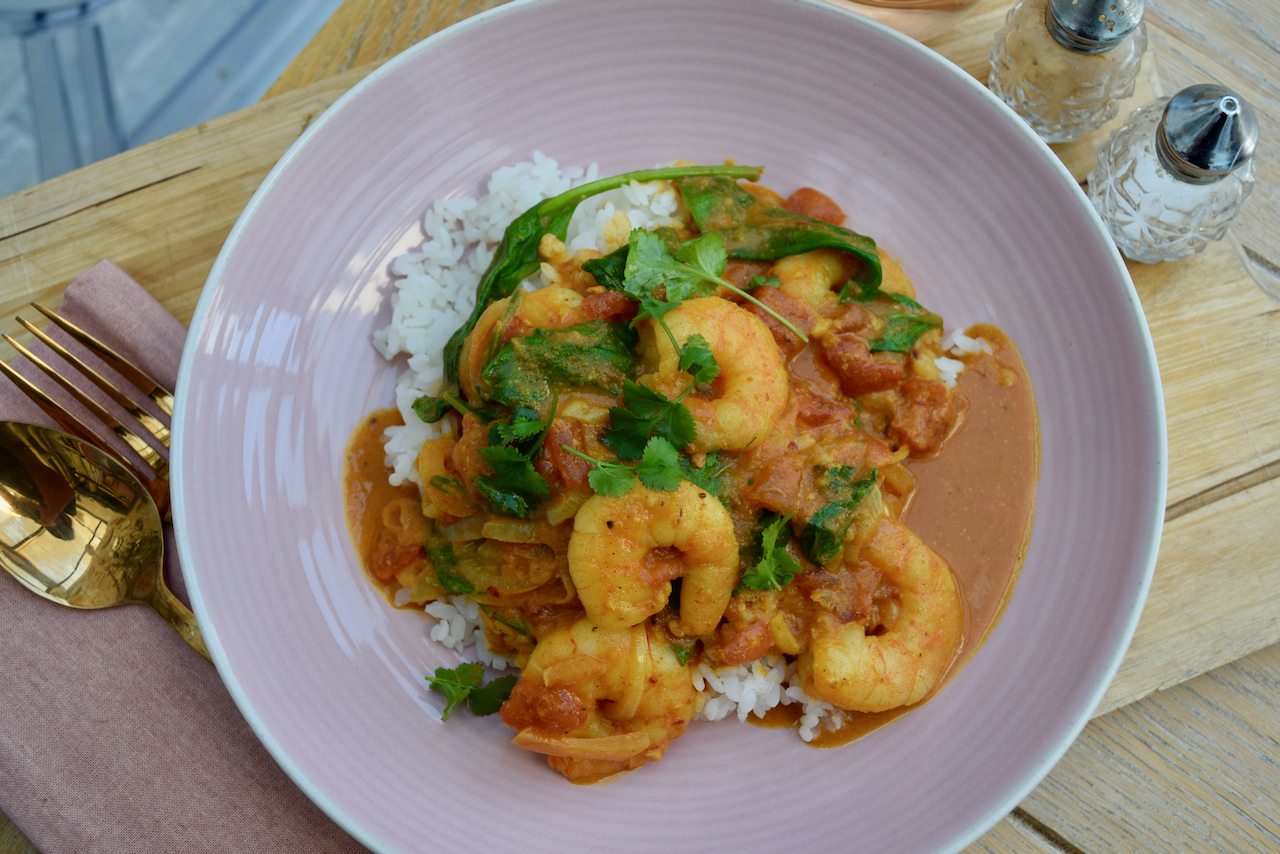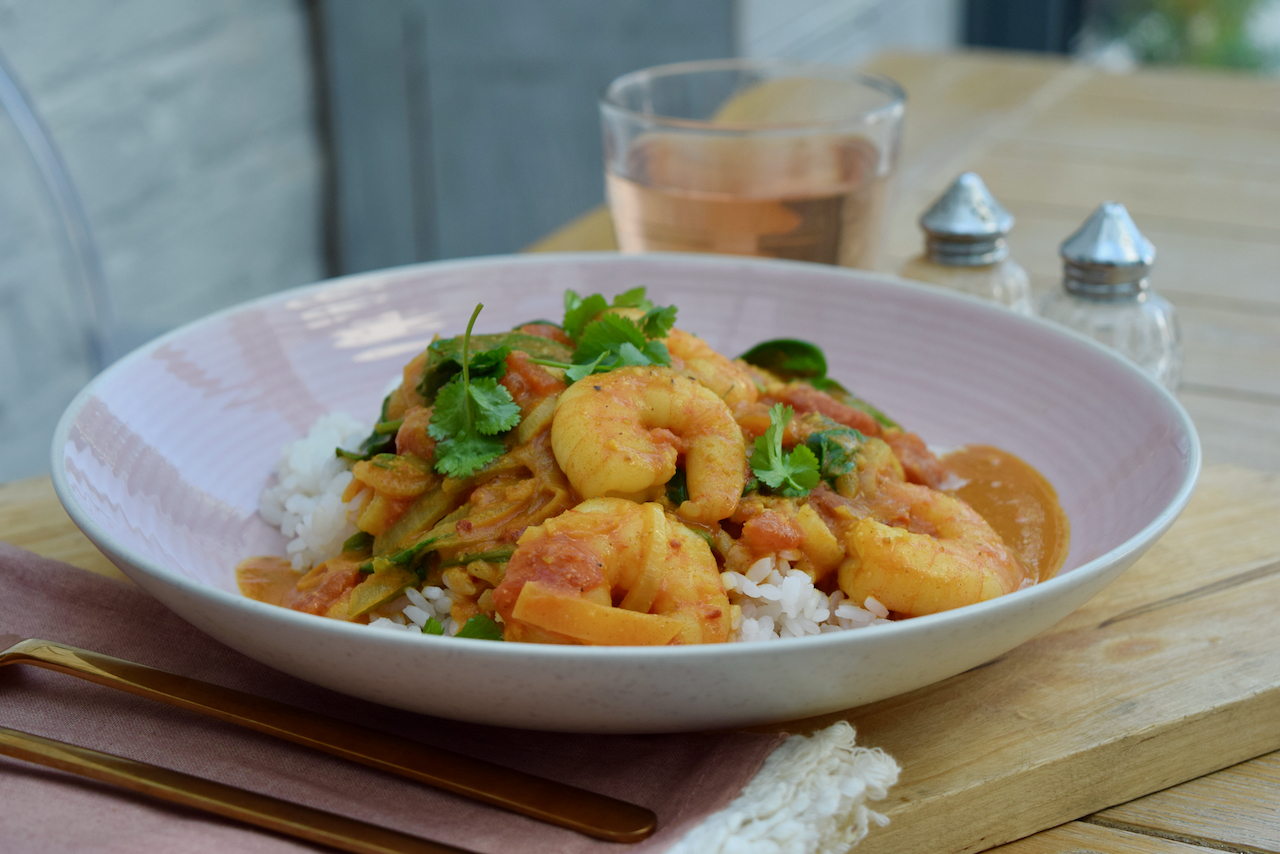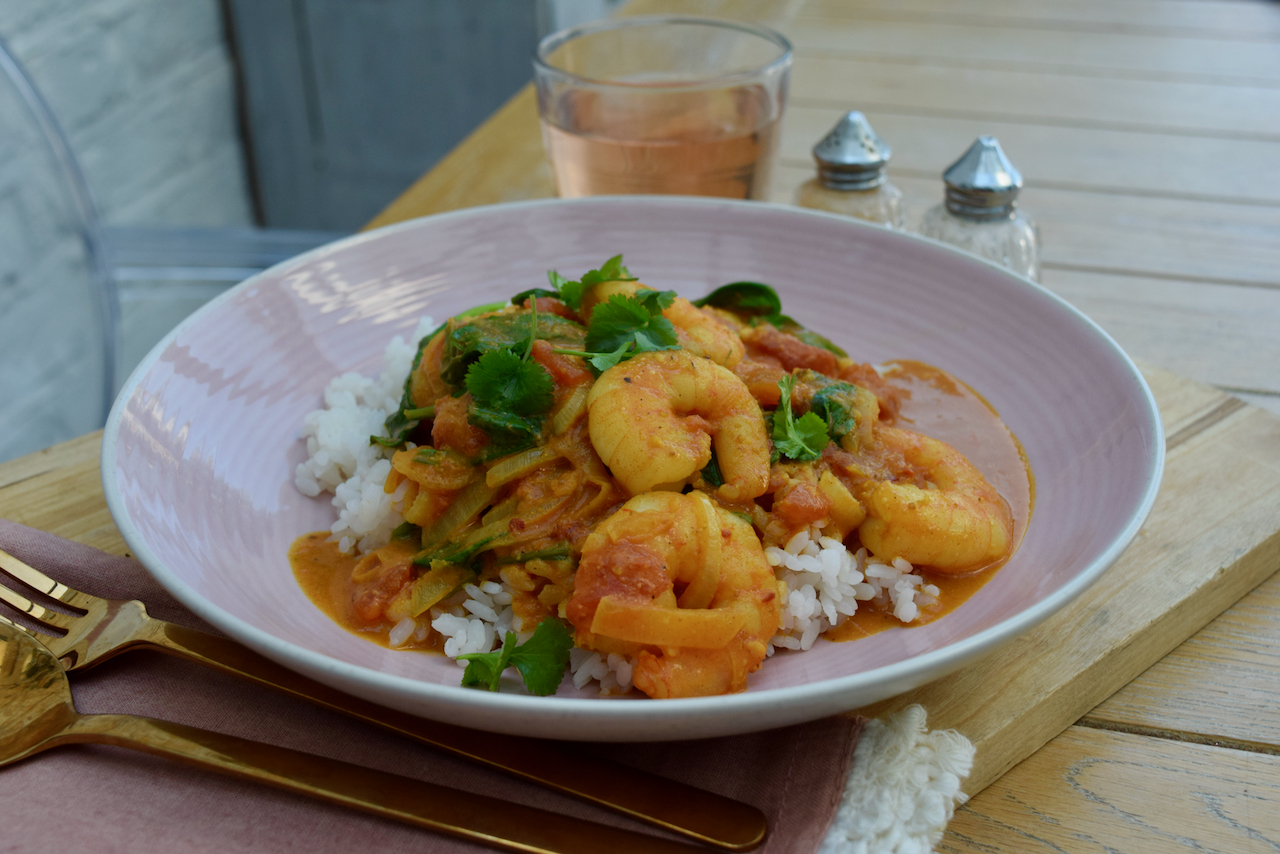 This Coconut Prawn Curry is so bloody good, even if I do say so myself. Just the right amount of heat, a touch of sweetness and the spinach for greenery, even though it was pointedly picked out by George. We all need treats during this strange time and a prawn curry, as it turns out, is one of them. Stay safe and sane.
Lucy x
Quick Coconut Prawn Curry Recipe
Serves 4, generously
You won't need any exciting equipment for this
1 tablespoon coconut oil
1 onion, sliced
1 teaspoon lazy garlic or 2 cloves, crushed
1 teaspoon crushed ginger, lazy or fresh
1/2 teaspoon chilli flakes
2 teaspoons garam masala
1 teaspoon turmeric
1 teaspoon ground coriander
1 teaspoon cumin
1 tablespoon curry powder
1 teaspoon caster sugar
1 x 400g tin chopped tomatoes
1 x 400ml tin coconut milk
400g raw king prawns, mine were frozen and defrosted
Salt and pepper to taste
1/2 bag fresh spinach, optional
Rice, to serve, fresh coriander to garnish
Put your rice on to cook, as the curry won't take long to make.
In a large deep pan, heat the coconut oil over a medium flame. Add the chopped onion and cook for around 5 minutes until just softened and starting to take on a little colour.
Stir in the garlic and ginger and cook for around a minute. Stir in the spices and sugar and cook for a further minute. Tip in the tinned tomatoes and bring up to the simmer. Add the coconut milk and simmer again.
Tip in the drained prawns and simmer the curry until the prawns are just cooked, around 3 minutes. Stir in the spinach if using and stir to wilt. Taste to see if you need any salt and pepper.
Serve, piping hot on a bed of rice garnished with some fresh coriander.