Duck Shepherds Pie Recipe
At last it's the start of February and we can all start eating and drinking normally again. Oh, yes, I had forgotten I have eaten continually and drunk far too much throughout January, so normal service has never really stopped.  I have been appalling at cutting down for the New Year, will power is low and temptation is high. The minute I start to diet or even think about a diet, I end up heading over to Pinterest to research yet more delicious treats to feature on Lucy Loves. My Lucy Loves Pinterest folders are at bursting point with recipes I am keen to share with you. Sadly, none of them at the moment feature lettuce, grilled chicken or kale. So with this in mind, here is my Duck Shepherd's Pie recipe.
It's taken me a while to come to admire Jamie Oliver, but with this recipe, I have actually grown to love him. This brilliant creation is a more glam version of the family classic. Shepherd's Pie is a regular comfort food item in our house, it mainly features on a Sunday when either Clyde or I, or both of us, are slightly hungover. With the addition of duck into a Shepherd's Pie scenario, it becomes oh so much more than just a snuggy supper. With it's full flavoured duck base, the rich gravy, flavoured with soft carrots and, randomly, rhubarb, this pie becomes worthy of a gastro-pub main course. You could happily serve this at a dinner party or if you are entertaining on a Sunday. Back to the rhubarb thing, when I read the recipe, I contemplated leaving it out, just because it sounded weird and not particularly delicious. However, having made this dish now, it is so worth adding if it's available. The pale pink rhubarb adds a subtle sourness needed to take the edge off the rich duck based dish.
It's perfect, just as it is, in my meddled with Lucy Loves form. We inhaled this, it's rich, but not too rich that you can't manage seconds. Having said that, we can always manage seconds.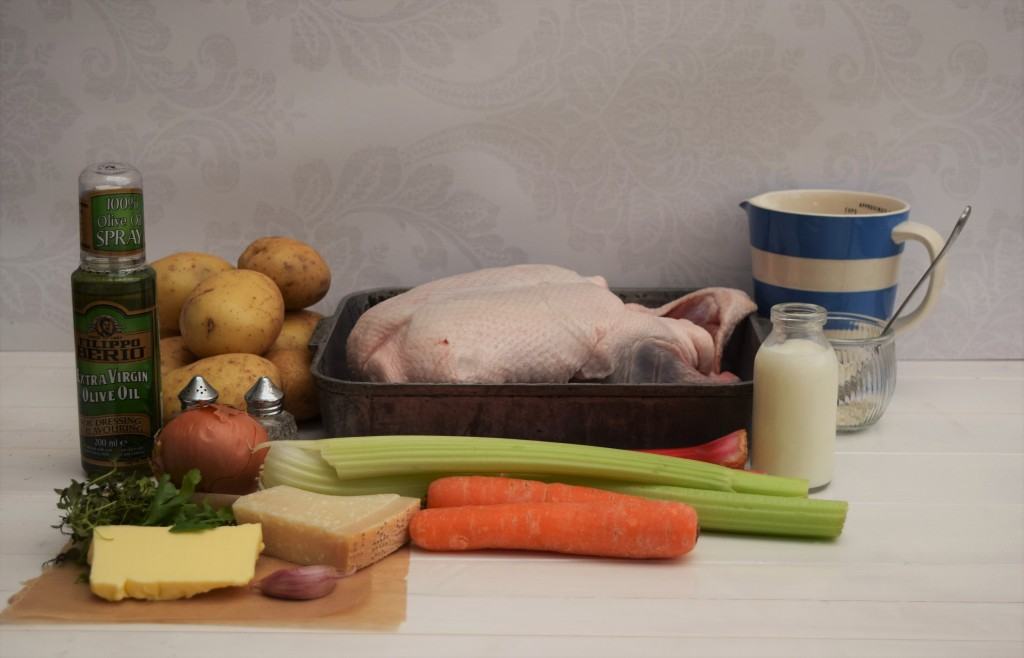 Quite the picturesque arrangement for this dish. I think I remembered everything, we'll see as we go along. You will need to make a start by cooking your wonderful duck. Mine, of course, was on offer. Ocado quite often sell whole ducks at a good price so it's worth putting one in the freezer if you have the space and keep it for a Duck Shepherd's Pie sort of occasion.
So, enough on kitchen management skills, pre heat your oven to 170 degrees fan assisted. Put your duck into a large-ish roasting tin and dry the skin with kitchen paper. Put a handful of fresh herbs in the poor ducks nether regions, then season well with salt and pepper, inside and out. Re herbs, I had parsley and thyme so used those, but rosemary and sage were in the original recipe, so they would be lovely too.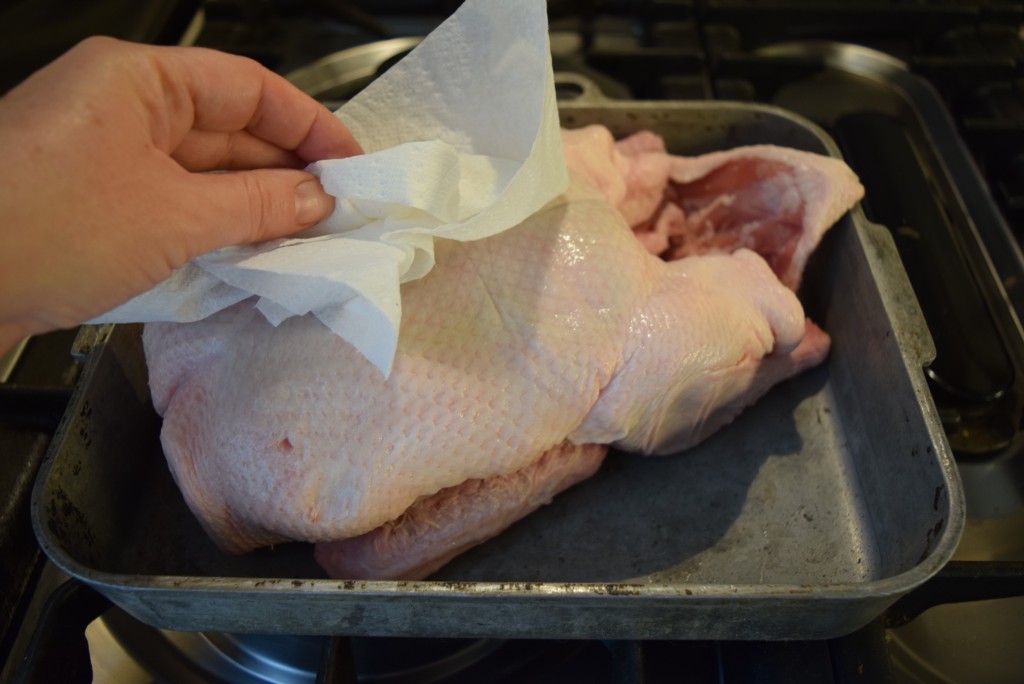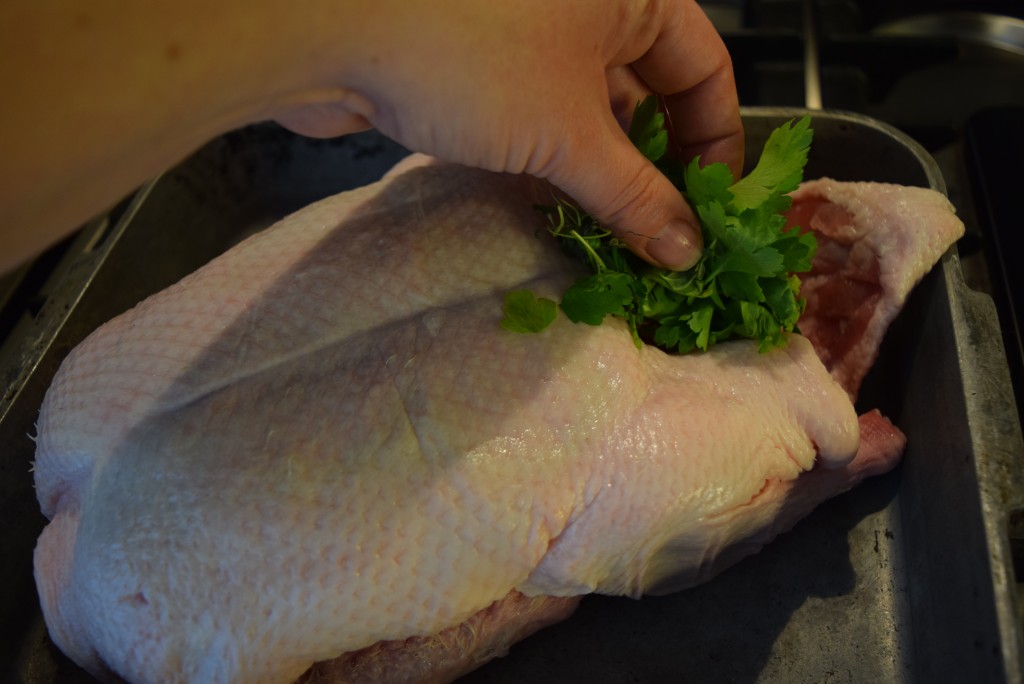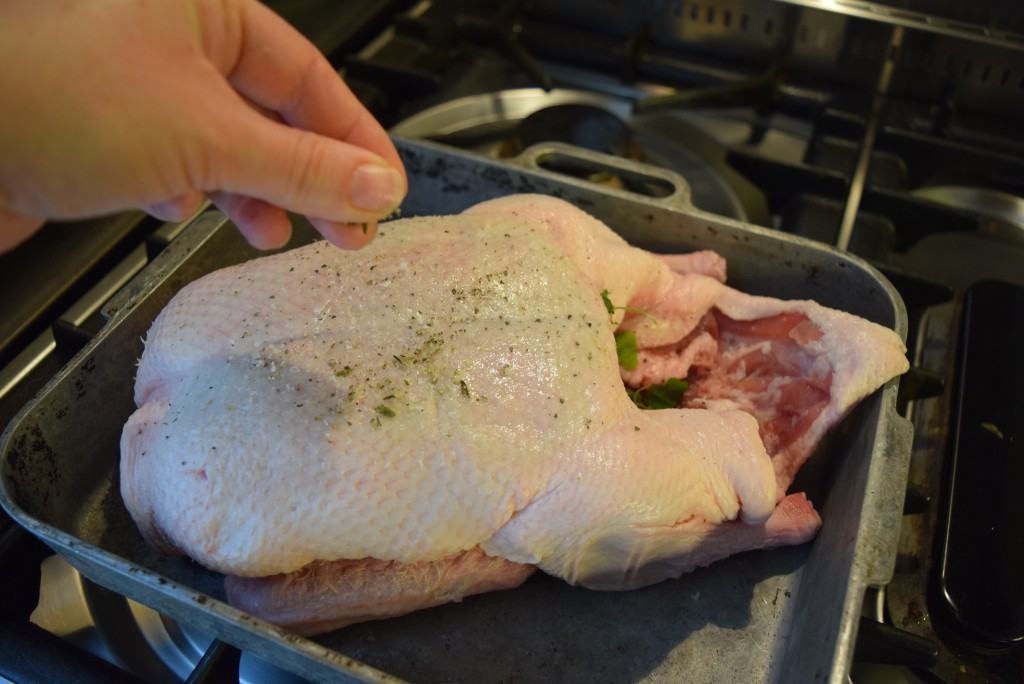 Now, turn the bird over, and cook breast side down for an hour.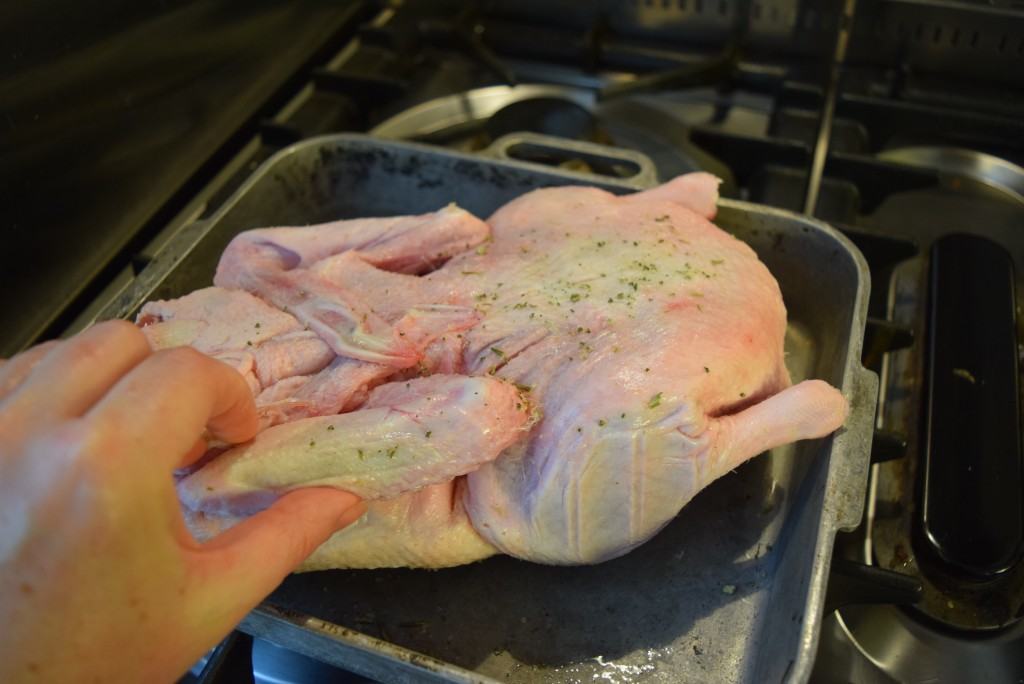 Once that hour is up, turn the duck onto it's front and drain off some of the excess duck fat. Do save this for roast potatoes at some later stage, delicious. Then it's back in the oven for another hour. At which point the fragrance of roasting duck filling your house will be almost unbearable.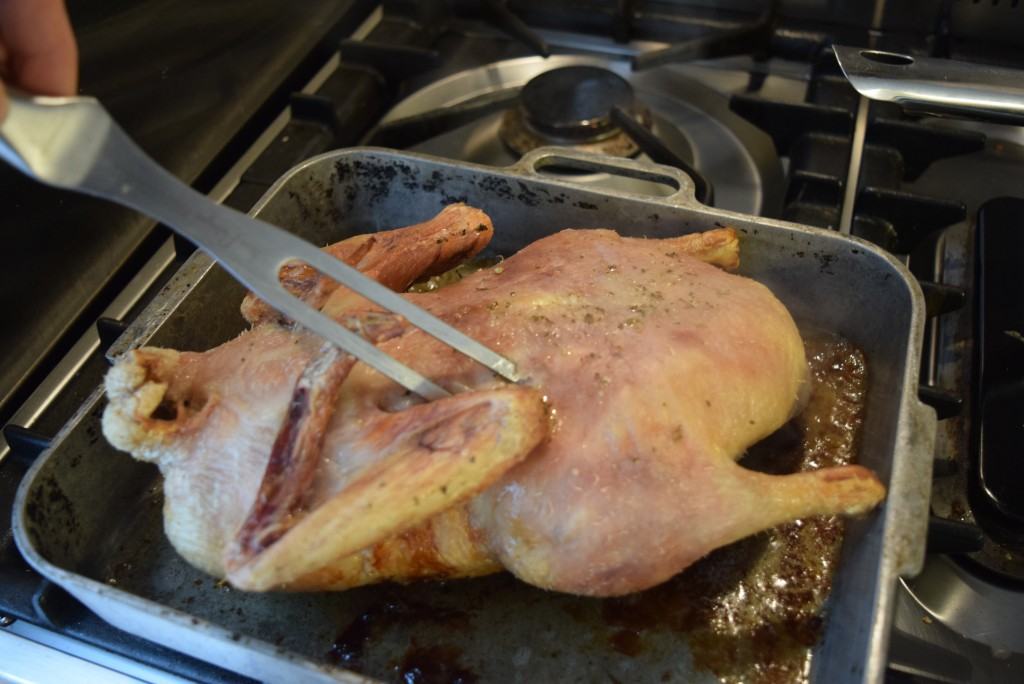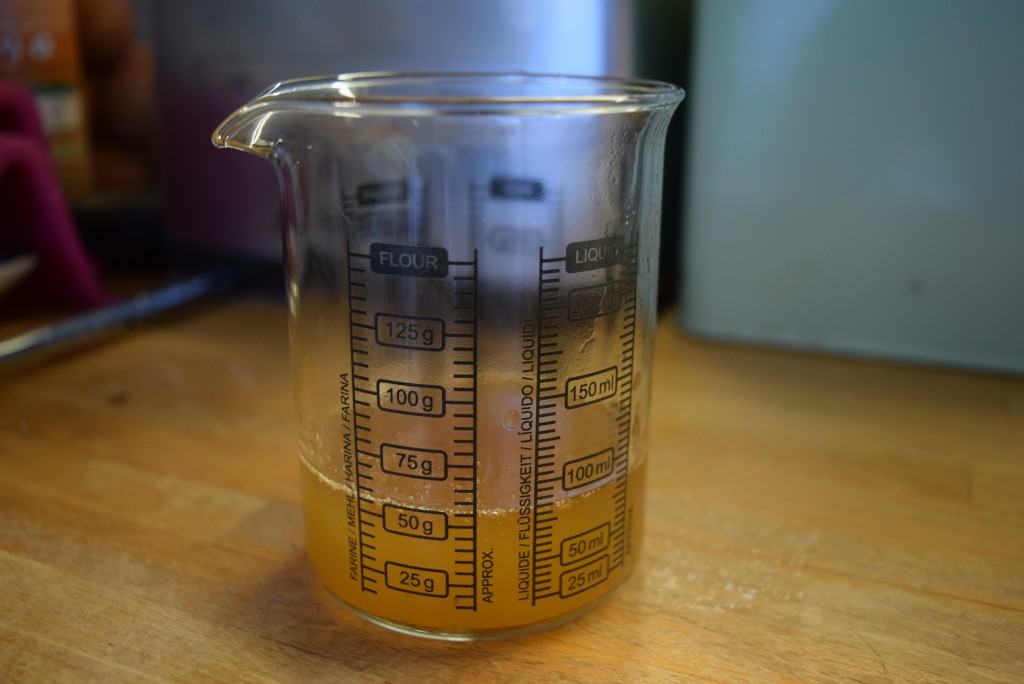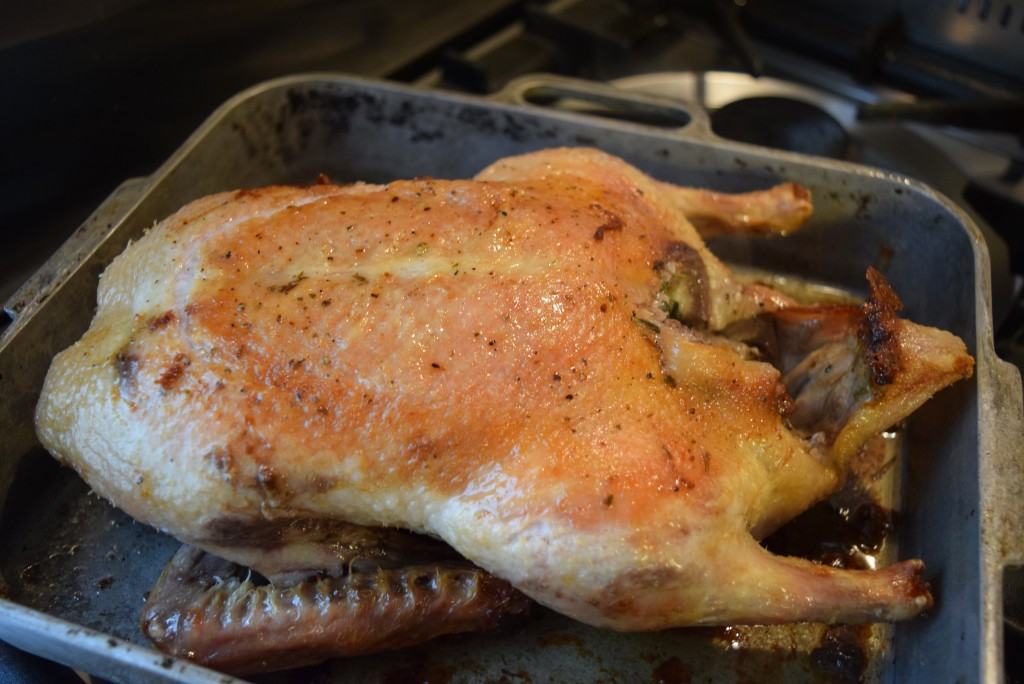 When the second hour is up, take the duck out and leave to cool, keeping it away from the cat and other such interested parties.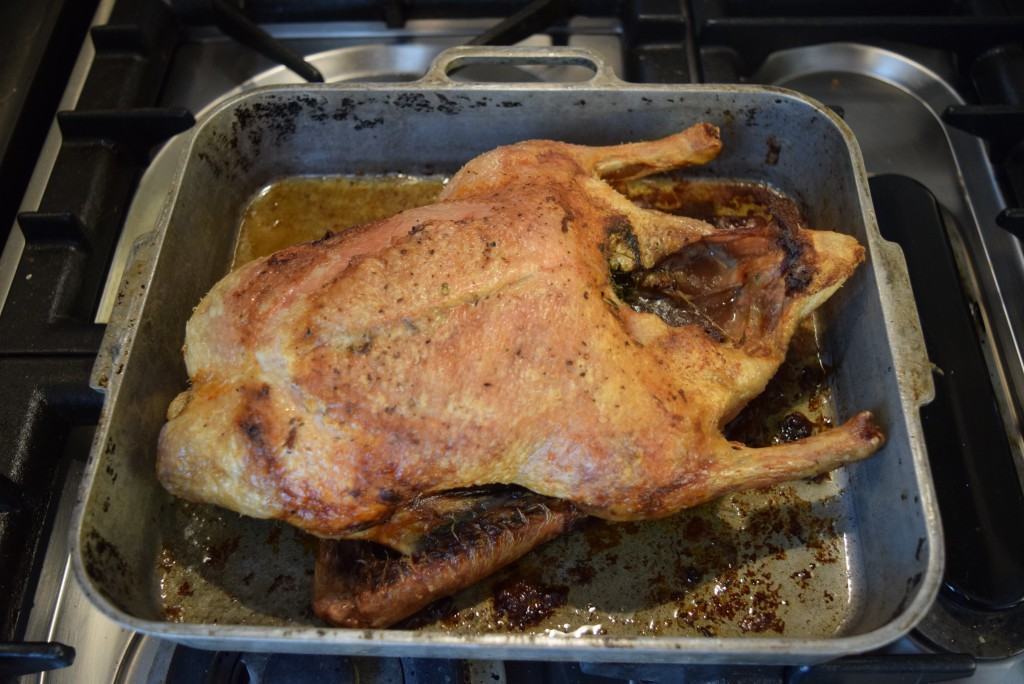 I had to slap my own hands away from picking at this hot duck skin, it is so crisp and tempting.
Make a start on the pie itself. Finely *ha* chop the onion, celery, carrots and garlic and add to a large frying pan which has been heated with a tablespoon of olive oil.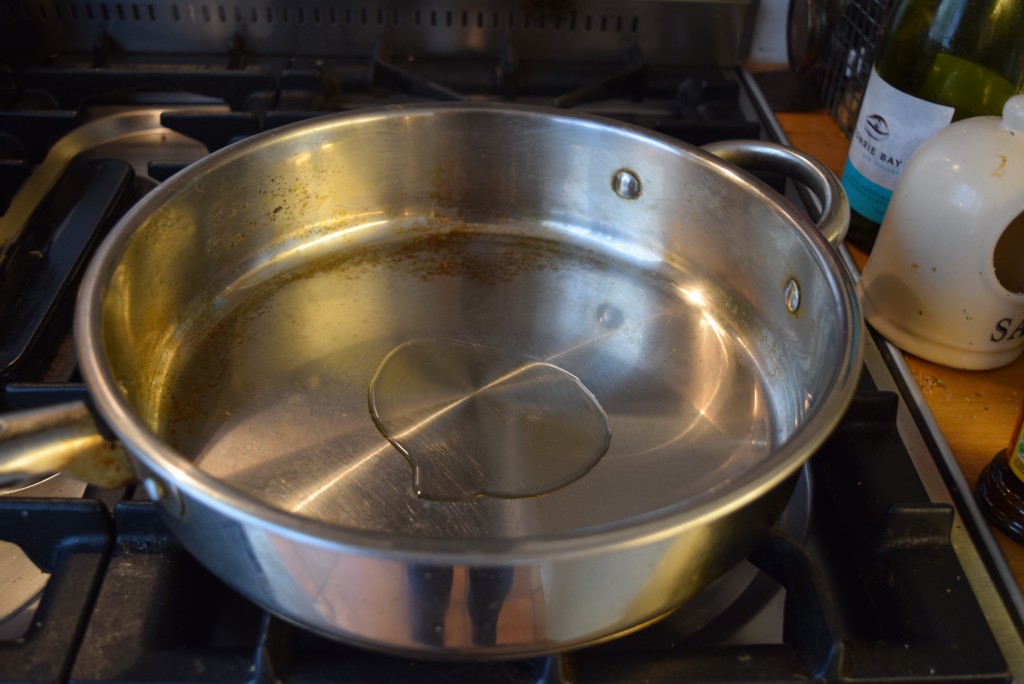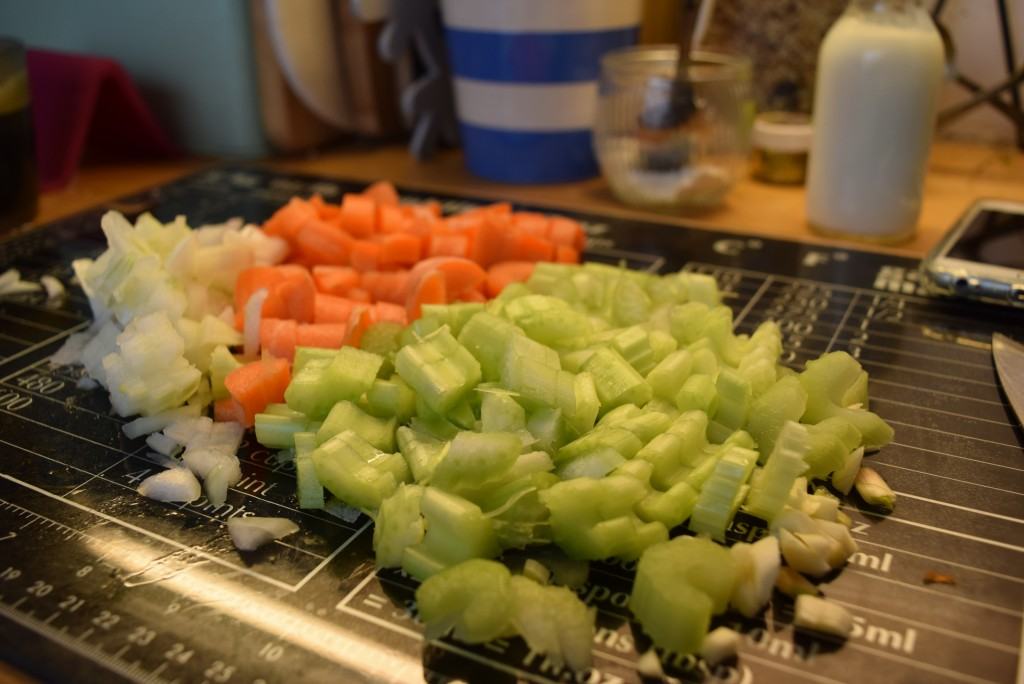 Season the veggies and cook for around 15 minutes, or until starting to soften beautifully.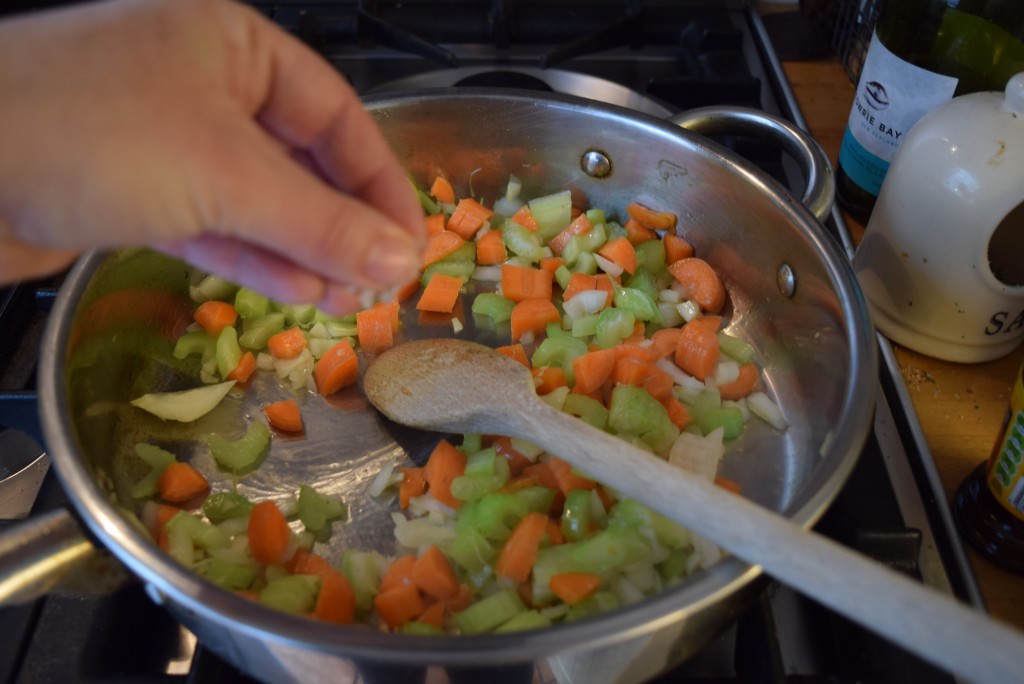 While this is going on, take the duck meat and skin from the bones. This is a messy experience, but terribly satisfying when you remove every last piece of succulent duck for your pie. Shred the meat and skin with two forks, Chinese restaurant stylie, and put to one side for a moment.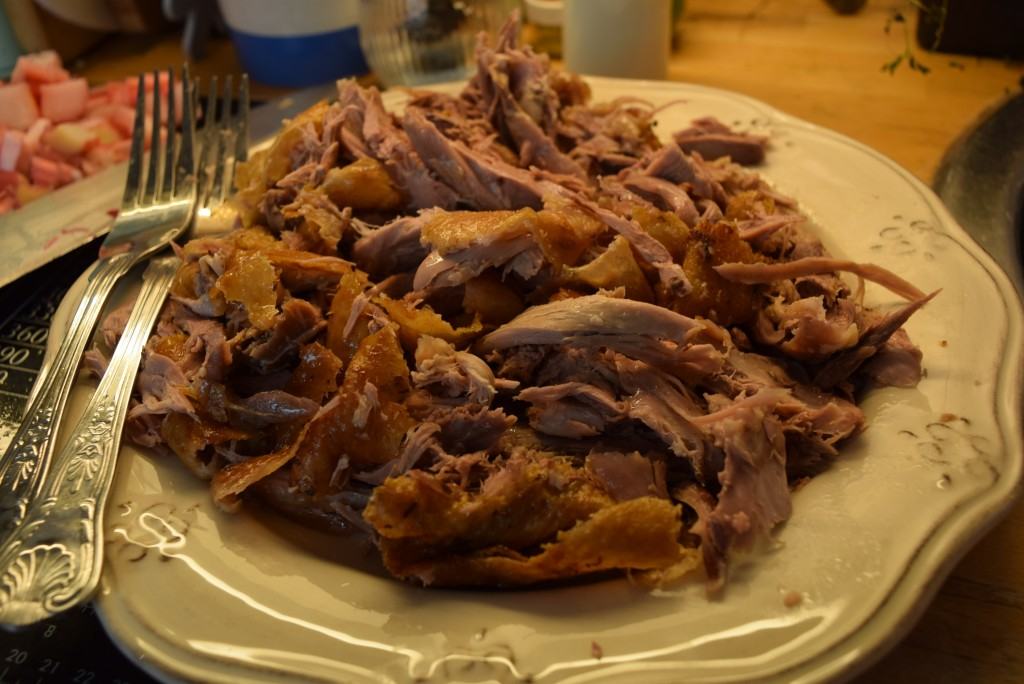 I ate a few good handfuls, as you can imagine.
Chop the pretty rhubarb into small pieces and add to the pan.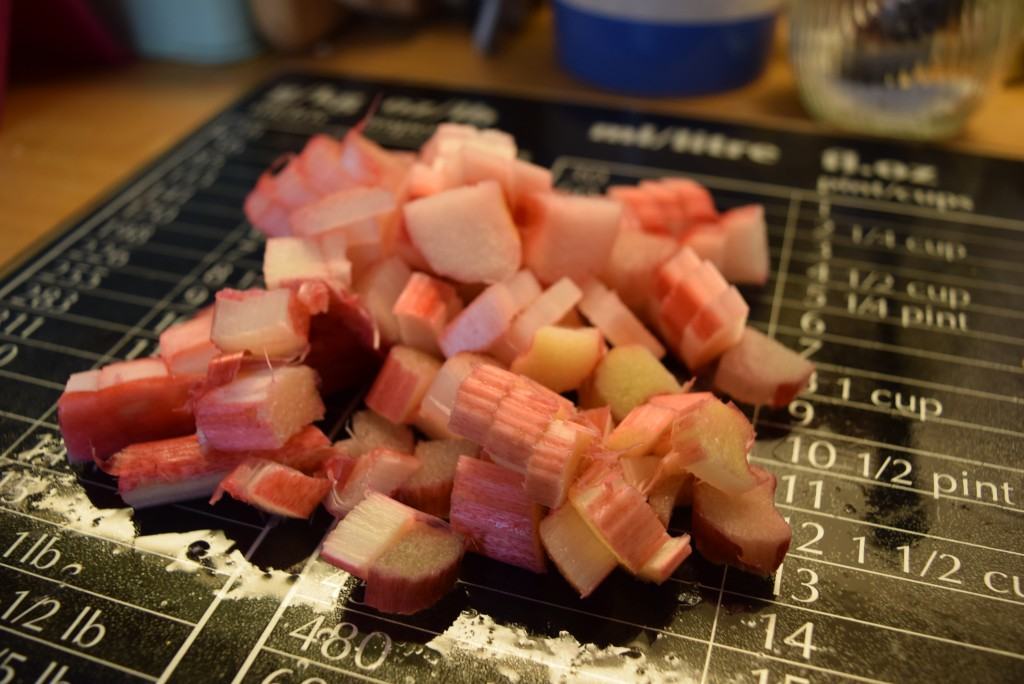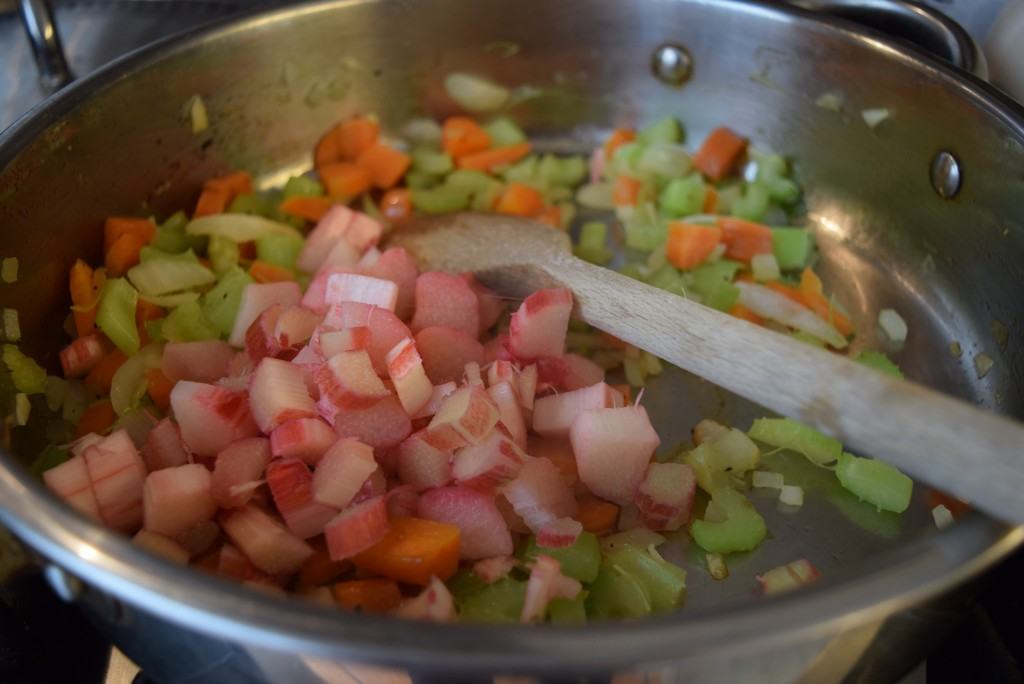 Stir through a tablespoon of flour, cooking for a moment, then add the duck into the mix.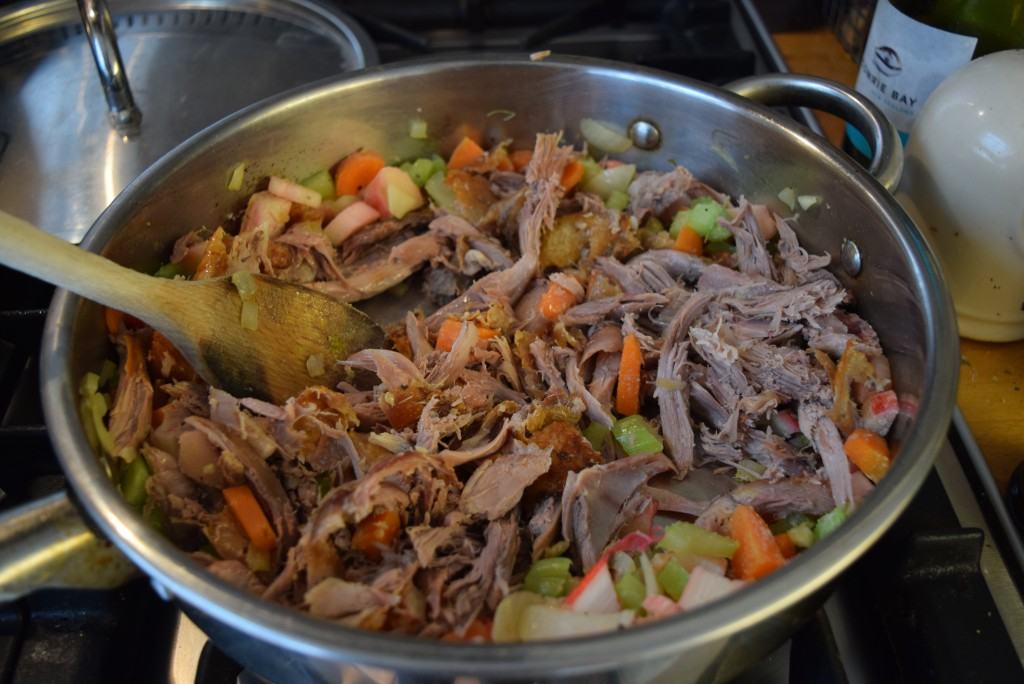 Pour in the beef stock, stir again, then bring up to the simmer, lid off. Cook for around 15 minutes until thickening and melding together.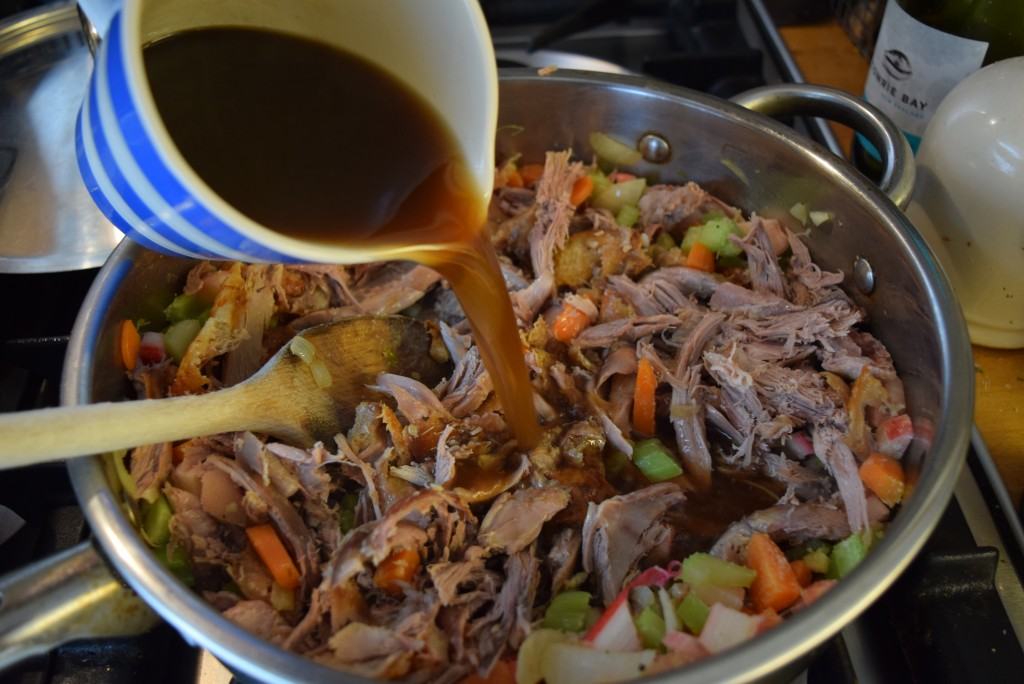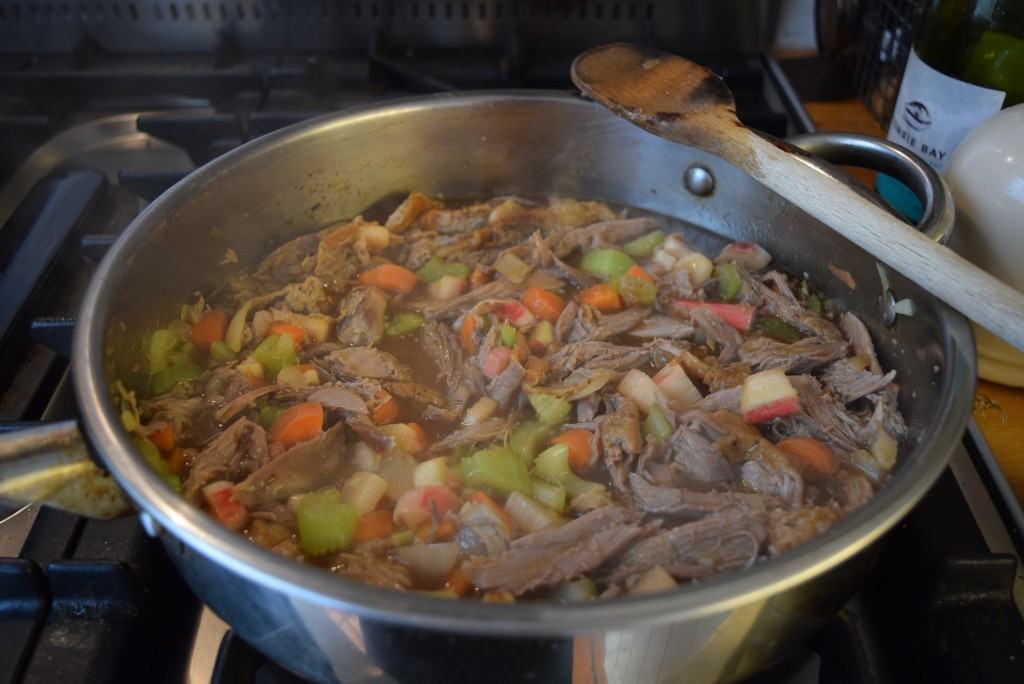 While this simmerage is happening, crack on with the mash topping. Peel the potatoes, or for goodness sake, ask someone else to do it, it's such a tedious task. Then boil for around 20 minutes, drain well, before mashing first with just salt and pepper, then add a couple of good knobs of butter and a splash of milk, then mash again.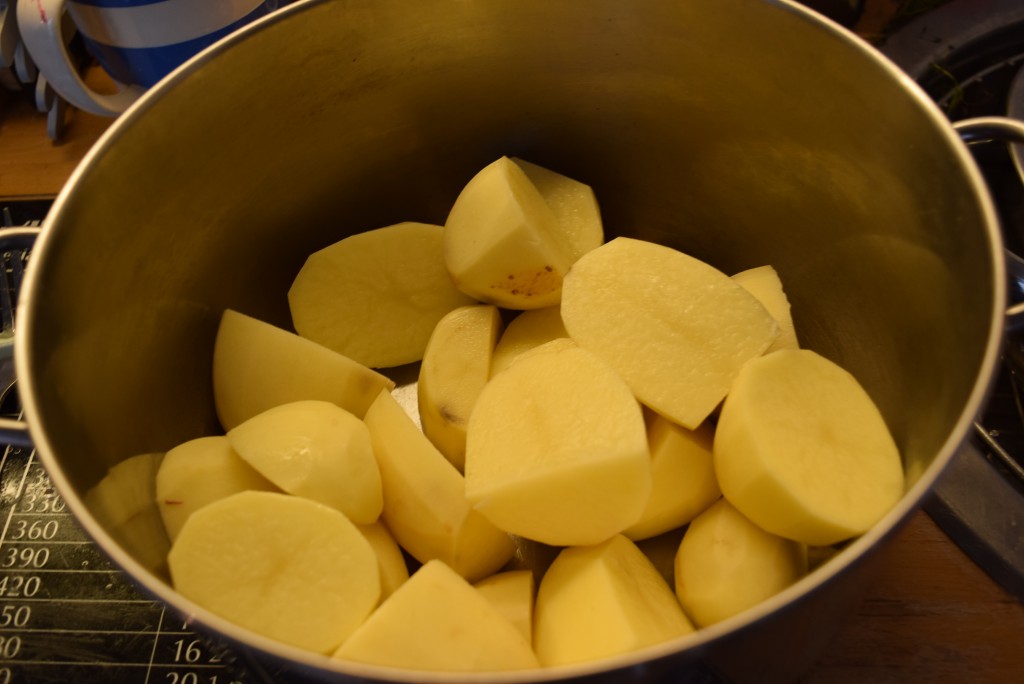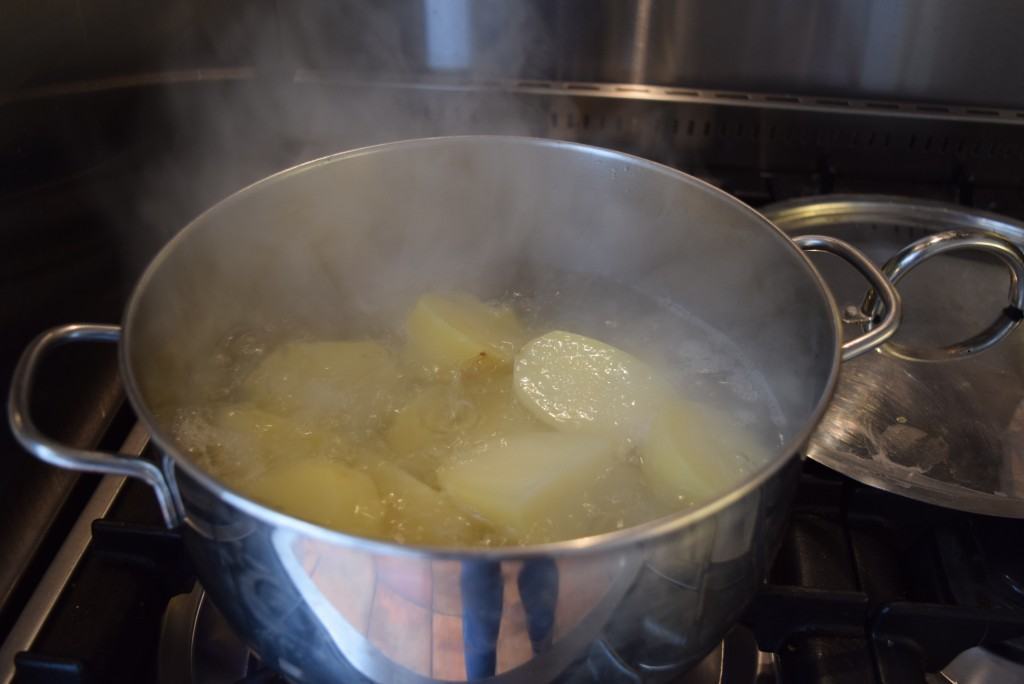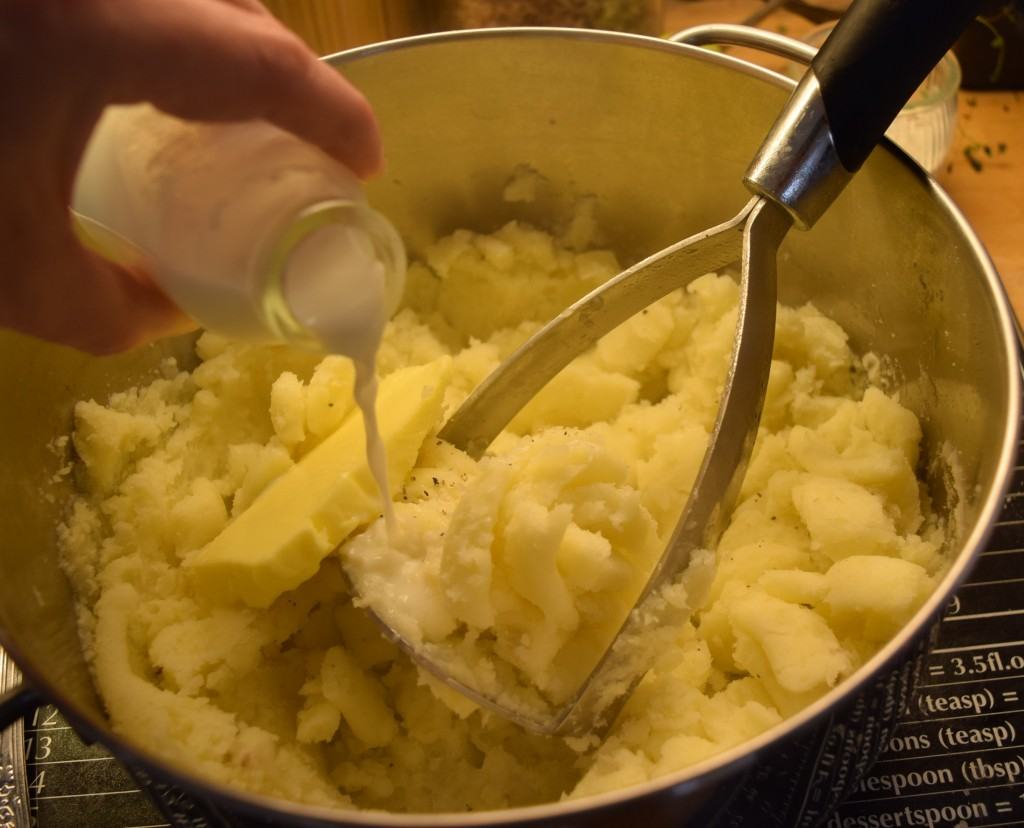 Once the duck mixture is ready, spoon into your baking dish. Stir through a couple of tablespoons of parmesan to add an extra savoury note.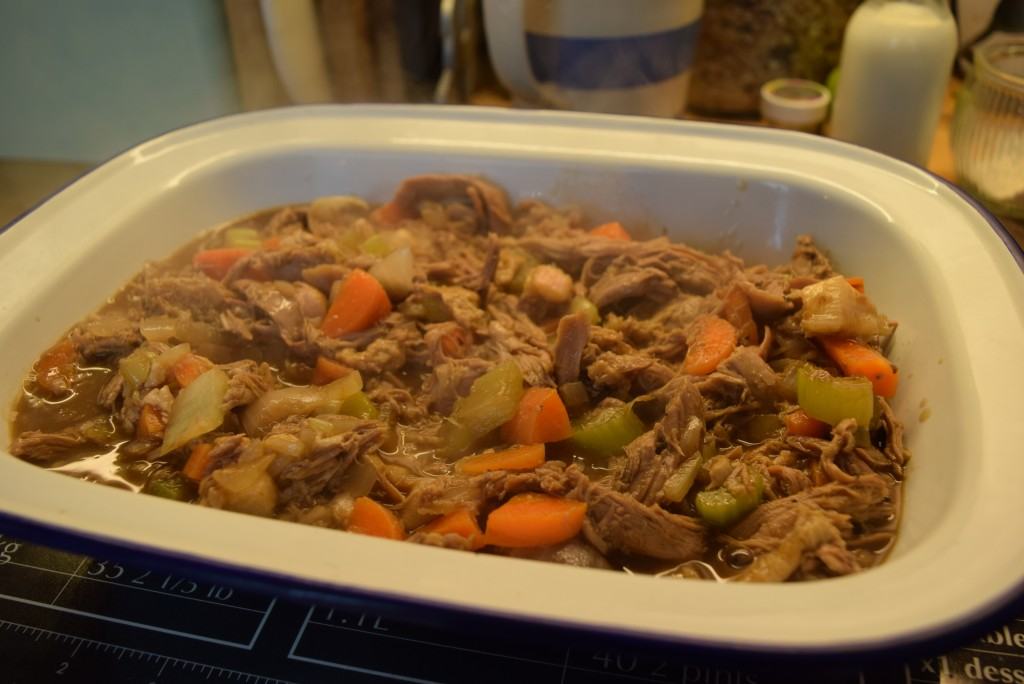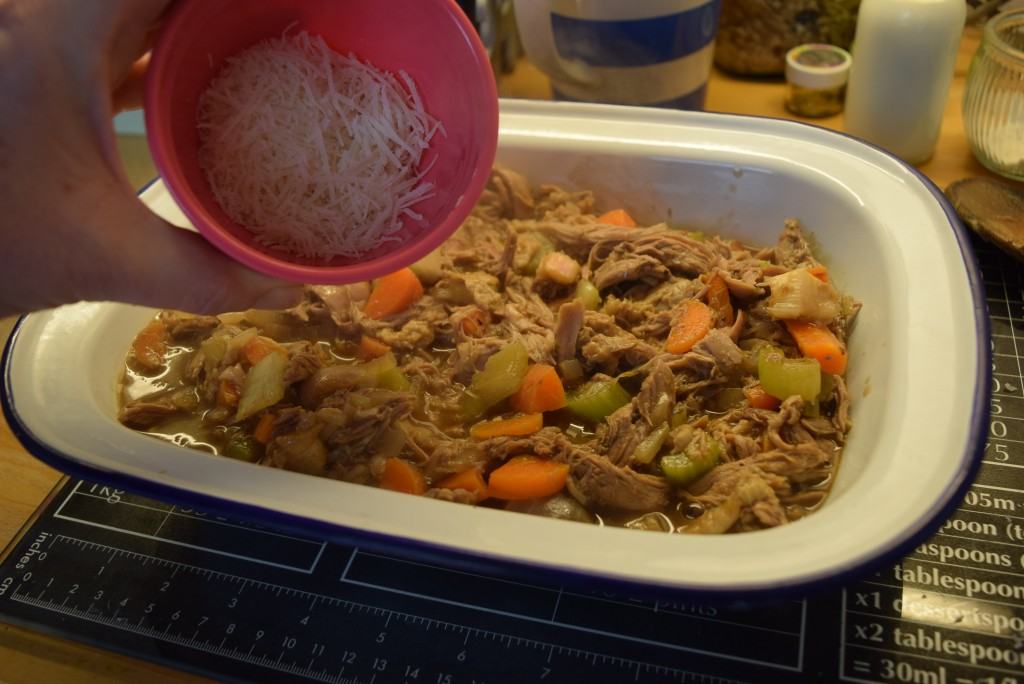 Top this rich, flavour laden, pie base with your smooth-ish mashed potato. I was given a tip once, by someone whose name escapes me, to create a border of mash when topping a pie, then fill in the middle afterwards. It helps with creating an even top, stops it all sinking in and ensures you have enough potato to go around.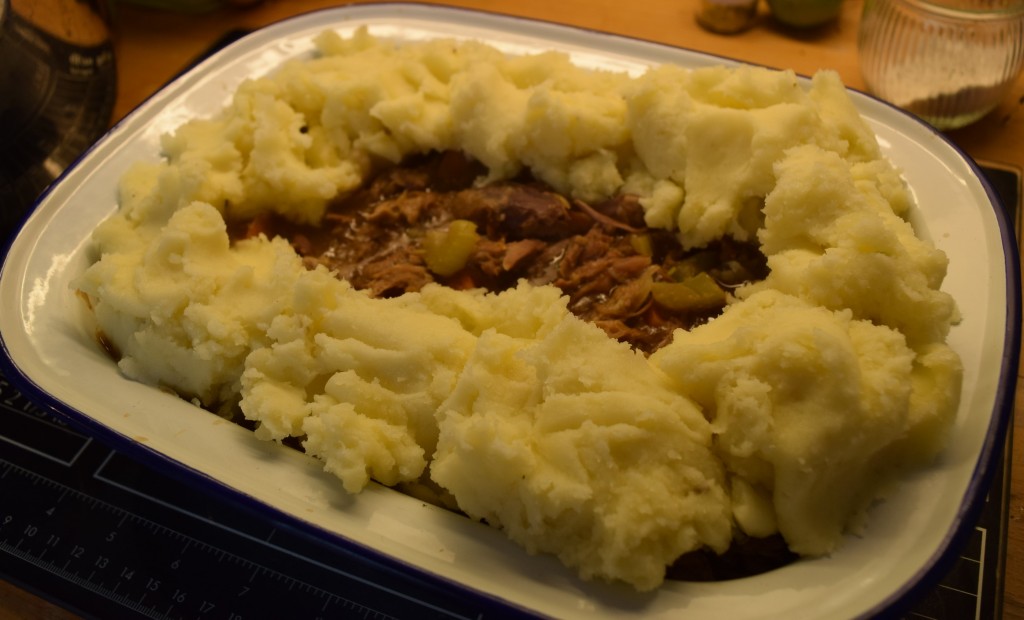 Fork the mash into an even layer and add some traditional markings so you have tasty crispy bits once baked.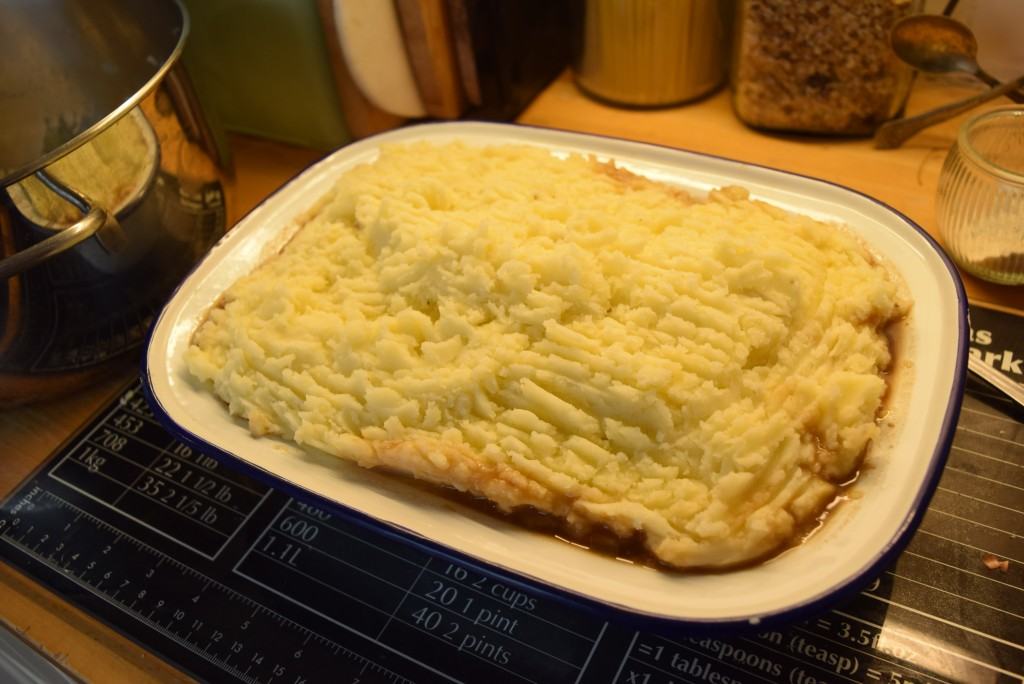 Dot the top with some extra butter, then pop in the oven for 30 to 35 minutes.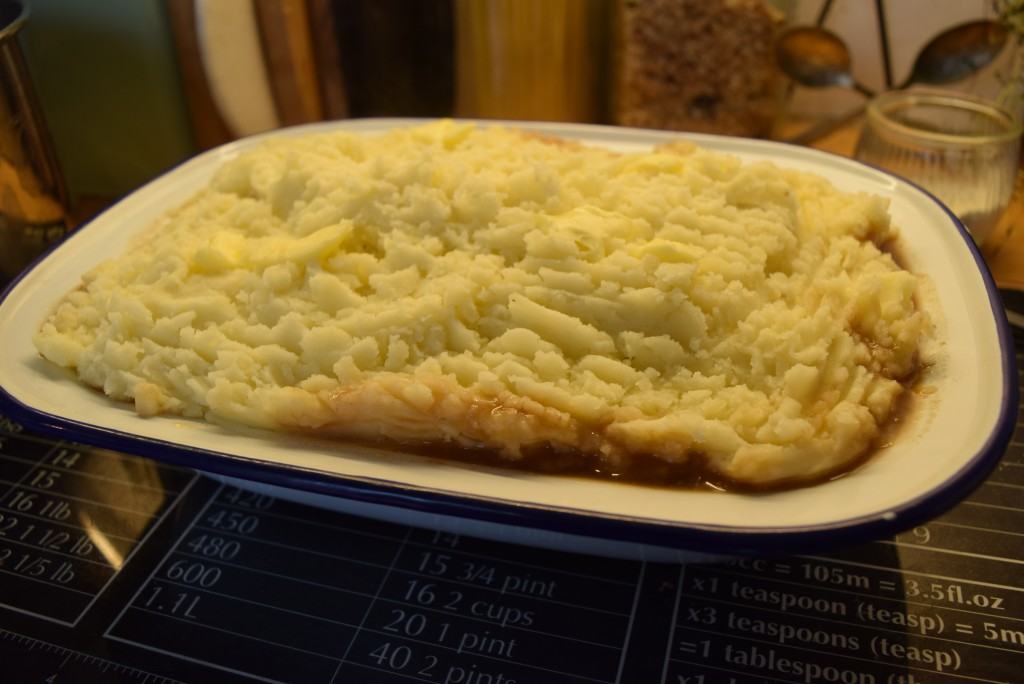 Your finished Duck Shepherd's Pie will be crisp, bubbling and will smell tantalisingly good.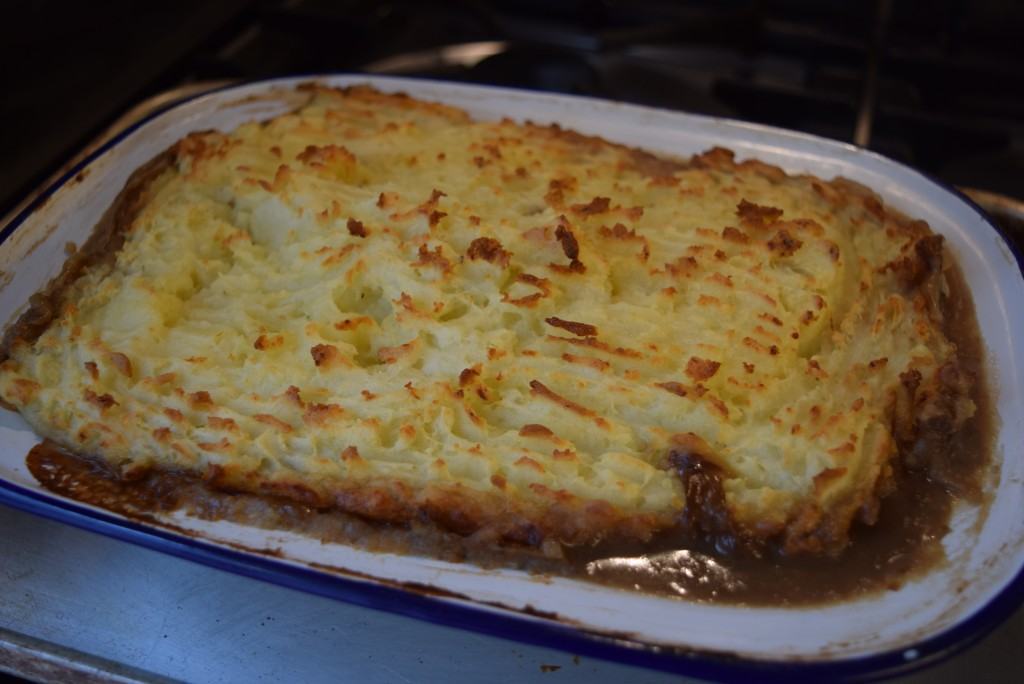 As you can see, mine bubbled up rather enthusiastically. Let the pie settle for a couple of minutes then serve with peas, or another green vegetable of your choosing.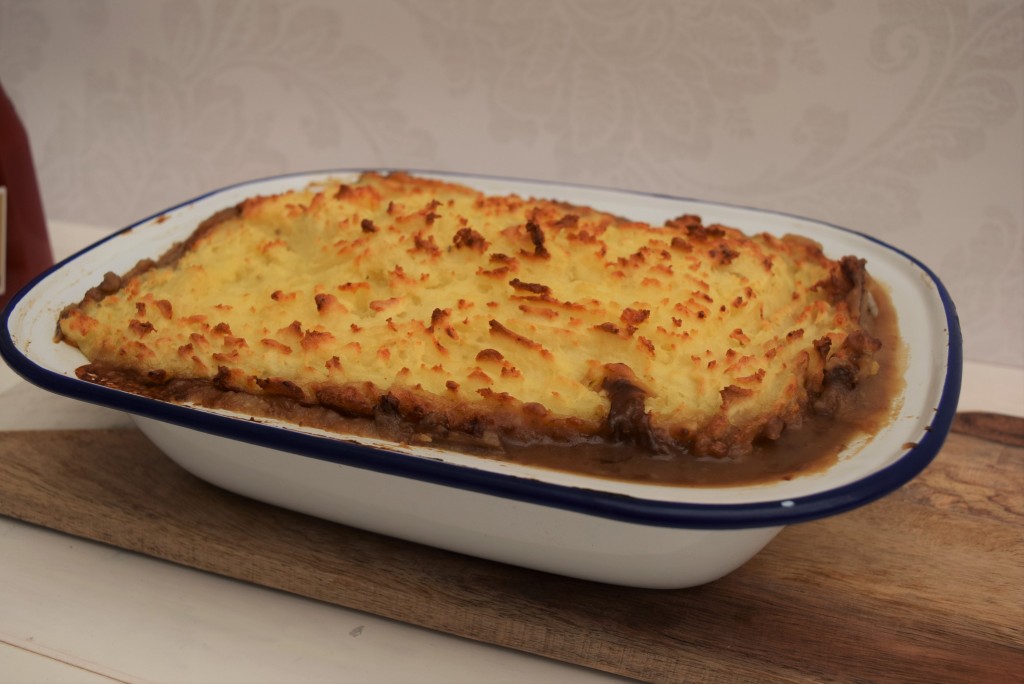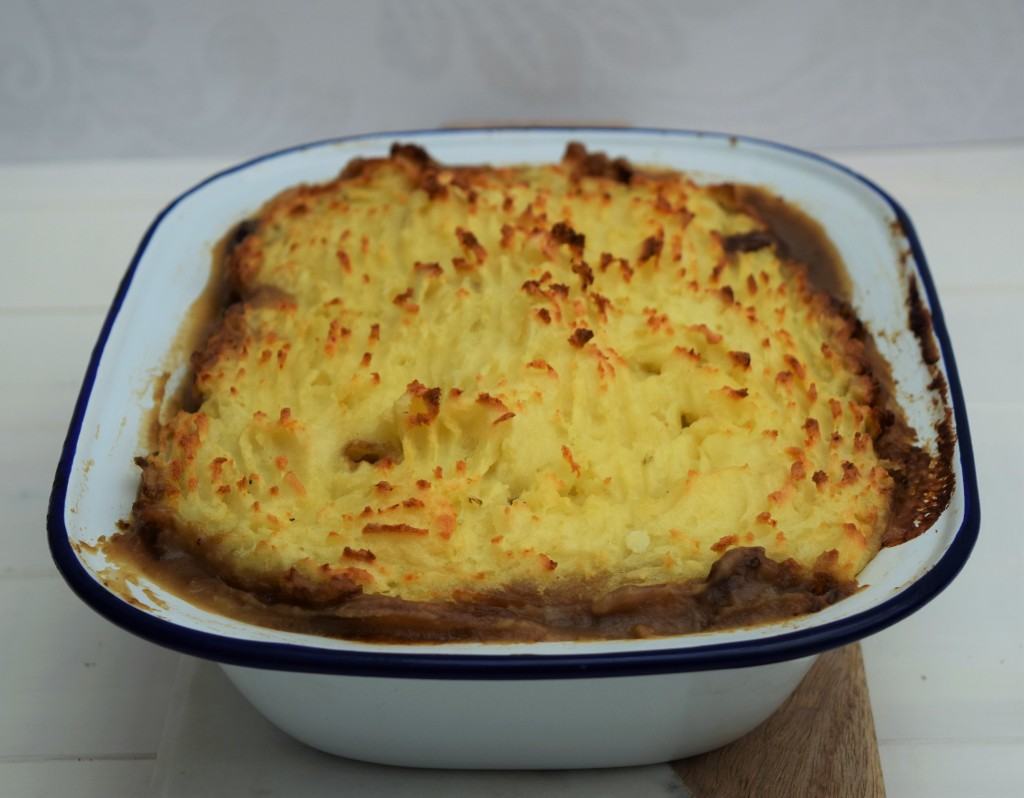 Ketchup is a must in our house, not terribly glamorous.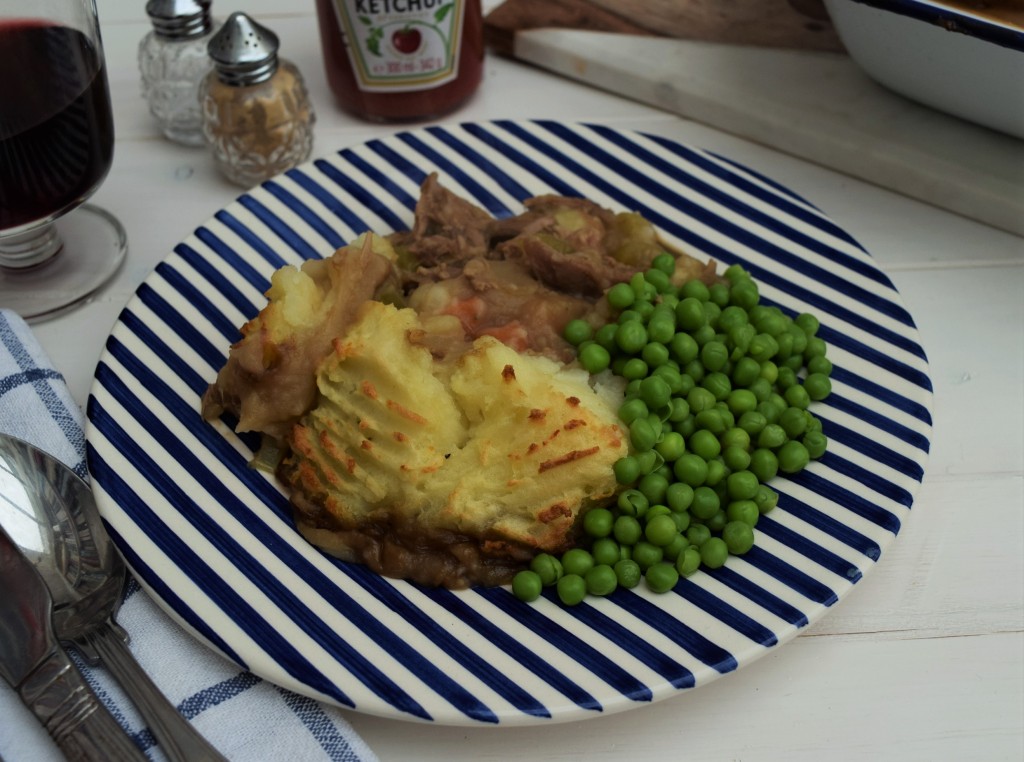 I am so pleased to have found this recipe. Now you can happily serve a Shepherd's Pie without the implication of it being a cheap and cheerful offering. This takes comfort food up a gear and tastes quite delectable. Rich, warming, flavourful, cosy, I am using up all my best adjectives here. I'll let you choose a few of your own.
Lucy x
Duck Shepherd's Pie Recipe
Serves 4 to 6
You will not need any interesting equipment
For the Duck
1 whole duck, weighing 1.5kg to 2kg
Mixed fresh herbs, a couple of handfuls, I used parsley and thyme but sage and rosemary are also good
Salt and pepper
For the Pie
1 onion, finely chopped
2 carrots, finely chopped
2 sticks celery, finely chopped
1 clove garlic, finely chopped
salt and pepper
2 sticks rhubarb
1 tablespoon plain flour
500ml beef stock
a couple of tablespoons freshly grated parmesan
1.5kg potatoes, peeled and chopped
a big knob butter, plus extra for dotting on pie before baking
a splash or two of milk
Heat your oven to 170 degrees fan assisted.
Take your duck and pat dry with kitchen roll. Season well then put the fresh herbs into the cavity and turn the duck over so it's breast side down. Roast for an hour. After the first hour is up, drain off some of the fat then then turn the duck breast side up and roast for another hour. Take out of the oven and leave to cool.
Make a start on the pie while the duck is cooling. Heat a tablespoon of olive oil over a low to medium heat in a large pan then finely chop the onion, celery, garlic and carrots. Add these vegetables to the pan, season and cook for around 15 minutes until starting to soften. While this is happening, take all the duck meat and skin off the carcass and shred using two forks. Chop the rhubarb and add this to the softened vegetables along with a tablespoon of plain flour. Stir this into the vegetables then add the shredded duck and beef stock. Stir well then simmer for 15 minutes without a lid.
While this is simmering, peel the potatoes and boil until soft, for around 20 minutes. Drain, then mash well, add some butter and enough milk to lighten the mash, then mash again to ensure relatively lump free. Pop to one side while you finish the filling.
Once the time is up, spoon the duck filling into a deep dish then stir through a handful of freshly grated parmesan. Spoon the mash on top of the filling, fork the top then dot with a couple more knobs of butter. Pop in the oven for 30 to 35 minutes or until bubbling and the potato topping is crisp and golden. Leave to rest for five minutes before serving with peas or another green veg of your choice.