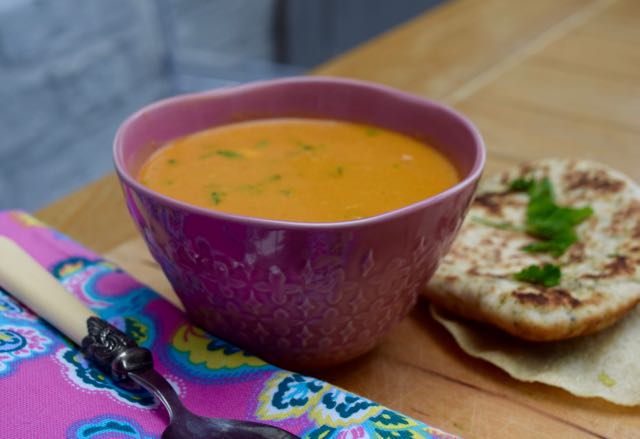 Tikka Masala Soup Recipe
Curry is one of my most craved foods. I adore warming, spicy flavours, especially at this time of the year when it's rarely above 5 degrees at any point during the day. So when the Spice Pioneer company asked if I'd like to receive one of their spice boxes I nearly bit their hands off.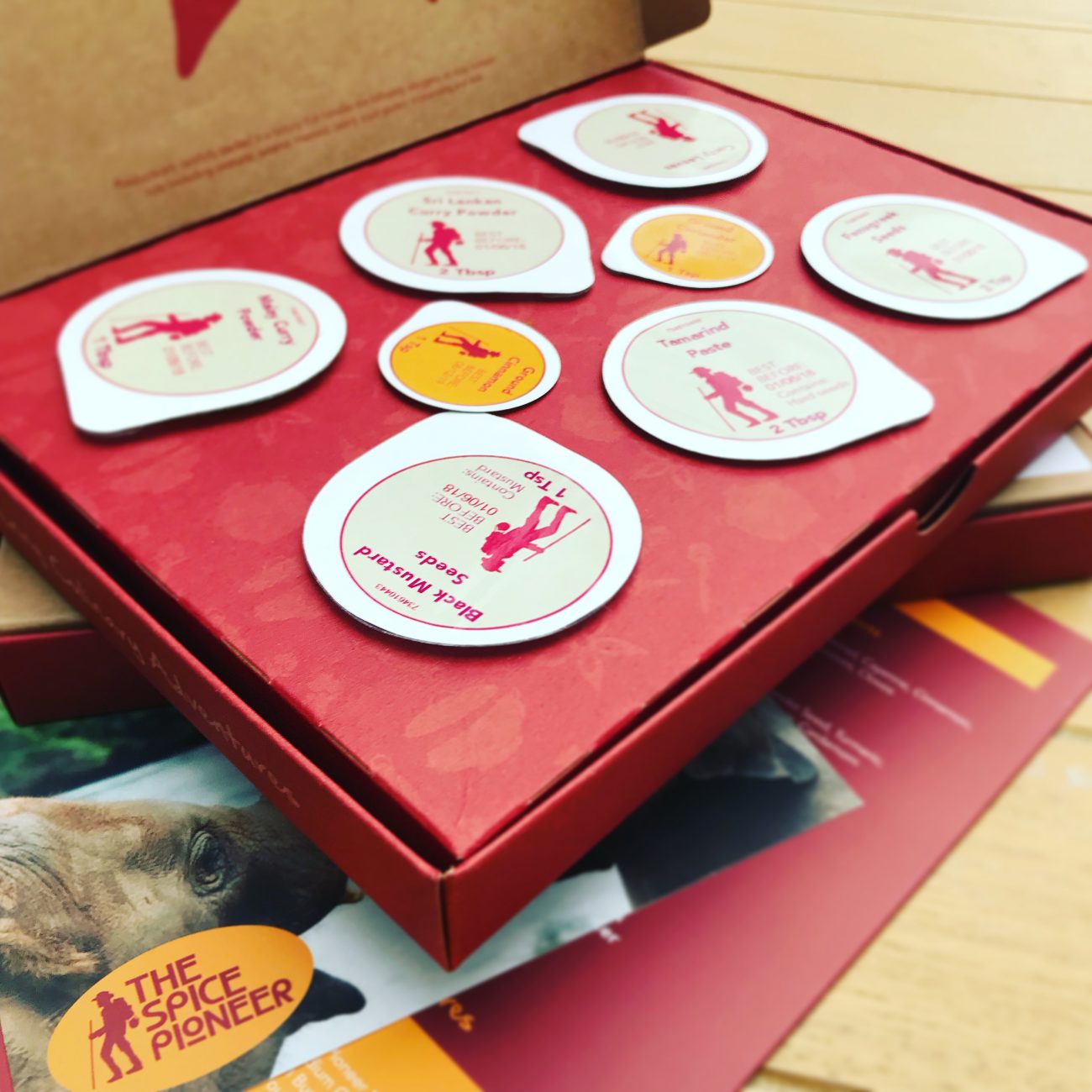 The Spice Pioneer is a spice subscription service founded by Seasoned Pioneers which provides monthly spice and ingredients boxes along with co-ordinating recipes and even a playlist to entertain you while you cook. I used some of my spices from my sample spice boxes to make this Tikka Masala Soup, which is a divine, fragrant chicken soup, abundant with delicate flavours.
Tikka Masala Soup you say? Yes, this is a curry, but in soup form and laden with cooked chicken, be it leftovers, or roasted to order. This tempting concoction is a creamy, spiced to perfection blend, featuring plenty of garam masala, turmeric, ginger and cumin. It is beautifully kerfuffle free too, because when it's cold and damp, and half term to boot, who can be arsed to faff around in the kitchen. Apart from the chicken, this is also a store cupboard friendly recipe which is brilliant for me at the moment, as I am trying to eat my way through the tins and bags I have stashed away instead of just buying more each week. I call it mindful shopping, but generally speaking, we are just skint. I made my first batch of this soup hoping against hope fussy George would eat it, and by God did he eat it. Ben was home too and I can confirm I only got a couple of tiny mouthfuls from this batch as they inhaled it all. Along with a whole batch of naan bread and untold poppadoms. I envy teenage boys and their speedy metabolism, versus my mid *to late* forties slowing to a crawl metabolism which means I look at a poppadom and gain a pound. The inspiration for this divine recipe was from the Modern Proper, with huge thanks.
The Spice Pioneers and their fragrant offerings make this warming soup quite addictive. Ordinarily a lovely batch will keep me going for lunch all week, just try and keep it away from hungry family members in need of seasonal comfort, however, if you are planning to hog it for yourself.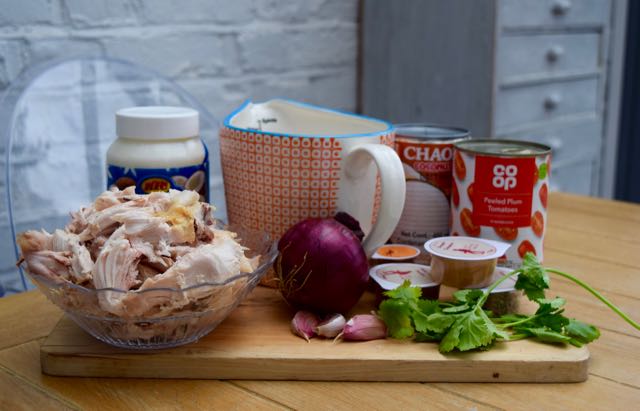 Here's the small but impressive line up for my Tikka Masala Soup. Including my stash of Spice Pioneer goodies.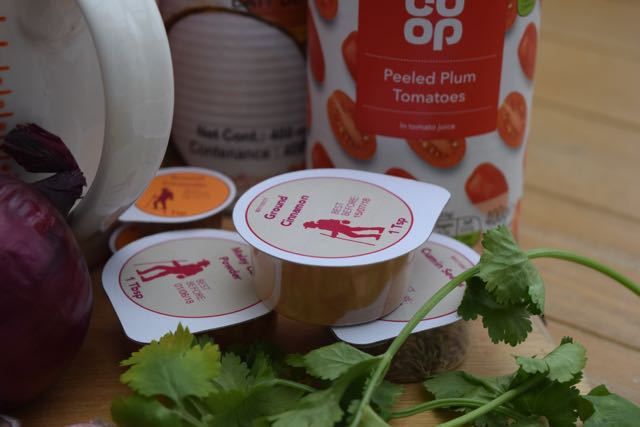 I cooked a chicken specifically to add to the soup *it was small and on offer and I had it hidden at the back of my freezer* but you could use leftover chicken from a roast or just cook a few thighs and add the cooked meat to the soup at the end.
Make a start on this soul warming affair by chopping the onion and adding it to a large pan with a couple of tablespoons of coconut oil or other oil of your choice. Cook it for around 4 minutes until just starting to soften then add the garlic and cook for another 3 minutes or so.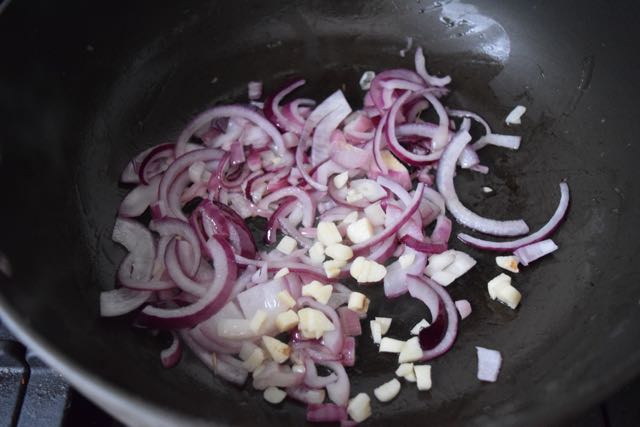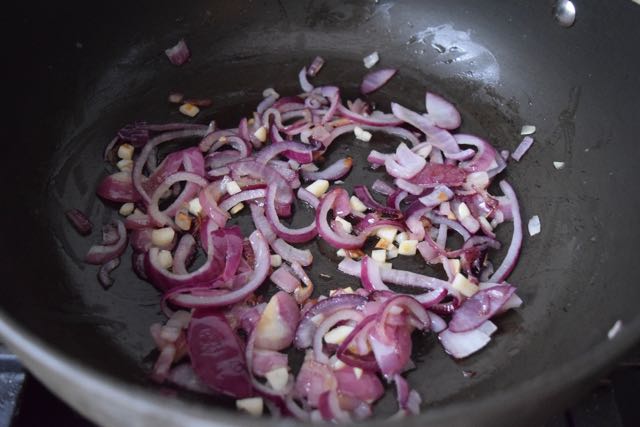 Tip in your spices and cook for another 2 to 3 minutes or until fragrant and golden.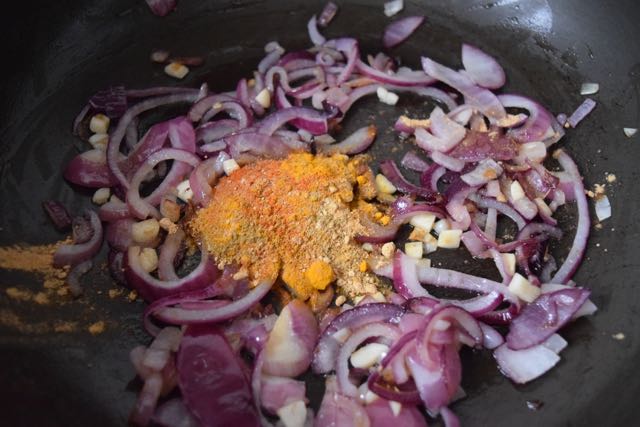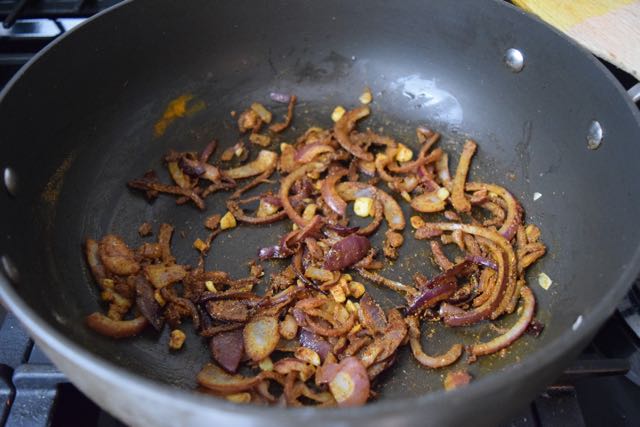 Now, pour in the stock, tinned tomatoes and coconut milk and give the whole lot a lovely stir. Bring the soup up to the simmer then cook down with a lid on for around 30 minutes.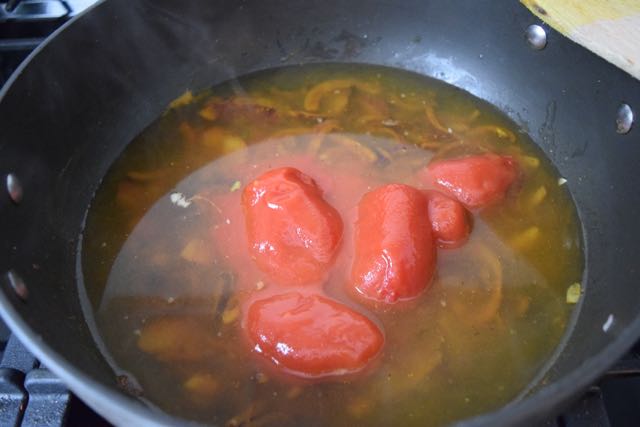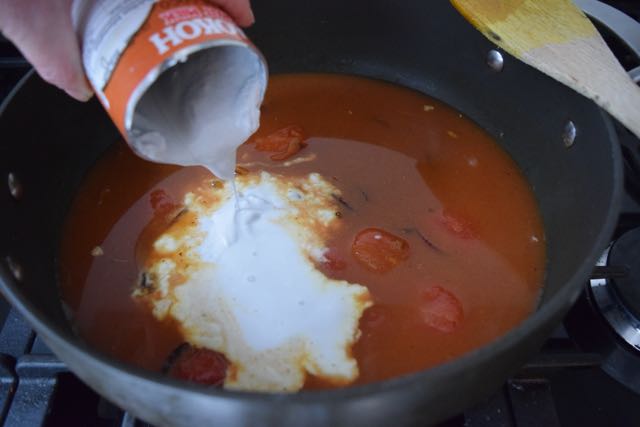 After 30 minutes, your soup won't look terribly promising, but will be starting to smell and taste beyond amazing. Season generously then blend, either in a jug blender or with a stick affair. I had an exciting new Dualit stick blender I got for Christmas and wanted to show it off.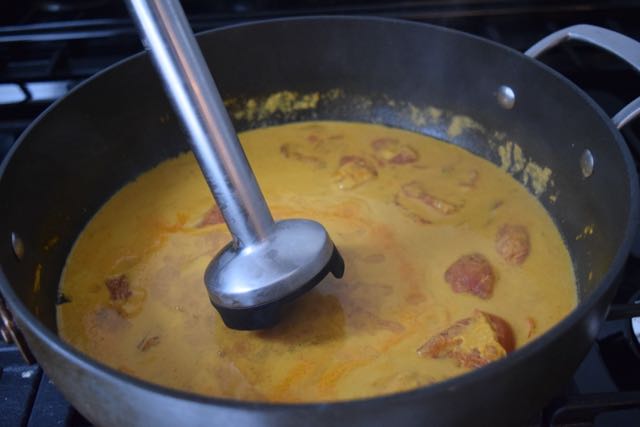 Blend until smooth and Tikka Masala-esque. Add your roughly chopped, cooked chicken and plenty of fresh coriander. You don't have to use chicken here, if you'd prefer you can add vegetables such as butternut squash or spinach instead.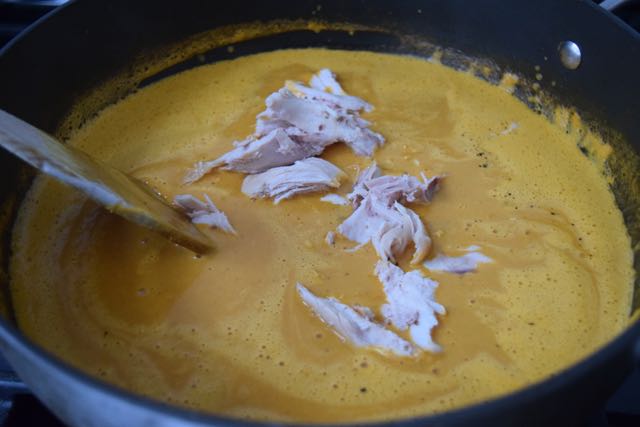 Check for the need for any further seasoning then bring up to the simmer again before serving in huge bowlfuls, piping hot. With something delicious to dip in, if you like, such as naan breads or poppadoms or both.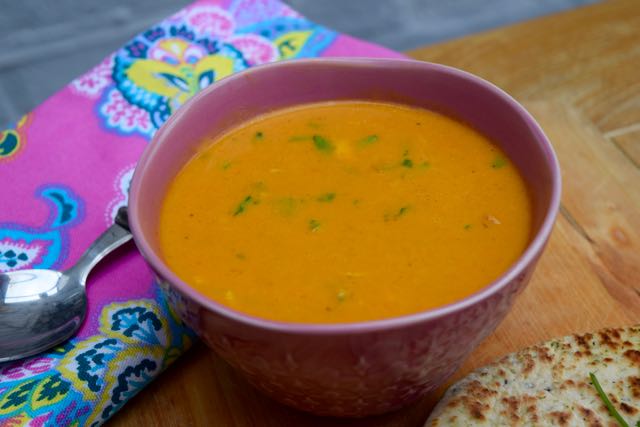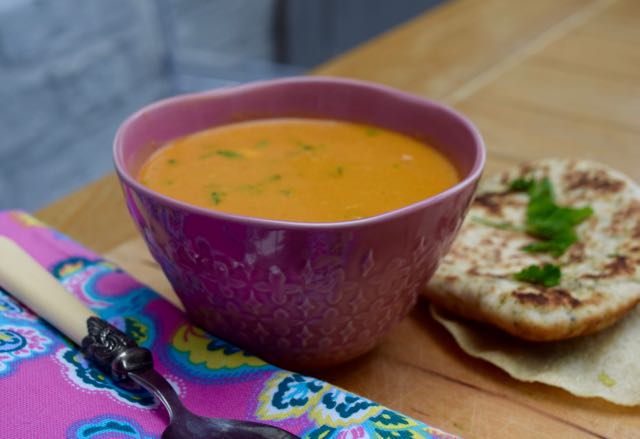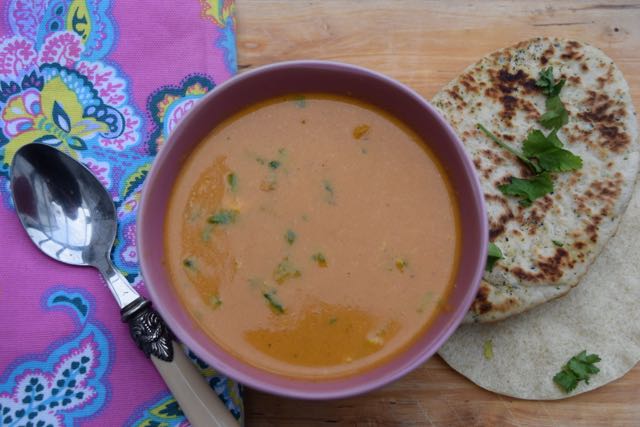 I am a tiny bit in love with this Tikka Masala Soup. This happens a lot with me and food. Tons of little love affairs with dishes, and this one is certainly a keeper.
Lucy x
The Spice Pioneer kindly sent me one of their spice boxes to try, however, all opinions and ramblings are, as always, my own.
Tikka Masala Soup Recipe
Serves 4
You will only need a large saucepan and a hand or jug blender
2 tablespoons coconut oil or use sunflower or olive oil
1 onion, chopped
3 cloves garlic, finely chopped
1/2 teaspoon cayenne pepper
1 tablespoon garam masala
1 teaspoon ground ginger
1/2 teaspoon cumin
1 teaspoon turmeric
1/2 teaspoon cinnamon
400ml chicken stock
1 x 400g tinned tomatoes, chopped or whole
1 x 400ml can coconut milk
plenty of salt and pepper
Chopped cooked chicken, I used all the meat from a small roast chicken
A small bunch of chopped fresh coriander
Poppadum and naan breads and some extra chopped coriander to serve
Take a large saucepan and add the coconut or other oil and heat over a medium heat. Add the chopped onion and cook for around 4 minutes or until just softening then add the garlic and cook for another 3 minutes. Add the cayenne pepper, garam masala, ginger, cumin, turmeric and cinnamon, stir well into the onion mixture, then sauté for another 2 to 3 minutes or until fragrant.
Pour in the stock, tinned tomatoes, with juice and coconut milk. Simmer for around 3o minutes with a lid on.
Season with plenty of salt and some black pepper then, having cooled slightly, blend either in a jug blender in batches or using a stick blender in the pan.
Return the blended soup to the pan and stir through the cooked chicken and chopped coriander. Bring back up to the simmer and serve, piping hot, with poppadoms and naan breads and some extra chopped coriander.
SaveSave
SaveSave
SaveSave
SaveSave