Chicken Peanut Noodles Recipe
Today I bring you this tasty Chicken Peanut Noodles recipe in haste, which is convenient, as this is a speedy recipe. If I am honest, I am a bit tired and grumpy, as I have been doing too much, in haste, oh and my hair looks terrible. And I am feeling podgy. And work's super busy. But, just looking at this dish, fills me with cheer. Its quick, spicy, colourful and warming – all the things I crave when feeling slightly tired and emotional and unattractive.
'Not chicken again' I hear you cry. Ill advised criticism I have to say when I'm feeling so grumpy, but, I will admit we are somewhat chicken dependent in our house. But this doesn't have to be all about the chicken. Feel free to substitute it for a nice piece of steak, some king prawns or tofu if you are that way inclined. The sauce is super versatile and compliments most additions, so feel free to make this all about you.
Here are the players. All yum, but flexible so do use your favourite stir fry vegetables and meats. I chose a ready chopped bag of veg, because I am feeling grumpy AND lazy.
First things first, cook your noodles according to the instructions on the packet. Once they are cooked, rinse them in cold water, to stop them cooking further and sticking, and leave to drain.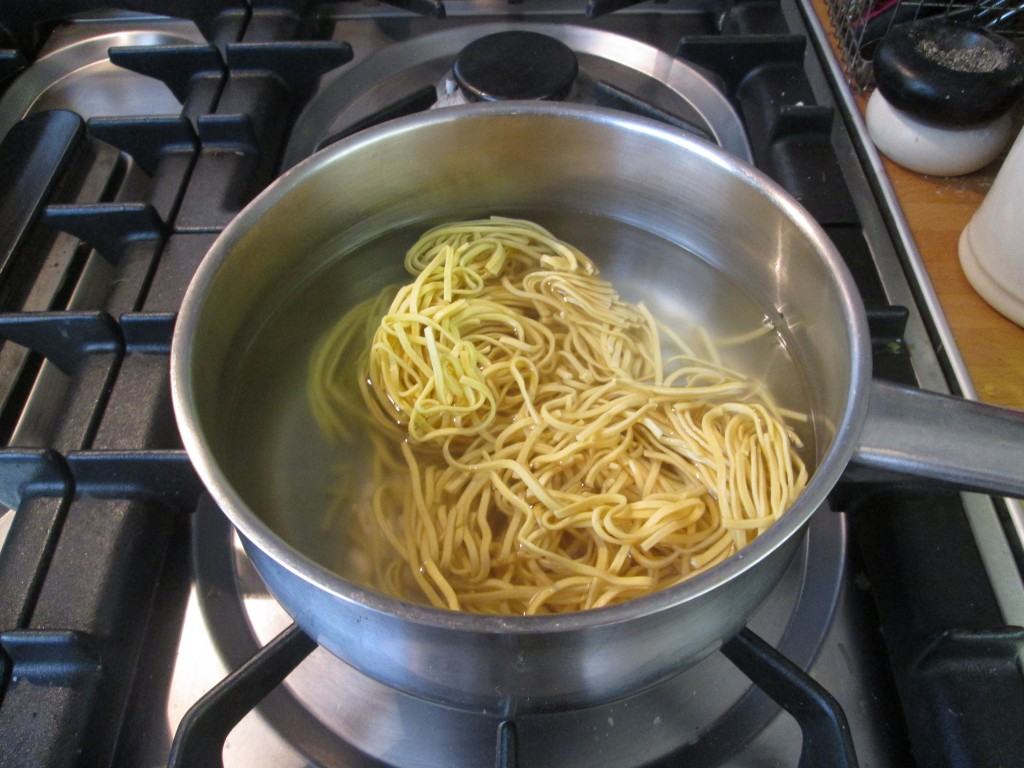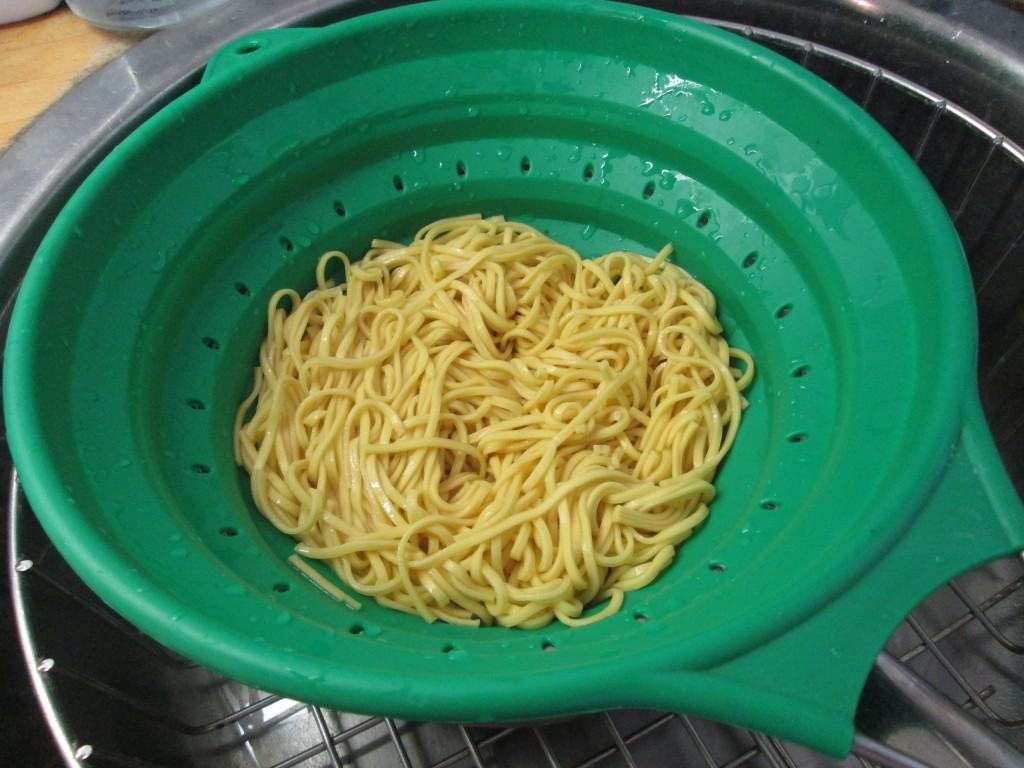 Or to be even lazier, you could use those straight to wok noodles, although I do find they have a slightly spooky, flabby quality.
Next, dig out your mini chopper, food processor or a knife and a chopping board, to finely chop your chilli, ginger and garlic. I have mentioned before my love for Lazy Ginger in a jar, that love has not waned as its just so much more economical than buying a piece of ginger then throwing it away a week later when you find it at the back of your veg drawer.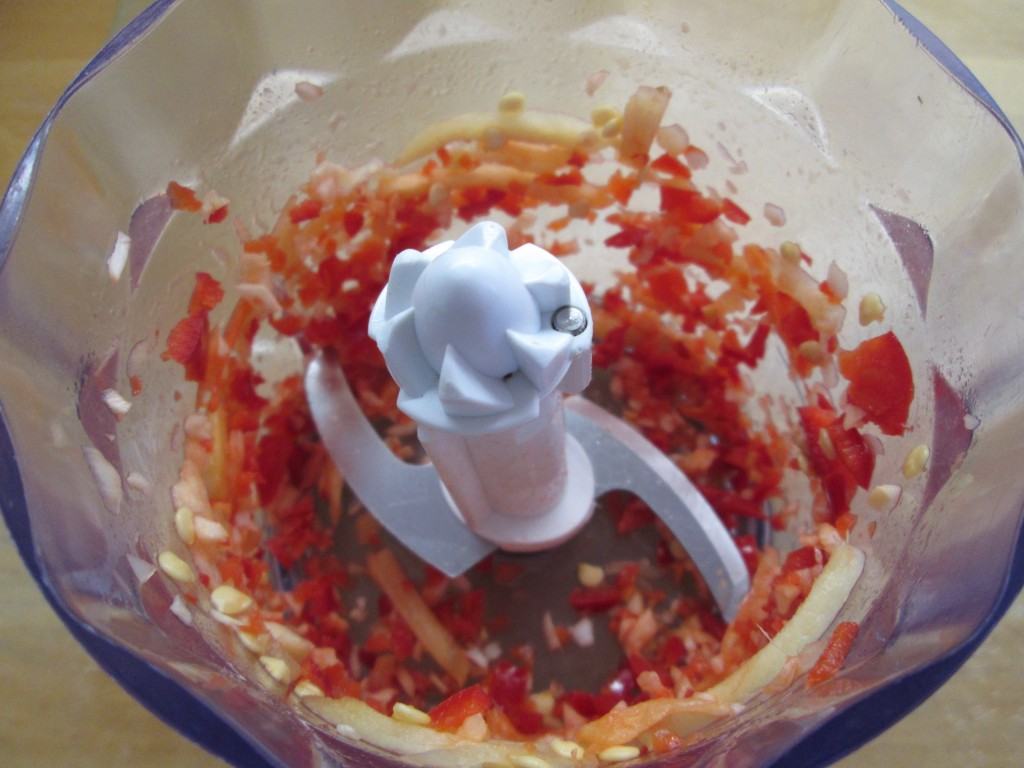 Then, once these have been blitzed to within an inch of their lives, transfer them to a small bowl while you make the sauce. Give your chopper or processor a quick wipe then add the peanut butter, sesame oil, soy sauce, and brown sugar . If you are chopping by hand, simply add the sauce ingredients, as above, to another bowl and given them a good mix. This fragrant combination will get your mouth watering before it even hits the wok, bliss.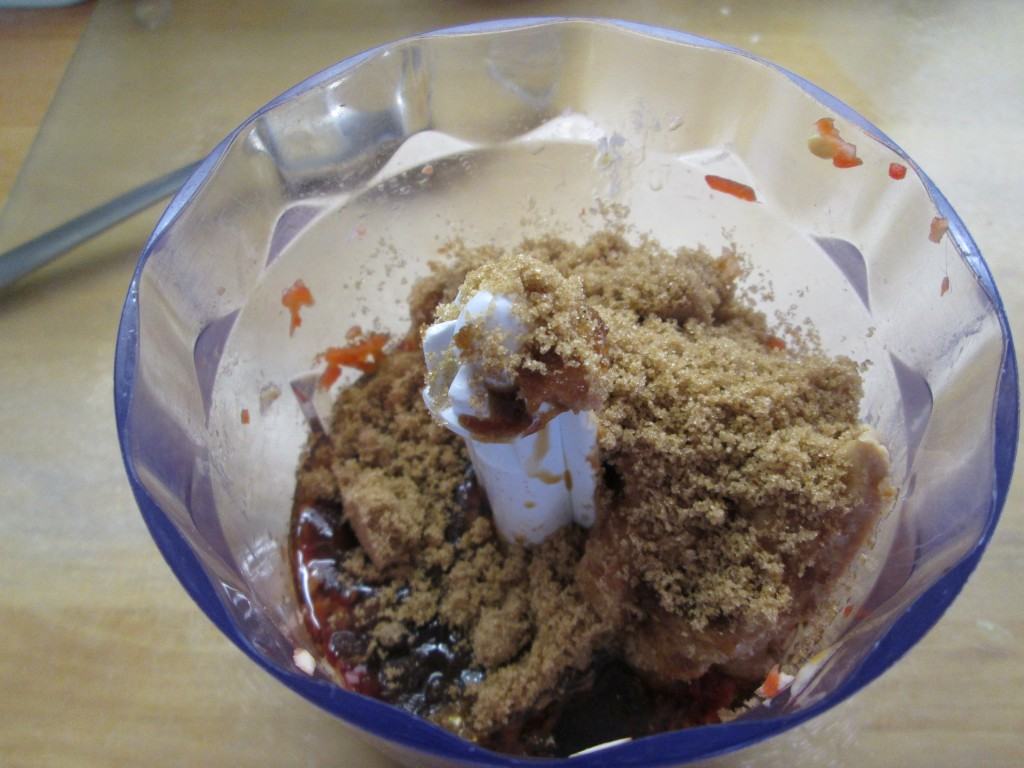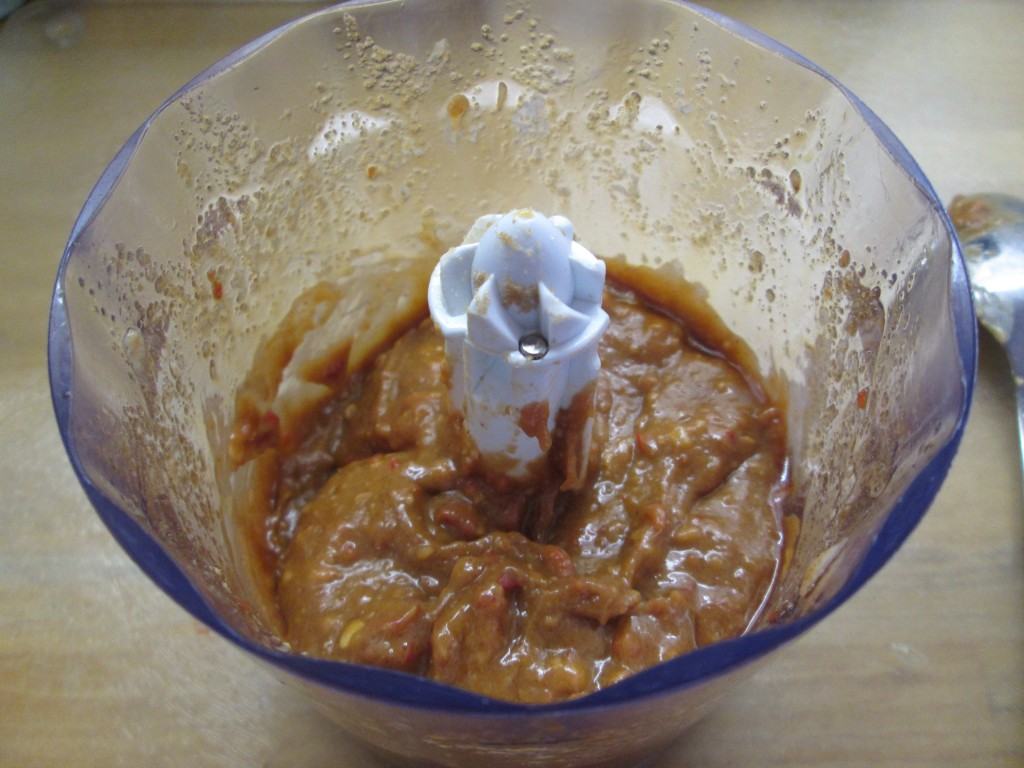 Now you are all prepped and ready, heat two tablespoons of oil in your wok or large frying pan. I am using Wok Oil again, a pre mixed blend of garlic oil with a hint of ginger and sesame (it says on the bottle), but any light oil will do here.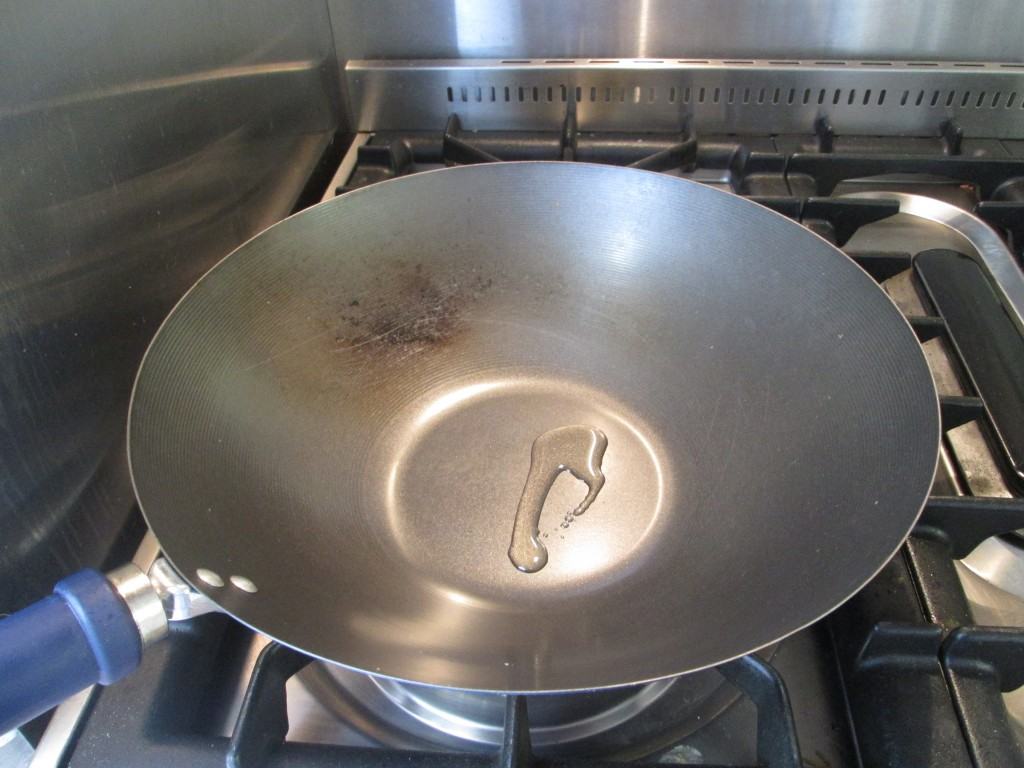 Add some chopped, boned chicken thighs and cook until starting to colour.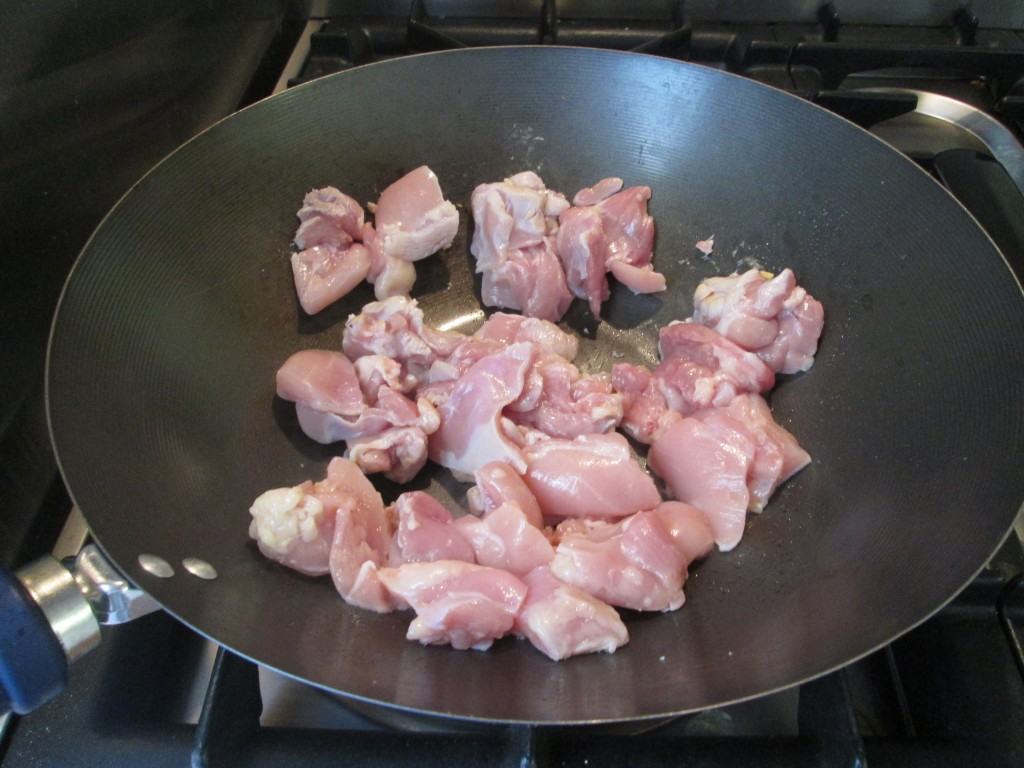 Then add the chopped, chilli, ginger and garlic and stir fry vegetables. Take care not to burn the garlic at this stage.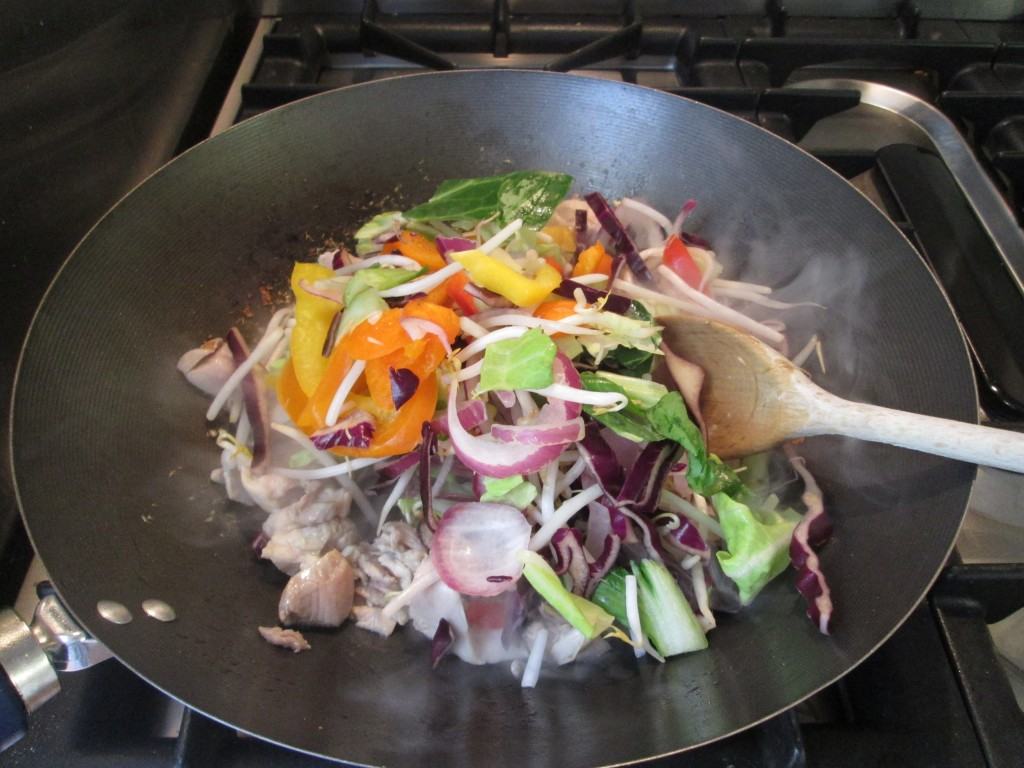 Mmm, lovely smells. Just start to brown the edges of your veg, then add your pre cooked noodles and give everything a bloody good stir fry.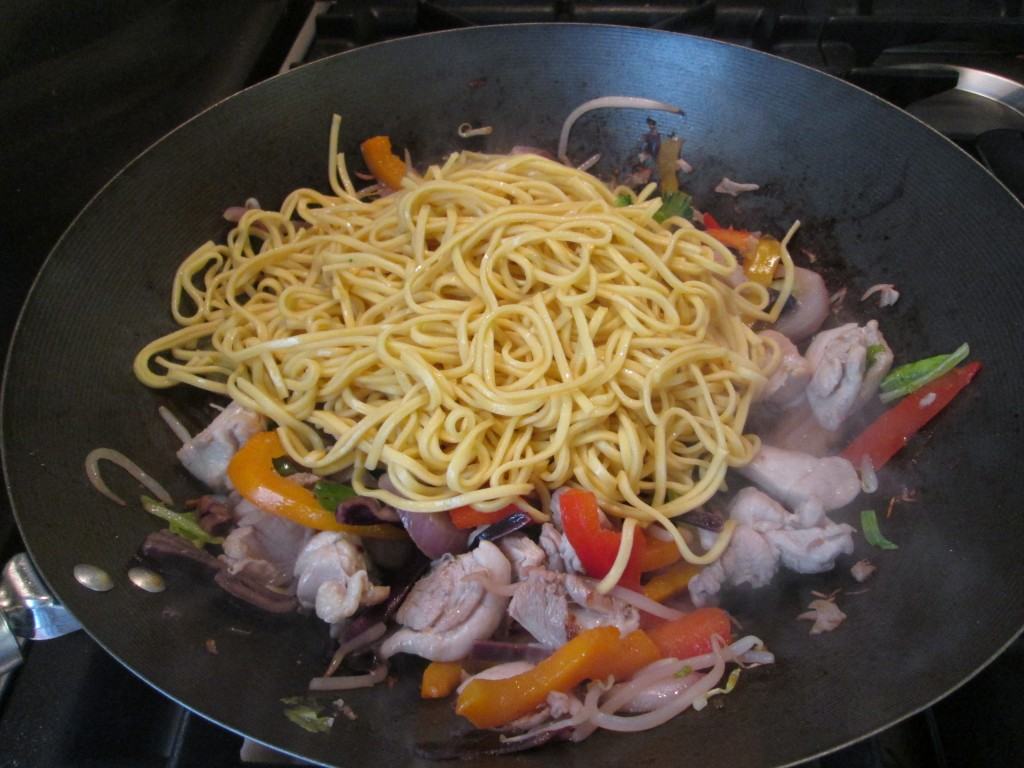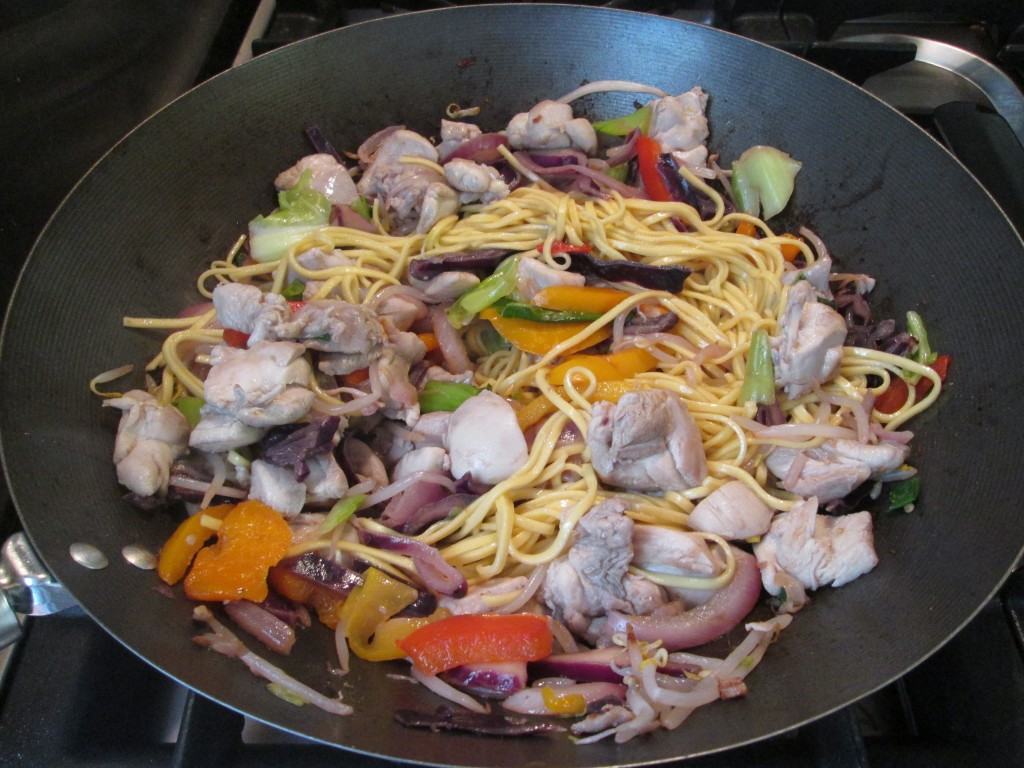 Then in you go with the peanut sauce mixture, giving it another good mix. If it's all looking a little stiff, rinse your peanutty bowl with some boiling water and add to the pan to loosen the mixture off. Let it bubble away for a moment, to ensure your chicken is cooked through.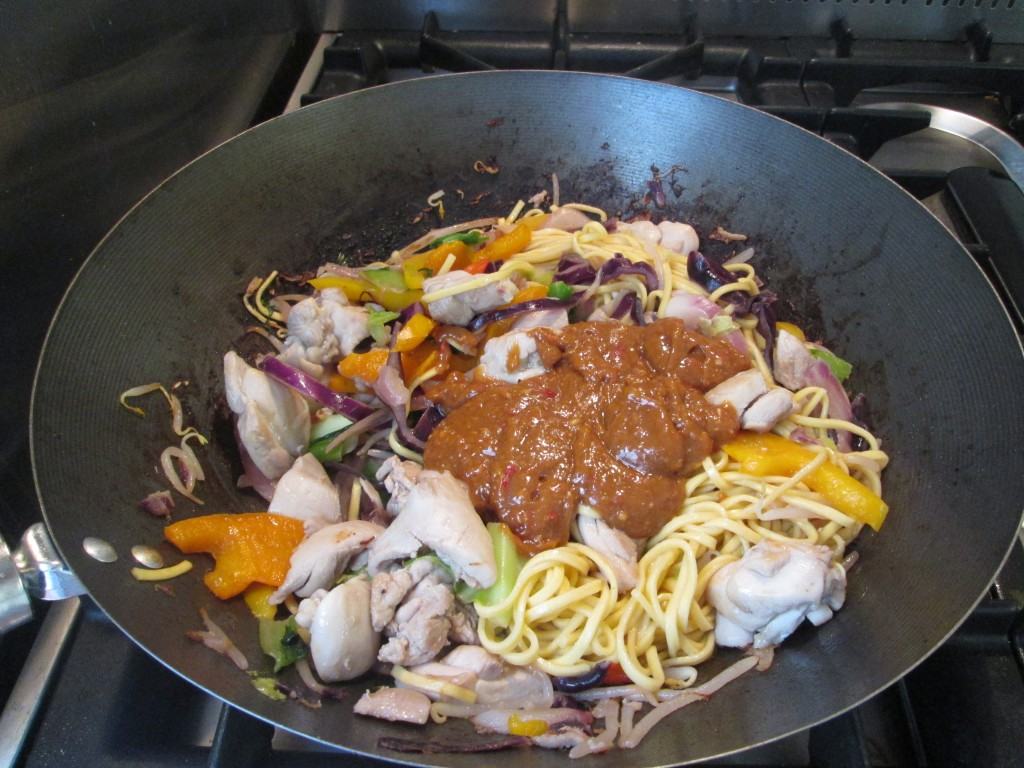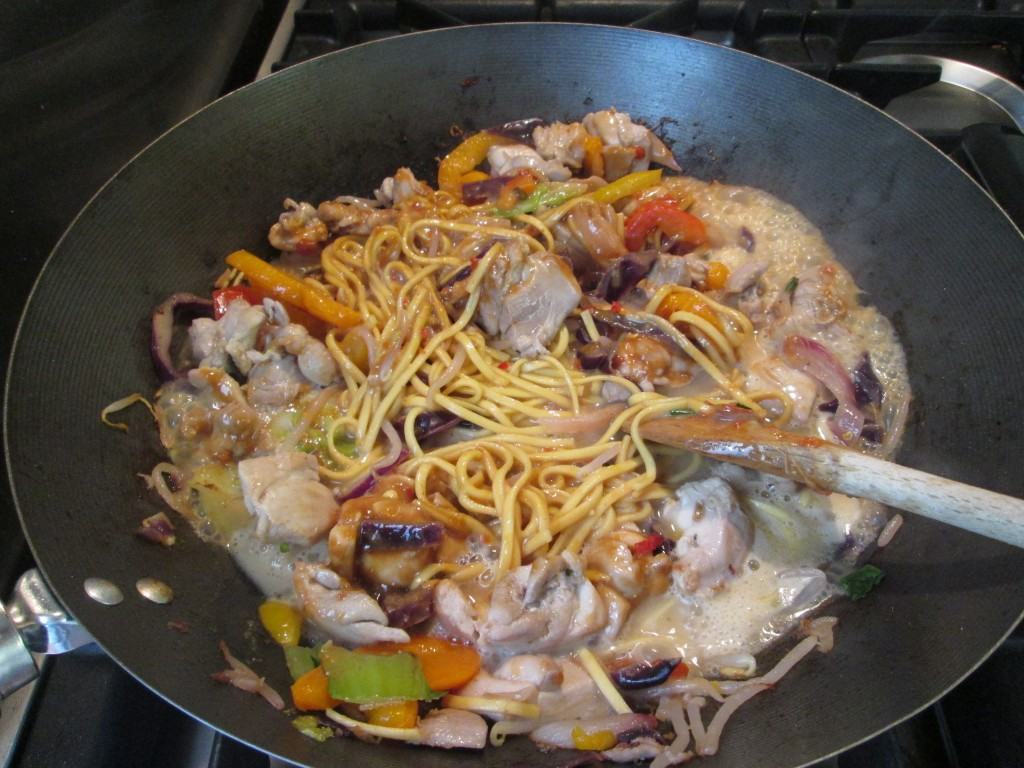 And there you have it. I ganished mine with an elderly bit of basil I found in the fridge and some sesame seeds, but it's your call.
Quick, simple and snuggy. Its comfort food, so serve it in large quantities, in a bowl and inhale accordingly.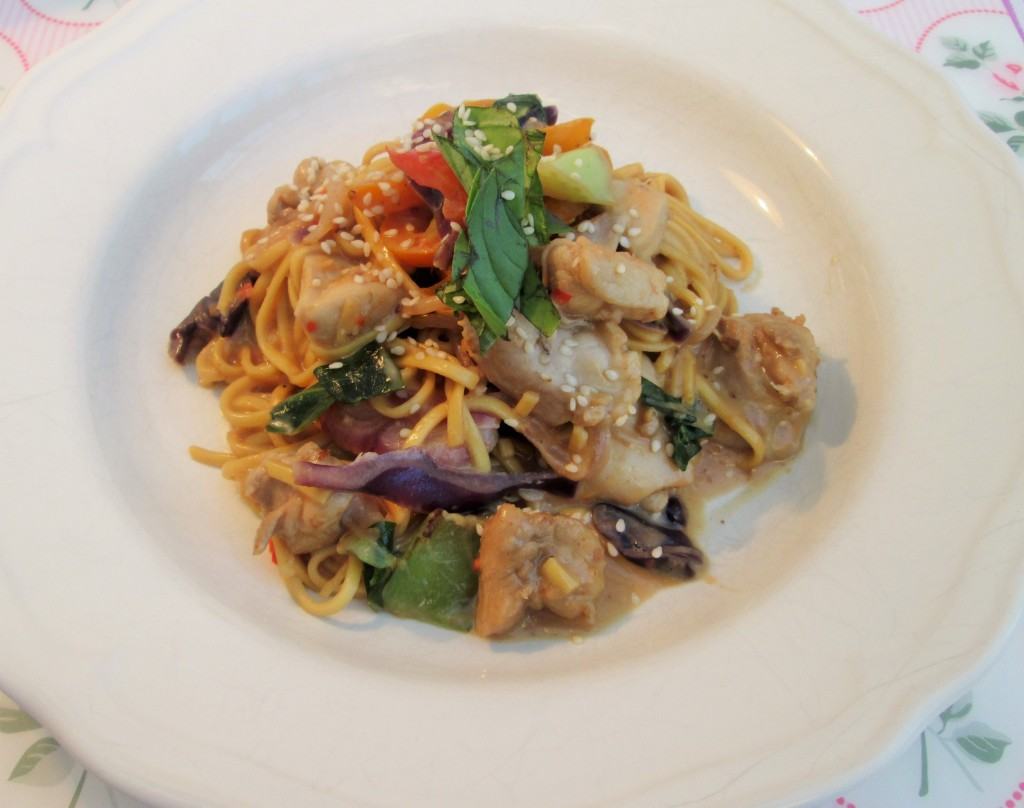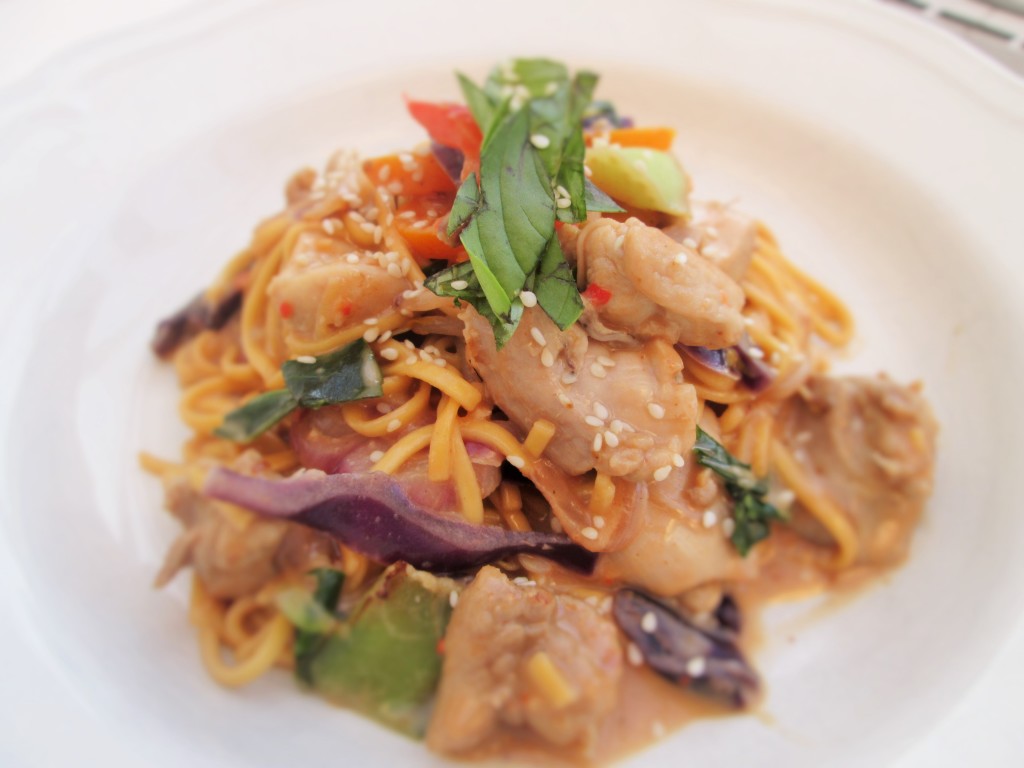 This is a guaranteed mood enhancer, and I promise I won't be as grumpy next week. Well, I'll try.
Lucy x
Chicken Peanut Noodle Recipe
The sauce portion of this recipe comes courtesy of Love Food Eat, with thanks.
Serves 2 to 3 dependent on appetite size and it goes without saying, this contains peanuts
You will need a wok and chopping equipment
One Chilli, or more, depending on how spicy you like your food
2 tablespoons or an inch piece of Lazy or regular ginger
2 cloves of garlic
2 heaped tablespoons peanut butter
2 tablespoons sesame oil
4 tablespoons soy sauce
2 tablespoons soft brown sugar
250g dried egg noodles
2 tablespoons of Wok oil or any flavourless oil you have to hand
500g boned chicken thighs or meat, prawns or tofu of your choosing
A bag of stir fry vegetables – or the equivilent of chopped fresh vegetables including carrots, peppers, beansprouts and cabbage
Sesame seeds, basil or coriander to garnish
Cook the noodles according to their instructions, then rinse in cold water and drain. Or use straight to wok noodles.
Finely chop the chilli, garlic and ginger by hand or in a processor. Empty into a small bowl, then mix or process the peanut butter, sesame oil, soy sauce and brown sugar. Heat your oil in the wok and chop your chicken, or chosen meat/fish/vegetarian option. Add this to the wok and stir fry until just starting to brown. Add the finely chopped chilli, garlic and ginger and your stir fry vegetables, taking care not to burn the garlic. When the vegetables are starting to colour add the noodles, and stir everything again. Then mix in the peanut sauce ingredients and combine. If the sauce is too thick, add a small amount of water to loosen it off. Let the mixture bubble, then serve, piping hot, garnished with sesame seeds and basil or coriander.