Nutella Cheesecake Recipe
I am a bit team take it or leave it with Nutella. It's something the boys adore on toast and I don't mind it from the jar with a spoon but I am much more of a Marmite or peanut butter kind of a girl. This Nutella Cheesecake, however, is a bit of a game changer for me. When I say I have made it twice in a week, I think you'll appreciate just how special this is. It's the kind of dessert for which one slice is never enough and even though it's rich, somehow you manage to just plough on through and get it down you. I am excited about this recipe, and expect you will be too, regardless of your stance on Nutella.
When I was growing up Nutella was almost sold as a health product. They stressed the amount of milky nutty goodness was in one jar and ignored the delicious sugary chocolatey side. This dessert is not a health food, but when a delicious, indulgent pud is called for the Nutella Cheesecake fits the bill perfectly. It's so simple to make, it's no bake and only needs around 4 hours in the fridge to chill or can be made the day before to make your life easier. I adapted the recipe to use crushed amaretti biscuits instead of chopped hazelnuts, as I will find any excuse to incorporate these crisp, nutty sweet biscuits in a pud. Do go ahead and use hazelnuts if you prefer, as the lovely Nigella, the purveyor of this fine recipe, is rarely wrong.
We are slightly balls to the wall with entertaining between now and Christmas so a timesaving, to die for dessert like this is going to be my best friend. It won't be my thighs best friend, but as I have mentioned many times before, some things are so worth the calories.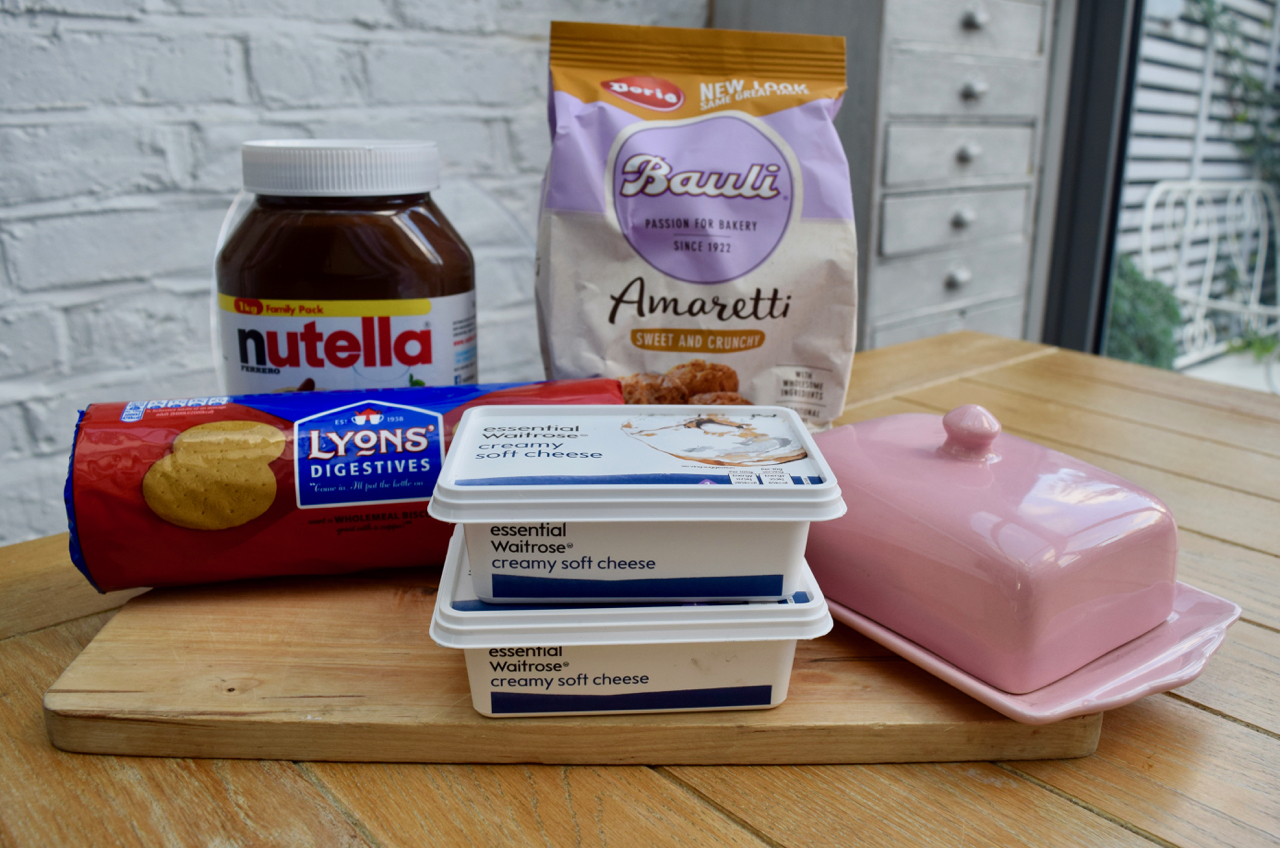 I had to wrestle the bag of Amaretti biscuits out of mine and Ben's hands, they are so addictive and work so well in this recipe. I had an industrial sized jar of Nutella from Costco, but any chocolate hazelnut spread works here, and an own brand version would probably be cheaper. I can assure you I enjoyed at least one or two spoonfuls straight from the jar.
For this cheesecake you will need either an 8 or 9 inch round spring form tin, well buttered. The diameter will depend on whether you have a deep dish or slightly more shallow based cheesecake. I have used both, so either works. Start by thoroughly buttering your chosen tin as you do not want a crumb of the delicious base to stick. Next, either in your food processor or a bag with a rolling pin, crush your digestives and 25g of the Amaretti biscuits, or chopped hazelnuts, if you are using.
Process or bash these into sandy crumbs. Next, add the softened butter and a heaped tablespoon of Nutella and process again until it looks like wet sand.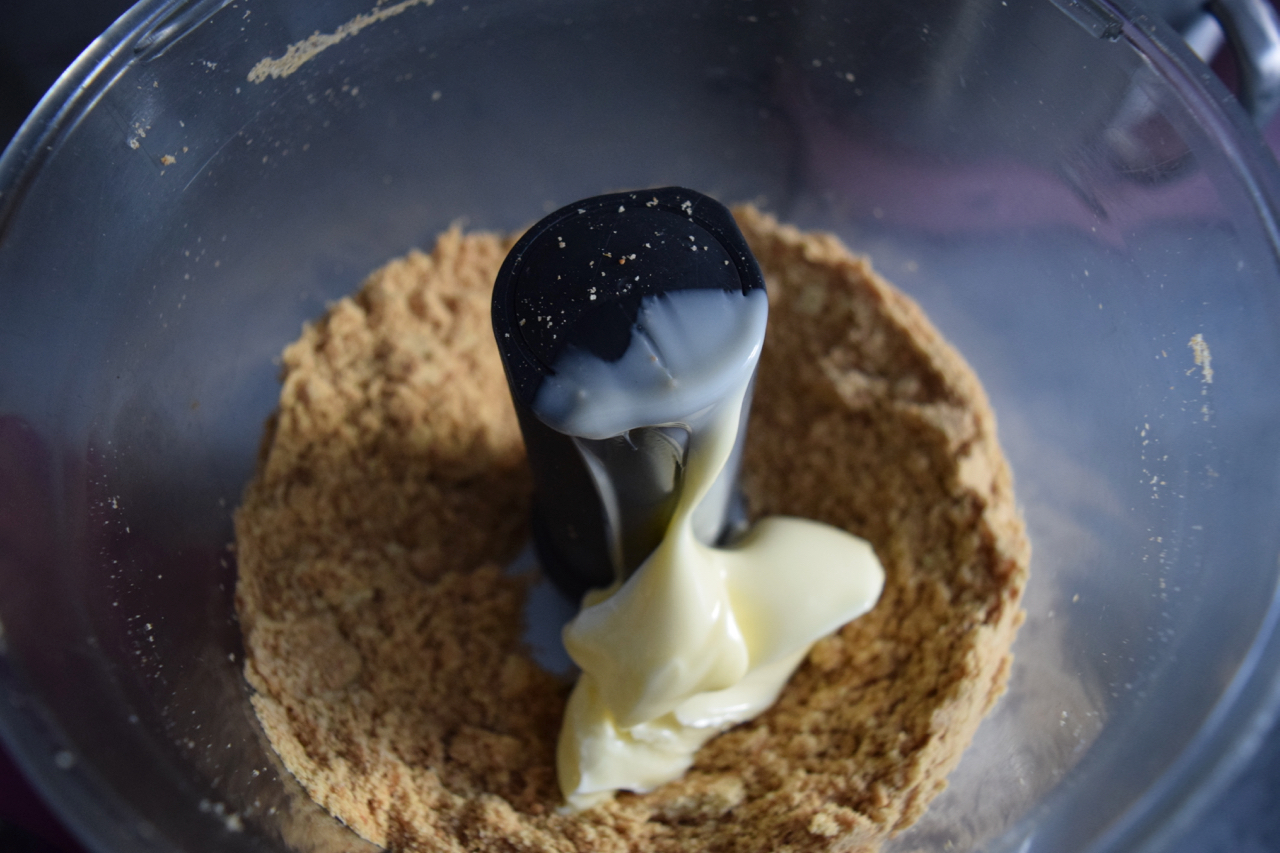 Tip the crumbs into your buttered tin and press them down to create a lovely even layer. I used a cup measure to smooth the base.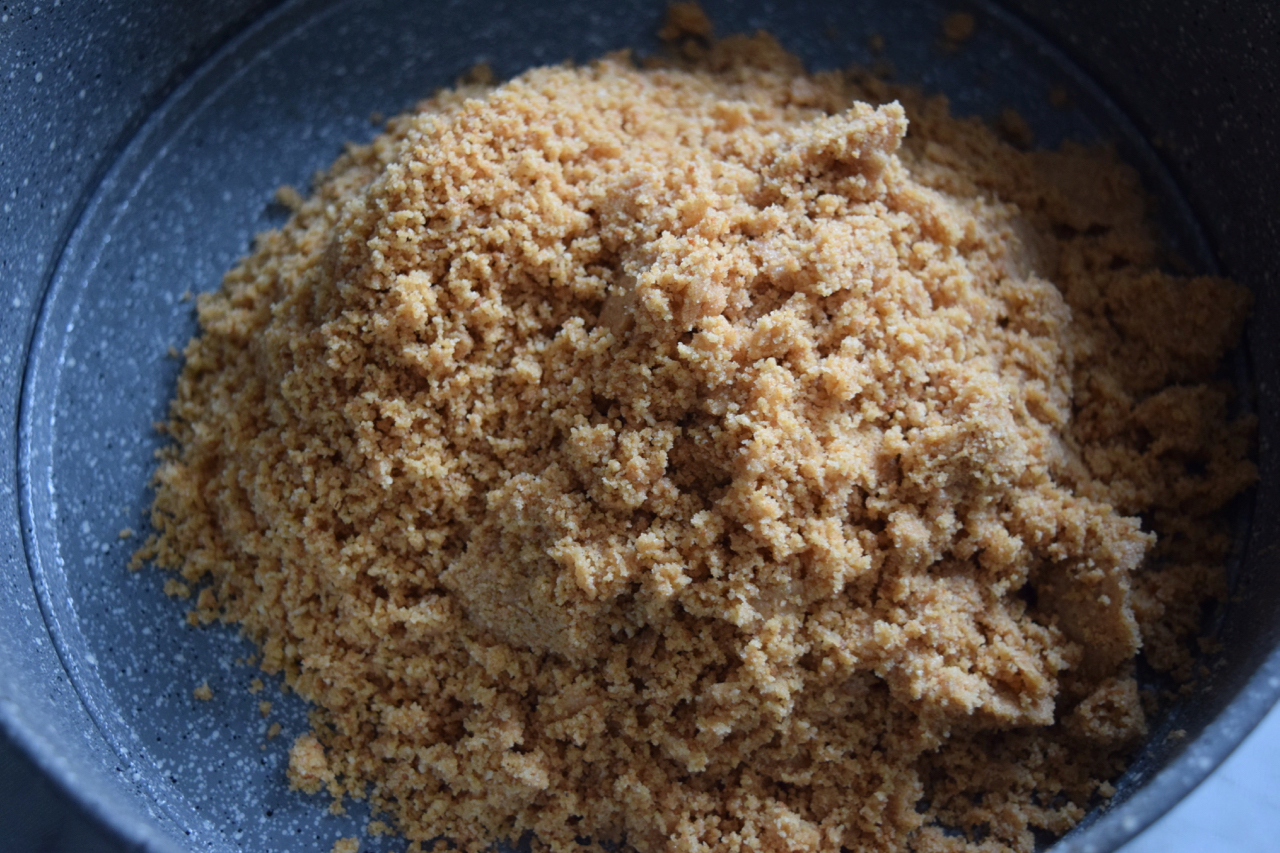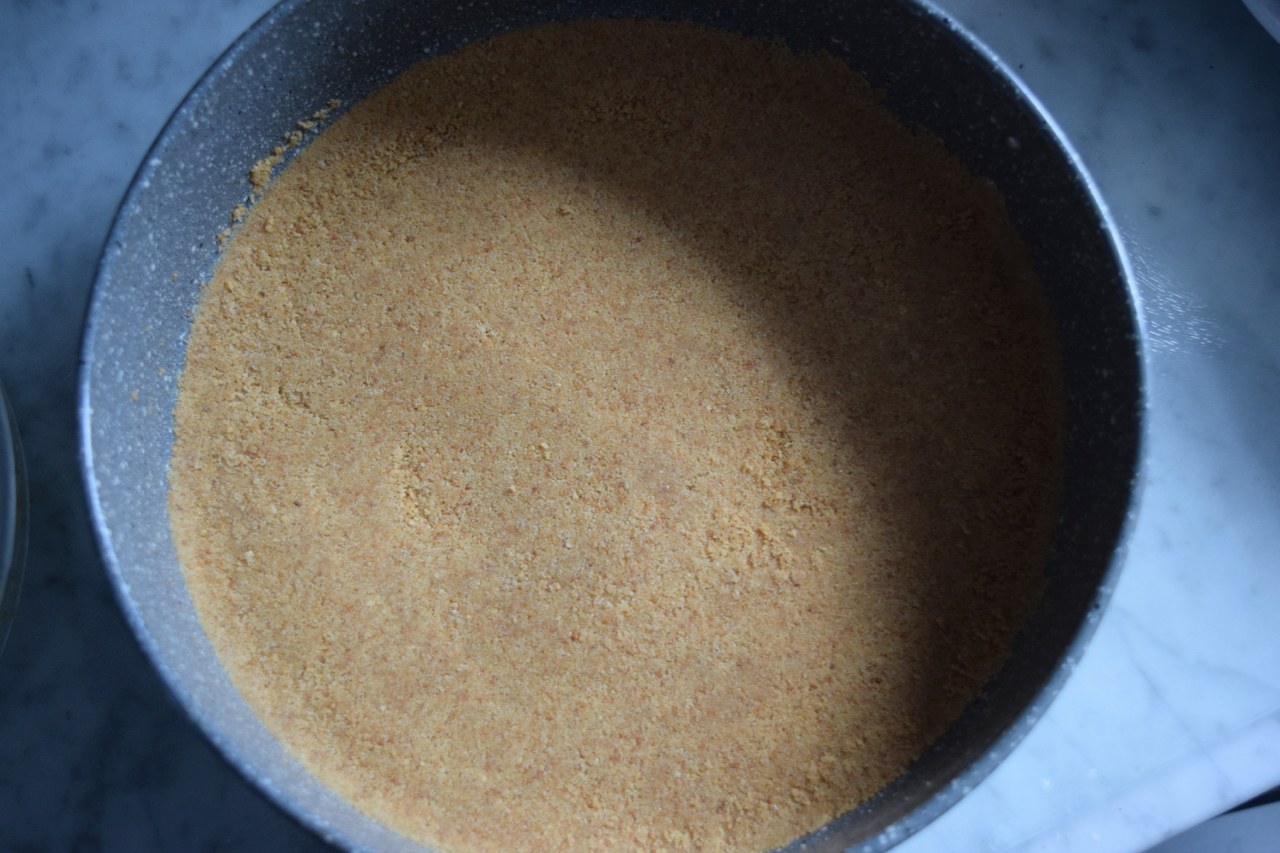 Pop this into the fridge to chill while you get on with the delectable filling.
In a bowl with a spoon or in your stand mixer with a paddle fitting beat the cream cheese and icing sugar until smooth.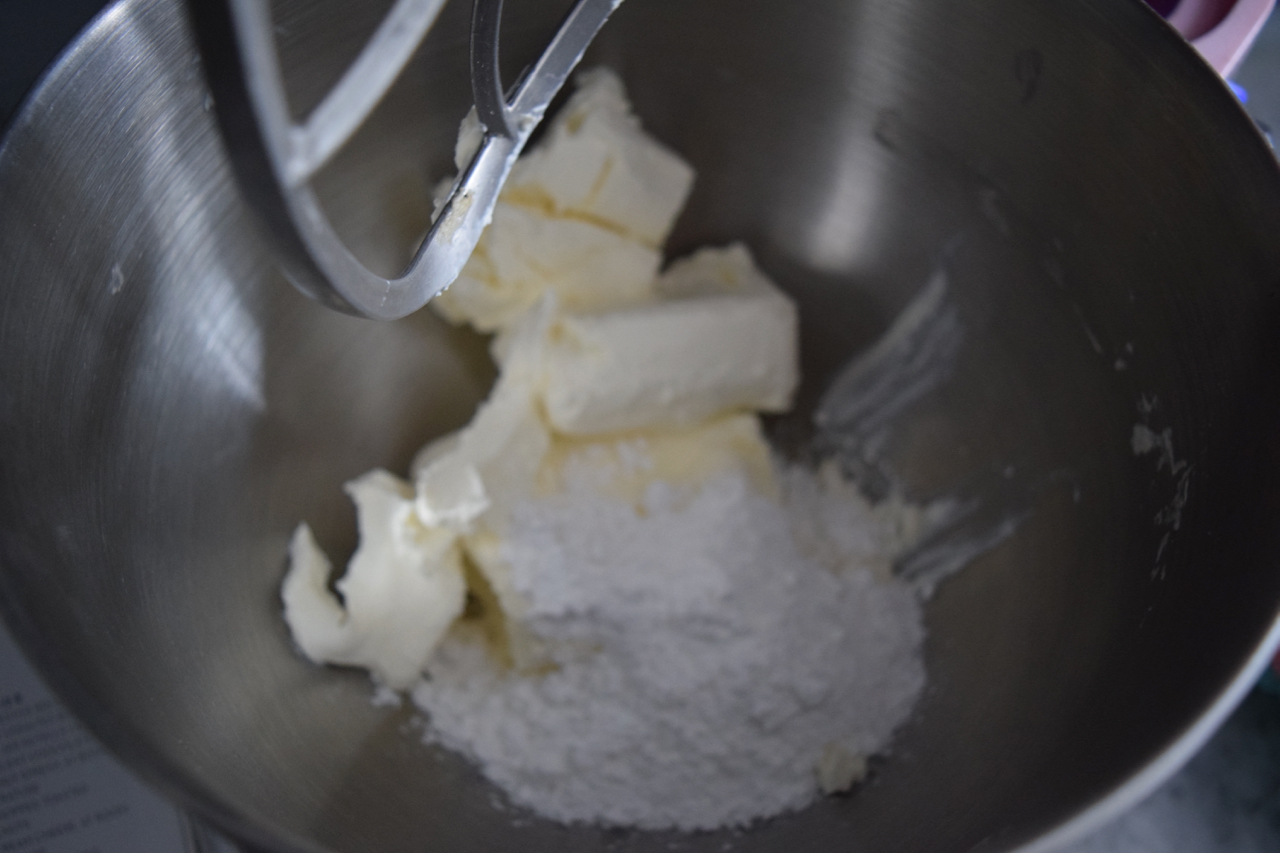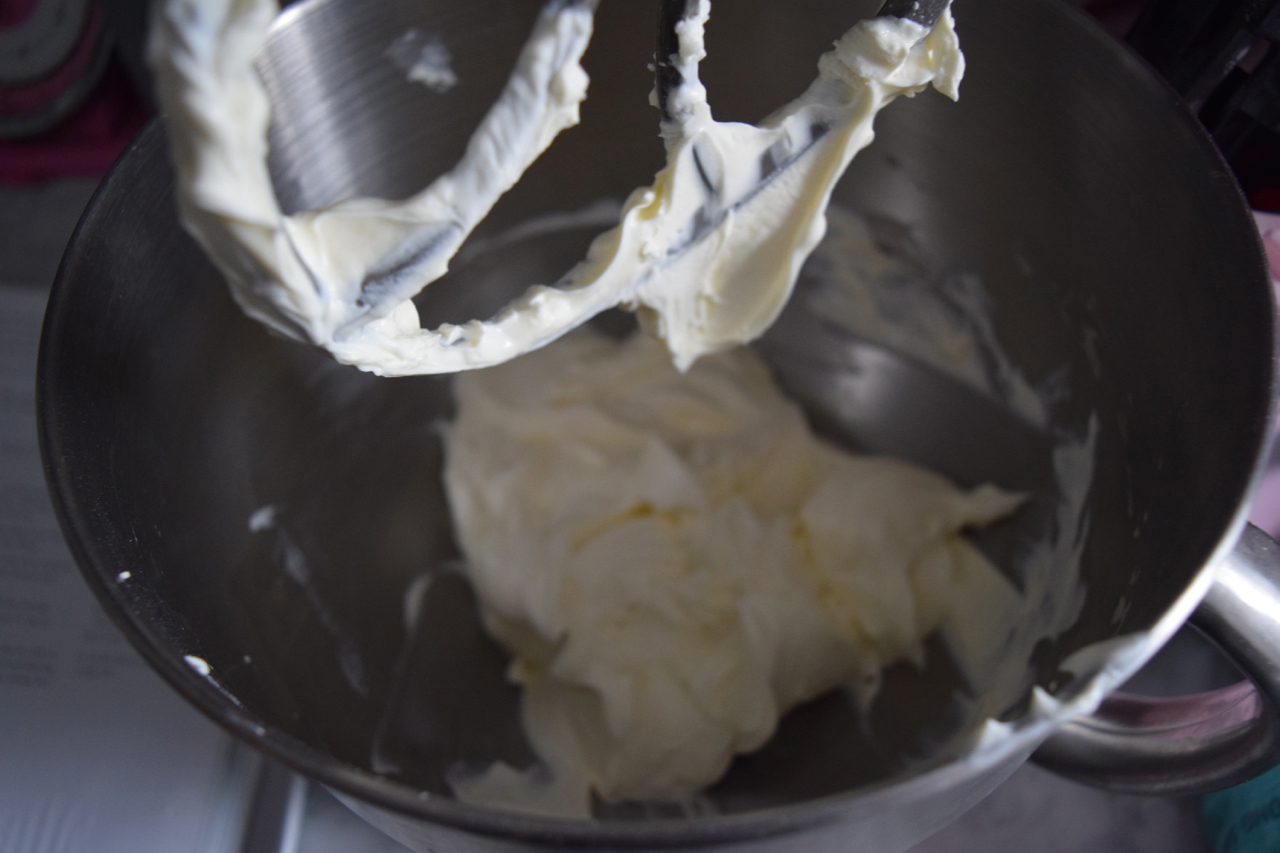 Spoon in the unctuous Nutella then mix again until you have a smooth, thoroughly blended mixture.
Trying not to eat the whole lot from the mixer, scrape the cheesecake onto the base and smooth the top with a palette knife.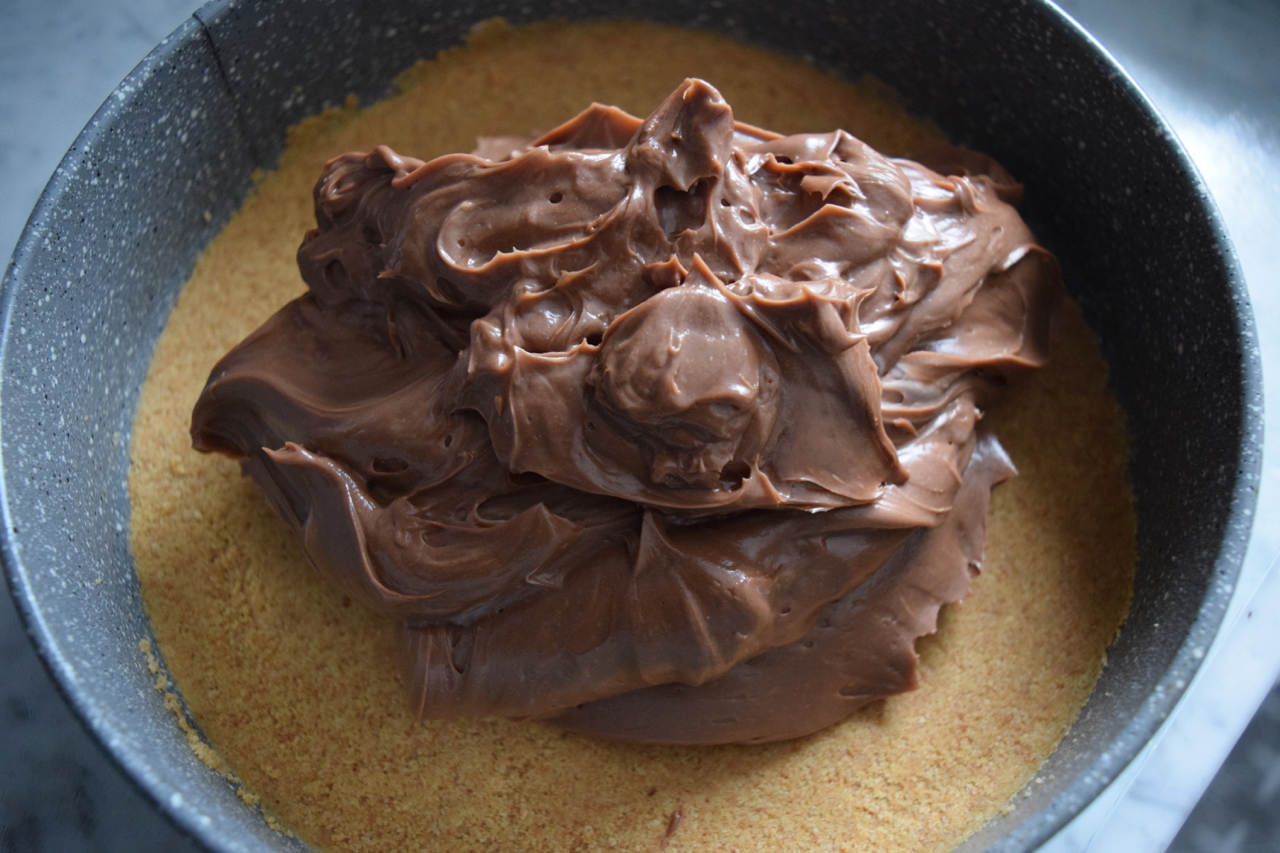 In a final flourish, crumble the last of the amaretti biscuits onto the top of the cheesecake for added sweet, nutty crunch. Or use the last of the chopped hazelnuts if you'd rather.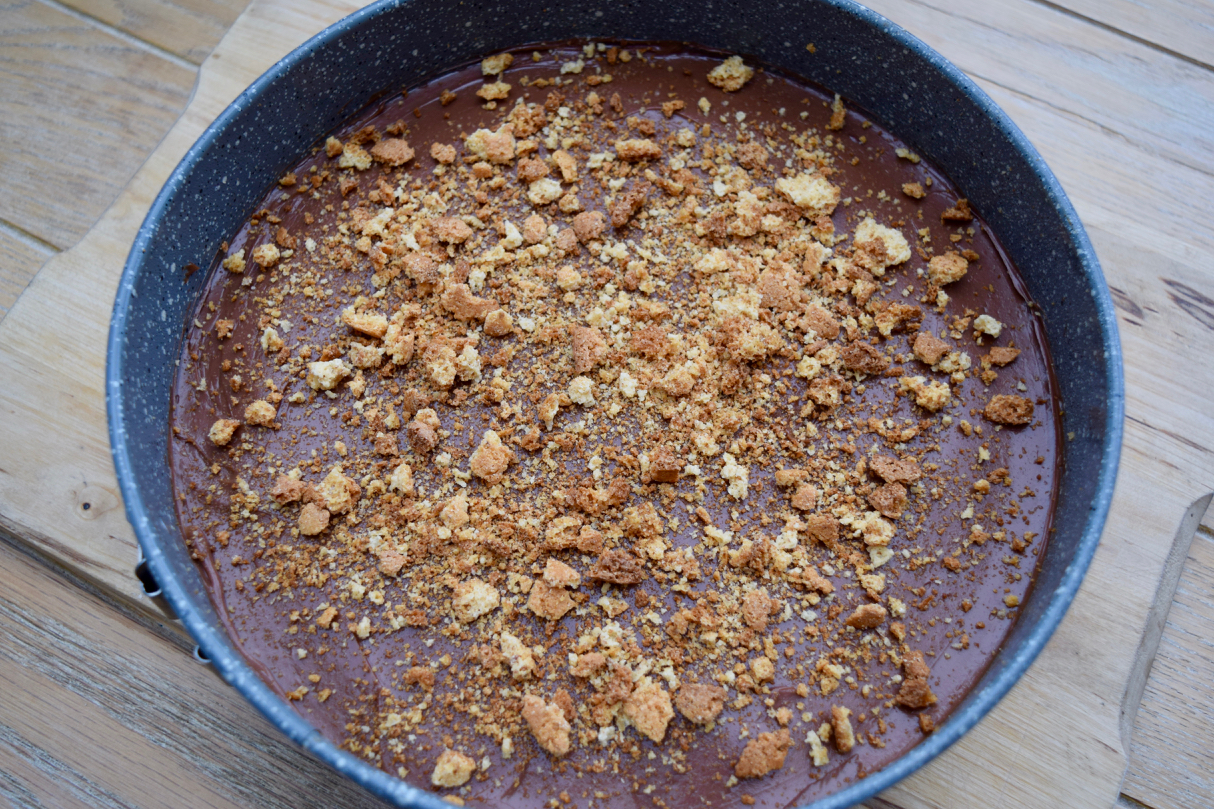 Chill the cheesecake for at least 4 hours or overnight if that suits. When it's good and set, run a knife around the edge of the tin and release the sides of the tin.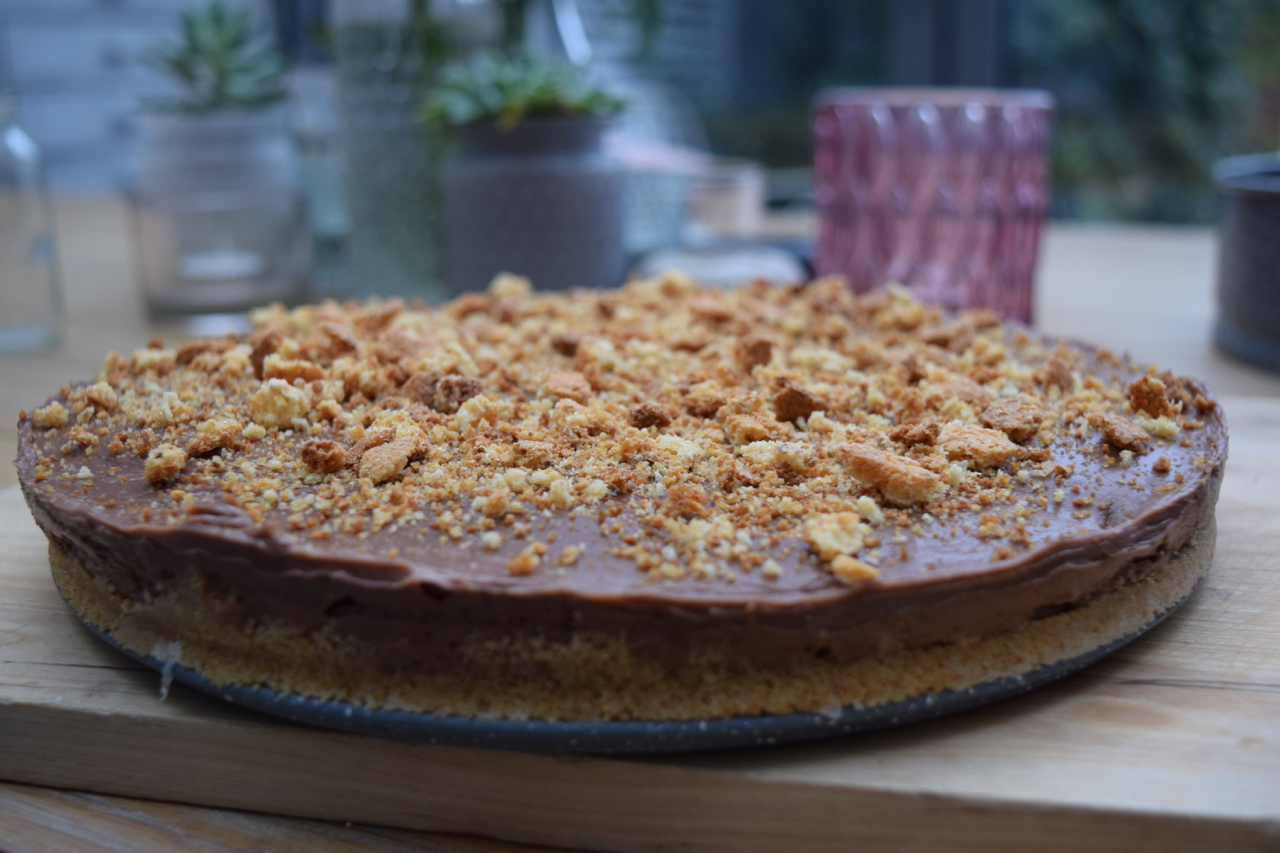 Using the palette knife again, carefully run it under the cake tin base and slip the cheesecake onto a plate. I pessimistically photographed the cheesecake prior to removing the base in case it all went tits up. But, hooray it didn't. Serve this divine dessert in generous slices with some double cream, because, why wouldn't you?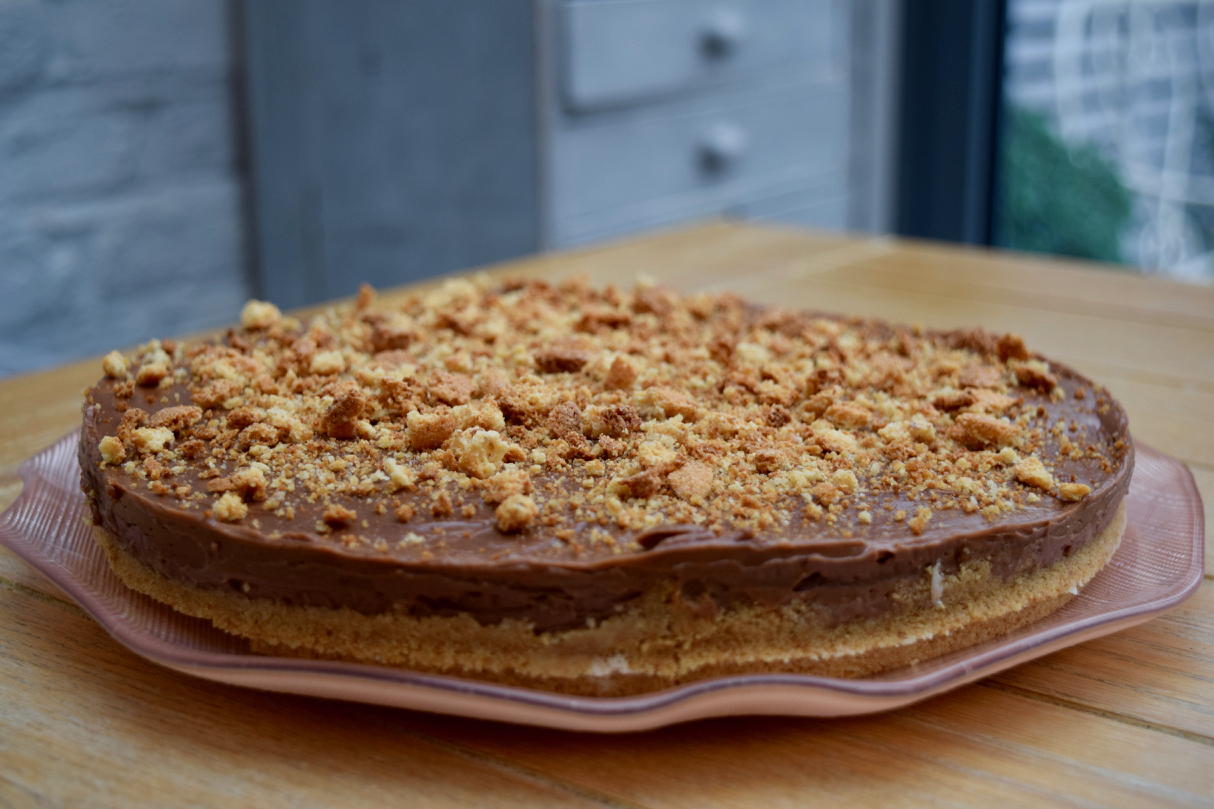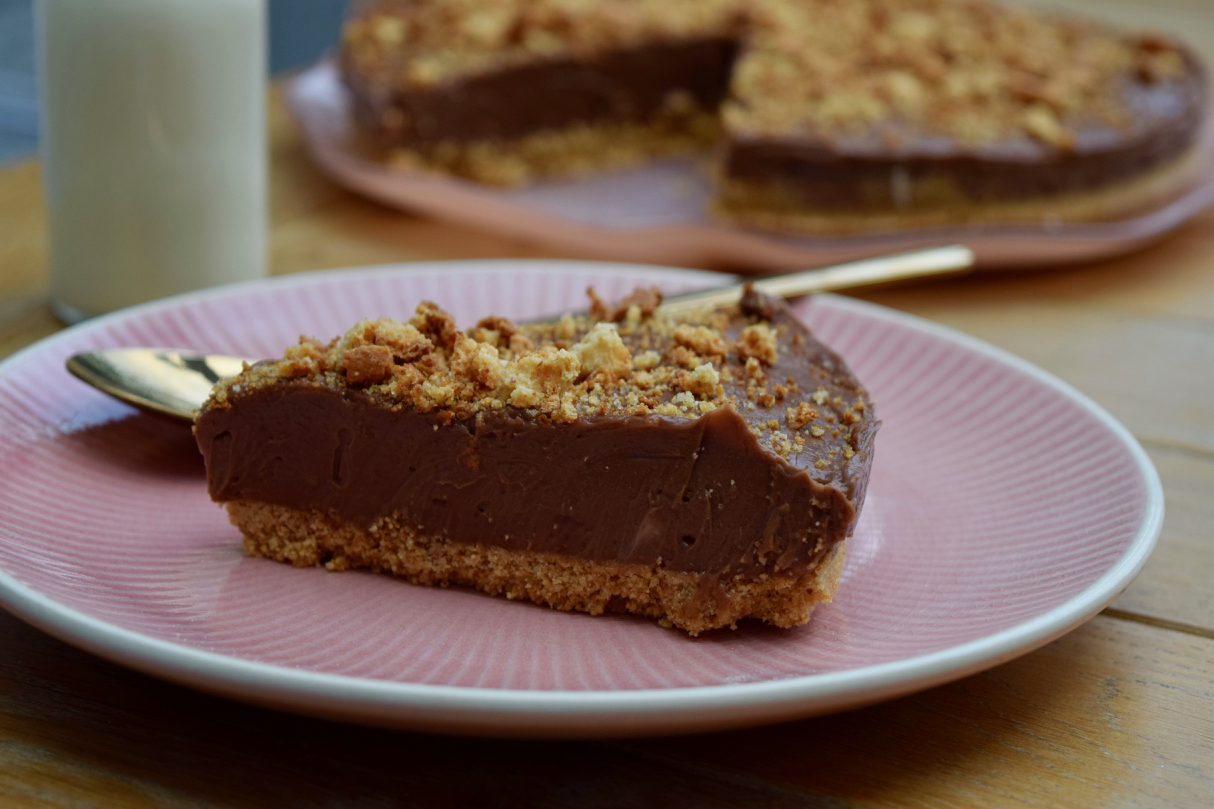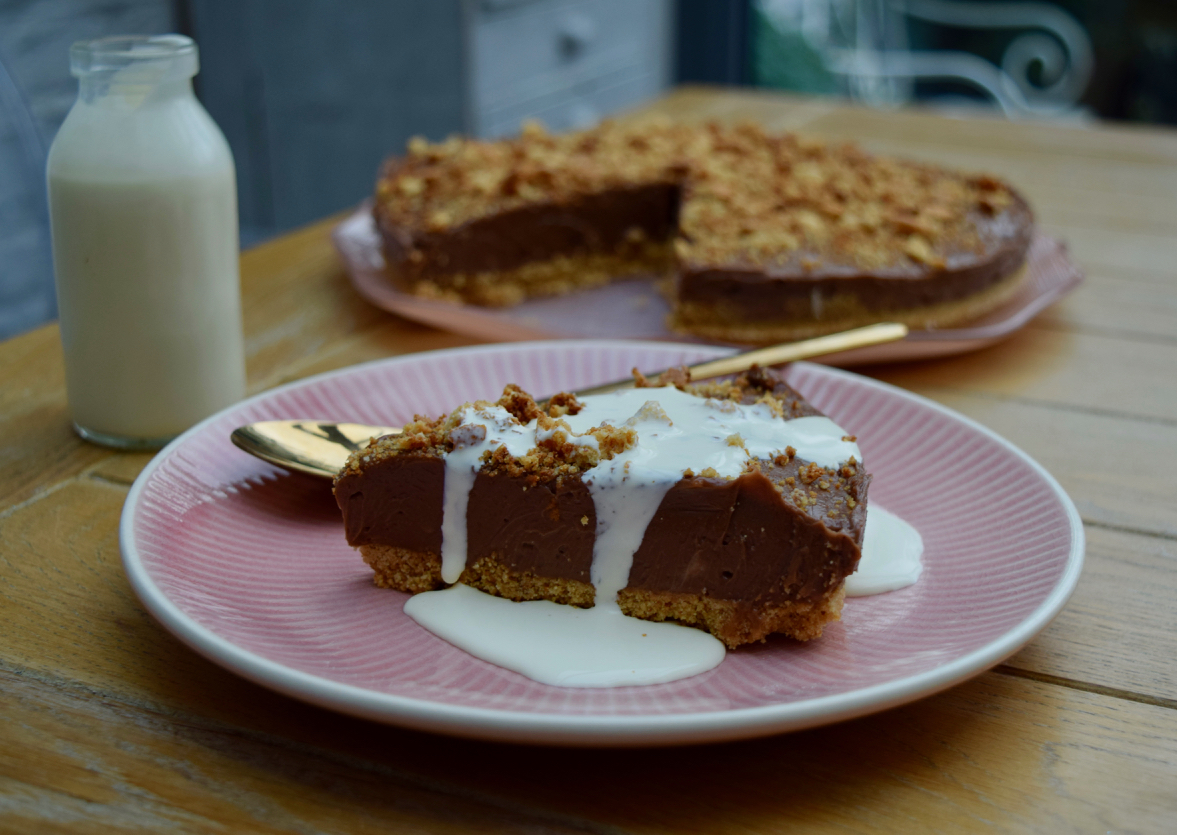 Crisp base, soft chocolate hazelnut filling this is cheesecake heaven. Not authentic but who cares, with ingredients like these, this Nutella Cheesecake is only ever going to be delectable.
Lucy x
Nutella Cheesecake Recipe
Serves a good 8 people, it's rich
You will need a 20cm or 23cm loose bottomed tin and a hand or stand whisk
250g Digestive biscuits
75g amaretti biscuits or chopped hazelnuts if you prefer
75g soft butter
400g Nutella
500g cream cheese, I used full fat
60g icing sugar
Pouring cream to serve
Take your chosen tin and butter super generously.
In your food processor or a bag and a rolling pin crush the digestives and 25g of either the amaretti biscuits or chopped hazelnuts. You want a sand-like texture here. Add the soft butter and a tablespoon of your Nutella and process again, or if you used a bag mix the crumbs and the butter and Nutella until you have a wet sand texture.
Tip these into your buttered tin and press the mixture into an even layer. Pop it in the fridge while you get on with the filling.
In a bowl with a spoon or the bowl of your stand mixer with a paddle attachment mix the cream cheese and the icing sugar until well mixed. Add the rest of the Nutella and mix again until you no longer have any streaks of cream cheese showing, just a bowl of glossy brown mixture.
Scrape this onto your chilled base and spread into an even-ish layer. Sprinkle the rest of the crushed amaretti biscuits or chopped hazelnuts onto the cheesecake top and return to the fridge and chill for at least 4 hours, if not overnight.
Turn out of the springform tin and serve fridge cold with some pouring cream in beautiful, great big slices.
Any leftovers will keep for 2 to 3 days, well covered, in the fridge.