Crema di Limoncello Recipe
Spring has sprung and our minds turn to all things bright and beautiful. Lemons and their sour freshness being at the top of that list. Who am I kidding, it's a bank holiday weekend, the heating's on and it's pissing with rain. Spring, my arse. But here in the fantasy world of food blogs, we can play pretend whenever we like. Today's Friday Cocktail will take you to a place of holidays, lakes, fresh air, elegant beaches and pasta. This may take just over a month to make, but in a month's time you will be holding *several* glasses of Italy's finest Crema di Limoncello in your tiny frostbitten hand.
I adore lemons and all things lemon flavoured, however, I have always steered fairly well clear of Limoncello. The taste, for me, was akin to the smell of the handy wipes you are given on an aeroplane to have a good clean up after your nasty inflight meal. This may be because I had only ever tried the tiny shots of yellow battery acid handed out with bill after mediterranean holiday suppers. This Crema di Limoncello is a whole other story. This is Limoncello, and then some. You start by infusing vodka, or the strongest spirit you can lay your hands on, with fragrant lemon peels. After a tantalising month of jar shaking, this wonderful citrus liqueur is blended with vanilla, cream, milk and sugar to create a creamy, lemon dream liqueur. I had never heard of Crema di Limoncello before, but once I read the recipe on the wonderful Manu's Menu website, I was hooked before even tasting a drop. Now I have tasted it, I can confirm it's creamy, sweet, but not too sweet, with the most amazing lemony vanilla fragrance. Not a whiff of a wet wipe.
Don't be alarmed by the vast quantity of liqueur this recipe makes. Believe me when I say, it really won't last as long as you think it will. Mine has only been ready two weeks and already my thirsty family and friends have helped us drink half of it. I will certainly be whipping up another batch for those long, heady summer evenings sitting in our newly decked garden. In reality, the likelihood of a balmy evening is about as likely as our garden being done before the winter sets in. We can but dream over here in food blogging land.
Enough with the being British and talking about the weather, and more of being Italian with our wonderful lemon based liqueur. Get going on this fairly speedily as it will take about 6 weeks in total, if you can bear to wait that long.
Take a large jar and give it a bloody good wash and dry. Then wash your lemons and peel using a wide vegetable peeler, taking care not to include too much of the bitter white pith, just the vibrant yellow skin.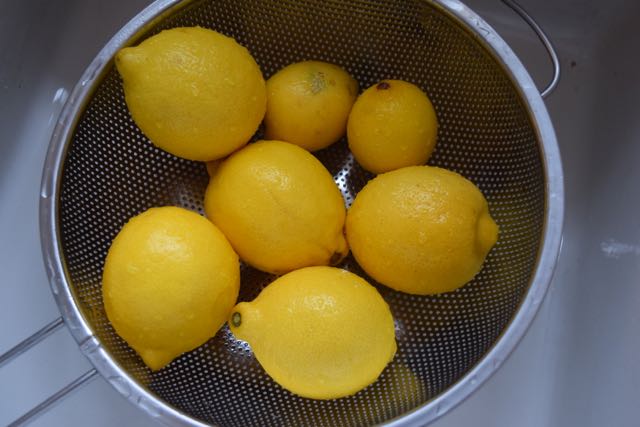 I got some lovely big fat lemons from a new local green grocers.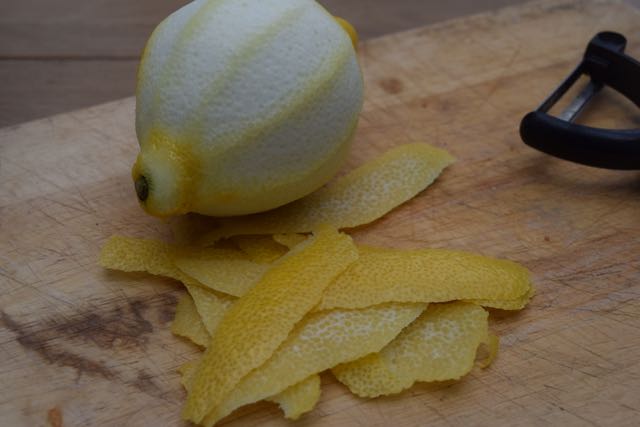 Add the peels to your nice clean jar then pour on the vodka. The original recipe called for 95% proof grain alcohol, but they don't sell it on Ocado, so I just used Vodka.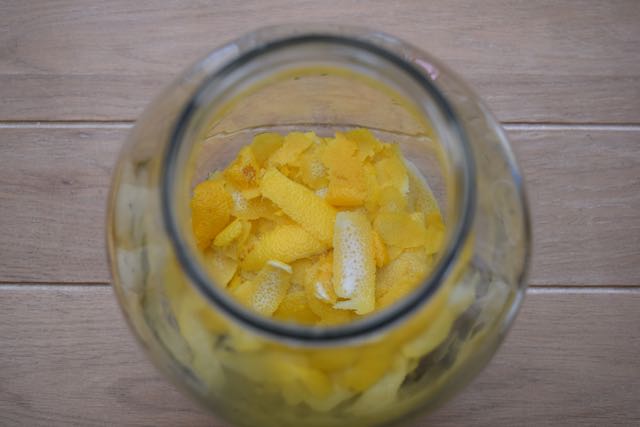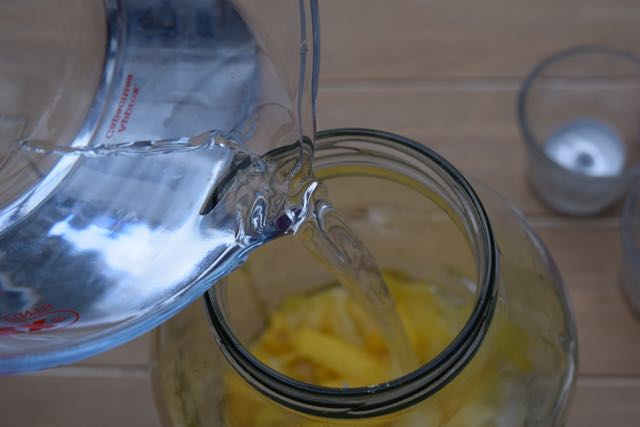 Secure the lid tightly then give the whole thing a good shake then leave somewhere cool and dark *anywhere in the UK* for 30 days, shaking occasionally to ensure everything is infusing nicely.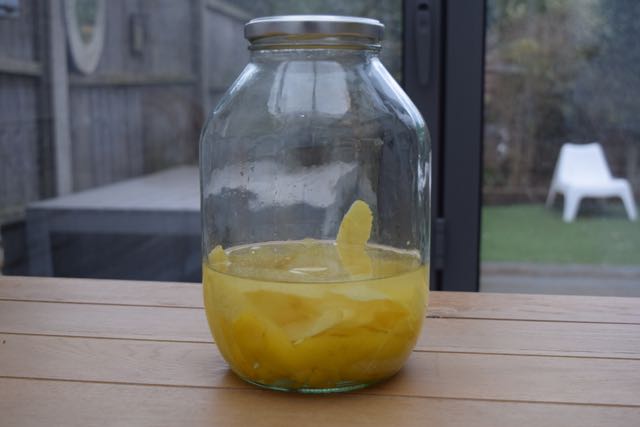 Once the wait it up, it's like Christmas all over again. Take your jar and remove the lid to the joys of an overwhelming fragrance of the canary yellow lemon vodka.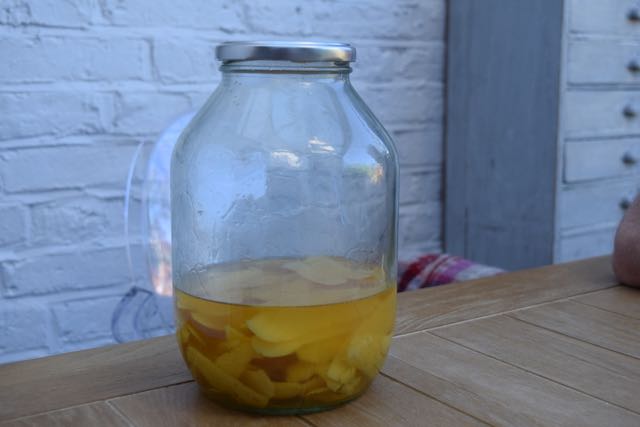 Now for the Crema part. Take a large saucepan and toss in the one or two vanilla pods, split lengthways then pour in the milk and cream and finally the vast ton of caster sugar. But don't dwell on it too much, this does make two litres.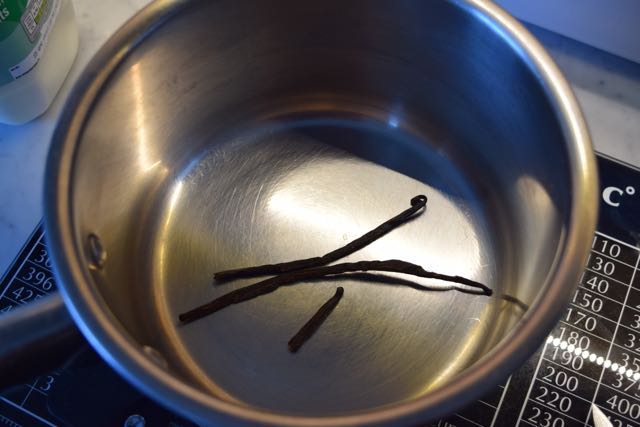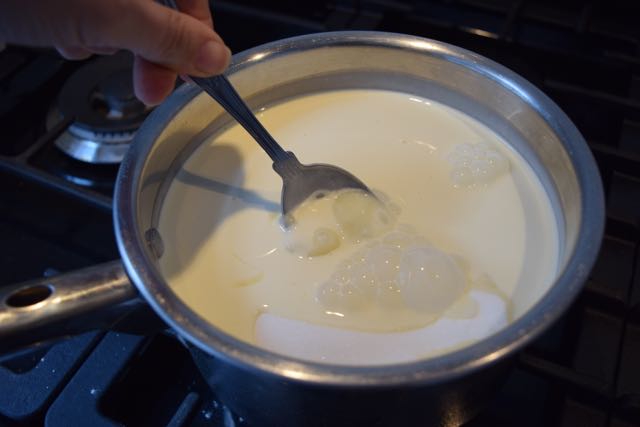 Over a low heat, bring this sweet and creamy panful up to the simmer, just until the sugar has dissolved.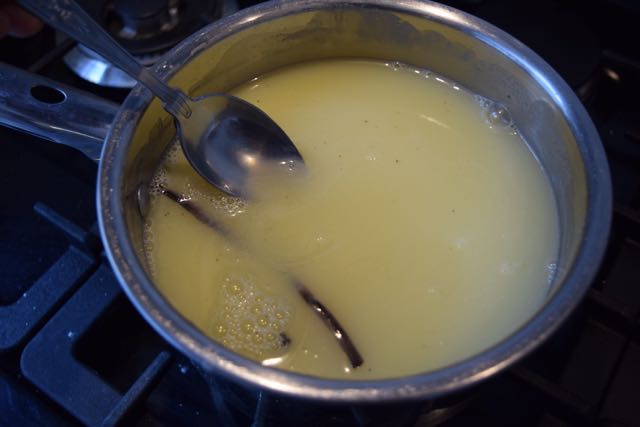 Now pour this into a jug/jugs and leave to cool.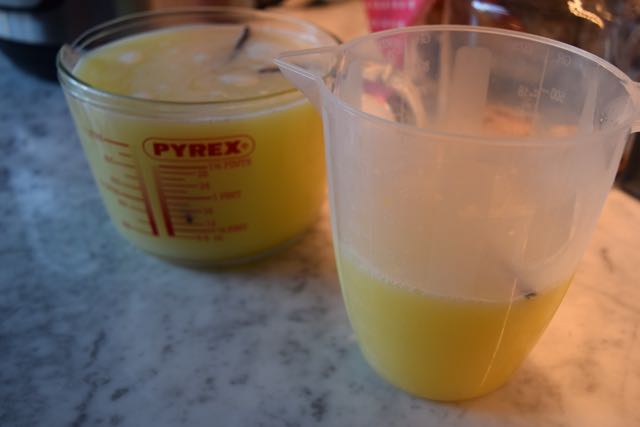 When the sweet cream is cool, pour it, vanilla pods and all, into the lemon vodka mixture.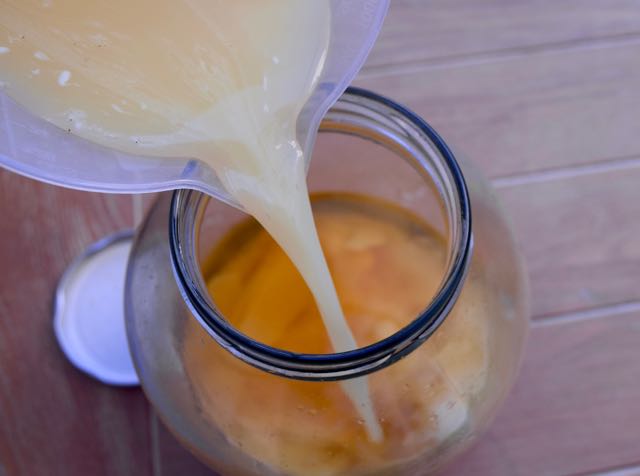 Put the lid back on and give the mixture a good swill around until both mixtures are blended.
Now, strain the whole lot through a fine sieve and decant into your chosen bottles. I think this makes around two litres, as this is a half gallon jar. Good lord, what a terrible mix of imperial and metric measurements that was. And I am no mathematician that sentence took a lot of Googling.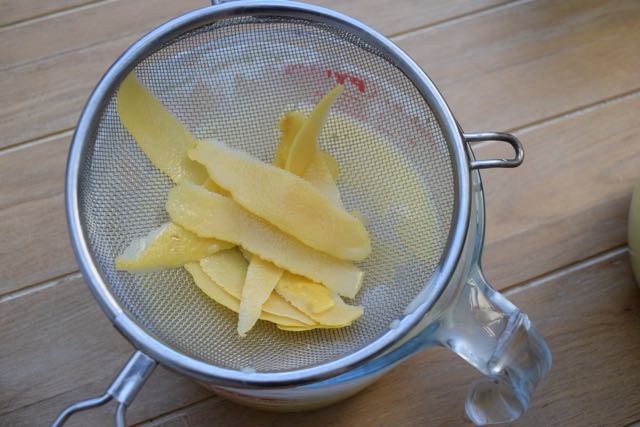 Ta-dah.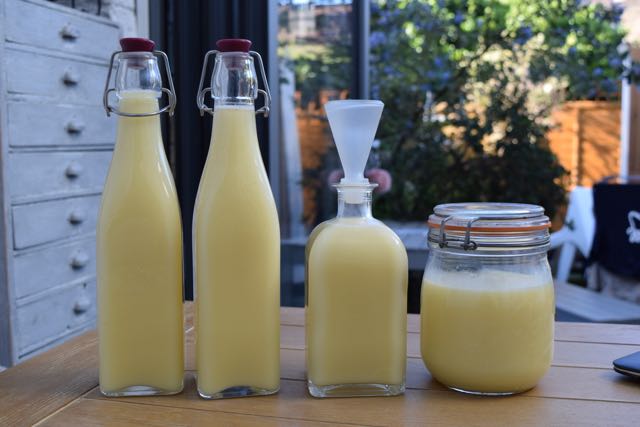 What a motley selection of bottles you see before you. I wasn't sure how much the recipe was going to make and had only bought two new bottles so had to improvise with the rest. Put this in the fridge for a further week to 10 days before drinking. I have to say it was a very scant week before I made a start on this.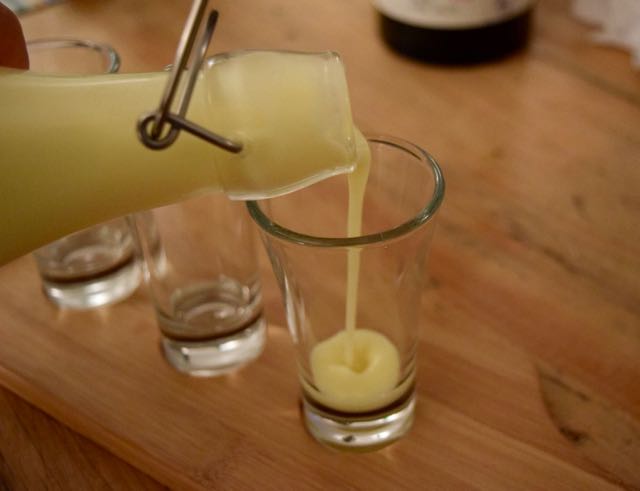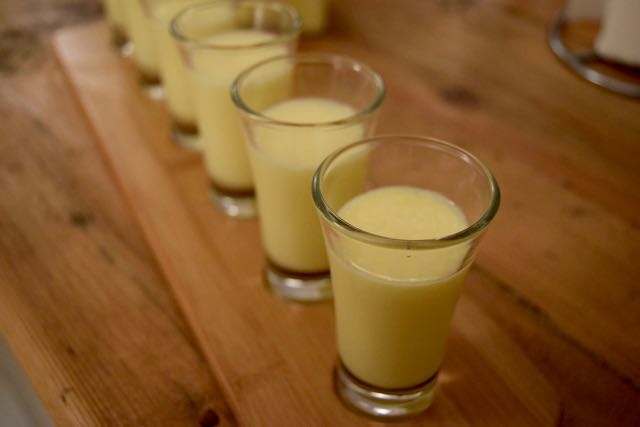 This Crema di Limoncello is everything I hoped it would be. Creamy, lemon and vanilla scented, rich and fresh. This is a low maintenance, easy to make, hugely rewarding drink. Hurry to get some on the go in time for summer. If we ever get one.
Happy May Bank Holiday weekend.
Lucy x
Crema di Limoncello Recipe
Makes a lot, around 2 litres, but you will want that much once you've tasted it
You will need a large jar and some decorative bottles to serve the liqueur in
6 to 8 unwaxed large lemons
650ml vodka
500ml double cream
500ml milk, full fat or semi skimmed
1 kilo caster sugar
1 or 2 vanilla pods, size dependent, split down the middle with a sharp knife
Give your large jar a wash in soapy, boiling water and dry. Next, wash your lemons thoroughly then pat dry.
Using a wide vegetable peeler peel the lemons, trying not to include any of the bitter white pithy part of the peel.  Add the lemon peel a large jar then pour in the vodka. Give the jar a really good shake, put the lid on tightly, then leave somewhere cool and dark for 30 days.
When the agonisingly long 30 days is up, pour the cream and the milk into a large saucepan. Split the one large or two smaller vanilla pods down the middle then add these to the pan along with the sugar. Stir well then heat over a low heat until the mixture is just coming up to the boil and the sugar dissolves. Pour into one or two jugs and leave to cool completely.
Take your jar of lemon vodka and once the cream mixture has cooled, pour onto the lemon vodka. Give the whole jar a really good shake then strain the mixture through a fine sieve, removing the vanilla and peels and pour into your chosen selection of bottles.
Store in the fridge for at least 10 days before drinking. This will keep in the fridge for a couple of months if you don't drink it over a long weekend.