Reeces Vodka Recipe
Last weekend we were invited to some dear friends for a belated Thanksgiving Lunch. When I asked what shall I bring, my lovely friend texted me a photo of a Drunken Peanut Butter Cup which I took as a delicious challenge. Needing no more encouragement than that I set to making my Reeces Vodka. As you well know, I love all things peanut based so what could be more delicious than a peanutty chocolate vodka combo. I won't go into details, but the Thanksgiving lunch turned into dinner and almost breakfast by the time we left and the rest is a blur. No little thanks to this divine Reeces Vodka.
I love getting out my marinating jar, even though mine did still smell of Sambuca, so I had to give it an extra special clean. I then filled it with vodka and slightly less than two packets of Reeces Pieces due to the fact that I ate a big handful of them. All that's then needed is a good shake and a long night of waiting before your Reeces Vodka is ready. I then fashioned it into a Peanut Butter Cup featuring such delights as some creme de cacao, milk and chocolate syrup. It was delicious and terribly moreish, which is evident by the fact the bottle didn't last the night. My hangover, however, had quite some longevity.
Christmas is all about fun drinks and tasty tipples with friends. We have road tested this with friends and I can confirm, despite the after effects, this Reeces Vodka is all of the above.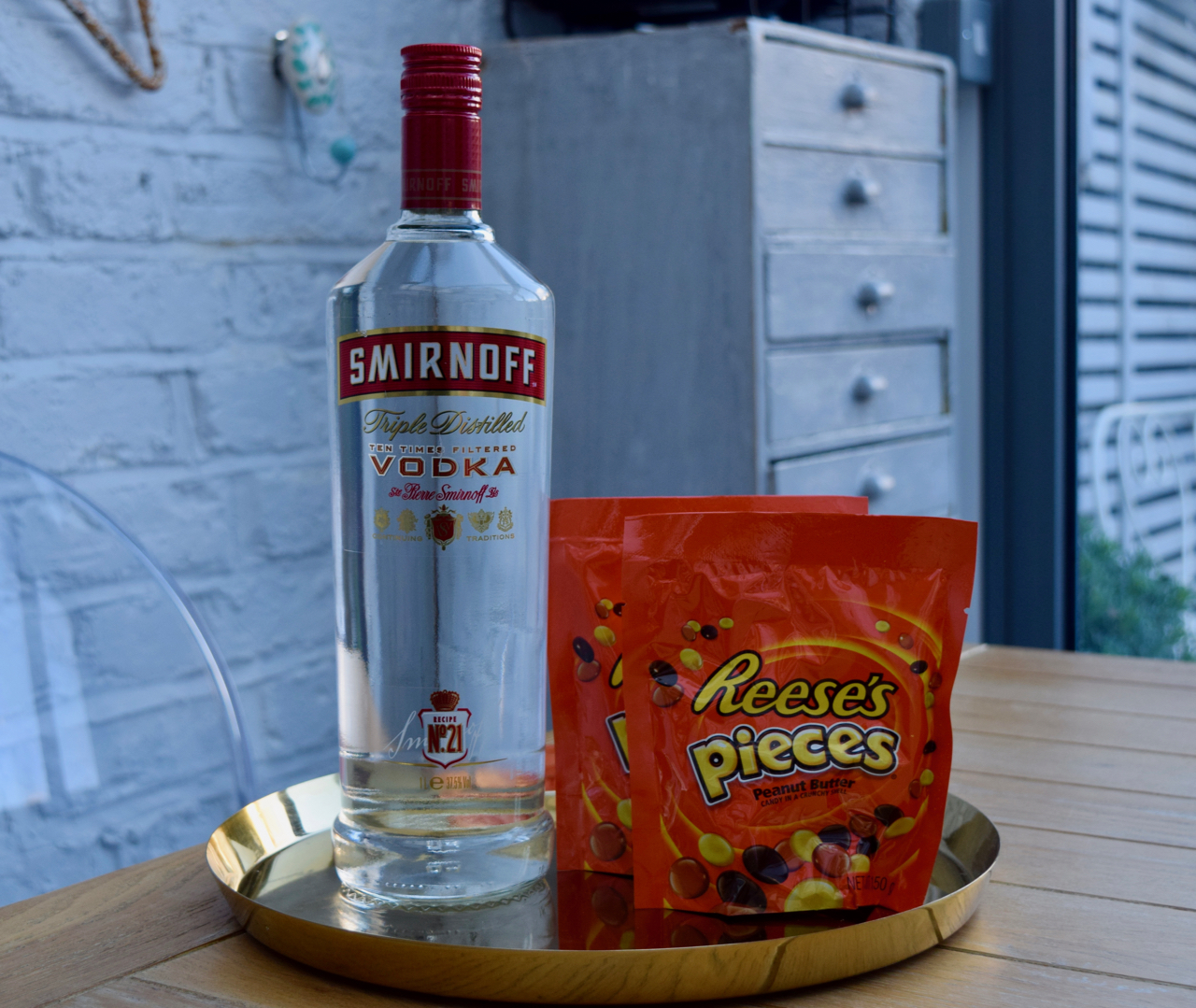 What a super looking line up for this lovely festive drink. This could definitely be served as a dessert course just over ice, but  it also makes the most wonderful cocktail.
It is totally kerfuffle free to make. All that's needed is a great big jar and a firm hand to shake it with. So, make a start with the aforementioned jar and pour in the vodka.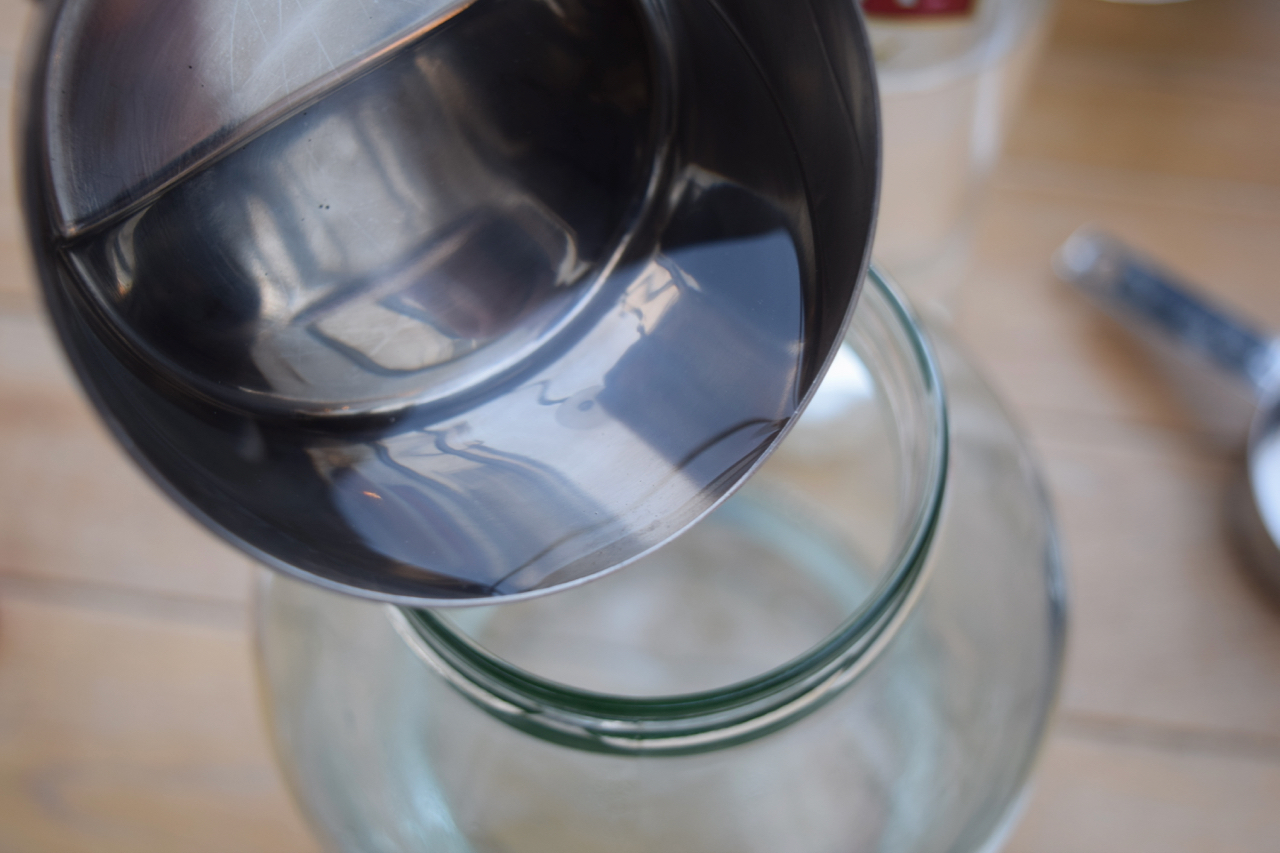 Next, drop in the Reeces Pieces and give the jar a really good shake to start the Reeces Vodka making process.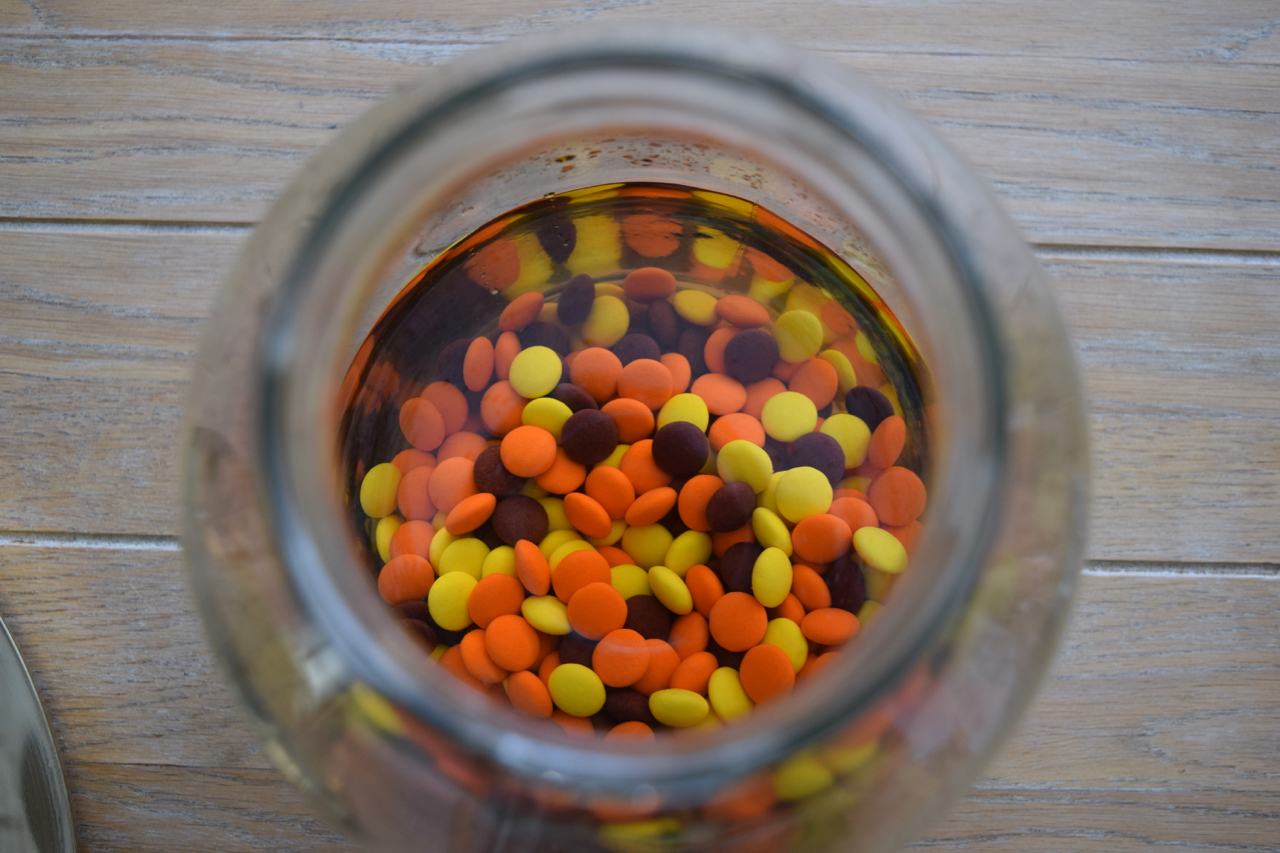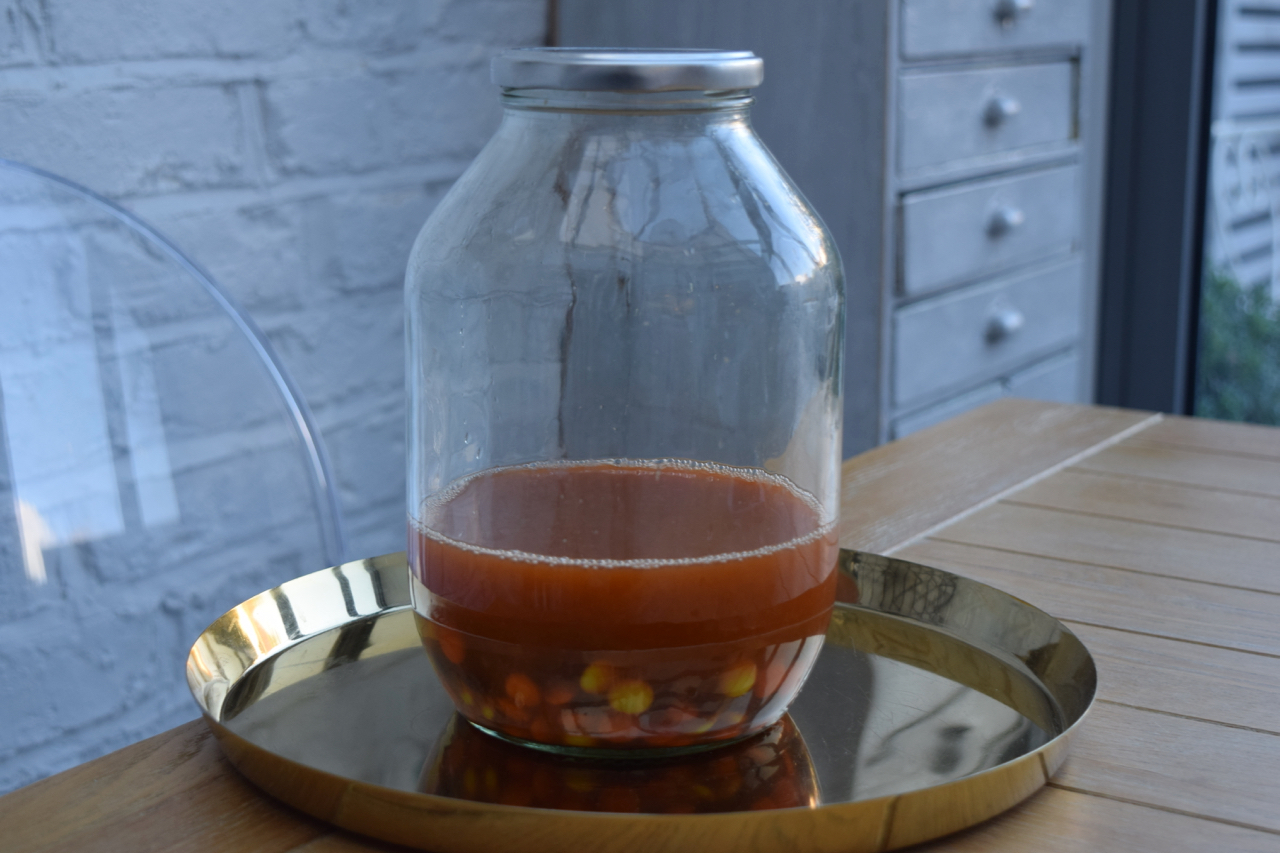 Leave this overnight, in the fridge if it's warm or just on the counter if it's cooler.
The next day, give your jar another shake then strain out the residual bits of peanut chocolate left in the bottom.
What you do with these is up to you. I ate them, of course, and they tasted delicious, but if you know what restraint is, do feel free to throw them away. Pour the flavoured vodka into a presentation bottle then you are ready to make your Peanut Butter Cup.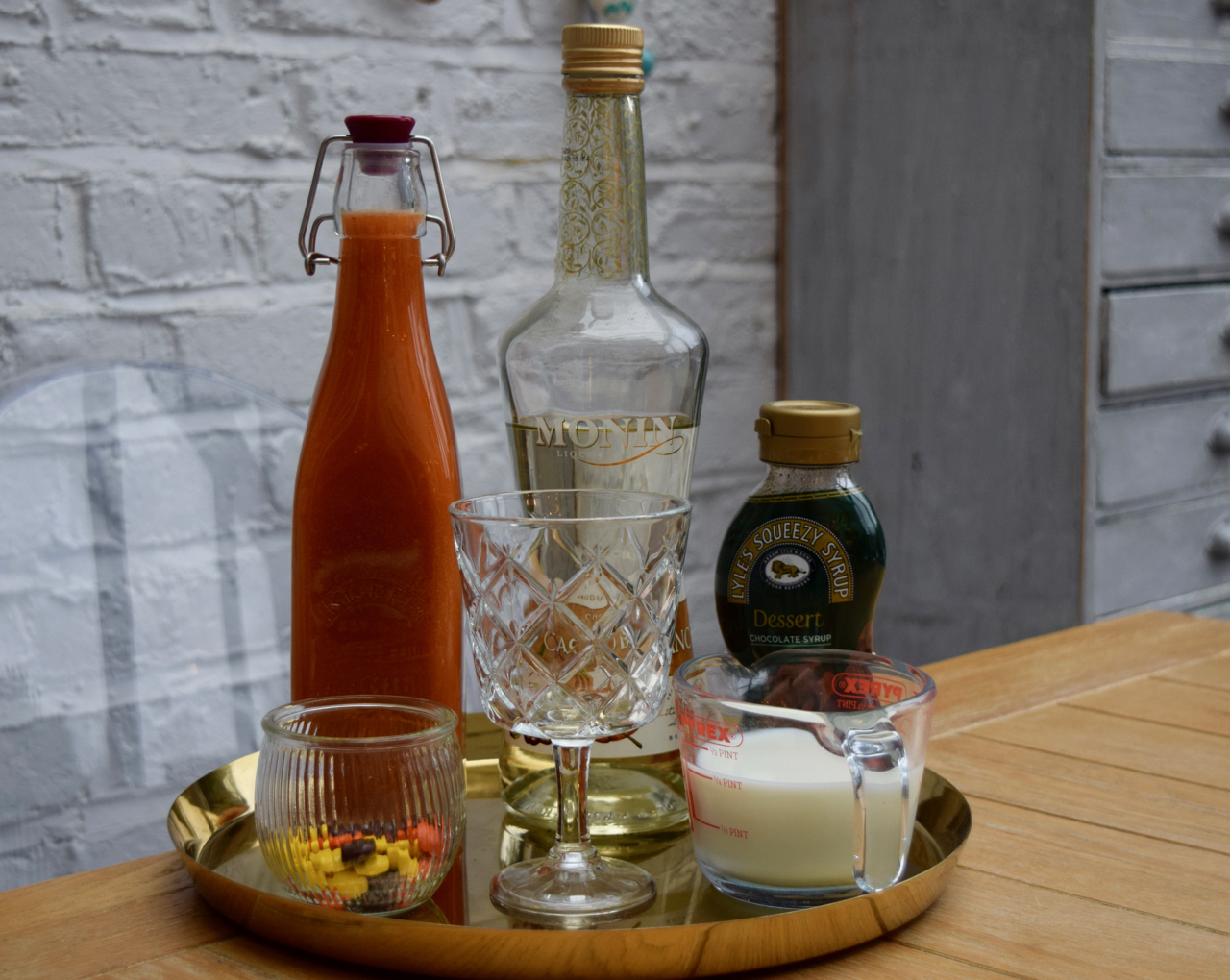 This is basically pudding on a tray. There's the star of the show, the Reeces Vodka, looking like a bottle of carrot juice. Start on your Peanut Butter Cup with a cocktail shaker, ice and a generous measure of your Vodka.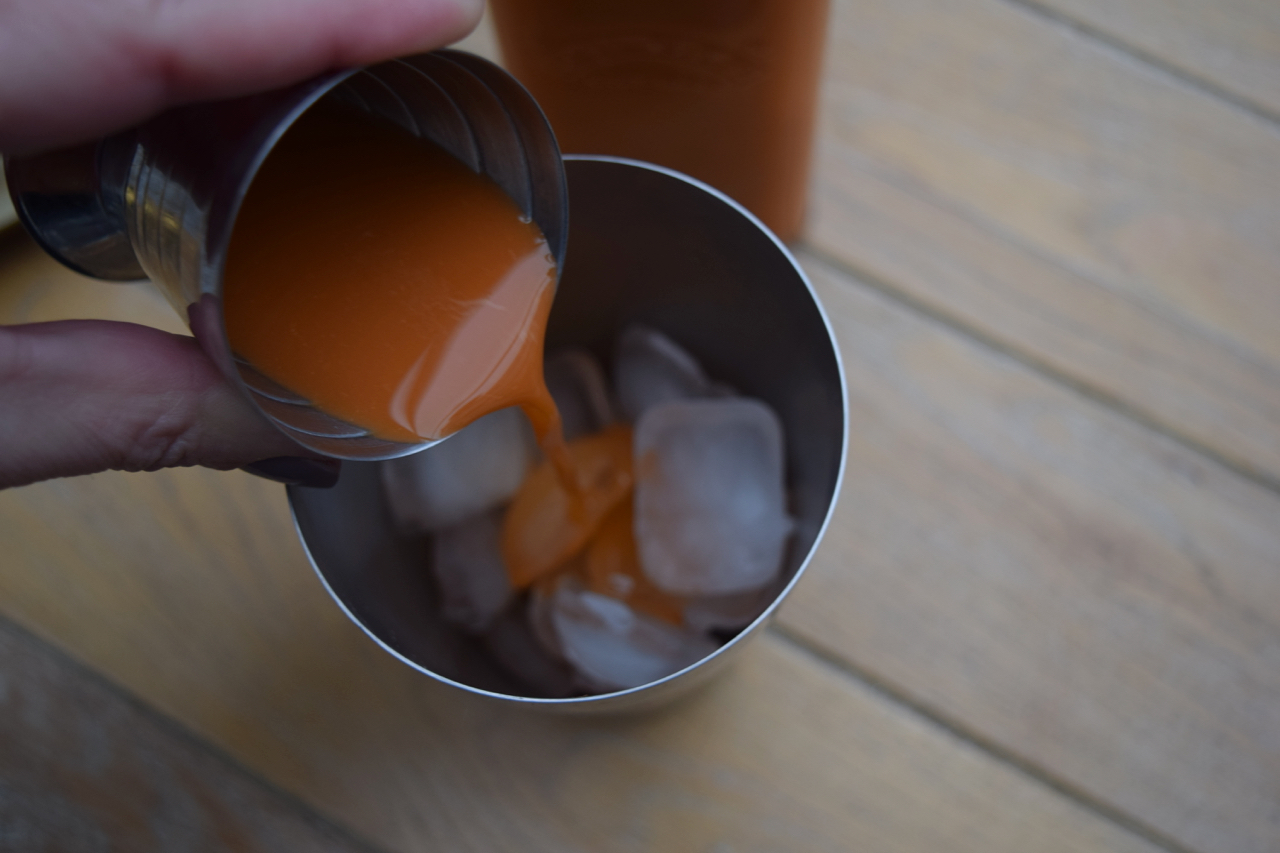 Now, pour in the milk and the creme de cacao for added chocolatey flavour.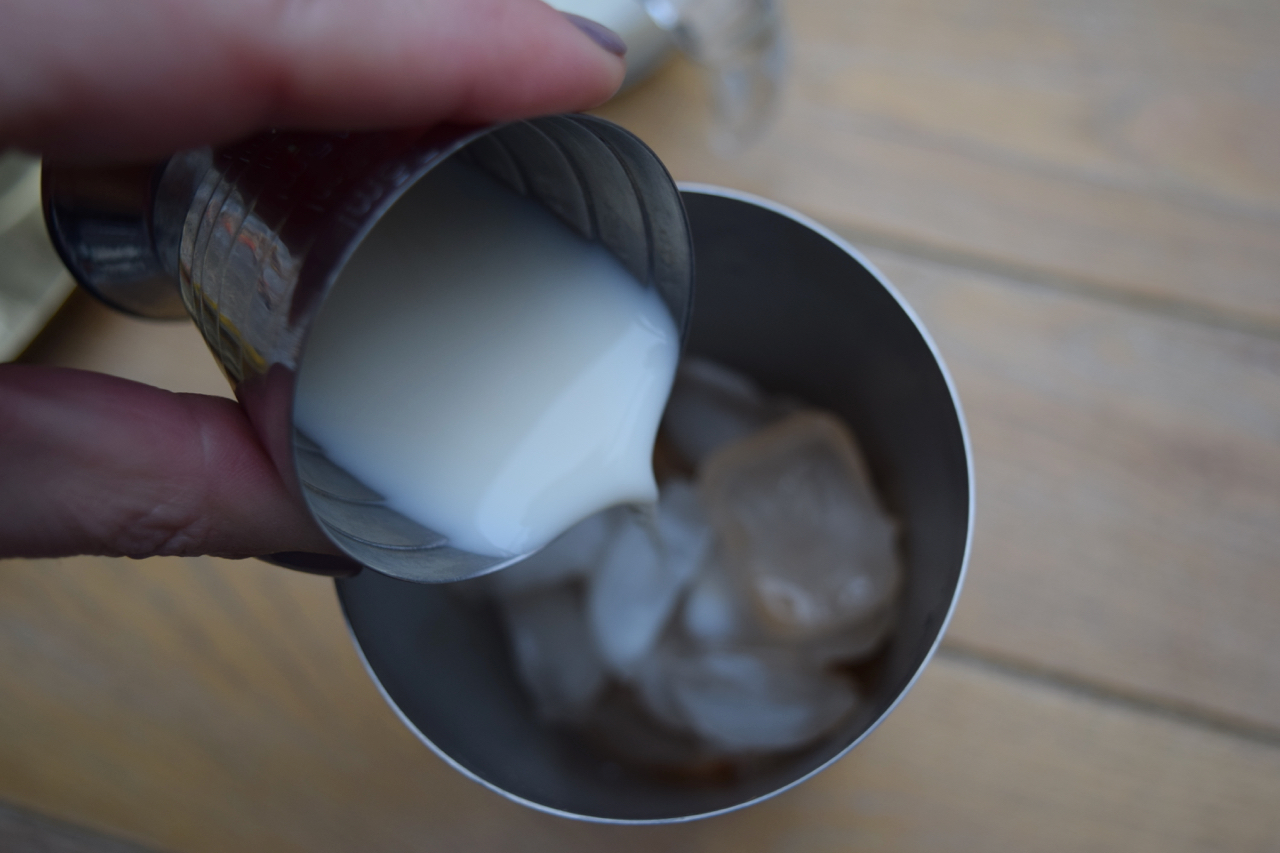 Shake until totally chilled then set to coating the rim of the glass with either chocolate sauce or Nutella. Then dip it into some crushed Reeces, because, well why wouldn't you?
Shellac manicure holding up well there.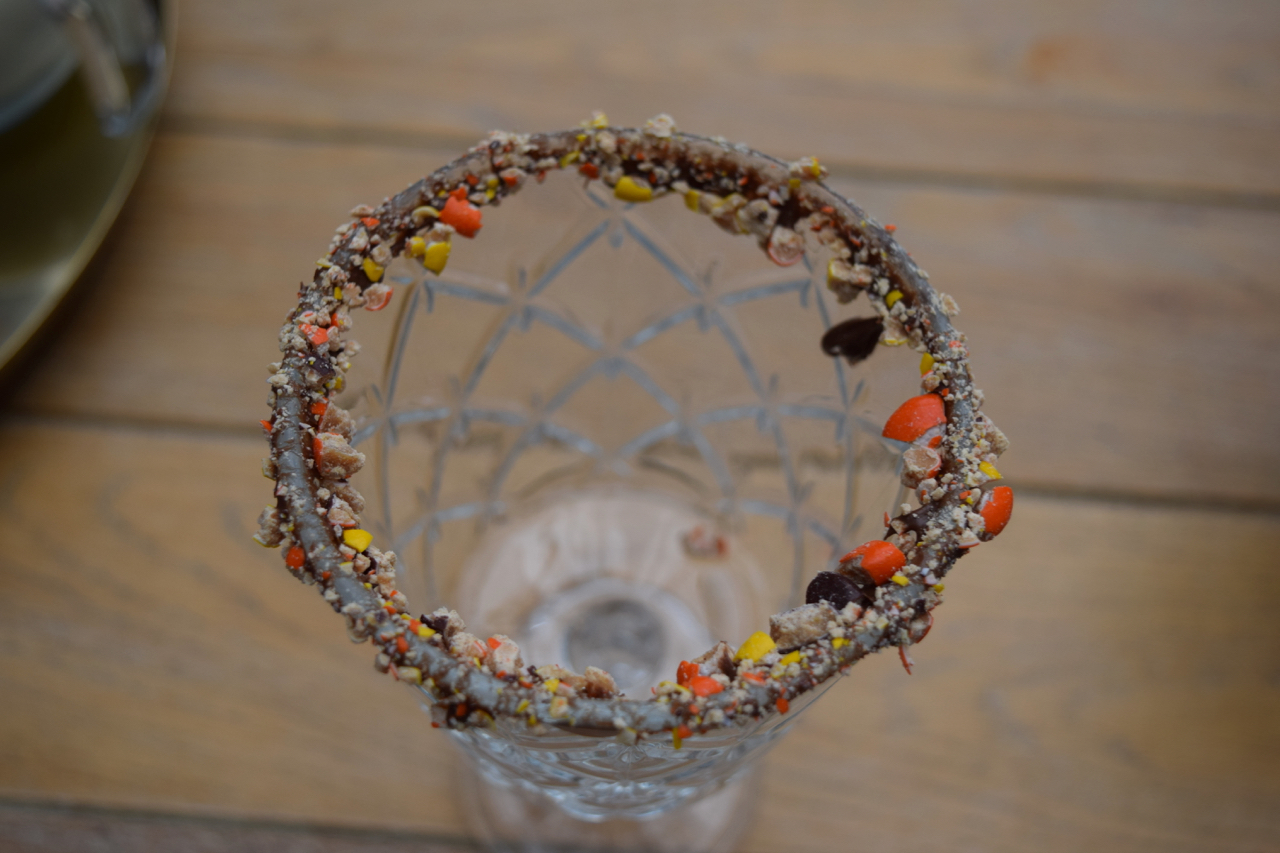 Now, measure in a tablespoon of chocolate sauce into the bottom of the glass. Then, pour on your chilled cocktail being careful not to disturb the Reeces rim.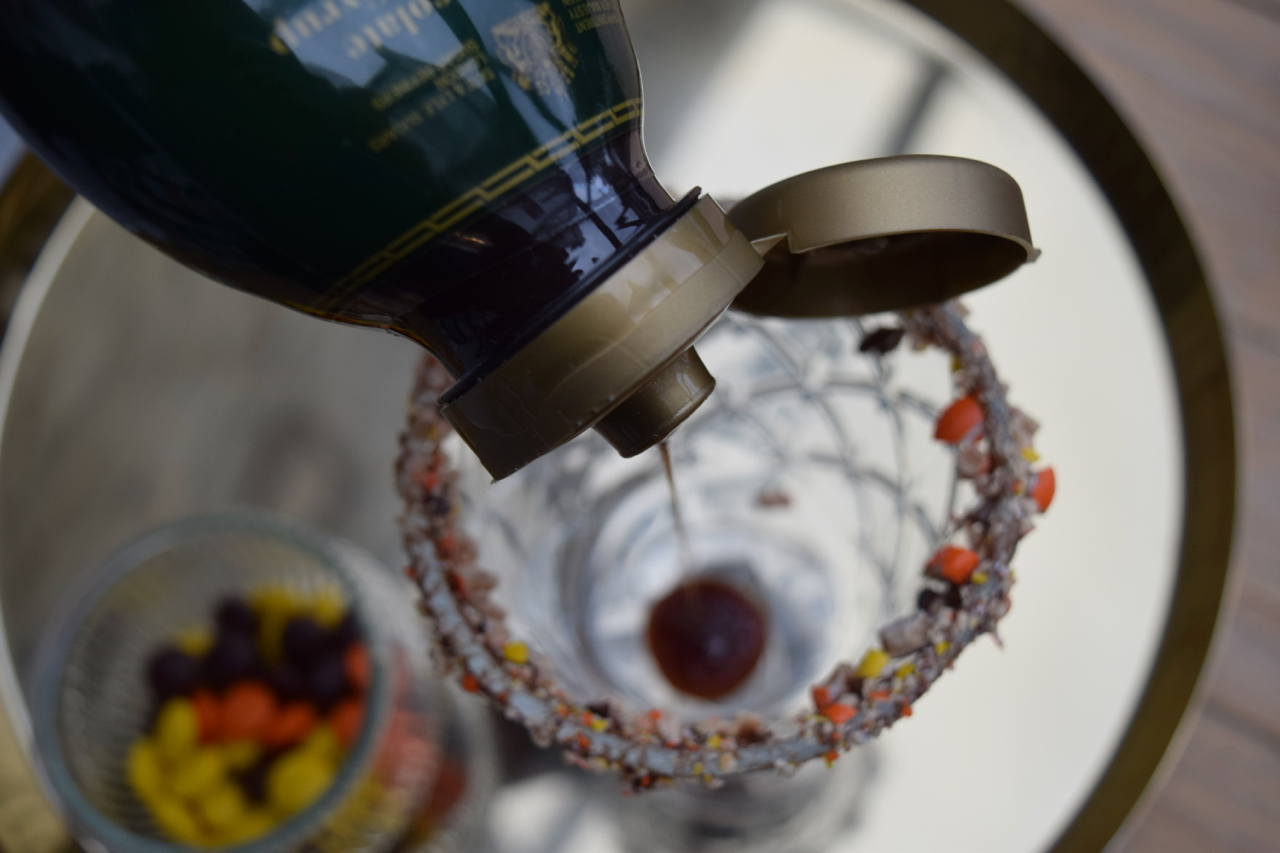 And that's it, your Peanut Butter Cup is ready for devouring. It's up to you if you want to stir it before drinking or spooning the sauce up at the end with a spoon. Both is good.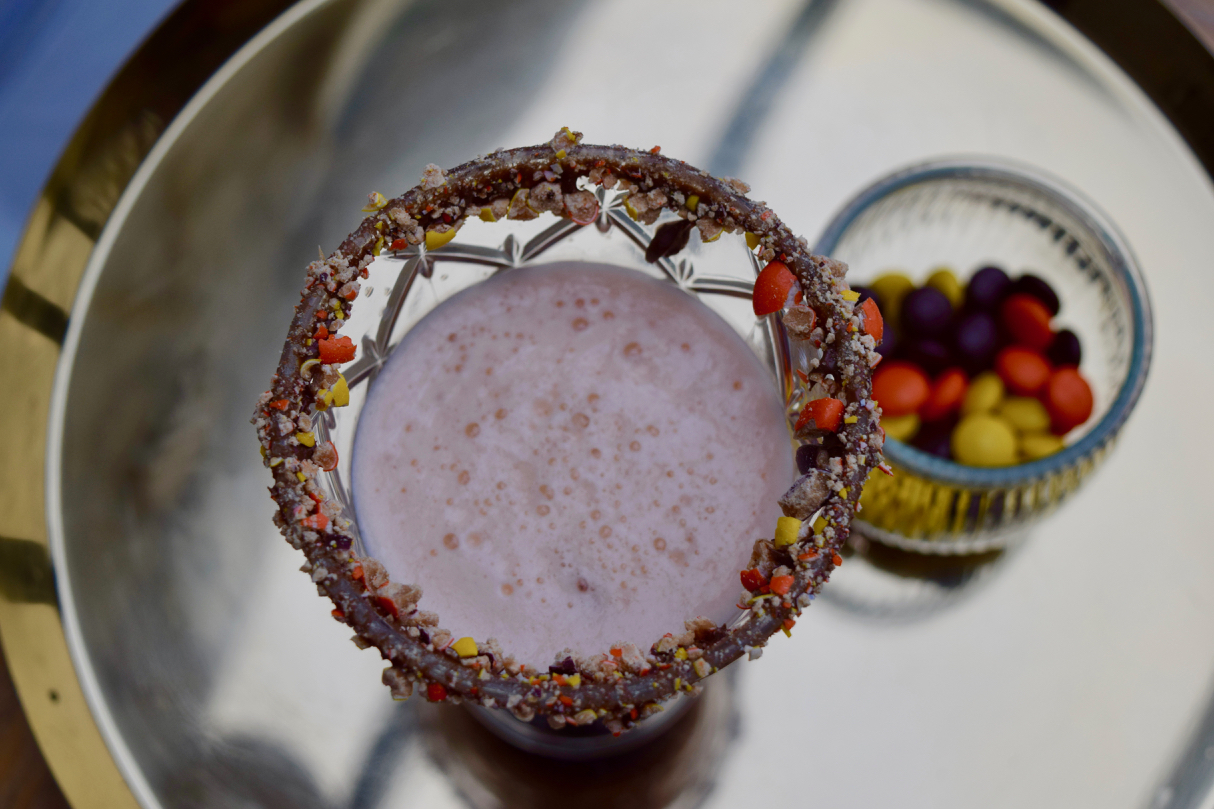 This isn't the usual fruit infused, more traditional after dinner drinks. It's so much more than that and a great talking point for your festive table. Just make sure you share it with friends, it's way too much for one.
Have a super weekend.
Lucy x
Reeces Vodka Recipe
Makes around 600ml
You will need a large jar and a storage bottle
600ml vodka
2 x 150g bags Reeces Pieces
Peanut Butter Cup
Makes 1
You will need a cocktail shaker and a cocktail glass
Ice
50ml Reeces Vodka
50ml milk
25ml Creme de Cacao
1 tablespoon chocolate sauce, plus some for the edge of the glass
Crushed Reeces Pieces to decorate the glass
Take a large jar and measure in the vodka. Tip in the two packets of Reeces Pieces and give the jar a good shake. Leave over night, refrigerating if it's a warm night. The next day strain the Reeces Vodka into jug then decant into a bottle. There will be left over vodka soaked Reeces, needless to say, I ate these, but feel free to discard if you like.
For your cocktail, add some ice to your cocktail shaker then measure in the Reeces Vodka. Add the milk and creme de cacao then shake until chilled. Take your chosen glass and dip the rim into some chocolate sauce then dip that into some crushed Reeces.
Measure a spoonful of chocolate sauce into the bottom of the glass then pour in the shaken cocktail. Stir before enjoying at your leisure. The vodka is best kept in the fridge and consumed within a month. Ours didn't last the night.