Breakfast Smoothie Recipe
I am not a breakfast kind of girl as a rule. As an ex smoker (four long, long years now), breakfast for me was always a couple of Marlboro Lights and a cup of sweet tea. So, to summarise, I am hopeless at eating breakfast and I can never really think of what I want to eat.
I am more often than not in a hurry, so breakfast is whatever I can get hold of immediately, and eat while I am on the go. Which is where this delicious smoothie has replaced 3 pieces of white toast with marmite. Not that there's anything wrong with toast and marmite, but I am now well over 40, trying to lead a moderately more healthy lifestyle and usually wanting to lose a pound or two and will not do so breakfasting in this fashion.
So, dust off your liquidiser, handheld stick blender or food processor and have a crack at Breakfast Smoothies. I would suggest this recipe is a sort of template for things you a) have to hand/in your cupboards and b) like to eat – it can be a bit suck it and see if you like. I started off using skimmed milk, but any other sort of milk would work, including almond milk which is wonderful, so creamy and flavoursome. Then the next step is to freeze a few bananas. I tend to do this anyway because my children only like green bananas so the minute they have a hint of brown, they are cast aside. In the past these bananas have been used to make banana cake, but now, they are destined for healthier futures.
I then add frozen berries – blueberries, raspberries or strawberries, but again, choose a fruit of your choice, but frozen is best, as it makes the smoothie more of a thick shake. Oats are next for bulk and peanut butter for protein, but again, you could add yoghurt at this point if you would prefer. And then, comes the Kale. Kale you say, are you mad? I think I may be, but thats for another time. You can't even taste the Kale once its liquidized (Clyde who loathes greens loves this smoothie) so don't balk at the thought of including it. And it's a 'super food', so surely worth slinging it in if you have it. Spinach would also make a good addition.
I think, given the recipes I usually post on Lucy Loves, you'll realise healthy eating is not always at the top of my list. But I am genuinely excited about this recipe, and have been breakfasting on this smoothie for the last couple of weeks. Its super tasty, nutritious and fills you right up until lunch, eliminating any rogue buttery toast cravings.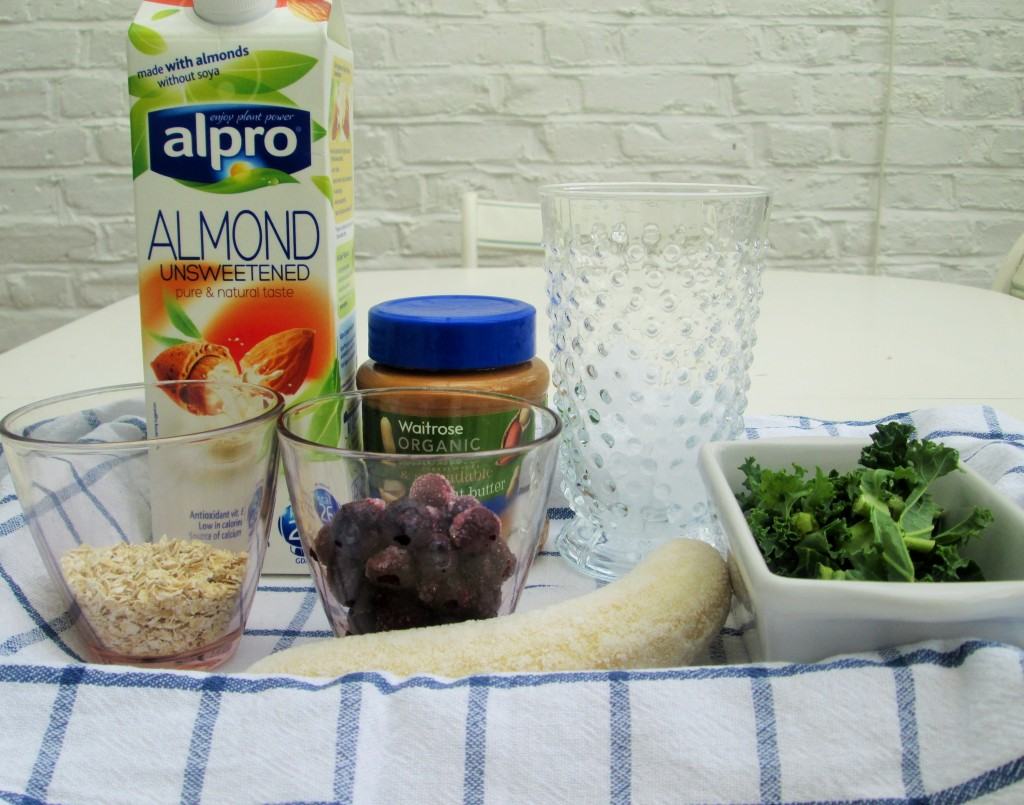 Take your blender and add all the ingredients. If you have one which is capable of crushing ice, stick 4 or 5 cubes in, as this will keep it well chilled, especially if, like me, you are taking it to work with you, or may be drinking it later.
Blitz the hell out of the mixture, ensuring the frozen fruits are well blended. If your smoothie is too thick, go ahead and add some more milk to thin it down. I like the gloopy texture, as it seems more of a meal than a drink and makes it good and filling.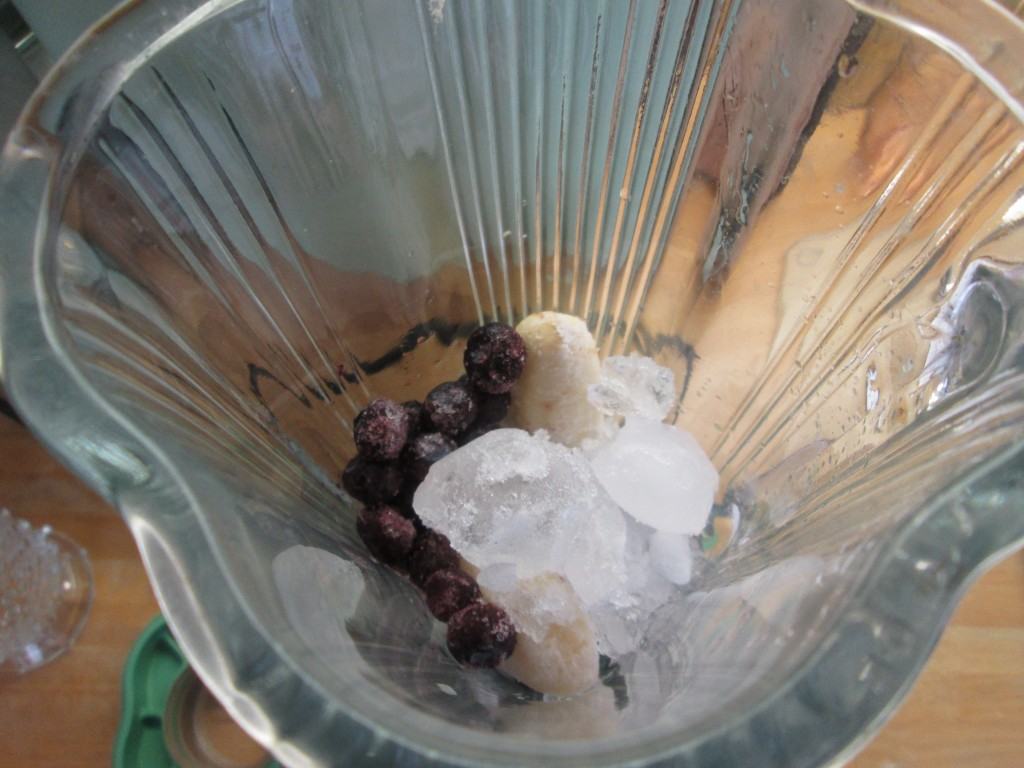 The addition of kale will ensure the breakfast smoothie is never going to win any beauty competitions. It will look like pond water, just get over it and move on. It tastes super creamy and if you need more sweetness, add a drizzle or two of honey. Or another half a frozen banana.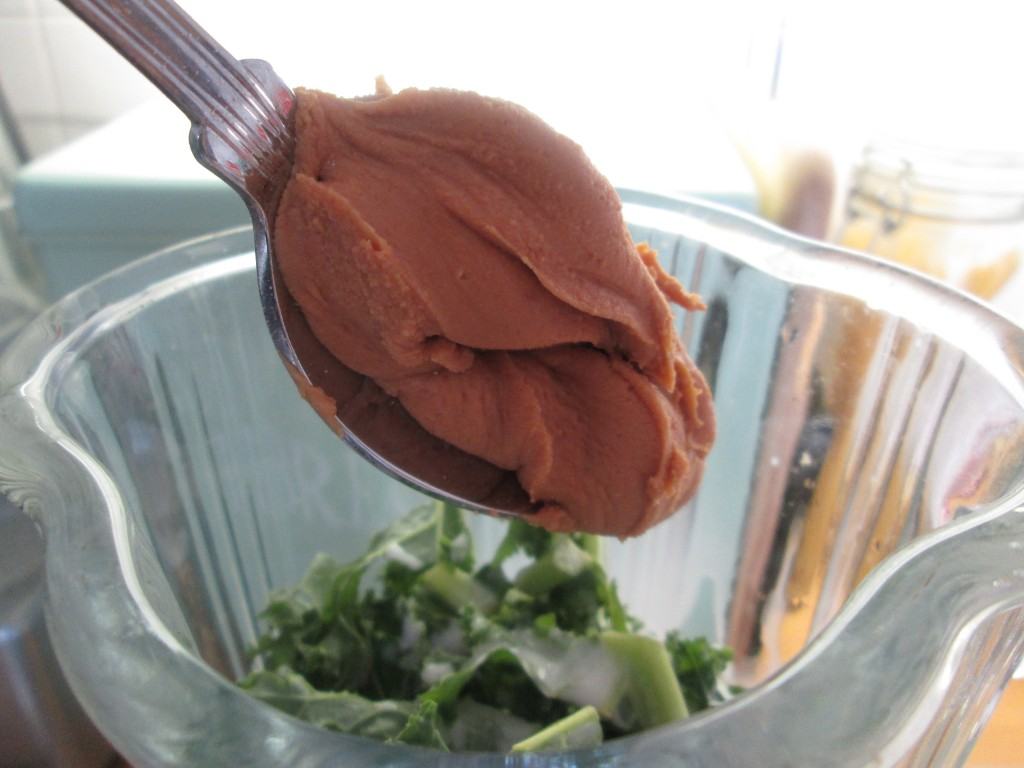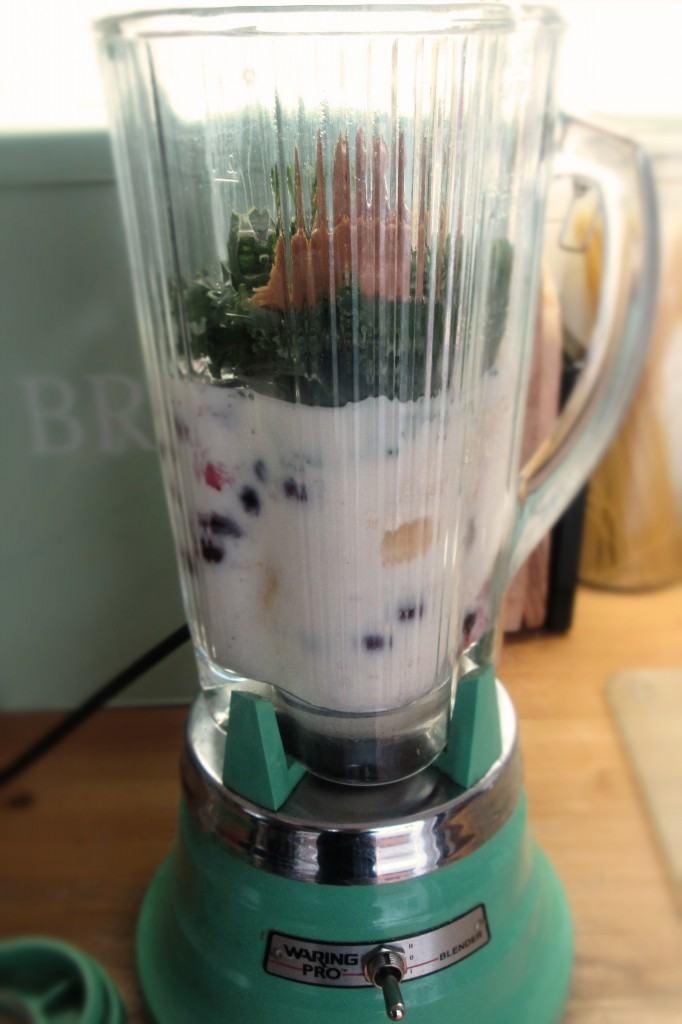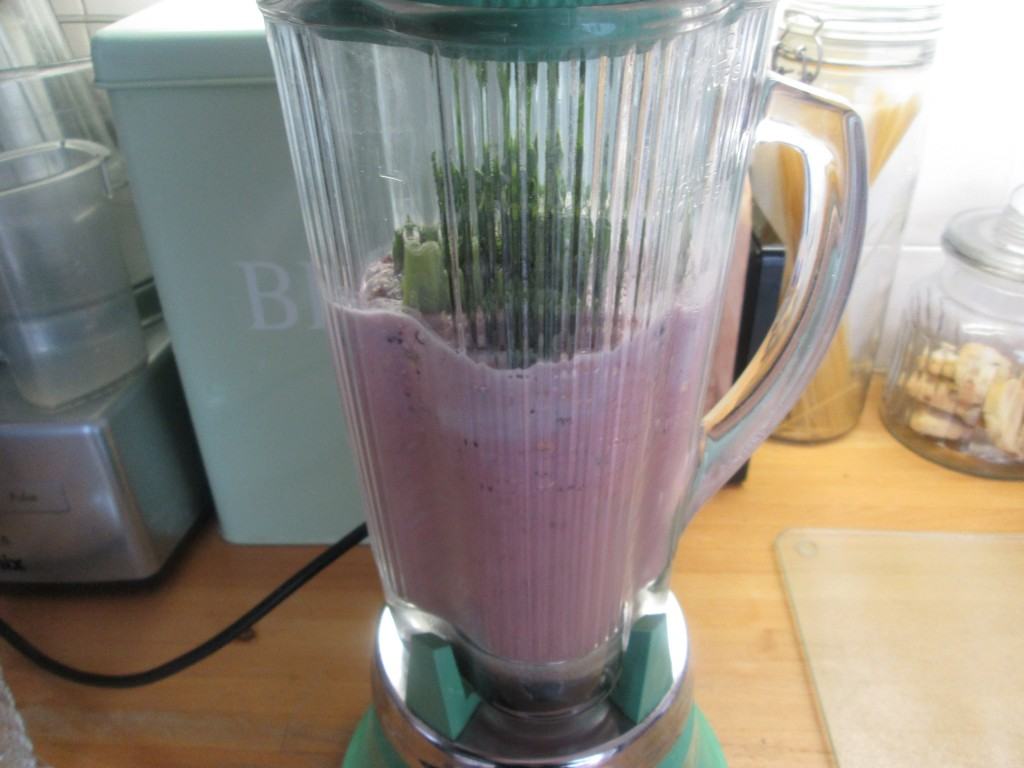 Pour into a glass, or one of those fancy travelling cup efforts if you are taking it to work with you.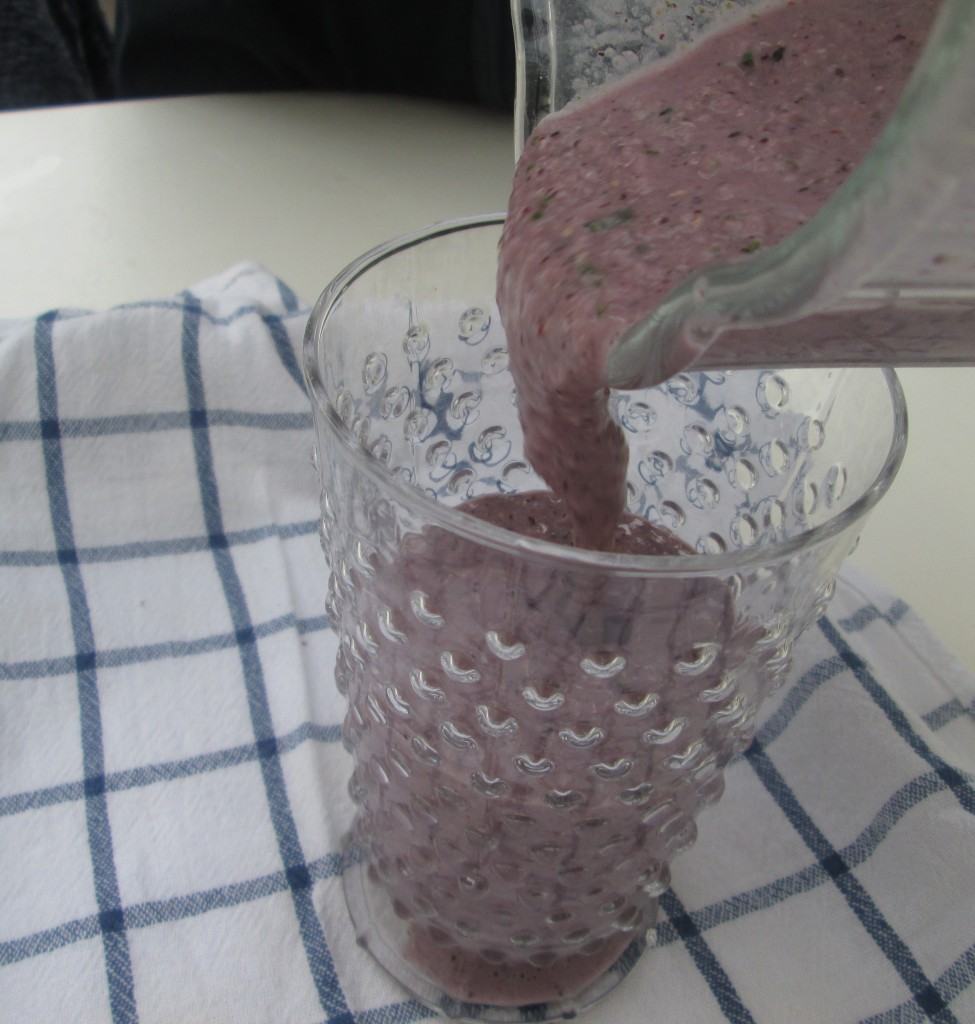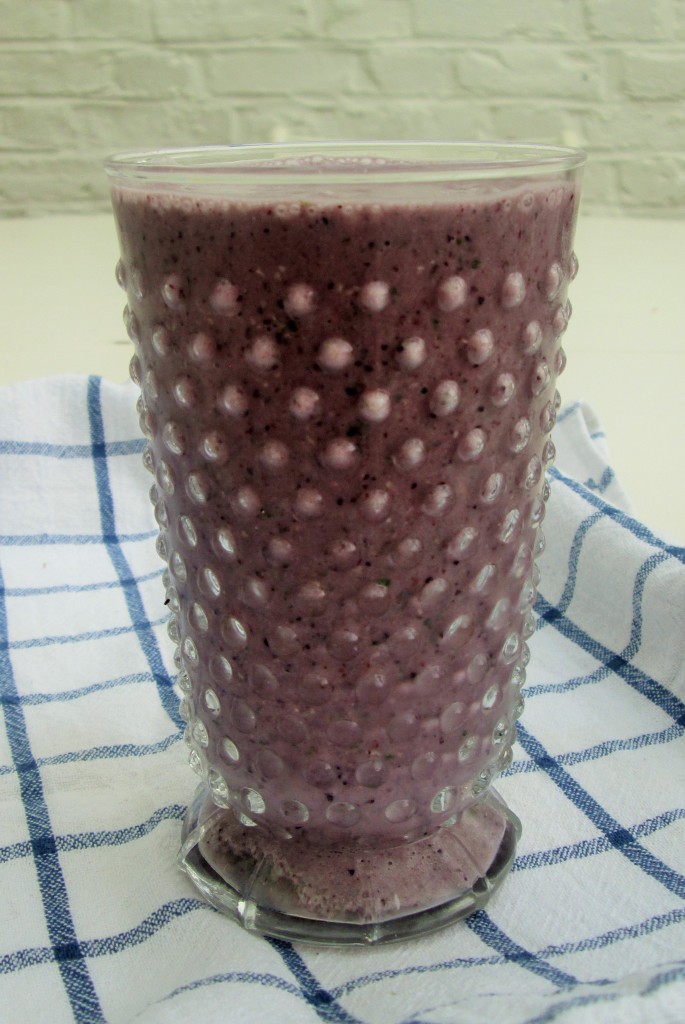 So, here we go, use this as a sort of smoothie template and let me know what you have put in yours. Its tasty and nutritious, much more so than a couple of fags and a cuppa, lets face it.
Lucy x
Breakfast Smoothie Recipe
Serves 1
You will need a liquidiser, hand held stick blender or food processor and a glass or travelling drinks cup
300mls milk (skimmed, semi skimmed or full fat, almond, coconut, soya – you choose)
2 tablespoons oats
1 tablespoon of peanut butter or yoghurt (flavoured or plain would work here)
A handful of frozen berries (by handful I mean 3-ish tablespoons of blueberries or about 8 good sized strawberries or raspberries)
A frozen banana
A handful of raw kale
4 or 5 ice cubes
Honey or agave syrup to sweeten, if necessary
As I mentioned, these are the things I like to add, but do mix and match as you wish
Blend all of the ingredients well, ensuring all the frozen bits are pulvarised and everything is evenly dispersed. If the smoothie is too thick, add a splash more milk. Keep in the fridge until needed or enjoy straight away. I have kept mine for around two hours before drinking, but I wouldn't reccomend keeping it sitting around for too long.