Greek White Sangria Recipe
At bloody last, I am on a day by day countdown to our summer holiday. The boys are done with school, Ted's standing by the door wearing a neckerchief holding his suitcase and I am tearing my hair out collecting currency, finding holdalls, panic dieting and weeping quietly into my rosé. I love going on holiday, what I don't love is getting ready to go on holiday. The whole family are mincing around compiling their holiday playlists while I do all the legwork required to even get us as far as the airport. However, I am not moaning because by the start of next week, I will have the sun on my face and all the feta I can eat for 10 days. So, today, in a final pre holiday flourish, the Friday Cocktail is a bloody great big jug of Greek White Sangria.
Clyde and I are quite the Sangria aficionados. Or holiday plebs, if you like. When on holiday, we are always excited to see a lovely jug of Sangria on the menu. We will shamelessly drink litres of the stuff, ignoring the raised eyebrows from local waiters. So, for a change of scenery, I decided to try this Greek White Sangria. It's not really white, because of the inclusion of the fruity apricot juice, but it does use white wine along with a couple of other tasty spirits. The Greek element is meant to come from Greek Brandy, such as Metaxa, but as I haven't actually been to Greece yet, I had to use the dog ends of my Spanish Brandy. Whichever brandy you use, this sangria is totally delicious. Fresh tasting, with a set of balls, while still being fruity and festive. This is perfect for a summer party and can easily be doubled for a crowd. I found apricot juice from Ocado, but if you can't, just go with peach or orange at a push. The inspiration for this tasty summer libation came via Delish, with thanks to them.
You have to have a holiday drink, it's the law, and for us, this Greek White Sangria may be just that beverage. Along with the Ouzo, Retsina, Raki and local wine we certainly won't be going thirsty.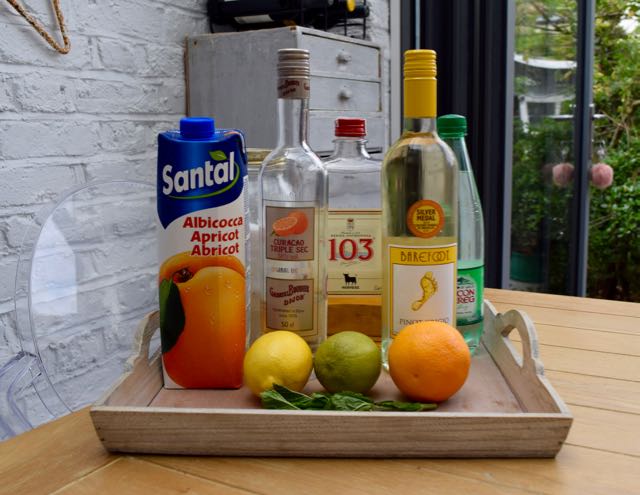 Here's the line up for the Greek White Sangria of your dreams. I used a cheap Pinot Grigio for mine, but just pick something cheap and cheerful, don't use your best Sancerre for this. I had Curcao Triple Sec, but any orange liqueur is perfect. You also need plenty of lovely citrus fruits for your garnish and some fresh mint, perhaps looking a little fresher than mine.
Make as start with this Sangria by taking a great big jar or jug. Add the sugar then pour in the orange liqueur and brandy, Greek, if you have it lurking from a holiday gone by.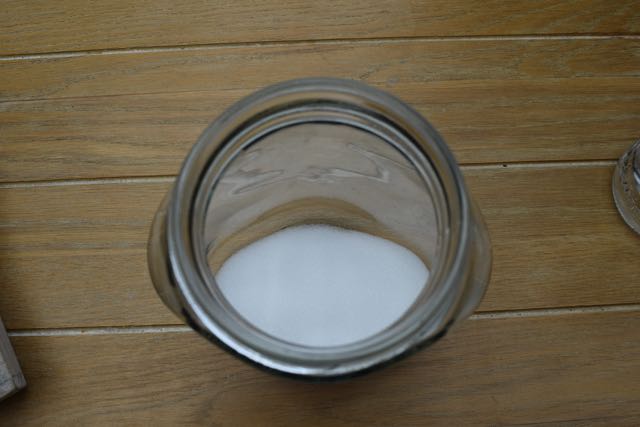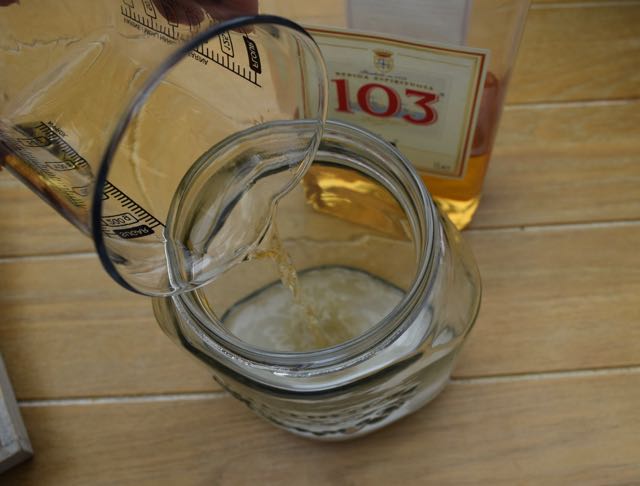 Pour in the apricot juice then top up with the whole bottle of white wine, decadent, but this does cater for at least 4 thirsty people. Like I said earlier, use whatever juice you can get hold of.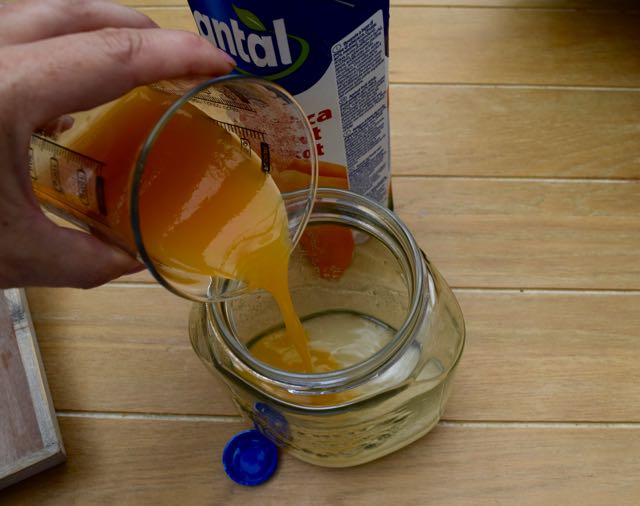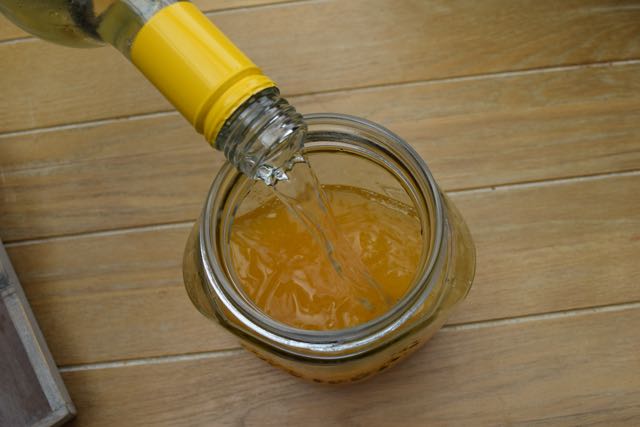 Give the jar a shake or the jug a good stir to make sure the sugar has completely dissolved. Leave in the fridge for at least two hours or up to 24.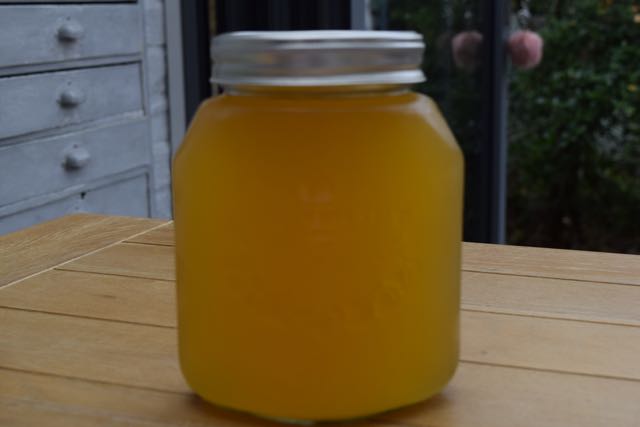 When you are ready to serve your Greek-ish White Sangria, prepare a large jug by adding a lot of ice, along with your sliced lemon, orange and lime. Add the finely chopped mint, not too many big bits are they'll get stuck in your teeth.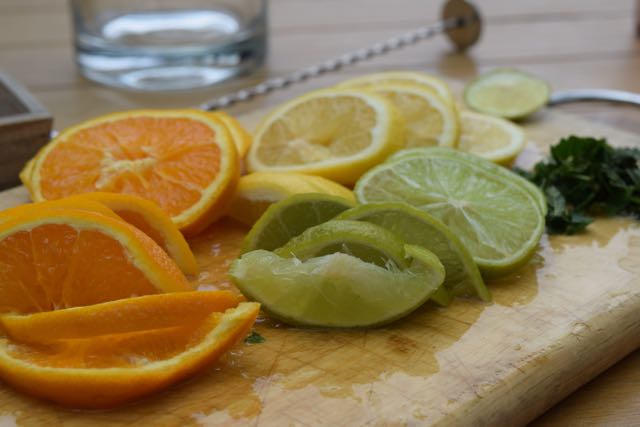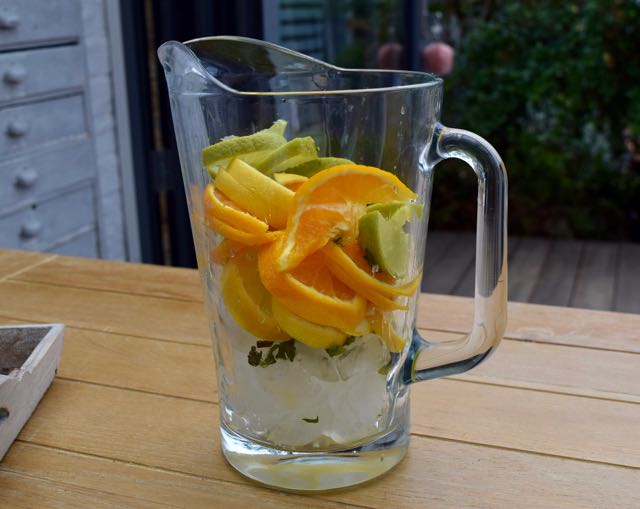 Pour in the wine mix then top up with a splash or two of fizzy or soda water, to taste.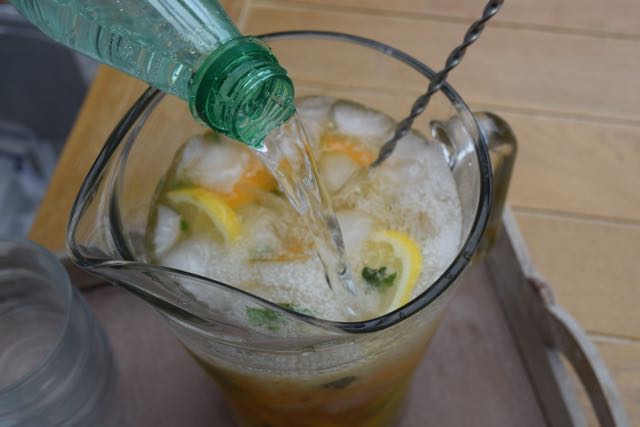 Give this a good stir then pour into tumblers, with more ice if it's super hot and you want your Sangria to stay nice and chilled. If it's just you, then tuck right in, from the jug, with a straw.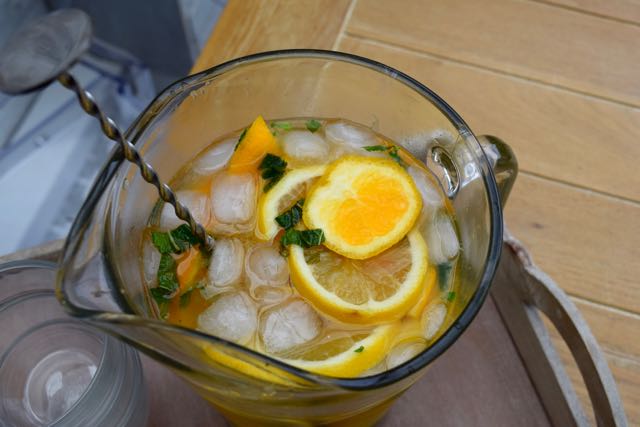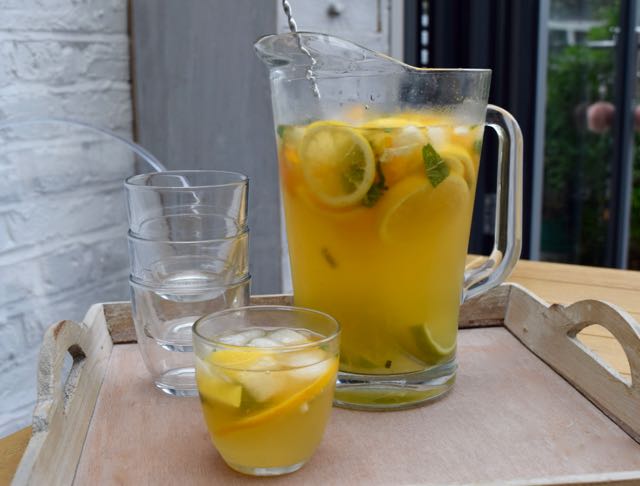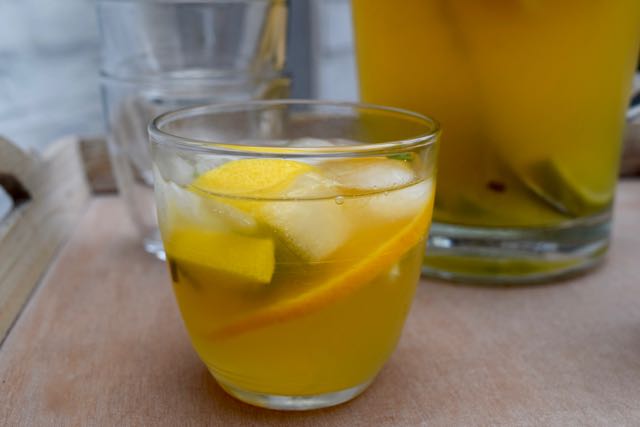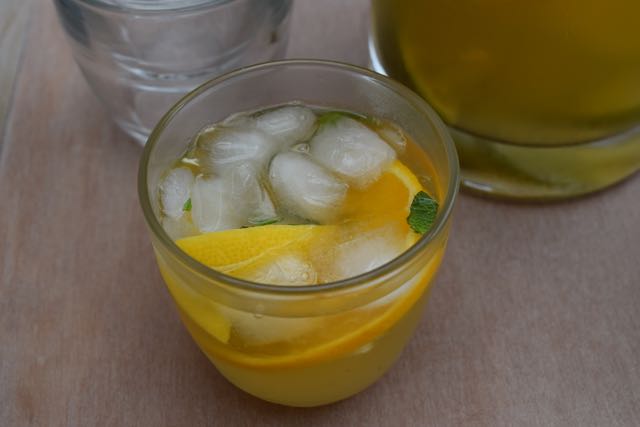 This is such a sunny drink, it could brighten up any grey English summers day. And grey is the forecast for the coming weekend, so you had better whip up a batch of Greek White Sangria pretty sharpish.
Bear with me while I have a little break for a week or two, but I'll be back, full of new ideas for us to enjoy super soon.
Lots of love
Lucy x
Greek White Sangria Recipe
Make a lovely great big jugful, to serve at least 4
You won't need any exciting equipment, just a big jug and some glasses
4 tablespoons caster sugar
1 bottle of white wine, not too pricey, but drinkable
60ml orange liqueur, Cointreau or Triple sec
60ml Greek brandy, or other nationality of brandy
125ml apricot or peach juice
Approx 250ml fizzy or soda water to top up
sliced lemon, orange and lime
Chopped fresh mint, to garnish
At least a couple of hours, if not 24 hours, before you wish to drink the Sangria take a large jug or jar which fits in the fridge and measure in the sugar, wine, orange liqueur and brandy. Finally add the apricot or peach juice and stir really well until the sugar is dissolved. Place the lid on or cover then put in the fridge for at least a couple of hours.
When you are ready to serve, take a large jug and add lots of ice. Add the sliced fruit and chopped fresh mint. Pour in the wine mixture, stir well then top up with some fizzy or soda water, to taste.
Pour into ice filled glasses with a extra sprig of mint. Sip in the sunshine.
SaveSave
SaveSave
SaveSave