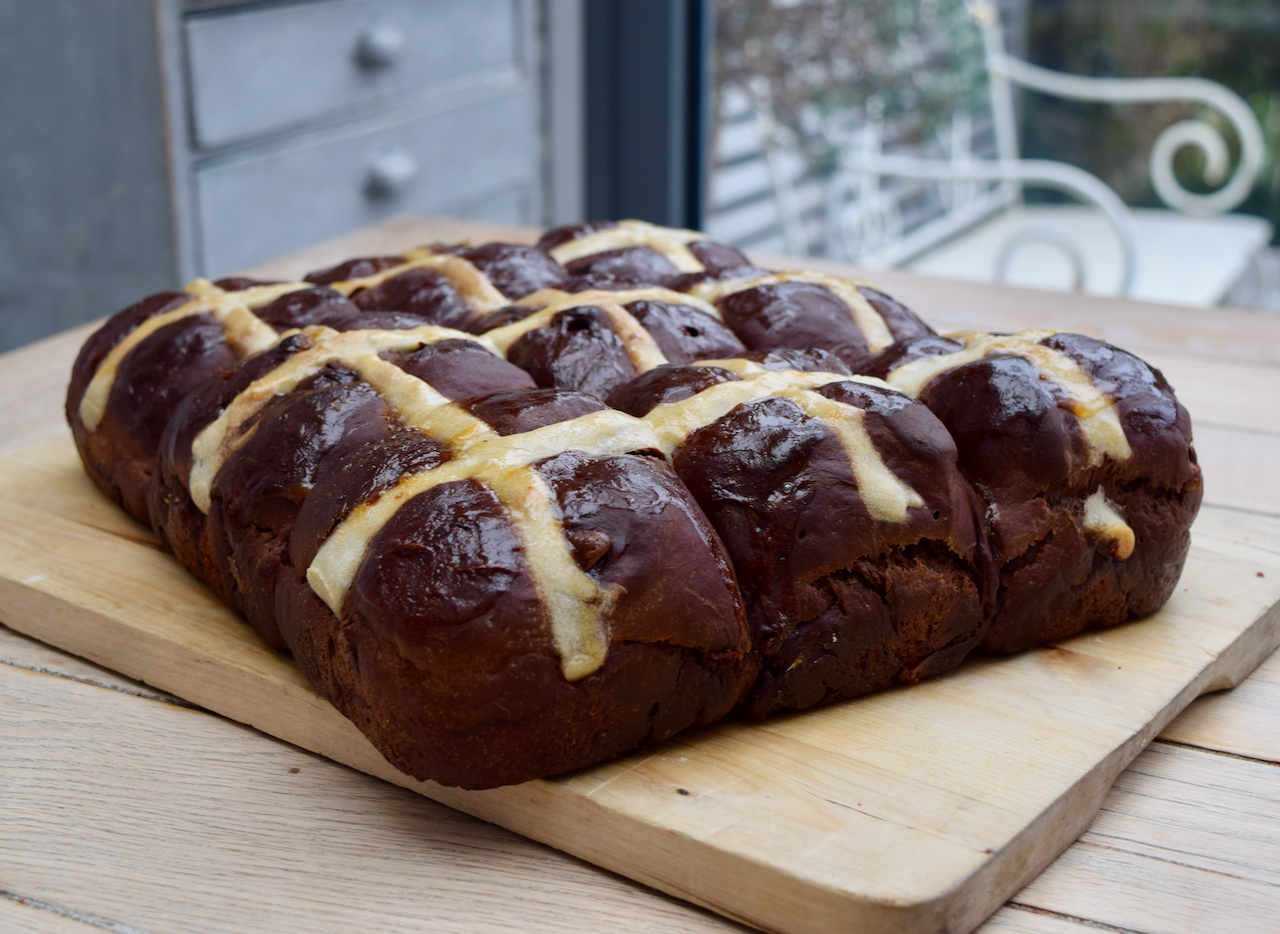 Double Chocolate Hot Cross Buns recipe
I, for one, am looking forward to the Easter break. I'm bloody knackered and cannot wait to put my feet up and eat lamb, buns and chocolate for a couple of days, not necessarily in that order. Easter is a lovely win bonus of a holiday, two extra days off, one of which I'll be spending time baking at least one batch, if not more, of these Double Chocolate Hot Cross Buns.
I am all over a regular HCB, but when my sister introduced me to a well known supermarkets choccie version, I knew I had to recreate them. And so, after several delicious experiments, my Double Chocolate Hot Cross Buns were born. These buns are soft, doughy, cocoa rich and studied with chocolate chips. And they're big; if you're making your own hot cross buns, then it's worth making them a decent mouthful. They take time to make, but not much effort, especially if you have a stand mixer to knead the dough. If not, kneading them by hand only takes ten minutes then you have plenty of time to enjoy the promised spring sunshine while they rise and then bake.
These rich, soft buns, are a total pleasure to make and eat. The kneading is quite therapeutic but eating them, slathered in butter, is the real Easter treat.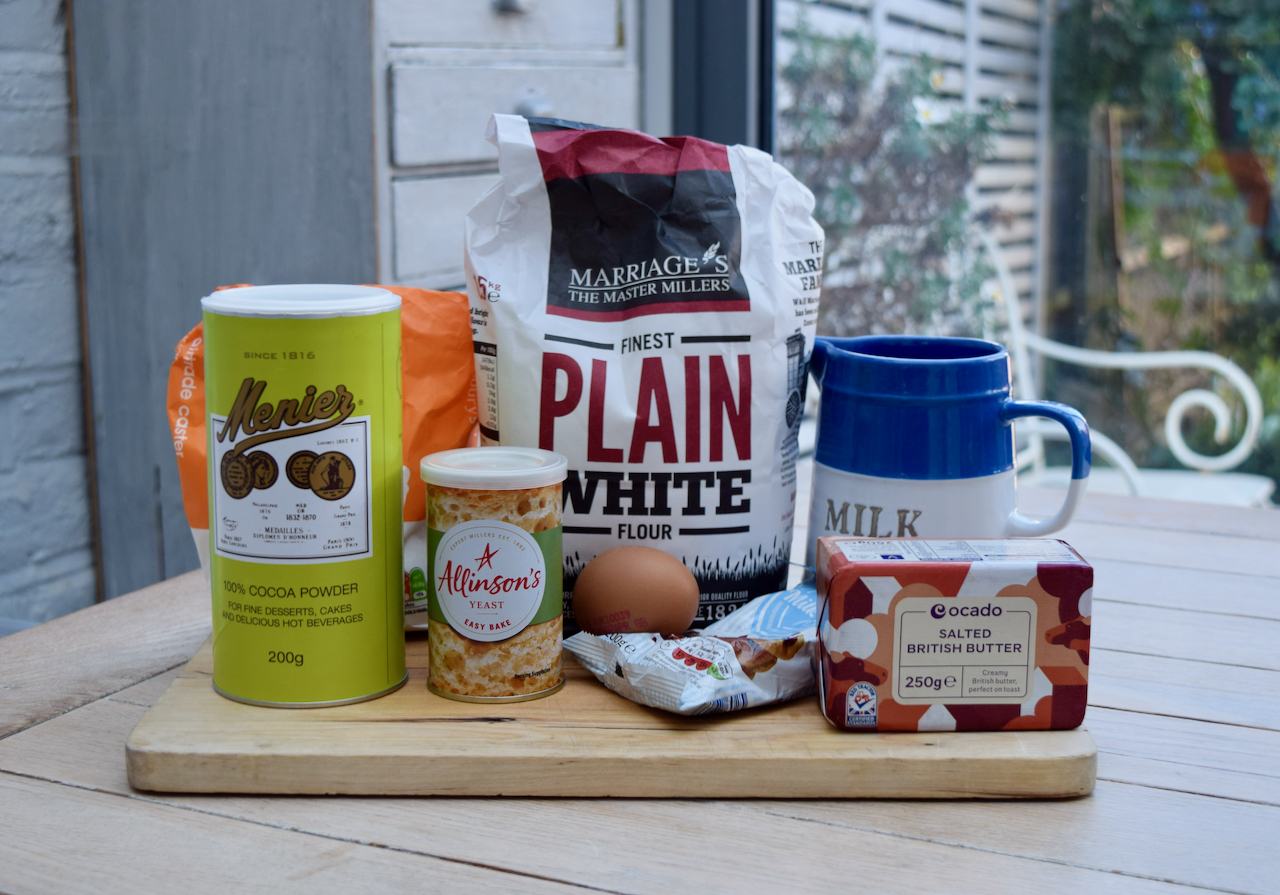 All standard bread based ingredients here, alongside the cocoa and chocolate chips which make these hot cross buns so dark and amazing. The egg and butter enriches the dough, with sugar for sweetness, but just a hint, these aren't toe-curlingly sweet.
Make a start on your buns, bearing in mind they'll be around 3 hours of rising time, plus kneading, so plan ahead. In your stand mixer bowl or large bowl, measure in the flour, cocoa, yeast, sugar and salt.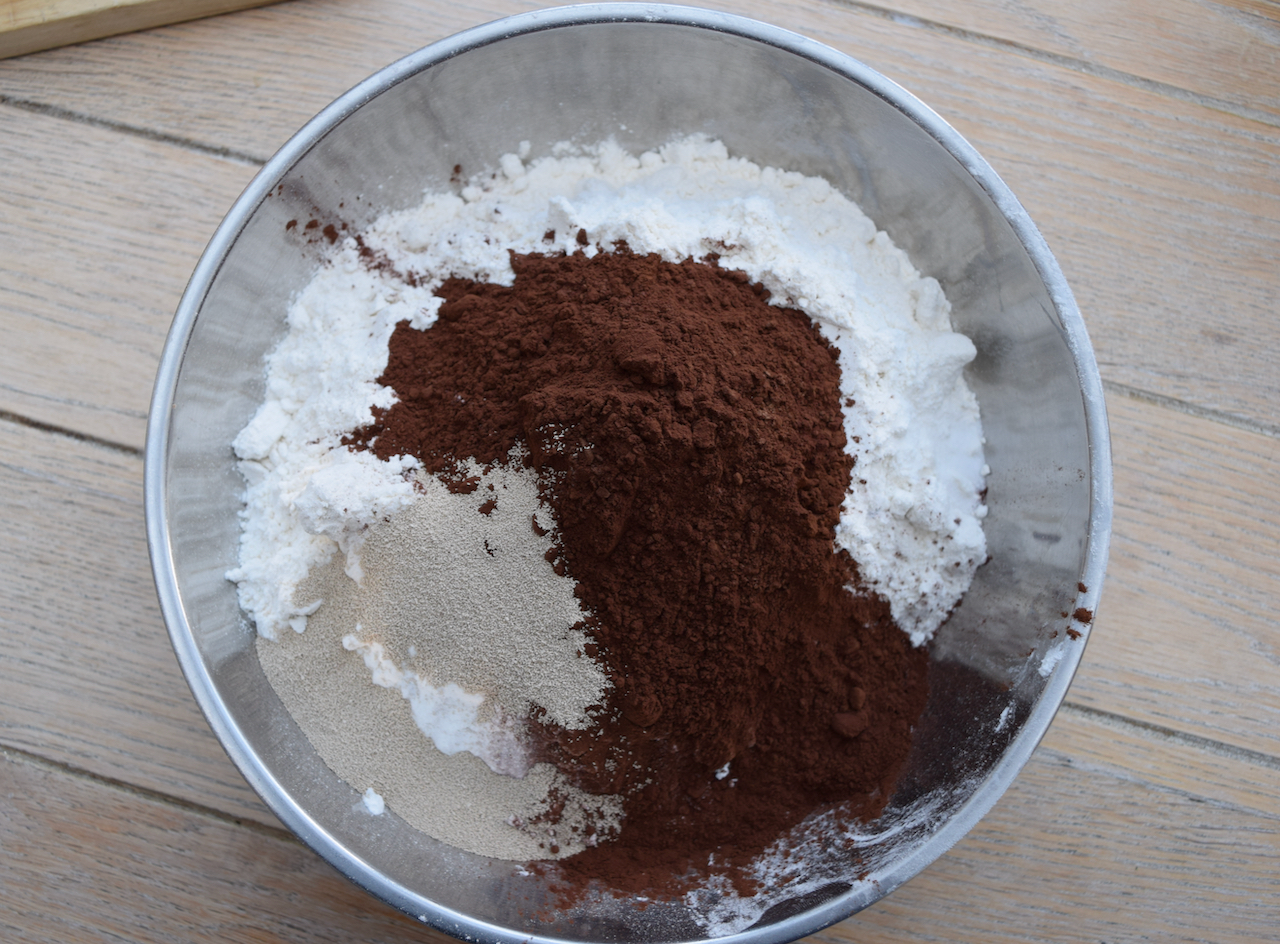 Give it a little mix to combine. In a jug, or small pan, in the microwave or on the hob, heat the milk and butter, just until the butter starts to melt and the milk is hand hot. Give it a stir then whisk in the egg.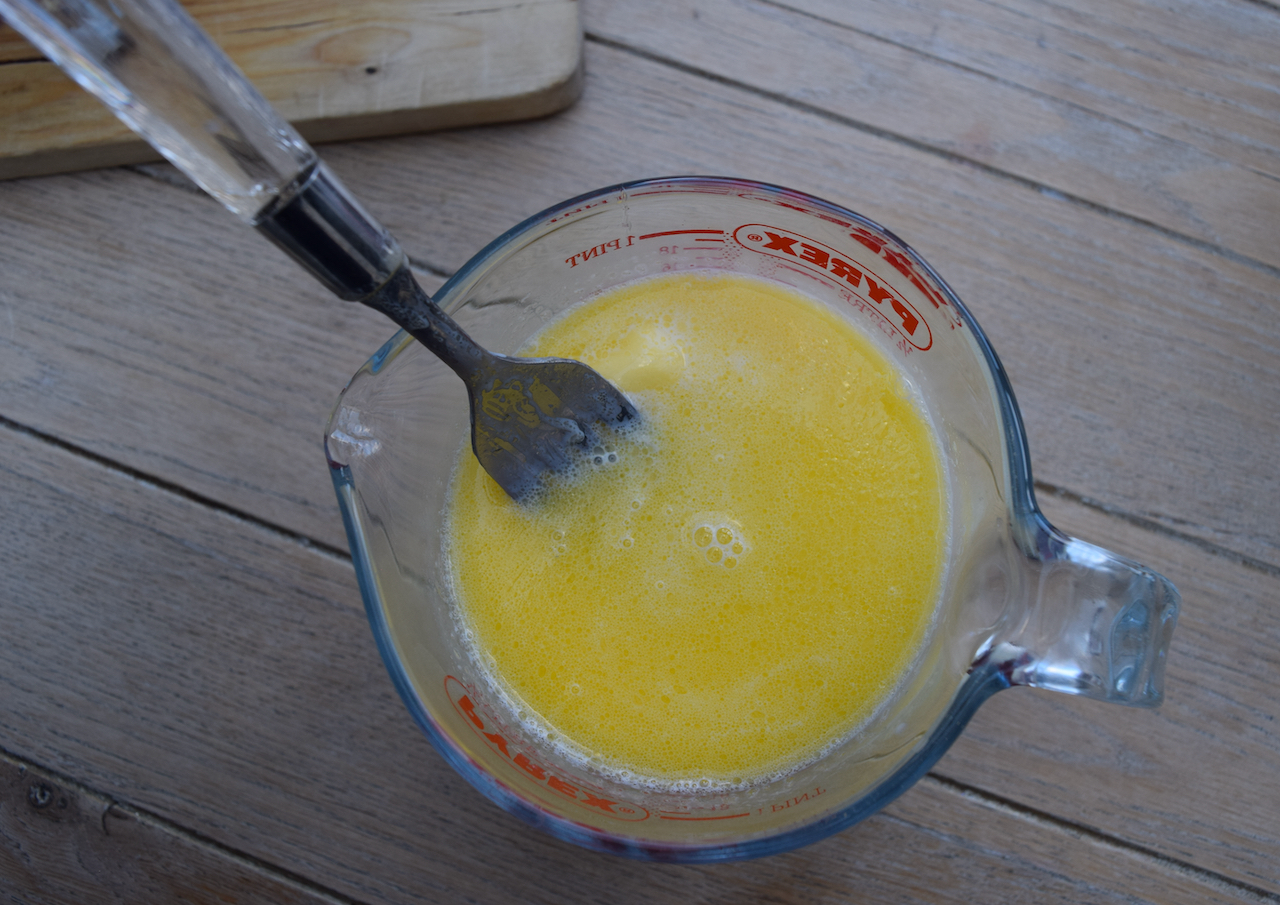 Pour the warm milk mixture into the flour mixture and mix well. You can do this by hand or in your stand mixer with the dough hook.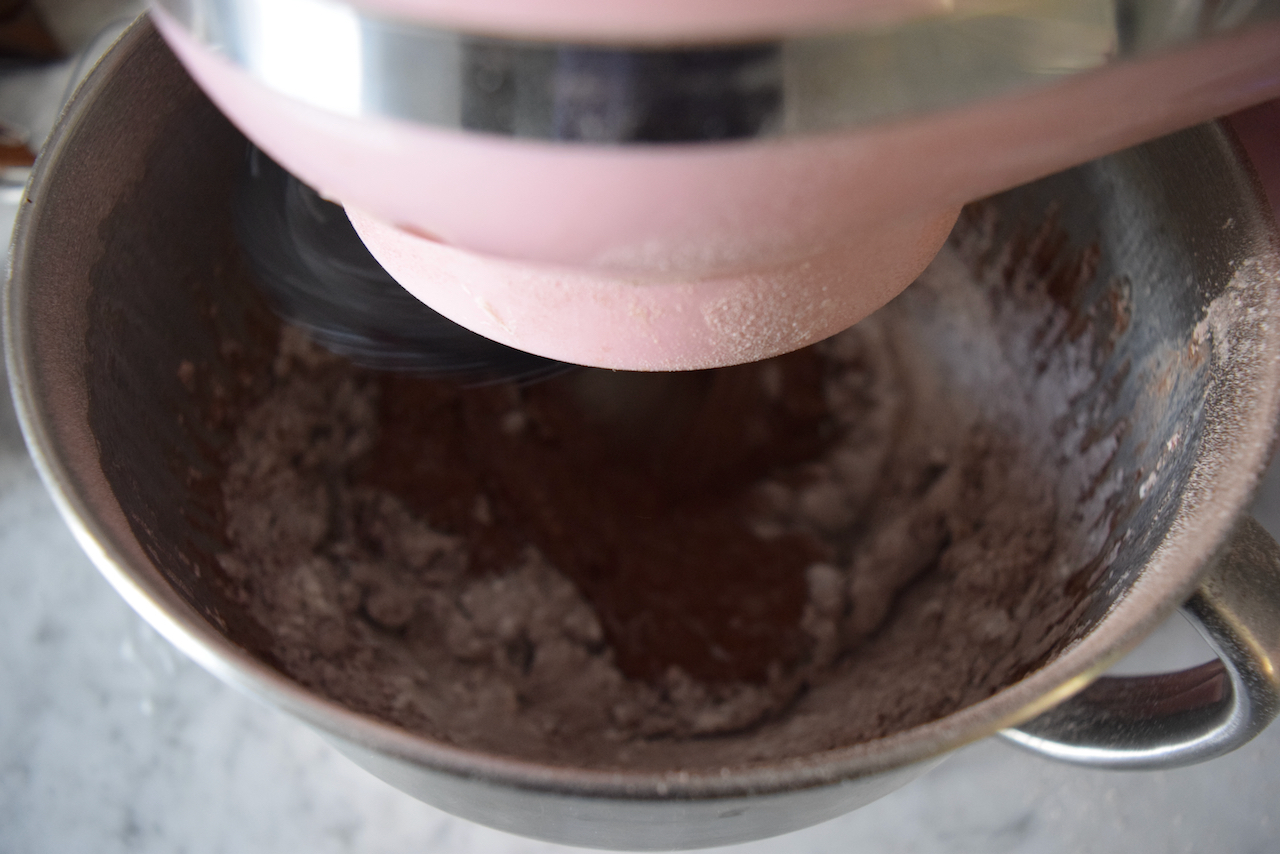 Your dough will be very soft and sticky at this stage, so if you're kneading by hand, you'll need a couple of extra tablespoons of flour. Don't add too much though, the dough is meant to be soft.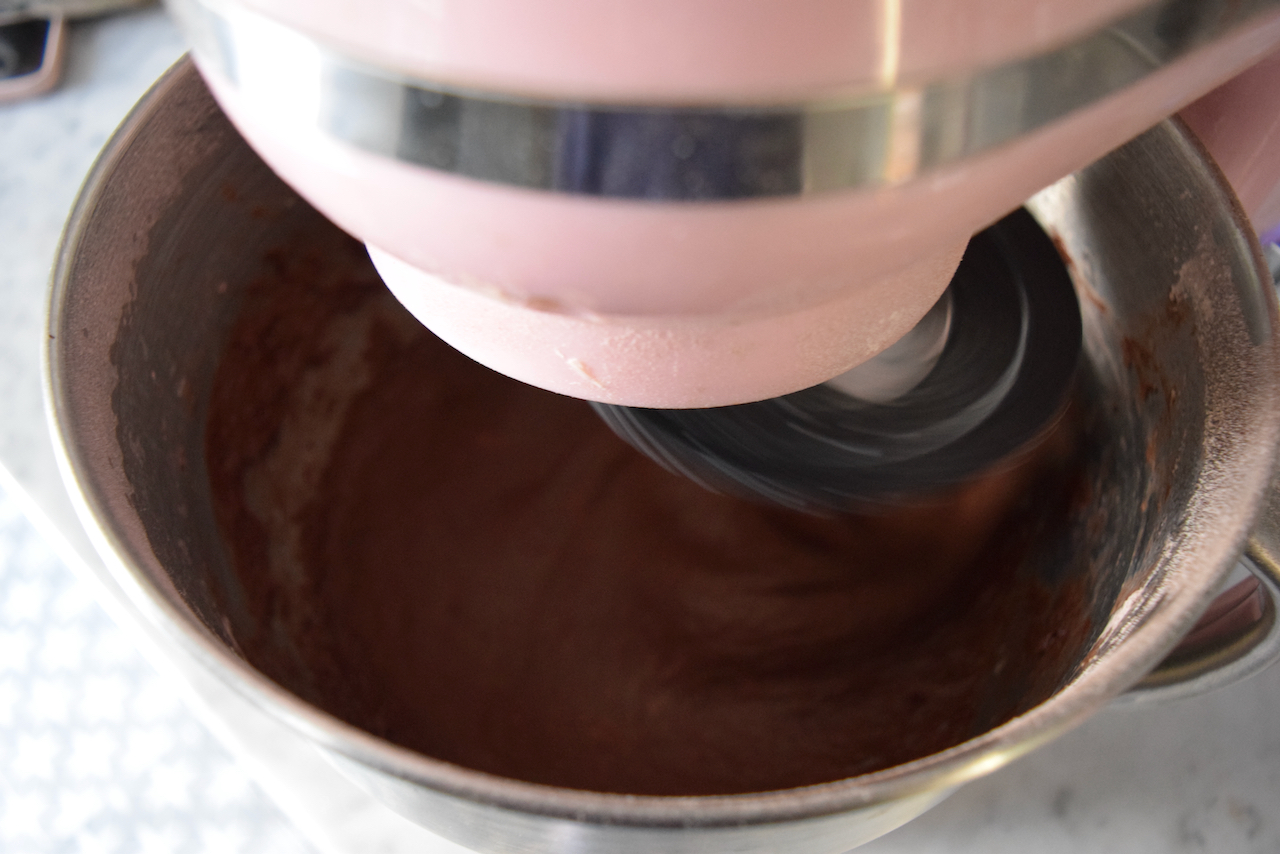 Knead for 10 minutes at which point the dough will still be soft, but also silky and will be pulling away from the bottom of the bowl.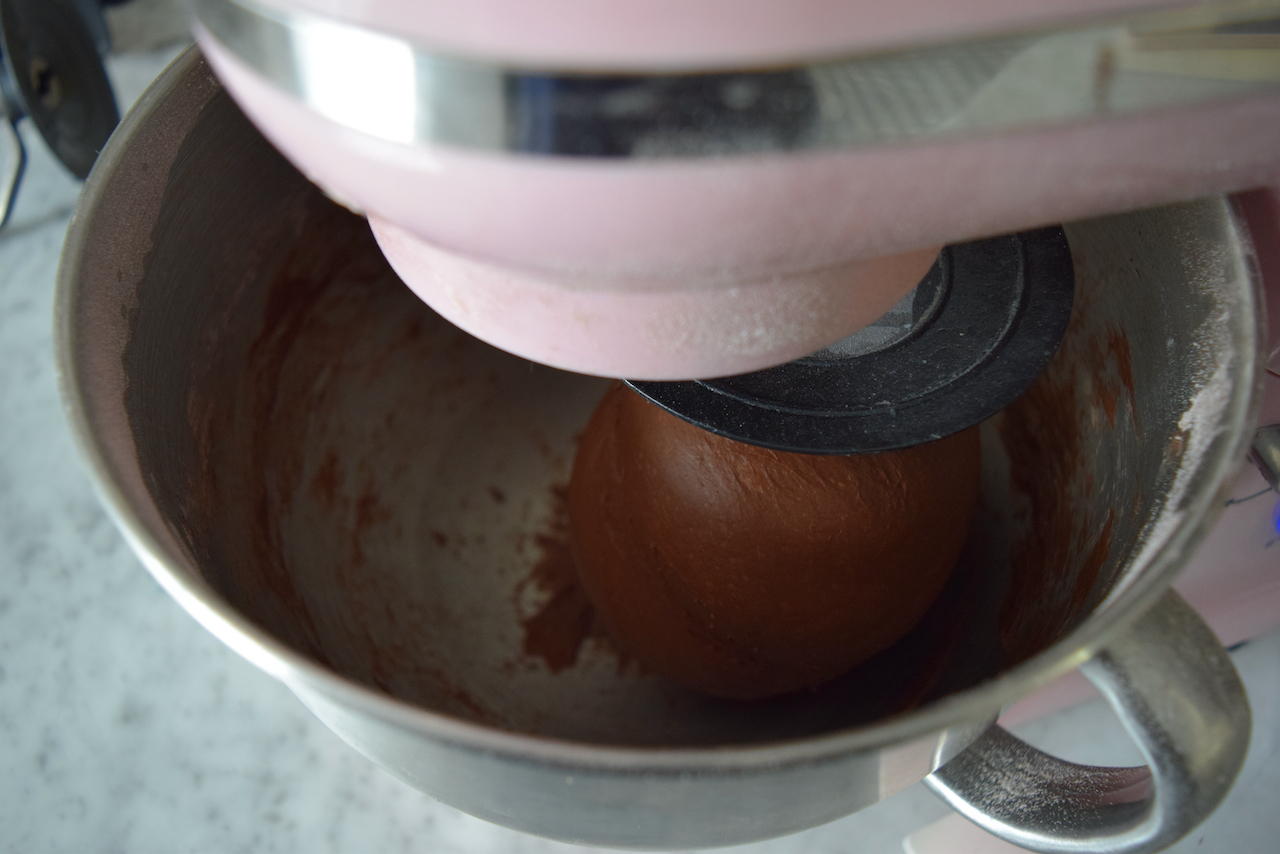 Cover your bowl in cling or a tea towel and leave to rise for an hour and half to two hours, or until the dough has doubled in size.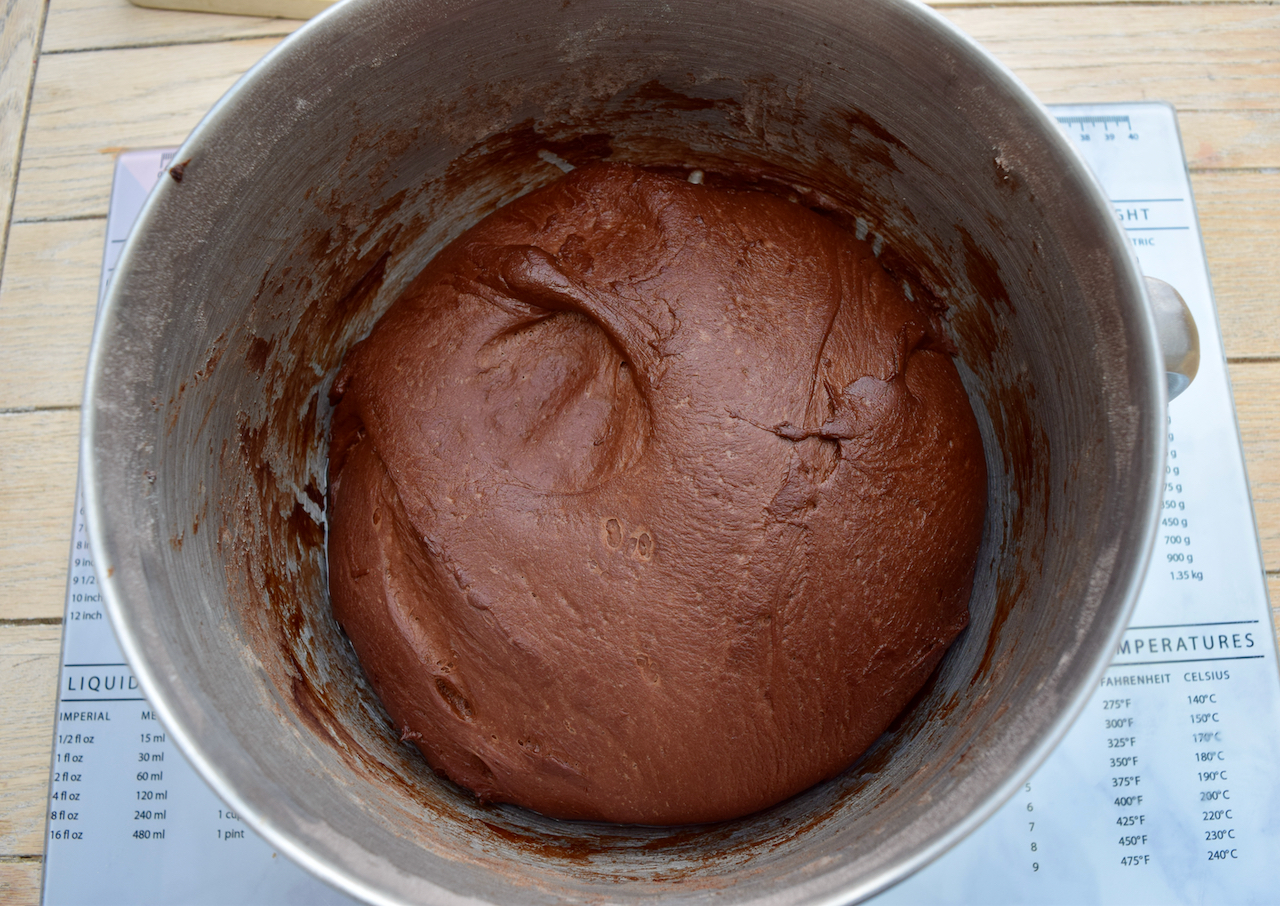 Ta dah. Now, tip in the chocolate chips and give the dough a mix in the bowl, making sure they're evenly distributed.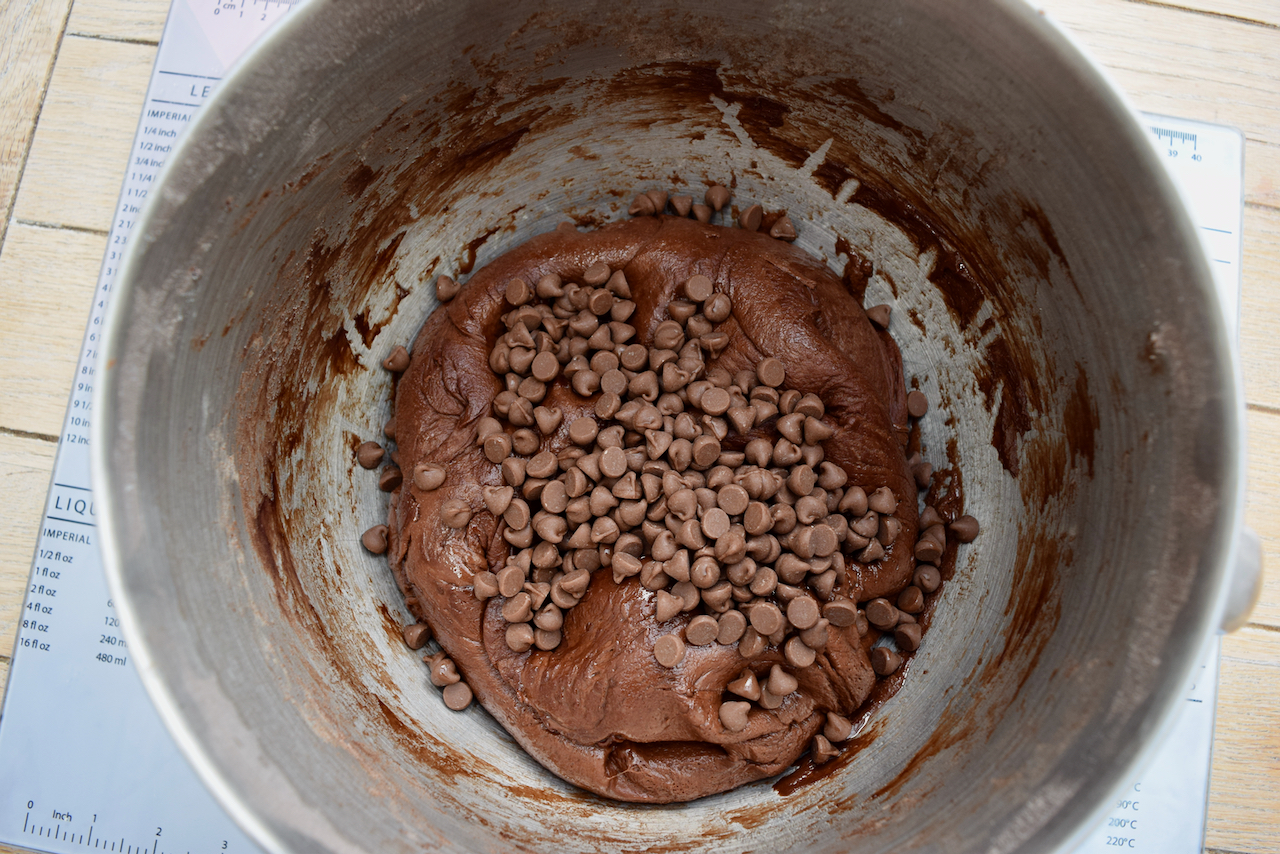 Turn the dough out onto your work surface and after a quick knead to knock it back, divide into 9 equal-ish pieces. Roll each piece into a bun shape, making sure any seams are on the bottom. Place the buns into a buttered baking dish.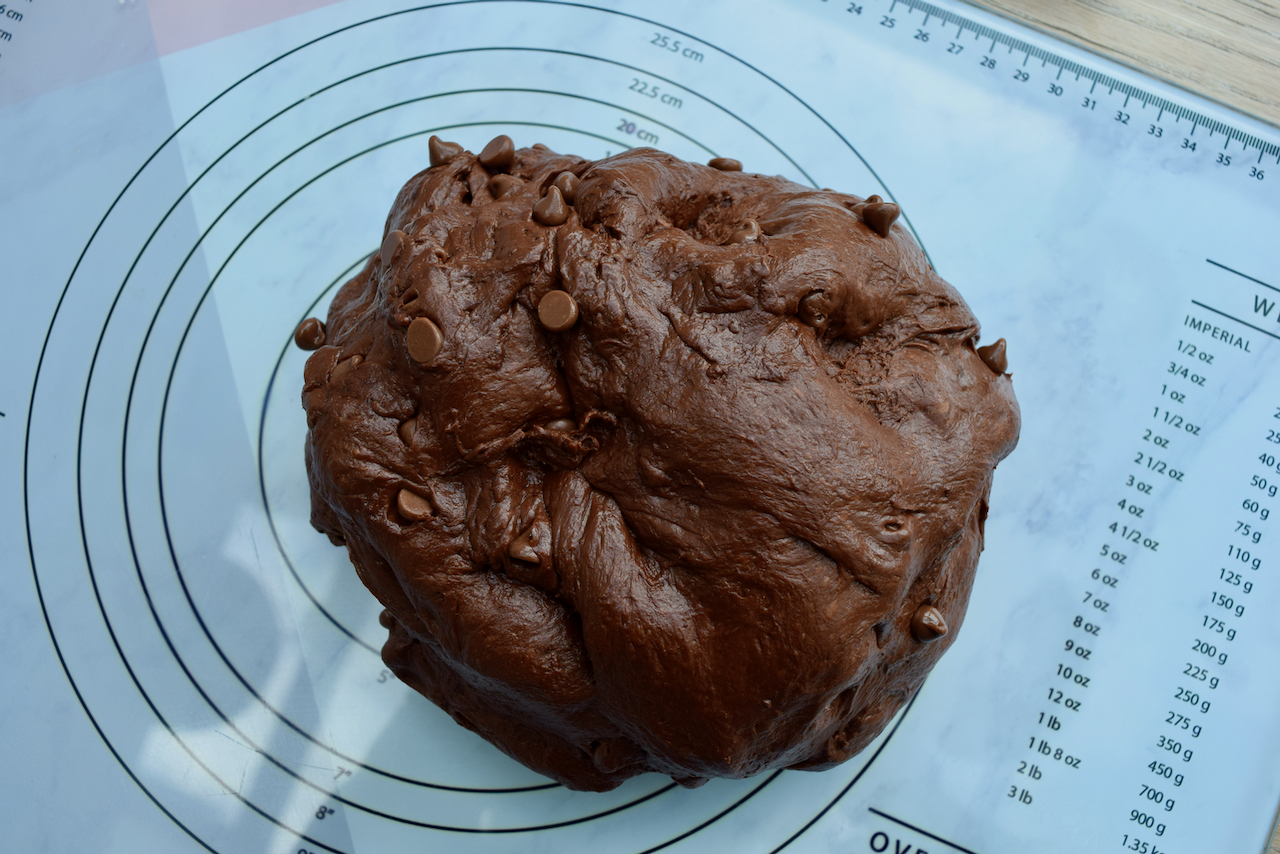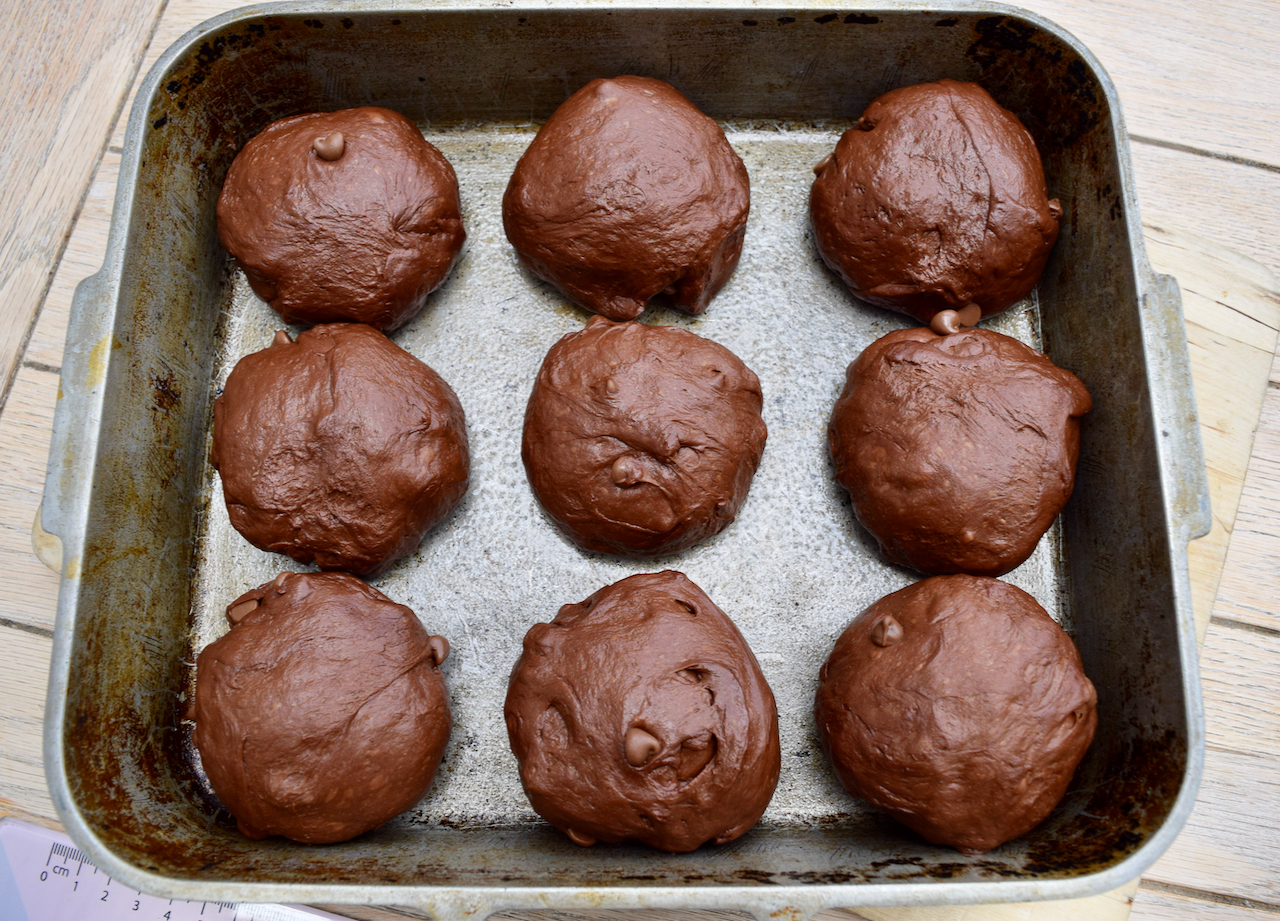 Cover the buns and leave to rise for a second time, for around an hour or until the buns have puffed back up again.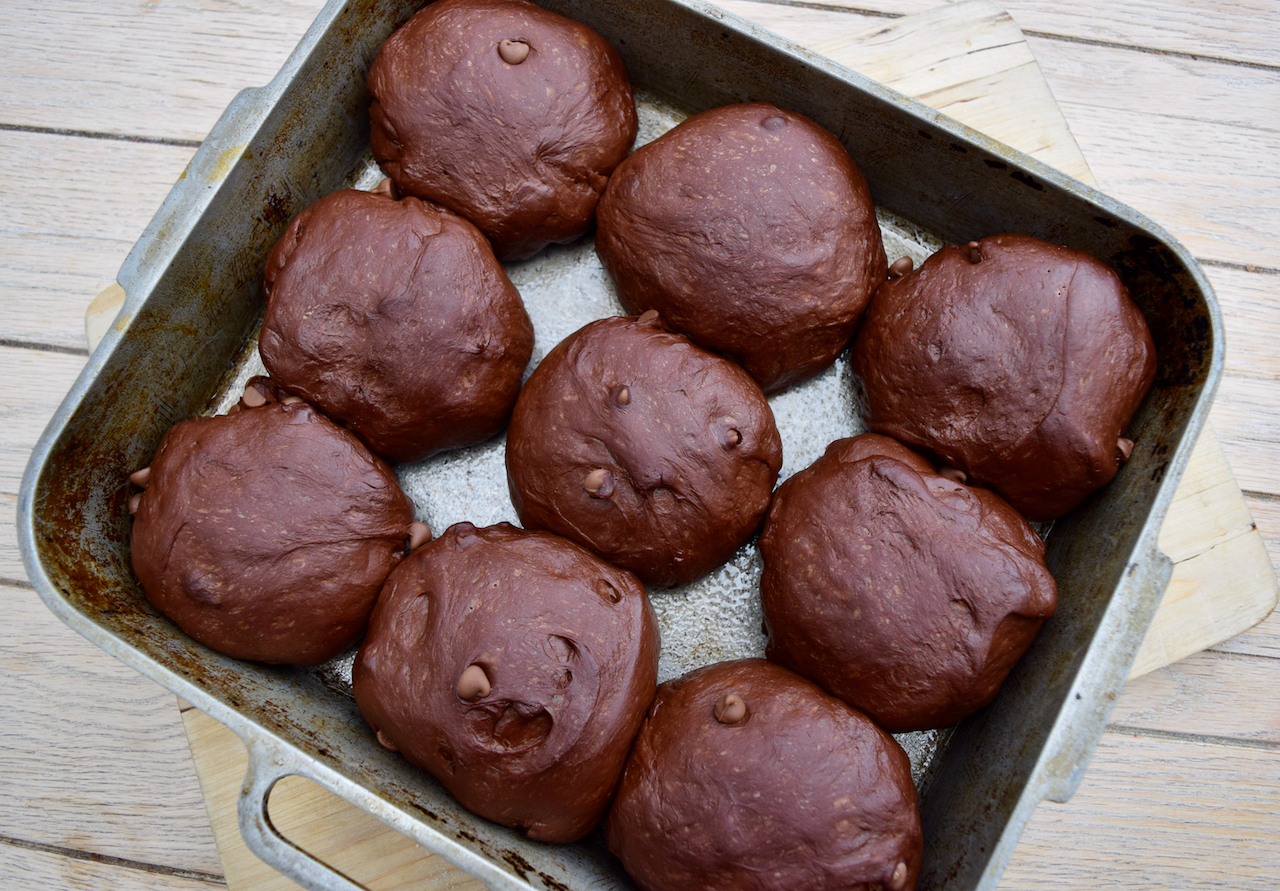 Pre heat your oven to 180 degrees fan assisted then, for the crosses, stir the flour and water together until you have a thick paste. Pop it into a small piping bag or a food bag with the corner snipped off.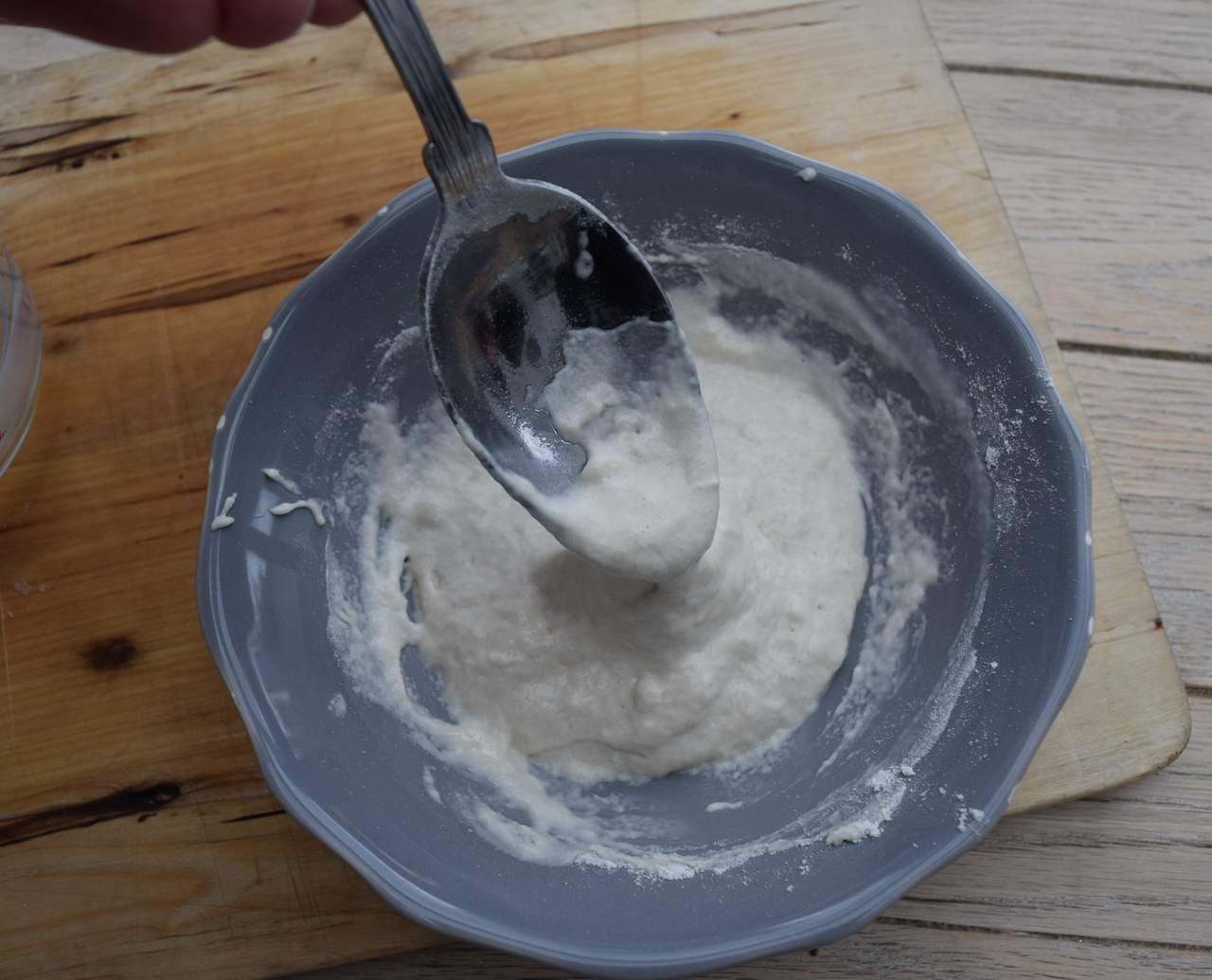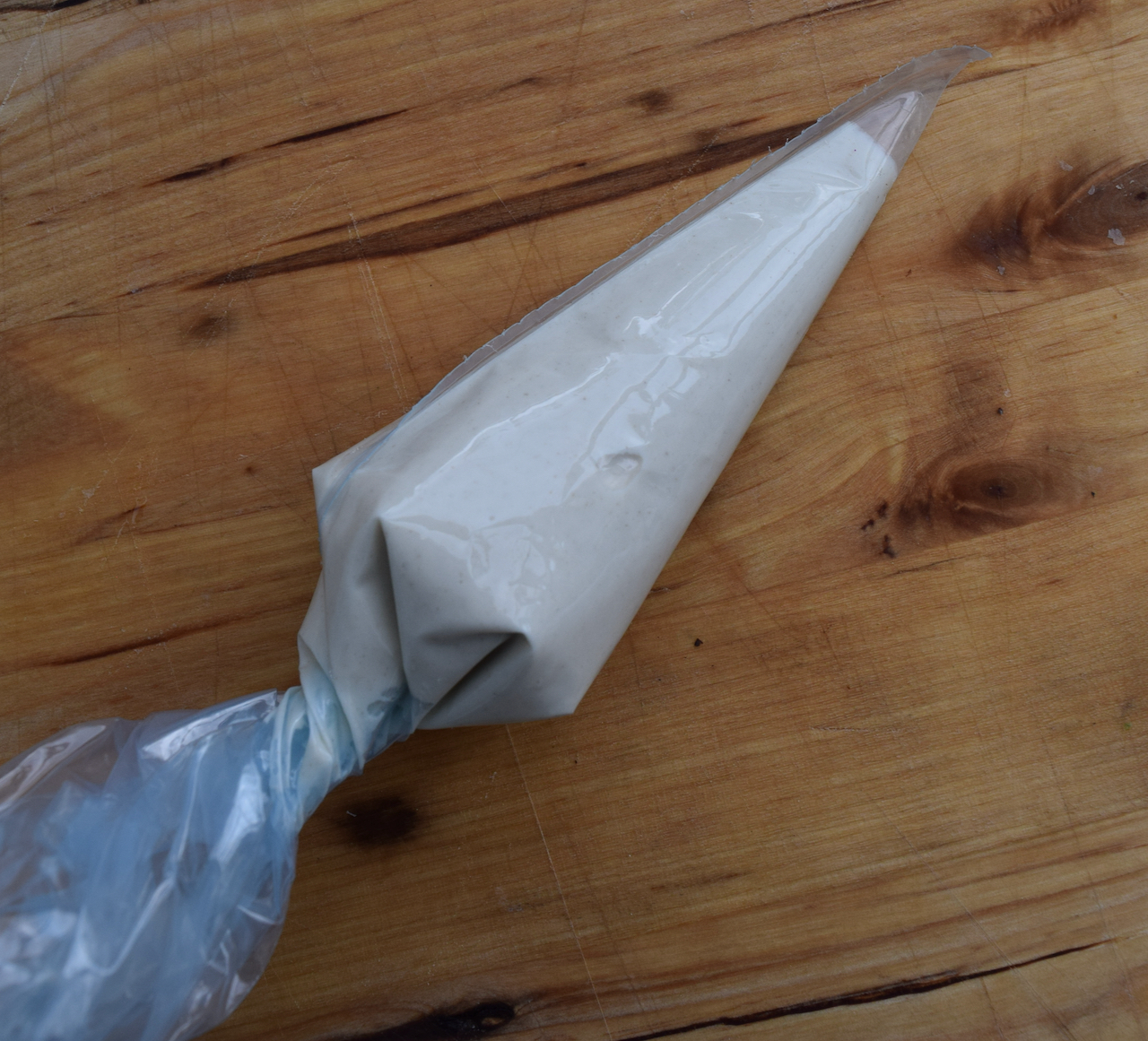 Pipe crosses on the tops of your chocolate buns in an elegant, or in my case, rustic, way.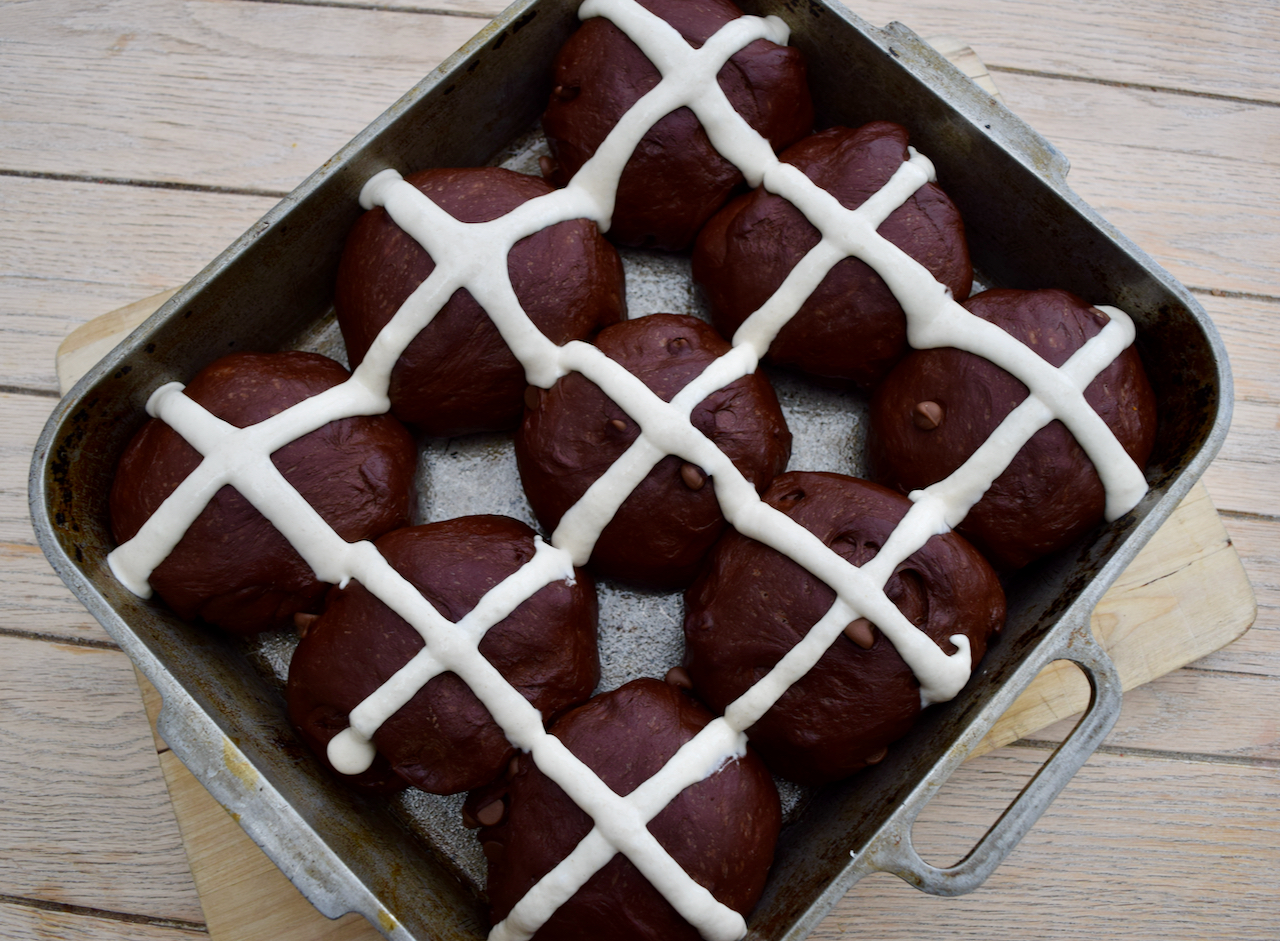 Now bake for 20 minutes, or until the buns are puffy, cooked through and the crosses are just golden.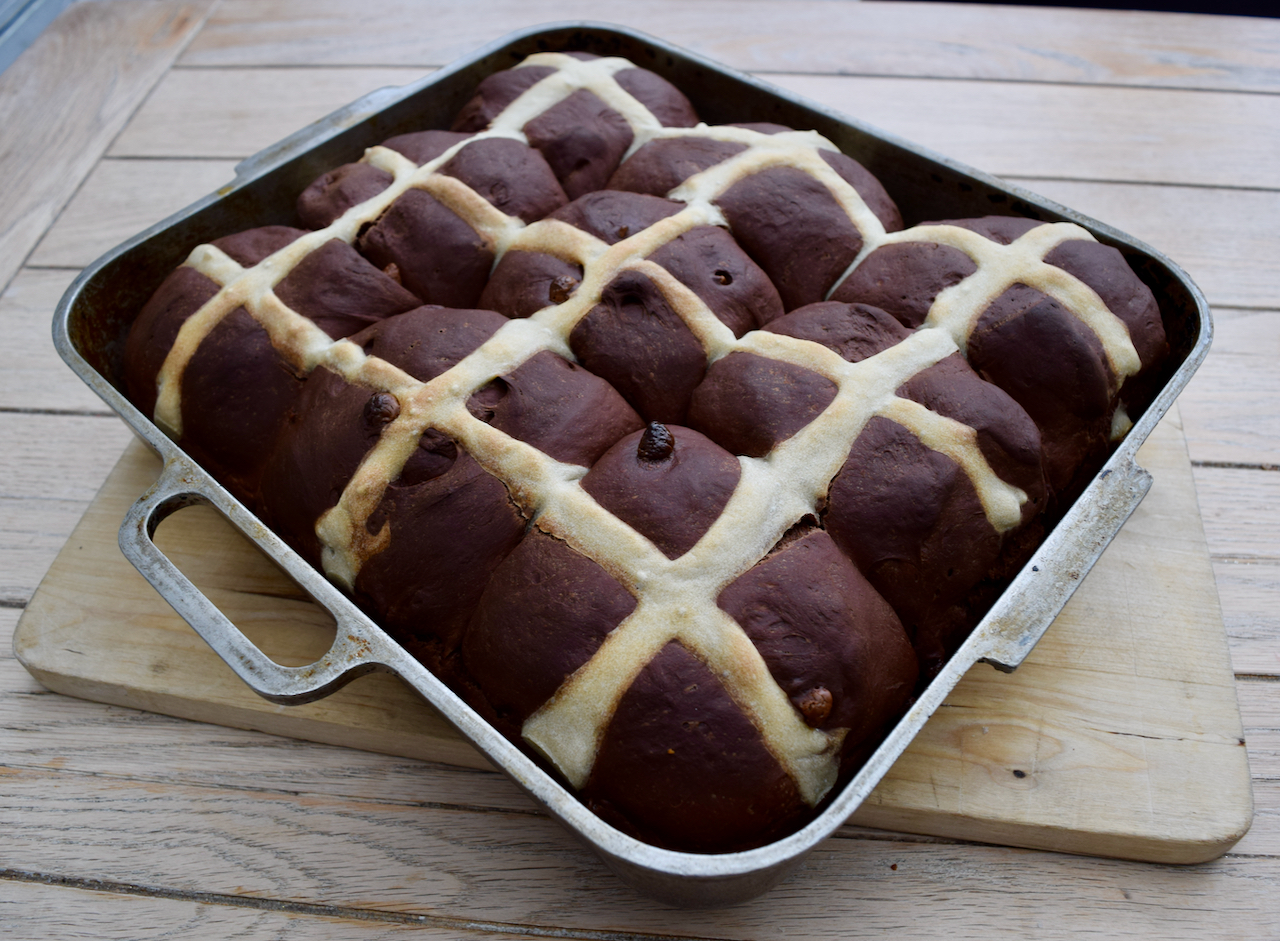 While they're still hot, make the glaze for the buns; heat the jam and water so it's thinned down then brush the tops for a sticky sweet shine.
Leave to cool for as long as you can bear then remove the buns from the tin and devour, warm, with the obligatory pound of butter, or two.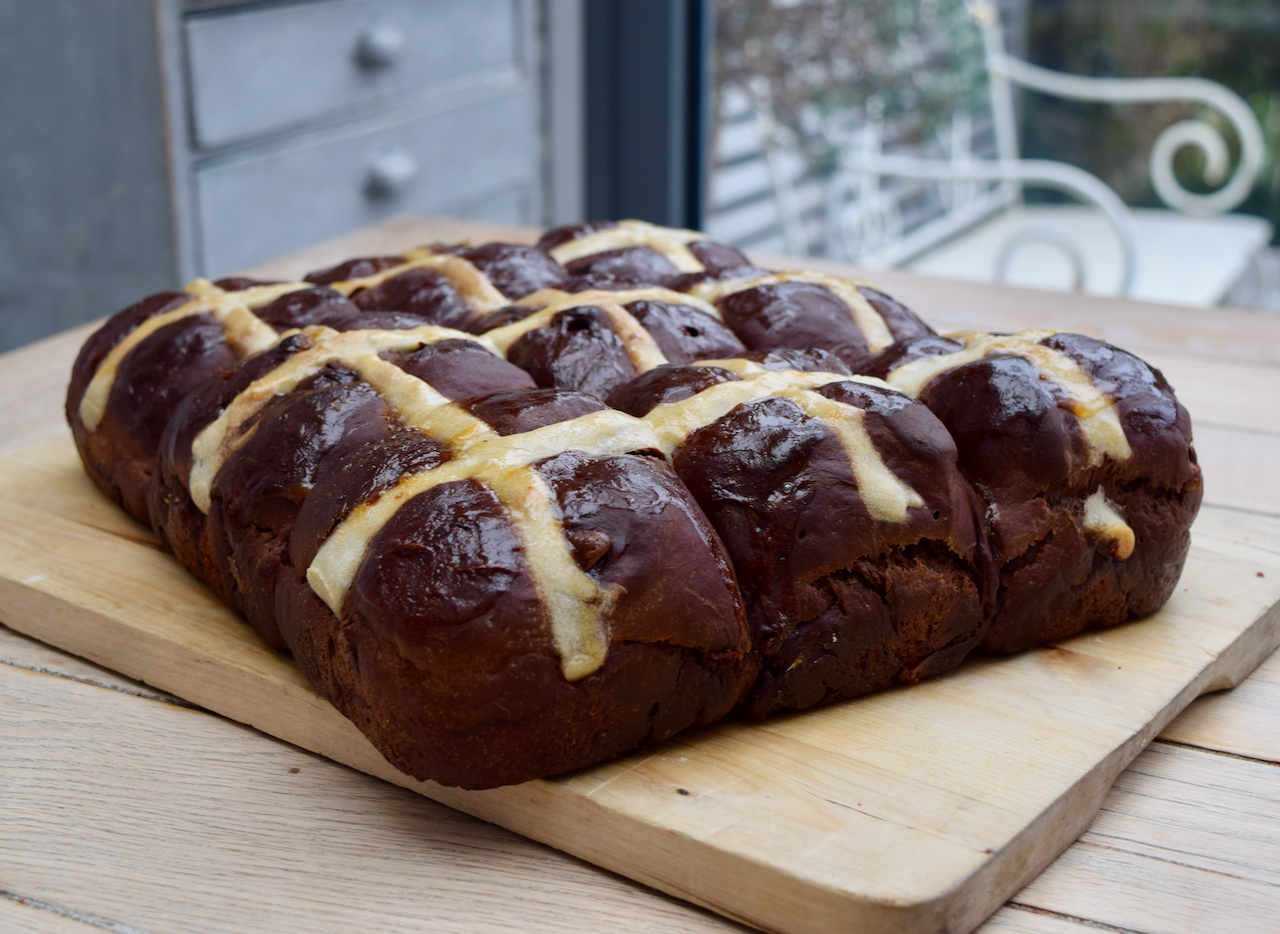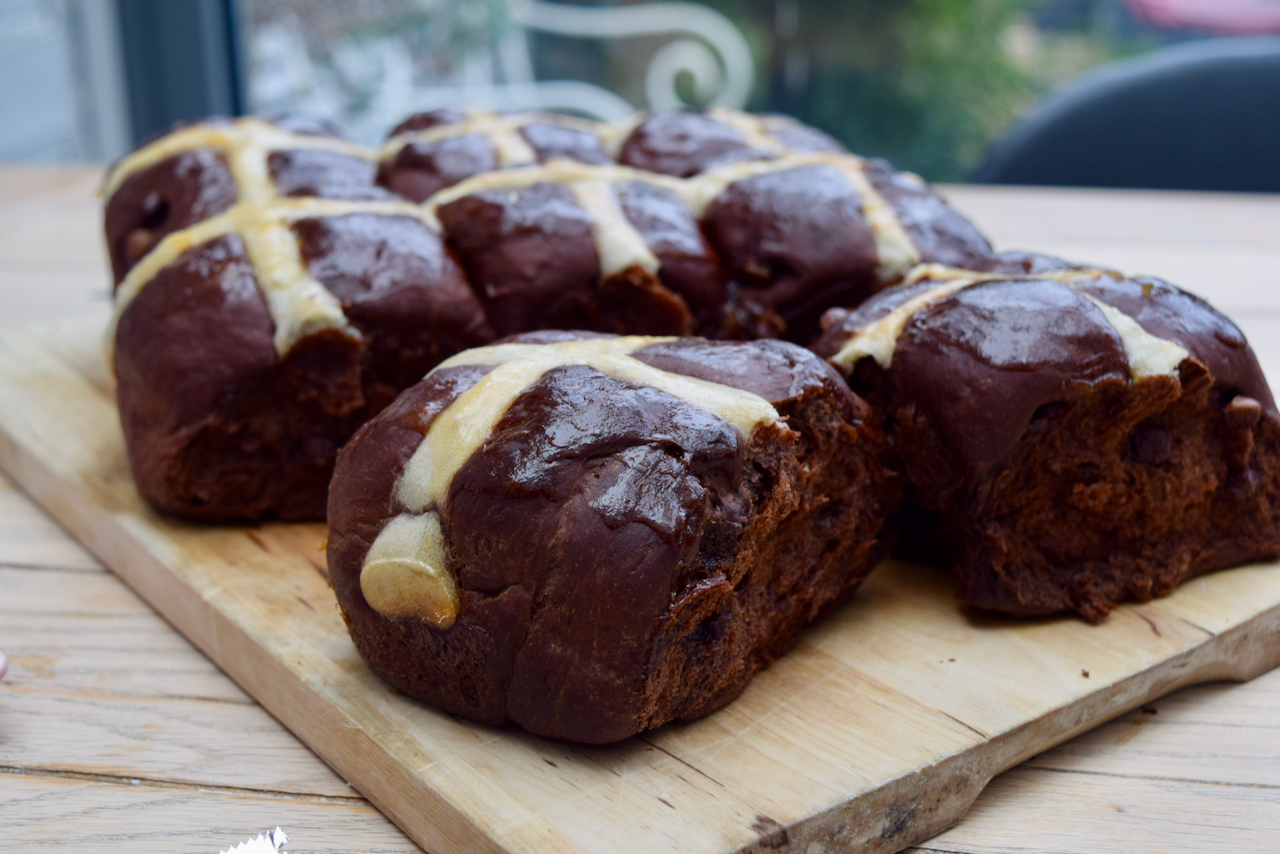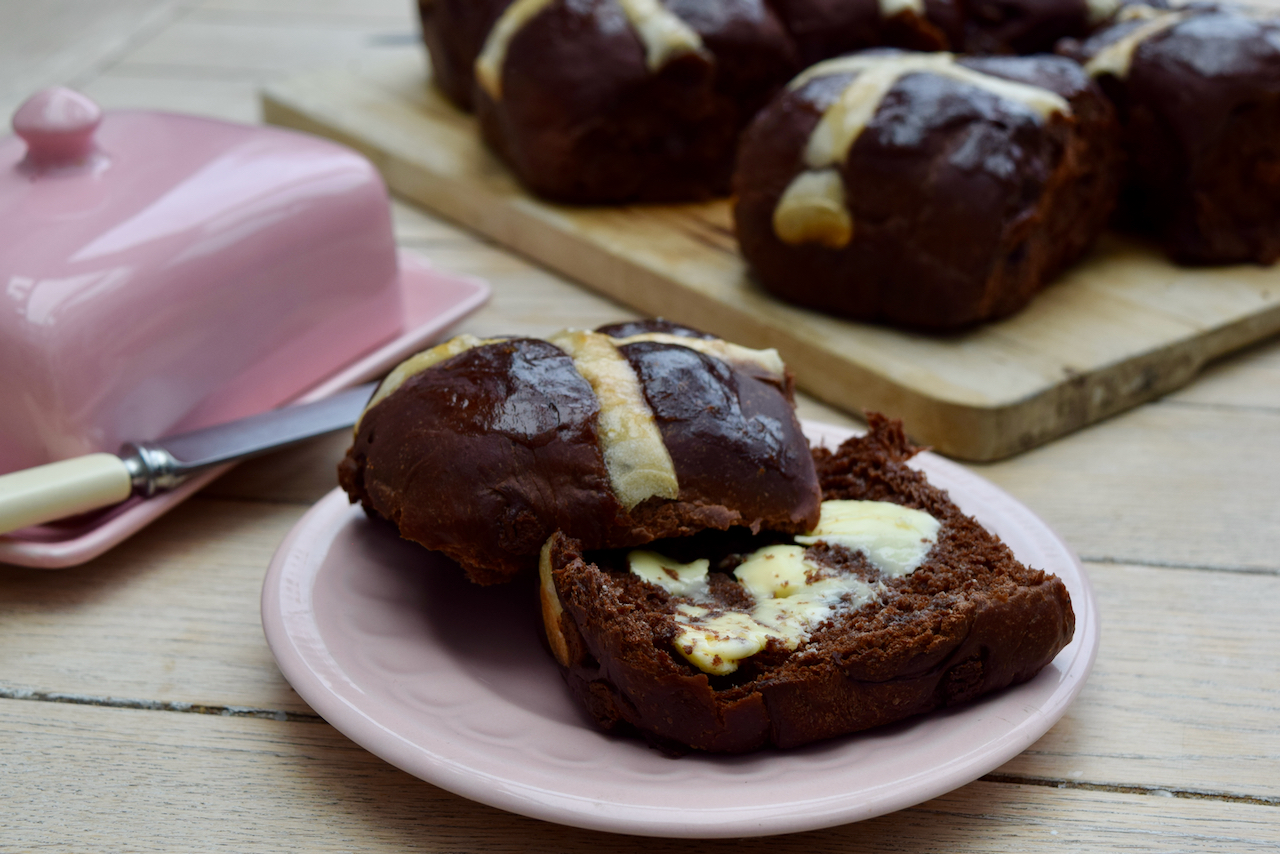 These are a brand new easter win. Because if you can't eat everything chocolate based at Easter, then when can you?
Lucy x
Double Chocolate Hot Cross Buns recipe
Makes 9 big ones
You will need a stand mixer, or a bowl and your brute strength and a buttered/oiled large square baking tin
Buns
475g strong white flour, plus a little more for dusting/kneading
75g cocoa
75g caster sugar
3 teaspoons dried yeast
1/2 teaspoon salt
350ml milk
50g butter
1 egg
100g chocolate chips, milk, dark or white, you choose
Crosses
3 tablespoon plain flour
6 tablespoon water
Glaze
1 tablespoon apricot jam
1 tablespoon water
A lot of butter for spreading, to serve
In a large bowl, or bowl of your stand mixer, add the flour, cocoa, sugar, salt and yeast and mix to combine.
In a jug or pan in the microwave or stove, gently heat the milk and butter until the butter starts to melt and the milk is warm enough for you to put your finger in it without being too hot. Whisk the egg into the milk then pour the mixture into the flour and mix to form a soft dough. Using the dough hook, or your hands, knead the chocolate dough for around ten minutes or until it feels silky, but still soft. The dough will be very soft, so if you're kneading by hand, you may need to add a little additional flour to stop it sticking.
Cover the bowl with cling film or a tea towel and leave to rise for an hour and a half to two hours until it's doubled in size. When the time's up, tip the chocolate chips into the bowl of dough and give it a knead in the bowl, knocking it back, whilst mixing the chocolate into the dough.
Turn the dough onto the work surface and cut into 9 equal pieces. Form each piece into a bun sized ball making sure any seam is on the underside of the ball. Place the buns next to each other in a well buttered/oiled square tin. Leave these to prove one more time for a hour, covered in cling again.
Pre heat your oven to 180 degrees fan assisted. Mix the flour and water until you have a thick paste and spoon into a tiny piping bag or food bag with the corner cut off. Once the buns have had their second prove, pipe the tops with crosses then place them into your pre heated oven for 20 minutes until they're well risen and the crosses are golden. Mix the apricot jam and water and heat briefly to loosen then brush the tops of the buns to glaze and give them a sticky shine. Leave to cool slightly in the tin before devouring, warm, slathered with butter.
These chocolate hot cross buns are best eaten on the day, but are super, lightly toasted on day two or three.