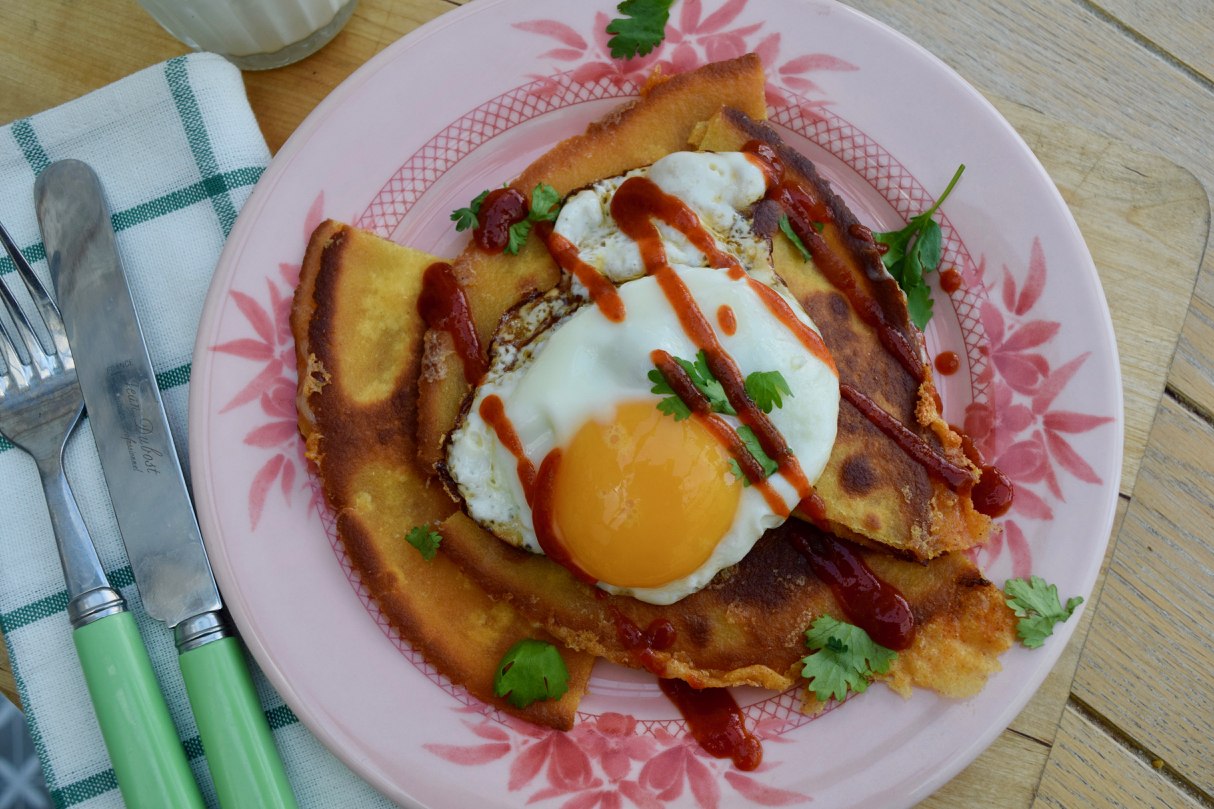 Fried Egg Quesadilla Recipe
It's Autumn, it's official. I know that because I am wearing a brand new polo neck jumper which I've been desperate to put on for the last month. I don't love summer clothes with their ability to reveal my saggy arms and crepey neck. It's barely dropped below 20 degrees, however, and it's on and I doubt if it'll come off again until June 2020. It's that week of the year you either dread or love. Back to school week means less of the children at home being annoying, but more early mornings and homework dramas. Either way some sort of reward is needed to get you through the next 5 days. This Fried Egg Quesadilla is just that simple lift everyone needs, and it's so easy, your children can bloody well make it for themselves.
This is one of the no recipe recipes which I love, courtesy of the knowledgeable New York Times. You can put whatever you like in your Quesadillas but I do think the fried egg's a must. You can have these as a brunch, lunch or if you're one of my children, when you get home and the prospect of waiting for dinner seems like an eternity. All you need is a frying pan and a cheese grater, and you don't even need that if you're one of those people who buys pre grated cheese. I used corn tortillas as they have a lovely flavour and bite, however, any old wrap will do here. They are fried in a little butter and oil for crispness and added calorific deliciousness.
Ben still has a couple of weeks before he goes back to uni, so the fridge is still a barren wasteland. These Fried Egg Quesadillas, however, can be made with anything and everything that's left; in my case that's pretty much anything that's not nailed down.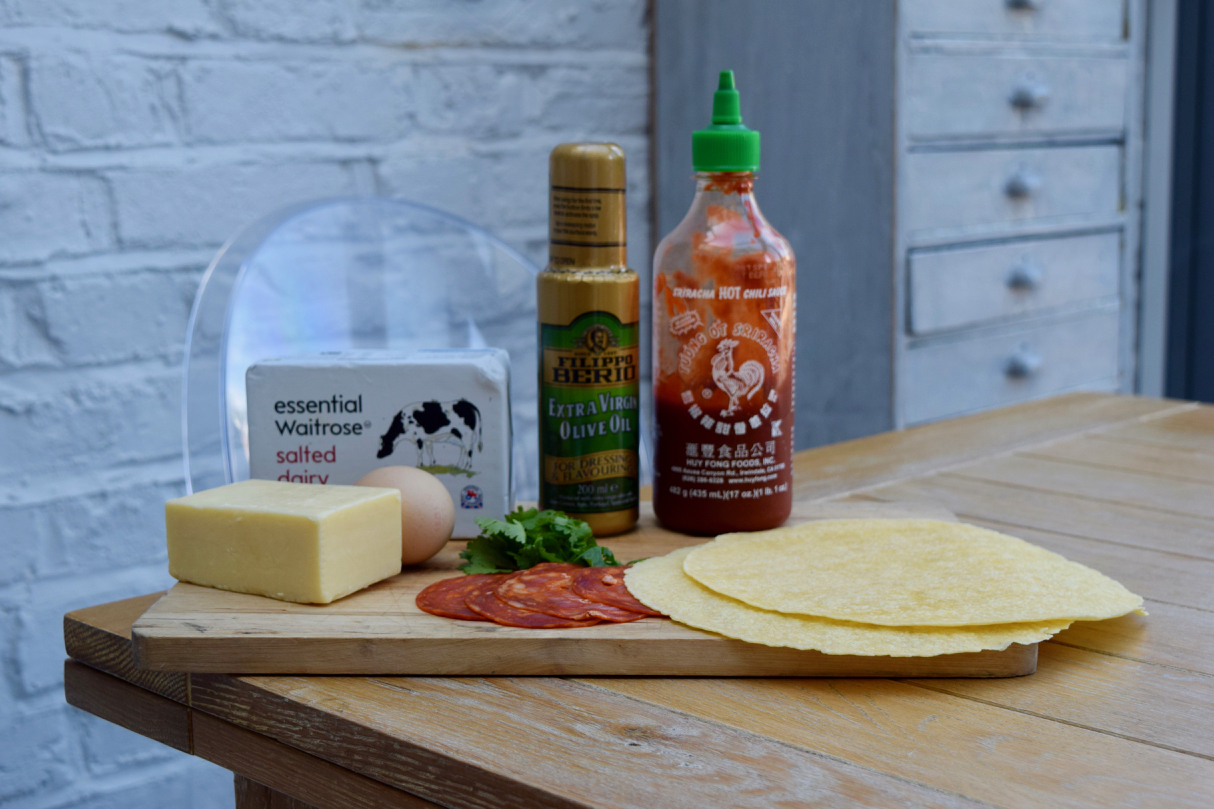 This is really just a guide for what you would like in your Fried Egg Quesadillas. My family are borderline chorizo dependent, but if you would rather, go with some cooked bacon, ham or salami. Cheese is a must, and plenty of it, the nicest part is when the cheese sneaks out the edge and goes crispy.
Before all that, however, you need to heat up a medium sized frying pan with a small knob of butter and just a touch of olive oil to stop it burning.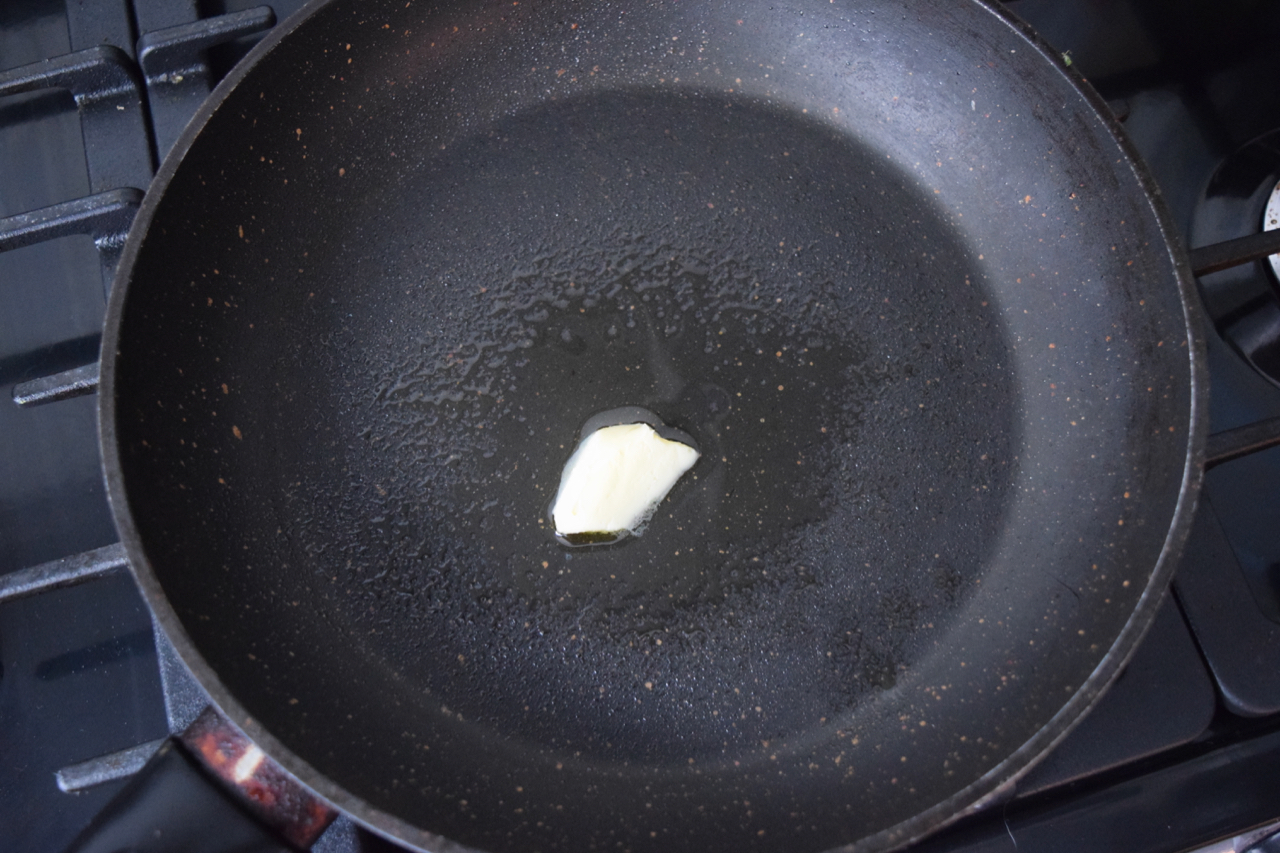 Next, lay in one of your corn tortillas or wraps and add a good handful of grated cheese. Something strong and tasty.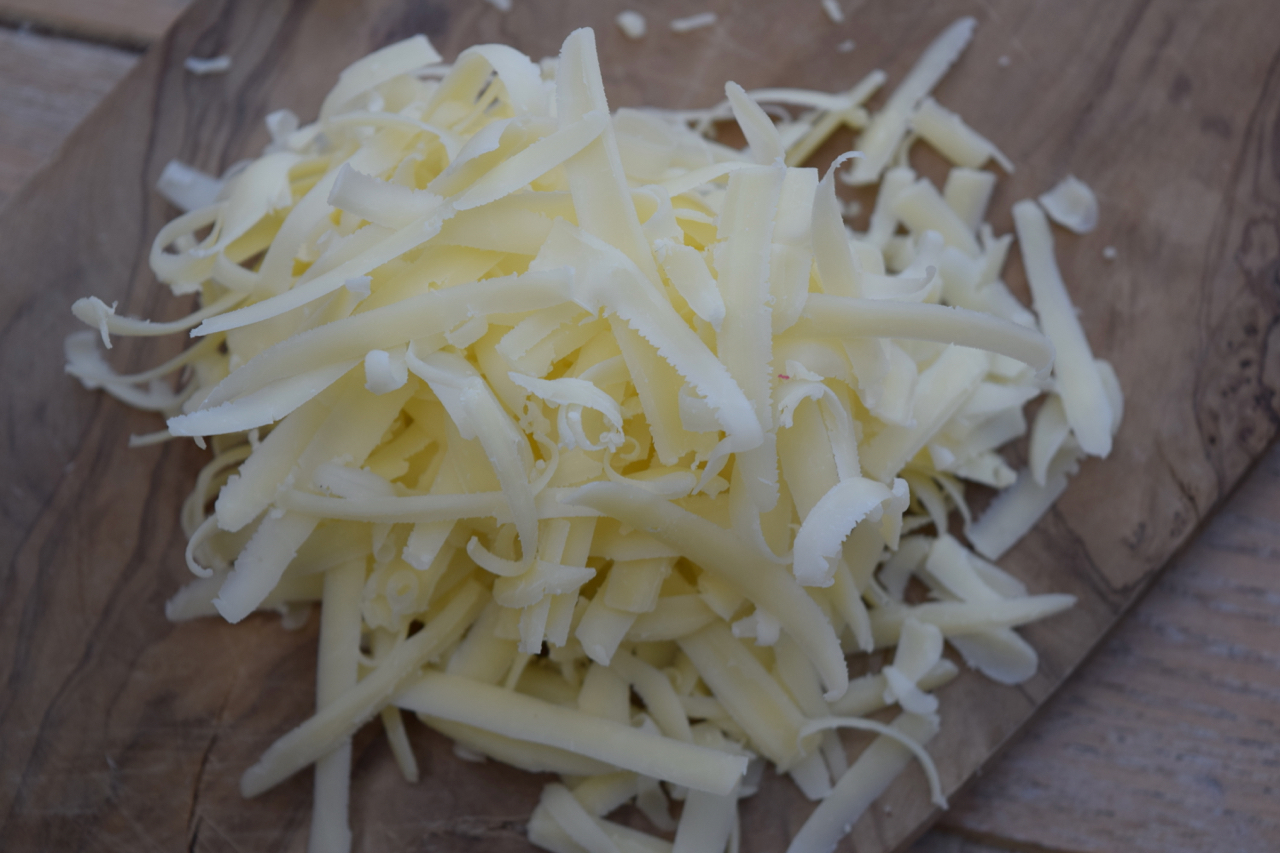 Now lay on the meat of your choice. Be generous, then lay the other wrap on top.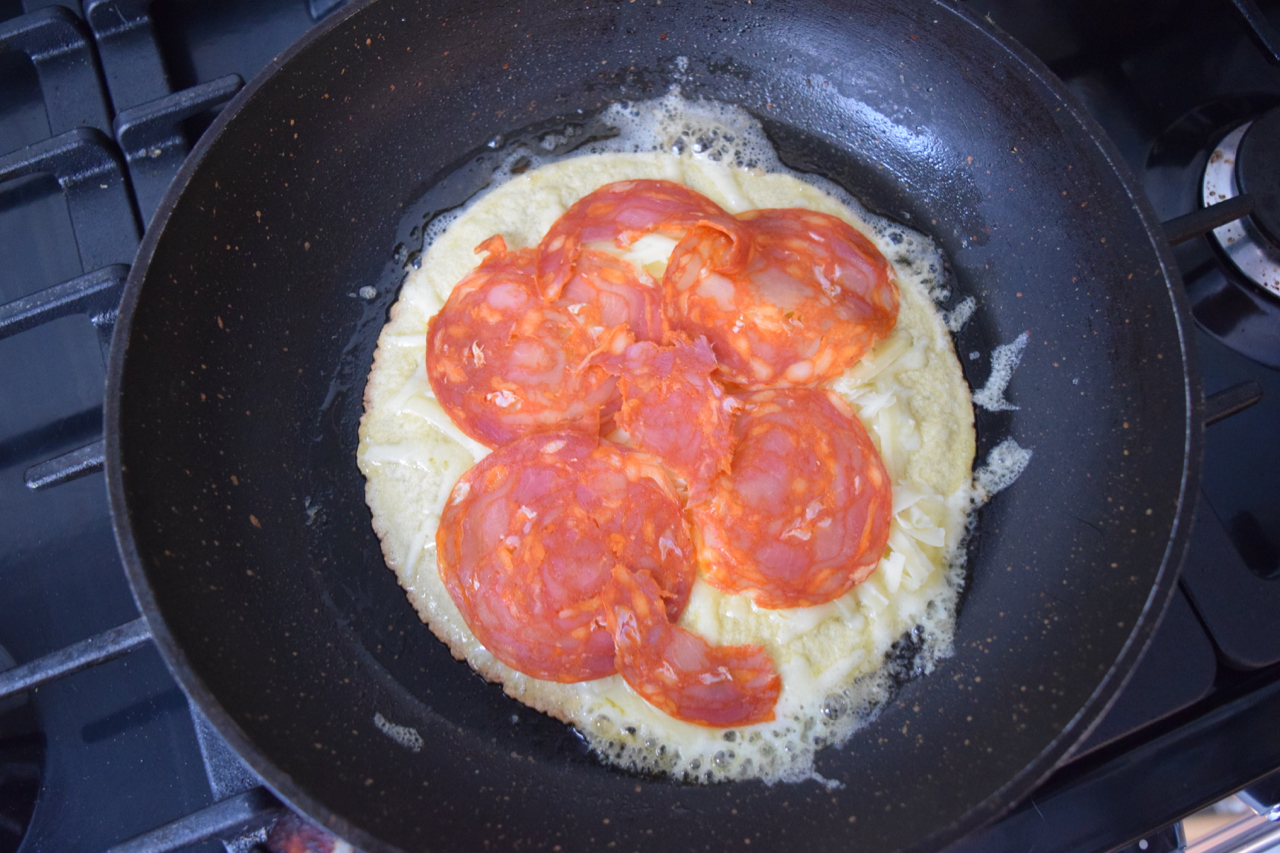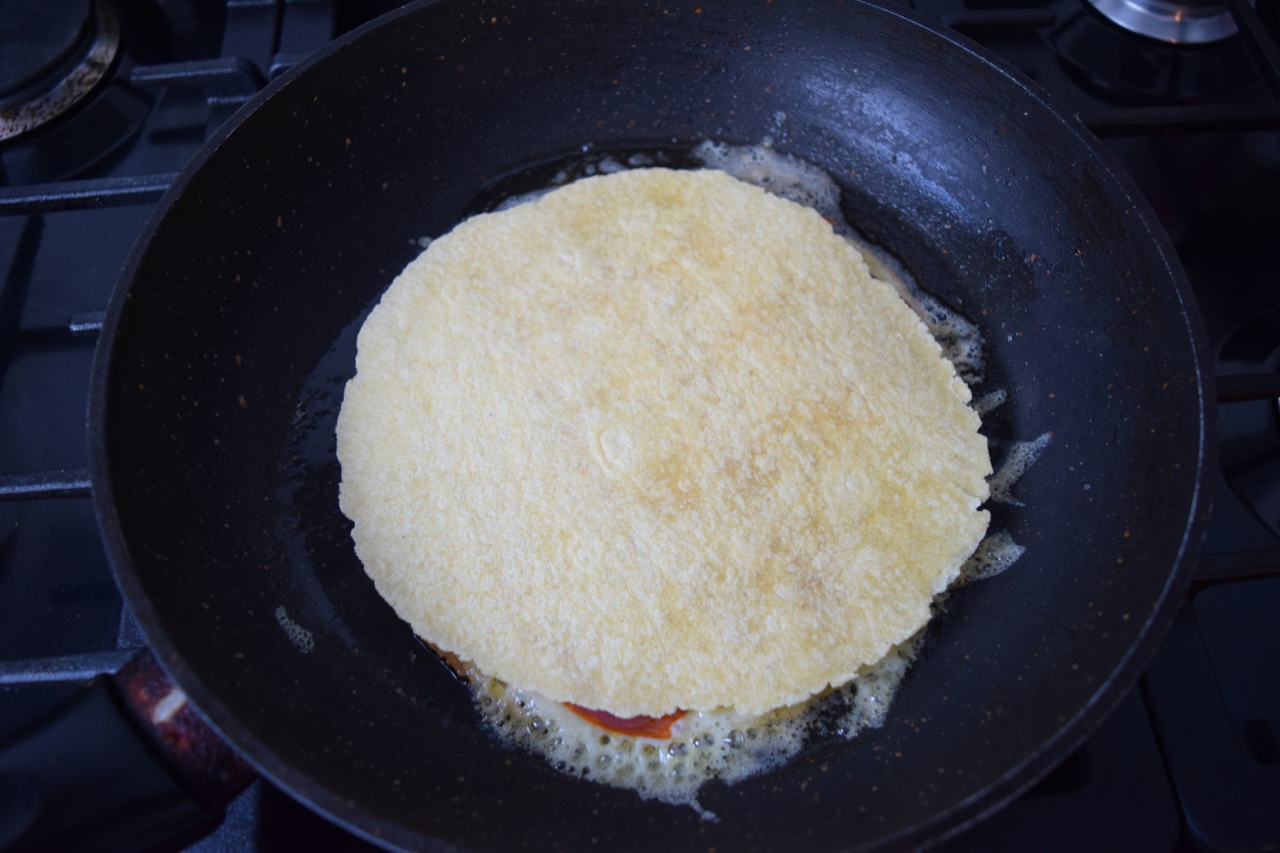 Cook for a couple of minutes, or until the underside is golden and sizzling. Then flip and do the same on the other side. Keep flipping until the whole business is crisp and smelling amazing.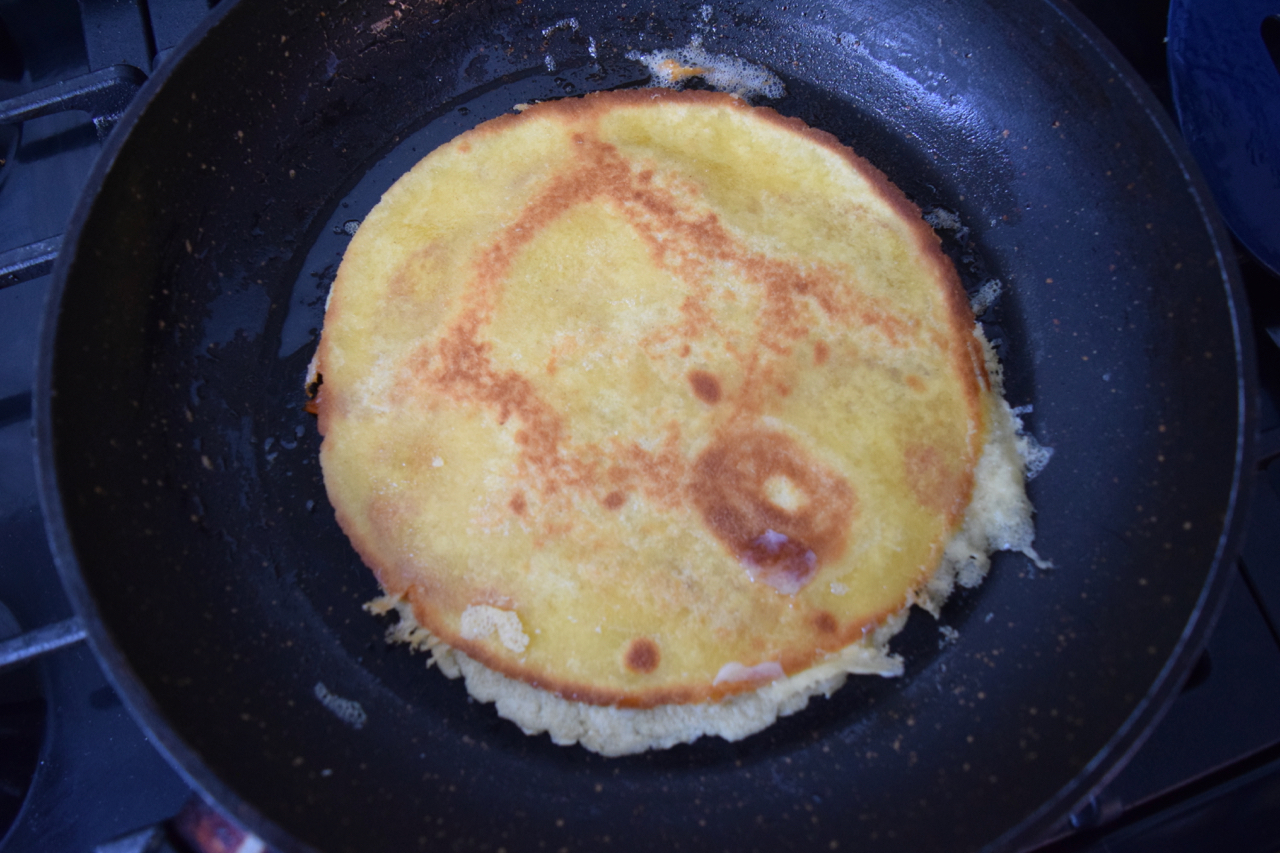 Remove to a chopping board and cut into quarters. Add a splash more oil to the pan if needed then turn the heat up a little and crack in your egg.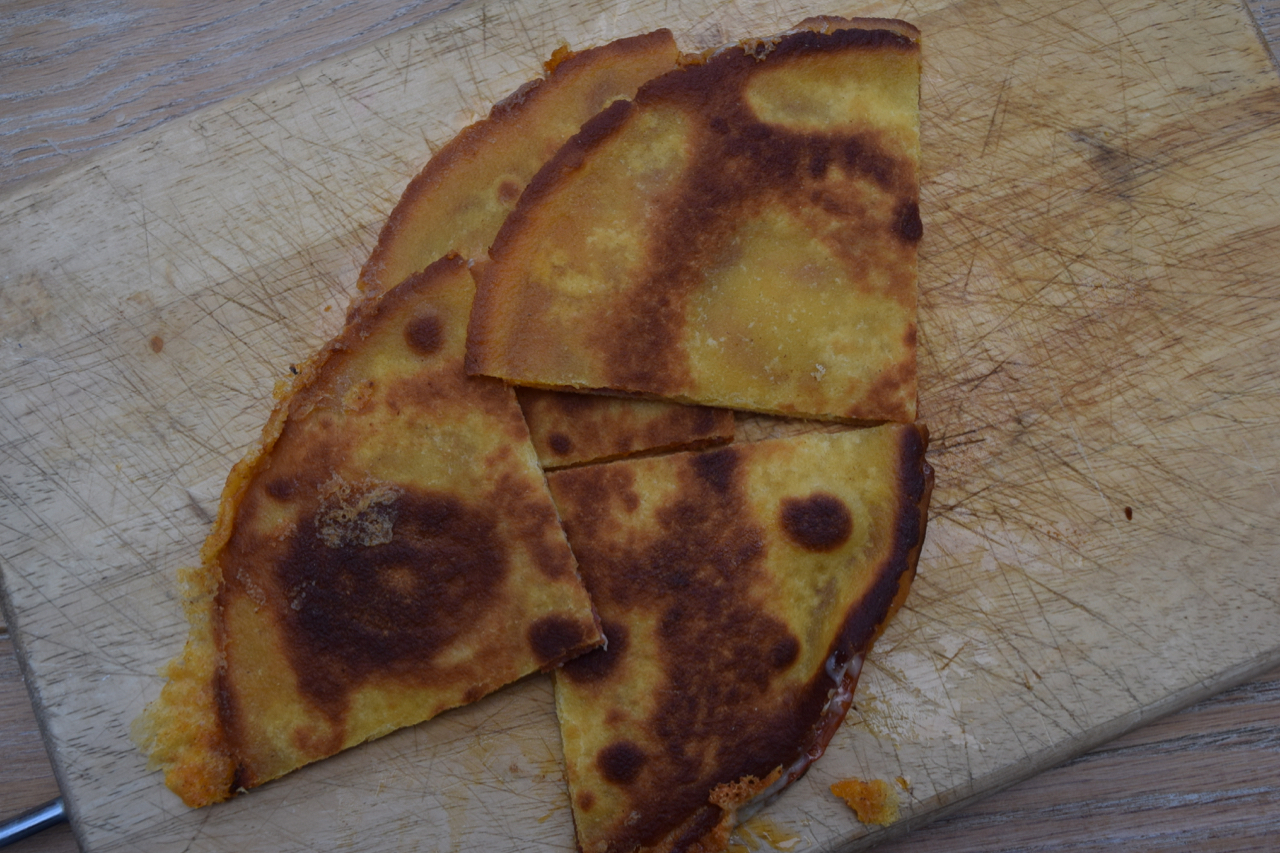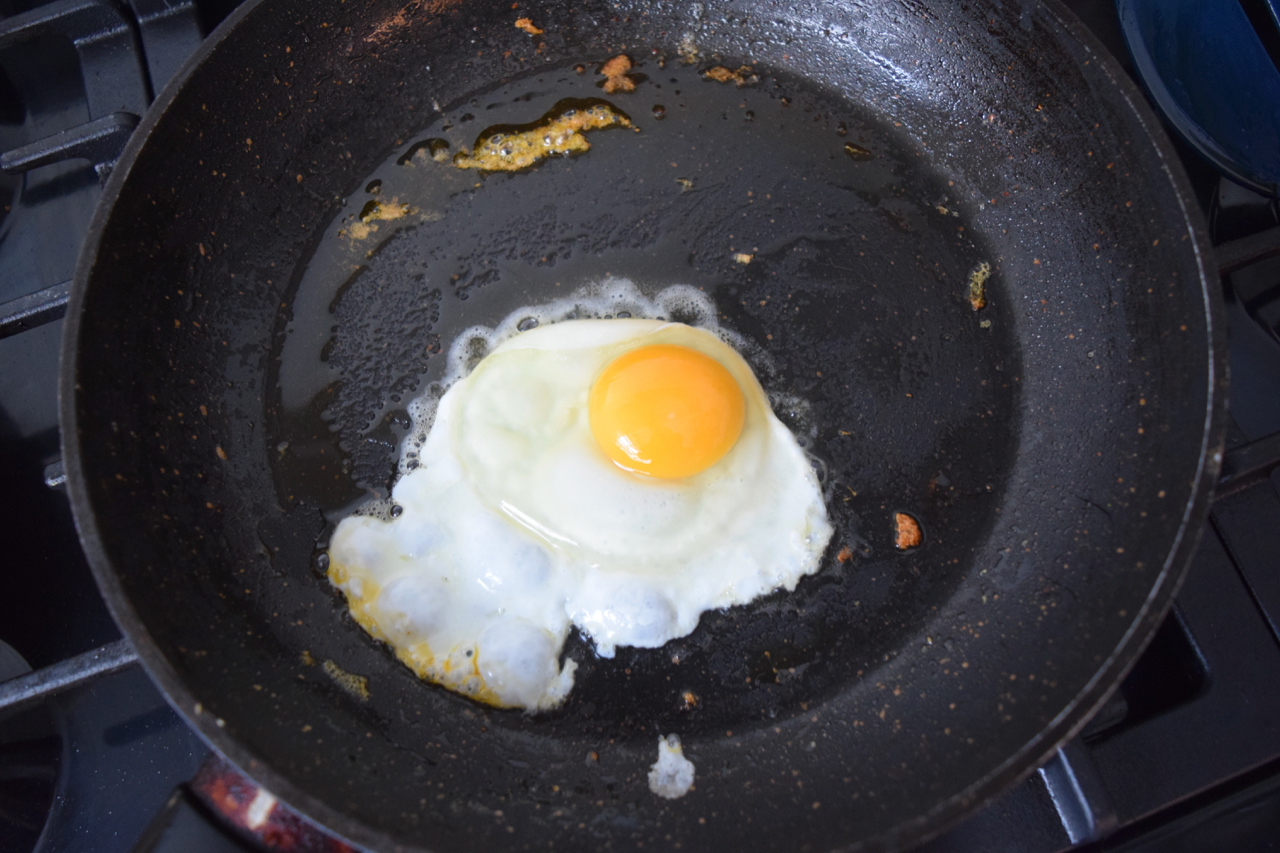 I like my egg crispy at the edges and runny in the middle, but cook yours to your liking.
Top your quesadilla with the egg, throw on some coriander and decorate with a Jackson Pollock style splash of Sriracha. Devour, trying not to burn your mouth on hot cheese and drippy egg.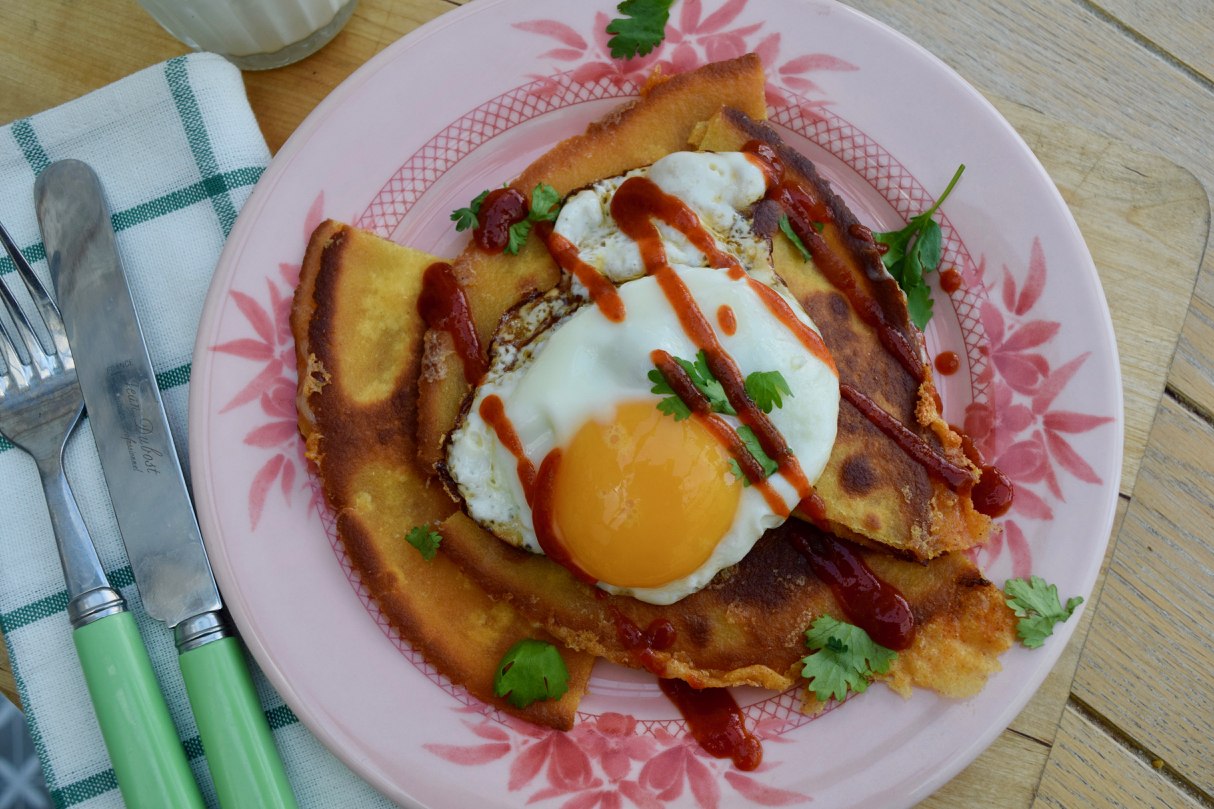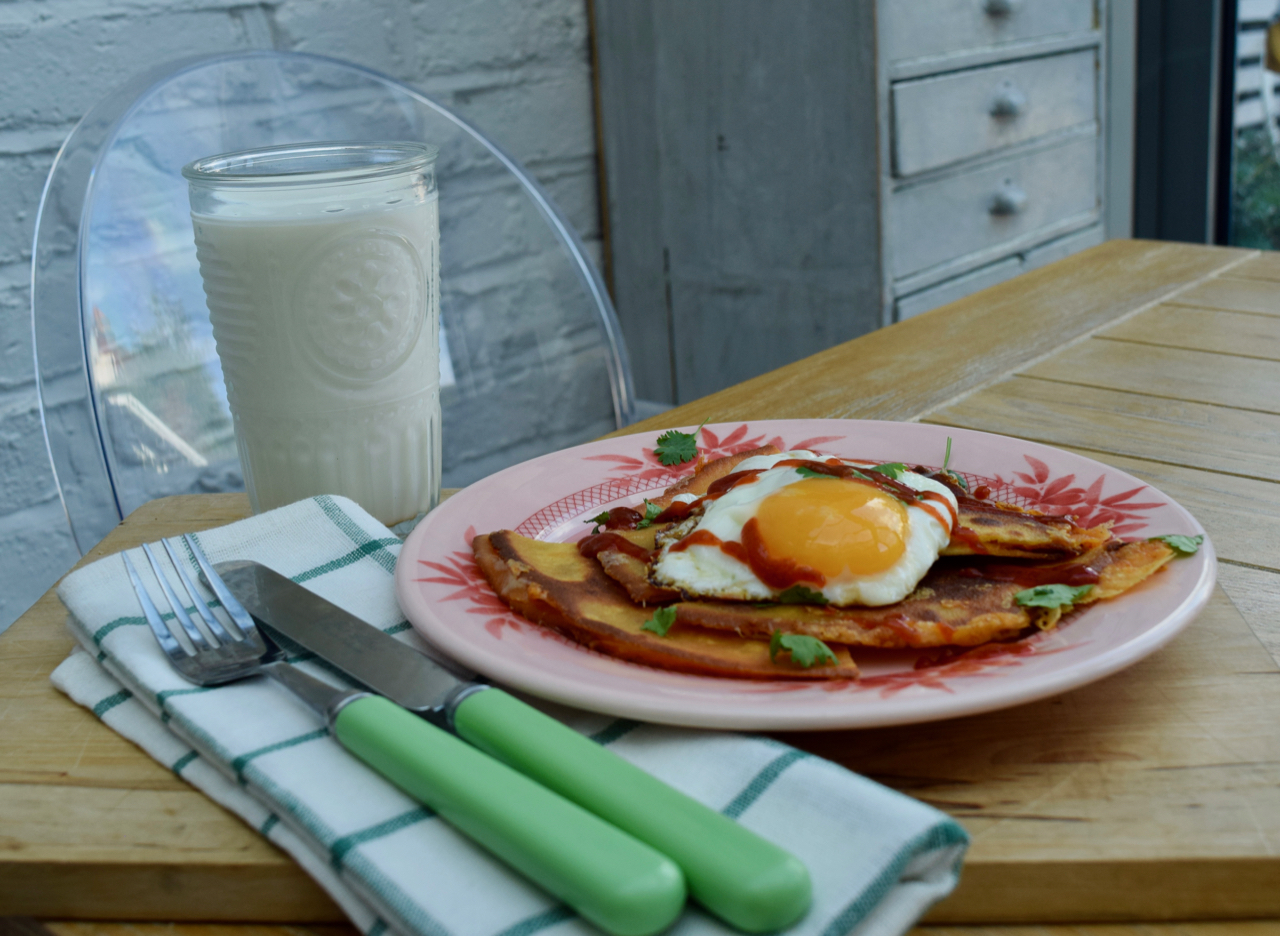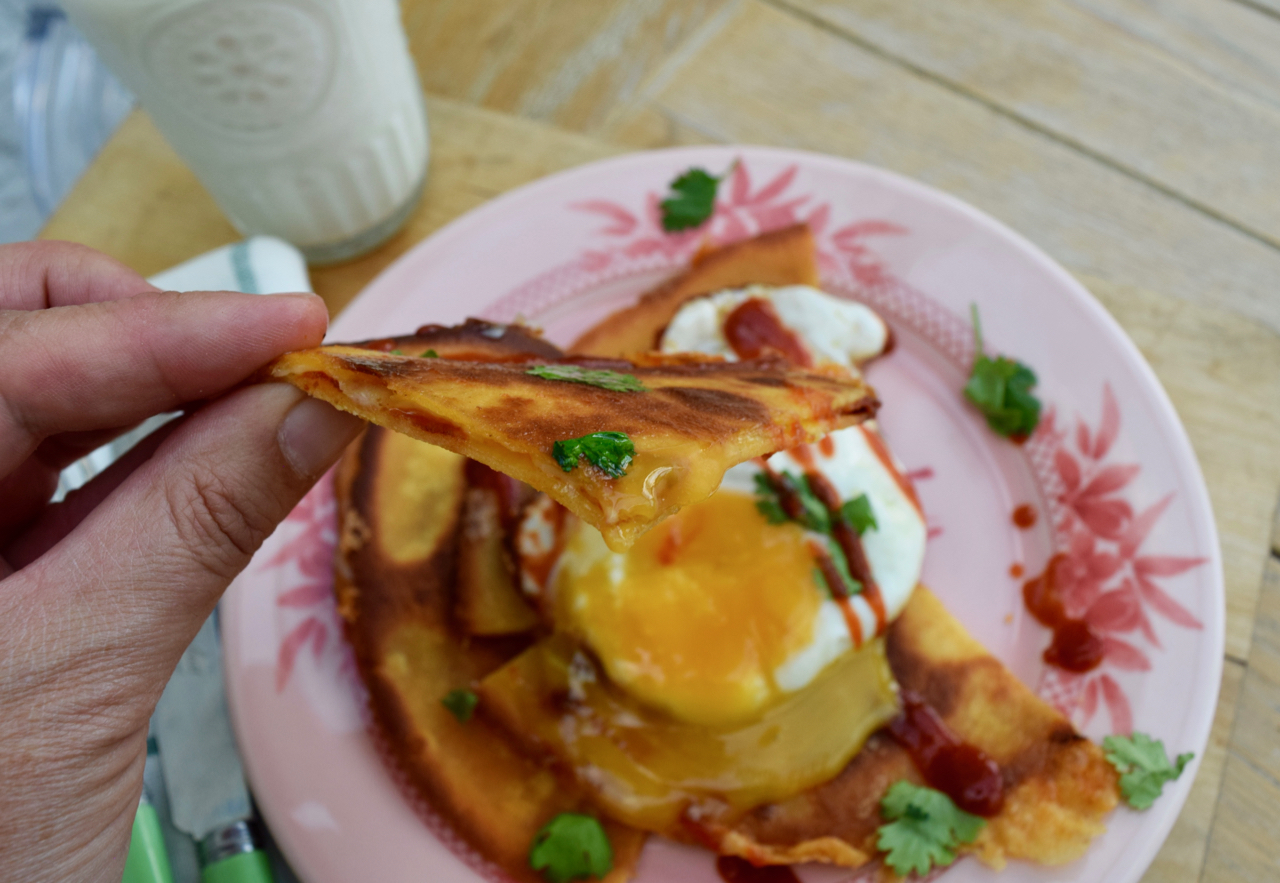 I actually asked the boys to help me create this Fried Egg Quesadilla so I could show them being capable and creative in the kitchen. However, one of them was in bed hungover and the other was playing PS4 and couldn't be disturbed. Their loss was my gain, I ate this whole thing myself, with egg yolk all down my chin. And it was divine.
Lucy x
Fried Egg Quesadilla Recipe
Makes 1, but be prepared to make more
You will just need a small frying pan and a cheese grater
2 corn tortillas, or any other wraps will do
Strong cheese, grated, around 50g
Chorizo slices, ham, salami, cooked bacon, it's up to you
1 egg
Sriracha and fresh coriander to serve, if you like
Take a small frying pan and melt a tiny knob of butter with a teaspoon of oil over a medium heat.
Once melted, add one of the corn tortillas or wraps. Add the grated cheese then lay on your sliced meat. Top with the other tortilla. Press down with a spatula.
Once the bottom is golden, flip the quesadilla and cook on the other side until it's golden and the cheese has melted. Keep flipping until it's all crisp and golden.
Remove to a chopping board and cut into quarters. In the same pan add another splash of oil if needed then crack in your egg and cook until the eggs still runny but the edges are crisp.
Put your quesadilla onto a plate and top with the fried egg. Garnish with some fresh coriander leaves and a drizzle of Sriracha. Devour. Then make another round for the rest of your family.