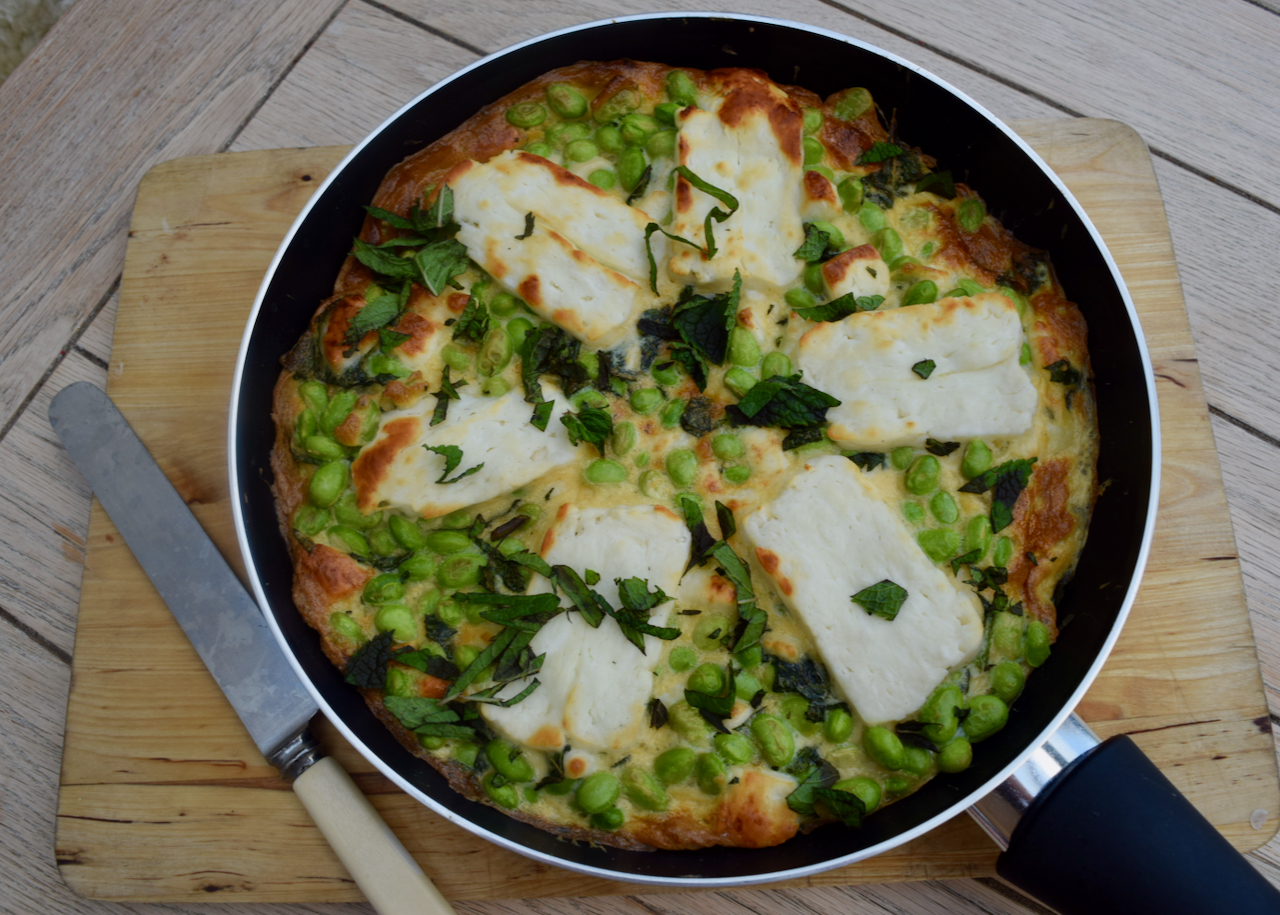 Halloumi, Edamame and Mint Frittata recipe
It's too bloody hot to cook at the moment; I'm living on salad and rosé and Frizzease for my ever expanding hair-do. Popping the hob and the grill on for 20 minutes is about all I can bear, so this genius 5 ingredient Halloumi, Edamame and Mint Fritatta recipe is star of the week.
Fritatta is such a versatile option; serve it hot for lunch or dinner with plenty of bread and wine, or wrap it up and enjoy this at room temp in the great outdoors. The original recipe from my favourite online supermarket, Ocado, featured broad beans but I find popping the skins off a, frankly, arduous task, so mine is a feast of edamames (frozen are readily available), salty halloumi and a handful of oh-so-summery mint. It's quick, it's so tasty and so flexible. If you'd prefer peas, then use those, if you love chives or parsley, mix up the herbs to suit you.
Egg based recipes are the best; we always have eggs in the house *unless the boys have eaten 5 in one sitting* and I keep a hidden stash of halloumi in the fridge as who doesn't love it's salty, squeaky charm.
Five bloody delicious ingredients go into making this simple, but tasty, versatile recipe. Frozen edamames are a great freezer staple, featuring in rice bowls, noodle dishes and now, my summer frittata.
Make a start by defrosting your edamame beans, if they're frozen. I did this by pouring a kettle of boiling water over them, sitting in a colander, and letting them drain well. Next, whisk the 6 eggs with a little salt and plenty of black pepper.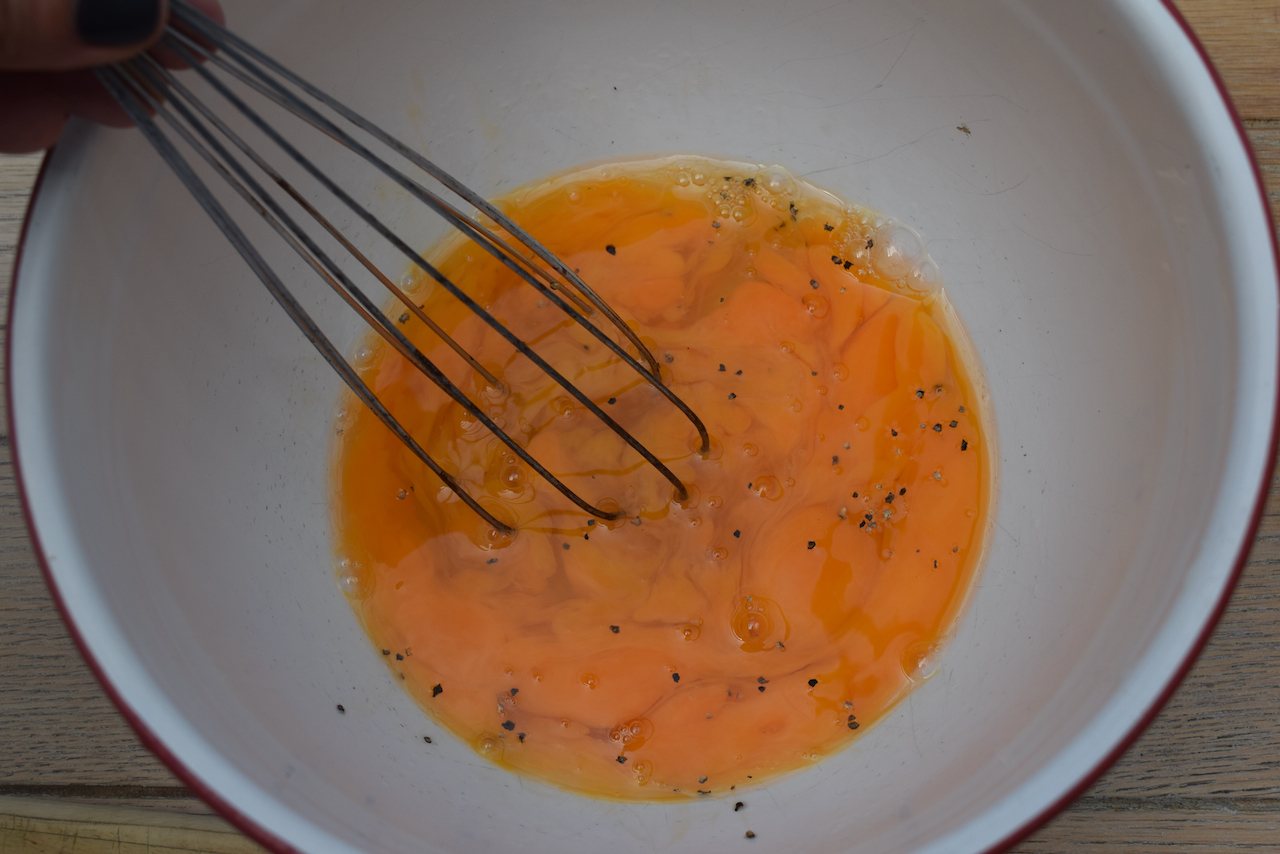 Chop the handful of fragrant fresh mint and slice half the halloumi and roughly chop/crumble the rest.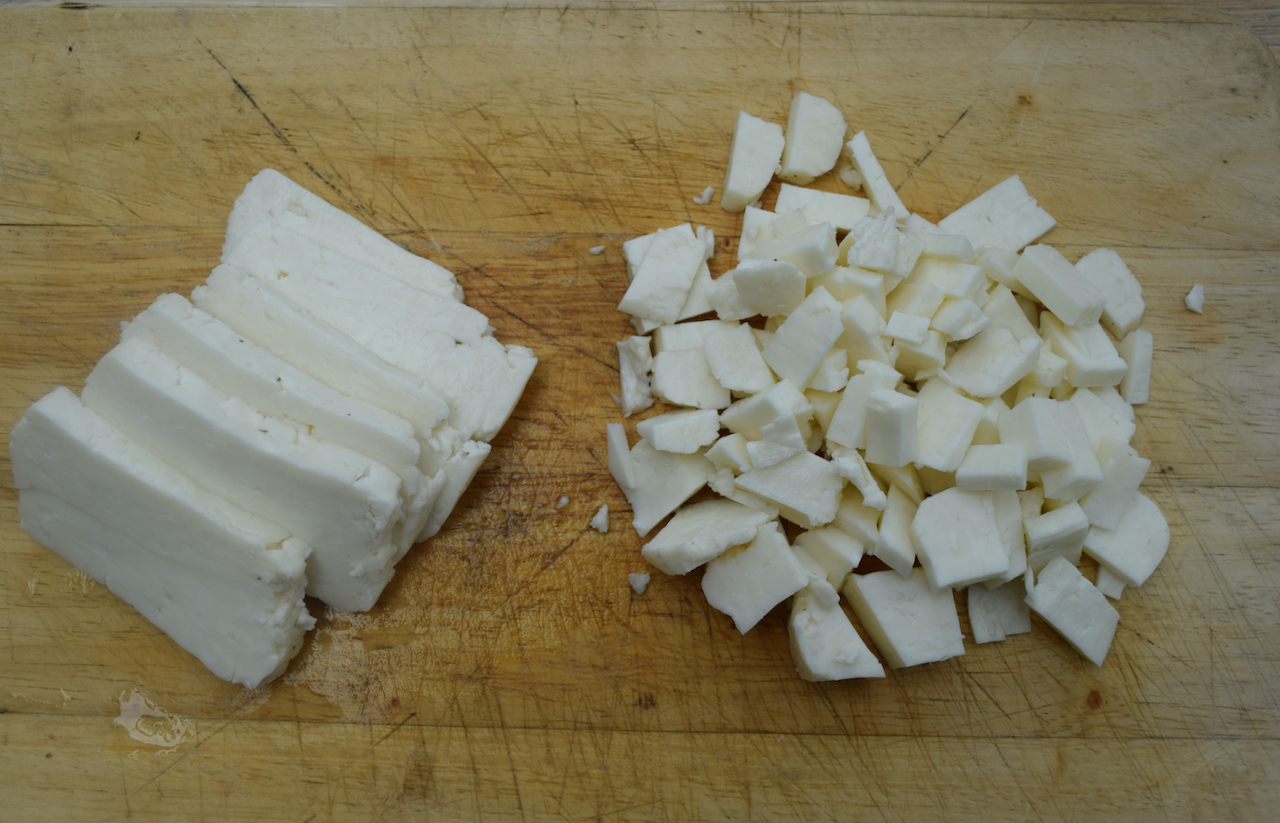 Add the drained edamames and chopped halloumi to the egg mixture, along with the fresh mint, and stir well to combine.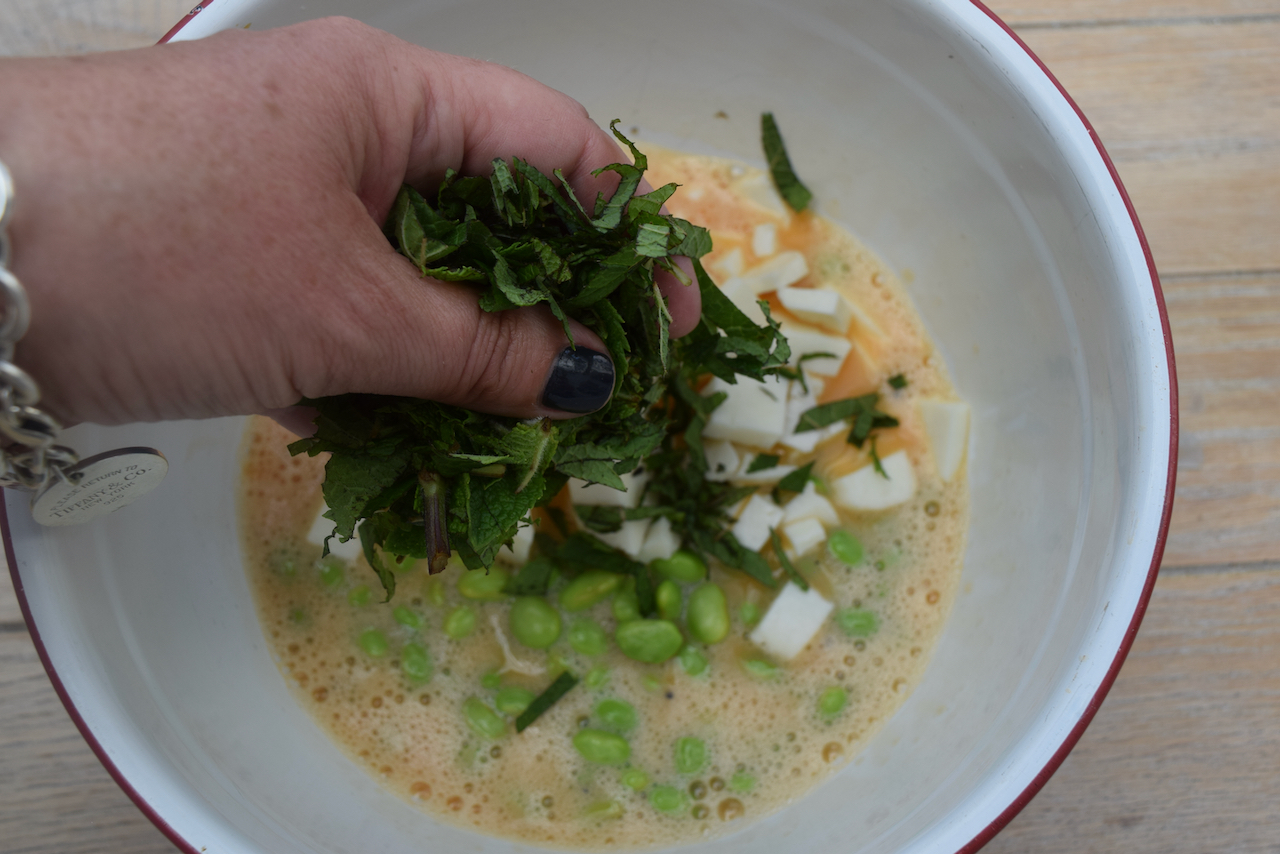 Heat a tablespoon or so of olive oil in a 24cm-ish really non stick frying pan over a medium heat.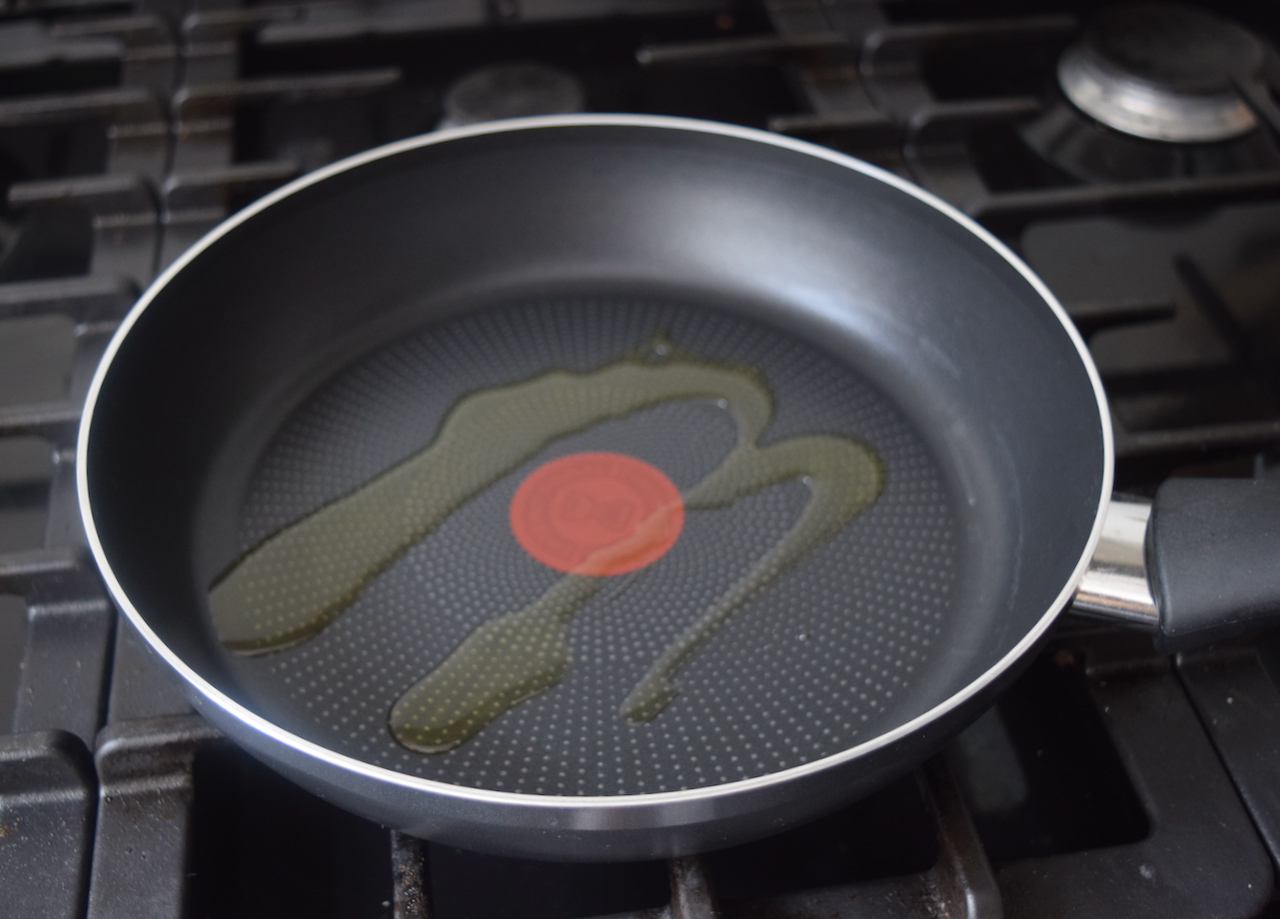 Please admire my lovely new frying pan before the boys ruin it by frying eggs in it every day.
Pour in the frittata mixture and start to cook. Pull the sides in to allow the raw egg to run to the edges, to ensure an evenly cooked frittata.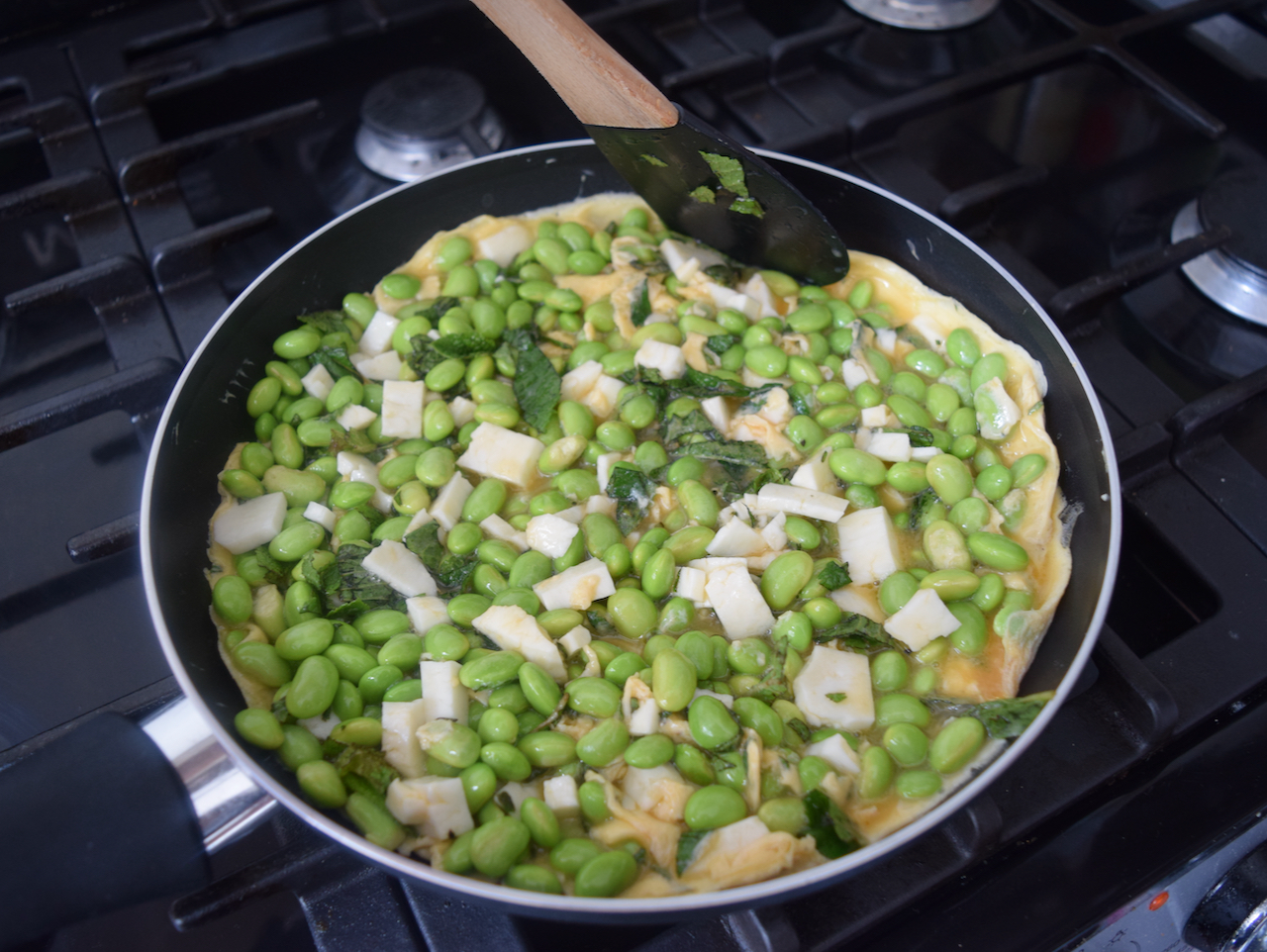 Cook gently for 5 minutes, until the bottom is turning golden and the centre is starting to set. Pre heat your grill to medium, then lay the reserved halloumi slices on top, in an elegant way.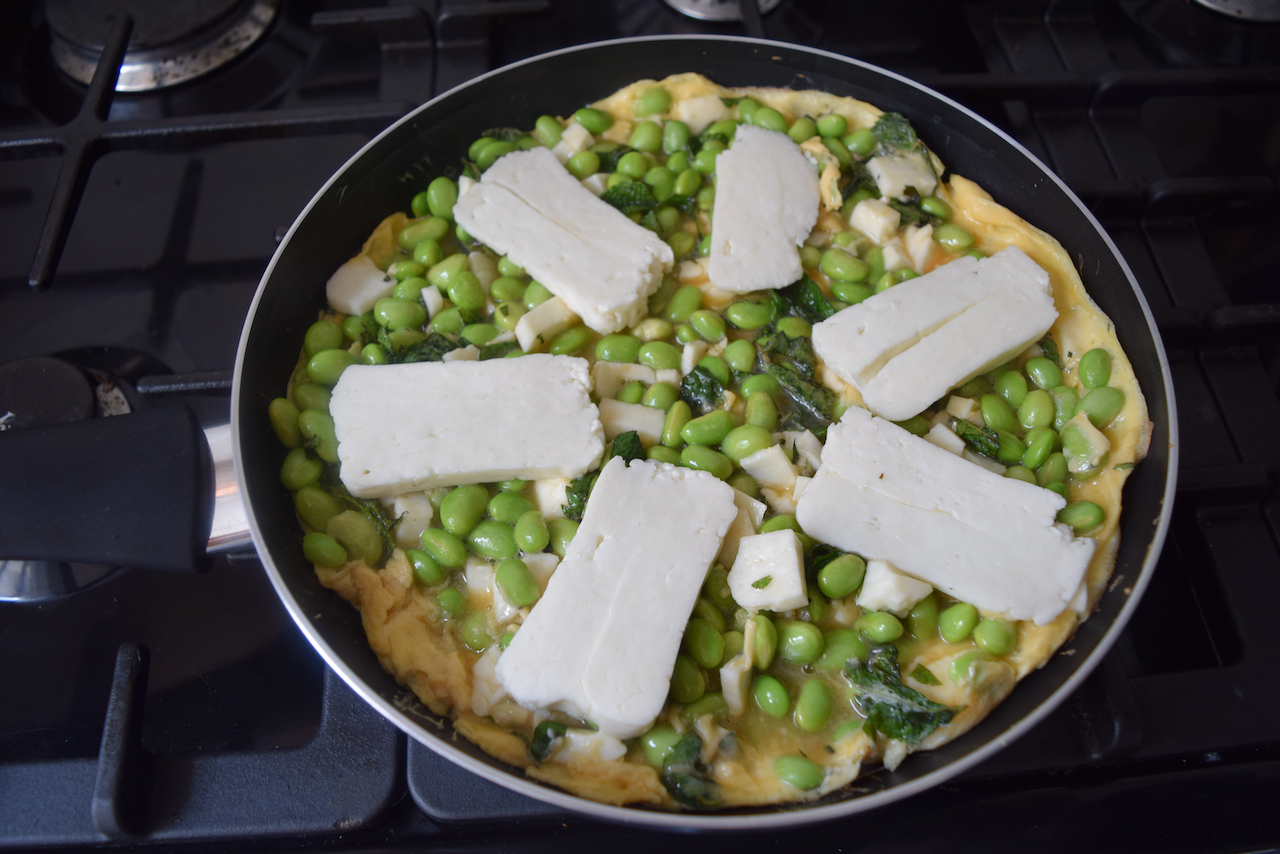 Pop the pan under the grill for another 5 minutes, or until the halloumi turns golden and the frittata is browned and fully set.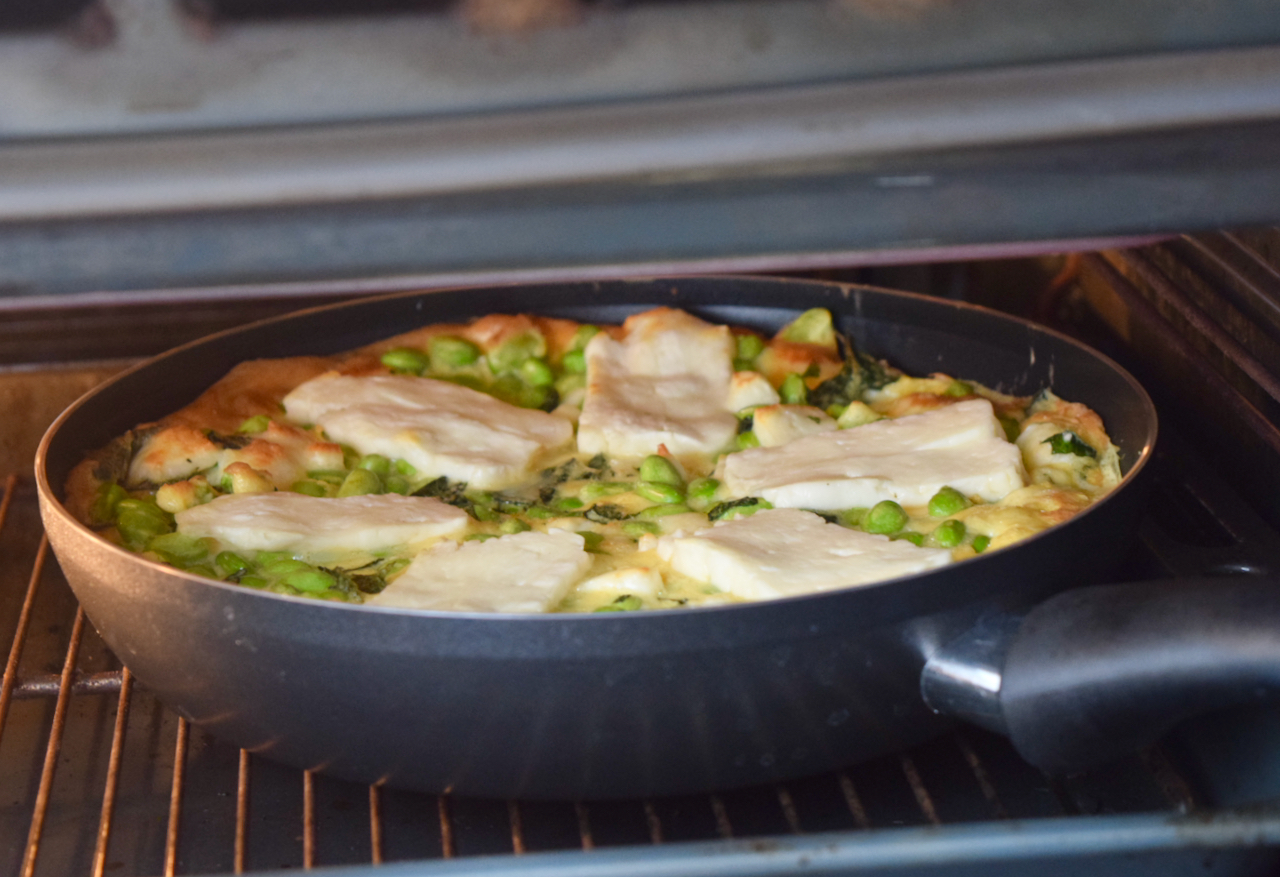 Your fresh tasting, salty, tasty frittata is now ready. Serve hot, cold or at room temperature with some leaves on the side and a further scattering of fresh mint, if you like.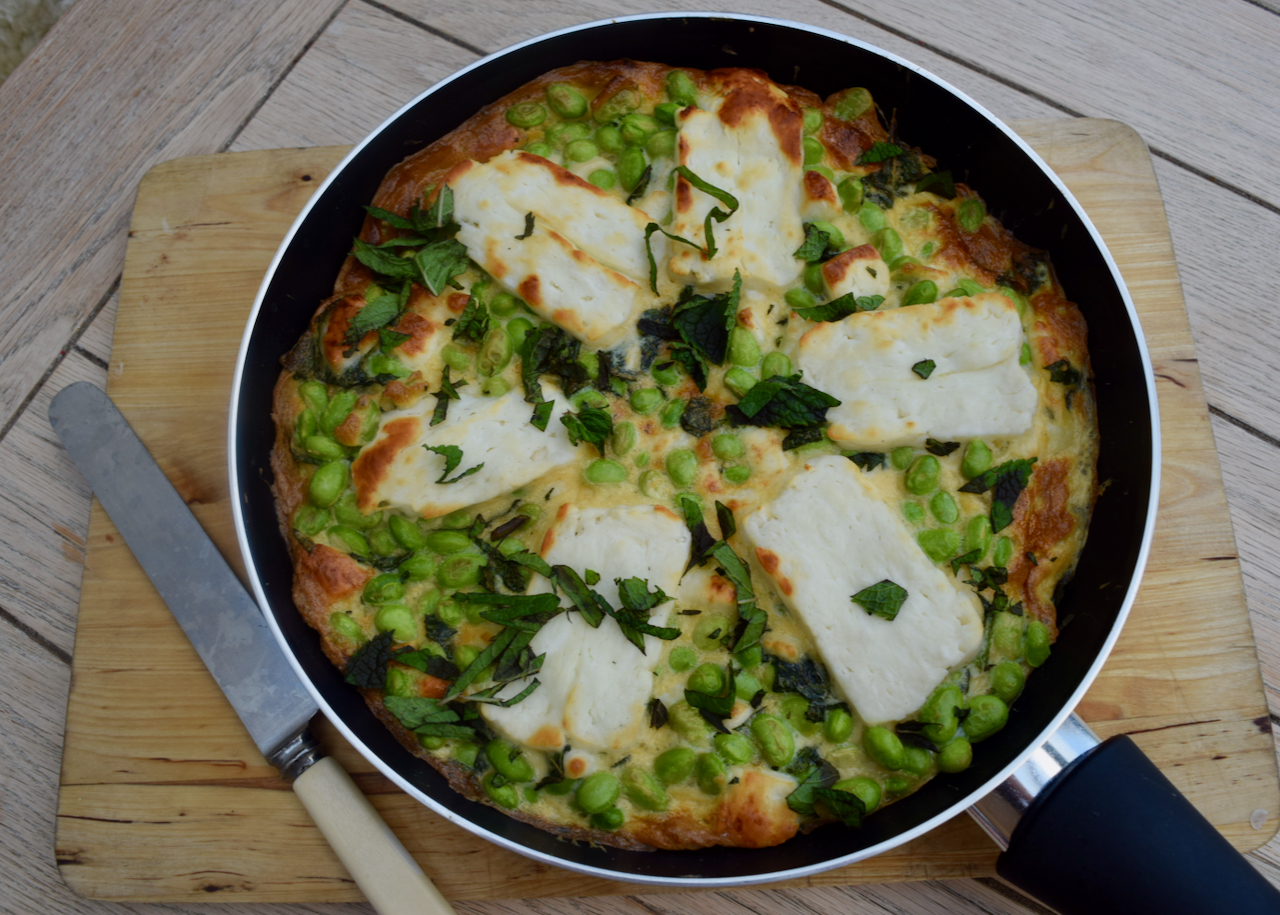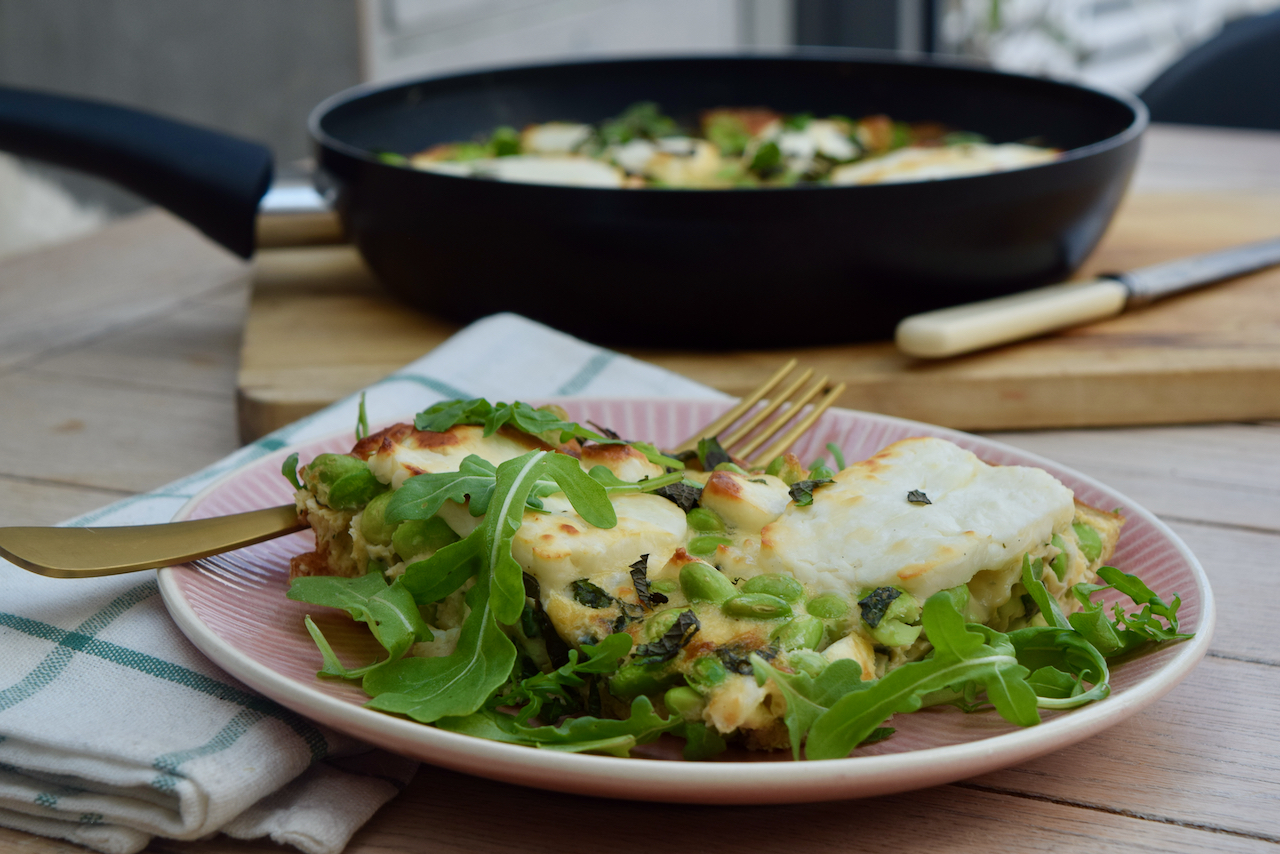 Picnic weather seems here to stay *watch it start raining the minute I post this* so even if you're eating this Halloumi, Edamame and Mint Frittata on a blanket in the garden, it will still taste amazing.
Lucy x
Halloumi, Edamame and Mint Frittata recipe
Serves 4 to 6, appetite dependent
You will just need a bowl and a 24cm frying pan you can use under the grill
6 large eggs
300g edamame beans, defrosted if frozen
250g halloumi cheese, half sliced and half roughly chopped
Handful chopped fresh mint
Salt and pepper
1 tablespoon olive oil
Extra fresh mint to garnish, some leaves to serve
If your edamame beans are frozen, place them into a colander and pour over a kettle of boiling and leave them to drain.
In large bowl whisk the eggs with a little salt and plenty of black pepper. Stir in the drained, defrosted edamame beans and mint. Slice half the halloumi and roughly chop or crumble the other half. Add the crumbled half to the egg mixture and stir well to combine.
Pre heat your grill to a medium high heat. Pour 1 tablespoon or so of oil into a good non stick, 24cm frying pan and heat over a medium heat. Once the pan is hot, pour in the frittata mixture and start to cook the mixture at the edges, then pull in the sides, allowing the uncooked egg to move to the edge of the pan. Once the base of the fritatta is starting to turn golden lay the slices of halloumi on top of the mixture then put under the grill for a further 5 minutes or until the halloumi is turning golden and the egg is also golden and fully set.
Turn out onto a board and serve in generous wedges, hot, at room temp or cold in a lovely picnic situation.