Welsh Cakes Recipe
Hooray for today, it's March at last. It's the first day of spring, allegedly, and according to my calendar of events, it's National Pig Day and Justin Bieber's 22nd Birthday. Not necessarily occasions I celebrate, but the arrival of Spring is certainly worth a mention. The bulbs have been up for a while in our garden, but now the nights are getting lighter too, winter seems it may be tailing off rather than still in full swing. Another 1st of March celebration, which brings me neatly to today's recipe, is St David's Day. These Welsh Cakes are a delicious way to mark the Patron Saint of Wales special day. St David, it was said, led a simple life, encouraging his followers to not eat meat or drink beer. Suffice to say, if St David was around today, he would not have been a Lucy Loves subscriber. This traditional recipe comes via the Great British Chefs website, with thanks to them.
These little scone like pastries are cooked on a heavy bottomed *cue joke about my own derriere* frying pan or griddle until golden and risen. They are fragrant and soft, packed with sultanas or currants and crying out for a slathering of butter and teaspoon of jam. These Welsh cakes use all your favourite store cupboard ingredients so you could almost certainly have a warm batch of these ready within the hour. My batch as seen here, barely lasted an hour, especially as I alone ate three while they were hot from the pan. My beach ready body, as you can imagine, is so not ready.
So, rejoice and celebrate the non-meat eating and non-beer drinking St David with a warm Welsh Cake, I think he would have approved of these simple, but bloody delicious little offerings.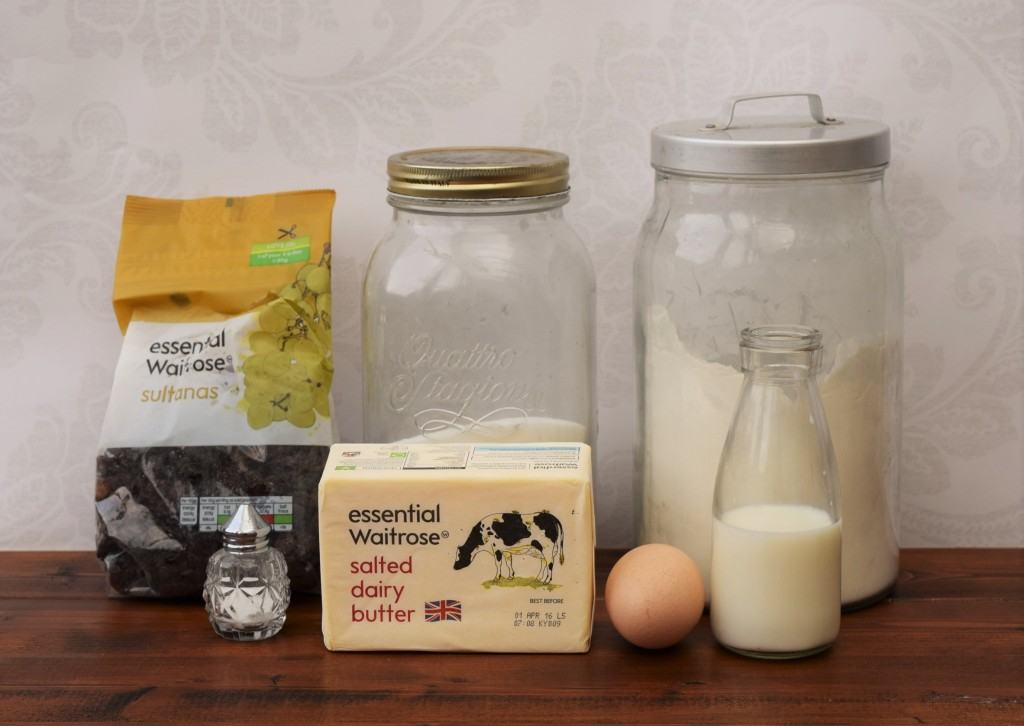 What could be more simple than this set of ingredients. You may only have to nip out for a new bag of sultanas as I did, because the ones I found buried at the back of my store cupboard were a tiny bit *a year* past their sell by date.
Make a start by putting your griddle or heavy cast iron frying pan on to heat up over a medium heat. While this heats up, start on your dough by weighing out your self raising flour and adding a pinch of salt.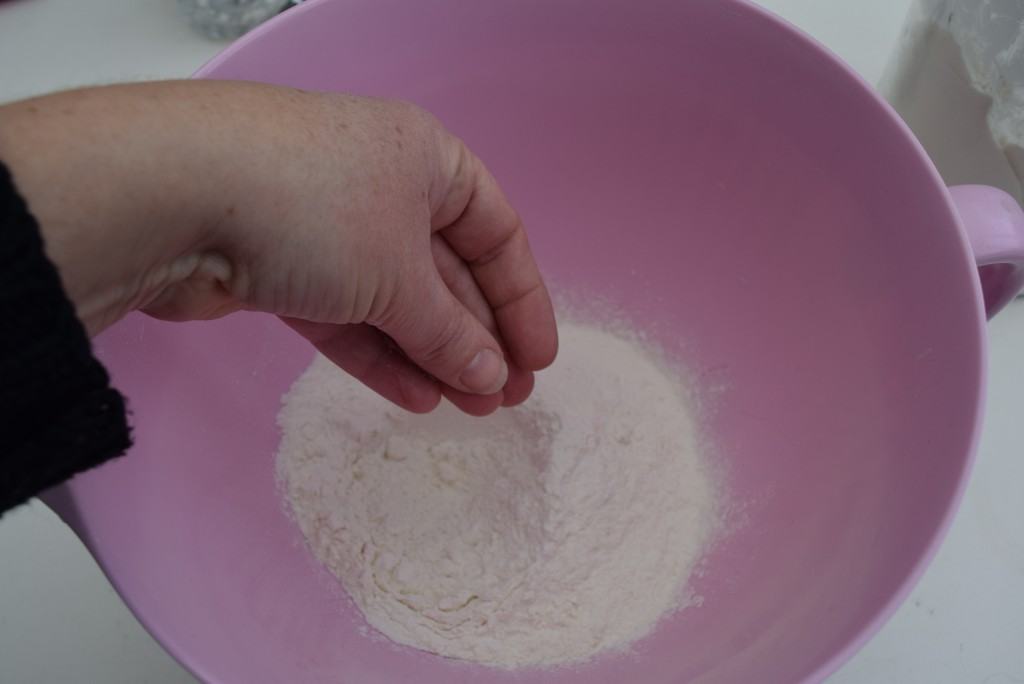 Sorry about my fat hand doing an emu impression again. It's been a while, to be fair.
Next, add the butter, chopped into smaller pieces. Rub this into the flour, using light fingers, until you have a mixture which resembles fine breadcrumbs.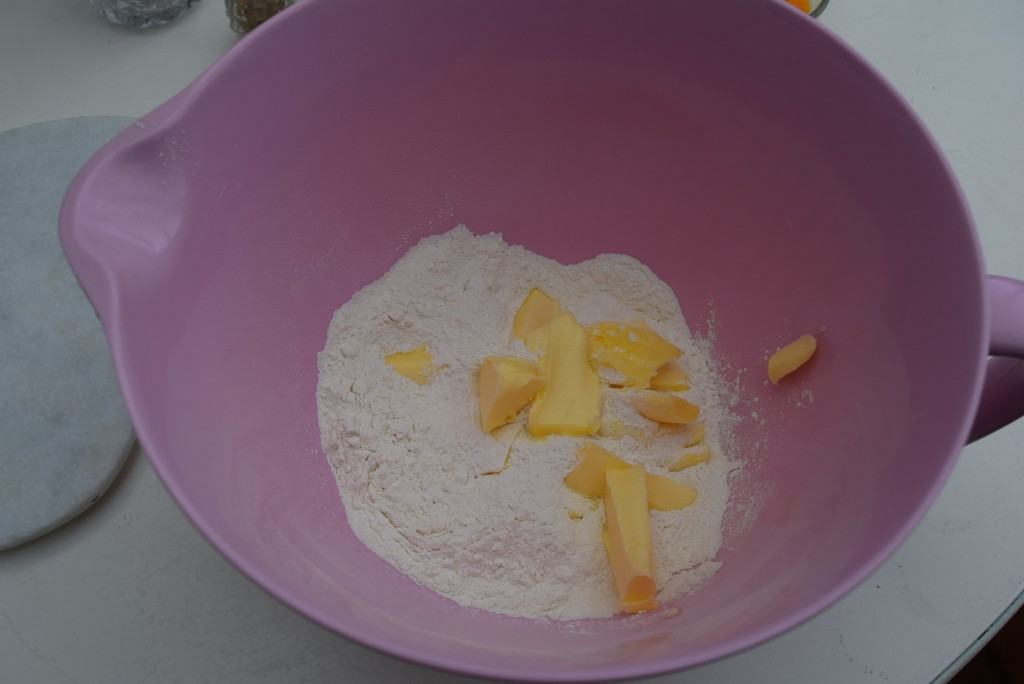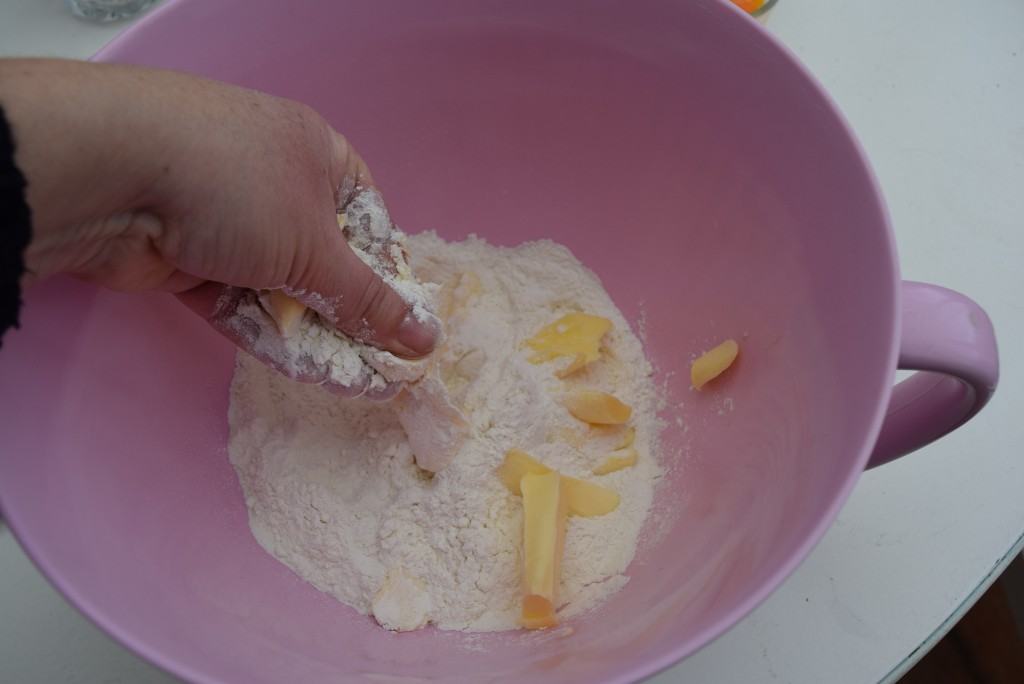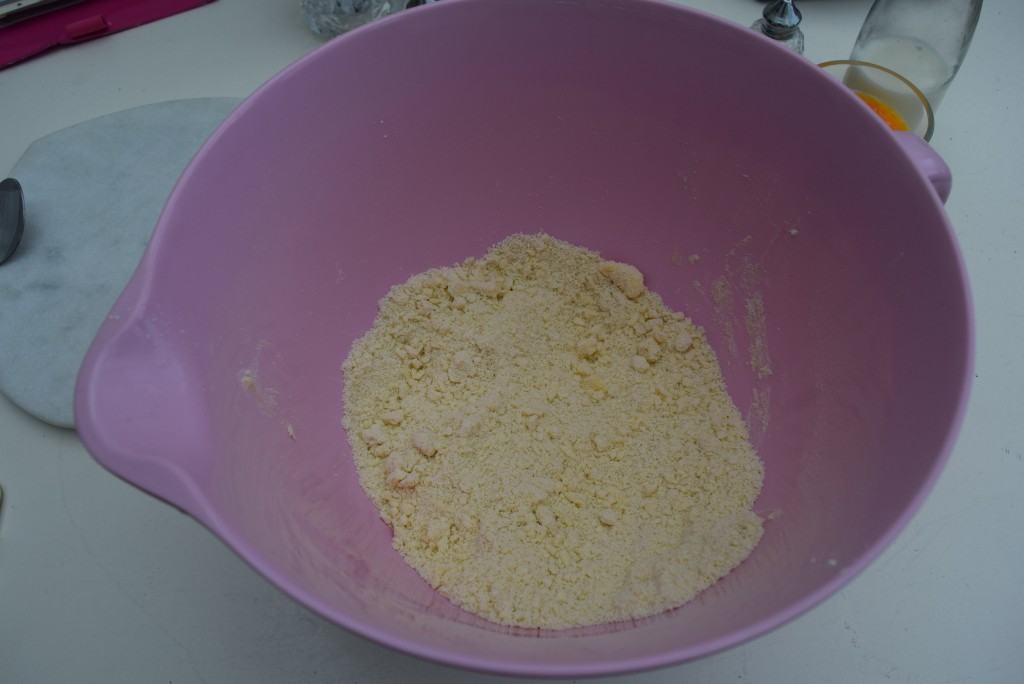 Tip your caster sugar and chosen dried fruit into this buttery mix. I went sultanas as I think raisins and currants are a bit small and hard. Sultanas have a softer, juicier side. Stir these through.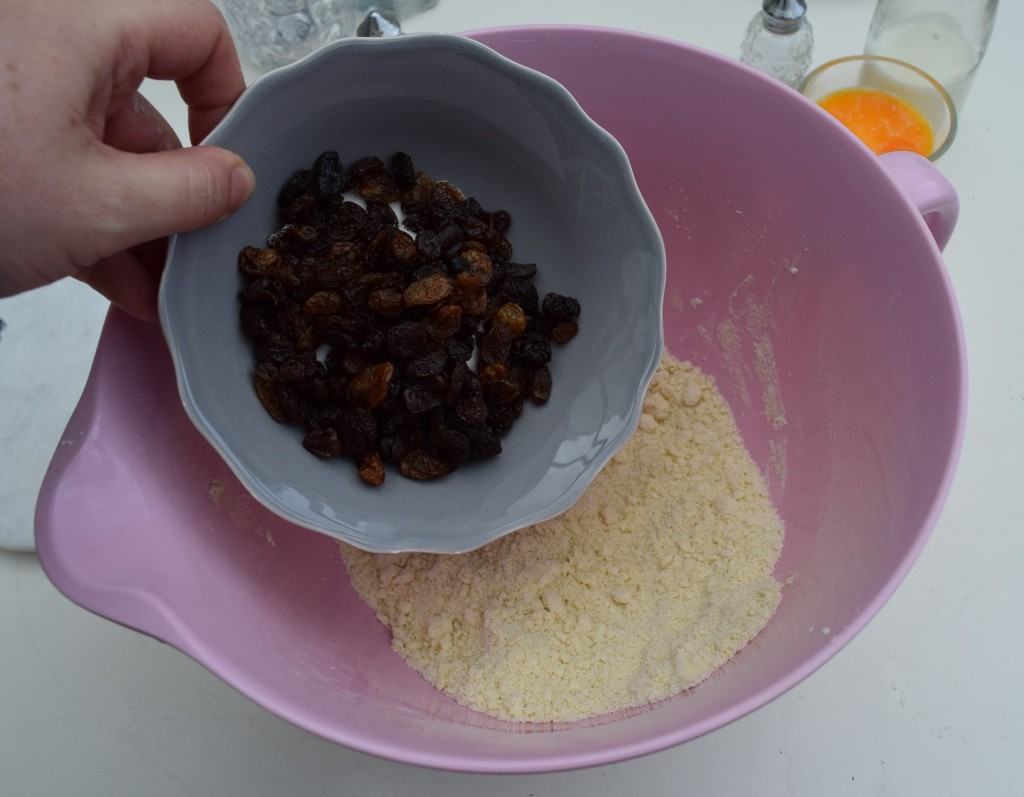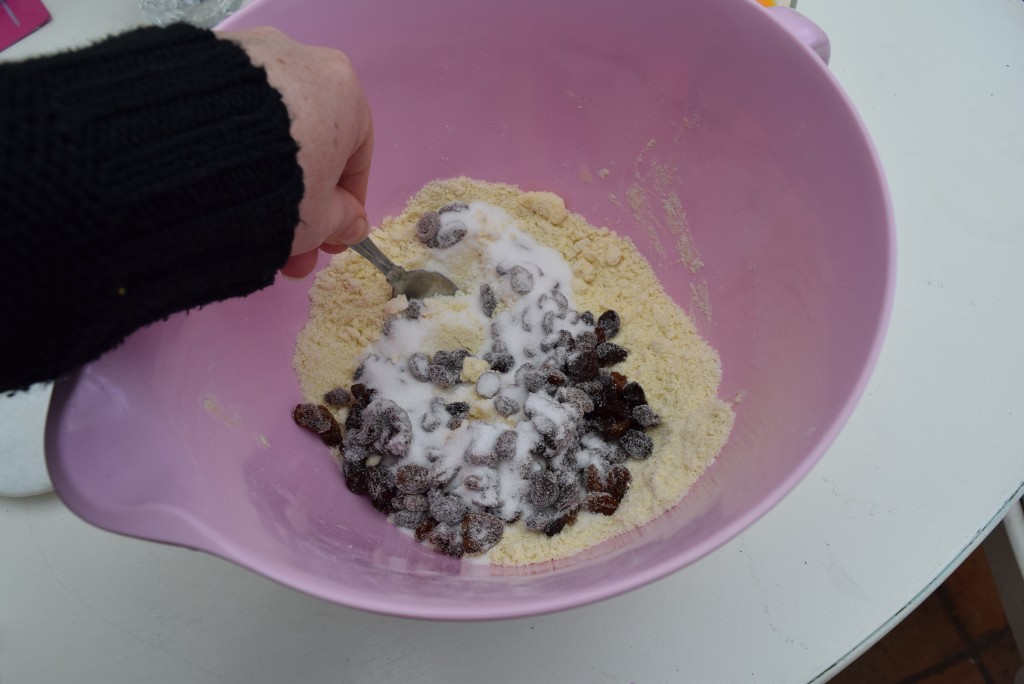 Now, in a small cup or bowl, crack one egg, then whisk together with three tablespoons of milk. Pour this into your bowl and stir through to create a soft ball of fruit laden dough.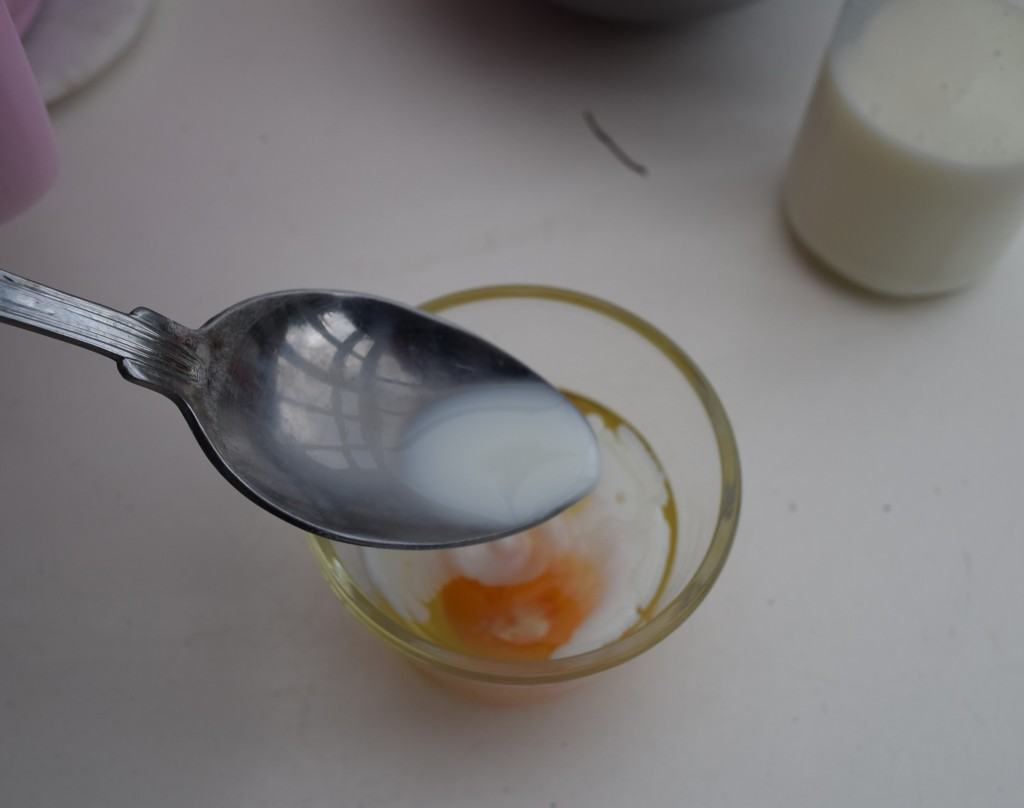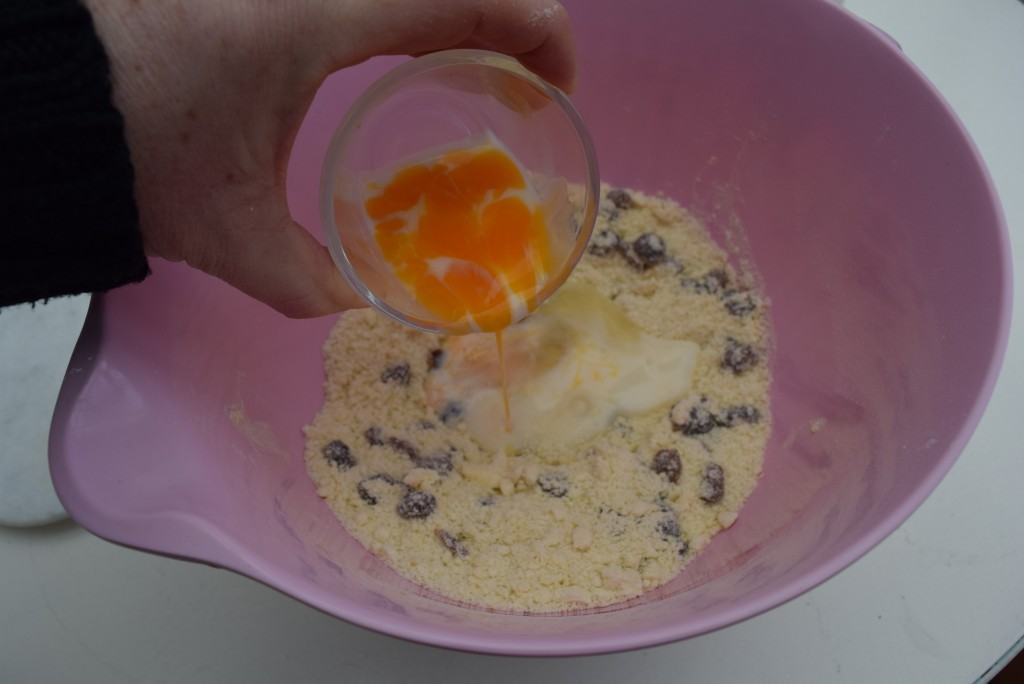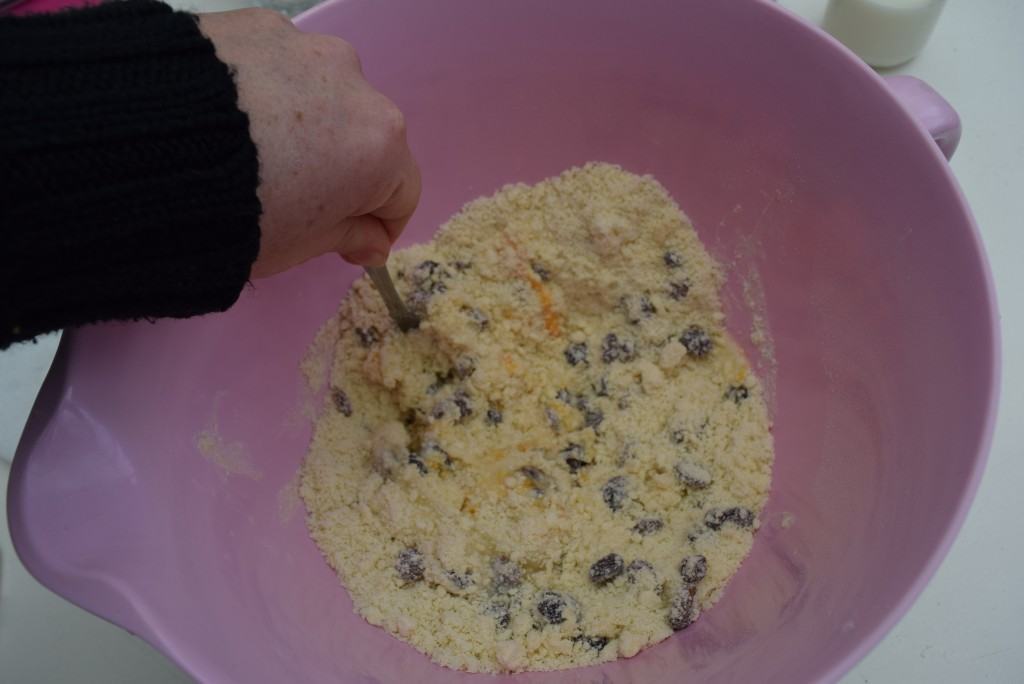 You could use your hands here if you are in the mood to roll your sleeves up.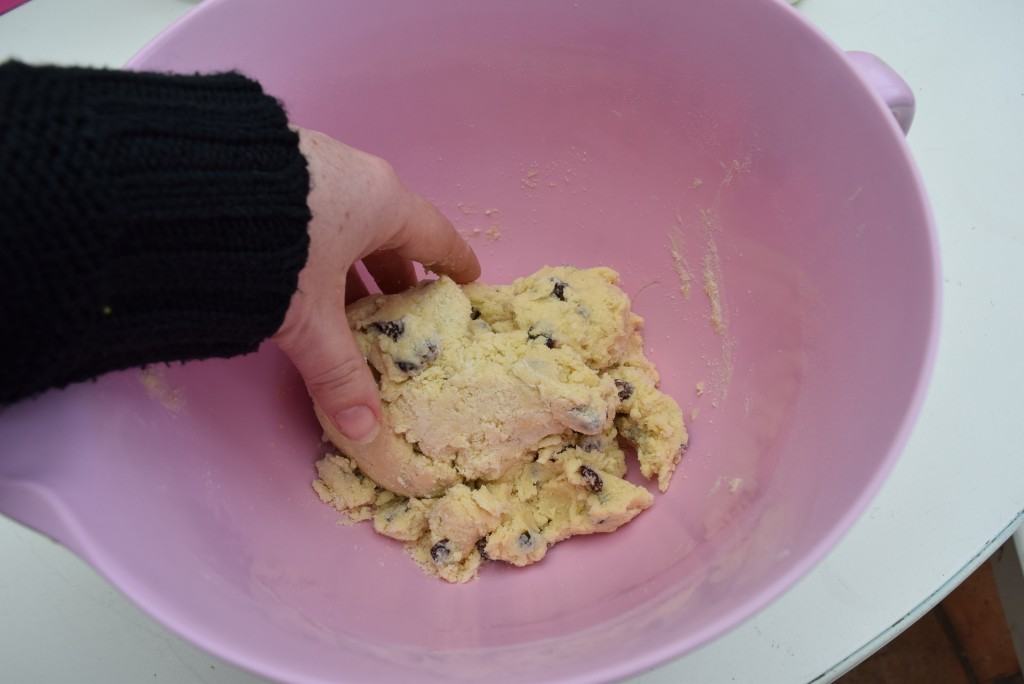 Tip this lovely dough out onto a floured work surface and roll out to the thickness of around 0.5cm, but don't be too pedantic here, just do your best.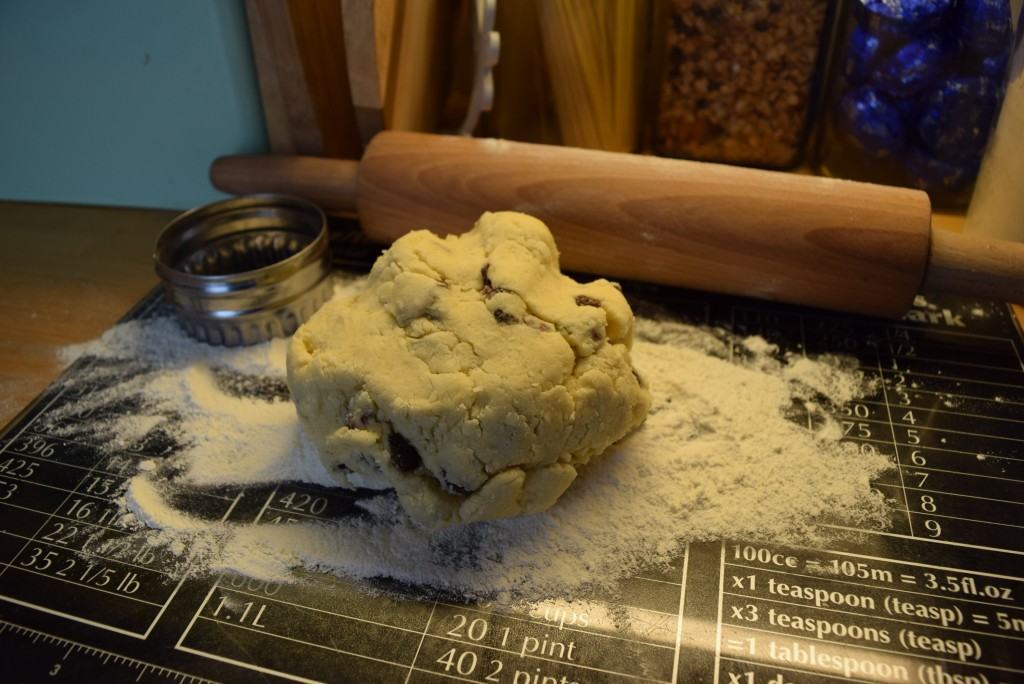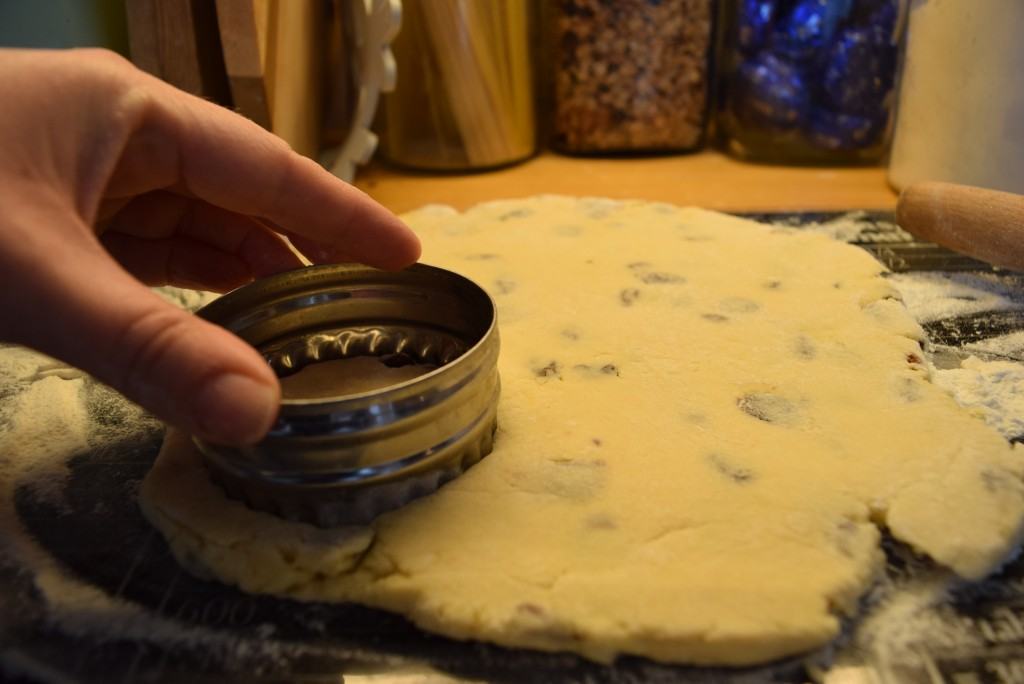 Cut out circles with your fluted round cutter, re-rolling out the scraps to make around 10 in total.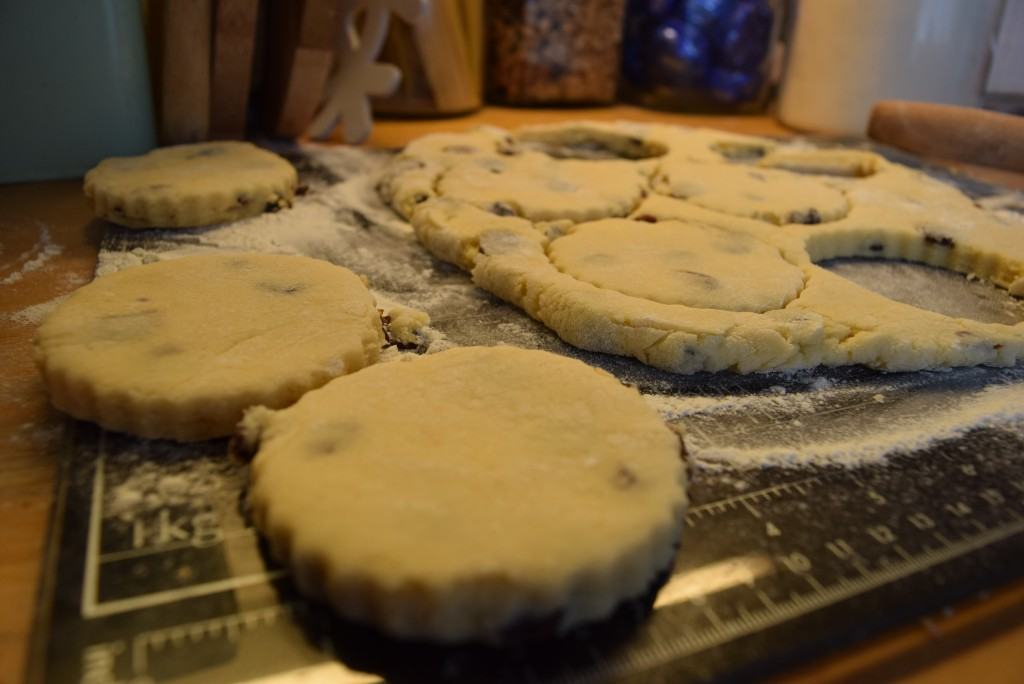 Add a dot of butter onto the hot griddle or pan, spread it around then pop on your Welsh Cakes. These will take around 3 to 4 minutes on each side.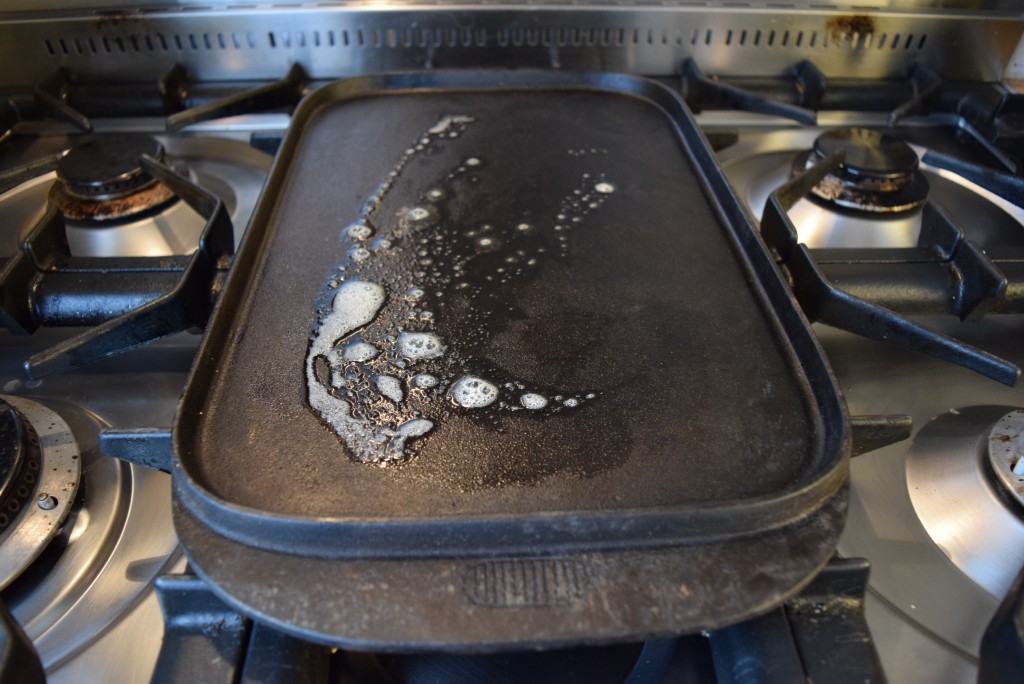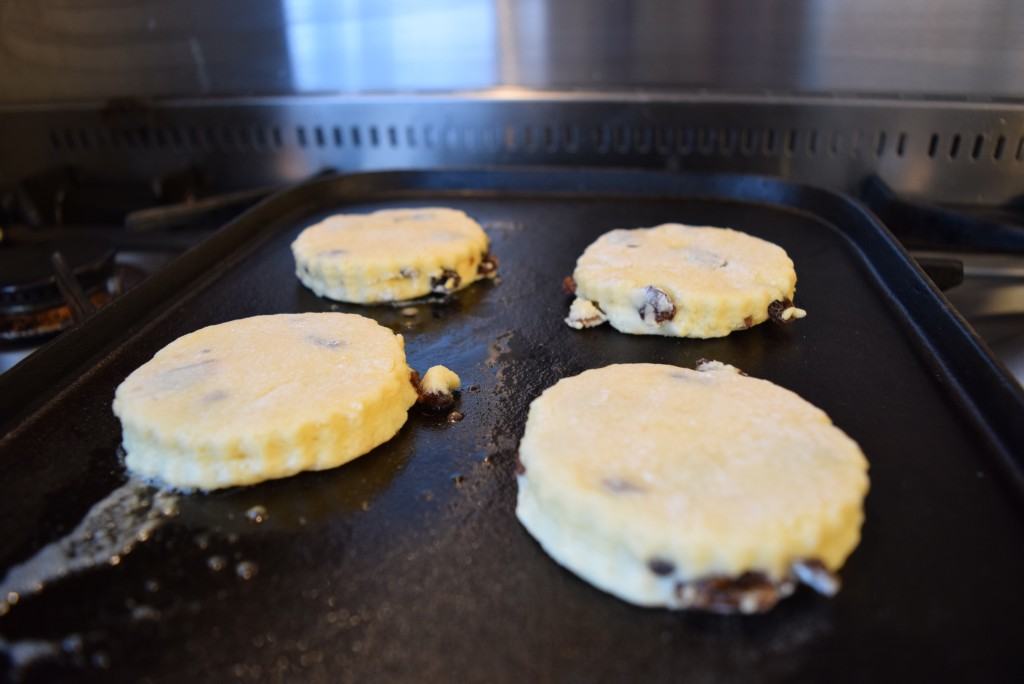 Turn the warm cakes over and cook until risen and golden for a further 3 to 4 minutes.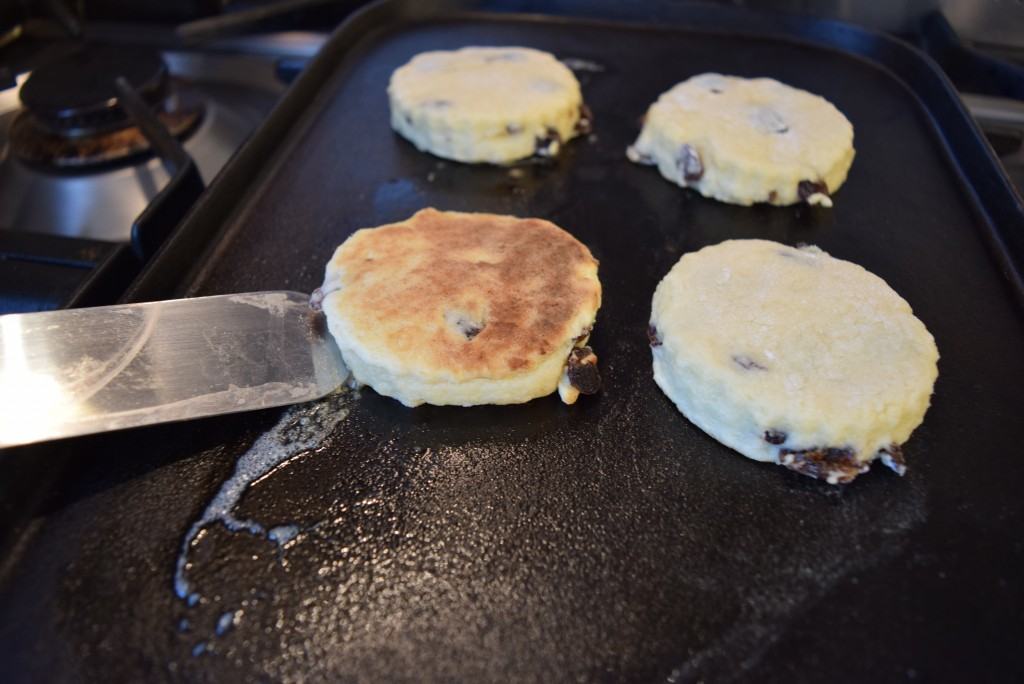 Keep each batch warm while you cook the rest of the cakes.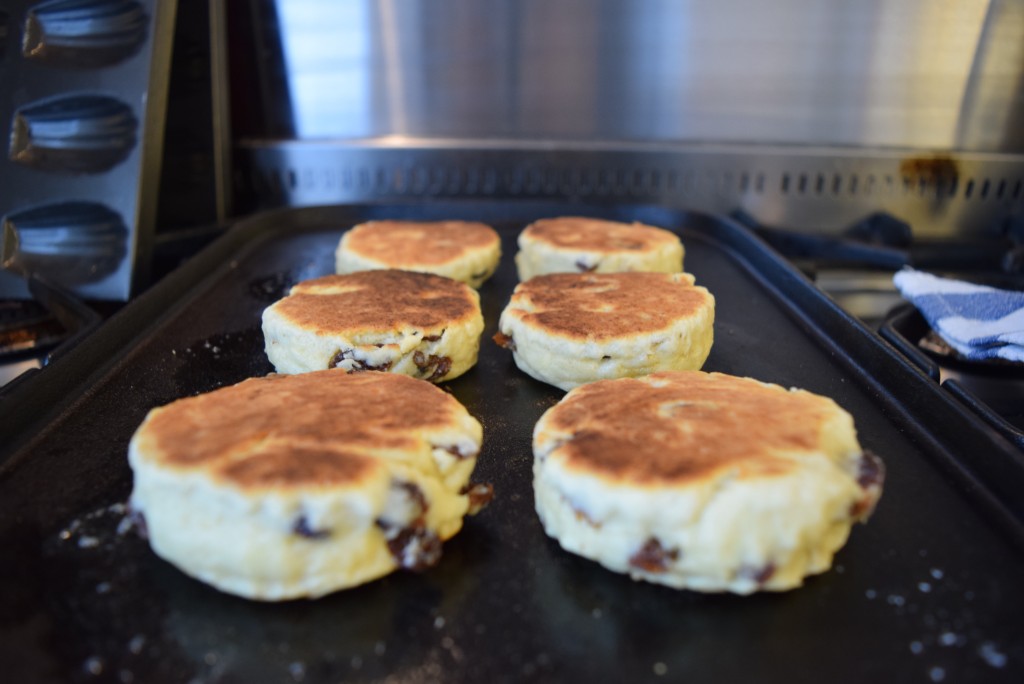 Serve your Welsh Cakes warm, slathered with butter and elegantly adorned with jam.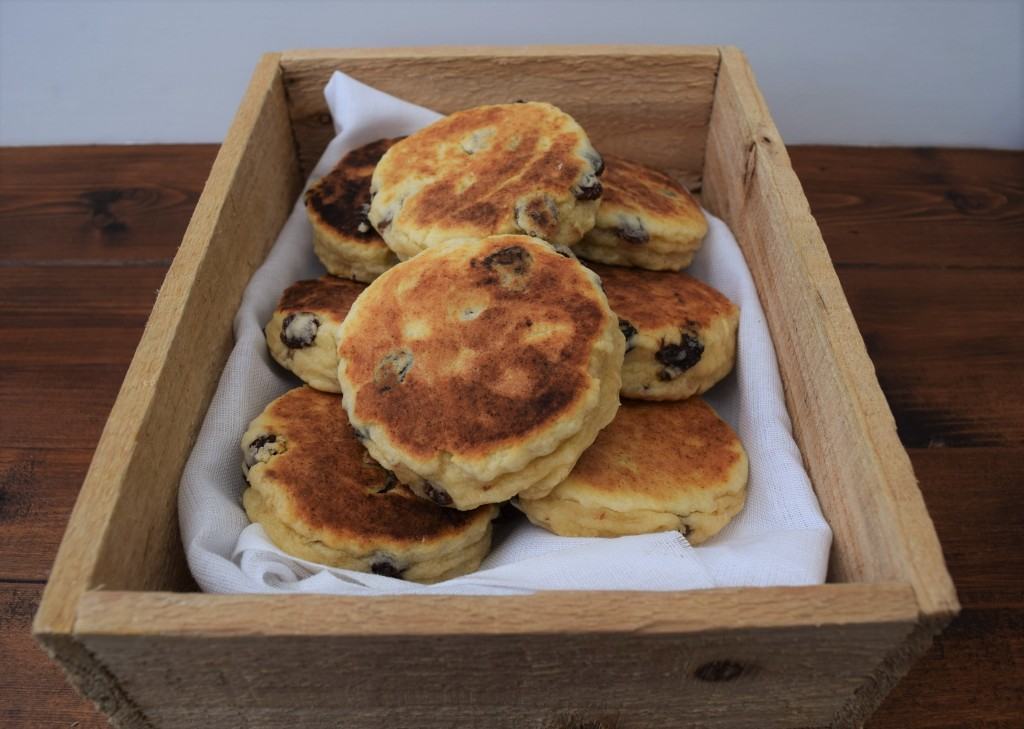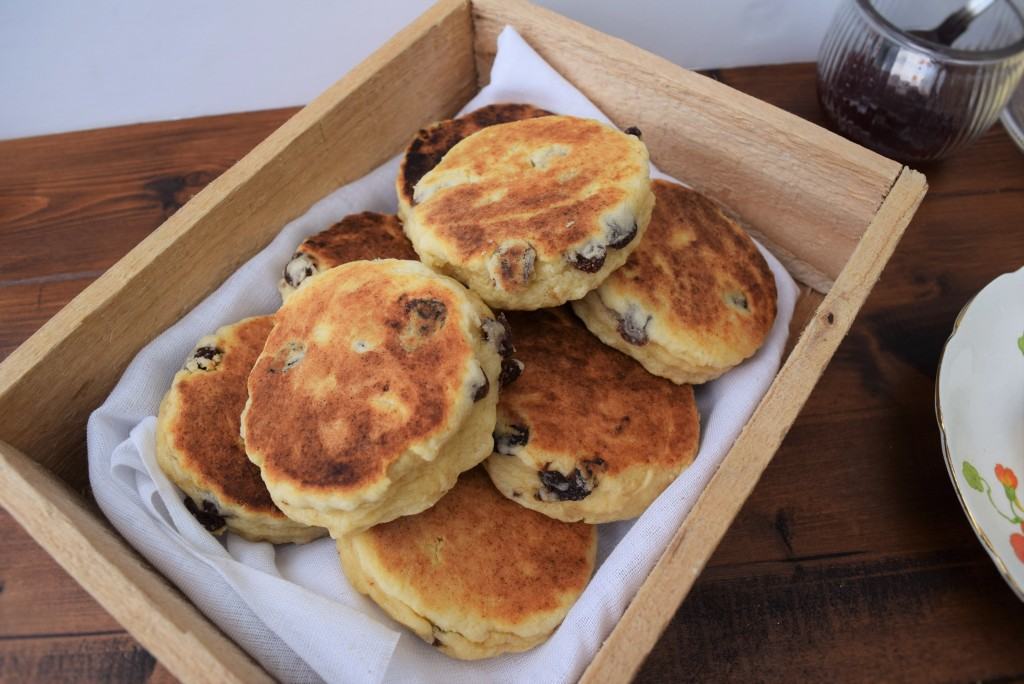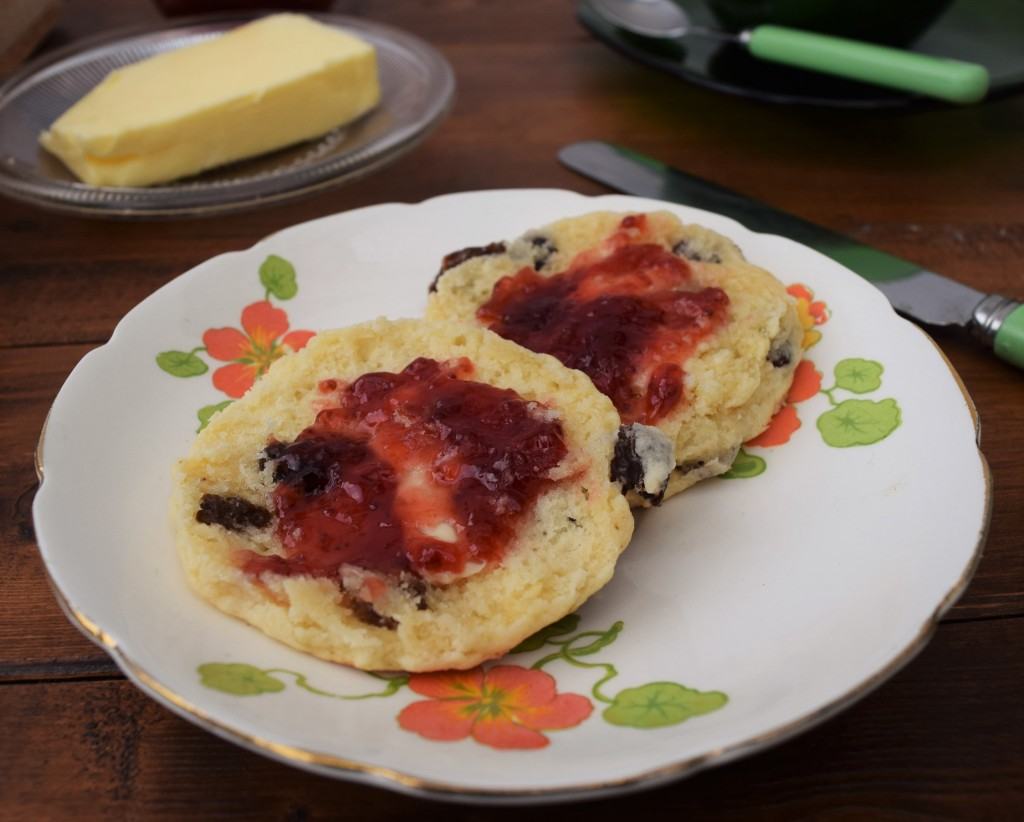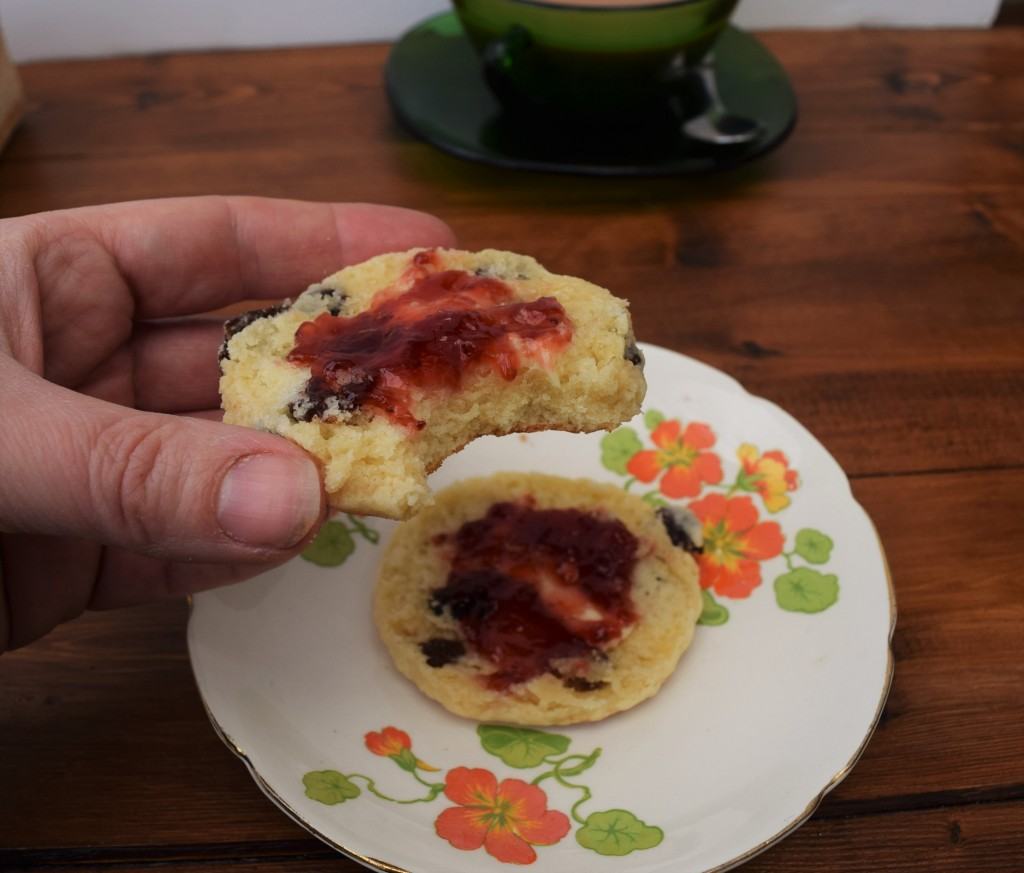 These were enjoyed by everyone, especially me, and why wouldn't they be. I defy anyone, Welsh or not, to adore these warm griddle, scone-style cakes. I fear now I may be finding an excuse to celebrate St David's day more than once a year with these little treats.
Lucy x
Welsh Cakes Recipe
Makes 10 good sized cakes
You will need a heavy bottomed frying pan or griddle and a round fluted cutter
225g self raising flour
a pinch of salt
100g butter
50g caster sugar
75g sultanas, raisins, currants, whichever dried fruit you have to hand
1 egg
3 tablespoons milk
A teaspoon of butter or two to put on the griddle
Jam and butter to serve
Put your flat griddle pan or heavy cast iron frying pan on the stove to heat up over a medium heat.
Take a large bowl and weigh in the flour and pinch of salt. Add the butter, chopped, and rub into the flour, using light fingers to combine the ingredients until the mixture resembles fine breadcrumbs.
Tip in the caster sugar and sultanas and stir. Whisk together the egg and milk, then pour this into the flour mixture. Stir until a soft dough is formed. Turn this out onto a floured work surface and roll out to the thickness of approximately half a centimetre but no need to be too precise. Cut out your Welsh Cakes with a fluted round cutter if you have one, or a glass if not. Re-roll the scraps until you have around 10 cakes.
Put a knob of butter onto the hot griddle or pan and move it around so the pan is lightly buttered. Place your Welsh cakes onto the griddle and leave to cook for 3 to 4 minutes or until lightly browning and starting to rise. Turn them over and cook again until well risen and cooked through, for another 3 to 4 minutes. Keep these warm while you cook the rest of the batch. Serve warm, buttered and jammed. These keep for a couple of days, pop in the oven to re-warm or for a few seconds in the microwave.