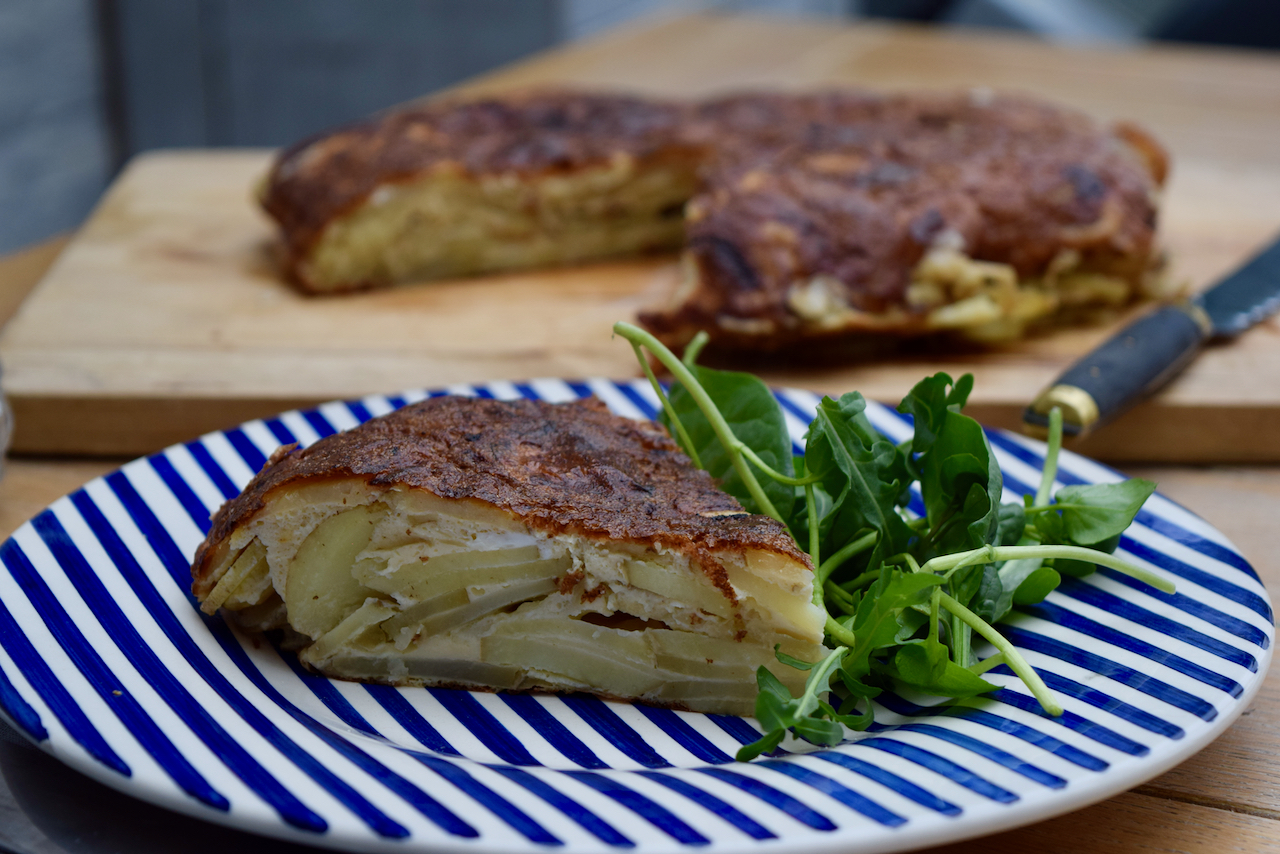 Spanish Omelette Recipe
I spent many a summer holiday in Mallorca as a child, right through to my surly teenage years. Those were wonderful times, filled with family card games, cheap lilos and late nights in bars when my sister and I would end up asleep at restaurant tables while my Mum and Dad partook of the Mallorcean fare. We used to eat at some fantastic local restaurants serving padron peppers, boquerones, pork fillet with the most ballsy garlic salsa and my all time favourite, Spanish Omelette. I would shoehorn what I then called, chip omelette, into most mealtimes, and to be fair, I still would now.
Bizarrely, I had, up until now, not attempted to make my own authentic Spanish Omelette. I've thrown together many a frittata, but nothing as special as my much loved chip omelette from my 80's summer holidays. Handed a bit of extra time, and having to fork up so many more family meals I decided to research Spanish Omelettes *I know right? rock and roll*. I settled a recipe from Tastes Better from Scratch to work from, and it's a beauty. The onions and potatoes are cooked in an alarming amount of olive oil, but don't panic, this is then drained off and can be reused, and thank God, in these frugal times. These are then simply mixed with eggs and cooked in the pan until golden, firm and just as I loved it hundreds of summers ago.
A Spanish Omelette is a simple, comforting dish. This one feeds at least 3 to 4 hungry people, which is a total bloody bonus given the current situation in which my life seems to revolve around mainly feeding 3 to 4 hungry people.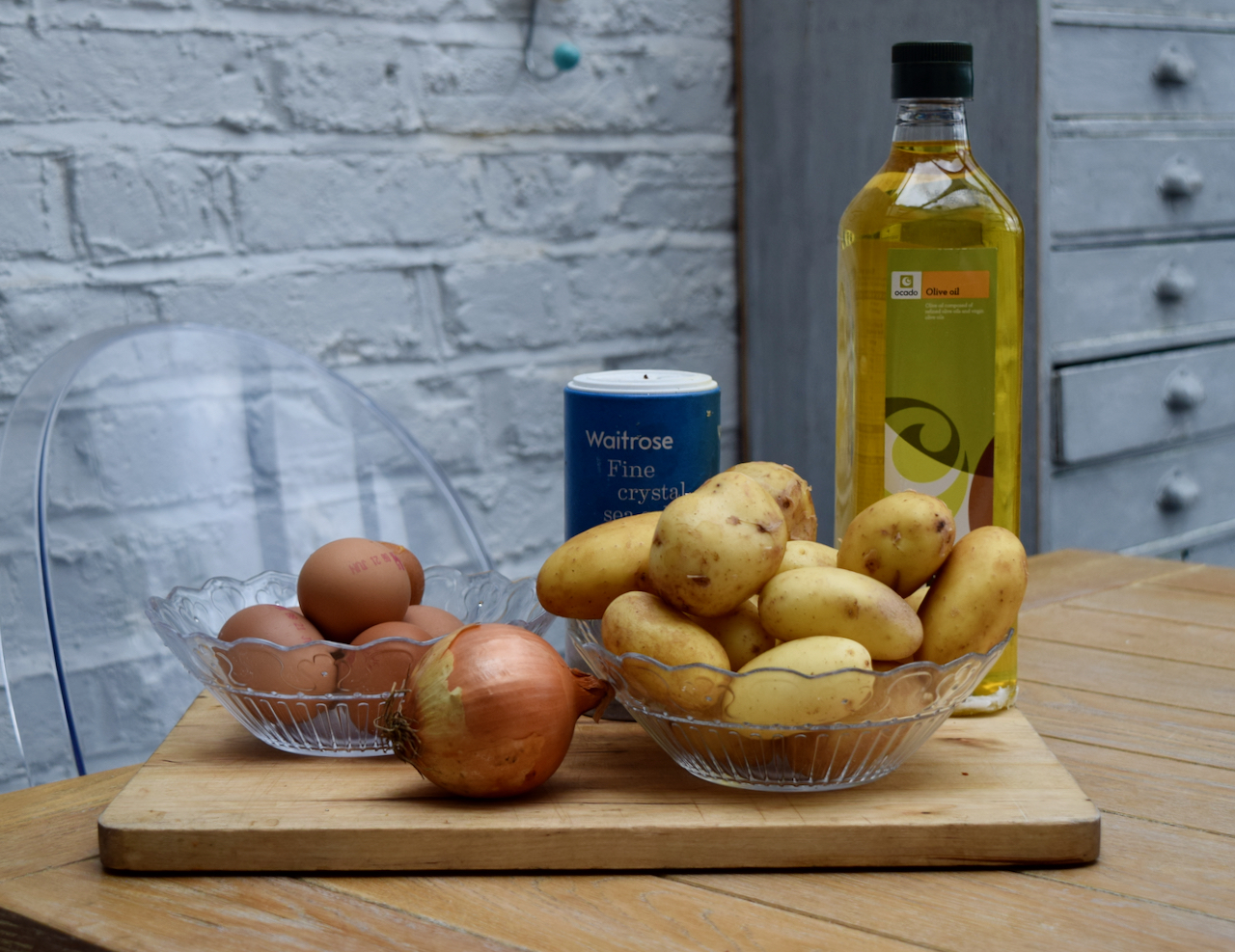 Five simple ingredients to create my childhood favourite dish. The recipe calls for around 800 grams of potatoes. Now, in a particularly unmediterranean turn of events, I only had Jersey Royals to hand. They were perfect for this, however, as you need a firm, waxy potato, which is going to not turn to mush when cooked.
For this omelette you'll need a good non stick frying pan measuring around 10 inches wide. To this add the 500ml of olive oil and heat over a medium high heat.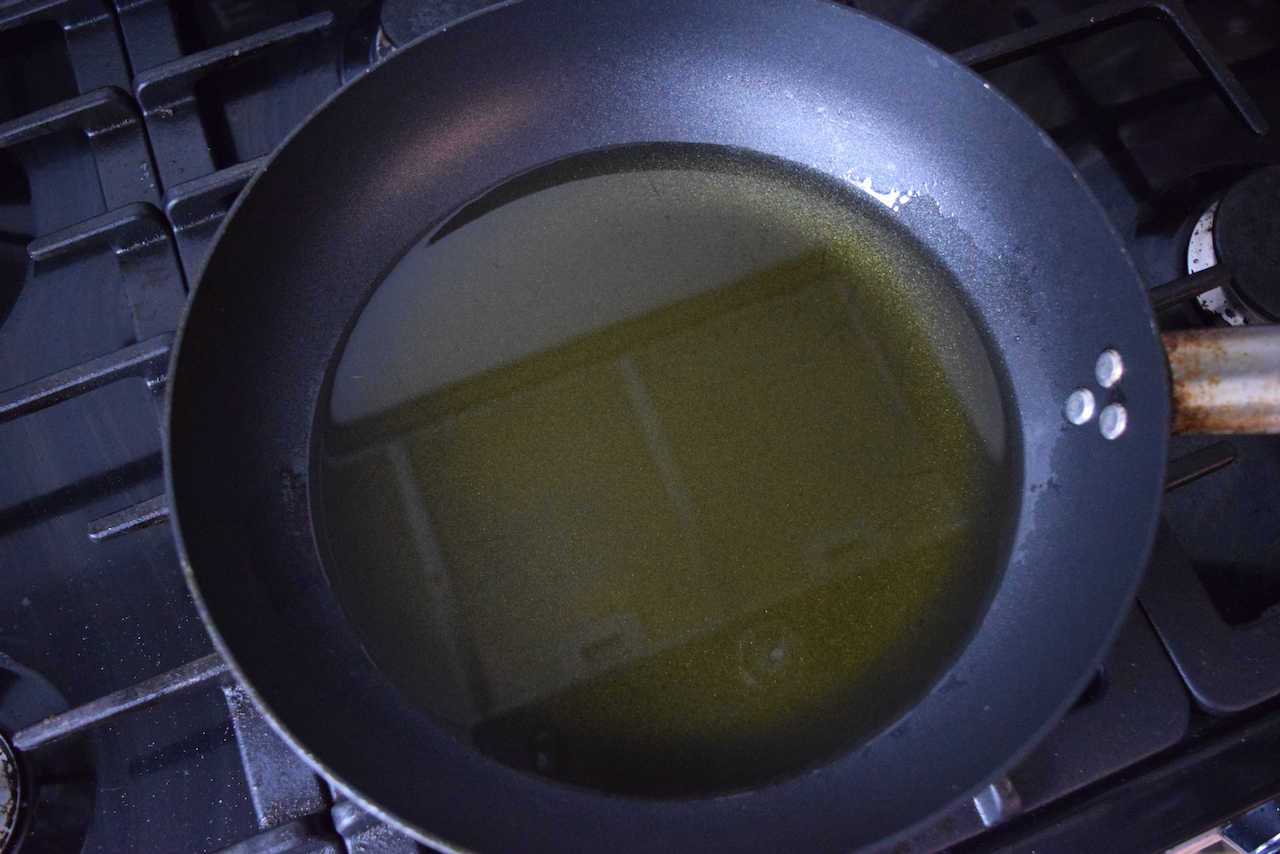 As I mentioned, this is a lot of oil, but it does get drained off and can be kept and used again. If you're using larger potatoes, then do peel them, I didn't bother with my little tiddlers. I used a mandolin to slice both potatoes and the onion and managed to do so without losing a single finger. You could slice these by hand, just make sure they're around a quarter inch/half a centimetre thick. Add these to a large bowl and season well with a teaspoon and a half of salt and mix well.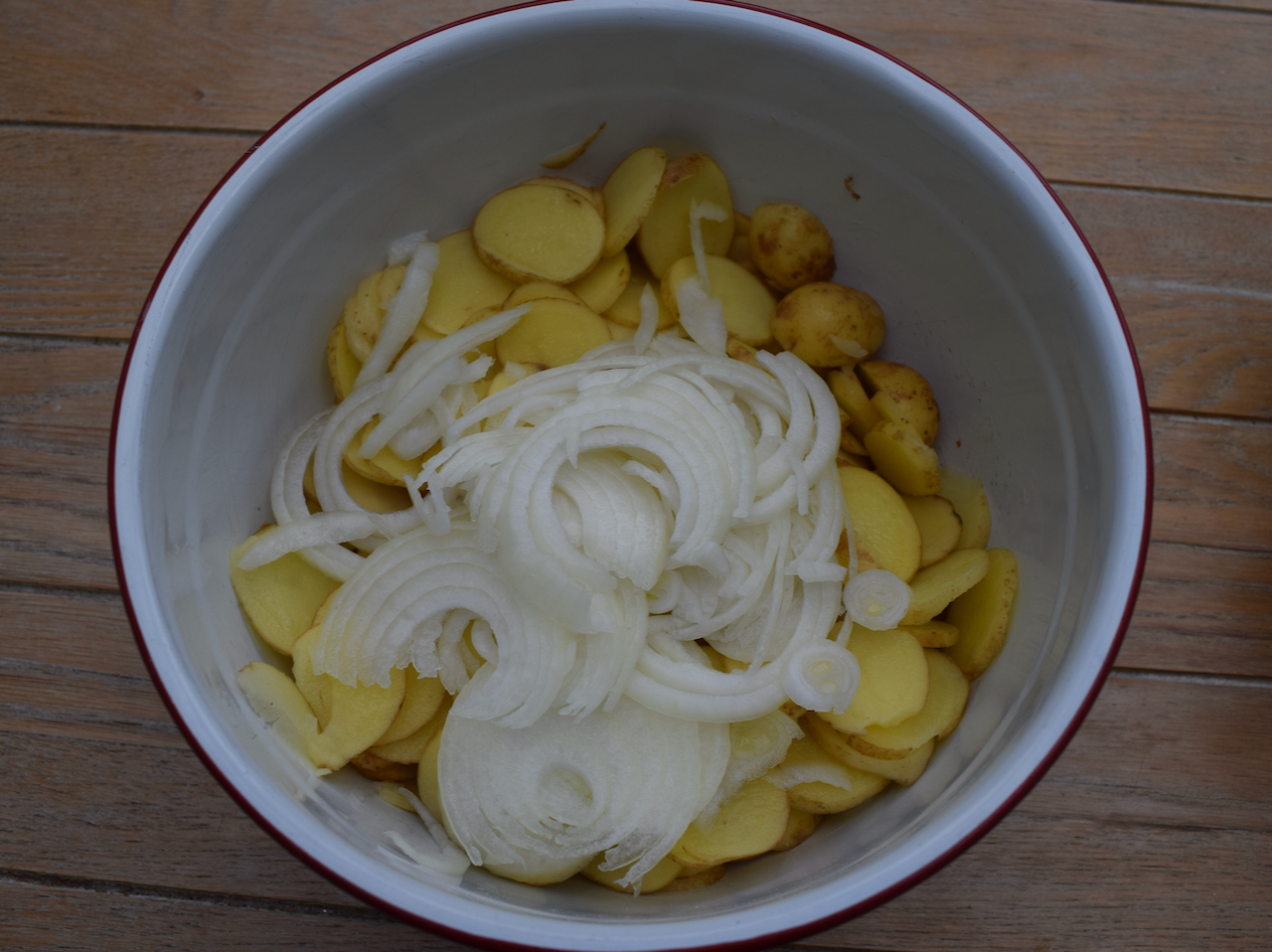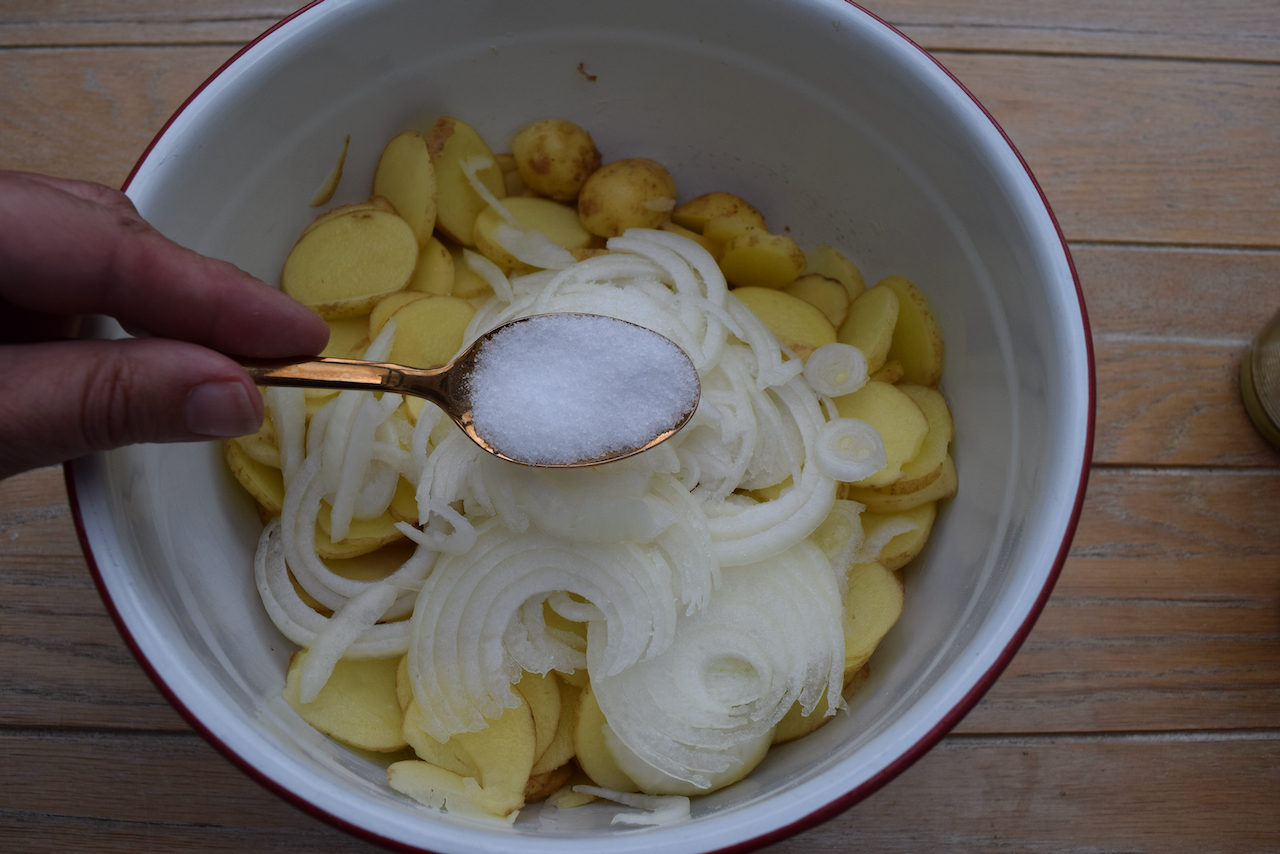 Once the oil is hot, carefully spoon in your seasoned potatoes and onion. Do this carefully, allowing for a bit of spitting. Press down on the vegetables with a spoon so they're submerged under the hot oil.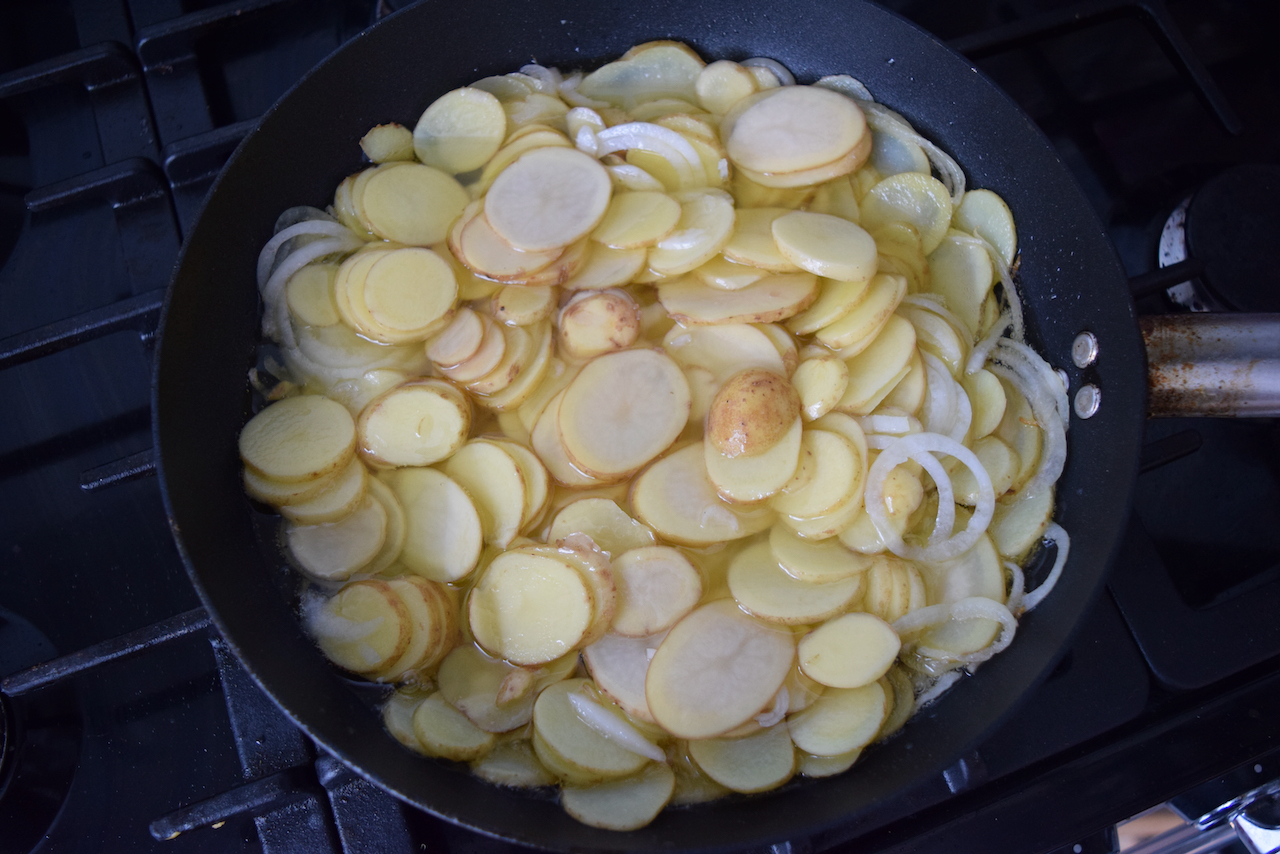 Cook these for around 10 to 12 minutes or until the potatoes are just tender and cooked through.
Turn the heat off then carefully spoon the potatoes and onions into a colander, over a bowl to collect the oil, and allow to cool and drain briefly.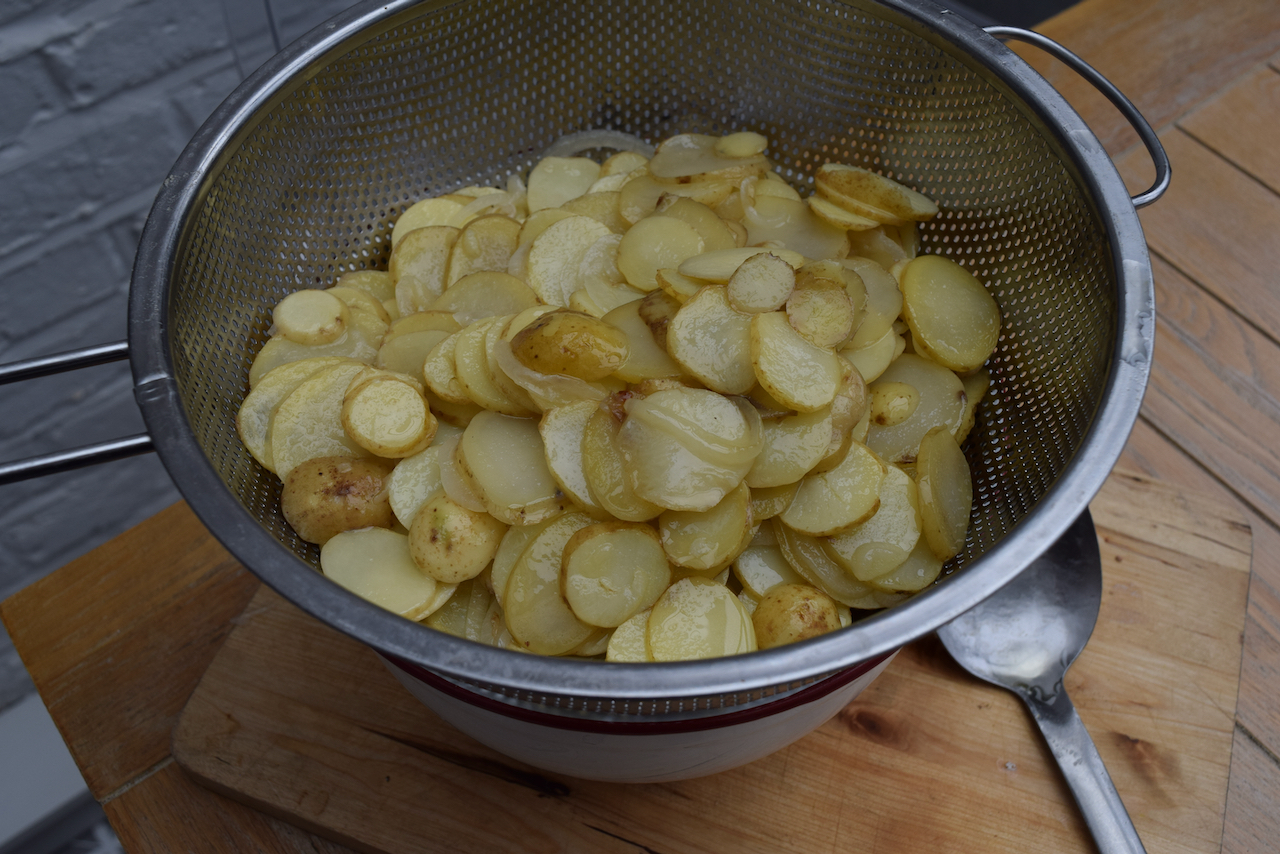 Whilst this is happening, whisk the eggs and a half teaspoon of salt in a large bowl. I only had quite small eggs so went with 7, if yours are bigguns, keep to 6.
Spoon your cooled potatoes and onions into the eggs and mix well to ensure everythings well coated.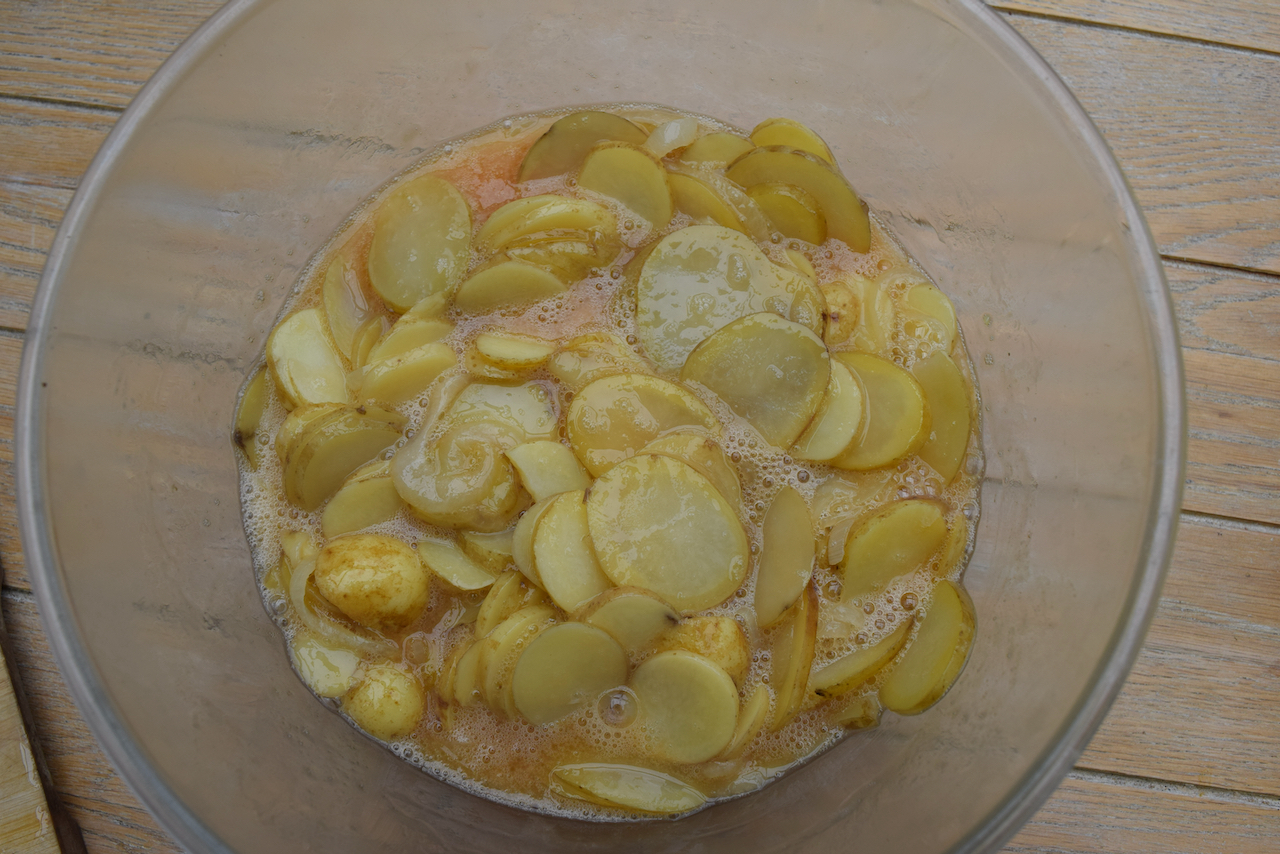 Put your frying pan back on the stove with a tablespoon of the reserved oil. Heat over a high heat then pour in your egg mixture. Flatten the top and cook for a minute before turning the flame down to low to medium. Continue to cook for 8 to 10 minutes.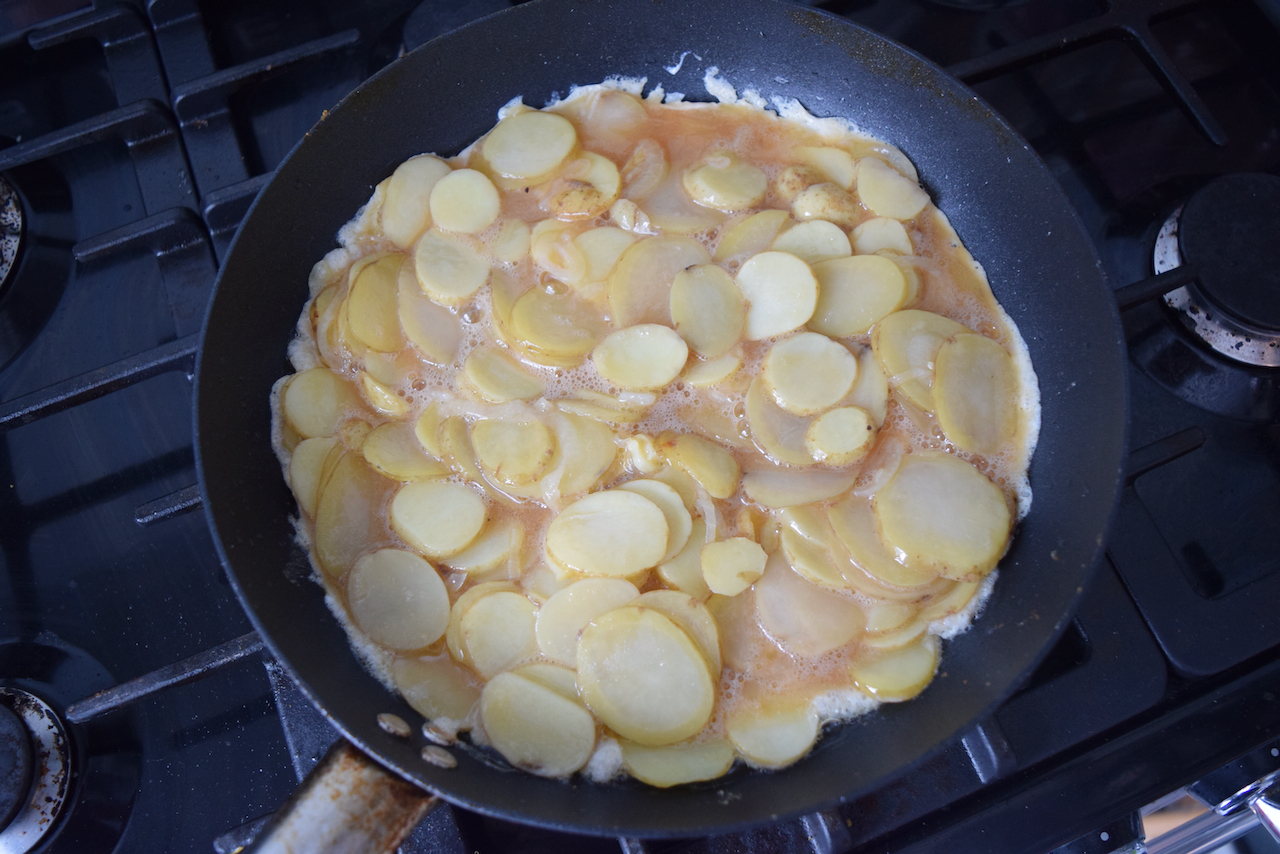 Use a spatula to look at the colour of the base of the omelette, it will be golden brown and firm but still with some uncooked egg on the top of the omelette.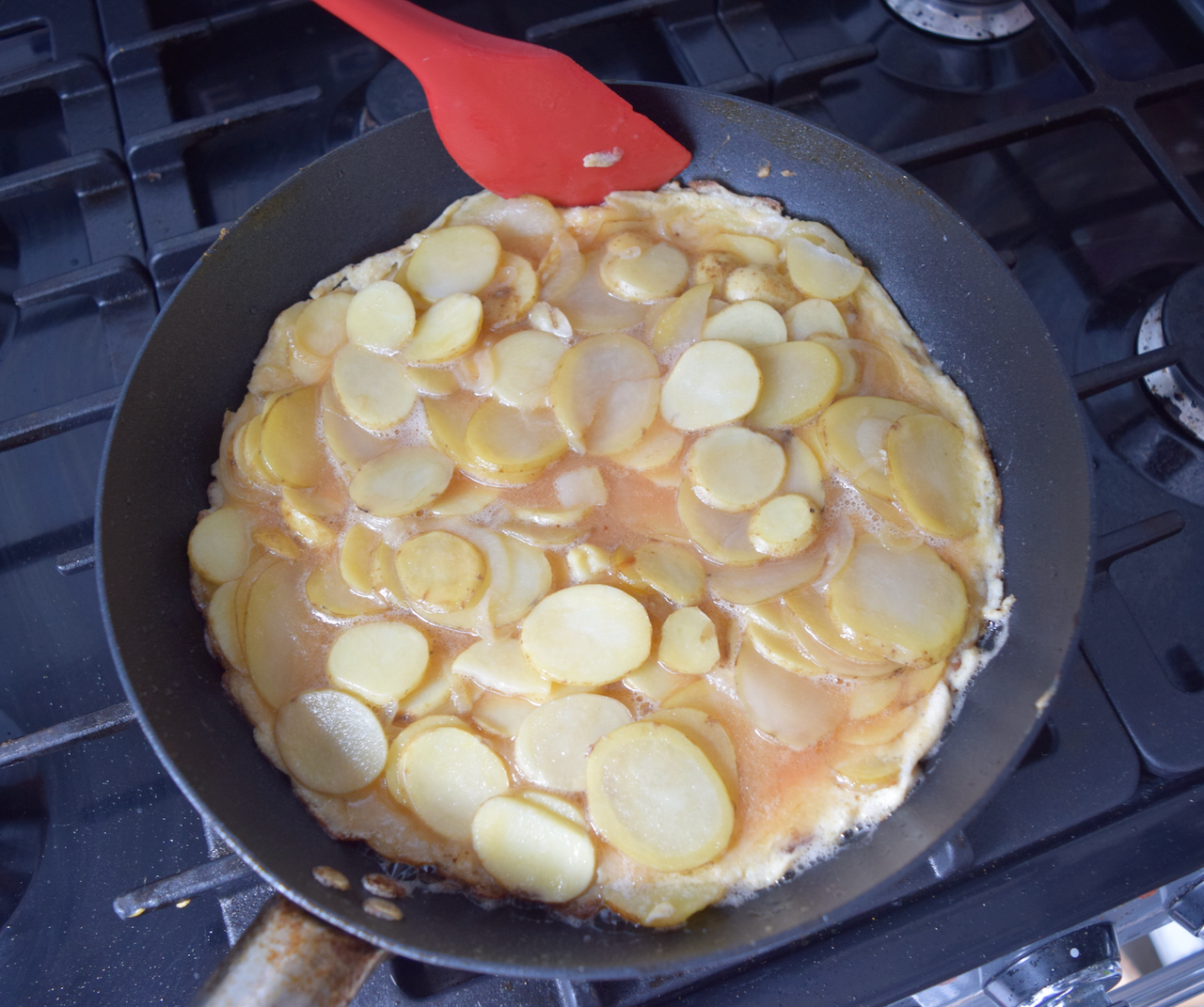 It's now time to flip the omelette. This involves putting a plate, larger than the pan's diameter, over the top of the pan and flipping it over, so the bottom of the omelette is now on the top.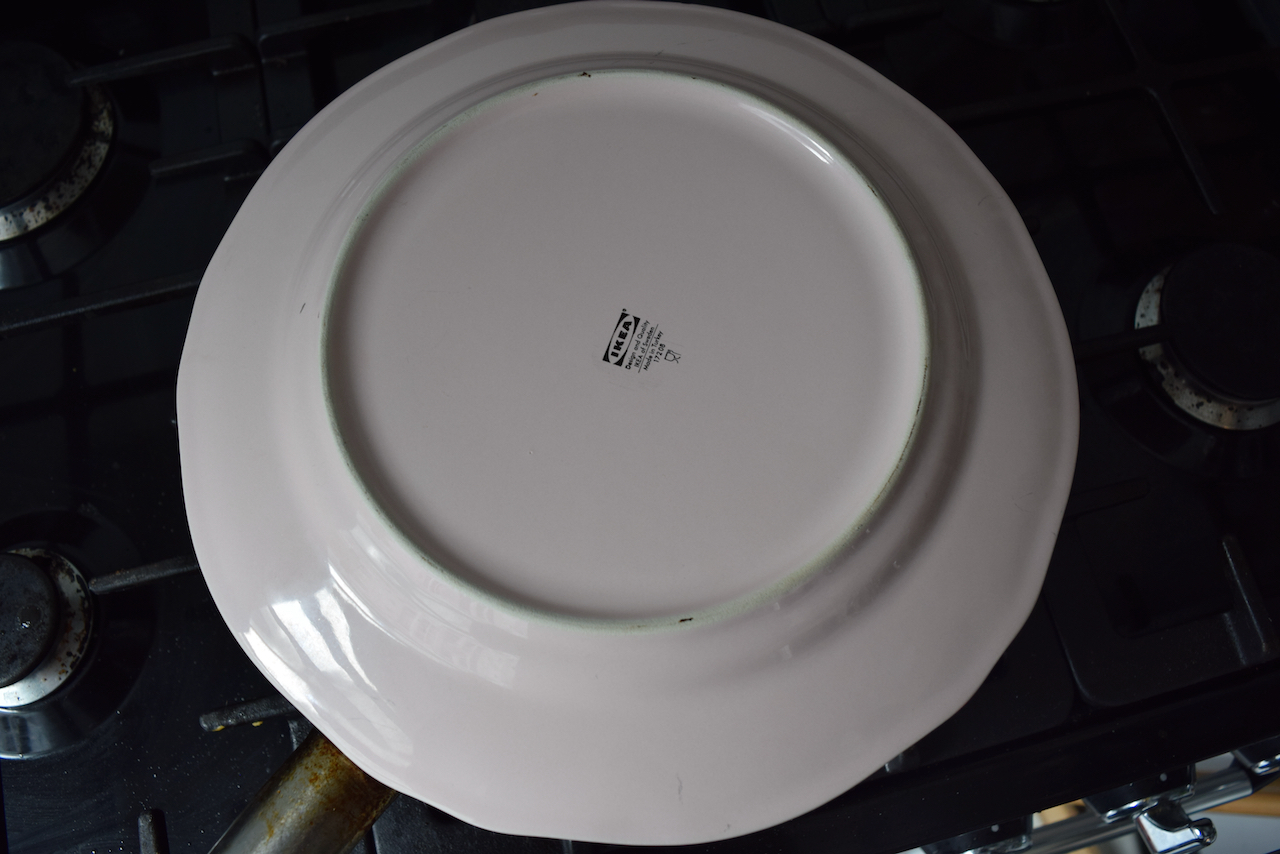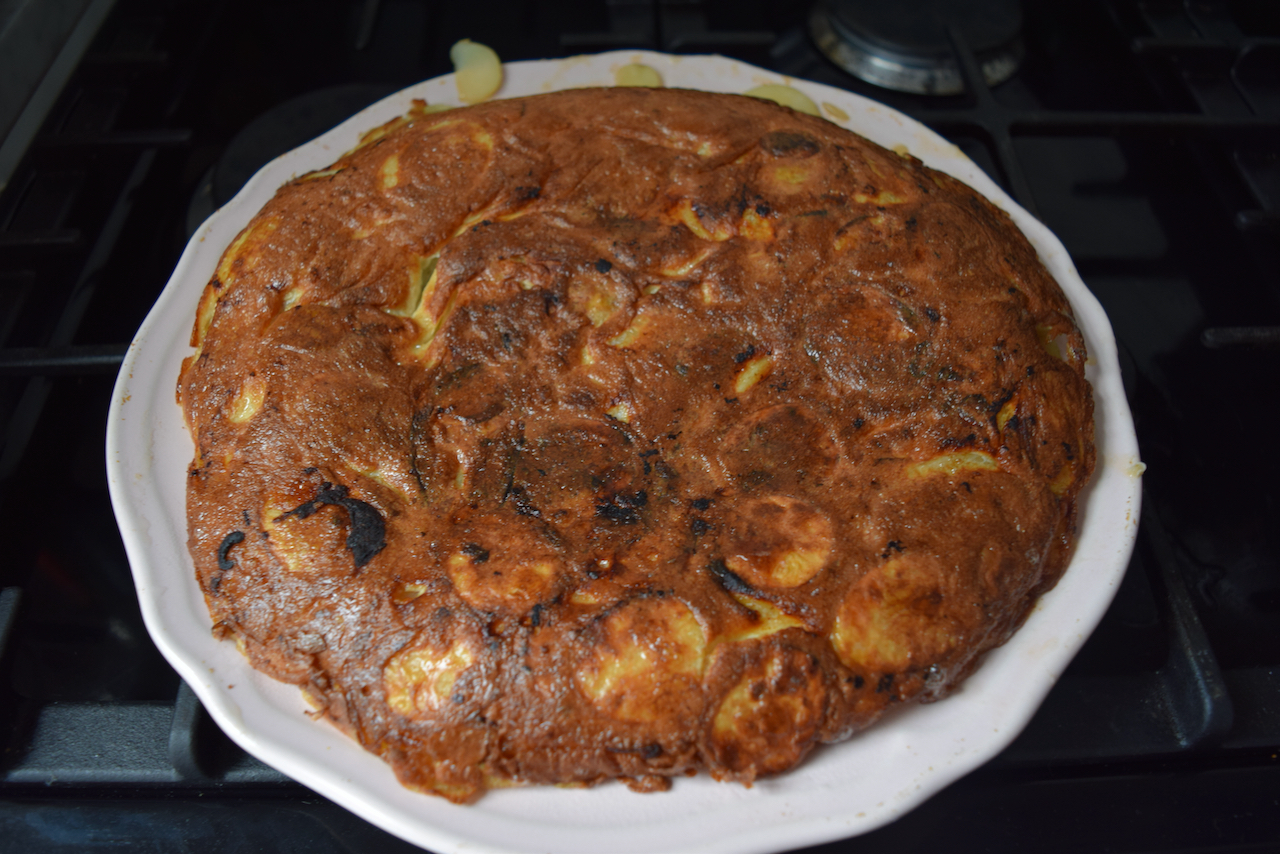 Ta-dah. This was a slightly hairy moment for me, as my pan's heavy and my wrists are a bit weak. Don't worry if any bits of filling fall out *they did*, you can always tuck them back under when you slide the omelette back into the pan *I did*.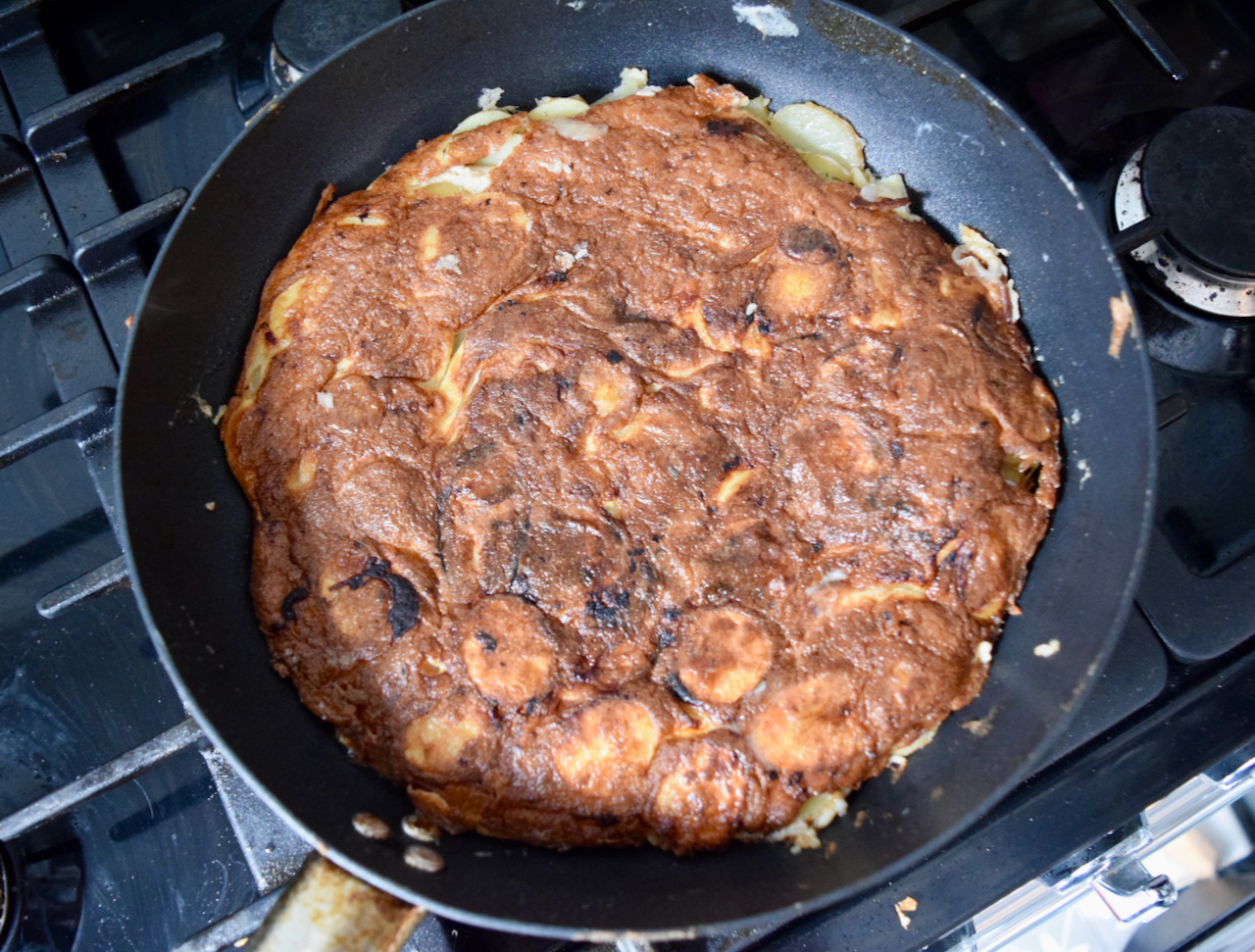 Carefully slide the omelette back into the pan to cook the underside for another 2 to 3 minutes. This beautiful creation is cooked when a knife comes out clean when poked in the middle.
You can turn out onto a plate or board and eat, piping hot, at room temp, or cold. A handful of leaves is all you need to go with it, or I have heard talk this makes an amazing sandwich filling for some crusty bread.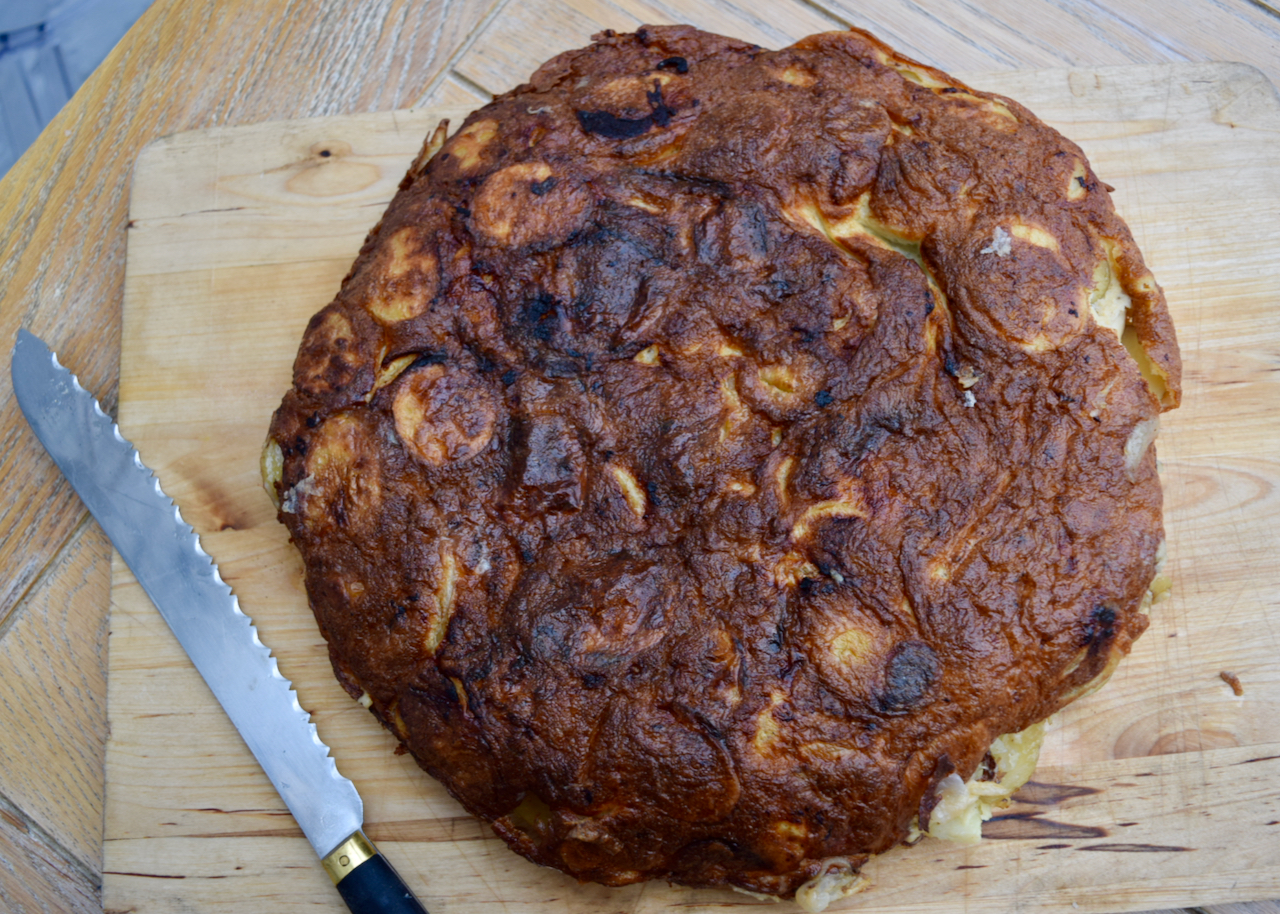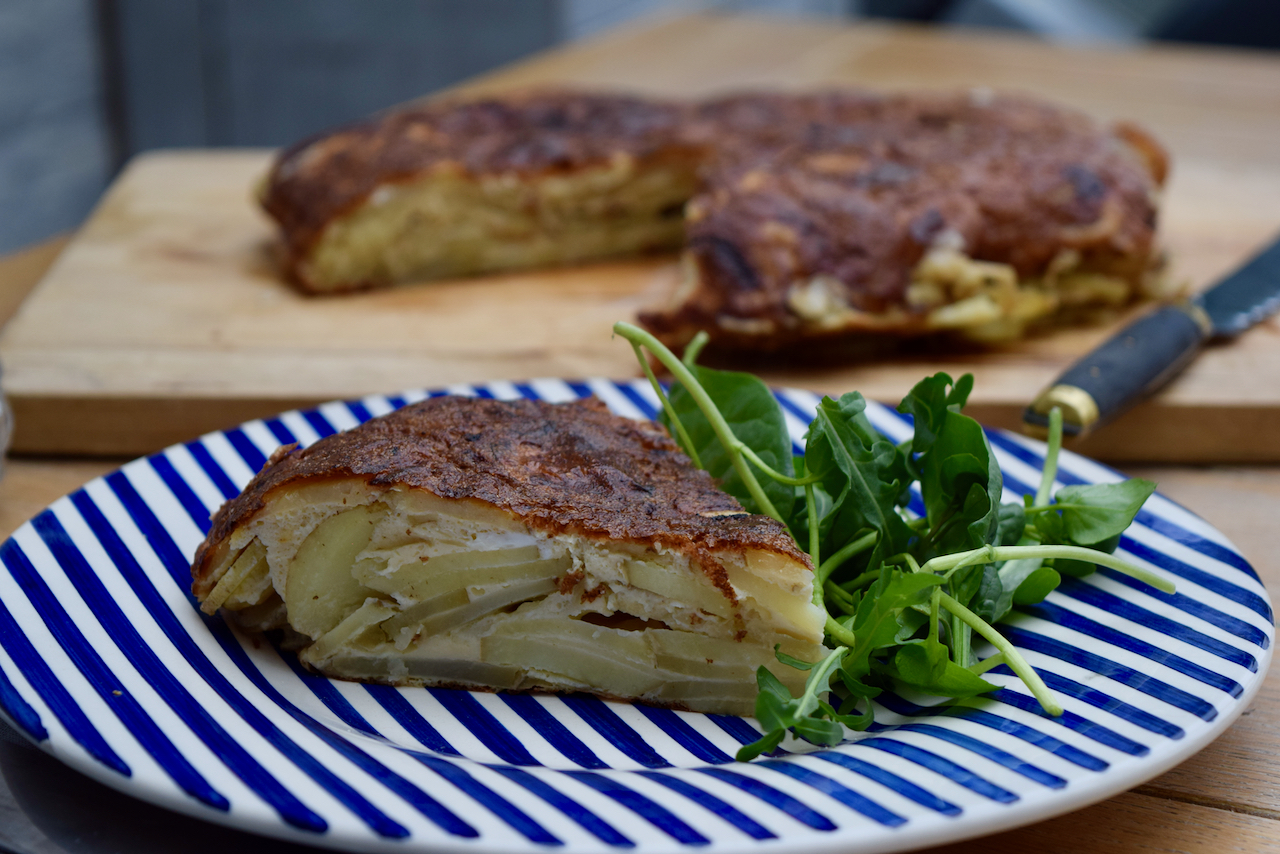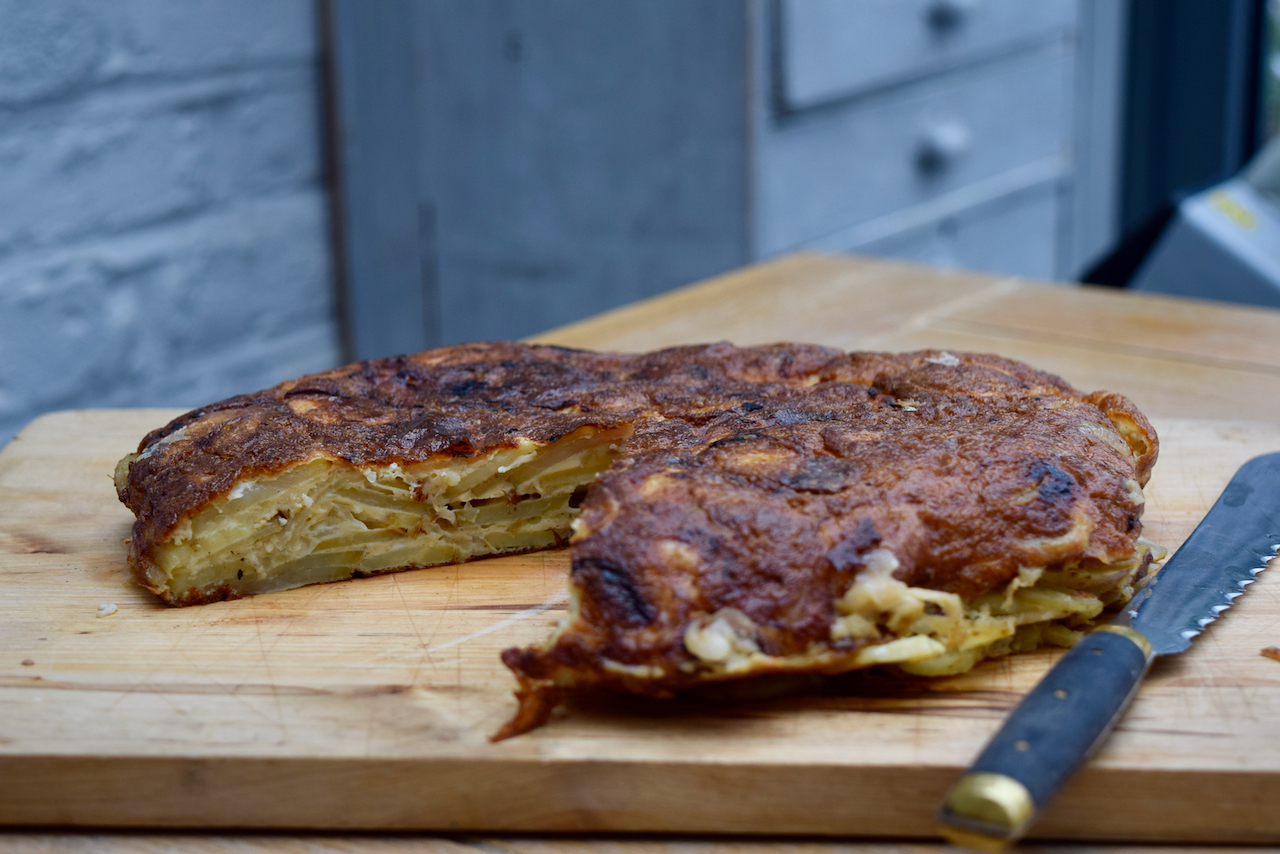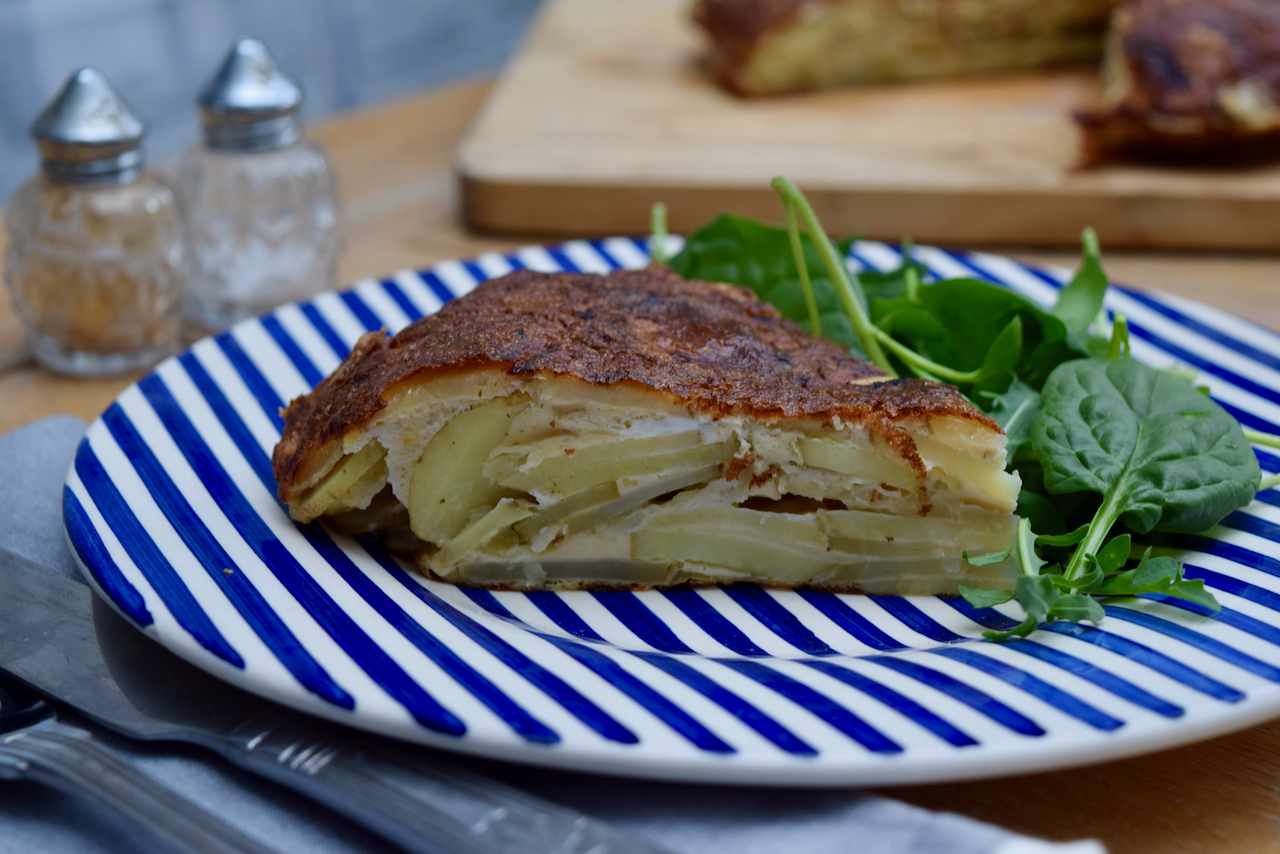 This Spanish Omelette does not disappoint. It's so tasty, filling and with every mouthful, it transported me back to simpler, delicious times.
Lucy x
Spanish Omelette Recipe
Serves 4 to 6, dependent on how hungry you and your guests are
You will just need a ten inch, deep-ish frying pan or cast iron skillet and bowls
800g potatoes, I used new potatoes, a waxy , firm variety is best here
1 onion, white or brown
500ml olive oil, this is a lot, don't panic, you drain most of it off and can reuse
6 eggs, I used 7 as mine were particularly small eggs
2 teaspoons salt
Dressed salad to serve
Take your chosen frying pan and add the 500ml olive oil and heat over a medium high flame.
If your potatoes need peeling (I didn't peel my small new potatoes) then peel them and slice thinly, using a mandolin if you have one, they should be around 1/4 inch or half a centimetre thick. Peel the onion and slice thinly and add to a bowl with the potatoes. Mix and season with around 1 and a half teaspoons of salt.
Carefully spoon the potato and onion mixture into the hot oil, prepare for a little spitting, then push them down to ensure the vegetables are covered by the oil. Turn down the heat and cook for around 10 to 12 minutes, or until the potatoes are just tender.
Turn off the heat then, carefully, spoon the potatoes and onion into a colander positioned over a bowl. Leave to drain and cool slightly. In a large bowl, beat the six eggs, and season with the remaining half teaspoon of salt.
Add the drained potatoes and onions to the eggs and stir gently to mix. Add a tablespoon of the reserved oil back into the pan and heat over a high flame. Pour in the egg and potato mixture and press down with a spoon to level the top. Cook for a minute over the high heat then turn down to medium low and cook for between 8 to 10 minutes. The bottom should be browned and the omelette will be firm-ish but with some uncooked egg on the top.
Take a large dinner plate and place over the top of the frying pan. Carefully turn the pan over so the omelette is upside down on the plate. This is quite tricky, but don't panic if any of the potato falls out, you can always tuck any stray bits back in. Return the omelette to the pan by sliding it off the plate. Cook the underside for another 2 to 3 minutes. The omelette is cooked when a knife comes out clean when poked in the middle.
Turn the omelette onto a serving plate or board. Serve in large wedges, hot, at room temperature, or cold, with some salad, if you like.
Any leftover omelette can be kept, well wrapped, in the fridge for 2 to 3 days.