Noodles with Prawns and Egg Recipe
I am slightly in love with Nigel Slater. A random choice I know, but his calm nature and ability to put together a dish without drama and in such an unpretentious way draws me to him. That and the fact he responded to one of my tweets, so we are almost married in my eyes. His recipes are simple but so elegant and his book  A Year of Good Eating, the Kitchen Diaries III is one of my favourites. Clyde went off piste one Christmas and bought it for me and I haven't put it down since. It's almost novelesque in stature, such is his mastery of the language of food. This tempting dish of Noodles with Prawns and Egg is a total favourite of ours and is more simple than Mr Simple on his simplest day.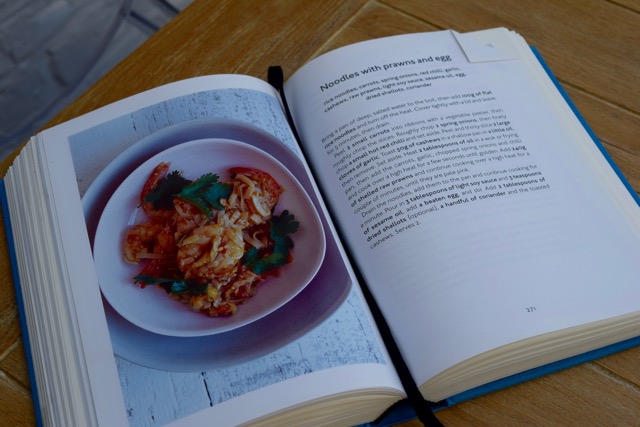 If we're not going out out, I do try and make a touch of an effort with our supper on a Friday night. No well trodden pasta paths or shop bought nonsense here, I feel Friday night calls for something not necessarily complicated but definitely special. Even though these Noodles with Prawns and Egg are simple, prawns still feel quite treaty to me. So they bloody should do too as these raw tiger prawns aren't cheap, but they are so worth it in this dish. They are combined with rice noodles, soy, sesame, chilli and toasted cashews to form a lightly spiced, heart warming supper. There is a few moments of light hearted prep then just stir frying to bring the dish home. A garnish of fresh coriander and a glass of rosé and this is a Friday night dreams are made of.
I do love Nigel, even if he doesn't love me.  This is just one of many of his recipes in my collection. I am not stalking him, more of a fan girl with a book case full of his beautifully written words. Long may he continue to supply us with delectable dishes, told using his lovely soft dulcet tones.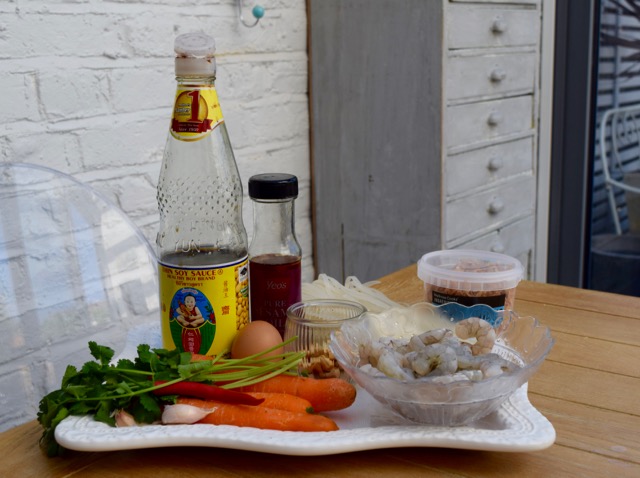 Fresh, simple and quick. I may not be quite as eloquent as Nigel but I can whip up one of his recipes at a moments notice. I couldn't find crispy shallots as originally stated in his recipe, but I did find crispy onions in Waitrose, and they added a lovely flavour to my dish.
Make a start by softening your rice noodles. Take a large pan of boiling salted water and add the noods. Turn off the heat, pop on a lid then leave them to soak/cook for 5 minutes.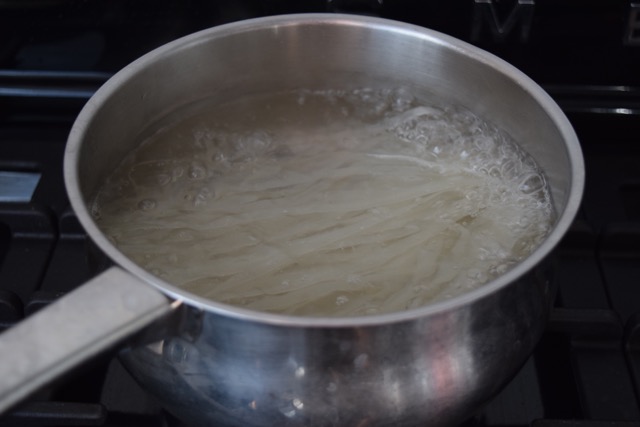 While this magic is happening, prepare the vegetables. Peel the carrots, then using a wide vegetable peeler, create carrot ribbons then cut these ribbons in half.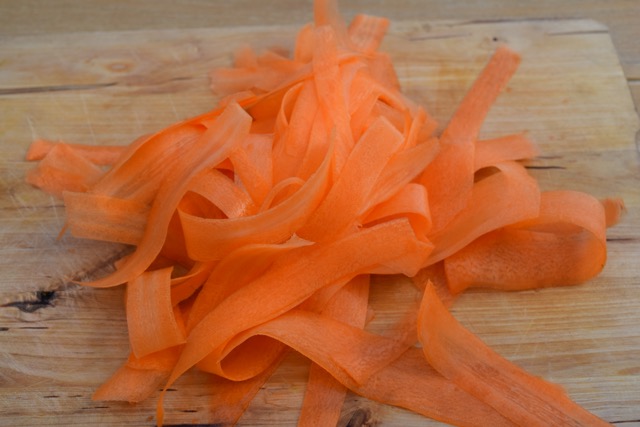 Next, if you are using the spring onions, not me as I can't bear them, then roughly chop and slice the garlic cloves as thinly as you can. Peel and chop the red chilli.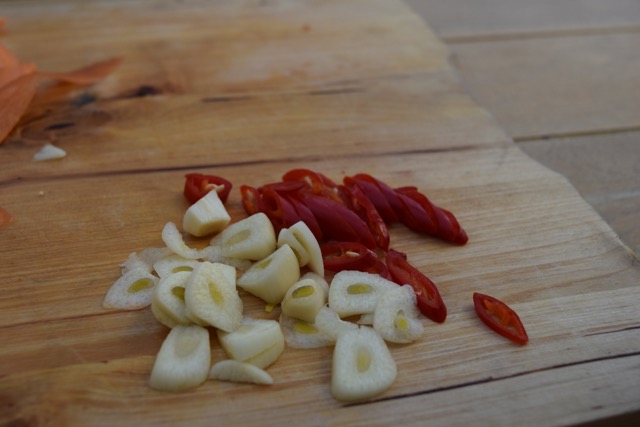 Pop these to one side while you deal with your nuts. Heat a small frying pan with just a touch of oil over a medium high heat and just lightly toast until golden. Keep an eye on them as they will go from golden to burnt in seconds. Turn them onto a plate and save for later.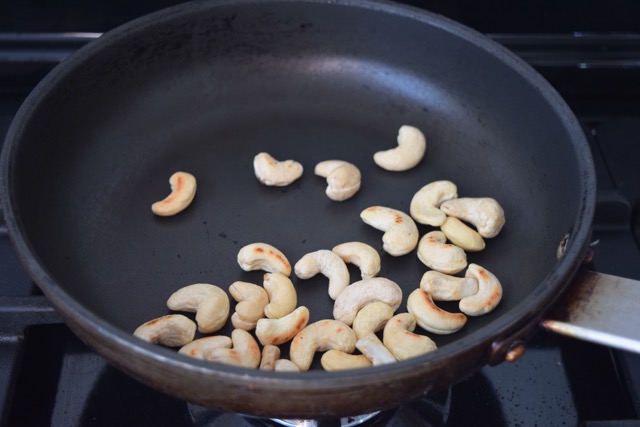 Now, when you are ready to eat, it all happens quite quickly so pour your glass of wine and heat up two tablespoons of oil in your large pan or wok. Add the carrot ribbons, spring onions if you're using them, garlic and chilli and sauté quickly for around a minute until just turning golden.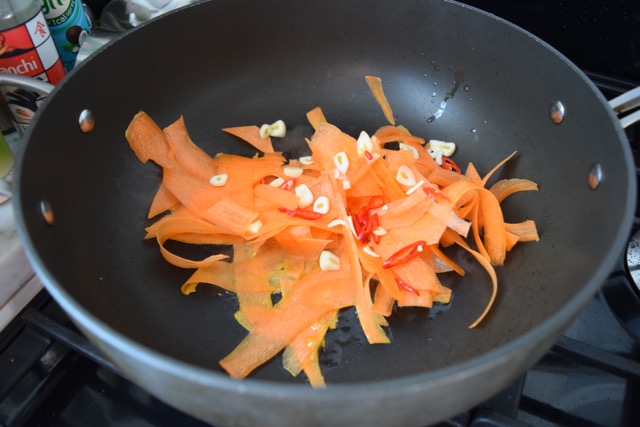 Now, add your lovely raw prawns and cook for a couple of minutes until just turning pink and plump.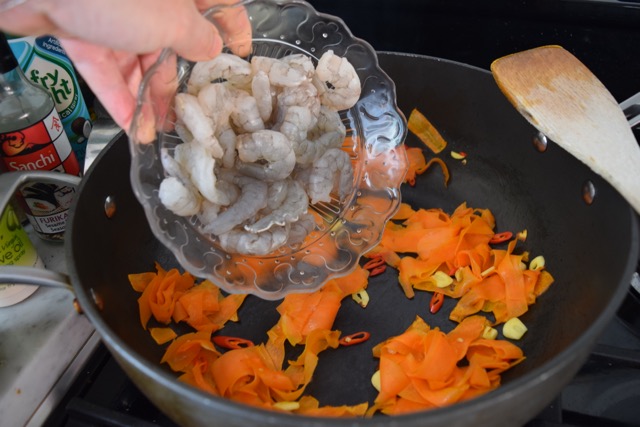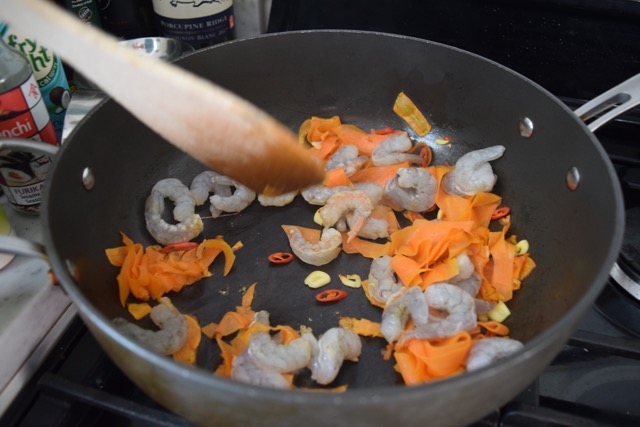 Drain your rice noodles and add them into the pan too and give it all a lovely stir around.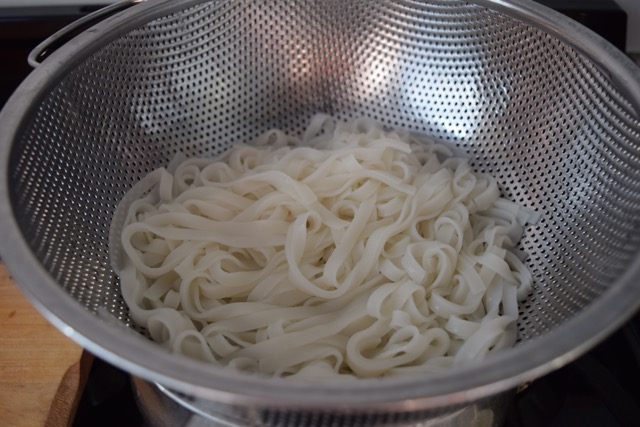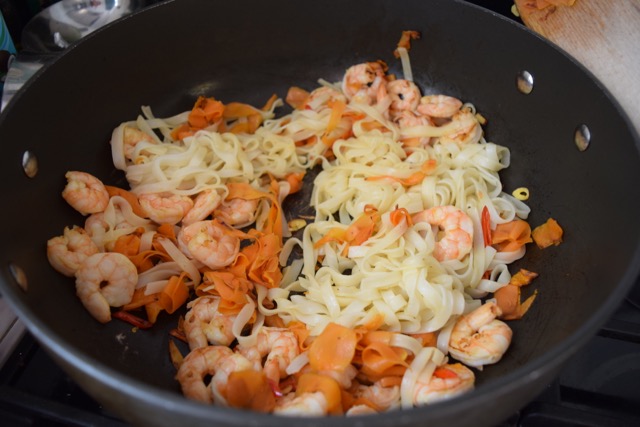 Stir through the soy sauce, sesame oil and the beaten egg, keeping everything moving.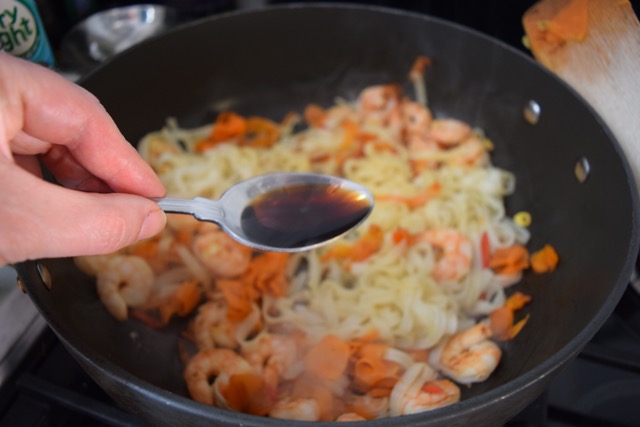 In a final flourish add the crispy shallots or onions and the cashews you toasted earlier and a good handful of fresh coriander.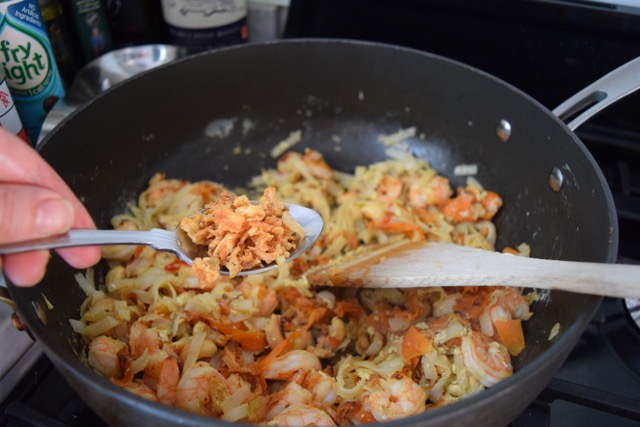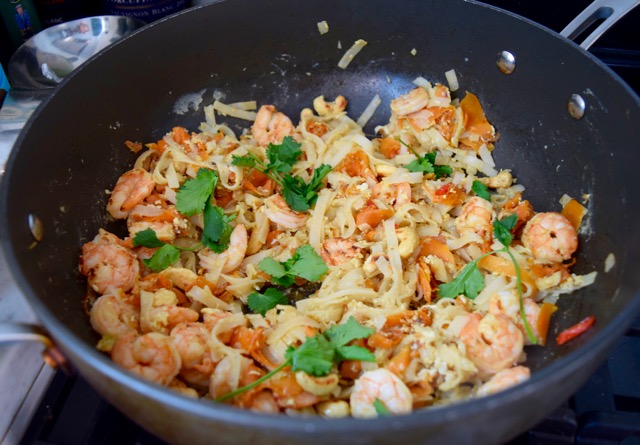 It's not really much of a looker, but looks can be deceptive. This is a treat of a dish, plenty for two hungry  types who like their food.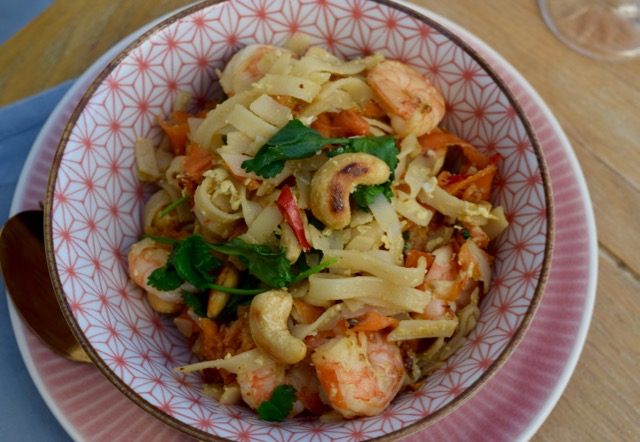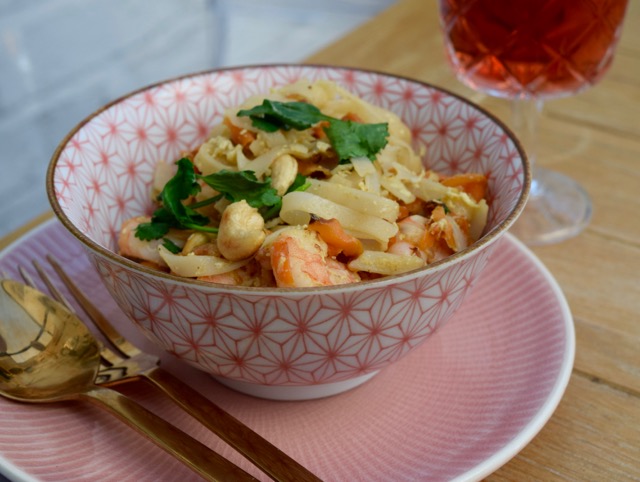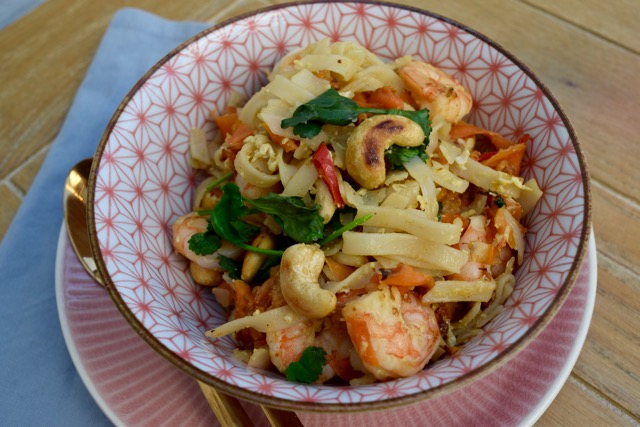 Friday nights should be a feet up glass in hand sort of evening. Add a bowl of Noodles with Prawns and Egg and even Nigel Slater and his soft voice and this is the perfect start to the weekend.
Lucy x
Noodles with Prawns and Egg Recipe
Serves 2
You will need a large frying pan or wok
100g flat rice noodles
2 small carrots, peeled and shaved into ribbons using a wide vegetable peeler
2 spring onions, optional
1 small red chilli, finely chopped
2 large cloves garlic, sliced
50g cashews
2 tablespoons oil, I used Wok Oil
240g shelled raw prawns
3 tablespoons light soy sauce
3 teaspoon sesame oil
1 beaten egg
2 tablespoon dried shallot or crispy onions
Handful fresh coriander leaves, chopped
Bring a large pan of salted water to the boil, add the noodles then turn off the heat. Put a lid on, wait for 5 minutes, then drain and pop to one side.
Peel the carrots and cut into ribbons using your vegetable peeler, then halve the ribbons. Roughly chop the spring onions, if using, then finely chop the red chilli and slice the garlic cloves.
Toast the 50g cashew in a small frying pan over a medium heat with just a tiny bit of oil. Keep an eye on them as they will burn super quickly. Remove and keep to one side.
In your wok or large frying pan heat two tablespoons of oil over a medium to high heat. Add the carrot, garlic, spring onions, and chilli and cook for a minute until just turning golden. Add the raw prawns and cook for around 2 minutes or until they are just pink.
Add the drained noodles to the pan and stir for a minute then pour in 3 tablespoons light soy, 3 teaspoons sesame oil and the beaten egg and give it all a really good stir.
Add the crispy shallots or onions, the fresh coriander and your toasted cashews. Devour whilst piping hot.
SaveSave
SaveSave
SaveSave
SaveSave