Cobb Salad with Blue Cheese Dressing Recipe
Clyde is not ordinarily a salad kind of guy. He was a fussy child, according to his mother. One year when they went on holiday Clyde ate an omelette every day for 2 weeks as he didn't like the look of any of the 'foreign' food. Times have changed a little since then with the only thing he really can't abide being olives, so progress has been made. However, Clyde and green things are still not firm friends. That said, whenever we go to our favourite pub for supper, Clyde always picks the Cobb Salad. One of our friends nearly fell off his chair when they overheard him ordering a salad, such is his usual love of all things meaty. The whole point of this Cobb Salad with Blue Cheese dressing is the total and utter shortfall of greenery and large amount of meat and cheese based items. Thus making it worthy of a special mention and being my post today, what with it being Father's Day this weekend and Clyde being the Father of my children. A tenuous link, I know, but come on, it's Sunday Night and I am tired.
This Cobb Salad with Blue Cheese dressing is based on the one from our favourite local, the Plough. I have meddled with it a little to include more of the things we love and I have adorned it with a wonderful blue cheese dressing which comes via The Pioneer Woman and the Food Network, with huge thanks. This Cobb Salad is packed with delicious things, I have included griddled chicken, crisp bacon, avocados and cherry toms to name a few. But it's really only a blueprint for you to add your family's foibles to. Add olives if those are your thing, tuna would be lovely or some goats cheese or shaved parmesan. I am not averse to a grape in a salad, although others are, it's up to you how you want to play this dish. You can either present it on a huge serving platter or make smaller individual salad plates for each guest. The latter option being the better one if you have children like mine who will hog all the bacon and chicken and I will be left with a plate of lettuce. The simple Blue Cheese Dressing brings the whole salad together and I would be happy to eat just a jar of this with a packet of carrot sticks, such is the smooth and delicious flavour. It's worth the no effort it takes to make, but if you can't be arsed, just buy a bottle of dressing, it will still be amazing.
This is the perfect sort of lunch party platter to serve if you have summer guests. You can graze from the huge offering, serving with warm breads or buttered new potatoes if you want to bulk it out a bit. Just make sure you get stuck in before some bugger pinches all the crispy bacon, or just double the quantity in the recipe if you have a bacon fiend in your family.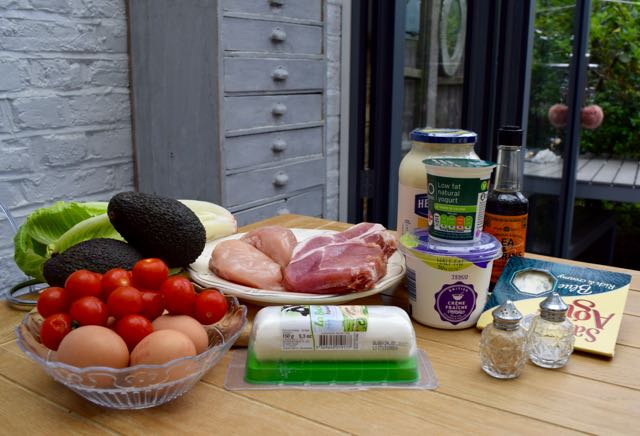 What a wonderfully fresh and colourful line up, and one which includes some goats cheese which I didn't actually use in the end. This Cobb Salad is however, a blank canvas type of affair. I included all these lovely items, but you can choose any of your favourites, as long as it's not something like chocolate or a jam sandwich.
It's all about the preparation with this salad. Make a start with the bacon. The best way to cook it and to get it good and crispy is this way. So place your bacon in a single layer, streaky or back, both work, on a lined baking tray, and place in a cold oven. Turn the oven on to 220 degrees, fan assisted, and leave alone for 20 minutes until crisp and divine.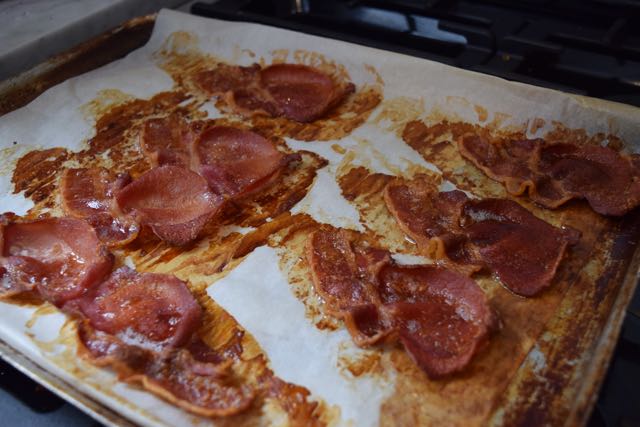 Pop the fragrant bacon to one side for the moment while you crack on with the chicken. Season and drizzle your chicken breasts with a little olive oil then griddle or pan fry for a couple of minutes on each side. Once golden on the outside, pop the chicken in the hot oven where the bacon is cooking for an extra 10 to 15 minutes or until cooked through.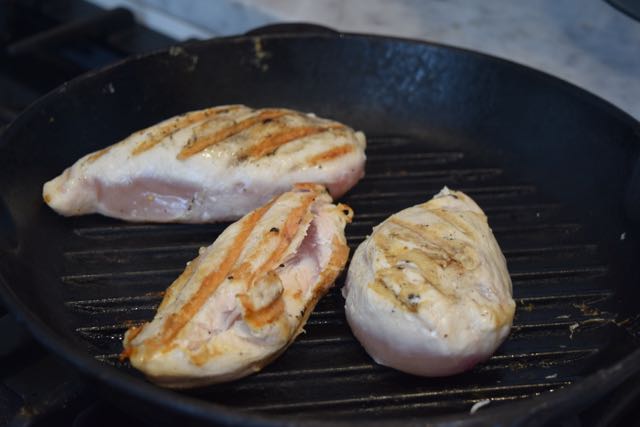 While the chicken is finishing off, soft boil your eggs. The best way to do this is by adding them to a pan of cold water and bringing it up to the boil. Simmer for 6 minutes then plunge into cold water to cool for 5 minutes. Once cool, peel and slice into a shape of your choice.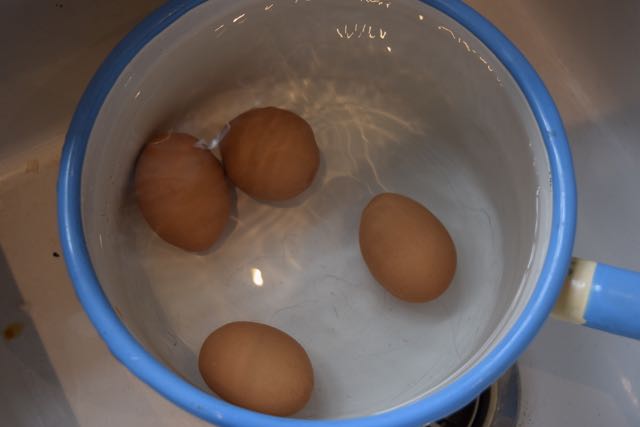 Can I just say for the record, I love, love, love a hard boiled egg, they are the food of Gods.
Finally, fork up the dressing. Take a bowl and add your blue cheese and mash it to break it up a bit. In a small jug, measure out the mayonnaise, yoghurt and either creme fraiche or sour cream.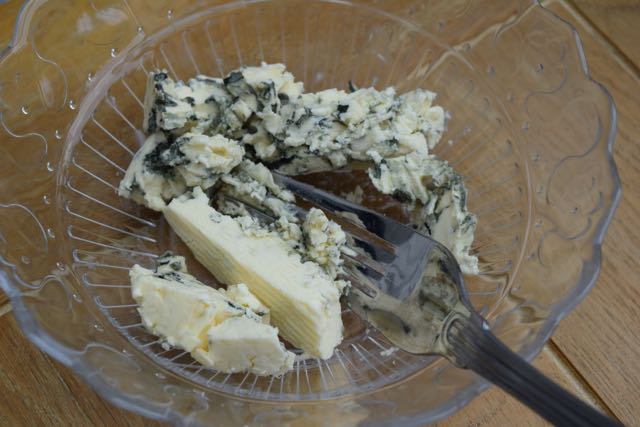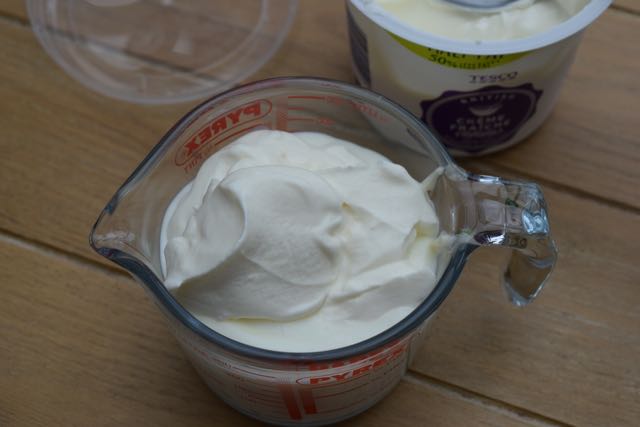 Pour the creamy mixture onto the cheese and mix well to amalgamate everything, then season with a splash of Lea and Perrins and some salt and pepper.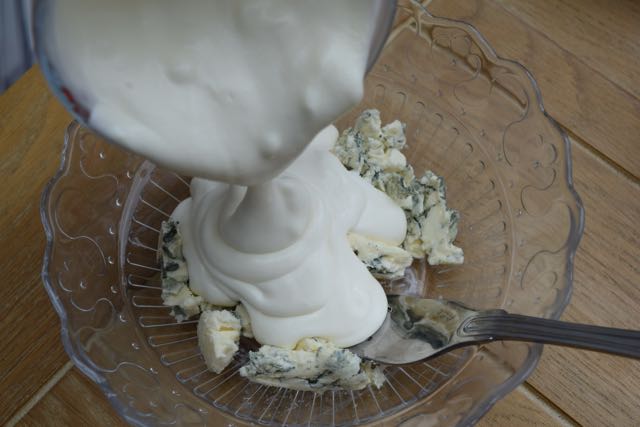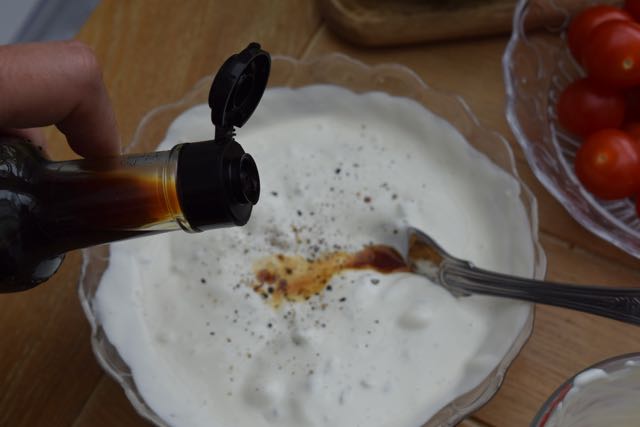 This can go in the fridge until needed. Just before you're ready to assemble, peel and slice the avocados and drizzle in a little lemon juice to stop them turning brown.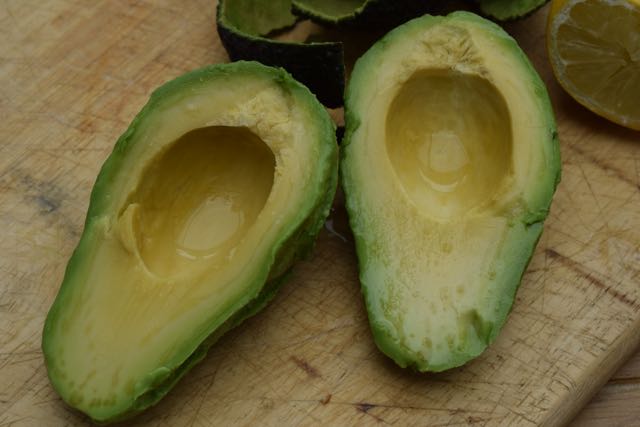 Now, it's salad time. You can assemble this however you prefer. I used one large platter as we have this beautiful plate my parents bought us for our anniversary. You could make individual salads too, if this works better. I made my Cobb Salad in this order:
Lettuce, tomatoes, bacon, chicken, eggs, avocado then blue cheese.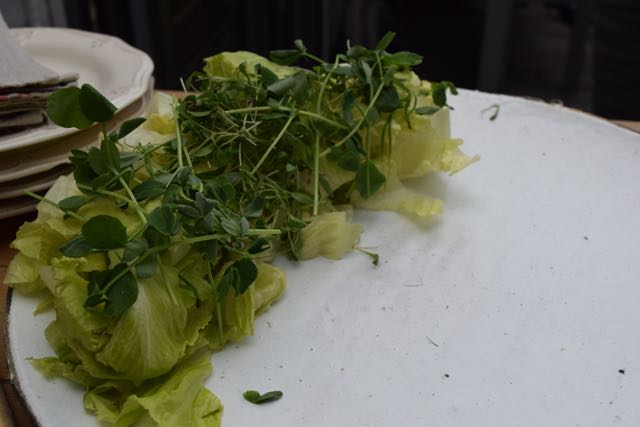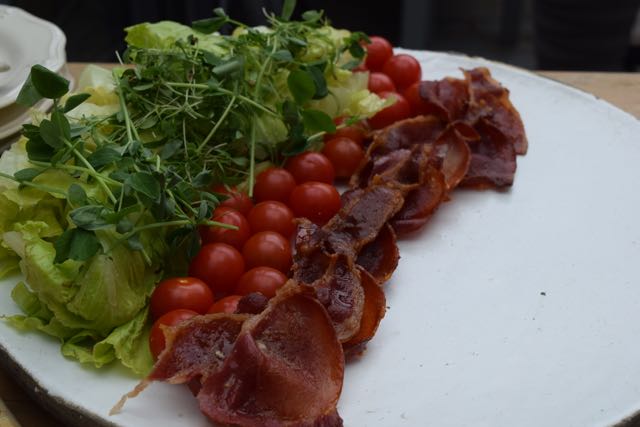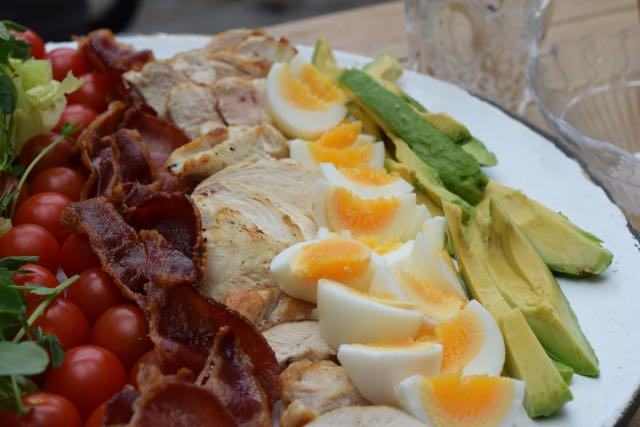 Finish off with a good Jackson Pollock worthy splattering of your chilled Blue Cheese Dressing, then serve the rest on the side for further anointment by your guests.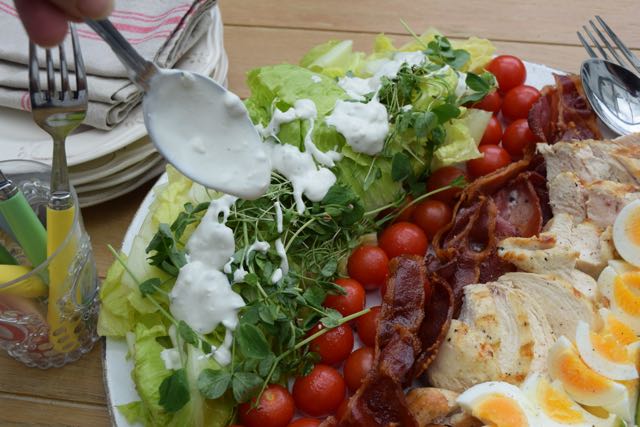 And that's it. Just a bit of low maintenance preparation for huge, delicious, photogenic reward. This is one of the most perfect summer lunches in town.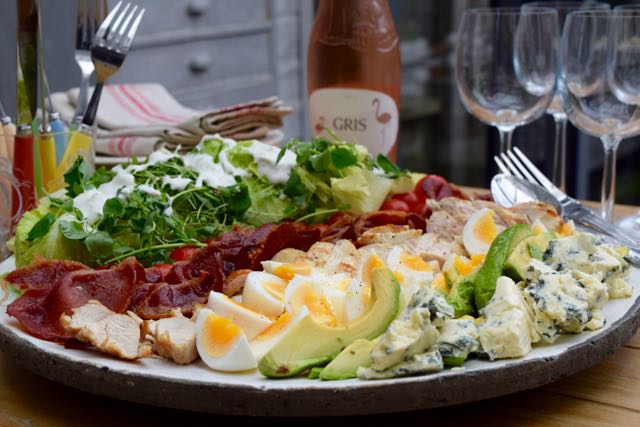 Rosé optional, but highly recommended.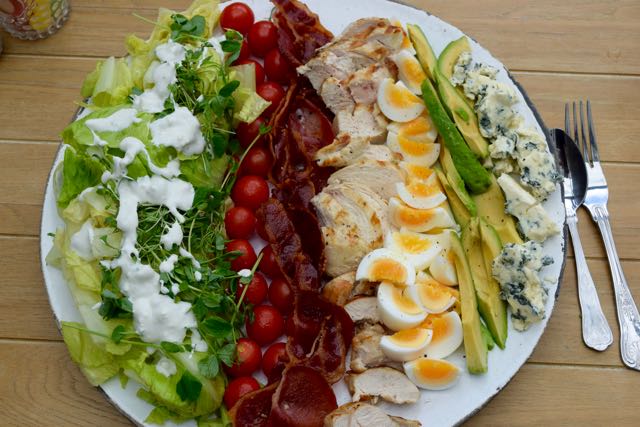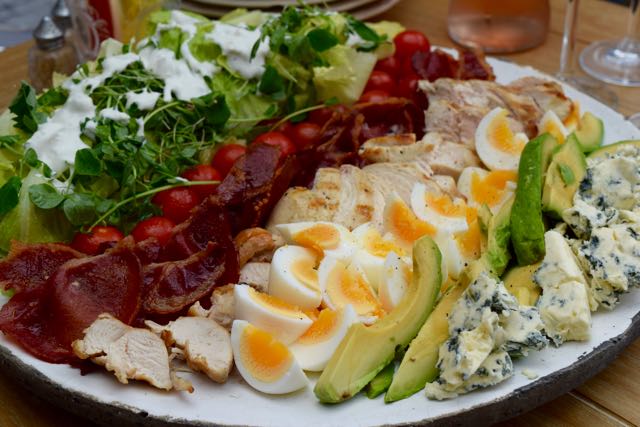 It's all thanks to Clyde and his love of a Plough pub Cobb Salad for today's post. This plate disappeared in no time, and to be fair to Clyde and Ben, they did allow me one piece of bacon before they devoured the rest, what gentlemen. Little did they know I had eaten two rashers when it was hot from the oven and no one was looking.
Lucy x
Cobb Salad with Blue Cheese Dressing Recipe
Serves 3 to 4
You won't need any testing equipment
Salad
250g bacon rashers, back or streaky is fine
Olive oil
2 to 3 chicken breasts, size dependent
salt and pepper
4 eggs
1 or 2 avocados, size dependent
A splash of lemon juice
A couple of handfuls cherry tomatoes
2 Romaine lettuce hearts, or any other preferred leaves
100g blue cheese, or goats cheese or any preferred variety, crumbled
Blue Cheese Dressing
50g blue cheese
125ml mayonnaise
60ml yoghurt
60ml creme fraiche or sour cream
a splash Worcestershire sauce
salt and pepper to taste
Olive oil, salt and pepper and chopped herbs to garnish with breads and buttered new potatoes if you like
Make a start by laying the bacon onto some baking paper on a large baking sheet. Place in the cold oven then switch the oven onto 220 degrees, fan assisted, and cook for 20 minutes or until the bacon is super crisp. Once cooked, leave to one side, ready for salad assembly.
While the bacon is cooking heat your griddle or heavy frying pan and season your chicken breasts and drizzle on some olive oil. Cook the chicken on the griddle for a couple of minutes on each side then place on a baking tray and put in the oven for a further 10 to 15 minutes or until sizzling and cooked through. Leave to cool slightly before slicing.
Place your eggs in a pan of cold water, bring up to the boil then simmer for 6 minutes. When cooked, run under cold water, leave to cool for 5 minutes, then peel and slice or quarter.
For the dressing, mash the blue cheese in a bowl with a fork until crumbly.  In a small jug, mix together the mayo, yoghurt and sour cream or creme fraiche then pour this onto the blue cheese. Stir well then add a splash of Worcestershire sauce and salt and pepper to taste. Leave in the fridge until needed.
When you are ready to assemble your salad, take a large platter, or assemble on individual plates if you would prefer. Start with the lettuce, chopping it up and laying it in a line on the plate. Follow on with the cherry tomatoes, crispy bacon, broken into shards, followed by the sliced chicken and chopped eggs. Slice the avocados at the last minute and drizzle with lemon juice so they don't go brown then finish with the crumbled cheese of your choice.
Drizzle the lettuce with the blue cheese dressing then serve the rest on the side in a jar for extra drizzling. Drizzle the salad with a splash of olive oil, salt and pepper and a flourish of micro herbs, if you like. Serve with breads or some buttered new potatoes if you like.
Ask your guests to dig in and enjoy this colourful summer dish.