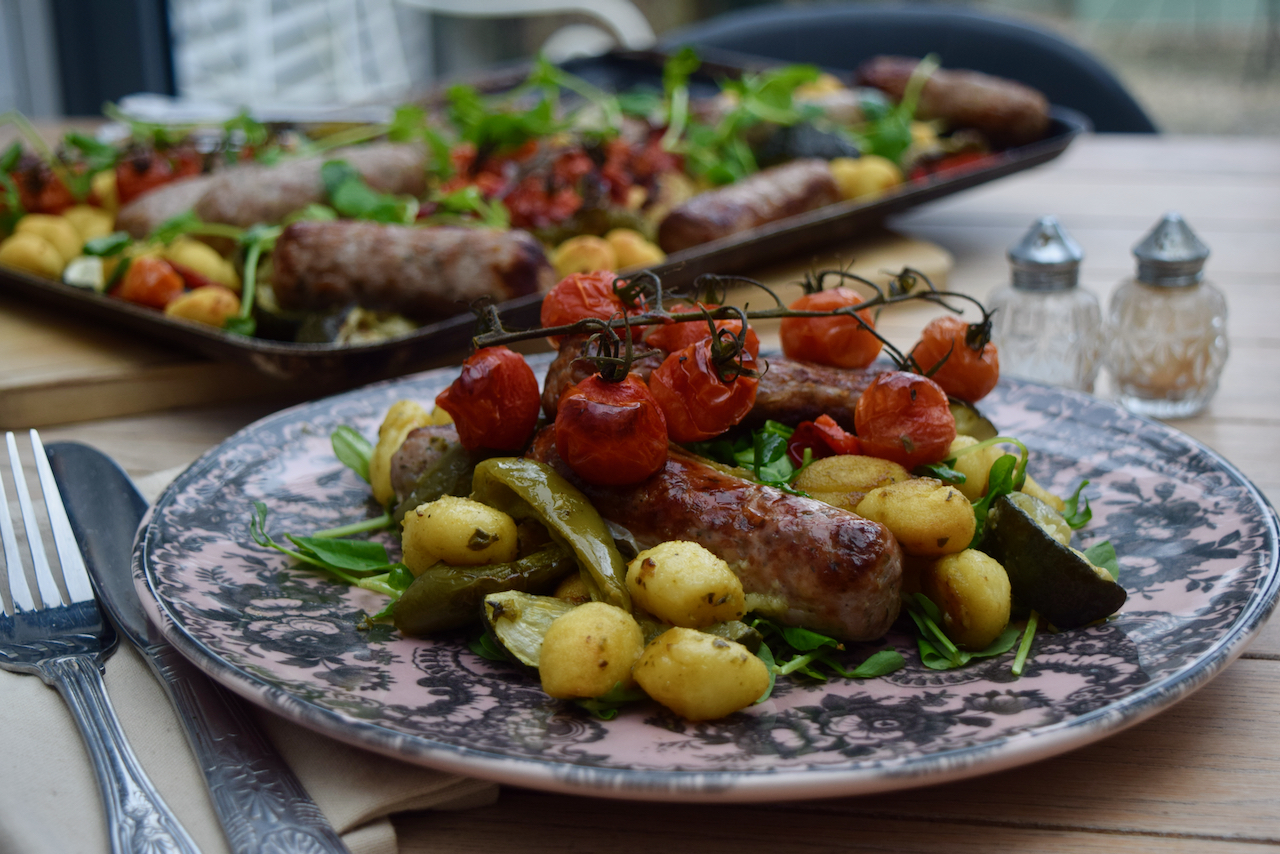 Roasted Gnocchi with Sausage Traybake recipe
Hooray, March is only minutes away, bringing with it slightly longer days and the promise of spring. I'm still in winter mode, under a furry blanket as I write and with a total lack of motivation to cook unexciting mid week meals. This Roasted Gnocchi with Sausage Traybake is the product of my lethargy along with a very productive fridge forage, and it's a total winner for anyone feeling a whiff of prolonged winter sluggishness with me.
Gnocchi for me is best roasted; controversial it may be, but I do find it a little heavy when simmered in a sauce. Roasting these little balls of potato business gives them a crisp outside and a fluffy inside with very little effort. I chose a mixture of onion, peppers, courgettes and tomatoes *fingers crossed you can get some*; they work so well when baked, getting a touch of char on the edges and a wonderful concentrated flavour. A generous dollop of good quality, or dare I say it, homemade, pesto brings all the vegetables together. The sausages I chose were spicy and flavoursome and I allowed for 3 to 4 per person to satisfy my hungry menfolk.
This recipe is about as complex as I can muster at the moment, but sometimes less is more. Less effort for more compliments from your diners.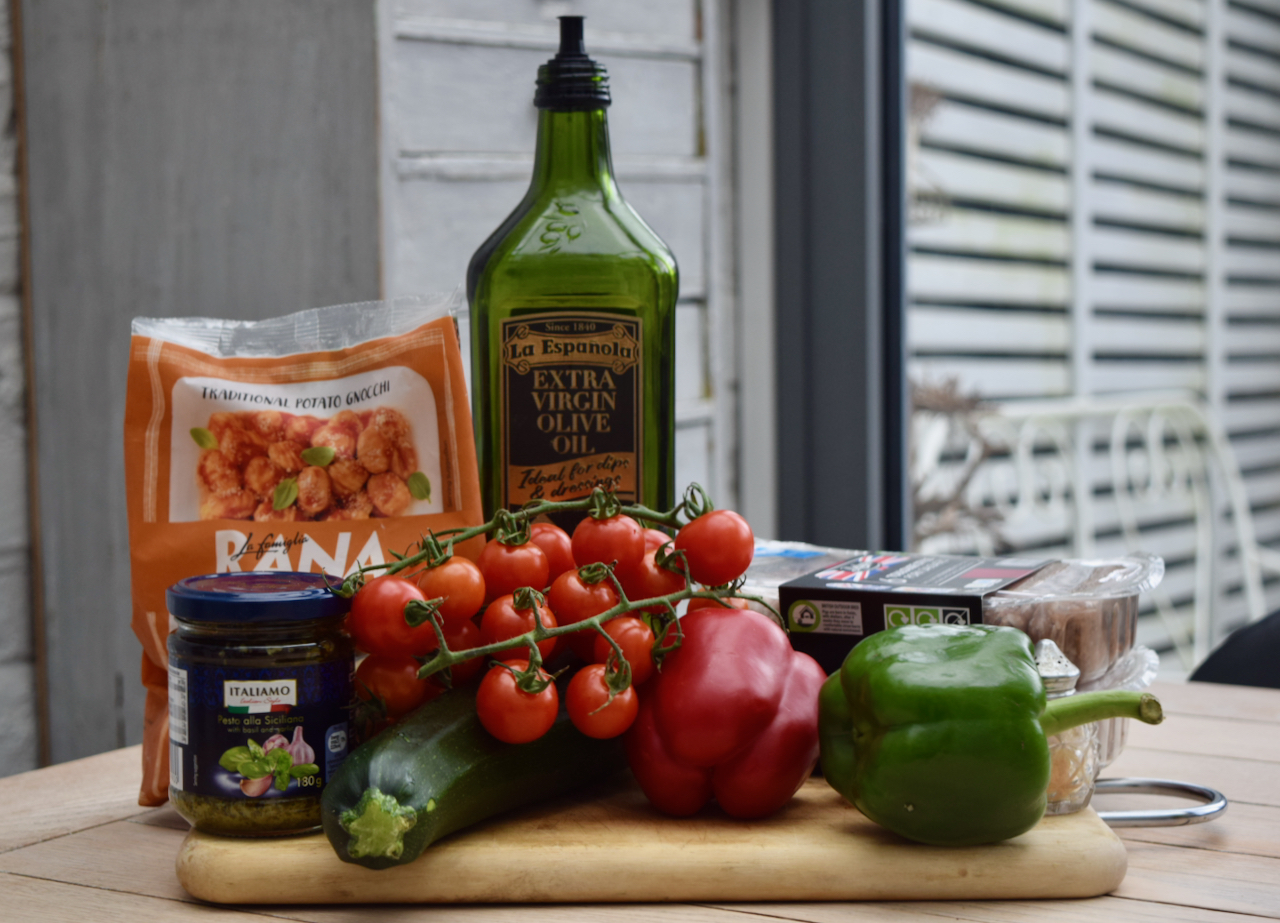 So colourful and fresh, I love this recipe. I was lucky enough to find tomatoes in the supermarket, much to Clyde's disappointment as they're not his favourite. I left them on the vine as they look so stylish on this traybake. I got a good quality pesto, but if you're feeling like you need something to do then please feel free to make your own.
Start with a bloody great big sheet style baking tray and by pre heating your oven to 180 degrees fan assisted. Chop the vegetables, think chunky you don't want them to disappear whilst roasting. Add them to the baking tray.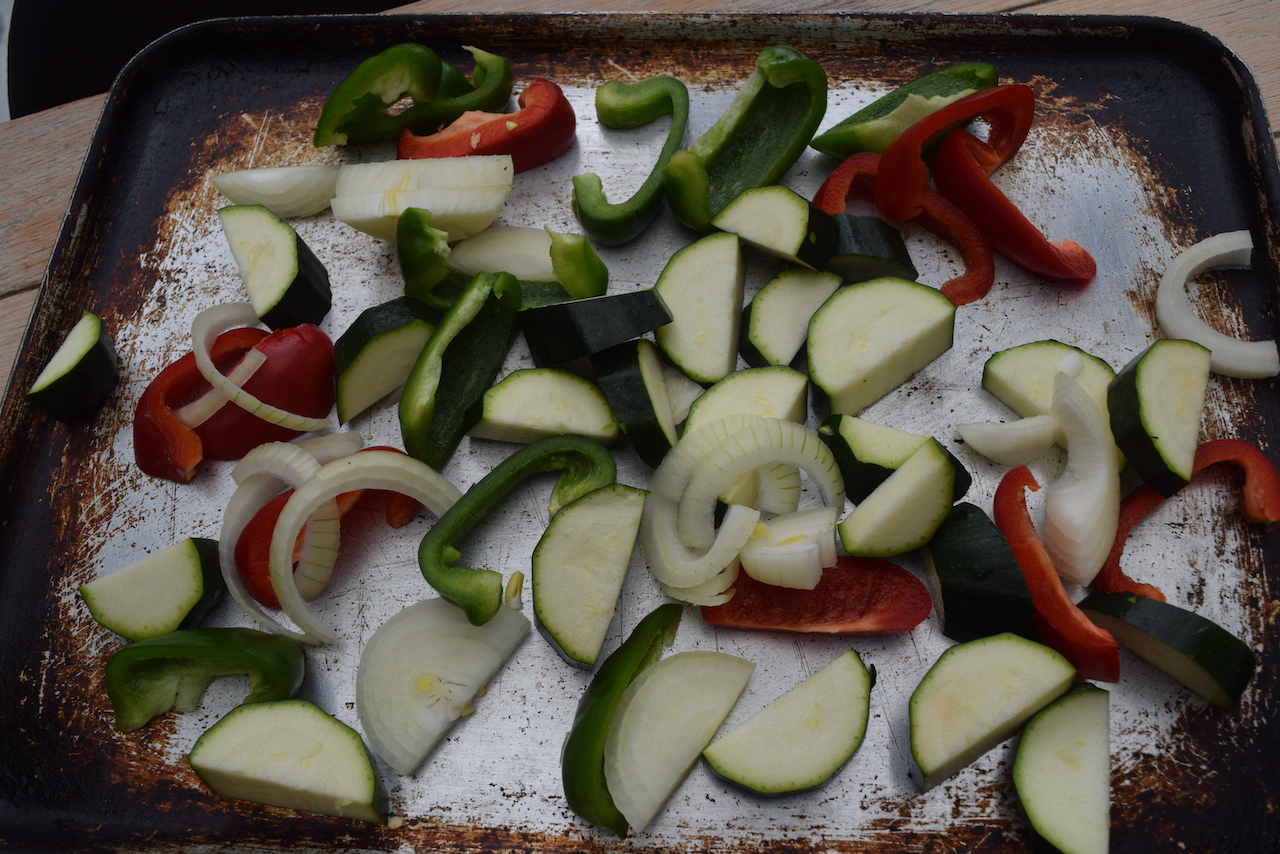 Next, mix two generous tablespoons of pesto with two tablespoons of olive oil and pour over the vegetables. Stir well to coat.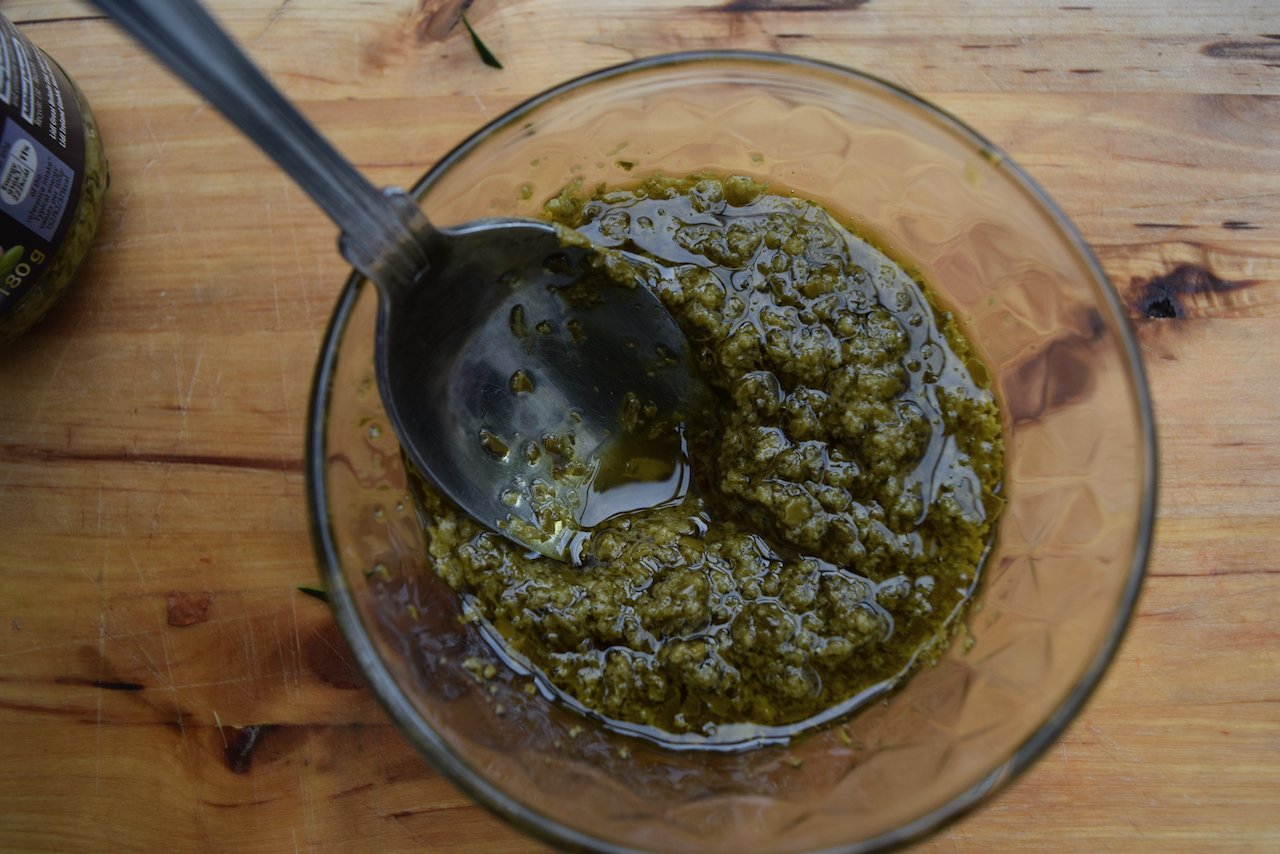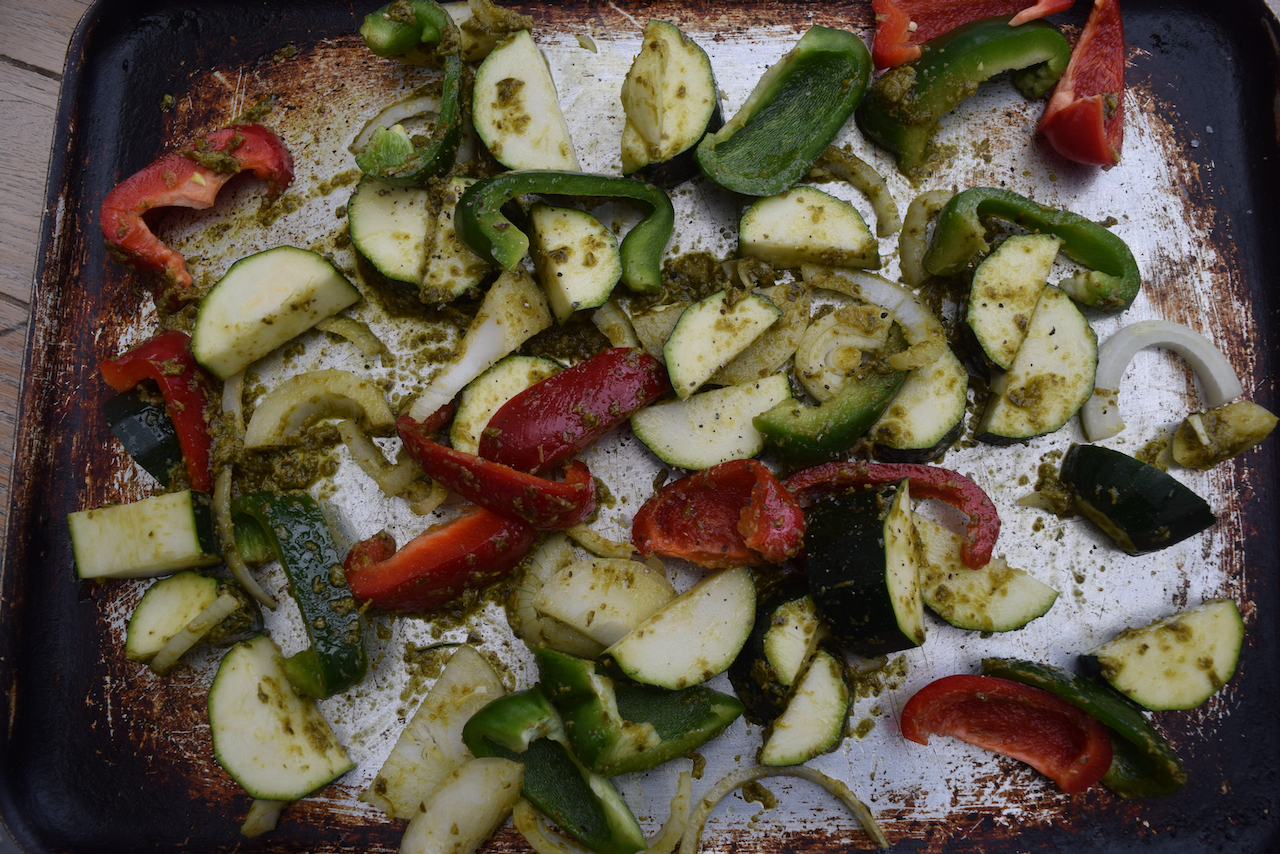 Now, mix the gnocchi with the remaining two tablespoons of olive oil. I did this directly into the bag to save washing up. Tip them onto the baking tray and spread out into an even-ish layer.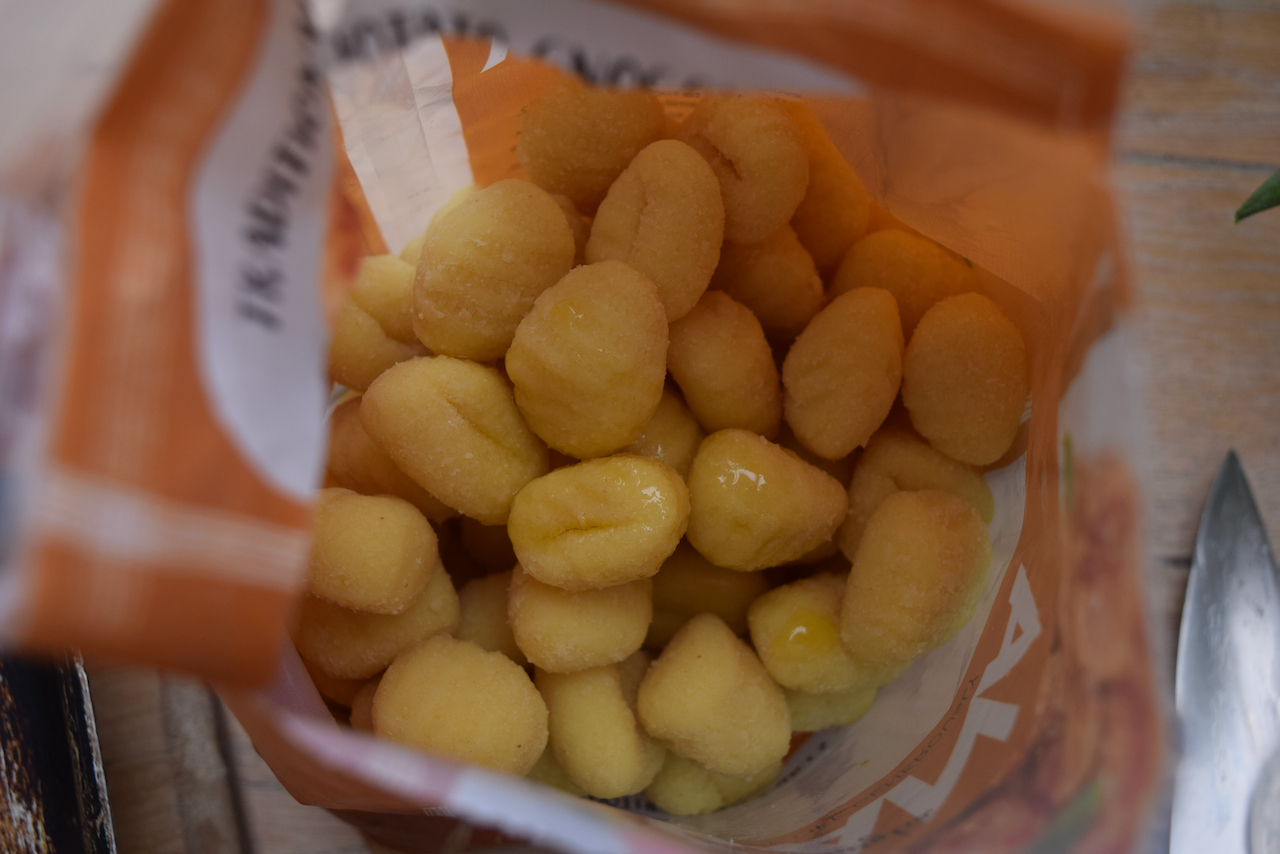 Tuck the sausages in around everything. Place the tomatoes on top, drizzle with a touch more olive oil and generous amounts of salt and pepper.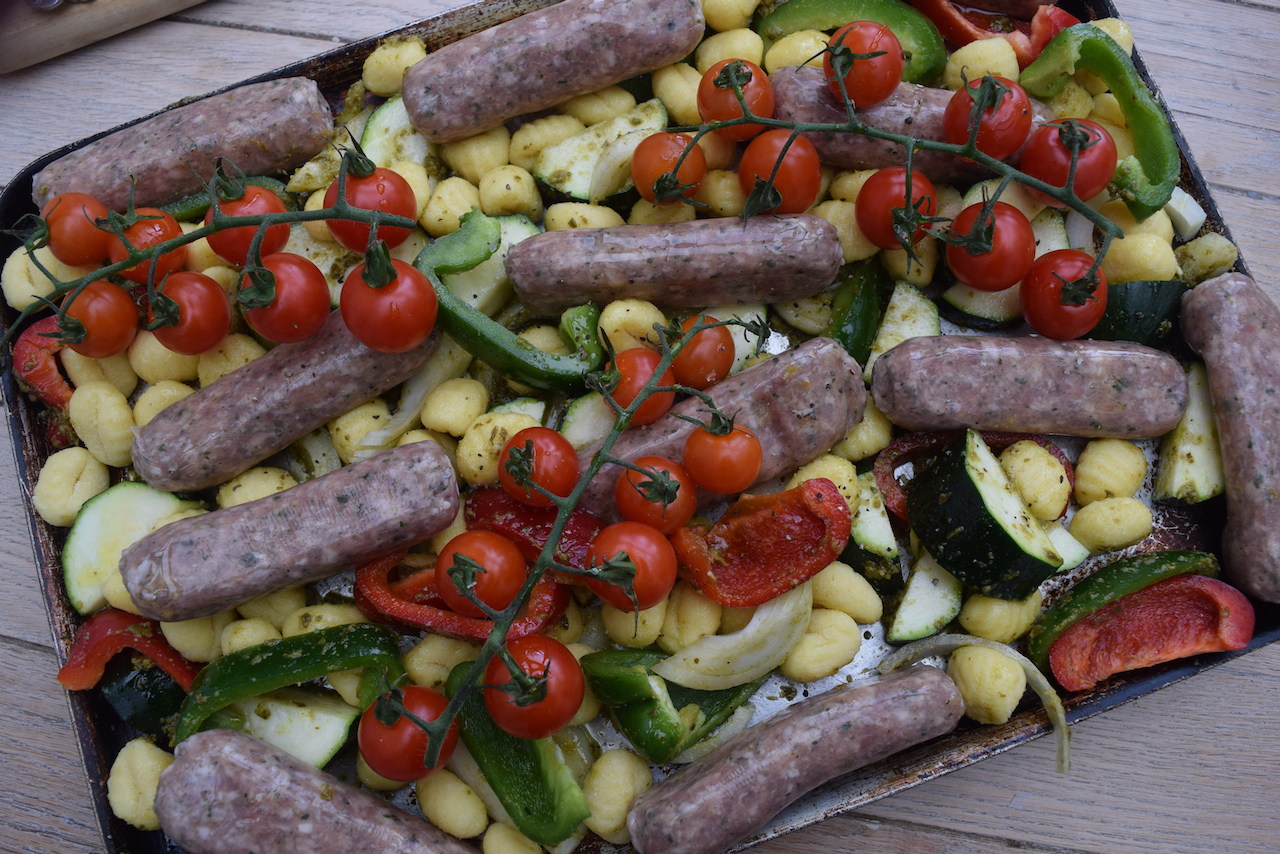 Put the tray into your hot oven and bake for 35 to 40 minutes. Give the sausages a turn half way through so they cook evenly.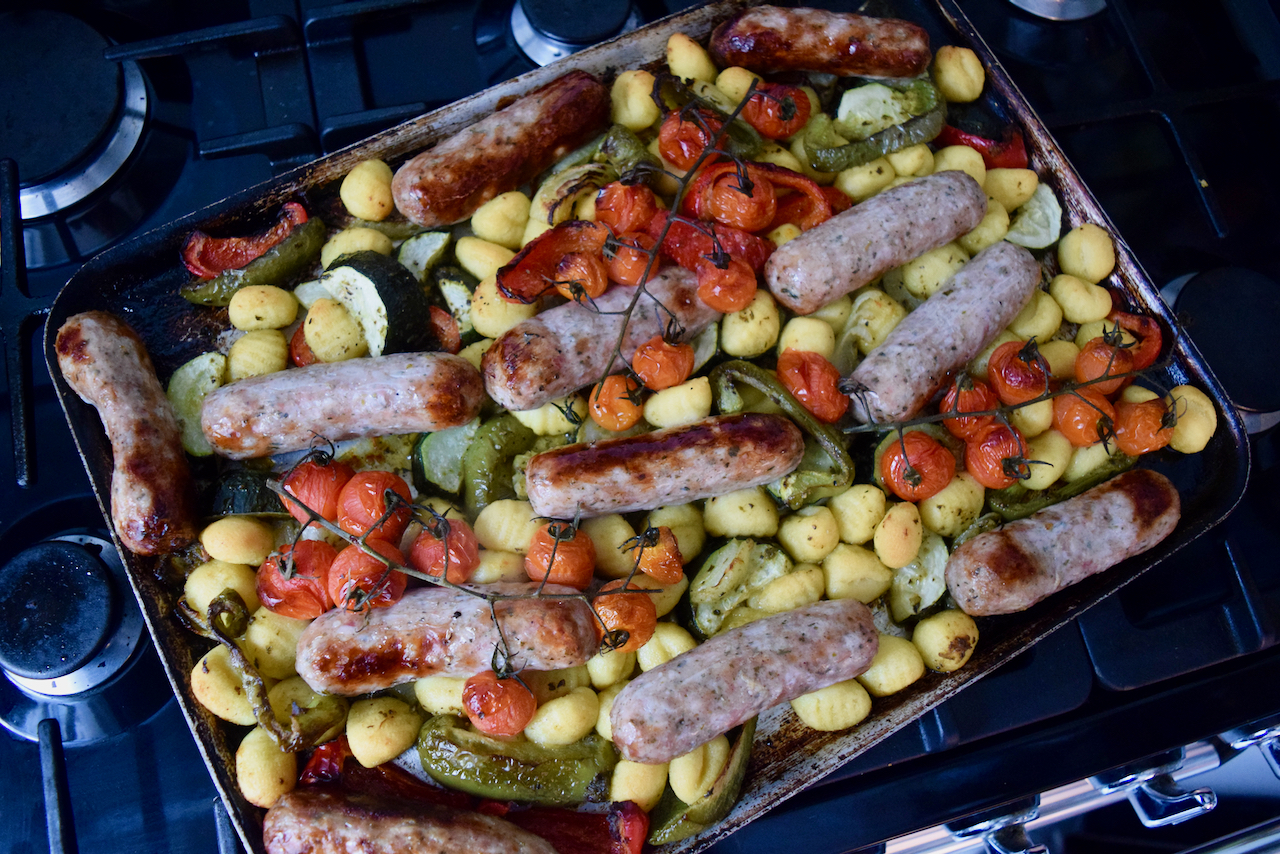 The gnocchi will be golden and the vegetables soft and charred at the edges. Scatter the tray with some chopped fresh basil and/or a handful of rocket or pea shoots for colour. Then tuck in, bread may be a thought for mopping up wonderful pesto pan juices.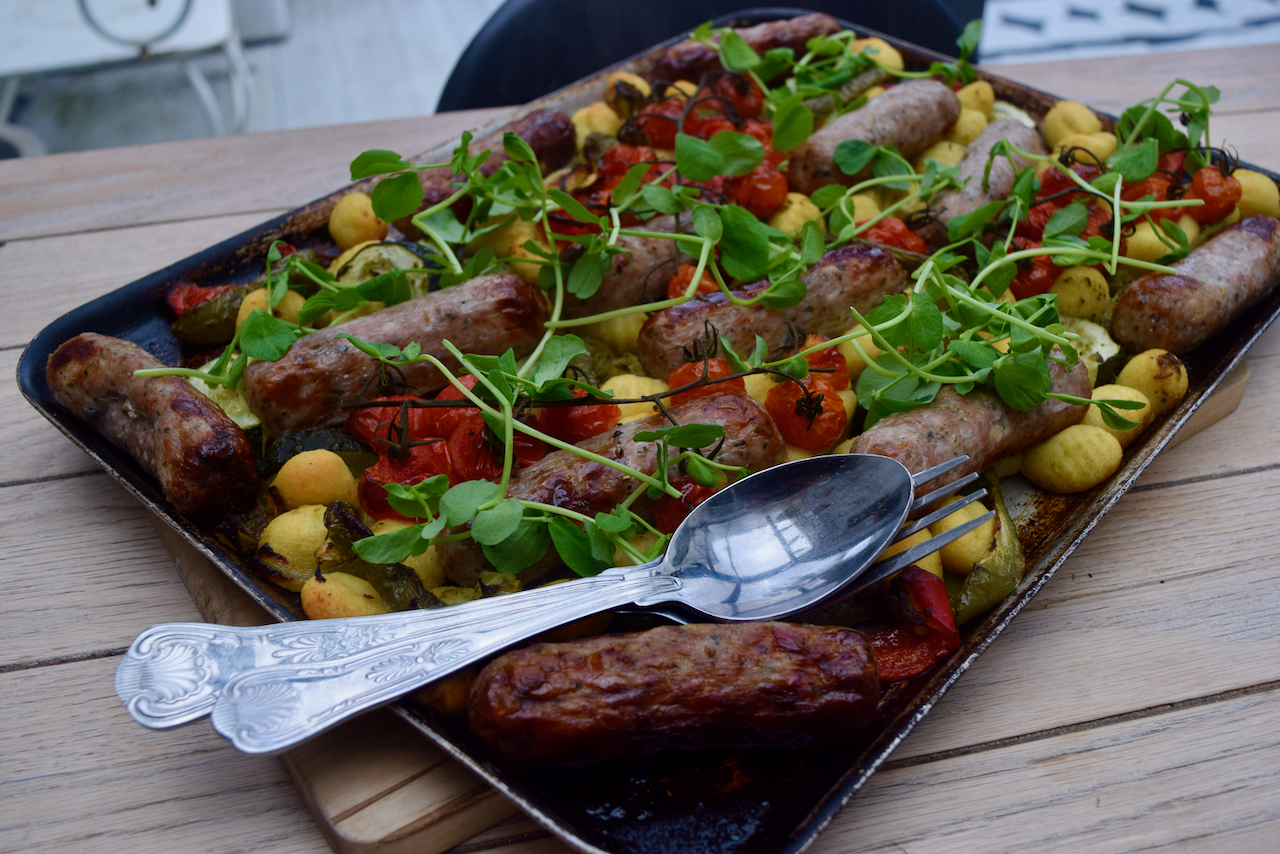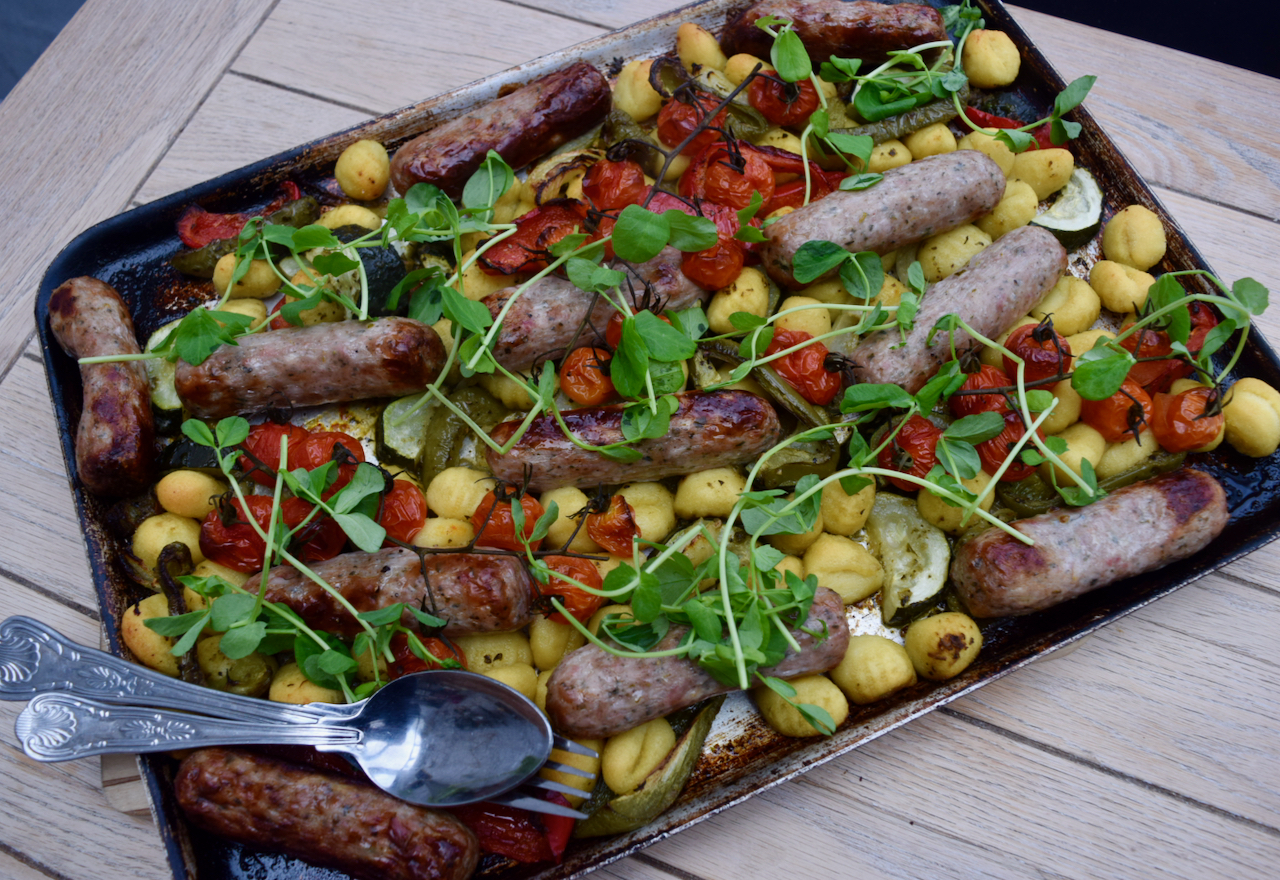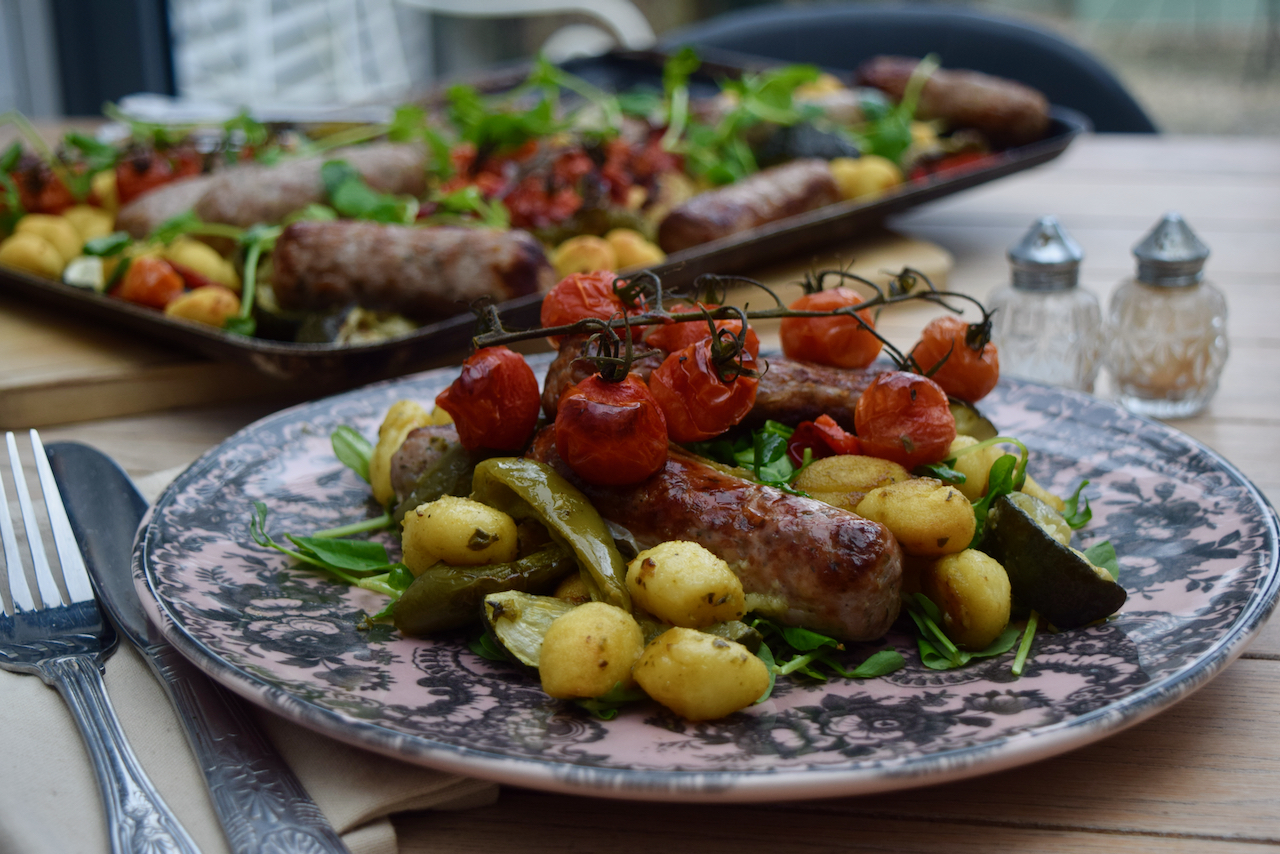 Winter's still here for a few more weeks so fill your kitchen with the scent of roasting sausages, pesto and crisp gnocchi. If nothing else, having the oven on for just over half an hour will warm you up.
Lucy x
Roasted Gnocchi with Sausage Traybake recipe
Serves a generous 3 to 4, appetite dependent
You will just need a large rosting sheet for this
2 peppers, thickly sliced
1 onion, thickly sliced
1 courgette, cut into chunky cubes
4 tablespoons olive oil, plus another drizzle
2 heaped tablespoons pesto
500g gnocchi
12 good quality sausages
300g cherry tomatoes, on the vine if you like
Salt and pepper
A drizzle of olive oil to finish the dish and a handful of leaves or fresh basil to serve
Pre heat your oven to 180 degrees fan assisted and find a large baking sheet.
De-seed the peppers and cut into thick slices along with the onion then cut the courgette into chunky cubes. Place on the baking sheet. Mix the pesto with two tablespoons of the olive oil, stir, then pour onto the vegetables and mix well.
Add the remaining two tablespoons of olive oil to the gnocchi (I did this straight into the bag to save washing up) then tip onto the tray with the vegetables making sure everything is in a single layer to ensure even browning. Tuck the sausages in between the gnocchi and vegetables then place the vine tomatoes on top.
Give everything a final little drizzle with olive oil, season generously then bake for 35 to 40 minutes, turning the sausages half way through for even browning. The dish is ready when the vegetables have charred slightly, the gnocchi are crisp and golden and the sausages are well browned.
Scatter the dish with some chopped herbs, basil would be nice, or scatter with rocket or pea shoots. Serve whilst piping hot with bread, if you like.