Sriracha Honey Meatballs Recipe
Poor old turkey has a terrible reputation. It only ever really gets a mention in December and then it's either over or under cooked. Don't get me wrong, I love a turkey dinner, but I do have to agree, in the wrong hands it can be as dry as a bone. Not so with these Sriracha Honey Meatballs; dry they are not, sweet, spicy and tender they are. And it's not even Christmas.
I spend a lot of time trying to think of interesting things to eat. I talk about food, spend hours on Pinterest looking at food and I eat a lot of food. When my lovely running partner told me her daughter had made these Sriracha Honey Meatballs, I immediately set to making them; and thank God I did. They are all of the things I love. a) simple b) quick c) super tasty and d) vaguely healthy. They are made with the aforementioned turkey mince, baked instead of fried then glazed in a wonderful mixture of Sriracha, honey, garlic and ginger. Served with some brown rice or noodles, these meatballs make a healthy, well balanced supper for you and yours. Huge thanks to Ellen for the heads up and to the randomly titled Eat Yourself Skinny for the recipe inspiration.
Another plus point for these Sriracha Honey Meatballs are the recipe makes a hoofing great big portion. Either share these with your family, or pack them up and take them to work with you to spice up your desk lunch all week. Either way, these meatballs are an opportunity to give poor turkey another chance.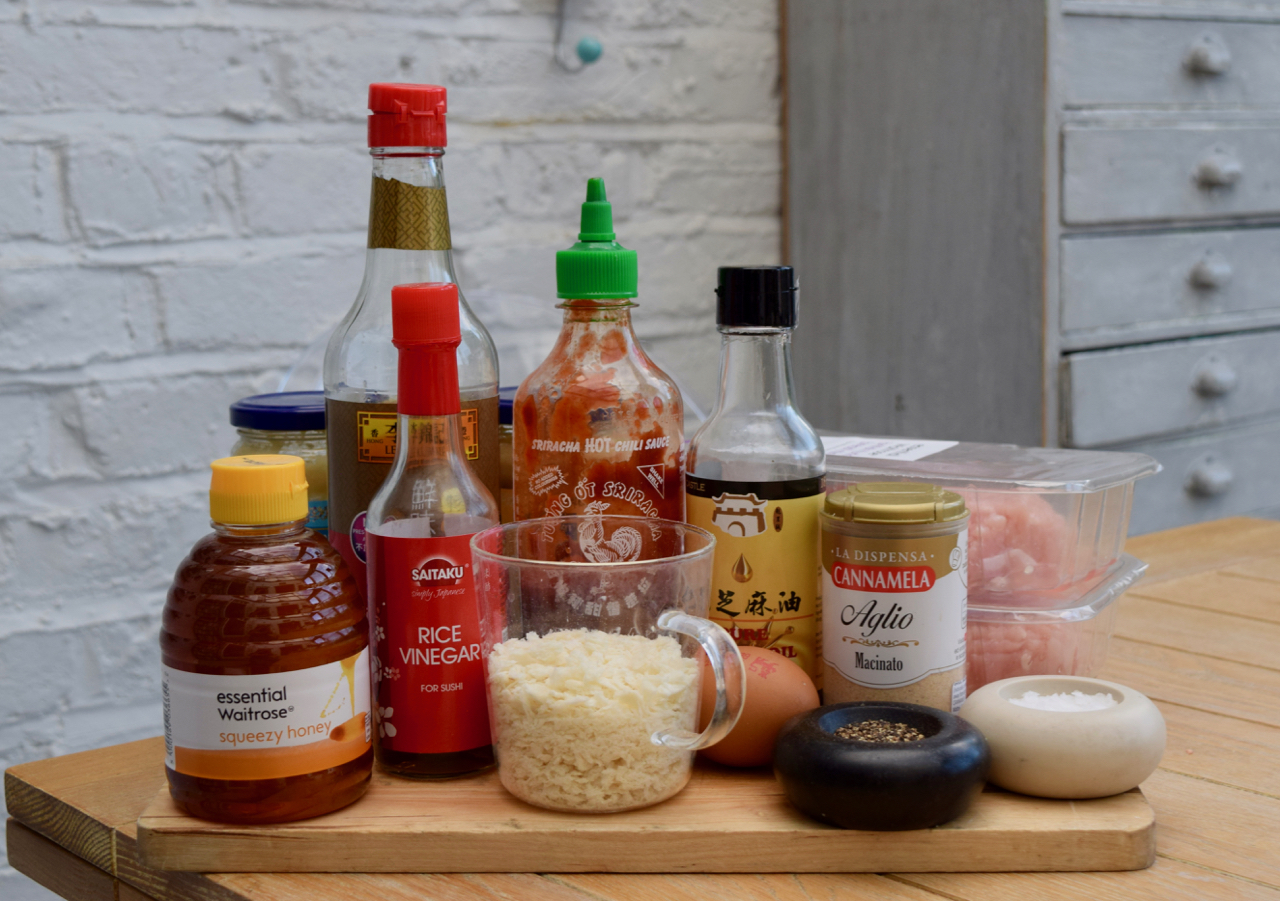 This may look like a lot of bottles and jars, but most of them will be skulking at the back of your cupboard. A quick word about the garlic powder and how much I love it. It's so handy, adds a hit of garlic to anything without having a peel a single clove. Likewise, hidden at the back of the pic are my jars of lazy ginger and garlic, which are also real timesavers and stop you throwing away old soggy garlic and ginger going off at the back of veg drawer.
Enough rambling, more balls. Make a start by lining a large baking sheet with foil or baking paper to save on washing up later and pre-heating the oven to 160 degrees fan assisted. Next, take a bowl and add the minced turkey, panko crumbs, garlic powder, egg and salt and pepper.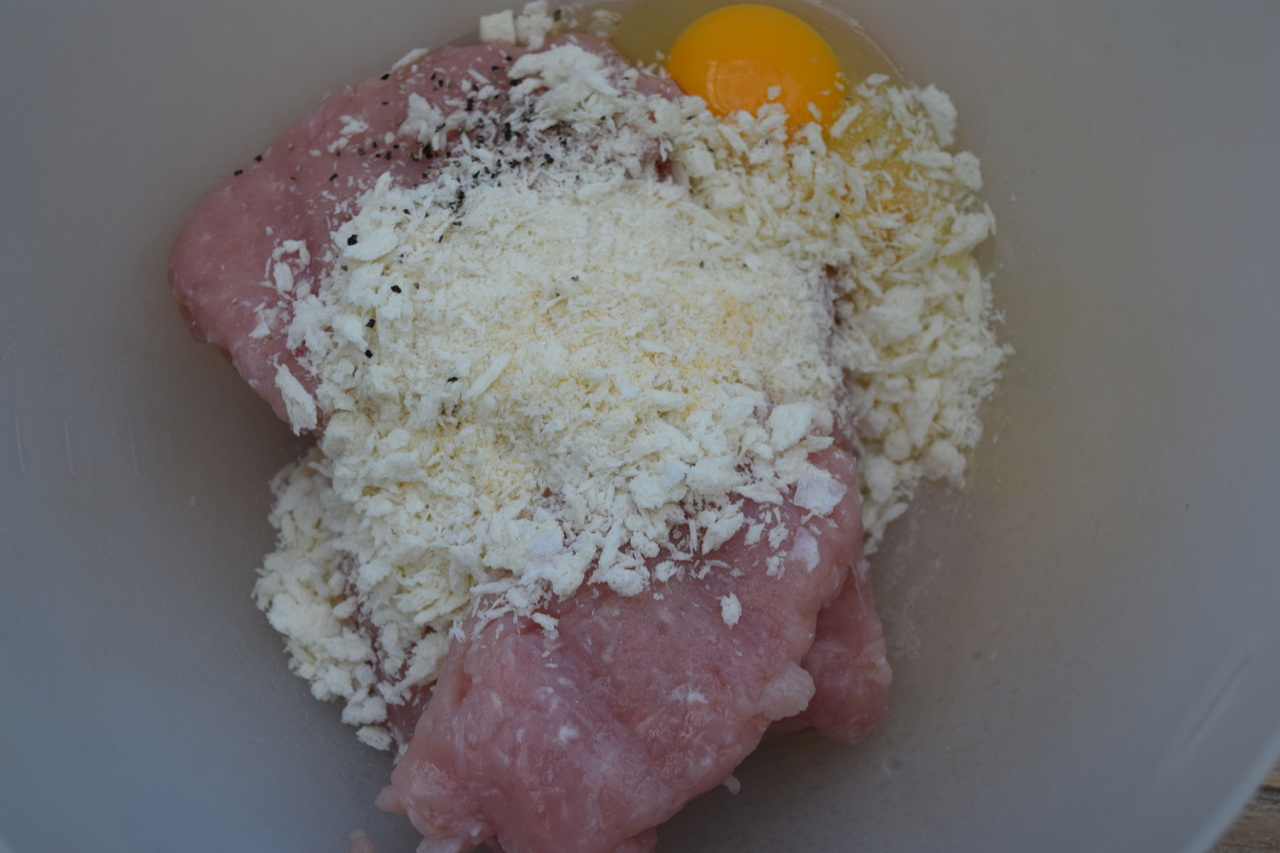 Go in with your hands and give the mixture a good squidge or use a spatula if you're squeamish.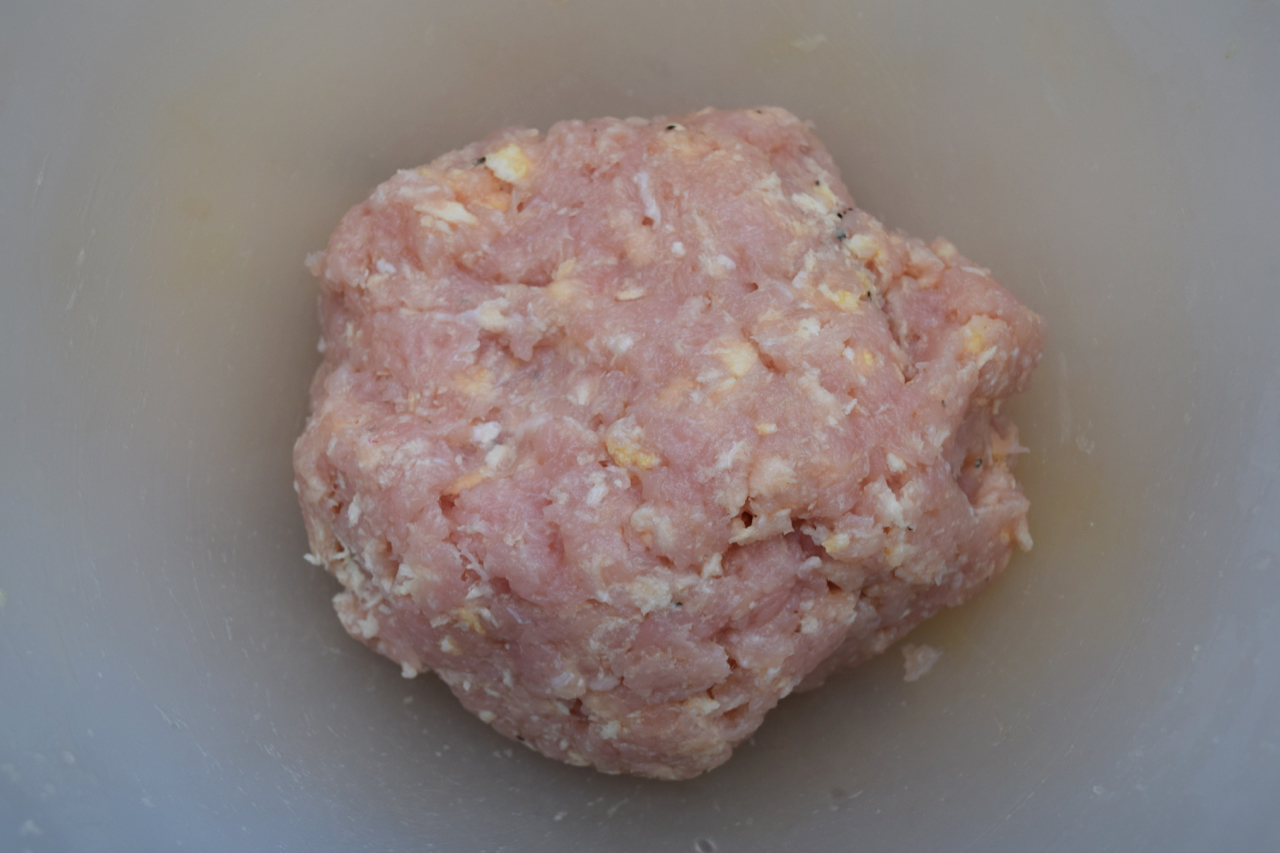 Fashion this so not dry turkey mixture into walnut sized balls. Depending on how fastidious you are, you'll get between 28 and 32 out of the mix. Place the balls on your lined tray then put in the oven for around 20 minutes. Btw if you're cooking brown rice to go with these, get this on now as it takes bloody ages to cook.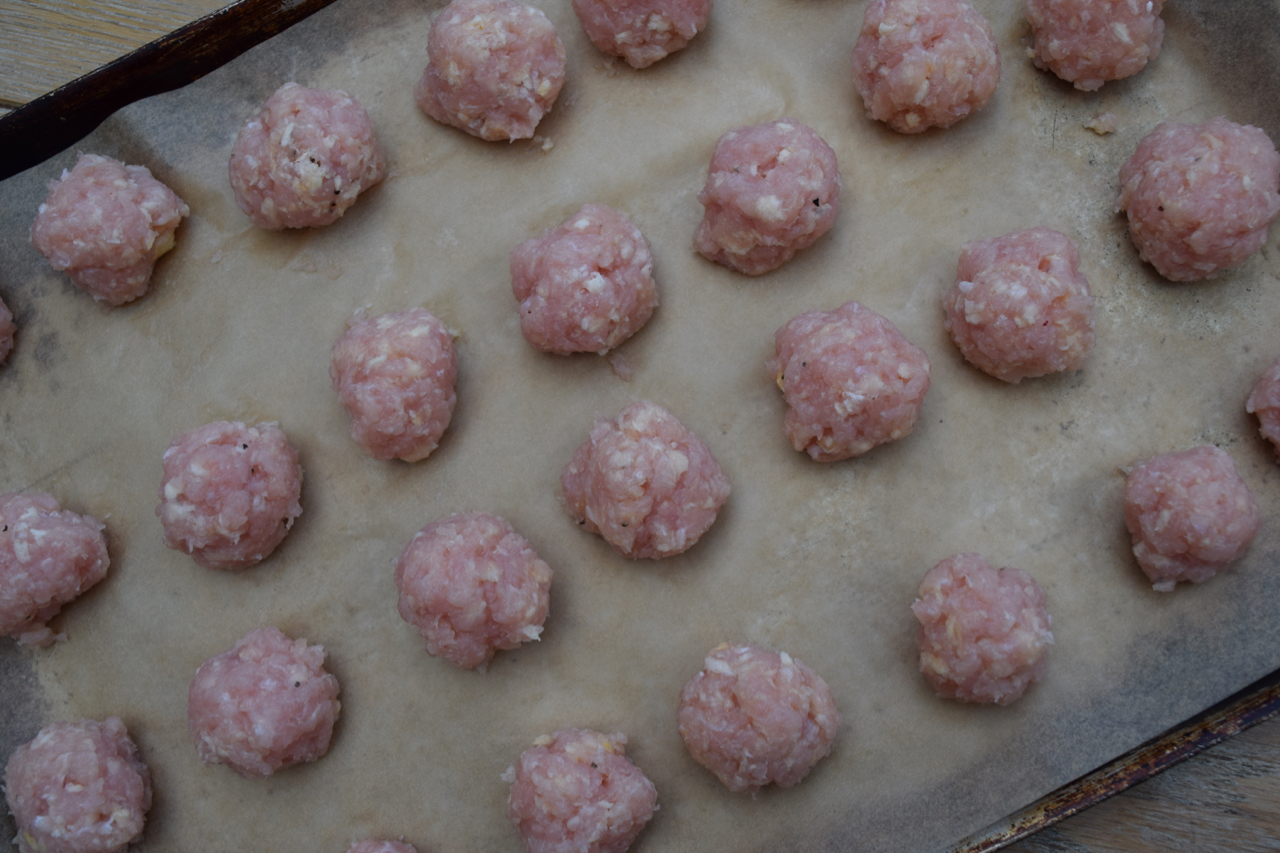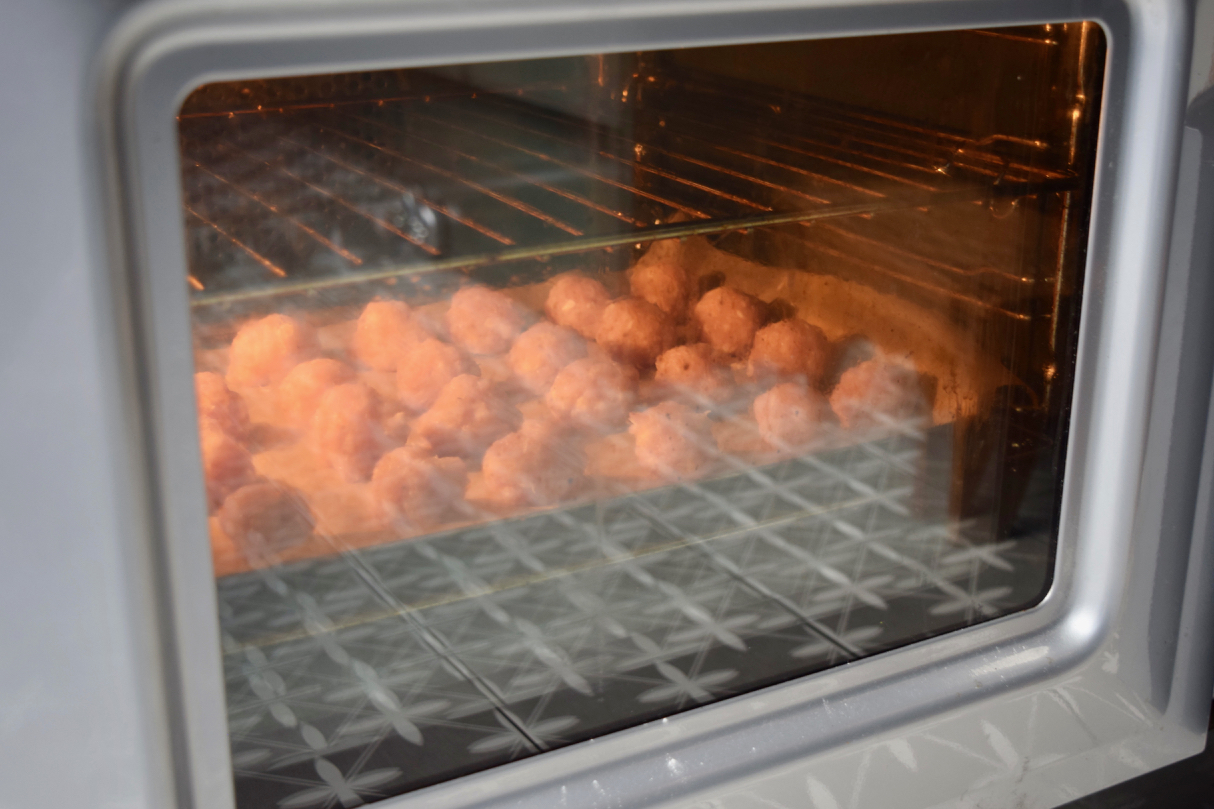 While your balls are cooking, crack on with the sauce. Take a small jug or bowl and measure in the sriracha, soy, rice vinegar and honey.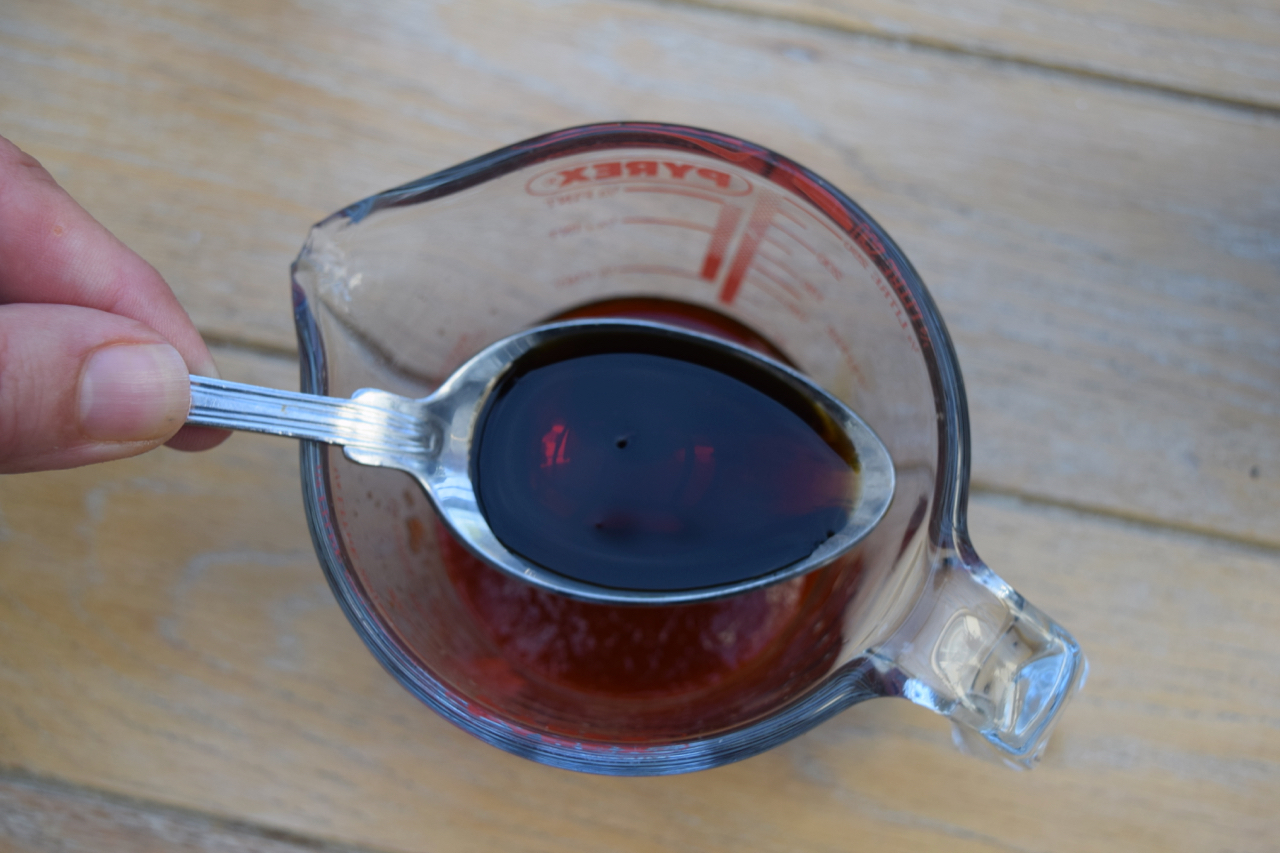 Stir in the fresh or from a jar garlic and ginger and the sesame oil. Mix until blended.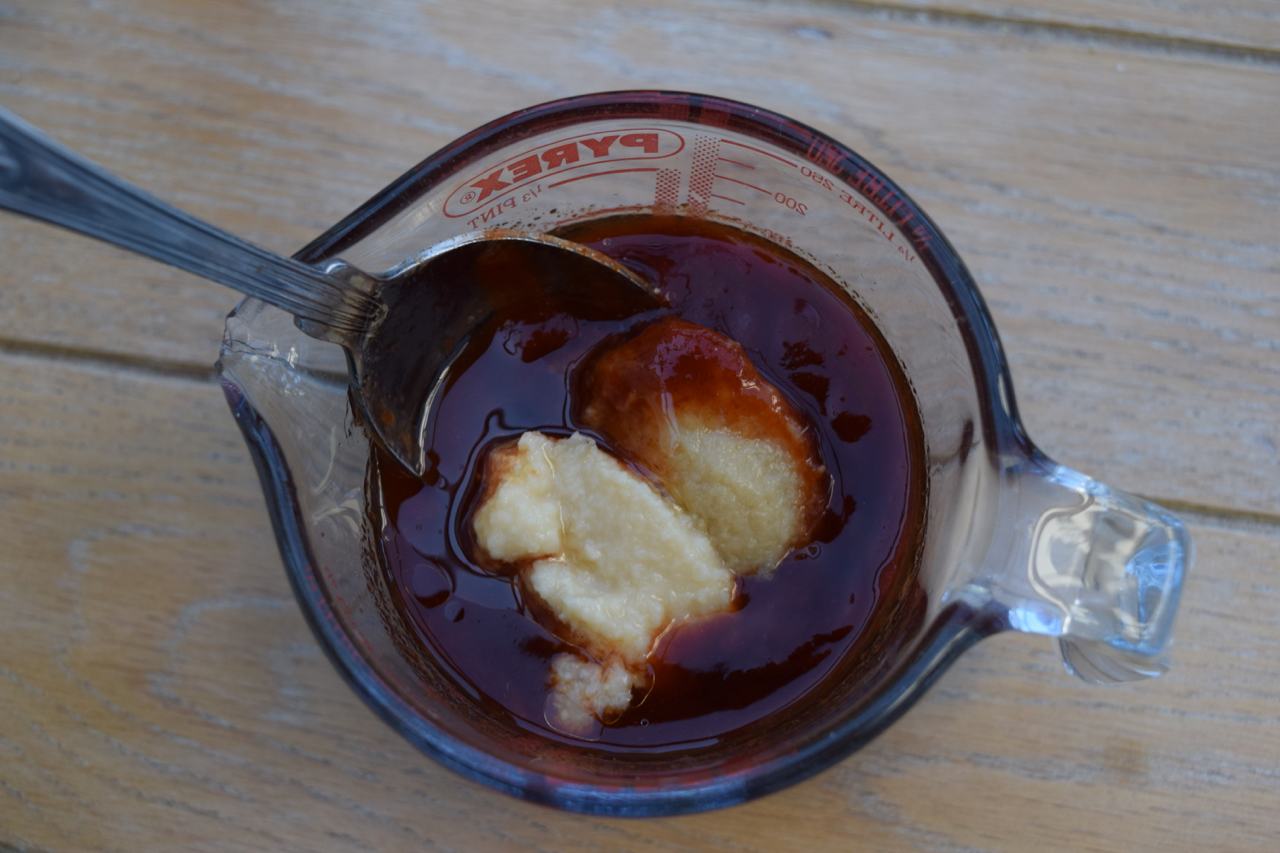 Pour this into a large-ish frying pan and slowly bring up to the simmer. Let it bubble for around 5 minutes until it's reduced slightly.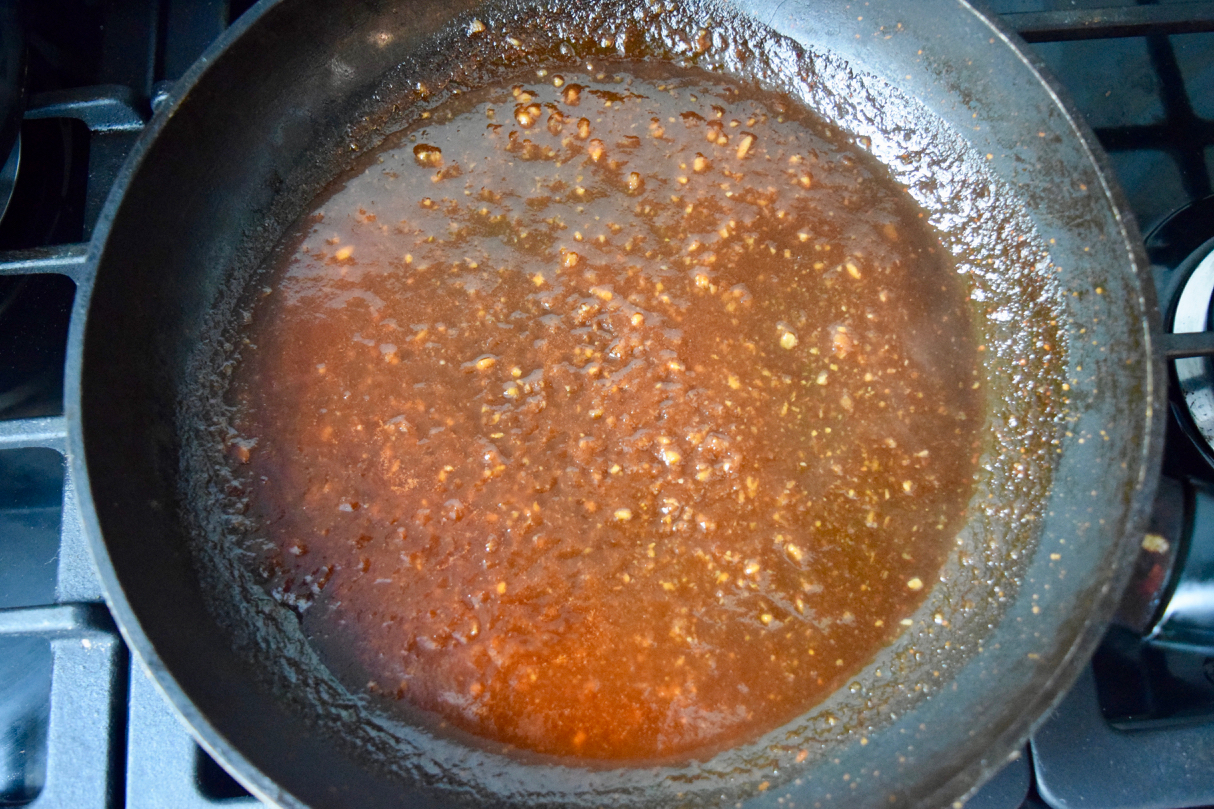 Once your meatball cooking time is up and they're golden and sizzling, tip these into the pan of sweet and spicy glaze.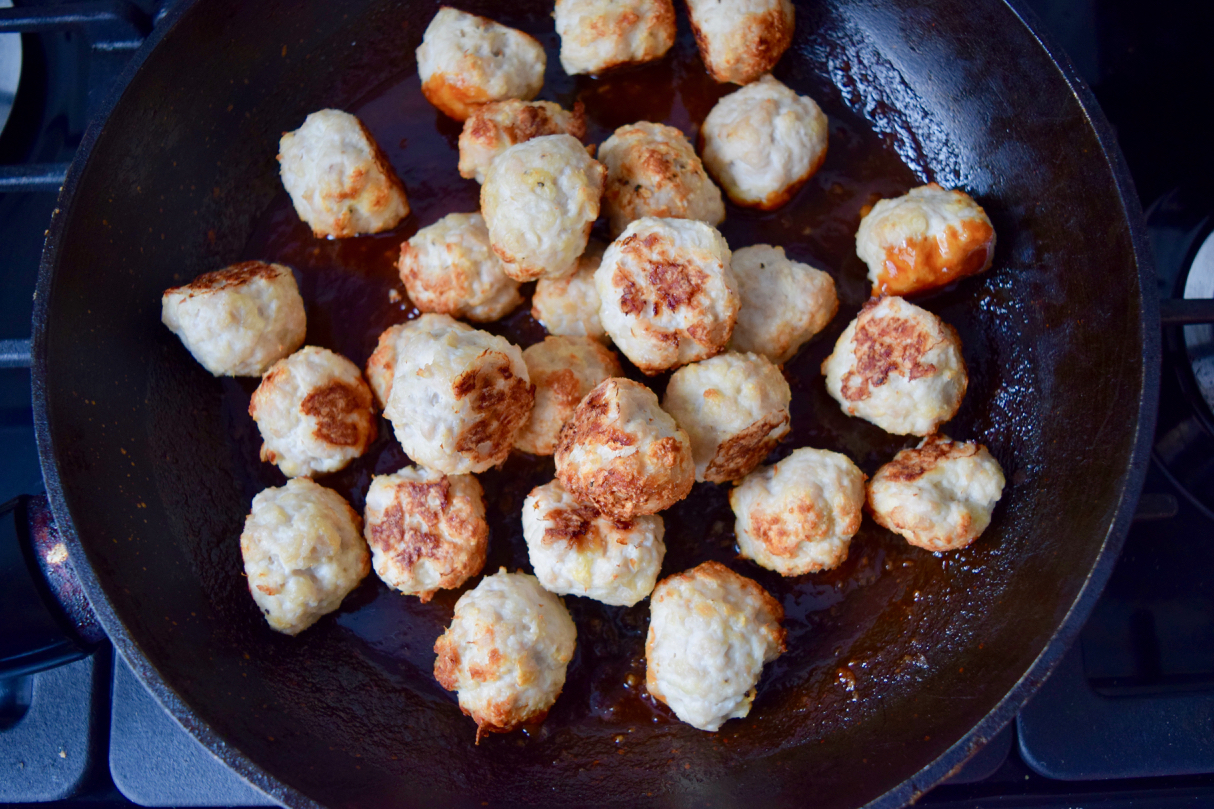 Mix, coating the meatballs well. Drain your rice or noodles and get ready to serve.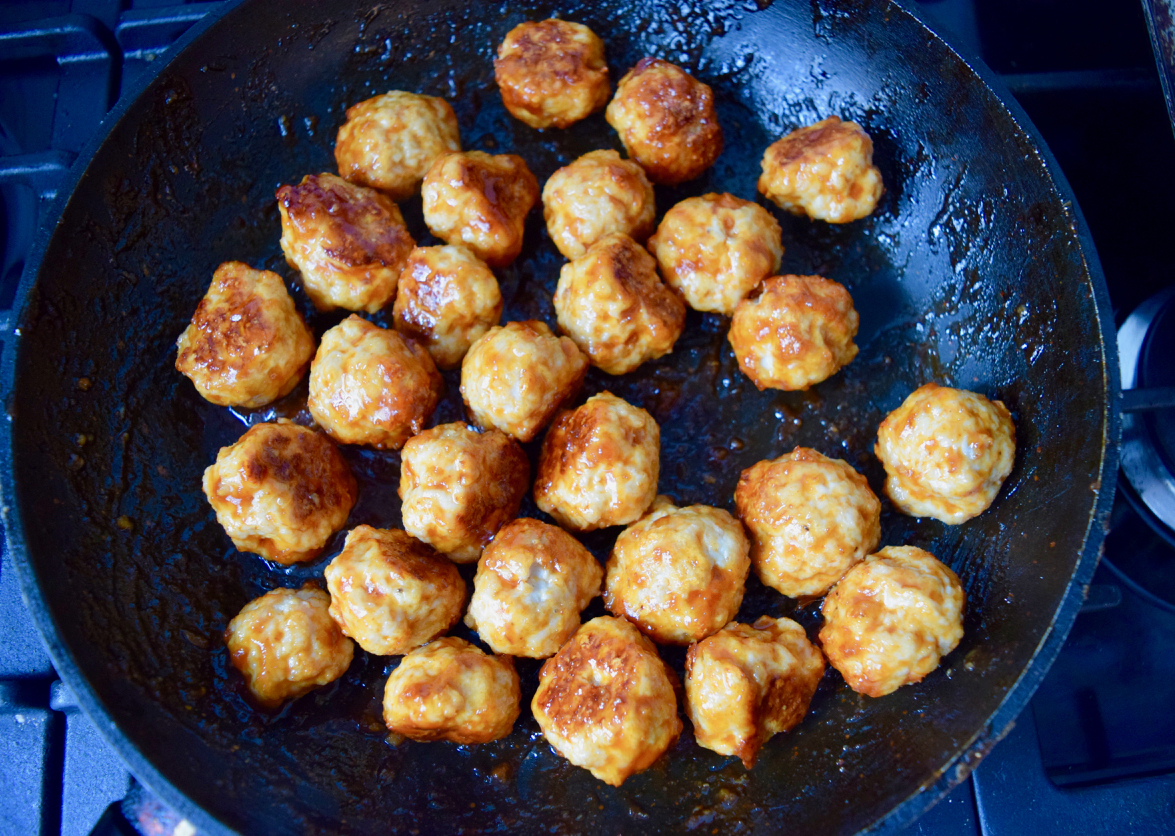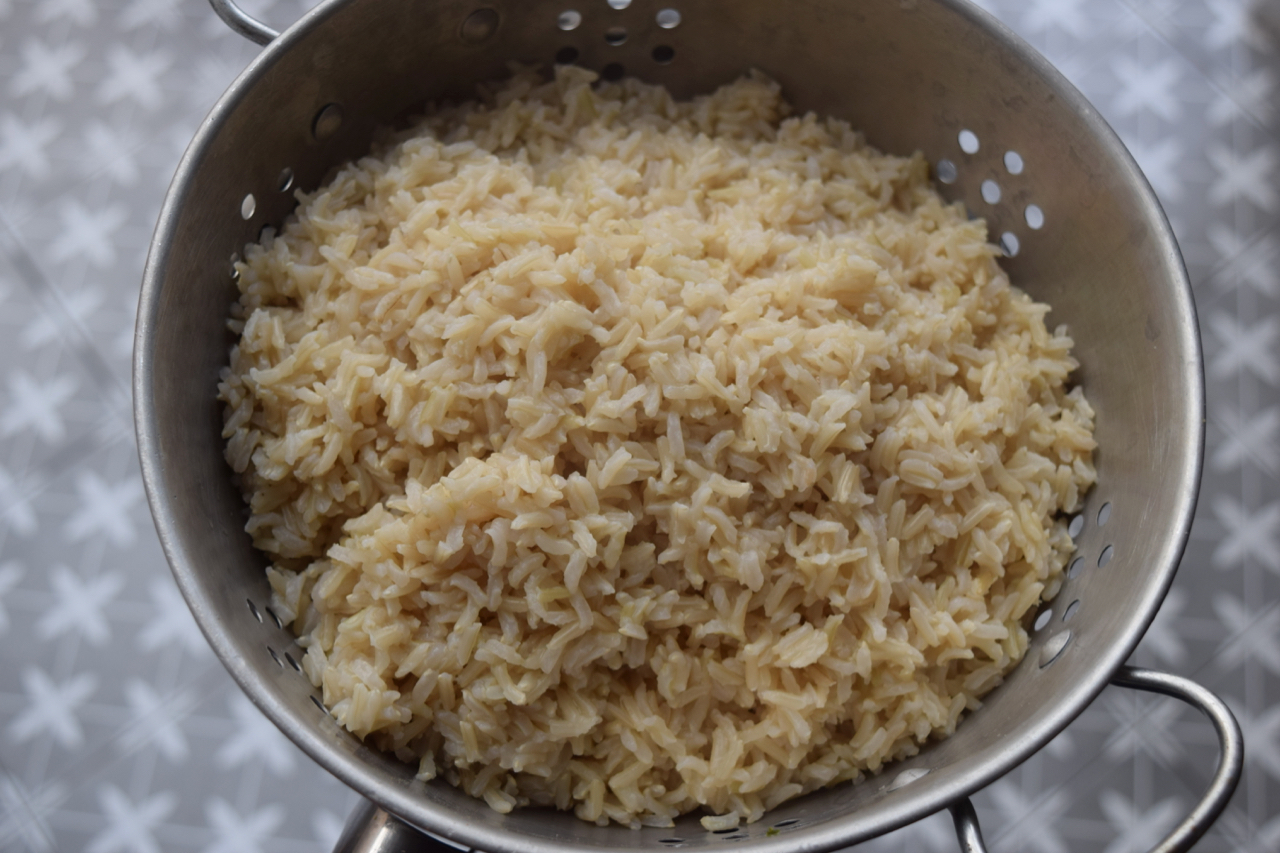 Dish up whilst it's piping hot, making sure you get every last little bit of the glaze from the pan, you don't want to waste any of this sweet and spicy deliciousness. Sprinkle with some black or white sesame seeds if you like.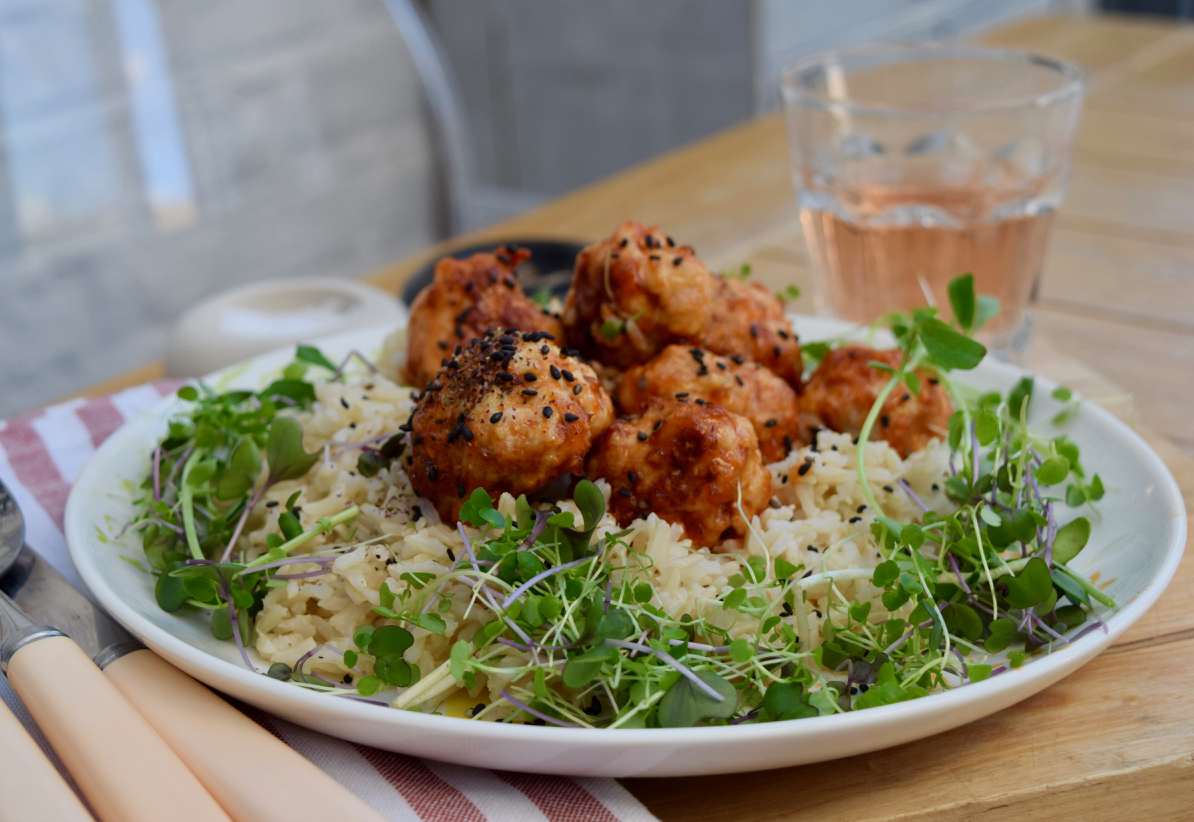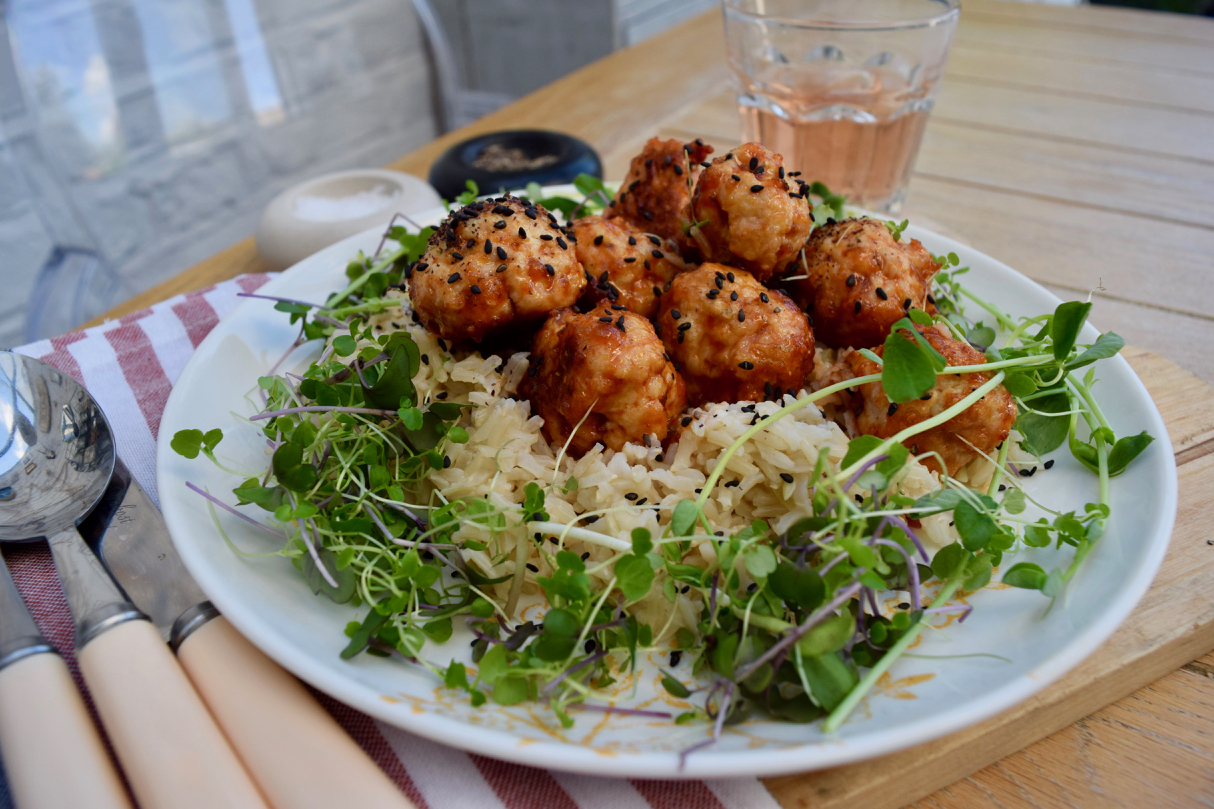 Healthy-ish, spicy-ish and super moreish. Meatballs in some shape or form feature in our house every week, but there's always time for new balls in your life *mum of boys humour*.
Lucy x
Sriracha Honey Meatballs Recipe
Serves 4
You won't need any exciting equipment, just bowls and pans
Meatballs
600g turkey mince, breast or thigh
70g panko breadcrumbs
1 egg
1/2 teaspoon garlic powder
1/2 teaspoon salt
1/2 teaspoon pepper
Sriracha Glaze
60ml Sriracha
3 tablespoons rice vinegar
3 tablespoons soy sauce
3 tablespoons honey
1 tablespoon grated ginger or from a jar
3 cloves garlic, crushed, or use a heaped teaspoon from a jar
1/2 teaspoon sesame oil
Brown rice and a green vegetable to serve, sesame seeds to garnish
Start by lining a large baking sheet and pre heating the oven to 160 degrees fan assisted.
Take a large bowl and measure in the turkey mince, panko breadcrumbs, garlic powder, egg and salt and pepper. Go in with your hands and mix the ingredients well.
Fashion the mixture into around 28 to 32 balls and place them well spaced on the lined baking tray. Bake for around 20 minutes or until golden, sizzling and firm.
While the meatballs cook, prepare the glaze ingredients. In a jug, whisk together the Sriracha, soy, honey, rice vinegar, garlic, ginger and sesame oil. Heat a large-ish frying pan over a low heat and add the sauce. Bring up to the simmer and reduce slightly for around 5 minutes.
Once the meatballs are cooked through, tip them into the pan with the reduced sauce. Take off the heat. Coat them in the glaze then serve with some brown rice or noodles and some steamed green vegetables.