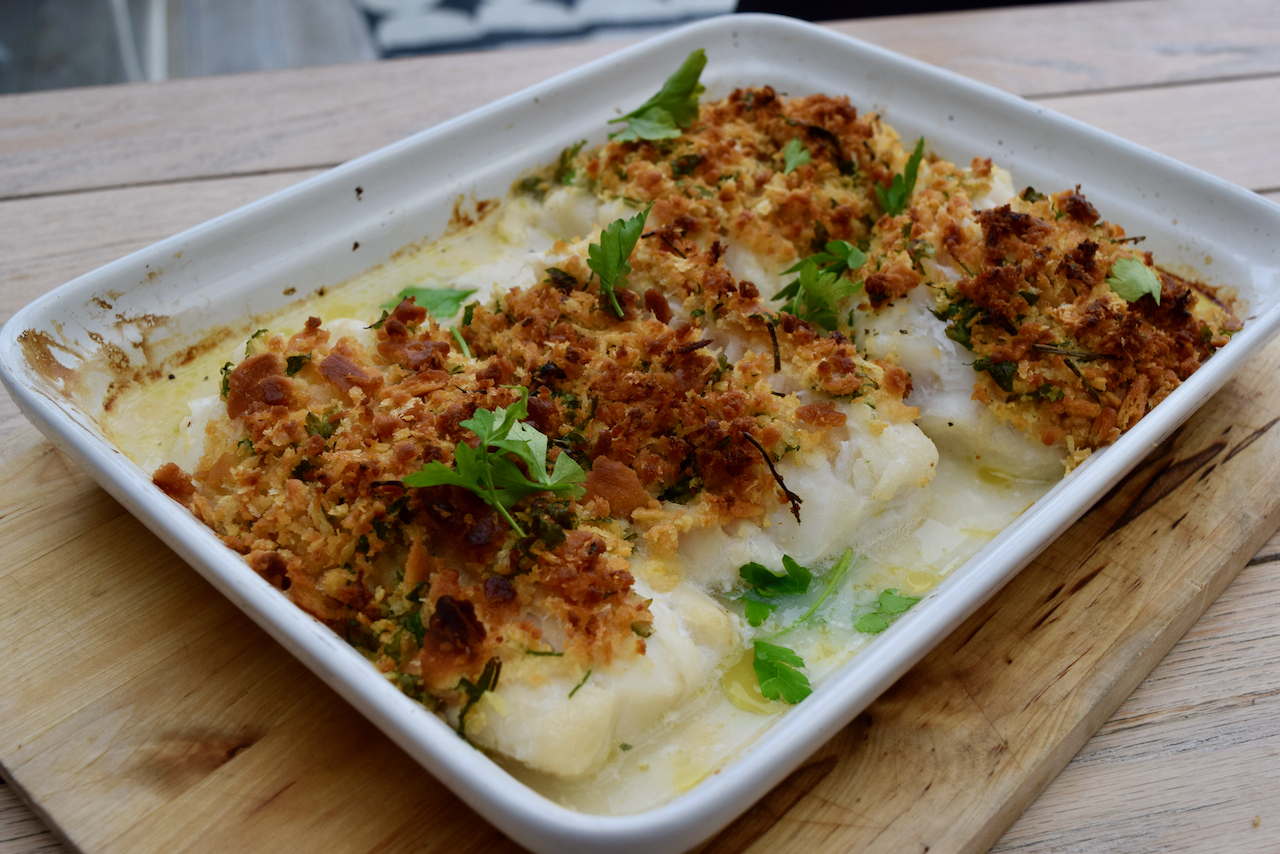 Cod with Lemon and Garlic Crumbs recipe
Since Covid and all the unpleasantness it brought with it, I have become strangely lazy. I can't even blame long-Covid, as I don't have it; I just feel less inclined to spend so much time in the kitchen. I still bloody love eating, however, so effortlessly delicious food is my new mood. Cod with Lemon and Garlic Crumbs falls into that very category and makes a wonderful Easter, or any fish based occasion, supper dish.
This is yet another Ina Garten inspired dish, and her use of Ritz crackers in the crumb top has only made me love her more. It's crisp, buttery and flavoured with lemon, garlic and parsley. The fish itself has a drizzle of white wine and lemon juice to *eek* moisten and the whole lot bakes in 20 minutes so there's no hanging around. I used cod loins for this, but I imagine most skinless, boneless fish would work wonderfully here too.
This is faff free food at it's finest; stay out of the kitchen but still eat well. Especially when there's so much chocolate to be eaten this weekend.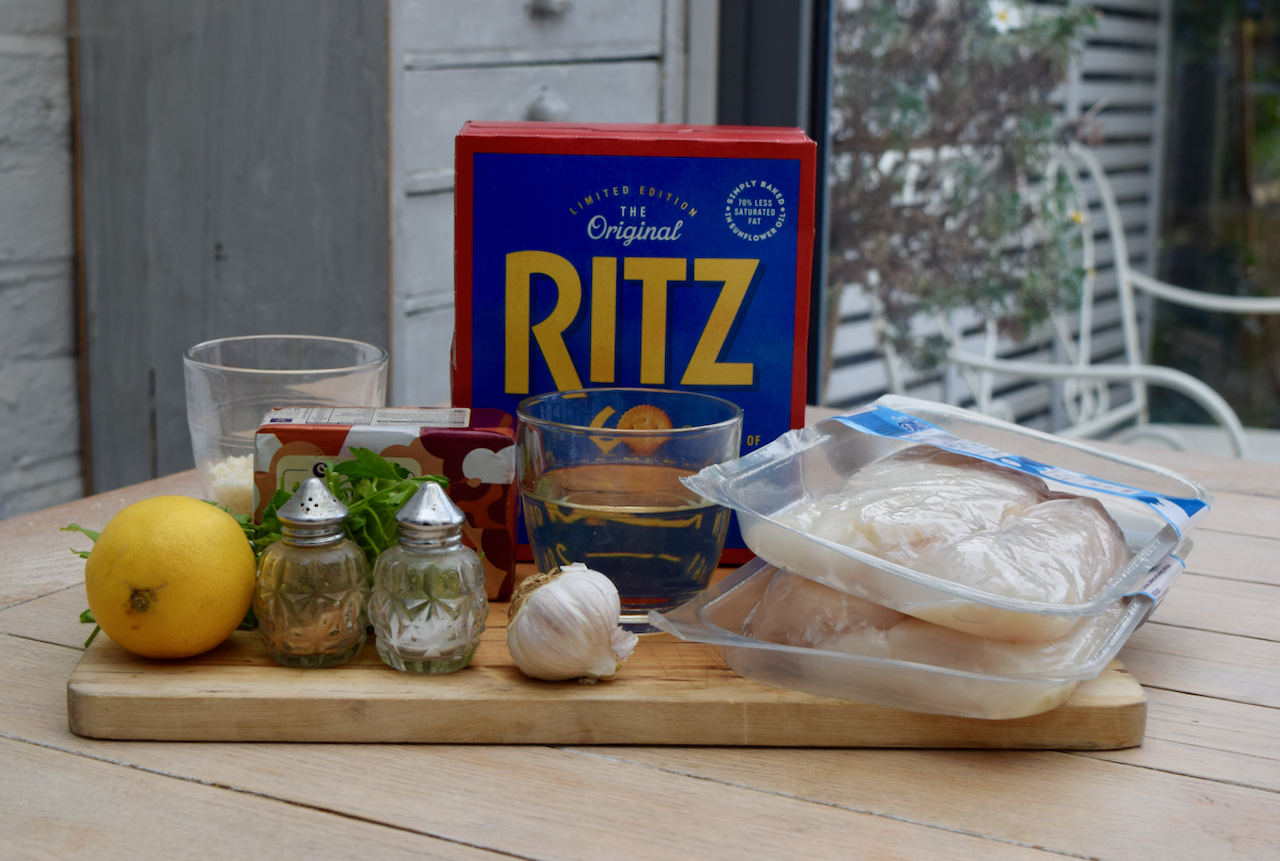 Any recipe that features a glass of wine, is fine with me. I poured more than was needed just so I could finish it off. And don't you just love the retro nature of a Ritz cracker. This is the second box I bought, having inadvertently eaten the first; I'd forgotten how tasty they are.
This is a whirl wind of a recipe, so you don't need to plan too much in advance. Pre heat the oven to 160 fan assisted and find a good sized baking dish or tin. Drizzle a couple of tablespoons of olive oil into the dish then add the fish and turn it over in the oil to coat. Season with plenty of salt and pepper.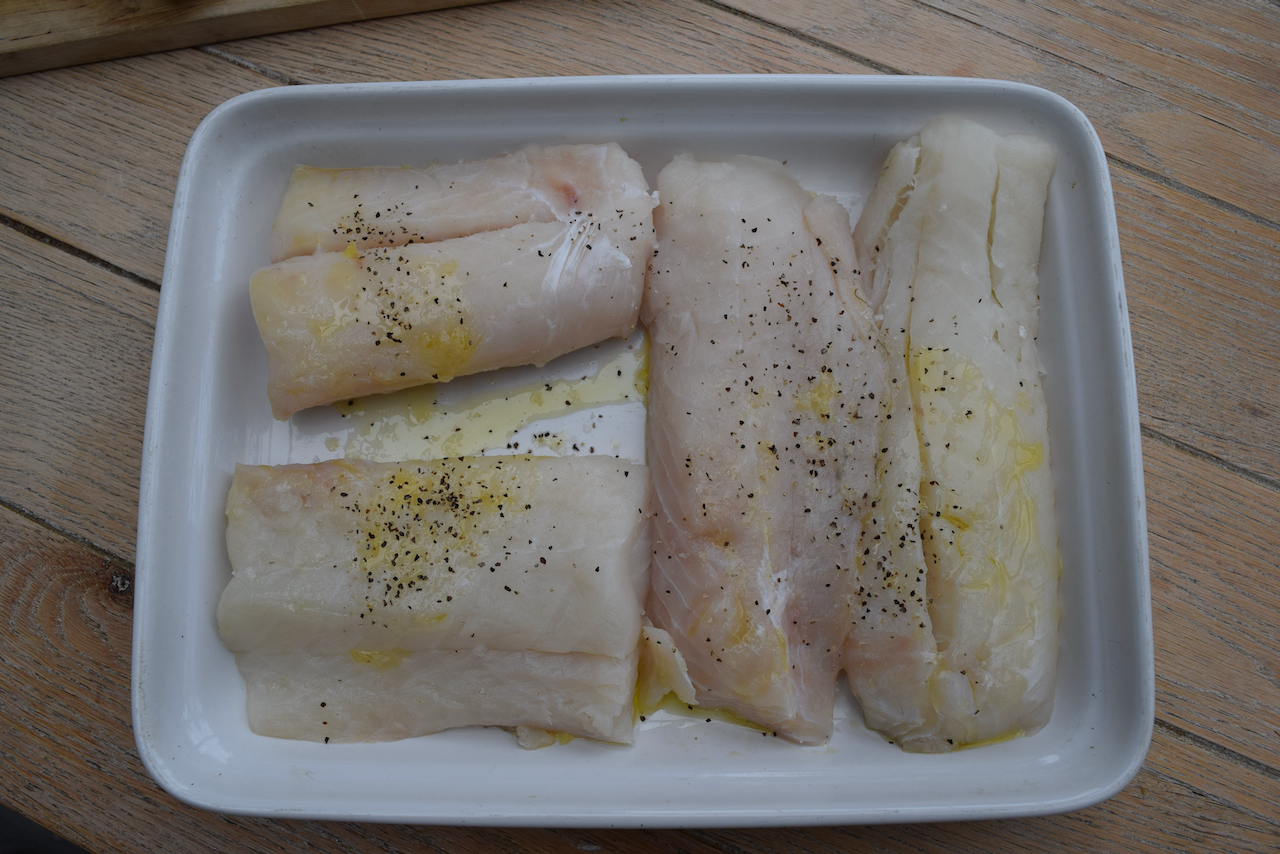 Pour over the wine and lemon juice.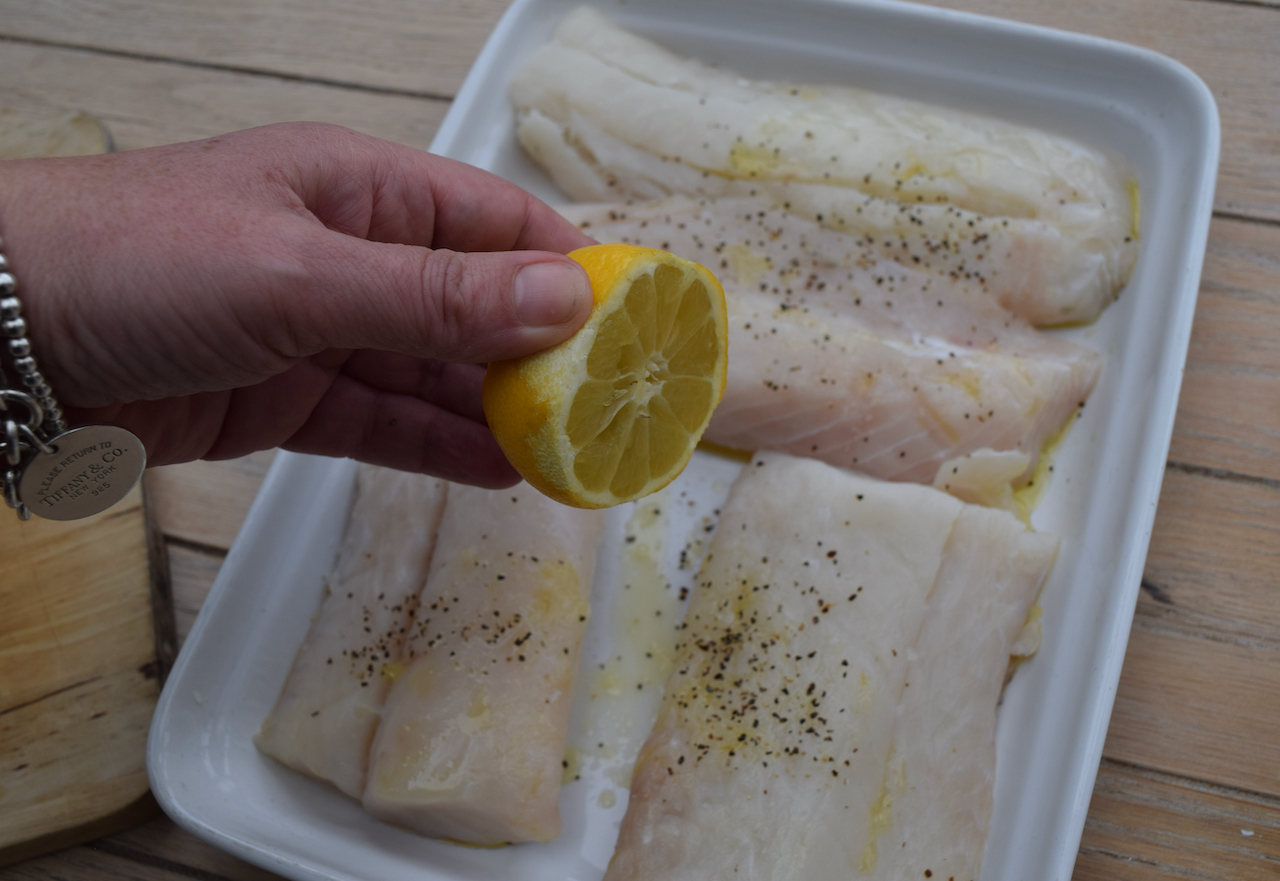 Next attend to the crumbs. Crumble up the Ritz crackers into a bowl and mix with the panko crumbs, crushed garlic, parsley and lemon zest.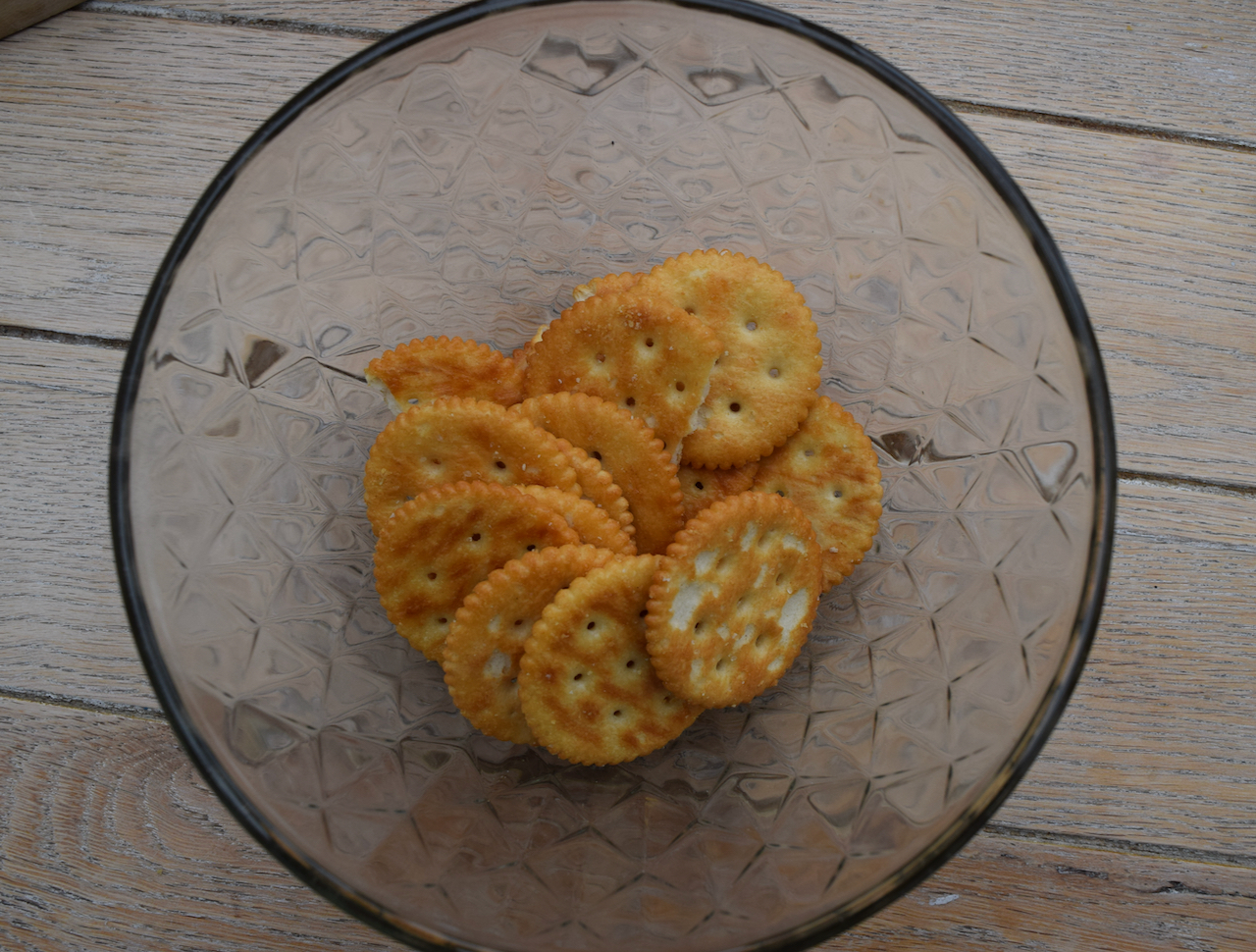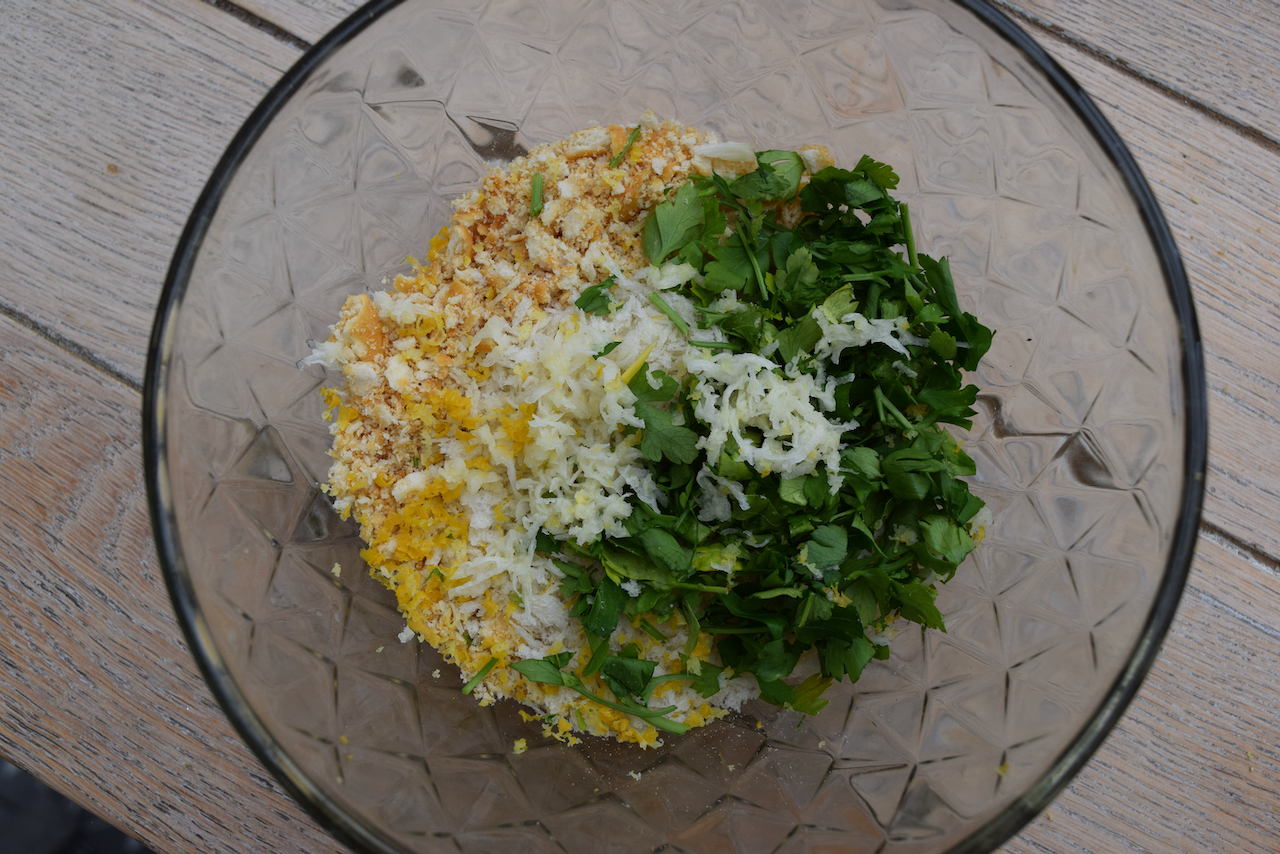 Stir to mix then pour in the melted butter until you have a wet sand consistency.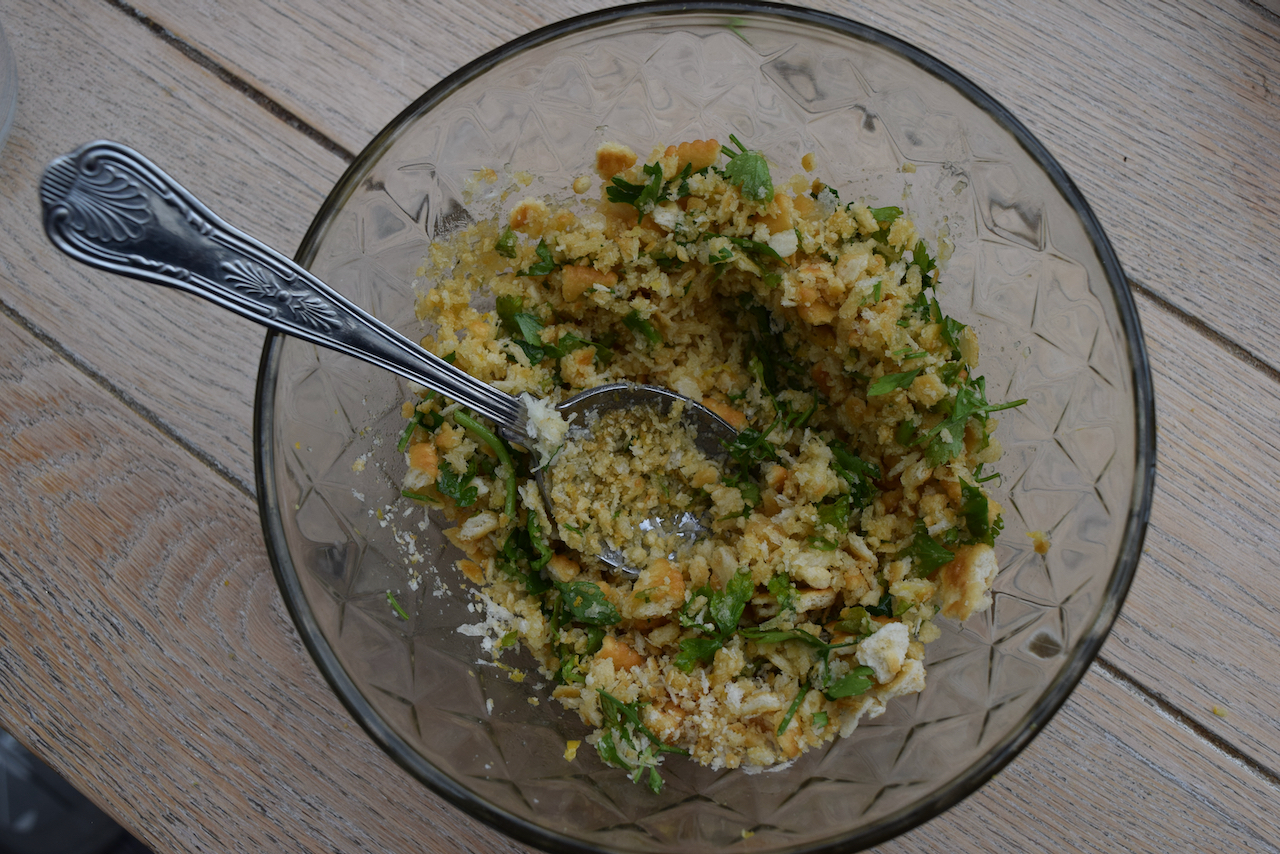 Spoon the crumbs, equally, onto each piece of fish and press down so they form a bit of a crust. Don't panic if some fall off into the wine and lemon juice, this will create some lovely pan juices.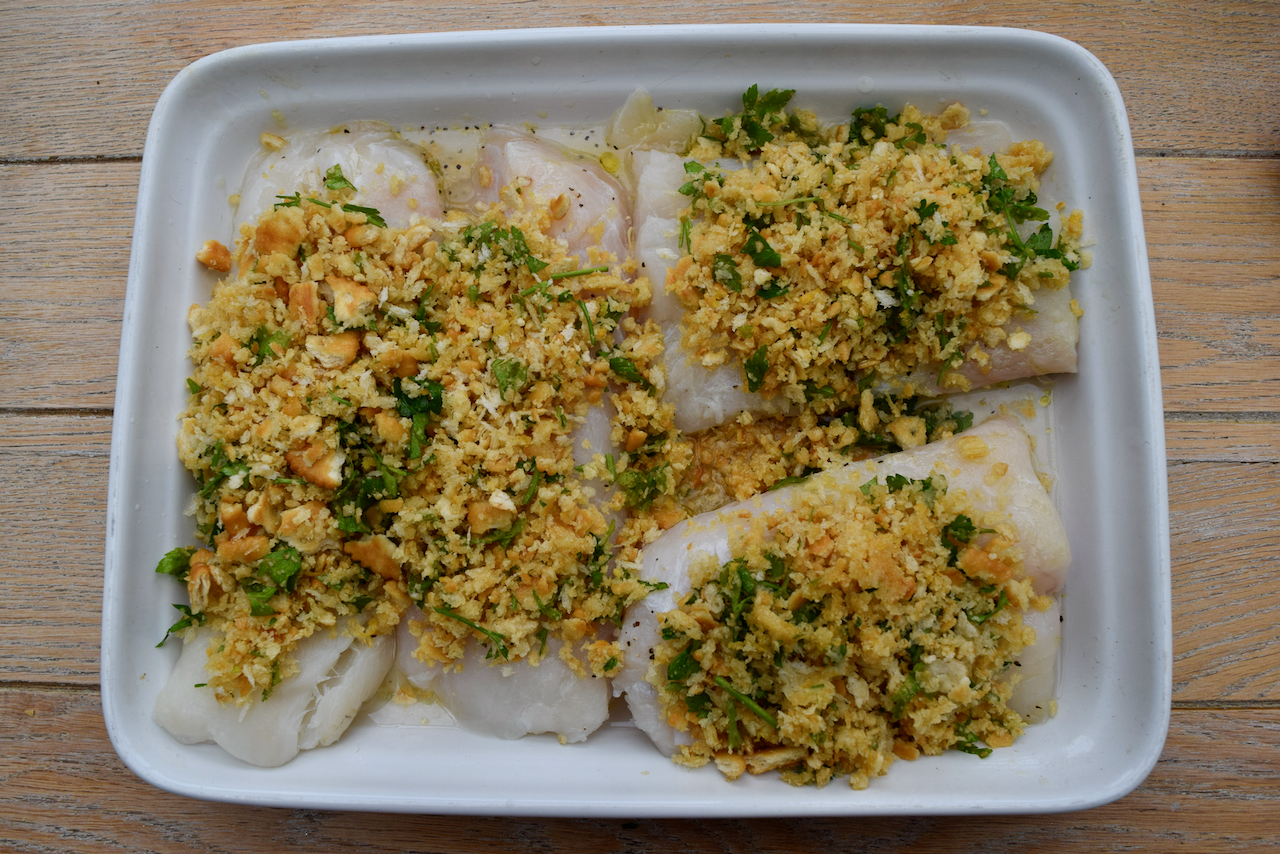 Bake this delicious combination for 20 minutes, or until the crumbs are golden, smelling amazing and the fish is cooked to flaking perfection.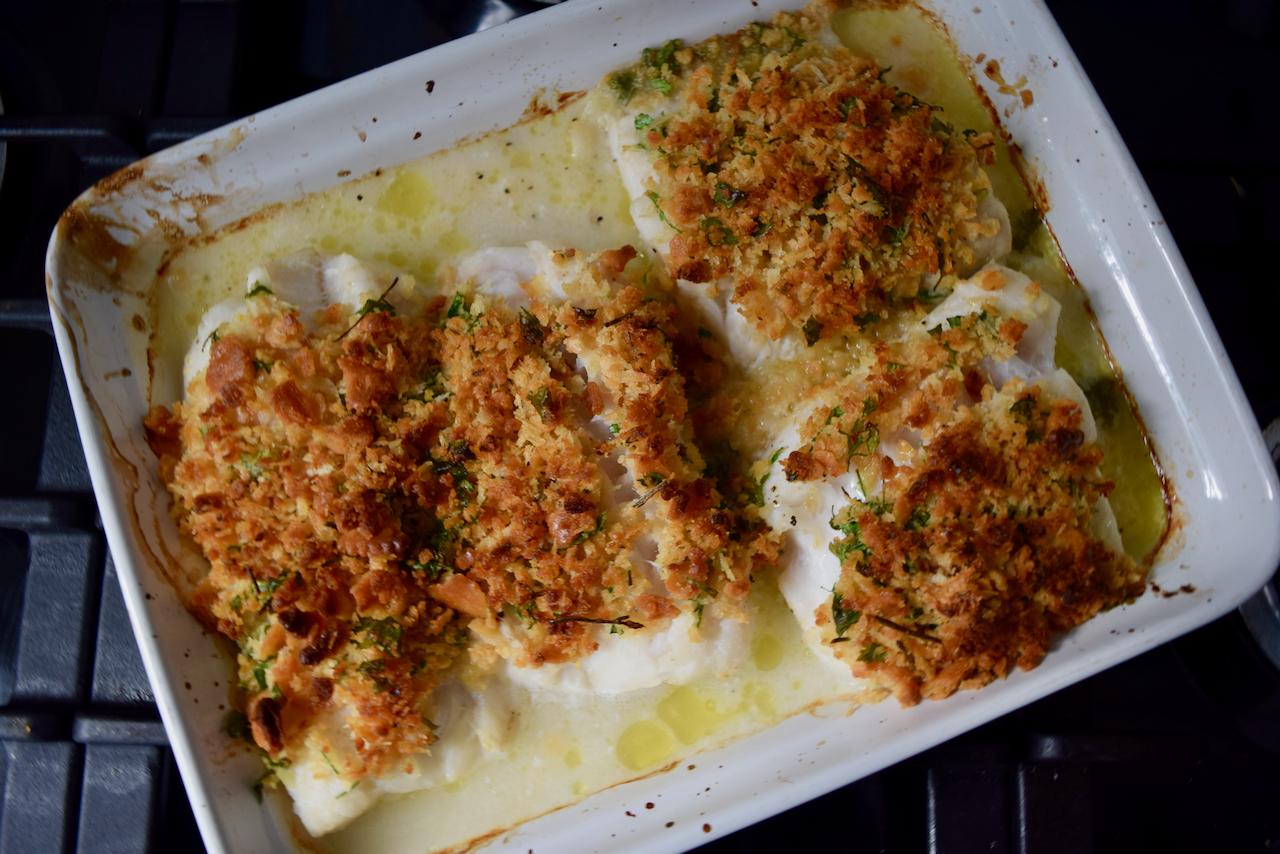 Serve with a sprinkling of fresh parsley and something green and something potatoey.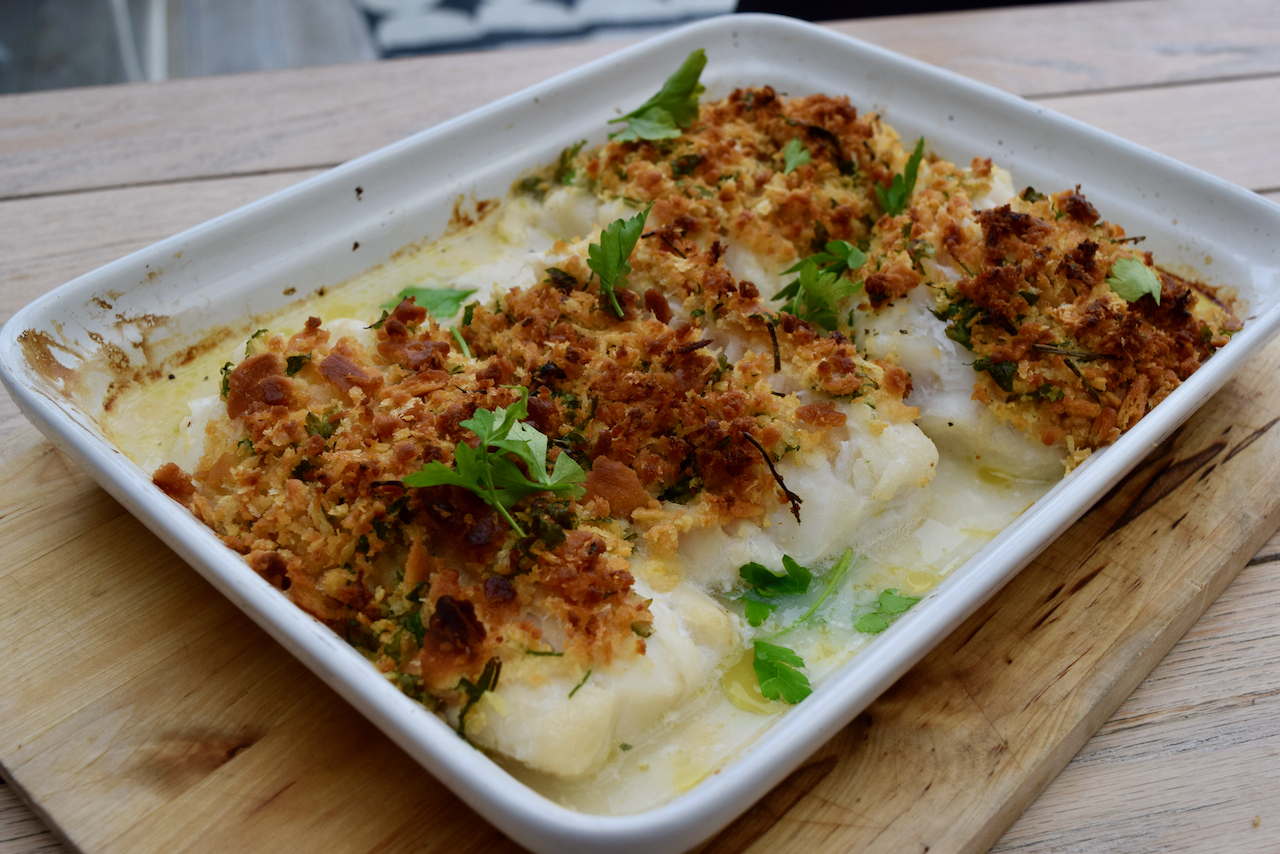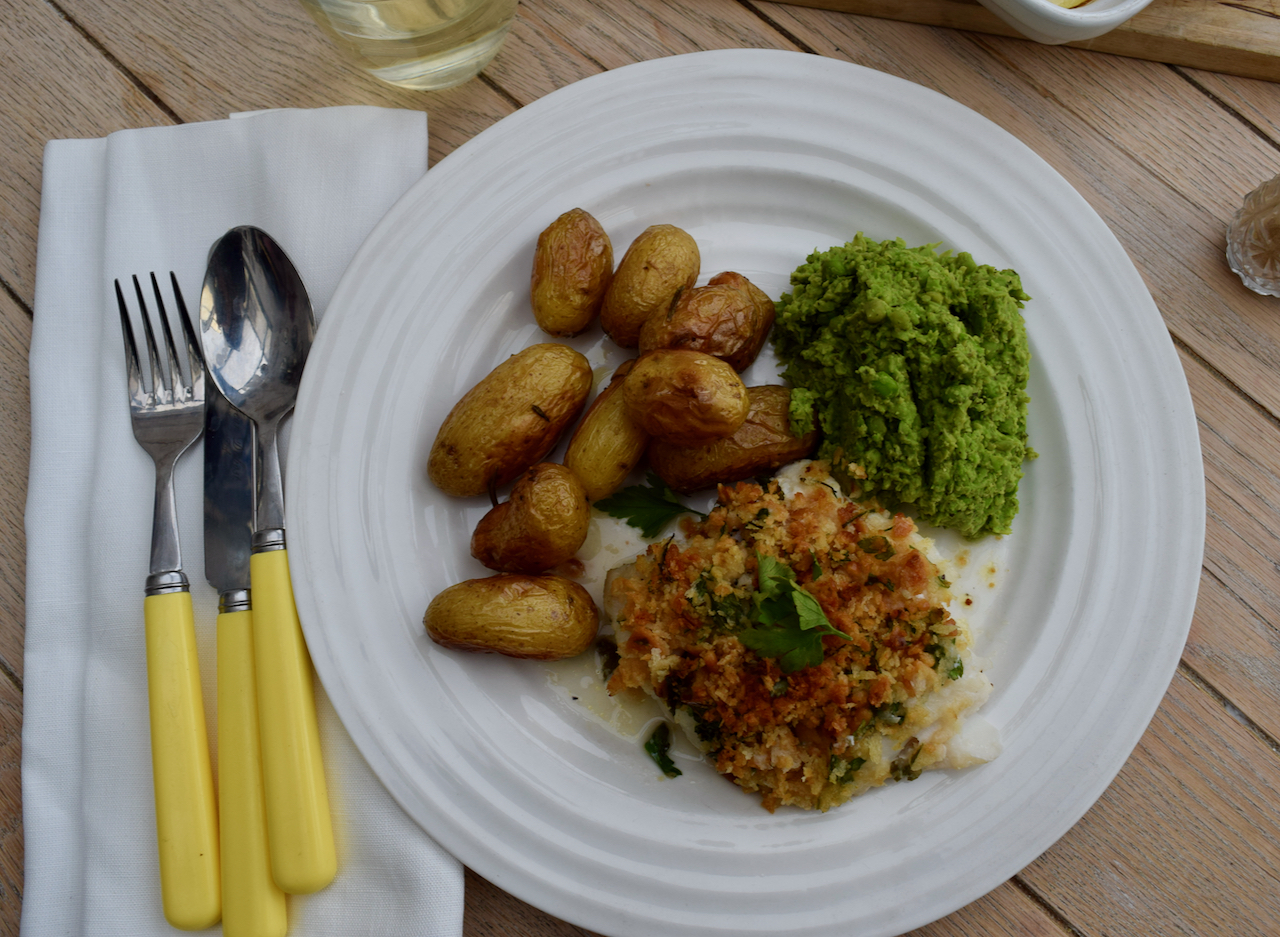 I couldn't be arsed to make mash and crushed my peas with some butter and mint to make them look fancier than just frozen peas.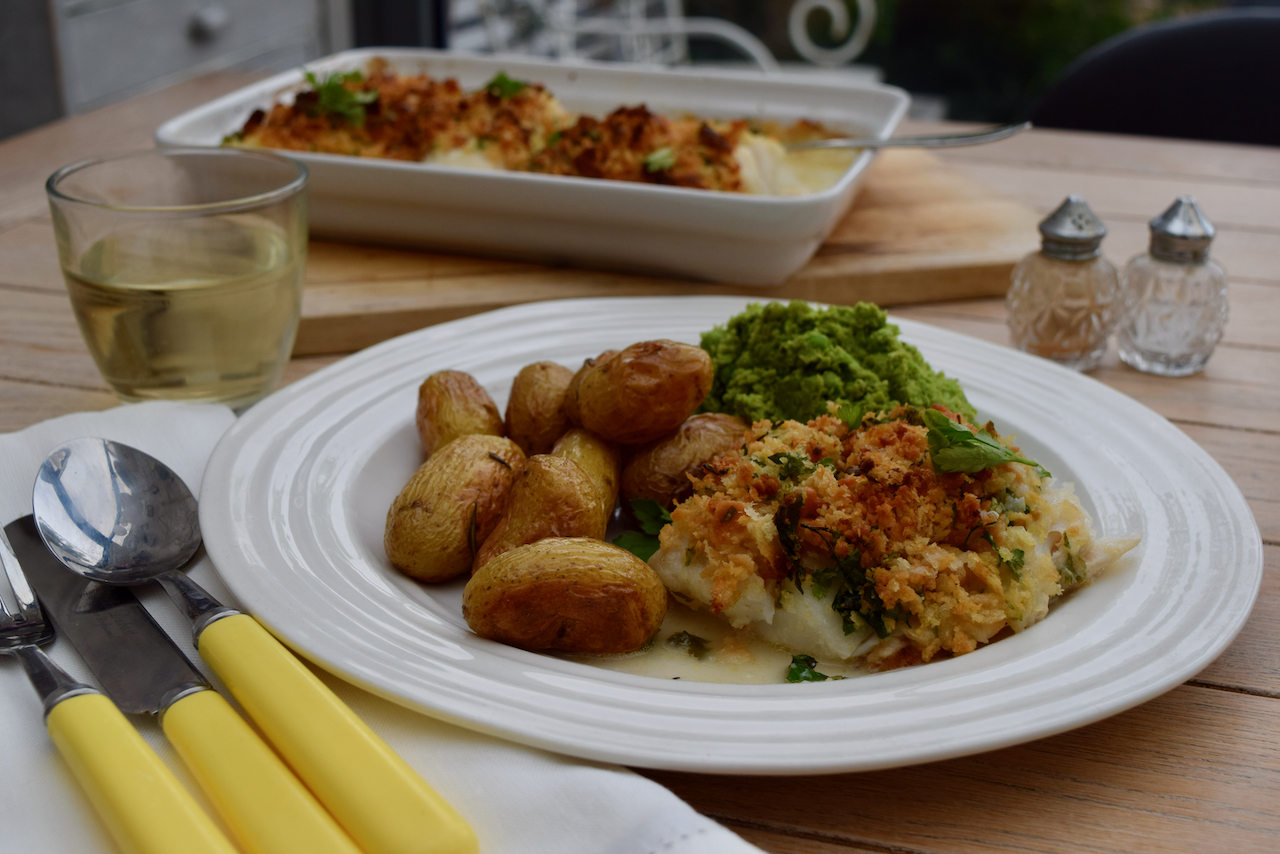 It's nearly the Easter weekend with the threat of sunshine, making this recipe perfectly timed for less time in the kitchen and more in the garden. Small glass of wine, optional *when has wine ever been optional*.
Lucy x
Cod with Lemon and Garlic Crumbs recipe
Serves 4, but easily doubled
You will just need a bowl and a baking dish
2 tablespoons olive oil
4 portions of cod, mine were skinless, cod loins, around 200g per person
Salt and pepper
60ml white wine
2 tablespoons lemon juice, about half a lemon
Crumbs
Approximately 15 Ritz crackers, crushed to chunky crumbs
35g panko breadcrumbs, or homemade crumbs
2 small cloves garlic, crushed
Zest of a small lemon
2 tablespoons chopped fresh parsley
50g butter, melted
More fresh parsley to garnish
Pre heat your oven to 160 degrees fan assisted. Add two tablespoons of olive oil to your chosen baking dish or tray. Add your cod, turning it over to coat lightly in the oil. Season generously with salt and pepper.
For the crumbs, crush the Ritz crackers and mix with the panko breadcrumbs, garlic, parsley and lemon zest. Pour in the melted butter and mix to a consistency of wet sand.
Pour the white wine and lemon juice over the fish. Then spoon the crumbs equally on top of each portion of fish, pressing them down to create a crust. Bake for 20 minutes when the crumbs will be sizzling and golden and the fish will be just cooked through.
Serve piping hot with some extra parsley as a garnish and some sort of carb.