Lamb with Cavolo Nero Recipe
Easter for me says lamb. Back in the day it said turkey, as my Mother would always insist we had a Christmas Day rerun at Easter, however, now, it's all about the lamb. That said, we are actually having beef the year, but ordinarily we have lamb. Easter's complicated. At this time of the year there's tons of fresh new ingredients in the mix, there really is so much variety, it doesn't really matter what you eat at Easter, it's all about the family and the occasion. What you don't need to be doing over Easter is slaving over a hot stove all day, instead of eating chocolate eggs, spending time with your loved ones and having a little drinkie. Today, I am super excited to share with you this Lamb with Cavolo Nero recipe, for oh so many reasons.
I love lamb. It's one of my super favourites, it's so filled with flavour, tender and if you sling it in a pan with potatoes, rosemary and garlic it's absolutely divine. This is a one pot wonder, effortless but so bloody tasty. Crisp your potatoes in some olive oil, brown your tender lamb steaks, soften red onions then toss the whole lot through with some beautiful cavolo nero and balsamic vinegar. This is a delicious family meal which everyone will adore and I was thrilled when I found this on the Pool, with thanks, do visit, this is a brilliant site, not just for recipes. If you are looking for a lower maintenance Easter supper this is the man, or woman, for the job. And, it does err on the side of health with the inclusion of this iron and antioxidant rich leafy green.
I do love lamb, and if you can't face roasting a leg or are feeding a smaller crowd, there is no better dish to entice you house guests this Easter. I will be roasting a rib of beef, which was a special request from my Mother for Easter Sunday, so slightly more kerfuffle laden than I'd hoped for. However, I would much rather be rustling this Lamb with Cavolo Nero up, as that would free up more time for drinking and eating Easter Eggs. I will do my best to find some time for these too.
This is such a wholesome line up, the Cavolo Nero itself would win any beauty contest. It's sweet and fresh tasting, especially when tossed in a little balsamic and the crisp potatoes.  My lamb steaks were great value from Ocado and particularly tender and tasty.
Make a start by taking a large frying pan and adding a tablespoon of olive oil. Heat over a medium heat and then add your cubed potatoes. There's no need to peel these and the skins add extra flavour and vitamin C.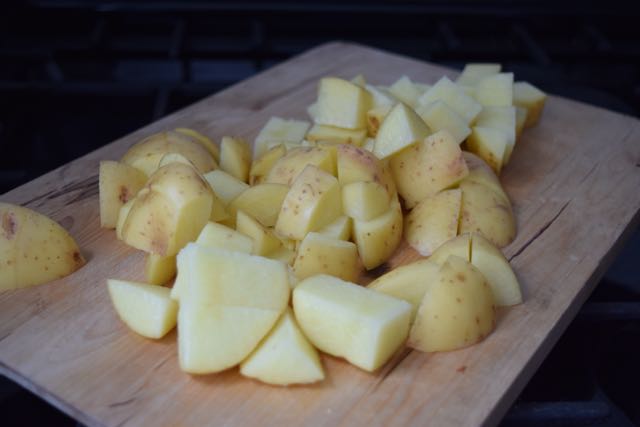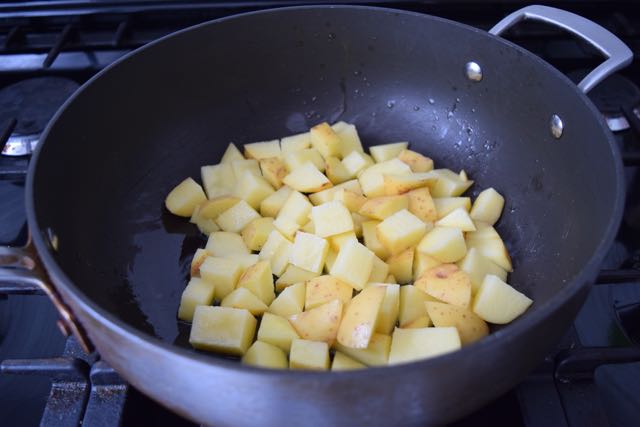 Cook your potatoes for around 15 minutes or until golden, crisping and soft. While these are doing their thing, slice your red onion, garlic and rosemary.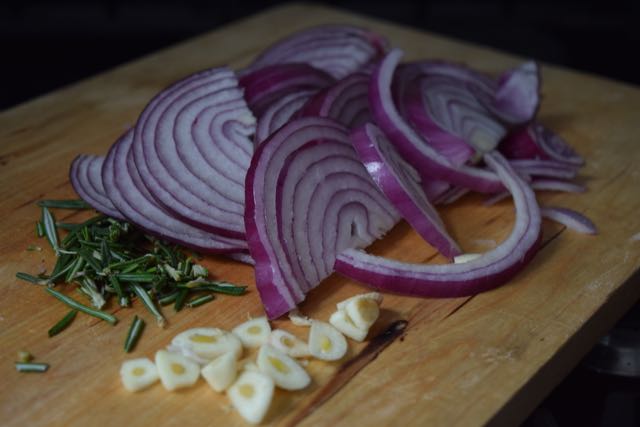 Chop your Cavolo Nero then put into a colander and pour over a kettle of boiling water. This will blanch it, then leave to drain.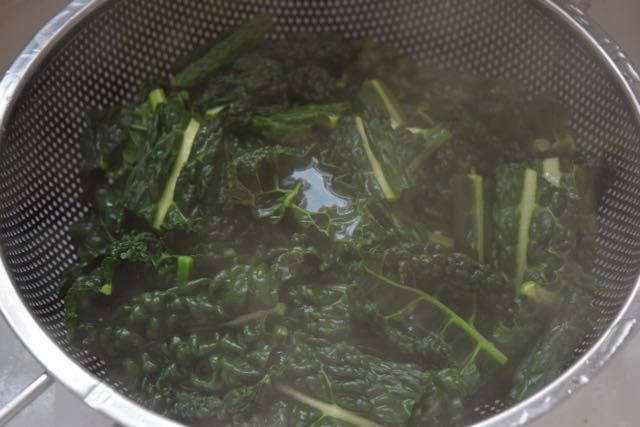 Once the potatoes are golden, tip them onto a plate and add another tablespoon of oil to the pan and turn up the heat. Add your cubed lamb, in a single layer and cook for two minutes on one side then turn and cook for a further minute on the other side.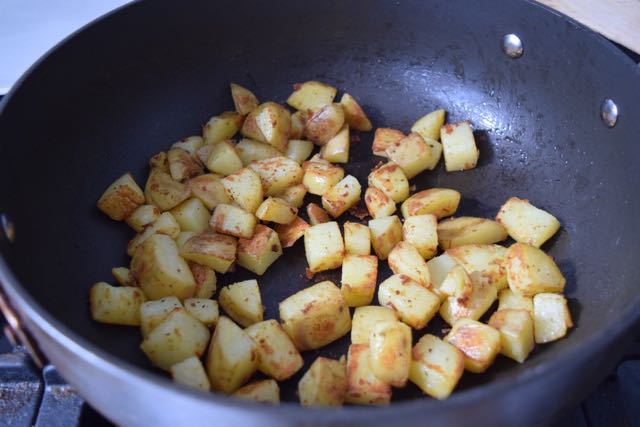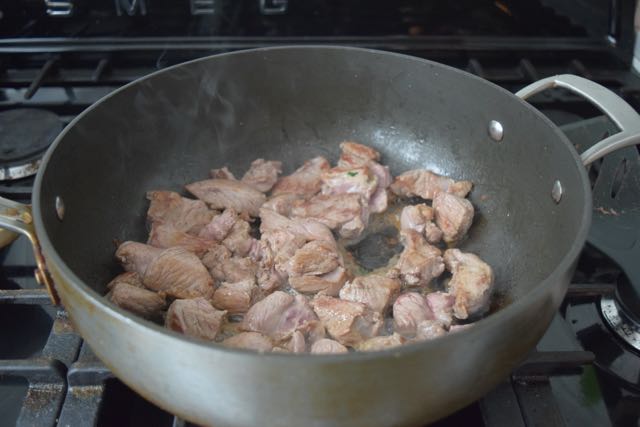 Your mouth will be watering at this stage, the wonderful fragrance of sautéing lamb is one of my favourites. Tip the browned lamb onto another plate and add a further tablespoon of oil to the pan and turn the heat down to medium. Add the sliced red onion, garlic and rosemary and cook until softened and starting to brown, for around 8 to 10 minutes.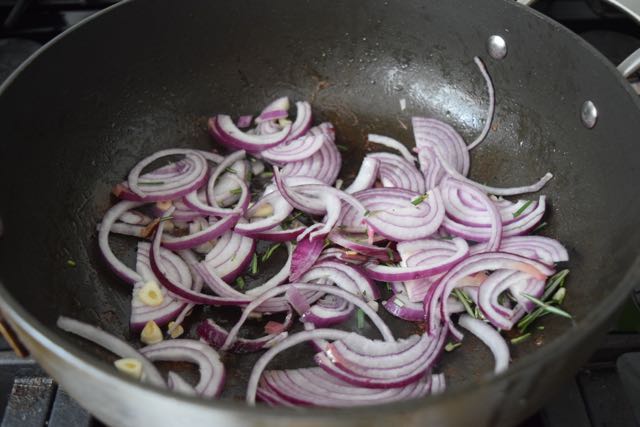 Once softened, add the balsamic vinegar and the blanched Cavolo Nero.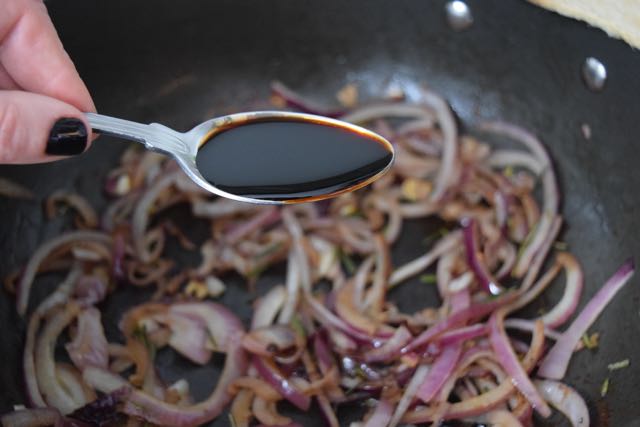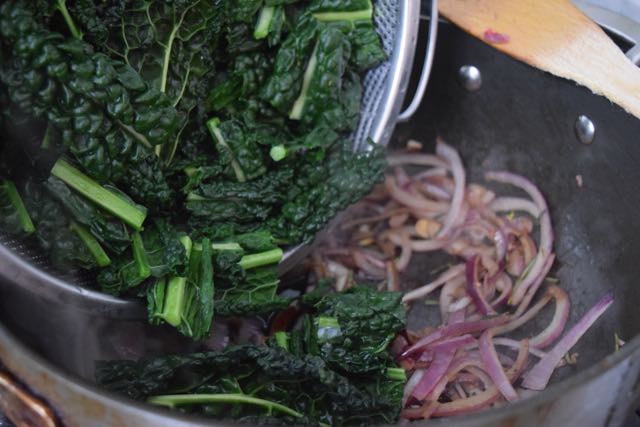 Stir well then add the lamb and potatoes back to the pan.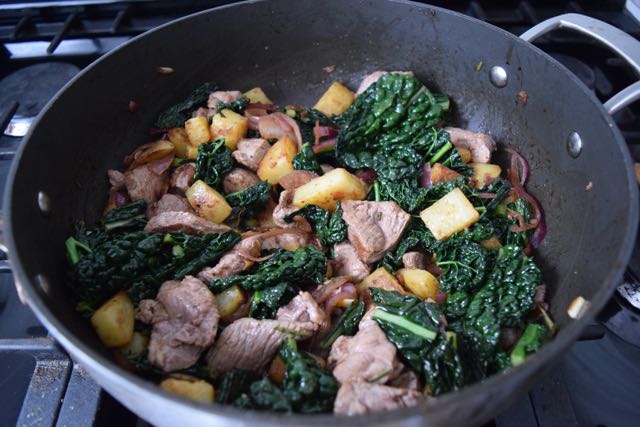 Check for any additional seasoning needs, by eating huge mouthfuls, then serve piping hot with wedges of lemon.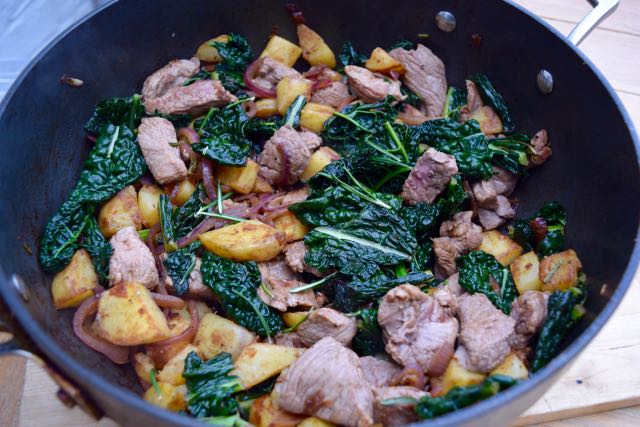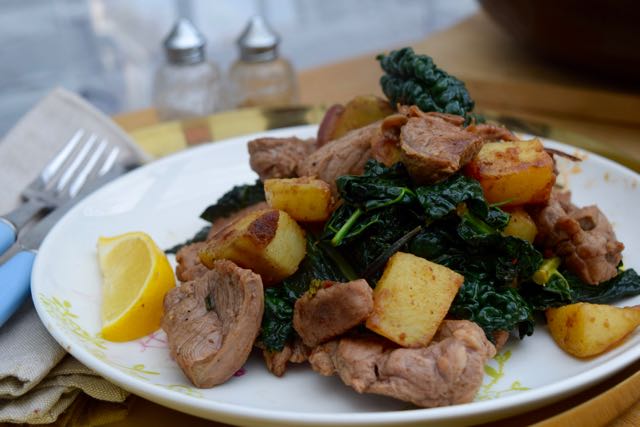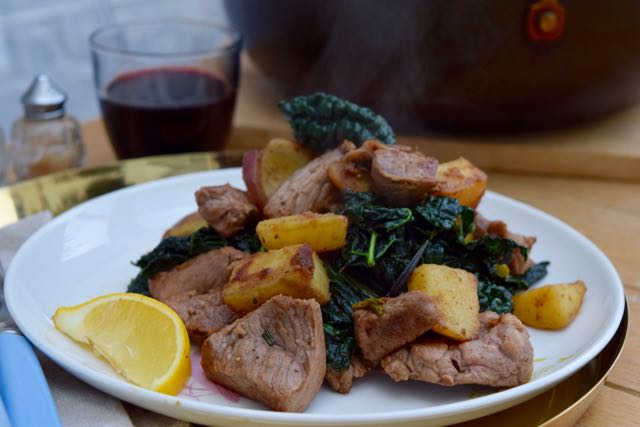 This is a mouthwatering, rustic dish, right up my street and very Lucy Loves. For rustic read unpretentious, large portions without drama. And bloody delicious.
Lucy x
Lamb with Cavolo Nero Recipe
Serves 3 to 4
You will need a large frying pan, and that's about it
500g lamb steaks, cut into cubes
3 tablespoons olive oil
200g cavolo nero, washed and chopped
500g potatoes, cubed, no need to peel
1 large red onion, sliced
3 garlic cloves, sliced
3 sprigs of rosemary, leaves chopped
2 tablespoons balsamic vinegar
Salt and pepper to taste, lemon wedges to garnish
Take a large frying pan and heat up a tablespoon of olive oil over a medium heat. Add the cubed potatoes, no need to peel these, and cook for around 15 minutes. Keep them moving so the potatoes cook evenly until they are golden and crisp.
While these are cooking, peel and slice the red onion, garlic and chop the rosemary.
Wash, trim then roughly slice the cavolo nero and place in a colander. Pour a kettle of water over it to blanch, then leave to drain.
Add some salt and pepper to your potatoes then transfer to a plate. Turn the heat up under the pan, add another tablespoon of olive oil and add the cubed lamb in one layer. Leave to cook for 2 minutes, then turn over and cook for another minute until just browning. Tip out onto another plate.
Turn the heat down then add the final tablespoon of olive oil to the frying pan. Add the sliced onions, rosemary and garlic and cook for 8 to 10 minutes until soft and golden.
Tip in the drained cavolo nero and the balsamic vinegar and cook for another couple of minutes then return the lamb and potatoes to the pan. Cook for another minute, stirring well, check for seasoning then serve, piping hot, with wedges of lemon.
SaveSave
SaveSaveSaveSave
SaveSave
SaveSave
SaveSave
SaveSave