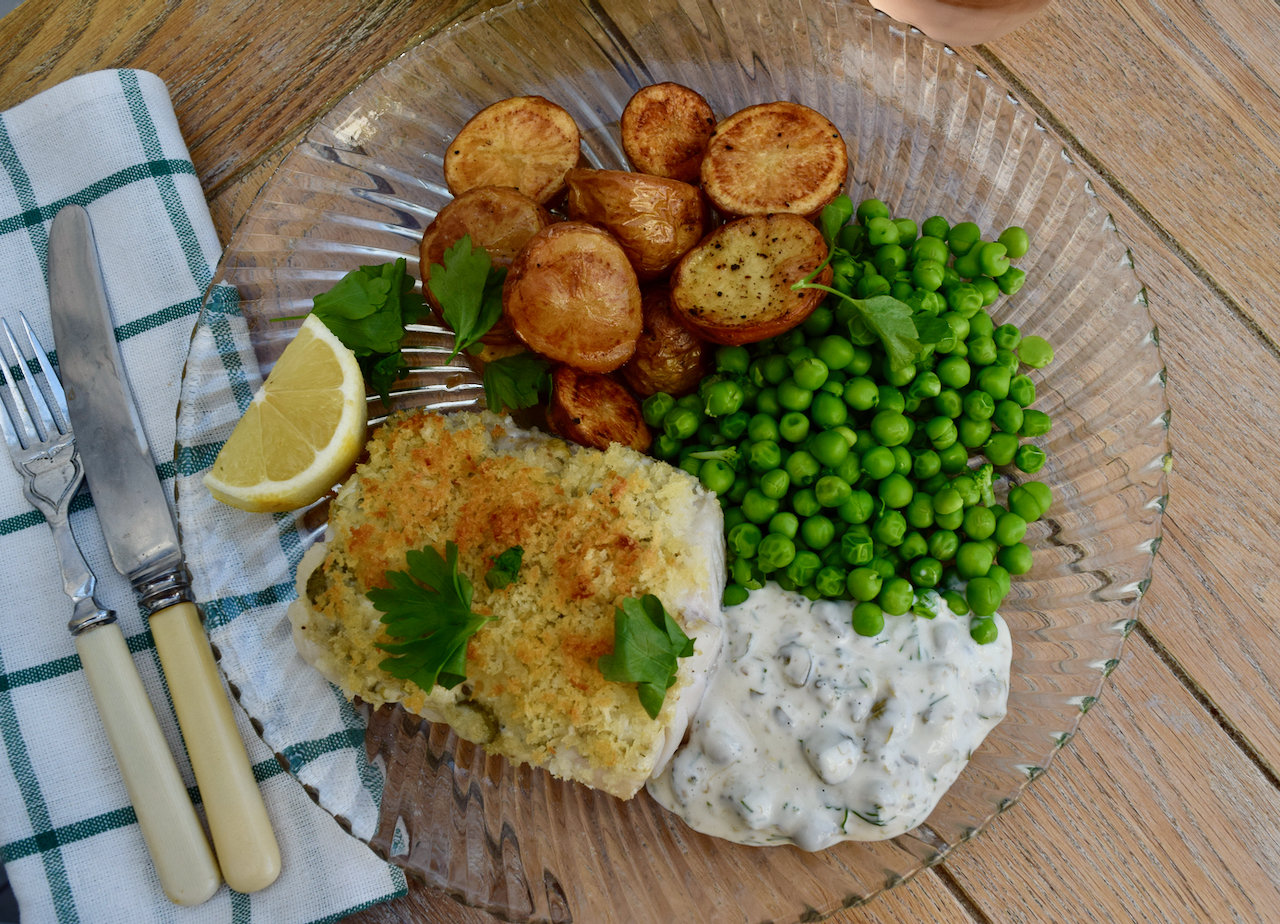 Crisp Baked Fish with Homemade Tartar recipe
I gave myself a week off writing last week because I just couldn't face it. I love writing about food and Lucy Loves gives me a purpose and acts as a sort of therapy; but last week I just couldn't get the words out. It was nothing specific, I just felt a bit off form. However, there's nothing like finding a new and brilliant recipe to get me back on track and this Crisp Baked Fish with Homemade Tartar is just that recipe.
We don't eat enough fish in our house a) it's bloody expensive b) no one really likes salmon and c) we love fish pie it's a bit of a kerfuffle. This crisp oven baked cod went down a bloody storm, even with George, who predictably picked the capers out of his. Don't panic when this recipe says homemade tartar sauce, I'm not talking about making your own mayo here. The base uses a good quality shop bought affair, tarted up with chopped capers, gherkins, lemon, garlic and dill. A bowlful of this alone would keep me happy, but when you spread some on to your chosen firm white fish, top with olive oil laced breadcrumbs and bake, it becomes a whole new story. The fish is *eek* moist, firm and crispy all at the same time and when served with an enormous dollop of extra sauce it's pure tartar based heaven. Thanks to the New York Times for the introduction.
This is no ordinary fish supper, it's unique, tasty and so simple. It's quick enough to be a midweek family treat and also impressive enough to spoil your much more grateful friends.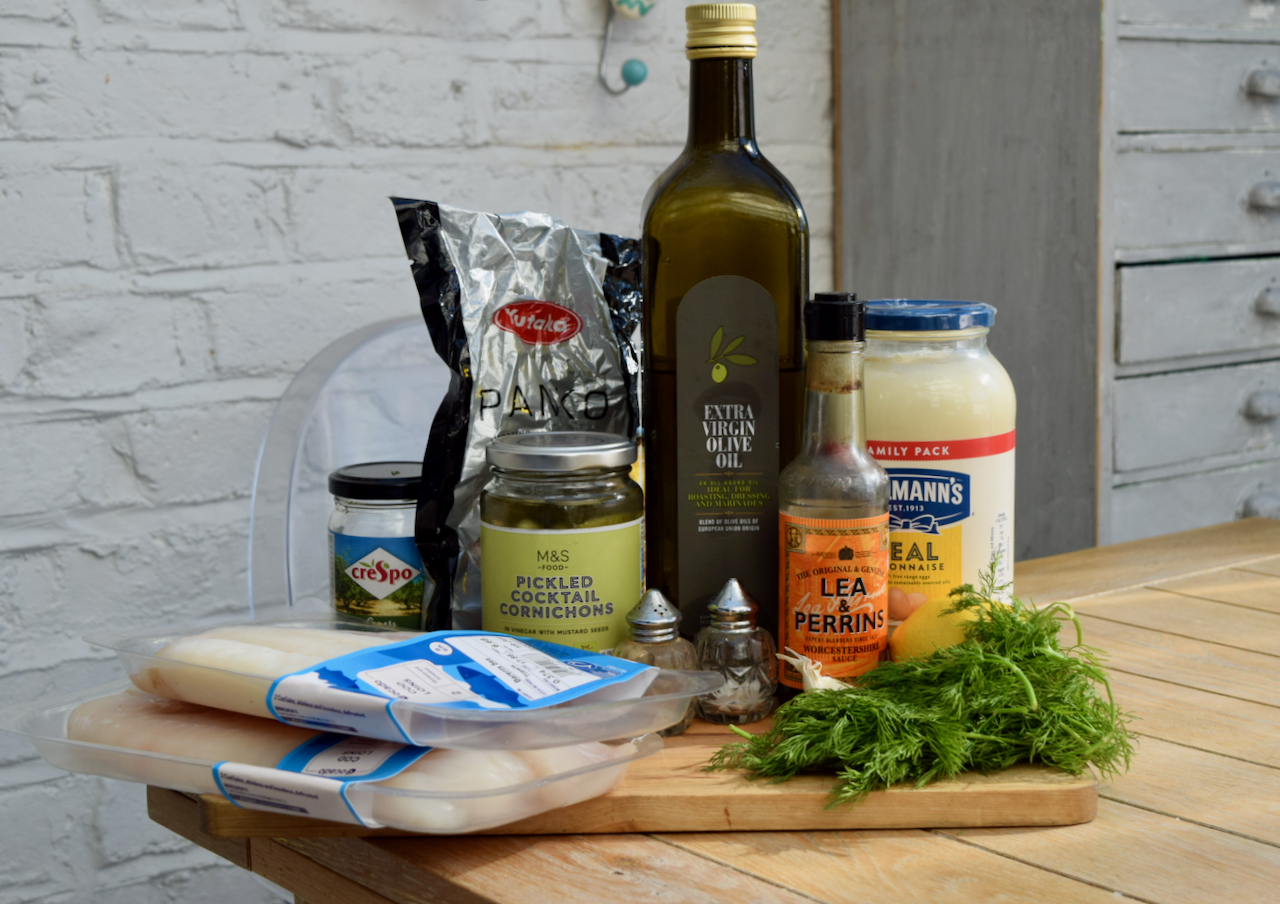 What a tasteful line up. I love all things pickled so the tartar is a dream sauce for me. My fish was some skinless cod courtesy of Ocado, but anything firm and white would work here. The dill for me is delicious, but if you prefer parsley, fill your boots.
Start with the homemade-ish tartar sauce by measuring the bought mayonnaise into a large jug or bowl. Finely chop the drained capers *my worse part of this recipe as they kept flying off the board* then add, along with the chopped cornichons or gherkins to the jug.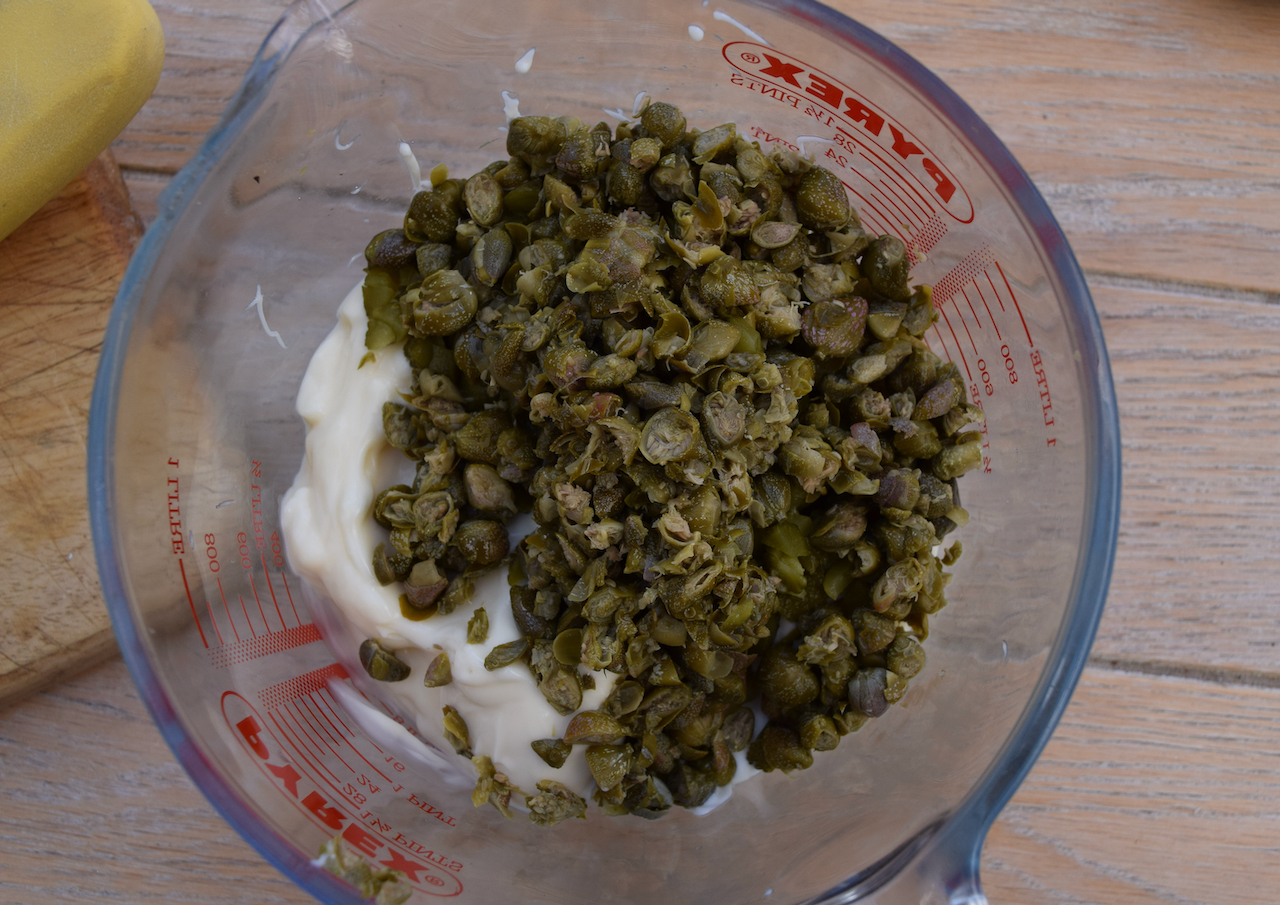 Measure in the Worcestershire sauce, lemon zest, fresh herbs and garlic and stir well. Btw, using a microplane or zester is brilliant for the garlic as well as the lemon. Season with a little salt and plenty of black pepper.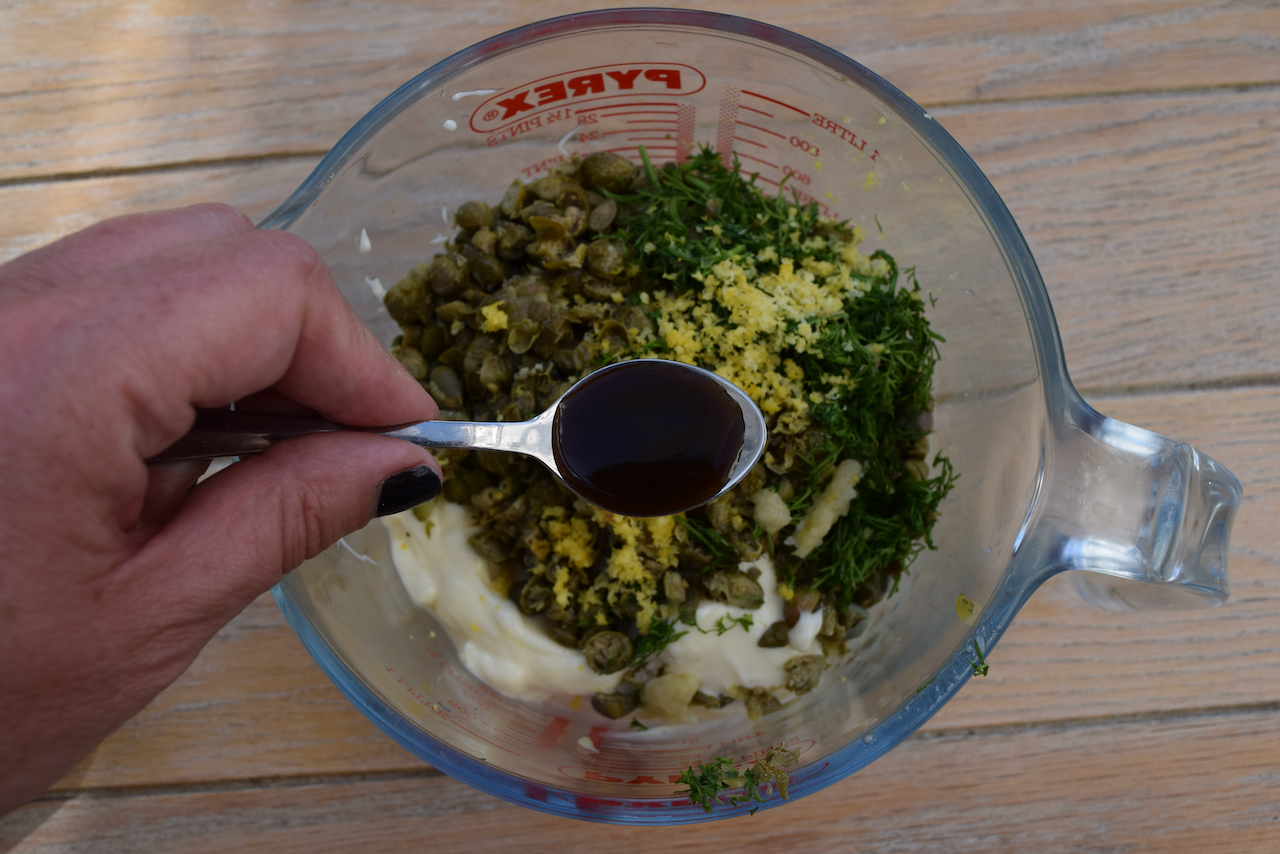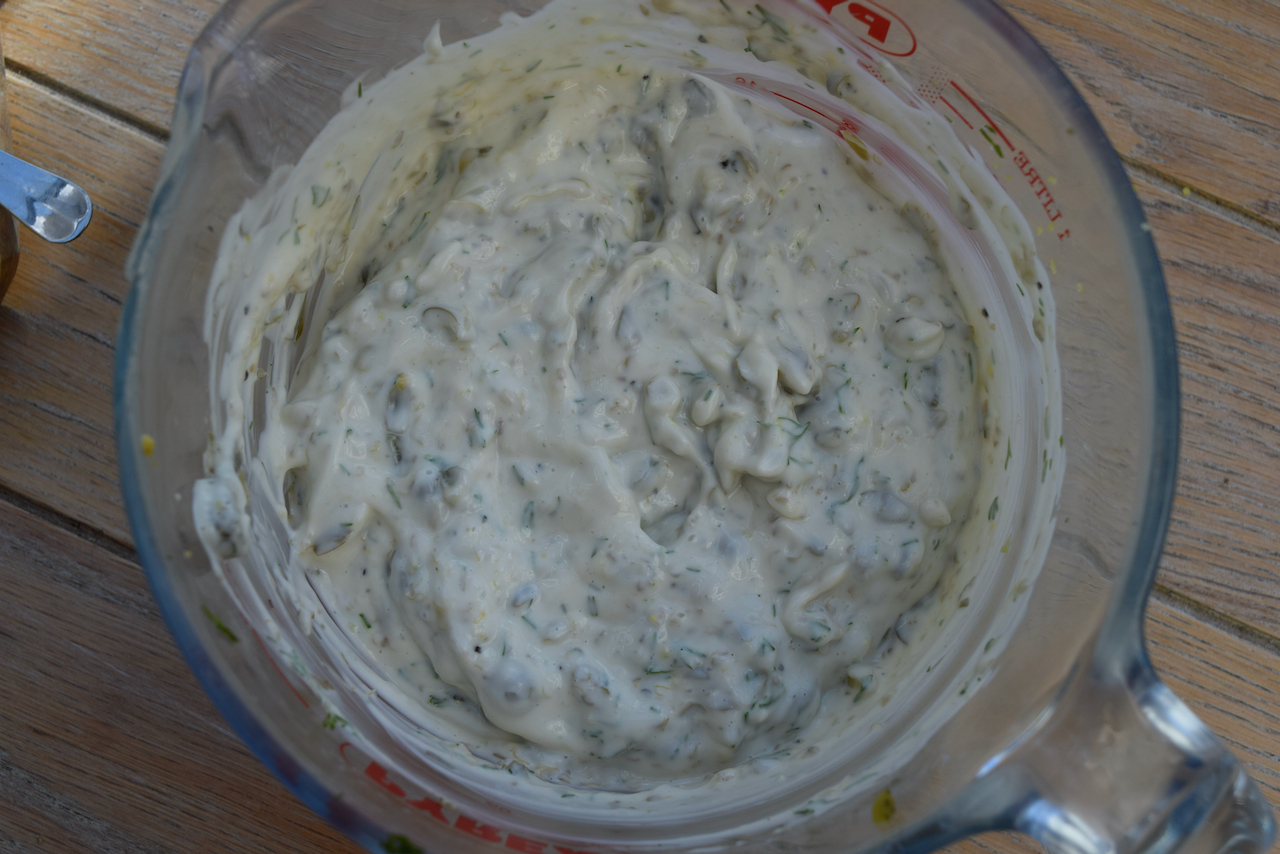 Pop the tartar sauce in the fridge for the moment while you prepare the fish. For the crumbs, simply mix the panko with the olive oil until the crumbs are coated.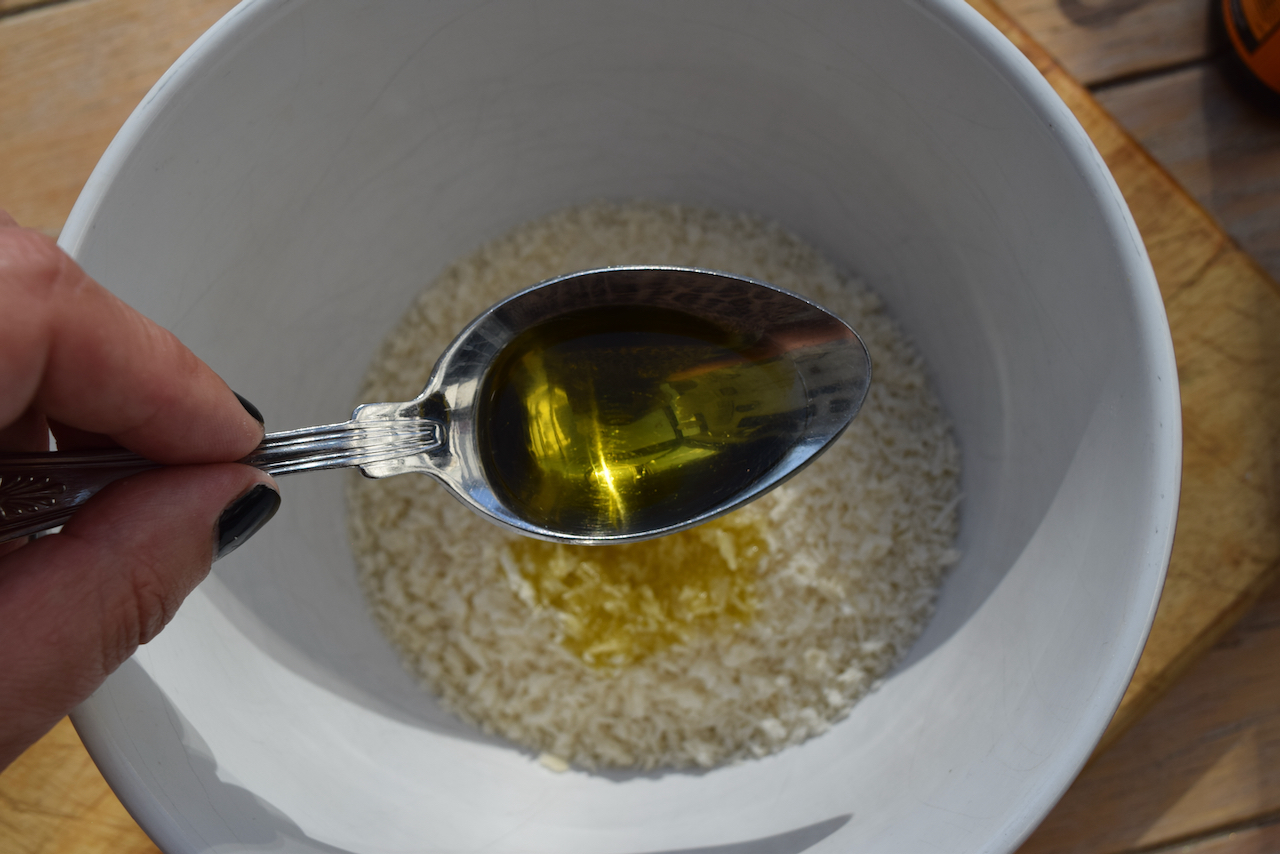 Line a baking sheet to save all sorts of grotty washing up later and pre heat the oven to 170 degrees fan assisted. Place your chosen white fish fillets onto the tray, cutting them to size if needs be.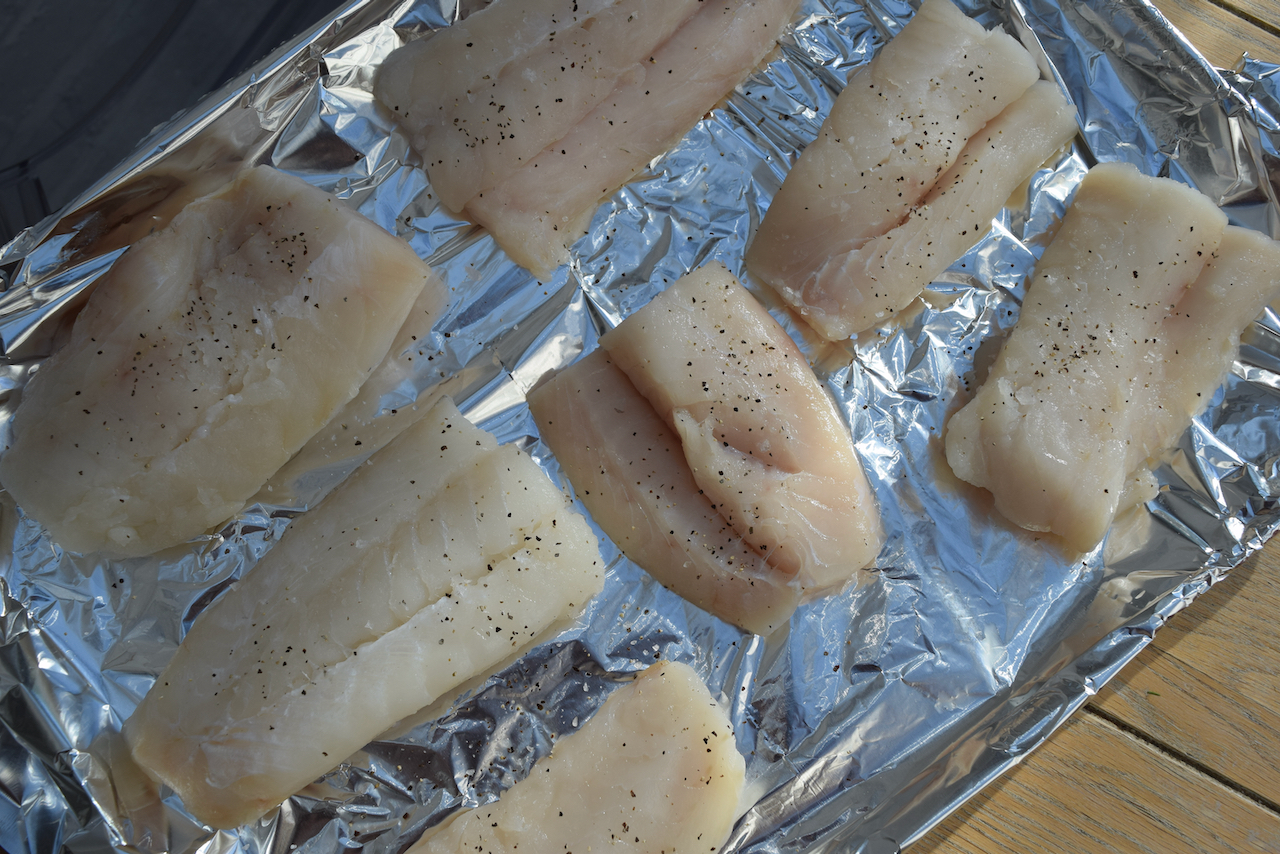 I had 7 pieces of cod, you'll notice *or not* 2 each for the 3 men and 1 for me, that's how it works in our house. Season them well with salt and pepper. Now, slather each one with a good tablespoon or so of your chilled tartar sauce.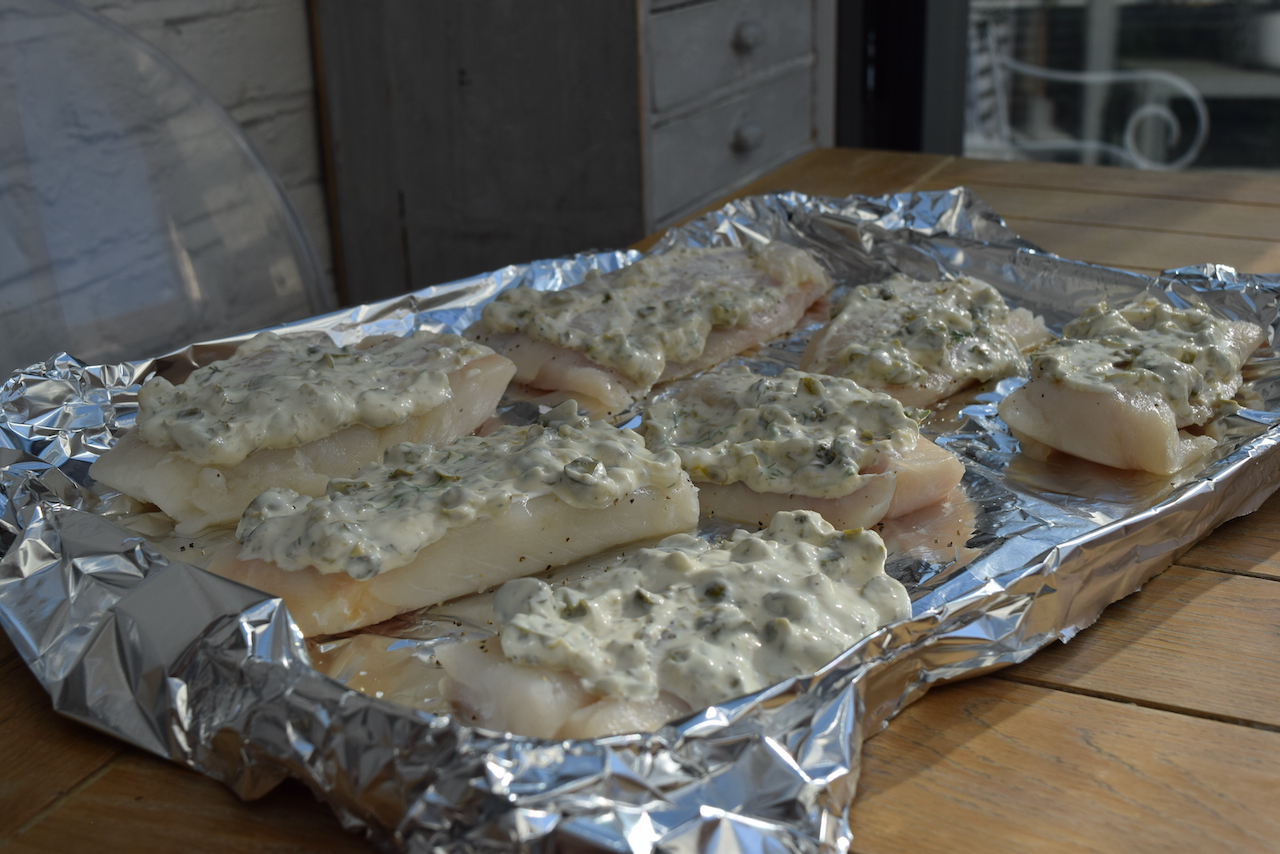 Spoon on the olive oil crumbs, pressing them into the tartar sauce as you go so they stick.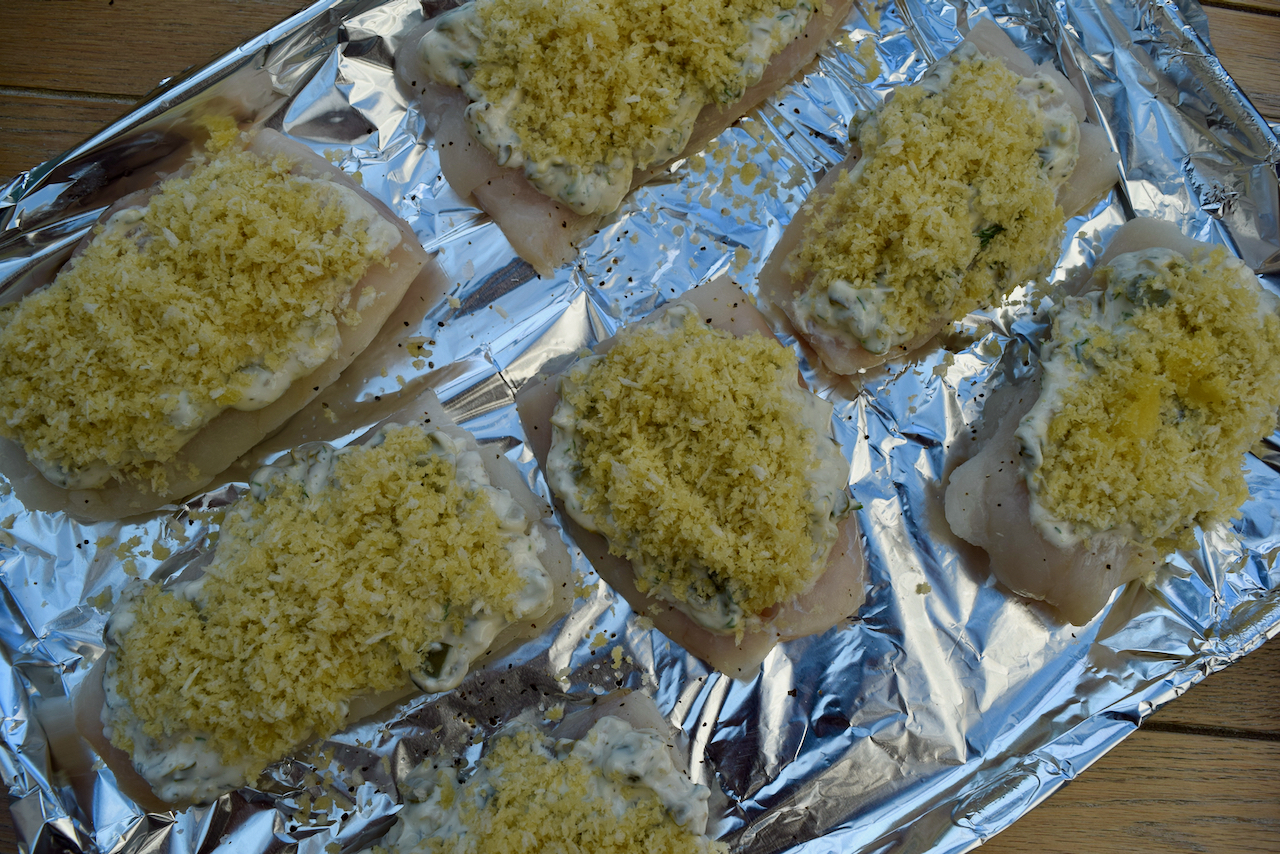 Place the fish into your hot oven for 12 to 15 minutes, fish fillet size dependent. The fish is ready when the crumbs are golden and the fish is firm and flakes easily.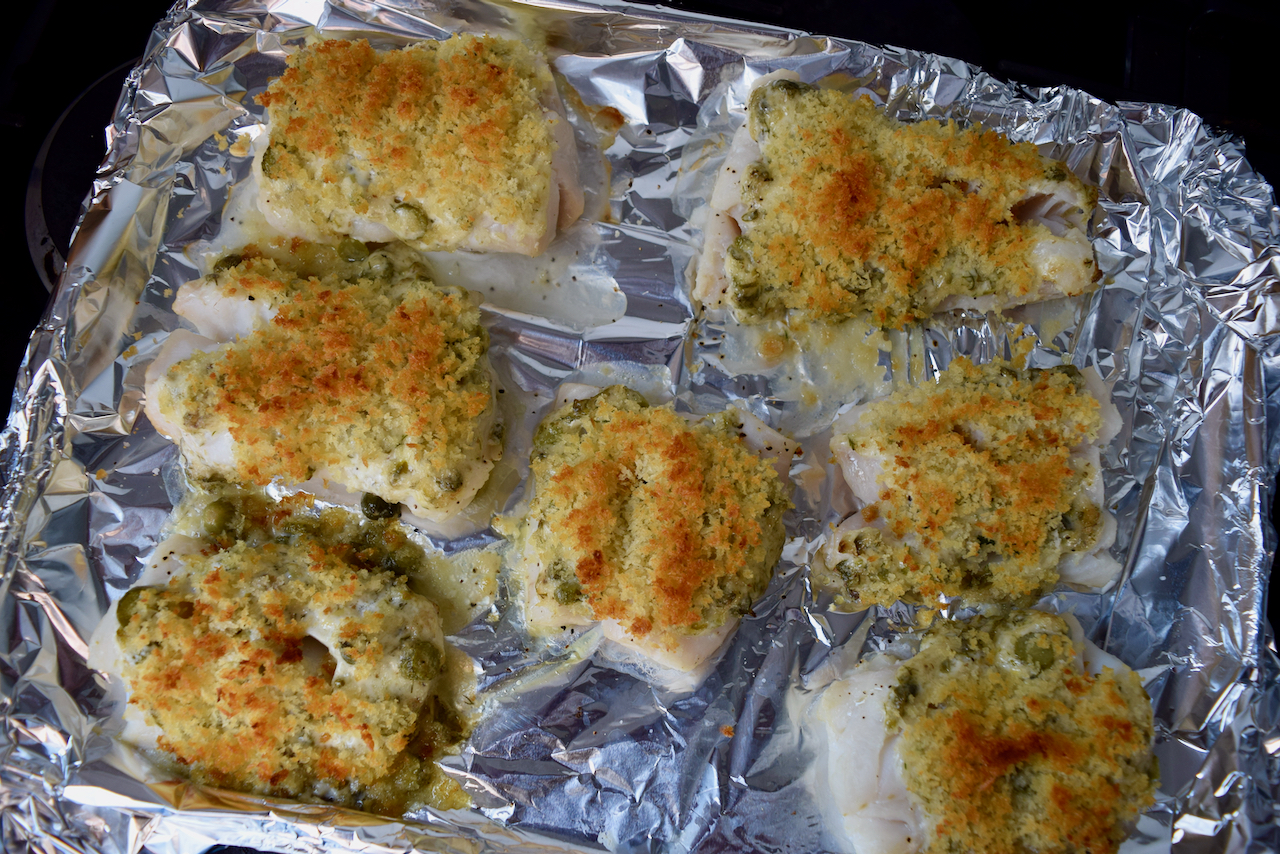 All that's left to do now is to stir the juice from half a lemon into the remaining tartar sauce and then pop into a serving bowl for dolloping at the table.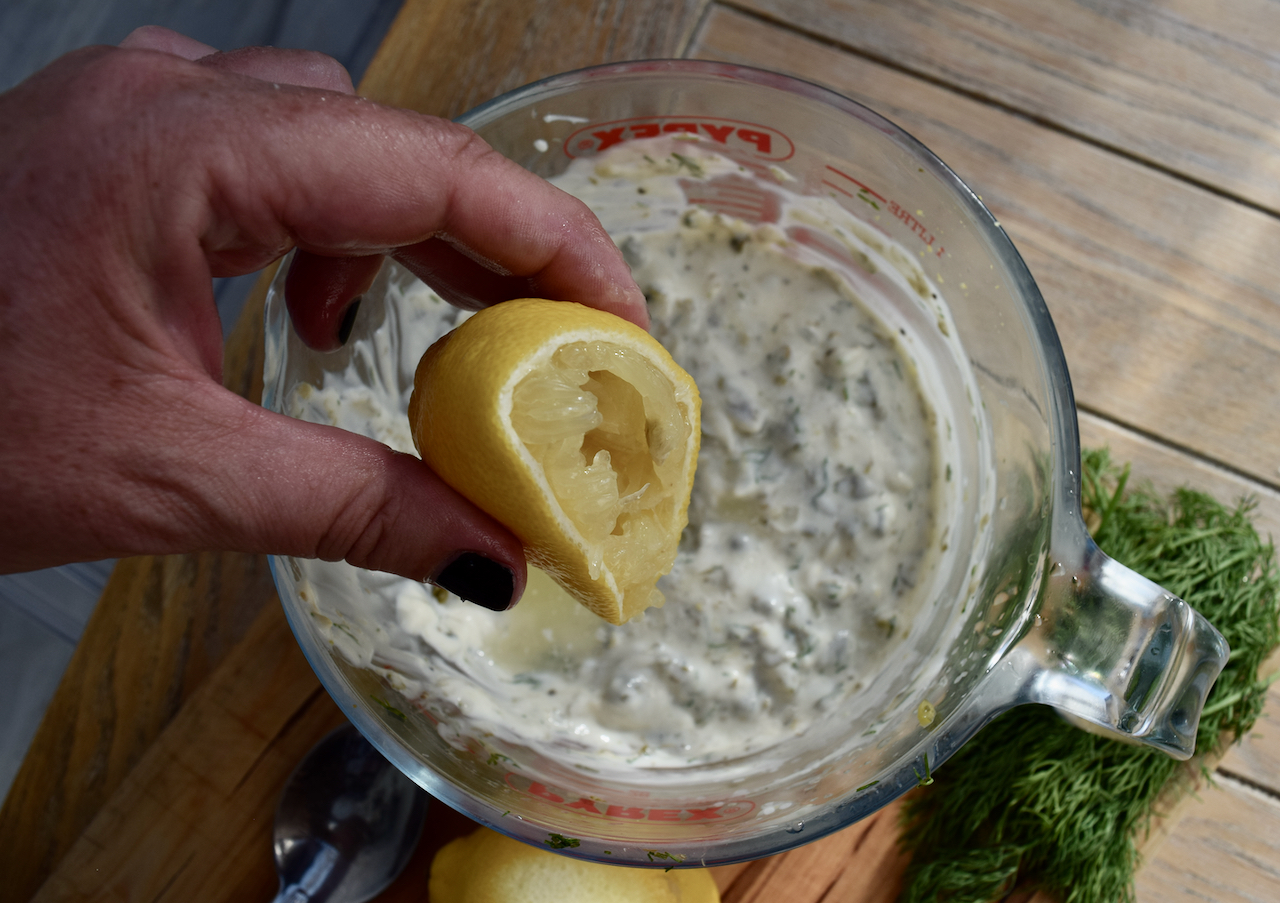 And you're all ready to go. Fish with peas is must for me, the potato option is up to you.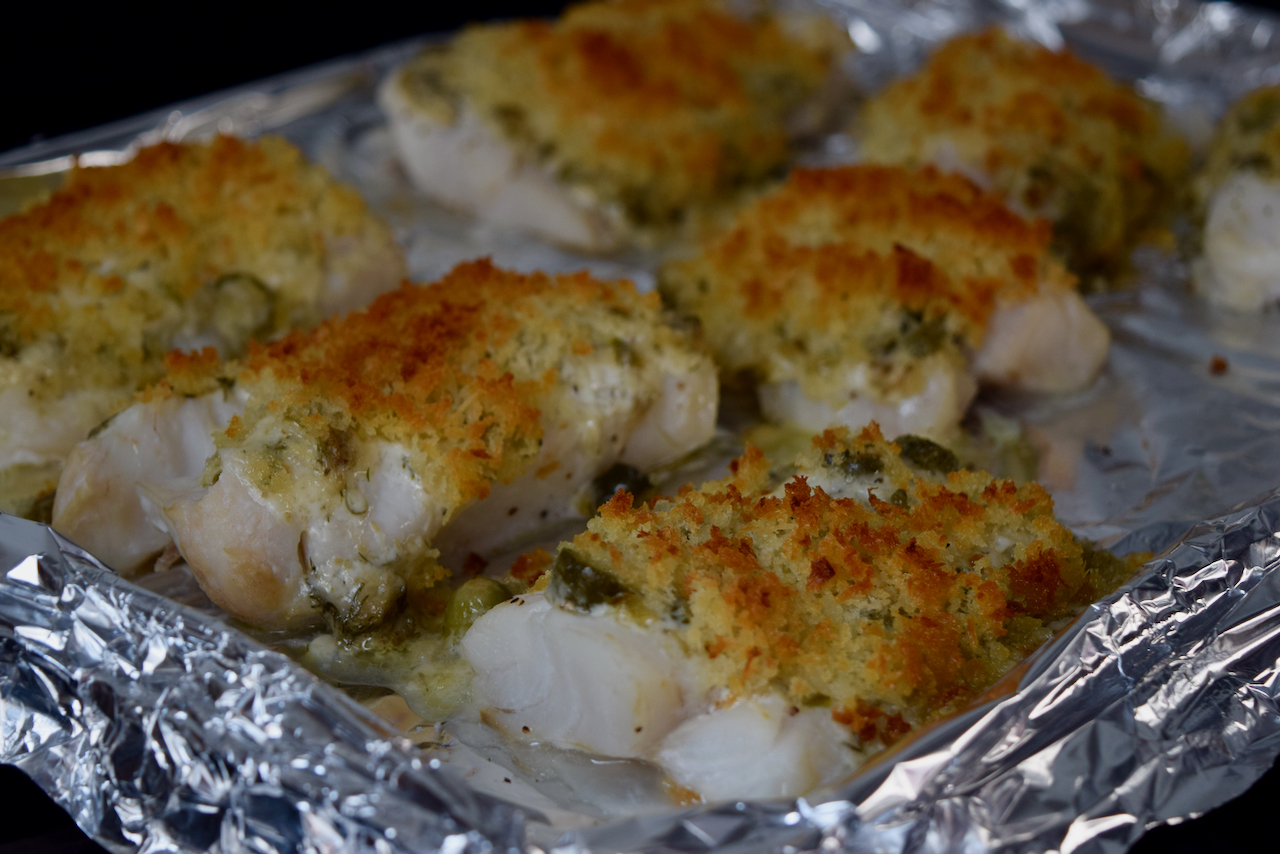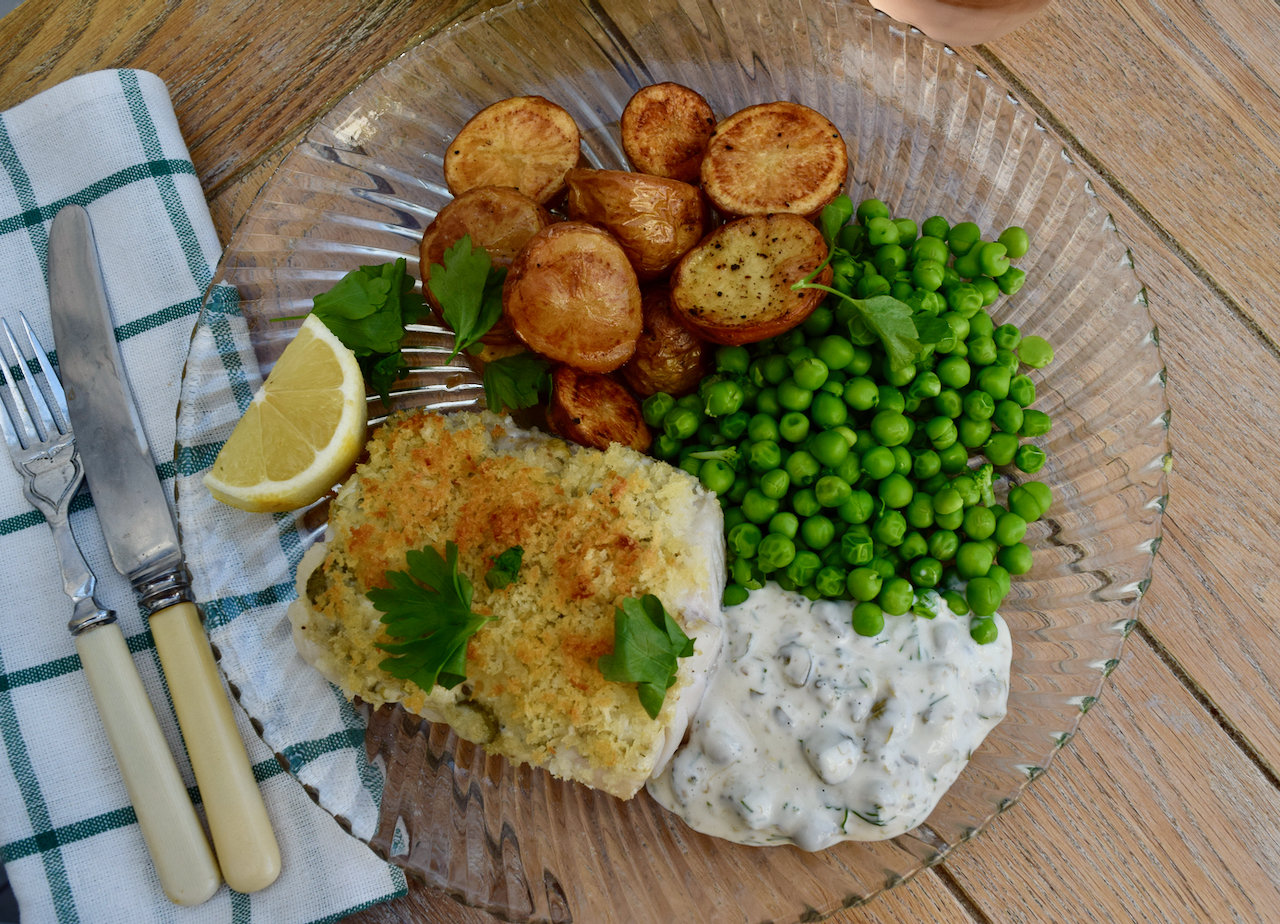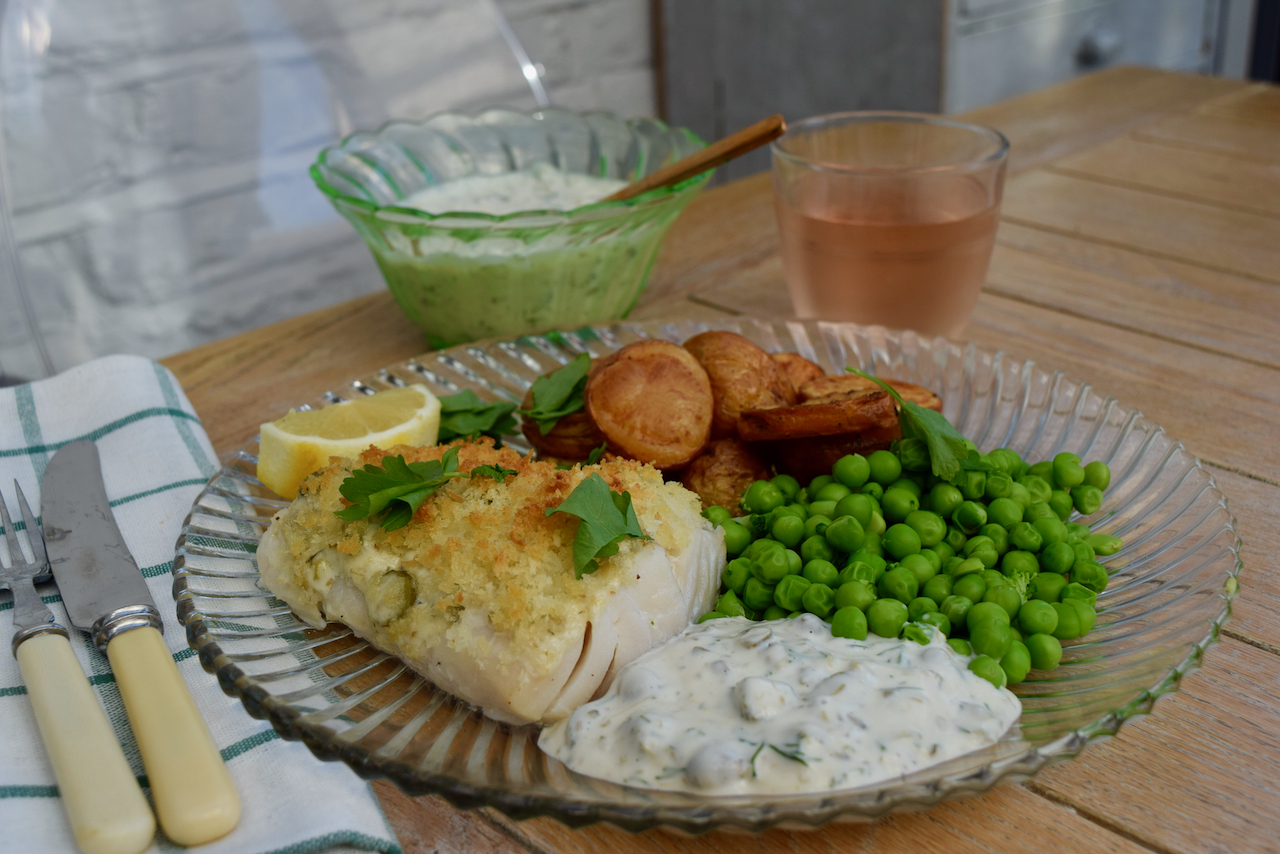 Rosé an optional extra but given my current mood, totally necessary. Hope this recipe cheers you as it cheered me.
Lucy x
Crisp Baked Fish with Homemade Tartar recipe
Serves 4 to 6, scale down or up as you wish
You'll only need bowls and a lined baking tray for this
Fish
6 pieces of firm white fish, around 175g to 200g per person
Salt and pepper
120g panko breadcrumbs
4 tablespoons olive oil
Tartar
400ml good quality mayonnaise
75g capers, drained and roughly chopped
75g cornichons or gherkins, roughly chopped
3 tablespoons finely chopped dill or parsley
2 teaspoons Worcestershire sauce
1 large or 2 small cloves garlic, crushed or grated on a microplane
1 large lemon, all zest, half the juice
Salt and pepper
Chips, roasted new potatoes, mash and peas to serve
Make a start by making the tartar sauce. Take a large bowl or jug and mix the mayonnaise, chopped cornichons and capers, fresh herbs, Worcestershire sauce, garlic and lemon zest and stir well. Keep the lemon juice for later. Have a taste and season with a little salt and lots of black pepper. Pop in the fridge for the moment.
In another bowl, add the panko breadcrumbs and stir in the olive oil until the crumbs are coated.
Pre heat your oven to 170 degrees and line a large baking sheet to save the washing up later. Lay your fish onto the tray and season well with salt and pepper. Slather each fish fillet with around a heaped tablespoon of your tartar sauce and spread to cover. Save the rest of the tartar sauce for later, mixed with the juice of half a lemon. Sprinkle the tops, generously, with the panko mixture and press down slightly so it sticks.
Pop the fish in the oven for 12 to 15 minutes, depending on the thickness of your fish. The crumbs will be golden and the fish firm and just flaking. Devour with some sort of potatoes and peas are a must, with a lake of your homemade tartar sauce.
The left over tartar will keep, covered, for a week in the fridge and makes a great addition to a fish finger sandwich.