Garlic and Parmesan Fish with Cauliflower Puree Recipe
It's that time of year again. The time when you eat pretty much 24 hours a day. Washing it all down with such delights as Baileys and mulled wine and port. No? Just me then. However, even if you don't over indulge in a huge way over the next few weeks it's always good to have a lovely fresh supper dish in the bank. And this Garlic and Parmesan Fish with Cauliflower Puree recipe is just that dish.
The Christmas spirit has finally caught up with me and I don't mean I've finally started on the Snowballs. I am watching Love Actually and having a little weep as we speak. I am meant to be writing my Christmas cards but instead I am writing to you, about fish and cauliflower. Please don't feel guilty, I loathe writing Christmas cards and frankly a decent semi healthy supper dish is so much more useful to you all than a card. The fish is a simple oven baked affair, but the parmesan and garlic topping makes it so flavoursome and original, it will appear much more elaborate. Served with the creamy cauliflower puree, this is so much more than just mash. Cauliflower is everyones favourite vegetable at the moment, this is low carb, if not desperately low fat. These recipes are based on one from the ever brilliant Donna Hay and Lauren's Latest, with thanks to them both.
I have been making this fish for a while now, it's always well received but with the addition of the Cauliflower Puree, it's a whole new dish. Light, but incredibly tasty. And quick, making it just the most perfect dish for the festive season. In a kerfuffle laden season, go ahead and enjoy this kerfuffle free dish with my best wishes. Apologies for any spelling mistakes, by the way, I am still bawling at Love Actually.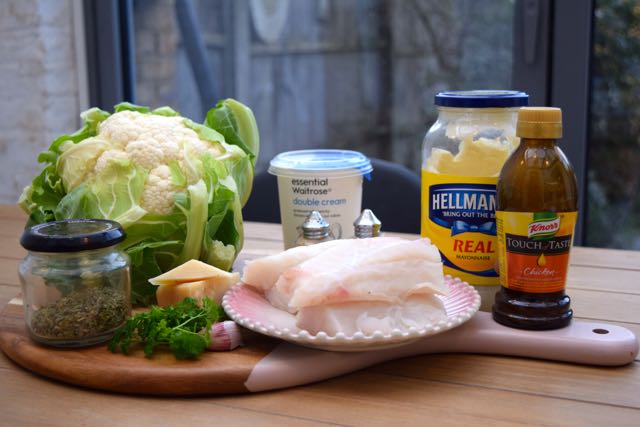 I don't think I managed to miss anything from this simple but delicious line up. Try not to dwell on the tired sprig of parsley left from my garden, I thought I had bought a packet on my Ocado order, but oh no.
Start by pre heating your oven to around 170 degrees fan assisted. Then crack on with the cauliflower. Break it into florets then put into a large saucepan with the double cream.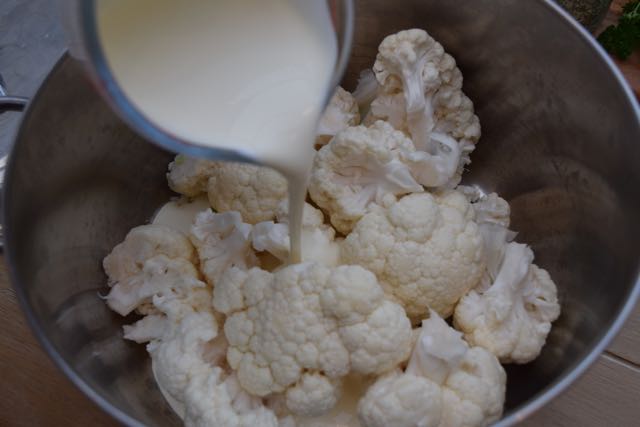 Follow in with the chicken stock then bring to the boil. Pop the lid on, turn the heat down then simmer for 15 to 20 minutes or until the cauliflower is just soft.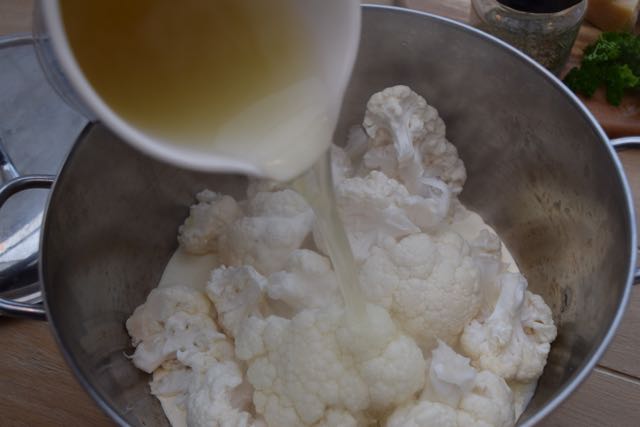 While this is simmering, get on with the fish. Lay your chosen fillets on a foil lined tray. Mine were a bit small, I would allow around 200g per person ordinarily.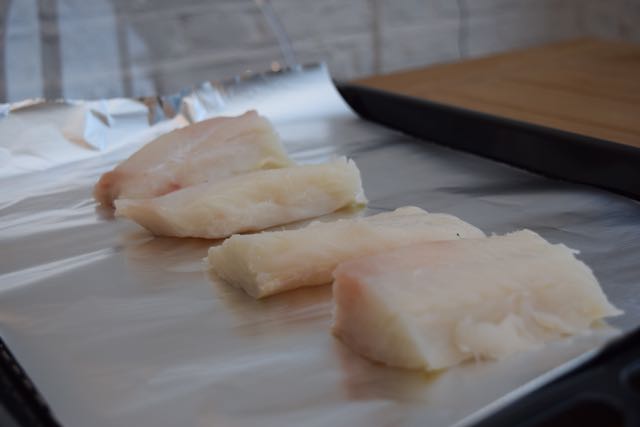 Now for the topping. Take a small bowl and mix together the mayonnaise with the dried and fresh herbs.
Next add the crushed garlic and grated parmesan. Give it a good stir and season with salt and pepper.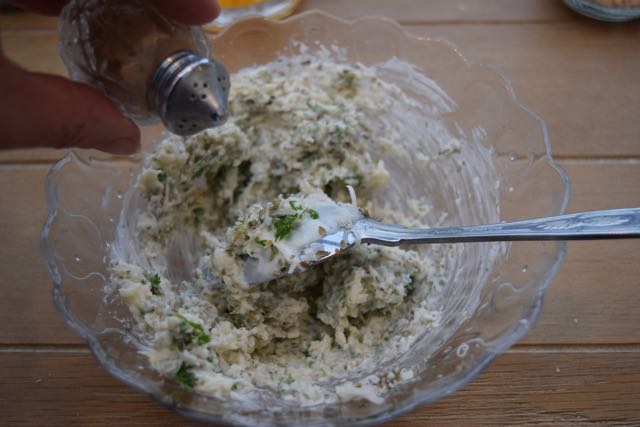 Top each fish fillet with a generous dollop *great word* of this cheesy herb mix and spread out into an even -ish layer.
Pop this into your hot oven for around 15 to 20 minutes, dependent on the thickness of your fillets. The fish will be bubbling and browned. If it needs extra browning pop them under the grill for a final minute or so. Don't leave them for more than a minute like I did, mine are just a tiny bit too golden *burnt*. But no less bloody delicious.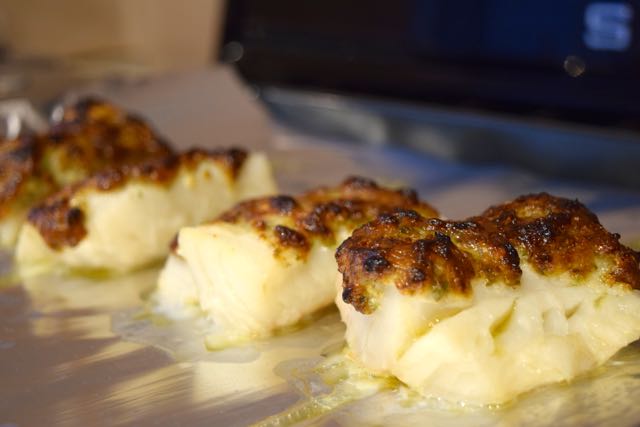 While you burn *cook* your fish, finish off the cauliflower. Drain it, but reserve a couple of tablespoons of the cooking liquid in case your puree is too thick.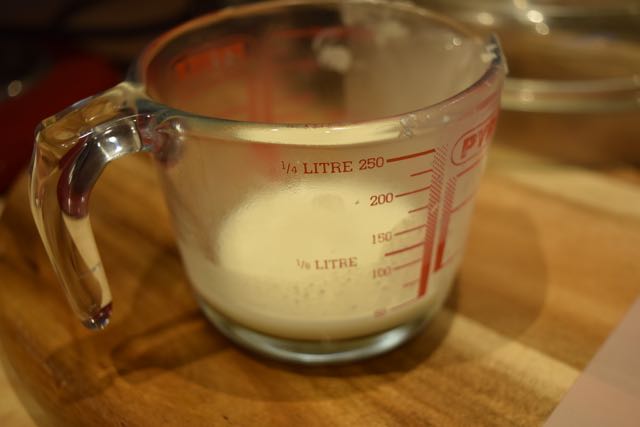 Pop the cooked cauliflower and the slice of butter into your food processor with plenty of salt and pepper and process until super smooth. Add the reserved liquid if needed.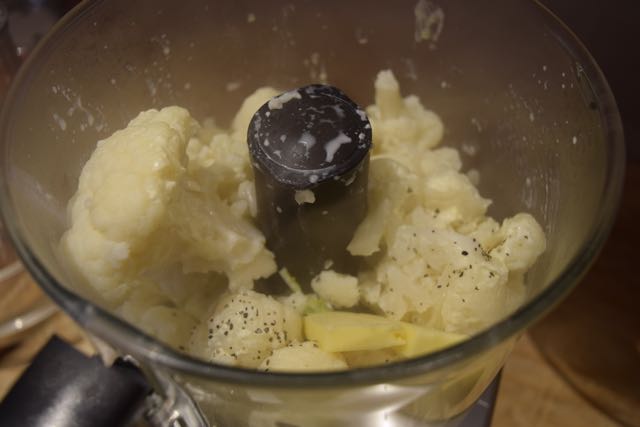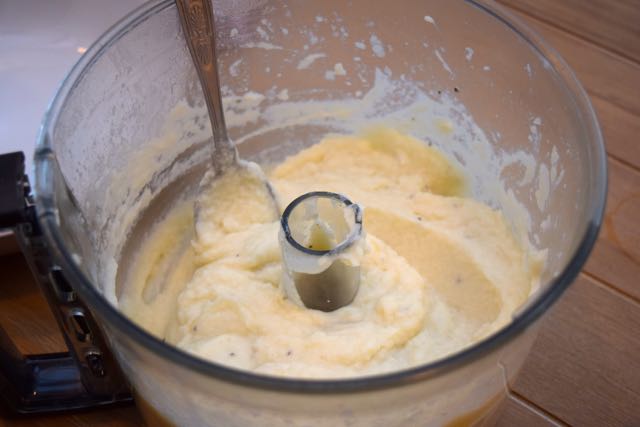 Now you are all ready to dish up, or plate up for poncy people.  Top the wonderful, smooth puree with your crisp, cheese topped fish. Then just a sprig of parsley for old school charm and flavour. And throwing caution to the wind I added an extra knob or two of butter.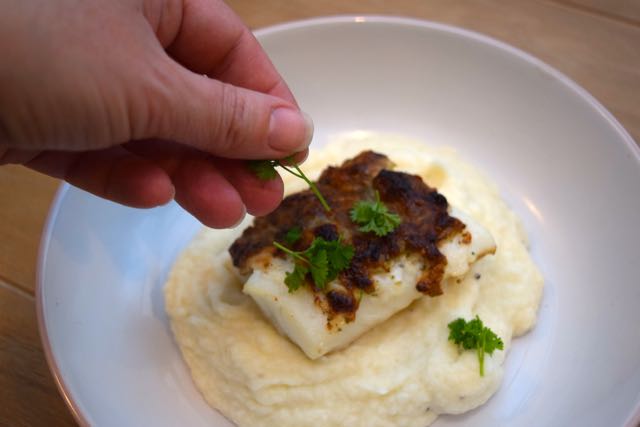 Tuck right in. Sort of guilt free.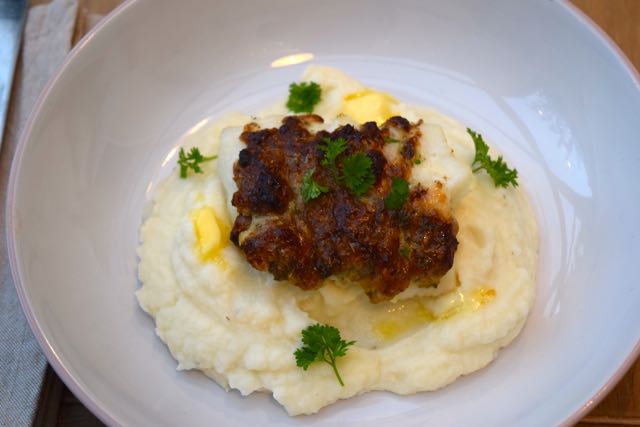 This Cauliflower Puree would be amazing with anything on top. Apart from a handful of Quality Street, for example. It is a simple, healthy-ish accompaniment alongside my simple Garlic and Parmesan topped fish. Compared to the carb and drama heavy Christmas dishes on the menu next week, this may be one you want to pop on your shopping list.
Lucy x
Garlic and Parmesan Fish with Caulifllower Puree Recipe
Serves 4
You will need a food processor for the puree
Garlic and Parmesan Fish
4 pieces of fish, around 200g each, cod, salmon, sea bass, something firm
80ml mayonnaise, good quality jarred or make your own if you are that person
50g parmesan, grated
1 tablespoon dried herbs, I used a mixture of oregano and basil
2 tablespoons fresh parsley, chopped
1 large clove, crushed garlic
salt and pepper
Cauliflower Puree
1 large cauliflower, around 1 kg, broken into florets
250ml double cream
750ml chicken stock
25g butter
plenty of salt and pepper
More fresh parsley to garnish and a little more butter
Pre heat your oven to 170 degrees, fan assisted.
Make a start with the cauliflower. Break into florets and put in a large saucepan. Pour on the double cream and chicken stock and bring to the boil, turn down the heat then put a lid on and simmer for 15 to 20 minutes or until the cauliflower is soft.
While the cauli is cooking prepare your fish. Take the four fillets and place on a foil lined tray. In a small bowl stir together the mayonnaise with the dried and fresh herbs, crushed garlic, parmesan and some salt and pepper.
Place a tablespoon or so of the parmesan mixture onto each fish fillet, smooth over the top, then place in a hot oven for 15 to 20 minutes or until the fish is cooked through. Turn your oven to grill for an extra minute or two to brown the fish if necessary.
Keep the fish warm while you drain the cauliflower, keeping a couple of tablespoons of the cooking liquid in a jug. Place the cauliflower into your food processor and puree, with the 25g of butter, until smooth. You may need the extra cooking liquid if it's too thick. Add generous amounts of salt and pepper then spoon a generous amount onto your plate.
Top with your fish, garnish with fresh parsley and dot with some extra butter. Devour whilst piping hot.