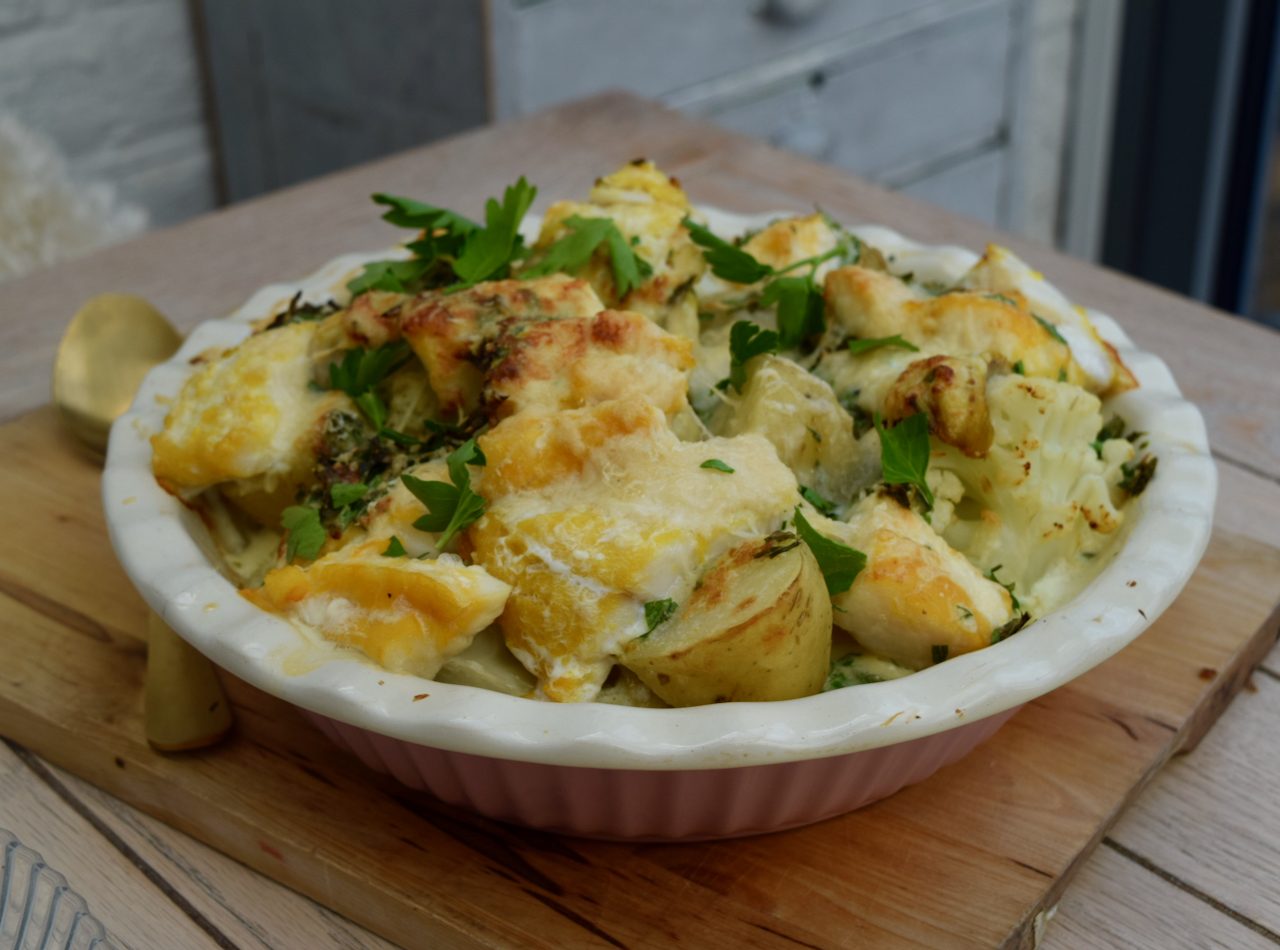 Smoked Haddock, Cauliflower and Parmesan Gratin recipe
Smoked haddock is such a childhood food memory for me; with buttered new potatoes and a poached egg it was the most comforting supper ever. It seems to have fallen out of fashion, probably due to the price of fish and the slightly lurid yellow colouring. That said, I'm bringing it back, along with Mary Berry, with this Smoked Haddock, Cauliflower and Parmesan Gratin.
The word gratin is quite the blast from the past as much as the haddock; when I took my Home Economics *that's was cooking was called when I was at school* O level, bloody everything was a gratin. From what I remember it basically means it's got cheese on the top. My gratin is a fragrant mix of smoked fish, cauliflower and some seasonal Jersey Royal new potatoes. This gets doused in cream, parsley and chives, then for the full gratin experience, the whole business is covered in plenty of parmesan. This is such a simple, wholesome dish, and it's on the table in less than 45 minutes.
This gratin is a taste of my childhood with a hint of the 21st century. Unlike myself, it's aged very nicely.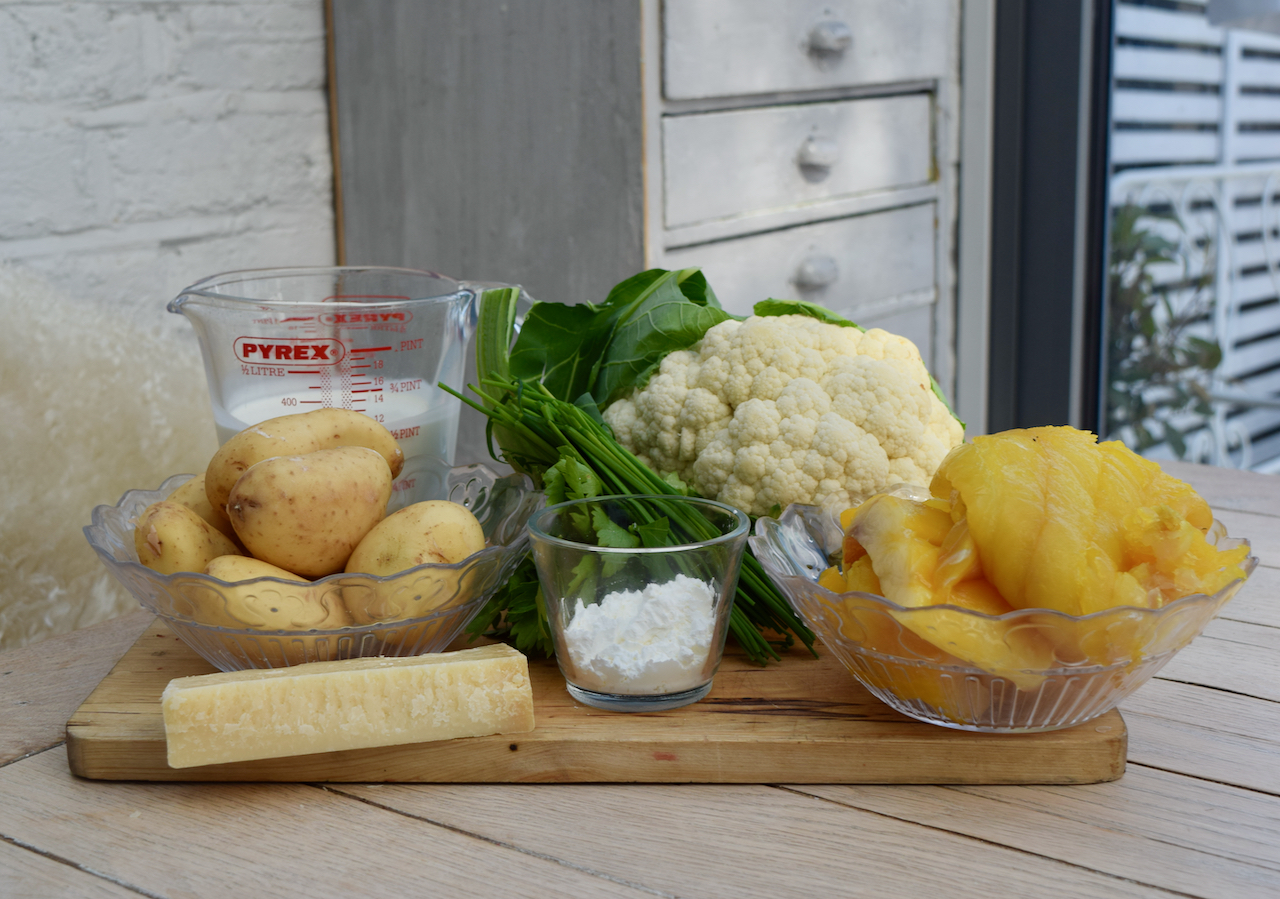 Now I know you can get undyed smoked haddock nowadays, but where's the fun in that; in our house it was always known as yellow fish, so I'm sticking with it. I went with parmesan cheese as this dish calls for something ballsy, but go with a mature cheddar if that's what you've got to hand.
Start by buttering a large baking dish and pre heating the oven to 180 degrees fan assisted. Now add your new potatoes, halved if they're on the big side, to a pan of boiling, salted water and simmer them for 5 minutes.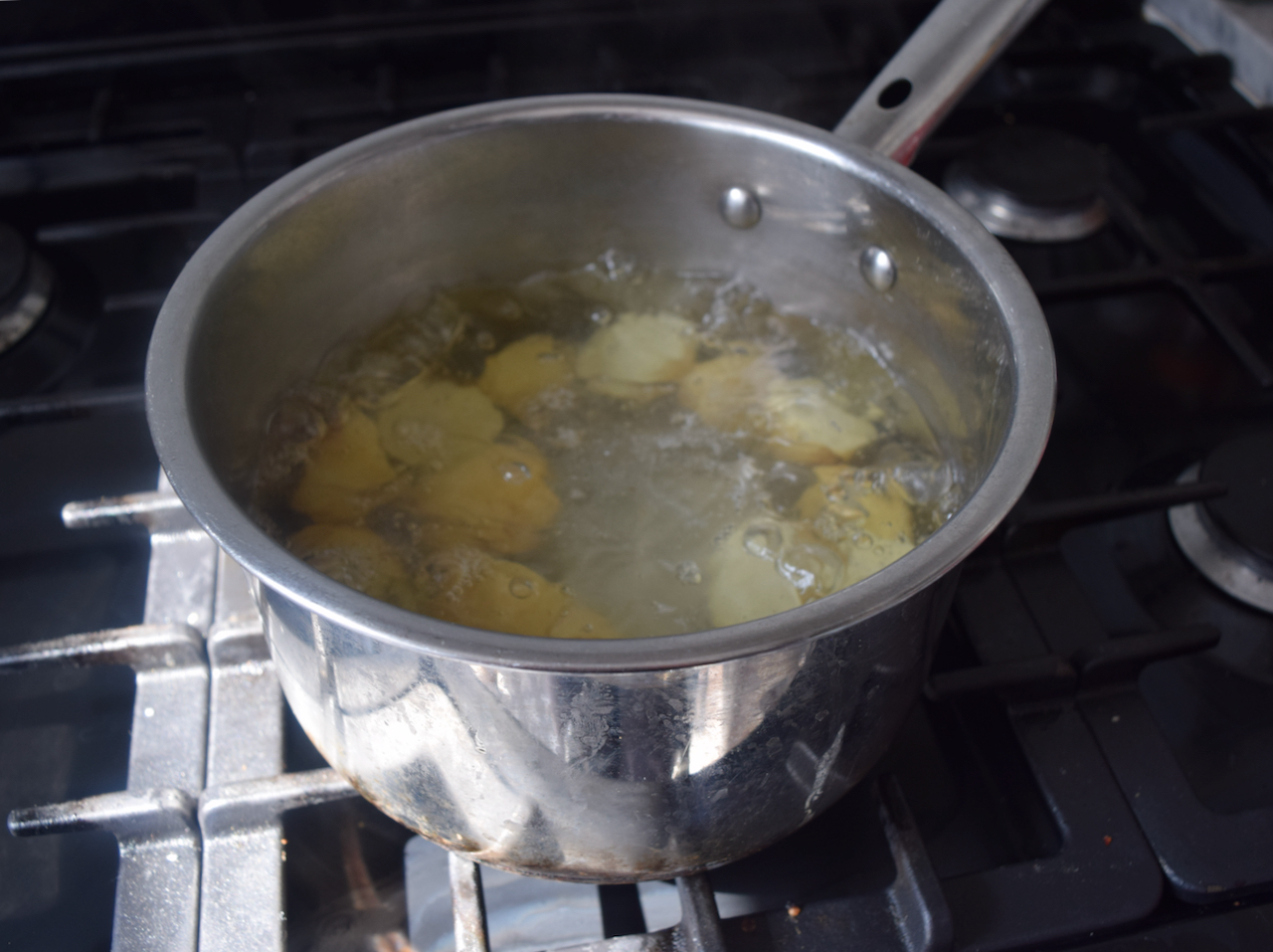 Add the cauliflower after the 5 minutes is up, bring back up to the simmer and cook for another 4 minutes. Then drain well and add to your buttered dish.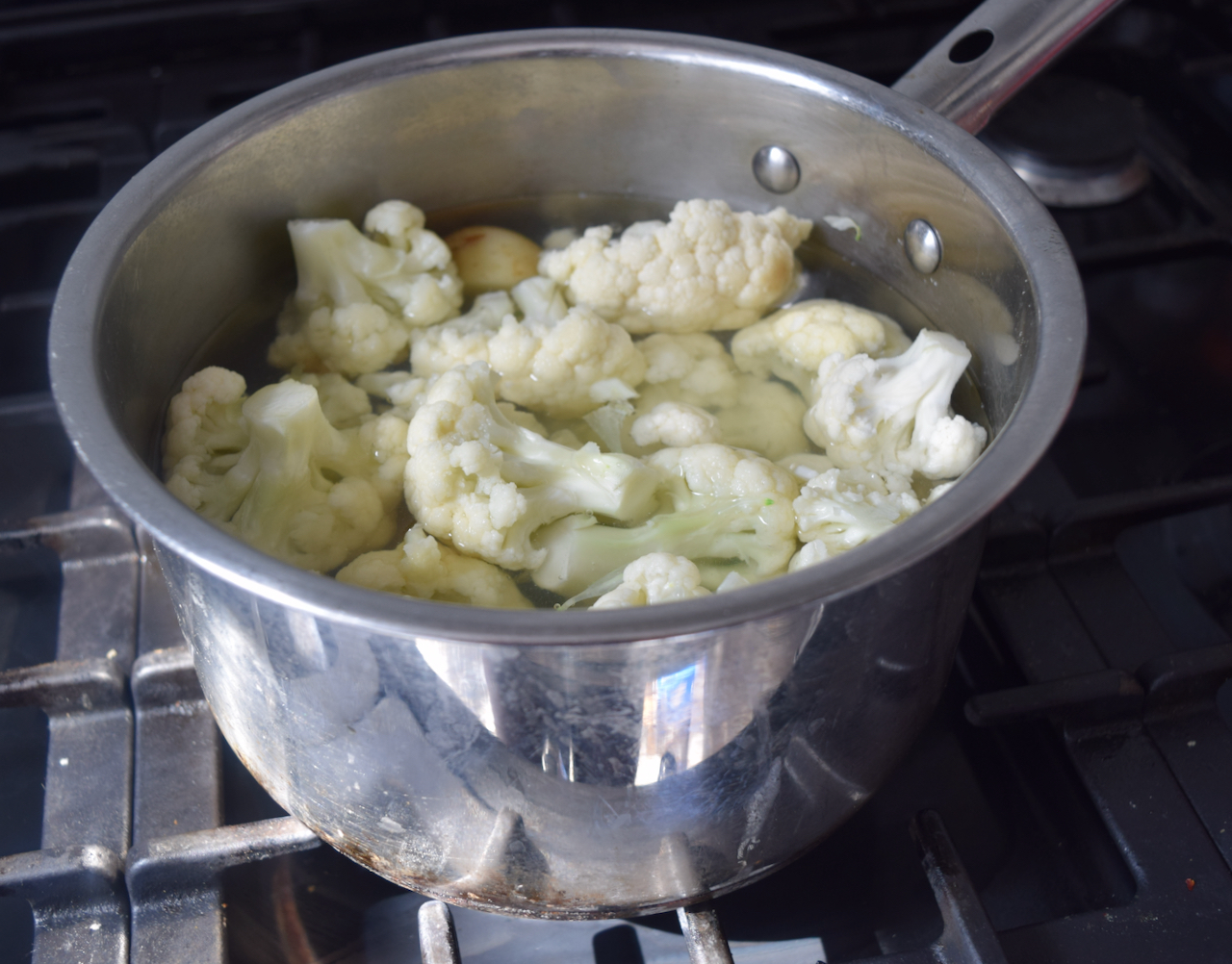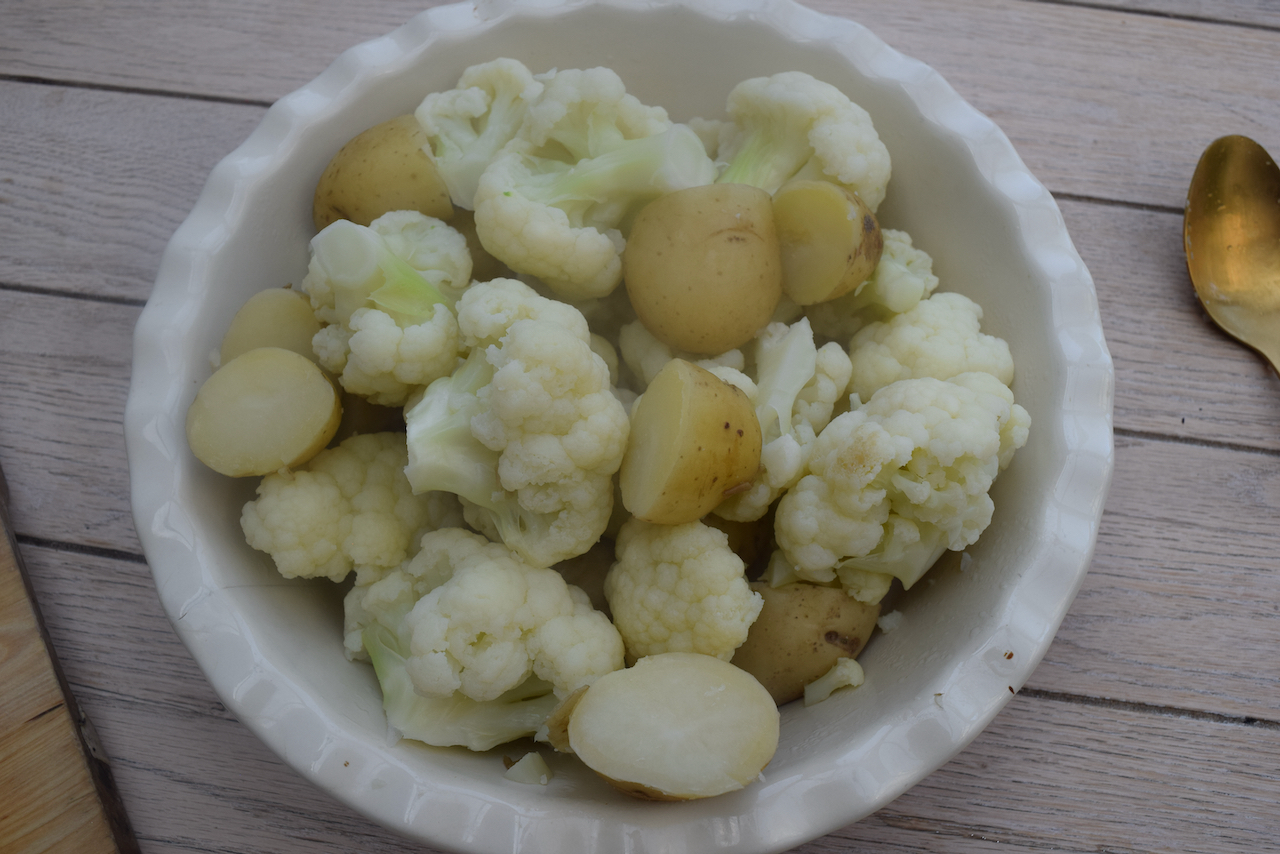 Now, lightly whisk the cream into the cornflour, until smooth. Add the chopped parsley and chives, season with a little salt and plenty of pepper then stir through.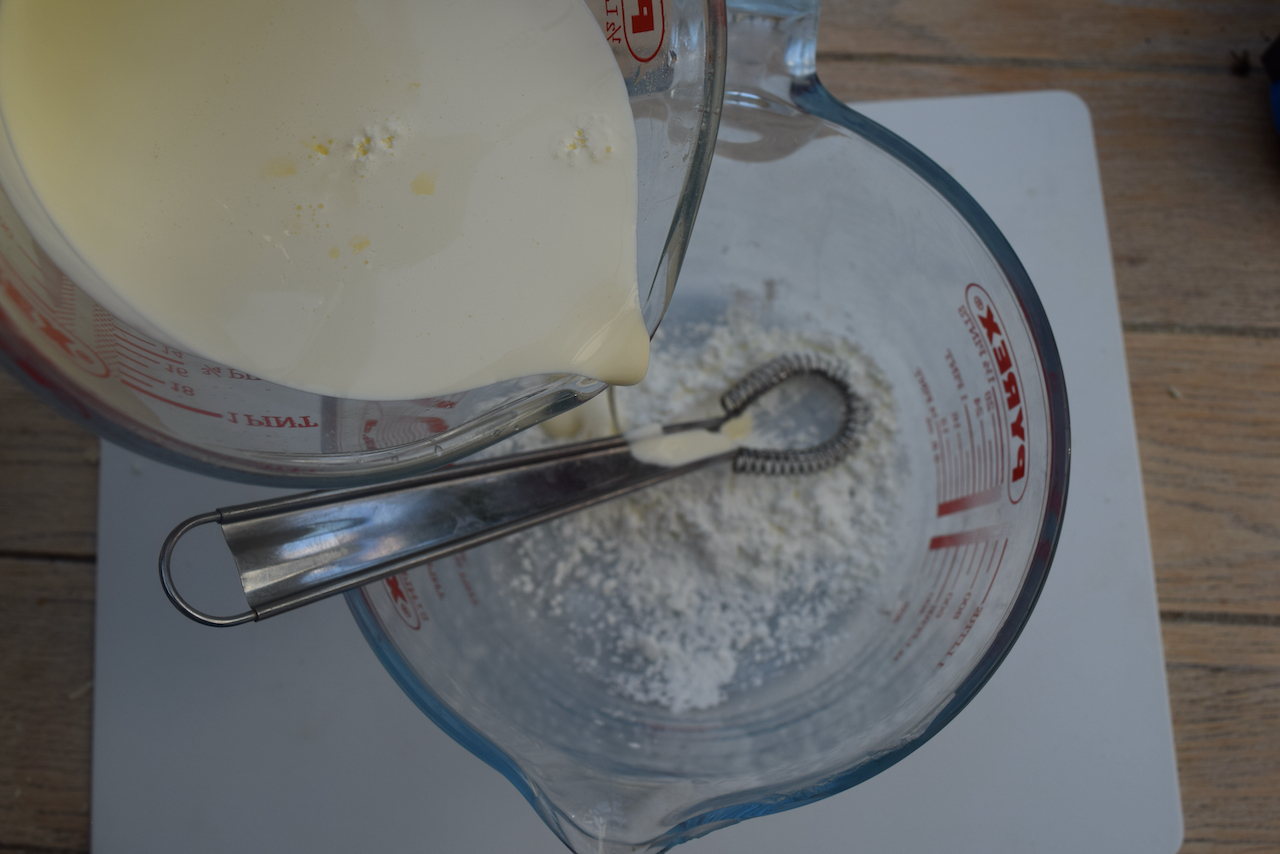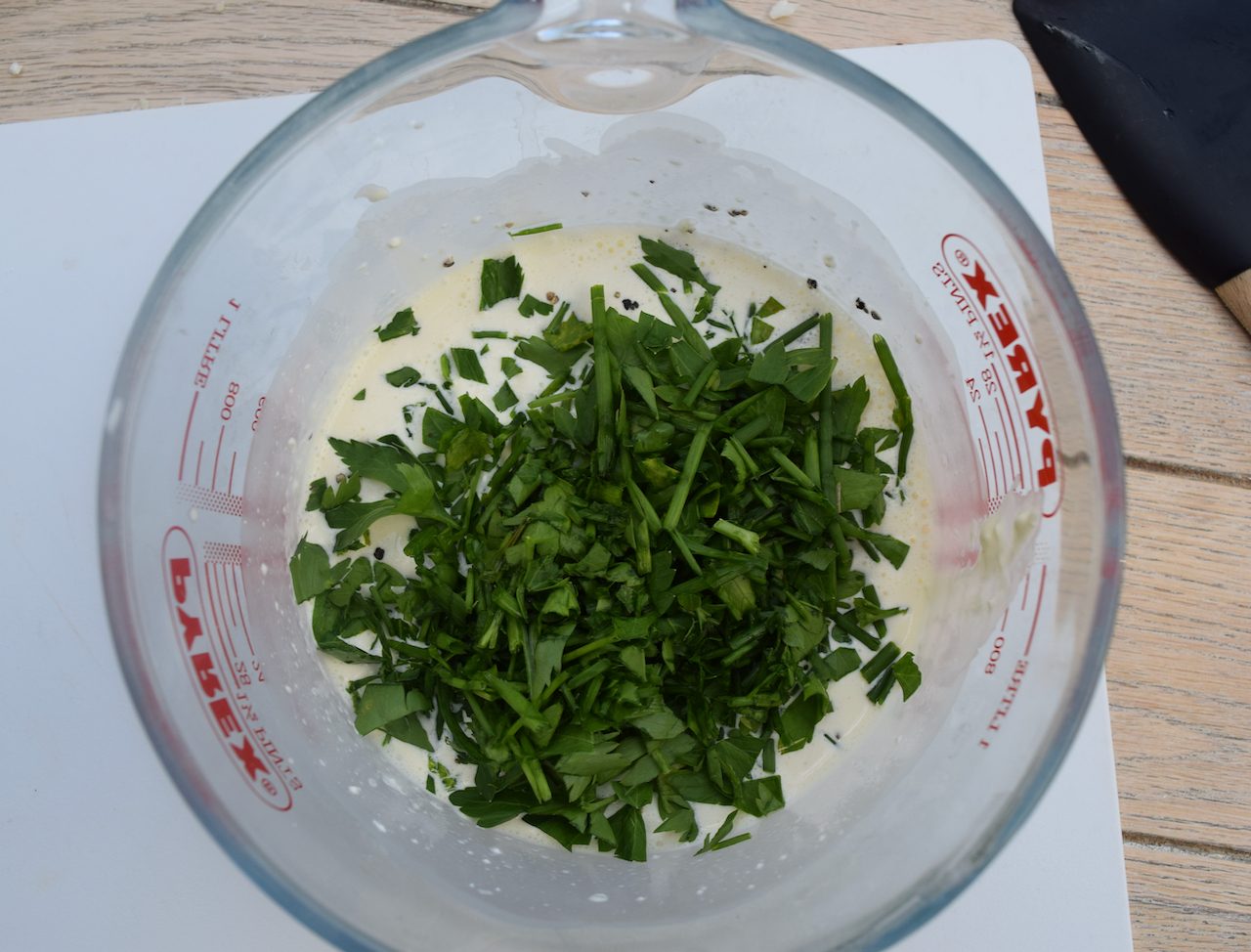 Grate your parmesan cheese then sprinkle over two thirds of it onto the potatoes and cauliflower.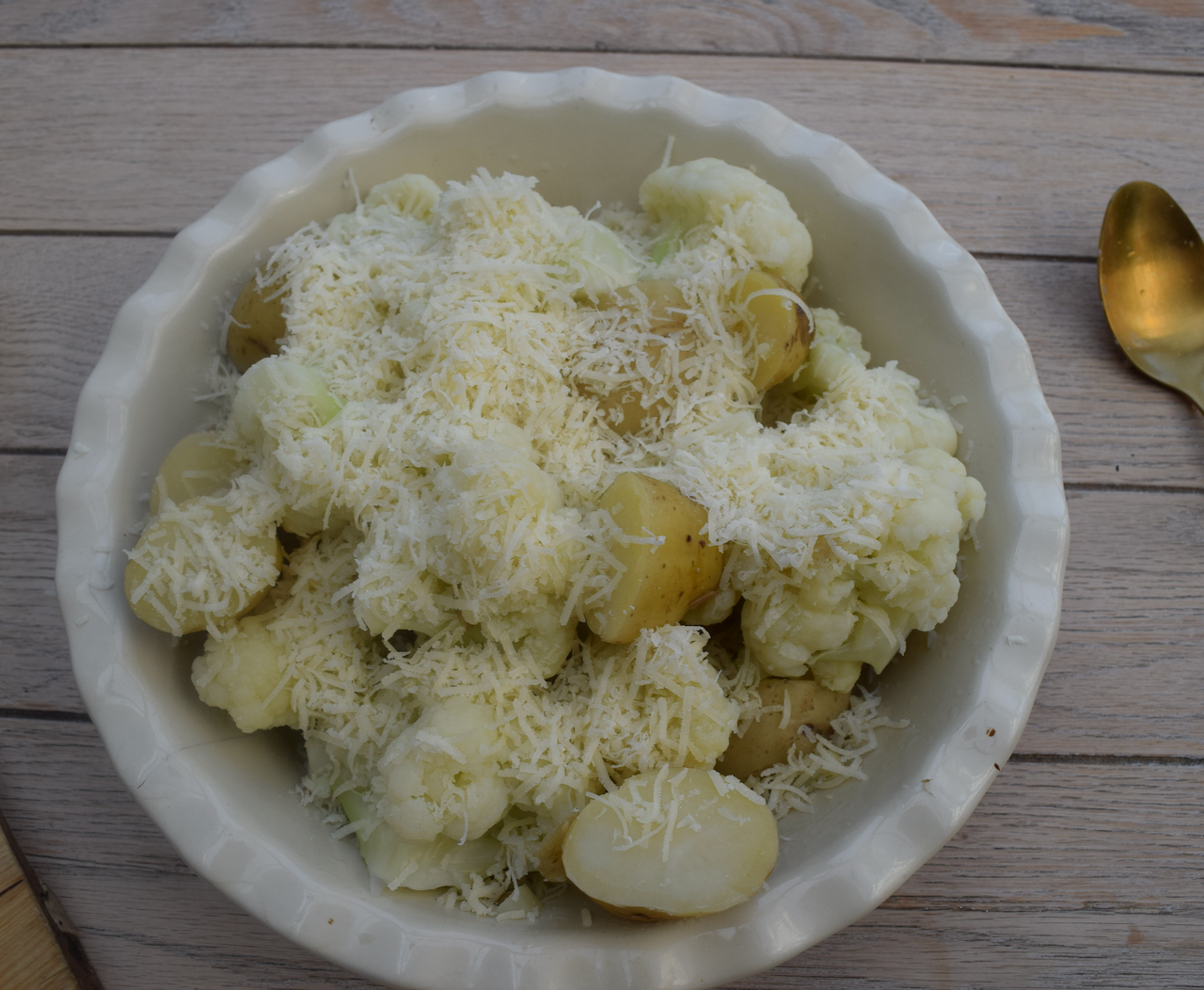 Cut your smoked haddock into chunky pieces then lay on top of the vegetables. Pour the herby cream into the gaps and over the fish then finally top with the rest of the parmesan.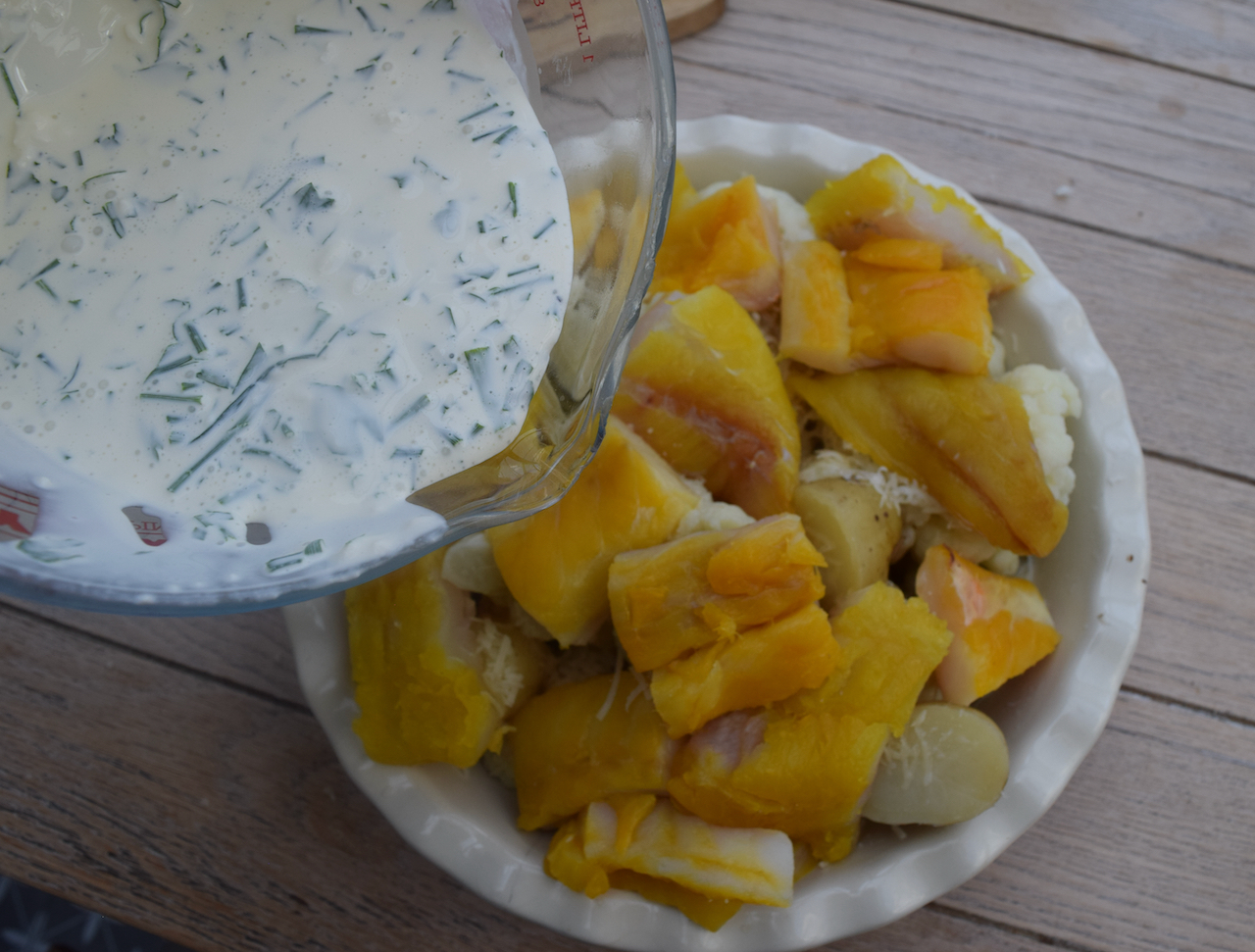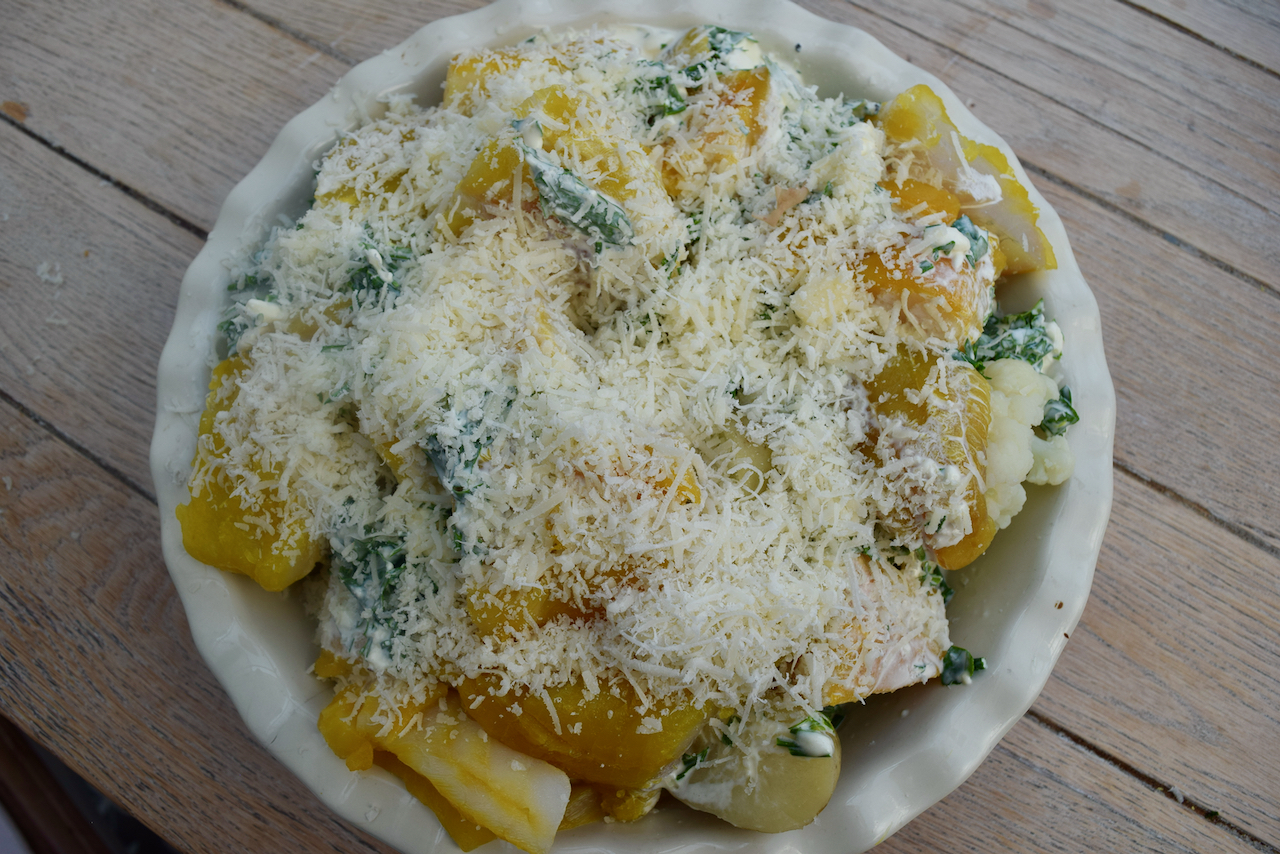 Place onto a baking sheet, in case of any spillage, then place into your pre heated oven for 20 to 25 minutes or until bubbling, golden and smelling amazing.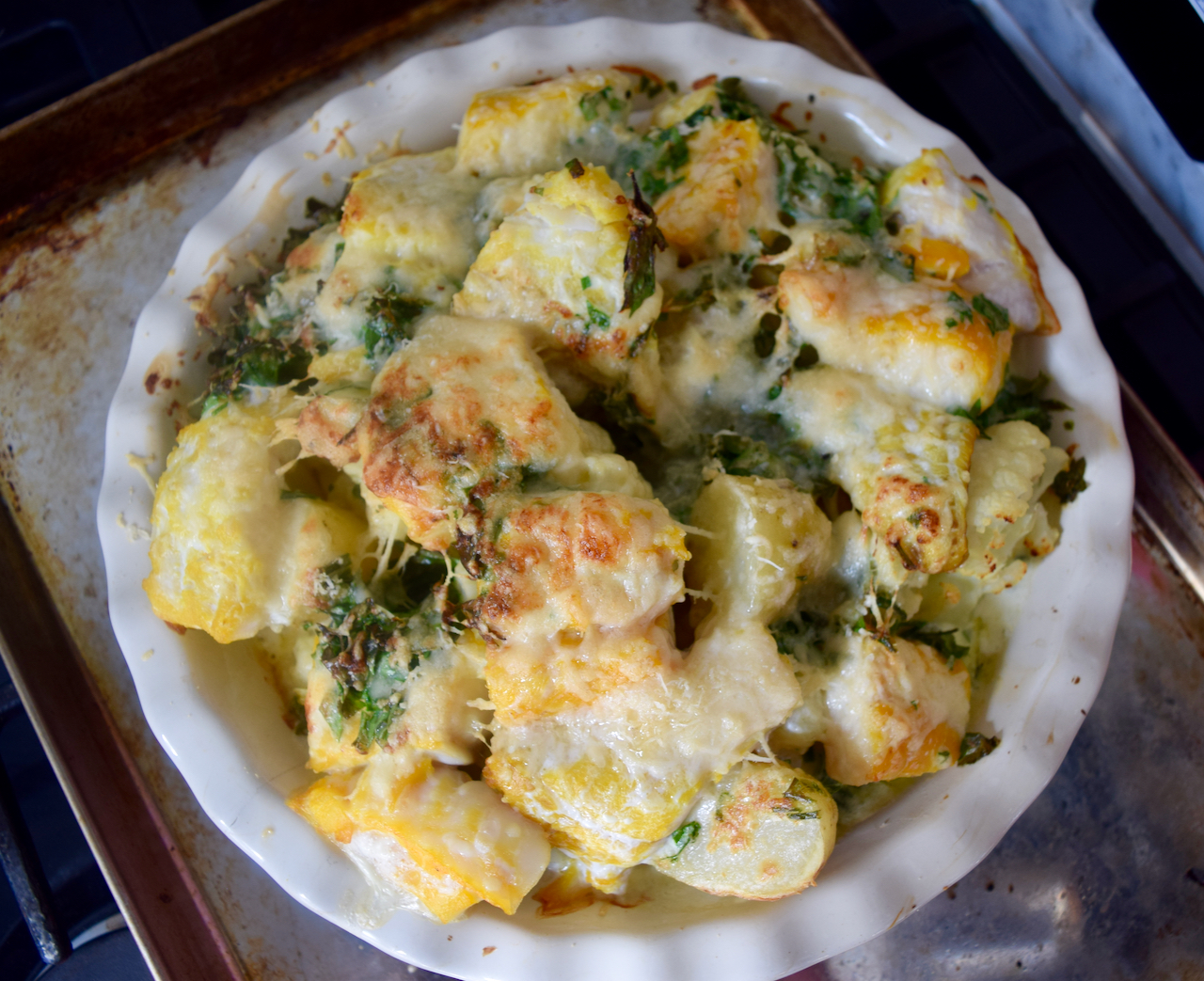 Serve in piping hot portions, garnished with a few extra fresh herbs, enjoying every mouthful of your gratin.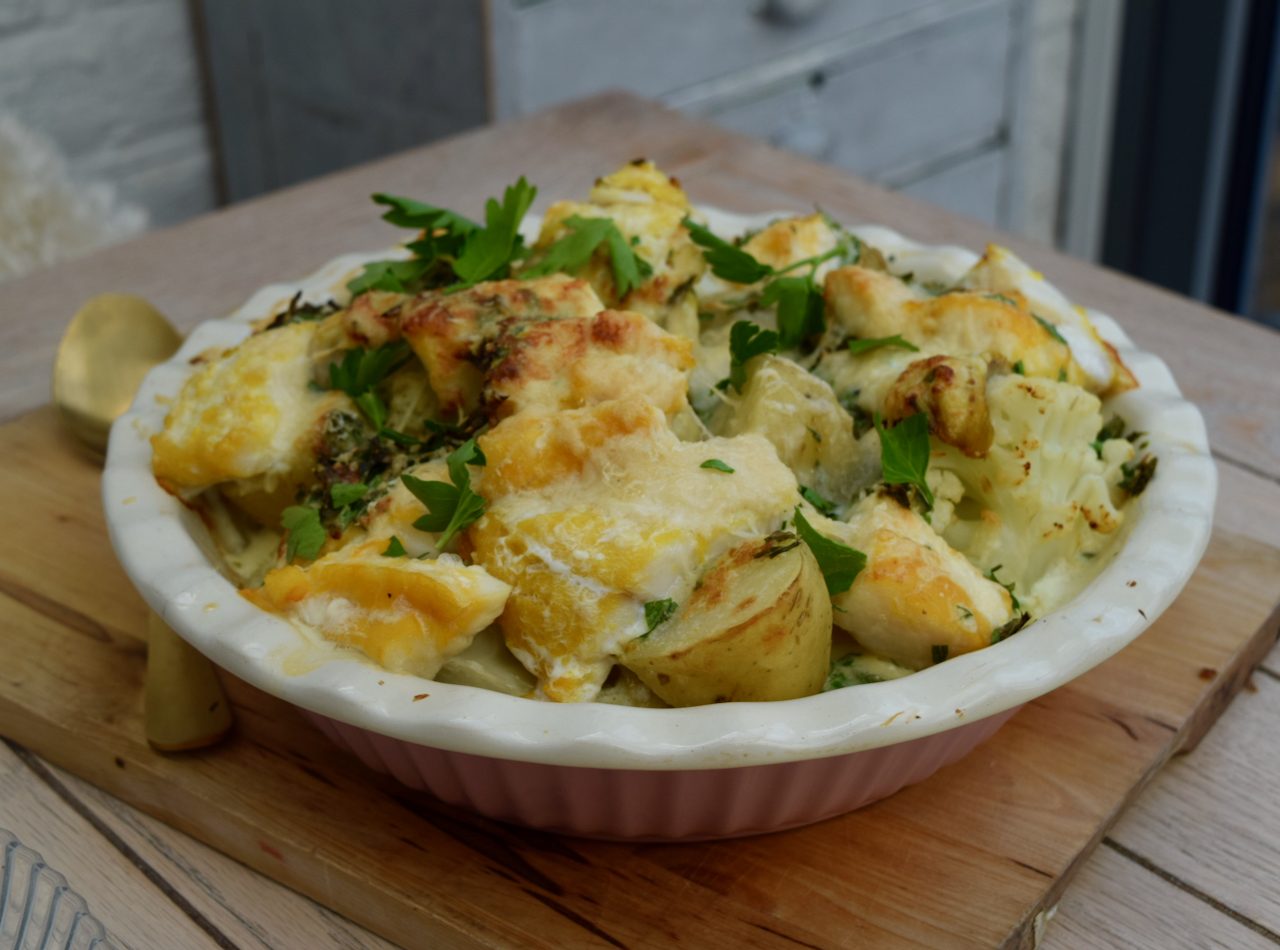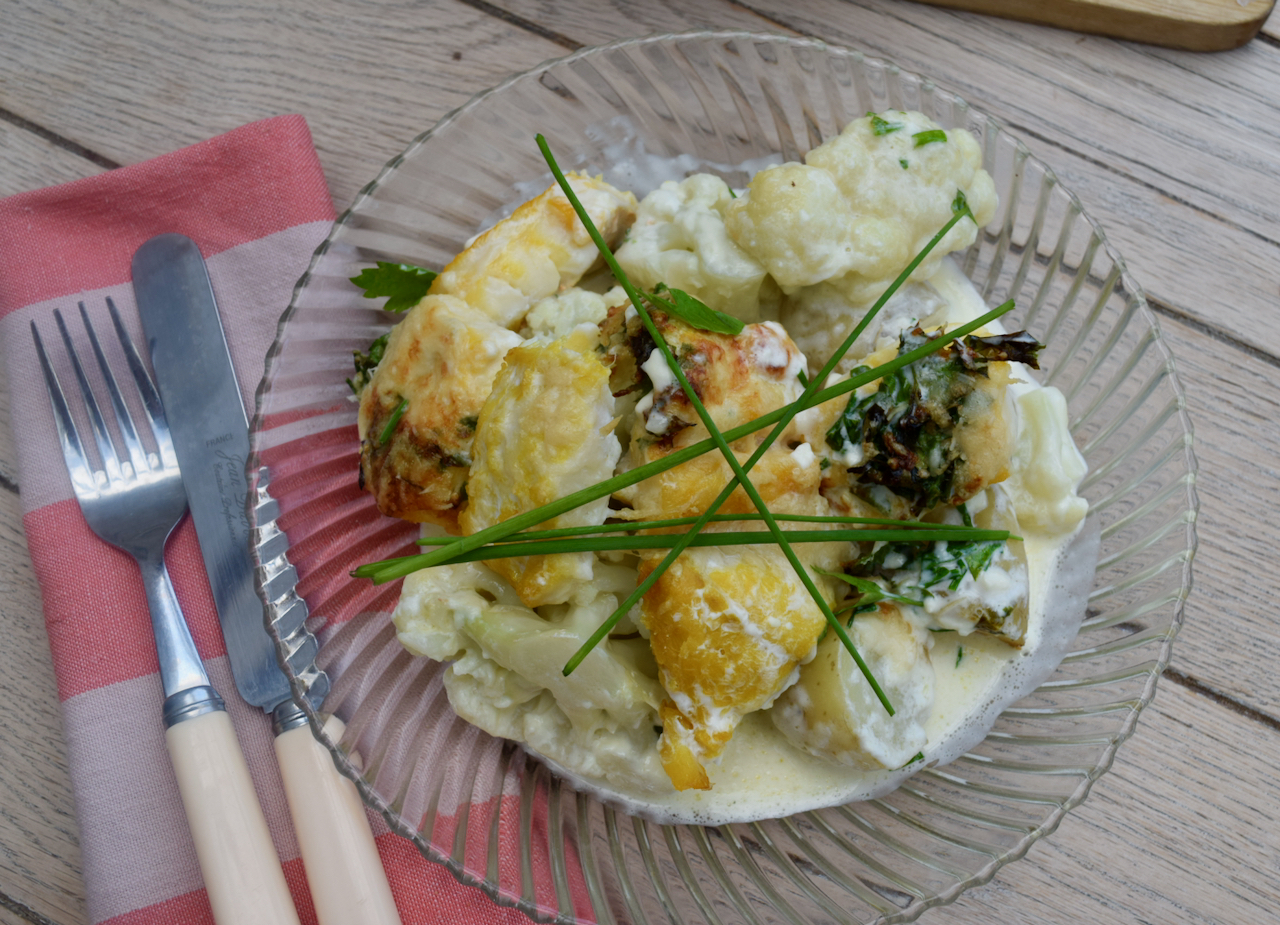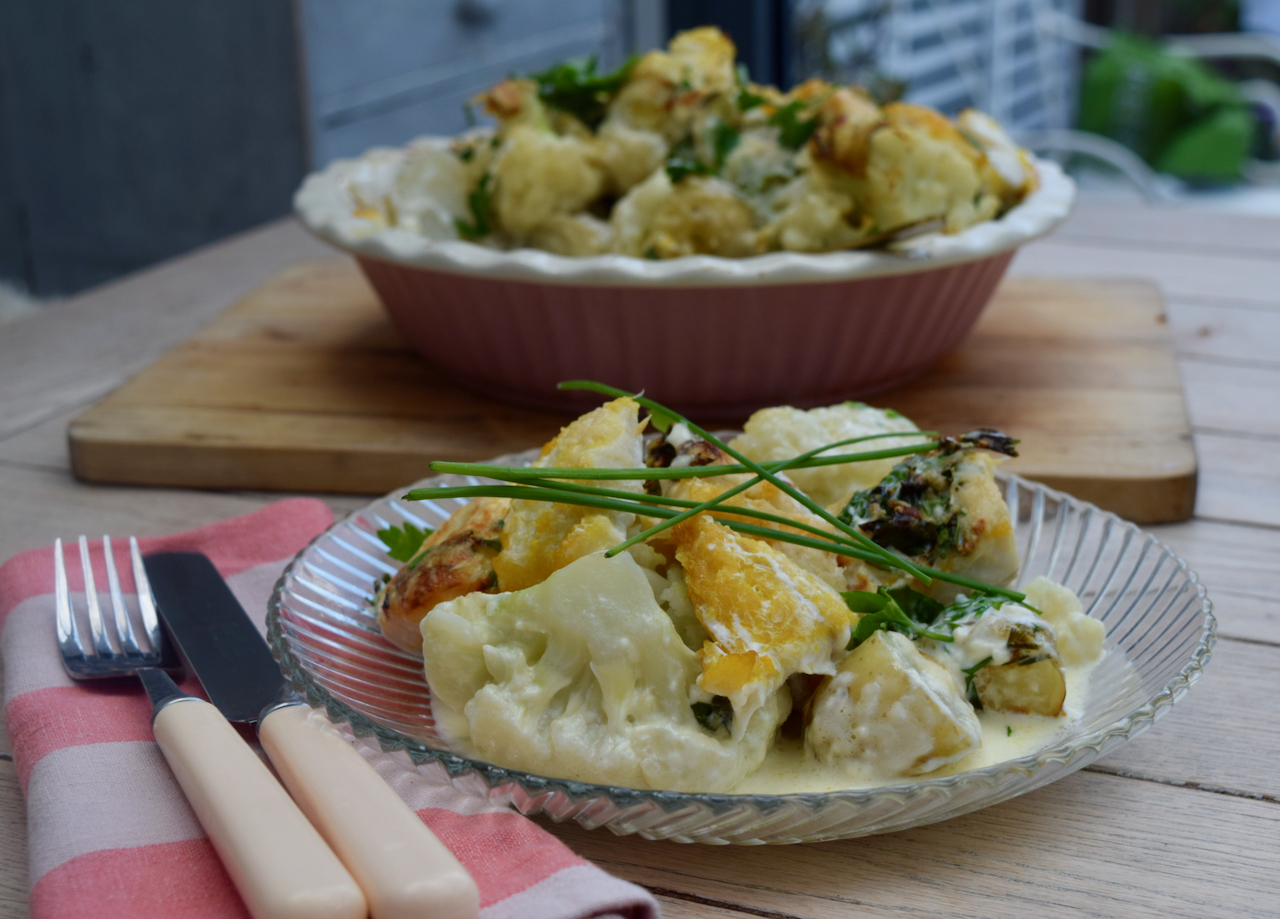 This is a warming, comforting dish which is working for me as summer still isn't quite happening yet and the beach ready eating program is very much on the back burner.
Lucy x
Smoked Haddock, Cauliflower and Parmesan Gratin recipe
Serves 4, really rather nicely
You will just need a saucepan and a large baking dish for this
400g new potatoes, mine were Jersey Royals, halved if big
1 medium cauliflower, cut into small florets
1 heaped tablespoon cornflour
300ml double cream
2 tablespoons fresh parsley, chopped
2 tablespoons chives, snipped
100g parmesan, finely grated, or use gruyere or strong cheddar
500g to 600g skinless smoked fish, mine was haddock
Salt and pepper to taste
More fresh herbs, to garnish
Make a start by buttering/oiling your chosen baking dish and preheating the oven to 180℃ fan assisted.
Next bring your potatoes up to the boil in a large saucepan of salted water then simmer for 5 minutes. Drop in the cauliflower then cook for a further 4 minutes. Drain well then tip into your buttered dish.
Grate the parmesan, and cut the smoked haddock into large pieces, you don't want to cut them too small or they'll cook to quickly. Whisk the cornflour and cream together until it's smooth then add the chopped herbs, and season with a tiny bit of salt and plenty of black pepper.
Now to assemble your dish for baking, sprinkle two thirds of the cheese over the potatoes and cauliflower then place the chunks of fish on top. Pour the cream and herb mixture into the gaps and over the fish then sprinkle on the rest of the cheese.
Place your dish on a baking sheet then bake for 20 to 25 minutes, or until the dish is bubbling, golden and the fish is firm.
Garnish with an extra sprinkling of herbs then devour, whilst piping hot.