Smoked Mackerel Fish Cakes Recipe
I have said it before, and I'll say it again, we should all be a little more Nigel Slater. He just seems to effortlessly throw things together and they become poetic meals. His writing is inspirational and his shows are amusing and beautiful to watch. But that's enough about Nigel, back to me and my mediocre food blog. Smoked mackerel is a brilliant ingredient and I have been desperate to use it for something other than pâté for ages. Step forward perfect bloody Nigel Slater and his brilliant Smoked Mackerel Fish Cakes. By the way, they're mine now, so that's enough about him.
Fish cakes were all the rage a while back, and then I forgot about them. It was all that fiddly egg and bread crumbing that put me off making them and the fact they were just as good from Marks and Spencers. Until now that is. These Smoked Mackerel Fish Cakes are so good; laced with a little grated beetroot, freshly chopped chives and just a tiny hint of horseradish, they are just so autumn winter 2018. They are great value too what with *aaaggghh* Christmas being on the horizon with all its hideous expenditure, not to mention a 16th birthday in the offing. So, frugal is my new best friend. I was dragging my heels making these fish cakes thinking they were going to be slightly drama laden. However, other than boiling some potatoes, they were a total breeze. You don't even have to cook the beetroot, I used the vacuum packed variety, gave it a grate and a squeeze and that was it. Nigel, of course, suggests you use whole smoked mackerel but those do not just appear on Ocado or in your local supermarket. I , there, used some fillets, which were just as good, and I worked on the fact a whole mackerel would yield around 400g, be that right or wrong.
My recipe made quite a few more fish cakes than Nigel's so perhaps I was slightly over generous. They will feed 8 as a first course or 4 as a main. However, where these smoked mackerel packed beauties are concerned, more is so much more.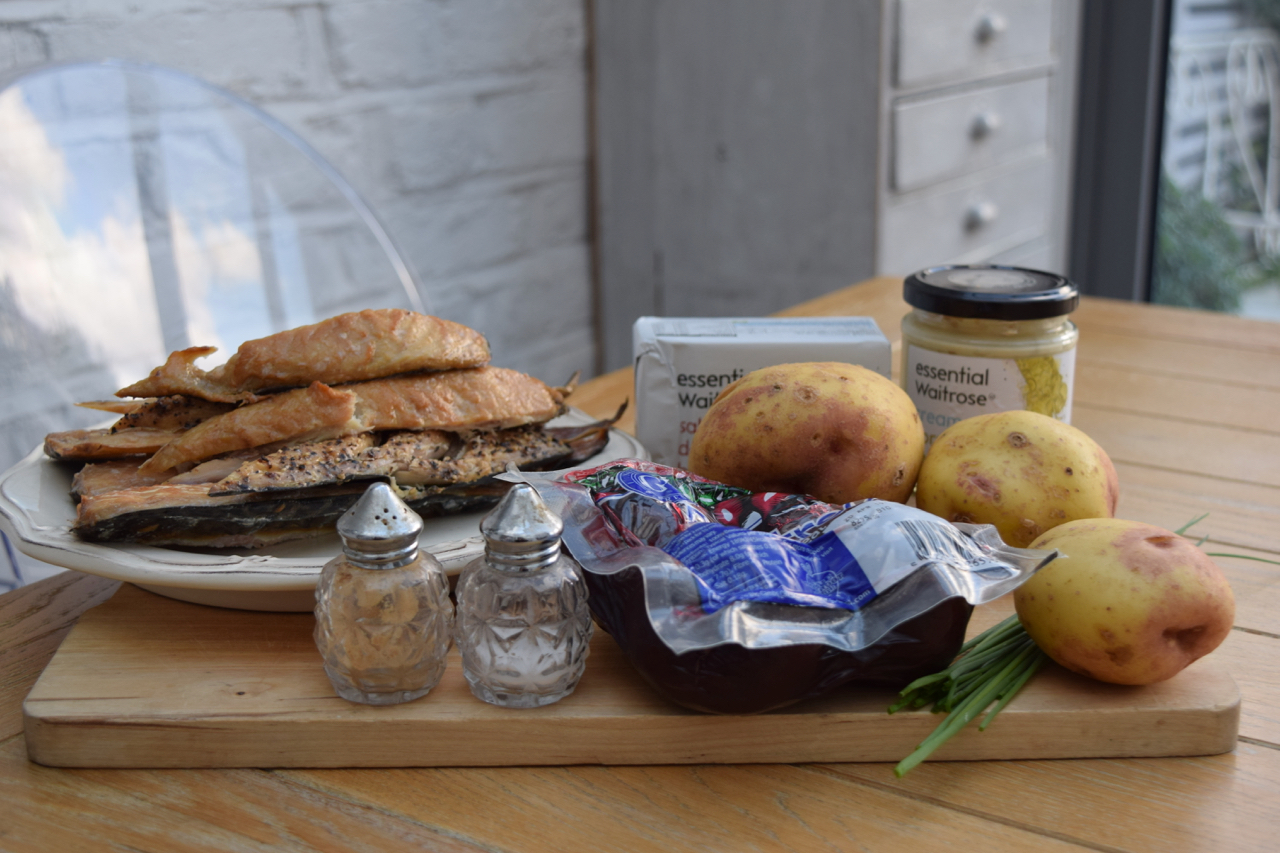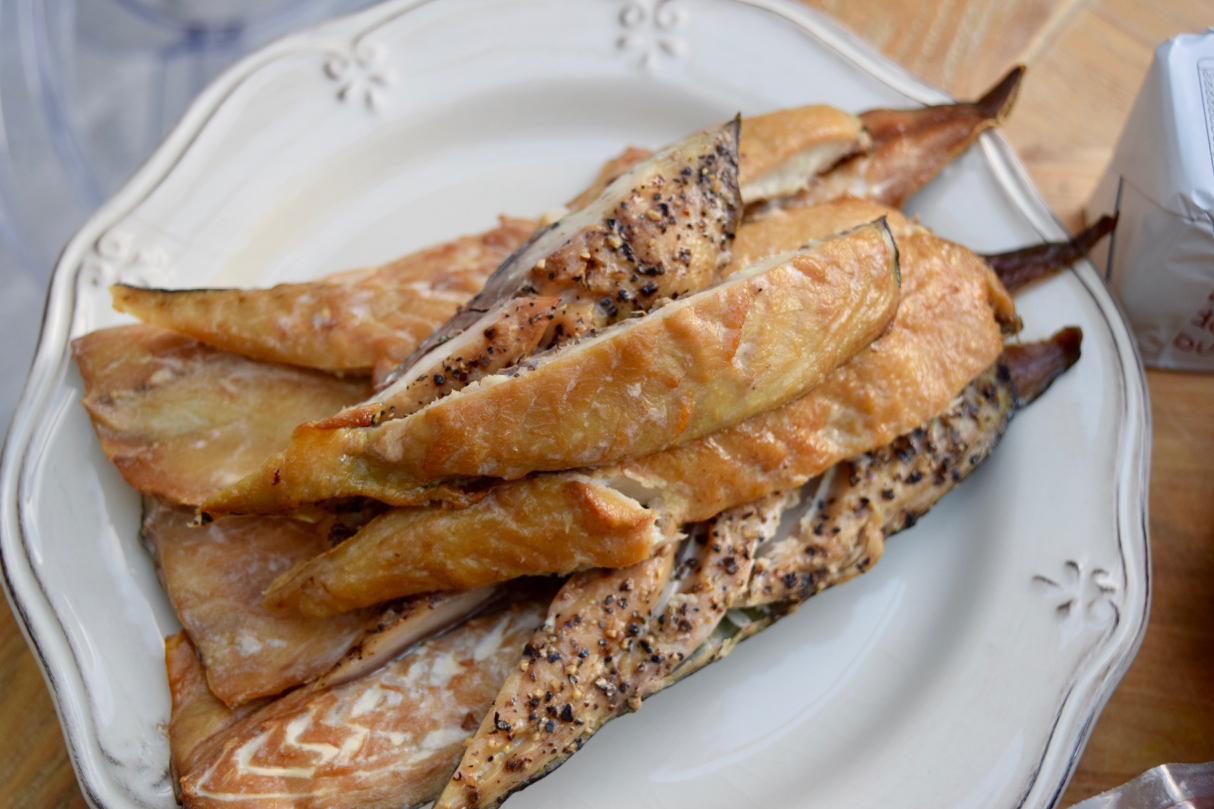 My mouth is literally watering, I love smoked mackerel so much. It's so rich and delicious, I could eat it on its own straight from the packet. And as you can see, it's really quite a modest little set of ingredients here. Simple, uncomplicated, that's me and Nigel all over.
Make a start by peeling and chopping the potatoes into even sized pieces and boiling them until just tender. This will take around 15 to 20 minutes spud dependent.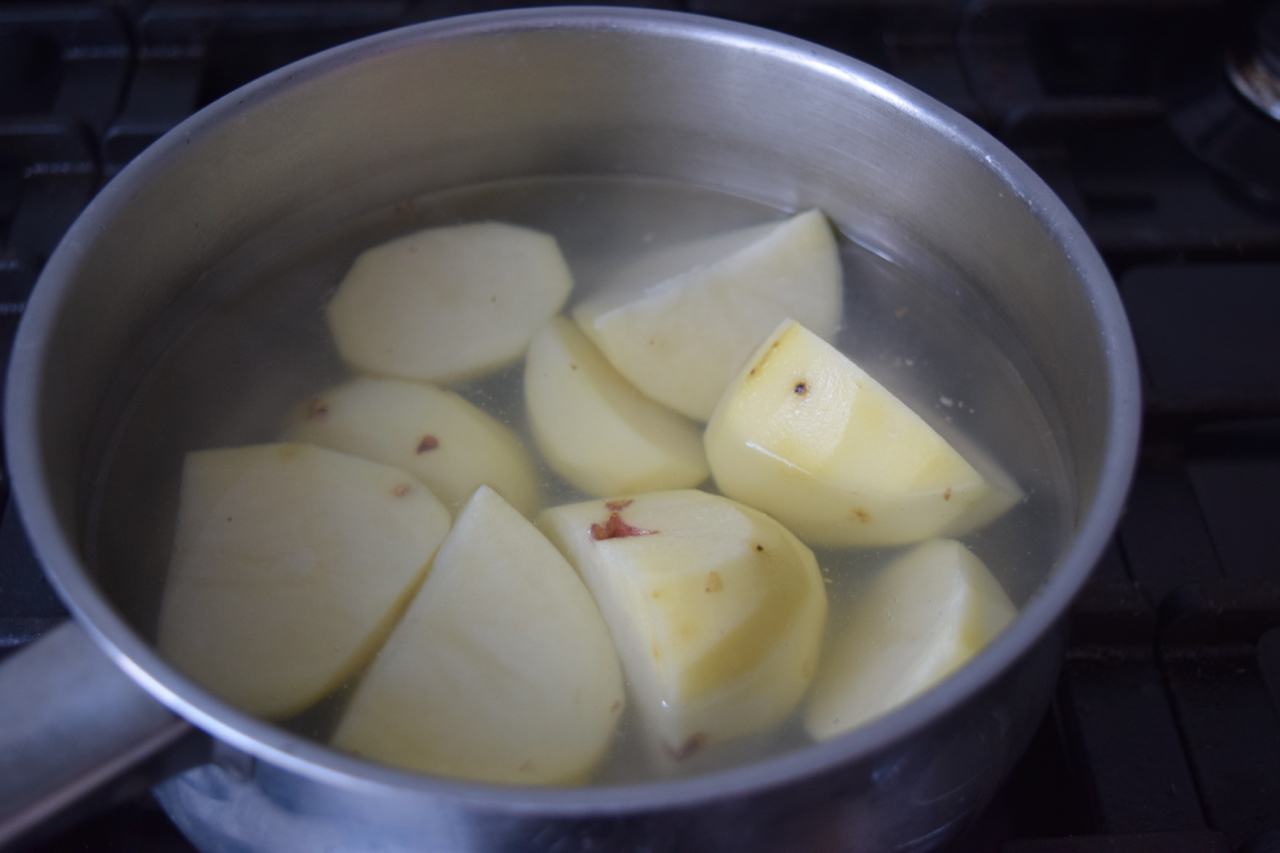 When they are cooked, drain them well then add to the bowl of your stand mixer fitted with a paddle attachment. Or, if you are going to flex your muscles just tip them back into the pan for mashing. Add the butter, and mash away.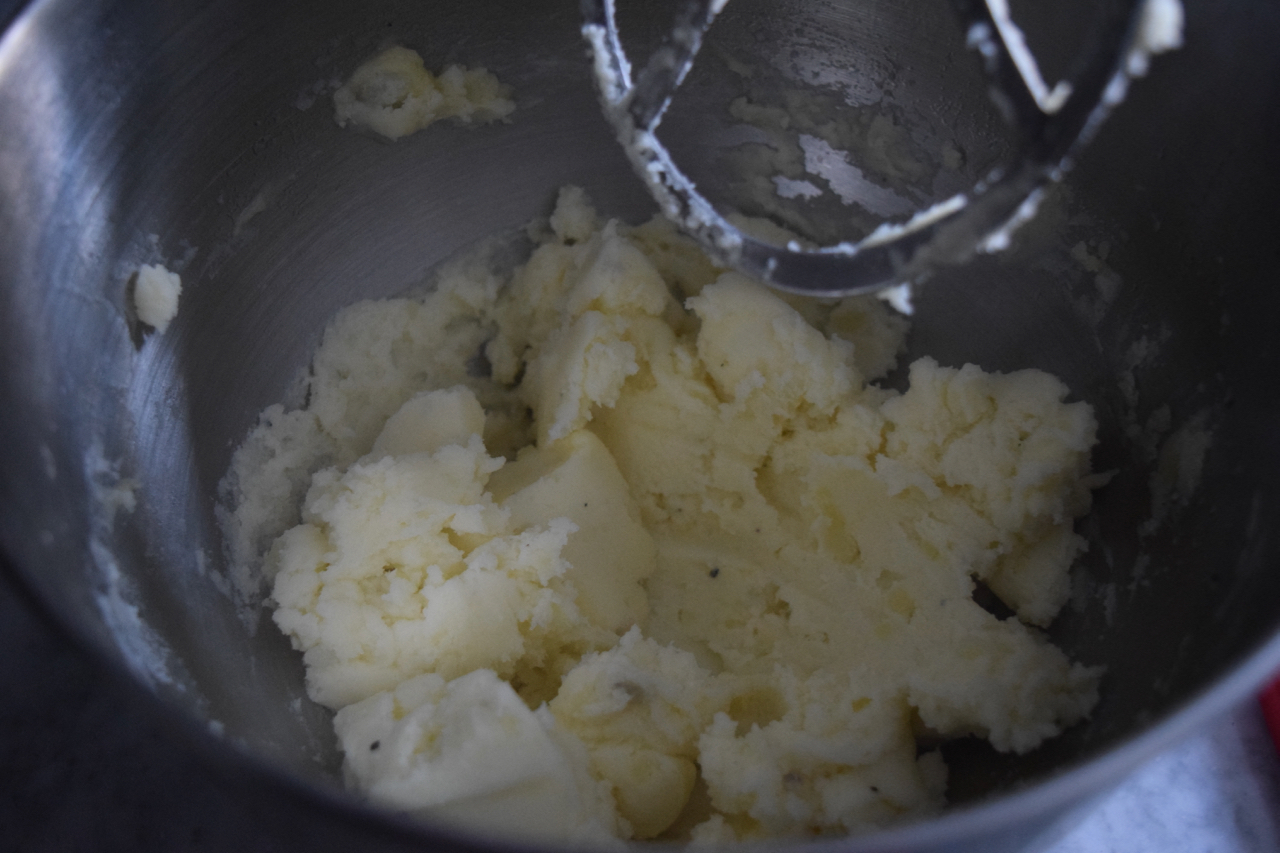 Season the potato with some black pepper then add a heaped teaspoon of horseradish. Add the chopped chives then give the whole lot a further beating.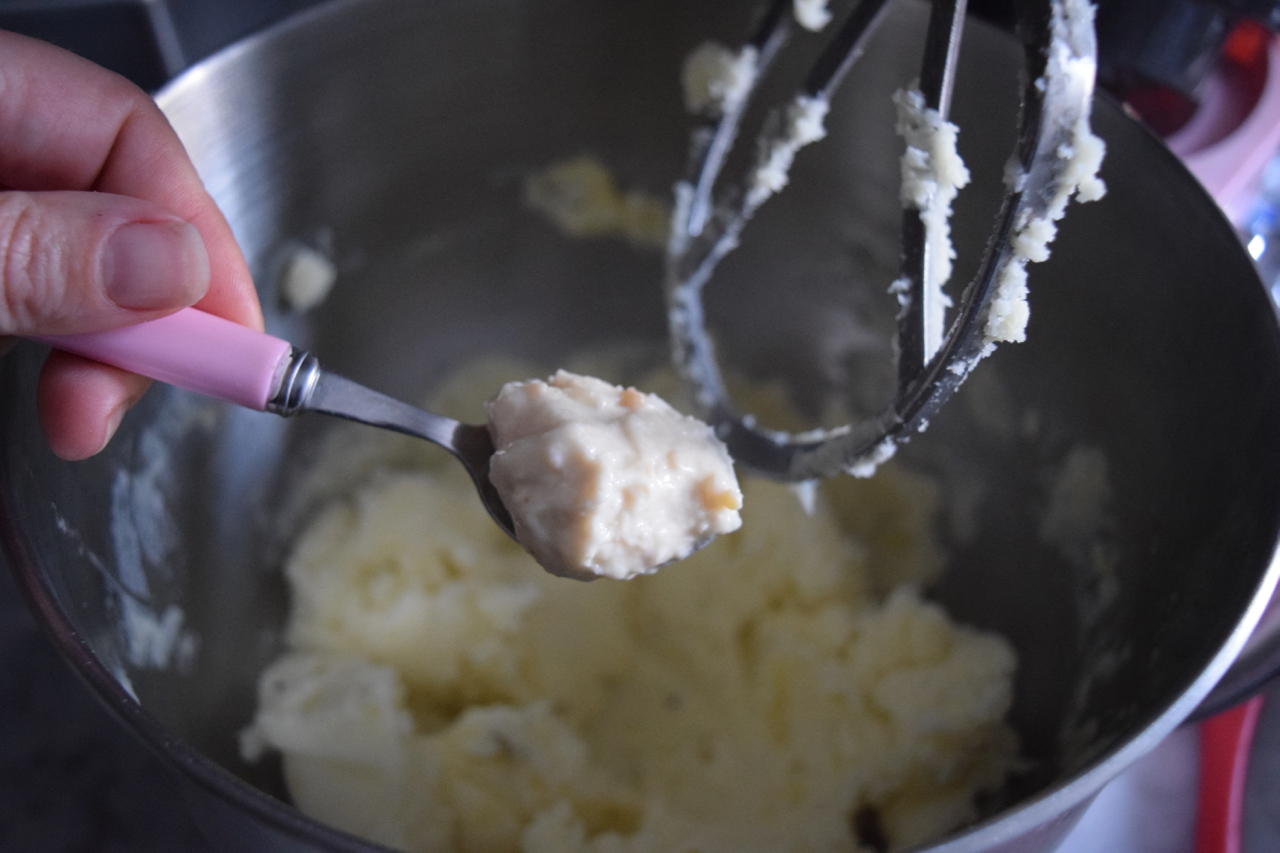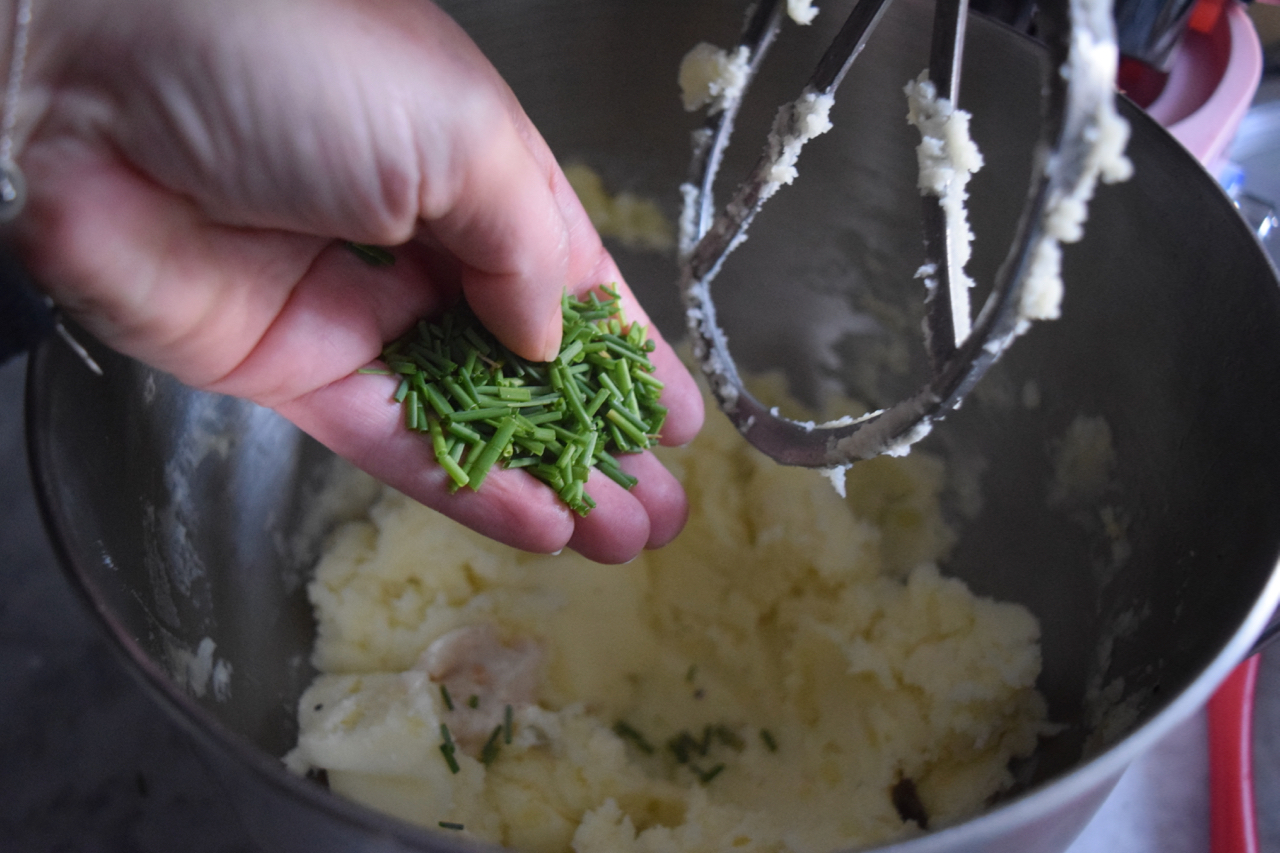 Flake your smoked mackerel, removing any bones and the skin as you do so then add this to your potato mixture.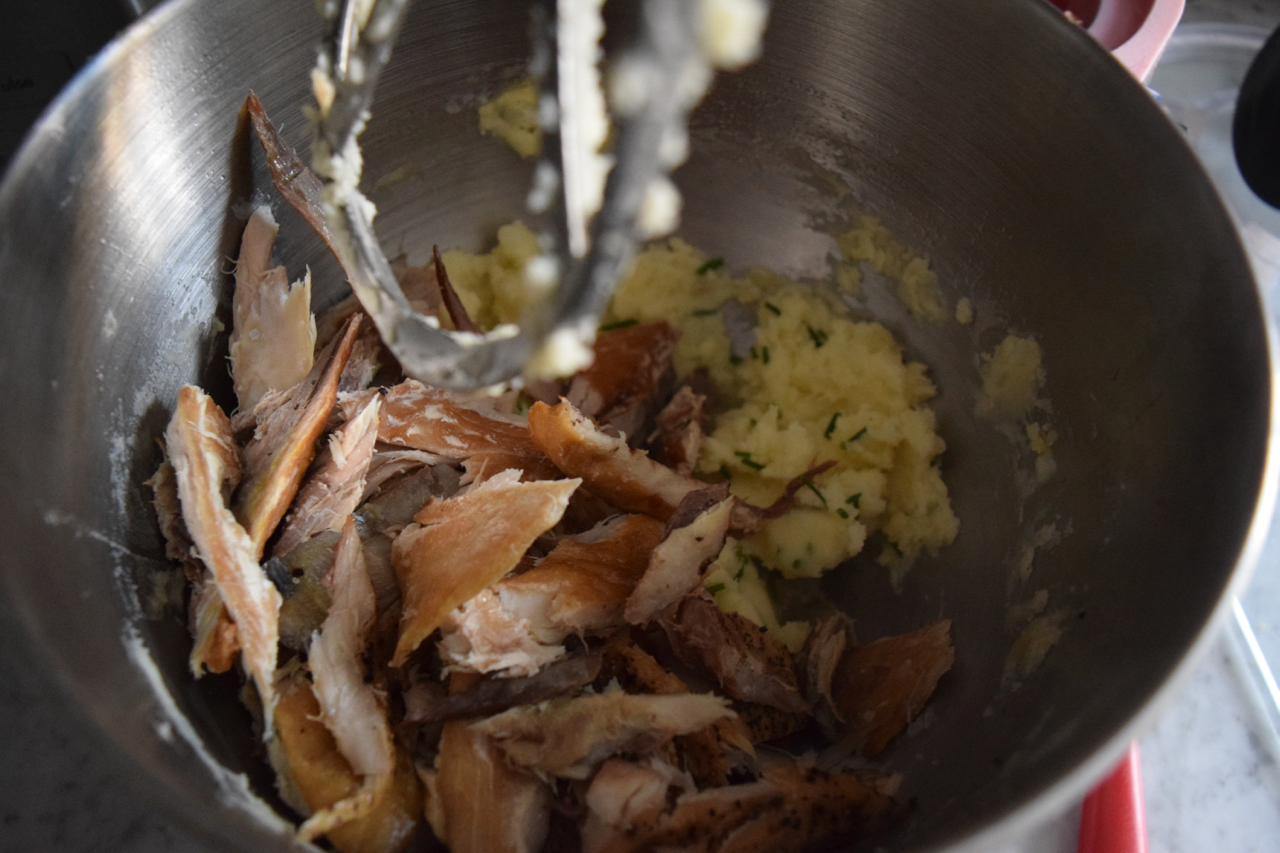 Carefully fold the fish into the potato. You don't want to mash it, just incorporate the ingredients.
While this is happening, grate your cooked beetroot then tip it into a clean cloth or strong kitchen roll. Give it a squeeze to remove most of the liquid then add the beetroot to the mixer/bowl. Again, a gentle mix is all that's needed here. You don't want to turn the whole mixture pink, just fold.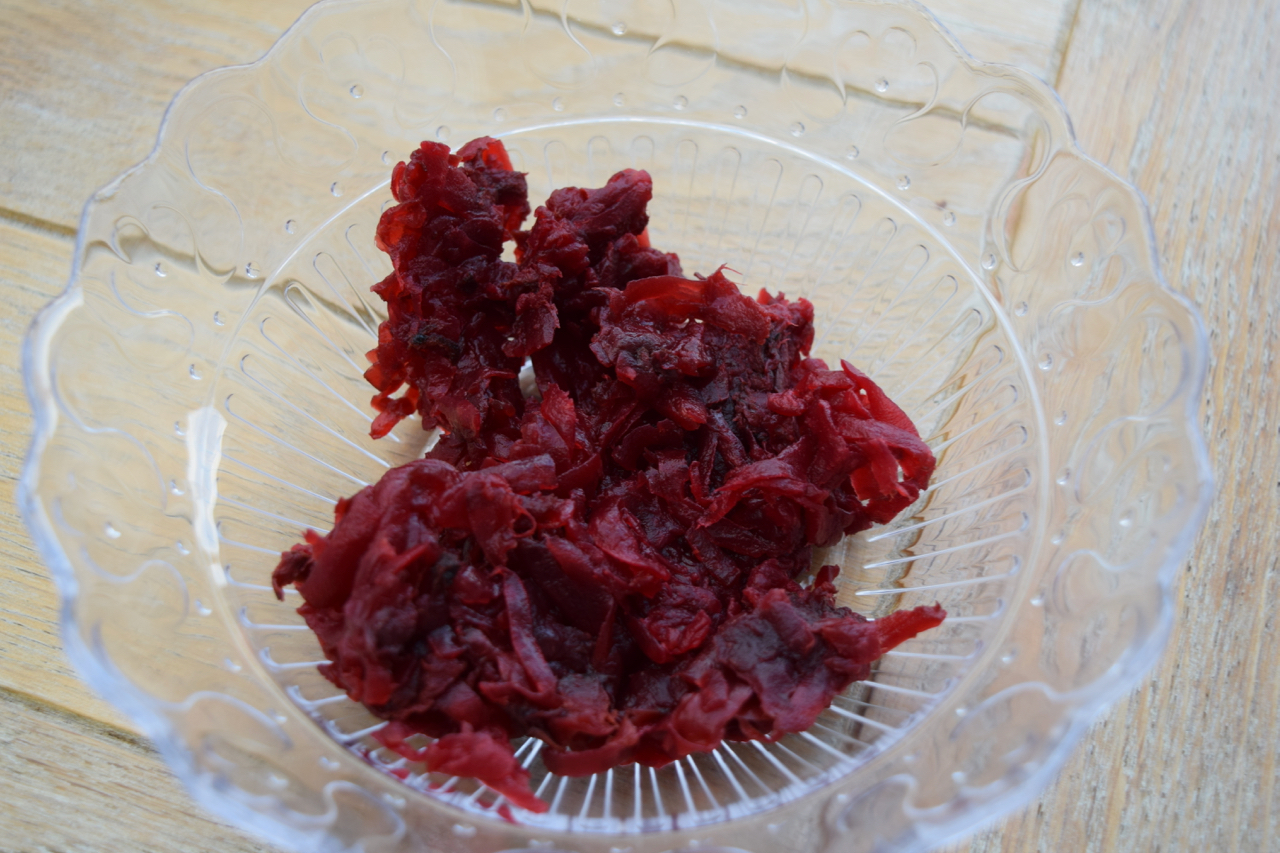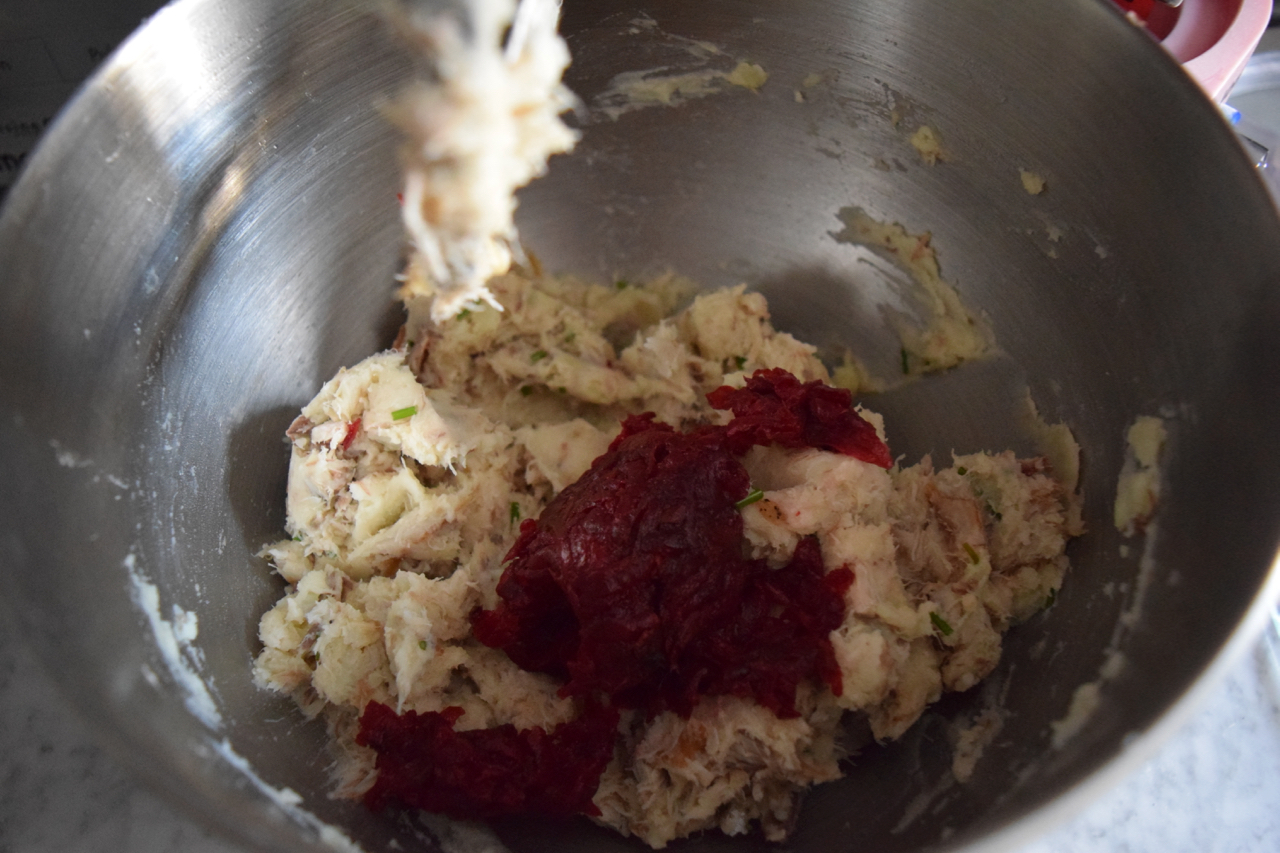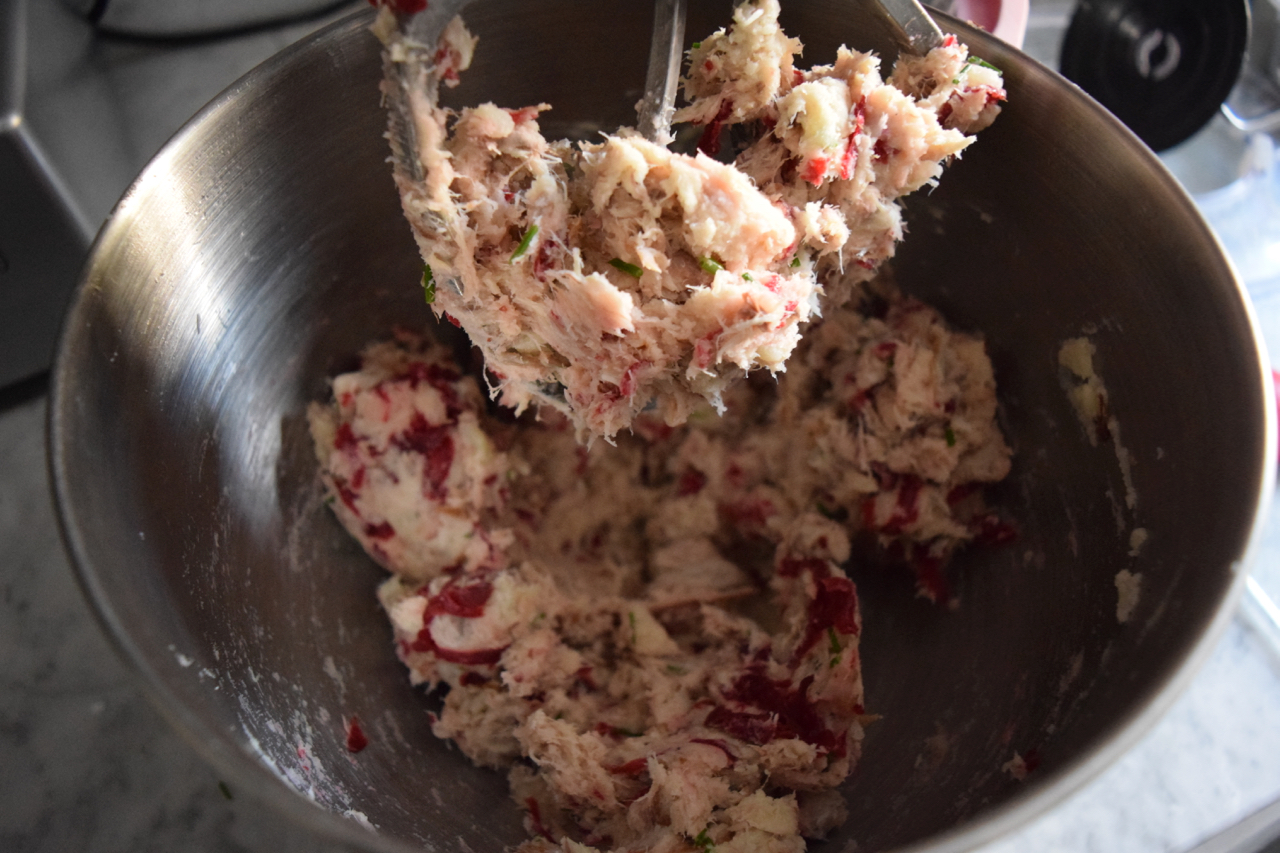 Using damp hands, fashion your mixture into 8 fish cakes. If you would prefer smaller ones, then make smaller ones. Pop them onto a lined baking tray then put into the fridge for at least an hour to firm right up.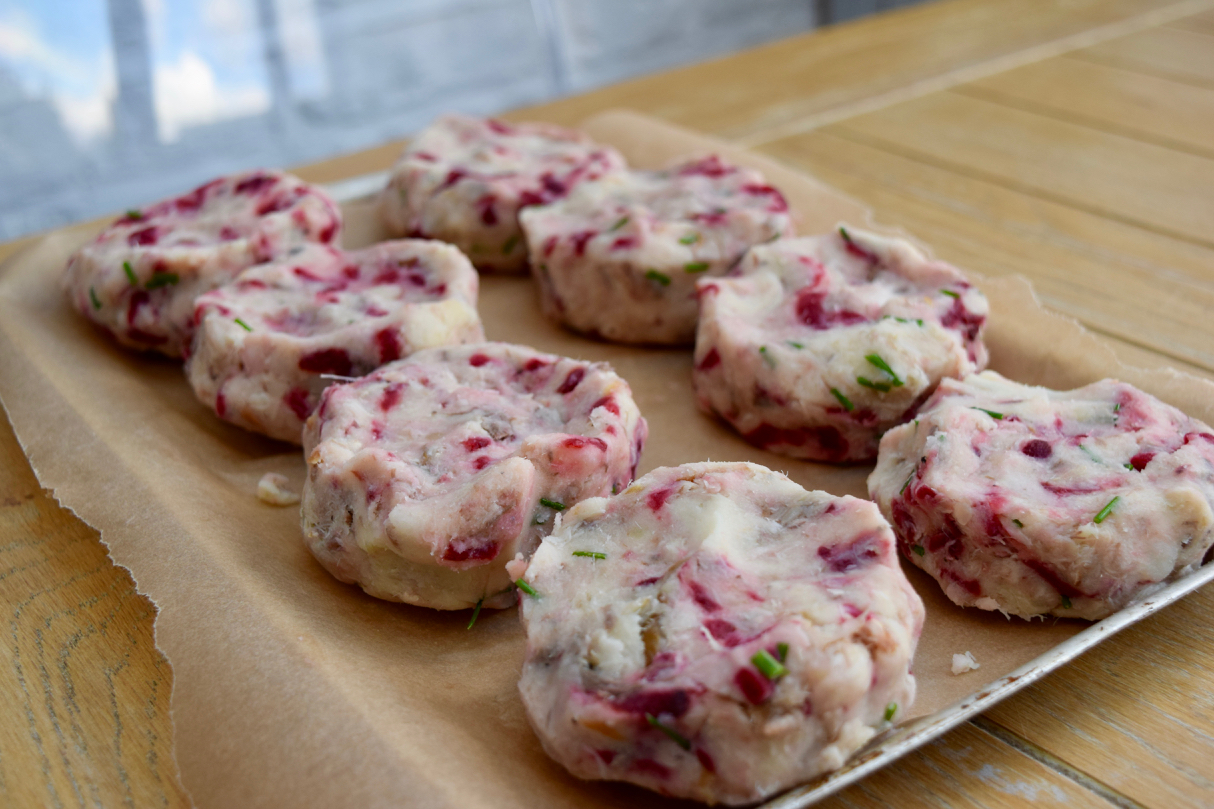 When you are ready to cook your Smoked Mackerel Fish Cakes, it's simplicity itself. Pre heat your oven to 160 degrees fan assisted and heat up enough oil to just cover the bottom of a large heavy bottomed frying pan, then add a small knob of butter. Once sizzling, add the fish cakes and cook for a couple of minutes over a high heat on each side until a golden crust forms. A short spell over a high heat is the best way to stop the fish cakes going mushy, which I learnt to my peril *fish mashed potato anyone?*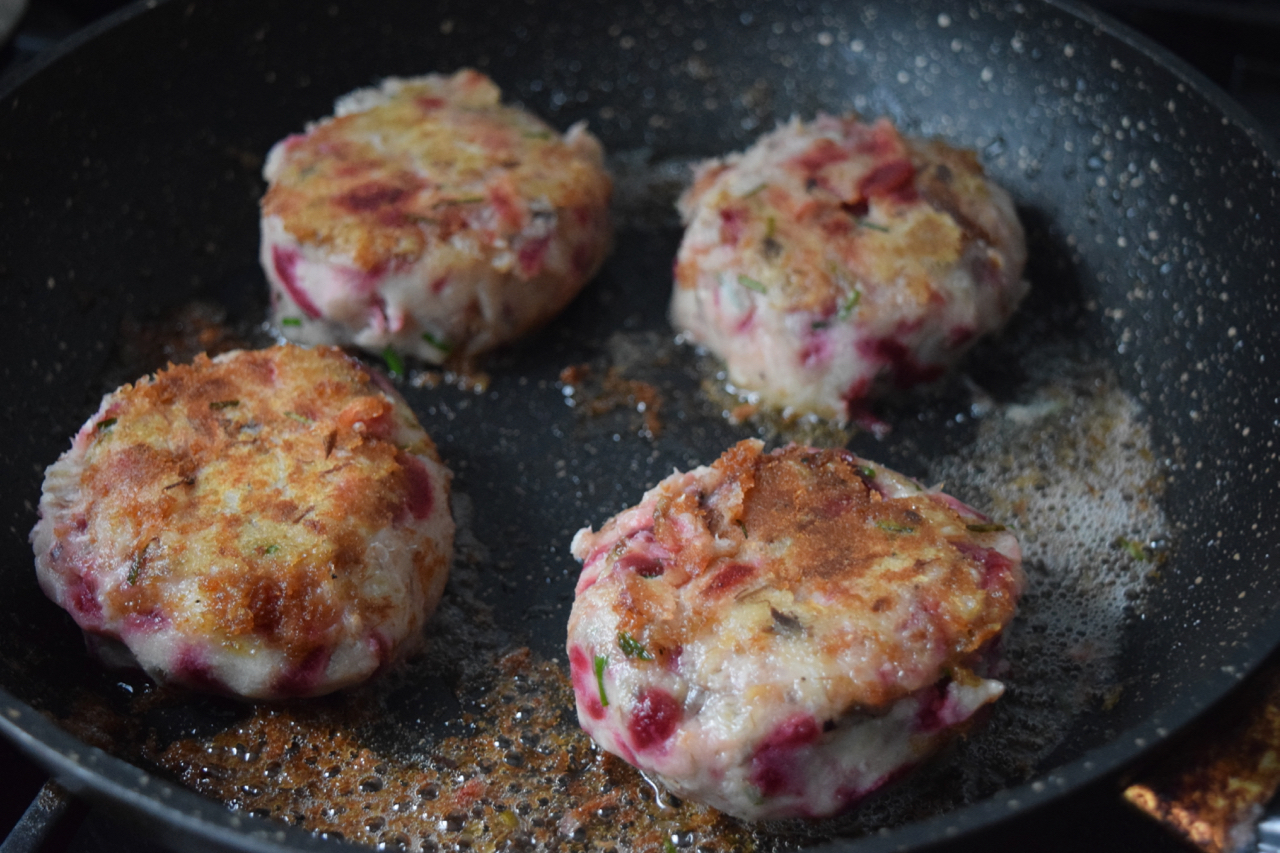 While you cook the second batch of fish cakes, pop the golden ones back on the lined pan and put into the pre heated oven to ensure they are piping hot.  Add the second batch to the pan and put back into the oven for a final blast.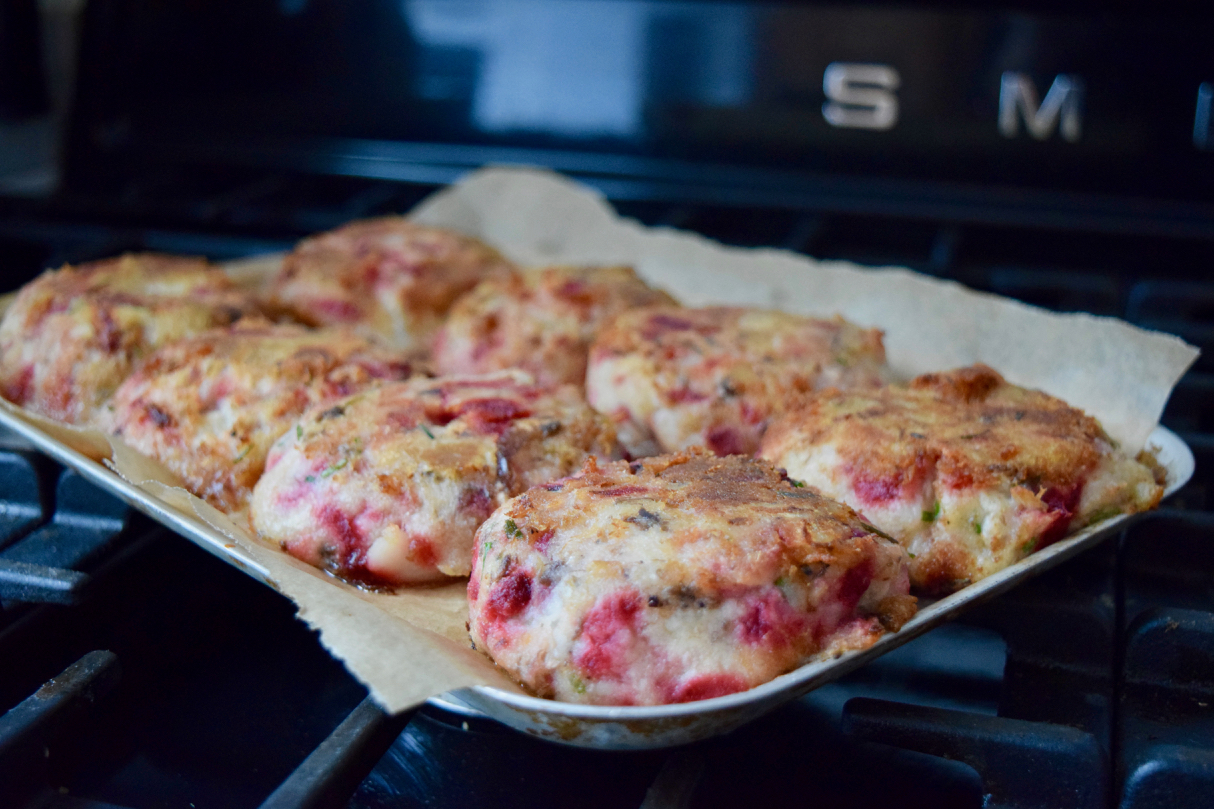 Serve these wonderful, colourful, flavourful fish cakes with something green, some chives to garnish and some sort of sauce; mayonnaise, tartar sauce or if you are me and certainly not Nigel Slater, a squirt of salad cream.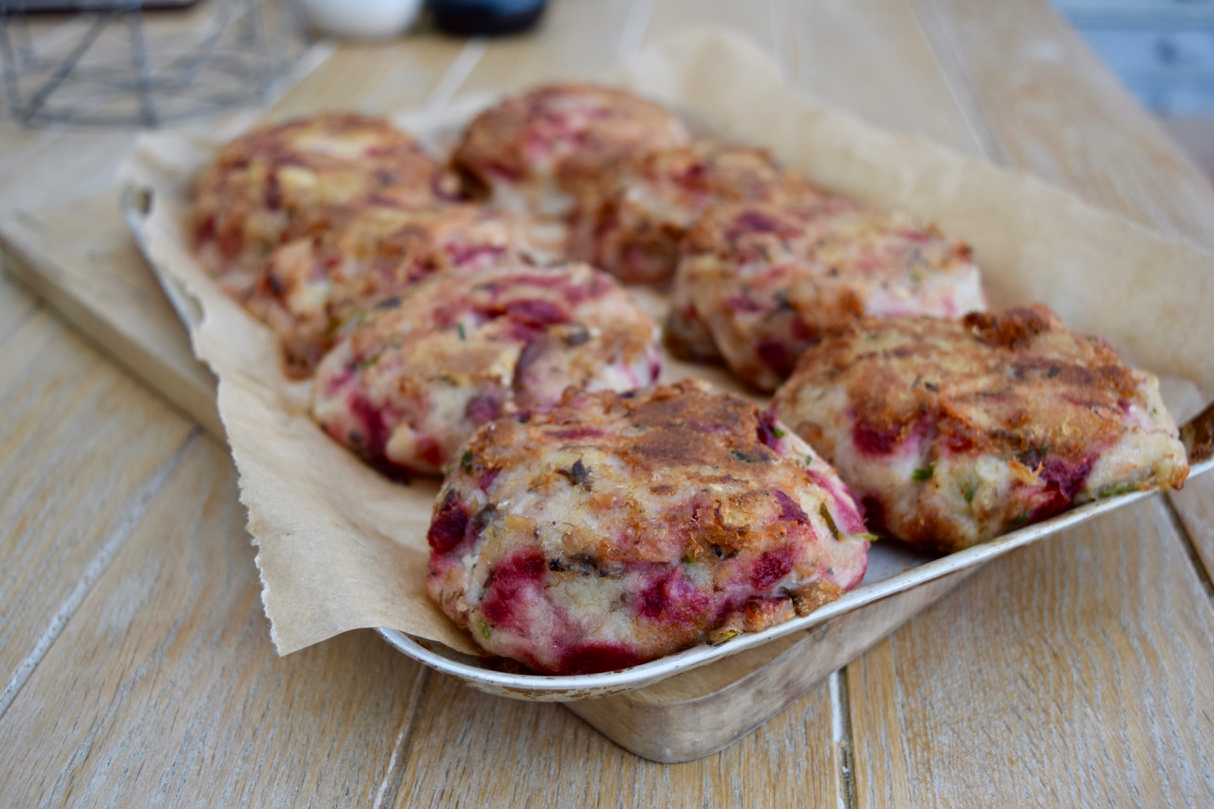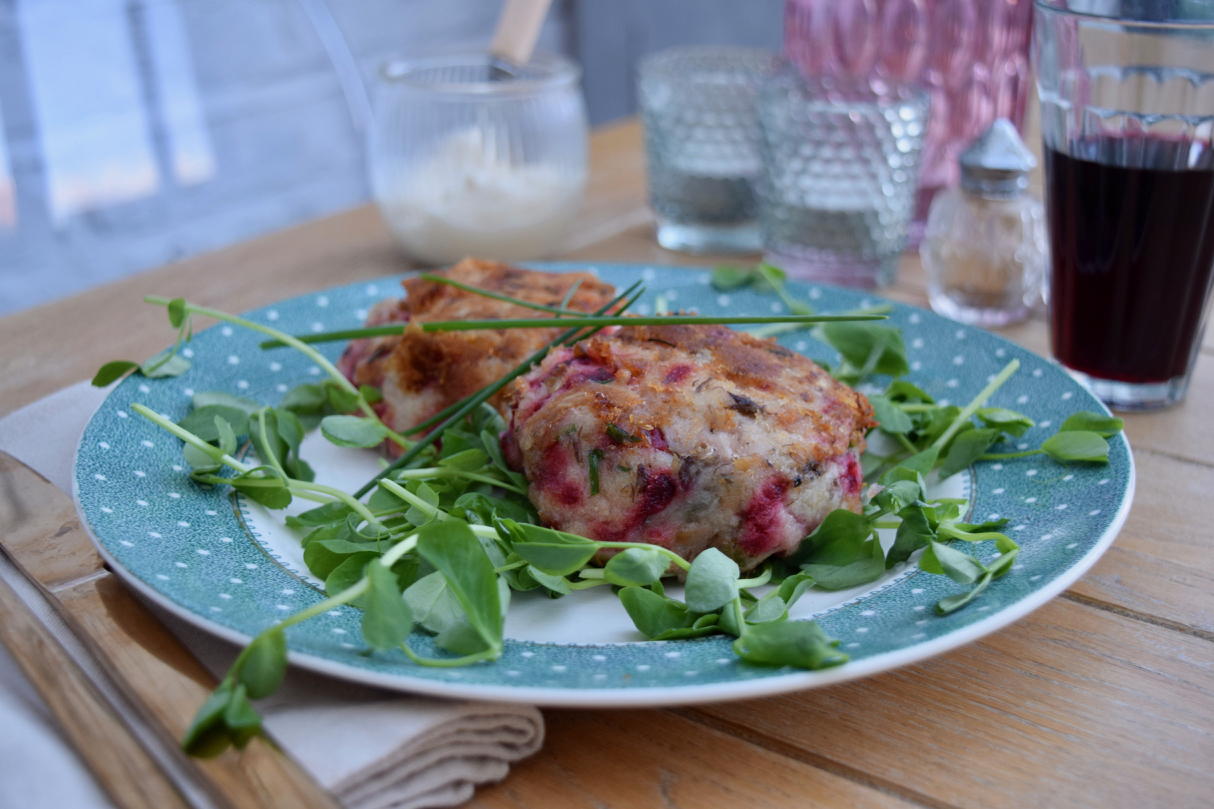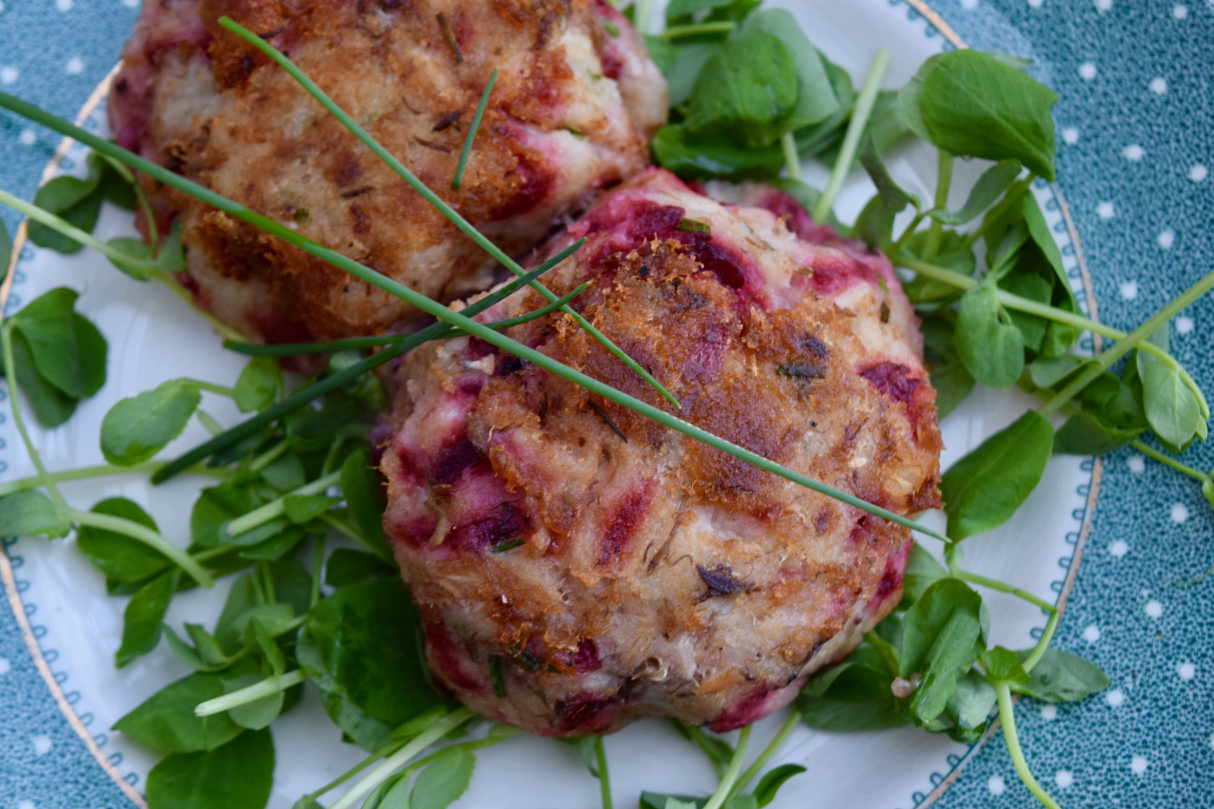 These are rustic fish cakes *imperfect* and just perfect for me and my sloppy finishing. What really matters is the taste and these are overflowing on this front.
Lucy x
Smoked Mackerel Fish Cakes Recipe
Makes 8 good sized cakes
500g potatoes, peeled and chopped
salt
50g butter
150g cooked beetroot, not in vinegar
400g-ish smoked mackerel fillets, skinned and flaked, a little less or a little more won't hurt
1 heaped teaspoon horseradish sauce
2 tablespoons chopped fresh chives
Black pepper, to taste
Oil and a knob of butter for frying
Some sort of leaves or green vegetables to serve and extra chives as a garnish and mayo or tartar sauce
Peel and chop your potatoes and add to a pan of water. Bring to boil and cook for around 15 minutes or until just soft. Drain well then add to the bowl of your stand mixer or back in the pan with a masher. Process with a paddle attachment or just mash until smooth with the butter. Season with some black pepper then stir in the chopped chives and horseradish.
Drain your cooked beetroot, I used the vacuum packed kind, and grate into a bowl. Tip them onto a clean tea towel or strong kitchen roll and squeeze until most of the water has been removed.
Tip the flaked smoked mackerel into your potato mixture, mix gently, then finally add the drained grated beetroot and give it a final gentle stir until just combined.
With damp hands to prevent any stickage, fashion the mixture into 8 good sized fish cakes. Place onto a lined plate or tray and place into the fridge to chill for around an hour.
When it comes to cooking your fish cakes, pre heat your oven to around 160 degrees fan assisted. Take a good sized frying pan and add some oil and a knob of butter. Just enough oil to lightly cover the bottom of the pan. Heat it over a medium flame, when sizzling, add the fish cakes. I cooked 4 at a time. Cook for a couple of minutes on each side until a golden crust has formed. Be careful not to over cook them or they will go mushy. Place them onto alined oven tray and pop into the oven to heat through while you brown the other fish cakes. Give them a final 5 minutes in the oven to ensure they're piping hot.
Serve these fish cakes with some leaves or greens and some mayo or tartar sauce.