Raw Cauliflower and Broccoli Salad Recipe
My summer holiday is two months away and even though I hate dieting and am absolutely terrible at it, I feel I need to start taking a hold of my eating habits. Again. Diets make me eat more rather than less as denial is a swear word to me. The minute I start telling myself I shouldn't eat something, I'll eat tons of it. I am going to attempt some sensible eating, for a change, involving less sugar, more vegetables and lots of tasty food to distract me. One recipe I have on repeat at the moment is this Raw Cauliflower and Broccoli Salad, but don't be put off, this is no ordinary salad, this is one you'll actually want to eat.
This salad is, and I don't want to sound like an M&S advert, no ordinary salad. Yes it has cauliflower and broccoli for tons of vitamins and crunch, but next in are some protein rich treats to make this a salty and sweet dream of a summer dish. Strong cheddar adds taste, dried cranberries add sweetness and crisp bacon just makes you want to eat this everyday. The dressing is a simple mix of mayonnaise, apple cider vinegar and maple syrup for an unrefined sugar touch. You can make this a vegetarian dish by leaving out the bacon, and swap in and out any other bits and bobs as you see fit. It is with huge thanks to Valentina's Corner for the inspiration for this NBF of a salad.This Raw Cauliflower and Broccoli salad makes a hoofing great big bowlful; therefore making it a great recipe to make and pack into jars to liven up your desk lunch routine.
I can happily admit I've been enjoying this for lunch for the last couple of weeks. I may have to attend raw salad anonymous meetings if my addiction continues.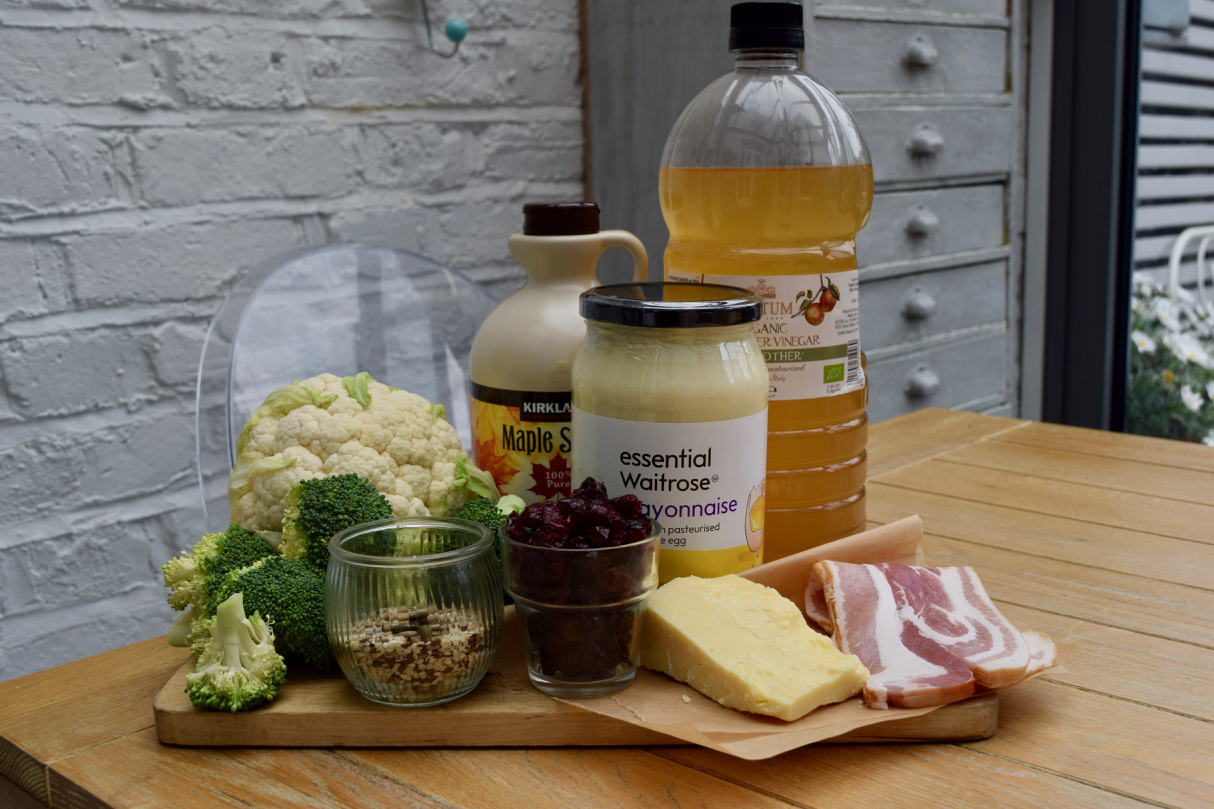 Bloody hell, the Costco apple cider vinegar is still going strong, only another 2 litres to go. All these ingredients go so brilliantly together, I don't know why I didn't think to make this wholesome, raw salad before.
Start with the bacon, if you're using. I heated a small frying pan then snipped up my bacon with scissors into small pieces and cooked until crisp and smelling mouthwateringly good.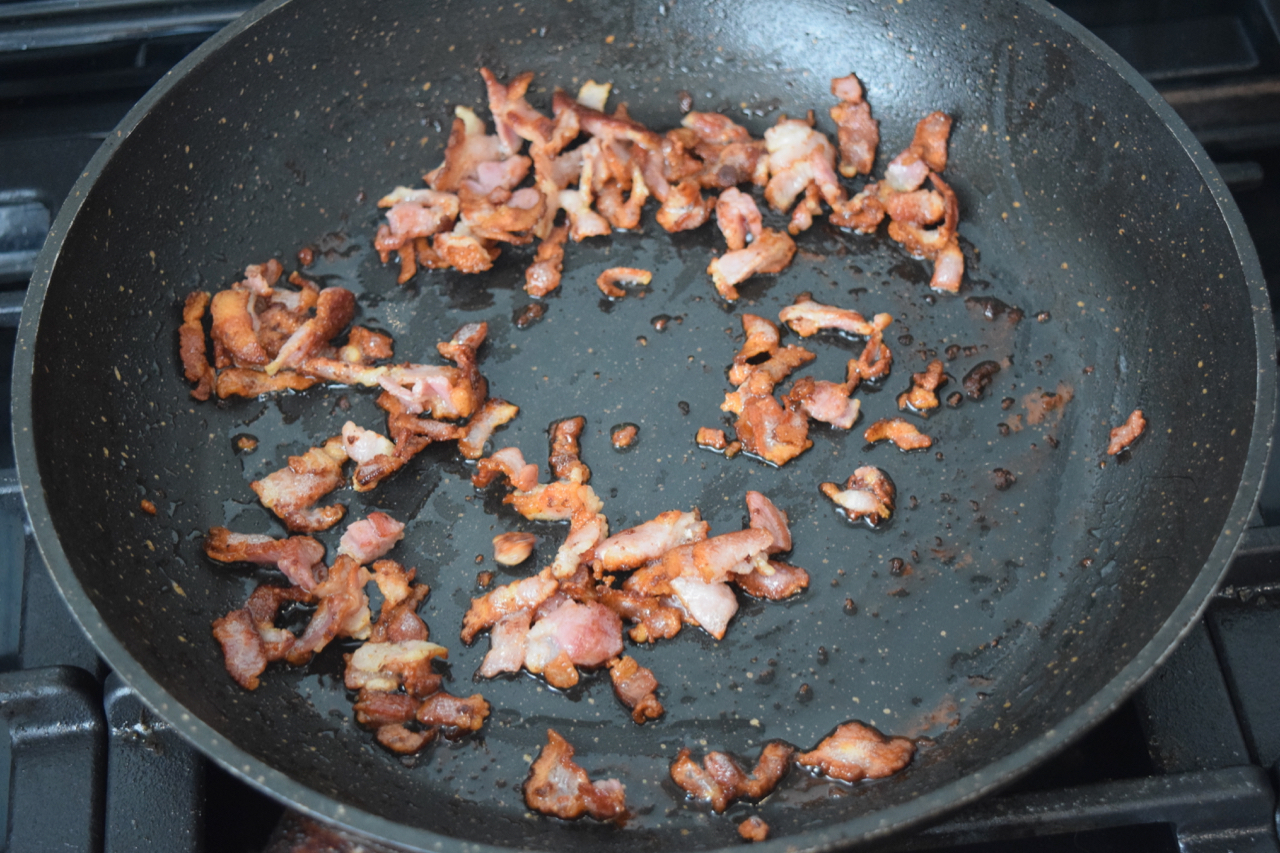 Drain this onto some kitchen paper and leave to cool, while you march on with the salad.
De-stalk and de-foliage the cauliflower and roughly chop into bitesized pieces. Do the same with the broccoli. I chopped some of the broccoli stalks too as they're sweet and crisp. Toss these into a huge bowl.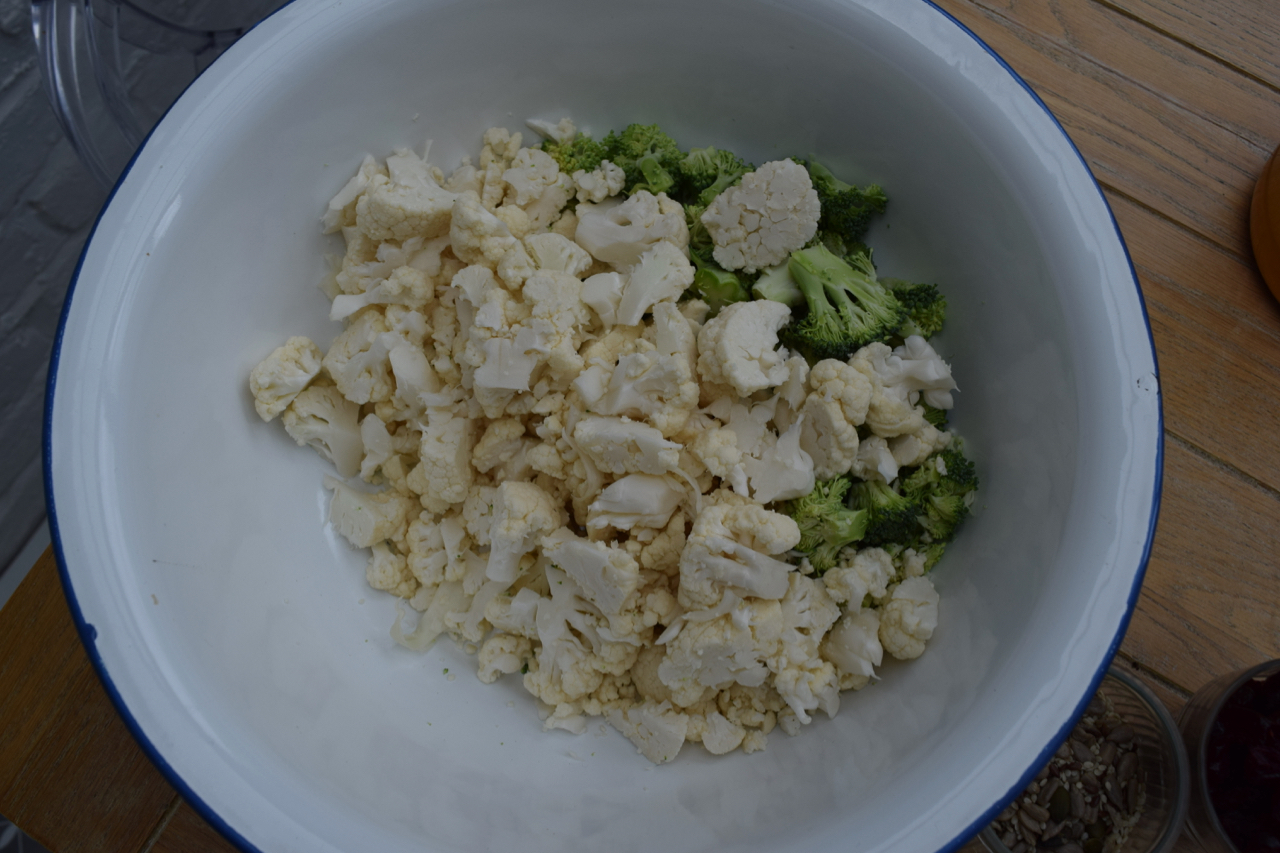 Tip in the seeds of your choice, I had a mixed bag, and then the dried cranberries, or raisins, if you must.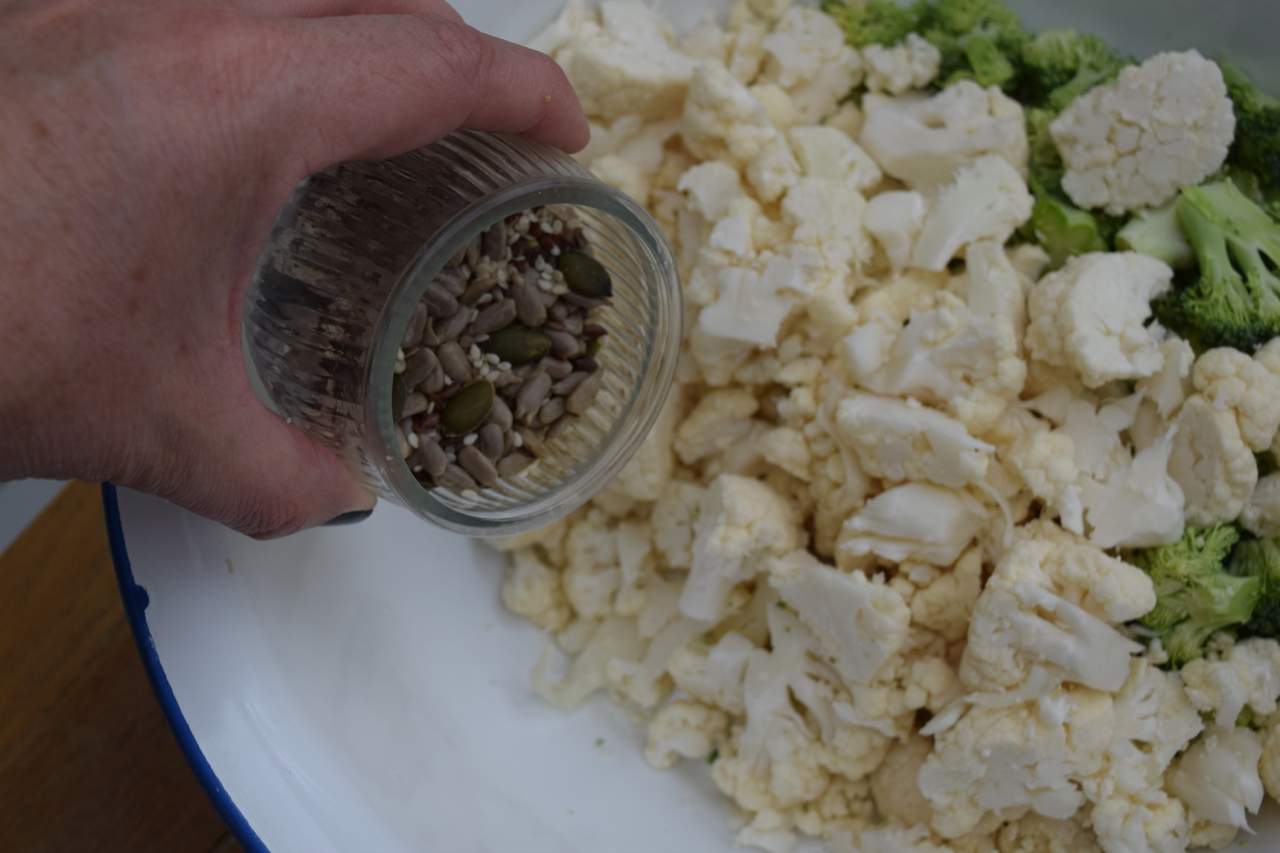 Grate the cheese then add this to the bowl along with your cooled, crisp bacon pieces.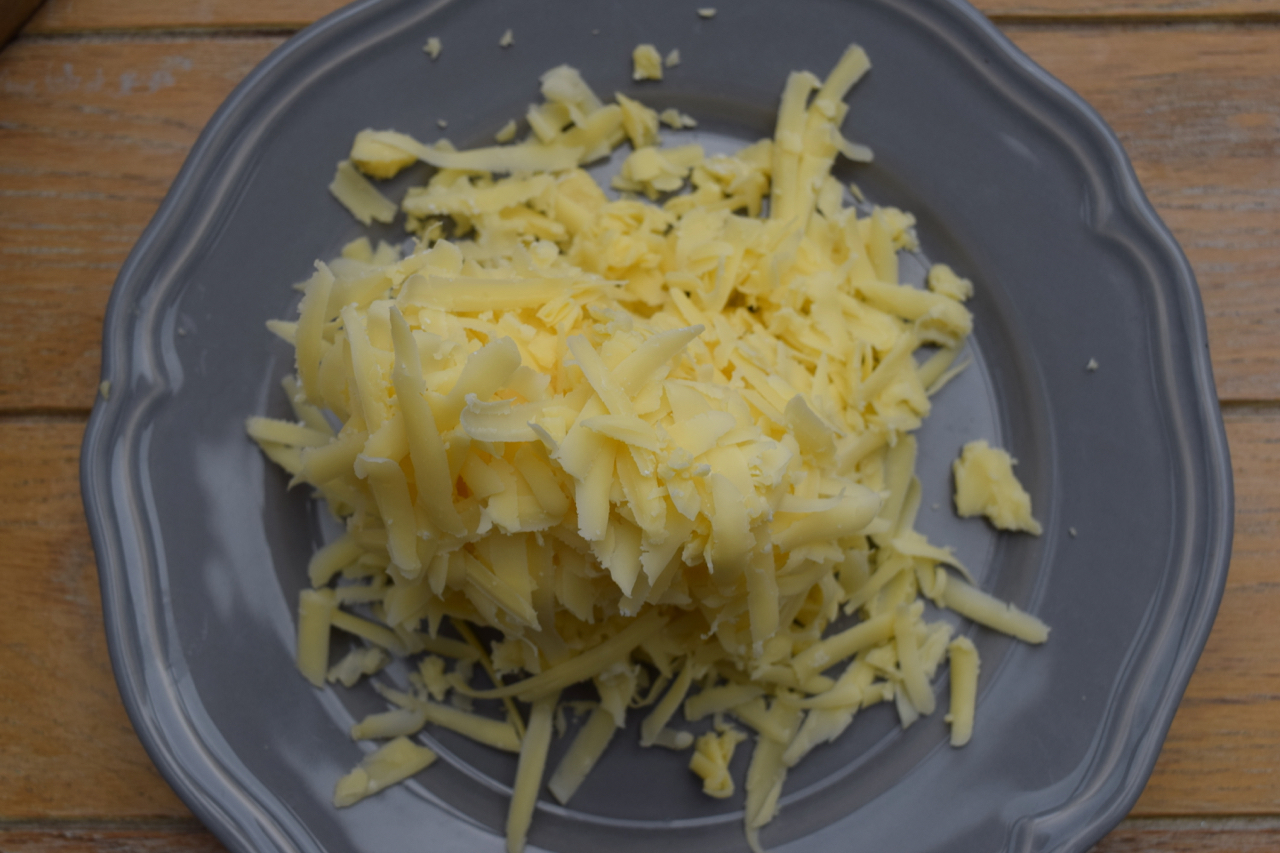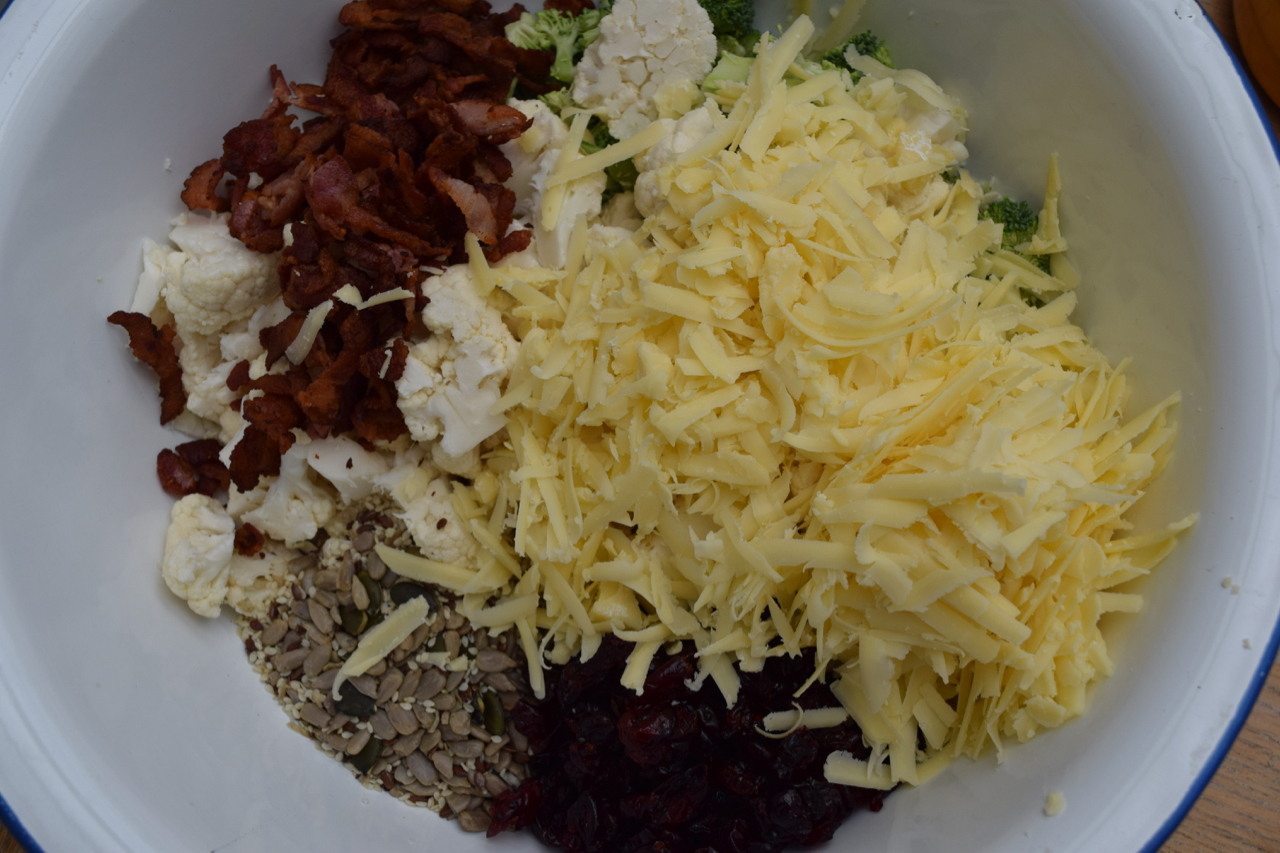 Give this all a good toss together and then soldier on with the no effort dressing.
Measure the good quality mayonnaise, vinegar and maple syrup into a jug or bowl. Give it a little whisk to combine and season well with salt and pepper.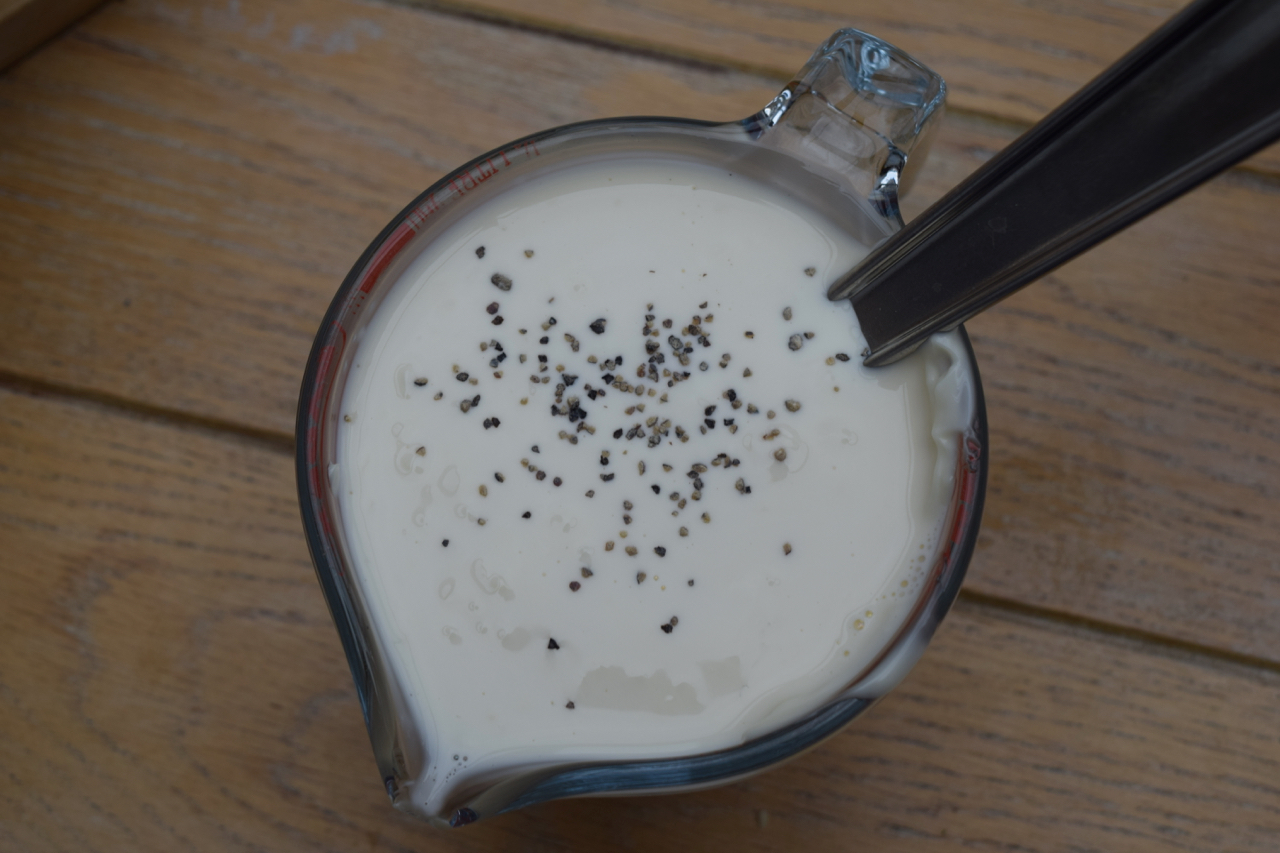 Pour this tasty dressing over your huge bowl of salad ingredients and give it an almighty stir.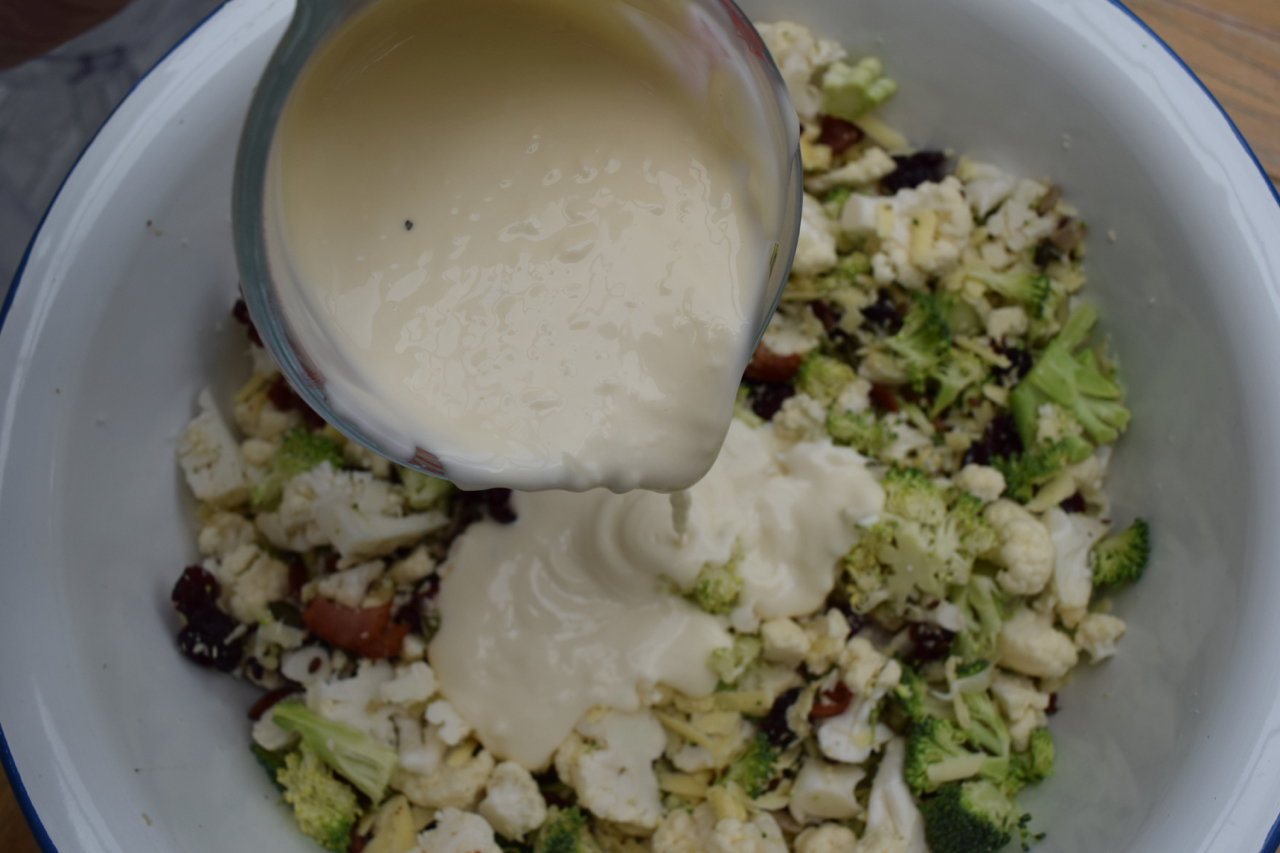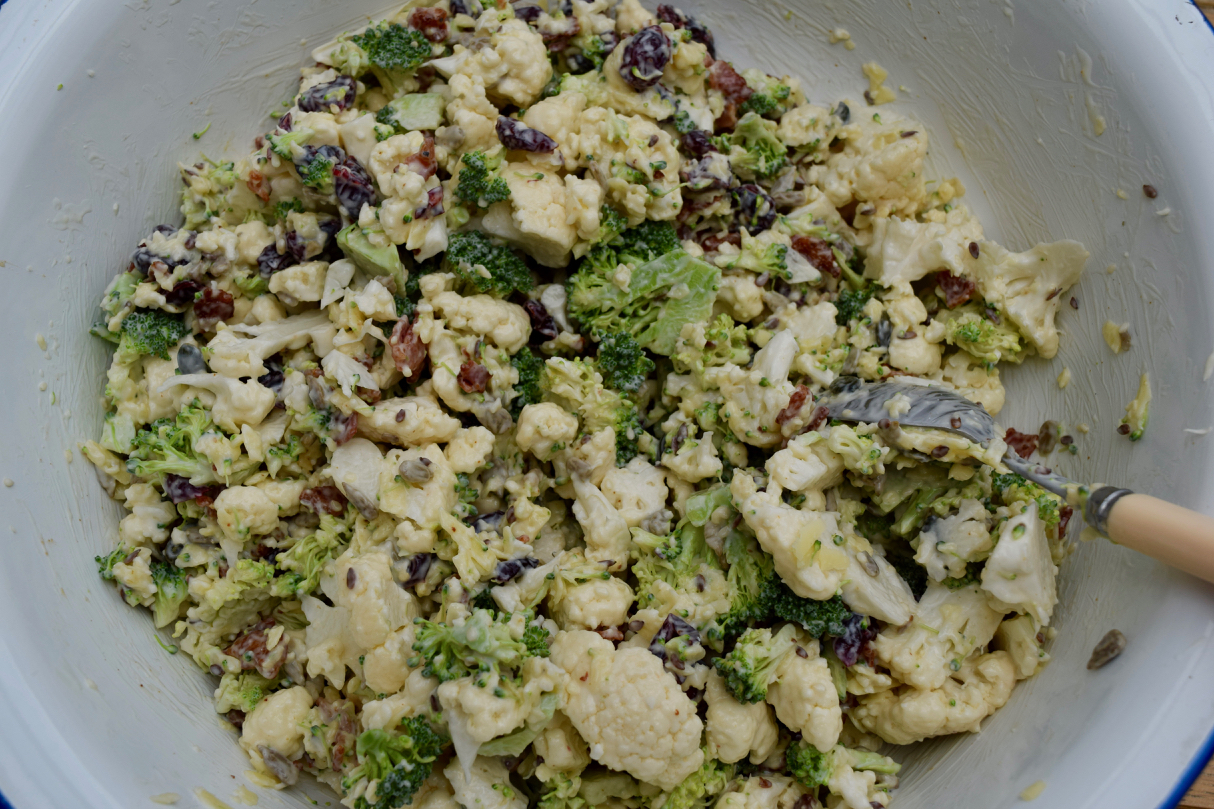 Even though this isn't a prize winner for looks, it takes the gold for taste. Serve this as a main course lunch or as a side dish to any summer barbecue you may have, if it ever warms up.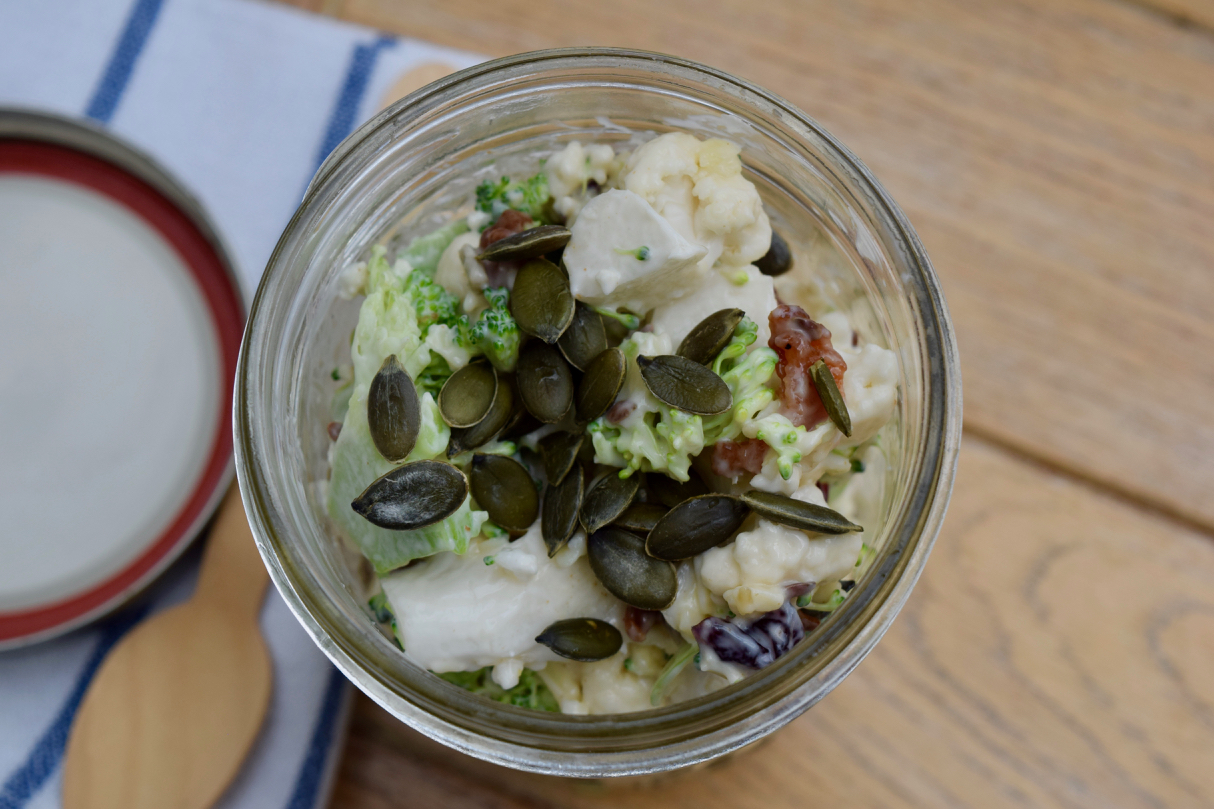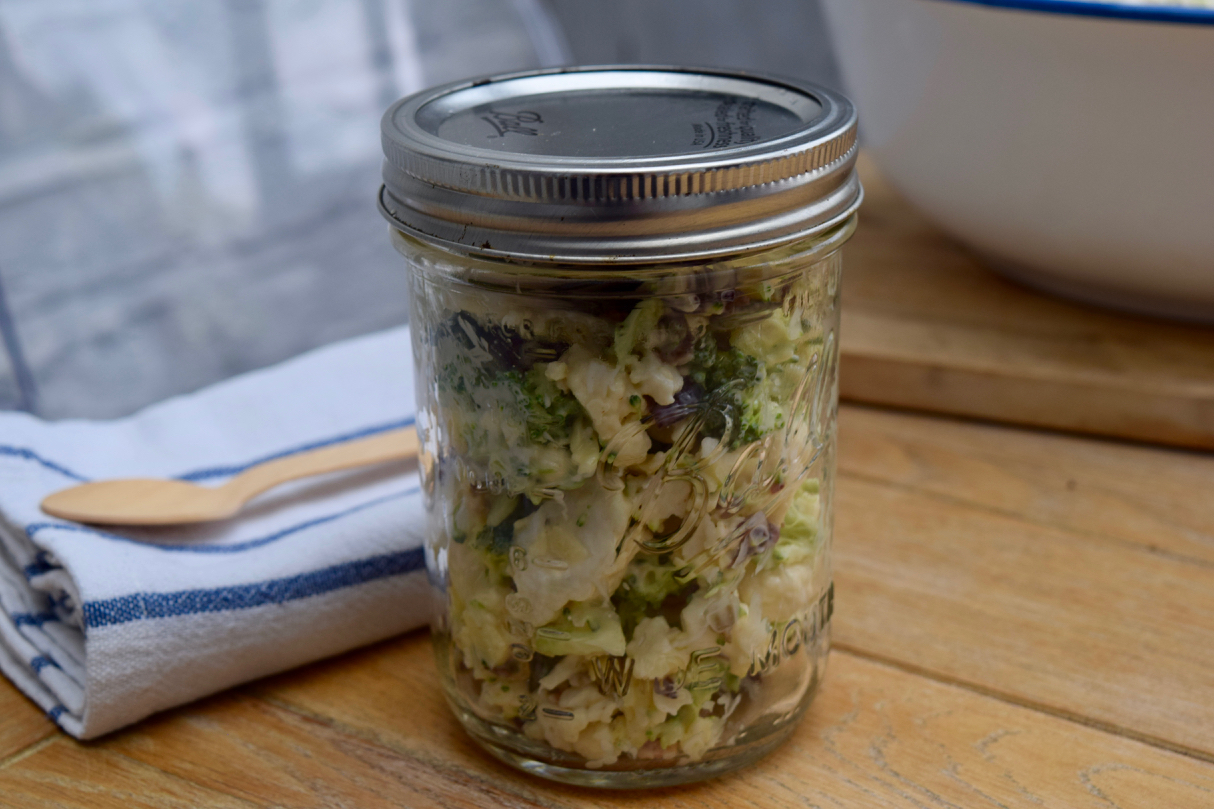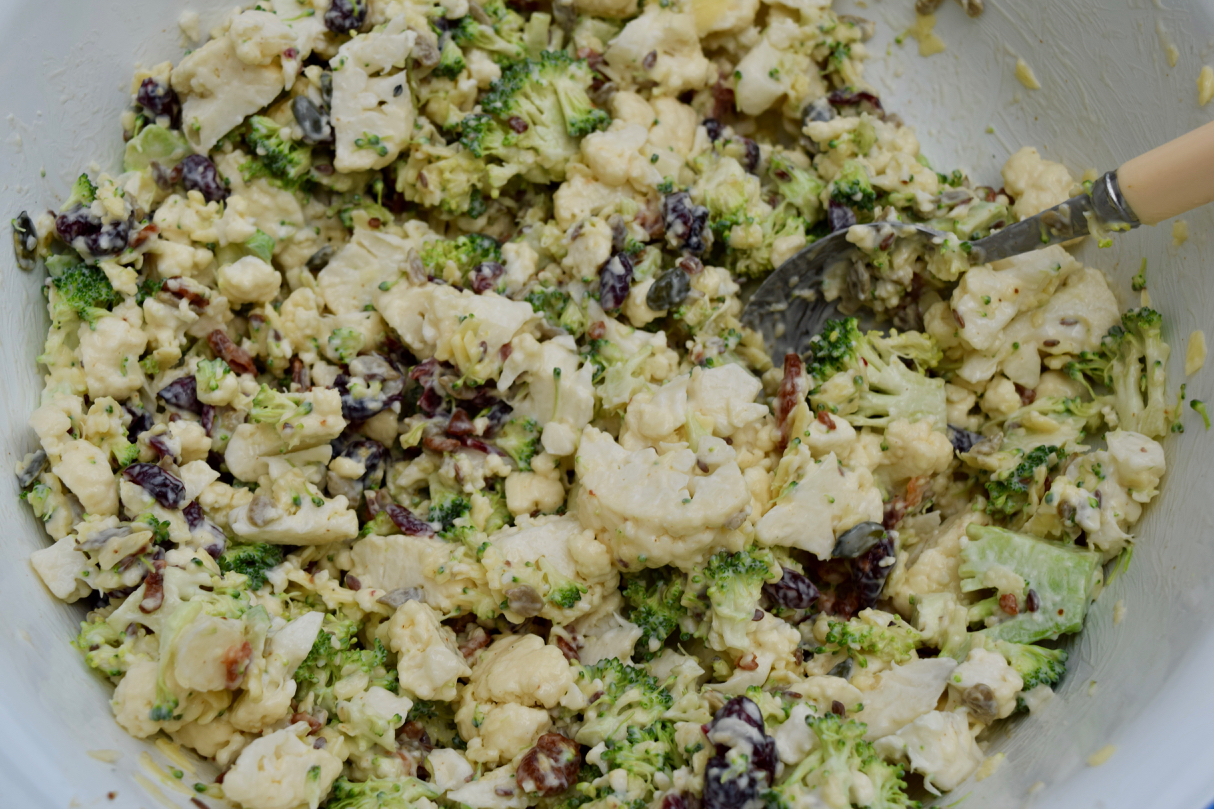 Coming from a really bad dieter, this low carb, low sugar, high protein salad is so good, while still being good for you, but doesn't taste like it is. Am I making any sense at all?
Lucy x
Raw Cauliflower and Broccoli Salad Recipe
Serves at least 6
You won't need any complicated equipment, just knives and a bowl
Salad
6 rashers streaky bacon
Small cauliflower, or 3/4 of a bigger one
200g broccoli
60g seeds, mixed, pumpkin, sunflower, you choose
80g dried cranberries
100g grated cheese
Dressing
200ml good mayonnaise
40ml vinegar, the apple cider type is good
1 tablespoon maple syrup or honey
Salt and pepper
Extra seeds to garnish
Take a small frying pan, pop on the hob over a high heat, snip the streaky bacon into small pieces and add to the pan. Fry until crisp and golden, around 4 to 5 minutes, then drain on kitchen paper and leave to cool.
For the salad, remove the leaves and stalk from the cauliflower and roughly chop into small pieces. Add to a large mixing bowl. For the broccoli, trim the stalk then chop the head and the stems into small pieces. Add to the bowl with the cauliflower.
Grate the cheese then add to the bowl with the seeds, cranberries and cooled bacon.
For dressing, use a small whisk to mix the mayonnaise, vinegar and maple syrup until smooth. Season with salt and pepper, to taste.
Pour all the dressing onto the salad, stir well then serve in a large bowl or pack into jars for a delicious desk lunch.