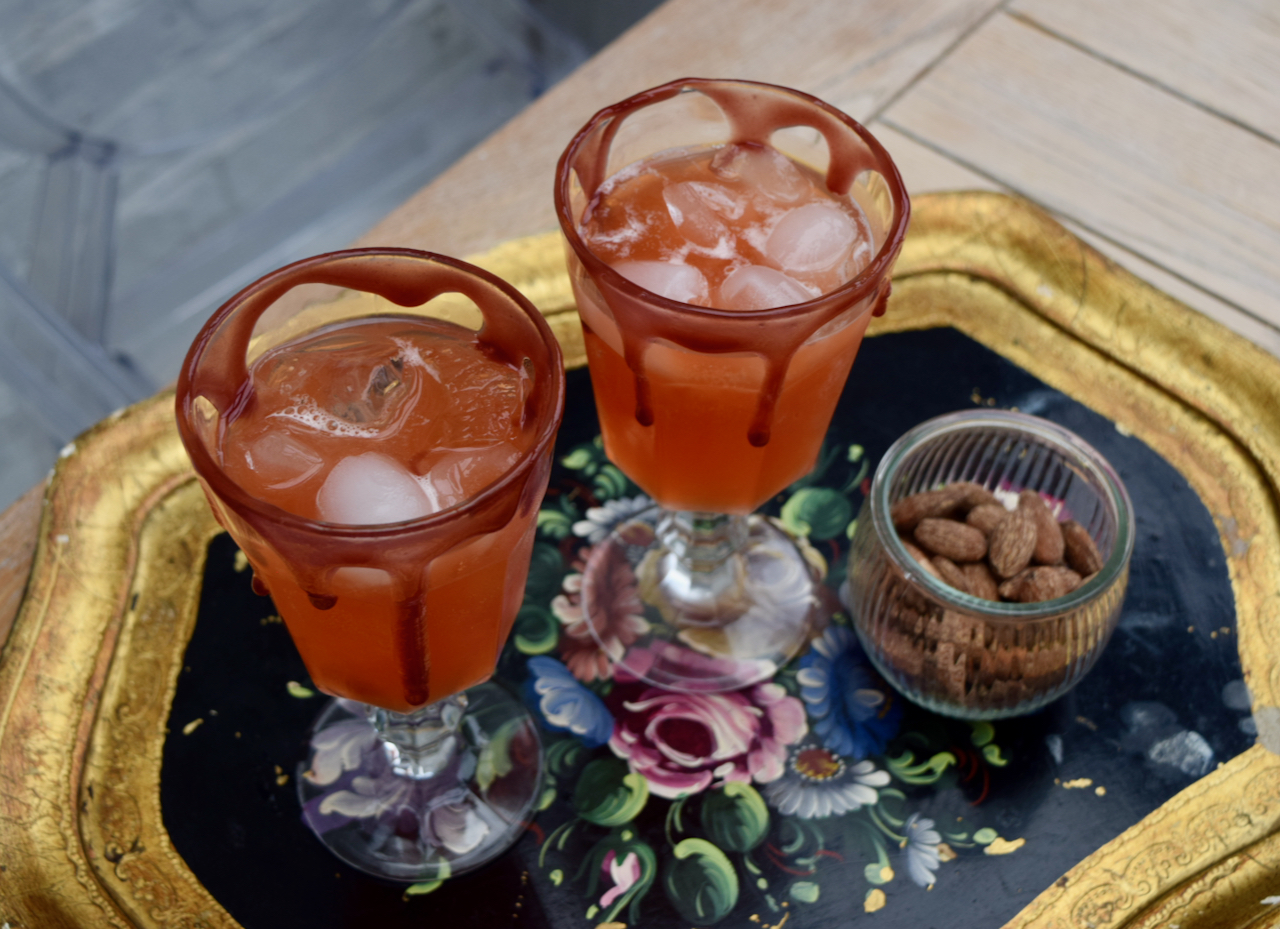 Bloody Gin Fizz recipe
This year will be the first time we haven't decorated our house for Halloween and fuelled the local children with bucket loads of Haribos. With George away at uni and Ben being 23, the 31st October is a much more of an adult affair in our house. Clyde and I will be, this year, snuggled up on the sofa, curtains drawn, clutching a Bloody Gin Fizz.
Even though Halloween drinks are mostly about the looks, this Bloody Gin Fizz is as delicious as it is gory. The main reasons being the inclusion of my most favourite gin and Aperol combo. A slug of fresh lime and a touch of sugar syrup for tartness and sweetness then the whole business is topped up with blood orange soft drink. I used the Sanpelligrino variety which I love as it's not too sweet and just the hue needed for this spooky Halloween Friday cocktail. To up the bloody nature of this drink, you can rim your glass with a drizzle of red fruit puree. A seasonal thank you to the Sainsbury's magazine site for the inspiration behind this.
If you're still balls deep in the whole Halloween trick or treat business, I feel your pain after years of fashioning last minute costumes and walking the streets with a pack of toddlers on a sugar high. A Bloody Gin Fizz is a great way to ease the pain and I suggest you have one on hand for your return/tuck one in your handbag this weekend.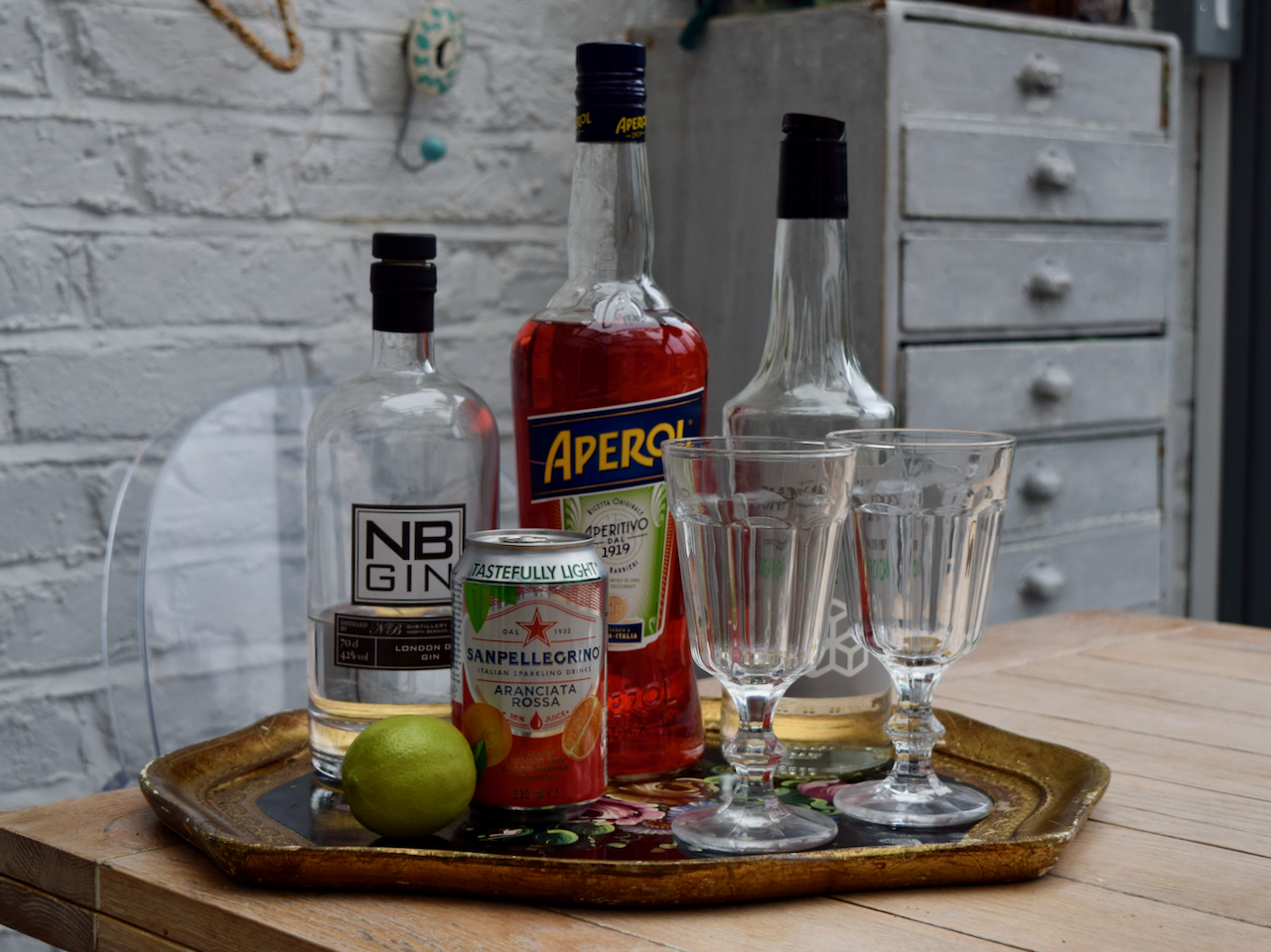 This doesn't have to be spooky, a Bloody Gin Fizz makes a very drinkable cocktail at any time fo the year. The blood orange drink is really refreshing and adds a lovely citrus fizz.
Make a start on this with some ice in your cocktail shaker, as is pretty much standard with a Friday cocktail.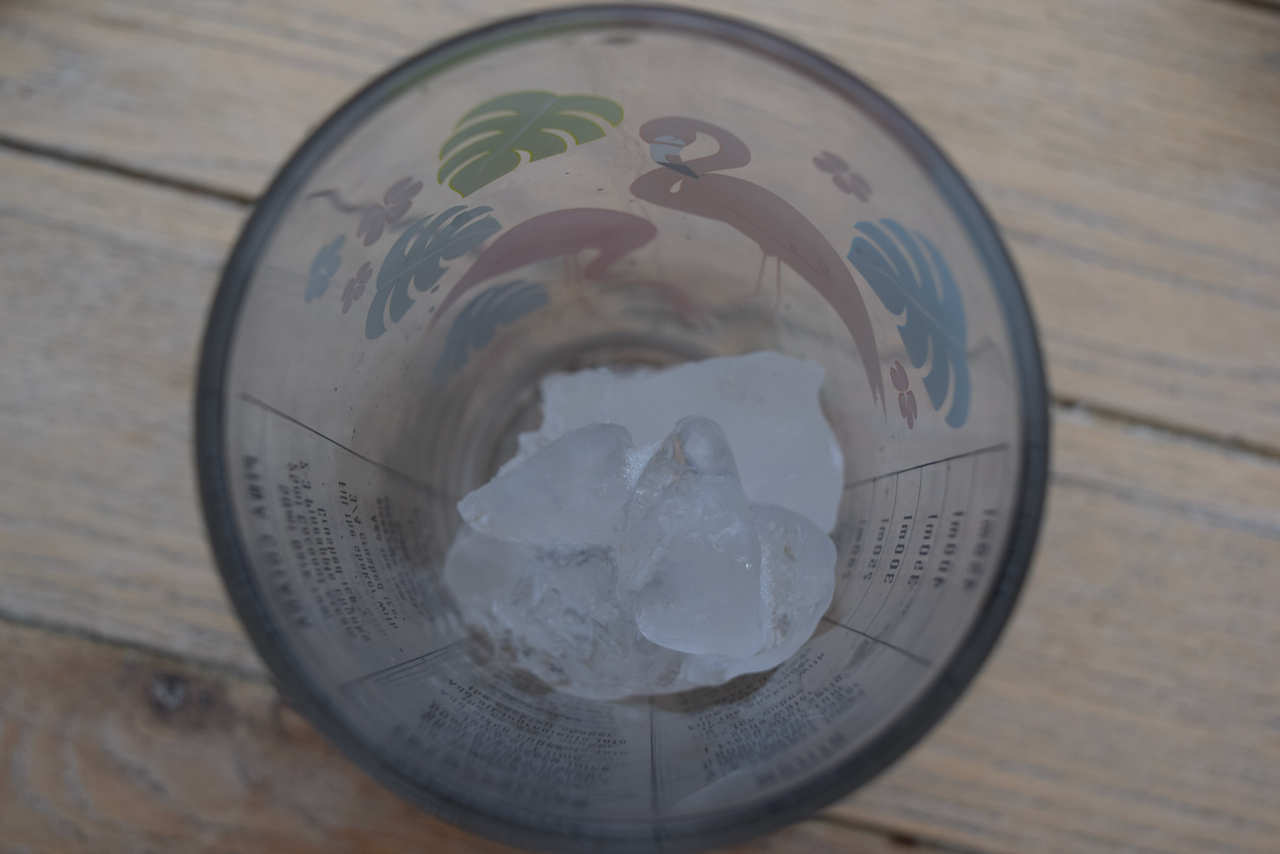 Next measure in the gin, NB gin is beautiful, and the colourful Aperol.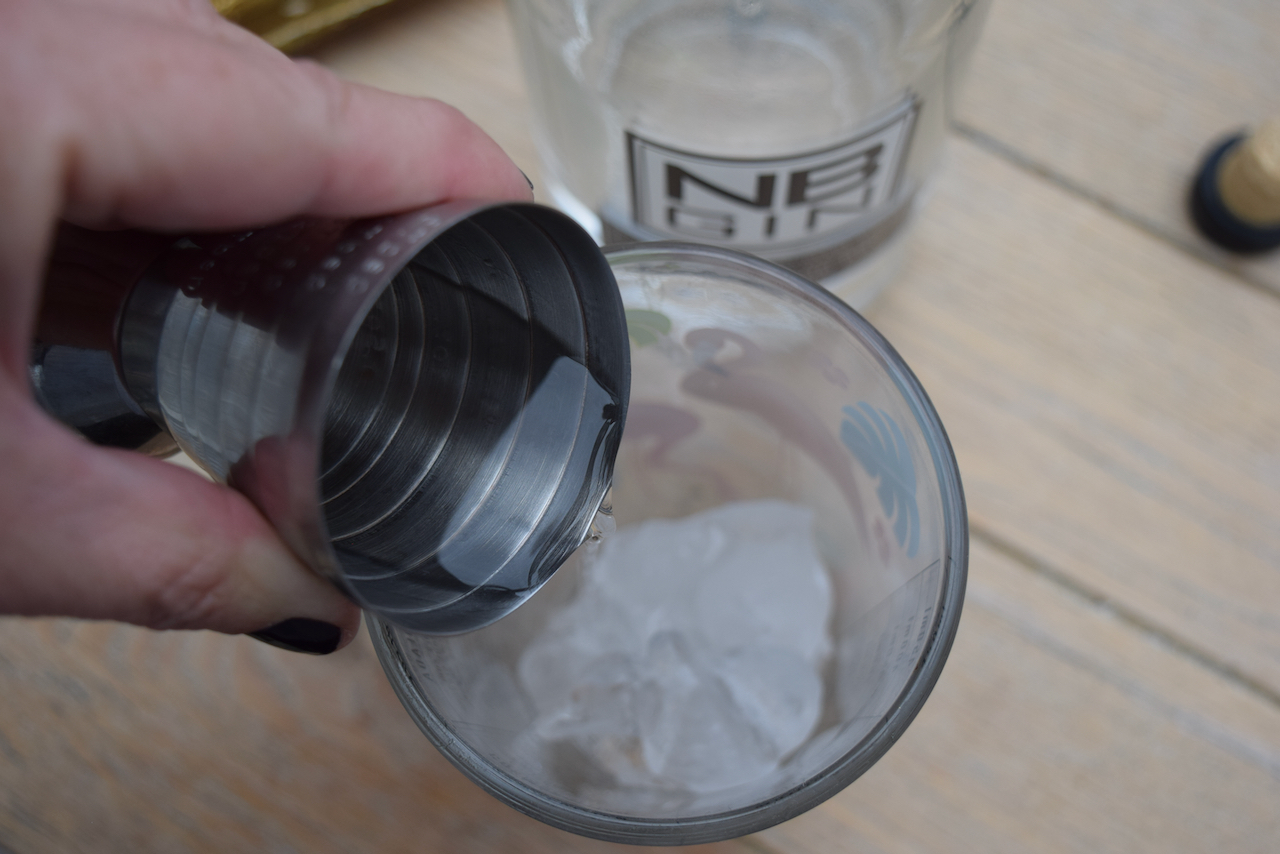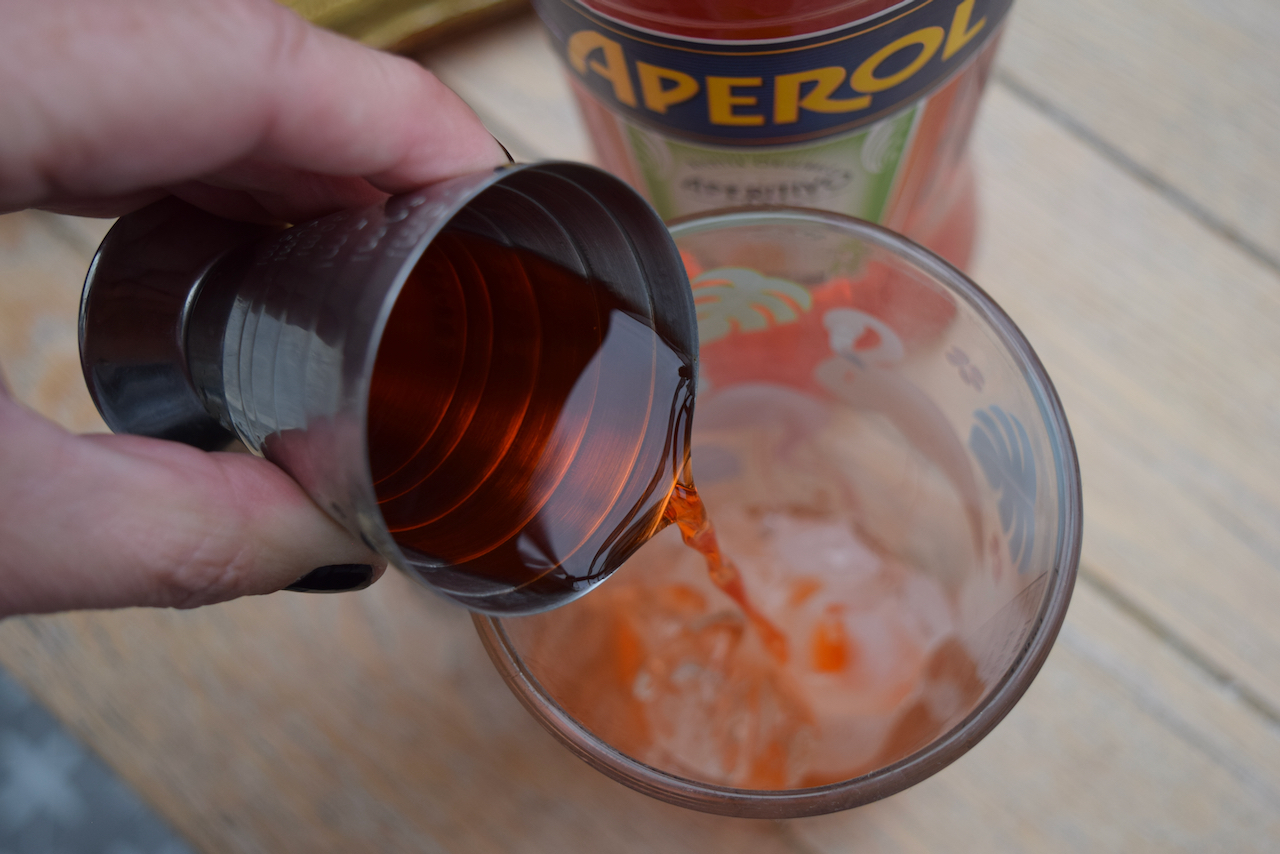 Finally add the sugar syrup, bought or homemade, and the fresh lime juice.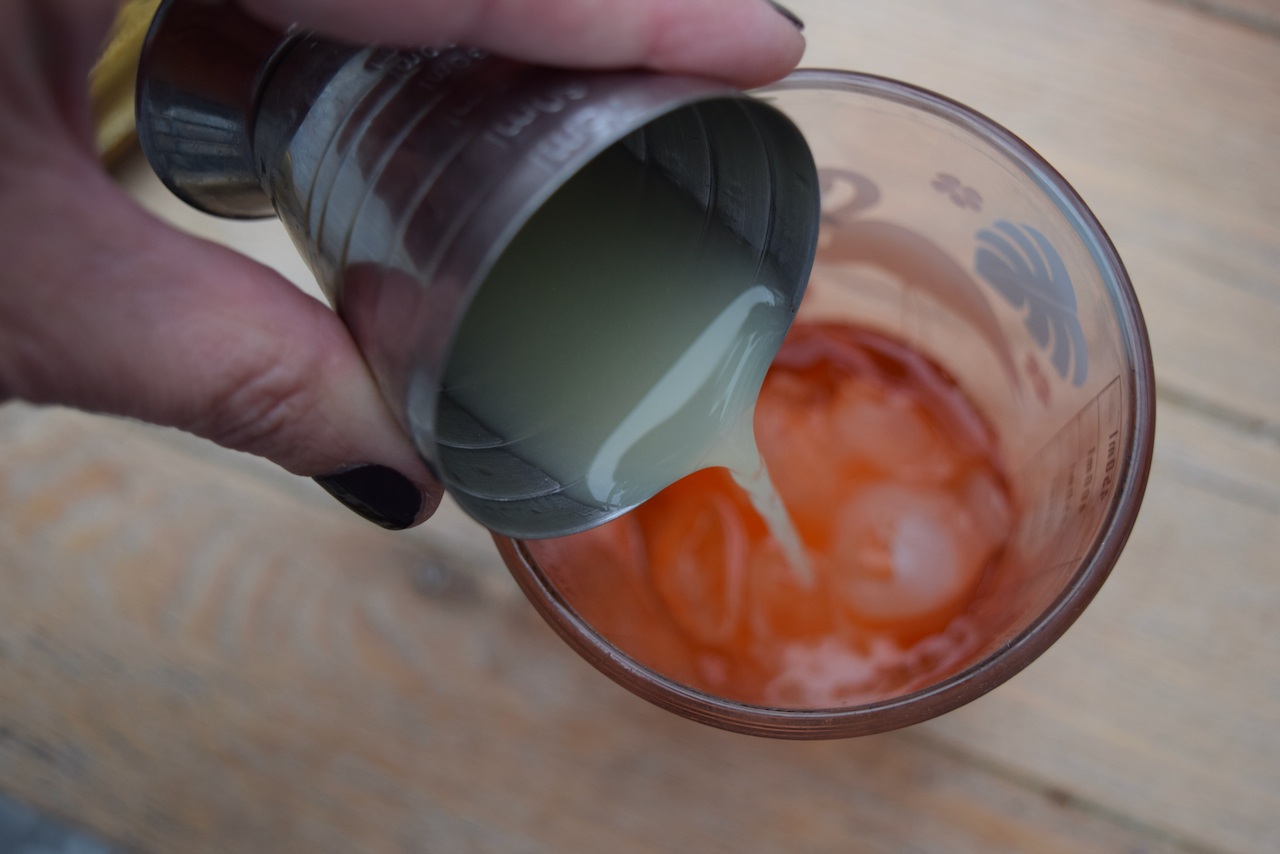 Shake your cocktail shaker until it feels chilled then pour, over more ice, into two glasses.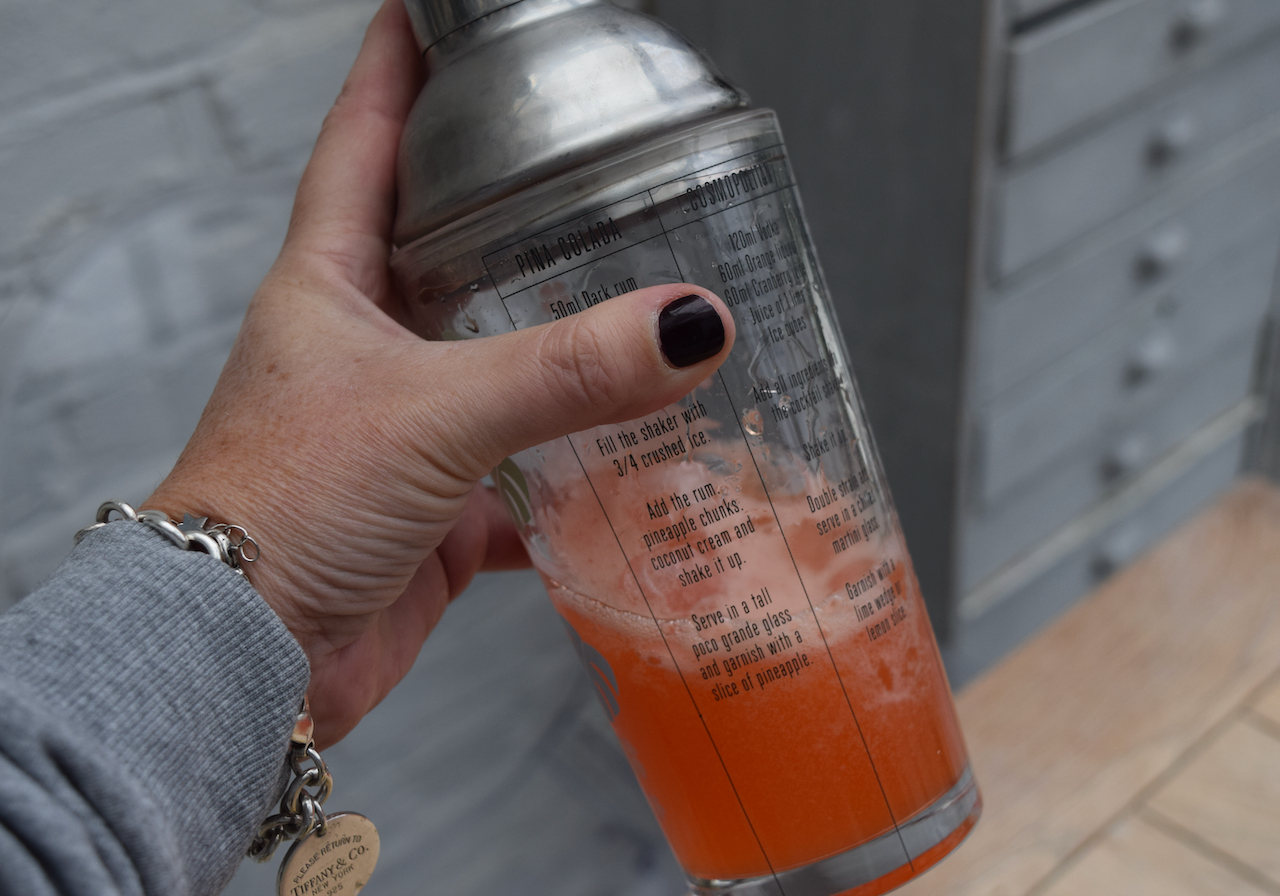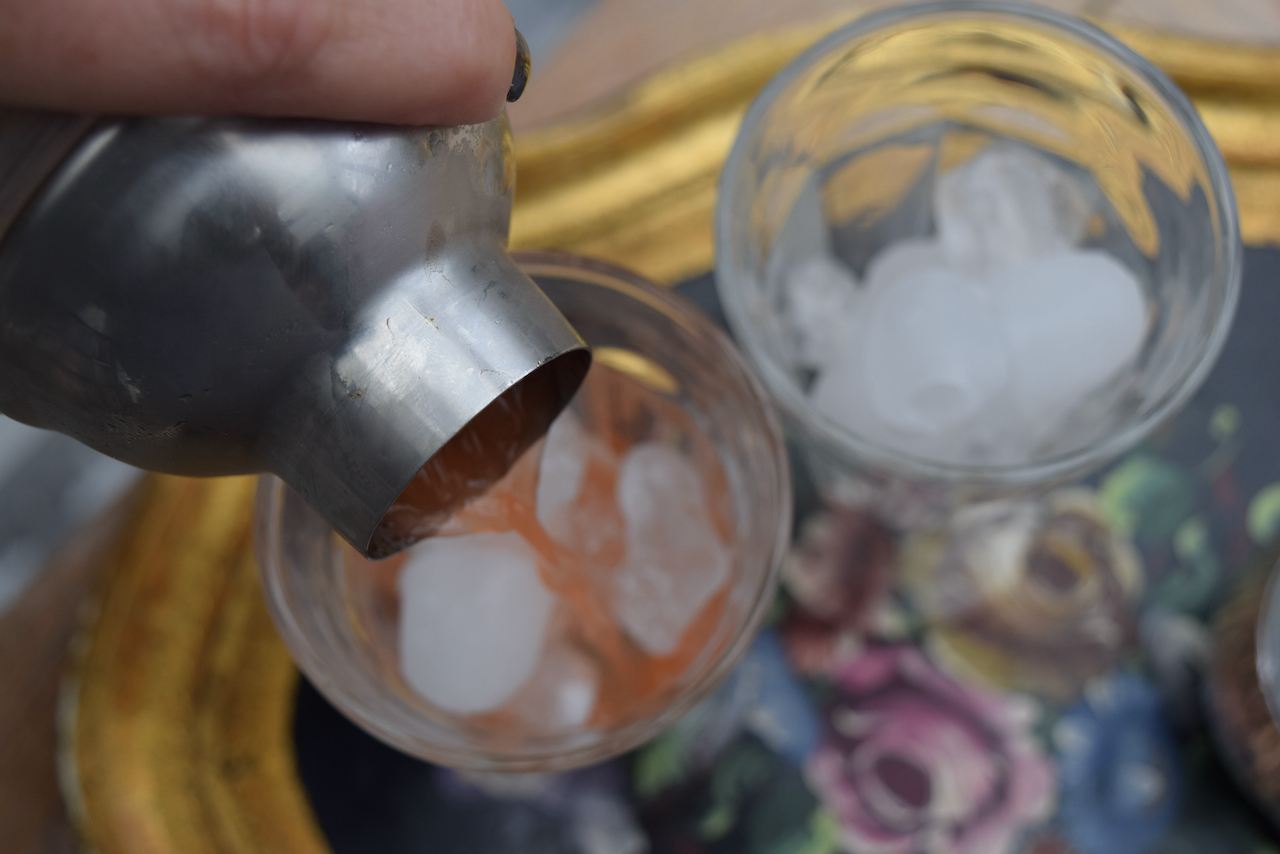 Top up each glass with the blood orange soft drink and stir.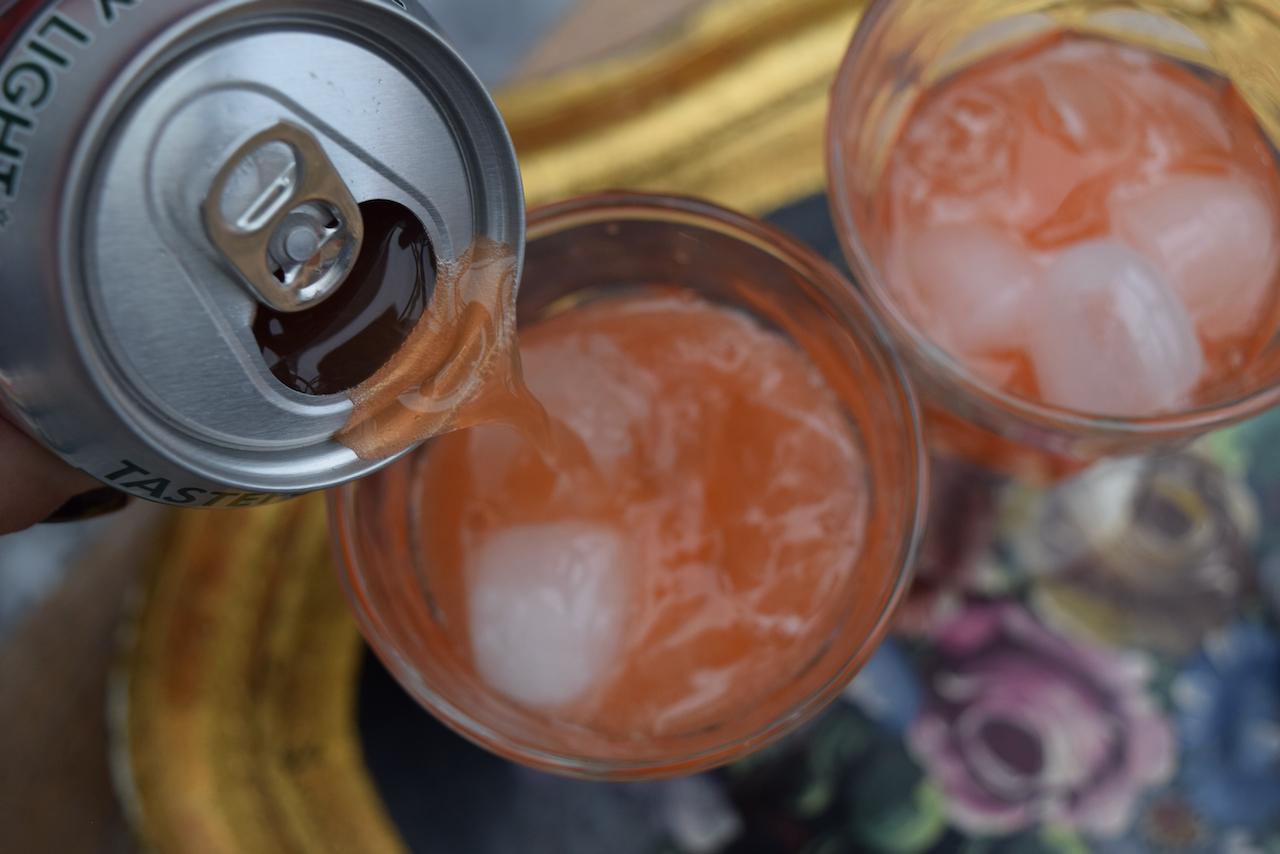 In a final halloween laden flourish, drizzle the edges of your glasses with fruit puree. Mine was a raspberry affair and it tasted lovely as well as looking ghoulish.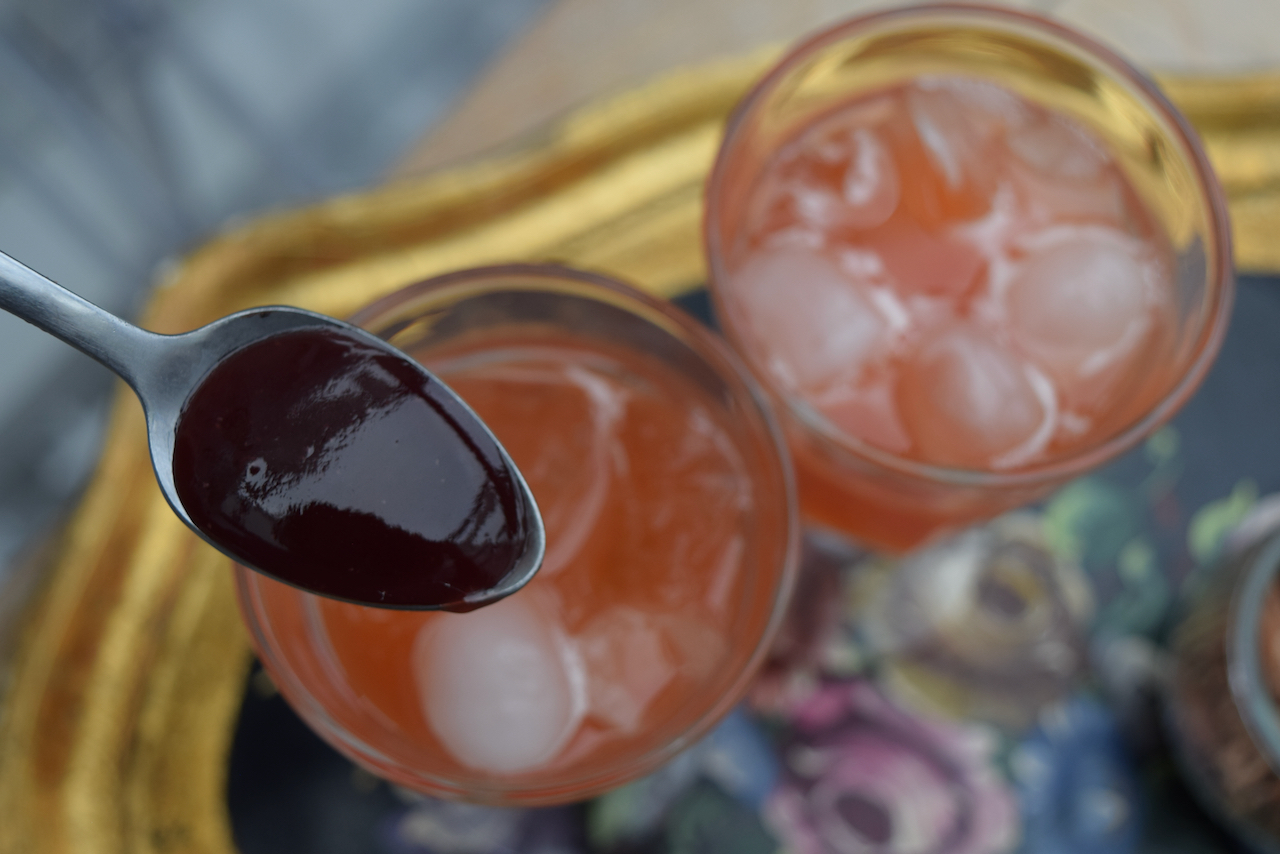 Sip or slurp through a straw, making scary noises, if you like.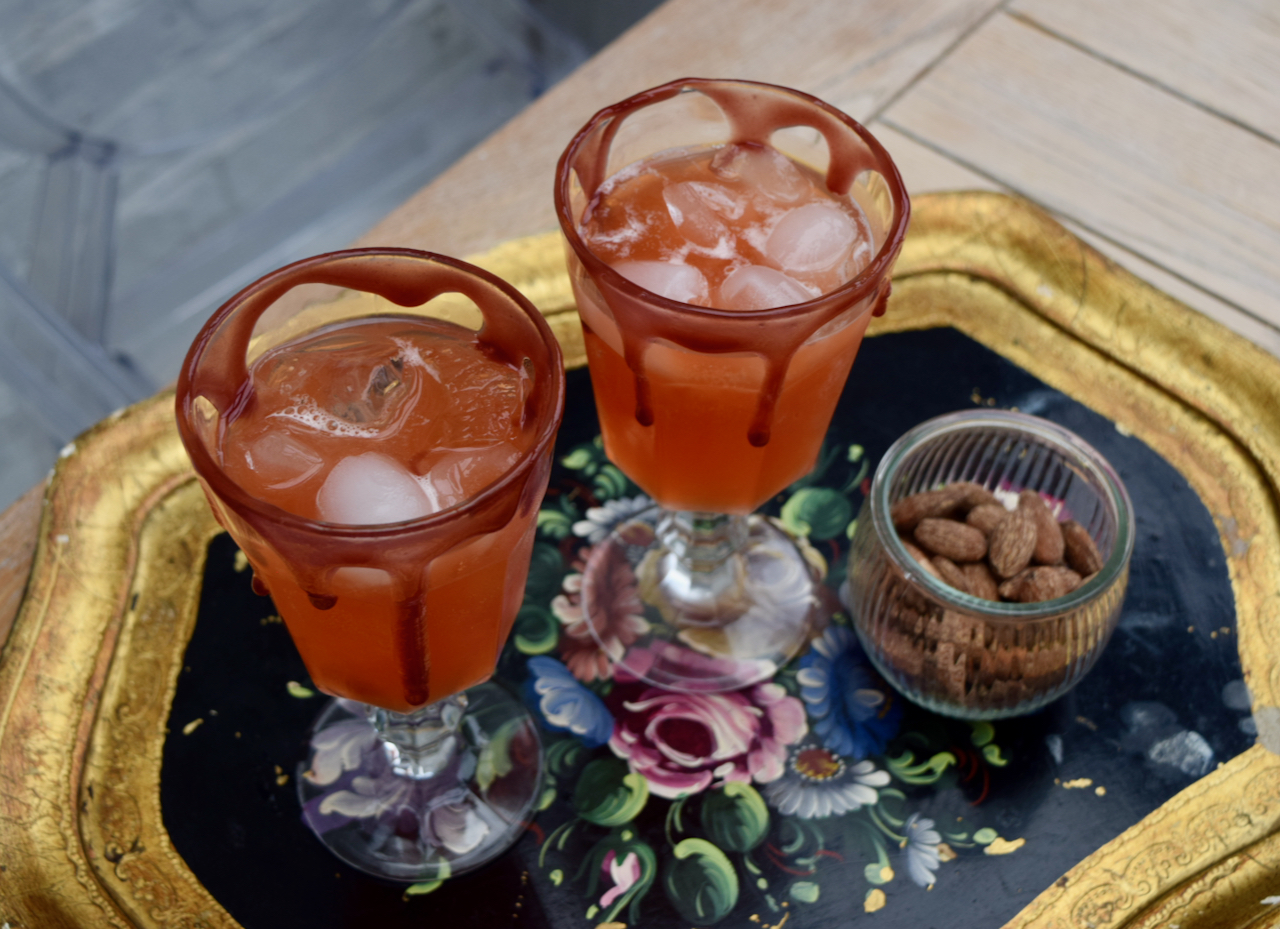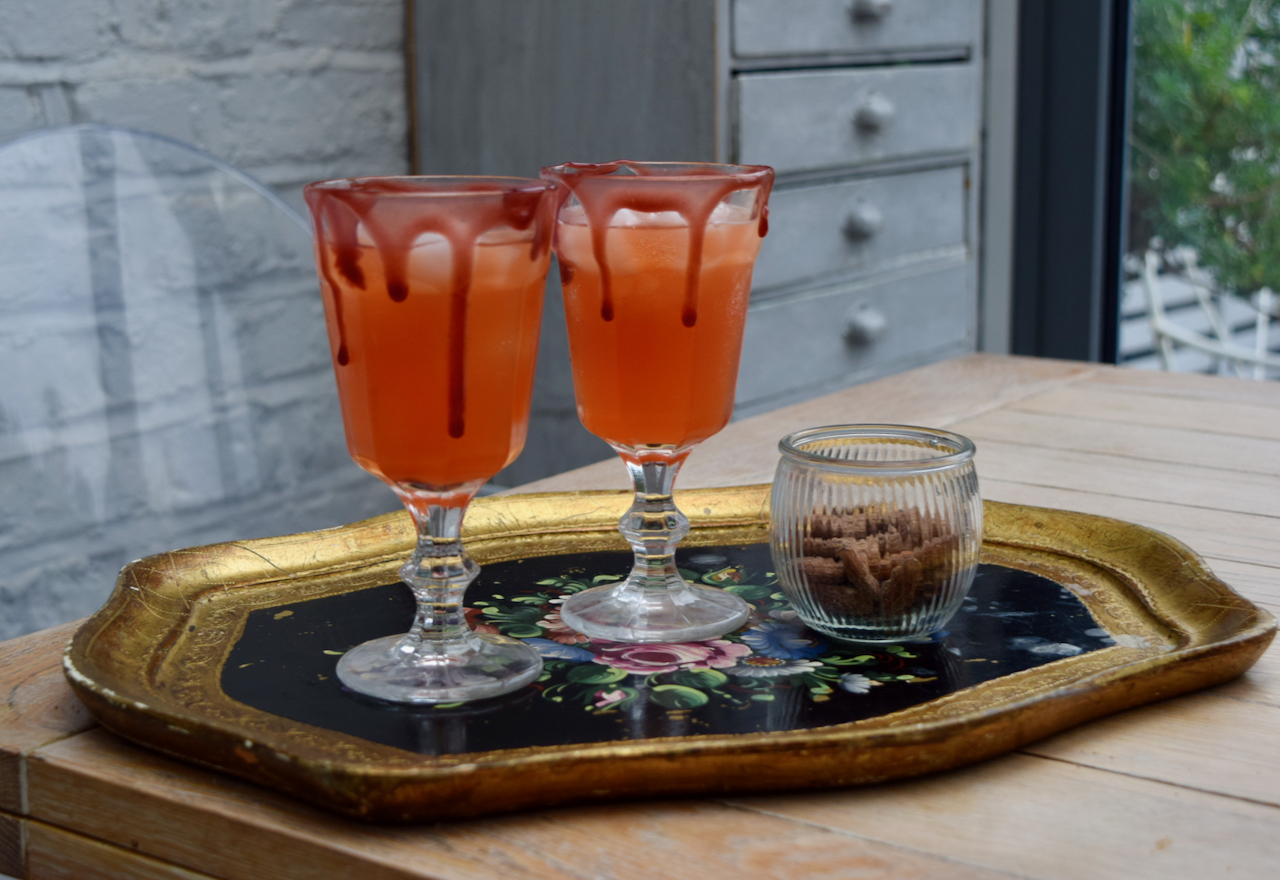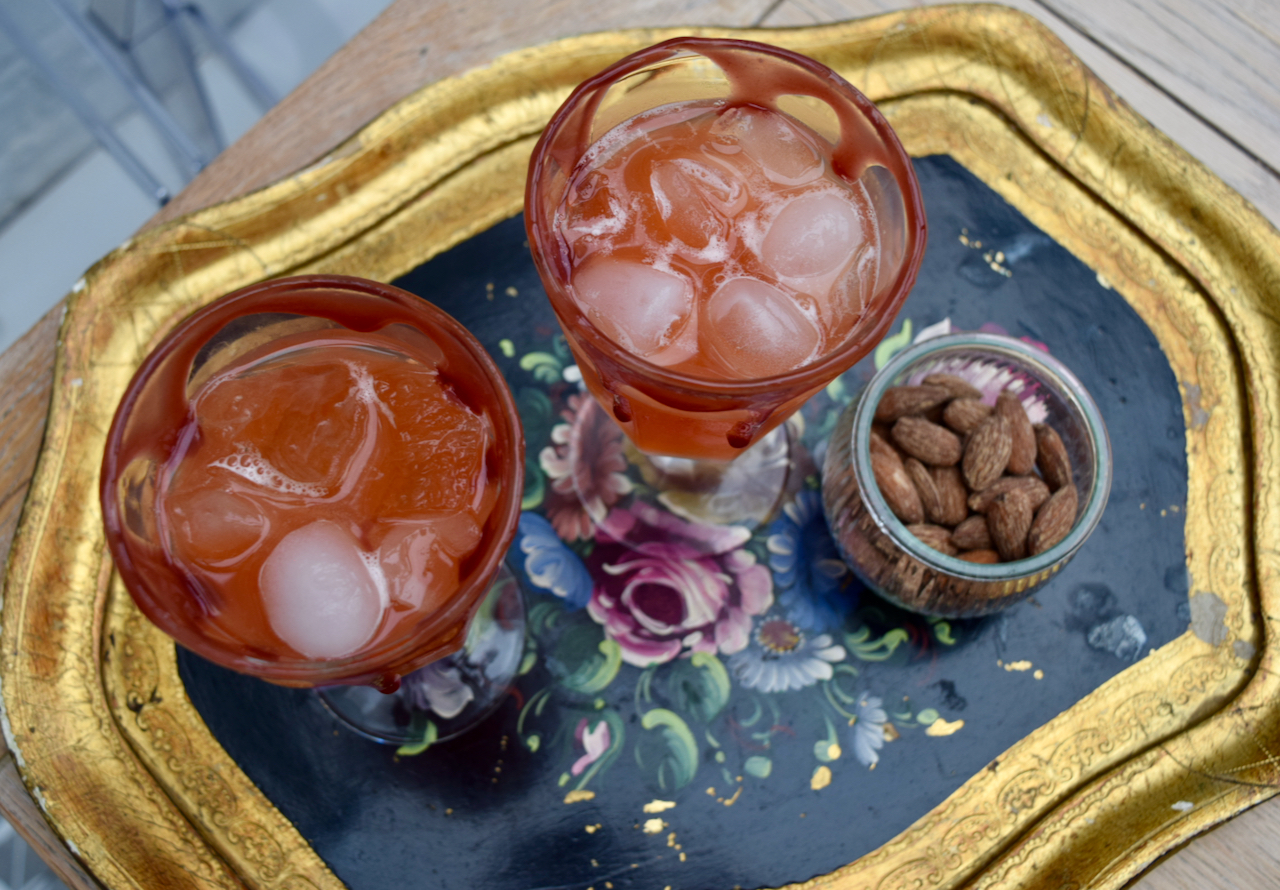 Happy Halloween whether you're handing out treats or staying at home drinking them. Have a spooky weekend one and all.
Lucy x
Bloody Gin Fizz recipe
Makes 2
You will need a cocktail shaker and two spooky glasses
Ice for the shaker and the glass
50ml gin
50ml Aperol
50ml fresh lime juice
25ml sugar syrup
Blood orange soft drink, to top up, Sanpelligrino variety is perfect
Red fruit puree, to decorate the glass
Take your cocktail shaker and add a handful of ice. Measure in the gin, Aperol, lime juice and sugar syrup. Shake until the shaker is chilled to the touch.
Add ice to your chosen glasses and divide the cocktail between two glasses. Top up the mixture with the blood orange soft drink and stir. To give the glasses a spooky feel, spoon or drizzle the rim of each glass with red fruit puree so it drips down the outside of the glass.